Stephania Bell:

fantasy baseball
June, 10, 2014
Jun 10
2:22
PM ET
When the
Colorado Rockies
'
Michael Cuddyer
jammed his left shoulder last week diving for a ball, it sounded as if the soreness might cause him to miss a few days. That soreness turned out to be due to a fracture of the glenoid, the "socket" side of the ball and socket shoulder joint. As Cuddyer told the Denver Post, "It's a fracture like any other fracture, so they are telling me that it's at least six to eight weeks to heal. That's where we are."

The glenoid is the hemispherical-shaped end of the scapula, or shoulder blade, which accommodates the ball-shaped end of the humerus or arm bone. A fracture of the glenoid is usually the result of a traumatic injury. In sports, that trauma is often due to diving and landing on the shoulder, as was the case with Cuddyer, who was attempting a diving play at third base when he suffered the injury.
The severity of the injury depends on the location of the fracture within the joint and whether or not the fracture is displaced. Cuddyer's fracture was reported as non-displaced, meaning the bone remained in alignment, despite the presence of a crack. A significantly displaced fracture would have required surgical intervention to restore normal alignment and help ensure healing. The location of Cuddyer's fracture within the glenoid has not been made public, but there are typically two primary areas where a break happens. One is on the outer margin, or rim, and the other is deep in the socket, or fossa. No matter where the location of the fracture, the best news in Cuddyer's case is that it does not appear he will need surgery, eliminating other potential complications. The most challenging aspect for Cuddyer will be regaining range of motion and strength in the arm, sufficient enough to be effective at the plate. Late July or early August will likely be his soonest return date.
In the meantime, the Rockies await news on the outcome of exploratory surgery for outfielder
Carlos Gonzalez
and his ailing left index finger. Tuesday's surgery with Dr. Thomas Graham, noted hand specialist of the Cleveland Clinic, should hopefully help clarify the nature of what has been bothering Gonzalez and offer a timetable for his return.
Addendum:
Exploratory surgery turned out to be explanatory surgery for Gonzalez. Dr. Graham
discovered a small tumor
, a giant cell tumor, on the outfielder's index finger that explains the chronic irritation and swelling he was experiencing. These tumors are commonly found in the tendon sheaths of the hands and feet A biopsy will confirm whether the tumor is benign (such tumors typically are). Presuming there are no surprises, Gonzalez is expected to require several weeks to recover, first to allow the soft tissue surrounding the tumor site to heal, then to regain his grip strength and ability to swing the bat.
A finger injury also has Rockies third baseman
Nolan Arenado
out for multiple weeks. Arenado fractured the tip of his left middle finger (oh, those nasty headfirst slides) in late May. While surgery was not required, there is still the matter of the bone healing completely, followed by rehab to the point of being game ready. The Rockies will monitor the bone healing progression and increase his activity accordingly so a timeline remains fluid but he should not be expected back before early July.
May, 30, 2014
May 30
3:27
PM ET
Stephania Bell explains what valgus stress overload is and when to expect
Yordano Ventura
back.
May, 5, 2014
May 5
2:26
PM ET
To the DL
Jay Bruce, OF, Cincinnati Reds (left knee): Bruce will have surgery this week to repair a partially torn meniscus in his left knee and is expected to miss 3-4 weeks, a baseball source told ESPN.com. The timetable seems reasonable, presuming this is technically a procedure to remove the small portion of torn meniscus (as opposed to undergoing a more substantial repair which would require several months' recovery).
It's important to remember that much depends on the exact size and location of the tear as well as his overall knee health prior to surgery. Consider that Los Angeles Dodgers catcher A.J. Ellis underwent surgery for a similar procedure in early April and is still having discomfort with running, four weeks later. First baseman Joey Votto, Bruce's teammate, suffered a torn meniscus in June 2012 while sliding into third base. That injury ultimately required two surgical procedures and almost two months on the DL. There is no reason to fear the worst with Bruce; it is just a simple reminder that recovery times are always variable, and until we see him comfortably resuming baseball activities, we should not assume an automatic return date.
Matt Cain, SP, San Francisco Giants (right finger): It's not so easy to make a sandwich. Just ask Cain, who sliced his index finger while trying to do precisely that. For those trying to envision how a right-handed individual cut his right finger with a knife, it was not sustained during the actual slicing of items for the sandwich. Cain apparently tried to grab the knife as it was falling to the floor.
Cain was scratched from his start last Tuesday, an obvious consequence of the injury. Given how sensitive a pitcher's grip is, it seemed a bit optimistic that he would be able to reclaim his spot just a week later, even though the cut was small enough to not require stitches. There is not only the matter of the wound healing to the point that Cain can grip the ball, but also his regaining the proper feel of the ball on the newly laid scar. If the wound has not adequately healed, there is the risk of further impeding the healing by pitching. If the grip is altered, there is the risk of creating another problem. Better to wait until there is essentially zero risk of either situation before returning Cain to the mound. The team was hopeful after Cain threw a bullpen session Friday, but the news was different by late afternoon Sunday. On the positive side, this stint can be backdated to April 25, and he might even be able to return this weekend, presuming the above criteria have been met.
Returning

Clayton Kershaw, SP, Los Angeles Dodgers (left teres major): Kershaw is set to make his United States season debut for the Dodgers this week. (He did pitch this season ... in Australia.) He is expected to take the mound Tuesday on the East Coast when the Dodgers pay a visit to the Washington Nationals. The injury never seemed particularly significant, and that's just how the team wanted it to remain. The move to the DL and the cautious approach to his return -- including an additional rehab start in the past week, in which Kershaw threw five innings -- was a deliberate progression designed to (hopefully) ensure no setbacks as the season progresses.
Kershaw did not want to go on the DL (this was his first career trip) nor did he want to stay on the DL (expressing disappointment at the team's decision to add another rehab start), but he will likely benefit from both moves in the larger scheme of things. After recording nine strikeouts in his last rehab start, there is no reason to expect Kershaw to be anything but his usual ace self right out of the gate.
April, 8, 2014
Apr 8
5:12
PM ET
As the injury news pours in this season, we'll take a quick-hit look at the fantasy-relevant players who are battling health issues. We'll be splitting them up into players who we're keeping a watchful eye on -- players who have sustained injuries recently but have not been placed on the disabled list -- as well as those who
have
been placed on the DL.
There is no shortage of players in either of those categories, so let's dive right in.
Keep a watchful eye on
Omar Infante, 2B, Kansas City Royals (jaw):
It's not just the pitchers who absorb the hits to the face; hitters are also vulnerable. Infante took a scary fastball to the jaw Monday, leaving him bloodied but fortunately not seriously hurt. Infante required stitches to repair the laceration to his chin. Scans performed later revealed no fractures to the bony structures, but rather a soft tissue injury (sprain) to the opposite side of the jaw from where the baseball landed.
The jaw is a bilateral hinge joint where movement on each side is connected through a single bone, the jawbone or mandible. Displacement from a force landing on one side can therefore stress the joint tissues on the opposite side. In Infante's case, the blow from the baseball on the left side of his face led to a sprain of the temporomandibular joint (abbreviated TMJ, where the temporal bone of the skull and the mandible meet, just below the ear) on the right. Infante also passed all concussion tests and was equally fortunate to escape this episode without a major head injury.
According to the Kansas City Star, a team spokesman for the Royals offered the following statement: "Based on the Kansas City medical team's initial diagnosis, it does not appear he'll miss a significant amount of time."
Infante will continue to be monitored closely, and it could be a few more days before a decision is made with regards to the disabled list. As unpleasant as this injury is, Infante and the Royals know this could have been much worse.
Ryan Zimmerman, 3B, Washington Nationals (right shoulder):
Zimmerman is again experiencing soreness in his right shoulder, leading to errant throws. That scenario led to his early exit from Saturday's game and a follow-up MRI. Nationals manager
Matt Williams
described Zimmerman's shoulder as "arthritic," per the Washington Post, not necessarily surprising given his history with the joint.
Zimmerman struggled with the shoulder in 2012 and underwent surgery after that season to clean up the acromioclavicular (AC) joint, the joint at the point of the shoulder. He described the difficulty in making his normal arc of throwing motion when the shoulder was problematic, which explains his intermittent lack of accuracy. The hope was that this challenge would be behind him following surgery, but that has not proven to be the case. For now, the team is approaching his status as day-to-day.
For more on Zimmerman's injury and what to expect, check out
my video
with Eric Karabell and
his Insider blog post
on Zimmerman.
Yasiel Puig, OF, Los Angeles Dodgers (left thumb):
Puig seems destined to make regular appearances here given his style of play. The question will be how serious the injury is -- or could be -- at any given time. Puig injured his thumb on a headfirst slide into first base Saturday and was out of the lineup Sunday. Initial X-rays were negative and a follow-up MRI confirmed only a minor ligament injury (Note: Manager Don Mattingly described the injury as a strain, according to the Los Angeles Times; ligament injuries are generally classified as sprains).
The key piece of information is the apparent lack of severity. Mattingly said of Puig's situation, "It seemed more like a day-to-day thing than a DL thing." The headfirst slide is often responsible for tears of the ulnar collateral ligament of the thumb, and in severe cases surgery is required. That does not appear to be the case for Puig at this time, but he may miss a day -- or several -- depending upon how the thumb responds.
To the DL
A.J. Ellis, C, Los Angeles Dodgers, (knees):
Ellis underwent arthroscopic surgery Tuesday with team physician Dr. Neal Elattrache to address a torn meniscus in his left knee. He sustained the injury Saturday when
trying to score from second base
.
Given that this procedure involved removing the piece of damaged meniscus as opposed to repairing the tissue, the timetable for Ellis' return is shorter. He is projected to miss four to six weeks, a slightly more conservative timetable than for a non-catcher. With the demands of the position (sustained crouching, repetitive motion into and out of a deep squat), there is a little slower return to action than for another position player, but his overall short-term prognosis is quite good.
Ellis did have a meniscal procedure on the same knee in 2012, and in his role as a catcher may be more susceptible to long-term knee issues, particularly cartilage wear. For now, however, the Dodgers can look forward to his return sometime in May.
Mark Teixeira, 1B, New York Yankees, (right hamstring):
Teixeira left Friday's game in the second inning with the hallmark "I hurt my hamstring" sign, pulling up his stride and reaching back instinctively to the back of his thigh as he tried to get to first base.
While the injury was described as a Grade 1 strain by the team, indicating it is minor, the Yankees are taking no chances on allowing it to get worse. Teixeira may only miss the minimum -- or slightly longer -- but the bigger concern may be his own apprehension with regards to his previous wrist injury. Teixeira appears to still be finding his swing coming off last year's surgery to repair a torn tendon sheath in his right wrist. Maybe removing him from play for a couple of weeks will allow him to regroup on both counts.
Joe Saunders, SP, Texas Rangers (left ankle):
Is it possible the Rangers have sustained yet another injury? For Saunders, the good news is that this is not an injury to his throwing arm, nor does it look to be a long-term concern. Saunders was hit by a comebacker, leaving him with a bruised and swollen ankle.
A balky ankle would throw off his pitching motion and make fielding difficult, so the DL stint (retroactive to April 5) makes sense.
David Robertson, RP, New York Yankees (groin):
Robertson suffered a minor groin strain Sunday, and the Yankees have proactively placed him on the DL. While the injury does not appear serious, the groin -- part of the core musculature -- is critical for stability to pitchers who spend most of their time in a one-legged stance. An injury here, even a minor one, can lead to compensations, which can in turn lead to arm problems. It's better to rein him in now and allow this to improve, rather than take any chances at risking something bigger.
April, 2, 2014
Apr 2
11:25
AM ET
Rankings are meant to be a jumping-off point for debate and discussion. This list should be no different. Everyone has his or her own interpretation for how injuries will affect a team. Other than the prorated dollar amount of salary to lost time plus the cost of replacement players, impact is very difficult to quantify. When I was asked for the top five teams whose seasons would be impacted by injury, I had a very instinctive initial reaction. No science, no rationale, just a gut feeling. Then I decided I should perhaps invest some more thought into my selection.
Here are a few musings.
Opening Day status: Some rosters do not look anything like a manager expected on Opening Day. Starters on the disabled are a big reason. Not only is there the obvious loss of the starters, there is the psychological blow to a team that doesn't feel as though they're fielding their top players. The more the injuries pile on, the more the team psyche is bruised. It's hard to perform optimally under these conditions, and a string of early losses can make it difficult to recover, even once those injured players return to the lineup.
Uncertainty factor: Most injuries have a fluid recovery timetable but some are more predictable than others. For instance, while losing a player to Tommy John surgery is devastating, there is at least some comfort in knowing how to adjust for the remainder of the season. But when players are on vague timetables, particularly with a less common type of injury or one with a wide range of healing times, the uncertainty can weigh on the team.
Injury details (or lack thereof): While all teams will provide some information with regards to their injured players, it is still limited. It would help this ranking concept if there were more details about the imaging tests, clinical exams and rehab programs. Of course, even then the timelines wouldn't be assured (which is why teams issue projections such as 4-6 weeks, 2-3 months, or "no specific timetable"). So we work with what we have.
Funny thing is, at the end the list looked virtually identical to the one generated from instinct. While I can't be sure what that implies, I hereby humbly submit to you my top five teams who, as of the first week of the season, are potentially the most impacted by injury concerns.
Who knows? Maybe we'll revisit this topic late in the season and see if we're talking about five entirely different teams. Those who appear below would certainly enjoy proving this list wrong.
There weren't major injury alarm bells sounding prior to spring training. Sure, there were a few issues. One member of their starting rotation was lost for at least half the season. Their everyday third baseman might not be able to play everyday anymore. But they didn't feel like a team in trouble until they moved deeper into spring training. Every few days seemed to bring more bad news. Both pitchers and position players were affected. And the biggest concern? The uncertainty quotient, including not knowing how three of their starting five pitchers will perform in the majors.
Pitchers

Yu Darvish: His 2013 season ended with low back pain and nerve irritation. Injections were involved. By November, the team felt comfortable the issue was behind him. Unfortunately, it is hard to know whether the issue is truly in the rearview mirror until the athlete returns to his prior level of function. Darvish developed neck stiffness fairly early this spring and when it didn't disappear as quickly as everyone had hoped, he was sent to a spine specialist. The good news? No structural damage. That, however, does not necessarily equate to pain-free resolution. Darvish opened the season on the DL but has resumed a throwing program and the team hopes he can return within a week. So why worry?
[+] Enlarge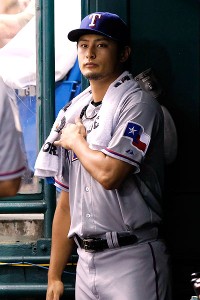 Kim Klement/USA TODAY SportsYu Darvish opened the season on the DL, leaving the Rangers' Opening Day rotation very thin.
1. Spine problems tend to be recurrent. Until he demonstrates over multiple weeks that this is behind him, it will be hard to feel confident. Even then, there is still no guarantee it doesn't crop up again at some point.
2. The neck and the shoulder are closely related. Something as simple as neck stiffness can translate to problems in the shoulder, even fatigue, which could present an issue for a typically high volume thrower such as Darvish.
3. The proximity time-wise of neck and back issues for Darvish -- even if they are unrelated episodes -- is disconcerting.
Matt Harrison: Two starts last year were followed by a back problem which required not one, but two surgeries. Months later he required thoracic outlet surgery on his right (non-throwing) side; he had previously undergone a similar surgery on his throwing side a few years prior. He finally appeared ready for spring until stiffness in his neck got everyone nervous. While it seems to have settled and he is now progressing through minor league outings, the soonest he will likely join the team is late April.
Derek Holland, SP: Holland underwent microfracture surgery on his left knee after he tumbled down some stairs at home (apparently tripped by his dog). Healing parameters following this procedure dictate a graduated recovery. His placement on the 60-day DL indicates the team does not expect him until at least June. After all the downtime, it's hard to know what to expect.
Position players

Jurickson Profar, 2B: Profar came into spring training with some shoulder soreness that was dubbed tendinitis. But one hard throw while attempting to turn a double play in late March resulted in a tear of his teres major. The team projected him to miss 10 to 12 weeks out of the gate, an indication of the severity. Soft tissue injuries are hard to gauge until the player tests the aggravating activity, which in Profar's case means hard throwing. He likely won't be a regular contributor until the second half of the season and that presumes no setbacks.
Geovany Soto, C: Soto tore his lateral meniscus in his right knee (followed by arthroscopic surgery March 26). His projected absence is three months, but the demands the position places on the knee make the recovery more challenging for a catcher.
Not on the DL, but worthy of a mention

Adrian Beltre, 3B: Recurrent calf and hamstring injuries are a concern for Beltre, especially at age 34. While he hasn't missed much time in the past two seasons, there are already plans to use him in a DH role more often to preserve his health. Oh, and he already had an episode of quad tightness this spring.
Colby Lewis, SP: He's coming off a hip resurfacing procedure and there are no other active pitchers who have undergone a similar surgery, making him a test case. Early results are encouraging but it remains to be seen how he will produce and, more important, how he will hold up across a season.
It's possible to sum up the Braves' injury problems in one word: pitching. It was almost too much to believe when they lost not one, but two pitchers to their second torn ulnar collateral ligament. What might be crazier is that the Braves are counting on getting production from two pitchers who are still working their way back from Tommy John surgery. The magnitude of their losses across their pitching staff puts them second on this list.
Brandon Beachy: Beachy had a bumpy road back from his first Tommy John surgery, then managed only five starts before getting shut down with elbow inflammation. An offseason scope didn't do the trick and when he felt pain in his elbow this spring, the fears of a re-tear were confirmed. He underwent his second surgery in March and will miss the entire 2014 season.
Kris Medlen: Medlen at least had a few years between surgeries but he too has undergone his second Tommy John surgery and will miss all of 2014.
Mike Minor: Minor opens the season on the DL, largely as a result of being behind in his throwing program following a urinary tract procedure in December. The good news with Minor is that his situation relates more to him catching up with his arm strength as opposed to an undiagnosed injury. The Braves hope to have him in late April.
Gavin Floyd: Floyd had a flexor tendon repair concurrently with his Tommy John surgery last May. He is expected to make his first minor league start this week and could return to the majors within the month.
Jonny Venters: Working his way back from Tommy John surgery, Venters is hopeful of rejoining the team in late May or early June. The plus? Relief pitchers tend to fare better the second time around.

They look so good on paper. But in order to be that good, they need to play. At the start of spring training, other than Matt Kemp's status, there were no obvious flags. But Australia seemed to be associated with injuries -- either the kind that kept some from traveling (such as Zack Greinke's calf) or the ones that cropped up afterward (Clayton Kershaw's upper back) -- and no explanation. The latest addition is relief pitcher Brian Wilson. If the Dodgers keep adding more names to the list or more time off to those who are already there, then they move up in this ranking.
Pitchers

Clayton Kershaw: Kershaw's upper back injury does not appear serious, but the Dodgers are taking no chances. Inflammation in the teres major muscle (located in the upper back region but a contributor to shoulder motion) could be a precursor to a bigger injury if not allowed to fully heal. Consequently, Kershaw is on the DL after earning a win in the opener in Australia and will be on a submaximal throwing program for 2-3 weeks before being re-evaluated. There is no official timetable for his return, but May is looking more likely. Consider this a proactive measure by a team looking at the length of the season and expecting to be competitive down the stretch.
Josh Beckett: The question entering spring training was how Beckett would bounce back from thoracic outlet surgery (removal of a rib to alleviate pressure on nerves and blood vessels which supply the arm). His recovery was good (no more finger numbness) but then he hurt his thumb in March, banging it against a door. He's improving and should be back in early April.
Chad Billingsley: His progress recovering from Tommy John surgery has been solid, but even if he returns in May or June, his innings may be controlled. Not to mention, most pitchers have some ups and downs in performance in their first few months back.
Brian Wilson: Wilson did not have a good outing Sunday and he was placed on the DL Tuesday with nerve irritation in his elbow. Wilson has had two Tommy John surgeries, the most recent in 2012, making this a little more worrisome.
Position players

Matt Kemp, OF: It seemed to be gloom and doom for Kemp when he was not able to run on land as spring training opened. Once he got clearance however, his progress has been steady and he appears on the verge of being activated. Considering he enters this season stronger as a result of being able to work his upper body more in the offseason, as long as the hamstrings hold up, he could have a bounce-back year.
The Reds could have been much worse. Aroldis Chapman was lucky. Mat Latos is improving. Johnny Cueto seems to be OK. But if one or two players take a turn for the worse, the Reds move up in the rankings.
Pitchers

Mat Latos: The concern when Latos came into spring training was about about easing his arm back into action after offseason surgery to remove bone chips. Concern shifted to his knee when he slipped on the mound, sustaining a medial meniscus tear that required surgery. Latos has been pitching in minor league games and is expected to join the team in the first couple weeks of the season.
Aroldis Chapman: His might be one of the scariest injuries on record: Chapman taking a liner to his face, just above his left eye in a spring game. Remarkably, the damage was relatively limited (facial fractures, concussion). Following insertion of a plate to stabilize his facial fractures, Chapman has done some very light activity but he could be cleared to throw any day, possibly pitching in game conditions by late April. Physically the road appears straightforward; the challenge could come when he has to face live batters again.
Position players

Devin Mesoraco, C: Mesoraco strained his left oblique in late March the way position players often do, swinging a bat. The typical recovery is several weeks and taking the proper time to heal is key to avoiding a setback. Mesoraco starts the season on the DL (retroactive to March 21) but is currently taking batting practice and could be ready to rejoin the team fairly early in April.
Skip Schumaker, 2B: Schumaker dislocated his left shoulder while diving for a ball in a late spring game. He hopes to return in a month.
Jack Hannahan, 3B: Hannahan had right shoulder surgery in the offseason and is still recovering. The team placed him on the 60-day DL so he will not even be an option until June.
Not on the DL but worthy of a mention

Homer Bailey, SP: Bailey is on track to make his start this week but he suffered the injury to his groin just two weeks ago. The hope is that he is not compensating in some way that could affect his mechanics and, ultimately, his throwing arm.
Johnny Cueto, SP: Last year Cueto went on the DL three times with a lat injury and it ultimately ended his season. He started on Opening Day and says he's healthy. But he did have a little scare with scapular (shoulderblade) irritation this spring, so is this problem truly behind him?
How did they get here? It seems as though this team has often been the recipient of bad news late in spring training, including the loss of their ace. The Oakland Athletics are on their heels, but the Diamondbacks edge them out.
Pitchers

Patrick Corbin: Corbin tore his ulnar collateral ligament and underwent Tommy John reconstruction shortly afterward. He will miss the 2014 season.

David Hernandez: Like his teammate Corbin, Hernandez underwent Tommy John surgery and will miss the 2014 season.
Daniel Hudson: Hudson is recovering from his second Tommy John surgery and is not likely to return before the All-Star break.
Position players

Cody Ross, OF: Ross dislocated his hip last year and it has been a slow recovery process, complicated recently by back stiffness. He could rejoin the team by mid-April, but can he stay healthy?
October, 1, 2013
10/01/13
5:31
PM ET
Eric Karabell and Stephania Bell discuss
Manny Machado
's knee injury and what it means for his fantasy value in 2014.
September, 17, 2013
9/17/13
11:19
AM ET
He's back. Reds starting pitcher
Johnny Cueto
has been out for months after three DL stints because of a strained lat muscle. There was a long period when it was unclear whether Cueto could return to the mound, but after going through a more extensive downtime and a gradual throwing progression, including a modification of his throwing motion, indeed he has.
Cueto was activated Monday and started against the
Houston Astros
.
It was not clear what to expect from Cueto in his early outings, because his rehab sessions consisted only of bullpen workouts and simulated games. He may not be able to go especially deep into games initially, but the Reds are simply looking for results.

Cueto delivered five scoreless innings (including five strikeouts) Monday night, and could face the Pirates this weekend. Five innings is a small sample size, but fantasy owners may be willing to roll the dice on an outing or two from Cueto.
September, 17, 2013
9/17/13
11:11
AM ET
When Mets third baseman
David Wright
injured his right hamstring in early August, the team indicated he could miss somewhere on the order of three to five weeks. Given the severity (Grade 2, or moderate), some thought it would be wise for the Mets to shut him down and start fresh next year. For his part, Wright made it clear that it would go against everything he believed in if he just put a lid on the season.
The concern on the part of fans is understandable. Why rush a player back to a team that's out of contention and risk a setback and a potentially more serious injury?
The key word is "rush." As long as there was no pressure, no "rush" to return, Wright's goal of returning is not only admirable, it is smart. If an athlete is healthy enough to return to competition, why not have him do so? The risk of
not
returning is going the entire offseason with the question mark of wondering how the leg will respond all that time later.
It sounds as if Wright's progression has been logical and step-wise. He began fielding ground balls last week, followed by baserunning days later. The next step was batting practice, and now he appears to be knocking on the door of a return to the lineup. Of course, with hamstrings there is no way to know if one is truly healthy until the athlete returns to competition ... and gets through it without a setback.

Wright has done all of the right things to work his way back and is now a little more than six weeks post-injury. It's hard not to get excited about a hardworking, highly motivated athlete as part of a fantasy lineup. Wright could rejoin the Mets during their series this week against the San Francisco Giants, and it sounds as if he plans on playing just as he always does. Hopefully, his rehabilitated hamstring will cooperate.
September, 17, 2013
9/17/13
11:07
AM ET
The middle finger of Rockies outfielder
Carlos Gonzalez
' right hand has not been normal since he injured it swinging a bat in early July. Since then, there has been rest, tape, altered bat grips, and multiple other means of trying to address the issue.
Most recently, Gonzalez was shut down to the point of not even being allowed to pick up a bat in an effort to heal the injured collateral ligament. After a few weeks of rest, Gonzalez tried to return, but only in a defensive role to avoid further aggravating his finger.
And yet the pain persists.
According to the Denver Post, Gonzalez is consulting with hand specialists, and the possibility of surgery looms. Chronic instability could threaten his stature as a hitter, especially if he continues to try to compensate by altering his swing.

Gonzalez understandably is leaning toward surgery, given the finger's failure to heal despite the downtime. The biggest challenge following a surgery like this is regaining the range of motion in the finger after extended immobilization. The surgical repair helps restore the stability but range of motion has to be adequate to grip the bat normally. Once that hurdle is overcome, it is just a matter of reintegrating baseball activities.

The time frame is such that Gonzalez should recover before spring training begins. For now, it seems unlikely he will be swinging the bat again this season. It's time for fantasy owners to part ways and hope for a fresh start with Gonzalez next year.
June, 10, 2013
6/10/13
11:18
AM ET
Every Monday, in this space, we'll provide updates on a variety of players to help you make your weekly lineup decisions. We'll specifically try to hit the players who are day-to-day, have just gone on the DL or are ready to return, so that you can better decide whether you can count on them or not.
All projected return timelines should be considered fluid.
Hitters
Bryce Harper, OF, Washington Nationals (placed on DL retroactive to May 27):
Last week, Harper was officially placed on the DL (backdated to his last appearance); this week he's hoping he can come off of it. That sounds a little optimistic given that Harper is traveling to Pensacola, Fla., to pay a visit to Dr. James Andrews for a consultation. That appointment was scheduled when Harper's irritated knee appeared to be making no progress. In recent days, he seems to have turned a corner according to the Washington Times. Harper had been running in the pool but the Times reports he stopped that activity and the discomfort has subsided. Still, Harper will be evaluated by Andrews Monday after which more information should be forthcoming. As of now, it's worth keeping an eye on his activity this week to see if he is cleared to do more intense workouts. But if running in the pool was bothering him, it's hard to imagine running on land will be smooth sailing out of the gate.
[+] Enlarge

Kirby Lee/USA TODAY Sports Matt Kemp's hamstring woes are just part of the Dodgers' many problems.
Matt Kemp, OF (placed on DL May 30), Hanley Ramirez, SS (day-to-day), Carl Crawford, OF (placed on DL June 2), Los Angeles Dodgers:
The Dodgers' collective hamstring woes are the ultimate example of how difficult these injuries are to manage. After missing five weeks following thumb surgery, Ramirez returned for a few days, then missed another month with his hamstring strain. The team wanted to be very careful about bringing him back, especially with Kemp and then Crawford suffering similar, albeit lesser, injuries of their own. This is how I described the Ramirez situation last week:
What the Dodgers cannot afford is for Ramirez to return and reinjure himself. Obviously there are no guarantees but the team at least needs to feel comfortable they have seen enough in his rehab outings to suggest his leg is ready for prime time.
Well, Ramirez was back only one day before experiencing tightness in his left hamstring. Although he was out of the starting lineup for several consecutive days, he did make pinch-hit appearances. Ramirez is getting repeat imaging on that leg however, given that it remains bothersome. This was exactly the situation the Dodgers were trying to avoid. Ramirez played in a handful of rehab games exhibiting nothing that would hint at his being less than ready to return. Still, as we often say, until an athlete has returned to his prior level of play for a few weeks without incident following a hamstring injury, it's difficult to exhale and believe the problem is truly behind him.
And Ramirez is not the only one. When Kemp was first injured roughly 10 days ago, there was some initial thought he might not even require a DL stint, given his hamstring symptoms were so minor. It looked as if 15 days would be more than enough time to recover. Apparently not. The Dodgers' official website reports Kemp's right hamstring bothered him enough during pregame workouts Sunday that he does not look to be ready to return. The team originally anticipated having him back Friday; now it's unclear just when a return could come. Manager Don Mattingly offered this: "We're not where we need to be with him. We do know that he's not 100 percent." Whether Kemp is apprehensive given his recent injury woes and struggles at the plate or whether there is more significance to the injury is unclear.
In the meantime, fellow outfielder Crawford was officially placed on the DL last Monday (retroactive to June 2) with a hamstring injury Mattingly characterized as "fairly significant" after it had originally been described by the team as a cramp. It certainly looks as if his absence will extend beyond the 15-day minimum.
At this point there is no real timetable on ANY of these players. The team has to be hoping that
Yasiel Puig
, whose brilliant performance since being called up at least provides a temporary distraction from the injuries, remains immune to the hammie bug.
[+] Enlarge

Jamie Sabau/Getty Images Ryan Braun's thumb is the short-term concern for fantasy owners. There could be long-term ones on the horizon.
Ryan Braun, OF, Milwaukee Brewers (day-to-day):
It has not been a good week for Braun on multiple fronts, including the injury department. Braun has had a thumb ailment which has been giving him intermittent trouble over the last month. On Sunday, he was removed from the game in the third inning and his words hinted at perhaps more extended time off. After the game, Braun told reporters he should have taken steps to address it sooner. "From the very beginning, I should have taken more time off and gotten it right," said Braun. "But I just continued to try to fight through it, play through it. It's at the point where it doesn't feel very good." No specifics have been revealed as to the nature of Braun's thumb injury other than "soreness," making it difficult to ascertain just how much time it could cost him for it to completely heal. Braun has indicated on prior occasions that he has made adjustments to his swing but clearly it hasn't gone away. The timing may be right for a DL move.
Austin Jackson, OF, Tigers (placed on DL retroactive to May 12, could return soon):
Last week it sounded as if Jackson
might
return but I did caution it could get postponed. The Tigers opted not to send Jackson on a rehab assignment until he progressed further with his running, something he did to the team's satisfaction last week, according to MLive.com. Now the Tigers are officially sending him out on assignment with a specific plan that will have him increase his activity over several days. While the team is allowing for flexibility in his rehab appearance schedule based on how the hamstring responds, Jackson could potentially return to the big league club by late next week.
Giancarlo Stanton, OF, Miami Marlins (placed on DL April 30, could return Monday):
When Stanton went down with a hamstring injury, it immediately looked serious. A June return seemed most plausible. After missing multiple weeks and a seemingly (yet understandably) slow rehab process, suddenly Stanton's imminent return feels a bit hurried. Stanton only just embarked on a rehab assignment last Tuesday and got off to a slow start at the plate but was able to play on back-to-back days. Because of inclement weather, Stanton lost a couple of game opportunities in the middle of the week. The Palm Beach Post reports Stanton could return Monday, according to manager
Mike Redmond
. While Monday was floated as a potential target when Stanton entered a rehab assignment, the missed days because of weather seemingly would have delayed his return. According to the Post, Redmond indicated Stanton could return because
Casey Kotchman
might be unavailable because of sore ribs. Surely the Marlins would not activate Stanton unless they thought he was out of the woods with the hamstring. Or would they? The Dodgers' recent challenges with players returning from hamstring injuries even on a conservative timetable would be a warning. Stanton may return Monday and he may ultimately return without incident but it seems like a big "if." Given how serious his injury looked when he originally went down while sprinting to first base, it's going to take some convincing -- as in a few weeks of no setbacks -- before the specter of potential reinjury fades.
Pablo Sandoval, 3B, San Francisco Giants (day-to-day):
Last week, we talked about Sandoval's vague diagnosis related to his foot and that he was quite literally day-to-day. On Saturday, Sandoval aggravated his foot injury during his first at-bat and did not play Sunday. The natural next question is whether this setback will lead to a turn on the DL. According to the San Jose Mercury News, manager Bruce Bochy said, "The DL is a possibility." Sandoval, who is in a walking boot, has an injury on the outside of his left foot, according to the Mercury News (although it is still unclear which structure then is compromised). Sandoval is not tiny and between the torsion through his foot when swinging the bat and the pounding it absorbs while running, the demands are fairly high. A more extended absence may be in his future.
Will Middlebrooks, 3B, Boston Red Sox (placed on DL May 24, likely return this week):
Middlebrooks expressed optimism from the outset that he would return when eligible, or close to it. After some solid outings at Triple-A Pawtucket, it appears his return is near. According to the Providence Journal, manager John Farrell has made it clear what his role will be when he does rejoin the lineup. "Will's our third baseman," Farrell said. The team has not indicated precisely when Middlebrooks is expected to return but fantasy owners should keep an eye on any potential roster move. His uneventful recovery from this episode of back spasms -- and his performance at the plate during his rehab games -- warrants inserting him in fantasy lineups immediately upon return.
Jedd Gyorko, 2B, San Diego Padres (day-to-day):
Gyorko exited Sunday's game in the middle of the 10th inning with what the team is referring to as soreness in his right groin. He apparently suffered the injury just prior to sliding into second base, according to the San Diego Union-Tribune. Although Gyorko hoped it wasn't severe, Padres manager Bud Black was less clear. "We're not sure what it is," said Black, "a strain, a pull, a cramp. But he had to come out of the game." Gyorko is likely to undergo further evaluation Monday to determine whether a DL stint will be necessary. Awkward slides or missteps heading into slides have proved to be problematic for several players this year, a reminder that seemingly benign maneuvers can still result in injury. Fantasy owners should prepare for at least a couple of missed days for Gyorko, if not a little longer.
Pitchers
[+] Enlarge

Scott Cunningham/Getty Images Stephen Strasburg's DL stint may be very short-lived.
Stephen Strasburg, SP, Washington Nationals (placed on DL retroactive to June 1, expected return June 16):
Last week we discussed the nature of Strasburg's injury and the concern the Nationals likely had about him compromising his shoulder if he played through it. That concern translated to a formal DL-designation for Strasburg later in the week after soreness kept him from attempting a Wednesday bullpen session. The reported non-severe nature of the lat strain also proved to be true as Strasburg was able to complete a throwing session just three days later. If all continues well with his program this week, Strasburg will make his next start on June 16, the first day he is eligible to return.
Clay Buchholz, SP, Boston Red Sox (day-to-day):
A couple weeks ago, it was an irritated AC joint after sleeping awkwardly that forced Buchholz to miss a start. After a successful return outing, Buchholz left his subsequent start prematurely due to tightness in his neck. Are the two related? It's hard to say with any degree of certainty. Certainly the neck and the shoulder are closely integrated in the throwing motion, but these can still be separate issues. Nonetheless, one of the concerns when Buchholz was dealing with the AC soreness was whether he was compensating for the shoulder. In an effort to prevent any significant change in his throwing mechanics, Buchholz was scratched from one start, then delayed for his next start. He seemed to be past the issue with his shoulder, but it's certainly possible that subtleties from one injury contributed to how he was throwing. The close timing of the two injuries also hints at some relationship, even if a specific cause-and-effect mechanism is difficult to determine. In any event, Buchholz has indicated he will take every measure to ensure he's fully healthy before attempting a return but for right now it does not appear that will involve a move to the DL.
Alexi Ogando, SP, Texas Rangers (placed on DL retroactive to June 6):
Ogando returned from the DL for one start … and then went right back. After missing a month with biceps tendinitis, Ogando is back on the DL with what is simply being termed right shoulder inflammation. The concerns are fairly obvious. Back-to-back moves to the DL for a pitcher with a shoulder injury is never a good sign. More concerning is what it might mean from a structural standpoint. Often a diagnosis of biceps tendinitis (at the shoulder) signals a problem with the labrum, given their interface at the shoulder. An MRI in mid-May when Ogando hit the DL the first time reportedly revealed no structural issues, although the nuances of what is observed on imaging may be subtle. This is not to suggest his season is necessarily threatened but it wouldn't be surprising if he is sidelined for a bit longer this time to help guard against yet another setback. The bigger question long-term may be how his role is modified, if at all, when he returns.
Daniel Hudson, SP, Arizona Diamondbacks (on DL to start season, no timetable for return):
In what may be the sad news of the week when it comes to injuries, Hudson reportedly suffered another tear in his ulnar collateral ligament (UCL), according to the Diamondbacks. Hudson was 11 months post-Tommy John surgery and was in the phase of rehab starts as he prepared to return to the majors. After feeling discomfort in his throwing elbow following his first rehab start Tuesday night, subsequent evaluation revealed the injury. The Diamondbacks have indicated they are exploring all medical options, but Hudson will first consult with Dr. James Andrews. While the initial news sounds dire, it is worth waiting to see the results of his consultation before presuming the worst-case scenario of yet another procedure.