Stephania Bell:

Frank Francisco
March, 29, 2013
3/29/13
5:19
PM ET
Given the number of pitchers who are entering 2013 coming off injuries to their throwing arms, we decided to craft a quick status update list on some of the more intriguing names as the season gets underway. Given that some of these players still have a ways to go in their recovery, consider the timeline fluid and subject to change. For the purposes of ascertaining where these players stand coming out of spring training however, this is our guide.
With elbow surgery becoming virtually commonplace in pitchers, we almost take for granted that they will return to their prior level of performance. But the complexity of the surgery and the variables which can impact recovery affect each athlete differently and should not be overlooked. For more detail on the process of ulnar collateral ligament reconstruction, commonly referred to as Tommy John (TJ) surgery, please see below.
Starting Pitchers
[+] Enlarge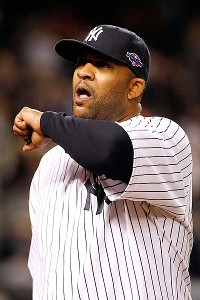 William Perlman/THE STAR-LEDGER/US PresswireCC Sabathia's 200 innings last season were the fewest he's thrown since the 2006 season, which is also the last time he's had as few as 28 starts.
CC Sabathia, LHP, New York Yankees
:
Surgery to address bone spur, Oct. 25, 2012
. Sabathia reluctantly went on the DL last year with swelling in his elbow, then underwent offseason surgery to address the source of the problem; his return this spring has been just how he prefers it -- uneventful -- and he is expected to be ready Opening Day; while he is racking up the years and the pitching miles, his overall durability remains impressive.
Brandon Beachy, RHP, Atlanta Braves
:
TJ surgery, June 21, 2012
. Has thrown several bullpens this spring without incident; will continue on throwing progression with targeted return in June/July.
Chad Billingsley, RHP, Los Angeles Dodgers
:
elbow inflammation and sprained UCL in 2012
. Underwent PRP injections in fall and threw eight bullpens in offseason without incident, saying his elbow felt "normal" entering the spring; this spring he has sustained a groin ailment and a bruised index finger; Billingsley is still hopeful to start the season on time or close to it, but the recent history of a partial UCL tear warrants caution.
Jaime Garcia, LHP, St. Louis Cardinals
:
rotator cuff tear (small), no surgery, injured June 2012
. Garcia opted for rehab over surgery and so far it seems to be working out for him; his shoulder has not given him any trouble this spring and he is expected to be ready to start the season as a part of the Cards rotation. The concern is whether his shoulder will hold up to a full season of pitching demands.
Daniel Hudson
, RHP,
Arizona Diamondbacks
:
TJ surgery, July 9, 2012
. Has been making steady progress and threw his first bullpen the last week of March; targeting a return around the All-Star Break.
C.J. Wilson, LHP, Los Angeles Angels
:
surgery to address bone spur, Oct. 23, 2012
. Has had no issues with the elbow this spring, although his performance has not been up to par; the latter should improve and his overall durability record should be an encouraging sign going forward.
Colby Lewis, RHP, Texas Rangers
:
flexor tendon repair, July 27, 2012
. Progress has been steady and, after throwing bullpen sessions this spring, he is hoping to progress to live batting practice in early April; so far he remains on track for a late May/early June return. If he continues to progress this well, there could be a nice second half of the season in store.
Michael Pineda, RHP, New York Yankees
:
labral repair, May 1, 2012
. Began throwing from a mound in February and added some breaking pitches in March; he won't be ready to return until around the middle of the season but he seems to be committed to the rehab and to being in better shape in general (reportedly having dropped about 20 pounds by this spring); it remains to be seen whether he can rediscover his dominant style but he's young enough that there's a reason to believe he can.
Ted Lilly, LHP, Los Angeles Dodgers
:
labral repair, Sep. 21, 2012
. Lilly has been remarkably durable but all good things must come to an end; his shoulder issues required surgery and at age 37 it's hard to know just how he'll bounce back; his spring outings have been limited by flu complications and he'll likely start the season on the DL with a chance to continue to progress his arm; hard to count on when his status appears uncertain.
Scott Baker, RHP, Chicago Cubs
:
TJ surgery April 17, 2012
. Made spring debut in mid-March but inflammation afterward resulted in a shutdown for at least a month; will have to gradually resume throwing and continue to build strength. No firm timetable but could miss first couple months of season.
John Danks, LHP, Chicago White Sox
:
shoulder surgery Aug. 6, 2012
. The surgery was for debridement of biceps tendon and rotator cuff and to repair a small capsular tear. Danks threw bullpens and live batting practice sessions this spring without incident but, as is often the case, struggled in game outings, particularly with velocity. Will open the season on the DL and it's unclear just how long he'll stay there.
John Lackey, RHP, Boston Red Sox
:
TJ surgery Nov. 1, 2011
. If there's an upside to tearing your ulnar collateral ligament late in the year it's that you benefit from the season schedule to gain extra recovery time; Lackey is now almost 17 months post-surgery so recovery is not an issue, but he'll still need to regain the feel of competitive throwing; results may be inconsistent initially but he should be able to get through a full season.
Cory Luebke, LHP, San Diego Padres
:
TJ surgery and flexor tendon repair, May 23, 2012
. Experienced some pain in his reconstructed elbow this spring, forcing a temporary shutdown. This is not unusual but it reinforces the notion that these recoveries cannot be rushed; his timetable suggests a return around midseason but that could always fluctuate, as could his performance in the early stages.
Relief Pitchers
[+] Enlarge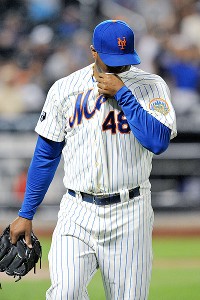 Jason Szenes/Getty ImagesFrank Francisco has to contend with both his recovery, and with a challenge to his role as closer from teammate Bobby Parnell.
Frank Francisco, RHP, New York Mets
:
surgery to address bone spur in right elbow, Dec. 18, 2012
. Began throwing from a mound in March and has only recently begun throwing to live hitters; still with some soreness and is likely to open season on DL; could be ready by late April/early May.
Casey Janssen, RHP, Toronto Blue Jays
:
AC joint surgery Nov. 16, 2012
. Progressed slowly this spring but has recently gained ground and appears ready for Opening Day; his overall workload has been light so will need to see how he responds in season, but the Jays have help if he needs an occasional day off.
Ryan Madson, RHP, Los Angeles Angels
:
TJ surgery, April 2012
. Experienced some soreness this spring and had to be scaled back; will open the season on the DL but may not stay there long. Now that the arm is feeling better, he still needs to build some endurance and currently looks on track to return at some point in April.
Sergio Santos, RHP, Toronto Blue Jays
:
labral debridement surgery, July 24, 2012
. Expected to be ready for Opening Day. Other than some minor triceps soreness this spring, has had a smooth progression back to the mound; Janssen is expected to function as the Jays' closer but Santos could get opportunities if Janssen is initially unable to tolerate a full workload.
Joakim Soria, RHP, Texas Rangers
:
TJ surgery April 2, 2012
. This is Soria's second TJ surgery, making the road to recovery less certain, but so far the process has been smooth. He began throwing long toss in early October and from a mound in February, added breaking pitches in March and appears headed for a late May/early June return.
Tommy John Surgery: An updated primer
Ulnar Collateral Ligament (UCL) Reconstruction was originally performed by Dr. Frank Jobe in 1974 and is now known by the name of Jobe's first subject, pitcher Tommy John. It has become such a part of the baseball vernacular that it's a common topic of discussion amongst even casual fans. That doesn't mean there isn't more to learn about optimizing the surgical techniques or the rehab process to help ensure success or, more importantly, how to ultimately prevent or even reduce the incidence of these injuries.
The basics:
The UCL is not a simple ligament. It is comprised of three bands which blend together to reinforce the medial (inner) elbow joint and runs from the medial epicondyle of the humerus (a bony prominence on the arm bone) to the medial forearm bone (ulna). Not all tears are created equal. In fact, it is rarely the case where the ligament is completely blown out. A partial tear in a critical location however can make it virtually impossible to throw because of pain, loss of control, or both. This is one of the reasons an MRI does not tell the entire picture; clinical examination will substantiate any instability in the elbow and the athlete needs to have symptoms of a magnitude sufficient to warrant surgery. This is not a procedure one enters into lightly given the intensive recovery time. One of the reasons a trial of conservative therapy is typically the first option when there is a suspected UCL tear (beyond the obvious scenario where the athlete's injury was mild and he recovers enough to return to play), is to validate for all involved the need for surgical repair.
The procedure:
Typically a tendon is harvested from the forearm (most common) to serve as the replacement ligament. The tendon of choice (palmaris longus) is not present in everyone (hence the reason removing it will not hinder the athlete's function) in which case the option becomes a hamstring tendon. The surgeon drills holes in the bone (tunnels) where the new "ligament" will be implanted. In a fancy method of looping the ligament through the tunnels and tying it together, along with repairing the remaining components of the original ligament for reinforcement, the reconstruction is performed. One tricky element involves the location of the ulnar nerve in the forearm. This nerve runs adjacent to the ligament and supplies the fourth and fifth fingers in the hand. In other words, if the nerve becomes compromised, the athlete could lose feeling and muscular function in that area. (Ulnar neuritis, inflammation of the nerve, is not an uncommon ailment amongst pitchers simply due to the stress on the nerve from pitching.) Surgeons take great care to protect the nerve during surgery and in some cases will actually transpose (move the location of) the nerve to another spot on the forearm. Even when care is taken, complications related to the nerve are a risk factor with this surgery.
[+] Enlarge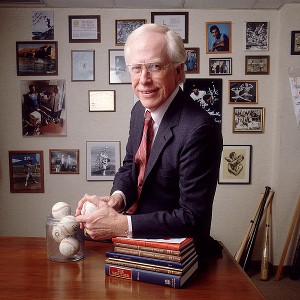 Nancy R. Schiff/Hulton Archive/Getty ImagesDr. Frank Jobe, pioneer of "Tommy John" surgery.
The rehab:
As is the case following any new surgical procedure, the post-surgical rehab was very cautious initially. Return timetables approximated 16 months. Over time as more athletes have undergone the procedure and more is known about the healing process, that timetable has shortened to a range of nine to 12 months. The rehab schedule remains fluid as any number of factors can influence the time to return to activity, including whether the athlete is a thrower or non-thrower. Early rehab focuses on regaining elbow motion along with strengthening exercises for body parts away from the elbow and cardiovascular conditioning. Strengthening around the elbow is eventually introduced along with upper extremity coordination activities to retrain the "feel" of the arm in space. One of the biggest benefits of the rehab process is the time away from throwing. Pitchers rarely take such extended down time unless forced to do so because of injury. The rehabilitation following UCL reconstruction allows time to address shoulder imbalances, core muscle weakness, leg strength and any other areas that require attention while throwing is off limits. At approximately four months the athlete can resume light tossing and ultimately moves to a progressive throwing program. The throwing program is modified based on how the athlete responds to each outing and it is not uncommon for the progression to fluctuate at various points in the process. Even after an athlete returns to competitive throwing, it often takes time to reestablish command and consistency. So while a return to competition may occur within a year or less, a return to form can certainly take another six to eight months.
The unknowns:
It is unclear just how much an athlete should throw in his first season returning from this procedure. Look no further than the case of
Stephen Strasburg
in 2012 to find arguments on either side of the Nationals' decision to shut him down early. The fact is there is no definitive research at present to outline a specific number of pitches to target or other such criteria for the first year post-surgery. There is some consensus amongst the medical community that the reconstructed ligament is stronger in the second year following the procedure.
Return to prior level of function, especially at the professional level, is remarkably high. Life expectancy of the reconstructed ligament, however, is unknown and may depend on a number of factors including severity of the injury and whether any of the athlete's original ligament remained intact. In recent years there has been an increase in athletes undergoing a second UCL reconstruction but the numbers are still small making meaningful analysis challenging. Based on preliminary research, it appears the success rate (defined as return to prior level of function) following a second procedure is significantly lower. It also appears that pitchers returning to a relief role fare better than those attempting to return as starters.
The prospect of facing Tommy John surgery is not viewed as career-threatening as it once was but it is still a daunting process. Although many athletes return to their prior level of function, it is not an easy path. Non-pitchers can return at a slightly faster rate, although outfielders may require additional time to make the biggest throws (outfield to home without a cutoff). For pitchers, even after they return to action, there is a high degree of variability as to when they actually return to form. As many similarities as there are among surgical techniques and rehabilitation programs, there are just as many individual variables which make each athlete's recovery unique. Prior injury history, overall tissue health, specific biomechanical demands of the athlete, follow-through with rehab and the surgical procedure itself can all impact the pace and the degree of recovery. In the end, outcomes are largely favorable but nothing should be taken for granted.
April, 19, 2011
4/19/11
4:49
PM ET
How about some good news for a change? There are a handful of players who are expected to rejoin their teams' lineups this week, giving fantasy owners some options to consider.
[+] Enlarge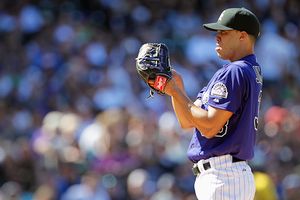 Doug Pensinger/Getty ImagesUbaldo Jimenez was roughed up for five runs and seven hits over six innings on Opening Day before hitting the disabled list.
•
Colorado Rockies
ace
Ubaldo Jimenez
will return Tuesday to face the
San Francisco Giants
. Jimenez, who went on the disabled list with a cracked cuticle following his first start, threw with his usual velocity in his latest rehab outings. Now that the cuticle has healed, the issue should be behind him. Consequently, as Troy Renck of the Denver Post reports, Jimenez will not be on a pitch count (fantasy owners rejoice ... Giants fans, not so much).
•
Cincinnati Reds
second baseman
Brandon Phillips
is returning to play Tuesday after resting a few days because of a mild right groin strain. Phillips sustained the injury last Wednesday and, although he has hinted that he could have played by now, the team has not wanted to take any chances. Groin injuries can be particularly problematic for second basemen, who have to make explosive lateral defensive maneuvers on a regular basis. The last thing the Reds need is to see Phillips' injury turn into a more severe strain and an extended absence. According to the Cincinnati Enquirer, manager Dusty Baker also factored the elements into the equation as far as holding off Phillips' return, saying, "This [cold] weather isn't helping." It appears those concerns are no longer an issue, as Phillips is in the lineup for Tuesday night's game against the
Arizona Diamondbacks
.
•
New York Mets
outfielder
Jason Bay
's return to the starting lineup has been a long time coming. Bay suffered a scary concussion last July when he crashed into the outfield wall at Dodger Stadium, ending his 2010 season prematurely. Bay's concussion-related symptoms finally subsided in September and he appeared to be headed for a fresh start in spring training. That optimism didn't last long, as Bay strained a left intercostal muscle in late March. Originally, Bay denied the injury was serious but he was forced to start the season on the DL to let it heal. Bay began hitting off a tee less than two weeks ago and has steadily increased the vigor of his swing to playing in rehab games. ESPNNewYork.com reports that, in the absence of any setback, Bay is expected to be activated Thursday.
• In Toronto, there could be a switch at the closer position soon with
Frank Francisco
's return from the DL. Francisco, out since the start of the season with a strained pectoral muscle, was activated by the
Blue Jays
on Tuesday but is not expected to close right away. His 2010 season (with the
Texas Rangers
) ended with an injury to his right latissimus muscle, and he was unable to participate in the playoffs. The 31-year-old reliever's health was not enough of a concern to keep the Blue Jays from acquiring him, but they may be relieved to have
Jon Rauch
as insurance. Rauch has performed admirably at the closer position to start the season with Francisco out.
Francisco's latest injury involved not only his pectoral muscle but also inflammation of his biceps, a key structure in a thrower's shoulder in part because of its physical attachment to the labrum. Given his age (translation: wear and tear on the shoulder over time), there is reason to maintain at least some level of concern, even if minor. MRIs taken of Francisco's shoulder this spring revealed no structural damage, according to the Blue Jays' official website, which is encouraging, but only time will tell how well he holds up. The Blue Jays are expected to work Francisco back into relief duties but aren't likely to pass the closing baton to him automatically.
• The Blue Jays will also be getting
Brandon Morrow
back in the mix. Morrow started the season on the DL with right elbow inflammation after experiencing forearm tightness following a spring outing. Morrow initially expected to miss only one start, but the team kept him on a slower pace of building his pitch count, a wise move considering the length of the season. According to the Blue Jays' website, Morrow is expected to start Friday or Saturday.
• There may be some shuffling in San Francisco as the Giants prepare for the return of
Cody Ross
. Ross started the season on the DL with a calf strain and has progressed pretty much on pace with the Giants' initial projection of a three-week absence. Calf strains can be slow to heal and easily aggravated, but Ross showed no limitations in his spring outings as his innings gradually were extended. If Ross returns to the team Tuesday, which was the plan if there were no setbacks after his Monday outing, then
Aubrey Huff
would (no doubt thankfully) return to first base, according to the Giants' official website. Manager Bruce Bochy may then opt to send rookie
Brandon Belt
back to the minors for the time being. Fantasy owners should double-check pregame lineups because Bochy hinted that the weather in Colorado could be a factor in determining when Ross is activated.