Stephania Bell:

Fred Taylor
November, 23, 2010
11/23/10
6:17
PM ET
San Diego Chargers
quarterback
Philip Rivers
continues to show that he can get the job done no matter who steps in to take his handoffs or catch his passes. In front of millions on "Monday Night Football," Rivers delivered a star performance with running back
Ryan Mathews
, wide receiver
Legedu Naanee
and tight end
Antonio Gates
all watching from the sidelines.
Mike Tolbert
handled the bulk of the running game (and likely will again in Week 12) and fresh-off-the-injury-report
Malcom Floyd
did his part to contribute to the passing game with a couple of catches and a score (although according to Kevin Acee of the San Diego Union-Tribune, Floyd tweaked his hamstring again, so stay tuned).
[+] Enlarge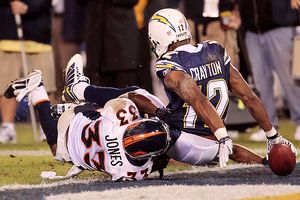 Stephen Dunn/Getty ImagesPatrick Crayton's left wrist was injured as he scored this touchdown.
But the Chargers couldn't get through the game without suffering yet another loss of a key player. Wide receiver
Patrick Crayton
landed awkwardly in the end zone while finishing off an impressive catch-and-run touchdown. He came up holding his forearm bent 90 degrees, and didn't let any of his teammates touch that left hand for congratulatory high-fives. Often when a person instinctively cradles his arm that way, it suggests a serious wrist or forearm injury. ESPN's Adam Schefter is reporting that Crayton suffered a dislocated wrist and is undergoing further testing Tuesday to determine the course of action. Since the wrist joint consists of two forearm bones (radius and ulna) interfacing with eight small wrist (carpal) bones, which in turn interface with the bones of the hand, there are many possible injury presentations. In other words, rather than speculate as to the specifics, we will wait to see what the Chargers reveal after Crayton's follow-up tests. Suffice it to say, this is not exactly good news. One might say that the timing of
Vincent Jackson
's return, scheduled for this week, couldn't be better. Something tells me Rivers will adjust just fine.
But how will
Eli Manning
adjust to the loss of another star wide receiver in the span of a week? The
New York Giants
, who recently saw
Steve Smith
go down with a partially torn pectoral muscle, have now lost
Hakeem Nicks
to a case of compartment syndrome in his right leg. Compartment syndrome is typically something that develops over time (chronic) but it can be brought on suddenly (acute), as was the case with Nicks, by trauma. Nicks reportedly was hit in the leg at some point during Sunday's game, according to ESPN New York, but was able to play into the fourth quarter. When Nicks arrived at the team facility on Monday, coach Tom Coughlin said the medical staff felt the need to "take immediate action." Nicks then went to the hospital and underwent a fasciotomy, a procedure whereby tissue is released surgically to alleviate pressure on blood vessels and nerves in the area.
[+] Enlarge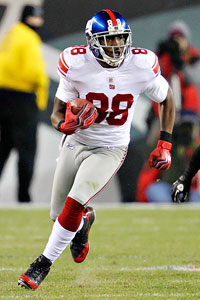 AP Photo/Rob CarrHakeem Nicks has scored the sixth-most fantasy points among wide receivers in ESPN standard leagues.
The lower leg is divided into regional compartments, each of which contains muscles, blood vessels and nerves, and the compartments are separated by connective tissue called fascia. Each compartment functions like a container of sorts. In the presence of swelling, the contents within each compartment are subject to increased pressure, which can constrict the blood vessels and nerves and prevent normal function (picture a blood pressure cuff squeezing around the leg and cutting off circulation). The individual can feel pain and tingling as a result of the compromise to the nerves and blood vessels. More importantly, if the blood supply to muscle is compromised for any length of time, the muscle tissue will die, hence the emergency nature of the procedure. Relieving pressure on the compartment by cutting the fascia is the immediate treatment. The next steps are waiting for the wound to heal, then gradually restoring the motion and strength in the lower leg.
The Giants have indicated that Nicks will miss the next three weeks following his fasciotomy. Time to recover from such a procedure can vary from several weeks to a couple of months, depending on the extent of the procedure, how well the wound heals, and whether there are any complications along the way. It should be noted that most acute compartment syndromes are associated with significant trauma, such as fractures or crush injuries. Sometimes in sports, however, there can be a direct blow that results in a hematoma (collection of blood), which in turn creates significant localized swelling and pressure. This may be the origin of Nicks' injury. Assuming no prior history of compartment issues for Nicks, the three-week timetable would seem reasonable, assuming no setbacks. During the first week, Nicks will do very little, but as he is able to increase his activity, we should get a better idea of whether he will meet the projected timetable.
Plenty of other teams continue to adjust to injury situations and this week some have only a few days to do so. With the Thanksgiving holiday, there will be three NFL games Thursday. The
Detroit Lions
host the
New England Patriots
for the early game. Then the
New Orleans Saints
visit the
Dallas Cowboys
followed by the
New York Jets
welcoming the
Cincinnati Bengals
. Given the short week for those teams, their initial practice injury reports were issued Monday (usually they do not come out until Wednesday). For key fantasy players in Thanksgiving Day games, here's what we know about their early-week activity.
Detroit Lions:
The Lions had only a walk-through Monday but still provided practice report "estimates." Among those who would not have practiced were running back
Jahvid Best
, quarterback
Matthew Stafford
, tight end
Tony Scheffler
and kicker
Jason Hanson
.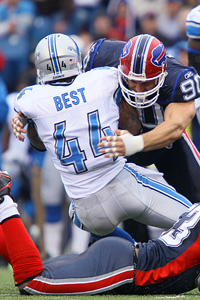 Kellen Michah/Icon SMIEven if Jahvid Best plays on Thanksgiving, remember that he hasn't had a double-digit fantasy game in ESPN standard leagues since Week 2.
Fantasy owners are probably most concerned about Best and rightfully so. Best has been limited to some degree by his toe injuries since early in the season. He reportedly suffered a setback Sunday and was seen getting one of his toes re-taped during the game. Ultimately, the toe situation was problematic enough to keep him from returning to the field. While he may continue to have some good days, the condition is going to persist and be a risk factor until he has lengthy time off.
The Lions' dire situation at running back has been compounded by the loss of
Kevin Smith
to injured reserve. Smith, who had just started to emerge following his ACL reconstruction of last year, is now recovering from thumb surgery. Nonetheless, it's hard to imagine Best being even close to ready for a full game Thursday when his pattern has been one of not practicing until late in the week. And as we saw last week, that schedule still was not enough to allow him to perform on Sunday. Dave Birkett of the Detroit Free Press reports that Best was in practice Tuesday, yet he still expects
Maurice Morris
to be the No.1 back this week.
As far as the other injured Lions, no one really expects to see Stafford anytime soon, if at all, this season, so his absence comes as no surprise. Scheffler injured his ribs in the second quarter of Sunday's game, according to the Detroit News, and is anything but certain to play. Hanson is recovering from an MCL sprain and his status for Thursday is still up in the air.
New England Patriots:
The Patriots also conducted only a walk-through Monday but reported several players as limited, including quarterback
Tom Brady
and running back
Fred Taylor
. Brady, who is still listed on the report because of his foot along with his shoulder, will continue to play as anticipated. Based on his recent performances, it's hard to see the foot as a limitation. As far as Taylor, he returned to limited practice with his team a couple of weeks ago and is awaiting the green light to see playing time. Taylor seems to be as in the dark about when that will be as anyone else. The Patriots' running game appears to be in good hands so the team may elect to guard Taylor's use, even once he has been activated for game day.
[+] Enlarge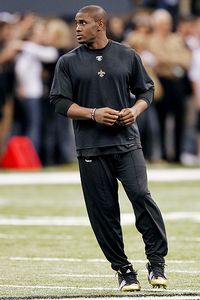 Derick E. Hingle/US PresswireReggie Bush nearly returned to action in Week 11 before becoming a late scratch, but he might finally be able to play for the first time since Week 2.
New Orleans Saints:
Despite the encouraging sight of
Reggie Bush
in team practice last week, he was deemed not quite ready for prime time and was held out of Sunday's game. Maybe not such a bad idea given that the team's next game is coming just four days later. Bush was listed as a full participant in the Saints' Monday walk-through practice report and is expected to play Thursday, barring a setback. Of course, the team expressed optimism that he would play last Sunday and he didn't, but keep in mind that Bush was only a limited participant in practice throughout the week. According to the New Orleans Times-Picayune, that's exactly what it came down to for the coaching staff, which did not want Bush's first full test to come in a game. Coach Sean Payton told the Picayune, "[Bush's] pregame workout was good. And yet I just felt like what I didn't want to do was err on the side of bringing him, just because you're wanting to bring him up."
It will be interesting to see how the Saints utilize him in his return outing. But with Bush champing at the bit to return, and the Saints feeling as if they're getting him back in good shape, he could provide a spark to the offense. Meanwhile,
Pierre Thomas
is not looking as if he'll play Thursday. There are conflicting reports about the exact nature of his ankle injury but the Picayune reports that Payton maintains Thomas' injury is a sprain. Either way, it appears that his return will not come before December.
Tight end
Jeremy Shockey
sat out Week 11 because of a rib injury and has been a limited participant in practice so far this week. Whether he will play on Thursday or not is not yet determined.
Dallas Cowboys:
It's interesting that there has been so much chatter about the recent X-rays taken of Tony Romo's left clavicle fracture, as if there were some hope of a full recovery. Most bones require six weeks for fracture healing, with actual remodeling of bone continuing well beyond that point. Add to that the fact that the clavicle is notoriously slow to heal, and four weeks -- which is how much time has passed since Romo's injury -- would not likely be enough to demonstrate full bone repair. It's certainly possible that the clavicle showed some progression in healing and that's often why X-rays are taken at an interim stage, to assess how the bone is shaping up. The bottom line is if anyone was expecting Romo to return to the lineup sooner than the original minimum six-week projection, it's not going to happen. Eight to 10 weeks has been the more reasonable healing timetable estimate all along, but it is not guaranteed, and the team may decide it is not worth risk of reinjury to have him appear again this season.
Of more immediate concern, running back
Felix Jones
is still dealing with a hip ailment and spent Tuesday working with the rehab staff, according to The Dallas Morning News. Jones, who injured his hip Sunday yet returned to the game, did not practice Monday but said he was "doing better," according to the Fort-Worth Star-Telegram. We'll see how the team designates him for Thursday's game, but resting early in a short week may give him the best chance to play on Thanksgiving.
Cincinnati Bengals:
Running back
Cedric Benson
came into Week 11 with a foot injury but it did not appear to hamper him during the game. At one point, Benson was forced out with an eye injury but he was able to return. He should be available Thursday.
New York Jets:
Wide receiver
Jerricho Cotchery
had a groin strain that kept him sidelined in Week 11. ESPN New York's Rich Cimini reports that Cotchery is doing light positional drills Tuesday but is still "iffy" for Thursday's game. As we've seen in the past, groin injuries are not only difficult to overcome, they are easy to aggravate. It would not be surprising if Cotchery is out again this week.
Here's who else we're talking about heading into the rest of the Week 12 contests:
•
Miami Dolphins
quarterback
Chad Henne
, who injured his knee in Week 10, practiced Monday after serving as the emergency quarterback last Thursday. While the Dolphins have not yielded any information as to the specifics of the injury, the fact that Henne is participating in some level of practice is encouraging, but we'll have to see how the team designates him later in the week.
Tyler Thigpen
may still be at the helm.
• The
Tennessee Titans
had a bizarre weekend but we'll stick to the injuries.
Vince Young
has now been placed on injured reserve as he is expected to undergo thumb surgery to repair a torn flexor tendon.
Kerry Collins
is still recovering from a calf strain, which was initially projected to keep him out for several weeks, and is not expected to be ready for this Sunday. Thus,
Rusty Smith
is likely to start at quarterback in Week 12 after stepping in last week when Young was injured. The Titans have signed
Chris Simms
as insurance.
[+] Enlarge
Grant Halverson/Getty ImagesClinton Portis had a short-lived return to the Redskins' lineup after missing five games with a groin injury.
• Running back
Ryan Torain
of the
Washington Redskins
sat out Sunday with his hamstring injury, with
Clinton Portis
getting the start. Portis didn't last long though, aggravating his groin injury after just five plays. Considering that Portis had not been cleared to play Monday night, it's hard to imagine that he was suddenly 100 percent healthy. That said, as an athlete is recovering from a muscle strain, the only way to truly test his health once he's fully practicing is to put him in a game situation. No one ever wants or expects a setback to come so quickly, but that is the nature of this type of injury. Portis underwent a subsequent MRI and the results, according to Jason Reid of The Washington Post, "revealed nothing new. Just swelling." Unfortunately, just swelling is enough to indicate there is still some inflammatory response taking place around that healing tissue, making it less likely we will see Portis in Week 12. Meanwhile, the Redskins lost running back
Chad Simpson
to a foot injury and have added running back
James Davis
to their active roster. With Torain still recovering from his hamstring injury, it appears
Keiland Williams
will be the starting back for the Redskins.
•
Indianapolis Colts
wide receiver
Austin Collie
left the Week 11 game early for what the Colts called "precautionary reasons." Collie, who was returning to play two weeks after suffering a concussion, took some big hits in last week's game. He is not expected to play in Week 12. Running back
Joseph Addai
is still considered day to day, as he has been essentially since the injury occurred. In other words, fantasy owners can't plan for a scheduled return.
•
Carolina Panthers
quarterback
Jimmy Clausen
says he expects to be available in Week 12. Both he and running back
Jonathan Stewart
will need to receive medical clearance to return to practice, and their status will not be known until later this week.
We will continue to update these injuries and others as the week progresses. Due to the Thanksgiving holiday, there will be no chats on Friday. But check back for the latest injury updates affecting Week 12 in the Saturday morning blog! Happy and healthy Thanksgiving everyone!
November, 11, 2010
11/11/10
5:30
PM ET
Not getting enough football? Of course you aren't! To help remedy that situation, you get another night of NFL competition starting ... now. Tonight marks this season's first night of Thursday night football, as the
Baltimore Ravens
face the
Atlanta Falcons
at the Georgia Dome.
Naturally, there is a fantasy football injury concern heading into the game. Falcons wide receiver
Roddy White
is listed as questionable coming off a knee bruise from Sunday's contest. It's worth noting that White ultimately finished the game Sunday, and his status for Thursday night never really appeared to be in doubt, even as he was held out of practice early in the week. White returned to a light limited practice Wednesday, and all indications are that he will play against the Ravens. Whether the knee will affect his performance at all is hard to gauge, given that he has not truly tested it since Sunday. Still, there's not enough evidence to suggest White will be significantly impaired unless he suffers an in-game setback. It's pretty hard to bench
Matt Ryan
's top target on the basis of a what-if scenario. Fantasy owners should check pregame inactives, but it would be very surprising if White did not take the field.
In the rest of the NFL world, four teams are enjoying a respite from competition in Week 10. The
San Diego Chargers
,
New Orleans Saints
,
Oakland Raiders
and
Green Bay Packers
get a week off during this final bye week of the NFL season.
With so many teams dealing with multiple player injuries, it made sense to lump the biggest collections of injuries together as team units in this blog entry. With that said, here's who else we're talking about in the world of injuries heading into Week 10: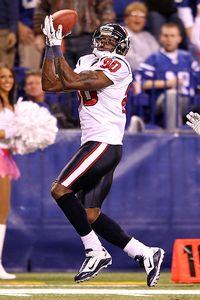 Andy Lyons/Getty ImagesAt this point, it shouldn't surprise anyone that Andre Johnson misses a midweek practice to nurse his ankle.
Houston Texans (Andre Johnson, WR; Owen Daniels, TE; Matt Schaub, QB):
Neither Johnson nor Daniels practiced with the team Wednesday or Thursday. Nick Scurfield of HoustonTexans.com reported that Johnson underwent another MRI on Monday as a follow-up measure for his right ankle. Johnson's high ankle sprain has continued to nag at him intermittently, and his explanation for that was perfectly reasonable. "I still have a little swelling in my joint, so that's what's causing the little pain I have at times," Johnson said. "The biggest thing now is just trying to just get that swelling out of there." This explains why the team is limiting his activity during the week. Less running and less pounding means a better chance of getting the swelling down. Less swelling translates to better joint mobility and less pain. Johnson said his ankle was "feeling pretty good" Wednesday. This cycle is likely to continue throughout the remainder of the season.
Although Johnson's nonpractice routine to protect his ankle is somewhat expected by now, Daniels has yet to get past a recent aggravation of a hamstring injury. Head coach Gary Kubiak says that Daniels is improving but will be a game-time decision, according to the
Texans' official Twitter page
. Daniels has had only one solid performance this season.
Schaub was limited Wednesday because of a rib injury but will play Sunday when the Texans take on the
Jacksonville Jaguars
.
Minnesota Vikings (Brett Favre, QB; Percy Harvin, WR; Sidney Rice, WR):
Favre did not practice Wednesday, and in what has become an ever-changing injury report for him, the notes following his name Wednesday said, "ankle, foot, calf." For those keeping score at home, "chin," which appeared last week after Favre's laceration requiring stitches in the Week 8 game, and "elbow," which made the list weeks ago, are now both absent. Which led me to wonder: What are the most body parts to appear for a player on a single injury report? Will Favre hold that record along with the consecutive-starts streak? But I digress ...
Favre was back in practice Thursday, and we all know he will start this week. Harvin might be a different story. Harvin, who limped into Week 9 with a left ankle sprain, has not practiced Wednesday or Thursday because of a migraine flare. He has developed a pattern where he typically shows up and plays well on Sunday even if he is unable to do much during the week. Although migraines are clearly far less predictable than a typical musculoskeletal injury, one has to believe that if he is functional Sunday, he will play. Still, fantasy owners should prepare for another possible game-time decision.
And everyone is wondering when we will see the return of Rice, who is back doing some work with the team following August hip surgery. Coach Brad Childress has not yet committed to a return date, stressing that he wants to be sure that Rice can handle the rigors of competition, both in terms of endurance and being able to absorb physical contact, before he participates in games. Rice has not yet been moved to the active roster, which has to happen for him to play. Although that is a possibility for Week 10, there has not been any definitive indication that it will take place. Even if it does, Childress already has indicated that Rice is likely to return to limited action initially.
Indianapolis Colts (Joseph Addai, RB; Mike Hart, RB; Jacob Tamme, TE; Austin Collie, WR):
Addai is still not practicing with the team and is not expected to play in Week 10. Hart has shown no signs of returning yet, either. Expect
Donald Brown
to get the start at running back again for the Colts this week.
And what's this we're hearing about Tamme? The Colts already lost their starting tight end,
Dallas Clark
, for the season to a wrist injury. Tamme, who has been outstanding filling in, was not in practice Wednesday because of a back injury. Even more ominous was coach Jim Caldwell's acknowledgment of a "level of concern" about Tamme's status, as reported by Phillip Wilson of The Indianapolis Star. It appears that fantasy owners can breathe a little easier, as Tamme was back in practice Thursday. Friday will be telling to see whether Tamme can go on two consecutive days. Fantasy owners need to keep an eye on this one.
Collie already has been ruled out as he recovers from a concussion.
New England Patriots (Tom Brady, QB; Fred Taylor, RB):
Could the face of the Patriots franchise be sidelined this week with an injury (and not the one to his throwing shoulder that appears on practice reports week in and week out)? No is the simple answer. Brady missed Wednesday's practice, an occurrence that raised eyebrows frankly because it is such a rare event. He is reportedly dealing with a foot sprain, but he was back in practice Thursday and by all accounts will be under center Sunday night.
Meanwhile, welcome back to practice (albeit limited), Fred Taylor! He has been hampered by toe injuries, but the Patriots had to believe he could contribute eventually, as they kept him on the active roster. Maybe that time is nearing. This will no doubt progress slowly and depend on how Taylor responds to any increased activity. But it's something fantasy players in very deep leagues should at least monitor.
And elsewhere ...
•
Tennessee Titans
quarterback
Vince Young
did not practice Wednesday because of his ankle, a bit of a concern coming out of a bye week. He returned to limited practice Thursday and is expected to play this weekend. Nonetheless, if Young's mobility is at issue, it certainly impacts his style of play.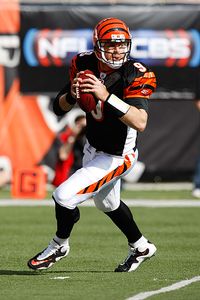 Scott Boehm/Getty ImagesCarson Palmer got an extra day to rest his shoulder, and it looks as though he'll be fine for Sunday's game.
•
Cincinnati Bengals
quarterback
Carson Palmer
has not practiced this week because of soreness in his throwing shoulder. However, Palmer said he plans to return to throwing Friday and, more importantly, plans to play Sunday. According to the Bengals' official website, Palmer says he's "not worried at all," indicating that the short week warranted an extra day of rest. Meanwhile, teammate
Chad Ochocinco
was back in Thursday's practice after sitting out Wednesday to rest his ankle. He got his leg rolled Monday night and looked uncomfortable afterward, but apparently the injury was not serious. His relative lack of targets may be the more serious issue both for him and his fantasy owners.
• The
Detroit Lions
expect to have
Shaun Hill
at quarterback this week as long as there are no setbacks. Hill is recovering from a fracture in his nonthrowing forearm, and the main concern will be protecting that forearm from reinjury.
Carolina Panthers
wide receiver
Steve Smith
had a custom-designed shell created to protect his forearm; perhaps Hill will wear something similar. In the meantime, there is no official word as to the long-term plan for
Matthew Stafford
. But clearly no one expects him back any time soon. Running back
Jahvid Best
continues to be listed on the injury report because of his toe but is expected to play.
•
Seattle Seahawks
quarterback
Matt Hasselbeck
has been back in practice this week after sitting Week 9 out with a concussion. ESPN's NFC West blogger Mike Sando reports that Hasselbeck is expected to play against the
Arizona Cardinals
this week. As is the case following all concussions, there must be no recurrence of symptoms between now and Sunday, but given Hasselbeck's strong early week, fantasy owners can feel positive.
• As for the Carolina Panthers, Darin Gantt of the Rock Hill Herald reported Wednesday that
Mike Goodson
will start at running back this week. So much for
DeAngelo Williams
aiming for a Week 10 return. He has not yet returned to practice, and neither has teammate
Jonathan Stewart
, who suffered a concussion in Week 9. It's worth noting that offensive tackle
Jeff Otah
, who had not played this season following August knee surgery (his absence is certainly believed to be a contributing factor to the struggles of Carolina's running game) has now been placed on injured reserve. Translation: No help on that front anytime soon. Quarterback
Matt Moore
joins Otah on the injured reserve list, and
Jimmy Clausen
will start in his place for the Panthers.
• Arizona Cardinals running back
Beanie Wells
was held out of practice Wednesday and Thursday, again because of swelling in his surgically repaired knee, according to Kent Somers of The Arizona Republic. According to Somers, Wells will try to practice Friday. Not exactly a resounding vote of confidence. Wells has been a question mark most weeks and has been limited even when he has played, primarily because of issues with his knee. It's not looking much more promising for him in Week 10.
•
New York Giants
wide receiver Steve Smith suffered a pectoral (chest) strain in practice Thursday and, according to the New York Daily News, could miss this week's game. Apparently Smith was injured when extending his arm to reach for a ball and was not able to complete practice as a result.
•
San Francisco 49ers
tight end
Vernon Davis
is back in practice this week following the bye. Davis was forced to leave the game early in Week 8 after aggravating an ankle injury, but it doesn't appear to be an issue at the moment.
See you at Friday's 3 p.m. injury chat, and we'll have the latest injury updates affecting Week 10 in the Saturday morning blog.
September, 30, 2010
9/30/10
3:04
PM ET
Welcome to Week 4, also known as the first bye week of the season. Traditionally teams have not favored early bye weeks as the rest seems to be more welcome deeper into the season. But as it happens, some teams are truly benefiting from the timing of their byes.
The
Minnesota Vikings
,
Kansas City Chiefs
,
Tampa Bay Buccaneers
and
Dallas Cowboys
are all off this week.
For the Vikings, it means tight end
Visanthe Shiancoe
and the hamstring he injured in Week 3 get some extra rest. Wide receiver
Percy Harvin
and quarterback
Brett Favre
, both of whom have been dealing with various ailments, should also appreciate a less physical week.
In Dallas, Cowboys tight end
Jason Witten
suffered a concussion in Week 2 but played in Week 3, only to add a sprained MCL to his list of injuries. Witten's sprain was reportedly mild and he likely would have pressed to play this week if necessary, but that decision won't have to be made now. Witten can rest his knee and wide receiver
Dez Bryant
can rest his fractured rib.
Kansas City Chiefs offensive coordinator Charlie Weis was in the hospital Monday undergoing gall bladder surgery and will have an easier recovery week given the bye. Not that it sounds like he would have missed any time. After all, Weis put up with the intense pain from the infection in his gall bladder through last weekend so that he could help orchestrate the Chiefs' demolition of the
San Francisco 49ers
in Arrowhead Stadium. It will be tough for any of the Chiefs' players to complain about their own aches and pains during the off week.
Down in Tampa, Buccaneers tight end
Kellen Winslow
has been playing despite experiencing pain in his surgically repaired knee. While Winslow has been able to play through the pain, the well-timed rest could help boost his productivity going forward.
Teams do not have to provide the same injury reports during their bye weeks, so fantasy owners will have to wait until next week for updates on any of their players who are taking a week off. In the meantime, here are some updates on other players of interest which may affect bye-week pickups:
Quarterbacks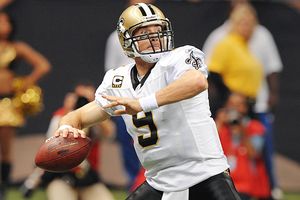 Chuck Cook /US PresswireDrew Brees isn't on the injury report, but the fact that he was wearing a knee brace in practice was a cause for concern.
Drew Brees, New Orleans Saints:
Reports of Brees in a knee brace perhaps has fantasy owners worried, but it sounds like this is not something that will keep him off the field. Brees took a shot to his knee late in Sunday's game and was limping afterward. An MRI came back negative, much to the relief of Saints fans and Brees fantasy owners everywhere. He told reporters his knee was sore but added, "It's gotten a lot better since Monday." Whew.
Brees has been wearing a brace, however, which provides some compression and support and makes it easier for him to move around. Apparently, he was moving well enough for the Saints since he was not on the injury report Wednesday. Brees should be expected to start as usual this weekend.
Jake Delhomme, Cleveland Browns:
Delhomme was out of practice again Wednesday because of his injured ankle but put in some limited work Thursday. Coach Eric Mangini has maintained all along that even if Delhomme were limited in practice, it would not prevent him from starting Sunday. If Delhomme is able to get back into the mix enough this week, it's quite possible he could take the reins this weekend.
Matthew Stafford, Detroit Lions:
Despite the pronouncement that Stafford would begin throwing this week, he did not throw in the portion of practice open to the media Wednesday and was listed on the injury report as not participating in practice. He will have to move through a throwing progression before he can even return to practice. Do not expect him back this week.
Running Backs
Ray Rice, Baltimore Ravens:
Rice did not practice Wednesday, which comes as no surprise. Diagnosed with a knee contusion after Sunday's game, Rice's activity will be limited at best early on. The Baltimore Sun quoted a source close to Rice as saying the injury "is not that bad." Sure, it's not a ligament sprain or a fracture, but one shouldn't underestimate how limiting swelling around the knee can be for a running back. The big unknown is how much time it will take for the swelling to subside so that Rice has complete, easy motion of the knee and the ability to perform at full strength. Rice is eager to play; it's just a question of how the knee and the clock cooperate. Fantasy owners should prepare a backup plan but keep an eye on Rice's activity for the next two days.
Steven Jackson, St. Louis Rams:
On Tuesday, we described how Jackson strained his groin in a
rather atypical fashion
. It's no shock then that he did not participate in practice Wednesday. Jackson continues to undergo rehabilitation for the injury but may not actually do much throughout the week. This is looking like it will be headed for a game-time decision, but savvy Jackson fantasy owners know to have a backup plan. He will want to go, he will try his best to get there, but the team may decide it's too risky to play him if he is anything at less than full speed.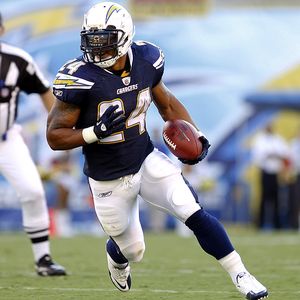 Jody Gomez/US PresswireRyan Mathews missed last week's game with an ankle injury but he looks ready to go this week.
Ryan Mathews, San Diego Chargers:
Good news for Mathews' fantasy owners: He appears on track to return Sunday. Mathews, who showed signs of improvement in the ankle late last week when he did some treadmill work, returned to practice Wednesday. In response to an inquiry Wednesday regarding Mathews' chances of playing this week, Kevin Acee of the San Diego Union-Tribune tweeted "very good." Very good news indeed.
Beanie Wells, Arizona Cardinals:
Wells was impressive in his return to the field Sunday after missing time for what we now know was an arthroscopic surgical procedure. The fact that he performed well on the field, along with no reports of unusual postgame swelling or soreness, suggests that his workload will only go up.
Tim Hightower
is expected to continue to start, but fantasy owners should feel comfortable that Wells will see significant action.
Pierre Thomas, New Orleans Saints:
Thomas got his ankle twisted Sunday and the sight of it made it look like he might not return. But he did return and finished the game. Apparently his ankle didn't forget how it felt, though, as Thomas was out of Wednesday's practice. It's too soon to speculate as to his Sunday availability, but it is worth noting that rookie teammate
Chris Ivory
made his season debut last week. Ivory, who missed the first two games of the season with an MCL sprain, did not appear on Wednesday's injury report.
Jerome Harrison, Cleveland Browns:
Harrison sat out last Sunday's game after missing practice all week with a thigh injury. He returned to limited work Wednesday but how he feels as the week goes on will ultimately determine his availability. If you happen to be one of those
Peyton Hillis
fantasy owners who celebrated last week, there's a chance you might do the same thing this Sunday. Stay tuned.
Wide Receivers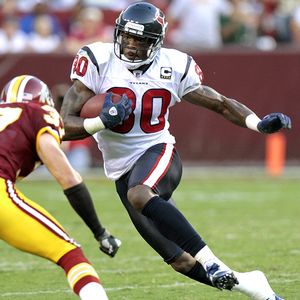 AP Photo/Bill BaptistAndre Johnson has dealt with ankle injuries the past two games, and this week he likely draws Nnamdi Asomugha as he faces the Raiders.
Andre Johnson, Houston Texans:
Johnson's ankle, aggravated during Sunday's game, kept him out of practice Wednesday, just like last week. Johnson reminded people that it was Thursday of last week when he tested the ankle with some running and he plans to do so again this week. While Johnson remains upbeat about his chances for Sunday, coach Gary Kubiak continues to take the more conservative approach. The matchup at the
Oakland Raiders
is less than favorable for Johnson and would be less so if he is not firing on all cylinders. Kubiak has already expressed that the team would be cautious with Johnson, keeping the bigger picture of the season in mind. This may come down to a game-time decision but fantasy owners may want to have insurance at the ready.
Mario Manningham, New York Giants:
Manningham was out of practice Wednesday with a concussion, initially casting doubt as to whether he will be available for this week's contest. It's no secret that managing players who suffer concussions is being taken seriously in the NFL, but Manningham was apparently well enough to return to some form of practice Thursday. Let's see how he responds as the week progresses.
Quick Hits
• Detroit Lions running back
Jahvid Best
did not practice Wednesday or Thursday, which does not exactly support the notion of his return Sunday. Tuesday we outlined the problems with
this type of injury
and the difficulty it presents for a running back in particular. Fantasy owners need to make alternate plans.
•
Denver Broncos
running back
Knowshon Moreno
was a late scratch last week after injuring his hamstring in practice. He was projected to miss more than one week initially, so it comes as no surprise that he was not practicing Wednesday. While he has not yet officially been ruled out, Moreno's fantasy owners should plan as if that's going to be the case.
•
Indianapolis Colts
running back
Joseph Addai
remains on the injury report because of his knee but was able to play last week and should again Sunday. Teammate
Pierre Garcon
remained out of practice because of his injured hamstring. It looks as if
Austin Collie
might be reprising his role this weekend.
•
New England Patriots
running back
Fred Taylor
has not practiced this week. It certainly looks as if his availability for Week 4 is in doubt.
•
Cincinnati Bengals
running back
Cedric Benson
showed up on Wednesday's injury report as a non-participant because of his knee. There is not much in the way of detail but unless Benson ends up out of practice for an extended period, this could just be a means of giving him additional rest.
•
Washington Redskins
running back
Clinton Portis
appears on the injury report again this week because of his wrist. Portis has played the last two weeks despite the wrist ailment. He fully participated in practice Wednesday so he appears to be in line to play again.
• Oakland Raiders tight end
Zach Miller
did not practice Wednesday because of an undisclosed injury.
I won't have an injury chat Friday but I will have the latest injury updates affecting Week 4 in the Saturday morning blog!
September, 16, 2010
9/16/10
12:51
PM ET
Quarterbacks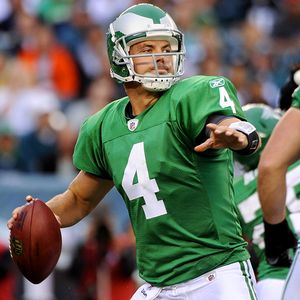 Howard Smith/US PresswireThe Eagles will be very cautious with Kevin Kolb's concussion.
Kevin Kolb, Philadelphia Eagles:
On Tuesday we
outlined Kolb's injury
and the steps that must occur before a player can return from a concussion.
Since then, his failure to make significant progress suggests he will be sidelined this week. Despite coach Andy Reid's declaration that Kolb would be the starter if healthy (which does not appear he will be by Sunday), Kolb has not undergone any mental preparations in advance of this week's matchup, never mind any physical work. Everyone knows that a quarterback's decision-making is equally important as his ability to get the ball down the field, making it that much less likely that he will play.
Michael Vick
took all the reps with the first team Wednesday and is expected to do so again Thursday. Expect Vick to be leading the Eagles against the
Detroit Lions
this Sunday.
Matthew Stafford, Detroit Lions:
Stafford is not expected to play this week. He is expected to get a second opinion from Dr. James Andrews on his sprained right shoulder, although any discussion of surgery would be a surprise. On Tuesday, we
outlined the nature of Stafford's injury
and the range of time he could be out. Fantasy owners should prepare for an absence of at least a few weeks.
Jake Delhomme, Cleveland Browns:
Delhomme injured his ankle during last Sunday's game and while he stayed in the entire four quarters, he has not seen any practice time yet this week. The Browns thought enough of Delhomme's injury to schedule an MRI, the results of which have not been made public. The fact that
Seneca Wallace
took all the first-team snaps in practice is no secret, however, and ESPN's Adam Schefter is reporting that Delhomme will be a game-time decision. In the meantime, Delhomme wears his protective boot, continues to get treatment and hopes for the best.
Running Backs
Steven Jackson, St. Louis Rams:
What started out as no big deal Monday seemed a little more worrisome Wednesday when Jackson was held out of practice. Apparently the decision to rest him was a precautionary move according to the St. Louis Post-Dispatch, as Jackson's knee MRI showed no significant injury. Jackson is expected to play this weekend against the
Oakland Raiders
, so fantasy owners can breathe a little easier.
Beanie Wells, Arizona Cardinals:
After sitting out Week 1, Wells is hopeful to return from a knee bruise in Week 2, but much will depend on how he tolerates practice Thursday. Wells did limited work Wednesday and the team is expected to challenge him with a full workout Thursday to see how his knee responds. Following a deep bruise, one of the concerns is the return of swelling to the joint. If Wells' knee can tolerate practice and there are no aftereffects, it would certainly be a good indicator that he is likely to play Sunday in Atlanta.
Fred Taylor, New England Patriots:
Who says a thirty-something can't be the starting running back in a potent offense? Not Taylor, who had a nice showing Sunday against the
Cincinnati Bengals
. Unfortunately Taylor's efforts also resulted in him showing up on the Wednesday injury report with a toe injury. While toe injuries are nothing to sneeze at, the good news is that Taylor did participate on a limited basis, suggesting the injury is minor. With the Patriots trading away
Laurence Maroney
to the
Denver Broncos
, it appears that they were not overly concerned about Taylor's health, either. Naturally, practice reports throughout the week will provide more insight, but this does not appear to be a big concern for fantasy owners, at least not yet.
Wide Receivers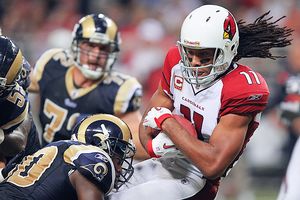 Dilip Vishwanat/Getty ImagesLarry Fitzgerald was sidelined with a knee injury for much of the preseason and he's trying to get back into midseason form.
Larry Fitzgerald and Early Doucet, Arizona Cardinals:
Fitzgerald owners who were worried about his status heading into the season had to be relieved to see him on the field Sunday. But even Fitzgerald acknowledged that he wasn't quite up to speed. Literally.
According to Associated Press reports, Fitzgerald related his injury and the time missed during the preseason to being out of sync with his quarterback. "We haven't worked extensively together and that's going to come with time," said Fitzgerald. "We're going to be better than we were last week." And as one has come to expect with Fitzgerald being the consummate professional, he took it upon himself to be better. "I need to get myself together so I can be the best player I can be for [QB Derek Anderson] and this ballclub," Fitzgerald said. To that end, he was a full participant in Wednesday's practice.
Doucet suffered what was called a groin injury in Week 1 and has already been declared out for Sunday's game, according to Kent Somers of the Arizona Republic. Somers reports that Doucet is undergoing further tests to determine if he indeed has a sports hernia. Doucet had preseason issues with what the team called an abdominal strain. It is often the case if an athlete has abdominal and groin pain, a sports hernia is the culprit. If a sports hernia is the diagnosis, Doucet will undergo surgery and could be sidelined for a few weeks.
Quick Hits
•
Washington Redskins
running back
Clinton Portis
appears on the injury report again this week but not because of his ankle. Portis has a wrist ailment, but it didn't limit him at all in practice Wednesday. Expect him to play Sunday.
•
Minnesota Vikings
wide receiver and all-around scoring threat
Percy Harvin
sat out Wednesday's practice with a hip ailment. There haven't been many specifics, but it is yet another practice session where Harvin is out. For what it's worth, quarterback
Brett Favre
was a full participant, although "back" has been added to his injury ailments, along with his ankle.
• After being named NFC Offensive Player of the Week,
Chicago Bears
running back
Matt Forte
showed up on the injury report because of a knee ailment. The good news is that he did participate in some portions of Wednesday practice, but this is worth keeping an eye on.
• Last year
Indianapolis Colts
wide receiver
Anthony Gonzalez
earned a spot in this column after Week 1 when he suffered a PCL sprain. Although initial projections had him missing about a month, he never did return during the 2009 season. Gonzalez is back in the column for all the wrong reasons. He suffered what is being called a high ankle sprain, and Schefter is reporting that he is already ruled out for this week. Savvy fantasy owners know that high ankle sprains are not typically a one-week injury.
See you at the injury chats (Tuesday and Friday, 3 p.m ET) and we'll have the latest injury updates affecting Week 2 in the Saturday morning blog!
October, 8, 2009
10/08/09
11:09
AM ET
It's time for fantasy owners to make midweek moves to boost their fantasy rosters. Injury concerns naturally factor into those decisions as we try to gauge who is going to miss time and just how long that absence will be. This week there are four teams on bye:
Chicago Bears
,
Green Bay Packers
,
New Orleans Saints
and
San Diego Chargers
, so be sure to secure your replacements. Here are some status updates as we look ahead to Week 5.
Quarterbacks
Eli Manning, New York Giants:
On Tuesday, I detailed plantar fasciitis, the
condition afflicting Manning
. On Wednesday, Manning sat out practice and coach Tom Coughlin indicated Manning would be considered day-to-day. For his part, Manning appears intent on playing and Coughlin has said that his star quarterback could play even if he's unable to practice during the week. The bottom line at this point is that this is shaping up to be a potential game-time decision, one which will depend on whether Manning can maintain his normal throwing mechanics despite the pain.
Steve Dykes/US PresswireMatt Hasselbeck wants to play this week, but will injuries elsewhere hurt his chances to get a start?
Matt Hasselbeck, Seattle Seahawks:
Hasselbeck sat out Weeks 3 and 4 while recovering from a broken rib and was still having pain with deep breathing last week. Coach Jim Mora told reporters his quarterback is "without question doing everything possible to get out on the football field." Offensive coordinator Greg Knapp remarked that Hasselbeck's throwing motion looked fine but that he was not quite in football shape. However, he shared practice time with
Seneca Wallace
on Wednesday, according to The Seattle Times. Hasselbeck indicated that he wanted to come back, but would go with what was in the best interest of the team. A main concern for the Seahawks will be providing him enough protection up front should he be able to play Sunday. Despite the team's recent struggles, the goal is clearly to avoid any setbacks and to have him available for the long haul. On the other hand, the Seahawks have been plagued with offensive line injuries, which may also factor into the decision as to whether he gets the start in Week 5.
Donovan McNabb, Philadelphia Eagles:
McNabb will start Sunday. Coach Andy Reid said it himself Wednesday and made it clear that McNabb is resuming control at the helm in Week 5. McNabb is reportedly feeling much better, but knows he is not yet 100 percent recovered. He acknowledged on the Eagles' official Web site that things like laughing and coughing still cause discomfort, but he does not expect to be restricted at all playing football. McNabb will no doubt be wearing some extra protection over his ribs this weekend, but now that he's back in practice, fantasy owners can expect to have him back in their lineups as well.
Matthew Stafford, Detroit Lions:
Stafford reportedly suffered a patellar subluxation in Week 4 (although the Lions are staying mum on the topic), and on Tuesday I
outlined the nature of such an injury
. He did not practice Wednesday, which is not especially surprising given the nature of the injury. Although coach Jim Schwartz is not speculating as to whether Stafford is going to be available for Sunday's contest against the
Pittsburgh Steelers
, if the rookie misses another day, it would be hard to imagine him playing. From the physical perspective, Stafford would need to have enough resolution of pain and swelling to allow his quadriceps muscle to function normally. He needs to be able to play the position without apprehension that his patella (kneecap) will go out on him again, so quadriceps strength plays a large role. Although Stafford could (and most likely will) eventually play with some sort of support around the kneecap, it seems unlikely that he would be turned loose against the Steelers' defense if he is not fully mobile. If Stafford is on your fantasy team, it is probably best to secure another option at this point.
Marc Bulger, St. Louis Rams:
Kyle Boller
filled in for Bulger last week as Bulger nursed a bruised throwing shoulder. Bulger did perform some throwing in pregame warm-ups, however, and continued with light throwing Monday. On Wednesday, Bulger continued to progress with his throws, but ESPN's NFC West blogger
Mike Sando reports
that it is almost certain the Rams will hold Bulger out another week. With his shoulder still on the mend, some issues with the offensive line and a tough
Minnesota Vikings
pass rush, the decision might be to simply allow him another week of healing and avoiding hits.
Running Backs
Felix Jones and Marion Barber, Dallas Cowboys:
Barber was a full participant in Wednesday's practice and Felix Jones was absent. While nothing definitive has been said regarding Jones' status, at the time of his injury (PCL sprain), there were rumblings that he would miss a couple of weeks and fantasy owners should plan on his not being available. Meanwhile, Barber, whose quad tightened up in the second half of last week's game, should fare better this week. If he continues to practice fully throughout the week, he can be expected to start Sunday against the
Kansas City Chiefs
. By the end of the week, we should have a better idea as to how much work we can expect from Barber in the game.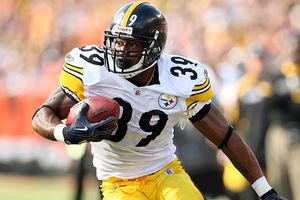 Rich Gabrielson/Icon SMIWillie Parker hoped he'd play last week but didn't. Now, he's far less optimistic that he'll play this week.
Willie Parker, Pittsburgh Steelers:
Parker sat out Week 4 with a case of turf toe sustained during the Week 3 contest in Cincinnati. Although Parker appeared to be holding out hope during the week that he would play, as the Sunday deadline approached and he was still unable to run, it became apparent that he would need to rest the painful toe. As is often the case with turf toe, this is not a problem with a quick fix. Parker seems to be resigned to that and is not nearly as optimistic heading into Week 5. After not practicing Wednesday, Parker told reporters that although he wants to go out and compete, he is not where he needs to be right now to perform. Given
Rashard Mendenhall
's solid performance in Week 4 and knowing the Steelers are headed to the turf of Detroit's Ford Field, it is sounding as if Mendenhall will again take the place of Parker in Week 5.
Brian Westbrook, Philadelphia Eagles:
Westbrook will join his teammate Donovan McNabb back in the lineup in Week 5. Westbrook missed Week 3 as he recovered from a sprain to the right ankle he had surgically addressed in June. It appeared that Westbrook's intended return would follow the bye week, and so far things are going according to plan. Coach Andy Reid has already indicated on the Eagles' official Web site that he expects to rotate Westbrook with
LeSean McCoy
. We have been saying for some time now that this was the likely evolution at the running back position so that the Eagles could make use of Westbrook's talents while not overloading his joints. Barring a setback late in the week, Westbrook should at least be in line for a portion of the action Sunday, but how much time he sees is unknown.
Frank Gore, San Francisco 49ers:
Regular readers won't be surprised to learn that Frank Gore has been ruled out for this Sunday's contest with his ankle injuries, according to Matt Maiocco of the Santa Rosa Press Democrat. Gore was initially projected to miss a few weeks and was not expected to return until after the 49ers' bye week (which is in Week 6) at the earliest.
Correll Buckhalter, Denver Broncos:
Buckhalter suffered a sprained left ankle in Week 4 and it looks as if the door has been opened for rookie
Knowshon Moreno
to get his first career start. Buckhalter missed practice Wednesday and reports suggest that the Broncos may be without his services when they face the
New England Patriots
in Week 5. Moreno appeared to be progressing toward a starting role for the Broncos as his workload has expanded over the first few weeks of the season. Buckhalter's injury may have just moved the timetable along. Moreno's fantasy owners have to be excited about the prospects here.
Clinton Portis, Washington Redskins:
The Washington Times reports that Portis will be ready to face the Panthers in Week 5 despite aggravating an ankle injury. Earlier this year coach Jim Zorn indicated that Portis was dealing with bone spurs in both ankles and had been trying to play through pain. Just last week, Portis remarked how much better his ankles were feeling with his current treatment regimen. Despite that optimism, this situation is likely to be ongoing throughout the season. Nonetheless, Portis was not on Wednesday's injury report, which is a good sign heading into the weekend.
Fred Taylor, New England Patriots:
Taylor did not practice Wednesday and was listed on the practice (injury) report as "ankle." Given the Patriots' notorious secrecy when it comes to injuries, there are no indications as to whether this is a serious injury that could result in missed time or whether they are resting Taylor's ankle in advance of this week's contest. Stay tuned for practice reports as the week progresses.
Wide Receivers
Roy E. Williams, Dallas Cowboys:
Williams says he expects to play in Week 5 despite injured rib cartilage, according to The Dallas Morning News. That said, Williams did not practice Wednesday. His status could evolve heading up to game time, so stay tuned for updates.
Calvin Johnson, Detroit Lions:
Johnson rested his bruised thigh Wednesday and did not practice. Although the Lions have not indicated whether or not they expect Johnson to be available, his status will remain day to day until proven otherwise.
Wes Welker, New England Patriots:
Welker was finally able to get back on the field in Week 4 after being limited with a mysterious knee ailment that had kept him out since Week 2. Welker had a modest fantasy performance Sunday but showed that he was able to run at full speed and make some plays. Welker was held to a limited practice Wednesday, suggesting that the Patriots are still being cautious when it comes to his knee. However, if he continues to practice daily it's likely he will see the field again this week.
Antonio Bryant, Tampa Bay Buccaneers:
Bryant was able to get in the end zone Sunday and appeared to be more Antonio Bryant-like in Week 4. He has been working his way back from post-surgical knee soreness that appeared after his Week 1 debut. Although Bryant was limited in practice Wednesday, this may well be a precautionary measure to ensure his availability for Sunday.
Be sure to check back on Saturday for post-Friday NFL injury report updates on all your fantasy players heading into the weekend.
See you at the injury chats (Tuesday 11:00 a.m.-noon, Friday 11 a.m.-noon and Sunday pregame 10:00-10:30 a.m.). And check out Fantasy Football Now on Sundays at ESPN.com from 11:30 a.m. to kickoff for last-minute inactives, rankings and more!
December, 10, 2008
12/10/08
4:52
PM ET
So what do we know about Week 15? Based on early practice reports, here's what we're hearing on the injury front.
Marion Barber, RB, Cowboys:
When was the last time a pinkie toe caused so much drama? Considering a teammate's pinkie finger generated even more drama, perhaps we should not be surprised that there is so much discussion in Dallas about a digit. Barber, who sat out Week 14's contest because of a dislocated toe
and
a strained calf, looks as if he will play Sunday night, but the Cowboys now have more confidence in backup
Tashard Choice
, should they need to turn to him.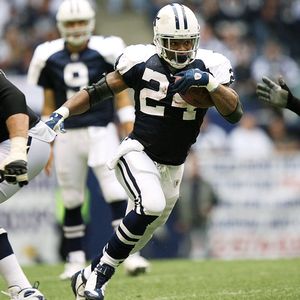 Nelson Chenault/US PresswireIt didn't help fantasy owners, but it might've been in Marion Barber's best interest to miss the tough Steelers defense.
To recap, Barber dislocated his pinkie toe Thanksgiving Day and was forced to exit the game early. Subsequent tests revealed no fractures, meaning his injury was less complicated than it could have been. Sighs of relief could be heard all around fantasy leagues, as Barber had 10 days to recover between games and was expected to play in Week 14. By the middle of the week, Barber owners felt reassured because coach Wade Phillips had indicated Barber would play against the Steelers. However, by Friday, that confidence began to waver, as Barber had not made an appearance on the practice field and apparently was having a little more difficulty returning than expected. On Saturday, anxiety turned to panic as Barber owners scrambled to find a replacement -- it was announced Barber hadn't even traveled to Pittsburgh with the Cowboys because they were
that
certain he could not play.
It didn't end there. On Monday, following the Cowboys' 20-13 loss, team owner and general manager Jerry Jones said Barber could have played. Wow! It's one thing for us to wonder what exactly kept Barber sidelined when it seemed he should have been in the lineup, based on the nature of the injury and early indications from the team. It's a much bigger issue when it appears Barber essentially was called out by the boss. Jones then attempted to clarify his comments to a San Antonio radio station Tuesday, saying he did not intend to question Barber's toughness; he was just surprised that someone as tough as Barber did not play.
So why didn't Barber take the field? It's true that under normal circumstances, with a simple pinkie toe dislocation and no significant associated damage (meaning no broken bones, no major soft tissue trauma, etc.), it is reasonable to expect that an athlete can play football the following week. He might require some tape to splint the toe, or a shoe modification or insert to prevent excessive mobility and stress on the toe. He also might benefit from a pain-relieving injection that basically would numb the toe. But even with those adjustments, an athlete sometimes struggles initially with the new footwear or his running style might change as a result of trying to avoid putting pressure on the painful toe. These sorts of compensations can render the athlete ineffective or, in some cases, lead to a secondary injury.
As it turns out, this apparently is what happened to Barber when he was trying to do some running workouts earlier in the week. He strained his calf, and according to Mickey Spagnola in his blog on the Cowboys' Web site, it was a collective decision by the athletic trainers to hold him out of Sunday's game in the interest of his long-term health. In other words, he physically could have taken the field, but in evaluating the risk versus reward ratio, a decision was made to keep him off it.
Although fantasy owners might have been frustrated by Barber's absence, it's possible that had he played, he would not have done much or, worse yet, would have injured himself more seriously. Giving him the additional week of recovery might enhance what he is able to do when he takes the field and makes it less likely that he will suffer another setback. Breathe deeply, fantasy owners. The Dallas Morning News is reporting that Barber says his calf is feeling much better. If he is able to practice throughout the week, it is reasonable to expect him to start Sunday against the Giants.
Joseph Addai, RB, Colts:
In Week 14, Addai was not the running back fantasy owners were hoping for headed into the playoffs. Sunday might not be any different.
Addai was a late addition to the injury report Friday after he was limited in practice by what the team referred to as a sore knee. He was questionable heading into Sunday's game, and although he was active, he didn't do much before exiting in the third quarter. Following Sunday's contest, Addai again appeared on injury reports, this time because of his shoulder. Of concern is the fact that the Colts added running back
Najeh Davenport
to their roster, meaning they could be concerned about Addai's availability for this Sunday. The amount of practice time Addai sees through the remainder of the week will give a better clue as to his status.
Dominic Rhodes
owners should be on alert as the weekend approaches.
Some other players to watch as the week progresses:
Think you know who will win all 34 bowl games this season? Put your prognosticating skills to the test in College Bowl Mania, featuring both confidence-style and straight-up selections. Sign up and play for free

Giants coach Tom Coughlin told the Newark Star-Ledger that they will do "the smart thing, the thing which is medically recommended" when asked whether the team will be cautious with
Brandon Jacobs
this week. Jacobs was not in practice Wednesday because of a sore left knee. His fantasy owners should be prepared for the eventuality that he might rest Sunday, given his recent issues with both knees. Wide receiver
Domenik Hixon
also sat out Wednesday's practice because of a sore ankle, but reportedly, he has less swelling than he did following the game.
Redskins running back
Clinton Portis
has played through a plethora of injuries this season but didn't see any second-half action Sunday night, raising concerns as to how much injuries were limiting him. Coach Jim Zorn indicated
Ladell Betts
saw increased playing time because Portis missed so much practice (and was pass blocking ineffectively). Portis defended himself with a verbal tirade. As of Wednesday, Zorn and Portis had gotten together to sort through their differences, and all appears well again, including (perhaps) Portis' banged-up body. Ultimately, limited playing time Sunday might have been a blessing in disguise for Portis, as he was back in a Wednesday practice for the first time in weeks. Portis has dealt with a hip flexor strain, a sprained MCL, an oblique strain and, most recently, a forearm to the neck. He has played through it all and has been the feature back in the running game throughout. Expect a fired-up and slightly rested Portis to be in the game -- the whole game -- Sunday.
Adding to the list of ailing backs, 49ers ace
Frank Gore
left Sunday's game with an ankle sprain. The good news is there was no fracture. The less than good news is coach Mike Singletary announced Wednesday that Gore has an "inside ankle sprain" (as in the inner aspect of the ankle joint). The mechanism for spraining the inner ankle is less common (the foot rolls so the sole points out), and the medial (deltoid) ligament is flat and strong; it doesn't sprain easily. That translates into the fact that this injury, depending on the degree of severity, can be tougher to recover from than a standard lateral ankle sprain. Matt Maiocco of the Santa Rosa Press Democrat reported that Gore did not practice Wednesday, and Singletary hinted Gore will be a game-time decision. It's not looking great for him this week.
The Denver Post is reporting
Tatum Bell
is in place to be the feature back Sunday. The Broncos lost
Peyton Hillis
for the remainder of the season to a hamstring injury, and
Selvin Young
still is struggling in his recovery from a groin strain. Young practiced fully last week for the first time in well more than a month, but as the Post reports, coach Mike Shanahan felt he was not recovered enough to play. Bell is still available in more than 80 percent of ESPN.com leagues.
Bills quarterback
Trent Edwards
might be a game-time decision Sunday. Edwards sat out Sunday's contest with an injured groin, and he might be sitting again. The fact that
J.P. Losman
was taking all the first-team snaps in Wednesday's practice does not bode well for Edwards. And the Bills started off the season so well.
Players you need to replace!
Matt Jones, WR, Jaguars:
We knew the suspension was inevitable, and now it is official. Jones will be sidelined for the remaining three weeks of the season. The Florida Times-Union is reporting that the Jags are considering placing
Jerry Porter
on injured reserve after he strained his groin last weekend, meaning
Mike Walker
and
Reggie Williams
likely will become the two primary receivers.
Fred Taylor, RB, Jaguars:
According to the Florida Times-Union, coach Jack del Rio said on his Tuesday radio show that the injury Taylor suffered to his thumb Sunday could land him on injured reserve. Even if that does not come to pass, it's an indication his thumb injury is serious enough to keep him off your fantasy playoff roster.
Don't forget that the Saints face the Bears this Thursday, so get your lineups in early! We'll have the latest injury updates affecting the Week 15 weekend contests and any postmortem on Thursday injuries in the Saturday blog.
November, 24, 2007
11/24/07
2:29
PM ET
This has been an unusual week because of the Thursday games and the Thanksgiving holiday. I posted plenty of updates in my
late Friday blog
, so today I'll keep the conversation brief, looking only at those players who did
not
appear in Friday's report.
OUT
The following players have been added to the list as officially out for Week 12.
<a href="javascript:
newWin('http://insider.espn.go.com/nfl/players/fantasy?statsId=5048')">Shaun Alexander, RB, Seahawks: We already knew he wouldn't play; now it's official.
<a href="javascript:
newWin('http://insider.espn.go.com/nfl/players/fantasy?statsId=3569')">Zach Thomas, LB, Dolphins: The lingering migraines continue.
<a href="javascript:
newWin('http://insider.espn.go.com/nfl/players/fantasy?statsId=7774')">Santonio Holmes, WR, Steelers: It wasn't looking good anyway. Now you know that <a href="javascript:newWin('http://insider.espn.go.com/nfl/players/fantasy?statsId=7492')">Nate Washington is starting in his place. In fact, you might want to go and get him.
<a href="javascript:
newWin('http://insider.espn.go.com/nfl/players/fantasy?statsId=6352')">Troy Polamalu, S, Steelers: The Steelers' defense takes a hit because of Polamalu's knee injury.
<a href="javascript:
newWin('http://insider.espn.go.com/nfl/players/fantasy?statsId=4065')">James Thrash, WR, Redskins: He'll miss because of an ankle injury. Moss and Randle El will handle the load.
Whether the following players suit up for Week 12 is still unknown.
Running Backs
<a href="javascript:
newWin('http://insider.espn.go.com/nfl/players/fantasy?statsId=4259')">Fred Taylor, Jaguars: Taylor is listed as probable, meaning he is virtually certain to play. He is on the injury report because of a thigh injury that kept him limited in practice early in the week, but he was able to practice fully on Friday.
<a href="javascript:
newWin('http://insider.espn.go.com/nfl/players/fantasy?statsId=6994')">Derrick Ward, Giants: I
discussed his injuries Friday
, but that was when he appeared to be a game-time decision. Since then, Ward has been downgraded to doubtful, meaning he has less than a 25 percent chance of playing. Go Reuben, go.
<a href="javascript:
newWin('http://insider.espn.go.com/nfl/players/fantasy?statsId=5920')">DeShaun Foster, Panthers: Not a big source of worry here. Foster has been bothered by a toe injury for several weeks. He did not practice Wednesday to give the toe a rest but was back in practice Thursday and Friday to finish the week strong. He is listed as probable and is expected to start.
<a href="javascript:
newWin('http://insider.espn.go.com/nfl/players/fantasy?statsId=7241')">Frank Gore, 49ers: The biggest worry when it comes to Gore right now is the offense he plays in, not any injury. Sure, Gore's ankle has not been 100 percent since he sprained it several weeks ago, but that is not the main reason for his lack of production. Nonetheless, the ankle is the reason he appears in this report. He was limited in practice early in the week to avoid aggravating the ankle, but he did practice fully Friday and is listed as probable. He will start again for the 49ers on Sunday.
Quarterbacks
<a href="javascript:
newWin('http://insider.espn.go.com/nfl/players/fantasy?statsId=7247')">Alex Smith, 49ers: He is listed as questionable, but we shouldn't expect him to do much. Smith is still resting his shoulder and forearm and will be re-evaluated in the coming week.
<a href="javascript:
newWin('http://insider.espn.go.com/nfl/players/fantasy?statsId=4416')">Matt Hasselbeck, Seahawks: Hasselbeck has bruised ribs, reportedly from the Week 11 game. He was held out of practice Wednesday and Thursday but was able to participate fully on Friday, taking most of the first-team snaps. According to the Tacoma News Tribune, Hasselbeck said he feels "as close to 100 percent as [he has] felt in a long time." Although he is listed as questionable, he is expected to start against the Rams, and it does not appear that he will be limited.
Wide Receivers/Tight Ends
D.J. Hackett, Seahawks:
Hackett, who missed several weeks because of a high ankle sprain but managed to return looking fantastic, now has a new injury issue: He is listed as questionable because of swelling in his knee. After resting the knee Wednesday and Thursday, Hackett was able to participate fully on Friday and reportedly looked sharp while running, although he
was
wearing a wrap, according to the Tacoma News Tribune. All signs point to his playing against the Rams, but be sure to check the inactive reports Sunday.
<a href="javascript:
newWin('http://insider.espn.go.com/nfl/players/fantasy?statsId=6837')">Bernard Berrian, Bears: Berrian has a toe that is bothering him, but it does not appear that it will keep him from playing Sunday. Berrian is listed as probable after being able to practice fully on Friday, and he should start Sunday.
<a href="javascript:
newWin('http://insider.espn.go.com/nfl/players/fantasy?statsId=5037')">Plaxico Burress, Giants: Burress' ankle has bothered him more of late, and it is possible that it is affecting his overall productivity. The Giants continue to do their best to manage his condition by keeping him out of practice all week to save him for Sunday. His designation is questionable, so it is always important to check his status before game time. But he is expected to start. Although the past few weeks have been unremarkable for Burress, he remains one of Eli Manning's top receiving targets and always has the potential to have a big day. He also has the potential to aggravate the ankle and leave early. Risk, meet reward.
<a href="javascript:
newWin('http://insider.espn.go.com/nfl/players/fantasy?statsId=5463')">Santana Moss and <a href="javascript:newWin('http://insider.espn.go.com/nfl/players/fantasy?statsId=5948')">Antwaan Randle El, Redskins: Moss (probable) still has a bruised heel, but the modified shoe with a heel cup insert seemed to help Moss in Week 11. He was allowed to rest the foot early in the week but was a full participant in practice Friday and will be ready to go Sunday. Randle El (also probable) is on this week's report because of a chest injury (no specifics given), but he practiced fully on Thursday and Friday and is expected to play.
Defensive players
<a href="javascript:
newWin('http://insider.espn.go.com/nfl/players/fantasy?statsId=6773')">Tommie Harris, DT, and <a href="javascript:newWin('http://insider.espn.go.com/nfl/players/fantasy?statsId=6869')">Nathan Vasher, CB, Bears: Harris did not practice Wednesday or Friday (he did only limited work Thursday) because he continues to battle a sore knee, but according to the Bears' official Web site, coach Lovie Smith said Harris "should be able to go." The news is not so good for Vasher, who has been hampered by a groin injury for weeks now. Vasher, officially listed as doubtful, is likely to miss his eighth straight game. We saw with <a href="javascript:newWin('http://insider.espn.go.com/nfl/players/fantasy?statsId=6783')">Steven Jackson how nagging these groin injuries can be, and when your position requires significant speed and directional running, a groin injury can be particularly challenging. Vasher admits that the injury is frustrating and hopes he can return relatively soon.
<a href="javascript:
newWin('http://insider.espn.go.com/nfl/players/fantasy?statsId=4658')">Chris McAlister, and <a href="javascript:newWin('http://insider.espn.go.com/nfl/players/fantasy?statsId=4305')">Samari Rolle, CBs, Ravens: Rolle has been on the Ravens' injury report for weeks now with a previously undisclosed illness, but Rolle announced this week that he has epilepsy. Rolle decided to speak publicly about it now that he has the condition under control, according to a report in the Baltimore Sun. Rolle has had three significant seizures since the start of the season, and the medications he was prescribed took their toll in side effects. Now Rolle seems to have struck a balance with the proper medication and has been gradually resuming his practice activity. His teammates, meanwhile, are reportedly thrilled to have him healthy and back on the field with them. Rolle is listed as probable and could see action Sunday. His teammate, McAlister, is not faring as well for Week 12, though. After returning to action in Week 11, McAlister's knee has been sore, and he has not practiced all week. He is listed as questionable and could play, but it will come down to a game-time decision.
<a href="javascript:
newWin('http://insider.espn.go.com/nfl/players/fantasy?statsId=5897')">Dwight Freeney, Colts: I put Freeney last on the list so that those of you who are not interested in reading about a player who has already been placed on injured reserve can stop reading now. However, for those of you who are curious about these "Lisfranc" injuries, read on.
Freeney underwent surgery on his foot after suffering a Lisfranc injury during Week 10. The term has become familiar enough that many now call it the "dreaded" Lisfranc injury, as it can be quite serious, even career-ending, if not managed well.
So what is this thing they call a Lisfranc injury? There is a region in the middle of the foot where the long bones of the forefoot (metatarsals) articulate with the small tarsal bones in the middle of the foot. This joint, for obvious reasons, is thus called the tarsometatarsal joint. It is also referred to as the Lisfranc joint. Why? Frenchman Jacques Lisfranc, a field surgeon in Napoleon's army, described an amputation technique through this region to address forefoot gangrene following frostbite. There is also the story that soldiers wounded in battle would fall from their horses, but a foot would often remain caught in the stirrup, right at that tarsometatarsal joint. Such an injury often resulted in amputation of part of the foot, from the injured joint forward. In fact, amputation to that region still bears the same name (although NFL players don't need part of their foot amputated when they suffer Lisfranc injuries).
Since NFL players aren't riding horses, how does this injury happen to them? There are several mechanisms for this type of injury, but in sports, especially football, the primary scenario is that the player is running forward, with his weight on the ball of his foot, and he gets hit or stepped on from behind against his heel. The resultant force through the portion of the foot in between the ball and the heel (midfoot) causes it to buckle, and the midfoot is injured.
Are all Lisfranc injuries the same? No. In fact, the name Lisfranc refers to the region of the foot, not necessarily the severity of the injury. By virtue of its important location (the midfoot essentially forms the arch), any injury to this region needs to be taken seriously. That said, not all Lisfranc injuries are created equal. When the midfoot buckles, the ligaments that connect the various bones can become damaged. Ligament injury without any bony impact would be the mildest version of a Lisfranc injury. The problem is that damage to the ligaments can affect the relative position of the bones in the area, and they can shift or dislocate, which is often accompanied by a fracture. Now it's getting more serious. In the worst-case scenario, an artery passing over that area can also be damaged, affecting blood supply to the foot. A shift of the bony alignment typically requires surgery to realign the joint and provide stability. Failure to do so can result in chronic instability and pain, eventually leading to major arthritis in the area. Even with surgery, it appears that people who have suffered a significant Lisfranc injury are more at risk for arthritis down the road, simply because of the trauma to the joint. The bottom line is that players who suffer these injuries must have their treatment managed carefully, not only with surgery, but in the postsurgical rehabilitation process as well. We have seen evidence of this with Lions running back <a href="javascript:newWin('http://insider.espn.go.com/nfl/players/fantasy?statsId=6789')">Kevin Jones, whose activity has been carefully monitored across the season, based on how his foot is feeling.
Good luck to everyone this week! Be sure to check our inactive reports leading up to game time here at ESPN.com.
October, 15, 2007
10/15/07
2:00
PM ET
Between the significant number of teams on bye (six) and the overwhelming number of injuries to key players, many fantasy owners had a difficult time fielding a serviceable Week 6 lineup. Fortunately, the Week 6 action didn't add to our problems; there were few injuries to key players. Here is a quick look at some of the injury news from Sunday's games, with more detailed information to come as it becomes available.
Vince Young, QB, Titans:
His fall out of bounds in the third quarter Sunday looked bad, but the fact of the matter is the scrambling Young appeared to pull up even before he was pushed to the ground. The Titans are calling this a quadriceps (large muscle on the front of the thigh) strain and are saying Young is day-to-day, which suggests the strain is relatively minor. The fact that Young is such a scrambler, however, makes this injury a bit more significant. If he were a quarterback who hovered in the pocket, he would still be bothered by the injury, but it likely wouldn't affect his style of play too much. But Young needs his legs, as do the Titans. According to the Tennessean, Young claimed that he was having sharp pain just trying to bend his knee (which stretches the quadriceps muscle), which is not a good sign. Young's activity during the week should give us an idea as to how severe the strain is and whether we can expect him to miss any playing time. But do remember this: Limiting his mobility definitely means limiting his game.
Rudi Johnson, RB, Bengals:
Well, he did play, but he didn't start. He netted eight yards on four carries, not exactly the overwhelming performance his owners needed to feel he was over that hamstring injury. On the Bengals' official site, Johnson indicated that he did not experience any setbacks, which is good news. But he also said he didn't feel like himself, so the team chose to go primarily with teammate
Kenny Watson
. This news should not be a total surprise; as we reported before the game, Johnson really had not practiced hard and had not yet tested the hamstring. It was good to see him play, but he has a ways to go to return to form. We will keep an eye on practice reports throughout the week.
Fred Taylor, RB, Jaguars:
Taylor worried his fantasy owners when he appeared on the Thursday injury report with a groin injury. All indications were that the injury was minor, however, and Taylor had a solid practice Friday. Minor it was. Taylor racked up 90 yards on just six carries, including a 76-yarder on his very first touch. That run was significant in that it not only showed he still had big-play magic, but it also showed the groin injury didn't affect him.
Maurice Jones-Drew
saw more carries, which isn't surprising considering that the Jaguars likely would be cautious with Taylor. But Taylor had a strong performance, which should give fantasy owners confidence going forward.
LaMont Jordan, RB, Raiders:
Jordan has a back problem. This is not news. The bigger problem, however, is that it is non-specific, as many back problems are, meaning we don't know the exact structure causing him pain. According to all team reports, MRIs on Jordan's back have yielded no significant results (also not uncommon in the case of back pain), so it remains an up-and-down battle for Jordan.
Jordan's pain behavior is actually typical of most back-pain cases. Rarely is there a clear single structure (muscle, joint, disc, etc.) that is responsible for the symptoms that a person experiences. Inflammation of any one tissue can affect other tissues, and flare-ups can occur at random. The result? A chronic problem that requires "management" all season. Just as
Brian Westbrook
manages his intermittent knee swelling with periods of rest, Jordan will have to manage periodic back flare-ups with rest and rehab. The Sacramento Bee reported that Jordan himself spoke about working his core (abdominals, gluteals) in an effort to help protect his back, and ultimately that is likely the solution. The challenge for the medical staff is trying to manage this problem during the season. Jordan played Sunday and was able to compile 42 yards rushing and 46 yards receiving. That's not his best effort, but it's certainly better than what was expected, given his status Friday. In fact, according to the San Francisco Chronicle, Jordan felt that it was the hardest he had run all year. The fact that he put forth that kind of effort and didn't leave feeling worse is a good sign, but if you are a Jordan owner, you can expect this up-and-down scenario going forward. He may have good weeks, he may have bad weeks. You might not know until the last minute whether he will start or not. There is definitely upside with Jordan, but he's a risk as well. Stick with him, but be sure to have an insurance plan in place.
Kurt Warner, QB, Cardinals:
Warner suffered what is being called an elbow sprain (ligament injury) in his non-throwing arm during the first quarter of Sunday's game. Warner was on the ground with his arm extended when the Panthers'
Julius Peppers
landed smack on it, forcing Warner's elbow in an unnatural direction. He appeared to hyperextend the elbow, stressing the medial (inner) side. Which ligament reinforces the inner elbow? You guessed it, it's the ulnar collateral (Tommy John) ligament, the one Panthers quarterback
Jake Delhomme
is about to have surgically repaired. Although details have not been released as the team awaits an MRI on Warner's arm, if he did injure that ligament, it would indeed be an odd turn of events to have two quarterbacks with that type of injury within several weeks of one another. One element in Warner's favor is that this is his non-throwing arm, so it might not hamper him to a serious degree. Nonetheless, he must be able to extend both arms fully when taking snaps and must be comfortable enough using the left elbow to assist with ball-control. If you had planned to start Warner, plan on securing a backup for at least the next week until more details are known.
Sammy Morris, RB, Patriots:
Morris left Sunday's game in the third quarter with what is being called a chest injury. Morris was hurt on a tackle in which he took a hard hit to the chest, followed by a number of players landing on top of him. The Hartford Courant is reporting that Morris left the locker room with his left arm in a sling, suggesting that his shoulder is involved in the injury. The chest muscles and shoulder are closely related (remember
Joseph Addai
was originally reported to have a shoulder injury that then was called a chest injury), so this is not altogether surprising. We will try to get more specific information as it comes available.
Benjamin Watson, TE, Patriots:
Watson was injured in the second quarter, also on a tackle. Right now the Patriots are reporting that he sustained a left ankle injury, nothing more. Remember, these are the secretive Patriots, so we might have to wait until practice reports to assess the significance of Watson's injury.
Check back throughout the week as we update these injuries and more in preparation for Week 7.