Stephania Bell:

Giancarlo Stanton
June, 10, 2013
6/10/13
11:18
AM ET
Every Monday, in this space, we'll provide updates on a variety of players to help you make your weekly lineup decisions. We'll specifically try to hit the players who are day-to-day, have just gone on the DL or are ready to return, so that you can better decide whether you can count on them or not.
All projected return timelines should be considered fluid.
Hitters
Bryce Harper, OF, Washington Nationals (placed on DL retroactive to May 27):
Last week, Harper was officially placed on the DL (backdated to his last appearance); this week he's hoping he can come off of it. That sounds a little optimistic given that Harper is traveling to Pensacola, Fla., to pay a visit to Dr. James Andrews for a consultation. That appointment was scheduled when Harper's irritated knee appeared to be making no progress. In recent days, he seems to have turned a corner according to the Washington Times. Harper had been running in the pool but the Times reports he stopped that activity and the discomfort has subsided. Still, Harper will be evaluated by Andrews Monday after which more information should be forthcoming. As of now, it's worth keeping an eye on his activity this week to see if he is cleared to do more intense workouts. But if running in the pool was bothering him, it's hard to imagine running on land will be smooth sailing out of the gate.
[+] Enlarge

Kirby Lee/USA TODAY Sports Matt Kemp's hamstring woes are just part of the Dodgers' many problems.
Matt Kemp, OF (placed on DL May 30), Hanley Ramirez, SS (day-to-day), Carl Crawford, OF (placed on DL June 2), Los Angeles Dodgers:
The Dodgers' collective hamstring woes are the ultimate example of how difficult these injuries are to manage. After missing five weeks following thumb surgery, Ramirez returned for a few days, then missed another month with his hamstring strain. The team wanted to be very careful about bringing him back, especially with Kemp and then Crawford suffering similar, albeit lesser, injuries of their own. This is how I described the Ramirez situation last week:
What the Dodgers cannot afford is for Ramirez to return and reinjure himself. Obviously there are no guarantees but the team at least needs to feel comfortable they have seen enough in his rehab outings to suggest his leg is ready for prime time.
Well, Ramirez was back only one day before experiencing tightness in his left hamstring. Although he was out of the starting lineup for several consecutive days, he did make pinch-hit appearances. Ramirez is getting repeat imaging on that leg however, given that it remains bothersome. This was exactly the situation the Dodgers were trying to avoid. Ramirez played in a handful of rehab games exhibiting nothing that would hint at his being less than ready to return. Still, as we often say, until an athlete has returned to his prior level of play for a few weeks without incident following a hamstring injury, it's difficult to exhale and believe the problem is truly behind him.
And Ramirez is not the only one. When Kemp was first injured roughly 10 days ago, there was some initial thought he might not even require a DL stint, given his hamstring symptoms were so minor. It looked as if 15 days would be more than enough time to recover. Apparently not. The Dodgers' official website reports Kemp's right hamstring bothered him enough during pregame workouts Sunday that he does not look to be ready to return. The team originally anticipated having him back Friday; now it's unclear just when a return could come. Manager Don Mattingly offered this: "We're not where we need to be with him. We do know that he's not 100 percent." Whether Kemp is apprehensive given his recent injury woes and struggles at the plate or whether there is more significance to the injury is unclear.
In the meantime, fellow outfielder Crawford was officially placed on the DL last Monday (retroactive to June 2) with a hamstring injury Mattingly characterized as "fairly significant" after it had originally been described by the team as a cramp. It certainly looks as if his absence will extend beyond the 15-day minimum.
At this point there is no real timetable on ANY of these players. The team has to be hoping that
Yasiel Puig
, whose brilliant performance since being called up at least provides a temporary distraction from the injuries, remains immune to the hammie bug.
[+] Enlarge

Jamie Sabau/Getty Images Ryan Braun's thumb is the short-term concern for fantasy owners. There could be long-term ones on the horizon.
Ryan Braun, OF, Milwaukee Brewers (day-to-day):
It has not been a good week for Braun on multiple fronts, including the injury department. Braun has had a thumb ailment which has been giving him intermittent trouble over the last month. On Sunday, he was removed from the game in the third inning and his words hinted at perhaps more extended time off. After the game, Braun told reporters he should have taken steps to address it sooner. "From the very beginning, I should have taken more time off and gotten it right," said Braun. "But I just continued to try to fight through it, play through it. It's at the point where it doesn't feel very good." No specifics have been revealed as to the nature of Braun's thumb injury other than "soreness," making it difficult to ascertain just how much time it could cost him for it to completely heal. Braun has indicated on prior occasions that he has made adjustments to his swing but clearly it hasn't gone away. The timing may be right for a DL move.
Austin Jackson, OF, Tigers (placed on DL retroactive to May 12, could return soon):
Last week it sounded as if Jackson
might
return but I did caution it could get postponed. The Tigers opted not to send Jackson on a rehab assignment until he progressed further with his running, something he did to the team's satisfaction last week, according to MLive.com. Now the Tigers are officially sending him out on assignment with a specific plan that will have him increase his activity over several days. While the team is allowing for flexibility in his rehab appearance schedule based on how the hamstring responds, Jackson could potentially return to the big league club by late next week.
Giancarlo Stanton, OF, Miami Marlins (placed on DL April 30, could return Monday):
When Stanton went down with a hamstring injury, it immediately looked serious. A June return seemed most plausible. After missing multiple weeks and a seemingly (yet understandably) slow rehab process, suddenly Stanton's imminent return feels a bit hurried. Stanton only just embarked on a rehab assignment last Tuesday and got off to a slow start at the plate but was able to play on back-to-back days. Because of inclement weather, Stanton lost a couple of game opportunities in the middle of the week. The Palm Beach Post reports Stanton could return Monday, according to manager
Mike Redmond
. While Monday was floated as a potential target when Stanton entered a rehab assignment, the missed days because of weather seemingly would have delayed his return. According to the Post, Redmond indicated Stanton could return because
Casey Kotchman
might be unavailable because of sore ribs. Surely the Marlins would not activate Stanton unless they thought he was out of the woods with the hamstring. Or would they? The Dodgers' recent challenges with players returning from hamstring injuries even on a conservative timetable would be a warning. Stanton may return Monday and he may ultimately return without incident but it seems like a big "if." Given how serious his injury looked when he originally went down while sprinting to first base, it's going to take some convincing -- as in a few weeks of no setbacks -- before the specter of potential reinjury fades.
Pablo Sandoval, 3B, San Francisco Giants (day-to-day):
Last week, we talked about Sandoval's vague diagnosis related to his foot and that he was quite literally day-to-day. On Saturday, Sandoval aggravated his foot injury during his first at-bat and did not play Sunday. The natural next question is whether this setback will lead to a turn on the DL. According to the San Jose Mercury News, manager Bruce Bochy said, "The DL is a possibility." Sandoval, who is in a walking boot, has an injury on the outside of his left foot, according to the Mercury News (although it is still unclear which structure then is compromised). Sandoval is not tiny and between the torsion through his foot when swinging the bat and the pounding it absorbs while running, the demands are fairly high. A more extended absence may be in his future.
Will Middlebrooks, 3B, Boston Red Sox (placed on DL May 24, likely return this week):
Middlebrooks expressed optimism from the outset that he would return when eligible, or close to it. After some solid outings at Triple-A Pawtucket, it appears his return is near. According to the Providence Journal, manager John Farrell has made it clear what his role will be when he does rejoin the lineup. "Will's our third baseman," Farrell said. The team has not indicated precisely when Middlebrooks is expected to return but fantasy owners should keep an eye on any potential roster move. His uneventful recovery from this episode of back spasms -- and his performance at the plate during his rehab games -- warrants inserting him in fantasy lineups immediately upon return.
Jedd Gyorko, 2B, San Diego Padres (day-to-day):
Gyorko exited Sunday's game in the middle of the 10th inning with what the team is referring to as soreness in his right groin. He apparently suffered the injury just prior to sliding into second base, according to the San Diego Union-Tribune. Although Gyorko hoped it wasn't severe, Padres manager Bud Black was less clear. "We're not sure what it is," said Black, "a strain, a pull, a cramp. But he had to come out of the game." Gyorko is likely to undergo further evaluation Monday to determine whether a DL stint will be necessary. Awkward slides or missteps heading into slides have proved to be problematic for several players this year, a reminder that seemingly benign maneuvers can still result in injury. Fantasy owners should prepare for at least a couple of missed days for Gyorko, if not a little longer.
Pitchers
[+] Enlarge

Scott Cunningham/Getty Images Stephen Strasburg's DL stint may be very short-lived.
Stephen Strasburg, SP, Washington Nationals (placed on DL retroactive to June 1, expected return June 16):
Last week we discussed the nature of Strasburg's injury and the concern the Nationals likely had about him compromising his shoulder if he played through it. That concern translated to a formal DL-designation for Strasburg later in the week after soreness kept him from attempting a Wednesday bullpen session. The reported non-severe nature of the lat strain also proved to be true as Strasburg was able to complete a throwing session just three days later. If all continues well with his program this week, Strasburg will make his next start on June 16, the first day he is eligible to return.
Clay Buchholz, SP, Boston Red Sox (day-to-day):
A couple weeks ago, it was an irritated AC joint after sleeping awkwardly that forced Buchholz to miss a start. After a successful return outing, Buchholz left his subsequent start prematurely due to tightness in his neck. Are the two related? It's hard to say with any degree of certainty. Certainly the neck and the shoulder are closely integrated in the throwing motion, but these can still be separate issues. Nonetheless, one of the concerns when Buchholz was dealing with the AC soreness was whether he was compensating for the shoulder. In an effort to prevent any significant change in his throwing mechanics, Buchholz was scratched from one start, then delayed for his next start. He seemed to be past the issue with his shoulder, but it's certainly possible that subtleties from one injury contributed to how he was throwing. The close timing of the two injuries also hints at some relationship, even if a specific cause-and-effect mechanism is difficult to determine. In any event, Buchholz has indicated he will take every measure to ensure he's fully healthy before attempting a return but for right now it does not appear that will involve a move to the DL.
Alexi Ogando, SP, Texas Rangers (placed on DL retroactive to June 6):
Ogando returned from the DL for one start … and then went right back. After missing a month with biceps tendinitis, Ogando is back on the DL with what is simply being termed right shoulder inflammation. The concerns are fairly obvious. Back-to-back moves to the DL for a pitcher with a shoulder injury is never a good sign. More concerning is what it might mean from a structural standpoint. Often a diagnosis of biceps tendinitis (at the shoulder) signals a problem with the labrum, given their interface at the shoulder. An MRI in mid-May when Ogando hit the DL the first time reportedly revealed no structural issues, although the nuances of what is observed on imaging may be subtle. This is not to suggest his season is necessarily threatened but it wouldn't be surprising if he is sidelined for a bit longer this time to help guard against yet another setback. The bigger question long-term may be how his role is modified, if at all, when he returns.
Daniel Hudson, SP, Arizona Diamondbacks (on DL to start season, no timetable for return):
In what may be the sad news of the week when it comes to injuries, Hudson reportedly suffered another tear in his ulnar collateral ligament (UCL), according to the Diamondbacks. Hudson was 11 months post-Tommy John surgery and was in the phase of rehab starts as he prepared to return to the majors. After feeling discomfort in his throwing elbow following his first rehab start Tuesday night, subsequent evaluation revealed the injury. The Diamondbacks have indicated they are exploring all medical options, but Hudson will first consult with Dr. James Andrews. While the initial news sounds dire, it is worth waiting to see the results of his consultation before presuming the worst-case scenario of yet another procedure.
May, 1, 2013
5/01/13
10:28
AM ET
The most recognizable name on the
Miami Marlins
roster will no longer be visible in the starting lineup for at least a few weeks.
Giancarlo Stanton
, the power-hitting outfielder who looks like he would be equally comfortable on a football field, will not be on any field in the near future as he rests his ailing right hamstring.
Stanton has been diagnosed with a Grade 2 (moderate) strain, an injury he suffered in the 10th inning of Monday night's game against the Mets as he tried to beat out a grounder. As Stanton crossed first base, he displayed the universal "I just pulled my hamstring" sign when he abruptly shortened his stride and reached instinctively for the back of his thigh. Stanton then fell forward to the ground, pounding his fist in clear frustration. He was able to get up and amble off the field gingerly, but it was obvious to anyone watching this was more than a mild cramp.
The Marlins' prompt move to transfer Stanton to the DL confirmed the seriousness of the injury; there would be no wait-and-see period for Stanton, as is usually the case when a mild strain is suspected and the team is hoping for a quick return. After undergoing an MRI on Tuesday, Stanton's hamstring injury was officially designated as a Grade 2.
[+] Enlarge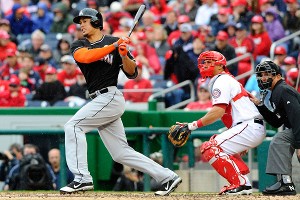 Brad Mills/USA TODAY SportsGiancarlo Stanton will have to wait even longer now to turn around his slow start.
A Grade 2 strain conveys a wide spectrum of possibilities in terms of the extent of tissue damage, making it difficult to ascertain how long Stanton's recovery will take. While Grade 1 is considered minor with little to no true tearing of muscle or tendon fibers, a Grade 3 is considered a complete tear where enough of the fibers are torn to render the muscle or tendon completely nonfunctional. A Grade 2 injury is everything in between. These are the injuries that are typically referred to as partial tears. The range for recovery can be as little as three weeks or as long as three months. Some of the variables that will affect recovery are how much pain and spasm is present, how much bleeding of the tissue there is (which shows up as bruising along the back of the thigh) and whether the tear is located in the muscle belly itself or the musculotendinous junction (where the muscle and tendon meet).
Initial treatment is directed at minimizing pain and swelling while protecting and preserving pain-free range of motion. As the athlete regains normal range of motion and the ability to walk without a limp, strength exercises can be progressed. The activity eventually progresses to running, ultimately incorporating sprinting and sharp deceleration along with directional movements and peaking with a return to baseball activity. There is no magic way of knowing with absolute certainty when an individual is ready to return to play. That decision is made based on functional pain-free performance of gradually increasing intensity. Then, fingers are crossed in the hopes that the body withstands the demands of actual competition.
As for Stanton, he did struggle with a right hamstring issue late in the 2011 season, but it was never enough to send him to the DL. He missed a handful of games at the time but was able to recover during the offseason. In 2012, he underwent surgery to remove loose bodies from his right knee, which led to him missing a month in the second half of the season, but the hamstring itself was not reported to be a problem. Earlier this month, Stanton had a bruised shoulder, which seemed to be affecting him at the plate and ultimately sidelined him for six games. Finally, it seemed things were looking up. He hit his first home run of the season Saturday, followed by a second and a third on Sunday. Now this. His discouragement was evident when he told reporters after Monday's game, "If we could just erase all of April, that would be lovely."
April can't be erased, but if Stanton is able to recover well and return strong, it may be able to be overlooked, at least by fantasy owners. The hope is that his age (23) and physical conditioning will aid in his recovery and that the injury will not result in excessive scarring, which could make re-injury more likely. He will not be rushed, precisely to avoid aggravating the injury, meaning everyone -- Stanton included -- will need to be patient.
At this point, it appears likely to be June before we see the familiar name of Stanton back in the Marlins lineup.
July, 10, 2012
7/10/12
6:28
PM ET
In honor of the festivities taking place in Kansas City today around the 2012 MLB All-Star Game, it seemed appropriate to compile a roster of All-Injured All-Stars. The qualifiers for this roster were selected from:
• Players who were chosen for this year's All-Star game but could not participate due to injury
OR
• Past All-Stars who might have had the potential to earn another trip in 2012 were it not for the injuries that beset them this year.
The sad fact is that this was a relatively easy list to compile. Outside of one or two spots that required a stretch to meet the inclusion criteria, it was not difficult to find candidates for each position in both the American and National Leagues. Does that make this year any better or worse than previous years? I'm not sure, but it does remind us how much injuries can impact the game. Not everyone who could possibly qualify is listed. Naturally, as with the actual All-Star roster, there will be debate. But like the managers in the All-Star get to select their lineups, these are my picks, undoubtedly influenced by the number of times their names make an appearance in questions fielded during chats, podcasts, blog entries and Twitter posts.
May I present to you the 2012 All-Injured All-Stars?
National League
Howard
1B: Ryan Howard, Philadelphia Phillies:
Howard finally made his 2012 debut just before the All-Star break after he ruptured his Achilles tendon in his last at-bat of last year's playoffs. Complications following an infection slowed his recovery. The Phillies are hoping for offensive contributions from Howard -- and he has delivered a couple of hits -- but since his return, the team has yet to earn a victory. Howard is still not a daily player as he is easing back into the lineup, and even he acknowledges his leg is not likely to return to 100 percent until next year.
Utley
2B: Chase Utley, Philadelphia Phillies:
Like his fellow infielder on this roster, Utley started the season on the DL and only recently returned to action. Working through chronic patellofemoral pain (pain under the kneecap), Utley underwent an intensive, focused rehabilitation program to be able to get back to baseball. It was slow and deliberate, but how long he will be able to hold up once he is playing on a regular basis is unknown. The Phillies like what they see so far; a couple of home runs, a few RBIs and, most importantly, no setbacks. If only that can last.
Tulowitzki
SS: Troy Tulowitzki, Colorado Rockies:
Tulowitzki was bothered intermittently by groin pain this season, but a setback during a rehab assignment led to eventual surgery to debride scar tissue from around a nerve. Tulowitzki was projected to be out approximately 6-8 weeks following the procedure, which translates to an August return. Until he resumes baseball activities, it will be difficult to assess how close he is to seeing any game action.
Zimmerman
3B: Ryan Zimmerman, Washington Nationals:
Zimmerman has certainly been playing like an All-Star ever since receiving his latest cortisone injection in his right shoulder. The big question on everyone's mind is whether it will last. Zimmerman initially had trouble with the shoulder in April, which ultimately landed him on the DL. Even after the time off, Zimmerman continued to have discomfort and it showed at the plate. In June, there was discussion about a cortisone shot or even another DL stint. The shot seems to have done the trick, though, and hopefully when post-All-Star play resumes, Zimmerman's shoulder will still be feeling good.
Lucroy
C: Jonathan Lucroy, Milwaukee Brewers:
Admittedly, this is a bit of a reach, but Lucroy was batting .345 when he went out with a broken hand in May and there was abundant chatter about his potential selection to the 2012 All-Star roster. Exhibit A from the Milwaukee Journal-Sentinel in May: "He has five homers and 29 RBIs in addition to his gaudy batting average, putting him in the conversation for an All-Star Game appearance." Who knows what might have been? Instead, Lucroy is working his way back toward a return. He has been throwing and running, and was recently cleared to start swinging a bat, putting him on pace to return in late July.
Kemp
Stanton
Werth
OF: Jayson Werth, Washington Nationals; Giancarlo Stanton, Miami Marlins; Matt Kemp, Los Angeles Dodgers:
Werth qualifies for the most dramatic injury after he broke his left wrist when his glove caught in the grass as he was attempting to make a sliding catch. To complicate matters, this was the same wrist on which Werth had undergone a prior surgical procedure in 2006. The initial timetable for Werth was projected at three months, but the good news is that he is expected to start swinging a bat sometime after the All-Star break. Let's see how his wrist tolerates those swings before thinking about upping his return date.
Stanton was a late scratch from both the All-Star Game and the Home Run Derby when he was removed from Saturday's game with soreness in his right knee. After undergoing surgery Sunday morning to remove loose bodies, it will be a few weeks before he is ready to return.
Kemp has missed more time this year than he has at any point thus far in his career because of a finicky hamstring strain. Known for his ability to play virtually every day over the past few years, Kemp was reluctantly forced onto the DL in the hope of preventing a more serious injury. He then had to return to the DL when the hamstring acted up in only his second game back. Kemp's timetable has been slower this time around and he was deliberately kept on a lengthier rehab assignment to force more situational running. Everything seems to be pointing to his return to the lineup this Friday when the Dodgers are back in action.
Carpenter
Halladay
SP: Roy Halladay, Philadelphia Phillies; Chris Carpenter, Cardinals:
The Phillies tie the Nationals with the most members on this NL roster, but the Phillies win in terms of the importance of the players lost to their team (no hard feelings, injured Nationals). To go along with starting infielders Utley and Howard, the Phillies lost one of their most durable and consistent starters in Halladay, who was forced onto the DL with a strained lat. Despite his denials, it seemed as though the injury was affecting him, even if in a subtle manner, since the spring and ultimately the discomfort caught up to him. Halladay has been sidelined since late May but has been steadily progressing in his throwing program. He is expected to make a rehab start Thursday, and the Philadelphia Inquirer reports that if all goes well, he could then rejoin the Phillies for a Tuesday start against the Dodgers.
Carpenter has been either very good or very injured. This year, unfortunately, it was the latter and he was plagued by weakness in his throwing shoulder since the spring. Tests confirmed thoracic outlet syndrome (which he has actually been dealing with for several years but has progressed to the point where he can no longer pitch) and Carpenter is scheduled for surgery later this month. The rehab is long and there are no guarantees, but Carpenter hopes to be able to pitch again next season.
Wilson
RP: Brian Wilson, San Francisco Giants:
What a difference a year makes. Last year, Wilson was participating in the All-Star Game. This year he is recovering from Tommy John surgery No. 2. Wilson struggled late last season and even had his elbow examined after it was causing him discomfort. The hope was that the offseason rest had helped sufficiently, but it didn't take long to find out that was not the case. Just two weeks into the season, Wilson was done and headed for Dr. James Andrews' office. Whether he will be available to pitch at the start of next season remains uncertain.
American League
Youkilis
1B: Kevin Youkilis, Chicago White Sox:
Whether it was his back injury that landed him on the DL this spring or his general malaise while in the murky
Boston Red Sox
situation, Youkilis was not performing up to par. The three-time All Star -- who also spent the offseason recovering from surgery to address a core muscle injury -- was not going to be making this year's Midseason Classic. It's worth noting, though, that his performance thus far with his new club has certainly been reminiscent of the Youkilis of old.
Pedroia
2B: Dustin Pedroia, Boston Red Sox:
A partial tear of a thumb muscle is likely to blame, at least in part, for Pedroia's struggles at the plate in June. Pedroia was not voted into the 2012 All-Star Game, which may be just as well, because he suffered yet another thumb injury just last week. A diving play resulted in an injury to the volar plate of Pedroia's thumb, the fibrocartilaginous tissue deep in the joint that helps block hyperextension. He is expected to miss several weeks.
SS: None:
There were no real candidates for this position based on the inclusion criteria. Something tells me this should make AL shortstops a bit nervous about the second half of the season.
Longoria
3B: Evan Longoria, Tampa Bay Rays:
Longoria partially tore his left hamstring at the end of April, and his return at this point is anything but certain. In June, he appeared on course, but a rehab outing was cut short when Longoria again felt discomfort in the hamstring. Since that time, there have been wavering suggestions as to when Longoria might resume baseball activities, something which has yet to occur. According to the Tampa Bay Times, manager Joe Maddon said he has no idea when Longoria can return. He then offered perhaps the most precise summation of the challenge of dealing with a partially torn hamstring: "It's a tough injury to overcome and a tough injury to battle back from."
Martinez
C: Victor Martinez, Detroit Tigers:
The former All-Star underwent surgery in January to repair both the lateral and medial menisci along with a microfracture procedure. His progress has been understandably slow in order to protect the delicate spots on the knee where the microfracture was performed. Based on a recent MRI and clinical evaluation to assess his progress, the Tigers have indicated the soonest (note: soonest) Martinez would return is middle to late September.
Sizemore
Ellsbury
Crawford
OF: Carl Crawford and Jacoby Ellsbury, Boston Red Sox; Grady Sizemore, Cleveland Indians:
Just imagine what this outfield could look like when healthy. It's actually difficult to do, as these three players have dealt with extended absences over the past few seasons.
To be fair, Crawford's absence in 2011 was a virtual one; he was healthy but merely a shadow of himself. Then in the offseason, he injured his left wrist and had to undergo surgery to debride a fibrocartilage tear in the joint. A slow recovery was followed by a setback, and just when he seemed on the verge of beginning a rehab assignment, he had elbow pain. It turned out to be a partial tear of his ulnar collateral ligament. No surgery was immediately required (there is some discussion about Crawford having surgery eventually) and he recently embarked on a rehab assignment. That assignment was interrupted by a mild groin strain, and again Crawford's return date has been pushed back. The Red Sox are hoping they will have him in the second half of July.
Ellsbury was hurt early in the season on a collision, which resulted in a shoulder subluxation. He too has started a rehab assignment, and while there is no firm commitment to a date, it sounds as if he could rejoin his team by the weekend.
As for the three time All-Star Sizemore, his healthy days seem to be far fewer than his unhealthy ones in recent years. This year, he is recovering from back surgery, and there is always some question about the true health of his knees. He has actually started a running program and a rehab assignment could be in the not too distant future. No one is counting on a specific date but the Indians would love to see him back on the field at some point in the second half.
Haren
Sabathia
SP: C.C. Sabathia, New York Yankees; Dan Haren, Los Angeles Angels:
Sabathia did not want to go on the DL for his mild left groin strain, but the Yankees did not want him to be hurt in September. And so he went. After all, better to rest a minor groin issue now than have compensations turn into a shoulder or elbow injury later. The good news is that he is doing well and is expected to return shortly after the All-Star break.
Haren has never even been on the DL until now. Considering he's pitched in the majors for 10 years, there should be a special All-Star category for that alone. Haren did admit that the stiff back that sent him to the DL has been bothering him since the spring, and he felt his performance was hindering the team. The Angels are hoping for a brief stay.
Rivera
RP: Mariano Rivera, New York Yankees:
Rivera, a medical marvel when it comes to pitching and baseball, suffered the unlikeliest of injuries when he tore his ACL while shagging fly balls during pregame batting practice. The 42-year-old closer quickly made it known that this would not be his exit from baseball. While no one has ruled him out from a late-season return, even Yankees general manager Brian Cashman has said he does not expect him back in 2012. No matter what the return date, the fact that he is making such good progress is encouraging.
July, 9, 2012
7/09/12
11:47
AM ET
Once
Miami Marlins
outfielder
Giancarlo Stanton
exited Saturday's game with knee soreness, he wasted no time getting back to Miami and onto the operating table. Once it became clear that a few days off would not do much to change how his knee felt, it made sense for Stanton to have the procedure right away.
[+] Enlarge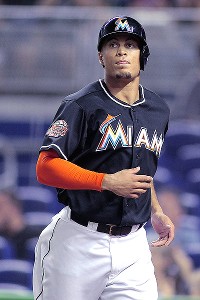 Marc Serota/Getty ImagesGiancarlo Stanton was limited to just nine at-bats in July because of knee issues.
By right away we mean less than 24 hours after his last at-bat. Stanton flew from St. Louis to Miami on Saturday night and was operated on by Marlins team physician Dr. Lee Kaplan on Sunday morning. Stanton underwent arthroscopic surgery to have loose bodies removed from his right knee. Loose bodies are typically flecks of cartilage that can create discomfort within a joint. Depending on their size, loose bodies can also block normal joint motion. There is limited space inside any joint, so the presence of foreign particles can be an irritant, which can then produce fluid in response, creating even less space. If they are not presenting a problem, there is no urgency to remove loose bodies, but once they alter an athlete's ability to function, the only solution is to remove them.
Earlier in the week, Stanton had hinted that he might opt for immediate surgery if the knee were to prevent him from being able to return after a few days of rest. Stanton tested the knee with fielding drills and batting practice before Friday's game, then entered late as a pinch hitter and struck out during his lone at-bat, but reported no issues with the knee. Saturday was a different matter. Stanton was in the starting lineup, recorded a hit and scored a run, but by the third inning he was out of the game. It's worth noting that this is not the same knee that gave Stanton trouble early in the season. In fact, there has been no mention of the left knee bothering Stanton since May and, incidentally, his performance at the plate bumped up dramatically, earning him National League Player of the Month honors that month.
Although Stanton is being forced to miss the festivities in Kansas City this week as he recovers, the hope is he will return in All-Star form. The rehabilitation from his procedure is fairly straightforward. Once the wound has healed, the stitches have been removed, and Stanton is walking normally, he should be cleared to progress his activity fairly swiftly. The primary issues are ensuring adequate strength returns in the muscles that surround the knee, and no pain or swelling as his activity ramps up. The Marlins have declared a timetable of four to six weeks and barring a setback along the way, Stanton and his fresh legs should rejoin the team by the second half of August.
If September looks like May, then there is much to look forward to for Stanton fantasy owners.