Stephania Bell:

Grady Sizemore
July, 10, 2012
7/10/12
6:28
PM ET
In honor of the festivities taking place in Kansas City today around the 2012 MLB All-Star Game, it seemed appropriate to compile a roster of All-Injured All-Stars. The qualifiers for this roster were selected from:
• Players who were chosen for this year's All-Star game but could not participate due to injury
OR
• Past All-Stars who might have had the potential to earn another trip in 2012 were it not for the injuries that beset them this year.
The sad fact is that this was a relatively easy list to compile. Outside of one or two spots that required a stretch to meet the inclusion criteria, it was not difficult to find candidates for each position in both the American and National Leagues. Does that make this year any better or worse than previous years? I'm not sure, but it does remind us how much injuries can impact the game. Not everyone who could possibly qualify is listed. Naturally, as with the actual All-Star roster, there will be debate. But like the managers in the All-Star get to select their lineups, these are my picks, undoubtedly influenced by the number of times their names make an appearance in questions fielded during chats, podcasts, blog entries and Twitter posts.
May I present to you the 2012 All-Injured All-Stars?
National League
Howard
1B: Ryan Howard, Philadelphia Phillies:
Howard finally made his 2012 debut just before the All-Star break after he ruptured his Achilles tendon in his last at-bat of last year's playoffs. Complications following an infection slowed his recovery. The Phillies are hoping for offensive contributions from Howard -- and he has delivered a couple of hits -- but since his return, the team has yet to earn a victory. Howard is still not a daily player as he is easing back into the lineup, and even he acknowledges his leg is not likely to return to 100 percent until next year.
Utley
2B: Chase Utley, Philadelphia Phillies:
Like his fellow infielder on this roster, Utley started the season on the DL and only recently returned to action. Working through chronic patellofemoral pain (pain under the kneecap), Utley underwent an intensive, focused rehabilitation program to be able to get back to baseball. It was slow and deliberate, but how long he will be able to hold up once he is playing on a regular basis is unknown. The Phillies like what they see so far; a couple of home runs, a few RBIs and, most importantly, no setbacks. If only that can last.
Tulowitzki
SS: Troy Tulowitzki, Colorado Rockies:
Tulowitzki was bothered intermittently by groin pain this season, but a setback during a rehab assignment led to eventual surgery to debride scar tissue from around a nerve. Tulowitzki was projected to be out approximately 6-8 weeks following the procedure, which translates to an August return. Until he resumes baseball activities, it will be difficult to assess how close he is to seeing any game action.
Zimmerman
3B: Ryan Zimmerman, Washington Nationals:
Zimmerman has certainly been playing like an All-Star ever since receiving his latest cortisone injection in his right shoulder. The big question on everyone's mind is whether it will last. Zimmerman initially had trouble with the shoulder in April, which ultimately landed him on the DL. Even after the time off, Zimmerman continued to have discomfort and it showed at the plate. In June, there was discussion about a cortisone shot or even another DL stint. The shot seems to have done the trick, though, and hopefully when post-All-Star play resumes, Zimmerman's shoulder will still be feeling good.
Lucroy
C: Jonathan Lucroy, Milwaukee Brewers:
Admittedly, this is a bit of a reach, but Lucroy was batting .345 when he went out with a broken hand in May and there was abundant chatter about his potential selection to the 2012 All-Star roster. Exhibit A from the Milwaukee Journal-Sentinel in May: "He has five homers and 29 RBIs in addition to his gaudy batting average, putting him in the conversation for an All-Star Game appearance." Who knows what might have been? Instead, Lucroy is working his way back toward a return. He has been throwing and running, and was recently cleared to start swinging a bat, putting him on pace to return in late July.
Kemp
Stanton
Werth
OF: Jayson Werth, Washington Nationals; Giancarlo Stanton, Miami Marlins; Matt Kemp, Los Angeles Dodgers:
Werth qualifies for the most dramatic injury after he broke his left wrist when his glove caught in the grass as he was attempting to make a sliding catch. To complicate matters, this was the same wrist on which Werth had undergone a prior surgical procedure in 2006. The initial timetable for Werth was projected at three months, but the good news is that he is expected to start swinging a bat sometime after the All-Star break. Let's see how his wrist tolerates those swings before thinking about upping his return date.
Stanton was a late scratch from both the All-Star Game and the Home Run Derby when he was removed from Saturday's game with soreness in his right knee. After undergoing surgery Sunday morning to remove loose bodies, it will be a few weeks before he is ready to return.
Kemp has missed more time this year than he has at any point thus far in his career because of a finicky hamstring strain. Known for his ability to play virtually every day over the past few years, Kemp was reluctantly forced onto the DL in the hope of preventing a more serious injury. He then had to return to the DL when the hamstring acted up in only his second game back. Kemp's timetable has been slower this time around and he was deliberately kept on a lengthier rehab assignment to force more situational running. Everything seems to be pointing to his return to the lineup this Friday when the Dodgers are back in action.
Carpenter
Halladay
SP: Roy Halladay, Philadelphia Phillies; Chris Carpenter, Cardinals:
The Phillies tie the Nationals with the most members on this NL roster, but the Phillies win in terms of the importance of the players lost to their team (no hard feelings, injured Nationals). To go along with starting infielders Utley and Howard, the Phillies lost one of their most durable and consistent starters in Halladay, who was forced onto the DL with a strained lat. Despite his denials, it seemed as though the injury was affecting him, even if in a subtle manner, since the spring and ultimately the discomfort caught up to him. Halladay has been sidelined since late May but has been steadily progressing in his throwing program. He is expected to make a rehab start Thursday, and the Philadelphia Inquirer reports that if all goes well, he could then rejoin the Phillies for a Tuesday start against the Dodgers.
Carpenter has been either very good or very injured. This year, unfortunately, it was the latter and he was plagued by weakness in his throwing shoulder since the spring. Tests confirmed thoracic outlet syndrome (which he has actually been dealing with for several years but has progressed to the point where he can no longer pitch) and Carpenter is scheduled for surgery later this month. The rehab is long and there are no guarantees, but Carpenter hopes to be able to pitch again next season.
Wilson
RP: Brian Wilson, San Francisco Giants:
What a difference a year makes. Last year, Wilson was participating in the All-Star Game. This year he is recovering from Tommy John surgery No. 2. Wilson struggled late last season and even had his elbow examined after it was causing him discomfort. The hope was that the offseason rest had helped sufficiently, but it didn't take long to find out that was not the case. Just two weeks into the season, Wilson was done and headed for Dr. James Andrews' office. Whether he will be available to pitch at the start of next season remains uncertain.
American League
Youkilis
1B: Kevin Youkilis, Chicago White Sox:
Whether it was his back injury that landed him on the DL this spring or his general malaise while in the murky
Boston Red Sox
situation, Youkilis was not performing up to par. The three-time All Star -- who also spent the offseason recovering from surgery to address a core muscle injury -- was not going to be making this year's Midseason Classic. It's worth noting, though, that his performance thus far with his new club has certainly been reminiscent of the Youkilis of old.
Pedroia
2B: Dustin Pedroia, Boston Red Sox:
A partial tear of a thumb muscle is likely to blame, at least in part, for Pedroia's struggles at the plate in June. Pedroia was not voted into the 2012 All-Star Game, which may be just as well, because he suffered yet another thumb injury just last week. A diving play resulted in an injury to the volar plate of Pedroia's thumb, the fibrocartilaginous tissue deep in the joint that helps block hyperextension. He is expected to miss several weeks.
SS: None:
There were no real candidates for this position based on the inclusion criteria. Something tells me this should make AL shortstops a bit nervous about the second half of the season.
Longoria
3B: Evan Longoria, Tampa Bay Rays:
Longoria partially tore his left hamstring at the end of April, and his return at this point is anything but certain. In June, he appeared on course, but a rehab outing was cut short when Longoria again felt discomfort in the hamstring. Since that time, there have been wavering suggestions as to when Longoria might resume baseball activities, something which has yet to occur. According to the Tampa Bay Times, manager Joe Maddon said he has no idea when Longoria can return. He then offered perhaps the most precise summation of the challenge of dealing with a partially torn hamstring: "It's a tough injury to overcome and a tough injury to battle back from."
Martinez
C: Victor Martinez, Detroit Tigers:
The former All-Star underwent surgery in January to repair both the lateral and medial menisci along with a microfracture procedure. His progress has been understandably slow in order to protect the delicate spots on the knee where the microfracture was performed. Based on a recent MRI and clinical evaluation to assess his progress, the Tigers have indicated the soonest (note: soonest) Martinez would return is middle to late September.
Sizemore
Ellsbury
Crawford
OF: Carl Crawford and Jacoby Ellsbury, Boston Red Sox; Grady Sizemore, Cleveland Indians:
Just imagine what this outfield could look like when healthy. It's actually difficult to do, as these three players have dealt with extended absences over the past few seasons.
To be fair, Crawford's absence in 2011 was a virtual one; he was healthy but merely a shadow of himself. Then in the offseason, he injured his left wrist and had to undergo surgery to debride a fibrocartilage tear in the joint. A slow recovery was followed by a setback, and just when he seemed on the verge of beginning a rehab assignment, he had elbow pain. It turned out to be a partial tear of his ulnar collateral ligament. No surgery was immediately required (there is some discussion about Crawford having surgery eventually) and he recently embarked on a rehab assignment. That assignment was interrupted by a mild groin strain, and again Crawford's return date has been pushed back. The Red Sox are hoping they will have him in the second half of July.
Ellsbury was hurt early in the season on a collision, which resulted in a shoulder subluxation. He too has started a rehab assignment, and while there is no firm commitment to a date, it sounds as if he could rejoin his team by the weekend.
As for the three time All-Star Sizemore, his healthy days seem to be far fewer than his unhealthy ones in recent years. This year, he is recovering from back surgery, and there is always some question about the true health of his knees. He has actually started a running program and a rehab assignment could be in the not too distant future. No one is counting on a specific date but the Indians would love to see him back on the field at some point in the second half.
Haren
Sabathia
SP: C.C. Sabathia, New York Yankees; Dan Haren, Los Angeles Angels:
Sabathia did not want to go on the DL for his mild left groin strain, but the Yankees did not want him to be hurt in September. And so he went. After all, better to rest a minor groin issue now than have compensations turn into a shoulder or elbow injury later. The good news is that he is doing well and is expected to return shortly after the All-Star break.
Haren has never even been on the DL until now. Considering he's pitched in the majors for 10 years, there should be a special All-Star category for that alone. Haren did admit that the stiff back that sent him to the DL has been bothering him since the spring, and he felt his performance was hindering the team. The Angels are hoping for a brief stay.
Rivera
RP: Mariano Rivera, New York Yankees:
Rivera, a medical marvel when it comes to pitching and baseball, suffered the unlikeliest of injuries when he tore his ACL while shagging fly balls during pregame batting practice. The 42-year-old closer quickly made it known that this would not be his exit from baseball. While no one has ruled him out from a late-season return, even Yankees general manager Brian Cashman has said he does not expect him back in 2012. No matter what the return date, the fact that he is making such good progress is encouraging.
July, 22, 2011
7/22/11
3:15
PM ET
Last Friday, we said it wouldn't be a surprise if
Colorado Rockies
outfielder
Carlos Gonzalez
rested through the weekend. Well, he didn't. He rejoined the team Saturday, hit a home run on Tuesday and the game-winning RBI on Wednesday. Out of the woods, right? Not exactly.
[+] Enlarge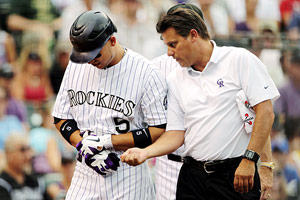 Doug Pensinger/Getty ImagesCarlos Gonzalez has been plagued by wrist injuries since last year.
During Thursday's game against the
Atlanta Braves
, Gonzalez started off well by delivering another home run. In the fifth inning, however, he gave his team a scare. After fouling a ball back, he released his right hand immediately from the bat and appeared to be in significant pain. He walked toward the dugout, then squatted down, still supporting his wrist, while being attended to by the medical staff. Gonzalez was sent for an MRI, and on Friday the team called his injury a wrist strain. The Rockies'
official Twitter feed
states that Gonzalez will be on the plane with the team when they travel to Arizona for a weekend series. According to the Rockies' website, Gonzalez will be re-evaluated Friday, at which point the team will have a better ideas as to how much time he will miss. It stands to reason that he will be sidelined for a lengthier period after this latest episode given the recurrent symptoms he is experiencing, but there is no official indication as to whether that will be the case.
Just to recap, prior to Thursday's incident, Gonzalez injured his right wrist on July 3 after colliding with the outfield wall. He subsequently missed several games, but they were not consecutive. After sitting out five days, Gonzalez returned to the starting lineup on July 8 but appeared to aggravate his wrist in that game. According to the Rockies' website, Gonzalez experienced pain twice during that game, once during a strikeout and again while diving in an attempt to make a defensive play. By the eighth inning he was forced to bunt because it was too painful to perform a normal swing. However, Gonzalez appeared as a defensive replacement late in games the next two days. On July 11, he underwent an MRI, which revealed a deep bone bruise, and he was then placed in a removable splint and a cortisone shot was administered to his wrist. By last Saturday, he was back in the lineup again and, well, six days later he was getting a repeat MRI.
It's worth noting that this is the same wrist that gave Gonzalez trouble late last season. Initially painful after fouling off a pitch in August, Gonzalez acknowledged that even while trying to play through the injury for another month, it affected the power and strength of his swing.
The wrist is a tricky joint. Where the two forearm bones (radius and ulna) end, they are met by two rows of small carpal (wrist) bones, four in each row, which then articulate with the long bones of the hand (metacarpals). The carpal bones are held together by a number of ligaments. The tendons that anchor to the bones of the fingers, controlling their motion, cross both sides of the wrist. In other words, there are a lot of structures that coexist within a fairly small space which collectively contribute to very complex motions, especially when it comes to torsional or twisting movements (like swinging a bat). The presence of inflammation takes up real estate in this already constricted area, making movement more difficult and often painful. Pain and swelling impair strength, so grip is often impacted when there is inflammation in the wrist. One of the keys to reducing inflammation, beyond oral medication or injection or modalities such as ice or electrical stimulation, typically includes immobilizing the area to prevent excessive motion, along with that universal healer that tests everyone's patience: rest. Sometimes the only way to judge if an area has healed to the point of tolerating activity is to try the activity. When the body doesn't respond, it is often a signal that more downtime is warranted. Although it's impossible to assess all the elements of any specific injury from a distance, it would certainly appear that the pattern for Gonzalez and his ailing wrist hints at more extended downtime in his near future.
[+] Enlarge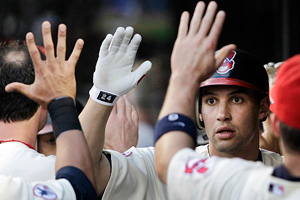 AP Photo/Amy SancettaGrady Sizemore will now be recovering from two injuries for the next four to six weeks.
• The
Cleveland Indians
'
Grady Sizemore
is getting extended downtime after aggravating his right knee injury when running the bases last Sunday. He was placed on the DL on Monday, but on Thursday, we learned that he had undergone surgery to repair a sports hernia (his second such surgery but unrelated to the first, which happened in 2009). The recovery time for the sports hernia was projected at four to six weeks, which automatically ensures that Sizemore's knee will get some additional time off.
According to the Cleveland Plain-Dealer, there are a couple of silver-lining notes to this story. First, Indians head athletic trainer Lonnie Soloff indicated that a repeat MRI of Sizemore's right knee "is unchanged from 10 weeks ago." In other words, there has been no progression of pathology within the joint. Given Sizemore's initial reaction as to how the latest injury felt similar to what he experienced in his left knee last year -- which ultimately led to microfracture surgery -- this is encouraging.
Soloff also indicated with regards to the sports hernia surgery, "This is a similar procedure, but not as extensive as the 2009 injury," another plus in terms of recovery. Dr. Bill Meyers, the surgeon renowned in the area of sports hernia surgery, performed the procedure. He performed a similar surgery earlier this year on
Washington Nationals
third baseman
Ryan Zimmerman
, who was out for six weeks following the procedure. Although no two procedures or recoveries are identical, it's safe to say no one will be rushing Sizemore back into service given his overall history.
• And to end on a happy note,
New York Mets
third baseman
David Wright
is expected to rejoin his team Friday when they face the
Florida Marlins
. Wright is returning from a stress fracture in his lower back and has had a solid week of rehab game play. His presence will undoubtedly lift his team and he should be able to hit the ground running, literally. Wright played through the injury for a month before going on the DL. The rest and lengthy, intensive rehabilitation targeted at strengthening some of the key abdominal stabilizing muscles should only serve to enhance his performance in the second half.
July, 19, 2011
7/19/11
3:58
PM ET
As baseball rolls into the second half of the season, the
New York Mets
are looking to get two big stars back into the lineup, including one Tuesday night.
Jose Reyes
, the speedy shortstop who has been nursing a minor left hamstring injury, is in the lineup after a successful rehab outing Monday. As recently as last Friday it appeared the Mets would slow the return of Reyes as a
measure of caution
, but it appears there is enough confidence in his health to bring him back now. As is always the case with these types of injuries, the only way to determine whether Reyes is truly past the hamstring issue will be to see if he is able to play without a setback. At some point, there is nothing further to test in rehab when a player has performed all drills, played in a game situation and has no lingering symptoms. Duplicating the exact scenario of a major league game is nearly impossible, making return to play at the big league level the final test. The Mets will be hoping that Reyes passes with flying colors.
[+] Enlarge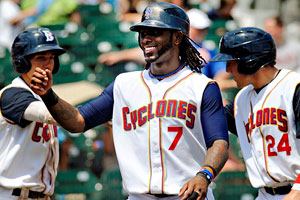 AP Photo/Henny Ray AbramsJose Reyes looked just fine Monday playing for the Class A Brooklyn Cyclones.
• Reyes' teammate
David Wright
has been on a rehab assignment as he approaches a return to the majors following a stress fracture in his lower back, which has sidelined him since mid-May. On Monday, Wright played a full nine innings after only being expected to go seven, surely a good sign. According to ESPN New York, Mets manager Terry Collins anticipates Wright will rejoin his teammates this weekend after playing a full slate of rehab games through the remainder of the week. Given the type of rehab program Wright has been through over the last couple months that emphasized training deep core muscles to protect the spine, his improved strength could certainly have him on track for a stellar second half.
• Pitcher
Roy Halladay
, normally unflappable, was challenged by the heat in Monday's game and left in the fifth inning, a rare occurrence. Halladay appeared flushed and looked to be struggling -- at times taking long walks off the mound or bending over to rest his hands on his knees -- but resisted valiantly for as long as he could. In the end, the heat won the battle and Halladay's streak of consecutive road starts pitching at least six innings came to a close. Better an early departure than a more serious heat-related consequence (credit
Philadelphia Phillies
head athletic trainer Scott Sheridan, who visited Halladay on the mound in the fifth and likely helped in the decision for him to exit). The Phillies sound confident that Halladay will make his next scheduled start.
• The Phillies have certainly had their share of injury woes but will be getting one of their injured players back Tuesday, although admittedly at slightly less than 100 percent health. Outfielder
Shane Victorino
has been sidelined with a sprained right thumb, the result of an awkward fall in the outfield on July 3. Victorino acknowledges that he still has some discomfort in the thumb and, according to the Philadelphia Inquirer, will wear a thumb guard while on base. The protective device no doubt is intended to help protect his thumb from getting bent awkwardly during a headfirst slide. As for hitting, Victorino has demonstrated during his rehab outings that he can effectively swing the bat, so barring a setback in the course of play, he should be able to contribute at the plate immediately.
• To DL or not to DL? That seems to be the recurring question for
Milwaukee Brewers
outfielder
Ryan Braun
, who has been up and down with a left calf strain for several weeks. Braun originally sustained the injury July 2, and when the symptoms persisted for several days, he underwent an MRI. Following the MRI, Braun pointed out that the injury appeared to be localized to a tendon behind the knee (tendon bridges muscle to bone and helps transfer the contractile force of the muscle to the bone, resulting in movement; however, it has a poorer blood supply than muscle, which can make it slower to heal). This slower-to-heal tendon appears to be behaving the way these things often do; after a rest period, the injured area feels better and the athlete increases his activity only to experience a recurrence of discomfort when the area is maximally stressed.
[+] Enlarge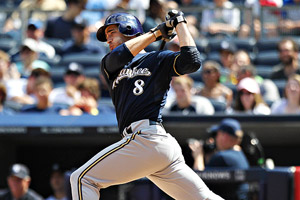 Debby Wong/US PresswireRyan Braun is just 2-for-18 in July, missing eight games before the break and sitting out the All-Star Game.
Braun sat out the All-Star Game to rest his leg, returned to the lineup July 14 and just two days later was forced to leave early with tightness in the leg. According to the Milwaukee Journal-Sentinel, Braun acknowledged that despite being in the lineup, he still was not able to run full-speed, leading to a situation where he is attempting to avoid placing undue stress on his leg. Braun said, "I jog as quickly as I can, whenever the situation warrants it. But obviously whenever I can avoid running or putting any extra stress on it, I think that's probably in my best interest and the team's best interest."
Despite the setbacks, the Brewers still do not appear to be thinking a DL stint is required. Manager Ron Roenicke told the Milwaukee Journal-Sentinel on Monday, "We're going day by day. I'm hoping he can play tomorrow." There has to be some concern when an athlete is deliberately trying to hold back while playing for fear of aggravating an injury, particularly one that impacts his ability to play both offense and defense. It's hard to envision this completely resolving while Braun continues to play, or, at the very least, that Braun can play at top level while trying to guard against further injury.
• Is the third time the unlucky charm for
Grady Sizemore
? He finds himself on the DL for the third time this season (he started the season on the DL following left knee microfracture surgery, then suffered a bone bruise in his right knee in early May during a slide into second base which led to DL stint No. 2), again with a right knee contusion. More concerning than what the injury is being called, however, are the words Sizemore used to describe his fears about this latest setback. According to the
Cleveland Indians
website, the sharp pain Sizemore experienced in his right knee Sunday as he rounded first base harkened to what he felt in his left knee last summer. "It's similar," Sizemore said. "It's hard to say whether it's the same. I think it's definitely a concern based on what I went through last year. It's the same area and similar symptoms. It does feel a lot like it, but I can't say for sure."
An athlete's instincts are to be taken seriously when it comes to a second occurrence of an injury; for instance when an athlete has experienced a torn ACL, he knows intuitively the moment the same injury occurs on the opposite leg. While there has been no official word yet as to the specifics of the injury to Sizemore's right knee, his concerns and his gut response certainly raise red flags. It's hard not to feel for a young player who has been through the serious injuries and lengthy recoveries that Sizemore has already endured. Here's hoping that his intuition was not correct this time around and that the injury is not severe enough to warrant surgery. In the meantime, it's wait and see.
• Finally, best wishes go out to
Texas Rangers
CEO and president Nolan Ryan, released from a Houston hospital Tuesday after experiencing discomfort Sunday morning. Ryan has a cardiac history, including double-bypass surgery in 2000, but according to the Rangers, no new developments were discovered during this latest episode. Good news for Ryan and the Rangers, who have no doubt been under particular duress this July. On Tuesday, the team also announced new safety measures for Rangers Ballpark, including raising the height of the railing, following the death of a fan who fell trying to catch a ball earlier this month.
May, 16, 2011
5/16/11
4:39
PM ET
What would a weekend be without more names to add to the walking wounded in baseball? There were a couple of hit-by-pitches and a couple of strains and tweaks here and there. But it wasn't until Monday afternoon when we got the biggest news of the weekend, an injury that took everyone, even the player himself, by surprise.
[+] Enlarge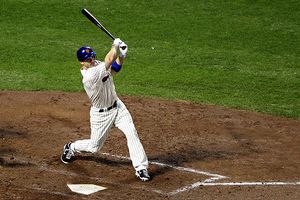 Jim McIsaac/Getty ImagesDavid Wright is hitting just .226 with six homers and 18 RBIs this year.
David Wright, 3B, New York Mets:
ESPNNewYork.com's Adam Rubin reports that New York Mets general manager Sandy Alderson announced that
Wright has a stress fracture in his low back
. The fracture was discovered when Wright was evaluated at Hospital for Special Surgery in New York on Monday. Alderson indicated that Wright would be seeking a second opinion but that the planned course of treatment was, quite simply, rest. Alderson said of Wright's reaction upon learning of his injury, "David himself was surprised by it."
At this point, there is not much further detail and we are awaiting the outcome of Wright's second opinion. But generally speaking, these injuries are typically treated with rest and once the pain associated with the fracture resolves, the athlete can resume activity based on comfort. While it sounds dramatic, this is potentially far less threatening than a serious soft tissue injury such as an ACL or rotator cuff tear. Bone, once healed, is exceptionally strong. The key is allowing the bone to fully heal, which is why proper rest, to avoid excessive movement in the injured area, is critical. Expect Wright to be sidelined for several weeks, but naturally we will update his condition as more information becomes available.
Albert Pujols, 1B, St. Louis Cardinals:
He's
a machine
, after all, so we should not expect Pujols to break just because he was hit by a
Francisco Cordero
fastball on his lead forearm. It looked painful Sunday as Pujols grasped his wrist and went to his knees in pain, but Pujols was able to carry on. As Pujols told the St. Louis Post-Dispatch, "It's going to take more than this to pull me down." The injury is being called a bruised left wrist and the plan was for him to seek X-rays only if he developed more swelling and soreness overnight.
Chipper Jones, 3B, Atlanta Braves:
It would be hard not to root for Jones after he took what could have been an entree into retirement and turned it into motivation to return for another season. Not only was he physically ready to go at the start of the spring following a second ACL reconstruction on his left knee, he has been fairly consistent. So naturally it's disappointing to learn that Jones' other knee is now giving him trouble.
Jones reportedly has a small meniscus tear in his right knee, which has been causing him discomfort, as those things are wont to do. In an effort to avoid midseason surgery, Jones received a cortisone injection and is resting the knee for a few days to see how it responds. If he is unable to play through it, he will yield to an arthroscopic procedure that could cause him to miss a few weeks. This really comes down to how well he can function in the presence of the injury. Tears of the meniscus do not heal themselves, but depending on the size and location, they may not prevent an athlete from continuing to play. Of course, that can change at any time, particularly if the tear increases in dimension or creates mechanical limitations that continue to irritate the joint. In other words, even if Jones is able to play through the injury for the time being, fantasy owners should be prepared that it could be problematic down the road.
Grady Sizemore, OF, Cleveland Indians:
It seemed inevitable that Sizemore would
revisit the disabled list
after he jammed his right knee on a hard slide into second base last week. He underwent an MRI and the team confirmed afterward that Sizemore had a right knee contusion (deep bruise) and he has been out of the lineup ever since. According to AP reports, Sizemore indicated the bruise was to his kneecap. Bone bruises, even mild ones, can be painful and a bit slow to resolve. It should come as no big surprise then that the Indians decided to place him on the DL on Monday, retroactive to May 11, to extend his recovery window. Although he had been resuming some baseball activities over the past few days, including hitting in the batting cage and some light drills, the soreness in his knee persisted.
There is no reason to rush Sizemore back. It is well known that Sizemore is coming off a microfracture procedure in his left knee, which required many months of rehabilitation and an easing into the 2011 season. Beyond the obvious risk of pushing his right knee when it is not feeling 100 percent healthy, there is the increased risk of Sizemore compromising his left knee if he alters his gait in any way to compensate. With a history of significant cartilage damage in his left knee, the hope is that Sizemore's right one does not suffer a similar fate.
[+] Enlarge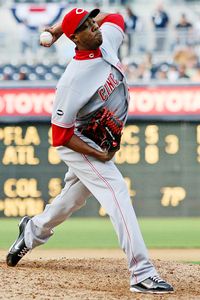 Jake Roth/US PresswireSince April 30, Aroldis Chapman has faced 19 hitters, allowing two hits, 12 walks and 10 runs.
Aroldis Chapman, P, Cincinnati Reds:
Chapman has been
placed on the DL
due to shoulder inflammation, according to the Reds' official website. There were signs in mid-April that this could happen, and at that time, he was held out for a few days because of inflammation in his shoulder. While his velocity returned, he continued to struggle with his command and the shoulder issue may have played a big part. In early May, there was talk from manager Dusty Baker about the lengthy time Chapman required to get loose before entering a game. There was discussion about Chapman's mechanics. In hindsight, perhaps these were reflections of an underlying issue. It's hard to be surprised about a shoulder or elbow issue in a flamethrower like Chapman. The hope is that this is truly just a minor setback that will respond to some extended rest.
Shane Victorino, OF, Philadelphia Phillies:
Last week, when talking about Utley's near return, I mentioned that Victorino (along with Rollins and Polanco) had not yet had a day off. Now that's been forced to change. Victorino strained his right hamstring Saturday and was out of the lineup Sunday. According to the Philadelphia Inquirer, Victorino will be out until at least Wednesday when the Phillies begin a homestand against the
Colorado Rockies
. While the team does not think this injury will warrant a trip to the DL, it's no secret that hamstring strains, even the very mild variety, can be tricky. Those that seem minor can quickly act up when an athlete pushes full speed and Victorino is not going to be jogging in the outfield. Fantasy owners should not be surprised if this return timeline gets extended.
Adam Lind, 1B, Toronto Blue Jays:
He's still not in the lineup, but he's not on the disabled list, either. Consider this a sign that Lind could make an appearance soon, especially since he reported feeling much improved after Sunday's drills. Lind has been dealing with back spasms for more than a week. Initially it appeared he had improved enough to play in this past weekend's series against the
Minnesota Twins
, but he was scratched Friday after developing some pregame tightness. Manager John Farrell pointed out that Lind was not sitting around during the game. "He went through a full two hours of treatment, exercises and rehab," said Farrell, adding that the team had hoped to have him back in the lineup Monday. According to the Toronto Sun, Lind was surprised to not be playing Monday after an uneventful Sunday workout. "I'm a little disappointed," Lind said. "I went hard today."
Perhaps after Friday's setback, the team wants to see how Lind feels a full 24 hours after his workout before committing him to the lineup. If all continues well, it appears the Blue Jays will consider getting him back in the groove shortly as he has avoided the DL thus far.
Don't look now, but there might be a couple of players sneaking back into the lineup this week. Can they be counted on for immediate production?
Rafael Furcal, SS, Los Angeles Dodgers:
Furcal is now on a rehab assignment as he inches closer to returning to the Dodgers' lineup after missing time with a broken left thumb. His final hurdle is batting right-handed without any discomfort. Furcal, who can hit from both sides of the plate, has been hitting well in rehab games but initially hit only from the left side. Right-handed swinging was originally causing mild discomfort, but after two right-handed at-bats Sunday night, the hope is that this is resolving. Furcal will face a left-handed starter Monday night and have another opportunity to test his thumb. Manager Don Mattingly is not interested in returning Furcal to a situation in which he is less than 100 percent healthy. Equally important is Furcal's confidence that he is past the injury. His productivity at the plate will be compromised if he is at all tentative in his swing. Mattingly indicated he would like Furcal to get 25 to 30 at-bats before rejoining the team. If he continues to progress well, it could signal his return late this week.
Jason Heyward, OF, Atlanta Braves:
Last week, Heyward
sat out several games
after experiencing numbness in his right hand and forearm and soreness in his right (non-throwing) shoulder. Since that time, Heyward has undergone an MRI, which showed inflammation in his shoulder, and he received a cortisone injection. According to the Atlanta Journal-Constitution, Heyward took his first swings Sunday since being sidelined with the injury, hitting off a tee and saying he hoped to take full-scale batting practice Monday. Heyward reported the shoulder felt improved and hinted at a Tuesday return to the lineup. The good news is that this is the first time Heyward has reported feeling better since he made an early exit in last Tuesday's game. The unknown is whether this issue will be truly behind him or whether it will crop up again later. After all, Heyward indicated the shoulder has been problematic intermittently since spring training, resulting in an inconsistent swing. Until he returns to hitting on a regular basis, it will be hard to assess just how much progress he has made.
April, 14, 2011
4/14/11
2:55
PM ET
June, 1, 2010
6/01/10
2:28
PM ET
With the season approaching 60 days old, it seemed like a good time to take a look at a few key players relegated to the 60-day DL, either before or since Opening Day. Many fantasy owners are re-evaluating their rosters, wondering whether it's time to fish or cut bait. Naturally there's still uncertainty involved, but there has also been some activity to report, although it tends to be in such small increments that it goes unnoticed.
In many cases, it will depend on just how deep a roster you have, or how badly that roster has been bitten by the injury bug. If your team has been lucky enough to avoid serious injury, you may want to hang on to one of these guys in the hopes that he can give you a spark late in the season. If you need help NOW, then it's time to consider purging your DL sheet to make room for an up-and-comer.
Either way, here are the rumblings floating around regarding four noteworthy fantasy players along with my two cents as to how optimistic teams should be about their returns.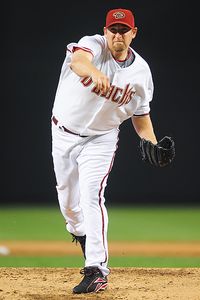 Mark J. Rebilas/US PresswireAfter pitching just four innings last season, Brandon Webb is no lock to appear for the Diamondbacks this year.
Brandon Webb, SP, Arizona Diamondbacks (60-day DL, April 4):
Ever since Webb suffered a setback post-operatively, there has been little reason for optimism. He has not been able to progress successfully to throwing off a mound, the key hurdle for Webb, since his original injury in April 2009.
In the latest effort to get Webb on a trajectory that would return him to the playing field, he recently spent time in Birmingham, Ala., with physical therapist Kevin Wilk, according to the Diamondbacks' website. Wilk, who works closely with Dr. James Andrews, is known for working with high-level athletes, and throwers in particular. Webb also has a history with Wilk, having spent some time with him last year. Plus, the Diamondbacks' head athletic trainer, Ken Crenshaw, is highly regarded among many medical personnel who treat baseball players. This type of collaboration between practitioners is not unusual -- and is, in fact, praiseworthy -- especially when a team is faced with a challenging case.
During the biomechanical evaluative process in Birmingham, Webb reportedly received confirmation of what he had suspected regarding his arm angle; he has been throwing with a much higher arm angle than he had pre-surgery. Sometimes after an injury or surgery, the involved limb loses some of its proprioceptive ability or understanding of where it is in space. No matter how complete the range of motion or how strong the body part, regaining this sense of body awareness is critical to peak performance. The question ultimately is how significant of a factor this is in Webb's overall progression, but given the impact on how the body delivers the ball, Webb has to make the adjustment. So Webb will return to Arizona no doubt with a few tweaks to his rehab program and some attention to his mechanics in the hope that he will be able to regain his form.
It's still impossible to predict just what sort of timetable this sets up for Webb at this point in the season but fantasy owners can assume that the word "soon" is not in the picture.
Erik Bedard, SP, Seattle Mariners (60-day DL, retroactive to March 26):
In news that's not necessarily news to longtime Bedard followers, Bedard suffered a setback during his rehab from shoulder surgery. To be fair, Bedard had been making terrific progress and was, in fact, ahead of schedule following his labral repair up until mid-May when he began feeling discomfort in his shoulder. That said, in the
inaugural blog of the season
, Bedard's long-standing history of soft tissue injuries was noted, making getting excited in April about a possible June return seem a little premature.
Bedard did travel with the team to Anaheim this weekend and threw a side session Friday. It went well enough that he was throwing again Monday (long toss, according to the Tacoma News-Tribune). If all continues uneventfully, Bedard will next progress to throwing bullpens. Prior to his setback, Bedard had thrown several bullpens and a simulated game. It was after his April simulated game that he began feeling discomfort and was transferred to the 60-day DL. Given the marks he still has to meet and the endurance he needs to build in his pitching arm, it's tough to imagine a pre-All-Star break return for Bedard.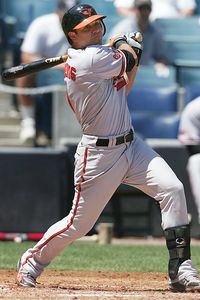 Cliff Welch/Icon SMI A variety of ailments has limited Brian Roberts to just 14 at-bats this season.
Brian Roberts, 2B, Baltimore Orioles (60-day DL, April 10):
Roberts must have walked under a ladder, stepped on cracks or double-crossed a black cat. Something has to explain the horrible string of bad luck he has dealt with since, truth be told, before the season started.
Roberts' back was problematic during spring training, but then it appeared he was out of the woods ... for a few days. Then on an awkward slide he suffered an abdominal strain and
aggravated the back injury
. Since then we have detailed his slow progress and setbacks (stomach pain that led to an endoscopy, and most recently a bout of pneumonia) on multiple occasions.
This week I am thrilled to report some positive news for Roberts! After just being cleared last week to resume baseball activities post-pneumonia, Roberts, working out at the team's complex in Florida, was able to take live batting practice and field ground balls from second according to the Orioles' website. Manager Dave Trembley went so far as to say "It's a good sign." Wow. That's going out on a limb.
Given the time Roberts has had, it's not surprising that no one -- from Roberts to Trembley -- wants to read too much into a good workout. Roberts is eligible to come off the DL on June 9, but as the Orioles' site indicates, the team anticipates that he will need some more time. After all, he has been away from the game for two months already, has been hospitalized, received spinal epidural injections and without a doubt has lost significant conditioning. If there's anything that's going to help protect his back from another major episode, it's strong core muscles and physical endurance. In fact, it would not be surprising if his return does not come until closer to the All-Star break. Every day will be a test so there are no guarantees at this stage. But at least we're talking about what Roberts is
doing
, instead of what he's not.
Carlos Beltran, OF, New York Mets: (60-day DL, retroactive to March 26):
Beltran has been ever so slowly working his way back from
January knee surgery
to address cartilage damage in his knee.
We have maintained all along that the big tests for Beltran would come when he began running, and so far he has passed the preliminaries. He recently acknowledged that he has been able to run without pain, something he had not been able to do for months. But he is moving slowly, perhaps more slowly than even Beltran anticipated, although it is not without good reason. David Lennon of Newsday recently reported that Beltran acknowledged that he was given the choice of undergoing microfracture surgery in January -- which would certainly have pre-empted any chance at playing in 2010 -- or undergoing a less complex procedure to smooth the cartilage surface and give him an opportunity to return. He chose the latter but it underscores the point we've been making since before the season started; his knee is not pristine and thus must be treated carefully.
So far, Beltran has done light running but as of late last week, as the Newark Star-Ledger reported, he had not yet been cleared for baseball activities. General manager Omar Minaya reiterated what he had said a month ago: Beltran will need approximately four to six weeks
after
he is cleared for such activities before he will be able to return to the team.
Fantasy owners should automatically assume that this will take him beyond the All-Star break, but we will look for hints that he is actually increasing his activity and making progress toward a return.
In brief:
Grady Sizemore, OF, Cleveland Indians:
He will undergo arthroscopic surgery on his knee. After
consulting with several specialists
, the plan is for Sizemore to undergo a scope, at which point it will be determined how extensive a procedure is ultimately required. The minimum time he is expected to miss is six weeks, but as we have seen before (like Carlos Beltran above), these situations can be tough to predict. If Sizemore does end up having microfracture surgery, his season will be over.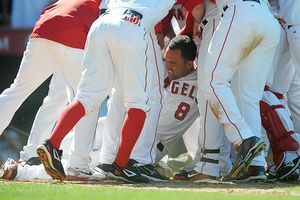 Kirby Lee/Image of Sport/US PresswireIt's possible that Kendry Morales won't play another game this season after his freak injury Saturday.
Kendry Morales, 1B, Los Angeles Angels:
Morales, who went from ecstasy to agony in the blink of an eye when he broke his ankle during celebration for a walk-off grand slam Saturday, still has not been able to undergo surgery. According to the Associated Press, Morales' injured ankle remains too swollen for doctors to operate. The Los Angeles Times reported that the Angels' medical staff has suggested the possibility of a return for Morales this season, but the rehab clock has yet to begin ticking because of the delay.
Once the fracture has healed, Morales will need to regain his range of motion and strength, which is often more difficult than the healing of the bone itself when it comes to the ankle. Progressive weight bearing and increasingly demanding drills precede a return to baseball activities and then rehab games will follow. Depending on the precise location of the break, whether it is a clean fracture or whether there are multiple fragments, and the associated surgical procedure, the timetable can be quite variable, but this is more than a 15-day DL stint, with the descriptor more likely to be "months" than "weeks." Stay tuned.
Jorge Posada, C, New York Yankees:
He may yet prove all of us medical folks wrong. (We actually don't mind when that happens in the positive direction because it means someone is doing better than expected!) Posada appears to indeed be ahead of schedule in a return from a
hairline fracture he suffered in his right foot
as a result of a foul tip. The Newark Star-Ledger reports that he ran on the field Monday, and manager Joe Girardi says there's not much more he needs to do, other than prove that he still feels fine the day afterward. Posada may avoid a rehab assignment so he could return to the team within days, not weeks. While running is certainly impressive, there are different stresses on the foot associated with playing the position of catcher so the team may want to see him catch a few innings behind the plate before clearing him. Nonetheless, Posada owners want to keep an eye on him as he is eligible to come off the DL late this week.
Andre Ethier, OF, Los Angeles Dodgers:
And why not end on a high note? Ethier was back in the lineup Monday, coming off the DL as soon as eligible despite a still-healing finger fracture. As noted in
last week's blog
, it's a credit to some creative thinking on the part of the Dodgers' medical staff (and their collaboration with the Lakers' medical staff) that the timetable for Ethier's absence was shortened by as much as a month. Don't be too concerned by his lack of productivity the first night back. The fact he has barely missed a beat swinging the bat since his injury occurred will undoubtedly help him return to form sooner rather than later. He will wear the splint for the foreseeable future as the finger continues to heal.
May, 26, 2010
5/26/10
2:54
PM ET
Welcome back! Here's to being back from an extended stay away from the team, settling into the regular routine and finishing out the season on an upswing. No, the salutation is not self-directed, although I did manage to tear myself away from the beaches of Cabo San Lucas in Mexico to get back to the business of discussing injuries. This welcome is directed to
Los Angeles Dodgers
shortstop
Rafael Furcal
, who rejoined the lineup Tuesday in Chicago after missing time with a hamstring strain.
After originally looking as if he'd be back when eligible May 14, there was enough concern about some lingering symptoms to postpone the return date until now. It wasn't exactly Furcal's most notable performance (0-for-4 and a couple of errors), but he got through the game just fine. As reported by Tony Jackson of ESPNLosAngeles.com, Furcal said after the game, "I am very disappointed with the way I played. The best thing is that I'm healthy and I didn't feel anything." Very true. Rust can be overcome quicker than reinjury. The biggest test, however, will come during the next couple of weeks as we see just how Furcal and his hamstring tolerate the grind of daily play.
Also returning from injury were
Boston Red Sox
outfielder
Mike Cameron
, returning from an abdominal strain, and
Minnesota Twins
shortstop
J.J. Hardy
, coming off a bone bruise in his left wrist. Cameron is going to be eased back into play, according to The Boston Globe. He will not be used daily, at least not initially, plus he will spend some time playing left field. The 37-year-old Cameron, whose superb fitness may be a reason he's even been able to return from this injury, may yet require surgery down the line. Hardy's return Tuesday was abbreviated because the Yankees-Twins game was suspended in the fifth inning by rain. That said, Hardy's first at-bat was a double to deep right, so it looks as if his wrist is not a limiting factor.
Earlier it appeared that we would be welcoming back another star in this week's blog,
Philadelphia Phillies
shortstop
Jimmy Rollins
, but he was back on the DL before we ever got the chance. On that unfortunate note, we turn to some of the key injuries in the world of baseball this week ...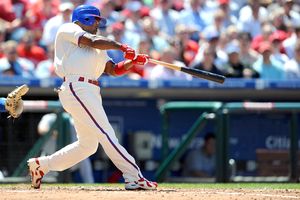 Miles Kennedy/Getty ImagesJimmy Rollins hit a homer in his brief stint off the disabled list earlier this month.
Jimmy Rollins, SS, Philadelphia Phillies (15-day DL, May 22):
Rollins' situation exemplifies the challenge for a medical staff when dealing with an athlete returning to play following a significant muscle strain. No matter how many sprints, drills or running workouts an athlete goes through to test the injured part, there is no guarantee that he is out of the woods when he returns to play. It is impossible to simulate every game situation and perhaps even more challenging to simulate the environment -- such as the intensity, the adrenaline of playing in a major league game -- and those things can factor into how the body responds. The Phillies brought Rollins along at a conservative pace, even holding him back at times as a measure of precaution. Sometimes even the best-laid plans don't unfold as anticipated.
In Rollins' case, his right calf gave him a signal that it was not going to fully cooperate with his agenda. Rollins returned to the lineup on May 17 after missing 30 games with the original injury. Just four days later, the calf bothered him while he ran to first on a single. He was forced to leave the game early and returned to the DL the next day. No fooling around here.
As Phillies general manager Ruben Amaro told The Philadelphia Inquirer, "It might not take [the entire 15-day DL stint], but we can't afford to put ourselves in a position where it gets reinjured and turns into something serious." Hmmm. It looks as though the first part (reinjury) already happened, but the hope is that this does not represent a serious setback. The fortunate aspect is that this strain is reportedly not as severe as the initial injury. The team is referring to it as a Grade I, or mild, strain (the original injury was a Grade II, or moderate, strain) and the team hopes he will not require much, if any, additional time off.
Fantasy owners are understandably frustrated (just think how Rollins feels!), but this is not time to panic.
Andre Ethier, Los Angeles Dodgers (15-day DL, retroactive to May 15):
What a difference a day -- or a splint -- makes! Ethier, who landed on the DL after suffering a fracture in his right pinkie finger while taking batting practice,
could
have missed up to six weeks with the injury. As it turns out, thanks to the aid of a particular splint, Ethier may be able to return when eligible on Sunday.
The emphasis is on the word "may," however, as Ethier will have to show that he can perform without limitation and that the fracture is indeed healing before he can definitively play. But so far, things are looking good. If he performs well in a simulated game Saturday, he could be activated Sunday.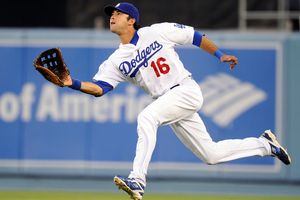 Harry How/Getty ImagesAndre Ethier could be back from the disabled list as soon as he's eligible.
The fracture that Ethier suffered was bit odd, or at least the mechanism of injury was unique. Ethier sustained an avulsion fracture -- when a small chip of bone is avulsed or pulled away where the tendon attaches to the bone -- at the tip of his fifth finger. Typically this type of injury, also called mallet finger, results from hyperflexion (exaggerated bending) of the digit, most often when the finger gets jammed by a ball or by contact with another athlete. In Ethier's case, it occurred while batting, when a slight slip of his pinkie finger caused it to get jammed between the bat and his hand.
As the medical staff discussed what route to take for treatment, the Dodgers' director of medical services, Stan Conte (himself a physical therapist and athletic trainer), made a call to colleague Gary Vitti, longtime athletic trainer for the Los Angeles Lakers. Anyone who has followed the Lakers lately knows they have had their share of finger issues, as is common in basketball. Conte said that Vitti recommended use of the "Pro-Ferred" splint, a splint that uniquely maintains the joint of the tip of the finger in extension (keeps it straight) to allow it to heal while allowing the joint just below some ability to flex or bend. This ability to flex the proximal or near part of the finger is what allows Ethier to be able to handle a bat.
Conte said that the use of the splint, along with some modifications of padding at the knob of the bat to make for easier grip, have enabled Ethier to already begin taking batting practice. While Conte stresses that the Dodgers are not yet sure whether Ethier will be ready to return when eligible, he does acknowledge that they are very pleased with the progress he has been able to make. Ethier would continue to wear the splint even if he does return because the tissue will still be healing.
From a medical standpoint, the more normal motion that can be encouraged while still protecting the injured area, the better the outcome typically is. We often see hitters who struggle when returning from wrist and hand injuries, particularly as they work to regain their motion and strength even if the injury has technically healed. In this scenario, it's quite possible that many of those challenges could be avoided as a result of Ethier's being able to continue to swing the bat relatively uninterrupted.
A little interleague cooperation could prove to go a long way to make fantasy owners really, really happy here. Stay tuned.
Grady Sizemore, OF, Cleveland Indians (15-day DL, May 19):
An awkward landing while diving back to first base sent Sizemore to the DL, aggravating a knee injury first sustained near the end of spring training. Sizemore's next step will not be known until he gathers several opinions on his injured knee. The team has termed Sizemore's injury a bone bruise, but based on the locales of the specialists he's reported to be visiting -- Vail, Colo., and New York -- it raises the specter of cartilage damage. Vail is home to Dr. Richard Steadman, a pioneer of microfracture surgery (he performed January surgery on the
New York Mets
'
Carlos Beltran
), and there are surgeons in New York with similar expertise in cartilage defects.
The question that every fantasy owner wants answered is whether Sizemore will require surgery. Although the bone bruise likely will have him sidelined for multiple weeks, surgery could keep him out even longer, perhaps even threatening his return this season. Until the team releases more information, a timetable remains speculative, but at the very least, fantasy owners should make alternate plans for the next month.
Josh Beckett, SP, Boston Red Sox (15-day DL, May 19):
Beckett and back problems are nothing new. In fact, he has dealt with lower back and upper back issues at different points in recent years. It seems that this year will be no different.
Beckett began having back spasms in early May after taking batting practice, and he missed a scheduled start. Days later, while pitching in rainy conditions, Beckett left his start early with tightness in his back. A DL move was natural and precautionary in trying to prevent this from being a lingering and lengthy situation. Although Beckett is eligible to return on June 3, there is certainly no guarantee that he will. So far he has thrown a few side sessions, and next up comes the bullpen. The Red Sox will want to see how he tolerates the progression to the mound before deciding on a return date.
Jorge Posada, C, New York Yankees (15-day DL, May 20):
Posada has been placed on the DL with a hairline fracture in his right foot, the result of absorbing a foul tip off that foot in mid-May. Posada was hoping for just a bone bruise, but imaging tests showed the crack.
Initial projections from the team after the fracture was revealed had Posada out for three to four weeks, but he has taken a bit of a defiant position against that notion. According to the Newark Star-Ledger, Posada believes he will return earlier. "They can say whatever they're going to say. I'll be here before that," Posada said. It's worth noting that he followed up by saying he had never had a problem with his feet before, pointing out that "You've got to be able to put your weight on and all that stuff. You've got to be able to transfer your weight from one side or the other." Right. And he was immobilized in a walking boot when he made the remarks.
Given his position as a catcher where he is in a crouch, placing significant load through his feet while intermittently, explosively moving to full stance, the demands on the foot are high. Not only is he not likely to be back before three weeks, he'd be lucky to be back by then.
A hairline fracture can show evidence of healing more quickly than a complete fracture, but beyond the bone repairing itself, the foot needs to be able to tolerate loading, pivoting and twisting, without causing any symptoms before an athlete is able to return to baseball activities. Then, of course, he has to get back up to the level of playing in games. Until Posada is cleared for impact activities, it's probably too soon to even think of a return date. Fantasy owners should be planning on being without his services for the better part of a month.
Brad Penny, SP, St. Louis Cardinals: (15-day DL, May 22):
Penny escaped with a relatively mild injury but was still relegated to a DL stint just to be safe. Penny, who was diagnosed with a strained lat (short for latissimus dorsi, one of the broad muscles of the back), left his Friday start early because of discomfort. Despite delivering a grand slam, Penny was not feeling good and came out of the game as a result.
According to the St. Louis Post-Dispatch, the decision to move Penny to the DL was easy for the Cardinals when considering the big picture. General manager John Mozeliak said, "It just makes sense to DL him, rather than put him out there for the next start and he makes a pitch and goes backward. It's a precaution." The team does not expect him to miss time beyond the minimum DL requirement.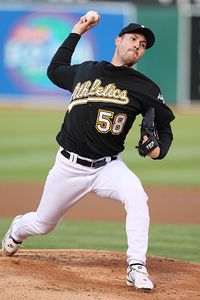 Tony Medina/SMIJustin Duchscherer currently has a 2-1 record with a 2.89 ERA in five starts this season.
Justin Duchscherer, SP, Oakland Athletics (15-day DL, May 16):
After working so hard to get back this season, Duchscherer has to be disappointed in the cards he's been dealt so far this year. He knew that keeping his lead hip healthy was the key to keeping his lower back pain-free and avoiding overload on his throwing arm, which was surgically repaired in 2008. In fact, he told me that very thing in spring training after making his first start of the year coming off pain-alleviating sacroiliac joint (where the low back joins the pelvis) injections. That's why he dedicated extra time to stretching his hips and keeping them loose.
But his anatomy is just not cooperating. Duchscherer, who already endured surgery on his right hip, is now being plagued by similar symptoms on the left side. His prior experience with the right hip is no doubt what led him to tell the San Francisco Chronicle that he anticipates needing surgery on the left hip. That statement came just after Duchscherer returned to the DL in mid-May because of continued hip discomfort one mere day after coming off it.
For the time being, Duchscherer is trying the conservative route to see whether he can delay surgery until the season ends. The Chronicle reports that he has undergone a Synvisc injection, a joint lubricant that may alleviate some of his current symptoms.
Fantasy owners who were holding out hope should probably look elsewhere, however. Synvisc was not ultimately able to stave off surgery when Duchscherer's right hip was bothering him; it's hard to be overly optimistic that this will turn out differently.
Other names to watch
Huston Street, RP, Colorado Rockies (15-day DL retroactive to March 26):
Street began experiencing shoulder stiffness in mid-March. After steady progress, Street was throwing in a rehab assignment mid-May and was feeling good. So good, in fact, that he told the Rockies' official website, "I'm close -- dangerously close. I'm close enough to start getting my hopes up, and that's something I'm trying to keep together." Then, as if foreshadowing what was to come, Street added, "I got real excited last time [in spring training], and we had the setback. That set us back six more weeks."
Uh-oh. It happened again. Street suffered a setback just when it appeared he was on the verge of returning. It's important to distinguish, however, that this setback was not to his shoulder; instead, Street suffered a groin injury. Fortunately, it appears that the injury was not as serious as first thought, and Street's return may not be extensively delayed. In fact, Street threw a bullpen session Tuesday, which suggests he could be back in a rehab assignment in the not-too-distant future. Fantasy owners should keep an eye on early June if all continues well.
Brett Anderson, SP, Oakland Athletics (15-day DL, April 27):
Anderson has been out since late April with a flexor tendon strain in his throwing (left) forearm. ESPN's Buster Olney originally reported that Anderson was expected to miss a month, and it appears that time frame could be right on the money.
Anderson has been progressing well since his injury and threw three innings in a rehab start in Sacramento on Monday. Although it seems like a relatively short rehab stint, the A's must be pleased with what they have seen so far, because Anderson is expected to rejoin the team Wednesday according to Contra Costa Times reporter Joe Stiglich. The plan is for Anderson to throw off the mound and, if there are no setbacks, pitch Saturday. Despite the short rehab assignment, Anderson has been throwing his repertoire of pitches without incident during flat ground sessions since mid-May, according to the San Francisco Chronicle. Although this is certainly a strong sign, the demands of throwing off the mound are always greater. It will be interesting to see how deep he goes into his first game out after the layoff.
And yes, there are always more injuries than there is room to discuss here. We might even hit on some of them in tomorrow's Fantasy Focus podcast. Next week, we will take a look at some of those "forgotten" players nearing the end of their terms on the 60-day DL. Will they be ready? Check back and see what we're hearing.
June, 24, 2009
6/24/09
2:18
PM ET
The feel-good tidbit of the week took place Tuesday when
Joey Votto
was activated from the DL just in time to play in his hometown of Toronto. Votto's Reds and the Blue Jays met Tuesday night and although Cincinnati took the loss, it was a big victory for Votto just to be out on the field.
Out since May 30 with what the team referred to as stress-related issues, which seemed to emerge following a difficult-to-diagnose inner ear infection, Votto had been working his way back through a rehab assignment in recent days. The Cincinnati Enquirer reported that Votto acknowledged he was battling depression since his father's death last fall. The depression really took a toll on him during the offseason, but Votto thought that once spring ball started he could manage. Those feelings were then exacerbated again after his recent illness, however, and Votto claimed that he felt overwhelmed at times while on the field. Although the first four innings were a little rough Tuesday, Votto told the Enquirer that after that he felt "like my old self again." Welcome back, Joey.
As nice as it is to see players rejoining the lineup, there are fewer returns than exits. The number of players being added to the DL keeps me busy each week as I detail the drama, and keeps fantasy owners busy making constant roster adjustments. Mets general manager Omar Minaya may have his hands full shuffling his roster around, but he's got nothing on some of you who have shared your team injury tragedies with me in our weekly chats.
Whom exactly do we have our eye on in the world of baseball injuries this week? Given their recent misfortunes, it only makes sense to start with the Mets.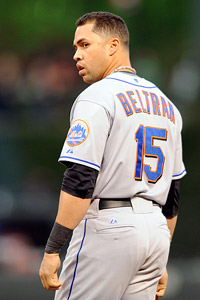 Mark Goldman/Icon SMIIt's very possible Carlos Beltran will miss the All-Star Game because of his knee issues.
Carlos Beltran, OF, Mets:
Beltran joins teammates
Carlos Delgado
and
Jose Reyes
on the dreaded DL. And that's not the worst of it. Beltran may, like his teammates, exceed the 15-day minimum stay on the DL depending how long it takes to get his leg healthy. In fact, given the worsening of Beltran's condition over time, fantasy owners should expect that his stay indeed will be extended, but by how much is anyone's guess at this stage.
Beltran's knee has been giving him trouble since May. Diagnosed at the time with a bone bruise on MRI, Beltran received a cortisone injection and responded favorably, or so it seemed. As the benefits of the cortisone disappeared, however, Beltran began to have increased pain in his knee at times, although the pattern of when it would act up seemed inconsistent. By last weekend, there was no denying that Beltran could not perform at his normal level and a subsequent MRI revealed that not only had the bruise not improved, but it had actually doubled in size.
What's the big deal with a bruise you ask? After all, it's just a
bruise
. To be truthful, not all bruises are created equal, and when it comes to bone, a bruise can have far more serious consequences.
A bruise, by definition, is bleeding. We all get bruises from time to time and don't think much of them, often wondering how exactly we acquired the colorful black, blue or purple blemish. These are soft-tissue bruises, typically superficial bleeding of tissue below the skin, although bruises can also occur in deeper tissue, like muscle. Such bruises can be caused by something as simple as the random encounter of one's thigh with the corner of a desk or, something more spectacular, like making the diving outfield catch that saves the game in your recreational softball league. In most cases, they are unsightly and uncomfortable, but not disabling. And they tend to go away on their own eventually without much intervention or alteration of one's daily routine.
A
bone
bruise however is a slightly different animal. An abnormal MRI finding usually results in the diagnosis, but there can be some variation in terms of what specifically is involved and how serious the problem is. The abnormality shows up in the subchondral bone (layer below the cartilage that lines the joint) or in the marrow and is generally thought to reflect fluid and swelling in the area, perhaps associated with micro-injury of the bone. The biggest concern would be that a progression of this injury could result in further bone damage, even a fracture, which is why it becomes critical that a bone bruise heal properly.
Bone bruises often occur in conjunction with traumatic knee injuries, such as ACL tears. The thought is that the forces that result in ligamentous or other soft-tissue injury may also result in abnormal bony contact, creating the bruise. In the absence of other soft tissue damage, it is not always easy to identify why or how a bone bruise occurs. In Beltran's case, at the time of the original injury in late May, Beltran could not recall a specific incident that led to the bruise.
The key for Beltran is adequate rest and allowing the bone sufficient time to heal. Given that this injury has already been protracted and that the bruise has grown in size, do not expect Beltran to return in 15 days. It would not be surprising if Beltran's DL stay extends beyond the All-Star break. Stay tuned.
Coco Crisp, OF, Royals:
No wonder prior episodes of rest didn't seem to help Crisp's shoulder. The Kansas City Star is reporting that Crisp has a labral tear and will undergo surgery Wednesday with Dr. James Andrews to repair it. Crisp, who has been out since May, might have been able to rehab the shoulder extensively and attempt to return before the end of the season, but his lack of progress thus far may have been an indicator that surgery was the best course of action. Also, the timetable following labral repair for a fielder is typically anywhere from four to six months before returning to play. Had Crisp elected to wait much longer, he could have risked encroaching on next season's return. For Crisp and the Royals, this appears to be the best option. Fantasy owners in keeper leagues should not have any particular concerns about Crisp going forward.
Grady Sizemore, OF, Indians:
Sizemore rejoined the team Tuesday night and managed a triple and two RBIs. Perhaps more importantly, he seemed to feel fine both during and after the game. So is he past the elbow problem that has troubled him throughout the season?
It's too soon to say for sure. Keep in mind that the Indians and Sizemore are very aware that every step in return to play is yet another test on the elbow. One only needs to look at how manager Eric Wedge plans to play Sizemore to see that the team is not confident that he is out of the woods. Wedge told the Akron Beacon Journal, "This week I think we need to be careful. Grady won't play every day the first week." Wedge even hinted that when the team wraps up interleague play, he may use Sizemore as a DH only for a while. Sizemore had an inflammatory condition in his elbow, and although it has clearly improved, the concern is that frequent use could reinitiate the inflammation. Surgery remains a possibility. Consequently, fantasy owners should check daily lineups and should keep some insurance handy for the next three to four weeks at least.
Alex Gonzalez, SS. Reds:
Gonzalez underwent surgery Monday to remove four bone chips in his right elbow. He initially went on the DL after a batting practice swing resulted in his elbow locking up on him. Subsequent tests revealed the presence of the chips. Reports on his timetable have varied from three to five weeks. All will depend on how long it takes Gonzalez to regain his full range of motion in his elbow, along with his strength. The surgery was to Gonzalez's throwing elbow, so it would not come as a surprise if this rehab process veers toward the longer side of the projection.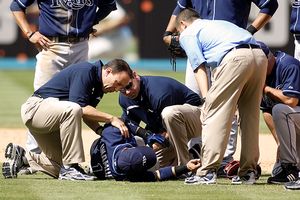 Joel Auerbach/US PresswireFeared to be lost for the season after injuring his knee last month, Akinori Iwamura may still have a shot at playing this year.
Akinori Iwamura, 2B, Rays:
Here's a surprise. An injury that initially appeared season-ending (and apparently felt that way too to Iwamura who called it "the most painful moment" in his career) has perhaps turned into something slightly less severe. It was originally feared that Iwamura had completely blown out his anterior cruciate ligament (ACL) while trying to turn a double play in late May, which would have required complete reconstruction and an absence of six months minimum. As it happens, Iwamura only partially tore the ACL, along with the medial meniscus, and a recent arthroscopic procedure to address the meniscal tear may be all that's required. Iwamura naturally will undergo physical therapy to regain range of motion and strength and the hope is that there will be adequate healing to allow him to return to baseball within approximately two months.
Clearly this is good news for Iwamura and the Rays in that the damage was not as extensive as originally suspected. That being said, it will be important to keep an eye on how Iwamura is progressing through his rehab before getting too excited about an early return. Even mild instability can result in a major change in an athlete's function. Iwamura's strength will be key in his ability to recover here.
Ervin Santana, P, Angels:
Santana was placed on the DL ... again. The good news from the Angels is that there is no evidence of injury on a recent MRI. The bad news is that he is still having discomfort in his throwing arm. The team is calling it inflammation in his triceps.
Since the Angels were able to make this DL stint retroactive to June 12, Santana will be eligible to be activated this weekend. So will he be ready? Santana said he felt good after his bullpen Sunday according to the Orange County Register but later acknowledged having some discomfort. Call me suspicious, but I need to see him perform more consistently before I am comfortable with his status. Still a risky prospect.
On the Mend ...
•
Scott Kazmir
has looked good in his rehab starts so far. In fact, he looked great Monday night in terms of both his velocity and command. His newfound confidence should accompany his healthier physique back into the majors. Expect him to rejoin the rotation either late this week or early next week. According to the St. Petersburg Times, that decision will be made after Kazmir throws a bullpen session Wednesday.
• Last week we knew
Asdrubal Cabrera
's left separated shoulder was feeling better. Now we have a better idea of his timetable to return. The Akron Beacon Journal reported that Cabrera began a rehab assignment Tuesday (in Akron). If all goes well, he could rejoin the team as early as Thursday night.
• Blue Jays ace
Roy Halladay
will come off the DL just one day after he's eligible to do so. Halladay, who had been out with a minor groin strain, threw from a mound Tuesday without incident. Throwing downhill was the only thing still causing him discomfort last week, which was why the Blue Jays opted for a DL stint in the first place. The extra days of rest apparently helped. According to the Blue Jays' official Web site, Halladay is expected to throw a side session later this week, and is in line to pitch Monday night.
• Cubs third baseman
Aramis Ramirez
continues to make progress following his shoulder dislocation in early May. The team's official site reports Ramirez, who has tolerated soft toss and light swings well, will begin to take live batting practice Friday. The live batting practice presents an increased challenge for the shoulder given the speed of the swings he will take. Equally important to how he contacts the ball will be how his shoulder tolerates a hard swing and a miss. The main concern for Ramirez, given his history of shoulder problems, will be whether he has any issues with lingering instability in the shoulder. If batting practice goes well, Ramirez could head out on a rehab assignment shortly afterward. He's still a few weeks away from a return, but it's worth paying close attention to how he tolerates the increased activity this week.
• The Mets have to be relieved to see that they have a couple of players who, despite being injured, are going in the positive direction toward healing. First baseman Carlos Delgado, out since May with a hip labral procedure, is progressing as expected. General manager Omar Minaya was quoted in the New York Post following his appearance on New York's WFAN radio as saying that Delgado is "coming along very well." Minaya reiterated that the team's timetable for Delgado's return remained "at least" 10 weeks from date of surgery (which would have him returning in early August), but at least Delgado seems to be continuing toward that target.
Meanwhile pitcher
John Maine
, out with fatigue in his throwing shoulder, pitched four innings Monday in a rehab start and had no residual symptoms. He is expected to throw a bullpen session Wednesday and then pitch in a game Saturday. That Saturday game may very well be at home against the Yankees, so fantasy owners should check the daily lineups.
• Phillies outfielder
Raul Ibanez
took some batting practice and did some running drills before Tuesday's game according to Philly.com. This is a good sign of early progress for an athlete who is out with a groin injury. Ibanez indicated that he was feeling better and that he hopes he will be able to return near July 3, when he's eligible. The big test will be when he has to run full speed and make quick lateral jumps on the ball, so it is too soon to make guarantees, but so far so good.
June, 17, 2009
6/17/09
11:50
AM ET
Any regular visitor to my blog knows I love to start with some good news. Given that new or recurring injuries are a weekly staple, it's a great feeling when I can counter with news that a guy is getting healthy and coming off the DL. Maybe it's because I feel like the Grim Reaper most of the time, bringing news of the injured to distraught fantasy owners week in and week out. And if we've learned anything this year, it's that no one is safe from the injury bug. Occasionally, though, the sun does manage to shine and athletes exceed expectations in their recovery from injury.
This week is particularly special because I've been looking forward to this announcement since
John Smoltz
signed with his new team. After enduring a lengthy but steady rehab following offseason shoulder surgery, the veteran righty has finally been assigned a date to debut as a member of the Red Sox. Circle June 25 on your calendar, boys and girls. Smoltz is set to rejoin the rotation when the Red Sox face the Nationals. It will be exciting just to see him back on the mound. While it's worth tempering expectations early on (after all, he is 42), I believe that the acquisition of Smoltz will prove to be a brilliant move by the Red Sox and that he will indeed be the comeback story of 2009. OK. I put it out there. Now we just have to watch and see what happens.
Oh yes, I know, there are new injuries to discuss. Here are the guys we're paying attention to in the injury world this week ...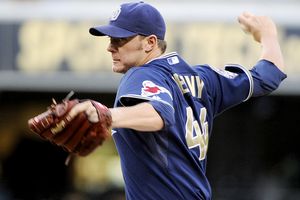 Scott Wachter/Icon SMIDon't expect Jake Peavy back by late August or early September at best.
Jake Peavy, P, Padres:
By now the bad news on Peavy's right ankle has spread far and wide. Peavy could miss 8-12 weeks with a partial tear in his posterior tibialis tendon, according to team athletic trainer Todd Hutcheson, quoted in the San Diego Union-Tribune. My colleague A.J. Mass and I
discussed Peavy at length
right after the announcement was made, both in terms of what the injury actually is and what it means for Peavy's trade prospects.
Here's the bottom line for fantasy owners: Move on for three months. In the very best-case scenario, Peavy returns after the All-Star break, although an August or even September return is more likely. Any delays or setbacks between now and then could lessen the chance of a return. In the worst-case scenario, if the tendon does not show signs of healing when Peavy is re-evaluated in a few weeks, the prospect exists that surgery could be warranted. That is clearly a less desirable, last-resort type of option, but until we hear that Peavy is making progress, it remains a possibility.
Given that Peavy's ankle has already been slow to heal, despite the fact that he reported feeling better since the initial injury, you can bet that the medical staff will proceed conservatively with his long-term health in mind. In other words, don't bank on Peavy beating the recovery timetable issued by Hutcheson, no matter how optimistic the team wants to be. The good news here is that if the tendon heals properly, whatever the time it takes to do so, Peavy should be able to return to form.
Grady Sizemore, OF, Indians:
After resting his elbow for the better part of a week, Sizemore had a repeat MRI on Monday to help assess his progress. Apparently the Indians liked what they saw, since Sizemore was allowed to resume baseball activities this week. Sizemore did some light throwing and took some light swings in his first such activity since going on the disabled list May 31.
Now you know I like good news, but there are reasons not to get over-excited just yet. According to the Cleveland Plain Dealer, Indians head athletic trainer Lonnie Soloff indicated that Sizemore was suffering from synovitis, which is inflammation of the synovium, the smooth tissue layer that lines the joint. This condition can certainly be the type of thing that can flare up repeatedly. According to the Akron Beacon Journal, Sizemore himself said, 'There's a chance it could get worse. It could linger all year."
General manager Eric Wedge summed up the situation best when he said, "As we continue to ramp up with him, we'll know more." In other words, there is not much surprise that Sizemore feels better after completely resting the arm. The bigger question is whether the inflammation will recur as he starts to use the arm or whether he can keep it at bay through the remainder of the season.
The next big test comes this weekend. According to MLB.com, Sizemore will take batting practice and throw from his position this weekend. If he passes the test (read: no pain), then he can begin working his way back toward being ready to play. If Sizemore does experience pain, an arthroscopic surgical procedure likely awaits him. Fantasy owners need to keep their insurance options available for a while as it is simply too early to gauge this one.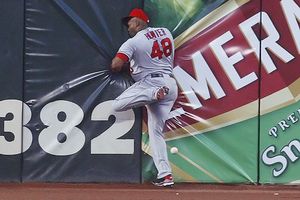 Cary Edmondson/US PresswireTorii Hunter suffered bruised ribs during this crash into the wall on Monday but could be back in action by the end of the week.
Torii Hunter, OF, Angels:
The outfield walls seem to be fighting back against the players who hit them hard this year.
Josh Hamilton
has been to the DL not once, but twice (including surgery!), after running into walls.
Rick Ankiel
's neck and shoulder were on the losing end of a battle with a wall. Hunter is the latest to be punished by a wall while attempting to make a play, suffering bruised ribs Monday night. Fortunately for Hunter, X-rays taken of his right rib cage (where he contacted the wall) were negative, indicating no fracture.
Not that that lessens Hunter's pain. Any rib injury is painful. Just ask Hamilton, who ended up on the DL despite early resistance to the idea. Hamilton, who also suffered a soft-tissue rib injury, pointed out that in addition to baseball activities, breathing hurt. Until the pain and inflammation settled, Hamilton was incapacitated. According to AP reports Hunter was in a rib brace Tuesday, which is designed to help limit his overall rib movement. Minimizing movement allows the soft tissue to heal by preventing muscle fibers from getting overstretched. It's virtually impossible to eliminate all rib motion, however, since sneezing, turning, even breathing all result in movement at the rib cage.
Hunter's targeted return of Friday suggests the injury is not serious, but it may very well require additional time in order for him to move as necessary to play his position.
Coco Crisp, OF, Royals:
Crisp was finally placed on the DL with what the team is calling a rotator cuff strain in his right (throwing) shoulder. Crisp has been bothered by a sore shoulder since late May, but several days of rest intermittently have failed to alleviate the problem, so the team decided to give him an extended break. According to the Royals' official Web site, manager Trey Hillman was hoping that a recent six-game break -- four absences because of the shoulder, plus an additional two to attend his great-grandmother's funeral -- would be enough to allow Crisp to return at full strength, but that has not been the case. Crisp has reportedly struggled most with batting from the left side of the plate and with throwing.
From the sound of things, Crisp may require some extended time away from baseball activities, focusing on rehab alone to clear his symptoms. Given that six days of rest was not sufficient, expect Crisp to rest longer before resuming hitting and throwing, meaning he may not be ready to return at the 15-day mark.
Ervin Santana, P, Angels:
Uh-oh. Santana, who missed time at the start of the season with a sprained ulnar collateral ligament in his throwing elbow, was scratched from his Tuesday start with tightness in the same elbow. After lasting just 4 2/3 innings in his last start, should fantasy owners be concerned?
There's definitely reason to be concerned, but this may not quite signal the demise of Santana's season. Santana told the Los Angeles Times that the pain he's experiencing, which actually has been described as forearm tightness, is not in the same area as his original symptoms. "That was on the inside of the elbow. This is on the outside. I know I'm going to be OK." It's good to know he's confident.
Apparently manager Mike Scioscia has confidence as well. "If I hadn't seen him throw as well as he did in Detroit and hadn't seen his stuff pick up like it has, I wouldn't be as comfortable with where he is," Scioscia said. Nonetheless, Santana is under the very watchful eye of the medical staff as they evaluate next steps. Even if the symptoms are different, the fact that he is feeling discomfort in his throwing elbow/forearm so soon after his return is somewhat worrisome. The Angels hope Santana will be able to start June 23, but if he is unable to go at that point, he could be facing a return to the DL.
On the mend
• Last week we said A's pitcher
Justin Duchscherer
's back had calmed, allowing him to resume his rehab activities. So much for that. Turns out Duchscherer's spine is behaving like many spines do and is flaring up again. Rehab has again been put on hold until the symptoms settle.
• The St. Petersburg Times reports that Rays lefty ace
Scott Kazmir
is expected to make a minor league start Wednesday. Kazmir has been feeling good and thinks his mechanics are under better control. In fact, he sought out advice from friend and former Mets pitching coach Rick Peterson as to which drills would help him maintain his improved mechanics. Several rehab starts should give him a chance to test out his improved quadriceps muscle and delivery. Although there has been no specific date given, if the rehab outings go well, Kazmir could rejoin the team by the end of next week.
•
Asdrubal Cabrera
's left separated shoulder is feeling better. He is now taking practice swings and doing some fielding activities. According to MLB.com, the Indians should have a better idea of when he'll be able to return by the end of this week.
• Royals third baseman
Alex Gordon
continues to make steady progress toward his return to the lineup after right hip labral surgery. He has taken some swings this week against live pitching, according to the Kansas City Star, and has returned to light jogging. Gordon is also fielding ground balls, which ultimately may be one of the more challenging activities for him to resume full force. The team still appears to be targeting a return near the All-Star break. I suspect it won't come until after that, but the good news is that Gordon's rehab is going according to plan.
• Finally ... Angels pitcher
Kelvim Escobar
has been placed on the DL ... again. Somehow this seems like a good move strategically. Escobar did experience some challenges when he rejoined the rotation in early June, and the Angels had indicated he was headed to the bullpen. With Escobar experiencing some fatigue in his surgically repaired shoulder and the Angels needing to add another starter in place of Santana this week, the DL move appears to be a good option. As the Los Angeles Times reports, manager Mike Scioscia said he would be "very surprised" if Escobar was not in the bullpen next Monday, the first day he is eligible to be activated.
June, 10, 2009
6/10/09
12:22
PM ET
By
Stephania Bell, ESPN.com
| ESPN.com
We lead Tuesday with a few players who went under the knife this week yet hope to return at some point this season.
Rangers outfielder
Josh Hamilton
underwent surgery to address a partially torn abdominal muscle and hopes to return in four to six weeks. Recovery from this type of surgery (a sports hernia-type repair) can vary, though. Even when an athlete is cleared for full activity, it often takes him longer to return to full speed. Fantasy owners should keep that in mind as they plan around Hamilton's absence. His rate of activity progression during the next few weeks of his rehabilitation will provide important clues as to whether he can meet the projected timeline.
Mets relief pitcher
J.J. Putz
also underwent surgery this week, but his recovery time will be closer to about three months. Putz had bone spurs removed from his elbow. The good news is that the spurs, which were causing him pain and decreasing his velocity, are now out of the way. The not-so-good news is that the presence of spurs suggests increased shear forces in the joint, often associated with instability (as in looseness in the ligament). We have seen pitchers undergo bone spur removal, only to end up requiring Tommy John surgery down the line (
Chris Carpenter
in 2007, for instance). This is not to say such surgery is definitely in Putz's future, but it's an observation worth noting.
And here are other players I'm tracking closely this week: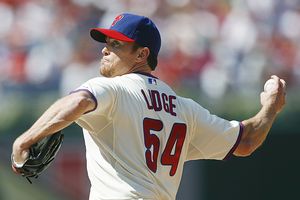 Howard Smith/US PresswireBrad Lidge owners have to hope his most recent knee injury won't bother him all season.
Brad Lidge, RP, Phillies:
Lidge was placed on the DL on Tuesday because of a sprained right knee. Typically, a sprain reflects an acute injury to a ligament, but in Lidge's case, this is something that has been coming down the pike for a while as a result of chronic irritation within the joint. It certainly is no secret that Lidge has struggled and that his right knee, which already has undergone a couple of surgeries (including one at the beginning of the 2008 season after he tore the meniscus), has been part of the equation. An MRI earlier this year revealed nothing new. Nonetheless, The Philadelphia Inquirer reports that Lidge will undergo additional tests during this downtime in an effort to get to the root of the problem.
I
discussed Lidge's knee in early May
, and given his history, this course of events is not unexpected. The big concern now is that if Lidge continues to try to pitch through discomfort, he might end up compensating in ways that impact his mechanics and threaten greater injury, not only to his knee but also to his throwing arm. Given the uncertainty around his situation, it might be more than two weeks before we see Lidge back in the closer role.
Grady Sizemore, OF, Indians:
Sizemore is on the DL, but how long will he be there? Will he return when eligible, or will he end up facing an arthroscopic procedure on his elbow? Those are the big questions.
We already know the answer to the first part of that second question. This recovery process will take longer than two weeks, even if he doesn't have surgery. The Cleveland Plain Dealer is reporting that the plan for Sizemore is to limit him to rest and treatment for two weeks, and after that cooling-off period, Sizemore will test the elbow by throwing a ball and swinging a bat. If the symptoms linger, surgery will be the next option.
Pay close attention this week. The answer will make itself apparent in the next few days as Sizemore hits the two-week mark, and there are reasons to be concerned that this might end up a surgical situation. First, Sizemore's elbow has bothered him all season. Chronic inflammation, which usually implies changes in the soft tissue, rarely resolves within two weeks. Sure, Sizemore will feel better while resting, but the true test will come when he tries to restart baseball activity. Second, his symptoms are reportedly most aggravated with elbow extension. If he wants to play, that's something he absolutely cannot avoid, and in fact needs to perform forcefully.
Despite the "no structural damage" MRI report, Sizemore's symptoms, as noted above, are suggestive of changes in the soft tissue as a result of repetitive activity. Surgery would mean an additional six weeks of absence. Sizemore's fantasy owners should take preparations and seek insurance.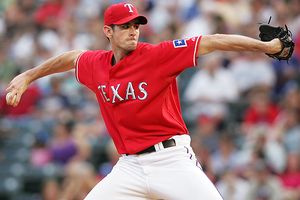 Tim Heitman/US PresswireBrandon McCarthy has quite an extensive injury history for a 25-year-old.
Brandon McCarthy, SP, Rangers:
The Dallas Morning News is reporting that McCarthy is out indefinitely after an MRI revealed a stress fracture in his right shoulder blade. He will not even pick up a ball for several weeks while the bone heals. The odd feature here is that McCarthy suffered a similar injury in 2007. He missed about one month initially, came back for a handful of outings, then was shut down the season's final week because of subsequent forearm problems.
After an elbow injury and a sprained finger in 2008 limited him to just five starts, McCarthy had to hope that his injury woes were finally behind him. He even began this season with extra bulk on his tall frame in an effort to remain healthy. Not the case. Even during spring training, McCarthy's shoulder was causing him some discomfort, although he seemed to be past the problems as the season got under way.
At just 25 years old, his injury pattern must be a concern for both McCarthy and his team. In the meantime, fantasy owners should seek other options.
Asdrubal Cabrera, 2B, Indians:
Early reports last week suggested that Cabrera had dislocated his shoulder. As it turns out, Cabrera separated his shoulder, also known as an acromioclavicular sprain, which likely means he'll miss less time. Cabrera injured himself while breaking up a double play, and the force of the impact of his shoulder's hitting Minnesota infielder
Brendan Harris
' leg resulted in an injury to the ligaments that link the collarbone to the shoulder blade. Cabrera has been projected to miss anywhere from two to four weeks.
The good news here is that the sprain could not have been too severe because X-rays were initially reported as negative. Even though X-rays show only bony injuries, if there were a significant degree of separation as a result of severe ligament damage, the bony ends would appear out of alignment on film. The sprain itself was revealed in a subsequent MRI, and the timetable also reflects a relatively minor injury. Judging from how painful the injury appeared at the time, Cabrera and the Indians are fortunate that it was not worse. The focus now that the pain has subsided will be on restoring Cabrera's range of motion and strength, with a gradual progression toward baseball activities.
On the mend
• A's pitcher
Justin Duchscherer
is preparing to throw again. Perhaps he has been off your radar screen following March elbow surgery, but it's time to start thinking about him again. Duchscherer had his rehab throwing program interrupted for more than a week because of a sore back, according to the San Francisco Chronicle, but that minor setback seems to have abated, and he will now pick up where he left off. The Chronicle also reports that the A's might bring him back in a relief role. That's significant for fantasy owners not only because of how he can be used but also because it might allow him to rejoin the team sooner. He's still weeks away, but he should at least be on your radar now.
• Teammate
Travis Buck
, who has been on the DL because of an oblique strain, should return when eligible Sunday. According to the A's Web site, he has made it through batting practice just fine and is scheduled to make some minor league appearances this week. Perhaps you've noticed that oblique injuries in hitters are much more variable in terms of severity, with many players able to return when eligible following a 15-day DL stint. In the case of pitchers, the injury seems to be much more specific (in terms of location) and often more severe, usually requiring a four-to-six-week absence. It's something worth noting the next time one of your hitters suffers a strained side muscle. Don't be too quick to drop him, because it might be only a minor inconvenience.
• The St. Petersburg Times reports that Rays manager Joe Maddon already has confirmed that shortstop
Jason Bartlett
will not return this week when eligible. That is not to imply Bartlett is not progressing; he is, in fact, doing some infield work. But the Rays are wise not to bring Bartlett back too quickly from even a minor ankle sprain because the demands of his position, particularly the quick lateral movements, will stress the still-healing ligaments. No sense in turning a minor injury into a major one. Keep a close eye on Bartlett, though, as his activity suggests his absence will not be extended much longer. Bartlett suggested to The Tampa Tribune that his return could come Tuesday at Colorado.
• Another Rays player nearing a return is pitcher
Scott Kazmir
, who has been out because of a strained quadriceps. Look for Kazmir to make a couple of rehab starts to ensure that his strength and mechanics remain on track. But so far, his rehab performance has been encouraging, as in, far better than what we were seeing before he went on the DL.
• Diamondbacks outfielder
Conor Jackson
's recovery from valley fever is ever so slow. The illness, which sapped Jackson's energy and caused him extreme fatigue and weight loss, has taken its toll on his physical conditioning, and it will take him quite some time for him to work his way back. The Diamondbacks' official Web site reports that Jackson was very fatigued following a batting practice session Saturday, proving that he still has a long road to hoe before returning. No timetable has been set for him to rejoin the team. If you've been holding out hope and keeping him on your fantasy bench, you might want to seek other resources. This could prove to linger for the remainder of the season.
• Cubs starter
Rich Harden
, no stranger to the DL, should rejoin the rotation very shortly. Harden has been out because of a middle-back strain and was originally scheduled to return Friday, but a case of the flu set back his timetable. It looks as if the setback was minor, however, as MLB.com reports that Harden is expected to take the mound Saturday against the Twins. Harden looked strong in his last rehab outing on Monday, and fantasy owners should expect more of the same when he returns to the majors. Yes, there's always some level of concern with Harden's health, but this latest setback does not suggest anything serious. Definitely worth the gamble.
• And finally ... not such good news for Reds third baseman
Edwin Encarnacion
. It sounded as if he was headed for a minor league rehab assignment, but a recent MRI on his wrist was less than positive. Reds manager Dusty Baker told the Dayton Daily News that although Encarnacion would be on the road with the team, he would only be receiving treatment. "No baseball work right now," Baker said. Encarnacion originally sustained a chip fracture in his left wrist in late April and reportedly had been progressing well until this week. No word on what the MRI showed exactly, but wrist injuries always have the potential to drag on a little longer than expected. The fact that the setback is occurring before Encarnacion returns to a game situation is definitely cause for concern.