Stephania Bell:

Houston Texans
December, 5, 2013
12/05/13
12:07
PM ET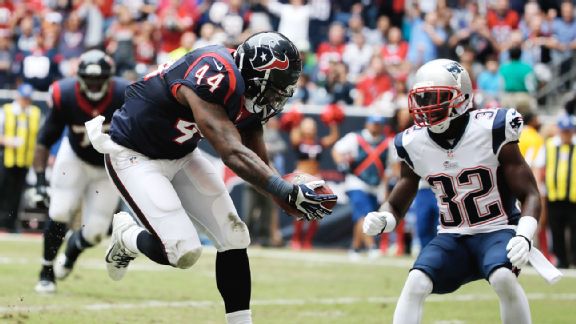 Scott Halleran/Getty ImagesBen Tate had 102 yards rushing and three touchdowns against New England in Week 13.
There are two notable things about the injury reports for Thursday night's game, the first game in the first week of fantasy playoffs. First (and of paramount importance to fantasy owners), none of the key fantasy players in the game is really in jeopardy of sitting out. Second, between the two teams there are 30 -- yes, 30! -- players listed on the injury report. In a year that feels particularly injury-laden, perhaps the presence of such a large number of players on the injury report shouldn't come as a huge surprise. It does serve as a reminder, however, that the success of any team -- be it real or fantasy -- may depend on how many key players are left standing at the end of the season.
Houston Texans
Ben Tate, RB, ribs/ankle, (probable):
Tate has essentially been a fixture on the injury report ever since he suffered rib fractures back in Week 7. Somewhat unbelievably, he has not missed a game since. Along the way, he has acquired some other ailments, including an ankle injury that is listed next to his name this week.
Although some fantasy owners were alarmed when he was listed as a non-participant Monday, it's worth noting that Monday was only a walk-through. Tate had a huge game in Week 13, putting up over 100 yards rushing and three scores against the Patriots. Given only four days until his next outing, it seems the rest was certainly warranted. Expect him on the field Thursday night against the Jaguars. While he may not match Sunday's performance, it's tough to imagine him not outperforming his stats of two weeks ago against the Jaguars, when he managed only 1 total yard rushing.
Jacksonville Jaguars
Cecil Shorts, groin, and Mike Brown, shoulder, WRs, (probable):
Shorts is another regular on the injury report. He has been listed with a groin injury for multiple weeks, but ever since he played through an extremely painful SC (sternoclavicular) joint injury earlier in the season, there has been little doubt he would take the field each week. He is expected to do so again Thursday night.
Brown suffered an AC (acromioclavicular) joint injury in Week 11 against the Cardinals and sat out the following game. The shoulder has kept him on the injury report, although he did return to action Sunday. Brown notched only one catch, while rookie
Ace Sanders
-- who has seemingly emerged as the second-favorite receiving target since
Justin Blackmon
's suspension -- had eight. Brown is expected to play again Thursday night, although fantasy owners may want to look elsewhere for help in advancing in the playoffs.
November, 5, 2013
11/05/13
5:54
PM ET
Arian Foster
exited Sunday's game almost as soon as it got underway, not because of aggravating his hamstring injury, but because of a back injury. Could they be related? It's certainly possible. In fact, it wouldn't be surprising if they were.
Back problems and hamstring problems often go hand in hand, either directly because of pain radiating from the back to the legs, or indirectly due to increased tone (or muscle tension) in the hamstrings associated with the back ailment. Tight hamstrings can not only be prone to increased injury potential within the muscle tissue itself, but they can also contribute to postural dysfunctions which can affect the entire back. Sometimes it can be difficult to sort out which problem is driving the train. Remember, Foster had a back issue nagging at him for several weeks prior to the start of the season.
Did the back problem set him up for a hamstring injury, which then predisposed him to flaring up the back? There's no way to definitively say for sure but it's reasonable to connect the dots since the body -- especially an athlete's -- functions as a well-coordinated unit. Problems in one area can lead to consequences in another, a scenario that repeats itself time and again as athletes try to push through the latter phases of injury recovery to accelerate their return to play.
It's not clear whether the Texans anticipate Foster missing any time, but this latest event (which caused Foster to leave in the first quarter) will make fantasy owners justifiably apprehensive about his next outing. Foster tumbled in Eric Karabell's
end-of-season ranks
, given the uncertainty surrounding his health.
Meanwhile,
Ben Tate
and his four cracked ribs led the charge for the Texans in Week 9. Despite playing in significant pain, Tate managed to grind out 81 yards on 22 carries. He plans to play again this Sunday, when the Texans face the Cardinals. Given Foster's uncertain status, the Texans will need him.
October, 22, 2013
10/22/13
6:24
PM ET
The
Houston Texans
' running back tandem of
Arian Foster
and
Ben Tate
has appeared on the team's injury report throughout the 2013 season, but no real alarms have sounded since both have played in each game.
However, coming out of Week 7, both Foster and Tate sustained injuries which would have likely prevented them from suiting up this Sunday. Fortunately for the Texans, this is their bye week. But what about next week?
For his part, Foster left last week's game after delivering just 11 yards on four carries, his early exit the result of an injured hamstring. Perhaps the injury should not have come as a surprise given that Foster had a hamstring ailment added next to his name on the practice injury report late last week. It was simply reported as "soreness" in his hamstring, which kept him from practicing Thursday, and his return to full work Friday hinted at it being a minor concern. The danger with hamstrings is that a little soreness or tightness often predates a pull or a strain, which was apparently the case with Foster.
Although he was removed from the game due to the injury, Foster did not sound as if the injury was particularly worrisome. "It doesn't seem too severe right now, so we will just play it out," Foster said, according to ESPN.com Texans reporter Tania Ganguli. "I have a bye week coming."
Yes, thankfully for him, Foster is afforded an extra week of rest, and the hope for the Texans is that he will be ready to go by Week 9. There will be few clues as to his health until the team engages in practice, but, in the past, Foster has proved to be fairly resilient. In 2011, he injured his hamstring in the preseason, an ailment which appeared to be fairly significant at the time. Foster played in only one game in the first three weeks of the season but returned strong after that, finishing with more than 1,200 rushing yards on the season. There doesn't seem to be reason to panic over this latest injury, but the uncertainty is bound to make Foster's fantasy owners nervous.
If fantasy owners' strategy, like that of the Texans, was to have backup insurance in the form of Tate, that might not be much help in Week 9. Tate was injured last week after taking over when Foster left the game. Tate played through a rib injury but after the game told the Associated Press he has four broken ribs. Bruised ribs are painful. One broken rib can be excruciating. But four? Tate thinks that, despite the severity of the injury, he, too, will be ready to play after the bye. It's an impressive goal, but it remains to be seen just how well Tate will be moving a week from now.
December, 31, 2011
12/31/11
2:19
PM ET
It's finally here! The last week of the NFL regular season is upon us and there is chaos everywhere. Who's resting? Who's playing? Who's playing a series, a quarter, a half, the entire game and into overtime if need be? This might be the most challenging week for fantasy owners making key sit/start decisions. Multiple variables factor into which players will rest and which will roll Sunday, but fortunately there are a few clues in the Friday team injury reports to help guide us.
Good luck in Week 17, everyone! May your players stay healthy and win for you.
Quarterbacks
[+] Enlarge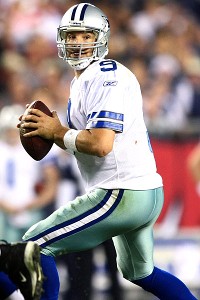 Douglas Jones/US PresswireWith the Cowboys' season on the line, expect Tony Romo under center.
Ben Roethlisberger, QB, Pittsburgh Steelers, ankle (P):
Roethlisberger practiced fully all week and is expected to play. He indicated the week off had allowed his ankle some recovery time and felt better moving around this week. The bigger question might be how long he remains in the game. At stake for the Steelers is a bye in the first round of the playoffs and home-field advantage (which also depends on the outcome of the Ravens game), so there is little doubt that they would like to secure a victory. But Roethlisberger, while improving, is not past the injury and there is no telling how the ankle will respond as the game progresses. If the Steelers get a big lead early, it leaves the possibility that Roethlisberger's day might be shortened. Of course, that might also mean fantasy owners would have gotten their points' worth by that time.
Tony Romo, Dallas Cowboys, hand, (P):
The probable tag tells you all you need to know: The Cowboys plan on having Romo under center. As far as the injury itself, on Thursday we noted the issues Romo could face if swelling persisted
in his bruised hand
. Obviously Romo has shown through the week of practice (in which he participated daily on a limited basis) that he can handle the duties. The game is too important to the Cowboys to have him out there at a significant disadvantage. As long as he doesn't aggravate the injury during the game, Romo should be able to function, just as he has through other ailments.
Tom Brady, New England Patriots, shoulder, (P):
On Thursday
we discussed
the non-separated non-throwing shoulder of the Patriots' quarterback. After sitting out Wednesday's practice (non-injury-related, according to the Patriots), Brady, while limited, did enough in Thursday and Friday's practice to demonstrate he could play. With 16 other Patriots listed as questionable and Brady holding the only probable designation on the team, it's clear they expect to have him on the field Sunday. According to ESPNBoston.com, teammate
Wes Welker
hints at Brady playing the entire game. From an injury perspective at least, it does not appear the shoulder will be a factor.
Christian Ponder, Minnesota Vikings, concussion, (P):
Ponder left last week's game early with a concussion but was cleared to return to practice by Wednesday. After putting in full practice sessions all week, Ponder is expected to start Sunday.
Kevin Kolb, Arizona Cardinals, head, (Q):
Kolb is still experiencing concussion-related symptoms when trying to practice.
John Skelton
will start again.
Running backs
[+] Enlarge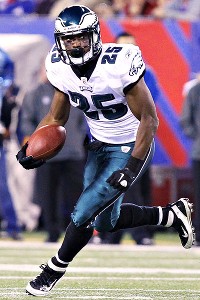 Debby Wong/US PresswireLeSean McCoy should get his usual touches in Week 17.
LeSean McCoy, Philadelphia Eagles, ankle, (Q):
The questionable designation is a bit mysterious since even coach Andy Reid has indicated that McCoy is expected to play Sunday. Naturally this allows for any pregame setbacks. But McCoy was a full participant in Friday's practice after a day of rest Wednesday and a limited workout Thursday. There seems to be little doubt that McCoy will play and will be given the ball plenty Sunday.
Chris Johnson, Tennessee Titans, ankle, (Q):
Johnson's ankle is in better shape after another week of healing time. He did not practice Wednesday or Thursday but was back to full practice Friday. The Nashville Tennessean reported that Johnson said he was having trouble just walking on the ankle last week. Johnson indicated the ankle was much improved this week and that the rest early on helped prevent setbacks. It seems a healthier Johnson would want to end his season on a much brighter note. It remains to be seen how effective he can be against the
Houston Texans
, although there is admittedly little at stake, considering their playoff berth is secure.
Arian Foster, Houston Texans, knee, (P):
There is no real injury concern with Foster here, other than the
potential
of suffering one if he plays too long in Week 17. It's hard to imagine the Texans, who have been so decimated by injuries at numerous key positions this year, risking Foster for an entire game. Foster can clearly score even in a short time but expectations for him putting in a full workload should be tempered.
Ahmad Bradshaw, New York Giants, foot, (P):
Bradshaw is following the same pattern of limited work during the week and playing Sunday. Expect him to play again in this critical Sunday night matchup against the Cowboys.
Felix Jones, Dallas Cowboys, hamstring, (Q):
Despite the questionable tag, Jones is expected to start Sunday night in a game in which the Cowboys' season hangs on the brink. Jones was removed early from last Sunday's game, which was perhaps the best move for his tight hamstring. He was able to return to daily limited practice this week and the Cowboys are planning on him being the featured tailback. His hamstring will not be fully tested until the game but the conservative approach so far in managing his work over the past two weeks will hopefully pay off now.
Kevin Smith, Detroit Lions, ankle, (P):
Smith still appeared to be struggling with his ankle to some degree in Week 16 but he was on the field. Smith practiced fully all week and at probable, is expected to play. The question is how much the Lions plan to use him.
Joique Bell
was signed by the Lions this week as insurance but coach Jim Schwartz has been vague as to whether he would actually play in Week 17.
Ryan Mathews, calf, (Q) and Mike Tolbert, hamstring, (P), San Diego Chargers:
Earlier in the week it seemed Mathews was faring better with his injury concerns than Tolbert. That seems to have changed Friday. Mathews sat out Wednesday with a sore calf but participated to some degree Thursday. Post-practice soreness led the Chargers to give Mathews another day off Friday in the hope he'd be well enough to play Sunday. Even if active, his response to Thursday's light workout suggests he could struggle to get through an entire game. And this is nothing new. Mathews dealt with a calf injury in October but benefited from a bye week immediately afterward. His status will not likely be known until game time. If he plays, he will be sharing with Tolbert who was bothered this week by a sore hamstring. Tolbert did not practice until Friday but participated in a full workout his first day back. Barring a setback, listed as probable, Tolbert will play.
Roy Helu, Washington Redskins, toe/knee, (Q):
Helu says he feels better this week after sitting out Week 16. But
Evan Royster
delivered such a solid performance in his absence, it's hard to know how the workload will be divided even if Helu plays. Tricky.
Maurice Jones-Drew, Jacksonville Jaguars, ankle, (P):
Jones-Drew has been remarkably durable this season and leads the league in rushing. So much for those who doubted him before the season began. He can help increase his chances of securing that title by playing Sunday, which he is fully expected to do. After getting some rest for his ankle Wednesday and Thursday, Jones-Drew turned in a full practice Friday.
Peyton Hillis, Cleveland Browns, elbow, (P):
It's no secret to fantasy owners how much the injury bug has impacted Hillis this season. Now he's on the report because of his elbow but the Browns plan to have him on the field after he put in limited practices daily. Hillis faces a tough Steelers defense but undoubtedly would like to finish the season strong after what can otherwise only be called a disappointing year.
Chris "Beanie" Wells, Arizona Cardinals, knee, (Q):
Again Wells is listed as questionable for the Cardinals but again he is expected to play. The Arizona Republic reports Wells is likely to have offseason surgery on his right knee, not entirely unexpected given the chronic irritation he has dealt with since injuring his knee in Week 6. Still, with one final outing awaiting him, Wells is expected to gut it out once more.
Shonn Greene, rib/shoulder and LaDainian Tomlinson, quadriceps, (P):
Greene has been playing through the rib injury for weeks and will do so again. Tomlinson has a sore quad that kept him out of practice Wednesday but he returned to full practice Thursday and Friday. The probable tag for both indicates the Jets expect them to play.
Michael Turner, Atlanta Falcons, groin, (P):
The groin injury has kept Turner on the injury report and appears to have hampered his effectiveness in the latter portion of the season. Nonetheless, the probable tag indicates the Falcons are planning on him being in Sunday's lineup, although how much time he'll see is questionable.
Marion Barber, Chicago bears, calf, (D):
Barber is again listed as doubtful, making Kahlil Bell the feature back for the Bears again Sunday.
Wide receivers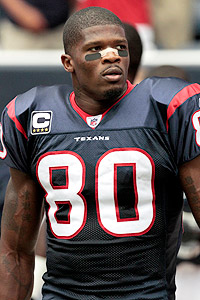 AP Photo/Bill BaptistFeeling lucky? Andre Johnson's status could be dicey.
Andre Johnson, Houston Texans, hamstring, (P):
Johnson will play; this much coach Gary Kubiak has indicated. Kubiak also shared that Johnson is likely to be restricted to approximately 15 to 20 plays. From a health standpoint Johnson appears ready, but how much can he do for fantasy owners in that window? That, friends, is the roll of the dice inserting Johnson into your lineup will require.
A.J. Green, Cincinnati Bengals, shoulder, (P):
Green suffered a third-degree shoulder separation in Week 15 but returned to finish the game. He was active in Week 16 and although his numbers weren't extraordinary, he did make an impressive catch while well-defended, suggesting the shoulder was not holding him back. Another week of recovery should only help. After limited practice Wednesday and Thursday, Green returned to a full practice Friday and, at probable, is expected to face the Ravens on Sunday.
Laurent Robinson, Dallas Cowboys, shoulder (P):
Robinson practiced fully each day and will be in the lineup again Sunday night.
Mike Wallace, Pittsburgh Steelers, ankle, (P):
Wallace was limited Wednesday but fully practiced Thursday and Friday. At probable, the Steelers plan on having him Sunday.
Calvin Johnson, Detroit Lions, Achilles, (P):
Johnson rested Wednesday and Thursday but returned to limited practice Friday. At probable, he is expected to play Sunday at Green Bay.
Mario Manningham, knee and Hakeem Nicks, hamstring, New York Giants, (P):
Manningham has struggled off and on with swelling in his knee but managed to practice every day this week. Nicks has been dealing with a hamstring issue but insisted early in the week it would not keep him down. After resting Wednesday and Thursday, Nicks returned to a limited workout Friday. Both players are now expected to be available in the game that will determine whether their season continues or ends abruptly.
Brandon Marshall, Miami Dolphins, knee, (P):
Marshall played through the knee soreness in Week 16 just fine and is expected to do so again Sunday. Marshall practiced on a limited basis Wednesday and Thursday but was back in full practice Friday.
Vincent Jackson, San Diego Chargers, groin, (P):
Jackson did not practice until Friday as he rested the sore groin that plagued him last week. He was available for a full workout Friday, however, and the Chargers obviously feel confident he will go against the Raiders this Sunday. It's worth noting that Jackson has typically played well despite injuries in the past but was clearly not up to par in Week 16. The layoff during the week no doubt helped move him along and with the team feeling more confident about his status this week, Jackson is presumably faring better.
Wes Welker, knee and Deion Branch, groin, New England Patriots, (Q):
Both Welker and Branch were listed similarly last week and both played without limitations. While the receivers are being kept to limited work during the week, both are expected to be on the field again in Week 17. That is, of course, unless the Patriots decide to surprise us all and rest their starters. Welker told ESPNBoston.com that he expects to play all four quarters. Fantasy owners would be wise to check pregame inactives just in case.
Santonio Holmes, New York Jets, hip, (P):
Holmes was an addition to the Thursday injury report after being limited in practice but coach Rex Ryan said they expected him to be ready by Saturday. The probable tag supports that and fantasy owners can put him in their lineups.
Jacoby Ford, Oakland Raiders, foot, (Q):
Ford is looking to make his return after missing the last seven weeks because of a foot injury. He was able to practice on a limited basis all week but has yet to test his foot in a game situation. While he presents another option for
Carson Palmer
, it is unclear how much Ford would be utilized after missing so much time, and with Denarius Moore demonstrating last week that he is back to full strength.
Anquan Boldin, Baltimore Ravens, knee, (D):
Boldin underwent knee surgery last week and missed Week 16. Originally projected by the Ravens to miss the remainder of the regular season, it was a bit surprising that he was not officially ruled out in advance of this week's game. Perhaps that was due to the encouraging sight of Boldin back in practice Friday, albeit on a limited basis. The doubtful tag confirms though that Boldin is likely to be out again this week.
Tight ends
Jermichael Finley, Green Bay Packers, knee, (P):
Finley didn't practice early in the week but managed to make it back to limited workouts Thursday and Friday. At probable, he is expected to play but the Packers have already hinted at resting a number of their starters. It does not seem likely that Finley will play the entire game.
Dallas Clark, Indianapolis Colts, neck, (Q):
Clark missed the last two games after suffering a stinger-type injury but was back in full practice for the first time this week. It would seem he has a chance to play, but check the pregame inactive list to be sure.
Anthony Fasano, Miami Dolphins, head, (P):
Fasano missed Week 16 with a concussion but returned to full practice daily this week and is expected to play.
Owen Daniels, Houston Texans, knee, (P):
Daniels only practiced on a limited basis and although he is expected to play Sunday, that too may be on a limited basis. The Texans already have their playoff berth secure and may want to limit the risk exposure for their key starters.
OUT
This space is intended for a list of key fantasy players, not including those who have been moved to injured-reserve status, who are officially listed as "out" for the upcoming game.
Reggie Bush, RB, Miami Dolphins, knee:
This one is a bit surprising since Bush made it seem like the injury was not a big deal. He never was able to practice this week, however, so with the Dolphins out of contention, resting him Sunday seems wise.
Greg Jennings, WR, Green Bay Packers, knee:
Since spraining his MCL three weeks ago, it always seemed the Packers would keep him sidelined until the playoffs. Jennings has returned to running but will not see game action again until the postseason.
James Starks, RB, Green Bay Packers, knee/ankle:
Starks has struggled to get his ankle healthy, suffering multiple setbacks over the last month. The decision to hold him out in advance of the playoffs is no surprise.
Mark Ingram, RB, New Orleans Saints, (toe):
As noted Thursday, Ingram suffered a setback to the toe in practice this week and it sounds as if it could be a problem for the playoffs. All fantasy owners need to know is that it will be a problem for this week, as in, he won't play.
Lance Moore, WR, New Orleans Saints, (hamstring):
Moore suffered an in-game setback with his strained hamstring in Week 16 and was forced to leave the game early. After not practicing at all this week, Moore's status for this Sunday is not surprising, especially with the playoffs looming for the Saints.
Darren McFadden, RB, Oakland Raiders, (foot):
McFadden isn't coming back after all, at least not during your fantasy season. He might not be available during the playoffs, either, but first the Raiders have to get there.
Jackie Battle, RB, Kansas City Chiefs, foot:
Battle was in a walking boot mid-week and never really seemed as if he would be ready to play.
Jake Ballard, TE, New York Giants, knee:
Ballard injured his PCL and, as expected, will miss the game again this week.
Delanie Walker, TE, San Francisco 49ers, jaw:
Walker left Week 16's game holding his jaw after inadvertently getting kicked in the head, and a break was later confirmed.
Be sure to check out Fantasy Football Now, Sundays on ESPN2 at 11:30 a.m. ET, and Fantasy Surround on ESPN.com starting at 10 a.m. ET Sunday for last-minute inactives, rankings, injury impact and more!
September, 1, 2011
9/01/11
4:47
PM ET
As the dust settles in the aftermath of the Twitterstorm generated by
Arian Foster
's recent social media activities, the question for many fantasy football owners simply remains: What is Foster's status for Week 1 and beyond?
Although Foster has undoubtedly provided more fodder for discussion, we are not necessarily closer to a definitive answer to the aforementioned question than we were before we saw a
snapshot of Foster's thigh
. In essence, his status is questionable and likely will remain that way for at least the next 10 days.
[+] Enlarge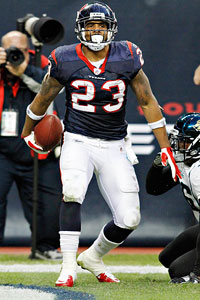 Brett Davis/US PresswireArian Foster made a big splash by tweeting his MRI, but it's hard to gather much information about his Week 1 status from just that.
As much as those involved in the medical care of athletes and non-athletes alike would welcome black-and-white scenarios for injury diagnosis, prognostication and treatment, the fact is such things remain complex and based on many factors. The reason that ranges of recovery times are issued for any given injury (four to six weeks, six to eight weeks, day-to-day) is simply because there is a
range
in the time it takes for people to heal from even two seemingly identical injuries. Factors such as age, health, body type, genetics, prior injury history, response to treatment, compliance with recommended treatment and nutrition are among the variables that can influence the rate of healing. Hence the reason one individual with a Grade 1 (minor) muscle strain can return to a sport within days with no recurrence of injury going forward, while another sits out four weeks only to re-injure the muscle within days of returning. It is precisely this imprecision of injury management and recovery that makes the process incredibly frustrating for both the athlete and the medical personnel responsible for the athlete's care.
In order to arrive at a course of treatment and a projected range of recovery time, the first order of business is to attempt to identify the problem. In the world of professional athletics, imaging tests such as X-rays and MRIs are so routine, it leads to the common perception that those tests alone neatly define the problem and outline the projected course of action. In truth, the images are just part of the evaluation process. Ideally in sports, the process begins with observation of the injury, followed perhaps most importantly by a detailed interview of the athlete (describe what happened, what was felt at the time, where the pain or other symptom is located and much more), and then followed by a thorough physical examination. The decision as to which tests will be obtained comes out of this evaluative process in the hope that such tests (X-rays, MRI, CT scan, diagnostic ultrasound, blood or other lab work) will serve to shed further light on the detail of the athlete's condition. The idea is to put all of the findings together to determine the problem and the best course of treatment.
The MRI has become one of the most frequently relied upon tests in the world of sports medicine because it is the single best tool for imaging of soft tissues (like muscles and ligaments). While it is typically very sensitive (meaning it does an excellent job of identifying positive findings when an injury is present), it does not necessarily define the full scope of the injury on its own and thus must be considered as only a part of the entire picture. For those who have never had the pleasure of undergoing an MRI (which requires lying very still for a period of time as one is moved, at least partially, through a narrow tube while enduring intermittent loud banging noises), the result is not one picture but many different images, or slices, of the injured part. The goal is to capture images at varying layers of depth and from different directions in order to best visualize the desired area. The quality of the images can vary greatly depending on, amongst other things, the sophistication of the machine itself, the operator, the positioning of the patient and how still the patient remains during the test. The best images are then compared with the symptoms the patient is complaining of and the physical findings to arrive at some sort of conclusion.
In the case of Foster, we do not have the complete picture of his pictures, so to speak. Even if we did, they would not tell the whole story. Other aspects of the story need to be considered. Foster injured his left hamstring on the first day of practice (Aug. 5), sat out practice for 11 days, then saw his (uneventful) first preseason action Aug. 20 and looked to be back on track. One week later, he suffered a setback, aggravating the hamstring in the first quarter of a preseason game against the
San Francisco 49ers
and then, well, we know the rest.
Of note, Foster jogged lightly in practice Monday and Tuesday. While this is not terribly revealing, if Foster were limping dramatically after the setback or there was significant concern about his latest injury, he likely would not have been jogging at all. John McClain of the Houston Chronicle, who covers the
Houston Texans
regularly, is able to make daily observations from a closer vantage point and noted that when Foster first hurt his thigh in early August, he watched him "limp around the facility." McClain added that since the setback in San Francisco, Foster has not been limping. While not earth shattering, those types of observations -- how Foster is moving, what he is able to do in practice -- may go further in hinting at how his injury is affecting him functionally than an isolated image.
At the end of the day, we are really no closer to "knowing" whether Foster will be ready for the season opener. He expresses optimism, as does the team, but we know from experience (and the research supports it) that athletes with a history of a hamstring strain are more likely to suffer another one. Unfortunately there are no perfect indicators for readiness for return to play; once all the rehab parameters have been met, the only way to truly test the hamstring is in-game play. The fact he has suffered a setback in the preseason is concerning, but if it is indeed a setback of less severity, perhaps it is not overly worrisome for the remainder of the season.
For fantasy owners it becomes, as is usually the case, a matter of risk versus reward. All running backs carry some level of risk because of the nature of their position but very few have actually delivered Foster-type rewards. At the end of the year, very few running backs will have played in all 16 games. The question for all to consider is who will have done the most with the time allotted. Foster is still worthy of being part of that discussion.