Stephania Bell:

Howie Kendrick
August, 6, 2013
8/06/13
1:46
PM ET
Every week in this space, we'll provide updates on a variety of players to help you make your weekly lineup decisions. We'll specifically try to hit the players who are day-to-day, have just gone on the DL or are ready to return, so that you can better decide whether you can count on them.
All projected return timelines should be considered fluid.
Hitters
[+]Enlarge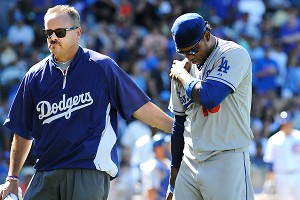 AP Photo/Joe RaymondHanley Ramirez injured his throwing shoulder at Wrigley Field on Sunday.
Hanley Ramirez, SS, Los Angeles Dodgers (day-to-day): Playing hard can come with associated risks, as we have seen throughout this season. We also have seen Dodgers starters succumb to an unusual number of injuries. Ramirez fell into both of those classes Sunday night when he injured his right shoulder crashing into the stands while tracking a foul ball. According to the Los Angeles Times, there was initial concern that his injury was serious. The good news is that, as of Monday, Ramirez already reported feeling improvement. According to MLB.com, his pain had decreased and manager Don Mattingly indicated his range of motion also had improved. If his function improves dramatically in the first 48 hours, Ramirez might not need more than a few days of rest. Fantasy owners should plan on a handful of days off at the minimum, but it appears he could avoid another trip to the DL -- it would be his third of the year -- if he continues to progress.


Howie Kendrick, OF, Los Angeles Angels (day-to-day): Collisions in the outfield are always scary, and the one between Kendrick and teammate Collin Cowgill in the fifth inning of Monday night's game was no different. Kendrick's leg hit Cowgill's body, and he was clearly in pain when he hit the ground, ultimately requiring assistance to get off the field. The Angels later reported that the injury is a hyperextended knee (when the knee moves backward beyond its normal range, placing strain on the structures on the back side of the knee) and that Kendrick is day-to-day. Depending on the amount of swelling and the severity of any soft tissue injury, Kendrick could be out just a few days or could require a DL trip. More should be known in the next several days as the team sees how Kendrick's knee responds.

David Wright, 3B, New York Mets (placed on disabled list Aug. 3): According to Adam Rubin of ESPN New York, Wright was diagnosed as having a moderate hamstring strain (otherwise known as a Grade 2 strain) and is expected to miss three to five weeks. Wright left Friday's game early, and a subsequent MRI confirmed the extent of the injury. Apparently, the "cramping" he had experienced earlier in the week signaled something bigger, and now the Mets can expect to be without their star for the better part of a month or more. A one-month absence for a moderate strain would be consistent with what other star players have experienced this year (Hanley Ramirez, Giancarlo Stanton), so fantasy owners shouldn't hold their breath for a dramatically earlier return.

Derek Jeter, New York Yankees (placed on DL Aug. 5): Jeter cannot seem to get any groove going this year. Now that his surgically repaired ankle (and subsequent stress fracture) has finally healed, his muscles are not cooperating. His first appearance in a major league game resulted in quadriceps soreness, which forced him back to the DL just as quickly as he had left it. In Jeter-like fashion, he homered out of the gate in his return to the majors, but, within the week, he was dealing with another soft tissue injury. Jeter was diagnosed as having a right calf strain, and the team returned him to the DL on Monday. With only five major league games under his belt in 2013, Jeter described the season as a "nightmare," according to ESPN New York.
On a more positive note, Jeter also said, "It won't be three weeks," a reference to the amount of time he missed in 2011 with a similar injury. His quick definitive declaration suggests he is not experiencing as much soreness this time around, but you can bet, considering the type of season it has been for Jeter, the Yankees will exercise caution. Even if Jeter feels substantially improved, the team will put him through all the testing paces before returning him to action, just as they did with the quad. At 39 years old, with a rough start to the season and with this injury occurring in the same leg as the recent ankle fracture, the team will ensure he's as close to full health as possible before he plays. It appears he could be available by the last week-plus of August, but, until he strings together a couple of consecutive weeks of plate appearance, there's reason to be cautious.

Desmond Jennings, Tampa Bay Rays (placed on DL Aug. 5): Jennings injured the middle finger on his left (non-throwing) hand on a slide into second base on Saturday. Originally thought to be a sprain when initial X-rays were negative, further tests Monday revealed a small fracture, according to the Tampa Bay Times, hence the placement on the DL. The team has not issued a timetable for Jennings' return, and, although simple fractures can take approximately six weeks to heal, a return to activity can happen significantly earlier. The key is good early healing and functionally being able to grip and swing a bat without threatening the bone. All that's certain at this point is that Jennings won't be in the lineup for at least two weeks.

Carlos Gonzalez, Colorado Rockies (day-to-day): Speaking of middle finger injuries, Gonzalez was already day-to-day with an injury to the third finger of his right hand, which has bothered him intermittently in the past month. By Sunday, it seemed he was inching closer to the DL stint he had been trying to avoid. Just a week ago, this was my assessment:

"While it sounds as if the team does not believe a DL stint will completely resolve the problem, it also sounds as if this is not likely to go away anytime soon, no matter what path they choose. The risk of aggravation exists with every swing of the bat. It's unclear how much time he will miss in the near future, as the Rockies are calling him day-to-day. The likelihood is that, regardless of whether he goes on the DL, he will again string together series of games where he performs well, but a setback could be lurking around the corner."

The challenge for Gonzalez is that, no matter what adjustments he tries to make, the finger continues to limit him. "I don't want to go on the DL," Gonzalez told The Denver Post. "But I can't swing. I am just a slap hitter; that's all I can do right now."

As of Tuesday morning, the Rockies had not made the move to place Gonzalez on the DL, and it's unclear whether they will opt (for now) to continue with the current plan, essentially resting him as needed, or move him to the DL. Gonzalez has remained fairly productive, despite the finger issue, when he has been in the lineup. The problem for fantasy owners is that the interruptions seem to be coming a little more frequently over the past couple of weeks. Unfortunately, that pattern is not likely to change in the course of the remaining season -- unless there's a two-week break with a DL move, of course -- so get used to checking the daily lineups.

Miguel Cabrera, 3B, Detroit Tigers (returned to lineup Monday, had been day-to-day): After missing three games because of his strained abdominal muscle, Cabrera made a pinch-hit appearance in the 12th inning of Sunday night's game. Although he didn't run, he apparently showed enough to return to the Tigers' lineup Monday. It's not clear whether he's entirely past the injury, however, and fantasy owners should monitor his performance (and status) closely this week. If he aggravates the injury, he could be pulled again to rest.


Pitchers
[+]Enlarge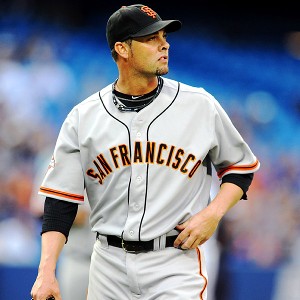 AP Photo/The Canadian Press, Frank GunnRyan Vogelsong is all set to return to the Giants' rotation Friday.
Ryan Vogelsong, SP, San Francisco Giants (placed on DL May 21):
According to the San Francisco Chronicle, Vogelsong will be activated from the DL and start for the Giants on Friday. His return will be a welcome sight after a May injury in which he was hit by a pitch and suffered not one but two breaks in his hand. He required surgery to stabilize the fractures (and a subsequent procedure to remove pins), followed by a lengthy rehab process. Apparently, the rehab has gone well, as Vogelsong has looked sharp in rehab starts thus far. In fact, part of the length to return is the process of rebuilding his arm strength and overall throwing endurance, but his control has been strong. This all bodes well for a strong return for Vogelsong.
Alex Cobb, SP, Rays (placed on DL June 15):
Cobb has made two rehab starts now, and the most important news is that he has not experienced a recurrence of concussion-related symptoms. Cobb told The Tampa Tribune, "The vertigo was nonexistent all night." He went on to say that he did not experience any headache, either, something he was concerned could happen. This ability to get through the next level of performance without a return of symptoms is critical in allowing Cobb to not only continue but to progress to the next level (increased innings, increased intensity of competition).
Also important is that he is getting more comfortable on the mound. After taking a line drive to the head in June, it's understandable that he'd need to acclimate to being back on the mound and facing hitters after an extended layoff. The combination of these two things suggests he is getting closer to rejoining the Rays. The plan was for Cobb to make two rehab starts (not counting a start that was shortened by a blister on his finger), and he is scheduled to make another this Thursday. If he continues to pitch well, is more comfortable on the mound and, most importantly, does not experience any recurrence of symptoms, his subsequent start could be alongside his major league teammates.
Yovani Gallardo, SP, Milwaukee Brewers (placed on DL July 31):
Gallardo was placed on the DL with a hamstring injury suffered when he delivered a pitch in the fifth inning a week ago. It was Gallardo's left hamstring, the one on his landing leg that is stretched while controlling his body as he moves from ball release to follow-through. Before he can return to pitching, the leg needs to be strong enough to support him in a single-leg stance as he increases the load through that side. It also needs to be flexible enough to be placed under stretch while controlling his delivery.
One week into his DL stint, Gallardo seems to be making some progress. He has been long tossing to keep his arm loose while rehabbing the leg. The next test will be resuming throwing from a mound, which could happen later this week.
June, 2, 2011
6/02/11
9:50
PM ET
May, 27, 2008
5/27/08
11:15
AM ET
The Angels may be in the outfield in Los Angeles, but they are still missing in the infield (
Howie Kendrick
,
Chone Figgins
). Their National League counterparts have lost an outfielder (
Andruw Jones
) and are holding a place for an infielder --
Rafael Furcal
-- but his anticipated return this week turned out to be just a tease. Meanwhile, the
Colorado Rockies
have had to replace two-thirds of their outfield (
Matt Holliday
,
Brad Hawpe
) while losing their second shortstop (
Clint Barmes
) in a month. The whirlwind that is the injury carousel changes daily so please, read on.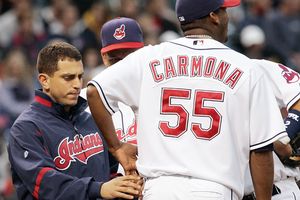 AP Photo/Tony DejakFausto Carmona is the latest Indians starter to make a trip to the disabled list.
Fausto Carmona, SP, Indians:
In what seems to have become a dangerous play for pitchers (see: Gallardo, Yovani; torn ACL), Carmona was injured Friday night while trying to run to cover first base. ESPN reports that an MRI showed a "moderate strain of an exterior muscle" in his left hip (this is not routine medical terminology so it is difficult to decipher the exact nature of the injury other than that it is a muscle strain) and Carmona is expected to miss about four weeks. As a right-handed pitcher, Carmona relies on the left hip musculature to control the rotation of his body weight and his balance from delivery to follow-through. The Indians hope that he will be able to start playing catch within a week and gradually work his way back during the subsequent 2-3 weeks. At just 24 years old without a major injury history, there is no reason at this point to expect anything less than full recovery. The good news for the Indians is that Carmona's spot will be filled by
Jake Westbrook
, who is returning from a DL stint resulting from a strained intercostal muscle (small muscles between the ribs). Westbrook has been on a successful rehab assignment and, according to the Cleveland Plain Dealer, Westbrook will get the start Wednesday against the White Sox.
Matt Holliday and Brad Hawpe, OF, Rockies:
It appears that the hamstring injury bug traveled across leagues in the western division as the ailment that has so plagued the
Los Angeles Angels
this season has now attacked the Colorado Rockies. The Rockies lost not one, but two outfielders to the DL within the span of a day because of hamstring strains. Hawpe, who experienced cramping in his right hamstring Tuesday, was removed from that game for precautionary reasons, but it was clearly not enough. Hawpe never managed to make it back into a game, despite being available as a pinch hitter, and was ultimately placed on the DL on Saturday. According to the Denver Post, Hawpe believed he could play, but the team was concerned about his ability to make sudden moves in the outfield, always a risk for aggravating hamstring injuries. Besides, there were two other starting outfielders left. For one day that is. Teammate Holliday, in the spirit of adding injury to insult, felt his hamstring tighten up on him as he tried, but failed, to run out a grounder in the ninth inning of Saturday's loss. According to The Denver Post, Holliday had never experienced a hamstring strain before and consequently could not initially gauge the seriousness of the injury. Obviously, the team felt it was serious enough for him to join his outfield mate on the DL. The Rocky Mountain News is reporting that Holliday will not travel with the team this week so that he can remain at the Coors Field facility to receive more focused treatment. At least they can rehab together.
Clint Barmes, SS, Rockies:
First
Troy Tulowitzki
went down with a ruptured quadriceps tendon. Not good. Then Clint Barmes came along to fill Tulowitzki's position and performed like a rock star. Good! Now Barmes is out with a sprained medial collateral ligament (MCL) in his right knee, the result of being on the receiving end of a
Jose Reyes
slide Friday night. Definitely not good. The MCL provides stability on the inner aspect of the knee joint, and for a shortstop whose defensive ability relies on quick lateral movements, this injury will hamper that particular skill. For his part, Barmes, who was hitting as well as he had since going on the DL in 2005 with a fractured clavicle (collarbone), says via the Rockies' official Web site that he has learned to "not push it too hard" from the experience of his previous injury. In other words, don't expect him back until he is fully able to perform. Barmes admittedly has never had a knee injury, but suggested a timetable of two to four weeks for his return. The timetable is reasonable for a minor sprain, but the true test before he rejoins the lineup will be whether Barmes can resume lateral cutting, which he needs for defense, and rotational movements, which he needs to swing the bat effectively. At this point, it still appears that Barmes will be back at the shortstop position before Tulowitzki, who, although he is progressing well in his rehab, likely will not return before the All-Star break.
Eric Gagne, RP, Brewers:
In the category of not-really-a-surprise news, Gagne was placed on the 15-day DL to rest his inflamed rotator cuff. Gagne developed soreness in the shoulder while putting in some extra work a week ago to address problems with his delivery. Despite a cortisone shot and a brief period of rest, which realistically did not afford him enough time to fully recover, the decision was made to move him to the DL. Gagne no doubt needed the additional break, perhaps as much mentally as physically given his struggles to close consistently this season. This does not sound like an extreme case and it was addressed fairly quickly, so Gagne's chances of returning at the end of the time frame appear reasonable. Be that as it may, returning to throwing programs can be fraught with setbacks, so we will keep an eye on how Gagne is faring in his rehab program.
Reggie Willits, OF, Angels:
Oh no, the outfield can't be starting to fall apart in Anaheim. Willits, who took a spike to the finger from the White Sox's
Orlando Cabrera
on Saturday, was fortunate to come away without a fracture. When asked to describe the pain, Willits told the Los Angeles Times that if felt like a smashed fingernail except that Cabrera's spike "went all the way through the nail." Ouch. After taking a day to allow the swelling to subside, Willits, despite some soreness, is faring better and appears to have avoided a trip to the DL. The Angels have him listed as day-to-day and he is available to pinch run and hit. The fact that the injury is affecting one of his throwing fingers means he likely will take a few more days before he returns to his regular position.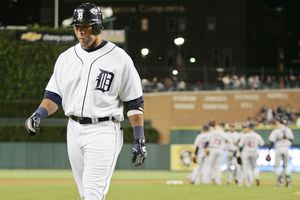 AP Photo/Duane BurlesonAs if losing hasn't been tough enough, Gary Sheffield simply can't stay healthy.
Gary Sheffield, DH, Tigers:
Sheffield left Monday's game with what is being called an oblique spasm in his left side. The Detroit Free Press reported that Sheffield pulled up and grabbed his left side while heading to first on a groundout. He left the game and did not return. It has been a tough year for Sheffield, whose shoulder has not been everything he hoped it would be following offseason surgery to repair a torn labrum. He also suffered a tendon avulsion in his ring finger in April and still sports a small brace for support. Oblique strains are notorious for lingering, but it remains to be seen whether this was just a muscular spasm that resolves quickly or something more serious. Stay tuned.
Not so fast ...
This week, a handful of players who looked as though they might be making a go of it took a turn for the worse. Bad news if you're a fan in Los Angeles.
Rafael Furcal, SS, Dodgers:
It sure sounded as if Furcal was going to be rejoining his ailing team this week, but then the Dodgers got cold feet, and understandably so. Furcal awoke with stiffness in his back Thursday, prompting the Dodgers to re-evaluate the value of sending Furcal on a road trip that would have him flying across the country with a still touchy back. According to the Los Angeles Times, it appears that Furcal will not make the trip, which also affords him another week of rest and rehabilitation. Look for him to return in another week.
Andruw Jones, OF, Dodgers:
Although Jones had hoped to postpone surgery on his ailing right knee until the offseason, it was not to be. Jones attempted to play Friday night, but the swelling in his knee associated with a meniscal injury and Baker's cyst was limiting his performance. Although Jones refused to blame his struggles at the plate on his knee, as general manager Ned Colletti told the Los Angeles Times, "When you think about the right knee, it's the back knee, it's the one that's continually in motion." Jones' back (right) knee has to undergo a good deal of torsion when he swings the bat, and a flap of cartilage, as well as joint swelling, will limit how well the knee accommodates the swing. The surgery will no doubt help him in this regard and is scheduled for Tuesday. Recovery is normally anywhere from four to six weeks, assuming no setbacks. Knowing that this problem has actually been bothering Jones for nearly two months, it would not be surprising if he is able to turn his productivity around when he returns. Fantasy owners may want to pick him up as he approaches the end of his rehab timetable.
Chone Figgins and Howie Kendrick, 2B, Angels:
They're back. Well, no, not quite yet. That seems to be the mantra down in Los Angeles for the Angels' infielders who have been besieged by hamstring strains. Kendrick's injury, thought to be the more serious of the two, happened first and he has suffered a string of setbacks ever since. Kendrick underwent a repeat MRI at one point, and the conclusion afterward was that Kendrick had torn some scar tissue which resulted in some pain, but did not worsen his original injury. Nonetheless, he has been unable to get back to a rehab assignment as attempts at running full speed have been limited because of discomfort. This weekend, however, Kendrick was able to run the bases and the plan is for him to resume a rehab assignment this week. Only time will tell if he is able to handle the progression this time around. Meanwhile, teammate Figgins was activated Wednesday, but was then forced to sit out after just one game in Toronto because of soreness in the hamstring. What looked like one day of rest turned into two, then four, and now the Angels are hinting that another stint on the DL remains a possibility. Much to the chagrin of the Angels, these two athletes exemplify how challenging recovering from a hamstring strain can be, especially when your game depends on speed and explosiveness. The unpredictability of how these muscles respond to the stop/start nature of power running in baseball has been demonstrated here with the players' repeated setbacks. Fantasy owners, unless you have space to spare on your bench, if you haven't moved on yet, there's no time like the present.
May, 16, 2008
5/16/08
2:13
PM ET
The injuries just keep on coming. It seems like someone comes off the DL and two more go on. Can the DL also be a place to work out your confidence or mechanics issues? The Tigers certainly have to be hoping that will happen with
Dontrelle Willis
(although his latest rehab outing was less than outstanding). It may be where
Jason Isringhausen
is headed, too, as he tries to get himself back to being an effective closer.
Chipper Jones, 3B, Atlanta Braves:
Jones sat out Thursday night's game with a groin strain, but don't be alarmed. This is likely to be one of the myriad of minor muscle strains you can expect Jones to face as the season goes on. This year Jones has already dealt with a quadriceps strain and back spasms, so another addition to the list is not surprising. At this point it does not appear serious, and Jones himself makes a good point. He told the Atlanta Journal-Constitution, "If I can miss one game here and there to avoid missing six or seven, or a 15-day DL stint, then I have to be smart enough to be able to step aside for one game." And this is how you preserve one of the hottest bats in baseball. Jones expects to be in the lineup Friday.
[+] Enlarge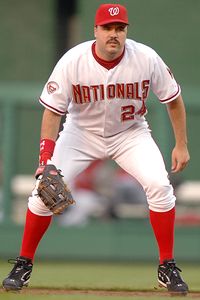 Mitchell Layton/Getty ImagesYou have to feel bad for Nick Johnson. He just can't stay healthy.
Nick Johnson, 1B, Washington Nationals:
You just have to have sympathy for Johnson. It was so exciting to see him back in the lineup to start the season after missing more than a year with a slow-to-heal broken femur (thigh bone). And he came back hitting hard! But a small slump followed, and then, alas, another injury. The latest setback for Johnson couldn't be something minor. No, he had to go down with what is being reported as a torn tendon sheath in his wrist, according to the Nationals' Web site. He is expected to miss 4-6 weeks, but as is often the case with wrist injuries, the time to return to form can extend beyond the time away from the game. Johnson injured himself during his final at-bat Tuesday and an MRI Thursday confirmed the severity of the injury. No more specifics have been given as to which tendon sheath was directly affected, but it is safe to say that the potential complications are similar to those following most wrist injuries, namely concern about power at the plate as a result of a decrease in grip strength.
Dmitri Young
, recovering from his own lower back injury, is expected to replace Johnson in the meantime.
Jason Isringhausen, P, St. Louis Cardinals:
This just in: Isringhausen is struggling in his closer role. Clearly this is not news to the Cardinals or to Isringhausen's fantasy owners, for that matter, but what happens next might be. Isringhausen is scheduled to visit with the Cardinals' team physician today and the St. Louis Post-Dispatch is reporting that he could be sent to the DL. Has injury been the source of Isringhausen's struggles? Not if you ask him. In the same Post-Dispatch report, Isringhausen denies that injury is the reason for his struggles: "I feel healthy." He does go on to say that "maybe my 'healthy' just isn't good enough." It's no secret that Isringhausen has an arthritic hip, but following an arthroscopic surgery in the offseason before 2007, Isringhausen went on to have one of his best seasons. Although sudden drops in performance can often be a sign of underlying injury, pain and stiffness are most commonly associated with arthritis, and if there has not been a dramatic increase in either of these related to his hip, it would be surprising if this was the culprit. That being said, if the hip is indeed bothering him to some degree, the Cardinals could place him on the DL to rest him and then follow the rest period with some rehab starts to perhaps permit him to work out some of his pitching kinks. The other option is a trip to the minors, and if confidence is really his primary issue, demotion may not necessarily be the way to regain it. Stay tuned closely to see how the Cardinals decide to move Isringhausen, but expect that he will be out of the closer role for at least a couple of weeks.
Rafael Furcal, SS, Los Angeles Dodgers:
It started as back stiffness. That really doesn't sound so bad. After all, who among us hasn't woken up with a stiff back or felt the effects of overdoing it in the company softball tournament? But Furcal's back problems stuck around long enough to warrant a trip to the DL. Keep in mind that he had similar back problems last fall that resulted in extended time off. On a positive note, Furcal received a cortisone injection Monday that "hit the spot," according to manager Joe Torre on the Dodgers' Web site. He would be eligible to return next Wednesday, and if the effects of the cortisone are more than temporary, it is a reasonable expectation. He will be evaluated daily, so in weekly leagues it may be best to wait and see how he progresses.
[+] Enlarge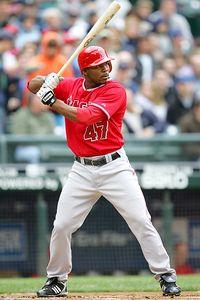 Paul Jasienski/Getty ImagesHowie Kendrick is quickly getting a reputation as a player who can't stay healthy.
Howie Kendrick, 2B, Los Angeles Angels:
Kendrick continues to work his way back, slowly, from a hamstring strain that has been plagued with setbacks. Most recently, Kendrick thought he reinjured the hamstring in early May, but according to the Los Angeles Times, Kendrick may have torn some scar tissue as opposed to creating new tissue damage. While that still results in some discomfort and a potential setback, if that is in fact what happened, it does typically translate to a quicker recovery. Ultimately this simply means that Kendrick's setback wasn't as bad as it could have been. The latest report from the team is that he has minor tightness in the hamstring at this point. The team is encouraged by his progress and hopes he will be able to resume his formal rehabilitation program soon. But if ever there were a player who exemplified day-to-day, this has to be the guy. Keep checking in.
Mark Prior, P, San Diego Padres:
Well, it may have been too good to be true. Prior, who had been having a very successful rehabilitation following surgery to address a torn labrum and damaged rotator cuff, has hit a major bump in the road. Prior reported pain during a throwing session earlier in the week, saying it felt like a "firecracker" going off in the back of his shoulder. That is never a good thing. Prior was sent for a repeat MRI and a follow-up visit with his surgeon, Dr. James Andrews. Perhaps the most telling outcome of his visit with Dr. Andrews is what we didn't hear. We did not hear that the MRI showed no new damage, nor did we hear that he could resume his throwing program. What we DID hear is that the team is trying to evaluate what the next steps will be. Hmmm. Although it's too soon to write him off completely as being able to return this season, for fantasy purposes, if you were holding out hope that he could be a post-All Star break value, you may want to give that space on your bench up for someone with a more certain future.
Alex Rodriguez, 3B, New York Yankees:
No blog would be complete without a status update on Rodriguez's thigh. Rodriguez, who has not played since he aggravated his quadriceps strain on April 28, has been gradually increasing his activity over the past week. Rodriguez had a Grade 2 (moderate) strain, and a repeat MRI this week showed improvement in the tissue but not complete healing. Consequently, Rodriguez has been asked to test his leg with increasingly vigorous but controlled activity to see how it responds. So far, so good. Rodriguez ran the bases Thursday and said he was running at about 95 percent without complaint, according to a report in Newsday. The plan is for him to work out again Friday, play third base in an extended spring training game Saturday, DH on Sunday and play third again in another extended spring training game Monday. The hope is that if all goes well, he will rejoin the Yankees to play third base on Tuesday. It is worth noting that his muscle healing may not yet be 100 percent, but his successful stepwise rehab progression is the determining factor in his ability to return to play. The fact that he is feeling good and has passed all his tests thus far bode well for him, but all players acknowledge that it's nearly impossible to reproduce the intensity and explosiveness of a game environment until they're actually playing in one (and no, extended spring training games are not the same as playing in the real thing, with your teammates, the fans and the pressure to be productive). Fantasy owners will want to get him back in their lineups without a doubt, but he remains a bit of a risk until fully tested.
That's it for Friday! Have a healthy and happy weekend, and may none of your fantasy players go on the DL.