Stephania Bell:

Ichiro Suzuki
April, 14, 2009
4/14/09
5:58
PM ET
By
Stephania Bell, ESPN.com
| ESPN.com
My, oh my, what a week it has been. Emotions have run the gamut this week in baseball.
The tragic loss of young
Nick Adenhart
in Los Angeles had everyone reflecting on the importance of living the dream and doing what you love. The triumphant return of
Chris Carpenter
to the mound for the Cardinals proved that you can come back after almost a two-year hiatus with hard work, dedication and belief that you still have it.
The sad news of Harry Kalas' passing reminds us that there are numerous folks behind the scenes whose contributions help to define the sport. Many of those folks are never seen (or heard) by the public, especially when it comes to those responsible for the medical well-being of the athletes. When it comes to keeping an athlete on the field, there are numerous doctors, athletic trainers, physical therapists and others who play a huge role but remain largely out of public view.
And on that note, here are the players I'm looking at this week in the world of injuries: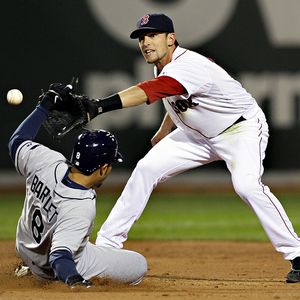 AP Photo/Elise AmendolaJed Lowrie's owners should brace for an "extended absence" from their young shortstop.
Jed Lowrie, SS, Red Sox:
It was no secret that Lowrie was struggling at the plate; we could see he was a mere 1-for-18 with eight strikeouts this season. The secret apparently was that Lowrie's wrist was bothering him all along, according to The Boston Globe. When Lowrie finally made it known to the medical staff that his left wrist was giving him trouble, the Red Sox quickly placed him on the disabled list. The Globe reports that this is the same wrist that gave Lowrie trouble last year, and an MRI at the end of the season revealed a small nondisplaced fracture (meaning the bony parts are in alignment, not fragmented). Symptoms in the same area, however, are never a good sign, as it could suggest that the fracture has not fully healed.
In fact, comments Lowrie made about his wrist in February seem somewhat foreboding in retrospect. In a report by The Providence Journal, Lowrie explained the decision to rest his wrist for a month in the offseason. "We decided not to do surgery just because there wasn't enough time. I probably wouldn't have been ready for spring training if I [had] had the surgery."
Lowrie went on to explain to the Journal exactly how the injury affected him at the plate. "From the left side, and I'm not one to make excuses, it really hindered my ability to swing with any sort of power. My wrist was just not strong enough to keep the barrel above the ball."
Lowrie has been returned to Boston for further testing, and a true timetable will become more apparent once the results are known. The concern here is that after an offseason of rest, Lowrie is experiencing similar pain, and there can be no doubt that it is affecting him at the plate. If several months of rest did not alleviate the problem, it's unlikely 15 days will do so, either. The question becomes what structure or structures actually are causing the symptoms, and what is the appropriate course of treatment? A non-union fracture might require surgery, but inflammation of soft tissues could be addressed with rest, bracing and anti-inflammatories. Until the condition is further explained, this remains speculative, but fans should prepare for the prospect of an extended absence from Lowrie.
Of course, the Red Sox are further incapacitated at shortstop because
Julio Lugo
remains on the DL as he recovers from meniscal surgery. Lugo underwent surgery on his right knee during spring training and is progressing well, but he's still likely another couple of weeks from rejoining his team.
Mark Teixeira, 1B, Yankees:
Speaking of sore wrists, Teixeira has been dealing with soreness in his left wrist for several days now. Fortunately for the Yankees, Teixeira's ailment does not appear to be serious, and the hope is that rest will allow it to calm down. He has been diagnosed with tendinitis in his left wrist, apparently aggravated by batting right-handed. Teixeira suspected he initially strained his wrist when diving for a ball last week, but the inflammation then appeared to be limiting his swing.
In an effort to prevent it from worsening, the Yankees rested him for a few games, but he is expected to rejoin the lineup Tuesday. A recent MRI confirmed the absence of any major structural injury, and Teixeira told MLB.com that the stronger anti-inflammatories he has been taking recently have him feeling much better. Assuming he makes a successful return this week, this does not appear to have the makings of a significant injury.
Ichiro Suzuki, OF, Mariners:
Ichiro has been recovering nicely from the bleeding ulcer that sent him to the DL to start the season. Last week, we said there was reason to believe Suzuki would return as soon as he was eligible to be activated off the DL, and it appears this will indeed be the case. He indicated he will be in the lineup when his team takes the field Wednesday, and the team no doubt will be happy to have him back.
Ichiro did not appear to have missed a beat when he made his first extended spring training start, going 7-for-10 in his first outing and appearing none the worse for wear afterward.
The good news for Ichiro and for fantasy owners is that this ulcer should not present a recurring problem. Ichiro's rapid response to treatment -- coupled with the fact that these conditions can be medically managed very effectively -- suggests a low likelihood that this will interfere with the remainder of his season.
Jesse Litsch, SP, Blue Jays:
I don't like the way this looks. It began with a poor start a week ago and some forearm soreness. Then there was a second poor outing Monday, and by the fourth inning, it was clear something was wrong. Litsch signaled as much, and after a visit with the Jays' athletic trainer, he left the game holding his right arm against his body. The Toronto Star reports that the team is temporarily calling this an elbow strain, and Litsch will undergo an MRI.
This is a recipe for bad news. First of all, he followed a decent spring with two poor starts. And in addition to decreased velocity and trouble with control, Litsch also had discomfort, making this appear more serious. The pain was bad enough to force him to exit early, and the instinctive supporting of his arm by his side is not an encouraging sign. Clearly, the test results will help determine the next steps for Litsch, but brace for a likely shutdown from throwing to rest the arm.
Dewayne Wise, OF, White Sox:
Even his manager, Ozzie Guillen, gave him credit for saving the game Monday. If you saw Wise's amazing play in the outfield, you probably also saw him cringing in pain afterward. As Wise extended his arm to steal a hit from
Ramon Santiago
, potentially saving three runs, he rolled awkwardly onto his right shoulder, separating it. An acromioclavicular (AC) joint separation, as this is called, is a sprain of the ligaments that stabilize the clavicle, or collarbone, with the acromion, the bony tip of the shoulder blade. That AC junction forms the outermost point of the shoulder, and injury to the ligaments there makes it painful to move the arm, particularly across the body or overhead.
Wise has been placed on the DL with what the Chicago Tribune is reporting as a Grade III (complete) separation, and according to the White Sox's Web site, Wise is expected to miss anywhere from six to eight weeks while the ligaments heal. He will initially be placed in a sling to support the painful shoulder and will then work on regaining his range of motion and strength. The most challenging element will be regaining the strength to make a long throw from the outfield. This is not typically an injury that requires surgery, although it can come to that for some "overhead" athletes, particularly if they continue to experience weakness or discomfort as they return to throwing.
Although the team certainly expects to have Wise return to the lineup this season, his rehab process bears watching to see how he progresses once he is allowed to resume throwing.
Brian Moehler, SP, Astros:
He certainly didn't have a great start to the season, yielding seven runs on eight hits in his first outing. And the news only gets worse from there, as it appears Moehler has an injury to contend with, as well. After Moehler left Monday's game early in another forgettable start, the team indicated that he will undergo an MRI on his right knee, which apparently has been bothering him since spring training.
The injury has been described thus far as a sprain on the Astros' official Web site, although there has been no indication of a specific initial injury. Moehler did indicate, though, that the knee had been bothering him "off and on" for a few weeks. Moehler is a right-handed pitcher, so this injury is affecting his push-off leg. If there is any instability, it certainly would affect the power of his delivery. With an ERA of 27.00 in two starts, it certainly seems as though something isn't right, and this could very well be the explanation.
Until the test results are in, it's unclear what his potential timetable to return will be. As of now, the Astros have not even indicated whether Moehler will make his next start.
Milton Bradley, OF, Cubs:
Bradley is expected to miss several days because of a groin strain, and the Cubs have to hope it won't be longer than that. Bradley is no stranger to soft-tissue injuries, having experienced his share of muscle strains, not to mention a torn ACL and partially torn patellar tendon, over the past few seasons. And, of course, he is not getting any younger.
Although the groin strain is considered mild, this is one of those injuries that can rapidly turn into something more serious if a player pushes it too soon. It's possible that this could turn into a trip to the DL if Bradley's symptoms show signs of lingering. That's worth keeping in mind if he's on your fantasy roster.
On the mend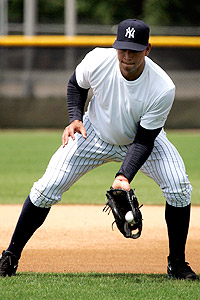 AP Photo/Reinhold MatayAlex Rodriguez is rehabbing hard, and now we can witness it.
There has been an
Alex Rodriguez
sighting in Tampa. Now that he is removed from the protective enclave of Vail, Colo., where he spent his first few weeks rehabilitating his surgical hip, we can see Rodriguez doing some of his workout drills. And he reportedly looks good. He appears physically fit and happy, both of which are important components of a successful return. But before we get too excited, it's important to remember that he is still doing limited baseball activity.
The New York Times reports that, so far, Rodriguez has taken swings off a tee and from light toss, fielded some routine ground balls and done some light running. The real point of interest will be when he is ready to return to game playing. Rodriguez says he feels the next seven to 10 days are very important as he enters the next phase of his rehab. Manager
Joe Girardi
has been careful to say that he maintains the expectation of a mid-May return for Rodriguez and that he does not want to push unnecessarily. So far, the steps A-Rod is taking suggest he could meet the target, but his biggest tests on the hip -- power hitting, hard running, diving and sliding -- have yet to take place. It's still a lot to accomplish in a short time. We will be watching closely ... especially now that he's in Tampa and we can actually do so.
Just last week, I placed the Angels'
Kelvim Escobar
in the "good news" department. Since then, the team has talked about shutting down his throwing for a few days. I'm not throwing in the towel here just yet. Remember, Escobar was well ahead of schedule in his rehab after labral surgery. His soreness is in the front of the shoulder (less worrisome), and his activity has simply been scaled back to ensure that this does not turn into something more serious. Escobar still could return in May, and even that would still place him ahead of his original timetable.
Meanwhile, Braves pitcher
Tom Glavine
is paying a visit to the one and only Dr. James Andrews this week. Glavine, who is coming off surgeries on his elbow and his shoulder, experienced discomfort in his shoulder this past weekend that forced an early exit from a minor league rehab start. Glavine is not speculating about his future, saying only that he's "remaining optimistic that [he] just popped some scar tissue," according to the Braves' Web site. At 43, it's a lot to hope for, but it would be nice for Glavine to end his career on his terms. This is not exactly confidence-inspiring, but I would not call him finished just yet.
And finally, Royals outfielder
Jose Guillen
was placed on the 15-day DL Friday because of a partially torn hip flexor. The concern with this 32-year-old's injury is whether it will turn into multiple DL stints or whether Guillen can really return as expected. There are a couple of reasons to be optimistic. First, according to general manager Dayton Moore, "Jose wanted to play through it, but this is the right thing to do for him and the team." If Guillen thought he could play through it, it could not have been too awful. Second, Moore indicated that the team was operating from a position of being proactive when he said that the team did not want to risk losing Guillen for months or, even worse, to surgery should the outfielder continue to play in cold weather early in the season, and perhaps worsen the injury. In other words, they'll take a more conservative approach and lose a few days now instead of weeks or months in the meat of the season. By the sound of it, the team is viewing this episode as minor.
April, 7, 2009
4/07/09
7:08
PM ET
By
Stephania Bell, ESPN.com
| ESPN.com
And they're off!
Welcome to the glorious opening week of the 2009 baseball season. Despite the optimism that reigns supreme this time of year in every clubhouse, there is no avoiding the fact that injuries are
already
part of the equation. In fact, the Angels have to feel like it's the middle of the season considering the number of key players they already have on their DL. Then you have teams such as the Pirates, who started out the season with nobody on the DL.
There is one injury stat worth mentioning before we jump into the specifics. In 2009, there were 69 players on the disabled list to begin the season. While that might sound like a sizable number, consider that just last season, 106 players began the season on the DL. And in 2007, the number was 97. Clearly, the number of injured players at the start of the season has dropped dramatically this year, but what's the significance?
For some insight, I spoke with Stan Conte, a physical therapist and athletic trainer who is the director of medical services for the
Los Angeles Dodgers
. Conte closely tracks DL stints in an effort to help those who care for ballplayers better appreciate injury trends. Conte says that although looking at the number of players on the DL can be useful, he actually prefers to study total days spent on the DL, particularly as it relates to a diagnosis, because it can help convey the severity of an injury. He did point out, however, that if past history is any indication, low DL numbers at the start of the season suggest that there will be fewer injuries throughout the year.
And that's exactly what fantasy owners want to hear.
Nonetheless, there are some injuries to report already. Here are the main stories we're tracking this week:
Ichiro Suzuki, OF, Mariners:
On Friday, we learned that Ichiro had been placed on the 15-day DL because of a bleeding ulcer after experiencing severe fatigue and even light-headedness. Knowing what a workhorse Ichiro is, you figure he had to be feeling pretty poorly to even complain. This announcement came as a bit of a surprise in the baseball community for a couple of reasons: First, it's no secret that Ichiro has a stellar attendance record at work; and second, bleeding ulcers are not a common ailment for baseball players. This has many wondering what exactly caused it and what can be expected in terms of Ichiro's recovery.
The good news is that there is reason to believe Ichiro will indeed be able to come off the DL when eligible April 15. Whether he will greatly depends on his ability to regain his endurance, and there is always the possibility that the DL stint could be extended if Ichiro needs extra time. The Seattle Times is reporting, however, that the Mariners seem encouraged that he'll return on the target date.
As far as the cause, there is no way to say for certain in Ichiro's case, especially without knowing all of his specific health information. What we can say is that there are several potential causes of ulcers in general, including bacterial infection, a group of medications known as NSAIDs (non-steroidal anti-inflammatory drugs) and stress (which is more likely to delay healing or aggravate an ulcer). Increased levels of acid in the stomach can damage the stomach lining and lead to an ulcer. NSAIDs, which include medications commonly available over the counter such as ibuprofen (e.g. Advil, Motrin), naproxen (e.g. Aleve) and even aspirin, have the potential to lead to damage of the stomach lining as well (which is the reason it is always recommended to take these medications with meals).
We have no information to suggest what the source of Ichiro's ulcer was. We do not know whether or not Ichiro was taking any medication, prescription or otherwise, but any time an athlete develops this type of ailment, the question needs to be raised. The consumption of NSAIDs long term is enough of a concern that many professional teams perform blood tests at regular intervals for athletes taking these medications, just to ensure that there are no adverse effects. As far as stress, one could certainly make the case for Ichiro being under a great deal of stress in recent weeks while playing for his home country of Japan in the World Baseball Classic. Not only was the travel schedule demanding, the pressure of trying to repeat as world champions had to be intense. With no opportunity to rest afterward, Ichiro rejoined the Mariners immediately after the Classic, playing in four spring training games before reporting symptoms.
The main consequence of a bleeding ulcer is, well, blood loss. Anemia, a condition where the body lacks adequate healthy red blood cells (which are critical for delivering oxygen to tissues) can result, which explains why patients often feel fatigued, dizzy or short of breath. Treatment involves rest and medication (typically directed at either decreasing or stopping acid production in the stomach, and fighting infection if necessary). The body, which is always manufacturing new blood cells, needs time to make up for any blood loss, minus the stress of activity. Time to recover depends on the extent of anemia.
In Ichiro's case, early reports indicated that the ulcer was no longer bleeding, which is a good sign, and his excellent level of conditioning will no doubt aid in his recovery. Ichiro's activity will be heavily restricted early on and then gradually increased based on follow-up blood test results and how he reports feeling. According to the Times, Ichiro is expected to have a blood test Wednesday morning to assess his progress thus far.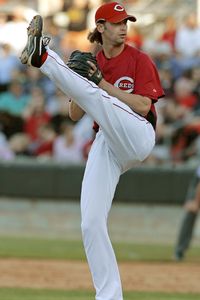 AP Photo/Gerry BroomeSo far so good regarding Bronson Arroyo's return to the rotation.
Bronson Arroyo, SP, Reds:
Well, Arroyo is not starting the season on the DL as some, including me, thought he might. Now the question arises of whether he will be able to avoid it? He is scheduled to pitch Thursday, and how he fares in that outing might provide a big clue.
Arroyo has been dealing for some time now with a condition not usually associated with pitching. He has carpal tunnel syndrome (CTS), which is known to have a high incidence among those who spend hours at their workstation typing and/or mousing, and is also relatively common among musicians. Hmm. Arroyo is also a musician. Could there be a connection? For his part, Arroyo, who plays guitar, said in an Associated Press interview that he has put the instrument aside and is also avoiding writing in an effort to rest his hand.
CTS essentially results from inflammation within the carpal tunnel, a tunnel bound by bones and ligaments on the palmar side of the wrist ("carpal" refers to wrist) through which tendons to the fingers pass along with the median nerve. Inflammation or swelling in a contained space like a tunnel results in pressure on these structures, and the hallmark symptoms come from pressure on the nerve. The median nerve supplies sensation to the thumb, index finger, third finger and part of the fourth finger and palm, so most often people will complain of numbness, tingling or electric shock-like pain in these areas. If there is enough compression of the nerve, the hand will also become weak, obviously problematic when trying to grip a ball or control its spin. Arroyo struggled with his command late in spring training, which could have been related to his hand issues.
At this point, Arroyo claims to be feeling much better after a cortisone shot -- he apparently proved as much to management -- and reportedly is even throwing breaking pitches again in the bullpen. Consequently, he was rewarded with his originally slated Thursday start. The cortisone will certainly help the inflammation in Arroyo's wrist in the short term, but the issue will be how he holds up in the long term. After all, the concern here is not only for Arroyo's hand. Any weakness that affects a pitcher's control might cause him to attempt to compensate by making an adjustment in his mechanics. Even subtle changes can then lead to injuries further up the chain, in the elbow or shoulder for example, and that's potentially even more worrisome in the whole scheme of things. Keep a close eye on Arroyo over the first few weeks of the season.
Alex Rodriguez, 3B, Yankees:
How can we not talk about the most talked-about guy in baseball? By now everyone is aware that A-Rod underwent surgery in early March to address a labral tear in his hip. The labral repair was performed, but additional bone work in the joint remains to be done in the offseason. Since the surgery, Rodriguez has been in Vail, Colo., rehabbing diligently, under close supervision and with minimal distraction. Not surprisingly, Rodriguez is doing very well (after all, he is a great athlete and is very physically fit) and could soon move to Tampa for the next phase of his rehab.
Much has been made recently of the suggestion that A-Rod could rejoin the Yankees by late April. Relax, everyone. This is not news. All along, Rodriguez was operating within a timetable that projected his return at anywhere from six to nine weeks. The Yankees originally set their goal as mid-May because they wanted to allow plenty of time for Rodriguez to recover and not force him back too soon, with the risk of then losing him to reinjury.
Whatever the timetable ends up being, it is not so much when Rodriguez rejoins the lineup, but how he performs once he gets there. Remember, he still has a long ways to go. Going to Tampa means A-Rod will initiate baseball activities, which begin with light drills and gradually become more vigorous. He will need to show that he can hit, field and slide. Then there will be minor league games to allow Rodriguez to re-engage in competition. Each step must be successful before he ultimately returns to the Yankees. One day at a time ...
On the mend
How about some good news for a change? Angels pitcher
Kelvim Escobar
is reportedly doing very well in his progression back to the mound since having surgery to repair a torn labrum in his right (throwing) shoulder. He threw 41 pitches Friday night in San Diego and is expected to make a rehab start for Class A Rancho Cucamonga on Thursday. If all goes well, he likely will make several minor league starts and could rejoin the Angels by late April, according to the Los Angeles Daily News.
Although manager Mike Scioscia remains optimistic that his other two injured starters,
John Lackey
and
Ervin Santana
, will return to the team by May 1, there is reason to be more cautious with both. Lackey is experiencing his second round of elbow problems in two years. He started last season on the DL but was able to return without incident. But it's more worrisome when it's the second time around, and on an arm that has thrown as many innings as Lackey's. Lackey is in a contract year, and I expect him to return, but I'm not convinced that the remainder of the season will be as uneventful as last year.
As far as Santana, we already know that he has a sprain of his ulnar collateral (Tommy John) ligament. Sure, he was throwing well until he was shut down because of pain in the elbow, but now we know that the elbow is damaged goods. It's definitely worth noting that there are plenty of pitchers out there throwing with less than fully intact elbows and shoulders. But a lack of structural integrity does not bode well for the long haul, no matter how you slice it. So yes, even if he returns, I'm concerned about Santana's ability to stay healthy throughout the season.
Across town, Dodgers pitcher
Jason Schmidt
is continuing his efforts to rehabilitate his ailing right (throwing) shoulder. Schmidt remains a work in progress; he is slowly and steadily trying to return, but slow remains the operative word. Consider that his original surgery to repair a torn labrum was way back in 2007. Schmidt tried to return last year, and did get as far as rehab starts for a brief period of time, but couldn't make his way past the 90 percent level, which is not good enough to compete at the major league level.
The big issue for Schmidt is that he has often felt worse in the days after throwing and has not been able to put together consecutive strong outings. Schmidt underwent another arthroscopic surgery this past year to clean up the shoulder, and he's working diligently to get his strength, and confidence, back. He is expected to throw in a simulated game this week, and the outing itself will not be as critical as how Schmidt feels the day after, and the day after that. If he continues the steady progress, though, there is reason to believe that he could eventually find his way back to the rotation. But no one is saying that out loud just yet.
Twins catchers appear to be snakebitten.
Joe Mauer
is still recovering from his less-than-common sacroiliac inflammation. Although the St. Paul Pioneer Press reports that Mauer says he is feeling better since he started taking the new (unnamed) medication, he has yet to try running, the one thing that really limited him this spring. Call me a bit skeptical, but until he's doing those activities, I'm still concerned. Mauer's replacement while he's on the DL,
Mike Redmond
, was only halfway through the first game before he suffered a blow -- from a bat. Redmond was hit in the neck by a shard of a broken bat in the fifth inning, which caused him to lose feeling in his arm for a few minutes. Not long afterward, Redmond hurt his right groin while trying to run out a double. Uh-oh. Redmond told the Minneapolis Star-Tribune that he was "a little concerned," and his manager, Ron Gardenhire, has to be more than a little concerned. Meanwhile, backup to the backup,
Jose Morales
, starts Tuesday night. Stay tuned.
And finally, I'm not worried about Diamondbacks ace
Brandon Webb
's shoulder stiffness -- yet. If he has a strong outing his next time out, let it go. Meanwhile, teammate
Max Scherzer
is pitching well and should be ready to go by mid-April when he is eligible to be activated from the DL.
John Smoltz
continues to progress toward a June return for the Red Sox. He is coming off major shoulder surgery but has met every target so far and feels good about where he is. I find it fascinating that one of his closest friends is Tiger Woods. Same competitive fire. Same determination. Pretty soon, we can probably say "same amazing comeback."