Stephania Bell:

Ike Davis
July, 15, 2011
7/15/11
3:13
PM ET
• We didn't have to wait even one full day after the All-Star Break to have another injury scare with a star player. The
Toronto Blue Jays
'
Jose Bautista
left Thursday's game after twisting his ankle by catching a cleat in the dirt on a slide into third base. Video replays show that his foot and ankle quickly invert (roll so the sole of the foot points inward) when his spikes caught the dirt, a common mechanism for a lateral ankle or foot sprain. X-rays were negative, but there is a possible MRI looming. The best case scenario is that this is a minor issue that causes a big scare but doesn't result in much missed time. Of course, there is the
New York Mets
'
Ike Davis
situation to remind us that occasionally injuries that appear minor translate into something far more serious.
[+] Enlarge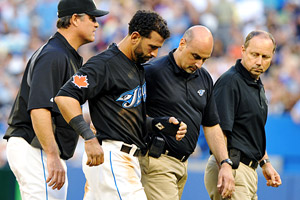 Icon SMIJose Bautista's first game after the All-Star break wasn't what he expected.
• Speaking of Davis, who has been sidelined since early May with a bone bruise in his left ankle, ESPN New York reports he has visited with a specialist in North Carolina and has also received a cortisone injection. The decision as to whether the Mets first baseman will need season-ending surgery will be made after another three weeks of prescribed rest. The issue has been -- and continues to be -- that when Davis attempts to run, he experiences pain in the ankle either during or afterward. Thus, the potential of surgery to address cartilage damage remains. The persistence of pain more than two months post-injury is certainly not encouraging, but no decision about his status has yet been made.
• Teammates
Jose Reyes
and
David Wright
continue to recover from their respective injuries. Reyes, who missed a third All-Star Game as the result of injury, is nursing a left hamstring strain. Although the injury was described as minor, there is a strong likelihood that he will not come off the DL immediately when eligible. According to ESPN New York, the Mets want to be cautious with their speedy star, who had an amazing start to his 2011 season but is also no stranger to hamstring injuries. Reyes' history, combined with the fact that his game is dependent on his speed and explosiveness (and therefore his hamstrings), prompted general manager Sandy Alderson to say, "This is a two- to three-week injury, probably closer to three than two, given his style of the play and the importance of his legs and his explosiveness. We'll probably be careful with him." In other words, he'll spend a little longer away from the game now in the interest of protecting him for the latter part of the season.
• Meanwhile, Wright is expected to begin a rehab assignment Friday. He has tested his back with running, hitting, sliding and all types of baseball activities. Now comes the time to put it all together in a game situation. If all goes well, Wright could be back within another week or so and should be much stronger following this rehab and heading into the second half.
[+] Enlarge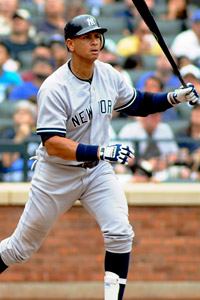 Bennett Cohen/Icon SMIAlex Rodriguez opted for knee surgery right away instead of trying to play through the injury.
•
New York Yankees
third baseman
Alex Rodriguez
also missed the All-Star Game as he underwent surgery in Miami on Monday to address a small meniscus tear in his right knee. There had been some discussion as to whether Rodriguez would try to continue to play through the injury or have the surgical procedure. Ultimately, the decision to fix it won out. It was probably a wise move, as it eliminates the uncertainty not only about how Rodriguez would perform in the presence of the injury but also around the possibility that it could progress.
With the injury being to his right knee, the one Rodriguez pivots on every time he swings the bat (which contributes to his power), any limitation could certainly impact his effectiveness at the plate. Plus, there's the business of running (which aggravated the knee previously) and playing defense. The time frame of four to six weeks to return is certainly reasonable and although Rodriguez
could
return sooner, the goal is to ensure that he does not have lingering knee issues, for this season and beyond. The procedure may have been straightforward, but there is still a joint recovery involved. The Yankees have demonstrated their willingness to be patient with their stars in order to get them back healthy and the same approach seems to be in order here. Much will depend on how quickly he regains his range of motion and strength in his quadriceps followed by assessing how his knee responds (i.e. swelling, soreness) as his activity is increased.
• Another Yankee who missed the All-Star Game is closer
Mariano Rivera
, who has been dealing with triceps soreness in his throwing arm. Although he returned after a few days of rest to pitch an inning on July 9, Rivera elected not to throw in the All-Star Game because, as he told reporters, he wanted to do "what is right," and ensure he is fully healthy. Rivera acknowledged that this might be something he needs to manage across the season yet he does not appear overly concerned. This is an athlete who appears to have a keen self-awareness of his body and his abilities, yet he's also aware that he is indeed 41 years old. Managing this may be precisely what he needs to do, but there appears to be no reason to panic, at least not yet.
• The
Boston Red Sox
also had a couple of notable All-Star absentees. Pitcher
Jon Lester
was placed on the DL with a strain of his latissimus dorsi muscle, an injury which Lester downplayed from the start. After resting for several days, the Boston Globe reports Lester threw from 60 feet Thursday. Although there is still quite a distance to go in his throwing progression, manager Terry Francona's comment that the session went "really well" suggests this will not be a long-term injury. Nonetheless, fantasy owners should anticipate that his return date could extend beyond next Friday, when he is eligible to come off the DL.
[+] Enlarge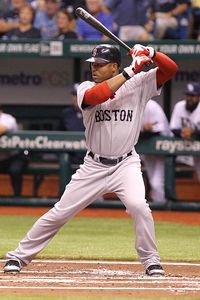 Kim Klement/US PresswireCarl Crawford is expected to play a couple of rehab games for Triple-A Pawtucket this weekend before returning to the Red Sox.
• Teammate
Carl Crawford
is expected to make his return from a hamstring strain on Monday. Crawford had been progressing well before the All-Star Break but the Red Sox exercised caution in bringing him back. It's hard to argue with a few extra days rest when it comes to hamstrings, and maybe Crawford, who's anxious to get back in the lineup, will be a more productive Crawford in the second half.
• The
Philadelphia Phillies
placed
Placido Polanco
on the DL on Friday, citing inflammation in his lower back. Although this move did open a spot for the returning
Ryan Madson
, it's unclear whether Polanco's back is more problematic than originally thought. Polanco has been trying to press through the back condition for over a month. Although he has not played in a game since July 4, he acknowledged playing through pain since June. He has had trouble swinging the bat because of pain, and the Philadelphia Inquirer reported in early July that Polanco had been experiencing numbness radiating into both sides. Despite resting his back, Polanco was unable to participate in the All-Star game and will now be out until at least July 20, when he is eligible to return. Fantasy owners should not be surprised if this extends longer however given the troubles he has been having and the unpredictable behavior of low back pain.
• In the meantime Madson, who has been on the DL with inflammation in his pitching hand after getting hit by a comebacker, is expected to reclaim his closer job from
Antonio Bastardo
right away. Madson had been experiencing issues with gripping the ball despite continuing to pitch and ultimately, when numbness in one of his fingers was lingering, a brief course of rest was recommended. Soon enough it will be evident whether those issues are behind him.
• And finally, keep an eye on
Colorado Rockies
outfielder
Carlos Gonzalez
, who continues to have pain in his bruised wrist. After recently receiving a cortisone injection, it's possible he could be rested for several days. The Denver Post reports Gonzalez has fluid in the wrist, which is contributing to his lingering soreness. The Rockies are calling him day-to-day but resting through the weekend would not be a surprise.
June, 21, 2011
6/21/11
1:50
PM ET
With the
St. Louis Cardinals
' loss of
Albert Pujols
drawing top billing in the injury news Monday, some other injury-related news may have floated under the radar. That is, of course, unless the players connected to those injuries are on your fantasy roster.
[+] Enlarge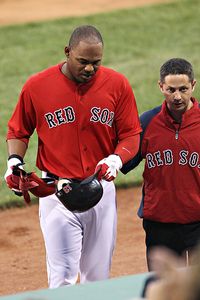 Jim Rogash/Getty ImagesCarl Crawford is one of eight Red Sox currently on the disabled list.
Carl Crawford, OF, Boston Red Sox:
Crawford made an early exit from Friday's game with a strained left hamstring, as he pulled up while running to third on an infield single in the first inning. Despite the news that Crawford's injury was a Grade 1 (minor) strain, the team took no chances and placed him on the 15-day DL the next day. Given that he has to run the bases and run in the outfield, the risk of aggravating the injury if he rushes back is high. Crawford is on the disabled list for only the second time in his career; the first absence was in 2008 for a hand injury. The team is hopeful that Crawford will only require the minimum stay.
Shaun Marcum, P, Milwaukee Brewers:
Marcum left last Friday's game early with what was later termed a left hip flexor strain. As for why he left after just one inning, Marcum said, "I didn't want to take a chance of hurting it worse or actually doing something where I'm missing more time." An MRI taken over the weekend reportedly revealed no significant injury and Marcum threw again Monday. According to the Brewers' website, Marcum threw what pitching coach Rick Kranitz referred to as a "great" bullpen and if he continues to feel good Tuesday, Marcum should make his next scheduled start on Wednesday.
Marcum is the second right-handed pitcher in recent weeks to have a hip flexor strain in his lead leg. St. Louis Cardinals pitcher
Kyle McClellan
recently came off the 15-day DL following a similar injury. According to the Cardinals' website, McClellan believes his particular style of throwing, being "very aggressive on that hip," contributed to the strain he placed on the joint. He spent his recovery time working on making adjustments in that delivery to try and offload the hip. His first outing following his return wasn't fantastic but there were no reports of his hip giving him trouble.
David Freese, 3B, St. Louis Cardinals:
Freese suffered a broken bone in his left hand when he was hit by a pitch in early May but has been steadily making good progress in his recovery. He underwent surgery after the injury to stabilize the fracture and has been quietly, successfully carrying out his rehab efforts. Tuesday marks a big step forward, however, as Freese is expected to begin a rehab assignment with Triple-A Memphis. According to the St. Louis Post-Dispatch, Freese indicated he could rejoin the Cardinals by late June if all goes well. Freese was originally projected to be absent potentially as long as three months, so a sooner return would be welcomed by him and his teammates. Just last year, however, Freese had the misfortune of suffering a second injury while already out on the disabled list, so he knows better than anyone to take it one day at a time. Still, the Cardinals could use some good news right about now, and Freese's near return just might be it.
[+] Enlarge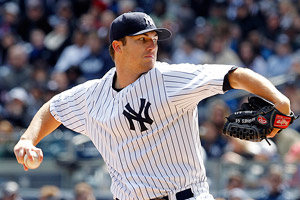 William Perlman/TheStar-Ledger/US PresswirePhil Hughes has a 13.94 ERA in three starts this season.
Phil Hughes, P, New York Yankees:
After a difficult spring when his velocity seemed to have vanished, Hughes appears to have found it again, or so it seems. Hughes underwent a battery of tests to determine whether there was any medical condition responsible for the
drop in his velocity
, but they yielded no significant findings. And so he simply restarted his season.
The do-over seems to be going much better. Hughes has looked good in bullpen sessions but this week marked a new test. Hughes had his first rehab outing Sunday, delivering 4⅓ innings for Class A Staten Island. The most encouraging news from that day was Hughes' ability to maintain the velocity on his pitches, staying in the low to mid-90s throughout. According to the New York Daily News, manager Joe Girardi was encouraged. "His velocity was good, the velocity on his cutter was good," Girardi said. "It just seems that his arm strength is back." Hughes is due for another couple of rehab starts, at least, but appears as if he could be making his way back to the rotation relatively soon, perhaps in early July. It's difficult to know what to expect long term, especially since Hughes' condition was so puzzling even to those around him. Right now, everyone is just enjoying the fact his ship seems to be righted.
Quick hits
• Other Red Sox in the injury news: Staff ace
Josh Beckett
was scratched from his Tuesday start as he deals with what manager Terry Francona referred to as "intestinal turmoil." It's surprising Francona doesn't have a similar condition dealing with all the ailments his team has faced recently. Just this past week, pitcher
Clay Buchholz
(back) joined Crawford on the DL, as did
Jed Lowrie
, who is now headed west for a consultation with Dr. Lewis Yocum. Lowrie has been trying to play through a sore left shoulder (injured in a collision with Crawford in late May) but last week described a sensation of the shoulder slipping in the joint.
•
Atlanta Braves
pitcher
Tommy Hanson
is reportedly feeling better. Hanson was placed on the DL with inflammation in his throwing (right) shoulder. An MRI showed no significant injury, but the Braves opted to rest him proactively. The Atlanta Journal-Constitution reports the team hopes to have him back when eligible on June 28. Meanwhile teammate
Brandon Beachy
will start Wednesday in place of the injured Hanson. Beachy has been out for more than a month with an oblique strain but said he felt no discomfort after going five innings in a rehab start last week. Once recovered, the re-injury rate for obliques is generally low. If Beachy can deliver a couple of strong outings without incident, this will appear to be behind him.
•
Ubaldo Jimenez
had a cramp in his right calf Saturday, which ultimately forced him out of the game in the sixth inning. Afterward, Jimenez told the Denver Post that he was "a little bit sore" but did not sound overly concerned.
• The
New York Mets
'
David Wright
(stress fracture, back) and
Ike Davis
(bone bruise, ankle) are both scheduled to be evaluated later this week. Newsday reports Wright played catch Sunday and fielded grounders on his knees. He is sounding optimistic that his healing has progressed enough to earn him clearance to resume baseball activities. Meanwhile Davis is expected to undergo a follow-up evaluation on Wednesday. The hope is that his ankle will have recovered enough for him to tolerate a running progression. Before Davis was placed back in the walking boot, his attempts at running were limited by severe pain.
June, 6, 2011
6/06/11
5:57
PM ET
As is usually the case following a series of weekend games, there are some comings and goings in the world of baseball. Some players are coming back from injury while others are exiting, or appear on the brink of exiting, due to injury. If only the return list was greater than the departure list, fantasy owners would be looking forward to adjusting their Monday rosters. While sadly this does not appear to be the case, there are still some nuggets of good news to be found in the injury reports. You just may have to scroll down a ways to find them.
Going
[+] Enlarge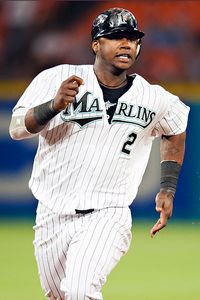 Steve Mitchell/US PresswireHanley Ramirez has not played since May 30 but could be activated as soon as next week.
Hanley Ramirez, SS, Florida Marlins:
It's official. The Marlins have placed Ramirez on the DL, retroactive to May 30. Ramirez led the Friday blog amidst hints the Marlins would make the decision to place him on the DL at some point that day. Friday came and went without any movement for Ramirez, but it wasn't because he was making a sudden return to the lineup. In fact, Ramirez continued to sit out because of a
lower back injury
, which had been causing him problems for well over a week. It seems the delayed announcement was linked to the Marlins' decision as to which pitcher would be called up to fill his roster spot. According to the Marlins' official website, with
Josh Johnson
still out with shoulder inflammation (and no set timetable for his return), it was unclear who would take his Tuesday spot in the rotation. That question now appears to have been answered. According to Joe Capozzi of The Palm Beach Post, the Marlins called up lefty Brad Hand from Double-A Jacksonville. As far as Ramirez goes, it was clear he was hoping to avoid going to the DL for the first time in his career, but the pain was such that he couldn't pinch hit or run. Better for him to step away completely and try to resolve this episode than to press through it. After all, he had not been producing well at the plate. Turns out his back had been bothering him for a month but he kept it quiet until the pain got bad enough he simply couldn't function.
Jake Peavy, SP, Chicago White Sox:
The good news is Peavy's surgical repair to his lat tendon has held up brilliantly and his throwing arm is fine. The bad news is a right groin injury sustained during only his fifth start of the season likely will land him on the disabled list. According to the Chicago Sun-Times, Peavy said of his injury, "I'll probably miss more time now. ... the way I feel when I walk, [the disabled list] is a pretty safe bet." At this point Peavy is acutely aware of how an injury in his lower half can affect his upper half. When I talked with him during spring training, he acknowledged that the ankle injury he sustained while with the
San Diego Padres
had not fully resolved when he went to the White Sox. He said he suspects compensations he made for the leg contributed to abnormal mechanics and ultimately the failure of his latissimus dorsi tendon.
After that experience and the lengthy rehabilitation process he has just undergone, it is highly unlikely he would run the risk of returning to play while compromised. A groin strain is no small issue for a pitcher, no matter which leg is involved. In this case, it's Peavy's right leg, or his stance leg, and he needs strength in the musculature for balance during the wind-up. He needs power and flexibility as he moves further into his delivery and transfers his body weight forward to his left (landing) leg. He also needs to be able to move off the mound quickly for defensive plays. In the fourth inning of Sunday's game it was during a defensive move to cover first that Peavy first felt a "grabbing" pain, according to the Sun-Times. Peavy expected to undergo further evaluation Monday, but it appears fantasy owners should plan on a two-week absence, minimum.
Rafael Furcal, SS and Jon Garland, P, Los Angeles Dodgers:
Furcal has to be asking himself what he did exactly to deserve yet another injury to yet another body part. On the DL for the second time this season, Furcal is now dealing with a left-sided oblique strain suffered during Friday's game. Oblique injuries typically require a few weeks of recovery, depending on severity, and given Furcal's history of low back problems, it is critical that he not return too soon. In other words, it's hard to imagine him returning before the end of the month, perhaps even the All-Star break. Sigh. The Dodgers also lost Garland to his second DL stint of the season (he started the season on the DL with, yes, you guessed it, an oblique injury). This time it's his throwing shoulder that's the culprit, and no one ever likes to see that in a veteran pitcher. Garland has been remarkably durable, but now that he is 31 years old, this could be a sign of things to come.
Brandon Belt, 1B, San Francisco Giants:
Belt was placed on the DL when it was discovered he had a hairline fracture in his left wrist after being hit by a pitch last week. Consider this another blow to the Giants, who had brought Belt back into the lineup following the season-ending injury to
Buster Posey
. Although Belt's fracture likely will take another month to heal, he could resume baseball activities before then if he's progressing well.
Coming
Matt Garza, P, Chicago Cubs:
Garza has been activated and will start Monday against the
Cincinnati Reds
. He has been sidelined with an elbow contusion but has felt no pain when throwing recently, including a solid bullpen outing late last week. Pitching in a game situation is always a little more strenuous, though, so it remains to be seen how he will fare.
Derrek Lee, 1B, Baltimore Orioles:
The Orioles got Lee back this weekend after he spent time on the DL with an oblique injury. Lee sustained the injury in mid-May and has returned fairly swiftly. It's worth pointing out that although Lee started the season on time, he missed a good portion of spring training because of his thumb, forearm and foot. The missed time may explain, in part, his unspectacular start to the season. If he is fully healthy now, it will be interesting to see what he has in the tank.
Adam Lind, 1B, Toronto Blue Jays:
In case you missed it, Lind snuck back into the starting first-base role for the Blue Jays on Sunday, and all he did was go 4-for-4 with two home runs. It appears his back is much better. Lind had been out for nearly a month with intermittent back spasms. Early on, the team hoped Lind could avoid the DL altogether, but after several setbacks the extended time off became the wise choice. In retrospect it certainly seems as if Lind benefited from that decision, and while back pain is always at risk for recurrence, the hope is that the longer reprieve will help him avoid just that.
Somewhere in between
[+] Enlarge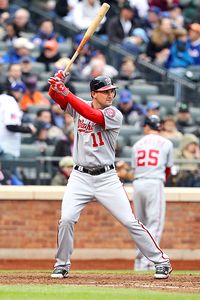 Al Bello/Getty ImagesRyan Zimmerman has not played in the majors since April 9 but is making progress in the minors.
Washington Nationals
third baseman
Ryan Zimmerman
is working his way up the ladder following abdominal surgery in early May. On Sunday, Zimmerman appeared in a rehab game with Class A Hagerstown. After delivering a double, a triple and an RBI, Zimmerman is being moved to Class A Potomac. According to the Washington Post, Zimmerman referred to himself as winded and "sore" after the outing, noting he "was out of breath for a while after that triple." These are all normal responses to returning to game action following the type of surgery Zimmerman underwent, and he will continue to build his endurance and his strength by increasing the level of play. While there is no definitive date for his return, Zimmerman is certainly within the standard timeframe of recovery of six to eight weeks.
Philadelphia Phillies
shortstop
Jimmy Rollins
was seen limping in the clubhouse Sunday after fouling a ball off his right kneecap Saturday. On Sunday, Rollins told the Philadelphia Inquirer, "It'll be a couple of days, but I don't think a DL thing, not at this moment," explaining that the response of the swelling would determine what he was able to do. On Monday, Rollins was not in the lineup and is considered day-to-day.
The
New York Mets
won't be getting third baseman
David Wright
back in the lineup this month. After a re-evaluation, Wright says he will have to wait at least another three weeks before resuming baseball activities. Teammate
Ike Davis
, who incidentally was injured in a collision with Wright in early May, also remains out with a bone bruise in his left ankle. When Davis tried to progress to running, it became so painful that he was forced back into a walking boot. As Davis told ESPN New York, if he does any running right now it's on an underwater treadmill. The good news is that he is hitting and working on other conditioning activities. But the impact of running is something the joint cannot tolerate yet.
Tampa Bay Rays
third baseman
Evan Longoria
gave everyone a scare when he left Saturday's game early with "tightness" in his left side. Yes, it's the same side in which he suffered the oblique injury earlier this year. But Longoria was able to pinch hit Sunday and is expected back in the lineup Monday. Maybe he just wanted to see if anyone would notice. Judging from the collective anxiety of fantasy owners everywhere, the answer is yes, we noticed.
Resume normal breathing everyone, at least until tomorrow.
May, 11, 2011
5/11/11
1:49
PM ET
Tuesday brought more news of injuries in baseball and more potential roster shuffling as a result.
[+] Enlarge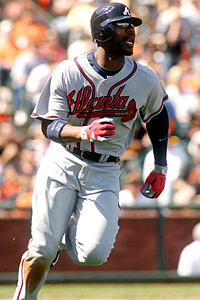 Cary Edmondson/US PresswireLingering shoulder issues could be a reason for Jason Heyward's slow start to his sophomore season.
Jason Heyward, OF, Atlanta Braves:
After exiting Tuesday night's game early when his symptoms worsened, Heyward revealed that his right shoulder has been giving him some trouble since the last two weeks of spring training.
Heyward's words after the game, reported by the Atlanta Journal-Constitution, gave the clearest picture of what he was experiencing. "It's been bothering me pretty good since spring training, and I've been playing through it, obviously," Heyward said. "But tonight, after my last AB I went to right field and my right hand started going numb. Right now I'd say it's starting to come up my forearm a little bit more, the numbness. The doctor is going to look at me before I go home, and I'm going to get an MRI on my shoulder Thursday."
Perhaps most notable was Heyward's admission that his swing has been affected by this injury since the start of the season. "It's not been a consistent swing," Heyward said. "It hasn't felt good, really, for any consistent period of time." Although he has been playing through the discomfort, Heyward indicated that the condition had taken a turn for the worse recently, with Tuesday being the first time he had experienced any numbness.
As Heyward waits to learn more about what is ailing him, it appears he will not be in the Braves' lineup Wednesday. The presence of numbness hints at nerve involvement, but where the issue is originating from (neck/shoulder/forearm) is the question that needs to be answered. Without knowing the nuances of Heyward's specific signs and symptoms, there can only be speculation as to the source. Rather than go down that path, we will wait with Heyward to see what the results of further testing yield. Fantasy owners should be prepared in the event that Heyward is forced to take some down time, particularly given that his symptoms seem to be going in the wrong direction.
Geovany Soto, C, Chicago Cubs:
It's one of the known risks that comes with the position. A catcher, trying to block a ball behind the plate, extends his legs like a wishbone, and, just like the bone after making the wish, one side snaps. Soto was doing just that in the first inning of the Cubs' game against the
St. Louis Cardinals
and injured his left groin. Manager Mike Quade summed it up simply after the game: "He did the splits to block a ball in the first inning, and the splits were not good." Soto is expected to undergo an MRI on Wednesday, and there is already talk of him hitting the disabled list. The Chicago Sun-Times reports that Triple-A catcher
Welington Castillo
was removed after one at-bat from his minor league game Tuesday night in the event that he is needed in Chicago. A groin strain of even the minor variety makes it difficult to be nimble or powerful behind the plate. The Cubs will have to hope that Soto's injury is indeed minor, but given his position, they are not likely to rush him back into service.
Ike Davis, OF, New York Mets:
Thankfully for Davis, the injury he suffered Tuesday night does not appear to be as serious as it could have been. That said, the strained left calf that Davis sustained when he and teammate
David Wright
collided while trying to make a play might cause him to miss some time. According to the New York Daily News, Davis was in a protective boot after the game and still in pain. How Davis feels when he takes his first steps Wednesday likely will indicate whether this injury will sideline him for any length of time.
Update: ESPN New York's Adam Rubin reports that Davis returned to New York on Wednesday for an MRI on his calf. Davis did not seem overly concerned and said, "I don't feel like it's that bad." The test results along with how Davis progresses in the next couple of days will indicate whether the injury will sideline him for any time.
David Aardsma, RP, Seattle Mariners:
On Tuesday, we noted that Aardsma had undergone an MRI on his stiff right (throwing) forearm. Later that night, we learned that Aardsma has a Grade 2 ulnar collateral ligament sprain and will be traveling to see Dr. Lewis Yocum for consultation. Whatever medical plans are in Aardsma's immediate future remains to be seen, but he won't be pitching anytime soon. This is indeed a tough break for a guy who was nearing a return to the mound following a January labral repair in his left hip.