Stephania Bell:

Jacob Tamme
December, 16, 2010
12/16/10
1:45
PM ET
This week's Thursday night matchup has the
San Diego Chargers
hosting the
San Francisco 49ers
.
Mike Tolbert
and
Ryan Mathews
) are finally healthy, but the status of their wide receivers is still in question.
Malcom Floyd
is listed as questionable heading into the game, although it sounds as if he could be available. Floyd did not practice Wednesday after a limited workout Tuesday, but Kevin Acee of the San Diego Union-Tribune suggests that this may be due, in part, to the Chargers' short week. Nonetheless, it suggests that Floyd is not completely past the hamstring injury, and with that in mind it is hard to know what to expect from him as far as productivity, even if he plays.
Vincent Jackson
, who injured his calf in his 2010 debut, is now off the injury report and is clearly expected to start.
Legedu Naanee
, who dealt with setbacks of his own the past two weeks following a hamstring injury, is probable after full practice Tuesday and Wednesday. The most notable fantasy star of the group, tight end
Antonio Gates
, is not expected to play this week. The team lists him as doubtful and he has not been able to practice because of pain in his foot. Keep in mind, if Gates rests this week, by the time of the Chargers' Week 16 contest he will have been out close to three weeks. The reprieve might be able to help him return and contribute at that point. But expect
Randy McMichael
to start at tight end for the Chargers this week.
For the visiting 49ers, there are not many question marks from a fantasy perspective. Running back
Brian Westbrook
is listed as probable for non-injury-related reasons and is fully expected to play. On the defensive side of the ball, linebackers
Patrick Willis
and
Takeo Spikes
have been practicing with casts on their right hands this week. Although both are listed as questionable, they are expected to play.
Here's who else you might be concerned about heading into Week 15:
Kansas City Chiefs
quarterback
Matt Cassel
returned to practice Wednesday on a limited basis. While no one is committing to Cassel being the starter Sunday, the fact he's back on the practice field has to at least be considered encouraging. This no doubt will be a situation in which he is progressed daily, as able. If all goes well, there is a good chance he could return to face the
St. Louis Rams
.
•
Green Bay Packers
signal-caller
Aaron Rodgers
is looking less likely to play Sunday against the
New England Patriots
. The Milwaukee Journal-Sentinel reports Rodgers has not even been allowed to return to the Packers' practice facility. Clearly, the medical staff wants his brain to rest, meaning no film study, no game plan preparation and no activity whatsoever that could interfere with healing. In the absence of any preparation, coupled with the likelihood that Rodgers will miss the entire week of practice (coach Mike McCarthy said Rodgers will not practice Wednesday or Thursday and his chances of working Friday are "slim to none"), it is hard to imagine he will be ready to absorb all of the mental and physical load required to start Sunday's game. Fantasy owners should prepare to start another quarterback this week.
• Fantasy owners should know at this point that they cannot count on
Minnesota Vikings
quarterback
Brett Favre
to play. While his status remains up in the air, there are so many question marks heading into Monday night -- including whether the game will indeed be played outdoors at the University of Minnesota's stadium -- that's it's best to avoid the situation.
Tarvaris Jackson
has a turf toe injury and has now been placed on injured reserve, making
Joe Webb
the likely starter, although he has a hamstring issue of his own. The Vikings signed
Patrick Ramsey
as insurance. Stand clear of these quarterbacks.
• As far as the other Vikings with injury concerns, running back
Adrian Peterson
, who did not help his fantasy owners last week, is dealing with a knee contusion that is not expected to limit him this week. Maybe if you're still in the playoffs, he can help make it up to you Monday night. Wide receiver
Percy Harvin
has missed the past two games because of migraines, but coach Leslie Frazier says he expects Harvin to return to practice this week. With the Vikings not playing until Monday night, there will be no official practice report until Thursday night, but at least early signs are positive for these two.
• The
Cleveland Browns
are making
Colt McCoy
the starting quarterback for the remainder of the season. It sounds as if the ankle issue is far enough behind him to no longer be a concern to the team.
•
Denver Broncos
quarterback
Kyle Orton
was held to limited practice Wednesday because of "soreness" in his throwing arm and his ribs. The Denver Post reports coach Eric Studesville referred to Orton's condition as "bumps and bruises" and does not seem overly concerned about his quarterback's availability this weekend. Teammate
Brandon Lloyd
showed up on Wednesday's injury report as a non-participant in practice because of his calf. Whether this was some helpful midweek rest or an injury to be concerned about should become apparent as the week progresses.
Seattle Seahawks
seem to be getting some good news on the wide receiver front.
Mike Williams
and
Ben Obomanu
returned to full practice Wednesday. Williams has been struggling with foot and ankle injuries and was not able to play in Week 14. Full practice early in the week is a strong indicator of his availability, barring a setback. Obomanu, who also missed Week 14 with a laceration on his right hand that interfered with his catching ability, has returned to practice, but the Seattle Times reports that he is still adjusting to playing with something on his hands. Says Obomanu: "I personally like no tape on my fingers, no tape on my wrists or anything, but I'm going to have to do a lot of tape, experiment devices and things to make sure; I have to protect my hand No. 1, but still give me comfort to be able to catch the ball, too." The good news is he's working on getting comfortable early in the week, meaning he too should be available Sunday.
• The
New York Giants
' wide receiver news was not so positive to start the week.
Steve Smith
, who returned in Week 14 from a pectoral strain, left the game after one catch when he injured his knee. The Giants released a statement Wednesday indicating that Smith suffered articular cartilage damage and would be placed on season-ending injured reserve. His teammate,
Hakeem Nicks
, fared much better in his return from injury, catching seven passes for 96 yards, and emerged no worse for the wear, not even appearing on Wednesday's injury report. He will likely be
Eli Manning
's big target with Smith out and
Mario Manningham
questionable this week. Manningham left Monday's game early with what was called a hip flexor strain and did not practice Wednesday. We will see what Manningham is able to do later in the week, but he tells ESPN New York that he plans to play in the team's big matchup against the
Philadelphia Eagles
.
• Some fantasy owners may have been concerned seeing Giants running back
Ahmad Bradshaw
with his wrist and forearm on ice Monday night. Bradshaw is not on the team's injury report this week, consistent with his assurances that the wrist is "fine."
• Philadelphia Eagles wide receiver and premature touchdown celebrator
DeSean Jackson
did not practice Wednesday because of a sprained foot. The team is calling him day-to-day according to the Philadelphia Inquirer, but it's hard to imagine him sitting this big game out. Stay tuned.
• The
Baltimore Ravens
won their Monday night game without the services of tight end
Todd Heap
, who was sidelined with a hamstring injury. Heap was listed as a non-participant Wednesday, although the team only held a walkthrough. Fantasy owners should prepare for the eventuality that Heap may not be available again this week, but his practice status going forward should give better clues.
Pierre Thomas
is not even listed on the
New Orleans Saints
' injury report. That's good news for Thomas, who saw his first game action in over two months on Sunday. Teammate
Chris Ivory
left last week's game early with a hamstring injury, which perhaps accounted for Thomas getting a few extra touches in his first game back. Ivory was listed as limited Wednesday, and his status near the end of the week likely will influence what we expect from Thomas on Sunday.
•
Oakland Raiders
tight end
Zach Miller
is back in full practice and his performance last Sunday was the best fantasy owners have seen in a while. If Miller can continue to practice daily without a setback, he might be worth a consideration for your fantasy team, with a matchup against the Denver Broncos on Sunday.
•
Dallas Cowboys
running back
Marion Barber
returned to limited practice Wednesday. Barber has been out since injuring his calf in the Thanksgiving Day game. As the San Antonio Express News reports, however, this may only add to the rotation at running back for the Cowboys. While Barber is far from a lock to play Sunday, when he does return he potentially adversely affects the fantasy running back scenario. Owners of
Tashard Choice
will want to keep an eye on Barber's status throughout the week. Meanwhile, ESPN Dallas reports wide receiver
Roy E. Williams
suffered a groin injury in Wednesday's practice. No word as to the seriousness of Williams' ailment, but it will be worth watching what he is able to do the remainder of the week.
• The
Indianapolis Colts
continue to watch players on the injury carousel. Running back
Joseph Addai
looks to be status quo with limited practice Wednesday. Wide receiver
Austin Collie
was a full participant Wednesday, though, and if he maintains that throughout the week it could signal his return Sunday. The big question then will be how
Peyton Manning
divides up the passes. After
Pierre Garcon
's big fantasy performance last Thursday, it's a little harder to anticipate who will be the lead scorer. Tight end
Jacob Tamme
remains on the injury report but was a full participant in practice. Expect him to play again this week.
See you at the injury chat on Friday at 3 p.m., and we'll have the latest injury updates affecting Week 15 in the Saturday morning blog!
November, 18, 2010
11/18/10
5:48
PM ET
Week 11 kicks off with another Thursday night game, and the effect of injury is obvious in the
Miami Dolphins
' starting lineup. This past Sunday, the Dolphins lost quarterback
Chad Pennington
, who started ahead of a benched
Chad Henne
, in the first offensive series to another season-ending shoulder injury. Henne then stepped into the game only to leave with a knee injury that had him on crutches afterward. While the Dolphins have left the door open for Henne to return, it doesn't appear that will be anytime soon ... and it certainly won't be tonight.
Tyler Thigpen
will be the starting quarterback as the Dolphins host the
Chicago Bears
.
Meanwhile, there also is some question as to who will be protecting Thigpen's blind side. Offensive tackle
Jake Long
injured his shoulder in Week 10, reportedly dislocating it and suffering significant tissue damage, including a torn labrum (the ring of cartilage that adds stability to the shoulder joint), in the process. Not only is this a painful injury, but it means Long's shoulder will be significantly less stable, and that instability will make it difficult to block effectively. An unstable shoulder will feel like it slips out of place, especially when weight is forced through the arm. Long is expected to try wearing a shoulder harness for support, which offers some stability but also, out of necessity, limits motion, making it tough for Long to use his arm as he normally would. He is listed as questionable, so it will come down to game time to see whether Long can function well enough to play.
This week marks the first non-bye week since Week 3, so theoretically there are more players available for last-minute fantasy pickups. Unfortunately, at this point in the season, there also are far more injuries of significance, so the pickings might be a little slimmer.
Here's who you might be concerned about heading toward the Week 11 showdowns: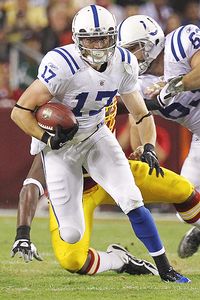 Geoff Burke/US PresswireAustin Collie's return to the lineup would help Peyton Manning's numbers.
Joseph Addai, RB; Mike Hart, RB; Austin Collie, WR; Jacob Tamme, TE, Indianapolis Colts:
The exciting news here is that Collie is back in the conversation. Regardless of his status for this Sunday, hearing he was back at the Colts' practice facility this week is good news indeed, especially after seeing him unconscious on the field in Week 9, then removed on a spine board and stretcher. At this time last week, Collie already had been ruled out. This week, Collie was able to put in some limited work Wednesday and he issued a statement expressing his thanks for all the well wishes following his injury. Collie, who practiced fully again Thursday, said, "Every day I feel like I am improving. And it was great to get back on the field in some capacity Wednesday." He also thanked the entire medical staff for its efforts. It still is one day at a time for Collie, but it appears possible he could return this Sunday.
Addai was said to be feeling better last week but was not in Wednesday practice. However, he did return to limited practice Thursday. Addai suffered a neck injury several weeks ago, which he described as leaving his arm feeling "dead," suggesting nerve involvement. Nerve tissue generally is slow to heal, as clearly has been the case for Addai. Hart, who injured his ankle in Week 9, has been essentially invisible since then and was still not at practice Wednesday. It appears
Donald Brown
could be in line for another start at running back this week.
Tamme, who was dealing with a back injury last week and reportedly was in major discomfort after Week 10, was not only a full participant in practice Wednesday, but he was not on the team's injury report. If he holds up well through the remainder of the week, he should be on the field Sunday when the Colts face the
New England Patriots
.
Reggie Bush, RB; Pierre Thomas, RB, New Orleans Saints:
Bush is expected to return at long last after missing all but the first two games of the season due to a broken fibula (the long skinny bone on the outer aspect of the lower leg). Fractures typically take about six weeks to heal, but regaining football shape, especially for an explosive, directional runner such as Bush, takes much longer, as he and his fantasy owners found out. The bye in Week 10 allowed Bush the extra time to build toward returning to practice in advance of this Sunday's game.
Thomas is not yet practicing with the team. The Saints continue to hold out hope he will recover enough from his ankle injury to contribute late in the season. Along those lines, coach Sean Payton issued the first positive words with regard to Thomas' recovery on Thursday, telling the New Orleans Times-Picayune, "I think we've turned a corner." Although Thomas is not doing team practice, he is working out on the field in pads, meaning he is putting his ankle through some of the necessary paces, just in the absence of traffic where it would be easier to aggravate it. While it doesn't appear that Thomas will bridge the gap to being ready for this week, it's starting to sound like he could be a late-season contributor for the Saints and for needy fantasy owners.
Ryan Mathews, RB; Malcom Floyd, WR; Legedu Naanee, WR; Antonio Gates, TE, San Diego Chargers:
We start with the good news in San Diego that Floyd's return is imminent. Floyd, who suffered a hamstring injury a few weeks ago, has been back at practice and has been running full speed since last week. Assuming there are no setbacks, Floyd is expected to play Sunday.
And then there is the not so good news. Rookie running back Mathews suffered a setback to his right ankle in Week 10, and it appears he might be forced to take some time off. Not a bad idea, given that Mathews has struggled intermittently since the initial injury to get his ankle back to full strength. Meanwhile, Naanee had not improved enough from his hamstring injury to rejoin his teammates in practice, although he did do some individual drills, according to the San Diego Union-Tribune. Gates, who recently assessed his chances of playing Monday night at 50-50, did not practice with the team Wednesday, not altogether surprising given his injury, a torn plantar fascia in his right foot. He has made some progress, though, as he has begun light running, a big step considering how much load that places on his injured arch. Gates admits being frustrated by this injury, which has sidelined him for the first time in his professional career, but he might not have much choice other than to wait for more healing.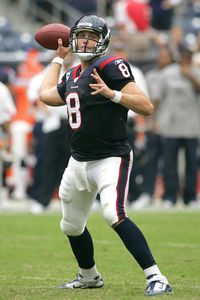 Brett Davis/US PresswireMatt Schaub has three 20-point fantasy games this season but also five games with fewer than 10 points.
Matt Schaub, QB; Andre Johnson, WR; Owen Daniels, TE, Houston Texans:
Schaub spent some time in the hospital this week, which undoubtedly caused some alarm among fantasy owners. Not to panic yet; it might not be as dire as you think. Schaub was being treated in the hospital for a "bursa sac issue" in his knee, according to coach Gary Kubiak. An inflamed bursa sac is known as bursitis, but one usually lands in the hospital when there is an infection. The idea is to treat the individual with IV antibiotics in the hope that the infection will resolve and no surgery will be required. (You might recall when
Peyton Manning
underwent surgery to address a bursa sac infection a couple of years ago.) Presumably Schaub was dealing with an early infection. He now has been discharged from the hospital and participated in light practice Thursday. Depending on how he feels and how well his knee is responding, Schaub is expected to be on the field for the Texans this week.
Johnson is expected to continue his routine of resting his sore ankle early in the week and playing Sunday. Daniels, who sat out last week after aggravating his hamstring injury, did not practice Wednesday.
Brett Favre, QB; Percy Harvin, WR; Sidney Rice, WR, Minnesota Vikings:
By now, everyone knows Favre's ailments are too numerous to all be included on the Vikings' weekly injury report. By now, everyone also expects Favre to play, regardless of what's ailing him. After the Week 10 contest, Favre told ESPN's Ed Werder that he had concerns about the health of his right (throwing) shoulder and acknowledged having increased pain that might have affected his performance. Within a couple of days and amid some confusion as to whether this was a serious issue, Favre's own level of concern seemed to subside. After all, his is not a pristine shoulder, despite surgery last year to address a partially torn biceps tendon. It's going to be painful and problematic from time to time. No doubt Favre has recently increased the strain on his shoulder, whether as a function of compensating for the elbow pain he's been experiencing, the limitations in his ankle or both, and the pain is a natural secondary effect. The temporary solution will continue to be limited work early in the week with the goal of playing Sundays.
Harvin continues to play through pain and discomfort, even when his practice reps are limited during the week. Harvin put in limited reps Wednesday and is again expected to play this week.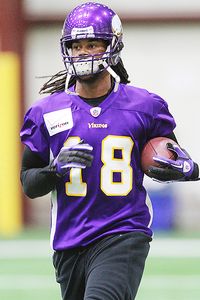 AP Photo/Andy KingSidney Rice has to be activated by next Wednesday or he'll miss the rest of the season.
When Rice did not play this past Sunday after his practice activity during the week suggested he might, questions about whether he would play at all this season began to emerge. Rice addressed those questions Wednesday, saying that the sole issue for him is confidence in his surgical hip. According to the Minneapolis Star-Tribune, Rice wrote on his blog that the reason he did not play last Sunday was because he was "feeling significant discomfort Friday and Saturday." Rice also referred to undergoing a "very serious" procedure in August, although no one has specified what exactly Rice had done, making his timeline thus far hard to assess.
This reluctance to return before feeling fully healthy is not surprising and is a common issue for athletes coming off major surgery. It's an interesting quandary for an athlete in Rice's situation, and he already has said he does not want to return in a limited capacity. Rice knows what type of statistics he put up last season. He doesn't want to come back and be a lesser player after surgery or risk reinjury. And there's no denying his future is at stake. If Rice comes back a step slow or a bit hesitant because of lack of confidence in his leg or, worse yet, suffers even a minor setback, he potentially hurts the team now and himself down the road.
Even with those considerations, it's hard to imagine Rice not playing at all unless he truly believes he is not fully healthy. But the deadline for him to be activated in order to be eligible to play this season is next Wednesday. Whether he will meet that target is unclear.
DeAngelo Williams, RB; Jonathan Stewart, RB; Jimmy Clausen QB, Carolina Panthers:
The Panthers lost Williams to injured reserve this week because of a foot injury. According to coach John Fox, Williams would have needed another couple of weeks to get healthy and the team needed the roster spot. No doubt, since the Panthers have dealt with a multitude of injuries, especially at the running back and quarterback position.
Stewart, who suffered a concussion in Week 9 that kept him out of the Week 10 lineup, has not practiced this week and is unlikely to play. It appears
Mike Goodson
will make another start. At the quarterback position, Clausen, starting for the injured
Matt Moore
, suffered a concussion in Week 10 and has not practiced. In what some considered a bit of a surprise move, Fox indicated that
Brian St. Pierre
, who has just one week of practice with the Panthers, will be the starter this week as opposed to rookie
Tony Pike
.
Vince Young, QB; Kerry Collins, QB, Tennessee Titans:
Collins suffered a calf strain in Week 10 when he started in place of the less-than-100 percent-healthy Young. Collins is expected to miss several weeks, so the question becomes: Will Young be healthy enough to effectively lead the team this Sunday? Apparently, the answer is yes. Young, who has been trying to get past an ankle injury, was not on Wednesday's injury report, so expect him to be the starter in Week 11.
Tom Brady, QB, Fred Taylor, RB, New England Patriots:
Brady had a foot sprain that caused him to miss practice one day last week. You knew it had to be bothering him because Brady rarely sits out. But it sure didn't look like it bothered him Sunday when he was tearing apart the
Pittsburgh Steelers
' defense. Assume that Brady will be at the helm when his team faces the Indianapolis Colts this week.
As for Taylor, he seems to be making gains in his recovery from toe injuries, as he increased his practice activity last week. Keep an eye on him, as he just might be available to help out in the next couple of weeks.
And elsewhere ...
• The
Detroit Lions
got wide receiver
Calvin Johnson
back in practice Thursday after a day of rest. Running back
Jahvid Best
skipped both Wednesday and Thursday practices, a reminder that his turf toe injuries are not completely behind him. Best likely will continue to play but has not shown his early-season form since the toe problems came about.
•
Seattle Seahawks
quarterback
Matt Hasselbeck
has been in practice this week despite cracking a bone in his left (non-throwing) wrist. There seems to be little doubt that he will be running the offense Sunday.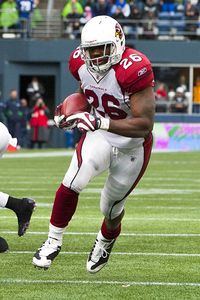 Jason O. Watson/US PresswireBeanie Wells has just 34 fantasy points this season.
•
Arizona Cardinals
running back
Beanie Wells
returned to practice this week. Both Wells and coach Ken Whisenhunt said at the start of the week that they expected him to practice every day and play Sunday. But what can fantasy owners count on? Not much, based on the season so far. It isn't to say that Wells can't be productive; it's just that he hasn't been. His knee has been an issue since Week 1, and the resulting missed practice time has contributed to his limited productivity on game days. And there's no guarantee that the recurring swelling is behind him. Wells says he feels the best he has since surgery, which is great news, but will it last? Even if he's on the field, it's hard to have confidence in what Wells will bring until we actually see him deliver it.
•
Washington Redskins
running back
Ryan Torain
has not practiced since his hamstring tightened up Monday night, preventing him from taking the field despite being active. It certainly does not look good for Sunday.
Clinton Portis
continues to be limited in practice with the groin injury. All signs are pointing to another
Keiland Williams
start.
•
New York Giants
wide receiver
Steve Smith
suffered a pectoral (chest) strain a week ago and missed this past Sunday's contest as a result. Reports have varied on the amount of time he's expected to miss, but he is not practicing yet and should not be in fantasy lineups this week.
•
Philadelphia Eagles
running back
LeSean McCoy
did not practice Wednesday due to a shoulder injury. He was back Thursday, however, a good sign for fantasy owners that he expects to play.
• On the concussion front, Pittsburgh Steelers wide receiver
Hines Ward
suffered one in Week 10, as did
Kansas City Chiefs
tight end
Tony Moeaki
. Ward was cleared to return to practice and participated fully Wednesday. Barring a setback, he should play this week. Moeaki did not practice Wednesday, and his status remains questionable.
•
Cleveland Browns
coach Eric Mangini said early in the week that he was hopeful receiver
Josh Cribbs
could play Sunday despite dislocating four toes last week. Apparently Mangini has not had four toes dislocate simultaneously. And then tried to run. Fast. It sounded a bit optimistic at the time, and Cribbs has not been in practice this week. It's not looking great for his return as of now.
See you at Friday's injury chat (3-4 p.m. ET), and we'll have the latest injury updates affecting Week 10 in the Saturday morning blog.
November, 11, 2010
11/11/10
5:30
PM ET
Not getting enough football? Of course you aren't! To help remedy that situation, you get another night of NFL competition starting ... now. Tonight marks this season's first night of Thursday night football, as the
Baltimore Ravens
face the
Atlanta Falcons
at the Georgia Dome.
Naturally, there is a fantasy football injury concern heading into the game. Falcons wide receiver
Roddy White
is listed as questionable coming off a knee bruise from Sunday's contest. It's worth noting that White ultimately finished the game Sunday, and his status for Thursday night never really appeared to be in doubt, even as he was held out of practice early in the week. White returned to a light limited practice Wednesday, and all indications are that he will play against the Ravens. Whether the knee will affect his performance at all is hard to gauge, given that he has not truly tested it since Sunday. Still, there's not enough evidence to suggest White will be significantly impaired unless he suffers an in-game setback. It's pretty hard to bench
Matt Ryan
's top target on the basis of a what-if scenario. Fantasy owners should check pregame inactives, but it would be very surprising if White did not take the field.
In the rest of the NFL world, four teams are enjoying a respite from competition in Week 10. The
San Diego Chargers
,
New Orleans Saints
,
Oakland Raiders
and
Green Bay Packers
get a week off during this final bye week of the NFL season.
With so many teams dealing with multiple player injuries, it made sense to lump the biggest collections of injuries together as team units in this blog entry. With that said, here's who else we're talking about in the world of injuries heading into Week 10: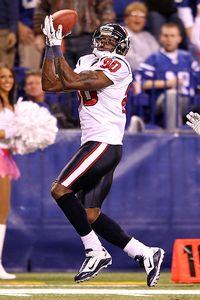 Andy Lyons/Getty ImagesAt this point, it shouldn't surprise anyone that Andre Johnson misses a midweek practice to nurse his ankle.
Houston Texans (Andre Johnson, WR; Owen Daniels, TE; Matt Schaub, QB):
Neither Johnson nor Daniels practiced with the team Wednesday or Thursday. Nick Scurfield of HoustonTexans.com reported that Johnson underwent another MRI on Monday as a follow-up measure for his right ankle. Johnson's high ankle sprain has continued to nag at him intermittently, and his explanation for that was perfectly reasonable. "I still have a little swelling in my joint, so that's what's causing the little pain I have at times," Johnson said. "The biggest thing now is just trying to just get that swelling out of there." This explains why the team is limiting his activity during the week. Less running and less pounding means a better chance of getting the swelling down. Less swelling translates to better joint mobility and less pain. Johnson said his ankle was "feeling pretty good" Wednesday. This cycle is likely to continue throughout the remainder of the season.
Although Johnson's nonpractice routine to protect his ankle is somewhat expected by now, Daniels has yet to get past a recent aggravation of a hamstring injury. Head coach Gary Kubiak says that Daniels is improving but will be a game-time decision, according to the
Texans' official Twitter page
. Daniels has had only one solid performance this season.
Schaub was limited Wednesday because of a rib injury but will play Sunday when the Texans take on the
Jacksonville Jaguars
.
Minnesota Vikings (Brett Favre, QB; Percy Harvin, WR; Sidney Rice, WR):
Favre did not practice Wednesday, and in what has become an ever-changing injury report for him, the notes following his name Wednesday said, "ankle, foot, calf." For those keeping score at home, "chin," which appeared last week after Favre's laceration requiring stitches in the Week 8 game, and "elbow," which made the list weeks ago, are now both absent. Which led me to wonder: What are the most body parts to appear for a player on a single injury report? Will Favre hold that record along with the consecutive-starts streak? But I digress ...
Favre was back in practice Thursday, and we all know he will start this week. Harvin might be a different story. Harvin, who limped into Week 9 with a left ankle sprain, has not practiced Wednesday or Thursday because of a migraine flare. He has developed a pattern where he typically shows up and plays well on Sunday even if he is unable to do much during the week. Although migraines are clearly far less predictable than a typical musculoskeletal injury, one has to believe that if he is functional Sunday, he will play. Still, fantasy owners should prepare for another possible game-time decision.
And everyone is wondering when we will see the return of Rice, who is back doing some work with the team following August hip surgery. Coach Brad Childress has not yet committed to a return date, stressing that he wants to be sure that Rice can handle the rigors of competition, both in terms of endurance and being able to absorb physical contact, before he participates in games. Rice has not yet been moved to the active roster, which has to happen for him to play. Although that is a possibility for Week 10, there has not been any definitive indication that it will take place. Even if it does, Childress already has indicated that Rice is likely to return to limited action initially.
Indianapolis Colts (Joseph Addai, RB; Mike Hart, RB; Jacob Tamme, TE; Austin Collie, WR):
Addai is still not practicing with the team and is not expected to play in Week 10. Hart has shown no signs of returning yet, either. Expect
Donald Brown
to get the start at running back again for the Colts this week.
And what's this we're hearing about Tamme? The Colts already lost their starting tight end,
Dallas Clark
, for the season to a wrist injury. Tamme, who has been outstanding filling in, was not in practice Wednesday because of a back injury. Even more ominous was coach Jim Caldwell's acknowledgment of a "level of concern" about Tamme's status, as reported by Phillip Wilson of The Indianapolis Star. It appears that fantasy owners can breathe a little easier, as Tamme was back in practice Thursday. Friday will be telling to see whether Tamme can go on two consecutive days. Fantasy owners need to keep an eye on this one.
Collie already has been ruled out as he recovers from a concussion.
New England Patriots (Tom Brady, QB; Fred Taylor, RB):
Could the face of the Patriots franchise be sidelined this week with an injury (and not the one to his throwing shoulder that appears on practice reports week in and week out)? No is the simple answer. Brady missed Wednesday's practice, an occurrence that raised eyebrows frankly because it is such a rare event. He is reportedly dealing with a foot sprain, but he was back in practice Thursday and by all accounts will be under center Sunday night.
Meanwhile, welcome back to practice (albeit limited), Fred Taylor! He has been hampered by toe injuries, but the Patriots had to believe he could contribute eventually, as they kept him on the active roster. Maybe that time is nearing. This will no doubt progress slowly and depend on how Taylor responds to any increased activity. But it's something fantasy players in very deep leagues should at least monitor.
And elsewhere ...
•
Tennessee Titans
quarterback
Vince Young
did not practice Wednesday because of his ankle, a bit of a concern coming out of a bye week. He returned to limited practice Thursday and is expected to play this weekend. Nonetheless, if Young's mobility is at issue, it certainly impacts his style of play.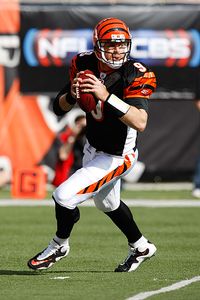 Scott Boehm/Getty ImagesCarson Palmer got an extra day to rest his shoulder, and it looks as though he'll be fine for Sunday's game.
•
Cincinnati Bengals
quarterback
Carson Palmer
has not practiced this week because of soreness in his throwing shoulder. However, Palmer said he plans to return to throwing Friday and, more importantly, plans to play Sunday. According to the Bengals' official website, Palmer says he's "not worried at all," indicating that the short week warranted an extra day of rest. Meanwhile, teammate
Chad Ochocinco
was back in Thursday's practice after sitting out Wednesday to rest his ankle. He got his leg rolled Monday night and looked uncomfortable afterward, but apparently the injury was not serious. His relative lack of targets may be the more serious issue both for him and his fantasy owners.
• The
Detroit Lions
expect to have
Shaun Hill
at quarterback this week as long as there are no setbacks. Hill is recovering from a fracture in his nonthrowing forearm, and the main concern will be protecting that forearm from reinjury.
Carolina Panthers
wide receiver
Steve Smith
had a custom-designed shell created to protect his forearm; perhaps Hill will wear something similar. In the meantime, there is no official word as to the long-term plan for
Matthew Stafford
. But clearly no one expects him back any time soon. Running back
Jahvid Best
continues to be listed on the injury report because of his toe but is expected to play.
•
Seattle Seahawks
quarterback
Matt Hasselbeck
has been back in practice this week after sitting Week 9 out with a concussion. ESPN's NFC West blogger Mike Sando reports that Hasselbeck is expected to play against the
Arizona Cardinals
this week. As is the case following all concussions, there must be no recurrence of symptoms between now and Sunday, but given Hasselbeck's strong early week, fantasy owners can feel positive.
• As for the Carolina Panthers, Darin Gantt of the Rock Hill Herald reported Wednesday that
Mike Goodson
will start at running back this week. So much for
DeAngelo Williams
aiming for a Week 10 return. He has not yet returned to practice, and neither has teammate
Jonathan Stewart
, who suffered a concussion in Week 9. It's worth noting that offensive tackle
Jeff Otah
, who had not played this season following August knee surgery (his absence is certainly believed to be a contributing factor to the struggles of Carolina's running game) has now been placed on injured reserve. Translation: No help on that front anytime soon. Quarterback
Matt Moore
joins Otah on the injured reserve list, and
Jimmy Clausen
will start in his place for the Panthers.
• Arizona Cardinals running back
Beanie Wells
was held out of practice Wednesday and Thursday, again because of swelling in his surgically repaired knee, according to Kent Somers of The Arizona Republic. According to Somers, Wells will try to practice Friday. Not exactly a resounding vote of confidence. Wells has been a question mark most weeks and has been limited even when he has played, primarily because of issues with his knee. It's not looking much more promising for him in Week 10.
•
New York Giants
wide receiver Steve Smith suffered a pectoral (chest) strain in practice Thursday and, according to the New York Daily News, could miss this week's game. Apparently Smith was injured when extending his arm to reach for a ball and was not able to complete practice as a result.
•
San Francisco 49ers
tight end
Vernon Davis
is back in practice this week following the bye. Davis was forced to leave the game early in Week 8 after aggravating an ankle injury, but it doesn't appear to be an issue at the moment.
See you at Friday's 3 p.m. injury chat, and we'll have the latest injury updates affecting Week 10 in the Saturday morning blog.