Stephania Bell:

Jake Locker
October, 3, 2013
10/03/13
8:03
PM ET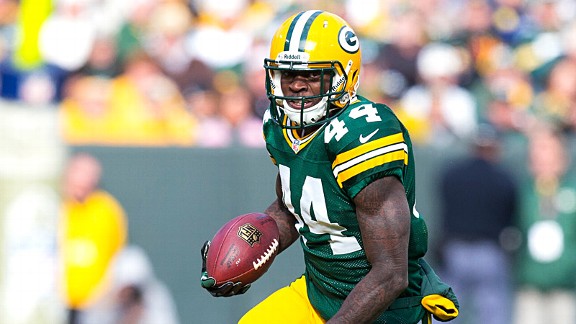 Jeff Hanisch/US PresswireJames Starks will miss more time in Week 5.
Four teams -- the
Minnesota Vikings
,
Pittsburgh Steelers
,
Tampa Bay Buccaneers
and
Washington Redskins
-- have a bye this week and are hopefully using the time to get healthy, or at least healthier. Meanwhile, the
Carolina Panthers
and
Green Bay Packers
are returning from their bye week with a healthier
Eddie Lacy
for the Pack. One other injured RB hasn't quite healed up, however.
Already ruled out for Week 5
Packers running back
James Starks
needed more than the bye week to nurse his knee injury back to health. He has already been ruled out for this Sunday's game against the Lions. Detroit will be without wide receiver
Nate Burleson
again this week and for several more to come. The Titans lost quarterback
Jake Locker
to a hip injury for several weeks, but fortunately for them it was not as severe as it could have been. Even within the last day the news has improved. Locker was initially projected to miss six to eight weeks, but ESPN's Ed Werder reported Thursday that he is now expected to miss four to six weeks.
In the case of Chargers' receiver
Malcom Floyd
, he has not only been ruled out for Week 5 but he is now done for the 2013 season. Floyd suffered a frightening neck injury in Week 2 and was carried off the field on a spine board. Although Floyd was released from the hospital after the game, traveled home with his teammates and has reportedly been making progress, the decision for his long-term health was made to spend the
rest of this season
recovering.
Big names off the injury report
Ravens running back
Ray Rice
was a question mark leading up to last Sunday's game because of a strained hip flexor, which kept him out of action in Week 3. Rice played but only saw five carries for 17 yards, perhaps a function of how the Ravens simply didn't run the ball more. At least he came out no worse for wear, despite being on the field for over 40 snaps. Rice does not appear on this week's injury report and should be in good shape heading into Week 5. His teammate,
Bernard Pierce
, didn't run much last week either and was reportedly dealing with a calf issue, per the Baltimore Sun. He does not however appear on the team's injury report.
Lions running back
Reggie Bush
ran last Sunday like there were no issues with his knee whatsoever, rushing for 139 yards and a touchdown with a few receptions to boot. Now the Lions can only hope it stays that way. The week is starting off well with Bush not appearing anywhere on the team's injury report. A healthy Bush will face the off-the-bye-week Packers this Sunday.
Cardinals wide receiver
Larry Fitzgerald
has a healthy hamstring once again and is free of the injury report designation. It would appear that his teammate, running back
Rashard Mendenhall
, is also off the report (at least as of Wednesday; Thursday's report is not yet complete). Mendenhall has been plagued by various ailments, including a knee injury from the preseason and a toe injury in recent weeks. A healthy Mendenhall would be a nice change of pace.
Rams running back
Daryl Richardson
does not appear on this week's injury report after spending several weeks there with a foot injury. Just how much his foot ailment was to blame for his lackluster running is unclear (he is averaging only 2.7 yards per carry), but the question is whether a healthier Richardson will even be the starter. There seems to be some mystery as to how this situation will play out, but ESPN.com's Nick Wagoner indicates
Zac Stacy
could
now be in the mix
.
Atlanta Falcons
Steven Jackson, RB, (hamstring):
ESPN.com's Vaughn McClure reported last week that Jackson likely would be out through the Falcons' Week 6 bye, and there has been nothing about this week's practice that would suggest anything different. Jackson was present but without a helmet during the portion of practice open to the media Thursday and was officially listed as a nonparticipant. The Falcons play Monday night, so fantasy owners who haven't already accounted for his absence should plan on doing so now.
Roddy White (ankle) and Julio Jones (knee), WR:
Both receivers have been on the injury report since the first week of the season (White started the season on the injury report) yet both have played every game. Not surprisingly, both are expected to play again on Monday night when the Falcons host the
New York Jets
, but will things look any different than they have the last few weeks, particularly when it comes to White's struggles with his ankle? Going back to Week 4, White actually played more and looked a little sharper than he had in the three previous outings. Perhaps time is, in fact, helping. White admitted last week to being limited offensively due to an inability to cut hard on his injured ankle, but he insisted he would continue to play until the bye in Week 6. Judging from the look of things, he should be in a better position to represent the other half of the Falcons' dual wide receiver threat by Week 7, a threat which becomes all the more dangerous if opponents also need to account for Jackson in the backfield.
Jones has been on the injury report with a knee ailment but added a new injury to his left thigh in Week 4. While Jones doesn't make it out to be serious, he told McClure it was "
just like a little stinger
." It might not have been anything "drastic" according to Jones, but he acknowledged the medical staff tried to prevent him from returning to the game late in the fourth quarter after absorbing the blow. He returned anyway, producing more catches for the Falcons and more points for fantasy owners. Jones is a physical receiver who has shown multiple times he will routinely shrug off bumps and bruises. The hope is that White's improving health will help ease the load on Jones before he encounters an injury he can't force his way through on the field. Both receivers were listed as limited participants in Thursday's practice, as expected.
Chicago Bears
Brandon Marshall, WR (foot) and Martellus Bennett, TE (shoulder):
Marshall was a nonparticipant in practice both Wednesday and Thursday due to a foot injury. On Wednesday, coach Marc Trestman expressed confidence that those who weren't practicing, including Marshall, would be on the field Sunday, according to ESPN.com's Jeff Dickerson. Despite appearing with some regularity on the injury reports and a slate of surgical procedures in his past, Marshall rarely misses games (only five absences in his career) and has played in all 16 games the last two seasons. Still, with little in the way of detail and nothing in the way of visible activity, it warrants paying close attention to what Marshall does on Friday.
Meanwhile, Bennett let everyone know when he injured his shoulder in Week 2. He managed to score the game winner that week -- after the injury -- suggesting it would not threaten his playing time. So far, it hasn't. Bennett has been given a lighter workload during the week but has consistently played on game day. This week appears no different, as he was limited Wednesday yet returned to full practice Thursday. Expect him to be ready when the Bears host the Saints.
New Orleans Saints
Mark Ingram, RB, (toe) and Lance Moore, WR, (hand):
No news is not good news here. Neither player has participated in practice this week after missing the team's Monday night game. Toe injuries can be slow to heal and problematic for a player at any position, but especially so for a running back. If Ingram isn't working by now, it's hard to imagine him doing anything at a game level in three days. Moore won't reveal any specifics about his hand injury, but by telling ESPN.com's Mike Triplett that he needed to wait for the "hand to heal properly" or he would "be in trouble," he hinted at a minimum of
another week off
. Hands are fairly integral to the job demands of a receiver so it makes sense, but at this point it's hard to predict when he might return.
October, 2, 2012
10/02/12
5:04
PM ET
Week 4 is in the books! There weren't as many new additions of key fantasy players to the injury report this week as last but nonetheless, the accumulation of names continues. Several players who sustained injuries early in the season were on the field this week and while some managed to survive the week relatively unscathed, others were less fortunate. Here's an early look heading into Week 5.
Wide Receivers
[+] Enlarge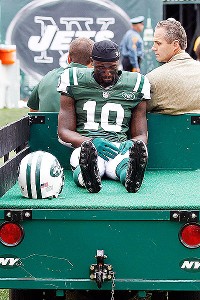 William Perlman/The Star-Ledger/US PresswireThis was not the sight Santonio Holmes owners, or Jets fans, wanted to see.
Santonio Holmes, New York Jets (foot):
Holmes went down in a heap late in Sunday's game and it wasn't immediately apparent which body part he had injured. When the New York Daily News reported Holmes later emerged from the stadium in a golf cart, wearing a walking boot, it became clear that the problem was with his left lower leg. X-rays of his left foot were reported to be negative, but the results of an MRI taken Monday morning were not made public. Even if the MRI confirms no fracture, the most vulnerable structures in the foot are the many ligaments that connect all the bones to one another. Football fans have become savvy to the term "Lisfranc" as representing a serious foot injury and are understandably concerned that this is what Holmes may be facing. While there is certainly a chance that this is the case, it's worth noting that there are multiple injury possibilities when it comes to the foot. There are even multiple variations of Lisfranc-type injuries. If it was easy to definitively diagnose and treat, there wouldn't be a need for the opinion of a specialist.
ESPN New York reported Holmes' MRI was being "shipped to different places," according to coach Rex Ryan. At least one of those reported to be consulting on Holmes' case is Dr. Robert Anderson in Charlotte, N.C., a noted foot and ankle surgeon and team physician for the
Carolina Panthers
. (Anderson has treated many NFL athletes and has performed surgery on
Houston Texans
quarterback
Matt Schaub
,
New York Giants
wide receiver
Hakeem Nicks
and
Baltimore Ravens
linebacker
Terrell Suggs
, to name a few.) There is still no word as to the specifics of the injury and while the Jets have only said Holmes is out "indefinitely," there is clearly concern that this will be a multiple-week or even, depending on the degree of damage, a potentially season-threatening injury.
Greg Jennings, Green Bay Packers (groin):
Jennings has been dealing with a groin injury since Week 1 and it has already cost him one complete game and part of another. Is it time to sit out and let the groin fully heal? That appears to be under consideration after Jennings aggravated the injury Sunday in the second quarter and did not return. According to the Green Bay Press-Gazette, after Jennings' setback coach Mike McCarthy said, "I would think we are back where we were a couple weeks ago." McCarthy acknowledged the possibility of keeping Jennings out to allow him more time to get past the injury, saying it is "definitely an option." Injuries to groin muscles are problematic for receivers and running backs because of the role those muscles play in core stability. It's not solely lateral movement that is impacted. Plain, old straight-ahead power running is impaired as well and if Jennings can't run normally, his presence on the field isn't necessarily beneficial. It looks as if he's likely to miss Week 5, but there will be more clarity late in the week.
Quarterbacks
Jake Locker, Tennessee Titans (shoulder):
Locker appeared in the Tuesday column after Week 1 when he injured his left (non-throwing) shoulder while attempting to make a tackle after throwing an interception. Locker showed rapid improvement and was back on the field in Week 2 after practicing every day that week. On Sunday, Locker again injured his left shoulder, this time on a sack in the first quarter. He looked to be in significant pain and was tended to on the field by the medical staff. Locker did not return to the game but reappeared later on the sideline with his left arm in a sling. The injury appears to be more serious this time and there already are expectations that Locker will miss this week at the very least.
According to news reports, Locker underwent an MRI on Monday that revealed no major structural damage. Coach
Mike Munchak
described both the injury and the imaging test as very similar to the first time. "The MRI was very similar," Munchak said. "It popped out, and they popped it back in. He's real sore right now, so they're just waiting a couple of days to get a full examination." In other words, they are letting some of the pain and inflammation settle down in order to be able to better evaluate Locker's shoulder before offering further prognostication.
[+] Enlarge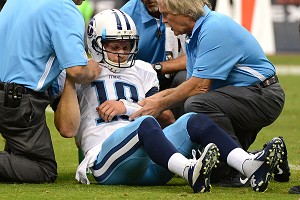 George Bridges/Getty ImagesThis is the second time this season Jake Locker has been knocked out of a game early.
Locker likely will remain in a sling for a brief period to support the shoulder and will gradually begin the process of restoring range of motion and strengthening. Although his pain improved rapidly last time, it may not be as quick to do so again. A primary concern with repeat dislocations is that even in the absence of significant soft tissue damage on MRI, some of the structures responsible for supporting the shoulder are compromised, making it progressively easier to re-injure. In addition to further stretching and tearing of ligaments and joint capsule, there can be damage to the bone (humerus) itself, which can be traumatized as it moves out of position.
The shoulder is a joint that allows extreme mobility in many directions (as compared, for instance, to the hip). This is what permits us the range to both throw overhead and reach behind our backs. If that mobility becomes even greater through injury, it is virtually impossible for the muscles around the shoulder to compensate adequately to keep it in place. Add in pain and inflammation and the shoulder muscles become less efficient as well. In cases of repeat dislocations in high-level athletes, surgery is often warranted to stabilize the shoulder.
Locker can always have a chat with one of his AFC South counterparts about what it's like to not only deal with this injury as a quarterback but what the recovery is like post-surgery, should that become part of the equation. Texans quarterback Matt Schaub suffered a left shoulder dislocation in 2007. He too injured his shoulder twice in the same year; the second incident was in Week 12 and Schaub did not return for the remainder of the season. He underwent surgery in the offseason to stabilize the shoulder and was ready to go by the start of the 2008 season.
Running Backs
Ben Tate, Houston Texans (toe):
The Houston Chronicle reported Monday that Tate missed the Texans' walkthrough because of a sore toe. He was undergoing X-rays, according to head coach Gary Kubiak, who indicated they would know more Thursday.
And we're keeping an eye on
Fred Jackson (knee), and C.J. Spiller (shoulder), RB, Buffalo Bills:
Both backs managed to suit up in Week 4 and neither seems to have suffered a setback. Both are expected to practice again this week, although it remains to be seen how much. As of now, it appears both are in line to play in Week 5.
Ahmad Bradshaw, RB, New York Giants (neck):
Bradshaw missed Week 3 after being diagnosed with a bulging disc in his neck. By the middle of last week, Bradshaw was guaranteeing his return and he did indeed get back on the field. More important, Bradshaw said afterward that his neck felt fine. He looks to be in good shape heading into Week 5.
Matt Forte, RB, Chicago Bears (ankle):
Forte returned to action Monday night but gave everyone a scare when he left the game after appearing to aggravate his ankle on the first play. He exited briefly but returned for a total of 13 carries on the night. Another week should help continue to move his recovery forward.
[+] Enlarge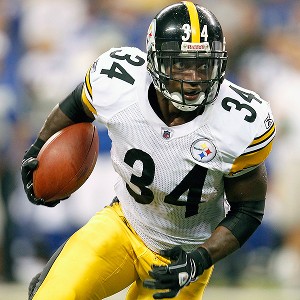 Sam Riche/MCT via Getty ImagesRashard Mendenhall should make his return this week, but how much he's used is a bigger question.
Pierre Garcon, WR, Washington Redskins (foot):
Garcon had not played since Week 1 after suffering an unspecified foot injury in that game but he returned to action Sunday. The Redskins had indicated before the game that Garcon would be limited if he did participate, and he was. He's not fully recovered from the injury, nor did we expect him to be, but he is also reportedly no worse.
Hakeem Nicks, WR, New York Giants (knee/foot):
Nicks' swollen knee was the reason for the late downgrade last week, or at least it was the knee in combination with his recovering foot. Nicks has only been practicing once a week in an effort to protect his foot, and that day is usually Thursday. In other words, there may not be any real clues as to whether Nicks has turned a corner with his injuries until then.
Rashard Mendenhall, RB, Pittsburgh Steelers (knee):
Mendenhall, coming off of ACL reconstruction, has been steadily working his way back into increased practice activity this fall. He ramped up the contact in advance of Week 3 but with the Week 4 bye, the Steelers gave him a little more time to progress. He is expected to make his season debut this Sunday and the Steelers could use him. That said, he is not likely to get a full workload out of the gate, but if he performs well, we could see his usage increase as we have with
Jamaal Charles
and
Adrian Peterson
.
September, 13, 2012
9/13/12
7:03
PM ET
Thursday practice reports are perhaps the most torturous. They can breed false hope -- athlete practices Thursday and looks like a lock to play only to have more soreness the next day and end up downgraded in Friday practice -- or insecurity -- injured athlete is still not doing much by Thursday, so there's no way he'll be ready by Sunday, right? Except the past three times you thought that, he not only showed up Sunday, he was also the top scorer.
Welcome to our world. While Thursdays bring us a little closer to game time, there are still many things that can change in the next 72 hours. Still, there are often hints as to which way a player's status is trending, and we want you to be tormented right along with us.
Here's what we're looking at so far in Week 2:
Running Backs
Arian Foster, Houston Texans, illness:
Foster's knee (or the "area around [his] knee") turned out to be a nonissue in Week 1, and his prediction that he would play was accurate. He did not practice Wednesday due to an unspecified illness but was back in business Thursday. Expect Foster to be his usual self Sunday.
Ryan Mathews, San Diego Chargers, shoulder:
Mathews is approaching five weeks since his surgery to repair a fractured clavicle. Although he has done individual drills and worked out intensely, the protocol shifted Wednesday. Mathews did not practice with the team Wednesday, which, as reported by the San Diego Union-Tribune, was a part of the team's plan, not a reflection of a step in the wrong direction.
"He worked pretty hard to the side," coach Norv Turner told the Union-Tribune. "He just didn't practice. We'll get him out there as soon as we can."
The protocol shifted again Thursday when Mathews turned up in practice in helmet and shoulder pads, the first time he has been in equipment since his injury. This is an encouraging sign, as clearance for contact represents the final barrier to Mathews' return.
Still, the team is not saying he is ready to suit up Sunday just yet. There is no doubt the Chargers will want to see how he responds to this level of practice and perhaps follow up with additional evaluation Friday. With any luck, there will be some indication as to his game status before the actual game time.
Rashard Mendenhall, knee, and Jonathan Dwyer, foot, Pittsburgh Steelers:
Mendenhall has been listed as a full participant in practice on Wednesday and Thursday. He continues to make strides in his recovery from ACL reconstruction, but it is not clear whether he is ready to face his first game action just yet. Pittsburgh does have an early bye week (Week 4), and it's possible we do not see Mendenhall before then.
Meanwhile, Dwyer showed up on Wednesday's report because of a sore foot. Not to panic. He was in full practice Thursday, and the expectation is that he will play. Coach Mike Tomlin complimented Dwyer's Week 1 performance in his Tuesday news conference, saying he thought Dwyer "represented himself well and will probably get an increased opportunity because of it."
Jonathan Stewart, Carolina Panthers, ankle:
Stewart did not play in Week 1 because of a sprained ankle even though he had resumed planting and cutting late in the week. Apparently he has improved on those fronts. Panthers coach Ron Rivera said Stewart was moving more decisively this week, according to Joe Person of the Charlotte Observer. Knowing how rarely Stewart misses games, it's hard to imagine him missing Week 2 with his improving mobility.
Rashad Jennings, Jacksonville Jaguars, knee:
Despite coach Mike Mularkey's comment after Sunday's game that Jennings' knee injury did not appear serious, there has still been no indication as to the specifics of the injury. Mularkey told reporters Wednesday that an MRI showed no significant damage, which leaves us to wonder as to the nature of the problem. Last year, Jennings suffered a sprained knee that resulted in him landing on injured reserve. This latest injury was reportedly to the same knee, although there has been no indication as to whether the two injuries are related. The strongest indicator that he will not be ready by Sunday: Jennings has not practiced this week. Looks like the rock will go to
Maurice Jones-Drew
.
Daniel Thomas, Miami Dolphins, head:
Thomas, who suffered a concussion in Sunday's game, did not practice Wednesday or Thursday. He is expected to miss Week 2.
Fred Jackson, Buffalo Bills, knee:
Jackson is out this week; this we already know. What remains less clear is how long he will be out. On Tuesday, I explained the reasoning for
re-evaluation within seven to 10 days
. Jackson essentially confirmed as much on the Bills' official website stating, "What we're going to go re-evaluate is my healing. That's what we're going to look at in seven to 10 days. We've got a good picture of it and know what we need to do to get it right."
His point was that the MRI gave a good picture of the injury, but how his knee responds initially is to be determined. He is optimistic that he can return on the shorter end of the timetable. "Hopefully sooner, but I'll definitely be back in four weeks," said Jackson. "Without a doubt." Love the attitude.
Wide Receivers
Calvin Johnson, Detroit Lions, foot:
Johnson made everyone nervous when he missed Wednesday's practice with what was termed a foot injury. After all, ever since he was anointed the face of "Madden NFL 13," superstitious types have been fearing the worst. (Most who appear on the cover go on to be beset by injury that season, never mind the odds of any football player sustaining an injury in a given year).
Put those fears to rest, at least for now. Johnson returned to practice Thursday. Now might be a good time to point out that the physical play of Johnson has often left him bruised, battered and sitting out midweek practices in the past. If a similar pattern plays out this year but Johnson still shows up big on Sundays, no one is going to complain. It just might make for a case of the nerves each week.
Jeremy Maclin, hip, and DeSean Jackson, hamstring, Philadelphia Eagles:
Maclin's right hip continues to be an issue, as he did not practice Wednesday or Thursday. According to CSNPhilly.com, Maclin said he felt better than he did earlier in the week and then was off to test his hip with some running. There's no word on how that went, but since it was not followed by practice, it's reasonable to assume it was less than ideal.
The surprise was the addition of Jackson to the injury report. Jackson was a regular participant Wednesday, but on Thursday, coach Andy Reid informed the media before practice that Jackson would not be present due to a hamstring injury. According to Jeff McLane of the Philadelphia Inquirer, Jackson hurt the hamstring at the end of Wednesday's practice and was seen sporting an ice wrap on his left leg.
There's no telling the severity of Jackson's injury by the limited information available, but late additions to the injury report are never popular. The closer it is to Sunday when an injury crops up, the riskier the player's status given the minimal recovery time. If an athlete returns to Friday practice, most concerns are alleviated. What Jackson does -- or does not do -- Friday could swing fantasy owners' hopes one direction or another.
Reid made it sound Thursday as if both players were improving and that they could both play Sunday. It would feel so much better if we could see both of them in some form of practice before the weekend.
If there's some good news to be found, receiver
Riley Cooper
(fractured clavicle) returned to limited practice for the first time Wednesday. It still seems like a stretch that he would be available in Week 2.
Pierre Garcon, Washington Redskins, foot:
Remember how coach Mike Shanahan said the team would know more after Garcon tested his foot in Wednesday's practice? Well, he didn't practice Wednesday. He didn't practice much Thursday either. Grant Paulsen of 106.7 The Fan quoted Shanahan as calling Garcon "very limited" Thursday. Now Shanahan says the team should know more Friday. Early in the week, Garcon seemed confident he would be able to play.
Foot injuries are often difficult to assess for a receiver until he tries to make high-speed pivots and cuts where the foot is subject to increased shear forces. At this point, it does not look encouraging, but there is still another day to go -- another day to worry for fantasy owners. Heck, it could be another three days to worry if this goes down to Sunday.
Steve Smith, Carolina Panthers, knee:
Smith was officially limited at practice Wednesday and Thursday because of soreness in his right knee, but it does not seem to be a major concern. The Charlotte Observer quotes Rivera as saying Smith is expected to play Sunday.
Nate Washington, leg, and Kenny Britt, knee, Tennessee Titans:
Washington is listed with a leg injury on this week's report (no head injury as was initially suspected). He did not practice Wednesday or Thursday but expects to play Sunday. If he returns to practice Friday, it would go a long way toward confirming his availability.
Meanwhile, Britt is back and practicing with the team. He was a limited participant Wednesday and Thursday. According to Jim Wyatt of the Tennessean, coach
Mike Munchak
expects Britt to be in the range of 15 to 25 plays Sunday. It's worth remembering that this will be Britt's first game action since undergoing three knee surgeries, one of which was an ACL reconstruction. His participation in the game could evolve -- or devolve -- depending how his knee responds. There is little doubt the Titans are eager to reincorporate him into the offense given his talent, but whether he is ready to pick up where he left off remains to be seen.
Denarius Moore, Oakland Raiders, hamstring:
Moore has been a full participant in practice and impressing his teammates. According to the Contra Costa Times, quarterback
Carson Palmer
said of Moore, "He looked like the Denarius of old." Moore also said his conditioning was improved, another indication that holding him out of Monday's game was probably wise. It appears he will be ready to play in Week 2.
Devery Henderson, New Orleans Saints, concussion:
Henderson did not practice Wednesday or Thursday and appears unlikely to play in Week 2.
Tight Ends
Antonio Gates, San Diego Chargers, ribs:
Gates has not practiced this week due to sore ribs. Before anyone panics, remember the Chargers played in a Monday night game, so he has had one fewer day of recovery. If anyone can take a couple of days off from practice and still perform in a game, it's Gates. I'm not overly concerned ... yet.
Quarterbacks
Jake Locker, Tennessee Titans, left shoulder:
Locker returned to limited practice Wednesday and increased his participation Thursday, strongly hinting at a return Sunday.
John Skelton, Arizona Cardinals, ankle:
On Tuesday, it seemed highly unlikely that Skelton would be ready to return this week after getting carted from the field with an ankle injury. Coach Ken Whisenhunt did not want to commit to
Kevin Kolb
early, but by Thursday, ESPN's Adam Schefter was reporting a decision had been made. Kolb will be the starter in Week 2 against the
New England Patriots
.
September, 11, 2012
9/11/12
4:02
PM ET
Week 1 is in the books! And yes, unfortunately, there are injuries to report. Here's what we know so far:
Running backs
[+] Enlarge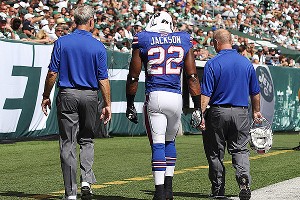 Ed Mulholland/US PresswireFred Jackson is out at least three weeks, but will it be more?
Fred Jackson, Buffalo Bills (knee):
What a shame for Jackson, coming off a season that ended prematurely because of a broken right fibula, to be forced out in Week 1 with a serious injury to the same leg. Jackson is going to miss some time, the question now is how much. The Bills report that Jackson has a lateral collateral ligament injury and is expected to miss at least the next three weeks. The lateral collateral ligament (LCL) is one of the four primary stabilizing ligaments of the knee, reinforcing the outer (lateral) aspect of the knee joint. It is injured less frequently than its counterpart on the inner knee, the medial collateral ligament (MCL), primarily because the typical mechanism of injury for an LCL (blow to the inside of the knee) is less common. The LCL can also be injured during a hyperextension or rotational injury. This appears to have been the case with Jackson as he was actually hit on his left leg by
New York Jets
safety
LaRon Landry
, yet his right knee sustained the injury. Jackson told the Buffalo News he was immediately worried when his knee "popped." The biggest concern with these injuries is damage to any surrounding structures on the lateral and particularly the posterolateral aspect of the knee. Structures in this area which lie close to the LCL help control stability in the back corner of the knee, an area which is subject to high biomechanical forces during normal movement. Any instability can be threatening to the overall health of the knee.
Thus far reports out of Buffalo have only referenced the LCL itself. If it is an isolated sprain of minor to moderate degree, there is a good chance it can heal with restricted motion (via bracing) and rest to protect the ligament. Even minor damage to other surrounding tissues can respond well to early treatment. This explains the report that the Bills will see how Jackson responds over the next 7 to 10 days. If his knee is improving over that time and showing good stability, the chances of him returning in several weeks are encouraging. If he still has marked pain, swelling and instability, the time frame could be extended. Everyone, including Jackson and the Bills, is in a wait-and-see mode right now.
Rashad Jennings, Jacksonville Jaguars (knee):
Jennings got the start on Sunday but he didn't last long. Jennings exited the game in the first half with what was later reported to be a knee injury. There have been no more specifics released as to the nature of the ailment but the Florida Times-Union reports coach Mike Mularkey said of Jennings' injury, "I don't think it's serious." Still, this opens the door for more of
Maurice Jones-Drew
, perhaps sooner than expected.
Daniel Thomas, Miami Dolphins (head):
Thomas suffered a concussion in Sunday's game and will be monitored closely throughout the week. There has been no official word as to his status for Week 2 but it would not be surprising if he is out.
Wide receivers
Greg Jennings, Green Bay Packers (groin):
Jennings suffered a groin injury late in Sunday's game and was sore afterward, according to coach Mike McCarthy. Jennings was not in practice Tuesday during the portion that is open to the media. The concern here is that the Packers have a Thursday night game. Jennings' status should become clearer Wednesday.
[+] Enlarge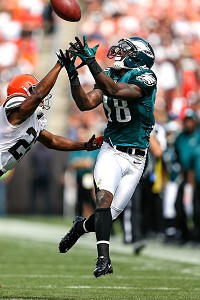 AP Photo/Brian GarfinkelJeremy Maclin put up solid numbers against the Browns despite Michael Vick's woes, but he suffered a hip injury in the contest.
Jeremy Maclin, Philadelphia Eagles (hip):
Maclin had a good day Sunday (96 yards, 1 TD) but it came at a price. Maclin injured his right hip, although the exact nature of the injury remains a bit unclear. ESPN's Adam Shefter reported Maclin had a
hip pointer injury
per coach Andy Reid. Jeff McLane of the Philadelphia Inquirer referred to the injury as a
hip flexor
. There are differences. The hip flexor is a muscle that sits deep in the pelvis and, as the name implies, is responsible for flexing the hip as well as contributing to overall stability and power at the hip. Not only is a strain of the muscle painful, it diminishes the ability to drive the leg forward while running. A hip pointer refers to a deep bruising of the pelvis, typically not far from where several muscles attach. If the bruising impacts muscles which contribute to moving the hip, then the function of those muscles can be affected.
No matter which injury it is, the end result may not vary much. Maclin is undoubtedly sore and moving slowly as a result. He will receive treatment to reduce any associated swelling or bruising and may be limited in or even removed from practice early in the week, depending on the severity. It is too soon to say whether he will be available in Week 2, as it may well depend on his progress over the next few days. Teammate and fellow receiver
Riley Cooper
is still recovering from a fractured clavicle and will not be available in Week 2.
Nate Washington, Tennessee Titans (leg):
Washington took a hard hit in Sunday's game and left with what the team later called a leg contusion (bruise). There was some question as to whether Washington had also suffered a head injury, but Jim Wyatt of the Tennessean later reported there was no concussion. Wyatt also said Washington should be available to play this week.
Pierre Garcon, Washington Redskins (foot):
And he was off to such a great start! Garcon was forced out of Sunday's game with a foot injury, but X-rays were reported to be negative. Garcon later told Grant Paulsen of 106.7 The Fan DC he felt good and expected to play in Week 2. Coach Mike Shanahan offered an explanation which really provided no clarity as to the nature of Garcon's injury. "It's kind of like when you have turf toe but it's not the toe," Shanahan told reporters Monday. According to the Washington Post, the team will know more after Garcon tests the foot in Wednesday's practice.
Devery Henderson, New Orleans Saints (head):
Henderson left in the second quarter with what was later announced to be a head injury. Presume the protocol of close evaluation and monitoring as the week progresses.
Quarterbacks
Jake Locker, Tennessee Titans (shoulder):
Locker injured his left (non-throwing) arm while trying to make a tackle after throwing an interception (note to Locker: no more tackling). Reported by The Tennessean as a shoulder separation, Locker underwent an MRI on Monday. According to news reports, Locker is expected to return to practice in some capacity by midweek but likely will wear a brace. As long as he can perform the functions of quarterback, he will play. The Titans sound at this point as if they do not expect him to miss any time but as coach Mike Munchak said after Sunday's game, "We'd rather him not go in there and tackle anybody." Right.
John Skelton, Arizona Cardinals (ankle):
When Skelton was carted off the field Sunday, the natural assumption was that he had a serious enough injury to force him out for multiple weeks. Maybe not. X-rays of Skelton's ankle reportedly came back negative and initial fears of a high ankle sprain were alleviated. Coach Ken Whisenhunt says Skelton's ankle sprain is of the "low" variety and he has not yet been ruled out for Week 2, according to the Cardinals' official website. It's worth reminding that even lateral ankle sprains can be problematic, making it difficult to bear weight normally, much less move around in the pocket or scramble when necessary. It seems highly unlikely Skelton will be ready to play in Week 2, but between health and performance, the quarterback situation could remain fluid in Arizona.
Tight ends
Antonio Gates, San Diego Chargers, (ribs):
Gates looked to be in pain while being evaluated on the sideline for sore ribs during Monday night's game. He even left the game briefly in the third quarter to be further examined in the locker room. Tough player that he is, Gates returned to the game, although he clearly appeared to be in some discomfort throughout the remainder of the night. His return to the game is a good early sign with regard to Week 2.
And we're keeping an eye on
[+] Enlarge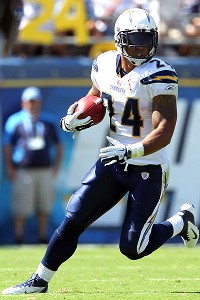 Jeff Gross/Getty ImagesRyan Mathews missed Week 1 but there's still a chance he could play in Week 2.
Ryan Mathews, RB, San Diego Chargers (shoulder):
Mathews sat out Week 1 as his healing collarbone has not yet allowed him to be cleared for contact. The big question now is whether he will be available for Week 2. No word on that front yet; this is purely a matter of the doctors giving him clearance. Mathews has been maintaining his cardiovascular fitness and working in individual drills in anticipation of being ready to go as soon as he's given a green light.
Kenny Britt, WR, Tennessee Titans (knee):
Britt is
coming off three surgeries
since last season, two on his right knee and one on his left. He was forced to sit out Week 1, serving his one-game, league-imposed suspension. Britt is expected to return to team practice Wednesday, and the Titans expect him to be available Sunday, barring a setback. It's worth remembering he was just activated from the PUP list on Aug. 28 and has had very limited work with the team. (Translation: His knees, one of which is post-ACL reconstruction, have hardly been tested.) All of this makes his being "available" very vague in terms of what type of contribution he can actually make on the field in his first appearance. Still, the
threat
of Britt is a nice thing for the Titans to have in their arsenal.