Stephania Bell:

Jamaal Charles
September, 18, 2014
Sep 18
2:36
PM ET
Stephania Bell explains the difference between a regular ankle sprain and a high ankle sprain, especially at it applies to
Jamaal Charles
.
September, 16, 2014
Sep 16
2:36
PM ET
October, 4, 2013
10/04/13
9:23
AM ET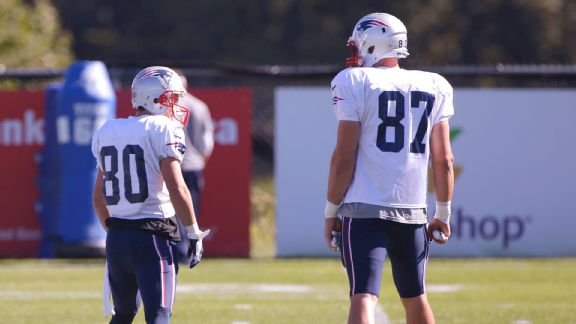 AP Photo/Stephan SavoiaDanny Amendola (No. 80) and Rob Gronkowski (87) are nearing their return to the field.
Here are updates on more of the fantasy-relevant injury situations that I've been following ahead of Week 5 of the NFL season.
New England Patriots
Rob Gronkowski, TE (back/forearm):
It feels like a broken record when discussing the injury status of Gronkowski and Danny Amendola; both are practicing on a limited basis, and both will likely be listed as questionable heading into Sunday's game in Cincinnati. Another week of practice means another week of confidence for Gronkowski, which seems to be one of the primary issues for him in stepping back onto the playing field. From a practice perspective, he may still be limited on reps, but Gronkowski is participating in all forms of drills. Other than facing a true opponent -- which is a legitimately different experience from practicing with teammates -- there is little left for Gronkowski to test. But after nearly a full year of recovery from various surgeries, and the setbacks associated with some of those surgeries, who can blame him for wanting to feel extra confident that he is prepared to take the field again?
After sitting out last week's game in Atlanta, it seems unlikely Gronkowski will opt to test his readiness in Cincinnati just one week later. But a Week 6 home game in New England against the
New Orleans Saints
just seems more likely. It has the makings of an exciting matchup, taking place in Foxborough, where Gronkowski will be surrounded by friends and family and undoubtedly welcomed with thunderous applause. More important, he will have just passed the 16-week mark since undergoing back surgery (the operation was June 18). Three months post-surgery is typically the soonest return for an athlete after this type of procedure; this is Gronkowski's second such operation (albeit at a different spinal level). Tacking on another month's worth of additional training and conditioning can have a profound impact on confidence level.
The extra time also allows the forearm more time to adapt to the workout stresses being placed on it, which in turn helps prepare it for the in-game loads it will encounter. Of course, no one can offer a foolproof guarantee that there is zero rate of reinjury, and the last time Gronkowski set foot on a playing field, he reinjured himself. Whatever hesitancy he may be experiencing is certainly justified. Look at it this way, fantasy owners: While he's out, readying himself for his NFL return, at least Gronkowski isn't adding any new injuries to the list.
Danny Amendola, WR (groin):
Meanwhile, Gronkowski's teammate Amendola continues to make progress, but is no sure bet to return in Week 5 either. He remains on a limited practice schedule as he increases the level of demand on what is certainly a still-healing adductor tear. The hardest part about gauging Amendola's return is trying to determine when the risk-reward changes so the reward of him playing outweighs the risk of reinjury. If Amendola is still lacking power or mobility (particularly with hard breaks on routes or any sharp directional changes), he runs the risk of further injury. These things are always hard to measure in practice, but even more so if the athlete is not consistently working at full speed. By Amendola's account, the progress has been substantial, but the Patriots tend to be conservative with these soft tissue injuries and Amendola's history has to make them a bit more cautious than usual. If Amendola does manage to play in Week 5, it's hard to envision him playing at full speed for a full game.
Stevan Ridley (knee) and Brandon Bolden (knee), RBs:
Also among the Patriots' MASH unit is running back Stevan Ridley. Ridley bruised the area above his knee in last week's game, and has not practiced. If he has been dealing with significant swelling, the rest will move him further toward the goal of being available Sunday than trying to practice. That said, Ridley should be on the field Friday to improve his chances of playing this week. Meanwhile, Brandon Bolden has been a regular on the injury report because of his knee and so far this week, he has been kept to limited practices. The fact that he has been a participant to some degree bodes well for his chances of suiting up this weekend, barring a setback.
Indianapolis Colts
Ahmad Bradshaw, RB (neck):
The news for Bradshaw is not good. He was held out of Sunday's game after suffering a neck injury in the Week 3 contest against the
San Francisco 49ers
, and the word from the Colts was that he was still being evaluated. The evaluative process continued into this week, as Bradshaw traveled to California for a consultation with noted spine surgeon Dr. Robert Watkins (who operated on both
Peyton Manning
and Rob Gronkowski). According to ESPN.com reports, Bradshaw is still undecided about surgery, but in the meantime, he has yet to practice since the injury. Last year, Bradshaw suffered a neck injury in Week 2 which caused tingling in his hands. He underwent a battery of tests and later revealed the injury to be a bulging disc.
"It's pretty much like an inflamed disc, and it's just sitting right on the spinal cord, I guess," Bradshaw told the Newark Star-Ledger at the time. After the symptoms subsided, Bradshaw was cleared to return to play but he knew then the symptoms could return at some point. The Colts have not indicated whether this current injury is related to the problem Bradshaw had last year, but it would certainly make sense, particularly given the chronic nature of disc injuries. These injuries can go through quiet phases, not provoking any symptoms, until there is an event which triggers a worsening of the injury and an inflammatory reaction. While Bradshaw considers his options, fantasy owners should consider whom they would choose to replace him for this week and, quite possibly, for the remainder of the season.
Oakland Raiders
Darren McFadden (hamstring) and Marcel Reece (knee), RBs:
McFadden left Sunday's game in the first half with a right hamstring injury, and only returned to the sideline as an observer for the second half. Although the Raiders did not specify the severity of the injury, McFadden's absence from practice is telling. He is no stranger to lower extremity injuries and has missed numerous games throughout his career as a result. Although McFadden entered the season healthy, it seemed only a matter of time before another soft tissue injury cropped up. One month into the season, McFadden is contending with a hamstring ailment and looks to be in danger of missing at least Week 5, if not longer. The Raiders will play in an unusually late Sunday night game (the result of sharing a stadium with the Oakland Athletics, who will host a playoff game hours before), so fantasy owners should make alternate plans in advance.
Reece also left Sunday's game early with a non-specific knee injury (sprain) that warranted an MRI, but he returned to practice on a limited basis Wednesday, then followed it up with another limited practice Thursday. Apparently the injury is not as serious as it first appeared, and with McFadden likely out, Reece's availability as a complement to
Rashad Jennings
becomes more important.
Green Bay Packers
Eddie Lacy, (concussion) and Johnathan Franklin (foot), RBs:
Lacy suffered a concussion on his first carry of Week 2, and was held out of the following game. The Packers had a bye in Week 4, giving Lacy some additional down time. Coach Mike McCarthy indicated prior to the Week 3 game that Lacy had made good progress, so it came as no surprise that he was back practicing with his teammates this week. In fact, Lacy has been a full participant and barring a setback, he'll play this Sunday.
With
James Starks
already ruled out, Franklin would figure to be next in line behind Lacy, but he is dealing with an injury of his own, a foot ailment suffered late in the Week 3 game where he replaced the injured Starks. Franklin was able to practice fully both Wednesday and Thursday and should be available for Sunday's contest against the Lions.
Jermichael Finley, TE (concussion):
Finley suffered a concussion in Week 3, then provided some insight into just how sobering an experience that can be when he posted a video describing the event on his personal website. As ESPN.com's Rob Demovsky pointed out, Finley's video was
the first time that the media had heard from him
following the injury. In his video, Finley talks about the play where the injury occurred, and the initial symptoms he experienced after regaining consciousness, which included visual disturbances and balance issues. Finley has made great improvements since the injury, as evidenced by his clearance to return to football activity after passing numerous tests. As Demovsky reports, Finley called the testing process a "long haul," but seems to appreciate the steps that are in place, perhaps as a result of his personal encounter with a head injury. "You have to do several things to get back, and you have to respect the league for doing it," Finley said. "It's much respect from me."
Kansas City Chiefs
Jamaal Charles, RB (toes):
Charles popped up on the injury report with the body part listed as "toes," presumably because of the "extensive blisters" coach Andy Reid described after the Week 4 game. ESPN.com's Adam Teicher reports that Charles participated in the team walk-through Wednesday despite not formally practicing, a good sign for his likelihood of playing Sunday against the Titans. Charles was upgraded to limited practice Thursday, and appears to be on track for Week 5.
September, 14, 2013
9/14/13
5:13
PM ET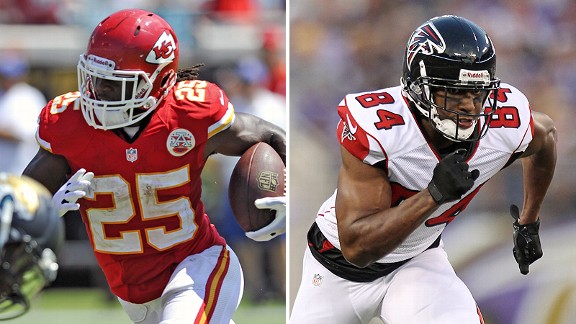 AP Photo, USA TODAY SportsWill Jamaal Charles and Roddy White be healthy enough to make a fantasy impact in Week 2?
Week 2 of the 2013 NFL season is here along with a mounting number of players with injuries. Several new names cropped up this week on the injury report (
Tony Romo
,
Jamaal Charles
and
Larry Fitzgerald
, to name a few), and, sadly, another player is lost for the season (
Vick Ballard
). However, in the larger scheme of things, many players appear to have a good chance of suiting up Sunday despite their presence here.
As always, injury concerns regarding players heading into the Sunday and Monday games can be critical. Each week in the Saturday blog, we run down a list of key fantasy players, by position, who appear in the Friday injury report, along with the injured body part(s) as listed on the report, player status, and any relevant developments or insights. The primary fantasy positions are covered (quarterback, running back, wide receiver and tight end). Our injury designations include "out" (O), "probable" (P), "questionable" (Q) and "doubtful" (D).
With that in mind, good luck in Week 2! May your players stay healthy and lead you to victory.
---
Quarterbacks
Tony Romo, Dallas Cowboys, ribs (P):
Romo impressed when he came back for the second half of Sunday night's game after taking a big shot to the ribs. No one should be surprised, given that he has played with worse, including rib fractures. Romo was a full participant in practice throughout the week and, again, it comes as no surprise that he is expected to play Sunday in Arrowhead Stadium.
Running backs
Jamaal Charles, Kansas City Chiefs, quadriceps (P):
Speaking of Arrowhead, the team hosting the Cowboys has been dealing with its own injury concern. Charles suffered a contusion (deep bruise) to his quad in the season opener. After getting a day off Wednesday, he has made steady progress throughout the week -- upgrading to full practice Friday -- and is on track to play Sunday. In fact, Charles
declared his readiness
Friday. The fact Charles had good range of motion early in the week was a positive indicator that the injury
would not severely limit him
. There's always potential the quad will tighten up on him in the game, but no doubt Charles will go through extensive warm-ups before taking the field.
Arian Foster (calf) and Ben Tate (shoulder), Houston Texans (P):
Foster and Tate contributed in Sunday's outing, although the division of work was not quite the 50-50 split coach Gary Kubiak had hinted at before the game. Foster carried the ball 18 times to Tate's nine, and Foster wants more moving forward. Kubiak maintains that he would prefer the carries to be more even, at least in these early games. In reality, who knows how this will actually play out? The number of actual carries each back has in this week's game against the
Tennessee Titans
might have more to do with how the game unfolds. Despite the presence of Foster and Tate on the injury report, both practiced in full throughout the week and the "probable" tags tell us both are expected to play. The only question is how much each back will produce.
Reggie Bush, Detroit Lions, finger/groin/knee (P):
On Tuesday,
we discussed
the injuries Bush suffered in Week 1, and a hyperextended knee was later added to the mix. We also noted that Lions coach Jim Schwartz has no plans to limit Bush's workload. (As long as he stays on the field, that is.) Full practice every day and a "probable" tag mean Bush will be playing in Arizona this weekend.
Rashard Mendenhall, Arizona Cardinals, hamstring (P):
Mendenhall came into Week 1 listed as "probable" because of knee soreness that had cropped up in the preseason. He played. This week, Mendenhall is on the injury report with a hamstring ailment. He was limited in practice Wednesday and Thursday but moved up to full practice Friday, just like last week. Expect Mendenhall to play Sunday, barring a setback.
Daryl Richardson, St. Louis Rams, foot (P):
As noted earlier, Richardson sat out Wednesday with a foot ailment (coach Jeff Fisher described it as "sore") but returned Thursday,
sounding confident
. On Friday, Richardson was listed as a full participant, and his "probable" tag indicates the Rams expect him to play against the Falcons.
Da'Rel Scott, New York Giants, knee (P):
With
Andre Brown
on the IR/designated-for-return list, the Giants are counting on
David Wilson
and, to a lesser extent, Scott to shoulder the load (and perhaps recently signed
Brandon Jacobs
). Scott was limited Wednesday because of his knee but was able to practice fully Thursday and Friday. The Giants plan to have him available Sunday.
Bernard Pierce, Baltimore Ravens, thigh (Q):
Pierce emerged from Week 1 with a thigh injury and was subsequently limited in practice throughout the week. Despite the "questionable" tag, he is expected to play against the Browns, according to the Baltimore Sun.
Wide receivers
Dez Bryant, Dallas Cowboys, foot (P):
After putting in full practices every day this week, Bryant does not appear to be limited by the
mild foot sprain
he suffered Sunday night. With a "probable" designation, Bryant is expected to play Sunday, and no doubt he is eager to display some of his trademark big-play ability. As long as he does not aggravate his foot in the game, there's a good chance Bryant will make us forget about the injury.
Roddy White (ankle) and Julio Jones (knee), Atlanta Falcons (Q):
The Falcons are listing their top two wideouts as "questionable." After last week's last-minute fiasco surrounding White's status and the true nature of his ankle injury, what are fantasy owners to believe this week? Falcons coach Mike Smith says White will play, according to The Atlanta Journal-Constitution. However, it should be noted that White returned to only limited practice Friday after sitting out Wednesday and Thursday. If White is to be believed, those missed practices
are a red flag
as to just how healthy (or unhealthy) he is. There is no evidence yet that White can perform up to his previous high level.
Consequently, we would expect more from Jones. Oh, wait. Jones is also on the injury report, listed as "questionable" with a knee injury. Jones missed Wednesday's practice, as well, but did return for limited work Thursday and Friday. There has been no strong suggestion that Jones would miss Sunday's game, but the "questionable" tag mean it's worth double-checking before kickoff. After all, the Falcons have already shown they might not be forthcoming when it comes to injuries to their star players.
Wes Welker (ankle) and Eric Decker (shoulder), Denver Broncos (P):
Welker came into the season opener with the residuals of an ankle sprain but proved it was not going to limit him. He resumed full practice Friday (after being limited Wednesday and Thursday) and is expected to be on the field Sunday. Decker cropped up on this week's injury report with a shoulder ailment. His season-opening appearance did not match Welker's, and no doubt he is looking for a better outing against the Giants. He should at least get the opportunity as he practiced in full Thursday and Friday and is expected to play Sunday.
Larry Fitzgerald, hamstring (Q) and Andre Roberts, quadriceps (P), Arizona Cardinals:
Fitzgerald has been
bothered by a hamstring
that tightened up on him Wednesday but was able to participate on a limited basis each day this week. Barring a pregame setback, it appears Fitzgerald will play Sunday. Roberts was on the injury report because of the quadriceps issue last week, but he played and, given his "probable" tag, is expected to do the same this week.
Marques Colston, New Orleans Saints, foot (P):
Colston may well appear on the injury report regularly because of his foot, given that it has been bothering him since last year. It did not seem to limit him in Week 1, though, and Colston, a gritty player, is likely to play through it again Sunday unless the pain becomes unmanageable. This week, he was able to practice fully every day and the foot does not seem to be limiting him. He is expected to play against the Buccaneers.
Cecil Shorts, Jacksonville Jaguars, groin (P):
Shorts was kept to limited workouts throughout the week, undoubtedly part of the plan to preserve him for Sunday's matchup against the
Oakland Raiders
. Listed as "probable," he is expected to play.
Sidney Rice, Seattle Seahawks, knee (P):
Rice's knee might keep him on the injury report throughout the season as the team could routinely give him an extra day off from practice. After sitting out Wednesday, Rice returned to full practices Thursday and Friday. Just as he played this past Sunday, expect him to do so again when the Seahawks host their division rival
San Francisco 49ers
.
DeVier Posey, Houston Texans, Achilles (P):
Posey continues to practice fully with the team throughout the week, and the "probable" tag indicates the Texans expect him to be available Sunday.
Tight ends
Jermichael Finley, Green Bay Packers, toe (P):
There was reason for concern when Finley appeared on the Packers' injury report Wednesday because of a toe injury suffered in the season opener. His surprise return to a limited practice Thursday was
a positive sign
; the fact he repeated the effort Friday was an even better one. There's no telling how a toe injury will fare in the course of a game, so this is something that could bother Finley as a result of pushing off and route running as the game progresses. But, given the "probable" tag, it's clear the Packers plan on Finley being available at the start.
Owen Daniels, Houston Texans, back/groin (P):
We're accustomed to seeing Daniels on the injury report, but we're also accustomed to seeing him play through various ailments. He was back in full practice Friday after lighter workouts the previous two days. It appears Daniels will again take the field when the Texans host the Titans in Week 2.
Dwayne Allen, Indianapolis Colts, hip (D):
Originally listed as questionable on the injury report because of a hip problem that kept him out of practice throughout the week, Allen was downgraded to doubtful Saturday and is not expected to play.
Kickers
Kai Forbath, Washington Redskins, right groin (Q):
Forbath popped up on the injury report Friday with a right groin injury, although he was still listed as a full participant. The Redskins had an available substitute at the ready, and, as of Saturday morning, there are reports that the sub might be called upon to fill in. According to ESPN 980, a source says
John Potter
will be the placekicker for the Redskins on Sunday. Although the team has not declared Forbath out, fantasy owners should plan to find another option at the position.
Sebastian Janikowski, Oakland Raiders, right calf (P):
Janikowski's sore right calf keeps him on the injury report as he takes Wednesdays off, but he is still playing. Expect him to play again when the team hosts the Jaguars on Sunday.
---
Out
This space is intended for a list of key players, not including those who have been moved to injured reserve status, who are officially listed as "out" for the upcoming game.
Vick Ballard, RB, Indianapolis Colts, knee:
Ballard suffered a knee injury in practice Thursday, but the seriousness of the ailment was not immediately revealed. On Friday, the team announced that Ballard had torn his right ACL and was done for the year.
Blaine Gabbert, QB, Jacksonville Jaguars, right thumb/right hand:
After suffering a cut that required 15 stitches on his already-injured hand, Gabbert will sit out Sunday's game.
Chad Henne
gets the start in Oakland.
Le'Veon Bell, RB, Pittsburgh Steelers, foot:
Despite Bell's optimism that he could be ready in Week 2, he has not even returned to individual drills in practice. This appears to be progressing the way foot sprains often do; the athlete starts in a boot, gets the boot removed, walks without pain and thinks his return is around the corner so increases his work load -- only to find out the recovery won't be so quick after all. The Steelers do not want an injury that could become a chronic problem; as such, they will be smart and cautious when it comes to treating Bell's foot injury. Consider Bell week-to-week going forward.
Heath Miller, TE, Pittsburgh Steelers, knee:
Miller continues to upgrade his rehab as a limited practice participant but does not appear quite ready for competition. He will not play Monday night.
Kenjon Barner, RB, Carolina Panthers, foot:
Barner missed last week's contest and, after not practicing at all this week, will also sit Sunday.
---
Off the injury report
Ahmad Bradshaw, RB, Indianapolis Colts:
This announcement couldn't come soon enough. With Ballard being out for the year, the Colts will lean more heavily on Bradshaw, who, after a gradual buildup in practice work leading to Week 1, is in good shape to absorb the load. Bradshaw will be
backed up
by
Donald Brown
.
Be sure to check out "Fantasy Football Now," Sundays on ESPN2 at 11 a.m. ET, for last-minute inactives, rankings, injury impact and more.
September, 12, 2013
9/12/13
6:47
PM ET
Chiefs running back Jamaal Charles bruised his quad Sunday, but by Tuesday the team was expressing hope Charles would be ready to go for Sunday's game against the Cowboys. By Wednesday, the team – and Charles – sounded more confident. According to Adam Teicher of ESPN.com, Reid said of Charles, "I think he'll be OK for the game." And Charles made it clear he plans on playing.
In an effort to get him well enough to run full speed by Sunday, the Chiefs held Charles out of practice Wednesday. By Thursday he was back on a limited basis. The next step is seeing how Charles feels on Friday and if he is able to continue increasing his work. The key is in balancing the activity with the risk of increasing injury to the muscle. If there are no setbacks before Sunday, it appears Charles has a good chance to play.
September, 10, 2013
9/10/13
3:22
PM ET
Week 1 is in the books! As always, injuries old and new will impact fantasy lineups everywhere. Here's what we know so far.
Wide Receivers
[+] Enlarge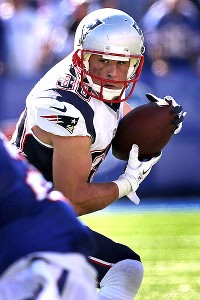 Barry Chin/The Boston Globe/Getty ImagesDanny Amendola's injury history is already catching up with him.
Danny Amendola, New England Patriots (groin): Don't say you weren't warned. Amendola has long been touted as a high-risk, high-reward option and both qualities were in plain view last Sunday. Amendola came into the season opener on the mend from a groin injury suffered in the second preseason game, and while he had improved, he resumed practicing on a limited basis just last week. He was not expected to be at full health, thus making him a risk for a setback in the game, and it didn't take long for that setback to occur. Late in the second quarter, Amendola could be seen reaching instinctively toward the injured area of his right upper thigh and pelvis as he limped off the field. Somewhat surprisingly, he returned to the game in the third quarter. More surprisingly, he delivered a solid performance in the aftermath of the setback, but it may have come at a price. The Patriots play Thursday night and Amendola was absent from the team's Tuesday walk-through, typically the most significant practice day in a Thursday game week. His status may come down to a game-time decision but fantasy owners should make plans to have a backup in place. If he does play -- which, according to ESPN and media reports, is unlikely -- he will not be at full health. The question if he does suit up will be whether he can muster another performance like last Sunday or whether he will potentially set himself significantly further back. If he sits Thursday against the Jets as it appears he will, it would give him a two-week recovery period before the Patriots' subsequent matchup against Tampa Bay.
Roddy White, Atlanta Falcons (ankle): White's status provided some last-minute pregame drama Sunday when reports emerged that his ankle injury was more serious than previously revealed by the team. It's not unusual for a team to downplay the severity of an athlete's injury. But even in the day and age of gamesmanship, it is still uncommon for a team to refute the nature of an injury outright. When White originally injured his ankle in the preseason, it was reported as a "minor ankle sprain". Reports from NFL.com indicated it was a lateral ankle sprain, not a high ankle sprain, which is an entirely different injury. The team denied that White's injury was a high ankle sprain. On Sunday, we learned from White himself (after the game) that he was indeed dealing with a high ankle sprain and that he had not been able to test it in various ways in the week leading up to the opener. White told reporters, "It's hard to cut. It's hard to do just about everything at the position." Although he was on the field, he was clearly not himself and the question facing fantasy owners now is when he will return to form.
Suffering a high ankle sprain does not automatically translate to a longer absence than a standard ankle sprain; the injuries are still measured in terms of severity and the extent of tissue damage. A severe lateral sprain can be worse than a mild high sprain. Some movements, however, particularly rotational, can be more difficult with a high ankle injury. It is also critical for the injury to heal properly to prevent longer-term problems down the line. White said doctors told him initially he would be sidelined for approximately a month. This week marks a month since the initial injury so, barring a setback, he should be rounding into form soon. It's not yet clear whether he will play this Sunday when the team hosts the Rams, although it seems likely, given he played in Week 1. Fantasy owners will want to see just how much he does in practice, however, before making a decision about Week 2.
Dez Bryant, Dallas Cowboys (foot): Bryant sprained his left foot late in Sunday night's game as he appeared to get it caught underneath him as he was rolled on by a defender. Although he walked off the field, Bryant's frustration with the injury on the sideline was immediately obvious. Then he returned to the game moments later, suggesting it was not perhaps as bad as originally feared. X-rays after the game were negative for any fractures. ESPN's Ed Werder reported that a subsequent MRI confirmed a mild foot sprain for Bryant, and the Cowboys -- as well as Bryant himself -- are optimistic about his chances for playing this week. Naturally, any foot injury is a concern for a running back or a receiver, but Bryant's ability to return to last week's game was a positive sign. Expect him to be perhaps limited in practice but, as of now, he appears to be in line to play against the Chiefs.
Running Backs
Shane Vereen, New England Patriots (wrist): Not that anyone would have known based on his performance Sunday, but Vereen fractured a bone in his left wrist on his first play of the game, a story originally reported by Fox Sports. (Vereen went on to finish out the day Sunday to the tune of 101 rushing yards and seven receptions.) While it was immediately apparent he would miss some time once the plan for surgery was announced, a definitive timetable remains hard to project. The Boston Herald cites a source as saying Vereen will miss at least a month. Beyond the healing parameters for a fracture (typically about six weeks, although surgical stabilization may allow sooner return to activity), there is the issue of regaining adequate motion and strength around the wrist and hand to provide ball security. Since Vereen was given extra work Sunday when teammate Steven Ridley was involuntarily sidelined after fumbling, the Patriots have made it clear that ball security is of the utmost importance. The Patriots placed Vereen on injured reserve-designated to return on Tuesday, meaning he can return to practice after six weeks and return to play after eight weeks. That means the earliest he could play is Week 11 because the Patriots have a bye in Week 10.
[+] Enlarge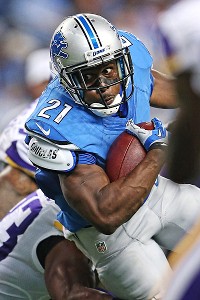 Leon Halip/Getty ImagesReggie Bush had a big debut for the Lions but also suffered a few injuries in the process.
Reggie Bush, Detroit Lions (thumb, groin): Bush appeared to have a new lease on his running back life Tuesday, amassing 90 rushing yards and, perhaps more impressively, 101 receiving yards Sunday with a touchdown thrown in for good measure. But the oft-injured running back -- most notably in the early part of his career, as he missed only one game in the past two seasons with Miami -- sustained not one but two injuries Sunday. Bush dislocated his thumb, later telling reporters, "it was pointing in the wrong direction, but they were able to pop it back in and tape it up." It would seem that this could have presented a big problem for a running back who needs to catch and carry the ball, but Bush's solution was simple. "After that, I just carried the ball with my right hand," Bush said. As if that weren't enough, Bush indicated that on the subsequent series he pulled a groin muscle. None of that was enough to keep him from being exceptionally productive last Sunday, which also bodes well for his chances of playing this week in Arizona. Naturally, there will be concerns about the potential aggravation of the groin injury, but at least Bush appears in line to start. According to the Detroit Free Press, coach Jim Schwartz has no plans to limit Bush's workload in an effort to protect his body (unsurprising if you look at track record of play for injured running backs in Detroit). "That's life in the big city," Schwartz said. "You're a running back in the NFL." Bush's fantasy owners should make every effort to acquire Joique Bell, who looked pretty darn good for the Lions on Sunday in that No. 2 role.
Jamaal Charles, Kansas City Chiefs (quad): Charles left Sunday's game early with what is being called a "quad contusion," otherwise known as a deep bruise of the large muscle on the front of the thigh. The biggest factor in determining how much this will affect Charles is how much bleeding or bruising there actually is in the muscle and how quickly it dissipates. Head coach Andy Reid told reporters Monday that Charles does have his range of motion (a positive, suggesting the thigh is not overly stiff or swollen), and the Kansas City Star reports Reid was hopeful about his availability for Sunday's home opener. The key will be how well Charles can move throughout the week and whether he can run without discomfort and at full speed by Sunday.
Quarterbacks
Tony Romo, Dallas Cowboys (ribs): We were told Sunday night on the television broadcast that Romo "got the wind knocked out of him" when he absorbed a double-crunch blow to the ribs just before halftime. It certainly looked like it had the potential to be more serious, but Romo's ability to return and finish out the game eased some concern. He clearly wasn't comfortable and did undergo further testing postgame. The good news is that there was no structural damage and the subsequent diagnosis was "bruised ribs." The Cowboys and Romo fantasy owners had to be relieved to hear "bruised" and not "broken." It was just two years ago when Romo played with broken ribs, leading us to believe he will continue to play now. He may get some additional rest this week in practice to allow the pain to settle and he may get some additional padding in the area for the game, but this is not expected to keep him from facing the Kansas City Chiefs on Sunday.
Blaine Gabbert, Jacksonville Jaguars (hand): Gabbert came into the opening week of the season as questionable with a nondisplaced fracture in his right (throwing) thumb, an injury suffered during the team's second preseason game. After doing enough in practice during the week to convince the team he was ready to play, Gabbert did indeed start. He did not finish. Gabbert left in the fourth quarter with a laceration on his right hand that required 15 stitches to close. He has already been declared out for Week 2. Chad Henne will get the start in Oakland.
Tight Ends
Zach Sudfeld, New England Patriots (hamstring): Sudfeld was apparently dealing with a hamstring issue, which may have been a factor in his lack of contribution last Sunday. With the Patriots on a short week, it's unclear whether Sudfeld will be available Thursday and whether he would even be fully healthy if active.
And we're keeping an eye on:


Rob Gronkowski, TE, New England Patriots (back/forearm): Gronkowski is working his way back to action, but don't expect it to come on a short week. At least, it doesn't appear that way as of Tuesday.
Le'Veon Bell, RB, Pittsburgh Steelers (foot): Bell proclaimed he would aim to return in Week 2 but followed that up with the caveat that he wasn't making any promises. That would indeed be a quick turnaround following a midfoot sprain, but no timetable -- especially when it comes to foot injuries -- is set in stone. With the report Tuesday from Bob Labriola of Steelers Digest that Bell has not yet begun individual drills in practice, it does not appear likely Bell's return is imminent. The Steelers also re-signed Jonathan Dwyer in the wake of LaRod Stephens-Howling's ACL tear.
November, 6, 2012
11/06/12
5:50
PM ET
Week 9 is in the books! This feels like that time of year when the grueling toll of the season begins to make itself widely felt. A number of players left last week's games with new injuries, aggravations of prior injuries or some variation of a new injury superimposed on a not fully recovered injury. While a couple of those with new ailments look as if they might not miss any time (
Kansas City Chiefs
RB
Jamaal Charles
and
Dallas Cowboys
QB
Tony Romo
), others seem likely to miss a week if not more (
Pittsburgh Steelers
WR
Antonio Brown
,
Minnesota Vikings
WR
Percy Harvin
, and
Oakland Raiders
RBs
Darren McFadden
and
Mike Goodson
).
In the meantime, many of the key running backs who have suffered foot injuries in recent weeks (
DeMarco Murray
Maurice Jones-Drew
,
Cedric Benson
) continue their rehabilitation efforts but with no specific return date on the horizon. None of these backs is expected for this week (Benson and Jones-Drew are definitely out, and ESPN's Ed Werder reported Tuesday that the Dallas Cowboys do not expect to have Murray this Sunday).
There are still plenty of folks we're keeping an eye on as we head into Week 10.
[+] Enlarge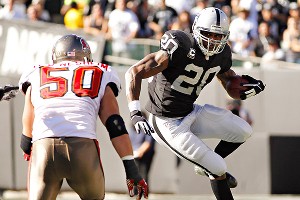 Cary Edmondson/US PresswireOnce again, Darren McFadden has gone down with an injury that could keep him out multiple weeks.
Darren McFadden and Mike Goodson, RBs, Oakland Raiders (high ankle sprains):
Both running backs left Sunday's game with similar injuries. McFadden was tackled during a run. On video, he appeared to rotate his foot outward relative to his lower leg, the hallmark mechanism for a high ankle sprain. Although there has been no word as to the severity of the injury, it may be to his benefit that his foot was not squarely planted in the ground when it happened. Still, with the known history of lower-extremity injuries McFadden has dealt with in his career, any additional incident raises concern. His teammate Goodson was also forced out of the game with a similar injury in the third quarter. (Goodson had been dealing with a turf toe injury throughout the week heading into Sunday's game.)
As of now, it would appear that
Marcel Reece
and
Taiwan Jones
will be responsible for the workload in the near future, but how much time McFadden and Goodson could miss -- if any -- is anyone's guess. The severity of their injuries will be as important as the injuries' location to determine how long they'll be out. As of yet, the Raiders have not revealed anything. Steve Corkran of the Contra Costa Times reports that McFadden has not yet been ruled out for Week 10. Of course, many a fantasy owner remembers when he was not ruled out in advance of multiple games last season, and thus might be suspicious. At this point, there's not enough information to suggest this injury is on the same order of severity as last year's, but it would make sense to plan on a backup nevertheless.
Percy Harvin, WR, Minnesota Vikings (ankle):
Harvin went into Week 9 with hamstring concerns -- and he appeared to be laboring during the game -- but he exited with a new, more significant injury. Harvin sprained his left ankle "in three different places," according to the Minneapolis Star-Tribune, and is experiencing swelling and pain. Harvin was on crutches Monday to protect him from bearing weight on the injured limb, and while he wouldn't declare himself out for this week's game, he admitted his chances of playing are slim. The report that he sprained the ankle in three different places suggests that he has multiple injured ligaments, which explains the substantial pain and swelling, but also hints at greater instability. No specific grading of the injury was offered, but Harvin's appearance and description indicate this is more than a mild injury. Even though the MRI showed no fracture, the extent of soft tissue damage and associated instability can still project a multiweek absence. The Vikings do have a bye upcoming in Week 11 and it would be a big surprise if Harvin plays beforehand.
Jamaal Charles, RB, Kansas City Chiefs (neck):
Charles was forced out of last Thursday night's game with what the Chiefs called a neck injury. Charles did tell the Kansas City Star he was tested for a possible concussion, so it will be worth monitoring how he responds to practice during the week. The Chiefs don't play until Monday night, which is good in that it gives Charles the benefit of an extra day, but it also means no official injury report is due from the team until Thursday. As of now, it does look favorable for Charles to suit up in Week 10.
Tony Romo, QB, Dallas Cowboys (back):
Romo injured his back late in the Sunday night game and there were multiple reports of him walking "gingerly" afterward. On Monday, head coach Jason Garrett told reporters Romo was feeling much better. On Tuesday, ESPN's Ed Werder reported the Cowboys expect Romo to play in Week 10.
Donald Brown, RB, Indianapolis Colts (knee):
Brown was downgraded Saturday after experiencing swelling in his surgically repaired knee. He recovered to the point of being activated for Sunday's game, but the pain and swelling recurred, forcing Brown to the sideline early. With only four days until the Colts' next game, it would not be a surprise if he is out. There is also a chance he could rest for four days and still be active (though he did not practice Tuesday, also considered the "big" practice day for Thursday night games), but the bulk of the workload would still likely shift to
Vick Ballard
.
Antonio Brown, WR, Pittsburgh Steelers (ankle):
Brown was the first to say he had suffered a high ankle sprain, and his assessment was later confirmed by coach Mike Tomlin, who called it "mild." Nonetheless, Brown is doubtful for Monday night's game against the Chiefs and was kind enough to share that tidbit early (Tomlin also said running back
Jonathan Dwyer
should return Monday) so that fantasy owners could make the proper adjustments. Well, perhaps that wasn't his reasoning, but it's still nice to get an early jump on fill-ins. In Pittsburgh, they know all about filling in at the running back position and now will get a taste of it at wide receiver. More
Emmanuel Sanders
, perhaps. As for how long the Steelers will be without Brown, that is not yet clear, but given that even Brown initially thought he might be able to play this week, it sounds like they anticipate a short absence.
Jordy Nelson, WR, Green Bay Packers (hamstring/ankle):
Nelson missed Week 8 because of a hamstring strain but was deemed healthy enough to go in Week 9 after testing the leg in a Friday workout. He never had a chance to make an impact as he went down with an ankle injury in the first quarter of Sunday's game while trying to make a catch. The Packers fortunately have a bye this week and coach Mike McCarthy sounds confident Nelson will be ready by Week 11.
[+] Enlarge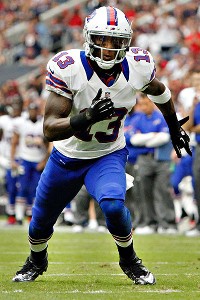 Brett Davis/US PresswireA thigh injury slowed down Steve Johnson in an already tough matchup against the Texans.
Steve Johnson, WR, Buffalo Bills (thigh):
Johnson suffered a bruised thigh early in Sunday's game and tried to play through it but struggled. For those who might wonder why something as seemingly benign as a bruise should limit a high-level athlete, it's important to remember that a bruise involves bleeding. If there is bleeding into a contained area of soft tissue, like the thigh, it makes the tissue very tight and the athlete is unable to fully extend (lengthen) the involved muscle or fully contract it. And it hurts. The result is a shorter stride length, sometimes an apparent dragging of the leg, a loss of burst and power, and early fatigue. Johnson essentially said as much after the game, telling the Bills' official website, "I couldn't run down the passes or elevate when I needed to. It just wasn't working so I had to come out." The good news is that this should respond well to treatment and hopefully resolve quickly. Bills head coach Chan Gailey said he expects to have Johnson on the field in Week 10, even if he is not able to practice early in the week.
Calvin Johnson, WR, Detroit Lions (knee):
Johnson played despite not practicing all week with a sore knee and racked up his third-highest yardage total of the season. Given the team's success at managing his knee during the week and still garnering a favorable Sunday outcome, expect the pattern to continue. There has been no word as to what's ailing him but Johnson confirmed that it's likely to bother him throughout the season, telling MLive.com, "It's something that I expect to linger."
Danny Amendola, WR, St. Louis Rams (shoulder):
Amendola teased fantasy owners when he traveled to London with the team two weeks ago and was seen catching some balls in practice. Only three weeks removed from his sternoclavicular joint injury, however, he seemed an extremely long shot to play. Now his chances are looking up. With another two weeks under his belt, Amendola is confident he will be on the field to face the
San Francisco 49ers
on Sunday.
During last week's practice, Amendola told the St. Louis Post-Dispatch his range of motion and strength were back to normal. The other aspect that is harder to measure is the healing of the tissue around the joint itself. The hope is that it will be strong enough to withstand another hard fall on the shoulder or direct contact from a hard hit without displacing again. Sitting at the junction of the collarbone (clavicle) and the sternum (chest), it's not an area that lends itself to effective bracing or taping. While there are ways to offer some additional protection, the goal is to have it be healed to the point where the risk is low to negligible. Unfortunately, there is only so much that visual and manual testing can do and at some point the athlete has to test it by playing in a game. It looks as if that test could come this weekend and, if Amendola is able to pass it, things should be looking up for him for the remainder of the season.
Aaron Hernandez, TE, New England Patriots (ankle):
Hernandez, who did not travel with the team to London, is coming off of two weeks' rest after the bye. On Tuesday he was absent from practice, as he was attending the birth of his child, but there should be updates later in the week.
September, 20, 2012
9/20/12
10:05
PM ET
Here is what we're looking at so far for Week 3:
Quarterbacks
Blaine Gabbert, Jacksonville Jaguars (glute):
Gabbert was a full participant in practice Wednesday and Thursday. He appears on track to play Sunday.
John Skelton, Arizona Cardinals (ankle):
Skelton missed Week 2 because of his ankle sprain, and
Kevin Kolb
started in his place. Will Kolb start again in Week 3? Early signs point to that being the case. While Skelton was "walking around," according to the Cardinals' official website, he did not practice Wednesday. Skelton did manage a limited practice Thursday, but it seems hardly enough to suggest he'll take over the reins again this weekend.
Running backs
[+] Enlarge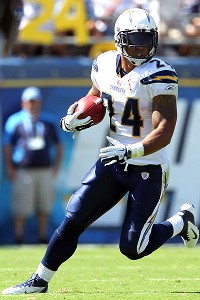 Jeff Gross/Getty ImagesAll signs point to Ryan Mathews returning to the Chargers' backfield this week.
Ryan Mathews, San Diego Chargers (shoulder):
Well, well, well. It looks like we are about to see the highly anticipated season debut of a certain Chargers running back. The timing does not come as a complete surprise, as it's consistent with the typical healing timeframe for this type of injury (fractured clavicle).
This is from my entry on Mathews in the 2012 Fantasy Football Draft Kit: "... Before a player is cleared to resume contact, there must be sufficient evidence of bony repair to alleviate concerns of reinjury. Every fall onto the shoulder, direct hit to the shoulder (especially if the player is hit from both sides simultaneously), even a stiff-arm move, will translate force through the collarbone area. For an athlete such as Mathews, who will incur contact through his clavicle (directly or indirectly) on virtually every play in which he carries the ball, the confidence that the bone will remain intact must be high before allowing him to compete. Normal bone healing takes approximately six weeks, which, given Mathews' injury date, would suggest he could be ready by Week 3."
Mathews was cleared for contact late last week but had very limited practice reps and was held out of competition for another week. That was smart. Now Mathews has had a chance to turn it up a notch in practice, and his collarbone has had another week of bone remodeling. According to the San Diego Union-Tribune, Mathews said, "I feel great; I feel healthy and strong." That's what fantasy owners like to hear.
Steven Jackson, St. Louis Rams, (groin):
On Tuesday,
we noted that Jackson missed time
in Sunday's game because of a groin injury and nothing else. While coach Jeff Fisher and Jackson made it seem as though the injury was not serious -- and an MRI seemed to confirm as much -- it remains to be seen whether Jackson will be ready to go this weekend. He did not practice Wednesday or Thursday, but according to the Rams' official website, he "remains hopeful" he'll be ready by Sunday. This may well come down to a game-time decision.
Matt Forte, Chicago Bears (ankle):
As we noted Tuesday, we said
it would be a surprise to see Forte this week
, and his non-participation in practice Wednesday or Thursday supports that idea. While it does seem that the injury was not as serious as initially expected, it's still looking like, barring a Friday surprise,
Michael Bush
will start for the Bears in Week 3.
Marshawn Lynch, Seattle Seahawks (back):
Lynch has been on the injury report since prior to Week 1 because of his back. So far he has managed to play in the first two games of the season. Since the Seahawks play Monday night, there is only one day of practice (Thursday) to report so far, and Lynch again appeared as a limited participant. No reason for major concern as of now.
Jamaal Charles, Kansas City Chiefs (knee):
Charles fell on his surgically reconstructed knee in Week 2 and sustained a knee bruise, according to the Kansas City Star. He was able to return to full practice Wednesday and followed it up again Thursday, boding well for him playing Sunday.
Rashard Mendenhall (knee) and Jonathan Dwyer (toe), Pittsburgh Steelers:
Mendenhall has again been listed as a full participant in practice both Wednesday and Thursday this week. Here's what I said last week after he practiced both days: "Pittsburgh does have an early bye week (Week 4), and it's possible we do not see Mendenhall before then." I still feel the same way. Each week, Mendenhall has been exposed to increasingly more work and increasingly more contact. Like others coming off ACL surgery, there is a process for evaluating how the player -- and his knee -- responds to each upgrade in activity. There is nothing official from the team to indicate he will wait another week, so it remains possible that he could be activated. If that does happen, he would not likely get a heavy workload in his first outing.
Meanwhile, Dwyer is dealing with a case of turf toe, which may have hindered his productivity somewhat in Week 2. He rested Wednesday but was back in full practice Thursday, hinting at him being active for Week 3.
Rashad Jennings, Jaguars, (knee):
Again this week, Jennings has not practiced due to a knee injury. It will be the
Maurice Jones-Drew
show on the ground in Indianapolis when the Jaguars visit the Colts regardless.
Daniel Thomas, Miami Dolphins (concussion):
Thomas missed last week's game due to a concussion but returned to full practice Wednesday. Barring a setback, he should be available this weekend, although he will serve as a backup to
Reggie Bush
.
Wide receivers
[+] Enlarge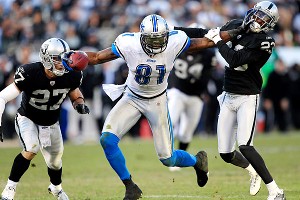 AP Photo/Marcio Jose SanchezNo worries, Megatron owners. Calvin Johnson is expected to play Sunday.
Calvin Johnson, Detroit Lions (ankle):
Last week it was his foot, this week it's his ankle. Johnson will probably appear on the injury report fairly regularly; hopefully, he will continue the pattern of resting early in the week and playing later. He did not practice Wednesday but was back in limited practice Thursday. If he continues the trend, expect him to play Sunday.
Greg Jennings, Green Bay Packers (groin):
Jennings sat out last week's game because of a groin injury. It wasn't much of a surprise considering he had suffered the injury just four days prior, The expectation was that the extra time off would have him in good shape for Week 3. In fact, coach Mike McCarthy told the Milwaukee Journal-Sentinel late last week he would be surprised if Jennings did not play in Monday night's contest.
Then came Tuesday's practice. Jennings was on the field in full pads, and all seemed to be progressing well. It turns out Jennings didn't do much Tuesday other than run, and on Thursday he was unable to practice at all. According to the Milwaukee Journal-Sentinel, McCarthy said Jennings was limited to rehab Thursday and was not progressing "as well as hoped." While there are still a few more days before game time, if Jennings is still this limited 11 days post-injury, how much improvement can realistically be expected by Monday? His status could come down to a game-time decision, but if he isn't able to practice at all Friday, fantasy owners should be concerned.
Jeremy Maclin (hip) and DeSean Jackson (hamstring), Philadelphia Eagles:
These two were both on the Thursday injury report last week, and both ended up playing Sunday. The difference is that this week Maclin was forced out of the game because of his hip. Jackson finished the game -- and played well -- despite a hamstring strain late in the week. While Maclin was unable to practice Wednesday, he did return on a limited basis Thursday. Jackson practiced on a limited basis Wednesday and returned to full practice Thursday.
At this point, Jackson appears to be in better shape heading toward Sunday, presuming there are no setbacks beforehand. As far as Maclin's status is concerned, he does appear to be making progress and as long as he shows he can perform sufficiently before kickoff, there is still a reasonable chance he plays. Friday's practice should yield better clues for both receivers.
Pierre Garcon, Washington Redskins (foot):
Even though he did not play Sunday, the rest might not have been enough for Garcon's foot. He participated in limited practice Wednesday and Thursday, but according to the Fredericksburg Free Lance-Star, coach Mike Shanahan says Garcon's injury is "nagging him a little bit more than I was hoping it would." That's certainly not the most optimistic sounding assessment. If Garcon continues to experience this level of discomfort, it's hard to imagine him suiting up in Week 3.
Marques Colston, New Orleans Saints (foot)
: Colston was listed on the injury report last week because of his foot, but still managed to play Sunday. According to the New Orleans Times-Picayune, Saints interim coach Aaron Kromer says the foot injury is affecting Colston's speed. Perhaps the limited reps in practice this week will help him get back up to speed. He is expected to play Sunday.
Julio Jones (thigh) and Roddy White (knee), Atlanta Falcons:
Jones and White both on the injury report? Not to worry. The Atlanta Journal-Constitution reports that coach
Mike Smith
offered this explanation: "The reason a lot of those guys are limited in their participation is [because] we are on a short week." They did play Monday night, and it was, after all, a very long game. Both were restricted to limited work in practice Wednesday and Thursday, but from the sounds of things, both are expected to play Sunday.
Brandon Lloyd, New England Patriots (thigh):
Lloyd was limited both Wednesday and Thursday with what is being listed as a thigh injury. There has been nothing to suggest the injury is serious, though, including the fact that Lloyd did not completely miss a practice. The Patriots do not play until Sunday night, so hopefully there will be a better indication after Friday's session.
Tight ends
Antonio Gates, Chargers (ribs):
Despite missing Sunday's game due to sore ribs, Gates did get right into practice this week, an encouraging sign for this week's status. Although he was limited Wednesday, his response to practice was positive enough to bump him up to a full workload Thursday. Thankfully, it does not appear he will be a game-time decision this week.
Heath Miller, Pittsburgh Steelers (abdomen):
Miller has not practiced yet this week because of a rib cartilage injury. Any injury in the rib area can be exceptionally painful;
Antonio Gates
missed last week's game with a similar ailment. This could come down to a game-time decision.
Dustin Keller, New York Jets (hamstring):
Keller missed last week's game because of his hamstring injury but appears to be making progress. He wasn't in practice Wednesday but did return to limited work Thursday. Now the test will be to see how the leg responds and whether he can repeat the effort Friday.
September, 18, 2012
9/18/12
6:38
PM ET
Week 2 is in the books. This week there was a new set of players added to the injury list as well as a few carryovers from Week 1. Here's what we're looking at to start the week.
Running Backs
[+] Enlarge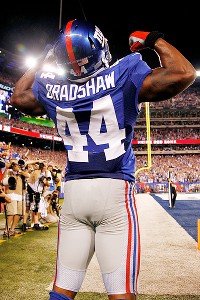 Jeff Zelevansky/Getty ImagesThe short week will make it tough for fantasy owners and the Giants to decide whether Ahmad Bradshaw can play Thursday.
Ahmad Bradshaw, New York Giants (neck):
Bradshaw left Sunday's game early with a neck injury. He had X-rays taken at the game facility, and early reports were only that Bradshaw had suffered a neck sprain, relatively vague terminology but suggestive of a soft tissue injury. Bradshaw did return to the sidelines and watched the remainder of the game from that vantage point, cheering on his teammates and not appearing to be in any particular distress. He had an MRI scheduled Monday in New York and was listed as a non-participant in practice. (It's worth noting that the team conducted only a walk-through in advance of a Thursday game, but for reporting purposes, Bradshaw would not have participated had it been a regular practice.)
On Tuesday, coach Tom Coughlin did not elaborate on Bradshaw's injury, other than to say he is holding out hope he can play Thursday.
With the Giants having only four days between games this week, Bradshaw's status is clearly in question. The Giants have been very effective in managing the practice time of some of their key players during the week (e.g.,
Hakeem Nicks
this past week and Bradshaw much of the second half of last season) so they can play on Sunday. The issue this week is whether there will have been enough recovery between games to allow Bradshaw to safely participate.
Steven Jackson, St. Louis Rams (groin):
When Jackson was suddenly out of Sunday's game and the last thing anyone saw was him spiking a ball, there was a question as to whether there was a message being sent. Not so. Shortly after the game, Rams quarterback
Sam Bradford
said during a Sirius XM radio interview that Jackson had injured his groin. That was later confirmed by coach Jeff Fisher, who noted Jackson had a strained groin, which was the reason for his absence. In fact, Fisher told reporters Jackson could have returned if
Daryl Richardson
, who replaced Jackson, had struggled. Clearly, Richardson held his own and Jackson did not return.
As to what to expect from Jackson this week, it is too soon to know. He has dealt with groin injuries in the past that have caused him to miss time. While this did not have the initial appearance of anything serious (after all, no one even saw it happen, and if hadn't sat out the remainder of the game, there would have been no question), it is often not until players test these ailments that we get an idea of how much an injury will limit them. Late-week practice should provide further clues but it might be wise to secure a backup (Richardson, perhaps?) just in case.
Jamaal Charles, Kansas City Chiefs (knee):
Charles was not involved much in the second half of Sunday's game, which prompted the question as to whether he was injured or just resting. It sounds like a little of both.
The Kansas City Star reports Charles had soreness in his surgically reconstructed knee and the thought was that it was better to rest him the remainder of the game rather than expose him to further risk. It does not appear to have been anything serious, and the early rest in Week 2 might prove helpful in protecting the health of his knee. It sounds as if the Chiefs are expecting him to return in Week 3.
Jonathan Dwyer, Pittsburgh Steelers (foot):
Dwyer was listed on last week's injury report because of his foot but was expected to play and did. Now the Beaver County Times reports Dwyer has a turf toe injury, which might explain his limited production in Week 2. After all, coach Mike Tomlin had indicated after the season opener that Dwyer had earned a bigger opportunity. With
Rashard Mendenhall
returning to pads in practice this week, the running back situation becomes more complex in Pittsburgh. It seems likely the Steelers will hold Mendenhall out until after their early bye week, though, to allow him some more time to adapt to the increased activity.
Fred Jackson, Buffalo Bills (knee):
Jackson obviously did not play in Week 2 after suffering a sprained LCL in the season opener. After a week of rehabilitation and recovery, Jackson received some positive news. It appears he is going to be able to begin some light running in a brace this week, and, according to the Buffalo News, Jackson expects to return on the
shorter end of his projected timetable
. "The doc said that it's coming along, that at this rate it wouldn't be the full eight weeks," Jackson said. "Like I said before, I wanted to be back in four weeks, and he said that was a definite possibility and it will happen as long as we don't hit a snag anywhere."
Wide Receivers
Jeremy Maclin, Philadelphia Eagles (hip):
Maclin was questionable heading into Week 2 with a hip injury, was active for the game, then left early because of the same hip. Now he'll be a bigger question mark heading into Week 3. According to the Philadelphia Inquirer, coach Andy Reid called Maclin "day-to-day." The Inquirer also noted that after the game, Maclin described this injury as more serious than the first. That doesn't bode well for him, considering Friday was his only day of practice last week. If he is unable to practice at all, he will be a big question mark.
Hakeem Nicks, New York Giants (foot):
Seeing Nicks limping during Sunday's game had some fantasy owners panicking, despite his stellar performance. It turns out Nicks had his foot stepped on during the game and he was understandably experiencing some additional soreness. Nicks has been playing in the presence of some residual soreness since undergoing foot surgery this summer, but Sunday he showed he was returning to football shape.
Although he was listed as a non-participant for Monday's practice, he is expected to play Thursday night.
Tight Ends
[+] Enlarge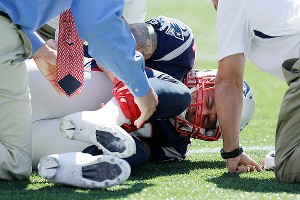 AP Photo/Elise AmendolaAaron Hernandez will be out at least a few weeks with an ankle injury.
Aaron Hernandez, New England Patriots (ankle):
AFC East blogger James Walker reports Hernandez is expected to miss a few weeks as a result of the injury to his right ankle. He has already been ruled out for Week 3, and while a definitive timetable has not been established, according to Walker, a source says Hernandez will not return before October. Tuesday's signing of veteran tight end
Kellen Winslow
adds support to the notion that he will miss multiple weeks. In other words, October is upon us in two weeks, but there is no reason to think the source was referencing early October.
The Patriots have not labeled the injury to Hernandez other than acknowledging it is his ankle, but the sight of him leaving the stadium on crutches and in a walking boot conveys the seriousness of it. Don't be surprised if Hernandez is out upward of a month. It is critical -- especially since he is so early in his career -- that his ankle heals completely before he returns to protect against long-term instability and degenerative changes. Expect the Patriots to take this one slowly to protect their big investment.
And we're keeping an eye on
Ryan Mathews, RB, San Diego Chargers (shoulder):
After being cleared for contact last Thursday, Mathews knew his return date was approaching, but waiting another week might have been the best plan. Mathews was working diligently to stay in shape, but there's nothing quite like actual practice reps to prepare for a game. The prevailing feeling in San Diego is that he will make his season debut this coming weekend, assuming all goes well in practice this week.
Antonio Gates, TE, San Diego Chargers (ribs):
Gates was a surprise inactive Sunday, especially given his return to the game the previous Monday night after the injury and his return to practice last Friday. That is what makes projecting his status for this week far more difficult. Here's hoping he's back in practice by late week so there are fewer questions heading into Sunday.
Greg Jennings, WR Green Bay Packers (groin):
Jennings was not able to play in Week 2 with a groin injury after only four days' rest. The Packers' next game, though, is Monday night, meaning Jennings will have had extra recovery time. And let's not forget, he wanted to try to give it a go in Week 2. We'll see how he fares in practice but expect to see him back in Week 3.
Matt Forte, RB, Chicago Bears (ankle):
Coach Lovie Smith says it's not a high ankle sprain, so what are fantasy owners to do now? Worry less about what the team is calling it and more about what Forte is actually doing. Either type of sprain can be minor or severe; it's just that high ankle sprains tend to be more disabling across the board. But Forte was outside Monday, and as noted by
ESPN Chicago
, he was not wearing a brace or a boot and "trotted" off the field, something we wouldn't necessarily have expected just four days after injury. While Smith said not to expect Forte to necessarily return to practice immediately, he also said Forte had not yet been ruled out of anything. More guessing for fantasy owners, but it certainly looks as if Forte escaped a more serious injury. It still would be a surprise to see him this week; however, it's looking as if his recovery could be quicker than initially expected.
November, 10, 2008
11/10/08
2:37
PM ET
The good news? Not too many injury additions following the weekend contests. The bad news? The status of a number of key fantasy players (Steven Jackson, Kyle Orton, Reggie Bush) remains shrouded in mystery until we get through at least the midweek practices. So we start with what we know as of our first look following Week 10.

Willie Parker, RB, Steelers:
We knew in advance of Sunday's game that Parker would sit out after suffering a shoulder injury in Monday night's game against the Redskins. All reports indicated that he was expected to return in Week 11. Then shortly before kickoff, NFL.com reported that Parker had suffered a torn labrum in his shoulder, which could further threaten his status. ESPN's Bob Holtzman later reported that Parker denied the NFL.com report and said that no one had informed him that he had a labral tear. He added that he expects to play in Week 11. Now it's Monday and the Pittsburgh Post-Gazette is confirming the original report that Parker indeed has a torn labrum, but also says that coach Mike Tomlin is hopeful that Parker will be available in Week 11.

Assuming Parker does have a labral tear, how will this affect him? It's not comfortable, and it may well be a condition that warrants offseason surgery, but it's not likely anything that will keep him off the field for an extended time, either. We have seen other non-throwing athletes play through this type of injury; Chad Johnson of the Bengals is playing with a similar condition now. If Parker were a quarterback, a torn labrum would present a much bigger challenge, as it would interfere with his ability to bring his arm overhead. Since he primarily keeps his arm at his side, mechanically the labral tear should not impact him greatly, but it can be painful if he takes a hit or lands on his shoulder. Uncomfortable? Perhaps. Season-threatening? Not likely. Enough of a reason for fantasy owners to hang on to Mewelde Moore? Absolutely.

Adalius Thomas, LB, Patriots:
Dealing with yet another injury-related blow to their lineup, this time on the defensive side of the ball, the Patriots will apparently be going without their leading pass-rusher for the remainder of the season. ESPN's Michael Smith is reporting that Thomas suffered a broken forearm Sunday and has likely played his last game in 2008. Coming on the heels of losing Rodney Harrison, this is another big defensive loss for the Patriots. If you're looking to pick up an IDP, Pierre Woods is likely next in line to replace Thomas.

Other noteworthy injuries:

The Kansas City Chiefs have lost quarterbacks and running backs, yet still managed to nearly pull off a victory over the Chargers on Sunday. This week, Jamaal Charles was the starter at running back, but had a setback with his ankle and was out of the game more than he was in it. Charles originally sprained his ankle against the Jets in late October and early reports in the Kansas City Star suggested that it was a high-ankle sprain. The very next week, however, Charles was active, and in fact replaced Kolby Smith when Smith left with a season-ending knee injury. With Larry Johnson serving a suspension, Charles was thrust into the role of feature back, but clearly his ankle was not quite up to the task. It will be interesting to see what the Chiefs' plan is going forward, and practices this week should help clarify the situation.

In Baltimore, wide receiver Derrick Mason was injured on the second drive but returned for the second half in what coach John Harbaugh termed a "courageous" effort. NFL.com is reporting that Mason suffered a shoulder dislocation. Whether Mason subluxed his shoulder (partial dislocation) or truly dislocated it is unclear, as the term dislocation is often used to indicate both. Either way, Mason's return is impressive, and the fact he returned to play in the second half suggests he should be able to play this week. That being said, the soreness and swelling is often worse in the initial few days post-injury, so we will see what Mason is able to do in practice this week.

A few additional items to pay attention to this week: Bears' receiver Brandon Lloyd was a surprise inactive Sunday after practicing all week and being listed as probable. Will he be ready for this week? If he does come back, will Kyle Orton be throwing to him? Orton has hinted that he wants to play in Week 11, but he will need to show in practice that he can move on his injured ankle well enough to warrant a start. ... In Oakland, the Raiders were without starting quarterback JaMarcus Russell and running back Darren McFadden. Russell had a flare-up of tendinitis that worsened late in the week. Will he need more rest or was one Sunday off enough? McFadden has been struggling with turf toe in both feet for several weeks. There are murmurs that he may be rested indefinitely to ensure that he returns to full health. ... Saints receiver Marques Colston showed he has recovered from thumb surgery and is back to game speed, as he had an outstanding performance despite the Saints' loss. Teammate Jeremy Shockey, however, had a disappointing day, despite good projections after looking very healthy in practice all week. Shockey's absence in the fourth quarter was "officially" injury-related, and his right ankle was indeed swollen after the game, according to the New Orleans Times-Picayune. Nonetheless, Billy Miller still appears to be the more favored, and more productive, tight end in the Saints' offense.

Be sure to check back here throughout the week as we update these and other injuries. No more bye weeks and always a Thursday game, so lineup adjustments have to be made a bit earlier. Also, stop by the injury chat (11 a.m. ET on Tuesday and Friday) to discuss the status of your injured players. Hope to see you there!