Stephania Bell:

James Jones
October, 24, 2013
10/24/13
7:21
PM ET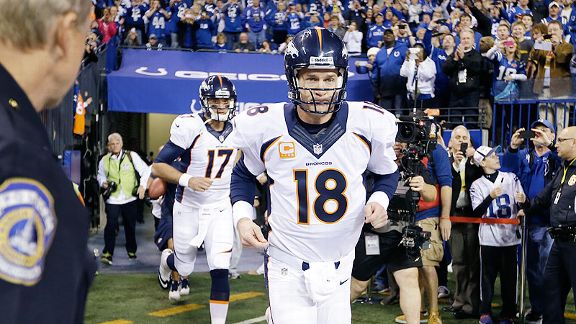 AP Photo/Michael ConroyPeyton Manning should be coming out of the tunnel to start Sunday's game against Washington.
After a brutal Week 7 on the injury front, there are some big names with concerns heading into Week 8, but none is bigger than the one that tops this week's injury notebook.
Peyton Manning, QB, Denver Broncos (ankle):
Manning missed practice Wednesday due to a sore ankle. As if Manning would let a little ankle issue get in the way of playing this week. By the way, he still threw during the walk-through on Wednesday because, as we might expect, Manning doesn't really rest. He was back in full practice on Thursday with business as usual. It's not as if anyone is counting on Manning to run, so there should be little concern about his readiness for Sunday.
James Jones, WR, Green Bay Packers (knee):
Jones sat out the Week 7 contest with a sprained PCL. Last week we discussed
the challenges
of this specific injury, but Tuesday coach Mike McCarthy sounded as if it could be this week or next when Jones might return. Jones did not practice Wednesday or Thursday, casting doubt on his availability for this week.
Cecil Shorts (shoulder) and Justin Blackmon (hamstring), WRs, Jacksonville Jaguars:
After a long trip to London for the Week 8 game, both players were given Wednesday off. If Shorts played last week, he will play this week. In fact, given the SC sprain he
sustained in Week 6
, an incredibly painful injury, his performance last Sunday was impressive. The best thing about this week's game is that it comes seven days later, giving Shorts some additional healing time. He returned to practice Thursday on a limited basis and has already indicated he plans to play.
Blackmon returned to practice Thursday on a limited basis. He continues to press on despite a hamstring ailment and is expected to do so again.
DeMarco Murray, RB (knee) and Dez Bryant, WR (hamstring/wrist), Dallas Cowboys:
Murray returned to limited practice Wednesday after sitting out the Week 7 contest with an MCL sprain. In fact, Murray was doing some running as early as Monday. The fact he has been able to increase the workload a bit each day is a very positive sign heading toward Sunday's game. His effort so far this week suggests he'll play. Murray was reluctant to sit out last week as he tries to shed the injury-prone label that has been attached to him. The week off may have helped his outlook going forward though, at least as far as his knee is concerned.
Bryant was limited in Wednesday's practice due to a sore hamstring and a wrist ailment, but he was out there in full on Thursday. There is no real concern about Bryant's availability.
Brandon Jacobs, RB, New York Giants, (hamstring):
Jacobs' dramatic comeback to the football field in Week 6 was followed by an absence due to a sore hamstring in Week 7. Surely he would like to get back out to the field. That did not happen Wednesday as Jacobs was held out of practice again because of the hamstring. He remained out on Thursday and it looks increasingly as if he could miss another week.
October, 22, 2013
10/22/13
1:20
PM ET
Green Bay Packers
tight end
Jermichael Finley
's injury was a frightening reminder of just how quickly the game of football can take a backseat to the matters of everyday life. Walking, talking, taking a shower. These were the things Finley was celebrating the day after his collision with
Cleveland Browns
safety
Tashaun Gipson
left him lying motionless on his left side, a hit that resulted in Finley leaving the field strapped to a spine board. He was later diagnosed with a bruised spinal cord, according to ESPN's Chris Mortensen.
After being admitted to the ICU and undergoing extensive testing, Finley made enough improvement by Monday evening to be transferred out of intensive care, although he remained in the hospital. Finley posted this note about his progress on Twitter: "I'm happy to report that I have been transferred out of the ICU and that I have full feeling in my arms and legs. As importantly, I was able 2 walk to & from the shower today, which was badly needed after yesterday's victory!" On Tuesday afternoon, ESPN's Ed Werder reported that Finley is expected to be released from the hospital within 24 hours.
So what does his future hold? It's too early to say. In the immediate sense, the primary goal following an injury where there is bruising of the spinal cord is to ensure the patient is stable, both medically (e.g., cardiac) and from an anatomical standpoint: Are the cervical vertebrae and the ligaments that support them intact? Is there a fracture that is either displaced or that could displace with movement, which would threaten the spinal cord?
The other immediate priority is to reduce any swelling around the cord. Swelling can cause compression, which impairs nerve function, something the patient perceives as loss of feeling and/or loss of strength in the extremities. The more pronounced the swelling and the longer it endures, the greater the risk of permanent damage. As the swelling resolves, the patient is observed carefully to see how the return of nerve function is progressing. In Finley's case, based on his increased activity later in the day, he was progressing quite well.
But he is hardly out of the woods. There will be additional tests and consultations with various spine experts to evaluate what factors may have contributed to this episode. In some cases, the athlete is found to have underlying spinal stenosis, a narrowing of the spinal canal which houses the spinal cord. Decreased space around the spinal cord means there is less room for the spinal cord to move (which it normally does when the spine bends) without abutting up against another structure. Rapid extreme movements -- such as those resulting from a violent directional blow to the head and neck area -- that force the cord to collide with an adjacent structure can result in bruising (contusion) of the delicate tissue. A narrow canal increases the risk of such contact for the spinal cord, and therefore potentially increases the risk of serious injury. Stenosis can be something the athlete is born with (congenital), or it can be acquired as a result of changes in the tissue. A bulging disc, for instance, can occupy valuable space within the canal.
According to Werder, doctors told Finley that they believe his injury was caused by extreme torque and that it will not require surgery. Some athletes have returned to play following spinal cord contusions, including
Baltimore Ravens
linebacker
Jameel McClain
, but much depends on what unfolds over the course of testing following an injury. The athlete's complete history -- including any prior episodes of neurological events -- will be evaluated in the context of determining the next steps. That process, along with the time allotted to ensure full recovery from this latest episode, is not quick, nor should it be. The Packers are not issuing any timetable for Finley, a perfectly reasonable approach given all the uncertainty around this injury.
In the meantime, the Packers are forced to evaluate their pass-catcher situation. With Finley out indefinitely, and
Randall Cobb
out until at least Week 15 with a fractured fibula, the status of
James Jones
becomes all the more important. Jones sat out Week 7 with a sprained PCL,
not surprising based on the nature of the injury
. The question now is if he will miss another week, or if he can return to help the team in Week 8.
Coach Mike McCarthy told reporters Monday that the team would have a better idea of Jones' outlook Wednesday. McCarthy said the timeline provided to him regarding Jones' injury was "probably two, possibly three weeks," adding, "He's genetically gifted, so we'll see what happens."
The key for Jones is having enough quadriceps strength to control his knee with dynamic movement. Until he tests it on the practice field, there is no way to measure how close he is to a return.
October, 17, 2013
10/17/13
3:43
PM ET
With the exception of quarterback
Aaron Rodgers
, the
Green Bay Packers
have been rolling through their offensive playmakers with a string of injuries since the preseason.
First it was
Jordy Nelson
, who was sidelined by an arthroscopic knee procedure that kept his status in question until shortly before the season opener. Since then, tight end
Jermichael Finley
has suffered a concussion and a toe injury, and all three running backs --
Eddie Lacy
,
James Starks
and
Johnathan Franklin
-- have sustained various injuries. Then, in Week 6, their other two top receivers –
Randall Cobb
and
James Jones
-- exited the game with knee injuries.
For the time being, Nelson, Finley, Lacy and Franklin are all healthy. Here's a look at the injury status of Starks, Cobb and Jones.
James Starks, RB (knee):
Starks has an undisclosed knee injury, but has been making steady progress. Last week, there were hints he could return in Week 7, but after not practicing through Thursday, that plan is on hold for a bit longer. Starks has already been ruled out for Sunday's game, leaving Franklin to back up Lacy.
Randall Cobb, WR (broken fibula):
Last Sunday, Cobb took a blow to the front of his knee that could have resulted in myriad problems. The body part that ended up absorbing the damage was the fibula (the skinny bone located on the outside of the leg that runs from the knee to the ankle). Cobb's fibula fracture, despite the obvious severity of breaking a bone, was better than a potentially season-ending multiligament tear, and the team placed him on the IR/designated for return. The soonest he will be eligible to return is Week 15.
James Jones, WR (knee):
Jones suffered what the team has only referred to as a left knee injury, but ESPN's Adam Schefter reported it to be a PCL sprain. As with any ligamentous injury, the down time is linked to the severity of the damage. The fact that there is even a hint that Jones might be available as soon as one week following the injury suggests it was a relatively minor sprain. That said, the PCL can be tricky because it is responsible for helping control posterior translation -- the movement of the lower leg relative to the thigh in the backward direction. Even a minor injury can give the athlete a feeling of instability, or that the knee is slipping backward. Obviously that can translate to difficulty landing from a jump when making a catch, or changing direction while running a route. The ligament lies deep within the joint, and the athlete can feel the uncomfortable sensation strongly, even if the actual movement, or slipping, is subtle -- making this a problem not easily remedied by a brace.
On Wednesday, coach Mike McCarthy indicated Friday would be the day the Packers learn more about Jones' status. "He's very positive about where he is, how he feels, but I think he's gearing up for a possible test in his rehab schedule," McCarthy said. As ESPN.com's Rob Demovsky reports, Jones has a
chance to play
on Sunday, but it would not come as a surprise if he sits.