Stephania Bell:

Jason Campbell
October, 18, 2011
10/18/11
5:01
PM ET
Fantasy rosters are already challenged with bye week rotations and mounting injuries around the league. That didn't stop the injury toll from rising in Week 6, with some players sustaining their second major injuries of the season, and we're only one-third of the way through.
[+] Enlarge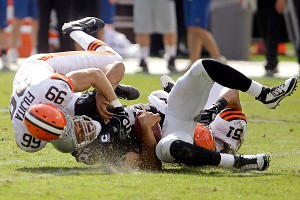 AP Photo/Ben MargotJason Campbell was hoping to return in six weeks from his broken collarbone, but the trade for Carson Palmer probably seals his fate for this year.
The biggest news is the fractured collarbone suffered by
Oakland Raiders
quarterback
Jason Campbell
. While Campbell's injury is significant, perhaps more so is the deal to acquire
Carson Palmer
from the
Cincinnati Bengals
. Campbell underwent surgery Monday to repair the fracture and was hoping for a possible return in six weeks. Such a timeline would presume full healing and a full return to normal throwing, a lofty ambition and certainly far from guaranteed. By acquiring Palmer, it appears the Raiders are indeed moving forward with the goal of "trying to win now." At least that was coach Hue Jackson's response to the question of whether Campbell would be placed on injured reserve, according to Vittorio Tafur of the San Francisco Chronicle. If Palmer helps the Raiders continue to move forward without missing a beat, Campbell will have all the time he needs to recover.
Week 6 also marked a first with two coaches suffering major injuries during a game (there's a reason players recovering from injury are not immediately cleared to be on the sidelines).
New Orleans Saints
head coach Sean Payton was in the path of his own tight end,
Jimmy Graham
, as Graham was being tackled, and Payton took a shot to his left knee. The injury, a tibial plateau fracture with concurrent soft tissue damage, required surgery, and Payton will be non-weight-bearing for nearly two months. He'll be undergoing his own lengthy rehab well beyond the regular season. Across the field during the same game in which Payton was injured,
Tampa Bay Buccaneers
assistant coach Jimmy Lake ruptured his patellar tendon while jumping up to celebrate an interception made by one of his defensive backs. Not a quick rehab on that front, either. Neither will be on the sidelines in the immediate future.
Quick Hits
[+] Enlarge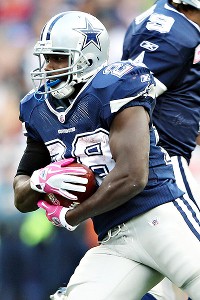 Elsa/Getty ImagesFelix Jones, already dealing with a shoulder injury, sprained his ankle against the Patriots on Sunday.
• The
Dallas Cowboys
finally had all their top offensive playmakers on the field for the first time since Week 1, but it lasted less than half a game. Running back
Felix Jones
, who was already nursing a sore shoulder after dislocating it in Week 2, suffered a left high ankle sprain and is expected to be sidelined for several weeks. The Dallas Morning News cites a source as saying Jones is expected to miss between two to four weeks. The reality with high ankle sprains is that the timetable is highly variable, depending in part upon the degree of the injury as well as the demands of the position.
The most serious high ankle sprains with complete ligament tears typically require surgery and are season-ending. The most mild, with no significant ligament damage and no measure of instability, can resolve within a couple of weeks. A key issue is whether there is enough ligamentous injury to cause a widening of the space between the two lower leg bones where they form the roof of the ankle joint. Gapping in that region can lead to chronic instability and arthritic changes. In essence, the area has to be allowed proper healing to allow for normal function of the ankle joint and to prevent long-term issues. The primary stress to that area is full weight bearing (every time the athlete takes a step). Cutting toward the inside can add further strain, but the biggest risk of aggravation comes from another player landing on the foot while the athlete is trying to rotate toward the inside (which is how Jones was injured in the first place). Running backs who have tried to return too quickly have struggled and often suffer setbacks (see the
Atlanta Falcons
'
Michael Turner
in 2009). It is impossible to state with certainty how long Jones will be sidelined, but fantasy owners should be prepared for a window that extends into November.
•
St. Louis Rams
quarterback
Sam Bradford
also is nursing an injured ankle. Coach Steve Spagnuolo referred to Bradford's injury as a high ankle sprain when speaking to reporters Monday. Bradford is in a walking boot, and his status is in question for Week 7. While he does not have the same mobility demands as a Felix Jones, he still needs to step into his throws to be effective. Spagnuolo perhaps best summed up how the injury could affect Bradford: "In my experience with the high ankle sprains, you just never know how long they're going to take. Fortunately, it's not the plant foot, so that helps a little bit. But my limited knowledge about throwing the football quarterback-wise is, it is from the bottom up. So you still need your legs and ankles to throw the ball effectively." Truth. The quarterback also needs them to protect himself from sustaining further injury. Don't be surprised if Bradford is out.
[+] Enlarge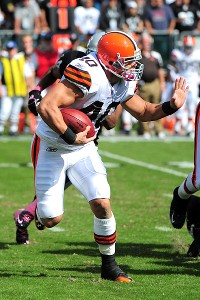 Kyle Terada/US PresswireIs Peyton Hillis the latest player to suffer the Madden Curse?
•
Cleveland Browns
running back
Peyton Hillis
is the latest fantasy starter to suffer a hamstring injury. Or so it seems. According to the Cleveland Plain-Dealer, Hillis exited early Sunday after he strained his hamstring by overextending his leg on the Browns' second drive of the game. Hillis ultimately came out in the second quarter and remained out for much of the game (no injury announcement was made by the team until the third quarter, adding to the confusion about his absence), yet tried to return in the fourth quarter to try to help his struggling team. A bit puzzling to be sure, but according to Hillis, he felt like he had to do something. He quickly realized he couldn't play. Hillis told the Plain-Dealer, "Yeah, it probably wasn't the smartest thing to do," hoping he had not made the injury worse. So far there is no indication as to what the Browns expect from Hillis this Sunday, but the good news is that the injury is not severe enough for the team to rule him out at this stage. We'll see whether he can get any practice time in this week, but fantasy owners should prepare for his potential absence.
•
Detroit Lions
running back
Jahvid Best
suffered his second concussion of the year Sunday (his first came during the preseason). Coach Jim Schwartz said Best's symptoms did not appear until after the game, not an entirely unusual occurrence. While the Lions have not ruled out Best for Week 7, he will have to go through the same routine (resolution of symptoms, return to baseline of neurocognitive testing, return to exercise without a return of symptoms, clearance by an independent neurological consultant to return to play) before he can take the field. We could see more of
Maurice Morris
or potentially
Ronnie Brown
, whom the Lions acquired Tuesday for
Jerome Harrison
.
• The
San Diego Chargers
had
Mike Tolbert
(concussion),
Ryan Mathews
(calf) and
Antonio Gates
(foot) back in practice Monday, but no one is declaring game status just yet.
Vincent Jackson
was not in practice early in the week but hopes to return by Wednesday, according to Kevin Acee of the San Diego Union-Tribune.
We will continue to update these injuries and others as the week progresses.
October, 19, 2010
10/19/10
3:36
PM ET
The standout topic from Week 6 was the incidence of head injuries. There certainly has been much discussion around the injuries, the hits that led to those injuries and the position the league is taking as far as
enforcing penalties on flagrant hits
.
Fantasy owners saw a number of their players leave the game Sunday (and Monday!) with head injuries. It is important to remember that concussions are like snowflakes; no two are alike and they are therefore unpredictable in terms of recovery. What we can say is that each player will be carefully evaluated and will be subject to the league guidelines before he is permitted to return to play.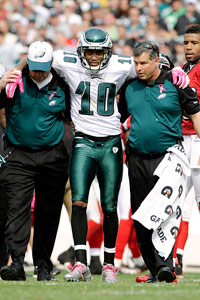 Barbara Johnston/US PresswireDeSean Jackson had scored two touchdowns Sunday before suffering that huge hit from Dunta Robinson.
The following key players suffered a head injury in Week 6:
DeSean Jackson, WR, Philadelphia Eagles:
In what may have been one of the biggest hits of the weekend, Jackson's head snapped back upon impact with the
Atlanta Falcons
'
Dunta Robinson
before he hit the ground in a heap. Robinson suffered a head injury of his own from the hit he delivered. A clearly dazed Jackson was ultimately escorted off the field by medical personnel. NFL.com reports that Jackson suffered memory loss, and head coach Andy Reid told reporters Monday that Jackson also has a sore shoulder. Expect him to be out for Week 7.
Mohamed Massaquoi, WR, Cleveland Browns:
Massaquoi left Sunday's game in the second quarter with a concussion following a hit by
Pittsburgh Steelers
linebacker
James Harrison
.
Josh Cribbs, WR, Cleveland Browns:
Cribbs took a hit on the side of his helmet Sunday (also from Harrison) and crumpled to the ground. Cribbs was eventually able to walk off the field and even seemed to be making a case for a return to the game, but the medical staff stood firm.
Chris Cooley, TE, Washington Redskins:
Cooley apparently suffered his concussive hit in the second quarter but did not develop symptoms until later, which is not altogether unusual. According to The Associated Press, Cooley began to develop a headache and felt that he was "a little bit slow." He then came out of the game. Cooley, who has had several concussions in the past, was scheduled to undergo a CT scan Tuesday.
David Garrard, QB, Jacksonville Jaguars:
The Monday night game yielded another concussion, this time from the Jaguars' signal-caller, who left the contest early and was replaced by former
Buffalo Bills
quarterback
Trent Edwards
.
In the non-concussion injury department, here's what we're talking about after Week 6.
• In what many have agreed was the most egregious hit of the weekend,
Baltimore Ravens
tight end
Todd Heap
was the recipient of a helmet-to-helmet hit by the
New England Patriots
'
Brandon Meriweather
. The safety clearly led with his head on the hit to Heap, prompting an angry reaction from his own coach, Bill Belichick. Heap returned to the game after sitting out briefly, but don't be surprised if he shows up on the injury report this week.
•
Indianapolis Colts
running back
Joseph Addai
made another early exit after taking a hard hit to his shoulder in the fourth quarter of Sunday's game against the Redskins. According to Tom James of the Terre Haute Star-Tribune, Addai was seen in the locker room Monday with his left arm in a sling. The extent of Addai's shoulder injury has not been diagnosed. "It did not appear to be a separated shoulder or anything like that," team president Bill Polian said during his weekly radio show. "That's kind of the good news. We'll know more later in the week." The Colts are on a bye this week, but there is no indication yet as to whether Addai will be available for his next game, which isn't until Nov. 1.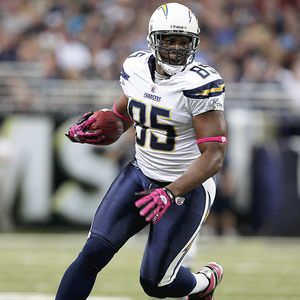 Icon SMIAntonio Gates' streak of scoring a TD in every game this season was stopped because of his toe injury.
• The
San Diego Chargers
' reliable tight end
Antonio Gates
has been having an amazing start to his season. In Week 6, his numbers dropped as he was forced out of the game in the first half due to injury. Initially, it appeared as if Gates had injured his ankle and he was spotted in a walking boot after the game. But the news got better by Monday. The San Diego Union-Tribune reports that coach Norv Turner said Gates had sprained his left toe but remained optimistic he could play this week. Despite the fact this injury is to the same foot on which Gates underwent surgery two years ago, Turner told the Union-Tribune that the two injuries are unrelated (no word on whether the injury specifically is to the same toe or not). Gates' teammate, wide receiver
Malcom Floyd
, may not fare as well this week. He strained his hamstring in the third quarter of Sunday's game and early indications are that he will be out this week.
•
Oakland Raiders
quarterback
Jason Campbell
started in Week 6 in place of the injured
Bruce Gradkowski
but injured his own knee in the process. Campbell underwent an MRI on Monday on his sore left knee. According to the San Jose Mercury News, the diagnosis is a "sprained knee" and it remains to be seen who will be under center for the Raiders this week. ESPN's
Bill Williamson
thinks it could be
Kyle Boller
. Meanwhile, teammate
Darren McFadden
yielded the running back duties to
Michael Bush
in Week 6 while he rested his injured hamstring. McFadden plans to test the hamstring in practice this week. He told the Mercury News, "That's my goal for Wednesday, to go out there and try to see what I can do, see if I can burst." As the weekend approaches, fantasy owners will find out whether they will need to agonize over whether McFadden or Bush is in line to get the work.
•
Denver Broncos
wide receiver
Eddie Royal
suffered a groin injury in Sunday's game against the
New York Jets
, but the extent of the injury is unclear. The Denver Post reports that coach Josh McDaniels is uncertain whether Royal will be able to practice this week.
• Washington Redskins running back
Ryan Torain
made fantasy owners happy Sunday night. And then he disappeared early in the fourth quarter, leading many to wonder if he was hurt. The Washington Post reported that Torain was spotted in the locker room after the game with his knee heavily wrapped but responded to questions about it by smiling and saying, "I'm great." We will have to wait and see what he does in practice this week, but don't be surprised if he appears on the Wednesday injury report, even if only for taking limited reps to rest his knee. Tight end Chris Cooley, who suffered a concussion, will undoubtedly land on the injury report. Concussions always require ongoing evaluation, so it is too soon to tell what his status for Week 7 will be.
•
Detroit Lions
quarterback
Shaun Hill
fractured his left (nonthrowing) forearm Sunday and underwent surgery Monday to repair it. Hill will be unavailable for at least several weeks. The good news for the Lions is that
Matthew Stafford
was already on track to return after the Week 7 bye. If all continues well, Stafford will be ready to return from his AC sprain when the Lions resume play in Week 8.
•
San Francisco 49ers
tight end
Vernon Davis
contributed to his team's first win with a score on Sunday but injured his knee in the process. Davis underwent an MRI on Monday, but according to Matt Maiocco of CSNBayArea.com, the 49ers do not expect him to miss any significant time. He is being called day-to-day.
•
Dallas Cowboys
quarterback
Tony Romo
suffered a bruised left (nonthrowing) thumb. The Dallas Morning News reports that Romo did not undergo X-rays and is not expected to miss any practice time.
• Monday night saw both quarterbacks exit early due to injury. The Jacksonville Jaguars saw David Garrard added to the concussion roster from Week 6. The
Tennessee Titans
lost
Vince Young
after his leg got bent awkwardly during a pileup. Young was seen in a brace on the sideline with what was later called a sprained knee. After the game Young told reporters he will take it "day by day."
• Philadelphia Eagles quarterback
Michael Vick
is not expected to play in Week 7. Although he is making some progress, Vick acknowledged on his weekly radio appearance on ESPN 94.1 FM in Virginia Beach, Va., that it made no sense to rush back. He hopes to be ready by Week 9 (the Eagles have a bye in Week 8).
We will continue to update these injuries and others as the week progresses.
See you at the injury chats (Tuesday and Friday 3-4 p.m.) and we'll have the latest injury updates in the blogs on Thursday and Saturday.
December, 7, 2007
12/07/07
6:59
PM ET
Thursday night football has not been kind to the starting quarterback. In Week 13, Packers quarterback
Brett Favre
was forced out of the game with a bruised forearm that affected his ulnar nerve. Thursday,
Rex Grossman
of the
Chicago Bears
and
Jason Campbell
of the
Washington Redskins
both went down with injury, both as a result of taking a hit to their plant leg as they delivered the ball. For more on these injuries as well as a look ahead to who will be affected by injuries, please, read on.
Out
Matt Schaub, QB, Texans:
Still recovering from a dislocated left shoulder, Schaub does not have a timetable for his return.
D.J. Hackett, WR, Seahawks:
Hackett is out again due to re-injury of his ankle, but the team expects he could return within a week or two. We'll update his status later.
Roy Williams, WR, Lions:
Williams injured his knee and will not return for your fantasy team this season.
Larry Johnson, RB, Chiefs:
Still out, yet the team still expresses hope. There is no information to suggest one way or the other whether Johnson will return this season, but as a fantasy owner, you just can't count on it.
Anthony Thomas, RB, Bills:
A torn popliteus muscle (small muscle behind the knee) will keep Thomas out the remainder of the season. Marshawn Lynch and Fred Jackson will take it from here.
Ahman Green, RB, Texans:
The Texans announced today that they are placing Green on injured reserve because of lingering problems with his knee. They tried to hold out hope, but to no avail. Green's football future may be in question.
Here's what we know so far about other players with injury concerns heading into Sunday.
Running Backs
Marshawn Lynch, Bills:
Lynch practiced all week on a limited basis, progressively improving as he returns from a high ankle sprain. The Bills will undoubtedly ease him back into the game, meaning he is likely to lose some action to
Fred Jackson
, but is expected to play. There is always a bit of a risk when an athlete returns from a high ankle sprain, but this is a good matchup for Lynch against the Dolphins.
LenDale White, Titans:
Despite some residual swelling and stiffness in his middle finger, White (probable) is expected to play Sunday. He should be able to go the distance, but may struggle some with ballhandling.
Brandon Jacobs, Giants:
Jacobs is expected to play, according to a report in Newsday, and there is no
Derrick Ward
to share carries with anymore. There is
Reuben Droughns
, however, and he will likely absorb some of Jacobs' work. Jacobs is returning from a hamstring strain, always a bit risky for the first game back, but he has been working out well and sounds ready to go.
Reggie Bush, Saints:
ESPN's Chris Mortensen reported Friday that Bush has a torn posterior cruciate ligament (PCL), which was confirmed by the Saints, although they have not indicated the degree of injury. Bush is getting a second opinion from Dr. James Andrews, but it appears doubtful that he will play Monday. Coach Sean Payton told the New Orleans Times-Picayune that he is still hopeful that Bush can play Monday given that he practiced some this week, but this really does not appear likely. All you have to do is look at how long it took
Travis Henry
and
Andre Johnson
to return from a PCL injury to appreciate the time frame Bush is dealing with, if it is a nonsurgical injury. The injury apparently occurred Nov. 4, and this may go a long way toward explaining why Bush really hasn't seemed like himself over the past month. There is some question as to whether Bush may now miss the remainder of the season. Stay tuned for updates regarding his status. In the meantime, find a replacement for your fantasy roster.
Quarterbacks
Jason Campbell, Redskins:
Campbell took a hit on his plant leg which forced it inward as he fell to the ground. This is often a mechanism for a medial collateral ligament (MCL) injury, but it appeared that Campbell took the hit just slightly lower on his leg, forcing it to rotate inward as his leg collapsed, more of a mechanism for a patellar (kneecap) dislocation. If you saw the game, perhaps you saw Campbell grab the outside of his leg with his hand. Had he torn his MCL, you would expect him to grab the inner knee, where it would be most painful. Campbell grabbed his outer knee because he was trying to put a hand around his kneecap, which he had just dislocated. The response of the medical staff also suggested a patellar dislocation. Campbell was immediately placed in a knee immobilizer, the best position to allow the kneecap to resume its proper alignment, and the least stressful for it. The bottom line for Campbell is that his season has essentially ended, as the tissue that was stretched on the outside of the knee during the dislocation has to heal. After immobilizing the knee for a few weeks, which allows the tissue to heal while preventing a repeat episode, Campbell will have to gradually regain his range of motion and strength. Coach Joe Gibbs said in his postgame news conference that it was fortunate that no ligaments were involved, which is true because the injury he did suffer is nonsurgical. Consequently his overall healing time should be reduced. The Redskins could conceivably have Campbell available the final week of the season or if they venture into the playoffs, but from a fantasy perspective, he is done.
Rex Grossman, Bears:
Poor Rex. He didn't make it through even a full quarter before the injury bug bit him. Grossman also suffered a blow to the outside of his leg that forced his knee inward, the mechanism described above that typically affects the MCL. And so it is. The Chicago Sun-Times is reporting that Grossman sprained his MCL and given the recovery time for this type of injury, it is fair to assume that we will not see Grossman again this season.
Brett Favre, Packers:
He's had a week now to let the forearm rest and has resumed practice. As of the end of the week, Favre was handling the majority of the reps with the first team and throwing quite a bit without limitation according to the Packers' official Web site. You can expect to see him Sunday and expect the streak to stay alive.
Brodie Croyle, Chiefs:
Croyle missed Week 13 with a deep back bruise, but the time off seems to have helped. Croyle was able to practice fully all week, is listed as probable and is expected to start Sunday. This news is as good for
Dwayne Bowe
fantasy owners as it is for Croyle fans.
Jeff Garcia, Buccaneers:
Garcia's status will be a game-time decision as coach Jon Gruden wants to see how Garcia's back feels once the team gets to Houston, according to a report in the Tampa Tribune. Garcia, who sat out Week 13 with a back injury, was able to gradually increase his activity tolerance over the past two weeks, but is not yet 100 percent. Garcia has looked good in practice, although he was given Friday off to rest, and the expectation is that he will play Sunday. He may be a little stiff, but if his offensive line is able to protect him so that he can avoid significant contact, he should be able to play well.
Donovan McNabb, Eagles:
McNabb (probable) is primed to make his return Sunday from a jammed thumb and sprained ankle that caused him to sit out two games. McNabb has been practicing and although his mobility may yet be limited somewhat by the ankle, he should be able to be effective. McNabb wanted to play this past Sunday but was held out by coach Andy Reid, who wanted him to be closer to 100 percent before returning to a game situation. Given Reid's criteria, I expect McNabb will be able to perform heading into Sunday's contest.
Marc Bulger, Rams:
Bulger is listed as questionable on the Friday injury report after suffering a setback during the week. Bulger, recovering from a concussion, had been cleared to practice Tuesday. But as the St. Louis Post-Dispatch reports, Bulger did not feel well after practice Thursday, causing the Rams to downgrade him. This is why athletes are gradually returned to activity after concussions; there is always the possibility that symptoms can return with increased intensity of exercise, which indicates the brain has not fully recovered. Coach Scott Linehan wisely says he will not return Bulger if he is not fully healthy, and he will use the next 12 to 24 hours to make that decision. Plan on another quarterback.
Wide Receivers/Tight Ends
Marvin Harrison, Colts:
Could it be? Could Harrison actually make a return Sunday? Harrison practiced some on Wednesday and was seen walking without a limp afterward, a good sign. He was held out of practice Thursday as a precaution. According to the Indianapolis Star, coach Tony Dungy has indicated that the Colts are being more cautious than if they were in a must-win situation to get into the playoffs. Harrison is clearly not 100 percent and the Colts do not want to risk losing him for the time when it really counts. There is a chance, albeit a slight one, that Harrison plays Sunday, but even if he steps on the field it will be on a limited basis. There is no fantasy value here.
Anquan Boldin and Larry Fitzgerald, Cardinals:
Boldin dislocated a toe Sunday and has been unable to practice all week. According to the Arizona Republic, the medical staff has been trying to find a supportive insert for his shoe that would allow him to run without pain, but so far that has not happened. There is still a chance that he could be outfitted with something before Sunday, but Boldin has said that he does not like to play without having practiced at least once during the week. Add to that the fact that his hip is still bothering him and it is unlikely he sees the field this week. Teammate Fitzgerald has been contending with a groin injury, but has been increasing his activity, and was running routes late in the week. Also listed as questionable, Fitzgerald is more likely to see playing time, but may not yet be fully recovered. The concern with the groin injury is lateral cutting and speed, so Fitzgerald may not be up to the monster performances that he has put up of late, but there is a reasonable chance that he is active and efficient on Sunday.
Brandon Stokley and Javon Walker, Broncos:
Stokley, who was reported to have injured his knee this past Sunday, had not practiced during the week and appeared unlikely to play. Friday, however, Stokley was able to put together a full practice and, although listed as questionable, he is expected to start, according to the Denver Post. Teammate Walker has been hampered by his knee and has not had a strong outing since returning, which is a bit surprising as he had looked good in practice. The expectation is that Walker will play, but he is not yet fully healthy and remains a risky start.
Santonio Holmes, Steelers:
Holmes is off the injury report, a good sign that his high ankle sprain has healed enough to allow him to play. Expect to see Holmes in action Sunday, but he is returning after a relatively short time frame. We have seen the high ankle sprain injury regress after a player returns (D.J. Hackett,
Michael Pittman
) and until Holmes has fully tested it, temper expectations for his return.
Laveranues Coles, Jets:
Coles remains a game-time decision as he recovers from his high ankle sprain. Coles is tough and can be expected to play through pain, as he has done many times before. With Cotchery out, the Jets need Coles even more, so expect him to be on the field. He is not likely to be 100 percent, but unless he suffers a serious setback during the game, don't expect that to limit his performance.
Don't see your player here? Be sure to check back Saturday when we check late Week 14 updates and add a few defensive players.