Stephania Bell:

Jed Lowrie
June, 21, 2011
6/21/11
1:50
PM ET
With the
St. Louis Cardinals
' loss of
Albert Pujols
drawing top billing in the injury news Monday, some other injury-related news may have floated under the radar. That is, of course, unless the players connected to those injuries are on your fantasy roster.
[+] Enlarge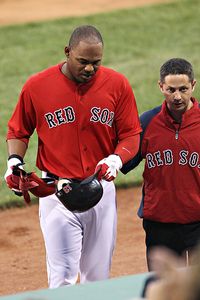 Jim Rogash/Getty ImagesCarl Crawford is one of eight Red Sox currently on the disabled list.
Carl Crawford, OF, Boston Red Sox:
Crawford made an early exit from Friday's game with a strained left hamstring, as he pulled up while running to third on an infield single in the first inning. Despite the news that Crawford's injury was a Grade 1 (minor) strain, the team took no chances and placed him on the 15-day DL the next day. Given that he has to run the bases and run in the outfield, the risk of aggravating the injury if he rushes back is high. Crawford is on the disabled list for only the second time in his career; the first absence was in 2008 for a hand injury. The team is hopeful that Crawford will only require the minimum stay.
Shaun Marcum, P, Milwaukee Brewers:
Marcum left last Friday's game early with what was later termed a left hip flexor strain. As for why he left after just one inning, Marcum said, "I didn't want to take a chance of hurting it worse or actually doing something where I'm missing more time." An MRI taken over the weekend reportedly revealed no significant injury and Marcum threw again Monday. According to the Brewers' website, Marcum threw what pitching coach Rick Kranitz referred to as a "great" bullpen and if he continues to feel good Tuesday, Marcum should make his next scheduled start on Wednesday.
Marcum is the second right-handed pitcher in recent weeks to have a hip flexor strain in his lead leg. St. Louis Cardinals pitcher
Kyle McClellan
recently came off the 15-day DL following a similar injury. According to the Cardinals' website, McClellan believes his particular style of throwing, being "very aggressive on that hip," contributed to the strain he placed on the joint. He spent his recovery time working on making adjustments in that delivery to try and offload the hip. His first outing following his return wasn't fantastic but there were no reports of his hip giving him trouble.
David Freese, 3B, St. Louis Cardinals:
Freese suffered a broken bone in his left hand when he was hit by a pitch in early May but has been steadily making good progress in his recovery. He underwent surgery after the injury to stabilize the fracture and has been quietly, successfully carrying out his rehab efforts. Tuesday marks a big step forward, however, as Freese is expected to begin a rehab assignment with Triple-A Memphis. According to the St. Louis Post-Dispatch, Freese indicated he could rejoin the Cardinals by late June if all goes well. Freese was originally projected to be absent potentially as long as three months, so a sooner return would be welcomed by him and his teammates. Just last year, however, Freese had the misfortune of suffering a second injury while already out on the disabled list, so he knows better than anyone to take it one day at a time. Still, the Cardinals could use some good news right about now, and Freese's near return just might be it.
[+] Enlarge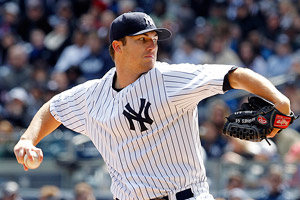 William Perlman/TheStar-Ledger/US PresswirePhil Hughes has a 13.94 ERA in three starts this season.
Phil Hughes, P, New York Yankees:
After a difficult spring when his velocity seemed to have vanished, Hughes appears to have found it again, or so it seems. Hughes underwent a battery of tests to determine whether there was any medical condition responsible for the
drop in his velocity
, but they yielded no significant findings. And so he simply restarted his season.
The do-over seems to be going much better. Hughes has looked good in bullpen sessions but this week marked a new test. Hughes had his first rehab outing Sunday, delivering 4⅓ innings for Class A Staten Island. The most encouraging news from that day was Hughes' ability to maintain the velocity on his pitches, staying in the low to mid-90s throughout. According to the New York Daily News, manager Joe Girardi was encouraged. "His velocity was good, the velocity on his cutter was good," Girardi said. "It just seems that his arm strength is back." Hughes is due for another couple of rehab starts, at least, but appears as if he could be making his way back to the rotation relatively soon, perhaps in early July. It's difficult to know what to expect long term, especially since Hughes' condition was so puzzling even to those around him. Right now, everyone is just enjoying the fact his ship seems to be righted.
Quick hits
• Other Red Sox in the injury news: Staff ace
Josh Beckett
was scratched from his Tuesday start as he deals with what manager Terry Francona referred to as "intestinal turmoil." It's surprising Francona doesn't have a similar condition dealing with all the ailments his team has faced recently. Just this past week, pitcher
Clay Buchholz
(back) joined Crawford on the DL, as did
Jed Lowrie
, who is now headed west for a consultation with Dr. Lewis Yocum. Lowrie has been trying to play through a sore left shoulder (injured in a collision with Crawford in late May) but last week described a sensation of the shoulder slipping in the joint.
•
Atlanta Braves
pitcher
Tommy Hanson
is reportedly feeling better. Hanson was placed on the DL with inflammation in his throwing (right) shoulder. An MRI showed no significant injury, but the Braves opted to rest him proactively. The Atlanta Journal-Constitution reports the team hopes to have him back when eligible on June 28. Meanwhile teammate
Brandon Beachy
will start Wednesday in place of the injured Hanson. Beachy has been out for more than a month with an oblique strain but said he felt no discomfort after going five innings in a rehab start last week. Once recovered, the re-injury rate for obliques is generally low. If Beachy can deliver a couple of strong outings without incident, this will appear to be behind him.
•
Ubaldo Jimenez
had a cramp in his right calf Saturday, which ultimately forced him out of the game in the sixth inning. Afterward, Jimenez told the Denver Post that he was "a little bit sore" but did not sound overly concerned.
• The
New York Mets
'
David Wright
(stress fracture, back) and
Ike Davis
(bone bruise, ankle) are both scheduled to be evaluated later this week. Newsday reports Wright played catch Sunday and fielded grounders on his knees. He is sounding optimistic that his healing has progressed enough to earn him clearance to resume baseball activities. Meanwhile Davis is expected to undergo a follow-up evaluation on Wednesday. The hope is that his ankle will have recovered enough for him to tolerate a running progression. Before Davis was placed back in the walking boot, his attempts at running were limited by severe pain.
June, 17, 2011
6/17/11
3:16
PM ET
Joe Mauer
does not have Lyme disease.
That was one of the questions the
Minnesota Twins
catcher answered Thursday when he addressed the media. There have been numerous questions about the
nature of Mauer's extended illness
and his recovery since he went on the disabled list in April. According to the Minnesota Star-Tribune, the decision to talk to the media was made in order to prevent Mauer's Friday return from becoming a distraction for the team. While Mauer wouldn't go so far as to say he's 100 percent healthy, he did say he was feeling "great" and that he's prepared to catch back-to-back games. Certainly the Twins are hopeful that his return will last. Time will tell.
[+] Enlarge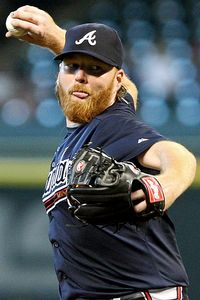 Troy Taormina/US PresswireTommy Hanson said his shoulder has been an issue for a few starts, but in June, he's 3-0 with a 1.42 ERA with 24 K's in 19 innings.
The
Atlanta Braves
have a couple new injury concerns. Pitcher
Tommy Hanson
was scratched from his Friday start with what the team is calling tendinitis in his throwing (right) shoulder. The team later placed him on the 15-day DL. The Atlanta Journal-Constitution reports the shoulder has been bothering him for a couple starts. Not that anyone would have noticed, especially given that he had struck out 14 in his last outing.
Meanwhile, third baseman
Chipper Jones
left Thursday night's game with a right adductor (groin) strain. According to the Braves official website, he received an injection immediately afterward. Jones has been dealing with groin issues intermittently since late May and at 39, these soft tissue injuries just don't heal quite as quickly. For now he is considered day-to-day.
The
Boston Red Sox
also had a couple of early exits Thursday night. Pitcher
Clay Buchholz
left the game after five innings with tightness in his lower back. According to ESPN Boston, Buchholz described it as "a nagging back that's been the same since last year." Buchholz acknowledged that by the fifth inning he could tell he was compensating in his delivery for the discomfort in his back. Knowing that this can lead to other injuries, such as the shoulder or elbow variety, is one reason the team wants to address this. Buchholz is expected to be evaluated back in Boston.
Meanwhile, his teammate
Jed Lowrie
continues to experience problems with his left shoulder nearly three weeks after originally injuring it in a collision with
Carl Crawford
. Lowrie told reporters Thursday of the sensation he experienced while striking out, "It felt like it slipped out. It wasn't out, but it felt like it came out and went back in." His description fits that of a classic subluxation, where the shoulder feels like it moves out of place but does not dislocate. It can be painful not only when it happens, but afterward, as the muscles around the joint can go into protective spasm. Lowrie, who left Thursday's game in the first inning, was then placed on the DL on Friday. While an earlier MRI turned up nothing significant, the DL stint does give Lowrie not only the time to let the symptoms subside, but to work on the necessary strengthening to protect his shoulder going forward.
April, 22, 2009
4/22/09
2:58
PM ET
By
Stephania Bell, ESPN.com
| ESPN.com
It's a busy, busy week in the world of sports. The playoffs have started in the NBA and NHL, the NFL draft is upon us and baseball is in full swing all around the country.
What strikes me is that the injuries just seem to keep on coming. Some teams are already looking at possible personnel moves simply to accommodate the rash of injuries they have already sustained. And it's only April!
On that note, here's who we're focusing on this week in the world of baseball injuries ...
Chris Carpenter, P, Cardinals:
It was just a short time ago when we were celebrating Carpenter's return to the mound after virtually two years of absence due to injury. The celebration was short-lived when Carpenter was again forced to the DL, this time as the result of an oblique strain. The St. Louis-Dispatch reports that an MRI confirmed Carpenter injured a left oblique muscle, and as a right-handed thrower, this is the most commonly observed pattern (opposite side of the throwing arm). The less common aspect of his injury is that he sustained it while batting. Certainly power hitters are known to suffer oblique injuries, but no one would accuse Carpenter of being a power hitter. Pitchers, who rely on their oblique muscles to help generate the torque required to deliver the ball, often sustain the injury during throwing.
Nonetheless, whether the injury is sustained during batting or throwing, the rehab remains essentially the same. On average, an oblique injury is a six-week injury for a pitcher. In Carpenter's case, given his extensive injury history to his throwing arm, there will be no rushing his return. Any weakness in his trunk could result in compensations in his throwing arm, putting him at risk for injury. Expect Carpenter to be out for two months, but expect him to come back strong once he's ready.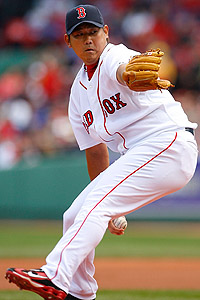 Jim Rogash/Getty ImagesDice-K's tired arm is a strong argument against the WBC.
Daisuke Matsuzaka, P, Red Sox:
Arm fatigue? OK, so it's not a fancy medical diagnosis. But it does a pretty good job of accurately conveying the nature of the problem. Officially termed a shoulder strain by the Red Sox, his ailment manifested itself as a lack of control and command. Based on his recent struggles, the Red Sox wisely chose to place him on the DL to allow his arm some rest, perhaps pre-empting a more serious problem down the line.
Fatigue often leads to a change in mechanics as pitchers try to compensate for less power by an alteration in their delivery. Even subtle changes, over time, can lead to significant injury. Rest now, followed by a gradual, progressive return to throwing, should allow Matsuzaka to work his way back to his normal self within a relatively short time frame. Had he tried to press through this, it might have ultimately translated into a more prolonged absence.
The good news is the Boston Globe is reporting that Matsuzaka has been cleared to begin light throwing (think: playing catch), signaling that his arm felt good enough that very little down time was required. He will work through a typical throwing progression, but barring any setbacks, he should not be absent for a protracted period.
Jed Lowrie, SS, Red Sox:
Last week we talked about Lowrie's ailing wrist and the unknown path ahead. After multiple consultations, with the final stop taking him to Dr. Donald Sheridan in Arizona, Lowrie's fate has finally been decided. He opted to undergo arthroscopic surgery Tuesday to address his wrist problem. According to the Boston Herald, Lowrie's procedure involved removal of the ulnar styloid, a projection of bone at the tip of the ulna (the forearm bone that runs from the elbow to the pinky side of the hand). Lowrie told the Herald that he is scheduled to return in six to eight weeks.
The concern with any wrist surgery is not just how long it will take a player to get back into the game, but how long it will truly take for him to return to form, particularly at the plate. It is not uncommon to see hitters struggle to regain their power following a wrist injury. Lowrie fans and fantasy owners will want to plan on having insurance for three months. Meanwhile
Julio Lugo
, recovering from meniscal surgery, is beginning a rehab assignment at Triple-A Pawtucket on Tuesday. According to the Red Sox's official Web site, he could return within another week or so. Keep in mind that the Red Sox will not rush him simply because Lowrie is out and Lugo is still having some soreness in the knee. Best to plan on at least two weeks for Lugo's return to the lineup.
Alex Gordon, 3B, Royals:
It seems like the injury du jour for third basemen is hip labral tears.
Mike Lowell
started the trend with his injury last season.
Alex Rodriguez
, who underwent hip labral surgery in early March, is perhaps the biggest celebrity of the group. Gordon is the latest addition to the list.
The Kansas City Star reported that Gordon first felt "tightness" in the hip on Opening Day. Earlier reports suggested that he first injured his hip sliding into second base a week ago, then further aggravated it during an at-bat. Either way, the limitations in his hip appeared to be impacting him at the plate. Gordon had his hip operated on Friday by Dr. Marc Philippon, the same surgeon who operated on Rodriguez. According to the Royals, Gordon is expected to miss anywhere from 10 to 12 weeks. This timetable suggests that the labral repair was the primary issue and that he did not require extensive bone work (like Lowell for instance, who had a rehab timetable that extended for several months).
The good news for the Royals here is that Gordon is young and healthy, which should aid in his recovery. Given his timetable, expect to see him back in the lineup just after the All-Star break.
[+] Enlarge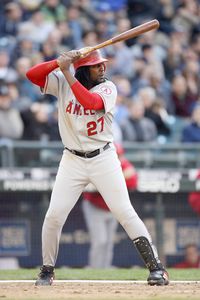 Otto Greule Jr/Getty ImagesVlad may be a DH only when he comes back, which could impact next season's fantasy eligibility.
Vladimir Guerrero, OF, Angels:
What was initially described as a pectoral muscle strain (suggesting minor tissue damage) turned into a more serious torn pectoral muscle (suggesting more extensive bleeding and soft tissue injury), landing Guerrero on the DL for at least a month. According to the Los Angeles Times, he may not even return to the outfield once he's eligible to rejoin the lineup. Instead, the Angels may opt to keep him in a designated hitter role.
The risk with any muscle tear is that a return too soon will result in reinjury, perhaps even more serious than the first time around. Depending on the location and extent of Guerrero's tear, the Angels could be concerned that further damage could lead to a surgical situation. He has said that the injury does not affect his swing, but the concern for further injury is likely the reason Guerrero is being forced to completely rest at this time.
Muscle tears can vary widely in terms of healing time, so it is very difficult to project a true timetable from afar. The level of the Angels' concern, though, reflects the seriousness of Guerrero's injury. Fantasy owners should make alternate plans knowing that his return is up in the air.
Xavier Nady, OF, Yankees:
It's not as bad as it could have been. That's what the Yankees are saying now that it appears Nady will
not
undergo what would have been his second Tommy John surgery on his right elbow. The outfielder first underwent an ulnar collateral ligament (UCL) reconstruction in 2001 and was clearly able to enjoy a successful return to baseball. The joy of embarking on a new season in a new stadium was brought to a crashing halt last week, however, when Nady experienced sharp pain in his right elbow while making a throw.
It had all the makings of an UCL tear, and a second surgery seemed imminent. There was definitely cause for concern, since a return to baseball following a second UCL reconstruction has a much lower success rate than the return following a first-time procedure. Team physician Chris Ahmad performed various studies to image the soft tissue and the bone, and consulted with Dr. Lewis Yocum, who performed Nady's original surgery. The decision about how to proceed provided some good news for Nady and the Yankees.
According to the New York Post, Nady does have a partial tear of the ligament, but the decision has been made to have Nady undergo a course of conservative rehab instead of heading under the knife again. Given the lengthy rehab following surgery and the low success rate, this is a very reasonable course of action. After all, consider that the Angels'
Ervin Santana
is working on returning to
pitching
despite the presence of a partial tear in his UCL.
Nady is not a pitcher, so the demands on his arm are significantly less, and the Yankees do have the option of bringing him back as a DH initially while he works his way back to the outfield. Also, the presence of scar tissue in his elbow that has built up since his first UCL surgery might help provide some additional stability to the joint despite a tear in the ligament itself. Whether Nady can successfully return remains to be seen, and it will be at least a month before that happens, but at least he and his teammates can hold out some hope that he will be able to test out the new stadium after all.
On the mend
Despite the increasing body count on the DL of late, there is reason for a number of teams to be smiling this week. A number of players who started their season on the DL are seeing the light at the end of the rehab tunnel, with return dates to their major league lineups fast approaching.
In Milwaukee, the Brewers hope to have closer
Trevor Hoffman
back by the end of the week. Hoffman, who began the season on the DL because of an oblique strain, pitched for Triple-A Nashville on Tuesday, with no ill effects. He will throw one more rehab outing before rejoining the Brewers. There is always a risk for recurrence with oblique injuries, but Hoffman has been brought back slowly, and the fact he is a closer and throws fewer pitches per outing works in his favor. Despite his age and injury, I'm optimistic about Hoffman once he returns.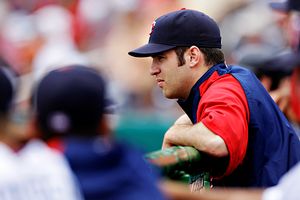 AP Photo/Charles KrupaAfter plenty of down time, Joe Mauer's rehab is clicking right along.
The
Minnesota Twins
have been quietly keeping their fingers crossed as catcher
Joe Mauer
passes incremental tests in his rehabilitation from an inflamed sacroiliac joint. The one thing Mauer couldn't do in spring training was run because it was simply too painful. After several months of non-impact training on an elliptical machine and a stationary bike, along with new medication, Mauer was finally given clearance to test his back with light running. He was able to run for consecutive days and was then cleared to begin running the bases. After successfully passing those tests and, perhaps more importantly, feeling well the day after running, Mauer was cleared to play in a simulated game, which he did Monday. That was the first game situation he had been in since the end of last season. The Minnesota Star-Tribune reports that Mauer will head to Class A Fort Myers on Friday for approximately six games. The goal now is to build up Mauer's endurance to ready him for a return to major league action.
So far this is good news for Mauer; the primary things that were limiting him (most notably running) appear to not be hindering him at all right now. But keep in mind that his activity has still been very controlled. And it is still somewhat of a mystery why he developed inflammation in the sacroiliac area, a highly unusual injury for a baseball player. The true proof that he is beyond this episode will be when he can last the season without any recurrence of symptoms. Until then, there will always be some concern as to whether the issue has truly been resolved or has just subsided for a period of time as a result of less activity.
Brandon Webb
has started throwing again, making the
Arizona Diamondbacks
and his fantasy owners very happy. Webb was placed on the DL on April 13 because of shoulder bursitis. Webb had reported some stiffness in his shoulder, and the team opted to proactively rest him to prevent it from turning into a more serious situation. The news on Webb has been good so far, and despite the workload he has turned in over the past few years, I am not any more concerned about Webb's shoulder than that of any other pitcher. His next test likely will come Friday, when, according to the Diamondbacks' Web site, Webb will throw another bullpen session, perhaps incorporating inning breaks to see how his shoulder responds to periods of rest between throwing.
Tampa Bay's
Jason Isringhausen
threw two innings in an extended spring training game Saturday, followed by an outing for Double-A Montgomery on Monday. Izzy has dealt with injuries to his hip in the past and is now returning from surgery to repair a torn flexor tendon in his forearm. Look for him to potentially contribute to the Rays' bullpen by June. Despite his injury history, Isringhausen still has something to contribute, and the flexor tendon surgery he had is not nearly as serious as ulnar collateral ligament reconstruction. He will no doubt come in under the radar but could be a valuable addition.
The Angels have been hit hard by injuries, most dramatically in their pitching staff. The loss of
Nick Adenhart
stands alone. Three other aces were ailing to start the season, however, and all three are working toward a return.
Kelvim Escobar
, who was far ahead of schedule in his return from labral surgery, had a minor setback. But he is playing catch again and should be back on a more-significant throwing progression soon.
Meanwhile Ervin Santana, who has a partially torn UCL, has been able to throw his full complement of pitches in bullpen sessions. Santana's program is very structured and gradual, because the fact remains that he has tissue damage, and the team wants to bring him along slowly. So far, he has passed every test. Although the signs are encouraging, especially the fact Santana is reporting no pain, he still has some big hurdles to pass to return to major league action.
John Lackey
, who started the season with inflammation in his throwing elbow, has been able to throw all of his pitches in bullpen sessions. Lackey told the Los Angeles Times that he still is "feeling something" in his elbow but feels he needs to push through it. He is expected to throw a simulated game Wednesday, and the Times notes he could begin a minor league assignment later this week. Lackey and Santana could rejoin the team at some point in May if their progressions continue well. I would not be surprised to see Lackey first, while Santana might be held out a little longer.
Last but not least, Royals outfielder
Jose Guillen
, who reluctantly went on the DL because of a hip flexor injury earlier this month, plans to rejoin the lineup when eligible Saturday. He told the Kansas City Star, "I'll be ready." This injury did not appear serious when it happened so I'm inclined to agree with Guillen's assessment.
April, 14, 2009
4/14/09
5:58
PM ET
By
Stephania Bell, ESPN.com
| ESPN.com
My, oh my, what a week it has been. Emotions have run the gamut this week in baseball.
The tragic loss of young
Nick Adenhart
in Los Angeles had everyone reflecting on the importance of living the dream and doing what you love. The triumphant return of
Chris Carpenter
to the mound for the Cardinals proved that you can come back after almost a two-year hiatus with hard work, dedication and belief that you still have it.
The sad news of Harry Kalas' passing reminds us that there are numerous folks behind the scenes whose contributions help to define the sport. Many of those folks are never seen (or heard) by the public, especially when it comes to those responsible for the medical well-being of the athletes. When it comes to keeping an athlete on the field, there are numerous doctors, athletic trainers, physical therapists and others who play a huge role but remain largely out of public view.
And on that note, here are the players I'm looking at this week in the world of injuries: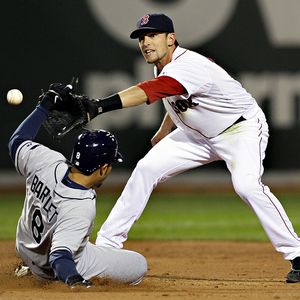 AP Photo/Elise AmendolaJed Lowrie's owners should brace for an "extended absence" from their young shortstop.
Jed Lowrie, SS, Red Sox:
It was no secret that Lowrie was struggling at the plate; we could see he was a mere 1-for-18 with eight strikeouts this season. The secret apparently was that Lowrie's wrist was bothering him all along, according to The Boston Globe. When Lowrie finally made it known to the medical staff that his left wrist was giving him trouble, the Red Sox quickly placed him on the disabled list. The Globe reports that this is the same wrist that gave Lowrie trouble last year, and an MRI at the end of the season revealed a small nondisplaced fracture (meaning the bony parts are in alignment, not fragmented). Symptoms in the same area, however, are never a good sign, as it could suggest that the fracture has not fully healed.
In fact, comments Lowrie made about his wrist in February seem somewhat foreboding in retrospect. In a report by The Providence Journal, Lowrie explained the decision to rest his wrist for a month in the offseason. "We decided not to do surgery just because there wasn't enough time. I probably wouldn't have been ready for spring training if I [had] had the surgery."
Lowrie went on to explain to the Journal exactly how the injury affected him at the plate. "From the left side, and I'm not one to make excuses, it really hindered my ability to swing with any sort of power. My wrist was just not strong enough to keep the barrel above the ball."
Lowrie has been returned to Boston for further testing, and a true timetable will become more apparent once the results are known. The concern here is that after an offseason of rest, Lowrie is experiencing similar pain, and there can be no doubt that it is affecting him at the plate. If several months of rest did not alleviate the problem, it's unlikely 15 days will do so, either. The question becomes what structure or structures actually are causing the symptoms, and what is the appropriate course of treatment? A non-union fracture might require surgery, but inflammation of soft tissues could be addressed with rest, bracing and anti-inflammatories. Until the condition is further explained, this remains speculative, but fans should prepare for the prospect of an extended absence from Lowrie.
Of course, the Red Sox are further incapacitated at shortstop because
Julio Lugo
remains on the DL as he recovers from meniscal surgery. Lugo underwent surgery on his right knee during spring training and is progressing well, but he's still likely another couple of weeks from rejoining his team.
Mark Teixeira, 1B, Yankees:
Speaking of sore wrists, Teixeira has been dealing with soreness in his left wrist for several days now. Fortunately for the Yankees, Teixeira's ailment does not appear to be serious, and the hope is that rest will allow it to calm down. He has been diagnosed with tendinitis in his left wrist, apparently aggravated by batting right-handed. Teixeira suspected he initially strained his wrist when diving for a ball last week, but the inflammation then appeared to be limiting his swing.
In an effort to prevent it from worsening, the Yankees rested him for a few games, but he is expected to rejoin the lineup Tuesday. A recent MRI confirmed the absence of any major structural injury, and Teixeira told MLB.com that the stronger anti-inflammatories he has been taking recently have him feeling much better. Assuming he makes a successful return this week, this does not appear to have the makings of a significant injury.
Ichiro Suzuki, OF, Mariners:
Ichiro has been recovering nicely from the bleeding ulcer that sent him to the DL to start the season. Last week, we said there was reason to believe Suzuki would return as soon as he was eligible to be activated off the DL, and it appears this will indeed be the case. He indicated he will be in the lineup when his team takes the field Wednesday, and the team no doubt will be happy to have him back.
Ichiro did not appear to have missed a beat when he made his first extended spring training start, going 7-for-10 in his first outing and appearing none the worse for wear afterward.
The good news for Ichiro and for fantasy owners is that this ulcer should not present a recurring problem. Ichiro's rapid response to treatment -- coupled with the fact that these conditions can be medically managed very effectively -- suggests a low likelihood that this will interfere with the remainder of his season.
Jesse Litsch, SP, Blue Jays:
I don't like the way this looks. It began with a poor start a week ago and some forearm soreness. Then there was a second poor outing Monday, and by the fourth inning, it was clear something was wrong. Litsch signaled as much, and after a visit with the Jays' athletic trainer, he left the game holding his right arm against his body. The Toronto Star reports that the team is temporarily calling this an elbow strain, and Litsch will undergo an MRI.
This is a recipe for bad news. First of all, he followed a decent spring with two poor starts. And in addition to decreased velocity and trouble with control, Litsch also had discomfort, making this appear more serious. The pain was bad enough to force him to exit early, and the instinctive supporting of his arm by his side is not an encouraging sign. Clearly, the test results will help determine the next steps for Litsch, but brace for a likely shutdown from throwing to rest the arm.
Dewayne Wise, OF, White Sox:
Even his manager, Ozzie Guillen, gave him credit for saving the game Monday. If you saw Wise's amazing play in the outfield, you probably also saw him cringing in pain afterward. As Wise extended his arm to steal a hit from
Ramon Santiago
, potentially saving three runs, he rolled awkwardly onto his right shoulder, separating it. An acromioclavicular (AC) joint separation, as this is called, is a sprain of the ligaments that stabilize the clavicle, or collarbone, with the acromion, the bony tip of the shoulder blade. That AC junction forms the outermost point of the shoulder, and injury to the ligaments there makes it painful to move the arm, particularly across the body or overhead.
Wise has been placed on the DL with what the Chicago Tribune is reporting as a Grade III (complete) separation, and according to the White Sox's Web site, Wise is expected to miss anywhere from six to eight weeks while the ligaments heal. He will initially be placed in a sling to support the painful shoulder and will then work on regaining his range of motion and strength. The most challenging element will be regaining the strength to make a long throw from the outfield. This is not typically an injury that requires surgery, although it can come to that for some "overhead" athletes, particularly if they continue to experience weakness or discomfort as they return to throwing.
Although the team certainly expects to have Wise return to the lineup this season, his rehab process bears watching to see how he progresses once he is allowed to resume throwing.
Brian Moehler, SP, Astros:
He certainly didn't have a great start to the season, yielding seven runs on eight hits in his first outing. And the news only gets worse from there, as it appears Moehler has an injury to contend with, as well. After Moehler left Monday's game early in another forgettable start, the team indicated that he will undergo an MRI on his right knee, which apparently has been bothering him since spring training.
The injury has been described thus far as a sprain on the Astros' official Web site, although there has been no indication of a specific initial injury. Moehler did indicate, though, that the knee had been bothering him "off and on" for a few weeks. Moehler is a right-handed pitcher, so this injury is affecting his push-off leg. If there is any instability, it certainly would affect the power of his delivery. With an ERA of 27.00 in two starts, it certainly seems as though something isn't right, and this could very well be the explanation.
Until the test results are in, it's unclear what his potential timetable to return will be. As of now, the Astros have not even indicated whether Moehler will make his next start.
Milton Bradley, OF, Cubs:
Bradley is expected to miss several days because of a groin strain, and the Cubs have to hope it won't be longer than that. Bradley is no stranger to soft-tissue injuries, having experienced his share of muscle strains, not to mention a torn ACL and partially torn patellar tendon, over the past few seasons. And, of course, he is not getting any younger.
Although the groin strain is considered mild, this is one of those injuries that can rapidly turn into something more serious if a player pushes it too soon. It's possible that this could turn into a trip to the DL if Bradley's symptoms show signs of lingering. That's worth keeping in mind if he's on your fantasy roster.
On the mend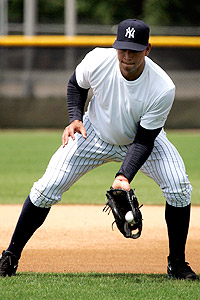 AP Photo/Reinhold MatayAlex Rodriguez is rehabbing hard, and now we can witness it.
There has been an
Alex Rodriguez
sighting in Tampa. Now that he is removed from the protective enclave of Vail, Colo., where he spent his first few weeks rehabilitating his surgical hip, we can see Rodriguez doing some of his workout drills. And he reportedly looks good. He appears physically fit and happy, both of which are important components of a successful return. But before we get too excited, it's important to remember that he is still doing limited baseball activity.
The New York Times reports that, so far, Rodriguez has taken swings off a tee and from light toss, fielded some routine ground balls and done some light running. The real point of interest will be when he is ready to return to game playing. Rodriguez says he feels the next seven to 10 days are very important as he enters the next phase of his rehab. Manager
Joe Girardi
has been careful to say that he maintains the expectation of a mid-May return for Rodriguez and that he does not want to push unnecessarily. So far, the steps A-Rod is taking suggest he could meet the target, but his biggest tests on the hip -- power hitting, hard running, diving and sliding -- have yet to take place. It's still a lot to accomplish in a short time. We will be watching closely ... especially now that he's in Tampa and we can actually do so.
Just last week, I placed the Angels'
Kelvim Escobar
in the "good news" department. Since then, the team has talked about shutting down his throwing for a few days. I'm not throwing in the towel here just yet. Remember, Escobar was well ahead of schedule in his rehab after labral surgery. His soreness is in the front of the shoulder (less worrisome), and his activity has simply been scaled back to ensure that this does not turn into something more serious. Escobar still could return in May, and even that would still place him ahead of his original timetable.
Meanwhile, Braves pitcher
Tom Glavine
is paying a visit to the one and only Dr. James Andrews this week. Glavine, who is coming off surgeries on his elbow and his shoulder, experienced discomfort in his shoulder this past weekend that forced an early exit from a minor league rehab start. Glavine is not speculating about his future, saying only that he's "remaining optimistic that [he] just popped some scar tissue," according to the Braves' Web site. At 43, it's a lot to hope for, but it would be nice for Glavine to end his career on his terms. This is not exactly confidence-inspiring, but I would not call him finished just yet.
And finally, Royals outfielder
Jose Guillen
was placed on the 15-day DL Friday because of a partially torn hip flexor. The concern with this 32-year-old's injury is whether it will turn into multiple DL stints or whether Guillen can really return as expected. There are a couple of reasons to be optimistic. First, according to general manager Dayton Moore, "Jose wanted to play through it, but this is the right thing to do for him and the team." If Guillen thought he could play through it, it could not have been too awful. Second, Moore indicated that the team was operating from a position of being proactive when he said that the team did not want to risk losing Guillen for months or, even worse, to surgery should the outfielder continue to play in cold weather early in the season, and perhaps worsen the injury. In other words, they'll take a more conservative approach and lose a few days now instead of weeks or months in the meat of the season. By the sound of it, the team is viewing this episode as minor.