Stephania Bell:

Jered Weaver
May, 27, 2013
5/27/13
2:30
PM ET
Every Monday in this space, we'll provide updates on a variety of players to help you make your weekly lineup decisions. We'll specifically try to hit the players who are day-to-day, have just gone on the DL or are ready to return, so that you can better decide whether you can count on them or not.
All projected return timelines should be considered fluid.
Hitters
Curtis Granderson, OF, New York Yankees (placed on DL May 25; expected to miss at least a month):
When it comes to injuries this season, if the Yankees didn't have bad luck, they wouldn't have any luck at all. Granderson, whose season finally got under way just a few weeks ago, is now out for at least a month with another fracture.
Two hit-by-pitches have resulted in fractures for Granderson, the first a broken right radius (forearm bone) just above the wrist, and now a broken left fifth metacarpal (the long bone of the hand, at the base of the fifth (pinkie) finger). The latest incident occurred Friday night when Granderson absorbed the impact of a pitch to his left knuckle in the fifth inning. In an almost eerie forewarning of this event, Granderson spoke to the Yankees' website just weeks ago during his rehab assignment (from the first fracture) about not fearing the inside pitches. "There's going to be pitches inside, I'm going to get hit again, but you got to stay in," Granderson said. In this case, he stayed in until he was forced out, literally, because of injury.
If there's any good news here, it's that it appears this fracture, like the first, will not require surgery. Broken bones typically require four to six weeks to allow sufficient healing to permit return to play; if Granderson's finger shows good early callus formation (bone healing) and he can grip the bat effectively, his timetable should fit right in that timeframe. That said, he might have to encase his fingers, hands and forearms in bubble wrap when he steps to the plate to get through the rest of the season.
[+] Enlarge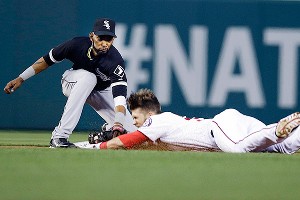 AP Photo/Alex BrandonBryce Harper is becoming known for his "all-out" style of play ... which could lead to missed games.
Bryce Harper, OF, Washington Nationals (day-to-day):
Add bursitis to the list of Harper's aches and pains resulting from crashing into walls, but don't expect it to land him on the disabled list if he can help it. Harper's knee bothered him enough to warrant an MRI, which came back clean, according to manager Davey Johnson. The Washington Post reports Harper will be sidelined for several days, although he may be utilized as a DH against Baltimore later in the week. One thing is certain, though: Harper has no intention of changing anything about the hard-nosed way he plays baseball. These intermittent minor injuries have threatened his status for a couple of games here and could be an ongoing challenge for Harper and his fantasy owners.
Shane Victorino, OF, Boston Red Sox (placed on DL retroactive to May 21):
Victorino had been battling back spasms in recent weeks yet managed to avoid a DL stint. Not now. This time it's his left hamstring that's giving him fits, and Victorino will be forced to rest until he can run without limitation. Interestingly, Victorino's hamstring started to bother him just days after returning to the lineup following missed time for his back. If these two issues are related, which would not be surprising, this could turn out to be intermittently problematic throughout the season.
Will Middlebrooks, 3B, Red Sox (placed on DL May 24):
Perhaps back spasms are contagious in Boston. Middlebrooks left Thursday's game early due to back spasms, something manager John Farrell told reporters might have begun Wednesday night as Middlebrooks came out of the batter's box. The good news is that Middlebrooks said, according to ESPN Boston, that as of Saturday he was already feeling improvement. "I do [think I'll come off the DL when eligible]," he said, adding, "I feel better than yesterday, so if I'm already making steps forward, that's where I want to be." This looks to be a minor episode.
Jayson Werth, OF, Nationals (placed on DL retroactive to May 3):
When Werth was first placed on the disabled list, the thought was that he would miss the minimum amount of time. After all, when the decision was made to formally move him, he had already missed eight games and seemed to be faring better. But if there's anything we know about hamstring injuries, it's that they are among the least predictable of all soft-tissue ailments. It is often not until the athlete tests the leg with full-speed sprinting activities that lingering issues make themselves known. In Werth's case, he experienced discomfort when breaking out of the batter's box, according to Amanda Comak of the Washington Times. The persistent discomfort led to an MRI, which manager Davey Johnson told reporters was "alarming." Consequently, Werth's timetable has been extended with a new target date of June 3, according to general manager Mike Rizzo (via the Washington Post). It's worth reiterating, however, that hamstrings remain unpredictable. Let's see what Werth does this week in his workouts before counting on a Monday return.
Chase Utley, 2B, Philadelphia Phillies (placed on DL May 23):
Utley's knees haven't really been a topic of discussion this season since they haven't seemed to limit him thus far. Now, however, Utley is dealing with a different type of injury issue: a strained right oblique. The Phillies report it as a Grade 1 or minor strain, and the move to the DL reflects their desire to not allow it to worsen. Phillies GM Ruben Amaro Jr. offered a timetable of 2-4 weeks, which is certainly reasonable, adding, "We do believe and hope that Chase will be ready to play in Philadelphia within 15 days." The average missed time for an oblique strain in a hitter runs right around a month, but the most mild forms have allowed an athlete return after the minimum stay (such as
Freddie Freeman
earlier this season). Although there is some optimism Utley will be back after the 15 days, there's no reason for the team to rush him, especially this early in the season.
Trevor Plouffe, 3B, Minnesota Twins (placed on 7-day concussion DL May 22; expected to return Wednesday):
Plouffe took a knee to the head while sliding last Tuesday and was subsequently placed on the concussion DL. Concussions are the least predictable of all injuries, but based on Plouffe's fairly swift recovery so far, it appears the Twins will get him back the first day he's eligible to return. According to the Minneapolis Star-Tribune, Plouffe passed his neurocognitive (ImPACT) tests Thursday and participated in cardio work Friday, which shows progression. If he is able to perform baseball-related activities early this week without any recurrence of symptoms, it appears he will be cleared to rejoin his team's lineup Wednesday.
Wilkin Ramirez, OF, Twins (placed on 7-day concussion DL May 26):
Another collision, another concussion for a Twins player. Unlike the knee to the head Plouffe sustained, Ramirez was concussed making a defensive play in the outfield Saturday when he crashed into teammate
Josh Willingham
. According to the Minneapolis Star-Tribune, Ramirez was not originally on board with the DL designation, that is until he experienced queasiness during the team's flight home Sunday. Good job by the Twins, who certainly have had experience with complex concussions (think former AL MVP
Justin Morneau
). Now it will be a matter of waiting to see how Ramirez progresses throughout the next week.
Pitchers
Chris Perez, RP, Cleveland Indians (placed on DL May 27):
Perez is sidelined with right shoulder soreness, and he was placed on the disabled list for the first time in his major league career early Monday. He was forced to leave Sunday's game against the Red Sox early because of the shoulder, according to ESPN.com. "It kind of pinched on me and sent a little pain down my arm," Perez said. While any shoulder issue is of concern for a pitcher, this doesn't yet have the sounds of something major. It appears Perez at least needs some down time to let the symptoms settle, and he can then hopefully return to throwing. Hopefully.
Clay Buchholz, SP, Red Sox (day-to-day, expected to start at some point this week):
Buchholz was scratched from his Monday start after irritating his right acromioclavicular (AC) joint (the point of the shoulder), something he attributes to falling asleep on his side with his arm wrapped around his young daughter. The impression is that this is just a simple matter of delaying his start to account for the soreness, preventing him from compensating and potentially creating another problem. According to ESPNBoston.com, the plan is for Buchhholz to play catch Monday, and he expects to pitch again later this week.
[+] Enlarge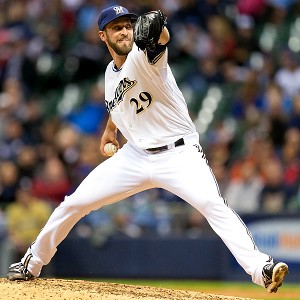 Jeff Hanisch/USA TODAY SportsJim Henderson is expected to get his closer job back once he returns from his hamstring injury.
Jim Henderson, RP, Milwaukee Brewers (placed on DL May 25):
Henderson left Friday night's game in the ninth inning after straining his right hamstring while trying to field a ground ball. After visiting with the team doctor Saturday, the decision was made to place Henderson on the disabled list, which would allow him some additional time off to recover. It sounds like it will be a closer-by-committee situation in Milwaukee until Henderson is ready to return, whether that's in two weeks or slightly longer.
Chris Sale, SP, Chicago White Sox (day-to-day):
Mild tendinitis in his posterior throwing shoulder was the diagnosis for Sale. While any inflammation in a thrower's shoulder is a cause for some concern, the Sox immediately indicated they expected Sale to return for his next start after being scratched last Wednesday. Those plans were confirmed after Sale played catch in the outfield prior to Saturday's game. Afterward, Sale said, "It felt a lot better than I actually thought it would be. Everything is on track, and I will be ready to go Tuesday." He was scheduled to follow up Saturday's session with a Sunday bullpen, and there has been no word of any setback.
If Sale returns without incident, there will be a big sigh of relief from his fantasy owners. But the specter of concern has been raised once again -- last year, there were some questions about whether he was dealing with an elbow injury in May, followed by a reported dead arm period in July -- which must remain in the back of our minds. The bigger question will be whether or not Sale can get through the remainder of the season without this turning into something more substantial.
David Price, SP, Tampa Bay Rays (placed on DL May 16):
Triceps tightness originally put Price on the DL, but nobody on the Rays seemed overly concerned. Manager Joe Maddon said he did not expect Price to miss more than two or three starts. Apparently there's now reason to be at least a little more concerned. Despite Price's assertions that his arm feels "great," he hasn't yet begun to throw. According to the Tampa Bay Times, playing catch hopefully will begin within the next few days, but Price will have to proceed through a throwing progression before returning the rotation, which could take an additional few weeks. So much for him missing only 2-3 starts; now there is no official timetable. Until Price actually starts throwing with effort, it's difficult to gauge whether the slow progress is as a result of the Rays taking a conservative approach with him or because of legitimate concern over the health of Price's arm.
[+] Enlarge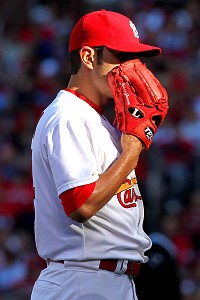 Dilip Vishwanat/Getty ImagesJaime Garcia finally succumbed to his shoulder injury.
Jaime Garcia, SP, St. Louis Cardinals (placed on DL May 18; done for the season):
Garcia tried to get through his shoulder injury without resorting to surgery, and he was successful in doing so for a few starts. His shoulder, like those of so many other pitchers before him, exhibited the wear and tear associated with overhead throwing in the form of labral damage. Eventually that damage made it impossible to throw. After consulting with Dr. James Andrews, Garcia is headed for surgery. It appears his operation will be performed by team physician Dr. George Paletta. The recovery typically requires about six months, meaning if all goes well, Garcia should be ready to return when the season gets under way in 2014.
Ryan Madson, RP, Los Angeles Angels (opened the season on DL; no timetable for return):
Every time it seems Madson is making progress in his recovery from Tommy John surgery, he seems to have some form of setback, which delays his return. The most recent incident occurred last week, when Madson developed soreness in his arm while throwing. Instead of beginning an anticipated rehab assignment with Triple-A Salt Lake, Madson has been shut down indefinitely. He is now 14 months post-surgery, and while the timetable for return following this procedure has a range of anywhere from nine to 16 months, the multiple setbacks Madson has experienced are discouraging.
Rarely is the road back to competition entirely uneventful, but Madson seems to have been pushed back with various episodes of discomfort a bit more than usual. At this point, the Angels seem to be getting solid production from
Ernesto Frieri
in the closer role, and it looks as if he will stay there for the foreseeable future. No doubt the Angels would like to see Madson return to the mound this year, but it has already proven to be slow going. For fantasy purposes, it's probably time to move along.
Jered Weaver, SP, Angels (placed on DL April 8; expected to return Wednesday):
It's always nicer to see someone
returning
from the disabled list as opposed to going on it, especially when it's your team's -- real or fantasy -- ace hurler. Weaver has been out for more than a month after sustaining a non-displaced fracture of his radial head
as a result of an awkward fall on the mound
. His road to recovery has been uneventful, with the latter part primarily focused on building up his arm strength to the point of being able to reclaim his spot in the rotation. The Angels have announced Weaver will return Wednesday to face the Angels' neighboring rival, the
Los Angeles Dodgers
, and fantasy owners should have no concerns about starting him right out of the gate.
Ryan Vogelsong, SP, Giants (placed on DL May 21; expected to miss eight weeks):
Vogelsong had not one break but two in his right (throwing) hand, an injury sustained while hitting last week. He underwent surgery last week which required five pins to stabilize the fractures, according to manager Bruce Bochy, and he will need time for the bone to show evidence of healing before he can resume throwing. He will then need additional time to regain throwing strength. Given the projected timeline, expect Vogelsong to be out until well after the All-Star break.
April, 10, 2013
4/10/13
10:30
AM ET
When initial X-rays came back negative on
Los Angeles Angels
ace
Jered Weaver
's left elbow Sunday night, we still prepared for the possibility that he could miss a start. It turns out he will miss several.
Weaver
Weaver's awkward landing on his left forearm when he fell while dodging a line drive did in fact result in a fracture. Weaver suffered a non-displaced fracture of the radial head. These fractures are often difficult to see on an X-ray, and it was not until Weaver underwent further imaging tests that the severity of the injury was discovered.
The radius is one of two bones in the forearm, running from the thumb side of the wrist up toward the elbow. The head of the radius is the flattened end that sits adjacent to the humerus. A fall onto the arm with the elbow somewhat flexed (which is what happened with Weaver) can jam the radius against the humerus, resulting in a fracture.
The fact it is non-displaced (meaning bony ends are in alignment) is a plus, as it will not require surgery to heal. Weaver is fortunate he did not dislocate the elbow or end up with a more complicated fracture, either of which could have resulted in a far more protracted absence.
Weaver was placed on the 15-day DL Tuesday, but the team has indicated he is expected to miss four to six weeks. It's possible, however, that if all goes well, he could return on the early side of that projection.
The primary goal for Weaver will be to restore the natural range of motion to the left arm. Early motion is the key to a successful recovery here. He will need to restore his natural pitching motion, and even though this is his non-throwing arm, it does more than dangle at his side. Any disruption to his standard throwing motion could result in compensations, which would then threaten the health of his right arm.
Additionally, he needs to be able to field defensive plays from the mound and not hesitate to use the left arm to protect himself, should that be necessary.
June, 19, 2012
6/19/12
5:46
PM ET
They say things happen in threes. If that's the case, then the Toronto Blue Jays should at least be granted a reprieve in the injury department after losing three members of their pitching staff in succession. The latest unfortunate news: Right-hander
Kyle Drabek
will undergo what will be his second Tommy John surgery in five years. Drabek, who had his first surgery while still a teenager (an unfortunate trend), recently experienced pain and a popping sensation in his elbow while throwing. Ultimately, the determination was that he was in need of a second surgery, and he will be operated on by Dr. James Andrews.
[+] Enlarge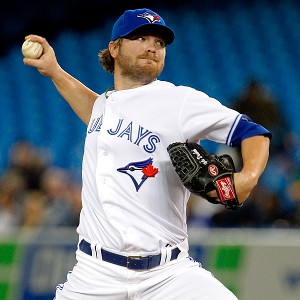 Getty ImagesYoung Blue Jays starter Kyle Drabek is headed for Tommy John surgery No. 2.
It's not hard to sympathize with Drabek as he received the bad news for the second time in his young career. "I was down, because they said they saw a little tear, and right when they said that, I flashed back to when I had it previously," Drabek told the National Post. "[I] hated going through it. You miss a year of baseball, you miss a year of hanging out with the guys."
As hard as it is to go through the process of Tommy John surgery and the subsequent lengthy recovery, imagine going through it twice. This year there have been a few notable pitchers who have undergone a second such procedure, including closers
Joakim Soria
and
Brian Wilson
. The outcome on second procedures is not nearly as encouraging as the outcome following an initial surgery, and
starters seem to not fare as well as closers
. On the bright side, Drabek is still just 24 years old, and youth is always a bonus when it comes to a long, intensive rehab. He also has a teammate,
Jason Frasor
, who has undergone Tommy John surgery twice and successfully returned to pitching. Frasor's second surgery was 10 years ago and he has done well since then, but -- and it's a significant "but," given the recent statistics -- Frasor has the advantage of being a relief pitcher. Maybe Drabek should chat with Dodgers pitcher
Chris Capuano
, one of the few starting pitchers who has successfully returned to the same workload following a second Tommy John surgery.
Meanwhile,
Brandon Morrow
, who we
discussed last week
when he went on the DL for an oblique strain, is still in the early phase of his rehabilitation efforts (typically about a month for pitchers).
Drew Hutchison
is out with an elbow strain, but it does not appear to be on par with Drabek's. Still, Hutchison is scheduled to consult with Dr. Tim Kremchek in Cincinnati for further evaluation.
The Jays have to be holding out hope that this sudden injury streak has truly come to an end.
Beachy's bad elbow
Atlanta Braves pitcher Brandon Beachy has a partial tear of his ulnar collateral ligament; this much we know. What is not yet known is what the next step is as far as treatment. Beachy, who currently leads the league with a 2.00 ERA, is scheduled to consult with both the Braves' team physician and Dr. James Andrews, after which those steps should be outlined.

The choices would seem to be either an attempted rehab course to see if Beachy can return to throwing, or reconstructive surgery. A partial tear does not automatically dictate surgery; the location and the degree of the tear can influence the ability of the tissue to heal. If a pitcher is anything less than convinced that he absolutely requires surgery, a course of rehab may be in order. If that rehab course is unsuccessful, the timetable for recovery has been pushed back only 6-8 weeks, not necessarily significant in the context of an approximate one-year recovery from surgery. That said, the timing within the season can play a role. A year from June allows for a likely return the following year. A year from August makes a return in the subsequent season a little less certain. These variables will undoubtedly be considered as Beachy proceeds through the evaluation process. Beachy is already on the DL, but an update to his status should be forthcoming this week.


Weaver returns
Last Tuesday, I noted
the big step
Jered Weaver
had taken in his recovery as he began throwing from a mound. Only a week later, Weaver is set to return to competition. After progressing from throwing halfway up the mound to throwing from the rubber, Weaver had no complications, and he went on to throw a simulated game and a follow-up bullpen session.
Considering how serious his injury appeared to be when it happened less than a month ago, Weaver's return has been impressive. There are no guarantees that the issue is completely behind him, though, and Weaver appears wise to that fact. According to the Orange County Register, Weaver said, "I'm 6-foot-7 and lanky, and I have a lot of torque going on. I'm sure it's not the last time there's going to be some back issues going on." Apparently Weaver has now made some of his rehab exercises part of his regular routine. Both his recognition of the potential for symptom recurrence and his efforts to protect his back with a maintenance exercise program work in Weaver's favor from a prevention standpoint going forward.
Quick hits
[+] Enlarge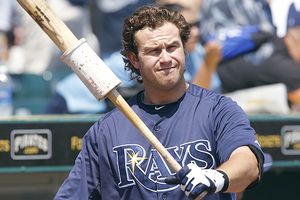 AP Photo/Gene J. PuskarEvan Longoria is not quite ready to return from his hamstring injury.
• Just last week, Tampa Bay Rays third baseman
Evan Longoria
was expressing confidence about being able to rejoin his teammates this week. He is indeed rejoining them, but not in the capacity he had hoped. Longoria has been pulled from his rehab assignment after feeling soreness in his hamstring while running Monday and remains out indefinitely.
Before Longoria began his assignment, Rays manager Joe Maddon had hinted at a lengthier rehab stint to allow him to get his legs in game shape (and undoubtedly to provide multiple opportunities for him to really test the health of his hamstring). It took only two days for Longoria's hamstring to let him know it wasn't ready. According to the Tampa Bay Times, Longoria felt soreness running to first base and did not want to push the issue. He was removed from the game in the third inning, a wise move that might have protected him from truly aggravating the injury. He is set to rejoin the team Tuesday in Washington, D.C., where he will resume a rehabilitation program. As of now, there is no renewed timetable for his return. It has been said many times in this blog space, but it's worth saying again: Until an athlete returns to competition, there is no way to truly test the readiness of a healing hamstring. Consider this episode a gentle warning for Longoria issued by his hamstring, one that told him not to rush back. It might not be so kind to him the next time.
•
Colorado Rockies
shortstop
Troy Tulowitzki
paid a visit to Dr. William Meyers in Philadelphia for further evaluation of his left-sided groin injury. Like Longoria, Tulowitzki had initiated a rehab assignment when he felt pain in the injured area, which prevented him from continuing. Meyers is considered a leading expert in the area of athletic pubalgia, or athletic injuries in the groin and abdominal region which result in pain and loss of function. These injuries are often grouped in the category of sports hernias, which are not true hernias, but rather defects in the abdominal wall that typically require surgery to repair. There are multiple potential causes of chronic groin pain (Tulowitzki's injury dates back to the start of the season), and a full evaluation by Meyers is aimed at getting to the root of the problem. Unfortunately, it sounds as though there are no definitive answers just yet. According to the Denver Post, Tulowitzki summed it up this way: "We're not sure what's wrong." For now, Tulowitzki remains sidelined, and there is no timeline to discuss until more information emerges.
• Minnesota Twins catcher
Joe Mauer
is day-to-day with a bruised quadriceps, the result of a
Rickie Weeks
knee to Mauer's thigh in a collision at home plate. Mauer was already dealing with soreness in the hamstring of the same leg, which he was playing through despite not being able to run at full speed. After injuries limited Mauer to just 82 games last year, his 2012 campaign was off to an impressive start. Before injuring his thumb in an at-bat, Mauer had played in 52 of 53 games. The thumb did not require a DL stint, but it did force him to sit four games. Then the sore hamstring came along. He didn't miss a game but served only as a pinch hitter this past Saturday. On Sunday, Mauer returned to his normal spot behind the plate, where he sustained the bruised quad. Mauer looks as though he will again avoid the DL, despite some lingering stiffness and soreness in the thigh. So far, so good.
• The
Chicago Cubs
have placed pitcher
Ryan Dempster
on the DL with tightness in the latissimus dorsi muscle on his right (throwing) side. He had been throwing well despite the presence of soreness in his past couple starts. "It's just gotten harder and harder to get loose and maintain," Dempster told reporters. This doesn't sound like a serious strain, such as the one sidelining Phillies ace
Roy Halladay
, but anything affecting a pitcher's throwing arm raises eyebrows. In Dempster's case, given the potential trade interest surrounding him, the topic becomes even more relevant. The best way to avoid a significant injury is to proactively address a minor ailment, and that seems to be what the Cubs are doing with Dempster. If a brief break from throwing allows the issue to resolve itself, there should not be any significant concern going forward.
[+] Enlarge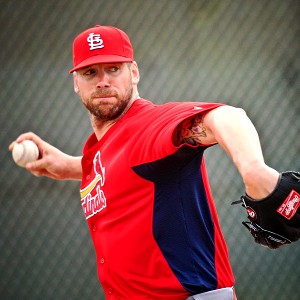 Ronald C. Modra/Sports Imagery/Getty ImagesChris Carpenter is still a ways from returning, but at least he's making progress.
• The
St. Louis Cardinals
continue to have mixed news when it comes to injuries. Pitching ace
Chris Carpenter
is quietly making progress and could face live hitters as soon as this weekend, according to the St. Louis Post-Dispatch. Carpenter, who has been working his way back from a pinched nerve that was affecting his throwing arm, was able to throw some breaking pitches in his most recent side session. If he has another successful outing Wednesday, he could be cleared to throw batting practice a few days later. He still has a ways to go before he returns to competition -- multiple weeks, it would seem -- but even Carpenter acknowledged that progress is indeed being made. Nerve tissue has its own slow timetable for recovery, which makes it difficult for players and management to issue any sort of recovery projections. Functional progress is the best indicator that the tide is turning, and Carpenter's return to the mound certainly provides encouragement.
Meanwhile, teammate
Matt Holliday
has a sore hip flexor, per Joe Strauss of the St. Louis Post-Dispatch. Holliday left Sunday's game because of the injury, but this reportedly has been bothering him intermittently for several months, with this being the latest flare-up. While it doesn't appear as though he's headed to the DL just yet, this could affect his availability at least this week. Hip flexor strains can be difficult to completely resolve in-season so this is something that could continue to impact him on an intermittent basis. On a positive note, second baseman/centerfielder
Skip Schumaker
has been activated from the DL after missing time since late May because of a hamstring injury. The Cardinals' official Twitter site has announced that Schumaker is "uniformed" for Tuesday night's game in Detroit.
• One player who won't be active Tuesday night is Milwaukee Brewers ace
Shaun Marcum
. He has been scratched from his scheduled Tuesday start due to tightness in his throwing elbow. The Milwaukee Journal-Sentinel reports Marcum is going to be evaluated by Brewers team physician William Raasch, after which next steps will be determined. It is worth noting that Marcum underwent Tommy John surgery on this elbow in 2008.
• And finally, keep an eye on Arizona Diamondbacks shortstop
Stephen Drew
, who crossed a huge hurdle this past weekend in playing three consecutive rehab games. Drew, who suffered a severe ankle fracture last season, has been battling lingering soreness and stiffness in his surgically repaired ankle, which has prevented him, until now, from playing in back-to-back games. Diamondbacks manager Kirk Gibson has indicated Drew is gradually nearing a return, but as the Diamondbacks' official website reports, it might be in a part-time role. Although he is showing improvement functionally, he has not completely overcome some of the challenges associated with this type of injury, specifically the joint-related soreness that follows activity. "I don't think [when Drew returns] it will be as an everyday guy," Gibson said. "He'll have to be worked in and out of the lineup. We'll watch the whole thing with his recovery. There are going to be limitations if he comes back in the near future." Those limitations may well be the ingredient to getting -- and keeping -- Drew back with the team.
June, 14, 2012
6/14/12
1:58
PM ET
June, 12, 2012
6/12/12
8:41
PM ET
Brandon Morrow
was not through even one inning of work Monday night before he was through for the night. The culprit? Morrow's left side, specifically an oblique abdominal muscle, which sounds as if it is injured enough to send him to the DL. Further tests for Morrow were planned for Tuesday but
Toronto Blue Jays
manager John Farrell sounded resigned to a lengthy absence for his pitcher. "I think at this point, it's safe to say it's probably substantial in terms of what he's dealing with right now," Farrell told reporters after the game. Farrell went on to call the loss of Morrow for any period of time "unfortunate," given his significance to the team.
Morrow
Based on what we know about the average length of time for a pitcher to be absent when diagnosed with an abdominal strain, Morrow could be looking at more than a month, depending on the
severity of the injury
. So far this season, the
Detroit Tigers
'
Doug Fister
, the
Philadelphia Phillies
'
Cliff Lee
and the
New York Yankees
'
David Robertson
have all hit the DL with abdominal injuries. Robertson has been out for a month and is hoping to return late this week, Lee returned after a three-week absence, and Fister is looking to return Wednesday from his second DL stint after aggravating the injury that kept him out for nearly a month in April. This is not one of those things a guy can just play through; perhaps that is why the Jays seem to be prepared to be without him for a while. In fact, the team announced Tuesday that it will place him on the disabled list Wednesday.
Utley on the clock
Utley
The Phillies have announced
Chase Utley
will begin a rehab assignment Tuesday, which means the countdown clock toward his return to the majors starts ticking. Position players have 20 days after being placed on a rehab assignment before they must be activated in the majors. Should Utley suffer a setback at any point during that time frame, the clock will stop. He would then have to refrain from participating in any minor league games for seven days. After that, a new 20-day clock could begin. Based on the current clock, Utley will need to be activated by July 2. This would allow for several games prior to the All-Star break, which would then give Utley another few days' reprieve.
Utley is set to begin his rehab assignment as a designated hitter. He has not yet played the field, and this is likely to be the biggest test for his ailing knees. The defensive stance places the most load on the undersurface of his patella (kneecap), the area affected by chondromalacia (softening of the cartilage surface). There's a reason this is the last element to be integrated into his game. So far, hitting and running the bases have not caused him any difficulties in his extended spring training appearances, and the hope is that adding in the fielding will also go smoothly. Still, it remains a test. And it's not just how he feels after a single outing, but how he responds when he starts stringing together consecutive games that will determine whether he is ready to return to the majors. This remains an issue of ongoing management, so even though his return would appear imminent, there are hurdles to cross before the Phillies can feel confident in his availability.
Storen throwing from a mound
Storen
In what represents the next phase when it comes to vigor of throwing,
Washington Nationals
closer
Drew Storen
has begun throwing from a mound. He made his first outing Friday, which went well, leading to a second mound session Monday.
Storen has been out since undergoing surgery to remove a bone chip in April. After an extended period of rest, he has gradually progressed through a throwing program to the point where he is now throwing downhill. But as noted by the Washington Times, Storen still is not throwing at 100 percent effort, as dictated by the process in order to ease a pitcher back following injury. Storen acknowledged the challenge in holding back, saying, "It's definitely an adjustment to not let it go 100 percent from the start. But I like I said before, I'm seeing improvement." If that improvement continues as his throwing program progresses, Storen hopes to return around the All-Star break.
Weaver on the mend
Weaver
Los Angeles Angels
ace
Jered Weaver
took a big step in his recovery when he threw 30 pitches from a mound Monday, about halfway up the mound, according to ESPN Los Angeles. In other words, he tested his body at about half the slope. Weaver is scheduled to throw from the rubber Tuesday to test the full downhill angle. He has been on the DL with a lower back strain, specifically reported as inflammation around a disc in his back. The tall hurler with the hard delivery is next scheduled to test his body with a simulated game if the mound session goes well. The team is hopeful he could return by the middle of next week if he continues to progress without incident. Given that his injury looked so disabling when it happened in late May, his swift recovery thus far has been encouraging.
June, 7, 2012
6/07/12
1:25
PM ET
May, 29, 2012
5/29/12
8:21
PM ET
The
Philadelphia Phillies
announced Tuesday that ace
Roy Halladay
was
being placed on the DL
with a right latissimus dorsi strain. He is expected to miss six to eight weeks.
[+] Enlarge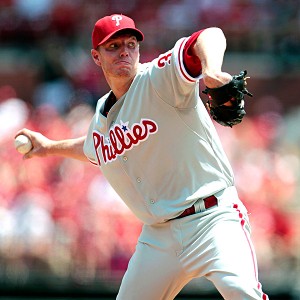 AP Photo/Jeff RobersonRoy Halladay had given up four runs in two innings when he left Sunday's game early.
Halladay lasted just two innings in Sunday's start, leaving with what the team originally called shoulder soreness. He reportedly felt discomfort in his prior start last Tuesday but managed to pitch through it. By Sunday that was no longer something he could do, hence the follow-up tests and ultimate DL assignment.
Despite a solid start to the 2012 season, Halladay has not been very Halladay-like in the month of May. A blown six-run lead on May 2 and a string of subsequent subpar performances had many wondering if something was amiss even before this abbreviated outing. Phillies pitching coach Rich Dubee told the Philadelphia Inquirer that the lack of consistency in Halladay's pitching was more at issue than the slight drop in his velocity. "He is just not completing his delivery as he has in the past for whatever reason," Dubee said.
Still, Halladay's velocity is down compared to 2011. According to ESPN Stats and Information, Halladay averaged 91.7 mph on his fastball in 2011; in 2012, it is down to an average of 90.7 mph. Perhaps more interesting is that Halladay has actually decreased the reliance on his fastball this year (down 23 percent in terms of types of pitches thrown from 2011) and increased the usage of his cutter (up 17 percent when compared to last year). Combine that with the 1.6 mph drop in velocity on Halladay's cutter and some perceived location changes, and now his most commonly thrown pitch is one that seems to be easier for opposing batters to hit. While there is no way to definitively link the drop in velocity or change in pitch type to Halladay's current shoulder woes, it is certainly interesting to consider since other pitchers have at times exhibited similar fluctuations before yielding to injury. It's worth noting that there were rumblings during spring training about the health of Halladay's arm when he appeared to struggle at times.
After Sunday's game, Halladay offered up his rationale as to why he did not think the shoulder issue to be serious. According to CSNPhilly.com, Halladay said, "I really don't anticipate there being something in there that is shocking," he said. "I think if that were the case, it would have been something I felt more often and probably be a lot more severe." While the results were not "shocking," they certainly merit some concern. Latissimus dorsi, or "lat" strains, as they are commonly called, can prove finicky for both pitchers and hitters in terms of recovery time. The lat is very involved throughout the throwing motion, and although it is not a member of the group of muscles that form the rotator cuff, it is critical for normal function. Like most muscle strains, treatment requires a combination of rest and rehabilitation with a gradual return to activity in the hopes of avoiding aggravation. Phillies assistant general manager Scott Proefrock says Halladay will be shut down for a minimum of three weeks -- meaning no throwing whatsoever -- then will gradually work his way back to the mound. The general timetable suggests Halladay will not return until after the All-Star break.
Halladay has experience with shoulder pain, although it's been quite some time -- eight years, in fact -- since he was sidelined as a result. In 2004, Halladay spent two separate stints on the DL because of shoulder pain but insists he is "smarter now," and he had hopes this would simply be a case of allowing the shoulder to quiet down without a big interruption. While Halladay might not want to acknowledge it, now that he is 35 his shoulder has accumulated significantly more pitching mileage since the last time it ailed him. Despite his best efforts at warding off trouble over his career, this may be a signal that the cumulative trauma of the job is beginning to catch up with him.
Weaver lands on DL
[+] Enlarge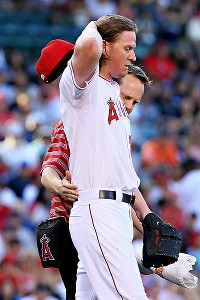 Jeff Gross/Getty ImageJered Weaver was injured in the first inning on Monday's game against the Yankees.
Within one calendar month,
Los Angeles Angels
ace
Jered Weaver
has experienced the highest highs and the lowest lows, delivering a no-hitter on May 2 and then forced off the mound due to injury on May 28. The Angels indicated immediately after the game that Weaver had a lower-back injury, and he underwent further testing, including X-rays and an MRI on Tuesday.
Late Tuesday, the Angels officially
placed Weaver on the DL
with "inflammation near [a] disc," according to Bill Plunkett of the Orange County Register. That Weaver had lingering severe pain hours after he left the mound hinted early on that this was more than a minor spasm. According to the Angels' website, Weaver's pain was in his lower right side, a pain he described as feeling like somebody stabbed him. After the game, Weaver was clearly still limited, telling reporters, "I can't really bend over too much." The inability to bend forward is a hallmark sign of a disc problem, so the news is not altogether surprising. Perhaps more surprising for anyone who has seen the unique delivery of the 6-foot-7 hurler is that he has not had more problems with his back in the past. Weaver's only other DL stint before Tuesday was related to biceps tendinitis back in 2007.
Weaver is hopeful that he will only miss the minimum time, but back problems are very unpredictable. Just ask
Roy Oswalt
, who, incidentally, just signed with the
Texas Rangers
. For now, Weaver's status is in the wait-and-see department.
Pedroia waiting for more news on thumb
Boston Red Sox
All-Star second baseman
Dustin Pedroia
is out of the lineup Tuesday against the
Detroit Tigers
after
jamming his right thumb Monday
. Pedroia appeared to injure his thumb while making a diving play to field a ball in the fifth inning and did not return for the sixth. It turns out the original injury happened long before that diving play; three weeks before to be exact. According to ESPNBoston's Joe McDonald, manager Bobby Valentine explained that Pedroia then aggravated the already sore thumb in his final at-bat Monday. After Monday's game, Valentine indicated Pedroia had swelling in the thumb and predicted he would miss at least Tuesday's game. While it sounded initially as if the Sox did not believe the injury to be particularly serious, Pedroia was scheduled for an MRI on Tuesday. The results have not yet been reported and it is unclear whether Pedroia will miss more time.
Addendum (May 30): The results of Pedroia's MRI revealed a torn adductor muscle in his right thumb, according to Red Sox general manager Ben Cherington. The medical staff will attempt to craft a brace to pad the area and support the thumb while still allowing Pedroia to play with the injury. If that doesn't work, Pedroia will be forced to the DL, and he could miss several weeks. For more details, check out Gordon Edes' piece on ESPNBoston.com.