Stephania Bell:

Jermichael Finley
October, 22, 2013
10/22/13
1:20
PM ET
Green Bay Packers
tight end
Jermichael Finley
's injury was a frightening reminder of just how quickly the game of football can take a backseat to the matters of everyday life. Walking, talking, taking a shower. These were the things Finley was celebrating the day after his collision with
Cleveland Browns
safety
Tashaun Gipson
left him lying motionless on his left side, a hit that resulted in Finley leaving the field strapped to a spine board. He was later diagnosed with a bruised spinal cord, according to ESPN's Chris Mortensen.
After being admitted to the ICU and undergoing extensive testing, Finley made enough improvement by Monday evening to be transferred out of intensive care, although he remained in the hospital. Finley posted this note about his progress on Twitter: "I'm happy to report that I have been transferred out of the ICU and that I have full feeling in my arms and legs. As importantly, I was able 2 walk to & from the shower today, which was badly needed after yesterday's victory!" On Tuesday afternoon, ESPN's Ed Werder reported that Finley is expected to be released from the hospital within 24 hours.
So what does his future hold? It's too early to say. In the immediate sense, the primary goal following an injury where there is bruising of the spinal cord is to ensure the patient is stable, both medically (e.g., cardiac) and from an anatomical standpoint: Are the cervical vertebrae and the ligaments that support them intact? Is there a fracture that is either displaced or that could displace with movement, which would threaten the spinal cord?
The other immediate priority is to reduce any swelling around the cord. Swelling can cause compression, which impairs nerve function, something the patient perceives as loss of feeling and/or loss of strength in the extremities. The more pronounced the swelling and the longer it endures, the greater the risk of permanent damage. As the swelling resolves, the patient is observed carefully to see how the return of nerve function is progressing. In Finley's case, based on his increased activity later in the day, he was progressing quite well.
But he is hardly out of the woods. There will be additional tests and consultations with various spine experts to evaluate what factors may have contributed to this episode. In some cases, the athlete is found to have underlying spinal stenosis, a narrowing of the spinal canal which houses the spinal cord. Decreased space around the spinal cord means there is less room for the spinal cord to move (which it normally does when the spine bends) without abutting up against another structure. Rapid extreme movements -- such as those resulting from a violent directional blow to the head and neck area -- that force the cord to collide with an adjacent structure can result in bruising (contusion) of the delicate tissue. A narrow canal increases the risk of such contact for the spinal cord, and therefore potentially increases the risk of serious injury. Stenosis can be something the athlete is born with (congenital), or it can be acquired as a result of changes in the tissue. A bulging disc, for instance, can occupy valuable space within the canal.
According to Werder, doctors told Finley that they believe his injury was caused by extreme torque and that it will not require surgery. Some athletes have returned to play following spinal cord contusions, including
Baltimore Ravens
linebacker
Jameel McClain
, but much depends on what unfolds over the course of testing following an injury. The athlete's complete history -- including any prior episodes of neurological events -- will be evaluated in the context of determining the next steps. That process, along with the time allotted to ensure full recovery from this latest episode, is not quick, nor should it be. The Packers are not issuing any timetable for Finley, a perfectly reasonable approach given all the uncertainty around this injury.
In the meantime, the Packers are forced to evaluate their pass-catcher situation. With Finley out indefinitely, and
Randall Cobb
out until at least Week 15 with a fractured fibula, the status of
James Jones
becomes all the more important. Jones sat out Week 7 with a sprained PCL,
not surprising based on the nature of the injury
. The question now is if he will miss another week, or if he can return to help the team in Week 8.
Coach Mike McCarthy told reporters Monday that the team would have a better idea of Jones' outlook Wednesday. McCarthy said the timeline provided to him regarding Jones' injury was "probably two, possibly three weeks," adding, "He's genetically gifted, so we'll see what happens."
The key for Jones is having enough quadriceps strength to control his knee with dynamic movement. Until he tests it on the practice field, there is no way to measure how close he is to a return.
October, 4, 2013
10/04/13
9:23
AM ET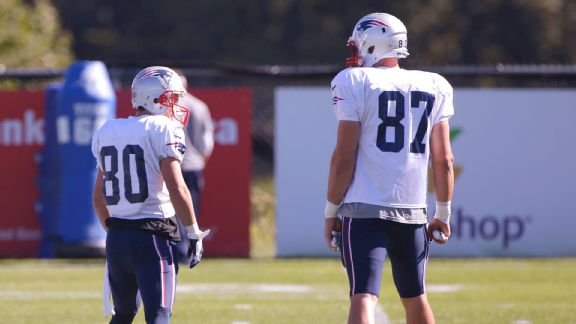 AP Photo/Stephan SavoiaDanny Amendola (No. 80) and Rob Gronkowski (87) are nearing their return to the field.
Here are updates on more of the fantasy-relevant injury situations that I've been following ahead of Week 5 of the NFL season.
New England Patriots
Rob Gronkowski, TE (back/forearm):
It feels like a broken record when discussing the injury status of Gronkowski and Danny Amendola; both are practicing on a limited basis, and both will likely be listed as questionable heading into Sunday's game in Cincinnati. Another week of practice means another week of confidence for Gronkowski, which seems to be one of the primary issues for him in stepping back onto the playing field. From a practice perspective, he may still be limited on reps, but Gronkowski is participating in all forms of drills. Other than facing a true opponent -- which is a legitimately different experience from practicing with teammates -- there is little left for Gronkowski to test. But after nearly a full year of recovery from various surgeries, and the setbacks associated with some of those surgeries, who can blame him for wanting to feel extra confident that he is prepared to take the field again?
After sitting out last week's game in Atlanta, it seems unlikely Gronkowski will opt to test his readiness in Cincinnati just one week later. But a Week 6 home game in New England against the
New Orleans Saints
just seems more likely. It has the makings of an exciting matchup, taking place in Foxborough, where Gronkowski will be surrounded by friends and family and undoubtedly welcomed with thunderous applause. More important, he will have just passed the 16-week mark since undergoing back surgery (the operation was June 18). Three months post-surgery is typically the soonest return for an athlete after this type of procedure; this is Gronkowski's second such operation (albeit at a different spinal level). Tacking on another month's worth of additional training and conditioning can have a profound impact on confidence level.
The extra time also allows the forearm more time to adapt to the workout stresses being placed on it, which in turn helps prepare it for the in-game loads it will encounter. Of course, no one can offer a foolproof guarantee that there is zero rate of reinjury, and the last time Gronkowski set foot on a playing field, he reinjured himself. Whatever hesitancy he may be experiencing is certainly justified. Look at it this way, fantasy owners: While he's out, readying himself for his NFL return, at least Gronkowski isn't adding any new injuries to the list.
Danny Amendola, WR (groin):
Meanwhile, Gronkowski's teammate Amendola continues to make progress, but is no sure bet to return in Week 5 either. He remains on a limited practice schedule as he increases the level of demand on what is certainly a still-healing adductor tear. The hardest part about gauging Amendola's return is trying to determine when the risk-reward changes so the reward of him playing outweighs the risk of reinjury. If Amendola is still lacking power or mobility (particularly with hard breaks on routes or any sharp directional changes), he runs the risk of further injury. These things are always hard to measure in practice, but even more so if the athlete is not consistently working at full speed. By Amendola's account, the progress has been substantial, but the Patriots tend to be conservative with these soft tissue injuries and Amendola's history has to make them a bit more cautious than usual. If Amendola does manage to play in Week 5, it's hard to envision him playing at full speed for a full game.
Stevan Ridley (knee) and Brandon Bolden (knee), RBs:
Also among the Patriots' MASH unit is running back Stevan Ridley. Ridley bruised the area above his knee in last week's game, and has not practiced. If he has been dealing with significant swelling, the rest will move him further toward the goal of being available Sunday than trying to practice. That said, Ridley should be on the field Friday to improve his chances of playing this week. Meanwhile, Brandon Bolden has been a regular on the injury report because of his knee and so far this week, he has been kept to limited practices. The fact that he has been a participant to some degree bodes well for his chances of suiting up this weekend, barring a setback.
Indianapolis Colts
Ahmad Bradshaw, RB (neck):
The news for Bradshaw is not good. He was held out of Sunday's game after suffering a neck injury in the Week 3 contest against the
San Francisco 49ers
, and the word from the Colts was that he was still being evaluated. The evaluative process continued into this week, as Bradshaw traveled to California for a consultation with noted spine surgeon Dr. Robert Watkins (who operated on both
Peyton Manning
and Rob Gronkowski). According to ESPN.com reports, Bradshaw is still undecided about surgery, but in the meantime, he has yet to practice since the injury. Last year, Bradshaw suffered a neck injury in Week 2 which caused tingling in his hands. He underwent a battery of tests and later revealed the injury to be a bulging disc.
"It's pretty much like an inflamed disc, and it's just sitting right on the spinal cord, I guess," Bradshaw told the Newark Star-Ledger at the time. After the symptoms subsided, Bradshaw was cleared to return to play but he knew then the symptoms could return at some point. The Colts have not indicated whether this current injury is related to the problem Bradshaw had last year, but it would certainly make sense, particularly given the chronic nature of disc injuries. These injuries can go through quiet phases, not provoking any symptoms, until there is an event which triggers a worsening of the injury and an inflammatory reaction. While Bradshaw considers his options, fantasy owners should consider whom they would choose to replace him for this week and, quite possibly, for the remainder of the season.
Oakland Raiders
Darren McFadden (hamstring) and Marcel Reece (knee), RBs:
McFadden left Sunday's game in the first half with a right hamstring injury, and only returned to the sideline as an observer for the second half. Although the Raiders did not specify the severity of the injury, McFadden's absence from practice is telling. He is no stranger to lower extremity injuries and has missed numerous games throughout his career as a result. Although McFadden entered the season healthy, it seemed only a matter of time before another soft tissue injury cropped up. One month into the season, McFadden is contending with a hamstring ailment and looks to be in danger of missing at least Week 5, if not longer. The Raiders will play in an unusually late Sunday night game (the result of sharing a stadium with the Oakland Athletics, who will host a playoff game hours before), so fantasy owners should make alternate plans in advance.
Reece also left Sunday's game early with a non-specific knee injury (sprain) that warranted an MRI, but he returned to practice on a limited basis Wednesday, then followed it up with another limited practice Thursday. Apparently the injury is not as serious as it first appeared, and with McFadden likely out, Reece's availability as a complement to
Rashad Jennings
becomes more important.
Green Bay Packers
Eddie Lacy, (concussion) and Johnathan Franklin (foot), RBs:
Lacy suffered a concussion on his first carry of Week 2, and was held out of the following game. The Packers had a bye in Week 4, giving Lacy some additional down time. Coach Mike McCarthy indicated prior to the Week 3 game that Lacy had made good progress, so it came as no surprise that he was back practicing with his teammates this week. In fact, Lacy has been a full participant and barring a setback, he'll play this Sunday.
With
James Starks
already ruled out, Franklin would figure to be next in line behind Lacy, but he is dealing with an injury of his own, a foot ailment suffered late in the Week 3 game where he replaced the injured Starks. Franklin was able to practice fully both Wednesday and Thursday and should be available for Sunday's contest against the Lions.
Jermichael Finley, TE (concussion):
Finley suffered a concussion in Week 3, then provided some insight into just how sobering an experience that can be when he posted a video describing the event on his personal website. As ESPN.com's Rob Demovsky pointed out, Finley's video was
the first time that the media had heard from him
following the injury. In his video, Finley talks about the play where the injury occurred, and the initial symptoms he experienced after regaining consciousness, which included visual disturbances and balance issues. Finley has made great improvements since the injury, as evidenced by his clearance to return to football activity after passing numerous tests. As Demovsky reports, Finley called the testing process a "long haul," but seems to appreciate the steps that are in place, perhaps as a result of his personal encounter with a head injury. "You have to do several things to get back, and you have to respect the league for doing it," Finley said. "It's much respect from me."
Kansas City Chiefs
Jamaal Charles, RB (toes):
Charles popped up on the injury report with the body part listed as "toes," presumably because of the "extensive blisters" coach Andy Reid described after the Week 4 game. ESPN.com's Adam Teicher reports that Charles participated in the team walk-through Wednesday despite not formally practicing, a good sign for his likelihood of playing Sunday against the Titans. Charles was upgraded to limited practice Thursday, and appears to be on track for Week 5.
September, 13, 2013
9/13/13
8:04
AM ET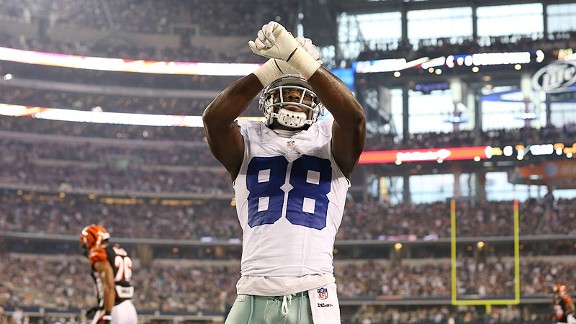 Matthew Emmons/USA TODAY SportsWill Dez Bryant's fantasy owners see him celebrating any TDs on Sunday?
Here are some of the key fantasy-relevant injury situations that I'm following heading into Week 2 of the NFL season.
Dez Bryant, Dallas Cowboys, (foot)
: On Tuesday, we learned that Bryant had suffered a foot sprain in Sunday night's game, but that both he and the team were
optimistic about his chances of playing this week
. Their optimism is supported by the fact that Bryant was a full participant in both Wednesday and Thursday practices. According to the Dallas Morning News, Bryant says his foot "feels great." He appears to be on track for Sunday.
Reggie Bush, RB, Detroit Lions, (finger, groin)
: In a post earlier this week, we outlined just what
Bush had to endure
as he racked up points for his fantasy owners in Week 1. We also noted that coach Jim Schwartz made it clear that they weren't going to lighten his workload in games. Heck, they didn't even lighten it in practice this week. Bush was a full participant on both Wednesday and Thursday, making it appear he will also be a full participant Sunday.
Jermichael Finley, TE, Green Bay Packers, (toe)
: Finley suffered a toe injury in the first game of the season. He did not practice Wednesday, but was able to return on a limited basis the next day. This was a bit of a surprise, since coach Mike McCarthy had expressed doubt Finley would practice Thursday. According to ESPN.com, McCarthy noted Finley was making progress and hoped he would be able to go again on Friday. While it's a good sign that Finley was out on the field a day earlier than that, it's still not clear whether he'll be able to push off hard enough or cut sharply enough to be game ready come Sunday. First things first: let's see what he's able to do on Friday.
Daryl Richardson, RB, St. Louis Rams, (foot)
: Richardson was given a day off on Wednesday to rest a sore foot, but he did return to limited work on Thursday. The team has not offered any specifics as to the nature of Richardson's foot ailment, but according to ESPN.com, Richardson says the foot feels "great," adding, "It ain't nothing a cold tub can't take care of." We'll see. Teammate
Isaiah Pead
was suspended for Week 1, but rejoined his team at practice this week and could be available Sunday.
October, 18, 2012
10/18/12
9:32
PM ET
After sustaining big injury losses to their vaunted defense in Week 6, the Ravens' mood was somber. That frown turned upside down when linebacker
Terrell Suggs
, on the physically unable to perform list to start the season following surgery to repair his right Achilles tendon, rejoined the team for practice this week. ESPN's Adam Schefter reports Suggs expects to play Sunday when the Ravens visit the Texans. The biggest question will be whether a visibly heftier Suggs is in adequate "game" shape to take the field. Most athletes returning from this type of injury say it takes them a full year to regain the speed and explosiveness in their surgically repaired leg. It doesn't mean Suggs can't contribute right away -- even if that comes largely in the form of morale boosting initially -- but it does mean he's unlikely to look like the 2011 defensive player of the year out of the gate.
Here's who else we're keeping an eye on in Week 7.
Quarterbacks
[+] Enlarge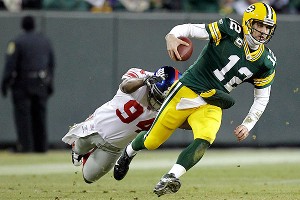 Jeff Hanisch/US PresswireFor a scrambling quarterback such as Aaron Rodgers, a leg injury is all the more concerning to fantasy owners.
Aaron Rodgers, Green Bay Packers (calf):
Here's a name no fantasy owner wants to see on the list. A draft-day cornerstone for many teams, Rodgers was limited in practice Wednesday by a sore calf, apparently suffered on a running play in Week 6. The good news is Rodgers turned in a full practice Thursday, and it looks as if he fully plans on playing against the Rams this Sunday.
Christian Ponder, Minnesota Vikings (knee):
Ponder has been working through knee discomfort associated with an inflamed bursa for the past couple of weeks. He continues to practice fully and should play again this Sunday.
Running Backs
Adrian Peterson, Minnesota Vikings (ankle):
Peterson's lack of activity during practice might seem worrisome but it sounds as if he and the team are taking a deliberately cautious approach in light of the next two games coming so close together. Tom Pelissero of 1500 ESPN Twin Cities reports Peterson plans to play Sunday despite not practicing Wednesday or Thursday. Coach Leslie Frazier echoed that statement, describing the rest as precautionary. Still, according to Pelissero, Peterson indicated his ankle is "hurting consistently," not enough to keep him from playing but perhaps enough to keep him from being as explosive as he'd like. It looks as if Peterson will play, and his best chances of being effective come from resting his ankle in the interim.
Rashard Mendenhall, Pittsburgh Steelers (Achilles):
Mendenhall has been downplaying his Achilles injury ever since it happened in Week 6's Thursday night game, insisting he was removed largely for precautionary reasons, primarily due to his recent return from ACL reconstructive surgery. Still, with Mendenhall not yet practicing this week, it's enough to make fantasy owners nervous.
Isaac Redman
also sustained an injury (ankle) in Week 6, and he too has yet to practice. Gerry Dulac of the Pittsburgh Post-Gazette reports the Steelers think Mendenhall is closer to playing than Redman, but it would feel much more plausible if we were to see him get some practice reps. While that could happen Friday, it's also possible the Steelers will opt to give him as much rest as possible in advance of Sunday since that might be the best medicine for a sore Achilles. The Steelers do not play until Sunday night, so unless there is some better evidence of Mendenhall's readiness following Friday practice, fantasy owners will need to have a backup plan.
Trent Richardson, Cleveland Browns (chest, rib):
Richardson has maintained all along that he will be ready to play this weekend. So far he seems to be making good on that promise, participating in practice, although on a limited basis, both Wednesday and Thursday. Expect him to wear some protective padding, as is often the case following rib injuries, but it appears he will be on the field, barring a setback.
Ahmad Bradshaw (foot) and Andre Brown (concussion), New York Giants:
Uh-oh. When we see "foot" next to Bradshaw's name on the injury report, it starts dredging up memories of complications over the past two seasons. According to Kieran Darcy of ESPN New York, Bradshaw, who did not practice Wednesday and did only limited work Thursday, said this is not related to his prior stress fracture issues but that he had his foot stepped on in Week 6. Bradshaw also said he's "ready to go," suggesting his availability for Sunday is not in doubt. Meanwhile, Brown is on the mend from his concussion and practiced fully both days this week.
DeMarco Murray, Dallas Cowboys (foot):
Owner Jerry Jones already said Murray will miss this week's game in Carolina due to his foot sprain, although he is not yet listed as "out" on the injury report. The expectation is that
Felix Jones
will get the start. Until Murray returns to practice, there is little to update.
Donald Brown, Indianapolis Colts (knee):
Brown is still recovering from knee surgery and is not practicing yet.
Vick Ballard
is expected to start again.
Ben Tate, Houston Texans (toe):
Tate continues to be limited by a sore toe, and his status for Sunday is uncertain.
Wide Receivers
[+] Enlarge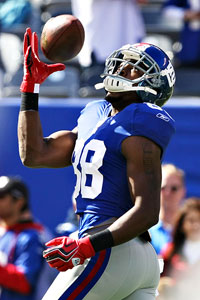 Alan Maglaque/US PresswireHakeem Nicks has been frustrating to own this season, with three missed games and two subpar performances, but his Week 3 totals -- 199 yards and a touchdown -- are a reminder of his game-breaking ability.
Hakeem Nicks, New York Giants (foot/knee):
Nicks did something this week he hadn't done in a long time -- he put in back-to-back practices Wednesday and Thursday. Granted, he still is being limited in terms of his reps and he does not appear fully recovered from his ailments but this is a big status change for him. At the very least, it suggests his status will be less questionable heading into this week's contest.
Pierre Garcon, Washington Redskins (foot):
Garcon has not practiced this week. After hearing last week that the plan was for him to take the time to let the foot heal before returning, it certainly looks as if he will be out again this Sunday.
Greg Jennings, Green Bay Packers (groin):
Jennings still has not practiced this week. His focus has been on rehab and conditioning work, and last week coach Mike McCarthy said Jennings would not test his groin until late this week. We'll see what happens Friday but it's hard to feature Jennings returning in three days.
Jerome Simpson, Minnesota Vikings (back, foot):
After being forced to sit out in Week 6 because of weakness in his leg associated with a back injury, Simpson has made big improvements this week. He was a full participant in practice both Wednesday and Thursday, and while it is too soon to dismiss the injury as being totally behind him, his chances of playing Sunday are looking good.
Tight Ends
Rob Gronkowski (hip) and Aaron Hernandez (ankle), New England Patriots:
Gronkowski continues to be limited in practice, which doesn't come as a big surprise. He has been playing through what is being termed a hip injury and has not been quite himself on the playing field. Hernandez seemed to get through his first game outing well and returned to limited practice Wednesday. He did not practice Thursday, however, which could be cause for concern or just some proactive rest on the part of the Patriots. Remember, Hernandez did not practice last Friday in advance of Sunday's game, either. That turned out just fine. Expect Gronkowski and Hernandez to both be active Sunday against the Jets.
Jimmy Graham, New Orleans Saints (ankle):
The last time we saw Graham, he was in a walking boot following an ankle injury in Week 5. Then the team had a bye week, and there were no updates to offer clues. It wasn't until Wednesday's practice that the first real evidence of how much the ankle is limiting Graham became apparent ... when he did not participate. On Thursday, Graham did make an appearance, practicing on a limited basis. The Saints sound as if they would like to have him available Sunday, even if he remains limited. "You always want to have your best players so we hope we are going to have him," Saints interim coach Aaron Kromer said, according to the New Orleans Times-Picayune.
The Saints have not offered specifics regarding Graham's ankle sprain (what type of sprain or what degree of severity) but it is worth noting that Graham did return to the Week 5 game after the injury. He appeared to be significantly limited for the remainder of the game but he did finish it out. In reviewing video of the injury, as Graham is tackled by Chargers defensive back
Marcus Gilchrist
, his foot is rotated outward relative to his lower leg. This is a common mechanism associated with a high ankle sprain but the team has not referred to it as such. While high ankle sprains are often associated with a prolonged recovery, it still comes down to how significant the actual tissue damage is. If there is instability and the injury is a high ankle sprain, caution is warranted so as not to lead to chronic degenerative changes in the joint. If the ankle is stable, the athlete can resume play more quickly. It will be worth monitoring how Graham's ankle responds to the Thursday work and whether he can repeat the effort Friday. If he can, it seems the Saints will lean toward having him available, even if his ankle has not fully recovered.
Jermichael Finley, Green Bay Packers (shoulder):
Finley practiced on a limited basis both Wednesday and Thursday because of the same AC joint issue that bothered him last week. Given that he was active last week after not practicing early on, expect him to play again (and hopefully contribute) this week.
Dustin Keller, New York Jets (hamstring):
Keller remains on the injury report this week, turning in limited practice Wednesday but bumping up to a full practice Thursday.
And on a final note ...
Six teams (Atlanta, Denver, Kansas City, Miami, Philadelphia, San Diego) are on bye this week, which means a lot of fantasy replacements are in order. These players will not appear on this week's official NFL injury reports.
October, 14, 2010
10/14/10
4:22
PM ET
A number of fantasy stars went down in Week 5, and the news on at least one of them is not too encouraging.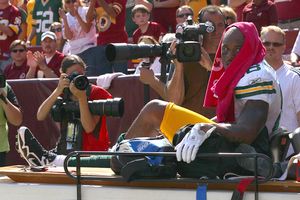 Win McNamee/Getty ImagesJermichael Finley could return by the end of the season, but it likely won't matter for fantasy owners if that happens.
Green Bay Packers
tight end
Jermichael Finley
underwent arthroscopic surgery Tuesday and it looks as if he could miss the remainder of the season. While it's possible he could return, his fantasy season is essentially done, much to the chagrin of fantasy owners (including, ahem, yours truly) who invested heavily in his talent. Finley did not disappoint but his knee failed to cooperate. The prognostic timetable in advance of Finley's surgery was that he would miss 3-6 weeks. After surgery, however, that timetable became a projected 8-10 weeks. According to Greg Bedard of the Milwaukee Journal-Sentinel, Finley had a lateral meniscus tear and repairing it (as opposed to removing the torn meniscus) became an option, hence the expanded timetable.
Following meniscus repair, rehabilitation is much more conservative in an effort to protect the repaired tissue and ensure better healing. Even 10 weeks is optimistic in the case of a repair. The repair option is chosen, when possible, to try to preserve the long-term health of the knee as complete removal of a meniscus is associated with degenerative (arthritic) changes in the knee. Considering long-term health is the goal, there is no reason to rush a player back during the recovery process and potentially jeopardize the outcome. The Packers may ultimately decide to place Finley on injured reserve, something that is being evaluated in the context of the entire team's needs. Fantasy football owners can make the move to replace Finley on their rosters right away.
Four more teams are on bye in Week 6: the
Buffalo Bills
,
Cincinnati Bengals
,
Arizona Cardinals
and
Carolina Panthers
.
Quarterbacks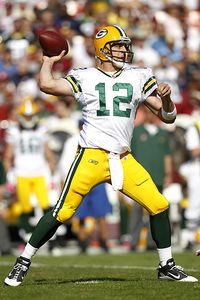 Joe Robbins/Getty ImagesAaron Rodgers looks like he's in position to start on Sunday despite suffering a concussion late in last week's game.
Aaron Rodgers, Green Bay Packers:
Rodgers did not practice Wednesday, which was not surprising given that he suffered a concussion just last Sunday. At that time coach Mike McCarthy told the Milwaukee Journal-Sentinel that Rodgers was going through the protocol the team has in place following such injuries, adding, "I probably won't know his situation until [Thursday] morning, as far as his availability for the game, let alone practice."
Apparently, Thursday brought some encouraging news as Rodgers returned to practice. It's worth monitoring how Rodgers responds to the increased activity before penciling him into the start position. If he tolerates the activity well and returns for more Friday, then a Week 6 start is looking good.
Jay Cutler, Chicago Bears:
Cutler has been given the go ahead to return to full practice and was on the field Wednesday doing just that. He is expected to start for the Bears in Week 6.
Michael Vick, Philadelphia Eagles:
Vick has indicated that he is feeling better this week following his Week 4 rib cartilage injury. According to the Philadelphia Inquirer, Vick says that he has "his throwing motion back." While Vick has certainly increased his activity in the last few days, he has not yet returned to practice. Vick maintains that he does not need to practice in order to play, but the risk remains that the injury could be easily aggravated by contact. He has not been ruled out for Sunday's game, but it would be surprising to see him back in Week 6.
Brett Favre, Minnesota Vikings:
Could the consecutive starts streak end at 289? It's at least a topic of discussion this week as Favre is reportedly battling tendinitis in his throwing elbow. Generally speaking, tendinitis in that area refers to inflammation of the common extensor tendon, a wide band that represents the "common" attachment of the wrist extensors just above the elbow. In addition to extending the wrist, the extensors are involved in grip. In the case of a quarterback, ball control and delivery is affected by the function of this group of muscles. Tendons are the tissue that anchor muscle to bone, so when muscles contract, the contractile energy is transferred through the tendon to the bony attachment, resulting in movement. The bottom line: If Favre throws, he's stressing the injured area. With rest being the best form of management, the question naturally arises as to just how much rest Favre will require. Coach Brad Childress told reporters that the team will limit Favre's practice reps in an effort to rest the elbow, and Favre told reporters he would consider sitting out a game or two if the condition worsens.
Really? Are we to believe the man who has played through an MCL sprain, ulnar nerve irritation, a partially torn biceps tendon, chronic ankle pain and various assorted other ailments might consider sitting for some tendinitis? It seems highly doubtful that Favre would sit because of pain alone but he might sit (emphasis on "might") if he feels that his condition would present a liability to the team. After Monday night's loss to the Jets, Favre lamented that some passes got away from him late in the game because of the elbow. Managing the elbow condition becomes the name of the game here because complete recovery is not likely to occur in-season and the Vikings' bye week has come and gone. It's certainly a situation worth watching for fantasy owners, but until a Sunday comes and goes without Favre on the field, it's hard to imagine him sitting out a game.
Jake Delhomme and Seneca Wallace, Cleveland Browns:
We noted the injuries to both quarterbacks in Tuesday's blog and the outlook is no better for either of them to return this week. In fact, coach Eric Mangini is indicating that the team is leaning toward
Colt McCoy
getting the start. According to the Cleveland Plain-Dealer, Mangini said Thursday that "the lean is more pronounced."
Running Backs
Peyton Hillis, Cleveland Browns:
As noted in Tuesday's blog, Hillis aggravated his quad strain Sunday, and he had not practiced through Thursday. That, however, will not keep him from Sunday's game, according to Mangini. The Cleveland Plain Dealer reports that Mangini expects Hillis to be available Sunday but also notes that newly acquired running back
Mike Bell
is "a fit for the plays we have for Peyton." Sounds like the Browns wanted Hillis-specific insurance. There's no doubting Hillis' toughness, but there might be some doubt as to whether he can be Hillis-like in the presence of this injury. And the Browns have the
Pittsburgh Steelers
on the docket this week. This could be a risky week for Hillis fantasy owners.
Ryan Mathews, San Diego Chargers:
It seemed as if Mathews was out of the woods with regards to his ankle injury, but that does not appear to be the case. Lingering soreness in the ankle has kept Mathews from practicing fully, and this week Mathews was not in practice at all Wednesday. Coach Norv Turner has hinted over the past two weeks that the goal is to have Mathews functioning like a feature back but not at the risk of setting him back. If Mathews is not able to fully practice during the week, he is not likely to be placed in that role. Mathews' ability to play Sunday does not appear to be in jeopardy, but he could very well be sharing the job with
Mike Tolbert
. Fantasy owners just love hearing that.
Wide Receivers: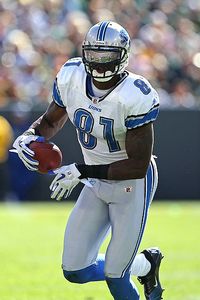 Jonathan Daniel/Getty ImagesCalvin Johnson's arm and shoulder issues could keep him out this week against the Giants.
Calvin Johnson, Detroit Lions:
Although we have not heard specifics about Johnson's injury, we have heard enough to be concerned about his status this week. Johnson was present at practice Wednesday and Thursday but he has not been able to make much use of his right arm. On Wednesday, he ran routes but caught no passes. Johnson told reporters that his range of motion was not quite all the way back. According to Dave Birkett of the Detroit Free Press, Johnson remained limited in Thursday's practice, still heavily favoring his right arm and catching passes primarily with his left. If Johnson is still struggling with overhead motion, it's unlikely that he is back to form by Sunday. We should learn more after practice Friday, but with the Lions heading for a bye next week, it would not be surprising if Johnson rests Sunday if there is no further progress.
Andre Johnson and Jacoby Jones, Houston Texans:
Johnson appeared to emerge from Week 5 relatively unscathed and will no doubt forge ahead into Week 6. Johnson's ankle is not perfect but that didn't stop him from being the top receiver for the Texans last week. Jones and his calf are another matter. Jones, who did not practice last week, was not back in practice Wednesday and is being called day-to-day at this point.
Austin Collie, Pierre Garcon and Anthony Gonzalez, Indianapolis Colts:
Collie, despite being in a protective boot most of last week, did end up playing Sunday and appeared to run well. Collie was back in the boot to start the week, however, and did not practice Wednesday, which reminds us that he is not fully recovered. Based on his routine last week, there is no reason to worry just yet about Collie's Sunday availability. Garcon did not practice Wednesday either, but there were no reports of a setback after his return to the field Sunday. Gonzalez, who has missed multiple weeks with a high ankle sprain, did limited work Wednesday and could be on track for a return this week.
The lineup for the Colts' receivers should also become clearer after Friday practices.
Quick Hits
In Indianapolis, there are questions at running back as well as receiver.
Joseph Addai
, who suffered an injury to his neck and shoulder area last week, participated in limited practice Wednesday and Thursday. It appears that he will be available this week. Teammate
Donald Brown
is back in practice after a hamstring injury also, but he is still limited.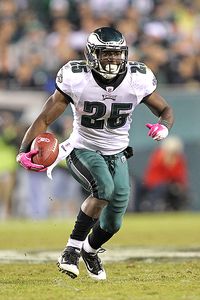 Hunter Martin/Getty ImagesLeSean McCoy rushed for 92 yards last Sunday despite dealing with a rib injury that nearly kept him out.
Eagles running back
LeSean McCoy
did not practice Wednesday, but expect him to be in the action this week. After all, if he could play as well as he did just one week after cracking a rib, there's no reason to think he'll be hampered this week. Keep in mind that former Browns running back
Jerome Harrison
, recently acquired by the team for Mike Bell, is around to back up McCoy as needed.
New Orleans Saints
running back
Pierre Thomas
has yet to return to practice, thus putting his status for this week in doubt again. While he has not been ruled out, it's worth noting that the Saints added former Seahawks running back
Julius Jones
to their roster. Coach Sean Payton assured reporters that the move was just for "depth" and not a reaction to the play of
Chris Ivory
or
Ladell Betts
. Meanwhile,
Reggie Bush
is still sidelined with a broken fibula and has yet to run outdoors. This weekend marks the four-week mark since Bush's injury (he originally projected himself to be back in four weeks), and he is hoping to return in the next week or two. We'll see how he advances in terms of activity, but the original six-week projection still appears likely.
Oakland Raiders
quarterback
Bruce Gradkowski
does not look like he will have recovered enough from his shoulder injury to take the field Sunday. He did not practice Wednesday, and
Jason Campbell
is taking the first-team reps. Running back
Darren McFadden
is still not fully recovered for this week's contest after sitting out Week 5. He did return to the practice field Wednesday, but Vittorio Tafur of the San Francisco Chronicle reports coach Tom Cable says
Michael Bush
will remain the starter this week with McFadden's hamstring not yet 100 percent.
Lions running back
Jahvid Best
did not practice Wednesday but was back Thursday. The day off may have been a proactive rest day, as there has been no word of any setback. While Best is likely still dealing with some level of discomfort, he certainly has been pressing forward and playing each week. His performance in Week 5, while not outstanding, was certainly improved from the prior week so the hope is that he will continue to trend upward.
Denver Broncos
running back
Knowshon Moreno
did not practice Wednesday but got back on the field Thursday. It's too early to determine his Sunday status, but moderate practice is quite different from a full game.
See you at Friday's 3 p.m. injury chat and we'll have the latest injury updates affecting Week 6 in the Saturday morning blog!
October, 12, 2010
10/12/10
4:27
PM ET
In Week 5, another star quarterback went down with a concussion, a wide receiver who signed a new lease on his playing life after switching teams saw his season end prematurely, and a top-10 tight end is out for some time due to knee surgery.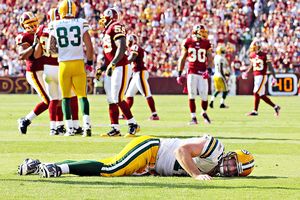 Win McNamee/Getty ImagesAaron Rodgers was struck in the head in the Packers' last offensive play Sunday.
The
Green Bay Packers
are faced with the prospect of potentially starting
Matt Flynn
this week after
Aaron Rodgers
suffered a concussion on his last offensive play during overtime Sunday. When speaking to reporters on Monday, head coach Mike McCarthy said that Rodgers "at a minimum will miss some practice time this week." His progress throughout the week will determine whether Rodgers can play in Week 6.
Meanwhile, the
St. Louis Rams
will have to make do without
Mark Clayton
, who had been their top receiver. Sadly, Clayton ruptured his right patellar tendon during Sunday's game and will need surgery to repair the tendon, followed by a lengthy rehab process. He is done for the season.
One of my favorite prospects for this fantasy season, Packers tight end
Jermichael Finley
, will be missing some time after injuring his right knee Sunday. Finley is scheduled to undergo arthroscopic surgery Tuesday to address a meniscus tear. According to the Milwaukee Journal-Sentinel, Finley is expected to be out anywhere from three to six weeks. The time frame is broad, because much depends on the extent of the damage inside the joint and what exactly surgery entails. That in turn will drive how quickly Finley is able to resume football activities, including running and cutting. At this point, fantasy owners should mentally prepare for a lengthier absence and choose a replacement wisely. Don't look to Finley's teammate
Donald Lee
for relief; he left the game with a shoulder injury and is expected to miss some time as well. (Matthew Berry has a
list of potential replacements on the waiver wire
.)
Here's who else we're talking about after a rough-and-tumble Week 5:
Joseph Addai, RB, Indianapolis Colts:
Addai made an early exit from Sunday's game after appearing to injure his shoulder. He did not participate in the team's light practice Monday. The Indianapolis Star reported Addai suffered a right-sided neck/shoulder injury after being slammed into the ground by
Kansas City Chiefs
defensive end
Glenn Dorsey
. According to the Star, Addai said Monday that "turning to the left is kind of sore," which would certainly be consistent with an injury to that region. While the first official injury reports will not come out until Wednesday, it is worth noting that Colts general manager Chris Polian appeared Monday night on the radio show of his father, Bill, and said that Addai was feeling better and hoped to play Sunday night against the
Washington Redskins
.
Meanwhile, as Tom James of the Terre Haute Tribune-Star noted, the Colts did have some good news on the running back front.
Donald Brown
, who has been out for two weeks with a hamstring injury, returned to the team's walkthrough practice Monday. He could be available this week. We should get a better picture of the running back situation as the week progresses.
Calvin Johnson, WR, Detroit Lions:
If you were among those wondering whether Johnson could have come back in the game Sunday after injuring his shoulder in the fourth quarter, he gave the Detroit News a definitive answer, "No." Johnson didn't have to say much to indicate that there's some cause for concern. Johnson left the game after landing hard on his right shoulder while making a big catch and was later seen on the sidelines with the shoulder wrapped in ice.
Johnson reportedly underwent tests Monday and, according to Dave Birkett of the Detroit Free Press, head coach Jim Schwartz said, "I'm very concerned about his shoulder but we'll see how it goes this week. It's probably too early to make any determinations." Schwartz often limits his comments when it comes to injuries, so this expression of concern is certainly enough to make fantasy owners pay attention. The Lions have a bye in Week 7 so if there is any reason to be cautious, Johnson might be resting in Week 6. Stay tuned.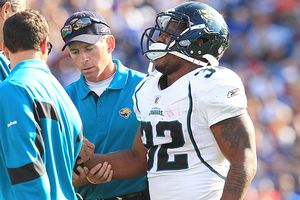 Kevin Hoffman/US PresswireMaurice Jones-Drew has not missed a game this season, but he has dealt with numerous injuries already, including suffering a wrist ailment against the Bills.
Maurice Jones-Drew, RB, Jacksonville Jaguars:
If you were watching this game, the sight of Jones-Drew in significant pain was very distressing. Just ask his teammates. According to Tania Ganguli of the Florida Times-Union, Jaguars quarterback
David Garrard
described the scare this way: "He [Jones-Drew] comes out and it looks like the season's over with his hand, the way he was screaming on the ground there," said Garrard, adding, "But he comes back in the game and is tough as all get out." Even coach Jack del Rio acknowledged that the usually quiet Jones-Drew "making a little noise" had him concerned. Del Rio went on to say that X-rays were negative and that there's "no issue" for Jones-Drew.
Ganguli reports that Jones-Drew had his hand on the ground to balance himself but was hurt when a group of defenders piled on top of him. With so many small bones in the wrist interconnected by numerous ligaments, this type of mechanism of injury is typical for a wrist sprain, but Jones-Drew is lucky that he did not suffer a fracture or dislocation, which could have resulted in missed time.
Fantasy owners have to be aging quickly as each week presents the threat of a new and serious injury for Jones-Drew, yet he keeps plugging along. So far this year MJD has dealt with a knee ailment that caused him to miss time in the preseason, a sore ankle that has limited him occasionally in practice and now the wrist. For the time being it appears that Jones-Drew remains safely on track to play this week.
Other quick hits
•
Philadelphia Eagles
running back
LeSean McCoy
did not appear to be hindered much by his rib fracture when he put up 92 rushing yards on the
San Francisco 49ers
. Given his performance and the fact that he came out of the game feeling good, expect McCoy to be in the lineup for Week 6. It's too soon to say much of anything about McCoy's teammate
Michael Vick
, who is dealing with a rib cartilage injury. Given that rest is the best medicine, it's hard to accelerate the healing process for Vick and it is an exceptionally painful injury. It would not be a surprise if he is out this week again.
• Detroit Lions running back
Jahvid Best
had a better performance in Week 5 than the week before. Is it safe to say the toe issue is behind him? It's too soon to say that he's in the clear, as these types of injuries are easy to aggravate even weeks later. And there were times where Best still looked less than Best-like, but his stock is definitely on the rise again after this last outing.
• While
New York Giants
running back
Ahmad Bradshaw
had some soreness in his ankle after Sunday's game, there were no major setbacks. Expect Bradshaw to be ready for Week 6.
•
Houston Texans
wide receiver
Andre Johnson
emerged from Sunday's matchup no worse for the wear. Johnson, though sore, managed to scrape together 95 yards and, most importantly, did not suffer any setbacks. His teammate, running back
Arian Foster
, was banged up a bit during the game and had a sore knee. Coach Gary Kubiak told reporters Monday that Foster was able to run with the team and called his prognosis for Week 6 "good."
•
Oakland Raiders
quarterback
Bruce Gradkowski
left Sunday's game near the end of the first quarter with an injury to his throwing (right) shoulder. He did attempt to re-enter the game but he clearly could not play through the problem. The Contra Costa Times reports Gradkowski underwent further tests on his sprained AC joint Monday but those results will not be released until Wednesday. It's worth mentioning that Gradkowski had already been limited to some degree in practice during the week because of his right shoulder. Although coach Tom Cable has indicated that Gradkowski will remain the starter if healthy, his status is very iffy at the moment.
• The
Cleveland Browns
may find themselves starting rookie quarterback
Colt McCoy
this weekend, by injury default.
Jake Delhomme
sustained further injury to his already injured ankle. Mary Kay Cabot of the Cleveland Plain-Dealer reports that Delhomme now has a low ankle sprain in addition to the high ankle sprain he was already nursing. Delhomme entered the Week 5 game when backup
Seneca Wallace
went down with a sprained ankle of his own. The most significant fantasy player in Cleveland has to be running back
Peyton Hillis
, who entered Sunday's game with a quad strain. He delivered a gutsy performance, but his intermittent limping showed he was not at full strength. Hillis further aggravated the injury during the third quarter. At this point, there is no word from the team as to his Week 6 status, which will warrant watching as the week goes on.
•
Denver Broncos
running back
Knowshon Moreno
was not among those players listed head coach by Josh McDaniels as out for this week's matchup against the
New York Jets
. We will need to see what he does in practice this week before having confidence that he will indeed play, but at least there is some room for hope.
We will continue to update these injuries and others as the week progresses.