Stephania Bell:

Jerricho Cotchery
November, 23, 2010
11/23/10
6:17
PM ET
San Diego Chargers
quarterback
Philip Rivers
continues to show that he can get the job done no matter who steps in to take his handoffs or catch his passes. In front of millions on "Monday Night Football," Rivers delivered a star performance with running back
Ryan Mathews
, wide receiver
Legedu Naanee
and tight end
Antonio Gates
all watching from the sidelines.
Mike Tolbert
handled the bulk of the running game (and likely will again in Week 12) and fresh-off-the-injury-report
Malcom Floyd
did his part to contribute to the passing game with a couple of catches and a score (although according to Kevin Acee of the San Diego Union-Tribune, Floyd tweaked his hamstring again, so stay tuned).
[+] Enlarge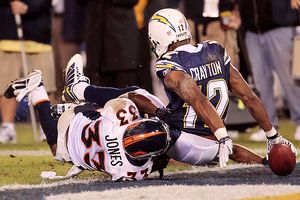 Stephen Dunn/Getty ImagesPatrick Crayton's left wrist was injured as he scored this touchdown.
But the Chargers couldn't get through the game without suffering yet another loss of a key player. Wide receiver
Patrick Crayton
landed awkwardly in the end zone while finishing off an impressive catch-and-run touchdown. He came up holding his forearm bent 90 degrees, and didn't let any of his teammates touch that left hand for congratulatory high-fives. Often when a person instinctively cradles his arm that way, it suggests a serious wrist or forearm injury. ESPN's Adam Schefter is reporting that Crayton suffered a dislocated wrist and is undergoing further testing Tuesday to determine the course of action. Since the wrist joint consists of two forearm bones (radius and ulna) interfacing with eight small wrist (carpal) bones, which in turn interface with the bones of the hand, there are many possible injury presentations. In other words, rather than speculate as to the specifics, we will wait to see what the Chargers reveal after Crayton's follow-up tests. Suffice it to say, this is not exactly good news. One might say that the timing of
Vincent Jackson
's return, scheduled for this week, couldn't be better. Something tells me Rivers will adjust just fine.
But how will
Eli Manning
adjust to the loss of another star wide receiver in the span of a week? The
New York Giants
, who recently saw
Steve Smith
go down with a partially torn pectoral muscle, have now lost
Hakeem Nicks
to a case of compartment syndrome in his right leg. Compartment syndrome is typically something that develops over time (chronic) but it can be brought on suddenly (acute), as was the case with Nicks, by trauma. Nicks reportedly was hit in the leg at some point during Sunday's game, according to ESPN New York, but was able to play into the fourth quarter. When Nicks arrived at the team facility on Monday, coach Tom Coughlin said the medical staff felt the need to "take immediate action." Nicks then went to the hospital and underwent a fasciotomy, a procedure whereby tissue is released surgically to alleviate pressure on blood vessels and nerves in the area.
[+] Enlarge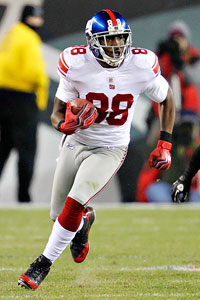 AP Photo/Rob CarrHakeem Nicks has scored the sixth-most fantasy points among wide receivers in ESPN standard leagues.
The lower leg is divided into regional compartments, each of which contains muscles, blood vessels and nerves, and the compartments are separated by connective tissue called fascia. Each compartment functions like a container of sorts. In the presence of swelling, the contents within each compartment are subject to increased pressure, which can constrict the blood vessels and nerves and prevent normal function (picture a blood pressure cuff squeezing around the leg and cutting off circulation). The individual can feel pain and tingling as a result of the compromise to the nerves and blood vessels. More importantly, if the blood supply to muscle is compromised for any length of time, the muscle tissue will die, hence the emergency nature of the procedure. Relieving pressure on the compartment by cutting the fascia is the immediate treatment. The next steps are waiting for the wound to heal, then gradually restoring the motion and strength in the lower leg.
The Giants have indicated that Nicks will miss the next three weeks following his fasciotomy. Time to recover from such a procedure can vary from several weeks to a couple of months, depending on the extent of the procedure, how well the wound heals, and whether there are any complications along the way. It should be noted that most acute compartment syndromes are associated with significant trauma, such as fractures or crush injuries. Sometimes in sports, however, there can be a direct blow that results in a hematoma (collection of blood), which in turn creates significant localized swelling and pressure. This may be the origin of Nicks' injury. Assuming no prior history of compartment issues for Nicks, the three-week timetable would seem reasonable, assuming no setbacks. During the first week, Nicks will do very little, but as he is able to increase his activity, we should get a better idea of whether he will meet the projected timetable.
Plenty of other teams continue to adjust to injury situations and this week some have only a few days to do so. With the Thanksgiving holiday, there will be three NFL games Thursday. The
Detroit Lions
host the
New England Patriots
for the early game. Then the
New Orleans Saints
visit the
Dallas Cowboys
followed by the
New York Jets
welcoming the
Cincinnati Bengals
. Given the short week for those teams, their initial practice injury reports were issued Monday (usually they do not come out until Wednesday). For key fantasy players in Thanksgiving Day games, here's what we know about their early-week activity.
Detroit Lions:
The Lions had only a walk-through Monday but still provided practice report "estimates." Among those who would not have practiced were running back
Jahvid Best
, quarterback
Matthew Stafford
, tight end
Tony Scheffler
and kicker
Jason Hanson
.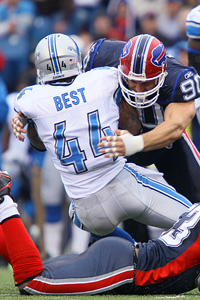 Kellen Michah/Icon SMIEven if Jahvid Best plays on Thanksgiving, remember that he hasn't had a double-digit fantasy game in ESPN standard leagues since Week 2.
Fantasy owners are probably most concerned about Best and rightfully so. Best has been limited to some degree by his toe injuries since early in the season. He reportedly suffered a setback Sunday and was seen getting one of his toes re-taped during the game. Ultimately, the toe situation was problematic enough to keep him from returning to the field. While he may continue to have some good days, the condition is going to persist and be a risk factor until he has lengthy time off.
The Lions' dire situation at running back has been compounded by the loss of
Kevin Smith
to injured reserve. Smith, who had just started to emerge following his ACL reconstruction of last year, is now recovering from thumb surgery. Nonetheless, it's hard to imagine Best being even close to ready for a full game Thursday when his pattern has been one of not practicing until late in the week. And as we saw last week, that schedule still was not enough to allow him to perform on Sunday. Dave Birkett of the Detroit Free Press reports that Best was in practice Tuesday, yet he still expects
Maurice Morris
to be the No.1 back this week.
As far as the other injured Lions, no one really expects to see Stafford anytime soon, if at all, this season, so his absence comes as no surprise. Scheffler injured his ribs in the second quarter of Sunday's game, according to the Detroit News, and is anything but certain to play. Hanson is recovering from an MCL sprain and his status for Thursday is still up in the air.
New England Patriots:
The Patriots also conducted only a walk-through Monday but reported several players as limited, including quarterback
Tom Brady
and running back
Fred Taylor
. Brady, who is still listed on the report because of his foot along with his shoulder, will continue to play as anticipated. Based on his recent performances, it's hard to see the foot as a limitation. As far as Taylor, he returned to limited practice with his team a couple of weeks ago and is awaiting the green light to see playing time. Taylor seems to be as in the dark about when that will be as anyone else. The Patriots' running game appears to be in good hands so the team may elect to guard Taylor's use, even once he has been activated for game day.
[+] Enlarge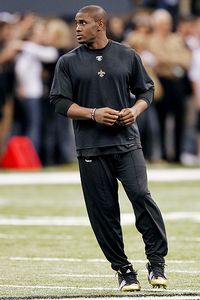 Derick E. Hingle/US PresswireReggie Bush nearly returned to action in Week 11 before becoming a late scratch, but he might finally be able to play for the first time since Week 2.
New Orleans Saints:
Despite the encouraging sight of
Reggie Bush
in team practice last week, he was deemed not quite ready for prime time and was held out of Sunday's game. Maybe not such a bad idea given that the team's next game is coming just four days later. Bush was listed as a full participant in the Saints' Monday walk-through practice report and is expected to play Thursday, barring a setback. Of course, the team expressed optimism that he would play last Sunday and he didn't, but keep in mind that Bush was only a limited participant in practice throughout the week. According to the New Orleans Times-Picayune, that's exactly what it came down to for the coaching staff, which did not want Bush's first full test to come in a game. Coach Sean Payton told the Picayune, "[Bush's] pregame workout was good. And yet I just felt like what I didn't want to do was err on the side of bringing him, just because you're wanting to bring him up."
It will be interesting to see how the Saints utilize him in his return outing. But with Bush champing at the bit to return, and the Saints feeling as if they're getting him back in good shape, he could provide a spark to the offense. Meanwhile,
Pierre Thomas
is not looking as if he'll play Thursday. There are conflicting reports about the exact nature of his ankle injury but the Picayune reports that Payton maintains Thomas' injury is a sprain. Either way, it appears that his return will not come before December.
Tight end
Jeremy Shockey
sat out Week 11 because of a rib injury and has been a limited participant in practice so far this week. Whether he will play on Thursday or not is not yet determined.
Dallas Cowboys:
It's interesting that there has been so much chatter about the recent X-rays taken of Tony Romo's left clavicle fracture, as if there were some hope of a full recovery. Most bones require six weeks for fracture healing, with actual remodeling of bone continuing well beyond that point. Add to that the fact that the clavicle is notoriously slow to heal, and four weeks -- which is how much time has passed since Romo's injury -- would not likely be enough to demonstrate full bone repair. It's certainly possible that the clavicle showed some progression in healing and that's often why X-rays are taken at an interim stage, to assess how the bone is shaping up. The bottom line is if anyone was expecting Romo to return to the lineup sooner than the original minimum six-week projection, it's not going to happen. Eight to 10 weeks has been the more reasonable healing timetable estimate all along, but it is not guaranteed, and the team may decide it is not worth risk of reinjury to have him appear again this season.
Of more immediate concern, running back
Felix Jones
is still dealing with a hip ailment and spent Tuesday working with the rehab staff, according to The Dallas Morning News. Jones, who injured his hip Sunday yet returned to the game, did not practice Monday but said he was "doing better," according to the Fort-Worth Star-Telegram. We'll see how the team designates him for Thursday's game, but resting early in a short week may give him the best chance to play on Thanksgiving.
Cincinnati Bengals:
Running back
Cedric Benson
came into Week 11 with a foot injury but it did not appear to hamper him during the game. At one point, Benson was forced out with an eye injury but he was able to return. He should be available Thursday.
New York Jets:
Wide receiver
Jerricho Cotchery
had a groin strain that kept him sidelined in Week 11. ESPN New York's Rich Cimini reports that Cotchery is doing light positional drills Tuesday but is still "iffy" for Thursday's game. As we've seen in the past, groin injuries are not only difficult to overcome, they are easy to aggravate. It would not be surprising if Cotchery is out again this week.
Here's who else we're talking about heading into the rest of the Week 12 contests:
•
Miami Dolphins
quarterback
Chad Henne
, who injured his knee in Week 10, practiced Monday after serving as the emergency quarterback last Thursday. While the Dolphins have not yielded any information as to the specifics of the injury, the fact that Henne is participating in some level of practice is encouraging, but we'll have to see how the team designates him later in the week.
Tyler Thigpen
may still be at the helm.
• The
Tennessee Titans
had a bizarre weekend but we'll stick to the injuries.
Vince Young
has now been placed on injured reserve as he is expected to undergo thumb surgery to repair a torn flexor tendon.
Kerry Collins
is still recovering from a calf strain, which was initially projected to keep him out for several weeks, and is not expected to be ready for this Sunday. Thus,
Rusty Smith
is likely to start at quarterback in Week 12 after stepping in last week when Young was injured. The Titans have signed
Chris Simms
as insurance.
[+] Enlarge
Grant Halverson/Getty ImagesClinton Portis had a short-lived return to the Redskins' lineup after missing five games with a groin injury.
• Running back
Ryan Torain
of the
Washington Redskins
sat out Sunday with his hamstring injury, with
Clinton Portis
getting the start. Portis didn't last long though, aggravating his groin injury after just five plays. Considering that Portis had not been cleared to play Monday night, it's hard to imagine that he was suddenly 100 percent healthy. That said, as an athlete is recovering from a muscle strain, the only way to truly test his health once he's fully practicing is to put him in a game situation. No one ever wants or expects a setback to come so quickly, but that is the nature of this type of injury. Portis underwent a subsequent MRI and the results, according to Jason Reid of The Washington Post, "revealed nothing new. Just swelling." Unfortunately, just swelling is enough to indicate there is still some inflammatory response taking place around that healing tissue, making it less likely we will see Portis in Week 12. Meanwhile, the Redskins lost running back
Chad Simpson
to a foot injury and have added running back
James Davis
to their active roster. With Torain still recovering from his hamstring injury, it appears
Keiland Williams
will be the starting back for the Redskins.
•
Indianapolis Colts
wide receiver
Austin Collie
left the Week 11 game early for what the Colts called "precautionary reasons." Collie, who was returning to play two weeks after suffering a concussion, took some big hits in last week's game. He is not expected to play in Week 12. Running back
Joseph Addai
is still considered day to day, as he has been essentially since the injury occurred. In other words, fantasy owners can't plan for a scheduled return.
•
Carolina Panthers
quarterback
Jimmy Clausen
says he expects to be available in Week 12. Both he and running back
Jonathan Stewart
will need to receive medical clearance to return to practice, and their status will not be known until later this week.
We will continue to update these injuries and others as the week progresses. Due to the Thanksgiving holiday, there will be no chats on Friday. But check back for the latest injury updates affecting Week 12 in the Saturday morning blog! Happy and healthy Thanksgiving everyone!
November, 16, 2010
11/16/10
6:11
PM ET
This seems like as good a time as any to remind everyone that medicine is not black and white. Sometimes, even when a player is improving in his recovery from an injury, there can be last-minute setbacks. Exhibit A:
Washington Redskins
running back
Ryan Torain
, who was active (yes, active!) Monday night but did not play due to his hamstring tightening up during warm-ups. It was just late enough to burn every fantasy owner who expected him to play. (Remember, he was listed as questionable, and until a questionable player is actually playing, he remains just that.)
Other times, a player does not return within the projected timetable originally issued by medical personnel. Exhibit B:
New Orleans Saints
running back
Reggie Bush
, initially projected to miss four to six weeks with a broken fibula (and you might recall Bush suggesting early on that he could beat that timeline). Bush, who is expected to return this Sunday, will be nine weeks post-injury if he plays in Week 11. While his fracture has healed, the issue has been his readiness to return to competition given the high physical demands of his position.
How do these things happen? Fantasy owners would prefer absolutes, definitive answers and zero risk. Let's tell the truth. The injured players and their teams would prefer that as well. But medicine is an imprecise science. And as much as it would be nice to provide guarantees and certainties when it comes to healing, that simply is not possible, whether it refers to a professional athlete or a weekend warrior. For one thing, individuals heal at different rates. Beyond that, timetables are
estimates
based on the average healing time associated with a particular injury. Timetables presume no setbacks and no complications, which, as we all know, are more likely to occur than not. And then there are the vagaries of injury classification. A "partial tear" can be 25 percent, 40 percent or 75 percent tissue damage, or anything else not considered a complete tear. The amount of damage likely will correlate to healing time, albeit in an imprecise way (refer to exhibits A and B above).
And so, as we continue in the gray zone of injuries, here's what we're hearing heading into Week 11 ...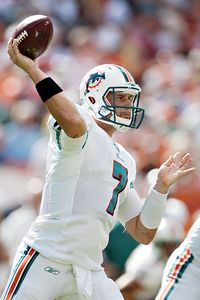 Jonathan Brownfield/US PresswireChad Henne had a busy week, as he was benched, returned to the Dolphins' lineup, then injured his knee.
• To date, the
Miami Dolphins
' injury reports have been among the leanest in the league. Not so any longer. The Dolphins lost two quarterbacks within the span of minutes this past Sunday, one of whom is done for the season.
Chad Pennington
injured his oft-operated-on shoulder and was done in the span of two plays.
Chad Henne
, who had been benched in favor of Pennington, stepped in only to suffer what appeared to be a serious injury to his left knee. Henne was on crutches after the game but has not been ruled out for any particular period of time. While the Dolphins have not offered details as to the nature of Henne's injury, coach Tony Sparano has left the door open for Henne. Needless to say, it does not appear likely he will be in any shape to play in this Thursday night's game. Expect
Tyler Thigpen
to get the start.
• The
Tennessee Titans
also have two banged up quarterbacks.
Vince Young
did not get the start Sunday, as his left ankle was still causing him some problems.
Kerry Collins
, who started in place of Young, was forced out early with a calf injury, and it now appears that will keep him out for several weeks. Young was thus forced into the game but was not at his best.
•
Detroit Lions
quarterback
Matthew Stafford
consulted with Dr. James Andrews and will not be having surgery, at least not yet. Stafford will resume the rehab process he initiated after his shoulder separation at the start of the season. There is still a possibility surgery will become an option, but the team will try more conservative treatment first, according to ESPN's Chris Mortensen. Undertaking surgery on a throwing athlete's shoulder is not a light consideration. Unless there is a clear-cut need for surgery, rehabilitation is often chosen as a first step. There's really no downside here. Any gains in range of motion and strength that Stafford makes will help him on the other side of surgery, if that becomes the plan. While it's not likely we will see him again this season, the Lions are not moving him to injured reserve, either.
•
San Diego Chargers
running back
Ryan Mathews
injured his right ankle in Week 2 and, despite his efforts to return, has struggled. After he aggravated the ankle injury in Week 10, there appears to be greater doubt about his availability for Week 11. At this point, it seems he would benefit from additional downtime to really allow his ankle to heal and avoid risking further problems.
Mike Tolbert
was back at Monday's practice and could be starting in Week 11. On the receiver front,
Malcom Floyd
returned to practice also and was running well. The Chargers expect to have him this Sunday. Not as encouraging news for
Legedu Naanee
, who did not practice Monday and remains limited by his hamstring. Tight end
Antonio Gates
did not practice Monday, either, not unexpected given the seriousness of his injury (torn plantar fascia). While Gates has indicated that he will do all he can to return for the Chargers' big Monday night contest, it bears repeating that this injury was exceptionally painful. Even Gates, who has played through significant pain in the past, told us this was unlike anything he'd ever experienced, to the point where he just couldn't function. It's too soon to count him out, but it's not too soon to seek insurance if he's on your team.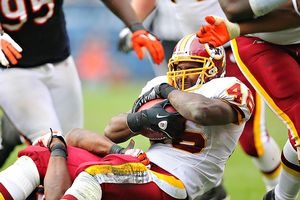 Dennis Wierzbicki/US PresswireRyan Torain was on the active roster Monday night, but hamstring injuries kept him from playing.
• Running back Ryan Torain of the Washington Redskins was expected to start Monday but didn't. Tightness in his ailing hamstring during pregame warm-ups kept him off the field Monday night. Clearly the injury is not altogether behind him, and fantasy owners should consider that
Keiland Williams
might get the next Redskins start.
Clinton Portis
was never really under serious consideration for Monday night after midweek swelling in his injured groin, and he might not be ready for Week 11, either. He will need to get through a week of practice without setbacks and show he is at full speed before being eligible to return.
•
Seattle Seahawks
quarterback
Matt Hasselbeck
came back from a concussion only to sustain a crack in a bone in his left wrist. The Seahawks have expressed optimism that Hasselbeck will be able to play through the injury to his non-throwing wrist, no doubt with some sort of protective wrap. It appears he will avoid missing more time.
• The
Indianapolis Colts
continue to deal with multiple injuries, many of which are to fantasy stars. Tight end
Jacob Tamme
had a back injury in Week 10 that caused him to miss Wednesday's practice. After full late-week practices, he was able to start. Despite a solid performance, Tamme struggled at times and, according to the Indianapolis Star, was having trouble walking after the game. Expect him to be limited in practice this week. Running back
Joseph Addai
sat out again in Week 10 but reportedly is making improvements. It is too early to know much about the status of Addai or teammate
Mike Hart
, who also missed Week 10 with an ankle injury.
•
Pittsburgh Steelers
wide receiver
Hines Ward
was determined to have a concussion after Sunday night's game. Ward appears to be doing well and has indicated that he expects to play this week. He still needs to be fully cleared to return, but this is encouraging news.
•
Carolina Panthers
quarterback
Jimmy Clausen
also suffered a concussion on a hit late in the game. As the week unfolds, we'll find out whether Clausen is able to go Sunday. We also should learn more about the running back situation. Both
DeAngelo Williams
(foot sprain) and
Jonathan Stewart
(concussion) were out in Week 10.
•
New York Jets
wide receiver
Jerricho Cotchery
pulled a groin muscle Sunday yet still made an amazing catch while hobbling on one leg. He limped off the field just afterward and underwent an MRI on Monday, revealing a slight tear. This will be a tough injury to recover from in a week.
•
Cleveland Browns
wide receiver
Josh Cribbs
dislocated four toes Sunday. How does that happen? There are some thing I just can't answer, but I do know this: It could not have felt good. Amazingly, the Browns do hope he will play in Week 11.
• The Milwaukee Journal Sentinel reports that wide receiver
Donald Driver
missed Monday practice for personal reasons. Coach Mike McCarthy will update Driver's status Wednesday. Tight end
Andrew Quarless
, meanwhile, says his shoulder feels better after the bye week. He could return this week if all continues well.
We will continue to update these injuries and others as the week progresses with much more to come Thursday.
October, 29, 2009
10/29/09
5:16
PM ET
We're just about halfway through the season and it's a key time for fantasy football teams to rally. Almost every team, no matter how poor the performance has been so far, has a shot to make the playoffs. So for those of you struggling out there, don't give up! Go make some trades, hit the waiver wire, dodge the injured players (and right now this may be the biggest challenge) and get your team back in it!
Once again there are six teams on bye this week --
Cincinnati Bengals
,
Kansas City Chiefs
,
New England Patriots
,
Pittsburgh Steelers
,
Tampa Bay Buccaneers
and
Washington Redskins
-- so fantasy owners continue to scramble to find worthy replacements.
Here are some status updates to help you shape your roster as we look ahead to Week 8.
Quarterbacks
Matthew Stafford, QB, Detroit Lions:
Last time we were discussing Stafford, there was some question as to whether he was getting a second opinion on his ailing right knee. No matter what happened in the background, Stafford has continued with a conservative treatment approach and returned to practice on a limited basis with his team this week. The good news here is that he has been able to practice three days in a row. When Stafford tested his knee in light practice two weeks ago, his knee did not respond favorably and he could not practice the following day. If Stafford continues to practice daily and is able to increase his activity through the remainder of the week, there is a good chance that he will return as the starter when the Lions host the
St. Louis Rams
this weekend.
The biggest challenge following a patellar subluxation (Stafford's reported injury) is regaining adequate quadriceps strength to allow normal mobility while minimizing swelling. The two go hand in hand as swelling around the kneecap will effectively shut down the function of the quadriceps muscle. Stafford, even if he plays, may not yet be at full strength, which may be reflected in his overall mobility. As long as he is mobile
enough
to protect himself and make plays and as long as he is not regressing in response to activity, it seems likely that he will be back under center.
Trent Edwards, Buffalo Bills:
Edwards is still on the mend from his concussion, although he did make a return to some limited practice Wednesday. The Bills are planning to have
Ryan Fitzpatrick
start and have indicated that Edwards will not even dress as the emergency quarterback. The Bills have a bye in Week 9, so this will extend Edwards' opportunity to recover. Whether he returns as the starter after that point remains uncertain.
Aaron Rodgers, Green Bay Packers:
Rodgers again appears on the injury practice report this week because of a sprained foot that continues to cause him some discomfort with certain movements. Obviously the foot did not limit him in last week's contest and the expectation is that he will start against the
Minnesota Vikings
this week. The team is no doubt limiting his practice time to ensure that the condition does not worsen in advance of the game. Fantasy owners can count on him playing on Sunday, as if there were really ever any doubt.
Eli Manning, New York Giants:
Manning is worth including here simply for the fact he has been removed from the Giants' injury report and he has returned to full practice with the team. Manning, despite some offensive struggles, has maintained that his foot has been improving over the past few weeks, which is a credit to how the team's medical staff has helped him manage his plantar fasciitis. While it is perhaps too optimistic to say the condition is entirely behind him (there is always the possibility that it can flare up again at some point), this is certainly encouraging news. It also removes any questions about his status as a starter for this week.
Running backs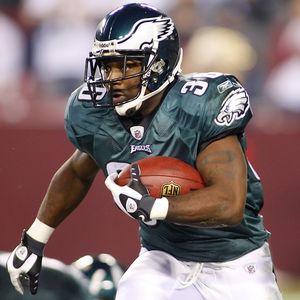 Geoff Burke/US PresswireThe Eagles will take great caution with Brian Westbrook's concussion.
Brian Westbrook, Philadelphia Eagles:
Westbrook has not practiced this week since suffering a concussion Monday night and is looking doubtful to rejoin the team for Sunday's big divisional matchup against the New York Giants. While Westbrook's status is being evaluated daily and the team has not yet ruled him out, they are certainly going to use every precaution when determining his availability. According to the Philadelphia Daily News, Westbrook still reported headache symptoms Wednesday, and as is protocol, will not be cleared to exercise until all of his symptoms resolve. Once he resumes aerobic exercise, he will continue to be monitored for any return of symptoms. If all goes well, his activity will be progressed accordingly.
Philadelphia head athletic trainer Rick Burkholder serves on the NFL concussion committee and provided some excellent insight as to how players are managed following a concussion. Burkholder told the Daily News that once Westbrook's symptoms clear, his response to exercise will be monitored and his cognitive testing scores will need to return to baseline levels. Perhaps most importantly, Burkholder reiterated a couple of very important points. First, the loss of consciousness that Westbrook suffered is not the determinant of whether or not he will play this week, but, as Burkholder points out, his status is "really based on the symptoms." Concussions can occur without loss of consciousness and that factor alone does not provide an estimate as to how significant the injury actually is. It is truly in retrospect, based on how the athlete recovers from such an incident, that a level of seriousness can be established.
This serves as an important reminder that all concussions are brain injuries and, as such, warrant serious treatment. There is no "toughness" meter on an athlete when it comes to return to play following such an injury; it is a medical decision based on a collective measure of the aforementioned factors. While Westbrook has shown time and again that he can perform well despite the presence of various joint ailments, this injury simply does not fall into the same category. At this point fantasy owners should prepare for
LeSean McCoy
to see the majority of the action against the Giants.
Ahmad Bradshaw, New York Giants:
By now fantasy owners have noticed a pattern with Bradshaw, limited practice early in the week followed by showing up and playing well on Sunday. In this column, we have talked about Bradshaw's ongoing management of an ankle injury that he has dealt with since his college days, but that ankle injury has been compounded by a foot injury he sustained earlier this year.
This week that foot injury resulted in a visit to North Carolina to consult with Dr. Robert Anderson, one of the country's leading foot and ankle specialists and a team physician for the
Carolina Panthers
. The Newark Star-Ledger reports that Bradshaw announced that he has a crack in the fifth metatarsal (the long bone of the forefoot that connects to the base of the pinkie toe) of his right foot. The crack was not a new discovery (Bradshaw indicates that X-rays about a month ago revealed the crack, which he reportedly injured in March); the important result of the consultation was support of Bradshaw's current treatment plan. Bradshaw has been in a walking boot during much of the week, then sheds the boot for Friday practice and game time.
There is always the risk that the crack becomes a complete fracture (where the bone breaks all the way through), but that risk is no greater now than it has been since the injury occurred. That no doubt was a consideration in determining that Bradshaw could continue to play. If it takes a turn for the worse, then Bradshaw will require immediate surgery. If it continues as is, then Bradshaw can continue with the current routine and will likely face the prospect of surgery at the end of the season. Fifth metatarsal fractures are not uncommon in athletes, given all the stress placed on the outside of the foot with running, pivoting and cutting. Many athletes have surgery and go on to a complete and uneventful recovery, so ultimately this should not be a huge issue for Bradshaw. Based on how he has managed so far, fantasy owners should continue to expect the same production out of Bradshaw and hope that he is able to proceed without a setback.
Donald Brown, Indianapolis Colts:
At this point, Brown's shoulder appears as if it will keep him sidelined this weekend when the Colts host the
San Francisco 49ers
. Team president Bill Polian has already said that he does not expect Brown to play this week. Brown suffered what the team called a very painful left shoulder contusion and has since been referred to as a sprain. Brown told the Indianapolis Star earlier in the week that he had dealt with this injury previously in college. Despite Brown's optimism that he would return to practice Wednesday, that clearly did not happen and it does not seem that he will be ready to take the field. Early in the week, Polian hinted at this when he spoke on his radio show about running back
Mike Hart
"playing a big role" if Brown were to be out. As of now, fantasy owners should expect the Colts' running back one-two punch to be
Joseph Addai
and Hart.
Wide receivers
Calvin Johnson, Detroit Lions:
Johnson's right knee has benefited from an additional week of rest and the early murmurings are that he will return this weekend. Johnson did not practice early in the week, which suggests that he is not fully healed from his injury (the specifics of which have not been disclosed by the team). He did, however, do some side work on those days and was then able to return to at least some level of practice Thursday. Tom Kowalski of Mlive.com reported that Johnson was participating in some drills during the portion of practice open to the media Thursday and did not appear "hobbled" by his knee while running routes and catching passes. As always, the next step is assessing his response to activity. If Johnson is back in practice Friday, it is a good sign that the Lions plan to have him on the field Sunday against the struggling St. Louis Rams' pass defense.
Reggie Wayne and Anthony Gonzalez, Indianapolis Colts:
Despite suffering a strained groin in Week 7, Wayne hopes to be able to play this week against the San Francisco 49ers. He did not practice Wednesday, but that was expected. If he does practice this week, it may be on a limited basis so as not to risk exacerbating the strain, in the hopes that he can run full speed when Sunday comes. There is a good chance that his availability will not be determined until Saturday.
As far as Gonzalez goes, he has yet to return to team practice and is not expected to play this weekend. It is worth watching to see if Gonzalez can get some light practice in before the week is through and if he responds well, it may signal that a return is possible in Week 9. It is too early to count on that by any means, so fantasy owners should continue to plan accordingly.
Andre Johnson, Houston Texans:
Johnson is not lacking confidence in his ability to return this week, telling the Houston Chronicle, "I feel like I'll be out there unless they cut my leg off." Johnson was held out of practice Wednesday but was able to do some running, telling reporters that his breathing felt normal. Johnson then returned to practice Thursday, and coach Gary Kubiak told the Texans' official Web site that he took "probably pretty close to almost all the reps he normally takes and didn't seem to have any problems." Johnson will have some follow-up tests to ensure that his bruised lung is healing and potentially he may have to wear some extra padding if he does suit up Sunday. Johnson summed up the primary concern when he told the Chronicle, "I think they're scared of me taking another hit in that spot." The fact Johnson is not having pain and is already practicing at a high level is certainly encouraging and if all continues well, it looks as if he could be available Sunday.
DeSean Jackson, Philadelphia Eagles:
After an outstanding first-half performance Monday night, Jackson was limited in the second half with a foot sprain. He did not practice Wednesday but did return to some level of practice Thursday. The fact Jackson was able to continue to play Monday night after the injury, even on a limited basis, was a good sign. Returning to practice Thursday is an even better one. Fantasy owners should expect that he will be in the lineup to face the New York Giants this weekend.
Jerricho Cotchery, Brad Smith and David Clowney, New York Jets:
Wow. Three of four primary receivers for the Jets are on the practice injury report this week. So who will be out there Sunday when the Jets host the
Miami Dolphins
? For starters, Cotchery's strained hamstring that caused him to miss Weeks 6 and 7 looks as if it will not keep him out in Week 8. Cotchery returned to practice Wednesday on a limited basis and looked "sharp" in the portion of practice open to the media, according to the Newark Star-Ledger. We know from past experience that return to full speed is a gradual progression following a significant muscle strain, but there are good early signs that Cotchery will be available this weekend.
Teammate Brad Smith, who has been nursing a strained quad, was also back in practice on a limited basis this week. The team has not given many hints as to Smith's status, but we should have a better idea after Friday's practice. Meanwhile Clowney, who has had the opportunity to start opposite
Braylon Edwards
while Cotchery and Smith have been hurt, came out of Week 7 with his own ankle injury. Clowney did not practice Wednesday but did return Thursday, making it appear as if he will be available Sunday.
Bernard Berrian and Percy Harvin, Minnesota Vikings:
Berrian strained his left hamstring in Week 7 and did not practice Wednesday. Berrian missed some preseason time with a right hamstring injury and it seemed to hamper his development as a target for
Brett Favre
.
Sidney Rice
was the beneficiary and has been clearly the more productive deep receiver for the Vikings. Even if Berrian proves well enough to play this weekend, it's hard to imagine those roles changing much.
Harvin has been challenged by a shoulder injury but it hasn't seemed to affect his ability to have an impact on the field. The good news for the Vikings is that Harvin is off the injury report this week meaning there is no doubt he will be on the field when the Vikings visit the Green Bay Packers.
Anquan Boldin, Arizona Cardinals:
Boldin was limping by the second half of last week's game as his right ankle sprain clearly became problematic. Boldin was limited in practice Wednesday but if he played last week there's no reason to think he'll be out this week, unless his ankle takes a turn for the worse.
Be sure to check back on Saturday for post-Friday NFL injury report updates on all your fantasy players heading into the weekend.
See you at the injury chats (Tuesday 11:00 a.m.-noon, Friday 11 a.m.-noon and Sunday pre-game (10:00-10:30 a.m.). And check out Fantasy Football Now on Sundays at ESPN.com from 11:30 a.m. ET to kickoff for last minute inactives, rankings and more!
October, 22, 2009
10/22/09
2:10
PM ET
Lots of teams are getting some rest this week, and they have to be looking forward to it. The
Detroit Lions
have ailing quarterbacks and receivers, the
Seattle Seahawks
have hurt offensive and defensive linemen, and the
Tennessee Titans
... well, they just need a break.
This week six teams are on bye -- the Lions, Seahawks, Titans,
Denver Broncos
,
Jacksonville Jaguars
and
Baltimore Ravens
-- so fantasy owners need to hustle to fill those empty roster spots.
Here are some status updates as we look ahead to Week 7.
Quarterbacks
Trent Edwards, Buffalo Bills:
I know that not many fantasy owners were looking at Edwards as a bye-week replacement anyway, given the season he's had so far. But just in case you were contemplating it, don't. Edwards suffered a concussion in Week 6 and was not at practice Wednesday. This is his second concussion in just more than a year and he will be monitored for his recovery in terms of both symptoms and cognition (brain processing). It sounds as if the Bills are preparing
Ryan Fitzpatrick
for a likely Sunday start against the
Carolina Panthers
.
Running backs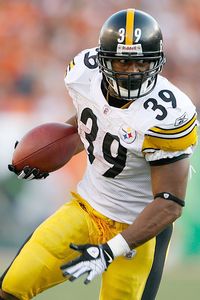 Andy Lyons/Getty ImagesWillie Parker's toe is getting better, but now he's lost his starting job.
Rashard Mendenhall and Willie Parker, Pittsburgh Steelers:
This week, coach Mike Tomlin indicated that Mendenhall has passed Parker on the running back depth chart. Parker has been dealing with a case of turf toe, and although he sported some supportive new shoes when he played last week, he has not done enough to maintain the starting position. As far as his toe goes, Parker did not appear to emerge from Sunday's contest any worse for wear, and he is back in practice to start the week. Meanwhile, newly anointed starter Mendenhall sustained a knee bruise in Sunday's game that relegated him to limited work Wednesday. The good news for Mendenhall fantasy owners is that this is not expected to keep him out of this week's matchup.
Marion Barber and Felix Jones, Dallas Cowboys:
Barber has no doubt benefited from the bye week to further the healing of his strained quadriceps muscle. He did not, however, benefit from the hit he took against the
Kansas City Chiefs
in Week 6. Barber thought he had just jammed his left thumb, but upon further review, it turns out he suffered a fracture. He has been outfitted with a cast, according to the Cowboys' official Web site. However, the injury has not affected his ability to practice, nor will it affect his availability for Sunday. Barber carries the ball predominantly with his right hand, so it should not affect his ball control on the run. It may be more challenging to catch a pass out of the backfield, however, so that option may be diminished.
Jones has been on the mend from a PCL (posterior cruciate ligament) sprain and until this week has not practiced. He was back in limited work Monday and in full practice Wednesday, wearing a knee brace for support. According to the Cowboys' official Web site, Jones credited the team's athletic training staff with helping him get back to practice and reported only soreness after his return. PCL injuries can often be challenging to recover from, but the difficulty varies depending on the degree of damage to the ligament. The athlete is often left with some residual instability, which often shows up for a running back during sharp deceleration or change in direction. The brace provides additional support behind the knee to help control motion of the lower leg (tibia) relative to the thigh (femur). Jones has indicated that he likely will wear the brace if he plays Sunday (which he currently expects to do). It will be important to see how Jones' knee holds up after a full week of practice to gauge just how much action he's likely to see. After all, team owner Jerry Jones already announced on his weekly radio show that
Tashard Choice
is "going to get a big part of the load."
The good news for Dallas is bad news for fantasy owners. They have three backs who are likely to see playing time, but the division of labor is unclear at this point. At this point it seems to be shaping up as predominantly Barber and Choice with a sprinkling of Jones. Stay tuned for Saturday's update.
Wide receivers
Roy E. Williams, Dallas Cowboys:
Williams has been back in practice this week after missing Week 5 (and resting during the bye week) because of bruised ribs. Williams also reportedly suffered cartilage damage in the area, which can be slow to heal. The good news is that it appears that Williams is responding well to practice and plans to play Sunday. The unknown factor is how he will feel absorbing contact, especially if he takes a shot to the previously injured area.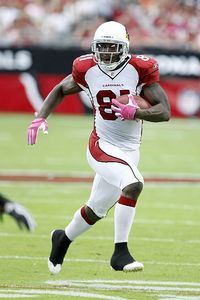 Rick Scuteri/US PresswireAnquan Boldin has already called himself a gametime decision for Sunday, not a great sign.
Anquan Boldin, Arizona Cardinals:
Boldin is already referring to himself as a game-time decision, which is not great news for fantasy owners. Boldin, who suffered an ankle sprain in Week 6, did not practice Wednesday and told the Arizona Republic that his status is "up in the air." Boldin has been limited by soft-tissue injuries in the past, and teammate
Steve Breaston
has shown that he is capable of stepping up. Arizona does not play until Sunday night, so barring any major turnaround by Friday, fantasy owners should make plans to have a substitute for Boldin.
Percy Harvin, Minnesota Vikings:
Harvin was limited in practice Wednesday as a result of his sore shoulder, which he aggravated during Sunday's game. Last week Harvin was limited throughout the week, played, but then suffered a setback which clearly caused him a great deal of pain. His availability for this week is unclear.
Jerricho Cotchery, New York Jets:
Cotchery's strained hamstring kept him out of Week 6 action and may keep him sidelined again. On Wednesday, Cotchery did not participate in practice (only individual drills) and was non-committal about his potential availability for Sunday. If he is not running full speed by the end of the week, fantasy owners should be concerned.
Donnie Avery, St. Louis Rams:
Avery has a bruised hip that kept him out of Wednesday practice. According to the Belleville News-Democrat, the hip tightened up on him, so the team limited him to conditioning work on the side. The hope is that he will be able to return to practice late in the week and be available for Sunday. At this point, his status is day-to-day.
Be sure to check back on Saturday for post-Friday NFL injury-report updates on all your fantasy players heading into the weekend.
See you at the injury chats (Tuesday 11 a.m.-noon, Friday 11 a.m.-noon and Sunday pregame 10:00-10:30 a.m.). And check out "Fantasy Football Now" on Sundays at ESPN.com from 11:30 a.m. EST to kickoff for last-minute inactives, rankings and more!
October, 15, 2009
10/15/09
2:20
PM ET
In my
Tuesday morning chat
, one happy participant eagerly wrote in to tell me he had no injury questions because his team was completely healthy. I felt the need to post his comment during our chat because I could not imagine there was such a fortunate fantasy owner to be found, and judging by the responses to his post, it seemed the guy was utterly and completely alone on an island when it came to his injury fortunes. Actually, make that a tropical fantasy football paradise. I regret to inform you, though, Haden in Memphis, that the injury storms are a-comin' and everyone, even you, is bound to feel the effects at some point.
This week's column then is for all the
other
fantasy owners out there who, like me, have been challenged by injuries somewhere on their roster(s), those of you wondering about your players' collective health and whether you need to find replacements. As has been the case the past two weeks, there are four teams on bye -- Indianapolis, San Francisco, Miami and Dallas -- so be sure to plan accordingly.
Here are some status updates as we look ahead to Week 6:
Quarterbacks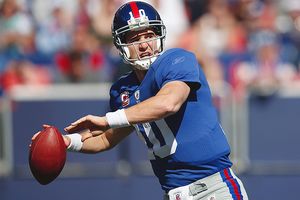 Jared Wickerham/Getty ImagesDon't be alarmed if Eli Manning is limited in practice.
Eli Manning, New York Giants:
The treatment Manning received heading into Week 5 paid off, as he was able to quell his plantar fasciitis pain and start for the Giants against the
Oakland Raiders
. His team helped him out by netting such a large lead over the Raiders that he was able to sit out the entire second half and avoid aggravating his heel. Manning said after the game that he felt good, and he hoped to practice each day this week.
Manning
has
shown up for practice this week, but the Giants are limiting his reps, no doubt in an effort to keep the symptoms at bay. Plantar fasciitis is not a condition that disappears quickly, and Manning might well continue a routine of limited activity during the week in order to prevent flare-ups and allow him to play Sundays. There will be a lingering concern that the pain could become exacerbated during a game, as it did in Week 4, when Manning suffered an acute setback and was forced to exit early. There is also the possibility that Manning will continue to proceed week to week without a similar episode. In fact, the longer Manning goes without a setback, the more optimistic the outlook is for an uneventful remainder of the season.
Since there are no guarantees when it comes to managing chronic conditions in an in-season athlete, fantasy owners will have to decide on a weekly basis whether the potential reward with Manning is worth some risk.
Matthew Stafford, Detroit Lions:
Although the Lions have not ventured into any specifics with regard to the injury Stafford suffered in Week 4, it was widely reported that he experienced a patellar subluxation, and a week ago I
outlined the nature of such an injury
.
Stafford was unable to practice all of last week and, as expected, did not suit up for Sunday's game. On Wednesday, Stafford participated in practice on a limited basis, according to the practice injury report, but there might be some warranted concern as to how his knee responded to even limited work, since Stafford did not practice Thursday. Coach Jim Schwartz has indicated that if Stafford is capable of playing (as in, capable of moving adequately enough to function effectively and avoid a pass rush), he will play. He will not be automatically rested in anticipation of the Week 7 bye. Nonetheless, a downward trend during the week, especially following a significant injury, is not a good sign.
Marc Bulger, St. Louis Rams:
Bulger did come off the bench Sunday and showed that his arm is recovering. He reported feeling no ill effects after the game and is back in practice and off the injury report. Bulger intends to start this Sunday when the Rams travel to Jacksonville. His backup,
Kyle Boller
, is on the injury practice report because of a concussion but did participate on a limited basis in practice Wednesday.
Matt Hasselbeck, Seattle Seahawks:
Hasselbeck had himself quite a day Sunday when he returned to the field with still-healing rib fractures. The good news is that Hasselbeck emerged relatively unscathed and was a full participant in Wednesday's practice. But the biggest health concern in Seattle (which also has the most potential for directly impacting Hasselbeck) is that of the offensive line. Due to a wave of injuries that has decimated the team up front, the Seahawks will be starting their fourth different line of the young season. They're hoping to get a few of their starters back in November following a bye week.
Running backs
Willie Parker, Pittsburgh Steelers:
The good news is Parker was back on the practice field this week for the first time since injuring his toe in Week 3. Parker was able to practice fully Wednesday, but the key here will be how his toe responds to the work. Parker indicated to the Pittsburgh Post-Gazette that he is wearing a custom shoe from Nike to accommodate his injured toe. In fact, Parker said that he has a custom pair of shoes so that they match and help him maintain even balance. It is important for an athlete to wear adaptive shoes in practice to adjust to them in advance of a game. The plates in the shoes help restrict motion at the forefoot; unfortunately, it is this very motion (particularly in the area of the painful toe) that allows an athlete to propel himself forward. A stiffer shoe requires that the player adapt to this new feeling as he pushes off. As they say, practice makes perfect. Parker expects to play this weekend, but how the workload will be divided between him and teammate
Rashard Mendenhall
is not yet clear.
Correll Buckhalter, Denver Broncos:
Buckhalter suffered a sprained left ankle in Week 4 and did not play in Week 5. He was back in practice Wednesday for the Broncos, and the Denver Post reports that he took handoffs and caught screen passes in the portion of practice open to the media. However,
Knowshon Moreno
, who started in place of the injured Buckhalter in Week 4, was taking the first-team reps. The team is not required to file a formal practice injury report on Wednesday since they do not play until Monday night, but it would appear the team is preparing to have both backs available. That said, it is likely that Buckhalter's ankle is still on the mend; remember, he was on crutches just more than a week ago after the injury originally occurred. We will update Buckhalter's status as the week progresses.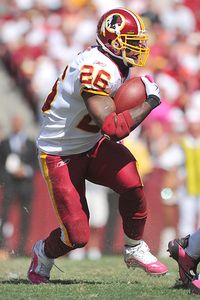 Larry French/Getty ImagesClinton Portis is being bothered by a calf injury, but he has proven durable in the past.
Clinton Portis, Washington Redskins:
Uh oh. Portis is again appearing on the practice injury report because of a calf ailment. Portis was limited Wednesday, and it's unclear whether this is related to his prior calf contusion. Portis hasn't missed a game yet, however, and it seems unlikely that that would happen this week, especially if he's able to participate in practice to some degree.
Mike Bell and Pierre Thomas, New Orleans Saints:
Bell, who has missed two games because of a sprained MCL, was a full participant in practice Wednesday and appears to be on track to play this week. He would be expected to handle short-yardage and goal-line situations, but really there is no way to project exactly how the Saints will divide up the workload.
Or is there? Bell's teammate Pierre Thomas, who was spectacular after Bell went out with his knee injury, has reappeared on the injury report, this time with a hamstring ailment that limited his activity Wednesday. Apparently this is an ongoing injury for Thomas, but we certainly haven't seen any evidence that it has affected his performance thus far.
As usual, we'll wait to see what happens in the latter part of the week to assess just how healthy these players are. This only adds to the torment of fantasy owners who are wondering how the running backs' workload will break down Sunday. Stay tuned.
Wide receivers
Calvin Johnson, Detroit Lions:
The right knee injury that forced Johnson out of the game early in Week 5 was deemed not significant by coach Jim Schwartz. But apparently it's significant enough for Johnson to have missed both Wednesday and Thursday practices. The Lions are unwilling to provide much in the way of specifics, but it's not too difficult to interpret lack of practice activity as a bad sign. Of note, the Detroit Free Press reported that the Lions signed wide receiver
John Standeford
earlier this week. Standeford was cut right before the start of the season but now has been brought back. You take your cues where you can get them. Fantasy owners should anticipate that Johnson might not be available Sunday.
Percy Harvin, Minnesota Vikings:
Here's a little surprise. Harvin apparently suffered a shoulder injury when he landed on it awkwardly during Sunday's win against the St. Louis Rams. Although no one is saying exactly what that injury is, Harvin did not practice Wednesday, and it is unclear whether his status for this Sunday against the hard-hitting
Baltimore Ravens
is in doubt. Fantasy owners know the drill. Check back later in the week for more updates.
Jerricho Cotchery, New York Jets:
Although Cotchery played Monday night, he was not his usual self. Cotchery, who strained a hamstring in practice last Thursday and did not practice again before Monday, felt better after going through pregame warm-ups. Once in the game, however, his hamstring reportedly began to get less comfortable. Cotchery ended up playing longer than anticipated because fellow wide receiver
Brad Smith
was forced out because of a foot injury. In fact, Cotchery told Newsday that he thought he "probably" suffered a setback with the hamstring. He did not practice Wednesday, and with a short week between contests, the outlook for Cotchery's availability in Week 6 is not great at this point.
Devin Hester, Chicago Bears:
Hester took advantage of Chicago's bye week to get some extra rest and treatment on his neck, and he says he's feeling good. Hester suffered a neck strain, according to the Chicago Sun-Times, although it was initially reported as a shoulder injury. A neck injury can certainly result in shoulder pain, so any confusion would be understandable. The important thing at this point is that Hester does not even appear on the injury practice report this week and should be ready to go when the Bears face Atlanta.
Be sure to check back on Saturday for post-Friday NFL injury report updates on all your fantasy players heading into the weekend.
See you at the injury chats (Tuesday 11:00 a.m.-noon, Friday 11 a.m.-noon and Sunday pregame 10:00-10:30 a.m.). And check out Fantasy Football Now on Sundays at ESPN.com from 11:30 a.m. to kickoff for last-minute inactives, rankings and more!
October, 25, 2008
10/25/08
2:02
PM ET
The biggest news this week revolved around a player who was a first-rounder in most fantasy-league drafts this year but isn't playing for anyone right now.
New England Patriots
quarterback and all-American guy
Tom Brady
, recovering from an ACL reconstruction (along with an MCL injury), is now also fighting an infection in his surgical knee. Infections are one of the unfortunate, uncommon risks associated with any surgical procedure and can occur for an infinite number of reasons. The good news, and the most important factor, is that Brady's medical team is treating this aggressively and proactively.
Incidentally, Brady was the beneficiary of having his surgery performed by one of the premier orthopedic surgeons in the country, if not the world: Dr. Neal ElAttrache of the Kerlan-Jobe Clinic in Los Angeles. You may have heard on ESPN's "First Take" the renowned Dr. James Andrews offering his esteemed opinion of Dr. ElAttrache, and indicating that Andrews was consulted on the Brady case at ElAttrache's request since the initial discovery of a complication. Andrews was quick to point out that the correct measures to address the infection have been and continue to be in place, and that Brady appears to be "winning" the infection battle. It is too early to know the outcome with any degree of certainty, but it is very reasonable to expect that Brady could still be on track to recover within his originally projected timetable. In other words, he could still be ready to start the 2009 season.
So do not despair, fantasy owners, at least not over Brady. Besides, there are plenty of other injuries affecting your fantasy rosters that can keep you awake at night. Here's what we know as we head into the Week 8 contests.
[+] Enlarge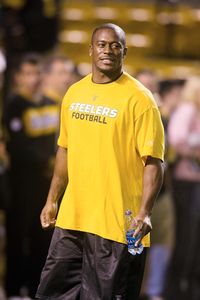 Michael Fabus/Getty ImagesParker will miss yet another game this week.
Willie Parker, RB, Steelers:
The setback Parker suffered last week to his sprained left medial collateral ligament is still affecting him enough that he will not take the field in Week 8. Parker is officially listed as doubtful, but there is no real expectation he will play.
A sprained left MCL will make any lateral motion difficult, especially planting and cutting toward the inside (right side) as it places increased strain on that ligament. In addition to the movement, Parker's knee has to be able to withstand contact before he can confidently return to competition. Parker was able to practice Wednesday but was limited Thursday and did not practice at all Friday. It appears the team will cross their collective fingers and hope that another week will allow him to return, but this remains a day-to-day situation. In the meantime,
Mewelde Moore
gets the start.
Sammy Morris, RB, and LaMont Jordan, RB, Patriots:
Morris and Jordan are listed as doubtful, and neither is expected to play Sunday. It's a good thing the Patriots plan ahead. They are nothing if not deep at the running back position, and that is paying off right now. Last week, the Patriots placed running back
Laurence Maroney
on injured reserve because of continued problems in his shoulder. "That's OK," said the Patriots. "We have Sammy Morris." Well, they had him for 138 yards in the first half of Monday night's game, but Morris did not return in the second half because of a knee injury (which may keep him out for more than one week). "That's OK," said the Patriots. "We have LaMont Jordan returning this week." Well, he
was
planning to return, until he apparently suffered a setback. After participating Wednesday in a walkthrough session, Jordan did not participate in practice Thursday or Friday, leading to speculation that he did not respond so well to the light workout.
So who do the Patriots have handling the work now?
Heath Evans
has been used primarily as a blocking fullback, but he could touch the ball more (which he did late last year when Morris was out for the season and both Maroney and Faulk were banged up).
Kevin Faulk
will probably see an increase in his workload also, but don't discount recently promoted
BenJarvus Green-Ellis
, who showed up in the second half of Monday night's game for 65 yards and a score. Unfortunately it's a bit of a fantasy gamble as to who's featured, but if Patriots offensive coordinator Josh McDaniels' comments are any indication, Green-Ellis could be the go-to guy. The Boston Herald reported that McDaniels liked what he saw from Green-Ellis on Monday night. "He knows where the hole is at, he finds it, he hits it, and he is not going to try to do much sideline-to-sideline running," McDaniels said. "Obviously, when he got his opportunities in the second half last week, he made the most of them."
Laveranues Coles, WR, and Jerricho Cotchery, WR, Jets:
Brett Favre
has found a couple of favorite targets in New York, but will he have either of them available to him Sunday? It appears that of the two, Coles, who is designated as probable, has a better chance of seeing the field, while Cotchery, listed as questionable, may be a game-time decision.
Coles, who has been nursing a quad strain throughout the season yet has managed to play through it and put up some great games, suffered his third concussion in less than two years last week. With the well-deserved serious attention given to head injuries, Coles was watched carefully this week and did not practice Wednesday or Thursday. Coles was cleared and returned to full practice Friday, however, which indicates he was feeling much better by the end of the week. After any head injury, it is equally important to assess the day-after response to exercise, but assuming Coles felt well Saturday morning, expect to see him suited up Sunday.
Teammate Cotchery was listed on the injury report early in the week with an "undisclosed" injury that forced him out early from Sunday's game. The Jets listed Cotchery on the injury report late this week with a "shoulder" ailment. He was only a limited participant in practice throughout the week, and the questionable designation makes him a likely game-time decision.
Other noteworthy items
&#8226 The much-anticipated return of Eagles running back
Brian Westbrook
should take place in Philly this week. Westbrook used the bye week to nurse his rib and ankle injuries. He managed a full week of practice, is listed as probable and is expected to start. Is he 100 percent? Probably not quite yet, but he is a guy who performs when he plays. Meanwhile, teammate
Reggie Brown
, who has been on the injury report with an Achilles, hamstring and now a groin strain, is listed as questionable. With the team getting wide receiver
Kevin Curtis
back from sports hernia surgery (he is off the injury report and listed as a starter), do not expect Brown to be pressed back into service. Expect Curtis and rookie
DeSean Jackson
to serve as the Eagles' primary receivers.
[+] Enlarge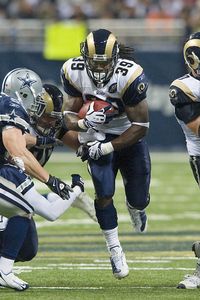 Scott Rovak/US PresswireExpect Jackson on the field, but just how much will he offer?
&#8226 In St. Louis, running back
Steven Jackson
seemed to escape major injury, suffering what the team referred to as a "mild" strain of his right quadriceps muscle. Jackson is listed as questionable. Coach Jim Haslett told the St. Louis Post-Dispatch that Jackson has a 50-50 shot of playing and will be a game-time decision. Jackson did practice for the first time all week Friday but was not running at full speed. It seems likely Jackson will indeed suit up against the Patriots, but he may not be at full strength. What does that translate to in terms of his function? Maybe he's not quite as explosive, not quite as able to drive a pile without the full contribution of those extremely well-developed muscles on the front of his thigh. And there's always the risk of further injury whenever the muscle starts out a little compromised. If Jackson takes the field, though, which I suspect at this point he will, it's impossible to keep him out of your fantasy lineup, because he remains an offensive threat.
&#8226
San Diego Chargers
receiver
Chris Chambers
was upgraded to questionable this week after being doubtful last week, but his availability will be a game-time decision. Chambers was a limited participant in practice throughout the week, but the ankle still does not appear to be fully healed. Keep in mind that the weather in London, site of this week's matchup against the Saints, is expected to be rainy and cold. A slippery field is not a great playing surface for a balky ankle, and with a bye upcoming in Week 9, don't be surprised if Chambers is held out with the long-term picture in mind.
&#8226 We already know that New Orleans will be without running back
Reggie Bush
, who is recovering from knee surgery. Tight end
Jeremy Shockey
, who expressed frustration after experiencing pain early in last week's game, is listed as probable and is expected to play Sunday. Shockey is still on the recovery path from sports hernia surgery, and all things considered, will likely be limited in the number of plays he sees. That allows Shockey to get some playing time in but reduces the risk of a setback.
&#8226 Tampa has plenty of folks on its injury report this week. Wide receiver
Joey Galloway
has been on the list for weeks now with a foot injury and it appeared he would make his debut last week after increasing his practice activity. But it was not to be. Will it be any different in Week 8? Galloway again is officially listed as questionable, and it will again come down to a game-time decision for him, based on how his foot feels during warm-ups. Either way, ESPN's John Clayton says Galloway will probably not start; starting duty will go to
Michael Clayton
and
Antonio Bryant
. Meanwhile
Ike Hilliard
, who left the field following a scary concussion last week, is also listed as questionable. Hilliard was still experiencing post-concussion symptoms during the week but was able to fully practice Friday. If he does not experience any post-practice symptoms, he could be available, but the team may opt to let him sit this one out simply as a precautionary measure. And then there's running back
Warrick Dunn
, who is also listed as questionable on the team injury report with a "back" injury. The Tampa Tribune described Dunn's injury as a pinched nerve. Dunn's comments in the Tribune (he said he could move around, turn his neck) suggest that the injury was not severe. If Dunn is moving well in pregame warm-ups, expect him to play Sunday.
&#8226 Once again, the
Seattle Seahawks
likely will be without the services of wide receiver
Deion Branch
, who continues to be unable to practice because of a bruised heel (to go along with his recently reconstructed ACL in the opposite leg). He is again listed as questionable, but just as was the case last week, is really not expected to play.
&#8226 Indianapolis running back
Joseph Addai
was upgraded to questionable this week, despite the fact that he has not really done anything in practice this week. Addai is not expected to play when the Colts face the Titans on Monday night. Although Addai is reportedly feeling better, he and the team are looking at the long-term picture and are trying to avoid rushing him back and perhaps setting up a bigger injury. Tom James of the Terre Haute Star-Tribune reported that Addai is looking at his injury in the context of what is ultimately best for the team. "You want to be out there," Addai said. "But if you go out there and get hurt again, you'll be hurting your team. It's not just about yourself; it's about the team. So you have to make the right decision." Of course, your fantasy team is hurting without him. This scenario with Addai may extend beyond this week, so plan accordingly.
&#8226 Finally, the Cardinals are excited about the prospect of seeing wide receiver
Anquan Boldin
back on the field Sunday. Boldin is listed as questionable but is expected to see some action, just not a full slate of snaps. Boldin is coming off a significant injury to his skull that required some impressive hardware (eight plates as well as some wiring) to stabilize. Boldin did practice on a limited basis all week and appeared no worse for wear. Expect the Cardinals to utilize him on a limited basis to allow him to test himself in a game situation without overdoing it.
Out:
This is a list of key fantasy players, not including those who have been moved to Injured Reserve status, who are officially listed as additions to the "Out" listing for Week 8.
Carson Palmer, QB, Bengals:
Not that this is a surprise. But the murmurs have turned to rumblings that Palmer may be headed for a full-season shutdown. No matter whether Palmer takes the field again for the Bengals this season, he should not be taking up space on your fantasy roster. It's time to move on.
Matt Hasselbeck, QB, Seahawks:
Last week I thought a targeted return in Week 8 from his sciatic nerve ailment sounded optimistic. Well, it was. Hasselbeck continues to have weakness in his leg, and this should be considered a long-term rehab issue. He has yet to practice and will not be able to until he can pass specific strength tests. This could take a while.
Ladell Betts, RB, Redskins:
Betts will miss another week with the knee injury that sidelined him in Week 7.
Shaun Alexander
remains waiting in the wings to back up teammate
Clinton Portis
if necessary.
Felix Jones, RB, Cowboys:
This was always a two- to four-week injury. Unlike some of the other Cowboys whose status was in question until game time last week, Jones' status was never up for debate. He likely will not be close to returning until after the Cowboys' bye week.
Tony Romo, QB, Cowboys:
Well, at least we're not wondering up until game time. Even though all signs pointed to Romo's sitting out last week, he was listed as the No. 2 quarterback Sunday but never saw a snap. This week we learned that Romo never felt comfortable handling the ball, and consequently he will wait until the finger is healed before he returns. Smart move. Don't expect him back until after the Week 10 bye.
Reggie Bush, RB, Saints:
Bush is recovering from meniscal surgery on his knee and did not make the trip across the pond with his teammates. He will likely be sidelined for at least a month.
Be sure to check out our site Sunday for pregame chats and Fantasy Football Now at noon ET. Good luck in Week 8!