Stephania Bell:

Jimmy Graham
October, 30, 2014
Oct 30
1:26
PM ET
The short weeks feel even shorter when teams hit the midway point of the season. The cumulative toll of wear and tear is adding up, making quick recovery more challenging. Factor in the actual injuries and it becomes more difficult to get back on the field in a four-day window. The
New Orleans Saints
and
Carolina Panthers
have been riddled with injuries in their backfield of late. As the running back carousel continues to turn for both teams, here are the official designations of key fantasy players in Thursday night's game:
New Orleans Saints
Pierre Thomas, rib/shoulder, (out) and Khiry Robinson, forearm, (Q), RBs:
At least the Saints have made it easy to know what Thomas will, er,
won't
be doing Thursday night. However, Robinson is another matter. The Saints have him listed as questionable to play despite the fact that he did not participate in a single practice this week and missed this past Sunday's game. He is listed on the injury report with a forearm injury, but the team has offered no additional details. Last week, Robinson was seen wearing a soft, removable splint and downplayed the injury, yet he wasn't available for the game and hasn't done anything practicewise since then to suggest he has progressed. Given his lack of participation in practice since the injury, he appears unlikely to play. Still, the team has him listed in a way that suggests he has a 50-50 chance of suiting up; how much he would contribute even if he does dress also is unclear.
Given the performance in Week 8 by a healthy
Mark Ingram
, fully recovered from surgery to repair a fracture in his hand, the expectation is that he will again bear the brunt of the run workload in this game, with an assist from
Travaris Cadet
.
Jimmy Graham, TE, shoulder, (Q):
After playing through injury the past two games, there isn't much doubt that Graham will suit up for the Thursday night game. Last week saw an increased number of snaps for Graham -- and more production for fantasy owners -- as he managed to find the end zone among his five receptions, a big improvement over the zero receptions the prior week. Unfortunately, the short week doesn't help Graham in the recovery process, which is that much more important when still healing from an injury. Graham is far from 100 percent, telling ESPN.com's Mike Triplett: "I've been better. But nobody really cares about that. We'll just keep going and do what I can to be as healthy as I can on Thursday."
Graham went from being on the field for 30 snaps and no catches (on just two targets) in Week 7 to 42 snaps in Week 8 with the handful of catches and that touchdown. More importantly, Saints coach Sean Payton indicated they were beyond reserving Graham for just limited packages. Although no one from the Saints has offered a definitive diagnosis on Graham's shoulder, his own statement that he would "pretty much live in the treatment room" between Sunday and Thursday says plenty. He is playing in pain, and managing any associated inflammation and discomfort between games, but he is doing so while being increasingly productive on the field. Ultimately, that result makes the Saints and fantasy owners happy.
Carolina Panthers
DeAngelo Williams, ankle, (P) and Fozzy Whittaker, thigh, (out), RBs:
The big news here is the return of Williams to the Panthers' backfield. He missed the past four games with an ankle sprain after missing two games earlier in the season with a hamstring injury. Now healthy, Williams comes into the Thursday night game with fresher legs than most and is expected to start. Teammate
Jonathan Stewart
, who had his best performance in recent memory this past Sunday, can expect to see his share of the workload dip. Stewart also missed time this season to injury (he was sidelined three weeks with a sprained knee), but he stepped up last week with the other backs ailing and touched the ball more than he had in the past two years.
With Williams back in the mix, those touches will decrease for Stewart, but he could still manage to get the occasional red zone look. As far as the remaining backs go, Whittaker has already been ruled out,
Chris Ogbonnaya
has been dealing with a sore groin recently (although he is not listed on the injury report this week) and had only one carry in Sunday's game, and Darrin Reaves, who saw some injury fill-in work, was waived by the Panthers on Tuesday.
October, 29, 2013
10/29/13
1:55
PM ET
The official diagnosis for
New Orleans Saints
TE
Jimmy Graham
is a partially torn plantar fascia. It hurts every bit as much as it sounds like it should. Here is what I wrote about the condition when another tight end,
Antonio Gates
of the
San Diego Chargers
, suffered a similar injury in 2010:
Normal humans are barely able to walk, let alone engage in athletic activity, after such an injury. The plantar fascia is the fibrous tissue along the undersurface of the foot which runs from the heel to the ball of the foot and reinforces the arch. The plantar fascia is placed under tension every time the foot hits the ground as the body weight is loaded through the leg. Imagine now that the tissue is damaged, the fibers are torn and frayed and every step tugs further, weakening that already impaired foundation. The pain is nothing less than excruciating. … This is not one of those "uncomfortable" conditions an athlete can simply push through, especially when running, pivoting and pushing off is integral to the position.
In Gates' case, the tear was considered significant, and it hampered him for the better part of two seasons. Not all tears are created equal. In Graham's case, he had made enough functional improvement over the bye week and a subsequent week of virtually no practice to be able to suit up last Sunday. While he was clearly not fully recovered -- and was utilized on a limited basis -- Graham was still able to contribute quite nicely for both his team and fantasy owners, as he tallied two touchdowns. He appears not to have taken a step backward.
However, his injury is going to be an ongoing management situation for the Saints, something coach Sean Payton
acknowledged
after Sunday's game. They will try to help a player balance managing the condition -- and hopefully see some improvement -- while still allowing him to participate to the extent possible in game situations.
The problem with any partially torn tissue is that it continues to be painful for the remaining intact portion as it absorbs increased load and strain. For those who would suggest that a complete tear of the plantar fascia would be the best remedy, it's a solution that doesn't come without consequences. It's true that a surgical release -- the equivalent of a complete tear -- can be performed in cases of intractable plantar fascia pain. When the fibers are no longer strained, the pain subsides. But all structures exist with a purpose, and one has to consider what happens when the fascia is cut. The arch loses some of its support and there can be a loss of arch height, leading to compromised foot mechanics. There can also be a risk of stress fracture and, perhaps most important, all foot pain is not necessarily alleviated.
If there's the potential for healing of minor tears (although healing in this area is typically slow because of a poor blood supply, along with it being easily subject to repeated strain), then that is the best option for the long-term health of the foot. The medical staff will be key in helping Graham along, not only in terms of managing the symptoms and stretching and strengthening around the foot, but also in providing support for the arch, via taping or inserts, to allow Graham to function.
October, 24, 2013
10/24/13
5:45
PM ET
The
New Orleans Saints
are one of the NFL's three one-loss teams, but after a bye week to lick their wounds following a heartbreaking loss to the
New England Patriots
, they've still got some players who are dealing with significant injuries.
Jimmy Graham, TE, (foot):
After Graham injured his foot during that loss in Week 6, ESPN's Ed Werder reported that the Saints viewed it as a minor injury, and were hopeful Graham would return after the bye. Ah, but foot injuries can be so tricky to predict. The Saints haven't offered any more insight as to the specific nature of Graham's injury, but the nonsighting of him at practice Wednesday may be telling enough.
According to ESPN.com's Mike Triplett, Graham is likely to be questionable throughout the week, and is possibly even a game-time decision. Coach Sean Payton says his star TE will continue to be evaluated. "Each day, we'll just take a peek on how he's progressing and be smart," Payton said on a conference call with the Buffalo media. On Thursday, Graham again sat out of practice, and Payton would offer only that Graham is day-to-day noting, "[Friday]
will be an important day
." Fantasy owners should be making contingency plans at this point in the event Graham does not play.
Lance Moore, WR, (hand):
Moore has been out with an unspecified hand injury since Week 3, but he returned to a full workload in practice Wednesday, following it up with another full practice session Thursday. Per Triplett, Moore says the hand "feels good," and that he's "not really thinking about it at all" while out practicing. Those are positive signs pointing toward Moore returning for Sunday's game. Moore has had a very quiet start to the season, but if Graham is forced to sit because of the foot injury, the Saints will be happy to have another pair of sure hands back in the mix.
Mark Ingram, RB, (toe):
Ingram has not played in a game since Week 2 due to a toe injury, so it's not likely he's on many people's fantasy radar. But with all the injuries accumulating around the league and Week 8 seeing so many teams on bye, some might be considering Ingram, if he were to return, as a fill-in. The key word there is "if."
While it looked last week as if he were making progress, returning for the first time to daily practices on a limited basis, Ingram did not practice with the team Wednesday or Thursday of this week. Toe injuries are notoriously problematic for running backs, often severely limiting their ability to push off and pivot, so even small setbacks are not surprising. The Saints have not offered an explanation, but it goes without saying that this is a move backward from limited practices, not forward, as one would hope. It appears Ingram will be sidelined for his fifth consecutive game, offering another opportunity for rookie
Khiry Robinson
.
October, 23, 2012
10/23/12
11:43
AM ET
Week 7 is in the books! Another week, another player out for the season. On Monday night, the
Detroit Lions
lost wide receiver
Nate Burleson
to a broken leg. Burleson landed awkwardly, then went to the ground and immediately clutched his right leg.
Washington Redskins
tight end
Fred Davis
tore his left Achilles early in Sunday's game, and the team wasted no time reaching out to
Chris Cooley
to replace him. Cooley was a star tight end for the Redskins not so long ago, before his recent injury issues prompted the team to let him go this summer.
Naturally there are other injury situations worth tracking. Here's who we're keeping an eye on heading into Week 8.
Running Backs
[+] Enlarge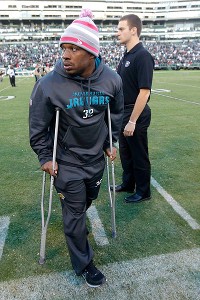 AP Photo/Marcio Jose SanchezMaurice Jones-Drew will be out at least for Week 8, and maybe more, with a foot injury.
Maurice Jones-Drew, Jacksonville Jaguars (foot):
Jones-Drew, the perennial picture of health at a position where players are virtually guaranteed to get injured, finally appeared to succumb to the inevitable. After playing in every game last season, Jones-Drew was forced to leave in Week 7 because of injury and may be out for an extended period. Jones-Drew injured his foot almost immediately in Sunday's game, and although he has not been definitively diagnosed with a Lisfranc injury, coach Mike Mularkey would not rule out the possibility. Jones-Drew was seen on the sideline with crutches for the remainder of the game -- not necessarily unusual immediately following a foot injury. Still, the fact they did not want him putting weight on the foot does suggest a somewhat elevated level of concern.
Jones-Drew already has been ruled out for Sunday's game, and Mularkey noted when he spoke with reporters Monday that he could miss extended time. More information should emerge in the coming days, but fantasy owners should plan on a multiweek absence.
Rashad Jennings
stepped in to replace Jones-Drew and probably will be one of the most popular guys on the waiver wire this week.
Trent Richardson, Cleveland Browns (rib):
Richardson entered Sunday's game with a right-side rib cartilage injury. Although he was able to practice on a limited basis during the week, the injury made itself known early on and Richardson was essentially benched for the second half. According to The (Cleveland) Plain Dealer, coach Pat Shurmur removed Richardson because he "wasn't quite effective," acknowledging the injury likely played a role. Richardson maintains he does not want to sit out and hopes to play this week. The challenge with damage to the rib cartilage is that the tissue is notoriously slow to heal. Many players who suffer this type of injury are dealing with pain that lingers for weeks, although it gradually subsides with rest. Repeated contact can make it more difficult for the pain to resolve. Typically it comes down to how well a player can function in the presence of pain. Richardson saw that firsthand when he tried to go from limited practice to full speed -- his body was not yet ready to cooperate. We'll see how he responds over the course of the week.
Quarterbacks
Blaine Gabbert, Jacksonville Jaguars (shoulder):
Gabbert looked to be in significant pain after hurting his left (non-throwing) shoulder and now we might know why. According to ESPN's Ed Werder, Gabbert reportedly suffered a torn labrum and will get a second opinion Tuesday from Dr. James Andrews. There is no word yet as to whether Gabbert will play Sunday.
And we're keeping an eye on
Jimmy Graham, TE, New Orleans Saints (ankle):
Graham did not play Sunday after sustaining an ankle injury in Week 5. The fact that Graham did make it onto the practice field last week is certainly an encouraging sign, and it sounds as if the Saints are optimistic about his progress. According to Mike Triplett of the New Orleans Times-Picayune, interim coach Joe Vitt said they would test Graham on Wednesday and that right now they "feel good" about him.
[+] Enlarge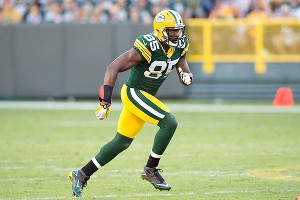 AP Photo/David StlukaGreg Jennings has just 12 fantasy points in standard leagues this year because of his injuries.
Greg Jennings, WR, Green Bay Packers (groin):
Jennings could return to practice at the end of this week, according to the Milwaukee Journal Sentinel. First, he will need to test the groin by running, which is slated for Thursday. If all goes well, he could be allowed to progress his activity in practice. These are the logical next steps in what has been a very steady, graded rehab approach for Jennings since aggravating the groin injury earlier this month. Both Jennings and the Packers have said he will not return until he is fully healthy, and it is in both their interests to ensure that to the degree possible. Ultimately, in-game testing is unique in the type of demands it puts on a player, but it certainly appears that Jennings has been guarded against overdoing it thus far. It's too soon to say whether he would be able to return to play this week but a return to practice would signal he is not far off.
Pierre Garcon, WR, Washington Redskins (foot):
Last week, we learned the source of Garcon's pain was a sprained capsule (the thicker tissue that covers a joint). This week, there are reports that the damage is more involved. USA Today Sports reports that Garcon is also dealing with a torn tendon, citing a source briefed on the specifics of the injury. The report suggested that Garcon could be held out through the team's bye (Nov. 11). While the news hints at further damage than initially conveyed, it doesn't change the team's approach, which is to have Garcon let the foot rest. The question becomes how much the extended rest will help the condition. Certainly the pain and inflammation should settle down, but one wonders whether it will return when Garcon resumes running and practice activities. Only time will tell. The bottom line for fantasy owners is that it appears it will be several more weeks before Garcon potentially returns.
DeMarco Murray (foot) and Felix Jones (knee), RBs, Dallas Cowboys:
Murray missed Week 7 with a foot injury and Jones got the start in his place. Unfortunately, it didn't take long for Jones to exit the field with an injury of his own. On the second play of the game, he injured his neck, but it was deemed to be mild and he later returned. A knee bruise forced Jones to leave the game a second time, and it's not clear whether that will be something that limits him this week. Meanwhile, ESPNDallas.com reports the Cowboys are hopeful Murray can return this week from his sprained left foot. It seems like a quick recovery for a guy who was on crutches and in a boot just last week, but the real test will be at practice, when Murray tests the foot. No word yet as to when that might happen.
Donald Brown, RB, Indianapolis Colts (knee):
Brown underwent arthroscopic surgery two weeks ago, and the return timetable indicated two to three weeks. Philip B. Wilson of the Indianapolis Star reported Monday that Colts offensive coordinator Bruce Arians said Brown is close to returning but may not be quite ready for Week 8. Two weeks sounded a bit quick, given that following surgery, even if relatively minor, a key to a successful return is having regained enough muscular strength to protect the joint. It will be interesting to see how much work Brown gets in practice this week.
Frank Gore, RB, San Francisco 49ers (ribs):
Gore suffered bruised ribs in the team's Thursday night game and was held out for the final minutes. Their next game is Oct. 29, a Monday night game, and the extra time between games undoubtedly will help. The question then is will Gore's soreness have decreased enough to allow him to play. So far it sounds positive. According to the Sacramento Bee, Gore put in a full practice Monday and expects he will be ready to play in Week 8.
Vincent Brown WR, San Diego Chargers (ankle):
Brown suffered a fracture in the preseason and was placed on the new designation of injured reserve/designated to return. He has been largely invisible to the media during his rehab, but the team has insisted that his recovery is on track. However, Wednesday was the first day Brown was eligible to rejoin the team in practice, and he did not. Given Brown's absence and given coach Norv Turner's comments about Brown going "one step at a time" on the team's official website, the earlier hope that Brown could return by Nov. 1 seems to be fading. "He has not been on the field yet. It will be a while before we give you specific timing on when he'll be able to play," Turner said. It's not clear whether Brown has even tried running yet. As of now, it appears he has a ways to go before there is any talk of game action.
October, 18, 2012
10/18/12
9:32
PM ET
After sustaining big injury losses to their vaunted defense in Week 6, the Ravens' mood was somber. That frown turned upside down when linebacker
Terrell Suggs
, on the physically unable to perform list to start the season following surgery to repair his right Achilles tendon, rejoined the team for practice this week. ESPN's Adam Schefter reports Suggs expects to play Sunday when the Ravens visit the Texans. The biggest question will be whether a visibly heftier Suggs is in adequate "game" shape to take the field. Most athletes returning from this type of injury say it takes them a full year to regain the speed and explosiveness in their surgically repaired leg. It doesn't mean Suggs can't contribute right away -- even if that comes largely in the form of morale boosting initially -- but it does mean he's unlikely to look like the 2011 defensive player of the year out of the gate.
Here's who else we're keeping an eye on in Week 7.
Quarterbacks
[+] Enlarge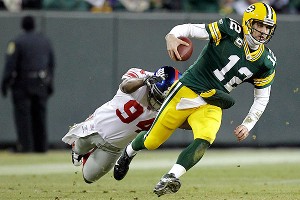 Jeff Hanisch/US PresswireFor a scrambling quarterback such as Aaron Rodgers, a leg injury is all the more concerning to fantasy owners.
Aaron Rodgers, Green Bay Packers (calf):
Here's a name no fantasy owner wants to see on the list. A draft-day cornerstone for many teams, Rodgers was limited in practice Wednesday by a sore calf, apparently suffered on a running play in Week 6. The good news is Rodgers turned in a full practice Thursday, and it looks as if he fully plans on playing against the Rams this Sunday.
Christian Ponder, Minnesota Vikings (knee):
Ponder has been working through knee discomfort associated with an inflamed bursa for the past couple of weeks. He continues to practice fully and should play again this Sunday.
Running Backs
Adrian Peterson, Minnesota Vikings (ankle):
Peterson's lack of activity during practice might seem worrisome but it sounds as if he and the team are taking a deliberately cautious approach in light of the next two games coming so close together. Tom Pelissero of 1500 ESPN Twin Cities reports Peterson plans to play Sunday despite not practicing Wednesday or Thursday. Coach Leslie Frazier echoed that statement, describing the rest as precautionary. Still, according to Pelissero, Peterson indicated his ankle is "hurting consistently," not enough to keep him from playing but perhaps enough to keep him from being as explosive as he'd like. It looks as if Peterson will play, and his best chances of being effective come from resting his ankle in the interim.
Rashard Mendenhall, Pittsburgh Steelers (Achilles):
Mendenhall has been downplaying his Achilles injury ever since it happened in Week 6's Thursday night game, insisting he was removed largely for precautionary reasons, primarily due to his recent return from ACL reconstructive surgery. Still, with Mendenhall not yet practicing this week, it's enough to make fantasy owners nervous.
Isaac Redman
also sustained an injury (ankle) in Week 6, and he too has yet to practice. Gerry Dulac of the Pittsburgh Post-Gazette reports the Steelers think Mendenhall is closer to playing than Redman, but it would feel much more plausible if we were to see him get some practice reps. While that could happen Friday, it's also possible the Steelers will opt to give him as much rest as possible in advance of Sunday since that might be the best medicine for a sore Achilles. The Steelers do not play until Sunday night, so unless there is some better evidence of Mendenhall's readiness following Friday practice, fantasy owners will need to have a backup plan.
Trent Richardson, Cleveland Browns (chest, rib):
Richardson has maintained all along that he will be ready to play this weekend. So far he seems to be making good on that promise, participating in practice, although on a limited basis, both Wednesday and Thursday. Expect him to wear some protective padding, as is often the case following rib injuries, but it appears he will be on the field, barring a setback.
Ahmad Bradshaw (foot) and Andre Brown (concussion), New York Giants:
Uh-oh. When we see "foot" next to Bradshaw's name on the injury report, it starts dredging up memories of complications over the past two seasons. According to Kieran Darcy of ESPN New York, Bradshaw, who did not practice Wednesday and did only limited work Thursday, said this is not related to his prior stress fracture issues but that he had his foot stepped on in Week 6. Bradshaw also said he's "ready to go," suggesting his availability for Sunday is not in doubt. Meanwhile, Brown is on the mend from his concussion and practiced fully both days this week.
DeMarco Murray, Dallas Cowboys (foot):
Owner Jerry Jones already said Murray will miss this week's game in Carolina due to his foot sprain, although he is not yet listed as "out" on the injury report. The expectation is that
Felix Jones
will get the start. Until Murray returns to practice, there is little to update.
Donald Brown, Indianapolis Colts (knee):
Brown is still recovering from knee surgery and is not practicing yet.
Vick Ballard
is expected to start again.
Ben Tate, Houston Texans (toe):
Tate continues to be limited by a sore toe, and his status for Sunday is uncertain.
Wide Receivers
[+] Enlarge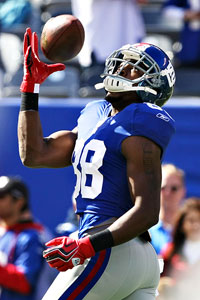 Alan Maglaque/US PresswireHakeem Nicks has been frustrating to own this season, with three missed games and two subpar performances, but his Week 3 totals -- 199 yards and a touchdown -- are a reminder of his game-breaking ability.
Hakeem Nicks, New York Giants (foot/knee):
Nicks did something this week he hadn't done in a long time -- he put in back-to-back practices Wednesday and Thursday. Granted, he still is being limited in terms of his reps and he does not appear fully recovered from his ailments but this is a big status change for him. At the very least, it suggests his status will be less questionable heading into this week's contest.
Pierre Garcon, Washington Redskins (foot):
Garcon has not practiced this week. After hearing last week that the plan was for him to take the time to let the foot heal before returning, it certainly looks as if he will be out again this Sunday.
Greg Jennings, Green Bay Packers (groin):
Jennings still has not practiced this week. His focus has been on rehab and conditioning work, and last week coach Mike McCarthy said Jennings would not test his groin until late this week. We'll see what happens Friday but it's hard to feature Jennings returning in three days.
Jerome Simpson, Minnesota Vikings (back, foot):
After being forced to sit out in Week 6 because of weakness in his leg associated with a back injury, Simpson has made big improvements this week. He was a full participant in practice both Wednesday and Thursday, and while it is too soon to dismiss the injury as being totally behind him, his chances of playing Sunday are looking good.
Tight Ends
Rob Gronkowski (hip) and Aaron Hernandez (ankle), New England Patriots:
Gronkowski continues to be limited in practice, which doesn't come as a big surprise. He has been playing through what is being termed a hip injury and has not been quite himself on the playing field. Hernandez seemed to get through his first game outing well and returned to limited practice Wednesday. He did not practice Thursday, however, which could be cause for concern or just some proactive rest on the part of the Patriots. Remember, Hernandez did not practice last Friday in advance of Sunday's game, either. That turned out just fine. Expect Gronkowski and Hernandez to both be active Sunday against the Jets.
Jimmy Graham, New Orleans Saints (ankle):
The last time we saw Graham, he was in a walking boot following an ankle injury in Week 5. Then the team had a bye week, and there were no updates to offer clues. It wasn't until Wednesday's practice that the first real evidence of how much the ankle is limiting Graham became apparent ... when he did not participate. On Thursday, Graham did make an appearance, practicing on a limited basis. The Saints sound as if they would like to have him available Sunday, even if he remains limited. "You always want to have your best players so we hope we are going to have him," Saints interim coach Aaron Kromer said, according to the New Orleans Times-Picayune.
The Saints have not offered specifics regarding Graham's ankle sprain (what type of sprain or what degree of severity) but it is worth noting that Graham did return to the Week 5 game after the injury. He appeared to be significantly limited for the remainder of the game but he did finish it out. In reviewing video of the injury, as Graham is tackled by Chargers defensive back
Marcus Gilchrist
, his foot is rotated outward relative to his lower leg. This is a common mechanism associated with a high ankle sprain but the team has not referred to it as such. While high ankle sprains are often associated with a prolonged recovery, it still comes down to how significant the actual tissue damage is. If there is instability and the injury is a high ankle sprain, caution is warranted so as not to lead to chronic degenerative changes in the joint. If the ankle is stable, the athlete can resume play more quickly. It will be worth monitoring how Graham's ankle responds to the Thursday work and whether he can repeat the effort Friday. If he can, it seems the Saints will lean toward having him available, even if his ankle has not fully recovered.
Jermichael Finley, Green Bay Packers (shoulder):
Finley practiced on a limited basis both Wednesday and Thursday because of the same AC joint issue that bothered him last week. Given that he was active last week after not practicing early on, expect him to play again (and hopefully contribute) this week.
Dustin Keller, New York Jets (hamstring):
Keller remains on the injury report this week, turning in limited practice Wednesday but bumping up to a full practice Thursday.
And on a final note ...
Six teams (Atlanta, Denver, Kansas City, Miami, Philadelphia, San Diego) are on bye this week, which means a lot of fantasy replacements are in order. These players will not appear on this week's official NFL injury reports.
October, 16, 2012
10/16/12
6:31
PM ET
Another week in the books! There were a slew of injuries on the defensive side of the ball in Week 6, with the highest percentage of big names belonging to one particular organization.
The Ravens lost their inspirational leader and team captain, veteran linebacker
Ray Lewis
, for the season because of a torn triceps. They also lost star cornerback
Lardarius Webb
to a torn left ACL. Webb tore his right ACL three years ago but successfully returned the following year and had developed into a premier player at his position. The combined loss of Webb and Lewis is difficult enough, but the Ravens also are dealing with a defensive injury up front. Defensive tackle
Haloti Ngata
suffered a sprained MCL on Sunday, but the good news is the Ravens expect to have him available in Week 7. He might be limited in terms of mobility, but his presence on the field will be key, considering the other absences the team is facing.
[+] Enlarge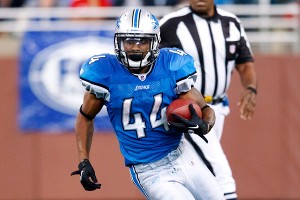 AP Photo/Rick OsentoskiJahvid Best (concussion) is still not ready to return, but he hasn't given up on doing so.
The
Detroit Lions
also received some disappointing, although not altogether surprising, news. Running back
Jahvid Best
, who one year ago suffered a concussion that has kept him out since, has not been cleared to return to play. Best's condition has been monitored by a team of experts in conjunction with the Lions' medical staff, and after he underwent a recent spate of tests, the group consensus was that Best is not ready to return. A statement from Lions general manager
Martin Mayhew
said, "After today's consultation with medical experts, including representatives from our medical and training staffs, it has been determined that Jahvid will not be permitted to return to play at this time."
According to the Detroit Free Press, Best will not consider retirement yet and maintains a desire to return. The Lions are continuing to support Best, which was reflected later on in Mayhew's statement: "Jahvid will continue to work with our medical and training staffs with the hope that he ultimately will be cleared to return to the playing field." Given the length of time that has passed, however, since Best's most recent injury and his failure to progress beyond his current level of activity, it would appear his chances of returning to football are slim.
Naturally, there are other injury situations worth tracking. Here's who we're keeping an eye on heading into Week 7:
Quarterbacks
Kevin Kolb, Arizona Cardinals (ribs): According to ESPN's Adam Schefter, Kolb will be out this week and beyond because of a significant multiple-rib injury, along with a sprained sternoclavicular joint (the same joint Rams receiver Danny Amendola injured). There's no doubt about how painful this injury is. Just breathing is bound to be uncomfortable, and any additional movement makes matters worse. Fortunately for the Cardinals, John Skelton's (ankle) health was improving anyway. He stepped in Sunday after Kolb's injury and looked, well, as if he'd been absent for five weeks. This week Skelton will have the opportunity to get all the practice reps as the team prepares him for a Week 7 start.


Running backs
DeMarco Murray, Dallas Cowboys (foot):
According to ESPN's Ed Werder, an MRI confirmed a left foot sprain for Murray, who was injured in the first half of Sunday's game. Murray is currently in a walking boot and on crutches, but Werder reports the Cowboys are saying he did not suffer a Lisfranc injury and will not need surgery. On Tuesday, Cowboys owner Jerry Jones confirmed Murray will miss the team's Week 7 game, as expected, but noted the team was relieved the injury was not more serious.
The team has not specified where in the foot the sprain is or the severity of the injury, other than saying it appears to be nonoperative; that makes it difficult to project with any accuracy just how compromised Murray is. While the news of no immediate need for a procedure is encouraging, it's worth pointing out that last year around this time, fellow running back
Darren McFadden
suffered what was thought to be a mild foot sprain and ended up missing the remainder of the season. He initially was expected to miss only a week or two, but he never could get to the point of running well on the foot. That's not to say Murray is destined for the same fate, but the point is, foot injuries can be tricky and unpredictable. This is not the same leg Murray injured last season (he suffered a right ankle fracture and high ankle sprain late in 2011, which required surgery and ended his season prematurely).
For now, the team is calling Murray's status week to week, and fantasy owners should plan on a multiple-week absence. Murray, however, is telling teammates he plans to play in Week 8, according to Werder. Let's see him get back on the practice field first before we count on him returning so quickly.
Trent Richardson, Cleveland Browns (rib):
Richardson left Sunday's game with what was later determined to be a right-side rib cartilage injury. The running back's status is day to day, according to Mary Kay Cabot of the Cleveland Plain Dealer. This is the type of injury that usually comes down to whether pain inhibits functionality or not. Richardson has a few days to rest it and see how it responds. While he seemed to express little doubt he'd be available, the team likely will take the wait-and-see approach. Fantasy owners might want to add
Montario Hardesty
to their rosters as insurance.
Wide receivers
[+] Enlarge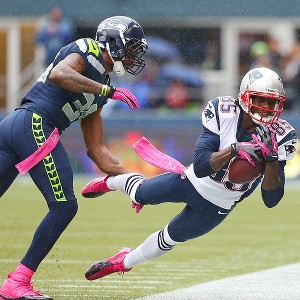 Otto Greule Jr/Getty ImagesBrandon Lloyd ranks 34th among WRs in fantasy scoring this season.
Brandon Lloyd, New England Patriots (shoulder):
The Patriots haven't said anything specific about Lloyd yet. He appeared to injure his left shoulder while making a diving play late in Sunday's game, but he did return to play. As ESPN Boston's Mike Reiss observed upon completion of the game, "[Lloyd] goes for tests afterward and walks out of the stadium stone-faced." This will be something to keep an eye on throughout the week.
Mario Manningham, San Francisco 49ers (shoulder):
Manningham was listed as a limited participant for the team's Monday practice -- which is an estimation since it was only a walk-through -- because of a shoulder issue. No details were offered by the team. The 49ers play Thursday night, so everything on the injury report becomes relevant, but there is no hint as of now that Manningham's game status is in jeopardy.
And a few more players we're keeping an eye on:
Jimmy Graham, TE, New Orleans Saints (ankle):
Graham was seen wearing a walking boot after the Week 5 game, then the team headed into a bye. Mike Triplett of the New Orleans Times-Picayune reported Monday that Saints coach Aaron Kromer would have no player updates until Wednesday practice. It's probably a good idea to secure a backup tight end, just in case.
Pierre Garcon, WR, Washington Redskins (foot):
The Washington Times reported Garcon is dealing with a sprained capsule (the tissue that surrounds a joint) under his second toe, which is still painful for him when pushing off or trying to run full speed. After watching Garcon try to push through the pain only to have that pain increase, the team has encouraged him to take some time to let it heal. Just how much time that will be is unclear, but it sounds as if it will be at least a couple of weeks.
Hakeem Nicks, WR, New York Giants (knee/foot):
Nicks managed to get through Sunday's game without a setback, although he wasn't quite himself.
According to ESPN New York
, Nicks says he knows the injury will continue to improve. If there are no immediate setbacks, it looks as if he will be available again this week.
December, 15, 2011
12/15/11
5:58
PM ET
The only players fantasy owners are wondering about heading into the Thursday night game are
Atlanta Falcons
wide receiver
Julio Jones
and running back
Michael Turner
. Jones, who has strained both hamstrings this season, put on a nice display Sunday against the
Carolina Panthers
. Limited practice for Jones on a short week did not likely come as a surprise to most, but seeing the word "back" next to his name on the injury report may have. While the Falcons have not said much about Jones with regards to this back ailment, it's not uncommon to have low back and hamstring issues simultaneously. The large sciatic nerve in the back of the thigh is formed from nerve roots in the lumbar (low back) region (which is why herniated disks in the back often result in leg pain when the sciatic nerve is affected). That is not to suggest by any stretch that is the case here, only that it is not unusual to have overlapping back and hamstring conditions. There is no reason to expect any limitations with Jones, but until he survives the remainder of the season incident-free, it's only natural to be a little nervous. Meanwhile Turner has also been on the injury report for several weeks because of his groin but has managed to play nonetheless. He is expected to do so again Thursday night.
Quick Hits
Not Practicing Thursday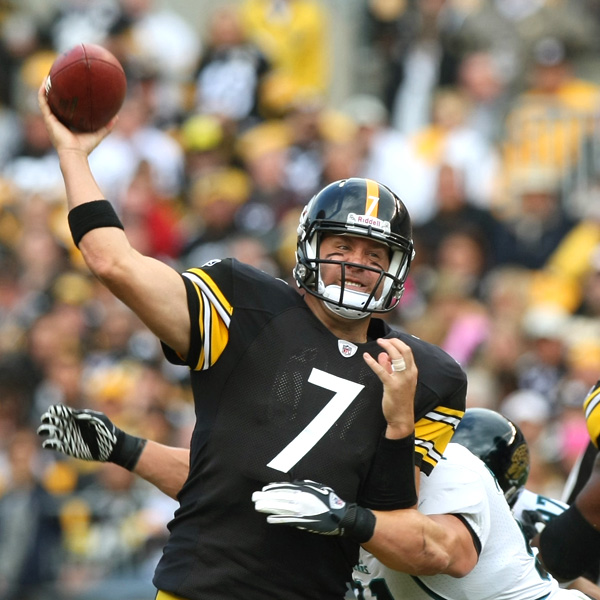 Jason Bridge/US PresswireIt appears fantasy owners may have to wait until Monday night to figure out whether to use Ben Roethlisberger in their lineups.
Here is a list of players who are worth monitoring based on the fact that they are not practicing as of Thursday afternoon:
Ben Roethlisberger, QB, Pittsburgh Steelers:
Roethlisberger's high ankle sprain sustained a week ago is no secret, but his status for Monday night remains murky. Roethlisberger is in a walking boot and may not practice at all before Monday's game. If anyone has defied all medical logic when it comes to returning from injury, it's Roethlisberger, but this one could prove to be a huge challenge. Roethlisberger need only look at Sam Bradford's struggles over a month removed from a similar injury. (Bradford now says he feels like he's "going backwards") Bradford had difficulty stepping into his throws and was clearly hampered with his mobility in Monday night's game. If Roethlisberger is similarly limited, is it worth playing him and risking a setback besides? That will be the question the Steelers will be considering as Monday approaches. This could come down to a game-time decision.
Andre Johnson, WR, Houston Texans:
Despite the fact the Texans are referring to Johnson as day-to-day with his latest hamstring injury, all the signals out of Texas suggest he will not return to action this week. Johnson has resumed some running but is not practicing with the team. After he sustained his second hamstring injury of the season (and with the Texans having earned a playoff berth), the team is bound to exercise caution.
[+] Enlarge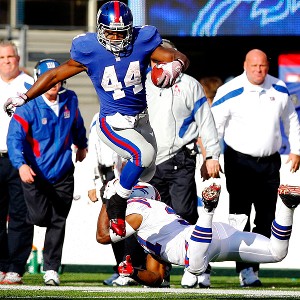 Jim O'Connor/US PRESSWIREAhmad Bradshaw is still slowed down a bit but still looks like he will play this weekend.
Ahmad Bradshaw, RB, New York Giants:
Last week Bradshaw did not practice Wednesday or Thursday but still suited up for Sunday. Of course, fantasy owners weren't expecting him to be benched for the first half of the game for violating team rules, but one has to imagine that won't happen twice in a row. Bradshaw should return to some form of practice Friday and play on Sunday against the
Washington Redskins
.
Darren McFadden, RB, Oakland Raiders:
We summed up the latest discourse regarding <a href="http://espn.go.com/fantasy/blog/_/name/bell_stephania/id/7350107/demarco-murray-greg-jennings-likely-done-year-ben-roethlisberger-darren-mcfadden-iffy-return"McFadden's midfoot injury Tuesday and nothing has really changed. He is not practicing and there is no timetable on his return. It's worth noting that
Taiwan Jones
also remains out with a hamstring injury. The Raiders have to be crossing their fingers on
Michael Bush
staying healthy.
Jacoby Ford, WR, Oakland Raiders:
Like his running back brethren, Ford has not yet returned to practice as he recovers from a foot injury.
James Starks, RB, Green Bay Packers:
Starks attempted to work out Tuesday but according to the Green Bay Post-Gazette, his ankle did not respond well. Starks did not practice Wednesday or Thursday and is not looking likely to play Sunday.
Brandon Saine
remains out of practice as well following a concussion sustained in Week 14.
Ryan Grant
is likely to get the bulk of the work.
Mark Ingram, RB, New Orleans Saints:
Ingram's turf toe kept him out of last week's game and he did not practice Wednesday or Thursday. At this point, it appears
Chris Ivory
will make another appearance for the Saints alongside
Pierre Thomas
and
Darren Sproles
.
Nate Washington, WR, Tennessee Titans:
Washington was clearly in pain near the end of Sunday's game but he fought through it to deliver some nice playoff points for fantasy owners. Washington had been dealing with a sprained ankle, which kept him out of practice the entire week. According to the Titans' website, Washington had back spasms to go along with his balky ankle. It shouldn't come as any surprise then that Washington has not yet practiced to allow him some recovery time. Jim Wyatt of The Tennessean reported Washington is expected to return to practice Friday. If Washington does play, it looks as if he might have
Matt Hasselbeck
to throw him the ball. Hasselbeck, who left last Sunday's game early after feeling a "pop" in his calf, returned to limited practice Thursday and the team is encouraged.
Practicing Thursday:
Here is a list of several key fantasy players who were back in the mix by Thursday.
[+] Enlarge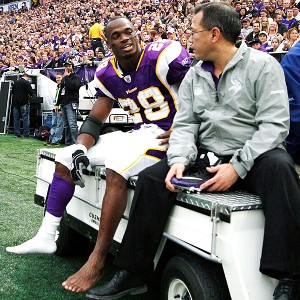 AP Photo/Andy KingAdrian Peterson has missed three games so far with an ankle injury but may finally return in time for the fantasy playoffs.
Adrian Peterson, RB, Minnesota Vikings:
Peterson seems to have turned a corner with regards to his ankle health. He has been in practice both Wednesday and Thursday and, according to Tom Pelissero of 1500ESPN.com, offensive coordinator
Bill Musgrave
noted Peterson was cutting better, even answering in the affirmative when asked if he was confident Peterson would play. Last week, Peterson had initiated running but still exhibited a limp and struggled with cutting maneuvers. The Vikings wisely gave him an additional week off (he has now missed three games) and it appears the time has helped. Barring a setback, Peterson looks to be making his return in Week 15.
Michael Vick, QB, and Jeremy Maclin, WR, Philadelphia Eagles:
Vick returned to action in Week 14, but his ribs are still sore. Since he is still on the mend, the Eagles did not have him practice Wednesday, but he returned to a full workout Thursday. The good news is the Eagles expect him to start; the not-so-good news is that the Eagles face the
New York Jets
this weekend. The Jets will have to account for Jeremy Maclin at the receiver position, as he is also expected to play despite not being able to finish last week's game. Maclin, who had missed the previous three games with both a hamstring strain and a shoulder separation, had only one catch in the game and was clearly at less than full strength. Maclin had a limited practice Wednesday followed by a full practice Thursday. As long as there are no setbacks between now and Sunday, Maclin will play. The big question for fantasy owners is whether he can deliver a full 60 minutes or whether the hamstring will act up again.
Kevin Smith, RB, Detroit Lions:
Smith made an early exit from the Week 13 game after aggravating his high ankle sprain and was not able to make it back for last Sunday's contest. This week, Smith has taken an encouraging step in returning to practice Thursday, albeit on a limited basis. If all continues well, the Lions plan to have him on Sunday. It will be interesting to see how the workload shapes up since Smith will still not likely be at full health.
Jimmy Graham, TE, New Orleans Saints:
Graham fought through back spasms last Sunday but still managed to be productive. More importantly, Graham returned to full practice Wednesday and has all but assured his fantasy owners that he will be back in Week 15.
See you at the injury chat Friday at 11 a.m. and we'll have the latest injury updates affecting Week 15 in the Saturday morning blog!
December, 13, 2011
12/13/11
6:18
PM ET
Week 14 wasted no time making its injury impact felt. Both quarterbacks suffered injuries Thursday yet both continued to play. The returns of
Ben Roethlisberger
and
Colt McCoy
have been the topic of much discussion in recent days, for different reasons.
[+] Enlarge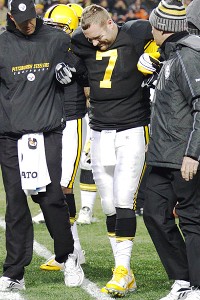 AP Photo/Gene J. PuskarBen Roethlisberger somehow toughed out a high ankle sprain to beat the Browns last week.
Roethlisberger suffered a high ankle sprain, an injury that typically sidelines players for multiple weeks, yet he managed to return to complete the game once it was determined no fracture was present. The adrenaline might have helped him get through Thursday night, but what about the
Pittsburgh Steelers
' next contest, a Monday night matchup against the
San Francisco 49ers
? Given Roethlisberger's history of beating the odds and managing to suit up even in the presence of significant injury, it's impossible to rule him out. Still, it's difficult to imagine him being able to perform effectively, given the nature of what's ailing him.
Sam Bradford
also suffered a left high ankle sprain, and was sidelined for two games because of his inability to step into throws and move out of the pocket. After Bradford returned, he suffered a setback that again resulted in missed time, and even though he played Monday night, it's clear he is not fully recovered.
Cleveland Browns
quarterback McCoy took a shot to the head from Steelers linebacker
James Harrison
, which left him momentarily flat on his back. Harrison has since been suspended for one game by the NFL, and the circumstances surrounding McCoy's return to the game (he missed just a few plays following the hit) have become the subject of an investigation. The Browns maintain McCoy was evaluated on the sideline before being allowed to return and that his concussion-like symptoms appeared later (McCoy has since been diagnosed with a concussion). Members of both the NFLPA and the NFL are expected to meet with members of the Browns' medical staff this week to clarify exactly what happened following the hit and how decisions about return to play were made. In an email response to The Associated Press, league spokesman Greg Aiello said the purpose of the meeting "is to examine procedures and identify areas for further discussion with other medical experts, Commissioner Goodell and the union."
Perhaps the most notable aspect of this incident so far is that we are seeing the first suspension of a player based on a hit to the head (a punishment directed in part by this particular player's history of similar hits) and an investigation into the circumstances surrounding an in-game medical decision. A couple of years ago, this incident likely would have been just another play in the game. While there still is a long way to go in terms of understanding how to best manage and protect against these injuries, the fact that they are gaining attention and being discussed is, in itself, a sign of progress.
After Thursday night ...
[+] Enlarge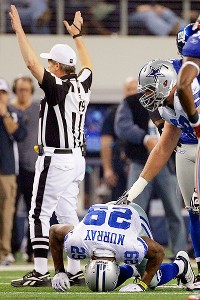 AP Photo/Tony GutierrezDeMarco Murray, who became the Cowboys' go-to back in midseason, is now done for the year after fracturing his ankle.
... The injuries continued to mount. Particularly brutal was the injury suffered by
Dallas Cowboys
running back
DeMarco Murray
, whose legs got trapped awkwardly underneath him as he was tackled. The right leg got the worst of it, as Murray suffered a fractured ankle and a high ankle sprain. As reported by ESPN Dallas, Murray will need surgery, confirming the obvious conclusion that his season is over. It's hard not to feel for Murray, who had provided a spark in the running game after
Felix Jones
was sidelined with his own high ankle sprain in October. Murray tweeted that he'll be back "a better football player," but we will have to wait until 2012 to see proof of that. With Murray out, Jones now resumes the starting role in Dallas. The Cowboys also signed
Sammy Morris
on Tuesday as insurance.
• The
Green Bay Packers
also lost one of their key offensive weapons for what it appears will be the remainder of the regular season.
Greg Jennings
sustained a sprained medial collateral ligament, and his obvious pain had everyone concerned. Following an MRI on Monday, the team projected his absence at two to three weeks (the standard timetable for MCL sprains ranges from two to six weeks), suggesting a mild to moderate sprain. Coach Mike McCarthy seemed to intimate at his news conference Monday that Jennings would not return for the regular season. "I would think it would be safe to say he'd be back for the playoffs," McCarthy said. Meanwhile, running back
James Starks
missed Week 14 because of his knee and ankle injuries, but he might return this week if he can return to practice. Rookie
Brandon Saine
saw some playing time in Starks' absence but left the game early with a concussion. Saine will have to receive medical clearance in order to return.
Quick Hits
• The
Minnesota Vikings
are sounding as if they expect to have
Adrian Peterson
on the field in Week 15, but we'd like to see him run without a limp before penciling him into the lineup. Peterson made further progress last week, doing some individual drills. Still, Peterson rated himself at only 80 percent, although he was willing to try to "gallop" if necessary. It was a good move to rest him this past week, and that rest might well be what allows him to go in Week 15. Stay tuned.
• The
Philadelphia Eagles
saw the returns of
Michael Vick
and
Jeremy Maclin
in Week 14. While Vick managed to get through the entire game (even though he could be seen lying on a treatment table getting worked on at one point while the defense was on the field), Maclin did not fare so well. His hamstring tightened up on him, according to coach Andy Reid, and
Riley Cooper
took Maclin's place for much of the second half. Until Maclin shows he has recovered enough to get through a full game without incident, it's going to be hard to have confidence.
•
Tennessee Titans
quarterback
Matt Hasselbeck
suffered a calf injury Sunday, and it was not known immediately how severe the injury was.
Jake Locker
took over for the remainder of the game (with the exception of a single play in the fourth quarter that Hasselbeck handled), and Hasselbeck is now being called day-to-day. Calf strains are typically slow to heal, even when minor, and will limit a quarterback's ability to push off as well as his all-around mobility. It will be no surprise if Locker gets the start this week.
•
New Orleans Saints
tight end
Jimmy Graham
showed some toughness playing through major back spasms Sunday. Fantasy owners knew something wasn't right when Graham left the pregame warmups early and headed into the locker room. He came out to join his team for the game and managed to garner 55 yards. Graham, during an appearance "Rome is Burning" on Tuesday, called the spasms "crippling" but said it would take more than spasms to keep him out of a game. He also noted he had undergone an MRI and everything was "fine." He sure sounds like someone who is planning on being out there again in Week 15.
[+] Enlarge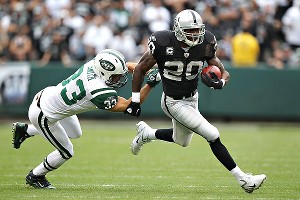 Jed Jacobsohn/Getty ImagesDarren McFadden has not played since Week 7.
• From last Tuesday:
Things are not looking good for running back Darren McFadden. Despite all the positive-speak initially from coach Hue Jackson, his latest remarks have a different tone suggesting progress is not being made as expected. McFadden has already missed more than a month because of a midfoot sprain and his absence is expected to continue. Steve Corkran of the Contra Costa Times reported via Twitter that Raiders coach Hue Jackson does not expect McFadden to miss the rest of the season. Well, neither did we. In fact, it had not been a real thought until Jackson introduced it as a possibility. Jackson also noted that there was no timetable for McFadden's return. Those two comments cause concern as to what the real status of McFadden and his foot is going forward. After the initial MRI, Jackson said there was no major structural damage and hinted at a speedy recovery. While the structure of the midfoot is complex and pain or inflammation in the area, even in the absence of major disruption to the anatomy, can be severely limiting, the slow progress of McFadden after such early optimism is frustrating. At this point it is difficult to have confidence in McFadden's status, especially as long as he is absent from the practice field.
This Tuesday: Things still don't look good. The poor outlook noted at the start of last week has become grimmer as another week has passed with no obvious signs of progress from McFadden. If anything, there is less clarity about McFadden's injury than ever. On Sunday, CBS analyst
Phil Simms
commented that McFadden was dealing with a Lisfranc injury. Steve Corkran of the Contra Costa Times best captures the semantics issue around the term "Lisfranc" and coach Hue Jackson's response as it relates to McFadden in his
Monday post on the topic
.
In an attempt to interpret the cause of the confusion, it should be noted that the term Lisfranc is an anatomical description of a region of the foot, specifically a complex joint comprising the bones and ligaments that connect the midfoot to the forefoot. An injury in this area could technically be called a midfoot sprain
or
a Lisfranc injury, and both would be correct. Injuries range from minor ligament tearing involving a single joint to multijoint severe injuries including fracture and dislocation. The latter type require surgery to fix; the former do not.
As Lisfranc injuries have become more common in the NFL and have led to season-ending surgeries for some (
Ronnie Brown
,
Dwight Freeney
and most recently
Matt Schaub
), when the term is used, the implication is that the athlete has suffered the most severe, season-ending variety. That degree of injury does not always result. Since the Raiders insist McFadden does not need surgery, it would appear that his injury is of the less severe type and that, perhaps, is why the term "Lisfranc" was avoided. For any injury to the midfoot, it is important that full healing occur in order to restore normal gait and prevent future problems, which can render the recovery process slow. In McFadden's case, his recovery appears to be taking longer than the Raiders initially projected it would, adding to the frustration of all looking from the outside in. At this point, despite Jackson's statement that he expects McFadden to return, it's hard to imagine a full-strength McFadden resurfacing within the next three weeks.