Stephania Bell:

Johan Santana
March, 6, 2012
3/06/12
3:42
PM ET
PORT ST. LUCIE, Fla. -- Tuesday was all about
Johan Santana
. The
New York Mets
' southpaw has been on the road to recovery from shoulder surgery for over a year. Santana underwent a repair for a torn left anterior capsule in
September 2010
. He was able to pitch in a couple minor league games in 2011 but never appeared in the majors. He threw in Instructional League in the fall before shutting it down for some offseason rest. Entering this spring, Santana has appeared on track, gradually increasing his workload and throwing bullpens in advance of Tuesday's outing. So far, the shoulder has responded positively, and this Grapefruit League outing was just another step in the right direction.
Santana saw two innings of action Tuesday, as planned. He threw 29 pitches, 17 for strikes. He gave up a hit and a walk, and his fastball hovered in the high 80s, topping out at 90 mph once. He mixed in a couple of changeups and even a couple of sliders, which Santana later said was something he "couldn't do in the past." He appeared upbeat after the game, speaking candidly with reporters, his left shoulder wrapped in ice under an ace bandage. "The most important thing," Santana said, "was I felt good." He didn't pay much attention to the radar gun readings, saying his focus was on mixing in various pitches and location.
Santana said the key over the next couple days will be to see how the shoulder feels and get ready to make his next start in five days. He noted that late last year in Instructional League he was able to return in the five-day window, so he doesn't anticipate any problems this time around. He acknowledged continuing to work on locating his pitches and says that is his "challenge" as he builds up his workload. Of course, the primary issue from the health perspective will be to see if increasing that workload remains uneventful.
Santana is the planned Opening Day starter for the Mets, and early signs point toward him meeting that target.
August, 5, 2011
8/05/11
4:45
PM ET
It's Friday. Time to get to the business of enjoying the weekend. With that in mind, we get right to some highlights of who we're keeping an eye on in the world of injuries.
[+] Enlarge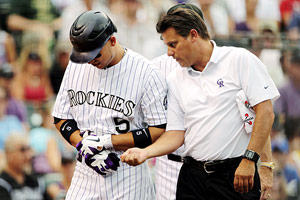 Doug Pensinger/Getty ImagesCarlos Gonzalez has been plagued by wrist injuries since last year.
•
Carlos Gonzalez
could return to the
Colorado Rockies
' lineup Sunday if his remaining rehab games go well. Gonzalez has been on the DL with inflammation in his wrist, an issue that has been ongoing since he collided with an outfield wall in early July. Even when Gonzalez struggled with discomfort in his wrist earlier this summer, he was still able to hit the ball out of the park. The concern for Gonzalez going forward is not so much whether he'll be able to produce when he returns (he went 2-for-4 in his first rehab outing), but whether he'll be able to play the remainder of the season without incident. An awkward landing on a defensive play or a hard bat swing will test him; until Gonzalez proves those are not issues for him, fantasy owners have reason to be a little anxious.
• The
Philadelphia Phillies
are also getting a player back this weekend as
Roy Oswalt
returns to the mound. As noted in Monday's blog entry, Oswalt's chronic back condition has not disappeared, but the hope is that the
symptoms will remain at bay
for the duration of the season.
•
Cleveland Indians
outfielder
Shin-Soo Choo
is making gains in his rehab efforts. Choo, coming off surgery to repair a broken thumb, added to his activities by taking live batting practice. As important as being able to connect the bat with the ball was Choo's report of no soreness afterward. He appears to be on track to return within the next few weeks, assuming his progression continues. What remains to be seen is how effectively (and how consistently) he will hit against live pitching. Once he participates in rehab games there will be better clues.
•
New York Yankees
third baseman
Alex Rodriguez
is at the team's complex in Tampa, Fla., now resuming baseball activities. Rodriguez has made steady progress in his recovery from meniscus surgery but now the real tests begin. According to the New York Post, Rodriguez has yet to take batting practice having only hit off a tee and fielded ground balls.
• This Sunday might mark one of the most well-attended games for the Class A Hagerstown Suns this season, when
Stephen Strasburg
makes an appearance. He is expected to throw only an inning or two, so get there early! At 11 months post-surgery, Strasburg is on the pace for recovery from Tommy John surgery. The rehab assignment starts the 30-day countdown but it is worth noting that the clock can be stopped anytime if the medical staff finds it necessary. If things proceed without limitation, it remains a possibility that Strasburg could deliver a handful of major league innings for the
Washington Nationals
in September.
• Proof that the clock on a rehab assignment can stop anytime came in the form of
New York Mets
pitcher
Johan Santana
, who will not throw for at least a week. Santana threw three scoreless innings in his minor league debut but persistent discomfort sent him back to the surgeon for a re-evaluation. Santana was reported to have "fatigue" in the shoulder and will not throw to allow his shoulder to rest but will maintain a fitness program. Once the medical staff feels he is strong enough, he can resume throwing. There is no formal timetable in place at this time.
•
Milwaukee Brewers
second baseman
Rickie Weeks
(severe ankle sprain) is out of a walking boot but manager Ron Roenicke says he is "still a long ways away," according to the Brewers' website. With the minor league season ending Sept. 5, the team acknowledges that it could make it difficult for the timing of a potential rehab assignment. "Once he's ready to go, if we don't have any places to send him, it's going to make it a lot more difficult for us," Roenicke said. Hmmm.
August, 4, 2011
8/04/11
6:06
PM ET
August, 2, 2011
8/02/11
4:33
PM ET
On Tuesday, the
Boston Red Sox
confirmed the diagnosis of a low-back stress fracture for pitcher
Clay Buchholz
. Manager Terry Francona told reporters that the injury is to the L2 vertebra (second of the five lumbar or low-back vertebrae) and reassured everyone that this is not a career-threatening situation.
[+] Enlarge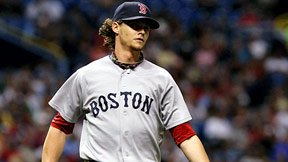 Kim Klement/US PresswireClay Buchholz last pitched on June 16.
The Red Sox have made it clear they do not expect pitcher Clay Buchholz to rejoin the rotation any time soon. The transfer of Buchholz to the 60-day disabled list Sunday and the acquisition of pitcher
Erik Bedard
from the
Seattle Mariners
already had put the writing on the wall in plain view. But the Red Sox also are saying that his season is not to be written off just yet.
Up to this point, the team had been referring to Buchholz's injury as a lower-back strain with manager Terry Francona specifically calling his injury a "muscle strain." But as ESPN Boston's Joe McDonald reported, a team source had indicated that Buchholz indeed
had a stress fracture in his low back
. Buchholz recently consulted with Dr. Robert Watkins, who then worked with the Red Sox's medical staff and management to formulate a plan for Buchholz going forward.
That plan, according to Francona, will consist of intensive rehabilitation, as is often the case with these types of injuries (see:
New York Mets
third baseman
David Wright
), and the Red Sox will continue to monitor Buchholz's progress. Naturally, with only a couple of months left in the regular season, there is reason to doubt that Buchholz will be able to make it back to the mound this year. But there is also reason to be optimistic that he could. After all, despite the lingering presence of pain, he had been able to increase his activity in recent weeks. Although he will be forced to retreat to basic rehabilitation measures for now, Buchholz could graduate to baseball activities once the symptoms are given adequate opportunity to subside. Remember, Wright played through pain for a month, but once he took the time to recover properly, he came back strong two months later. Red Sox fans and fantasy owners will now hope for a similar outcome with Buchholz.
Quick Hits
•
Philadelphia Phillies
pitcher
Roy Oswalt
felt good enough after his second rehab start Monday to declare himself ready to return. He is expected to rejoin the rotation this weekend. Oswalt's back is not miraculously healed; rather, he has been able to move past the last painful episode and resume pitching amid his regular exercises for maintenance. The hope is that he will be able to successfully endure the remainder of the season without a setback. Although there are no guarantees, his optimism in the past two weeks is certainly encouraging.
• The New York Yankees were without veteran shortstop
Derek Jeter
on Monday as he rested his bruised right middle finger that he suffered when hit by a pitch Sunday. According to the Yankees' website, Jeter had good range of motion in the finger, always a good sign, and is expected to rejoin the lineup Tuesday. Meanwhile, teammate
Alex Rodriguez
got some good news Monday. He has been cleared to begin working out at the team's spring training complex in Tampa and is expected to resume baseball activities Thursday, according to the New York Daily News. His original timetable of returning to play four to five weeks post-surgery to address a torn meniscus (which took place July 11) appears to still be in effect, presuming no setbacks after he increases his workload.
• We're keeping an eye on two pitchers coming off major surgery who both appear as though they're in line for a major league appearance this season, if all continues to go well.
Washington Nationals
young ace
Stephen Strasburg
is slated to begin a rehab assignment next week after another positive simulated game outing Tuesday. Strasburg continues to show steady progress in his return from Tommy John surgery and is inching closer to a September cameo, but nothing is set in stone. Every increase in workload is carefully monitored, and if there is any reason to hold him back, the Nationals will.
The same goes for New York Mets ace
Johan Santana
, who is being delayed a day from making his next rehab start after his arm "didn't feel quite as strong as he would've liked," according to Mets general manager Sandy Alderson. It's not a setback but a precautionary move, according to ESPN New York, and it's a move that makes sense. Santana is returning from major reconstructive surgery on his throwing shoulder, and it is important for him to monitor closely how his body responds to each new test.
Santana threw three scoreless innings in his first rehab start last week. Despite Santana's impressive initial outing, equally important to his performance on the mound is his shoulder's response after it. Given that he felt it was a little weak, the adjustment in the throwing schedule is not surprising. The Mets still hope to have him on the mound this season, but the shoulder will dictate if, when and where that will happen.
Fantasy owners may want to consider stashing either of these players if they have room on the bench for the potential upside of a few late-season innings, but they should be prepared for a fluid situation.
July, 20, 2011
7/20/11
4:18
PM ET
It's that time of the week where your mailbag questions drive the blog. This week there seems to be one player on everyone's minds (hint: an NL East pitching ace who has not been seen in two months). But first, several players returned to the lineup Tuesday night and it's worth noting how they fared:
Jose Reyes, SS, New York Mets:
He gets the prize for biggest impact upon return. Reyes had been out with a Grade 1 left hamstring strain, which originally was expected to keep him out beyond the 15-day minimum. As it turned out, he came back on his first eligible day and delivered as much on the defensive side of the ball as he did at the plate in the Mets' victory over the
St. Louis Cardinals
. Perhaps most importantly he showcased explosiveness at short and brought a spark to his team. The key will be no setback over the next few weeks.
Shane Victorino, OF, Philadelphia Phillies:
While Victorino did not provide any fireworks in Tuesday's victory over the
Chicago Cubs
, he did have four at-bats and emerged apparently no worse for the wear. It appears he will be able to play on with his still-healing thumb.
Ryan Braun, OF, Milwaukee Brewers:
On Tuesday I outlined the concerns that surround an athlete trying to play through injury, particularly when he is specifically
trying to protect the involved body part
. Braun, who has been in and out of the lineup with a calf strain, was back in Tuesday and went 1-for-3 with a two-run home run, but he was in the game for only five innings. Apparently this was planned as a means of easing him back into action. The Milwaukee Journal-Sentinel reported Tuesday that manager Ron Roenicke indicated before the game that Braun would not go the distance. "We're going to try to get him back where there are no setbacks," said Roenicke. It should be interesting to see if this strategy works.
From the mailbag
The most recent three questions in the mailbag are all about
Josh Johnson
. Clearly he is the hot topic.
Ryan (Brookings, S.D.):
The last I heard regarding Josh Johnson was there was no structural damage to his shoulder, but he was going to rest for 10 days. That was on June 29. Are there any updates regarding my No. 1 pitching pick?
Evan (New York):
I was wondering if you think that Josh Johnson will pitch again this year and/or if you feel that this injury could linger into next season?
Aariano (Flushing, N.Y.):
What is the deal with Josh Johnson? He was only supposed to be out a week or two when the injury originally occurred. It has been two months now and still no actual word on what the actual problem is or if he is even alive.
So let me start by stating for Aariano that I do believe Johnson is, indeed, alive, although his shoulder may not be fully cooperating with his plan. According to a report on the
Florida Marlins
' website shortly after Johnson consulted with Dr. James Andrews, while he was instructed to rest his right shoulder for at least 10-14 days following a cortisone injection, the timetable to return was not hard and fast. "[Andrews] said however long it takes to get to where you don't feel it at all," Johnson said. "Where you can do everything, all the stretches. He said take however many days you need. I felt a lot better [during recent throwing sessions], but it wasn't always 100 percent." Johnson indicated that he was hopeful to return in August.
It has now been three weeks since Johnson saw Andrews, nearly four weeks since his last throwing session and two months since he first went on the DL with inflammation in his throwing shoulder. On Monday, the South Florida Sun-Sentinel reported that Johnson was still not throwing, but rather just continuing with a strengthening program. Consider that a return to throwing program requires a progression, however variable timewise, from playing catch to bullpens to facing live hitters to rehab games. And consider that Johnson's previous attempts through a similar progression have resulted in roadblocks. At some point the expectation (read: hope) is that the combination of rest and rehabilitation will allow Johnson to work his way back to competition; the problem is that no one can say for sure how long this will take and whether he will definitively pitch again this season.
Sorry gang, but welcome to the abyss that is the thrower's shoulder. There are typically more unknowns than knowns and the range for recovery is all over the map. The longer it takes, the more concerned we become but it does not necessarily change the regimen in a significant way. Time, as they say, is everything.
Cap (Fontana, Calif.):
How much longer is
Johan Santana
going to be out of action? What is taking him so much time to heal and get back to playing baseball games?
Santana underwent a major reconstructive surgery of his shoulder (anterior capsule repair) last September, which involves a very lengthy rehab. The surgery is done to create stability, but it then takes a long time to restore adequate motion to function as a pitcher, not to mention the necessary strength in the shoulder to protect it going forward. There is not a long list of pitchers who have returned from this procedure, although
Chien-Ming Wang
is just now appearing in rehab games (with the possibility of joining the
Washington Nationals
late this month) after undergoing a similar procedure in July 2009. Wang's recovery was projected to take at least a year, but as is often the case with complex procedures, particularly in a thrower's shoulder, the pace was ultimately dictated by his shoulder's response to activity.
Santana's recovery will not necessarily take as long -- and there are signs that he could be throwing to live hitters soon -- but that does not mean his return timetable is definitive. ESPN New York reports that even if Santana is technically able to pitch this season, Mets general manager Sandy Alderson says that "we're not looking for Johan to ride in here and be a major factor in this season." More recently Alderson told the New York Post, "We're more concerned about him pitching this season so we get past that question going into spring training next year." In other words, if Santana can demonstrate the ability to throw at a high level this fall, the confidence the team and the pitcher would have heading into next season would be high. That appears to be the bigger goal -- and a wiser one long-term -- as opposed to counting on Santana to deliver in a late or postseason situation for 2011.
April, 28, 2011
4/28/11
7:04
PM ET
August, 26, 2009
8/26/09
6:04
PM ET
And just when no one thought it could get any worse for the Mets ...
Johan Santana
is now done for the season. Let's get right down to business:
Johan Santana, SP, Mets:
Despite the trauma of losing yet another player to the DL -- and in this case, it's a definitive season-ender -- it appears to be overall relatively good news for Santana and the Mets. Santana, whose left (throwing) elbow has been bothering him for quite some time, will not be undergoing Tommy John ligament reconstruction, which would keep him out for most of next season. Instead he will undergo a far less extensive procedure to remove bone chips and should be ready for spring training in 2010. But this is not a cut-and-dried situation.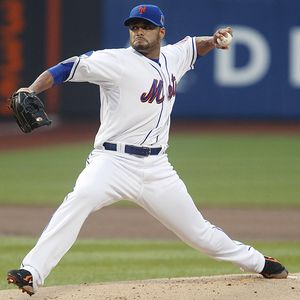 Noah K. Murray/The Star-Ledger/US PresswireJohan Santana is done for this season, but the Mets are hopeful surgery now will prevent problems in 2010.
The presence of bone spurs can be suggestive of subtle instability in the elbow. The spurs themselves form in response to stress within the joint. They can become painful and limit motion. They can also fragment and form chips or loose bodies. Removing the spurs or chips can help reduce pain and restore motion. There is some speculation, though, that the spurs provide additional stability, and that once removed, the increased motion in the elbow could place additional strain on the all-important ulnar collateral (Tommy John) ligament. Cardinals ace
Chris Carpenter
had bone spurs removed in 2007, only to end up having Tommy John surgery a few months later. Of course, there are other pitchers who have gone on to pitch successfully after bone spur/chip removal.
One of the advantages of doing the scope is that the surgeon will be able to visually inspect the ligament to see just how healthy it is at this point. Occasionally, during surgery the ligament is shown to be torn, despite not being visible on MRI, and then a reconstruction would be in order. Surely the Mets are not even considering that as a possible outcome because it might just be too much to take. The more likely scenario is that some stretching or fraying of the ligament might be evident, which would be expected in a veteran pitcher, and although it provides some information, it doesn't really change the next steps. In this case, the bone chips are removed, the athlete will undergo rehabilitation and everyone remains hopeful that there will be no further issues.
The Mets have to be hoping this arthroscopic procedure will be the only one Santana will need.
Jake Peavy, SP, White Sox:
Peavy had a very scary moment in what the team was hoping would be his final rehab start. Peavy, who has been working his way back from a partially torn posterior tibial tendon in his right lower leg, was hit in his throwing elbow by a line drive Monday night. He managed to stay in the game to throw out the next batter he faced and close out the fifth inning (which was the scheduled length of his appearance), but the elbow swelled as the night went on.
Peavy has since joined the White Sox, but whether he makes a start for them this week or not will depend on how the elbow responds. Until the blow to the elbow, Peavy appeared to be in line to start for the White Sox Saturday at Yankee Stadium. "Every part of me wants to be out there Saturday in a great venue against a great team, giving my team a chance to win," Peavy told the Chicago Sun-Times on Tuesday. In the whole scheme of things, this appears to be a minor road bump that shouldn't interfere much, if at all, with his ultimate return. Most importantly, he does not appear to have any residual issues with the ankle and has looked strong in his rehab outings.
Freddy Sanchez, 2B, Giants:
Although the decision to place Sanchez on the DL because of his sore left shoulder might concern fantasy owners, it's worth noting that this move is retroactive to Aug. 18. If Sanchez can come off the DL when eligible, he could rejoin his team during the series in Philadelphia.
Sanchez originally strained the shoulder two weeks ago while swinging. He returned for a couple games, but the soreness persisted, forcing him out of the lineup for six games before he was ultimately placed on the DL. The good news is that this is not the same shoulder that gave Sanchez trouble last year. It is also not his throwing shoulder. The main issue with his inflamed left shoulder is that it hinders his ability to swing the bat. As long as it is just inflammation -- there is no reason to think otherwise at this point -- Sanchez should be able to work his way back following the 15-day DL period.
Alfonso Soriano, OF, Cubs:
The Cubs' injury concerns have been overshadowed by the Mets', but the Cubs have had their share of troubles. This time it's Soriano, who faces a possible trip to the DL for an ailing knee. Soriano's left knee has apparently been bothering him since he collided with the outfield wall in late April. According to the Chicago Sun-Times, Soriano says he has been told that he has tendinitis, although it's worth noting that trauma is not the most common mechanism of the onset of tendinitis. It's possible, though, that trying to play through pain could create a chronic inflammation of soft tissue in the area, which might be one reason Soriano could head to the DL for some forced rest.
The Sun-Times reports that Soriano was planning to see the doctor and anticipated a possible MRI. He says he's experiencing pain when he has to run or unexpectedly put weight on the leg, neither of which is avoidable while playing his position. While it's unclear just how much time he might miss, if any, knowing that Soriano has a history of leg muscle strains that have kept him out for extended periods is definitely a concern. Fantasy owners should get insurance now, just in case.
On the Mend
• Diamondbacks outfielder
Justin Upton
appears to be swinging the bat quite nicely, thank you. Recovering from a right oblique strain, Upton played in his second rehab game Tuesday and delivered a grand slam. It sounds like the oblique is no longer an issue and he should rejoin the team within days.
• Mariners outfielder
Ichiro Suzuki
, known for his durability, is sitting out for a few days with a calf strain. Although the Mariners initially thought he would return Wednesday, it appears that they will hold off a little longer. This should not be interpreted as anything other than the team's taking a cautious approach with one of its stars. We have seen other players try to test their calf (
Lance Berkman
comes to mind) only to find out that trying to push off while running sets them back. The Mariners would hate to see Ichiro's tightness turn into a more serious muscle tear. That said, it appears he will avoid a DL stint and will return late this week. Fantasy owners may want to see how he looks in his first outing back to ensure he's up to speed before returning him to the lineup.
• Here's something new! I'm going to use the words "good news" and "Mets" in the same sentence. The good news for the Mets is that third baseman
David Wright
, who took a scary pitch to the head and suffered a concussion, has been able to increase his activity. This is a good sign because there are certain targets a player has to meet in order to begin physical exertion following a brain injury. According to the Daily News, Wright has been able to do some light running and is hopeful to come off the DL when eligible next week. There is still more that he needs to do, but the fact that he has been able to progress to running is extremely positive. Meanwhile, the Daily News reports that Wright's teammate
Carlos Beltran
, still recovering from a bone bruise in his knee, has had no pain with outfield running but has not yet been cleared to run the bases. Call me skeptical, but I'm still not convinced that we will see him back this season, despite his desire to return.
• According to the Rockies' official Web site, there is reason to be relieved about Aaron Cook's shoulder: An MRI showed no major structural damage. With the team flying high and Cook being critical to their rotation, the news that he could return to help his team down the stretch is encouraging. The plan is to allow him to rest his throwing arm while undergoing treatment, and then gradually resume a throwing program next week as his symptoms permit. As we all know, throwing shoulders can be unpredictable, but so far this looks good for the Rockies.
• And finally, it looks as if Red Sox pitcher
Daisuke Matsuzaka
is making the case for a return early next month. His most recent rehab start had him throwing three innings, and the Red Sox staff is happy with what they're seeing. Manager Terry Francona seemed to be absolutely glowing when he told the Boston Globe, "The last two months have gone, in my opinion, as good as possibly expected. He's not only met, but exceeded, every milestone that's been put in front of him." Matsuzaka has been out with a shoulder strain after having arm fatigue near the very start of the season. Bringing him back slowly may well pay off in the late season for the Red Sox, as Matsuzaka may have avoided a more significant injury. Fantasy owners in a playoff run may be able to take advantage here.
April, 5, 2009
4/05/09
5:05
PM ET
By
Stephania Bell, ESPN.com
| ESPN.com
NL EastFlorida Marlins: Hanley Ramirez
Last year Ramirez made this list because there were concerns about his left (non-throwing) shoulder after offseason surgery to repair a torn labrum. Ramirez held up in 2008, although his productivity languished a bit compared to 2007. This year there are new concerns about his shoulder ... the other one. The Miami Herald reported that Ramirez came to camp much bigger this year after an offseason weight-training and swimming program. He then developed some right-side rotator cuff tendinitis which caused him to sit out a few games. Not to worry. By the close of spring training Ramirez was back playing shortstop and hitting homers, even stealing a base or two for good measure. He is 25, so his best years are still ahead of him.
Washington Nationals: Nick Johnson
After missing more than a full year with a slow-to-heal leg injury, Johnson made an emotional comeback in 2008, only to exit in June with a wrist injury. Johnson underwent surgery to address a ligament injury in his right (non-throwing) wrist and spent the remainder of the offseason rehabbing and retooling his swing under the watchful eye of Nationals hitting coach Rick Eckstein. Johnson has shown that his swing is healthy this spring; if his body can hold up its end of the bargain in 2009, the Nationals could be in for a treat.
[+] Enlarge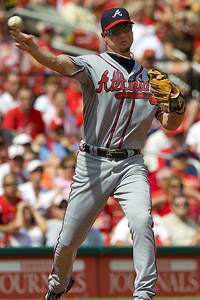 Scott Rovak/US PresswireJones' owners won't get 160 games, but the games they do get will be quite productive.
Atlanta Braves: Chipper Jones
Like that Energizer Bunny, Jones takes a lickin' and, well, minus a few days off here and there, just keeps on tickin' with remarkable consistency. Sure, he'll get banged up, but as a team leader, he's going to play through as much pain as he can. Last year's nagging quadriceps and hamstring strains finally forced him onto the DL in July, but he still finished the season batting .364. This spring an oblique strain squeezed him out of the World Baseball Classic, but fear not: Despite being 37 years old, he'll be back in the lineup come Opening Day. Yes, he remains an injury risk, but the Braves' willingness to extend his contract indicates their belief that the reward outweighs that risk.
New York Mets: Johan Santana
Some worried that Santana's offseason arthroscopic knee procedure might affect him, but it was a bout of elbow pain that set off alarm bells earlier this spring. A few weeks later, those alarms have all but subsided thanks to Santana's performance in recent outings, along with his declaration that he is symptom-free. The Mets certainly have to hope so. He is set to pitch on Opening Day in Cincinnati and will no doubt be a big draw to the new Citi Field, not to mention a key to the Mets' postseason aspirations. Whenever a pitcher has elbow pain there's reason to be cautious, but in Santana's case it's not time to be overly concerned -- yet.
Philadelphia Phillies: Chase Utley
Much was made of Utley's offseason hip surgery and how far into the 2009 season it would be before he could return. Well, surprise, surprise. Utley has been a model patient, working diligently to exceed his rehab targets while being mindful not to overdo it and create a potential setback. Utley has clearly demonstrated his readiness to return by not only offensively hitting for power this spring, but also defensively by sliding, throwing hard across his body and even diving for balls without hesitation. Manager Charlie Manuel has already proclaimed Utley a member of the Opening Day lineup, and he will continue to be a regular fixture thereafter.
NL Central
Sign up today for the most customizable free Fantasy Baseball game out there. You set the rules, scoring, everything. Sign Up Today!
Chicago Cubs: Rich Harden
He is awesome when he plays. But his health history leaves everyone on the edge of their seats wondering when the injury bug is going to strike again. Harden had his highest number of starts in four years in 2008, and his shoulder, which had limited him previously, appeared much improved. It's also worth noting that his outings were carefully managed, and he will continue to be monitored for pitch counts in 2009. So far this spring, the only thing to affect him was an unpleasant round of food poisoning. The Cubs have to be keeping their fingers crossed that this is the worst thing Harden has to deal with this year.
Milwaukee Brewers: Trevor Hoffman
Yes, Hoffman might be older than a couple of his teammates combined. Sure, he's starting the season on the DL with a strained oblique. But don't count this guy out. The all-time saves leader appears to have a relatively minor version of this injury and has already returned to playing catch. As a closer he needs fewer innings to prepare for the season, so he could join the club within the first two weeks. Baseball years do add wear and tear to the arm, however, and oblique injuries can recur. Hoffman will be consistent when present; the Brewers just hope he can be consistently present.
St. Louis Cardinals: Chris Carpenter
Carpenter's past two seasons can be summed up as follows: bone spur removal, Tommy John surgery, nerve problems in shoulder, nerve transposition surgery at the elbow. After more than two years, Carpenter can finally say that he feels good. And it shows. His performance this spring has been both impressive and inspiring. The Cardinals are optimistic, albeit cautiously so, but it does appear that Carpenter is headed for a stellar season.
Houston Astros: Lance Berkman
The Astros' first baseman began experiencing soreness in his left (throwing) shoulder in February. As recently as last week he was having trouble lifting his hand above his shoulder. The team is calling it biceps tendinitis, and Berkman is brushing it off as no big deal. They had better hope it is just a little spring training aggravation and not a sign of something that continues to flare up during the season. After all, those chronic, nagging injuries generally start out as small annoyances. Only time will tell, but there is reason to keep a close watch on Berkman's status; it may become more of an issue if he cannot get back to the field at the season's start.
Cincinnati Reds: Bronson Arroyo
When you hear the diagnosis of "carpal tunnel syndrome" it usually conjures up the image of an overworked software programmer whose hands are going numb from endless hours at the keyboard. But this injury is affecting the Reds in a different way. The electric-shock-like pain in Arroyo's thumb and index finger is keeping him from writing; playing guitar; and, most important for the Reds, pitching well. The plan, along with anti-inflammatories and intermittent rest, is for Arroyo to pitch through this, something he has done in the past. But the level of symptoms he is experiencing, on top of the fact that this is a chronic condition, makes it impossible to guarantee that Arroyo will be able to do so. Don't be surprised if he is forced to endure a stint on the DL early on.
Where should they go?

Check out a new tool from ESPN Insider: the Draft Analyzer. With it, you can figure out where a player should go in your fantasy MLB draft, relative to value. Draft Analyzer
Pittsburgh Pirates: Jack Wilson
Wilson was at an all-time low in 2008. He played in his fewest games, largely as a result of injury. After a torn calf muscle and broken right (throwing) index finger derailed most of his season, Wilson wasn't sure he would still be in Pittsburgh this year. But in Pittsburgh he remains, and although he's not going to be a rock star, the hope is that he'll be healthy enough to continue to provide primarily a solid defensive presence. Despite missing a few days with a bruised knee in spring training, he's hoping he'll have his best attendance record in years in 2009.
NL WestArizona Diamondbacks: Eric Byrnes
Byrnes, formerly known for his speed, had a terrible 2008 when both wheels came off, as in both hamstring muscles were injured. Byrnes opted for a conservative treatment approach (meaning no surgery) and has recently been showing that his legs are healthy this spring. Although Byrnes is not currently slated to be an everyday player for the Diamondbacks, the ability to slot him in anywhere in the outfield makes him valuable off the bench. He still has plenty left in the tank, and is already looking speedier than before he was injured last year. Don't overlook him.
Los Angeles Dodgers: Manny Ramirez
With all the concern apparent in Dodgerland when it initially seemed as if Manny might not be signed in 2009, there had to be similar concern when Manny was sidelined by a hamstring strain almost as soon as he joined the team. No doubt beads of collective sweat began to form in the Dodgers' front office. That concern has been for the most part alleviated as Manny has returned to both hitting and fielding duties. But, you may ask, don't hamstring problems tend to recur? Yes -- more beads of sweat -- but in this case, there are several things working in the Dodgers' favor. First, the injury was a minor strain. Second, because of the timing of the World Baseball Classic, Manny could actually be brought along more slowly, limiting his running early in his recovery, enhancing the healing process. Third, the Dodgers have an all-star medical staff. Relax. Manny can just be Manny.
Colorado Rockies: Troy Tulowitzki
Tulowitzki had a rough 2008 season. First, he was sidelined for weeks with a torn left quadriceps (not his fault). Shortly after his return from that injury, a laceration requiring 16 stitches to his right (throwing) hand kept him out for two additional weeks (his fault -- he slammed his bat, and it broke and bit him back). After an offseason to heal his leg fully and to settle down his frustration with last year's numbers, Tulowitzki should be in good shape for a strong 2009 season.
San Francisco Giants: Noah Lowry
Health issues have challenged Lowry in the last few years, most recently wiping out his entire 2008 season. This has to be disheartening for a young pitcher who showed so much promise when he first joined the bigs. Remembering that first season is perhaps why he continues to plod along through each rehab stint. Lowry, shut down last year with compartment syndrome in his left (throwing) forearm followed by elbow surgery, has already been bothered by shoulder pain this spring. A visit to Dr. James Andrews resulted in an injection into what was otherwise termed a structurally sound shoulder. Lowry is still optimistic that he can provide an option for the Giants later this season, but cumulative arm injuries do not historically bode well for pitchers.
San Diego Padres: Chris Young
Young has Ivy League smarts and toughness. No one could doubt the mental fortitude of this Princeton graduate after he came back to the mound just 10 weeks after taking a pitch to the face. The impact resulted in not only a broken nose, but also a skull fracture. Despite post-surgical sinus and ear infections, a strain in his throwing forearm forced him onto the DL again in August. Given his injuries last year, Young's spring tendinitis and poor outings have some concerned. For his part, Young says that both are typical of his spring performance and that he will warm up as the season approaches. Last year's injuries should have no carryover effect. Young has every reason to be optimistic in 2009.