Stephania Bell:

Jordan Reed
September, 25, 2014
Sep 25
3:03
PM ET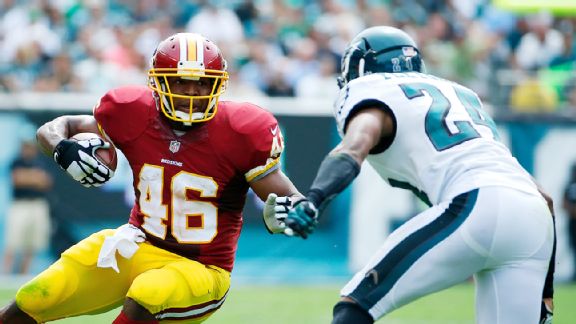 AP Photo/Matt RourkeAlfred Morris briefly left Sunday's game with a knee injury but is in good shape for Thursday.
Notable injuries for Thursday night's Washington-
New York Giants
game.
Washington
Alfred Morris, RB, knee (P): Morris never seemed to be in doubt of missing this game, but it's nice to have the probable tag as reassurance. He did leave last week's game briefly to have his knee evaluated but was able to return and finish the game. He was listed as a full participant in practice each day this week. Even though Monday's practice was just a walk-through, the designation is significant because it indicates the team would have been comfortable putting him through an entire workout the day after the purported injury. Morris is expected to play Thursday night.
DeSean Jackson, WR, shoulder (Q): Jackson entered last week's game with a questionable designation but ultimately played, seemingly without any setback. Jackson suffered an AC sprain in Week 2, and on Tuesday I wrote about the issues potentially facing him with that injury and the decision to let him play. With the short break between games, one of the primary objectives for Jackson this week was rest. His limited practices each day were a factor in ensuring he would be ready to go against the Giants. Despite the questionable tag, Jackson is expected to play.
Jordan Reed, TE, hamstring (O): Reed will miss his third straight game with a hamstring injury. He has not participated in practice since suffering the injury in Week 1. The team will have 11 days until its next contest, a Monday night game, but Jordan is no lock to return in Week 5.
Giants
Odell Beckham Jr., WR, hamstring (O): Considering some of the injury issues other teams are facing, the Giants have been remarkably fortunate when it comes to the health of their key skill position players. One player they have yet to see in action is Beckham, who will miss his fourth straight week with a hamstring injury. Before the season, coach Tom Coughlin indicated that repeated setbacks with the hamstring injury that sidelined Beckham early in camp would likely keep him out a few weeks. There is a glimmer of hope, though. Beckham did return to limited practices Tuesday and Wednesday. If he is able to increase his activity over the next week, it's possible Beckham could make a debut in Week 5, a game he is targeting according to ESPN's Dan Graziano. Given how up and down Beckham's hamstring situation has been, it remains to be seen if that target will be met.
September, 23, 2014
Sep 23
1:49
PM ET
AP Photo/Michael PerezDeSean Jackson's shoulder looked to be just fine as he racked up 117 yards and a touchdown in Week 3.
The
Washington Redskins
have certainly had their share of significant injuries this year. Quarterback
Robert Griffin III
dislocated his left ankle in Week 2 and is sidelined for at least six weeks. In Week 3, cornerback
DeAngelo Hall
tore his Achilles tendon, and he is done for the year. At least the team knows they have to replace those players for an extended time. Perhaps the bigger challenges come in evaluating the week-to-week or day-to-day injuries, where not knowing whether a player is available runs right up until game time. This week is not made any easier since Washington faces the
New York Giants
on Thursday night.
Here's a look at some key players currently battling injuries:
DeSean Jackson, WR:
Last week, Washington faced uncertainty with Jackson, who was questionable with an AC sprain in his left shoulder suffered in Week 2. With an AC sprain, one of the more difficult tasks soon after the injury is getting the arm overhead; this is an important requirement for a receiver. AC injuries are also easily aggravated by a fall on the point of the shoulder, a fairly common occurrence in the skill positions, especially for a receiver.
At issue in deciding whether to return any player to action is determining how functional he can be, and whether he can get through the game without suffering a setback. Apparently, Jackson was convincing enough in his recovery throughout the week for the team to allow him to play, and he promptly put both questions to rest. Jackson tallied 100-plus yards on five receptions and emerged from the game no worse off than when he started. That bodes well for him suiting up again this week, despite the short break. ESPN.com's John Keim noted Jackson was limited in practice Monday, and it wouldn't come as a surprise if he retains that status until Thursday.
Alfred Morris, RB:
Despite being listed on Monday's injury report with a knee injury, Morris was rated a full participant (it should be noted the team conducted only a walk-through, so this is an estimate). Morris exited Sunday's game briefly to have his knee examined, but ultimately returned to the game; that's always an encouraging sign. There seems to be little doubt as to his availability for the matchup against the Giants.
Jordan Reed, TE:
Perhaps the trickiest status is that of Reed, who injured his left hamstring in the season opener and has yet to return to practice. Coach Jay Gruden has indicated at several points that Reed's status is day-to-day, and he remains constantly under evaluation. However, his failure to participate at any level in practice does not bode well.
The biggest concern with any hamstring strain -- even a mild one, as Reed's was initially reported to be -- is the susceptibility to reinjury, which often translates into a more significant injury with delayed recovery. It's hard to imagine Washington utilizing Reed in Thursday's game, when there will be 11 days until their next contest (they host Seattle on "Monday Night Football" in Week 5). As of now, it appears that
Niles Paul
will get another start at the tight end position for Washington.
September, 12, 2014
Sep 12
3:34
PM ET
Jordan Reed is out for Week 2, but Stephania Bell discusses his long-term health concerns.
September, 9, 2014
Sep 9
5:56
PM ET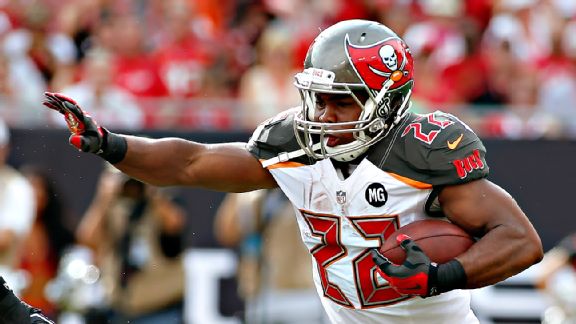 AP Photo/Brian BlancoDoug Martin had just nine carries for nine yards while being hampered by a leg injury in Week 1.
Coming out of Week 1, here are some of the most notable injury situations for which we have some pertinent information.
Cam Newton, QB, Carolina Panthers (rib): He missed Week 1 with a rib injury. For more information on his Week 2 status, check out my video report.
Doug Martin, RB, Tampa Bay Buccaneers (leg): Martin entered the season healthy, fully recovered from the shoulder injury he sustained in Week 7 of the 2013 season that ultimately led to surgery to repair a torn labrum. The clean bill of health didn't last long, however, as Martin suffered a left-leg injury in Week 1 that kept him out of the game late. Martin told the Tampa Bay Times that someone rolled on his leg, and he was sporting a wrap after the game. Coach Lovie Smith did not deliver an update on Martin's status Monday.
Toby Gerhart, RB, Jacksonville Jaguars (ankle): Gerhart sprained his ankle in the second quarter of Sunday's game and it looked as if it might be the end of the day for him if not longer. To his credit, Gerhart was able to return although he acknowledged being "really sore" after the game. According to ESPN's Michael DiRocco, Gerhart is expected to play Sunday against Washington. Expect Gerhart's practice activity to be limited leading up to the game but, as of now, it appears he will try to press through it. The question will be how effective of a runner he can be and there is the risk of an in-game setback. The bigger question may be just how Gerhart will hold up across a season. He has never held a feature role and he missed time last year with the Vikings as a result of a hamstring injury sustained after he replaced an injured Adrian Peterson. He already dealt with a hip flexor injury during training camp; now there's the ankle injury. Time will tell.
Alshon Jeffery (hamstring) and Brandon Marshall (ankle), WR, Chicago Bears: The Bears' two top wide receivers each dealt with injury in the season opener; the next question is whether those will factor into games beyond that first outing. Marshall appeared to injure an ankle and left the game twice to get taping reinforcement but was able to return and finish out the game. There seems to be little concern about his availability for Week 2. His teammate Jeffery was not able to finish the game however after straining a hamstring, although coach Marc Trestman suggested he could have returned if necessary. As of Monday, Trestman had no additional updates leaving Jeffery's practice status in question.
Shaun Hill, QB, St. Louis Rams (quadriceps): A strained left quadriceps, not a poor performance, sidelined Hill for the second half of Sunday's game. Head coach Jeff Fisher said Hill was experiencing discomfort late in the first half and the decision was made at halftime to hold him out for the remainder of the game. His status will be day-to-day throughout the week, but if Hill is healthy enough to play, Fisher says he will indeed start. If Hill represented a significant running threat, the quad strain might be more of a concern, but that is not the case. Although pain associated with tightness in the thigh resulting from any bleeding or edema was enough to sideline Hill last Sunday, with treatment over the next few days, there's a decent chance he'll be ready to go this week.
Jordan Reed, TE, Washington Redskins (hamstring): Reed came into Week 1 with concerns about a sprained thumb suffered in the preseason. He exited the game early with concerns about a hamstring strain and how long it might linger. Reed, projected to be a top-10 fantasy tight end this season, had just one reception for 4 yards before departing due to injury. In fact, following the tackle after he made that reception, when Reed tried to get up and walk, the injury made itself apparent. Reed hopped on his right leg, unwilling to initially put his weight on the left leg. As he limped toward the bench, Reed instinctively reached around to the back of his upper left thigh, one of the universal hallmarks of a hamstring injury.
On Monday coach Jay Gruden labeled Reed's hamstring strain as mild yet noted he "could miss some time." According to ESPN's John Keim, the team is still awaiting Reed's MRI results. The greatest concern with even mild hamstring injuries is that they will turn into something more significant if a player attempts to do too much too soon. It certainly appears that backup plans are warranted for Reed, whether that ends up being for one week or longer.
Tyler Eifert, TE, Cincinnati Bengals (elbow): The Bengals have yet to confirm the nature of the injury to Eifert's right elbow or indicate how much time he might miss. Eifert was seen wearing a sling while standing on the sidelines Sunday after the injury occurred, and the NFL Network's Albert Breer reported it was a dislocated elbow. A dislocated elbow with no complications could result in approximately a four- to six-week absence; an associated fracture or extensive soft tissue trauma could require a longer recovery. Fantasy owners should seek other options.
Addendum: On Thursday, ESPN's Adam Schefter reported the Bengals have placed Eifert on IR/designated to return. Under this designation, Eifert will be eligible to return to practice after six weeks and eligible to return to the active list after eight weeks. This means Eifert could potentially return to play in the Bengals' Thursday night game against the Browns on Nov. 6.
December, 19, 2013
12/19/13
7:18
PM ET
It's getting ever closer to championship weekend for fantasy owners, when setting optimal lineups is critical. Unfortunately, the injuries of the season are taking a toll as some players are being sent to injured reserve while others are being rested in anticipation of an NFL team's real playoff chances. All a fantasy owner really wants to know at this point is who can be counted on come Sunday. There is still some uncertainty with three days yet to go, but here are some clues as of late Thursday.
Don't count on ...
Victor Cruz, WR, New York Giants:
After Sunday's game where Cruz sustained both a head injury and a knee injury, it appeared we might have seen the last of him in 2013. Now we know we have. The Giants announced that Cruz underwent arthroscopic surgery on his left knee with Dr. James Andrews Thursday. It was formally called a debridement, a lovely French term essentially describing a cleanup procedure for the knee. This season may be finished, but there is nothing here to suggest Cruz will face any lingering issues into next year.
Jordan Reed, TE, Washington Redskins:
Fantasy owners already knew not to count on Reed after he had been struggling with post-concussion symptoms for multiple weeks. Reed appeared poised to return in Week 13 but was scratched just before kickoff due to recurrent headaches. Sadly for him he has continued to experience these symptoms intermittently for several weeks. On Thursday, Reed consulted with noted concussion specialists in Pittsburgh who recommended
three weeks of no practice activity
, effectively terminating his season. Consequently the Redskins placed him on IR. First and foremost the hope is that Reed will make a full recovery. After that, the talk for next season can commence.
Ben Tate, RB, Houston Texans:
Who could help but admire the toughness of a guy who insisted on playing despite dealing with fractures in four ribs? Tate remained on the injury list each week because of the ribs but continued to play and played pretty well, considering the extremely painful nature of his injury. In Week 15, however, he took another hit which set him back, and the Texans, knowing their season was drawing to a close in short order, placed him on IR. Tate should be ready to go when next season rolls around.
Cecil Shorts III, WR, Jacksonville Jaguars:
Shorts missed Week 15 after suffering a setback with a nagging groin injury that he had managed to play through for a significant portion of the season. He acknowledged he would need surgery after the season to help correct the issue. That day came a bit sooner than expected as Shorts underwent surgery Thursday for a sports hernia, coach Gus Bradley
announced
. The good news is that players do very well following this type of procedure and Shorts should be healthy by the time OTAs roll around.
Jordan Cameron, TE, Cleveland Browns:
Cameron's case is an example of how tricky concussion symptoms can be. He experienced a delayed onset of those symptoms (on Monday) after not exhibiting any outward signs or complaining of any concussion-type symptoms either in the game Sunday or immediately afterward. The development of symptoms triggered the initiation of the league-mandated concussion protocol and Cameron has not practiced this week. He is not expected to play.
Wes Welker, WR, Denver Broncos:
Welker missed Week 15 with a concussion and is still in recovery mode. As of Thursday he was not participating in team practice but he has made strides as far as his activity. According to ESPN.com's Jeff Legwold, coach John Fox
indicated
Welker did work in the weight room Thursday as well as some running work outside. This has the sound of the light activity phase of the graded exercise return that is a component of the league-mandated concussion protocol. Fox also noted that Welker was "doing better every day," suggesting he has not had any recurrence of symptoms thus far with the increased activity. There are still more aggressive hurdles to cross before Welker will be declared fit to return to football and he would still need to be cleared by an independent neurological consultant, in addition to the team's own medical staff. As of Thursday night, it's expected that he
will be out
for Week 16.
Things are looking good for ...
Larry Fitzgerald, WR, Arizona Cardinals:
Fitzgerald suffered a concussion in Week 15 and as everyone knows by now, the recovery path for each episode and each individual is unique. Fitzgerald is also a unique athlete, incredibly fit and extremely hardworking; it comes as no surprise that his body seems to be rebounding well from this injury. He returned to full practice Thursday after undergoing exertional tests earlier in the week and responding well. He has yet to be cleared by an independent neurological consultant but that could happen Friday, as
reported
by ESPN.com's Josh Weinfuss. As of now, Fitzgerald appears on track to play against the Seahawks, barring a setback.
Adrian Peterson, RB, Minnesota Vikings:
Peterson was looking good, surprisingly good in fact, as early as last Friday despite spraining his right midfoot a week earlier, but the team thought it wiser to hold him out for Week 15. Good luck keeping a healthy -- or at least healthier -- Adrian Peterson sidelined, no matter what the team's standing. Peterson did some limited practice Wednesday but was held out Thursday for what coach Leslie Frazier termed precautionary reasons. As ESPN.com's Ben Goessling reported, Frazier said he expects Peterson to play Sunday unless something
unexpected occurs
. The Vikings undoubtedly have more confidence in the health of Peterson's foot this week with the benefit of some additional recovery time and after seeing him test it in more than one practice session. Peterson will likely be joined Sunday by fellow back
Toby Gerhart
, who missed Week 15 with a hamstring strain but appears to be much improved.
Darren McFadden, RB, Oakland Raiders:
Remember him? He would like to help refresh your memory by playing in the team's
last two games of the season
. McFadden most recently has been dealing with an ankle injury that caused him to miss the past two games. In the interim
Rashad Jennings
has been the primary running back for the Raiders. McFadden's presence would be as the second back behind the starter Jennings, but it might be enough to dip into Jennings' stats on Sunday against the Chargers.
The biggest question marks
Maurice Jones-Drew, RB, Jacksonville Jaguars:
The competitor in him wants to play but his body may not allow it. Jones-Drew missed last week's game due to a hamstring strain, which still has not allowed him to practice. His veteran status has earned him the right to test the injury late in the week but, as of now, things are not looking promising. ESPN.com's Mike DiRocco wrote this in his Thursday mailbag when asked if MJD was going to play:
"I talked to Maurice Jones-Drew on Thursday, and it doesn't sound likely. He said he's going to try, but it all depends on how the hamstring responds on Friday when he tests it for the first time this week. If it still doesn't allow him to accelerate with power, prevents him from sudden changes of direction and robs him of his burst, he's not going to play. Then we'd see another huge dose of
Jordan Todman
, who filled in pretty well for Jones-Drew last week."
There you have it. Jones-Drew has a chance to play, but it appears to be a relatively slim one.
Aaron Rodgers, QB, Green Bay Packers:
Rodgers looks good. He feels good. His coach thinks he looks ready to play. He believes he is ready to play. But he does not yet have medical clearance to return. An announcement is expected Friday regarding his status for Sunday's game, but so far this week,
Matt Flynn
has taken all the first-team reps. For more details on Rodgers and the Packers' injuries, click
here
.
November, 21, 2013
11/21/13
10:36
PM ET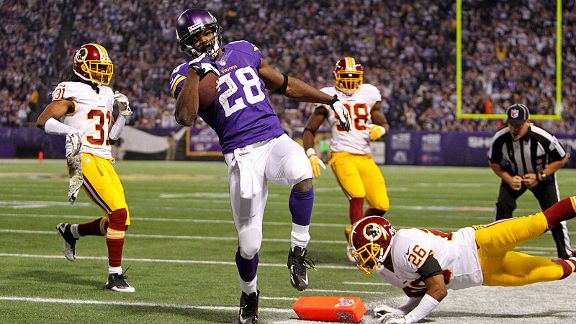 Brace Hemmelgarn/USA TODAY SportsAdrian Peterson could be a risky fantasy start this week.
To worry or not to worry?
Several players have what could be classified as "iffy" status heading toward the weekend. Many fantasy owners share a similarly shaky status with regards to playoff brackets. A win or a loss this week could prove to be the deciding factor in their future fortunes. Every player on the roster needs to pull his weight and if he can't, then as they say, it's next man up. In an effort to help fantasy owners evaluate just how concerned they should be about several key players, we discuss whether it's time to worry about finding a replacement for them.
Adrian Peterson, RB, Minnesota Vikings (groin):
Worry ... a little. After last week's outing, coach Leslie Frazier indicated Peterson's groin strain impacted his performance. Even Peterson acknowledged the pain bothered him "a lot." As of Thursday, Peterson still hadn't practiced. He insists he will play Sunday and, based on his track record, it's hard to doubt him. The bigger concern would be that he starts the game but does not finish if the groin proves to be problematic. With the Vikings sitting at 2-8 in the NFC North cellar, it would not make sense to risk further injury to Peterson if he appears to be struggling with the injury.
Michael Floyd, WR, Arizona Cardinals (shoulder):
Not to worry. Floyd came out and played last week after spraining the AC joint in his right shoulder and put up 193 yards and a touchdown. Limited practices are not a surprise to protect Floyd's shoulder between games, but expect to see him on the field Sunday.
Trent Richardson, RB, Indianapolis Colts (calf):
Worry. If the limited production wasn't already a concern, add a late-week calf injury to the mix. Richardson popped up on Thursday's injury report as limited due to the calf. So far there are no indications that he would sit out Sunday's game against Arizona. But, if teammate Donald Brown's increased workload and productivity weren't enough of a threat to Richardson's value, the presence of a leg injury certainly doesn't help.
Keenan Allen, WR, San Diego Chargers (knee):
Not to worry. Despite leaving Sunday's game early with a knee injury, Allen has put in full practices on consecutive days this week. Combine that with coach Mike McCoy's vote of confidence in Allen's playing status at the start of the week and there seems little doubt we will see him against the Chiefs.
Jordan Reed, TE, Washington Redskins (concussion):
Start worrying. Granted, Reed's team does not play until Monday night so Thursday is the first issued practice report. With the extra day, it's possible Reed will not make an appearance in practice until Friday. Regardless, he will still need to pass all phases of the post-concussion protocol. The more important element is that in order for Reed to take the field Monday, he will need to remain symptom-free until kickoff. Fantasy owners who choose to wait until Monday night will face some risk, although depending on the level of Reed's activity between now and then, there should be better clues as to how he is progressing.
Julius Thomas, TE, Denver Broncos (knee):
Worry. Thomas may have avoided a major injury last Sunday when he appeared to hyperextend his knee, but it doesn't mean he's home free. The aftereffects of that brief exaggeration of his knee's range of motion could leave Thomas with swelling, soreness and stiffness for days. Thomas did not practice Wednesday, which did not come as a surprise. In his return to practice Thursday, Thomas was limited. If he continues to be limited Friday it will raise questions about his status for Sunday. The Broncos play in a night game against the Patriots, so if Thomas comes in as questionable, fantasy owners would need a Sunday night or Monday night backup plan. (And consider that one of those options, Jordan Reed -- whose team plays Monday night -- could be questionable himself.)