Stephania Bell:

Jordan Reed
December, 19, 2013
12/19/13
7:18
PM ET
It's getting ever closer to championship weekend for fantasy owners, when setting optimal lineups is critical. Unfortunately, the injuries of the season are taking a toll as some players are being sent to injured reserve while others are being rested in anticipation of an NFL team's real playoff chances. All a fantasy owner really wants to know at this point is who can be counted on come Sunday. There is still some uncertainty with three days yet to go, but here are some clues as of late Thursday.
Don't count on ...
Victor Cruz, WR, New York Giants:
After Sunday's game where Cruz sustained both a head injury and a knee injury, it appeared we might have seen the last of him in 2013. Now we know we have. The Giants announced that Cruz underwent arthroscopic surgery on his left knee with Dr. James Andrews Thursday. It was formally called a debridement, a lovely French term essentially describing a cleanup procedure for the knee. This season may be finished, but there is nothing here to suggest Cruz will face any lingering issues into next year.
Jordan Reed, TE, Washington Redskins:
Fantasy owners already knew not to count on Reed after he had been struggling with post-concussion symptoms for multiple weeks. Reed appeared poised to return in Week 13 but was scratched just before kickoff due to recurrent headaches. Sadly for him he has continued to experience these symptoms intermittently for several weeks. On Thursday, Reed consulted with noted concussion specialists in Pittsburgh who recommended
three weeks of no practice activity
, effectively terminating his season. Consequently the Redskins placed him on IR. First and foremost the hope is that Reed will make a full recovery. After that, the talk for next season can commence.
Ben Tate, RB, Houston Texans:
Who could help but admire the toughness of a guy who insisted on playing despite dealing with fractures in four ribs? Tate remained on the injury list each week because of the ribs but continued to play and played pretty well, considering the extremely painful nature of his injury. In Week 15, however, he took another hit which set him back, and the Texans, knowing their season was drawing to a close in short order, placed him on IR. Tate should be ready to go when next season rolls around.
Cecil Shorts III, WR, Jacksonville Jaguars:
Shorts missed Week 15 after suffering a setback with a nagging groin injury that he had managed to play through for a significant portion of the season. He acknowledged he would need surgery after the season to help correct the issue. That day came a bit sooner than expected as Shorts underwent surgery Thursday for a sports hernia, coach Gus Bradley
announced
. The good news is that players do very well following this type of procedure and Shorts should be healthy by the time OTAs roll around.
Jordan Cameron, TE, Cleveland Browns:
Cameron's case is an example of how tricky concussion symptoms can be. He experienced a delayed onset of those symptoms (on Monday) after not exhibiting any outward signs or complaining of any concussion-type symptoms either in the game Sunday or immediately afterward. The development of symptoms triggered the initiation of the league-mandated concussion protocol and Cameron has not practiced this week. He is not expected to play.
Wes Welker, WR, Denver Broncos:
Welker missed Week 15 with a concussion and is still in recovery mode. As of Thursday he was not participating in team practice but he has made strides as far as his activity. According to ESPN.com's Jeff Legwold, coach John Fox
indicated
Welker did work in the weight room Thursday as well as some running work outside. This has the sound of the light activity phase of the graded exercise return that is a component of the league-mandated concussion protocol. Fox also noted that Welker was "doing better every day," suggesting he has not had any recurrence of symptoms thus far with the increased activity. There are still more aggressive hurdles to cross before Welker will be declared fit to return to football and he would still need to be cleared by an independent neurological consultant, in addition to the team's own medical staff. As of Thursday night, it's expected that he
will be out
for Week 16.
Things are looking good for ...
Larry Fitzgerald, WR, Arizona Cardinals:
Fitzgerald suffered a concussion in Week 15 and as everyone knows by now, the recovery path for each episode and each individual is unique. Fitzgerald is also a unique athlete, incredibly fit and extremely hardworking; it comes as no surprise that his body seems to be rebounding well from this injury. He returned to full practice Thursday after undergoing exertional tests earlier in the week and responding well. He has yet to be cleared by an independent neurological consultant but that could happen Friday, as
reported
by ESPN.com's Josh Weinfuss. As of now, Fitzgerald appears on track to play against the Seahawks, barring a setback.
Adrian Peterson, RB, Minnesota Vikings:
Peterson was looking good, surprisingly good in fact, as early as last Friday despite spraining his right midfoot a week earlier, but the team thought it wiser to hold him out for Week 15. Good luck keeping a healthy -- or at least healthier -- Adrian Peterson sidelined, no matter what the team's standing. Peterson did some limited practice Wednesday but was held out Thursday for what coach Leslie Frazier termed precautionary reasons. As ESPN.com's Ben Goessling reported, Frazier said he expects Peterson to play Sunday unless something
unexpected occurs
. The Vikings undoubtedly have more confidence in the health of Peterson's foot this week with the benefit of some additional recovery time and after seeing him test it in more than one practice session. Peterson will likely be joined Sunday by fellow back
Toby Gerhart
, who missed Week 15 with a hamstring strain but appears to be much improved.
Darren McFadden, RB, Oakland Raiders:
Remember him? He would like to help refresh your memory by playing in the team's
last two games of the season
. McFadden most recently has been dealing with an ankle injury that caused him to miss the past two games. In the interim
Rashad Jennings
has been the primary running back for the Raiders. McFadden's presence would be as the second back behind the starter Jennings, but it might be enough to dip into Jennings' stats on Sunday against the Chargers.
The biggest question marks
Maurice Jones-Drew, RB, Jacksonville Jaguars:
The competitor in him wants to play but his body may not allow it. Jones-Drew missed last week's game due to a hamstring strain, which still has not allowed him to practice. His veteran status has earned him the right to test the injury late in the week but, as of now, things are not looking promising. ESPN.com's Mike DiRocco wrote this in his Thursday mailbag when asked if MJD was going to play:
"I talked to Maurice Jones-Drew on Thursday, and it doesn't sound likely. He said he's going to try, but it all depends on how the hamstring responds on Friday when he tests it for the first time this week. If it still doesn't allow him to accelerate with power, prevents him from sudden changes of direction and robs him of his burst, he's not going to play. Then we'd see another huge dose of
Jordan Todman
, who filled in pretty well for Jones-Drew last week."
There you have it. Jones-Drew has a chance to play, but it appears to be a relatively slim one.
Aaron Rodgers, QB, Green Bay Packers:
Rodgers looks good. He feels good. His coach thinks he looks ready to play. He believes he is ready to play. But he does not yet have medical clearance to return. An announcement is expected Friday regarding his status for Sunday's game, but so far this week,
Matt Flynn
has taken all the first-team reps. For more details on Rodgers and the Packers' injuries, click
here
.
November, 21, 2013
11/21/13
10:36
PM ET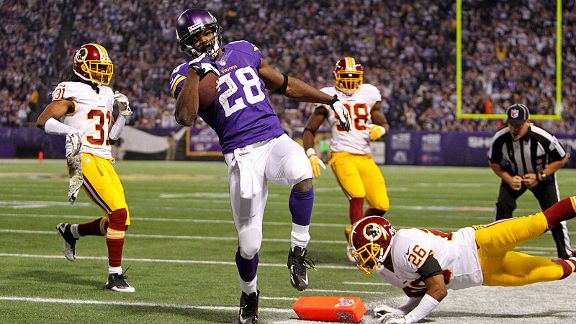 Brace Hemmelgarn/USA TODAY SportsAdrian Peterson could be a risky fantasy start this week.
To worry or not to worry?
Several players have what could be classified as "iffy" status heading toward the weekend. Many fantasy owners share a similarly shaky status with regards to playoff brackets. A win or a loss this week could prove to be the deciding factor in their future fortunes. Every player on the roster needs to pull his weight and if he can't, then as they say, it's next man up. In an effort to help fantasy owners evaluate just how concerned they should be about several key players, we discuss whether it's time to worry about finding a replacement for them.
Adrian Peterson, RB, Minnesota Vikings (groin):
Worry ... a little. After last week's outing, coach Leslie Frazier indicated Peterson's groin strain impacted his performance. Even Peterson acknowledged the pain bothered him "a lot." As of Thursday, Peterson still hadn't practiced. He insists he will play Sunday and, based on his track record, it's hard to doubt him. The bigger concern would be that he starts the game but does not finish if the groin proves to be problematic. With the Vikings sitting at 2-8 in the NFC North cellar, it would not make sense to risk further injury to Peterson if he appears to be struggling with the injury.
Michael Floyd, WR, Arizona Cardinals (shoulder):
Not to worry. Floyd came out and played last week after spraining the AC joint in his right shoulder and put up 193 yards and a touchdown. Limited practices are not a surprise to protect Floyd's shoulder between games, but expect to see him on the field Sunday.
Trent Richardson, RB, Indianapolis Colts (calf):
Worry. If the limited production wasn't already a concern, add a late-week calf injury to the mix. Richardson popped up on Thursday's injury report as limited due to the calf. So far there are no indications that he would sit out Sunday's game against Arizona. But, if teammate Donald Brown's increased workload and productivity weren't enough of a threat to Richardson's value, the presence of a leg injury certainly doesn't help.
Keenan Allen, WR, San Diego Chargers (knee):
Not to worry. Despite leaving Sunday's game early with a knee injury, Allen has put in full practices on consecutive days this week. Combine that with coach Mike McCoy's vote of confidence in Allen's playing status at the start of the week and there seems little doubt we will see him against the Chiefs.
Jordan Reed, TE, Washington Redskins (concussion):
Start worrying. Granted, Reed's team does not play until Monday night so Thursday is the first issued practice report. With the extra day, it's possible Reed will not make an appearance in practice until Friday. Regardless, he will still need to pass all phases of the post-concussion protocol. The more important element is that in order for Reed to take the field Monday, he will need to remain symptom-free until kickoff. Fantasy owners who choose to wait until Monday night will face some risk, although depending on the level of Reed's activity between now and then, there should be better clues as to how he is progressing.
Julius Thomas, TE, Denver Broncos (knee):
Worry. Thomas may have avoided a major injury last Sunday when he appeared to hyperextend his knee, but it doesn't mean he's home free. The aftereffects of that brief exaggeration of his knee's range of motion could leave Thomas with swelling, soreness and stiffness for days. Thomas did not practice Wednesday, which did not come as a surprise. In his return to practice Thursday, Thomas was limited. If he continues to be limited Friday it will raise questions about his status for Sunday. The Broncos play in a night game against the Patriots, so if Thomas comes in as questionable, fantasy owners would need a Sunday night or Monday night backup plan. (And consider that one of those options, Jordan Reed -- whose team plays Monday night -- could be questionable himself.)