Stephania Bell:

Jordan Zimmermann
June, 9, 2011
6/09/11
4:44
PM ET
June, 15, 2010
6/15/10
10:57
AM ET
We've seen, heard and felt the excitement -- all well deserved -- surrounding
Washington Nationals
rookie pitcher
Stephen Strasburg
. Just imagine what life would be like for the Nationals if they had another youngster in the wings who could help them deliver a one-two punch in the starting rotation.
As it turns out, they already do.
Jordan Zimmermann
, the team's heralded pre-Strasburg pitching prospect, didn't get a chance to fully show what he was capable of in the majors before being sidelined by an ulnar collateral ligament tear. Zimmermann was injured in 2009 after 16 starts and it began, rather unremarkably, when he noticed stiffness and discomfort in his right elbow between innings. A short course of rest and rehabilitation proved unsuccessful, but due to the lack of significant pain, Zimmermann was not overly concerned. As reported on the Nationals' website, that quickly changed when he learned that 90 percent of the ligament was torn. Zimmermann's season thus ended abruptly and he underwent the all-too-familiar Tommy John ligament reconstruction procedure in August.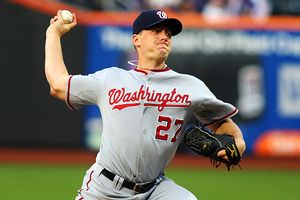 Michael Stobe/US PresswireJordan Zimmermann was 3-5 with a 4.63 ERA and 92 strikeouts in 16 starts in 2009 before undergoing Tommy John surgery.
Following surgery, the club expected Zimmermann to miss the bulk of the 2010 season for a rehab process that typically requires upwards of a year. By February, however, he was doing well enough to be throwing from flat ground, giving the team hopes that he might return by September. In March, a confident, young Zimmermann told the Washington Post he was feeling so good since surgery that "before you know it, I'll be throwing in games again."
By late March, Zimmermann had progressed to pitching off a mound, and the club's challenge at that point was to rein him in. General manager Mike Rizzo made it clear that while Zimmermann was doing extremely well in his recovery, he would not be pitching in a real game before August.
The trick with any rehab this lengthy is to balance the enthusiasm of an athlete who is feeling good and progressing well with the science of tissue healing. If an athlete is tentative and needs to be encouraged, pushed, goaded, or even screamed at, it is the job of the medical staff to do so or else complications can arise. But problems can also come about when an athlete is ahead of schedule and is champing at the bit to do more than what is being asked. Inflammatory conditions like tendinitis can result from overworking parts that have been on the shelf for months, and other secondary injuries can develop. In the worst-case scenario, a new ligament repair could fail if the athlete is allowed to proceed at whim. And no one wants to reset the clock on a Tommy John surgery.
The reason there is often a range of time given for recovery from Tommy John surgery, usually between 12 to 18 months, is precisely because individuals heal at different rates. Beyond this issue of the healing graft itself, there may be other concerns for a particular athlete, such as a history of shoulder problems, for instance, or perhaps mechanical flaws, which now have to be addressed in conjunction with the post-surgery rehab. Athletes who do well continue to drive the timeline for this procedure downward, but since there is no way to see inside the elbow to know precisely at the cellular level how the healing is progressing, the decision to speed up rehab becomes a law of averages based on prior experience. And that decision is dependent on close communication between the athlete and the medical staff.
This helps explain the determination by the Nationals to keep Zimmermann at bay until August, no matter how good he looks now. In fact, team president Stan Kasten recently told the Washington Post that while Zimmermann is expected to return this season, it's not clear whether that will be as a starter or as a reliever. Even though Zimmermann's velocity has consistently hovered in the mid-90s during simulated games, there are still hurdles to cross which include building endurance and restoring his repertoire of pitches. That all takes time. Other young pitchers have returned from this procedure with high hopes out of the gate, only to struggle with command (
Francisco Liriano
comes to mind). It often takes into their second year back from injury to return to form.
There is no doubt that youth and general health have helped Zimmermann with his recovery thus far. The Nationals have every reason to be excited that he will be able to contribute soon. But they are wise to be cautious in their expectations early on, and fans should do the same.