Stephania Bell:

Jordy Nelson
December, 27, 2012
12/27/12
8:47
PM ET
It's the final week of the NFL regular season and, well, if you're still playing fantasy football, it's clearly the final week for that too. Championship games in Week 17 are always tricky since some NFL teams may opt to rest their starters. And even if their starters play, they may get pulled halfway through a game if there is no meaningful result associated with the outcome.
While teams may not reveal their respective strategies when it comes to how much playing time their starters will see, the injury reports may yield some clues as to who might be watching from the sidelines.
Players with the biggest question marks heading into Week 17:
Rob Gronkowski, TE, New England Patriots (forearm/hip):
We haven't heard from the big tight end in a long time as he's been kept to limited practice and away from the media. However, on Wednesday Gronk spoke to reporters and made it clear that the decision as to his playing status remains a medical one. "When the doctors clear me, when the training staff clears me, when I'm medically ready to play and they let me play, I'm sure that's when I'll be out there," said Gronkowski, according to ESPN Boston. Gronkowski has been practicing for nearly two weeks and this Sunday marks the six-week milestone since he fractured his left forearm. He underwent surgery to implant hardware and stabilize the fracture a day later.
The earliest a player would typically be cleared to play following a fracture is around the four-week mark, with six weeks being more common. Still, there are individual differences in healing and individual circumstances to take into account. It is possible that Gronkowski, who will likely be listed as questionable this week -- just as he has been for the last two weeks -- could be activated Sunday. But for now his status remains uncertain.
[+] Enlarge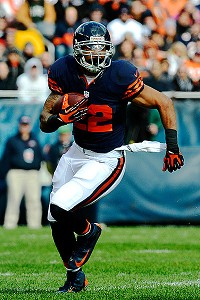 Mike DiNovo/US PresswireEven if Forte's ankle is healthy enough for him to suit up on Sunday, how much will he play?
Matt Forte, RB, Chicago Bears (ankle):
Forte's right ankle was again aggravated during a game, forcing him to leave last Sunday's contest. After not practicing Wednesday, Forte returned Thursday to a limited session, lending credence to his expectation that he will play on Sunday. Throughout the season, Forte has been remarkably resilient when it comes to playing through his sprained ankle (he has only missed one game). It appears he will play Sunday, barring a setback, but it is also clear after these multiple setbacks that his ankle is not 100 percent. There is a risk that this week could be a short outing for him.
Ahmad Bradshaw, RB, New York Giants (knee/foot):
Bradshaw had his usual off day Wednesday but returned to limited practice Thursday, always a good sign for his weekend playing outlook. After injuring his knee in Week 14 and sitting out the following week, Bradshaw was active in Week 16 but was a limited contributor. Part of that may be a result of how the game unfolded; regardless, Bradshaw still touched the ball more than teammate
David Wilson
. With another week between him and the injury, Bradshaw should be in better form this week and as of now, his chances of suiting up look good.
Quick Hits
Here's one you don't see every day on the injury report: arrhythmia. That's the descriptor next to
Arian Foster
's name. Foster left last week's game early with an irregular heartbeat, something he experienced in the past, but received medical clearance to return to work this week and has been a full practice participant. Teammate
Owen Daniels
was out Thursday with tightness in his hamstring, although coach Gary Kubiak said he expects him to play Sunday.
Last week
, we noted that running back
Adrian Peterson
didn't practice Wednesday or Thursday. Peterson openly acknowledged the rest was geared at getting him ready for Sunday. He has already declared his intention of breaking Eric Dickerson's single-season rushing record, so we already know he plans to be on the field -- a lot.
Titans running back
Chris Johnson
has not practiced this week after spraining his right ankle on Sunday. However, Johnson said that he will play this weekend, telling the Tennessean that he still wants to "go out there and fight." Fantasy owners would appreciate the effort.
Wide receiver
Jordy Nelson
has been on the injury report for a few weeks due to an ailing hamstring, but his status seems to have taken a turn for the better. Nelson has been a full participant in practice this week and looks as if he could make a return Sunday. Fellow receiver
Randall Cobb
was limited last week because of a shoulder injury but played Sunday, only to sustain an ankle injury in the process. Cobb participated in limited practice Wednesday but then did not return to the practice field Thursday. The Milwaukee Journal-Sentinel reports that this was part of the plan, according to coach Mike McCarthy. Cobb went through light work Wednesday then received treatment on the ankle Thursday and will test the ankle Friday for the medical staff to determine whether he can practice. This is one to keep an eye on as Cobb's status may come down to the weekend. Running back
Alex Green
has been a full participant throughout the week after missing Week 16 with a concussion. If he is active -- which it appears he will be if there is no setback -- there will be a timeshare situation for the Packers at running back.
Giants wide receiver
Hakeem Nicks
continues to be limited by his sore knee. Nicks was off Wednesday then did limited work Thursday; however, coach Tom Coughlin said Nicks did not do "a whole lot," according to the Newark Star-Ledger. Nicks has typically played despite being less than 100 percent healthy, but it sounds as if he might not be a lock to go this week. We should know more after Friday's practice.
[+] Enlarge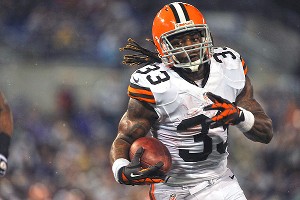 Larry French/Getty ImagesRichardson, who has piled up more than 1,300 all-purpose yards and 12 TDs, is uncertain for Sunday with an injured ankle.
Browns running back
Trent Richardson
injured his left ankle in Week 16. Fortunately, there was no fracture, but Richardson was placed in a walking boot to start the week. Although the injury does not appear to be as serious as Richardson initially feared, he has not practiced this week and his status is uncertain. Thankfully for fantasy owners, coach Pat Shurmur said he will not wait until game time to reveal Richardson's status, according to the Cleveland Plain-Dealer. Given the injuries Richardson has dealt with throughout the season -- and given the Browns' non-postseason status -- it makes little sense to risk him.
Despite the fact Falcons receiver
Roddy White
has not practiced this week, it's hard to get too worked up about his playing status. After all, the week after the injury when his Sunday availability was most questionable, he played. It hardly seems likely that he would miss a game two weeks later due to the same injury. A more reasonable concern, however, would be White's potential playing time, given the Falcons have secured the top spot in their division. Tough call here for fantasy owners as the team is not likely to give away its plan in advance.
Cowboys receiver
Dez Bryant
(finger) and running backs
DeMarco Murray
(foot) and
Felix Jones
(knee) have been full participants in practice throughout the week. With their game against the Redskins not tipping off until Sunday night, fantasy owners can at least feel confident about the status of these three.
This week, the 49ers will be without receiver
Mario Manningham
, who suffered a brutal season-ending knee injury in Week 16. But will they also be without tight end
Vernon Davis
? He sustained a concussion last Sunday and did not practice Wednesday. However, Davis received an encouraging boost Thursday when he received medical clearance to resume non-contact activity and returned to limited on-field work, according to CSNBayArea.com. The final step before Sunday will be receiving clearance for contact. If Davis has no recurrence of symptoms after Friday's efforts, his chances of a Sunday return appear promising.
Ravens receiver
Anquan Boldin
left Sunday's game with a shoulder injury, but according to the Ravens' official website, the diagnosis was a bruise. Though Boldin has been held to limited practice this week, it appears he will be healthy enough to play come Sunday.
Bengals running back
BenJarvus Green-Ellis
appeared on Thursday's injury report as a non-participant due to illness. There is no indication that this poses a threat to his Sunday status, but it will be worth noting whether he returns to practice on Friday. Meanwhile, teammate
Mike Nugent
has been sharing kicking responsibilities with
Josh Brown
while dealing with a calf injury. He returned to full practice Wednesday but did not practice Thursday; as a result, the team's kicker status for Sunday is still up in the air.
After putting in a limited practice on Wednesday, Panthers running back
Jonathan Stewart
(high ankle sprain) did not practice Thursday. Carolina coach Ron Rivera acknowledged that Stewart suffered a setback with his ankle, according to the Charlotte Observer. It has been a gloomy end to an unspectacular season for Stewart, who looks as if he will miss his fifth game in a row.
Running back
Pierre Thomas
, who appeared on the Saints injury report last week because of his knee, played Sunday and there was no immediate report of a setback. However, this week Thomas has yet to practice, raising some concern as to whether he'll be in the Sunday lineup. Teammate
Chris Ivory
, who has missed the last three games with a hamstring injury, returned to full practice Wednesday and repeated the effort Thursday. After Friday, we should have a better idea as to who will be healthy enough to play Sunday.
Lions tight end
Brandon Pettigrew
has not played or even practiced since suffering a high ankle sprain three weeks ago. It seems unlikely his status will change this week; however, as has been the custom so far, the Lions are not ruling him out.
Week 16 did not go well for the Steelers. Not only did their season virtually come to an end, but they also lost tight end
Heath Miller
to a knee injury. Wide receiver
Mike Wallace
was also reported to have a hamstring injury following the game, according to the Pittsburgh Tribune-Review. Wallace continues to be listed on the injury report because of a "hip" ailment and has not practiced this week. His status for Sunday remains iffy at best.
Eagles wide receiver
Jeremy Maclin
was limited Wednesday because of a knee injury (he left practice early, according to the Philadelphia Daily News), then did not practice at all on Thursday. There is no reason to trot him out Sunday if the knee is a significant issue. Regardless, Maclin told the Daily News that he would return to practice Friday. Maclin's fantasy owners will have to take a wait-and-see approach this week.
New York jets tight end
Dustin Keller
is still not practicing and appears very unlikely to return this weekend. Quarterback
Greg McElroy
was already on the injury report for an abdominal injury, and had a concussion added next to his name on Thursday. He will not play Sunday; as a result,
Mark Sanchez
will reclaim the starting role.
December, 20, 2012
12/20/12
9:02
PM ET
The clock is ticking down toward championship weekend for many fantasy football owners. The last thing anyone wants to see is a big zero next to a big-time player's name on Sunday night, dashing any hopes of taking home the fantasy trophy and, most importantly, bragging rights for the next year. It's not too much to ask for a Week 16 in which every player finishes the game as healthy as he entered it, right? OK, maybe it is. But at least it would be nice to know in advance who will be healthy enough to play.
One player making his return this week is Eagles running back
LeSean McCoy
, who has been out since Week 11 recovering from a concussion. McCoy will start Sunday, but the Eagles are expected to rotate him and
Bryce Brown
, according to The Philadelphia Inquirer.
It's not surprising that McCoy would return to play, as that is what players do once they are deemed healthy. It's worth keeping in mind that while McCoy was in the early stages of recovering from his concussion, his workouts were severely limited so as not to overstress his system -- and he only recently returned to full practice. Consequently, it would not be surprising if his game conditioning has dropped off. McCoy was subject to -- and passed -- numerous tests to demonstrate his readiness to return. How he performs after being absent for four games is the big question.
Players with the biggest question marks heading into Week 16:
Robert Griffin III, QB, Washington Redskins (knee):
Will he be under center when the Redskins play the Eagles on Sunday? On Thursday, coach Mike Shanahan told reporters, "If there is no setback, he should be ready to go."
Griffin III sat out last week's game with a sprained lateral collateral ligament (LCL) in his right knee, but as we
noted Tuesday
, Shanahan said that if doctors clear RG III to play, he will play. On Wednesday, Griffin participated in his first full practice since the injury. The fact that he was able to practice again Thursday indicates that his knee responded well. As long as nothing develops between now and Sunday, expect Griffin to be starting at quarterback for the Redskins.
[+] Enlarge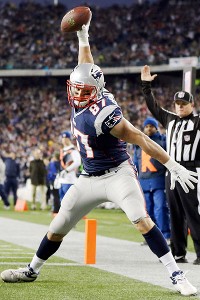 AP/Michael DwyerWill Gronk spike again this Sunday? His playing status is very much up in the air given his forearm injury.
Rob Gronkowski, TE, New England Patriots (forearm/hip):
This may be one of the toughest situations to gauge in advance, given that Gronkowski has now returned to practice, albeit limited, for nearly a week. Gronkowski fractured his left forearm in mid-November, and Monday marked the four-week period since he underwent surgery to repair it. The fact he is out of his cast and present on the practice field signals a measure of bone healing, but is it enough for the Patriots to release him into a game situation?
He could play with a protective shell on his forearm (wrapped in padding) once there is confidence that the risk of re-fracture is relatively low. Given that standard bone healing is approximately six weeks, there may be a desire to simply keep him out a while longer to minimize that risk. It would not be surprising if Gronkowski practices on a limited basis again Friday, is listed as questionable on the injury report and comes down to a game-time decision.
Ahmad Bradshaw, RB, New York Giants (knee):
After missing Week 15 because of a knee injury, Bradshaw
told me Tuesday
that his knee feels much better and he expects to play on Sunday. Of course, Bradshaw is always of the mindset that he will play and, to his credit, he has perhaps played more games with injury and pain than without. Coach Tom Coughlin said that whether Bradshaw plays will be a medical decision. Bradshaw did not practice Wednesday or Thursday, not altogether surprising given that he often misses multiple days of practice each week to rest. His Sunday playing status could come down to a game-time decision.
Roddy White, WR, Atlanta Falcons (knee):
Last week, White did not practice because of a knee injury but, true to form, he did not miss the game. Although he only had two receptions, he was not seriously limited in playing time and there were no reported postgame setbacks. This week, White did not practice Wednesday but rejoined practice on a limited basis on Thursday. The Falcons travel to Detroit to play the Lions Saturday night. After playing last week, the expectation is that White will do so again.
Quick Hits
Rams wide receiver
Danny Amendola
was able to return to action in Week 15 after missing two games (and most of a third) with what was termed a foot injury on the injury report (reported as a plantar fascia injury by the St. Louis Post-Dispatch). The best evidence that Amendola continues to improve is his removal from the Rams' injury report this week. There will be no agonizing game-time decision necessary this week -- expect Amendola to start against the Buccaneers.
Cowboys receiver
Dez Bryant
proved that he will play with a fractured left index finger. He also proved that while it may be more challenging to make certain catches, he can still be productive. However, there are still risks associated with his injury; at any moment, the particular way the football strikes his injured finger -- such as an awkward landing, helmet hit on the hand or even a bad angle on a block -- has the potential to escalate the pain to the point where Bryant becomes less able to produce.
But there are risks anytime a player steps onto the field. Given what Bryant was able to do last week, the expectation would be that he can perform similarly this week. While his Week 16 production may not be up to his maximum potential, it is probably still better than many other wide receiver options. The Cowboys certainly seem to think Bryant is up to the task, since he was targeted more last week (nine targets) than his per-game season average (8.4), turning one of those receptions into a touchdown. This week, he practiced on a limited basis both Wednesday and Thursday, and is on track to play on Sunday.
One player who does not appear he will be healthy enough to play this weekend is Lions tight end
Brandon Pettigrew
. He injured his ankle in Week 14 (a high-ankle sprain, according to the Detroit Free Press), and has not played since. He did not practice Wednesday or Thursday, and his chances of playing this weekend appear slim.
[+] Enlarge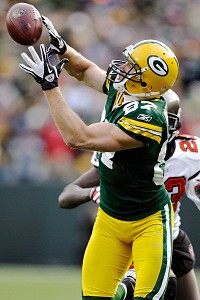 AP Photo/Morry GashNelson, still ailing from an injured hamstring, has not practiced this week and is uncertain for Sunday.
A few fantasy-worthy
Green Bay Packers
appear on this week's injury report. Wide receiver
Jordy Nelson
has been on the injury report for a few weeks as he nurses an ailing hamstring. Nelson has not formally practiced this week, and although coach Mike McCarthy did not offer a specific update on Nelson's status when speaking with reporters after practice, his continued absence speaks volumes. Fellow receiver
Randall Cobb
has been limited in practice because of a shoulder injury. It does not appear serious and the Packers may be resting him during the week so as to maximize his recovery before game day. Quarterback
Aaron Rodgers
is on the report with an ankle injury but remains a full practice participant and will play on Sunday.
Rams running back
Steven Jackson
fell ill due to a virus and did not practice Wednesday or Thursday. However, Jackson did warm up Thursday, then stayed to watch the remainder of practice, according to Jim Thomas of the St. Louis Post-Dispatch. If he's able to increase his activity a bit on Friday, that will be all the encouragement fantasy owners need to see heading into the weekend.
Eagles tight end
Brent Celek
returned to full practice this week after missing last week's game after suffering a concussion in Week 14. He is on track to play Sunday. Wide receiver
Jeremy Maclin
was limited in practice Wednesday because of a back injury but returned to full practice Thursday, a positive sign that he too will play on Sunday for the Eagles.
Ravens wide receiver
Torrey Smith
did not practice Wednesday after suffering a concussion last week. He returned to limited practice Thursday but has yet to be cleared for contact, according to the Baltimore Sun. His status for Sunday remains uncertain.
Dolphins wide receiver
Brian Hartline
, dealing with a back injury, was limited in Wednesday's practice and was a non-participant on Thursday. We never like to see downgrades as the week progresses, but late in the season it can sometimes be a precautionary move. Friday's practice session becomes very important for gauging Hartline's game-day status.
New York Jets tight end
Dustin Keller
is still not practicing because of his sprained ankle, and it appears as if he will miss his third straight game.
Steelers wide receiver
Emmanuel Sanders
was limited in practice on Wednesday with a rib injury, but upgraded to full-practice status on Thursday. Expect to see him on the field this weekend.
A pair of Broncos on many fantasy rosters appear on the injury report this week, but there doesn't seem to be huge cause for alarm. Wide receiver
Eric Decker
(ankle) and running back
Knowshon Moreno
(ribs) were both full participants Wednesday and Thursday, and seem to be in no danger of missing Sunday's game.
Of course, running back
Adrian Peterson
didn't practice Wednesday or Thursday. He seems deserving of an extra day or two of rest during the week given the output he delivers every week. Although he is listed on the injury report with an abdomen/groin injury, there does not appear to be any concern in Minnesota that he is in danger of sitting out this weekend's game.
In fact, Peterson told Tom Pellisero of ESPN1500.com that it's part of the plan to be at his best come game time. "I'm just doing the necessary things I need to do as far as resting," Peterson said. "I'm still getting my conditioning in and working out. It's all about that push to Sunday." That's exactly what his fantasy owners want to hear.
December, 13, 2012
12/13/12
9:14
PM ET
The additions to injured reserve keep piling up.
This week, the Arizona Cardinals placed quarterback
Kevin Kolb
on injured reserve. Kolb has complex rib, chest and shoulder injuries, which have sidelined him since Week 6. After giving
John Skelton
a shot at the starting job last week, the Cardinals have reverted back to
Ryan Lindley
. (We feel for you
Larry Fitzgerald
fantasy owners.)
Also, the Indianapolis Colts placed running back
Donald Brown
on injured reserve. Brown has a severe high-ankle sprain, which would have taken longer to recover from than the season permitted.
Vick Ballard
will be the starter for the remainder of the season.
Players with the biggest question marks heading into Week 15:
Robert Griffin III, QB, Washington Redskins (knee):
RG III has impressed many by participating in limited practice both Wednesday and Thursday. His presence Wednesday was a bit of a surprise after the frightening blow he took in Sunday's game, which resulted in an
LCL sprain
. More encouraging was that he returned the following day, which indicated that he did not experience any setback from Wednesday's activity. "He looked more comfortable," coach Mike Shanahan said of RG III's effort on Thursday, according to the Washington Post.
RG III has been fit with a brace to protect his knee and offer some stability. The final decision regarding his game status sounds as though it will not be made until Sunday. This gives RG III the maximum possible time to recover and keeps the Redskins' opponent (the
Cleveland Browns
) guessing, both of which benefit the Redskins. Offensive coordinator Kyle Shanahan outlined the key questions to determine whether Griffin will be under center. "I think Robert's going to be able to show us that he can move well, [but] it's more," Shanahan said. "If his knee is stable enough, can he protect himself in there and is there a risk of further injury?" Griffin is trending in the right direction in terms of his health, but come Sunday, the team could still elect to hold him out to buy him some additional recovery time. Fantasy owners should plan for a game-time decision.
Dez Bryant, WR, Dallas Cowboys (finger):
On Tuesday,
we noted
what the concerns might be for Bryant and his finger if he postpones recommended surgery. However, it appears that Bryant plans to take on that risk. He returned to limited practice Thursday, telling reporters, "Only thing y'all need to know is I'm playing," according to ESPN Dallas.
[+] Enlarge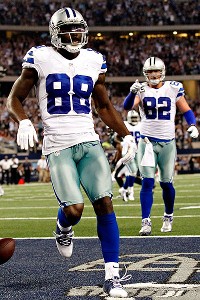 AP Photo/Tony GutierrezDespite his broken finger, Dez Bryant said he will play on Sunday.
What we all would like to know is just how well Bryant will be able to catch the ball. The two challenges will be trying to protect the injured finger and pain. When a bone is broken, vibration is perhaps the most pain-inducing sensation; a ball thrown from the quarterback with any measure of speed will certainly be painful when it hits the injured finger. Add to the mix the challenge for the medical staff to provide protection for the receiver's finger while not impeding his ability to catch the ball -- and pour on some swelling for good measure. It's difficult to function at a high level with this injury. The best sign so far was that Bryant was able to catch some passes Thursday; the next test will be to see how his finger is Friday and whether he can repeat the effort.
Ahmad Bradshaw, RB, New York Giants (knee):
When Bradshaw misses practice to rest his sore foot, it almost goes unnoticed because the expectation has become that he will play come Sunday. However, Bradshaw is contending with a new injury this week, and there seems to be a lot less confidence that it will be business as usual on game day. Bradshaw underwent an MRI and the team reports he has a sprained knee, although in the absence of any specifics, the diagnosis is essentially unhelpful as it could represent a multitude of scenarios.
The bottom line is that he has not practiced -- and may not this week. Coach Tom Coughlin referred to Bradshaw's toughness when addressing reporters Thursday after practice. As reported by ESPN New York, Coughlin offered this response to questions about Bradshaw's status: "I am not going to speculate -- because of the toughness of this young man -- on how long it would be," Coughlin said. "I am not going to rule him out of anything." Bradshaw is likely to appeal to play because he is, well, tough and competitive. However, the Giants' coaching and medical staffs may help make the decision for him. The Giants travel to Atlanta to play the Falcons, so if Bradshaw does not make the trip, the question will be answered. If he does travel, then add him to the game-time decision list.
Roddy White, WR, Atlanta Falcons (knee):
Knee. MRI. No details. Game-time decision. Sound familiar? The matchup between the Giants and the Falcons on Sunday has two stars whose injury situations are tenuous. Falcons coach Mike Smith told reporters Wednesday that White had a knee injury but he expected him back Thursday. After White did not practice Thursday, Smith called him a game-time decision, according to the Atlanta Journal Constitution. Smith did say that White felt "much better" Thursday compared to how he did Wednesday, but he also noted the team would exercise caution leading up to Sunday.
This is, after all, the time of the season when teams headed for the playoffs exercise careful judgment about returning players with even a minor ailment to action for fear it will develop into something more significant. White never misses games -- he hasn't missed one in eight years with the Falcons -- even when he's less than 100 percent healthy. However, this week it sounds as though he will have to be convincingly healthy come Sunday. For fantasy owners, it's another toss-up until Sunday morning.
Danny Amendola, WR, St. Louis Rams (foot):
Amendola has missed two games in a row (and most of a third game considering he had one catch in Week 12) because of his sore foot and heel. He has been a limited participant in practice this week, and could make a return Sunday, though it is likely to be another game-time call. Coach Jeff Fisher said Amendola needs the foot to heal sufficiently before returning, according to the St. Louis Post-Dispatch. "Danny needs to be close to 100 percent to be effective -- to be able to protect himself," Fisher said. Whether he will reach that mark by Sunday is the big question.
Quick Hits
[+] Enlarge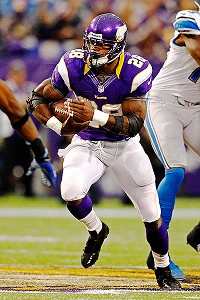 Bruce Kluckhohn/US PresswireAdrian Peterson should be good to go this weekend despite battling an abdominal injury.
Oh no, not
Adrian Peterson
on the injury report. After being limited Wednesday, Peterson did not practice Thursday because of an abdominal injury. According to Judd Zulgad of 1500ESPN.com, Minnesota Vikings coach Leslie Frazier said he expects Peterson back on Friday. It would appear that all of Peterson's fantasy owners can now exhale.
Detroit Lions tight end
Brandon Pettigrew
has missed two practices following his ankle injury in Week 14. The Lions have not hinted at his status, but they play in a late game on Sunday. It would be wise to have a backup plan.
Green Bay Packers coach Mike McCarthy described the chances of wide receiver
Jordy Nelson
suiting up on Sunday as a "long shot," which is all fantasy owners should need to hear. Nelson has not practiced this week, and with an eye on the postseason, expect the Packers to hold him out this week.
Concussions kept Jaguars running back
Rashad Jennings
and wide receiver
Cecil Shorts
out in Week 14. It looks as though Jennings will be sidelined again, as he has not yet returned to practice. Shorts has returned to limited practice this week and appears on track in his progression. Still, as the Florida Times-Union reports, Shorts has seen up close the difficulties some of his teammates have had after sustaining concussions, and he plans to take it one step at a time. "I'm definitely going to be smart about this," Shorts said. "As much as I want to play and would like to play, my health is more important." That sounds smart.
After getting a much-needed Wednesday off (along with the majority of his teammates), Chicago Bears quarterback
Jay Cutler
returned to practice Thursday on a limited basis. Expect him to play on Sunday.
Baltimore Ravens running back
Ray Rice
suffered a hip pointer on Sunday, but has been a limited participant in both Wednesday and Thursday practices. His injury did not sound serious, and his presence on the practice field supports that notion. Expect him on the field Sunday.
Seattle Seahawks wide receiver
Sidney Rice
suffered a foot injury, and ended up in a walking boot to start the week. He has not practiced, but the Seattle Times reports he was moving without the boot Thursday, which is encouraging. For what it's worth, quarterback
Russell Wilson
told the Seattle Times that he expects Rice to play. It would be a good sign to see Rice practice on Friday in order to feel better about his Sunday status.
Oakland Raiders running back
Darren McFadden
was reportedly moving well in practice early this week despite suffering a minor setback to his ankle in Week 14. He has been a full practice participant this week and is expected to play this weekend.
Don't expect to see
Carolina Panthers
wide receiver
Brandon LaFell
(turf toe) or running back
Jonathan Stewart
(ankle) this weekend as neither player has practiced this week.
December, 11, 2012
12/11/12
4:39
PM ET
Week 14 is in the books. Unfortunately for those of you still playing meaningful games this fantasy football season, your player options may have decreased yet again as more players were lost to injury.
The biggest injury news of the weekend centers on one
Robert Griffin III
, the exciting rookie quarterback for the
Washington Redskins
. He suffered a knee injury in Sunday's game while making one of his signature scrambles. The video of Griffin's leg whipping through the air looked frighteningly violent, causing many to fear he had suffered a significant injury. Fortunately, that was not the case. On Monday, Griffin underwent an MRI, which revealed his injury to be a Grade 1 lateral collateral ligament (LCL) sprain. Coach Mike Shanahan informed reporters of the injury, noting that Griffin's ACL, which he had surgically reconstructed in 2009, looked "great." Shanahan said Griffin will be evaluated "day by day," and the team is hopeful his knee will improve quickly with rehab.
As for the nature of Griffin's injury, given the mechanism of the hit, it's not surprising that he sustained an injury to the LCL, the outer-most primary stabilizing ligament of the knee. He took a hit to the body and thigh from Ravens defensive tackle
Haloti Ngata
as he was in the process of falling, with his right leg whipping forward. The blow resulted in an abrupt stop to the forward momentum of his thigh, but the lower leg continued on its trajectory, snapping to a hard stop when the soft tissue restraints that guard the movement became taut. Perhaps Griffin is most fortunate that his leg was in the air when this happened. Had he absorbed a similar blow with his foot planted, the consequences would likely have been far worse.
[+] Enlarge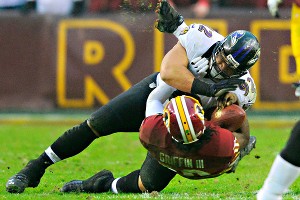 Doug Kapustin/MCT/Getty ImagesRobert Griffin III's knee wrapped around the back of Ravens DT Haloti Ngata during the hit.
The LCL can be injured when an athlete takes a blow to the inside of the knee; it also can be injured during a hyperextension or rotational injury. Griffin's knee was extending and slightly rotating at the same time he encountered the blow to his thigh. The biggest concern with these injuries is damage to any surrounding structures on the lateral and particularly the posterolateral aspect (the back outside corner) of the knee. Structures in this area that lie close to the LCL help control stability in that quadrant of the knee, an area that is subject to high biomechanical forces during normal movement. Any lingering instability can be threatening to the overall health of the knee. The best news in Griffin's case is that this sprain is of the most minor (Grade 1) variety.
An isolated minor sprain has a good chance of healing with restricted motion (via bracing) and rest to protect the ligament. Griffin also will engage in rehab to help with pain and swelling while restoring normal joint mobility. The criteria for his return will include his ability to demonstrate that he can perform at his position without significant compromise and without increasing the risk of more substantial injury. As a running quarterback, he will not be encouraged to return if he cannot run, change direction or decelerate normally. Beyond this aspect of his game being part of his DNA as a quarterback, a player who is thinking about accommodating his style of play to avoid injury suddenly becomes more of an injury risk, not to mention he's often less effective.
Shanahan says they will see how Griffin looks Wednesday but indicated that as of now, no decision has been made as to who will be the starting quarterback Sunday. It would not be surprising if Griffin is forced to sit out, given the rationale noted above. It's also worth remembering that everyone heals at different rates, and no two injuries are identical. And as the Redskins are no doubt appreciating this week, Griffin's case also serves as a reminder that no matter how nasty an injury looks at first glance on video, it may not always be indicative of how severe the injury actually is.
•
Buffalo Bills
head coach Chan Gailey announced Monday that running back
Fred Jackson
is done for the season and has been placed on IR. Jackson suffered a Grade 2 sprain of the medial collateral ligament (MCL) in his right knee Sunday. Gailey noted that the recovery timetable for Jackson's injury is likely closer to 4-5 weeks, longer than the time left in the regular season. This is the same knee he injured in Week 1 when he sustained an LCL sprain and missed two weeks -- hmm, maybe RG III should chat with Jackson about what he did to return from that injury -- and this is also the same leg in which Jackson suffered a fractured fibula which prematurely ended his 2011 campaign.
With regard to his latest injury, Jackson shared the following thoughts with ESPN's Josina Anderson: "Technically it's a tear off the bone, because you tear the ligament away from the bone. So that's why some people say it's a tear, but the ligament itself is intact. It's just pulled away from the bone a little." We're sorry to see his second season in a row ended by an injury after playing all 16 games in each of the three previous seasons. In the meantime,
C.J. Spiller
will undoubtedly get a bump in his workload.
• Tight end
Jared Cook
of the
Tennessee Titans
also has played his last game of the 2012 season. Cook left Sunday's game with a right shoulder injury. Jim Wyatt of The Tennessean later reported that Cook had torn his rotator cuff and is done for the year. Cook had a left shoulder injury early in the season, an AC sprain which had him in a sling briefly, but he did not miss a game. Unfortunately, he will now miss the rest of the season, and coach Mike Munchak indicated that Cook will be placed on IR.
• Chiefs wide receiver
Dwayne Bowe
suffered broken ribs in Sunday's game and already has been ruled out for Sunday's game, according to the Kansas City Star. He may, in fact, be done for the season. The Star suggests that it also could signal the end of his time with the Chiefs.
As we head into Week 15 ...
[+] Enlarge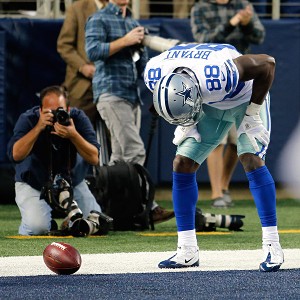 AP Photo/Sharon EllmanDez Bryant's status for Sunday is not yet known.
• Cowboys wide receiver
Dez Bryant
suffered a fractured index finger in his left hand Sunday, an injury that could end his season. According to ESPN's Ed Werder, Bryant has met with a hand specialist. The decision comes down to whether Bryant requires surgery now, or whether this is an issue he can play through, allowing him to postpone the surgery. While a broken finger might not sound like the worst injury in the world, the reality is that a resultant deformity or lack of normal motion could impact a receiver permanently. This is not insignificant, which probably is the reason there has been no official decision made as of this writing.
• Bears quarterback
Jay Cutler
was again forced to leave a game early, this time because of a neck injury. Speaking on his weekly radio show on ESPN1000 Monday, Cutler described his neck as "stiff" and said he was "getting spasms" during the game. He is currently receiving treatment and said he expects to be able to play this week, "unless something drastic happens."
•
New York Giants
running back
Ahmad Bradshaw
was in and out of Sunday's game because of a left knee injury. Coach Tom Coughlin said Bradshaw underwent an MRI and other tests Monday, but there has been no word yet as to the results. When Bradshaw injured his neck early in the season, the results of his tests were not immediately shared either. It was Bradshaw who later indicated he had an "inflamed disc" in his neck. Perhaps he will share an update on his knee later this week. In any event, don't expect Bradshaw to practice Wednesday since he usually sits out. Barring the emergence of definitive information to rule him out, Bradshaw's status could once again come down to a late-week decision.
• Concussions have forced the absence of several key players for the
Philadelphia Eagles
for a few weeks, and now they can add tight end
Brent Celek
to the list. Celek suffered a concussion during Sunday's game and will not play Thursday night. As for the health of quarterback
Michael Vick
and running back
LeSean McCoy
, it appears both are making progress. Both are engaging to a limited degree in practice, and according to Eagles head athletic trainer Rick Burkholder, Vick is now in the final phase (Phase 5) of the Eagles' concussion recovery protocol. Jeff McLane of the Philadelphia Inquirer reports neither is likely to play Thursday despite not officially being listed as "out" yet by the Eagles. Both players still need to be cleared by an independent neurologist and both need to re-introduce contact. Burkholder has implemented a mandatory 24-hour waiting period to monitor whether symptoms recur after advancing within the protocol. Given the short week, it's likely that both will miss another game, though if all progresses well, both could be available in Week 16 (although in Vick's case it will be in a backup role, as
Nick Foles
has been named the starter going forward).
• Despite re-aggravating his ankle injury in last week's game, Raiders running back
Darren McFadden
was in practice Monday and moving well, according to Steve Corkran of the Contra Costa Times. He appears on track to play this weekend.
• Coach Mike McCarthy has hope that
Green Bay Packers
receiver
Jordy Nelson
will return from his injured hamstring this week. Tyler Dunne of the Milwaukee Journal-Sentinel reports McCarthy says Nelson is improving. That may be, but we know the true test comes with full-speed running. Keep an eye on practice reports this week to gauge Nelson's progress, but right now it's too early to realistically project his return. Remember this is the recurrence of a prior hamstring injury for Nelson, so it would not be surprising if the team is cautious.
• As the Florida Times-Union reported, coach Mike Mularkey was not available for his usual Monday news conference due to illness, so there was no update on the status of running back
Maurice Jones-Drew
(foot) or wide receiver
Cecil Shorts
(concussion).
December, 6, 2012
12/06/12
7:54
PM ET
Many a fantasy owner still playing for a title was dealt a big blow Wednesday afternoon when
Minnesota Vikings
wide receiver
Percy Harvin
was placed on injured reserve. The IR designation began to look like a real possibility after Harvin attempted one practice last week, struggled to run and was not seen again on the practice field the rest of the week. It was also recently revealed that he had sustained a more significant tear, not particularly surprising given Harvin's struggles to recover and his own description that he had sprained his ankle in three places.
Still, the recent description of the severity of his injury suggested he might not be able to return to form. As it turns out, Harvin wasn't able to return at all, but the assumption is that the IR decision was made with the interest of his long-term health in mind. Not only might Harvin have struggled to perform at anything close to the level he displayed early in the season, but he also may have risked compromising his ability to return to that level in the future.
[+] Enlarge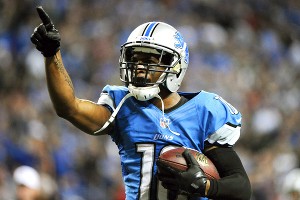 Tim Fuller/US PresswireTitus Young, hampered by a knee injury and behavior problems, is done for the season.
Other players moved to IR this week included
Detroit Lions
wide receiver
Titus Young
and
Miami Dolphins
offensive tackle
Jake Long
. Young was dealing with a knee injury for much of the season and was a frequent member of the Lions' injury report. His inability to consistently participate in practice was hinted at as a reason for his failure to perform to the level of expectation on game day. Recently, however, it became apparent that Young's behavior was at issue as well and the team suspended him in Week 12, sending him away from the facility for several days. He returned for some practice in Week 13 but remained off the playing field on Sunday.
This week, the decision was made to move him to IR, leading some to wonder what the primary reason was for the early termination of his season. According to the Detroit Free Press, the Lions placed Young on IR with a knee injury. However, when coach Jim Schwartz was asked whether the injury would require surgery, his response was telling: "Yeah, most likely," Schwartz said. "Yes, unless he doesn't show up for it." OK then. Until next year, perhaps.
As for Long, there is no doubt about what sent him to IR -- he tore his triceps and the recovery timetable exceeds the time remaining in the Dolphins' season. Long has dealt with significant injuries, including a torn biceps which ended his season late last year.
Already ruled out for Week 14
Running back
Donald Brown
of the
Indianapolis Colts
injured his ankle last Sunday and will not play this week.
Vick Ballard
will be the starter, which, given his use in recent weeks, should not come as a surprise. At least the Colts have done everyone a favor and given us this news well in advance of Sunday's game.
Quick Hits
Eagles running back
LeSean McCoy
remains out of practice as he recovers from a concussion. Don't expect to see him this weekend. However, do expect another hefty dose of
Bryce Brown
.
Nick Foles
is the Eagles' starting quarterback for the remainder of the season;
Michael Vick
has not yet returned to practice, but if and when he does, it will be in a backup role.
Concussions are also an issue for Jaguars running back
Rashad Jennings
and wide receiver
Cecil Shorts
. Both were injured in Week 13 and neither has returned to practice. It is not looking as if either will be available on Sunday.
[+] Enlarge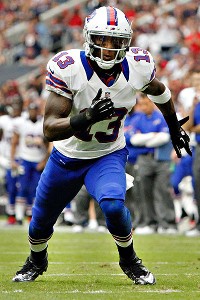 Brett Davis/US PresswireDespite his hamstring injury, Stevie Johnson should be ready to play for the Bills on Sunday.
Bills receiver
Stevie Johnson
strained his hamstring last Sunday, but the Bills did not seem concerned about his playing status for Week 14. After taking Wednesday off, Johnson returned to limited practice Thursday and unless things change, should be on course for Sunday. It's worth remembering that Johnson played through a groin injury last season which ultimately required surgery. This is not to say the hamstring issue is serious but rather that Johnson has shown he will play at less than full capacity.
Earlier this week, Packers coach Mike McCarthy hinted at a very low likelihood of seeing receiver
Jordy Nelson
in Week 14. Nelson aggravated his hamstring injury prior to last Sunday's game then was forced to exit early. He has not practiced this week and it's looking as if he will sit this game out. His teammate
Greg Jennings
said he felt "great" coming out of his return to action following abdominal surgery -- which makes sense, since Jennings is no longer mentioned on the injury report.
Giants running back
Ahmad Bradshaw
continues to operate on a modified practice schedule, as in no practice at all this week. His workload picked up last week with the absence of
Andre Brown
(now on IR with a broken fibula), but Bradshaw seemed to respond just fine. He is expected to play Sunday in a similar capacity. His teammate, receiver
Hakeem Nicks
, has been far less consistent this season. Swelling in his knee due to an injury sustained in Week 2 compounded his recovery from foot surgery. In Week 12, the ailments appeared to be in the rearview mirror but Monday's game proved that was not the case. This week, Nicks practiced Wednesday (and wasn't even listed on the injury report) but developed swelling in his knee again and was forced to sit out Thursday practice, limited to riding a stationary bike on the sideline. It's hard to have confidence in Nicks this week, particularly for those fantasy owners competing in playoffs. Meanwhile, fellow Giants receiver
Domenik Hixon
has been practicing in full after missing last week with an ankle injury. He should be available for this week's matchup against the Saints.
Rams wide receiver
Danny Amendola
was out of Sunday's game with an injured heel. He has spent the majority of the last two weeks in a walking boot. On Wednesday, Amendola did individual work on the side and was a limited participant Thursday, according to the St. Louis Post-Dispatch. This is an encouraging development but it's hardly reassuring heading into a fantasy playoff weekend. It's worth seeing what his activity is like on Friday. Meanwhile, teammate
Steven Jackson
has been playing through a foot ailment and will continue to do so. Jackson was back in full practice Thursday after taking Wednesday off.
Carolina Panthers
wide receiver
Brandon LaFell
suffered a turf toe injury and chipped a bone in the process, according to Joe Person of the Charlotte Observer. (This has the sounds of an avulsion injury, where a ligament injury pulls a small bone fragment with it.) The bottom line is that LaFell remains in a boot and not practicing, so he will not play this weekend. Teammate
Jonathan Stewart
(ankle) is not practicing and is not expected to play this weekend.
Bengals tight end
Jermaine Gresham
has been hot in the red zone lately, scoring touchdowns in three of Cincinnati's last four games. However, there may be no scoring of any kind for him this week if he can't take the field. He was a limited participant in practice Wednesday due to a hamstring injury, but it was his complete absence from practice Thursday that should have fantasy owners concerned. Late-week downgrades are never a good thing, and when the injury involves a hamstring, they are more worrisome. There is still a chance that Gresham recovers, but fantasy owners should be making alternate plans.
Jets tight end
Dustin Keller
does not look as if he'll make it back this Sunday after injuring his ankle in Week 13. He has not been ruled out for the game but he has not practiced yet this week. It's been a tough year health-wise for Keller, who missed four games early in the season due to a hamstring injury.
Patriots' tight end
Aaron Hernandez
continues to be held to limited practice but certainly was not held to limited playing time last Sunday when he was on the field for every offensive play. Expect him to be ready to go on Monday night. Teammate
Rob Gronkowski
is still on the mend from his broken forearm and is likely to sit out another week. No, the Patriots have given an update regarding the healing progression of the bone (but who expected that to happen?). When Gronk appears in practice, it will be the sign he is nearing a return. Until then, it is silence as usual.
And on a final note
Steelers coach Mike Tomlin announced Thursday that
Ben Roethlisberger
will resume his starting role as quarterback for the Steelers. While the unusual nature of his shoulder injury led to some speculation that he might be done for the season, the facts of his case combined with his history of quick healing and pain tolerance suggested he would be able to return.
It is still a credit to Roethlisberger that he is in a position to return just four weeks after getting injured. He has demonstrated that he can make the necessary throws to perform effectively, but how he responds to absorbing contact is unknown. He is expected to wear some padding for protection, but the sternoclavicular joint and the first rib are impossible to completely stabilize. His best bet is to ensure he unloads the ball quickly enough to avoid taking sacks that drive his shoulder into the ground (which is how he was hurt in the first place).
December, 4, 2012
12/04/12
4:54
PM ET
Week 13 is in the books! Unfortunately, so is the season of another promising young player who succumbed to injury. The
Detroit Lions
seemed to have unleashed another talented wide receiver in
Ryan Broyles
(who many a fantasy owner added to the roster when
Titus Young
was, ahem, demoted). After notching over 100 yards receiving in Week 12, Broyles didn't get through the first quarter of Sunday's game before suffering a knee injury. Sadly Broyles, who tore his left ACL in November 2011 while at Oklahoma, tore his right ACL and will now relive the surgery and lengthy rehab process. On the bright side, he knows what to expect and has proved he can return to an elite level of play. In the meantime,
Mike Thomas
becomes the next in line to fill in at wide receiver for the Lions.
Up in Boston, it appears the
New England Patriots
will have to do without the services of wide receiver
Julian Edelman
. Edelman injured his foot in Sunday's game and ESPN Boston cites a report from WBZ-TV saying Edelman's foot is broken, which will require surgery. This is unfortunate for the Patriots and unfortunate for fantasy owners who benefited from Edelman's production in recent weeks.
On the other side of the ball, the Chicago Tribune reports
Chicago Bears
linebacker
Brian Urlacher
will miss the next three games and potentially the remainder of the regular season after suffering a Grade 2 (moderate) right hamstring strain late in Sunday's game against the
Seattle Seahawks
. Urlacher entered the season with questions about his left knee after spraining his MCL and PCL late last season, but has managed to play every game until now.
As we head into Week 14:
[+] Enlarge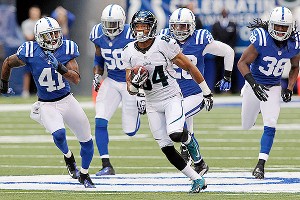 (AP Photo/AJ MastCecil Shorts has been one of this season's biggest surprises, but will he be able to go this week?
• The
Jacksonville Jaguars
had two wide receivers who suffered injuries in last Thursday's practice, but both
Justin Blackmon
and
Cecil Shorts
were healthy enough to play by Sunday. Unfortunately, only Blackmon emerged from the game unscathed. Shorts, along with teammate running back
Rashad Jennings
, suffered a concussion. Both Jennings and Shorts will follow the standard protocols of evaluation and required clearance for return to play. It is too early in the week to know what their status will be.
Montell Owens
stepped in the game when Jennings went down. With
Maurice Jones-Drew
still "very questionable" for Week 14 according to coach Mike Mularkey, Owens may be in line for a start. The Jaguars have seen Jones-Drew, Jennings and
Jalen Parmele
(now on injured reserve) all go down with injuries at various points this season. There are still four games to play, however, and the Jaguars do not seem inclined to automatically shut Jones-Drew down, nor should they be, assuming he progresses to the point of being able to return.
Despite Jones-Drew's projection in early November that he was about two weeks away from returning, it never really seemed plausible to count on him before December. Well, it's now December and while there's no urgency for the Jaguars in terms of needing victories to secure a playoff berth, there is still rationale from a rehab perspective to return a player to competition IF he is healthy enough to go. If Jones-Drew does not progress, the Jaguars certainly won't expose him to further injury by playing him unnecessarily. If he can return to practice in the next week or two, however, there is still a chance he returns for the final weeks of the season.
•
Green Bay Packers
receiver
Jordy Nelson
injured his hamstring again. During pregame warm-ups Sunday, Nelson reportedly aggravated the same hamstring that caused him to miss time earlier this season. According to news reports, Nelson attempted to play despite the injury but was unable to do so successfully and left in the first quarter (deja vu for fantasy owners who experienced similar pain in Week 9 when Nelson, already hampered by a recent hamstring injury, left early after injuring his ankle).
Nelson is a classic example of how hamstring injuries can resurface even after a player has had a successful post-injury outing (he had 71 yards and a touchdown in Week 12). With an eye on playing deep into the postseason, it's hard to imagine the Packers returning Nelson quickly, even if head coach Mike McCarthy says the injury does not appear serious. Of course McCarthy already tipped us off that Nelson will likely miss Week 14, saying he would be "pressed hard" to face the Detroit Lions on Sunday.
[+] Enlarge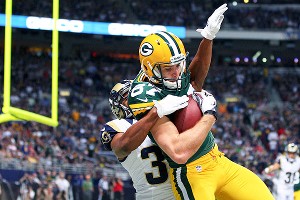 Scott Kane/US PresswireJordy Nelson has dealt with his share of injuries this season.
Maybe this is the week we see the return of the pre-injury
Greg Jennings
? While the numbers in his first game back from surgery to repair a torn abdominal muscle may not have been what fantasy owners were hoping for, he was targeted more than any other receiver Sunday and he emerged from the game feeling, well, "great." According to ESPNMilwaukee.com, Jennings said after the game, "I felt great, feel great now, felt great getting hit a couple times, hitting the ground, getting dirty, making some plays." Quarterback
Aaron Rodgers
offered this observation: "It's nice having him back. He's a big-time player. He can make big catches down the field. ... We've got to give him more opportunities." With Nelson expected to be out, maybe this is the week for Jennings to get those opportunities.
• Despite the positive reports on
Oakland Raiders
running backs
Darren McFadden
and
Mike Goodson
as they returned to practice last week, both were held out of Sunday's game. Perhaps they weren't quite ready for competition, perhaps there was concern about the weather, or perhaps there was thought given to the fact the Raiders would have two games very close together (they face the
Denver Broncos
on Thursday). Or maybe it's simply that
Marcel Reece
has provided enough security to allow for the extra cushion of recovery time.
No matter the reasons for last Sunday's absence, both backs are expected to be available for Thursday night. The question then becomes how the workload will be divided given McFadden and Goodson are coming off high ankle sprains while Reece and fellow back
Jeremy Stewart
have played well. According to the Contra Costa Times, offensive coordinator Greg Knapp said the Raiders will know more by Wednesday or Thursday as to how they will use them. Reece is also dealing with quadriceps and hamstring injuries that could compromise his effectiveness. Interestingly, Knapp also expects the return of tackle
Khalif Barnes
(he returned in Week 11 after a nine-week absence following groin surgery) to bode well for McFadden's productivity. It may be tough for fantasy owners to count on a huge boost from McFadden in his first game in five weeks, but a solid outing would be encouraging for a couple of upcoming favorable matchups.
• The
Philadelphia Eagles
have named
Nick Foles
the starter for the rest of the season according to head coach Andy Reid. That doesn't necessarily mean
Michael Vick
is out for the remainder of the season, just that if and when he does return, he will be the backup. Vick is still working his way back through an exercise progression post-concussion. The bottom line for fantasy owners who may have been holding out hope is that it's time to move on. It appears the Eagles have. As for running back
LeSean McCoy
, he is also in recovery mode post-concussion. According to Jeff McLane of the Philadelphia Inquirer, Reid says McCoy is in Phase 3 of the Eagles' five-phase concussion recovery program. He is not a lock to play this week and when he does return could very well find himself sharing time with
Bryce Brown
who, minus a fumble here and there, has been exceptional in McCoy's absence.
•
Carolina Panthers
wide receiver
Brandon LaFell
injured his foot in the third quarter of Sunday's game and is now in a walking boot. LaFell underwent an MRI on Monday but there is no word yet as to the specifics of his injury. Teammate
Jonathan Stewart
(high ankle sprain) is improving according to the Charlotte Observer, but the running back has no timetable for a return.
• Neither wide receiver
Percy Harvin
of the
Minnesota Vikings
nor
Danny Amendola
of the
St. Louis Rams
played last Sunday. Harvin has now missed three games due to an ankle sprain and is no lock to play this week. After one attempt at limited practice last Wednesday, Harvin could not repeat the effort and was still having trouble running. As for Amendola, he did not practice at all last week with his injured heel and the Rams opted to rest him Sunday. For both players, the next meaningful update is not expected before Wednesday practice.
Speaking of Wednesday practice, all eyes will be on
Pittsburgh Steelers
quarterback
Ben Roethlisberger
(SC joint and first rib injury) to see how he looks throwing the ball. According to ESPN's Ed Werder, the soreness in Roethlisberger's shoulder and chest has diminished. If he demonstrates he is healthy enough to function at the position, he could return to face the
San Diego Chargers
on Sunday.
November, 6, 2012
11/06/12
5:50
PM ET
Week 9 is in the books! This feels like that time of year when the grueling toll of the season begins to make itself widely felt. A number of players left last week's games with new injuries, aggravations of prior injuries or some variation of a new injury superimposed on a not fully recovered injury. While a couple of those with new ailments look as if they might not miss any time (
Kansas City Chiefs
RB
Jamaal Charles
and
Dallas Cowboys
QB
Tony Romo
), others seem likely to miss a week if not more (
Pittsburgh Steelers
WR
Antonio Brown
,
Minnesota Vikings
WR
Percy Harvin
, and
Oakland Raiders
RBs
Darren McFadden
and
Mike Goodson
).
In the meantime, many of the key running backs who have suffered foot injuries in recent weeks (
DeMarco Murray
Maurice Jones-Drew
,
Cedric Benson
) continue their rehabilitation efforts but with no specific return date on the horizon. None of these backs is expected for this week (Benson and Jones-Drew are definitely out, and ESPN's Ed Werder reported Tuesday that the Dallas Cowboys do not expect to have Murray this Sunday).
There are still plenty of folks we're keeping an eye on as we head into Week 10.
[+] Enlarge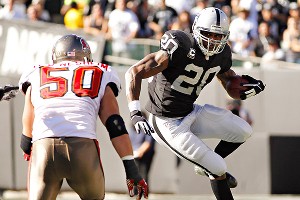 Cary Edmondson/US PresswireOnce again, Darren McFadden has gone down with an injury that could keep him out multiple weeks.
Darren McFadden and Mike Goodson, RBs, Oakland Raiders (high ankle sprains):
Both running backs left Sunday's game with similar injuries. McFadden was tackled during a run. On video, he appeared to rotate his foot outward relative to his lower leg, the hallmark mechanism for a high ankle sprain. Although there has been no word as to the severity of the injury, it may be to his benefit that his foot was not squarely planted in the ground when it happened. Still, with the known history of lower-extremity injuries McFadden has dealt with in his career, any additional incident raises concern. His teammate Goodson was also forced out of the game with a similar injury in the third quarter. (Goodson had been dealing with a turf toe injury throughout the week heading into Sunday's game.)
As of now, it would appear that
Marcel Reece
and
Taiwan Jones
will be responsible for the workload in the near future, but how much time McFadden and Goodson could miss -- if any -- is anyone's guess. The severity of their injuries will be as important as the injuries' location to determine how long they'll be out. As of yet, the Raiders have not revealed anything. Steve Corkran of the Contra Costa Times reports that McFadden has not yet been ruled out for Week 10. Of course, many a fantasy owner remembers when he was not ruled out in advance of multiple games last season, and thus might be suspicious. At this point, there's not enough information to suggest this injury is on the same order of severity as last year's, but it would make sense to plan on a backup nevertheless.
Percy Harvin, WR, Minnesota Vikings (ankle):
Harvin went into Week 9 with hamstring concerns -- and he appeared to be laboring during the game -- but he exited with a new, more significant injury. Harvin sprained his left ankle "in three different places," according to the Minneapolis Star-Tribune, and is experiencing swelling and pain. Harvin was on crutches Monday to protect him from bearing weight on the injured limb, and while he wouldn't declare himself out for this week's game, he admitted his chances of playing are slim. The report that he sprained the ankle in three different places suggests that he has multiple injured ligaments, which explains the substantial pain and swelling, but also hints at greater instability. No specific grading of the injury was offered, but Harvin's appearance and description indicate this is more than a mild injury. Even though the MRI showed no fracture, the extent of soft tissue damage and associated instability can still project a multiweek absence. The Vikings do have a bye upcoming in Week 11 and it would be a big surprise if Harvin plays beforehand.
Jamaal Charles, RB, Kansas City Chiefs (neck):
Charles was forced out of last Thursday night's game with what the Chiefs called a neck injury. Charles did tell the Kansas City Star he was tested for a possible concussion, so it will be worth monitoring how he responds to practice during the week. The Chiefs don't play until Monday night, which is good in that it gives Charles the benefit of an extra day, but it also means no official injury report is due from the team until Thursday. As of now, it does look favorable for Charles to suit up in Week 10.
Tony Romo, QB, Dallas Cowboys (back):
Romo injured his back late in the Sunday night game and there were multiple reports of him walking "gingerly" afterward. On Monday, head coach Jason Garrett told reporters Romo was feeling much better. On Tuesday, ESPN's Ed Werder reported the Cowboys expect Romo to play in Week 10.
Donald Brown, RB, Indianapolis Colts (knee):
Brown was downgraded Saturday after experiencing swelling in his surgically repaired knee. He recovered to the point of being activated for Sunday's game, but the pain and swelling recurred, forcing Brown to the sideline early. With only four days until the Colts' next game, it would not be a surprise if he is out. There is also a chance he could rest for four days and still be active (though he did not practice Tuesday, also considered the "big" practice day for Thursday night games), but the bulk of the workload would still likely shift to
Vick Ballard
.
Antonio Brown, WR, Pittsburgh Steelers (ankle):
Brown was the first to say he had suffered a high ankle sprain, and his assessment was later confirmed by coach Mike Tomlin, who called it "mild." Nonetheless, Brown is doubtful for Monday night's game against the Chiefs and was kind enough to share that tidbit early (Tomlin also said running back
Jonathan Dwyer
should return Monday) so that fantasy owners could make the proper adjustments. Well, perhaps that wasn't his reasoning, but it's still nice to get an early jump on fill-ins. In Pittsburgh, they know all about filling in at the running back position and now will get a taste of it at wide receiver. More
Emmanuel Sanders
, perhaps. As for how long the Steelers will be without Brown, that is not yet clear, but given that even Brown initially thought he might be able to play this week, it sounds like they anticipate a short absence.
Jordy Nelson, WR, Green Bay Packers (hamstring/ankle):
Nelson missed Week 8 because of a hamstring strain but was deemed healthy enough to go in Week 9 after testing the leg in a Friday workout. He never had a chance to make an impact as he went down with an ankle injury in the first quarter of Sunday's game while trying to make a catch. The Packers fortunately have a bye this week and coach Mike McCarthy sounds confident Nelson will be ready by Week 11.
[+] Enlarge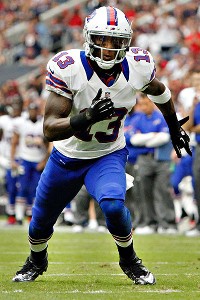 Brett Davis/US PresswireA thigh injury slowed down Steve Johnson in an already tough matchup against the Texans.
Steve Johnson, WR, Buffalo Bills (thigh):
Johnson suffered a bruised thigh early in Sunday's game and tried to play through it but struggled. For those who might wonder why something as seemingly benign as a bruise should limit a high-level athlete, it's important to remember that a bruise involves bleeding. If there is bleeding into a contained area of soft tissue, like the thigh, it makes the tissue very tight and the athlete is unable to fully extend (lengthen) the involved muscle or fully contract it. And it hurts. The result is a shorter stride length, sometimes an apparent dragging of the leg, a loss of burst and power, and early fatigue. Johnson essentially said as much after the game, telling the Bills' official website, "I couldn't run down the passes or elevate when I needed to. It just wasn't working so I had to come out." The good news is that this should respond well to treatment and hopefully resolve quickly. Bills head coach Chan Gailey said he expects to have Johnson on the field in Week 10, even if he is not able to practice early in the week.
Calvin Johnson, WR, Detroit Lions (knee):
Johnson played despite not practicing all week with a sore knee and racked up his third-highest yardage total of the season. Given the team's success at managing his knee during the week and still garnering a favorable Sunday outcome, expect the pattern to continue. There has been no word as to what's ailing him but Johnson confirmed that it's likely to bother him throughout the season, telling MLive.com, "It's something that I expect to linger."
Danny Amendola, WR, St. Louis Rams (shoulder):
Amendola teased fantasy owners when he traveled to London with the team two weeks ago and was seen catching some balls in practice. Only three weeks removed from his sternoclavicular joint injury, however, he seemed an extremely long shot to play. Now his chances are looking up. With another two weeks under his belt, Amendola is confident he will be on the field to face the
San Francisco 49ers
on Sunday.
During last week's practice, Amendola told the St. Louis Post-Dispatch his range of motion and strength were back to normal. The other aspect that is harder to measure is the healing of the tissue around the joint itself. The hope is that it will be strong enough to withstand another hard fall on the shoulder or direct contact from a hard hit without displacing again. Sitting at the junction of the collarbone (clavicle) and the sternum (chest), it's not an area that lends itself to effective bracing or taping. While there are ways to offer some additional protection, the goal is to have it be healed to the point where the risk is low to negligible. Unfortunately, there is only so much that visual and manual testing can do and at some point the athlete has to test it by playing in a game. It looks as if that test could come this weekend and, if Amendola is able to pass it, things should be looking up for him for the remainder of the season.
Aaron Hernandez, TE, New England Patriots (ankle):
Hernandez, who did not travel with the team to London, is coming off of two weeks' rest after the bye. On Tuesday he was absent from practice, as he was attending the birth of his child, but there should be updates later in the week.
October, 30, 2012
10/30/12
6:29
PM ET
Week 8 is in the books! The season is approaching the halfway mark, the point where some fantasy teams attempting to reach the playoffs must decide whether to fish or cut bait when it comes to players with injury concerns. Unfortunately, there are still a number of question marks out there with players whose return status is unclear.
[+] Enlarge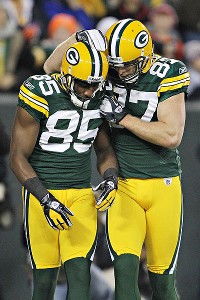 Jonathan Daniel/Getty ImagesGreg Jennings may not be back for a while, but Jordy Nelson could return this week.
Green Bay Packers
wide receiver
Greg Jennings
was impacted by Hurricane Sandy in an unusual way. Jennings was scheduled to undergo abdominal surgery in Philadelphia on Tuesday, but due to travel difficulties associated with the storm, surgery has been postponed. No word as of yet as to how long until Jennings' operation is rescheduled. While a delay of a few days is not likely to significantly impact his overall recovery, every week counts. It would not be a surprise if he doesn't return until December.
Jacksonville Jaguars
running back
Maurice Jones-Drew
(foot) has already been ruled out for Week 9, according to coach Mike Mularkey, but there is no definitive word on when to expect him back. (I still expect him to return this season, but whether it's in the next two or three weeks or more than a month away is unclear.).
San Diego Chargers
wide receiver
Vincent Brown
was an exciting prospect in the preseason, then a fractured ankle sent him to IR/designated for return. The question now is when he will return, as he has yet to practice and hasn't even begun running. Head coach Norv Turner acknowledged Monday, "I don't expect him back real soon." Brown was always projected to miss at least eight weeks and the Chargers indicated he was on track throughout his recovery process. Once he became eligible to join the team in practice, though, his absence became more noteworthy. It's not a huge surprise given the challenges of regaining functional strength and mobility in an ankle after a fracture, even if the bone has healed. Still, given the notion that Brown is still multiple weeks away from a return, fantasy owners should consider looking elsewhere for midseason help.
There are some other players whose status is worth tracking. Here's who we're keeping an eye on heading into Week 9:
Peyton Manning, QB Denver Broncos, (thumb):
The Broncos have to be breathing a sigh of relief that Manning did not suffer a more serious injury when he hit his thumb on a helmet. Manning said afterward he was "lucky" that the impact was on the nail (as opposed to further down on the bone itself) and coach John Fox told reporters Monday that Manning's thumb was fine. Whew.
[+] Enlarge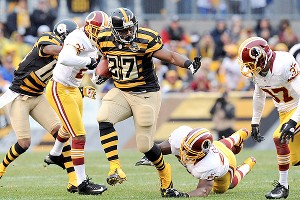 AP Photo/Don WrightJonathan Dwyer has two straight 100-yard rushing games, but now he's dealing with the injury bug.
Rashard Mendenhall (Achilles), Jonathan Dwyer (quad) and Isaac Redman (ankle), RBs, Pittsburgh Steelers:
The three lead running backs for the Steelers are all on the injury report and there is some uncertainty around the status of each. Mendenhall strained his Achilles in Week 6 and has not practiced since. Although the indications are that the injury was not serious, the Steelers would prefer it not become serious, and Mendenhall is still early in his return from ACL surgery. Last week, head coach Mike Tomlin indicated Mendenhall was making progress and he will begin individual drills Wednesday. It would not be surprising if he is able to return this week, although much depends on how he responds to increased work.
Redman is still recovering from an ankle injury also sustained in Week 6. He did make it back to limited practice late last week and, if he gets through a week of practice, he should be available by Sunday. Dwyer got the start last Sunday with both Mendenhall and Redman sidelined, but he was reported to have a strained right quad after the game, leaving the question as to who will be available (and starting) this week. On Monday, Tomlin announced that Dwyer would not practice Wednesday but could be back in the mix Thursday. In other words, this situation will not likely shake out until late in the week.
DeMarco Murray (foot) and Felix Jones (knee), RBs, Dallas Cowboys:
Murray has been out since suffering a foot sprain in Week 6 but it sounds as if he is making some progress. According to the Dallas Morning News, head coach Jason Garrett said, "It seems like he's moving around a little bit better." Garrett also cautioned that it is the type of injury that warrants caution and that Murray is day-to-day. Foot injuries are very tricky, even those that don't require surgery, as we have seen in the past (Exhibit A: Raiders running back
Darren McFadden
, who was unable to return after his midseason injury last year). Murray moving better is a far cry from hard running and making sharp cuts in practice. Consider me skeptical until we see evidence that he can do these things without limitation before declaring him ready to return. In the meantime, Jones entered the Week 8 game with a bone bruise in his knee and managed to escape without further injury. Jones would likely get the start again if Murray remains out.
Dez Bryant, WR, Dallas Cowboys (hip):
Anyone watching the Cowboys this weekend probably saw the spectacular catch that Bryant made in the end zone late in the game, the one that was just fingertips shy of a touchdown. While many were watching the multiple replays of the catch, some may have noticed that Bryant seemed a bit shaken up on the play and even appeared to be limping as he left the field. He did return to finish the game but there were still questions about his hip. On Monday, coach Jason Garrett told reporters the Cowboys did not think the injury was "that severe." It appears Bryant should be fine to play in Week 9.
Jordy Nelson, WR, Green Bay Packers (hamstring):
Nelson was out in Week 8 because of a hamstring strain suffered in last Wednesday's practice. Nelson should get back to practice this week. How he responds should offer further clues about his availability for Sunday.
Calvin Johnson, WR, Detroit Lions (knee):
Johnson is on the playing field weekly despite being a regular on the injury report, so it hardly merits a mention. Most of the time. This week, however, Johnson made some postgame comments suggesting his knee is more of a problem than he has let on. When referencing a dropped pass, Johnson told reporters, "It's tough to stick my foot in the ground with my knee hurting, but that's not [an] excuse." Johnson is not typically one to make excuses, nor is he one to complain about physical ailments, but his words suggest that the pain is literally impacting his performance. Will that alter his status heading into Week 9? Don't count on it. Coach Jim Schwartz said of Johnson Monday that he is "plowing through," suggesting that he will continue to do so until or unless it becomes physically impossible. Expect Johnson to get a big break in practice this week to help preserve him for Sunday.
Ben Tate, RB, Houston Texans (hamstring):
Tate was dealing with a toe injury recently, and now he's got a strained hamstring. As Texans head coach Gary Kubiak told reporters Monday, "It seems like it's been one thing after another." The Houston Chronicle reports that Tate maintained a regular rehab schedule during the Texans' bye week in the hopes of being ready for Monday practice, yet he still could not participate. The cumulative injuries have prompted Kubiak to suggest that Tate will miss some time to try to get his health right. No indication whether that time is the span of a few days or more than a week, but it hints at an absence for Week 9.
Justin Forsett
suddenly becomes more interesting.
[+] Enlarge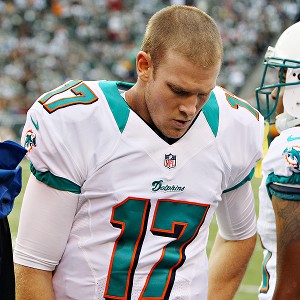 AP Photo/Seth WenigThe Dolphins cruised to a win in Week 8, even with Ryan Tannehill leaving with an injury.
Ryan Tannehill, QB, Miami Dolphins (knee):
Tannehill suffered a bone bruise in his left knee along with a quadriceps contusion (deep bruise) early in Week 8 and
Matt Moore
came in to finish the game. According to ESPN news reports, an MRI did not reveal any more specific structural damage, but Tannehill's status for Sunday remains uncertain.
Wes Welker, WR, New England Patriots, (ankle):
Welker sprained his left ankle in the fourth quarter of the Patriots' London game against the
St. Louis Rams
and did not return. As reported by ESPN Boston, Welker said his foot got "stuck in the turf" and he remained walking the sidelines following the injury. There doesn't seem to be much concern about Welker's chances for Week 10, as he will have the benefit of a bye week to recover.
Aaron Hernandez, TE, New England Patriots (ankle):
Hernandez, who did not travel with the team to London, should also benefit from the bye week. Although Hernandez has returned to play since injuring his ankle in Week 2, he was still experiencing some limitations with mobility and agility. Eliminating a long road trip combined with two weeks of relative rest and focused treatment should have Hernandez in better shape by Week 10.