Stephania Bell:

Jose Bautista
March, 11, 2013
3/11/13
11:29
AM ET
Toronto Blue Jays
slugger
Jose Bautista
underwent wrist surgery in September after being shut down last season to repair a torn sheath around his Extensor carpi ulnaris (ECU) tendon. In the 2013 fantasy draft kit
injury watch
, I discussed the injury and how it typically affects an athlete, in particular, a baseball player who is a power hitter.
[+] Enlarge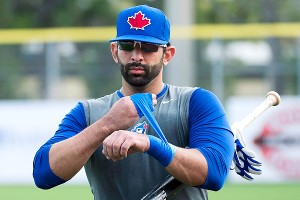 AP Photo/The Canadian Press/Nathan DenetteJose Bautista is making strides in recovering from wrist surgery last year.
One of the more fascinating aspects of talking with athletes about their injuries is hearing how they describe everything from their symptoms to their rehab. It never ceases to amaze how their unique descriptions of what they experience can convey an image beyond any technical terms. Bautista was impressive with regards to the detail in which he explained his entire medical journey, from the anatomy of his injury through surgery and rehab.
For starters, he did not feel pain
during
his swing that fateful day in July. He said his swing got way behind him and as he tried to slow it down he felt a "pop." But it was when he tried to bring his bat forward again that he felt a sharp pain, which he now thinks was the tendon moving out of position (and which can happen with a sheath tear) and he grabbed his wrist instinctively. Even after his DL stint, Bautista knew he would need to get his wrist surgically repaired in the postseason but he was hoping to finish out the year. The problem was that he kept feeling his tendon move or, as he described it, "lift away" from the forearm bone, a sensation he said was not painful but yet conveyed something was seriously wrong. Ultimately he did not want to risk major injury to the tendon itself and was shut down in August.
The protective sheath is thin, or as Bautista put it, "like carpaccio" whereas the tendon is much thicker, "like a rope." The tendon is the contractile portion of the tissue; it moves the wrist in the desired direction and, for a hitter, helps control the swing. The sheath encases the tendon to protect it from friction against adjacent surfaces but does not control function of the wrist. Consequently, the ultimate concern is protecting the tendon itself. Bautista explained how his surgeon, Dr. Thomas Graham of the Cleveland Clinic, a renowned hand specialist who performs these procedures routinely, reinforced the sheath to help ensure the tendon would remain protected, even if the sheath were to be damaged again. He will be left with a visible bump on the pinky side of his wrist to go along with the small incision scar.
As for how he's doing now, Bautista is happy with his wrist, even if he is still working on his hitting efficiency. "I don't have my full, full motion yet," he said, although when he held up his wrists in extension, I was hard-pressed to see the difference. He expects to gain the remaining motion eventually but says he has enough now to swing his bat freely. He has no discomfort whatsoever -- none of that "lifting away" sensation -- and says he is seeing the ball well, swinging well and hitting is not a problem. "I'm working on timing, pitch recognition, the normal spring training things," Bautista said.
When I mentioned that the wrist injury recently suffered by
New York Yankees
first baseman
Mark Teixeira
appears to be similar in nature (the injury was also to his bottom hand on a hard swing, it also involves the ECU tendon and he is being immobilized initially to treat it), Bautista sighed knowingly. He talked about the known frequency of the injury in hockey and golf as a result of the wrist having to counteract the kickback force which travels through a hockey stick and a golf club upon impact. As for baseball, he said, "The injury may be more frequent than we even know."
Bautista sought out others who had been through the surgical procedure -- including teammate
Mark DeRosa
and
Tampa Bay Rays
outfielder
Sam Fuld
-- and learned as much as he could about the process. If anything was clear, it's that Bautista has certainly become well versed on the topic. Now if he returns to form this season, which it appears he certainly has the potential to do, he might just become the go-to guy around the league for how to return from an ECU sheath injury.
[+] Enlarge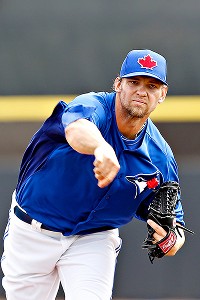 Derick E. Hingle/USA TODAY SportsJosh Johnson, often beset by injuries during his career, is healthy heading into his first year in Toronto.
•
Josh Johnson
is off to a solid start this spring and punctuated it with 3 2/3 perfect innings in his outing Friday. I caught Johnson on his way out to practice Saturday and he said his shoulder continues to feel good. "I've been doing exactly the same exercises I did heading into last year," Johnson said. Last year, Johnson told me it was the first time in nearly two years he felt normal post-pitching body soreness as opposed to shoulder discomfort. In that regard, he says nothing has changed. A club source said Johnson has been impressive in all phases since joining the Jays, from bullpens to live pitching and even in terms of leadership among the younger pitchers in camp. Given that perspective and his dominant Friday start, one might say things are even looking up.
• Despite a recent episode of triceps soreness that has him taking it easy this week,
Sergio Santos
is all smiles when talking about the health of his throwing shoulder. After undergoing labral debridement surgery last July, Santos has been working diligently to ensure his readiness for the start of the 2013 season. In fact, his preparation started
before
surgery.
Santos was actually hoping to avoid surgery altogether. After injuring his shoulder in April (he developed soreness during a closing effort), Santos came in to the training room to rehab six days a week in an effort to strengthen the shoulder and hopefully bypass an operation.
"We all know that the outcome is sort of uncertain after shoulder surgery," Santos said, "so I was trying to do what I could to avoid it. But in the end, I think all the rehab beforehand helped my recovery after surgery."
From a medical standpoint, the rationale for pursuing a strengthening program as an initial course of treatment in most cases is that it will either help resolve the problem completely or delay the need for surgery. In the worst-case scenario, surgery may be inevitable but the athlete still benefits from having trained some of the muscles that will be important in the recovery process. Santos pointed out that he had regained full motion within a few days after surgery and felt as if he continued to progress smoothly over the next six months. He insists the shoulder has felt "great" so far and while Santos says he is sorting out "a couple little kinks as far as command and location," the spring has otherwise been a normal one.
[+] Enlarge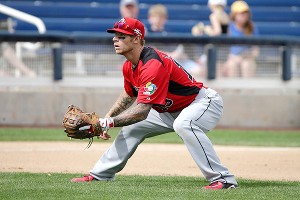 AP Photo/Morry GashBrett Lawrie was supposed to play for Canada in the WBC but suffered a rib injury, although he should be fine for the start of the regular season.
• Third baseman
Brett Lawrie
suffered a strained left intercostal muscle (small muscles between the ribs) on Wednesday, forcing him out of the WBC. Lawrie dealt with several injuries last season, including a right-sided oblique strain that kept him out for 30 games. Naturally, there was some initial anxiety around this early spring setback, but Lawrie insisted it was not as severe as last year's ailment. The Jays do not expect it to be more than a two- to three-week absence and are thankful that it appears to be only a mild strain.
• I caught up with shortstop
Jose Reyes
earlier in the week in Tampa where he was sporting the uniform of his native country, the Dominican Republic, as part of their WBC team. He says the hamstring issues that have been problematic in the past are not bothering him at all this spring. Reyes credits increased hill workouts at home in the Dominican for helping him stay healthier last year (he played 160 games with the
Miami Marlins
) and he says he stuck with the same routine this year. When I asked him if he was concerned about transitioning to the turf in Toronto, he said he can't worry about that. "You can get hurt anywhere." It sounds like he's speaking from experience. Reyes added that he's excited to help his new team win games and the excitement in the clubhouse about his arrival would suggest the feeling is mutual.
• Finally, the Jays are thrilled to start a fresh new season after being riddled with injuries last year. In addition to the names above, pitcher
Brandon Morrow
is healthy after missing nearly two months last year due to an oblique injury. Pitcher
Kyle Drabek
is over at the team's minor league facility and is nearly ready to throw off a mound after undergoing Tommy John surgery -- again -- last June.
Drew Hutchison
, also post-Tommy John, is on a similar schedule. And
Casey Janssen
, officially the team's closer, is coming off November surgery to clean up his AC joint. He had a bit of a setback in late February due to discomfort in his shoulder but has since resumed bullpens and is making progress. He still hopes to be ready by Opening Day but he has not yet faced live hitters. Consider that target date fluid.
August, 30, 2012
8/30/12
4:37
PM ET
Not long ago I wrote a blog entry referencing the
loss of two big-name sluggers
to injury:
Jose Bautista
and
David Ortiz
. Here we are just over a month later and they again share a headline. Both players are out again due to flare-ups of their injuries after the briefest of returns to their major league clubs. Bautista is done for the season and is scheduled to
undergo wrist surgery
. Ortiz is on the DL but still hopes to return before the season is over.
In Bautista's case, he had challenges initially swinging a bat after going on the DL due to lingering discomfort in his wrist. He seemed to have moved past it, though, and hit the ball well while on rehab assignment, flashing signs of power with two home runs and five RBIs in one outing. He seemed ready to return to the majors. Even his first game back seemed to go without incident. But as is often the case with wrist injuries, one swing set him back and the familiar discomfort was enough for him to step out of his second game after just three innings.
At the time of his original injury, the Blue Jays referred to it as a "tendon injury" and Bautista said there was "not much" structural damage. These were my thoughts at the time as to the potential outcome:
While Bautista's comments are certainly encouraging, naturally there is concern when it comes to the wrist of a power hitter. If there is only inflammation and the swelling resolves completely, then he should return to form quickly once he recovers from this episode. If, however, there is minor soft tissue damage that presents any sort of mechanical barrier to normal wrist motion, given the torque Bautista generates through his wrists on his swing, it could at the very least make him inconsistent at the plate. As he pointed out, he is day-to-day as of now and we won't know until he starts swinging the bat again whether there will be any lingering issues.
Turns out that "not much" structural damage was still enough to cause lingering problems for Bautista while swinging the bat. After consulting with hand specialist Dr. Thomas Graham in Cleveland, the Jays announced Bautista would undergo surgery to stabilize a tendon in his left wrist. Bautista told reporters that he felt the tendon slipping while swinging the bat, even though it was not painful. "There's just too much instability in that tendon and it got to the point where risking injuring the tendon was not worth it," Bautista said. "That's why we're opting to do [surgery] now."
The "instability" Bautista refers to is subluxation, or the slipping in and out of position, of one of the tendons that controls wrist movement, most likely the extensor carpi ulnaris (ECU) tendon. (Note: The team has not specified which tendon is involved, but anatomically and functionally the ECU makes sense as the culprit here.) The ECU tendon has a sheath around it that limits the tendon's motion. If that sheath is damaged as a result of chronic minor tearing or an acute traumatic tear, the tendon, located on the medial or inner side of the wrist, can slip during motion such that it rubs against a bony projection on the ulna, one of the two forearm bones. Surgery can help restore the proper anatomy and eliminate the problem. Presuming the tendon itself is healthy, which Bautista says is the case, the rehabilitation is fairly straightforward. Recovery typically takes several months, approximately 10 to 12 weeks before baseball activities can be resumed, with an additional couple of months to return to game shape. If all goes according to plan, Bautista should be able to participate in spring training games.
As for Ortiz, he has been battling a right Achilles injury since July. A stint on the DL and a reported pain-alleviating injection allowed him to return to the majors ... for one game. After just one Friday night appearance, Ortiz was not in the lineup the following day. Within three days, he was again placed on the DL due to lingering soreness in his Achilles.
According to The Boston Globe, Ortiz is expected to undergo a PRP (platelet-rich-plasma) injection. The hope is that he will be able to return and contribute before the season ends. Although Ortiz had a similar injection in his knee in 2007, which he believed helped in his recovery from surgery, there are no guarantees that he will have a similar result here. Results have been mixed in the literature but the positive news is there is no apparent downside to attempting the treatment. If it helps Ortiz return to the lineup, it will be a positive way for him to close out the season. It should not come as a huge surprise, however, if in the end, Ortiz remains sidelined.
July, 17, 2012
7/17/12
1:23
PM ET
There was a trifecta of big-name injuries Monday, and the jury is still out on the severity of two of them. The status of Reds first baseman
Joey Votto
is clear;
Votto is undergoing surgery Tuesday
to address a torn meniscus in his left knee.
I blogged about him
earlier today. But in the case of Blue Jays outfielder
Jose Bautista
and Red Sox designated hitter
David Ortiz
, who both exited their Monday games early due to injury and are awaiting further tests, there is little to go on just yet.
[+] Enlarge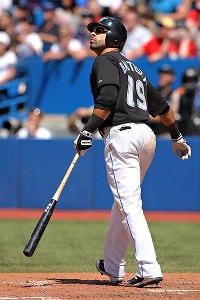 Tom Szczerbowski/US PresswireJose Bautista currently ranks 25th overall on the ESPN Player Rater.
Jose Bautista, OF, Blue Jays:
Bautista took one of his trademark huge swings on a foul ball in the eighth inning Monday night, then grabbed his left wrist. He then crouched, head down, clearly in pain. The medical staff came quickly to his side and escorted him off the field shortly thereafter as he held his left wrist supportively. That instinctive posture is common when an athlete suffers a fracture -- Nationals' outfielder
Jayson Werth
assumed the same position after breaking his left wrist in May -- but is also an automatic response when there is any significant pain or weakness in the forearm or wrist, as it helps support the limb against the pull of gravity. The Blue Jays indicated that X-rays taken at the park showed no fracture and they referred to the ailment as a "tendon injury," adding that Bautista would undergo an MRI Tuesday.
As of this writing, no specifics have been reported, but the Jays have placed Bautista on the 15-day disabled list. Anthony Gose has been called up from Triple-A Las Vegas to replace him in the lineup.
Addendum (July 18):
Bautista was quite thorough in sharing with reporters what he knew about his injury late Tuesday after undergoing an MRI and consulting with the medical staff. While wearing a splint on his left wrist, Bautista explained that as he was finishing his swing, he "felt something weird" near his wrist but it was on the recoil when he felt the sharp pain, which he added was "a little scary at the time." He explained that there was "not much" structural damage but there was irritation in the wrist and it is being called a "wrist strain." As far as which tendon or other structure might have been involved, neither Bautista nor anyone else referenced anything more specific so we are left with generalities when it comes to a diagnosis. Bautista did say he would not pick up the bat for at least a couple of days and expressed hope that it would be a short-term injury. He also referenced a prior wrist injury in winter ball several years ago but noted "that was a totally different injury, it was to a ligament and it was worse." Bautista added that this injury is to a "totally different spot on the wrist and not quite as bad at all."
While Bautista's comments are certainly encouraging, naturally there is concern when it comes to the wrist of a power hitter. If there is only inflammation and the swelling resolves completely, then he should return to form quickly once he recovers from this episode. If, however, there is minor soft tissue damage that presents any sort of mechanical barrier to normal wrist motion, given the torque Bautista generates through his wrists on his swing, it could at the very least make him inconsistent at the plate. As he pointed out, he is day-to-day as of now and we won't know until he starts swinging the bat again whether there will be any lingering issues.
David Ortiz, DH, Red Sox:
Ortiz was rounding the basepaths in the eighth inning Monday night when he pulled up sharply between second and third, then limped his way home. The team later indicated Ortiz injured his right Achilles tendon and is scheduled to undergo an MRI Tuesday. Ortiz showed his veteran understanding of injuries when he told reporters as he left the park that he did not hear a pop, calling that a "good sign." Generally speaking, Ortiz is correct. A pop is often associated with a more significant soft tissue injury. That said, in the absence of a complete rupture, which would be apparent immediately (see:
Ryan Howard
), the only way to visualize the degree of injury is via the MRI.
Ortiz dealt with heel pain last year, which was diagnosed as bursitis or inflammation of the bursa (fluid-filled sac which helps prevent friction between a tendon and the bone to which it attaches) and caused him to miss nine games. It's impossible to say without close examination whether these two incidents are definitively connected, but anatomically, the Achilles tendon does overlay the bursa at the back of the heel. They are two distinct structures, but clearly inflammation or damage in one area has the potential to relate to issues in adjacent structures, even indirectly. Ortiz also had soreness in his left heel earlier this year, although he did not miss any time. Neither Ortiz nor manager Bobby Valentine expects a lengthy absence from this episode, but there has been no official timetable yet. The hope has to be that this apparently minor injury is not a signal of something bigger lurking around the corner.
Addendum (July 18):
ESPNBoston.com reported
that his MRI showed no evidence of a significant tear. However,
Ortiz is in a walking boot and has been placed on the 15-day DL, retroactive to July 17.
July, 27, 2011
7/27/11
4:04
PM ET
If you were up late watching the
Pittsburgh Pirates
and
Atlanta Braves
battle for 19 innings, chances are you were disappointed either as a fan or a fantasy owner ... or both. There has been plenty of chatter over the questionable call at home plate which ultimately decided the outcome of the game. But for our purposes there has also been plenty of chatter about the big injury of the game, much of it coming my way via Twitter.
Here's a sampling of your questions about Braves catcher
Brian McCann
, who exited in the 10th inning with what the team later called a left oblique strain (McCann was expected to be placed on the 15-day DL Wednesday.):
@myown4nw:
Any word on how long McCann will be injured?
@SloshballGM:
What's the recovery time for non-pitcher oblique strain? When can we expect McCann back?
@Bwill02:
Do you expect the minimum stay for McCann or worse? Our trade deadline is Friday
[+] Enlarge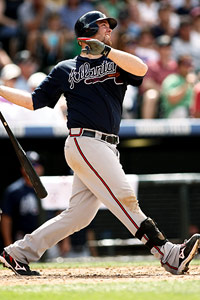 Russell Lansford/Icon SMIThe injury to Brian McCann is a big blow to Braves fans and his fantasy owners.
Naturally, there is great concern regarding the health of one of the top catchers in fantasy baseball (and baseball, period), but at this point it's hard to predict exactly how long McCann will be sidelined. As Sloshball notes, this is a "non-pitcher" oblique injury, but most often those injuries have happened during the swing of the bat. It is less common for a non-pitcher to suffer a throwing oblique strain, but at the same time, it is understandable that a catcher would do so given the maximum effort required on certain defensive throws. It was just such a throw in the 10th inning of Tuesday's game that resulted in McCann grabbing at his left lower side and back when he felt the strain. McCann was throwing hard toward second base on a stolen base attempt (the ball went high). Who knows if fatigue was a factor or if McCann may have felt something when swinging the bat earlier? From the appearance of the injury, it certainly caused a sharp pain, one that would not allow him to continue when he tried to subsequently test himself on a single throw to the pitcher.
While moderate oblique strains commonly sideline hitters and pitchers for at least a month, less severe strains often allow players, even those with big, powerful swings, to return within a few weeks. It all depends on the severity of the injury -- something the team has not yet declared -- and how long it takes for McCann to function without pain. Knowing that they will need him in the lineup come September, though, it's hard to imagine him being rushed back and risking a setback during routine play. As manager Fredi Gonzalez told the Atlanta Journal-Constitution, "Hopefully it is not a bad oblique. There are different grades of it and hopefully we can get him back in 15-20 days." At this point it appears McCann is likely to exceed the minimum 15-day stay simply based on the pattern of recovery for these injuries, even the minor variety, but as to when he will realistically return, an optimistic projection would hover around three weeks, presuming no setbacks.
Quick Hits
•
St. Louis Cardinals
outfielder
Lance Berkman
was expected to undergo an MRI on his ailing right shoulder Wednesday, according to the team's website. It's too soon to speculate what the imaging test and evaluation by the medical staff might lead to, but given that this has lingered since Sunday, affecting his ability to swing the bat, expect Berkman to potentially be out of the lineup for a few days minimum.
•
Toronto Blue Jays
heavy hitter
Jose Bautista
gave everyone a scare when he absorbed a pitch on the left side of his batting helmet Tuesday. Bautista went to the ground immediately but was able to walk off on his own, escorted by the medical staff. After the game, Bautista told reporters, "My head doesn't hurt, I'm not dizzy. I feel perfectly fine." He says he expects to be in Wednesday's lineup but fantasy owners may want to check in advance of game time.
July, 15, 2011
7/15/11
3:13
PM ET
• We didn't have to wait even one full day after the All-Star Break to have another injury scare with a star player. The
Toronto Blue Jays
'
Jose Bautista
left Thursday's game after twisting his ankle by catching a cleat in the dirt on a slide into third base. Video replays show that his foot and ankle quickly invert (roll so the sole of the foot points inward) when his spikes caught the dirt, a common mechanism for a lateral ankle or foot sprain. X-rays were negative, but there is a possible MRI looming. The best case scenario is that this is a minor issue that causes a big scare but doesn't result in much missed time. Of course, there is the
New York Mets
'
Ike Davis
situation to remind us that occasionally injuries that appear minor translate into something far more serious.
[+] Enlarge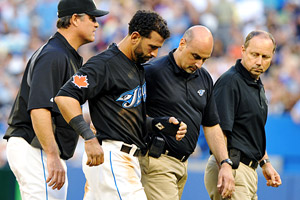 Icon SMIJose Bautista's first game after the All-Star break wasn't what he expected.
• Speaking of Davis, who has been sidelined since early May with a bone bruise in his left ankle, ESPN New York reports he has visited with a specialist in North Carolina and has also received a cortisone injection. The decision as to whether the Mets first baseman will need season-ending surgery will be made after another three weeks of prescribed rest. The issue has been -- and continues to be -- that when Davis attempts to run, he experiences pain in the ankle either during or afterward. Thus, the potential of surgery to address cartilage damage remains. The persistence of pain more than two months post-injury is certainly not encouraging, but no decision about his status has yet been made.
• Teammates
Jose Reyes
and
David Wright
continue to recover from their respective injuries. Reyes, who missed a third All-Star Game as the result of injury, is nursing a left hamstring strain. Although the injury was described as minor, there is a strong likelihood that he will not come off the DL immediately when eligible. According to ESPN New York, the Mets want to be cautious with their speedy star, who had an amazing start to his 2011 season but is also no stranger to hamstring injuries. Reyes' history, combined with the fact that his game is dependent on his speed and explosiveness (and therefore his hamstrings), prompted general manager Sandy Alderson to say, "This is a two- to three-week injury, probably closer to three than two, given his style of the play and the importance of his legs and his explosiveness. We'll probably be careful with him." In other words, he'll spend a little longer away from the game now in the interest of protecting him for the latter part of the season.
• Meanwhile, Wright is expected to begin a rehab assignment Friday. He has tested his back with running, hitting, sliding and all types of baseball activities. Now comes the time to put it all together in a game situation. If all goes well, Wright could be back within another week or so and should be much stronger following this rehab and heading into the second half.
[+] Enlarge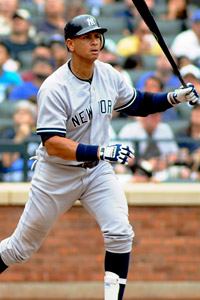 Bennett Cohen/Icon SMIAlex Rodriguez opted for knee surgery right away instead of trying to play through the injury.
•
New York Yankees
third baseman
Alex Rodriguez
also missed the All-Star Game as he underwent surgery in Miami on Monday to address a small meniscus tear in his right knee. There had been some discussion as to whether Rodriguez would try to continue to play through the injury or have the surgical procedure. Ultimately, the decision to fix it won out. It was probably a wise move, as it eliminates the uncertainty not only about how Rodriguez would perform in the presence of the injury but also around the possibility that it could progress.
With the injury being to his right knee, the one Rodriguez pivots on every time he swings the bat (which contributes to his power), any limitation could certainly impact his effectiveness at the plate. Plus, there's the business of running (which aggravated the knee previously) and playing defense. The time frame of four to six weeks to return is certainly reasonable and although Rodriguez
could
return sooner, the goal is to ensure that he does not have lingering knee issues, for this season and beyond. The procedure may have been straightforward, but there is still a joint recovery involved. The Yankees have demonstrated their willingness to be patient with their stars in order to get them back healthy and the same approach seems to be in order here. Much will depend on how quickly he regains his range of motion and strength in his quadriceps followed by assessing how his knee responds (i.e. swelling, soreness) as his activity is increased.
• Another Yankee who missed the All-Star Game is closer
Mariano Rivera
, who has been dealing with triceps soreness in his throwing arm. Although he returned after a few days of rest to pitch an inning on July 9, Rivera elected not to throw in the All-Star Game because, as he told reporters, he wanted to do "what is right," and ensure he is fully healthy. Rivera acknowledged that this might be something he needs to manage across the season yet he does not appear overly concerned. This is an athlete who appears to have a keen self-awareness of his body and his abilities, yet he's also aware that he is indeed 41 years old. Managing this may be precisely what he needs to do, but there appears to be no reason to panic, at least not yet.
• The
Boston Red Sox
also had a couple of notable All-Star absentees. Pitcher
Jon Lester
was placed on the DL with a strain of his latissimus dorsi muscle, an injury which Lester downplayed from the start. After resting for several days, the Boston Globe reports Lester threw from 60 feet Thursday. Although there is still quite a distance to go in his throwing progression, manager Terry Francona's comment that the session went "really well" suggests this will not be a long-term injury. Nonetheless, fantasy owners should anticipate that his return date could extend beyond next Friday, when he is eligible to come off the DL.
[+] Enlarge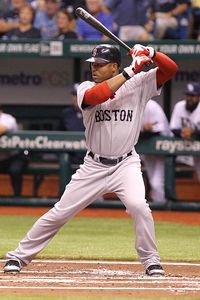 Kim Klement/US PresswireCarl Crawford is expected to play a couple of rehab games for Triple-A Pawtucket this weekend before returning to the Red Sox.
• Teammate
Carl Crawford
is expected to make his return from a hamstring strain on Monday. Crawford had been progressing well before the All-Star Break but the Red Sox exercised caution in bringing him back. It's hard to argue with a few extra days rest when it comes to hamstrings, and maybe Crawford, who's anxious to get back in the lineup, will be a more productive Crawford in the second half.
• The
Philadelphia Phillies
placed
Placido Polanco
on the DL on Friday, citing inflammation in his lower back. Although this move did open a spot for the returning
Ryan Madson
, it's unclear whether Polanco's back is more problematic than originally thought. Polanco has been trying to press through the back condition for over a month. Although he has not played in a game since July 4, he acknowledged playing through pain since June. He has had trouble swinging the bat because of pain, and the Philadelphia Inquirer reported in early July that Polanco had been experiencing numbness radiating into both sides. Despite resting his back, Polanco was unable to participate in the All-Star game and will now be out until at least July 20, when he is eligible to return. Fantasy owners should not be surprised if this extends longer however given the troubles he has been having and the unpredictable behavior of low back pain.
• In the meantime Madson, who has been on the DL with inflammation in his pitching hand after getting hit by a comebacker, is expected to reclaim his closer job from
Antonio Bastardo
right away. Madson had been experiencing issues with gripping the ball despite continuing to pitch and ultimately, when numbness in one of his fingers was lingering, a brief course of rest was recommended. Soon enough it will be evident whether those issues are behind him.
• And finally, keep an eye on
Colorado Rockies
outfielder
Carlos Gonzalez
, who continues to have pain in his bruised wrist. After recently receiving a cortisone injection, it's possible he could be rested for several days. The Denver Post reports Gonzalez has fluid in the wrist, which is contributing to his lingering soreness. The Rockies are calling him day-to-day but resting through the weekend would not be a surprise.
May, 6, 2011
5/06/11
10:29
AM ET
In this edition of Fantasy Focus, Stephania Bell discusses injuries to Nelson Cruz, Pedro Alvarez, Jose Bautista, Delmon Young and Johnny Cueto.

May, 4, 2011
5/04/11
3:43
PM ET
• Apparently the rough times for those playing third base is not quite over.
Toronto Blue Jays
third baseman
Jose Bautista
is the latest of the group to suffer a setback, but how much time it will cost him is uncertain. Bautista left Sunday's game against the
New York Yankees
in the seventh inning with reported neck tightness and was out of the lineup Tuesday. According to the Blue Jays' official website, Bautista woke up Tuesday morning feeling even worse despite the team having an off day on Monday. That led to an MRI, which reportedly revealed no significant injury. Blue Jays manager John Farrell stated, "There is no bulging of a disc. There is no spine issue or anything like that. It is all musculature, so we have to let that subside."
[+] Enlarge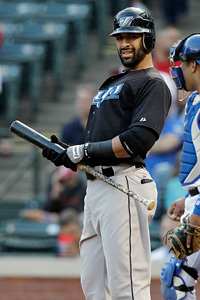 AP Photo/Tony GutierrezJose Bautista is the latest third baseman to deal with the injury bug.
While the fact that there was no overtly visible damage is a good sign, it's worth noting that significant pain and spasm are often present without those signs. Any regular person who has woken up in the morning with a stiff neck or painful back spasms can relate. Most regular folks aren't getting an MRI for these episodes (and rightfully so) because there won't be much to find. An overextended reach, heavy or improper lifting, even an awkward sleeping position are just a few of the things that can contribute to muscular pain and spasm in the spine. A few days of limited activity while trying to allow any inflammation to subside often takes care of the episode, and probably will do the same for Bautista. He is expected to miss the entire series against the
Tampa Bay Rays
, but depending how he fares each day, it is not out of the question that Bautista could return this weekend. At this point there is no indication that he will require a DL stint but much depends on how he progresses.
• Keep your eye on
Texas Rangers
outfielder
Nelson Cruz
, who left Tuesday's game early with tightness in his right quadriceps muscle. He is expected to be evaluated further Wednesday. Cruz is no stranger to muscular injuries, having battled issues with his hamstring last season. In fact, here's what I wrote about Cruz this winter in our fantasy baseball draft kit:
Like teammate Josh Hamilton, Cruz gives fantasy owners a lot to love, as long as they can put up with injury absences. The types of injuries Cruz dealt with in 2010, however, were more worrisome. Three separate trips to the DL because of hamstring ailments is a big concern when you're needed for run-scoring and base stealing. This was not lost on Cruz, who opted to skip winter ball in the Dominican Republic in favor of more rest and worked on altering his running style. It remains to be seen what effect, if any, this will have on his ability to stay healthy while still being productive.
Hmmm. Hamilton is currently on the DL as he recovers from a fracture in his right arm (although it's worth noting he is expected to start swinging from a tee Wednesday, according to the Fort Worth Star-Telegram, several days ahead of schedule). Will Cruz be joining him? Stay tuned.
• Remember when
Los Angeles Dodgers
closer
Jonathan Broxton
said a week ago that his elbow didn't feel 100 percent? He was onto something. Anyone who was watching the ninth inning of Tuesday's game could see that he still wasn't right. Broxton was pulled after walking two consecutive batters on eight consecutive balls and MLB.com's Ken Gurnick reported via Twitter that he is being shut down. There is no timetable at this juncture, but usually any stoppage due to elbow or shoulder pain translates to at least a week or two of doing nothing with a ball. The Dodgers will be looking to get at the root of what's causing the evil for Broxton and will not rush his return. Don't count on him for at least this month.