Stephania Bell:

Jose Contreras
April, 28, 2011
4/28/11
7:04
PM ET
April, 25, 2011
4/25/11
4:00
PM ET
• Just as
St. Louis Cardinals
slugger
Albert Pujols
was starting to look like the hitter fantasy owners know and love, he pulled up while running in the seventh inning of Sunday night's game against the
Cincinnati Reds
, striking fear into the hearts of thousands. The Cardinals said he left the game with "mild tightness" in his left hamstring and Pujols is doing his part to diffuse speculation of any serious injury. Speaking about how his hamstring felt after the game, Pujols told reporters, "The test was pretty good. I don't think it's too bad." Nonetheless, it would not be surprising if Pujols is kept out for at least the first game of the Houston series (which begins Tuesday; the team has Monday off) to ensure he is not risking further injury.
[+] Enlarge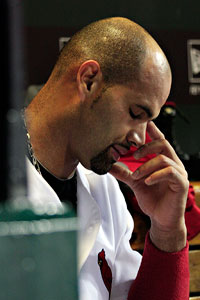 AP Photo/Tom GannamAlbert Pujols left Sunday's game early with a hamstring injury but says it's not serious.
According to MLB.com, Pujols first felt the discomfort in the back of his thigh when he was about halfway down the first base line Sunday night and opted to play it safe. "I just felt a little tight, and I just pulled off," Pujols said. "I think I prefer it tight than a blown-out hamstring, you know?" Yes, Albert, fantasy owners prefer that as well.
• During that weekend series against the Cardinals, the Cincinnati Reds were without their third baseman -- and former Cardinal --
Scott Rolen
as he landed on the disabled list. Rolen is officially listed as out with a sore left shoulder, but he received cortisone injections in both his shoulder and his neck on Thursday, according to Associated Press reports. Rolen has a long history of issues with his left shoulder, including a separated shoulder in 2002 and labral surgery in 2005. Rolen also had a subsequent surgery to address scar tissue in the shoulder in 2007. Given his history, it's no surprise the Reds opted to give their 36-year old corner infielder some additional down time. A report on Cincinnati.com indicated that Rolen agreed with the move. "I think that's the best course," he said. "Let everything calm itself down. Let the medicine get in there and work."
Neck, upper back and shoulder issues are often interrelated and the chronicity of Rolen's shoulder problems can certainly complicate the recovery, especially if he tries to press. While the team hopes he will only miss the minimal DL time (meaning he could return May 6), the plan will become clearer after Rolen has a few days of rest.
On Friday, we hinted that
Toronto Blue Jays
second baseman
Aaron Hill
could be
headed for the DL
with his strained hamstring, particularly given his problematic hamstring injury last year. Turns out, the hunch was a good one. The Blue Jays have indeed placed Hill on the DL retroactive to Wednesday. The hope has to be that this can keep the hamstring from being problematic throughout the season.
• The
Philadelphia Phillies
' closer carousel continues to go round. With
Brad Lidge
starting the season on the DL with a rotator cuff strain,
Jose Contreras
held down the fort. Until this past weekend, that is, when Contreras was sent to the DL with an injury to his throwing arm. Contreras has a right flexor-pronator strain (muscle mass on the inner elbow responsible for rotation of the forearm and grip on the ball) and is returning to Philadelphia for further evaluation, according to the Philadelphia Inquirer. Contreras had not pitched in three days after developing soreness in his forearm. If indeed it is solely a flare-up from overuse, then Contreras should be able to gradually resume throwing after a period of rest and recovery. If, however, there is a more sinister underlying problem then all timetables go out the window. In the meantime, the Phillies plan to use
Ryan Madson
in the closer role.
[+] Enlarge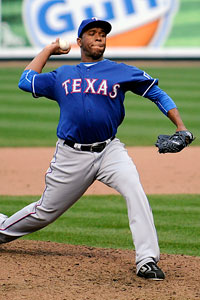 Joy R. Absalon/US PresswireThe Rangers were quick to put Neftali Feliz on the DL to avoid more serious issues down the line.
• The
Texas Rangers
are also forced to make a change at closer, now that
Neftali Feliz
is on the DL with inflammation in his throwing shoulder. The Fort Worth Star-Telegram reports that Feliz experienced tightness in his shoulder Friday while warming up. After he struggled a bit on the mound Wednesday, the team decided not to take any chances and imposed the shutdown with the hope that he will only require the minimum stay. While any issue with a thrower's shoulder raises some red flags, the fact that the Rangers appear to have jumped on this early is encouraging.
• In the good news department, the
Milwaukee Brewers
have to be excited about the imminent return of outfielder
Corey Hart
to the lineup. Hart, who has been on the DL since the start of the season with a left oblique injury could rejoin the team Tuesday after one final rehab outing in Nashville on Monday. The Brewers website notes that the team could opt to delay his return until Wednesday. The timing of the move will depend on how Hart feels the timing of his bat is shaping up. Most importantly, there appear to be no residual effects of the injury; it's just a matter of getting Hart up to big league speed.
• Meanwhile Hart's teammate
Zack Greinke
had another rehab outing Sunday, the success of which depends on what you're measuring. Greinke is pain-free and his velocity was good. He appeared to fatigue and with that, lost some of his command. As Greinke told the Tennessean, "Through almost the whole first two innings I felt real good. But they had a couple long at-bats and I hadn't really had any real long innings yet." The main issue for Greinke in recent weeks is no longer the rib (which has healed) but building up his arm strength after zero spring training outings. Given that the team is interested in having him available for the remainder of the season, a return in the first week of May -- not late April as some had hoped -- appears to be the most likely scenario.
•
Florida Marlins
outfielder
Logan Morrison
has
tweeted that he is out of a cast and into a walking boot
. This is a good sign that he is being allowed to progress with weightbearing through his recently sprained foot, although he still has quite a ways to go before baseball activity.
April, 5, 2009
4/05/09
4:18
PM ET
By
Stephania Bell, ESPN.com
| ESPN.com
AL East
[+] Enlarge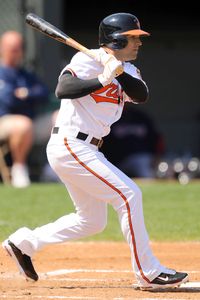 Rob Tringali/Getty ImagesBrian Roberts will be a key to many teams' fantasy hopes, especially in steals.
Baltimore Orioles: Brian Roberts
Roberts has missed a few games late this spring as a result of a respiratory infection and back spasms, which often go hand in hand for obvious reasons. Orioles fans may have become a little nervous when the Baltimore Sun reported that the pain on his left side was near the oblique muscles. Oblique abdominal injuries are notoriously slow-healing and can severely limit a hitter's swing, but it appears that Roberts may have dodged a bullet. He played in the team's final spring games, meaning he'll be ready to start the season. If this is indeed a minor muscular issue associated with his recent illness, there should not be lingering concern for Roberts' health.
Boston Red Sox: John Smoltz
Smoltz was my choice for injury comeback story of the year as of New Year's Day, and if anything, I'm even
more
encouraged now. Smoltz, who has shown his ability to come back from injury in the past (following multiple elbow surgeries) has been progressing even better than expected after significant shoulder surgery. The historical relationship between members of the Red Sox rehab staff and Smoltz's surgeon, Dr. James Andrews, inspires confidence that he will continue to be brought along at an appropriate pace, which is key to his successful return. Add in Smoltz's competitive fire, along with the fact that he has already thrown several bullpen sessions with a full mix of pitches, and he could be a dangerous addition by June.
New York Yankees: Alex Rodriguez
Rodriguez certainly gave everyone a lot to talk about this year, but the issues surrounding his hip are the ones of most immediate concern to the Yankees. Following surgery to repair a torn labrum, Rodriguez is on a focused, aggressive rehab plan in Vail, Colo., absent of distraction and closely supervised. He reportedly is on target to return to the team in mid-May, if not sooner. Keep in mind that Rodriguez awaits a more extensive follow-up procedure in the offseason, and he will have to quickly make up for valuable lost spring training time. To have success at his position offensively he needs to swing for power and slide without hesitation. On the defensive side, he has to rush bunts, dive for grounders and, perhaps most challenging, throw across his body on the run. That is a lot to expect just nine weeks after surgery, especially with the whole world watching. And make no mistake, everyone will be watching.
Toronto Blue Jays: Vernon Wells
Last year, Wells missed significant time due to a strained left hamstring and a broken wrist. This spring, Wells has already been bothered by the same hamstring and wrist. No need for a medical background to know that this is not good. Hamstring injuries are known to be annoyingly recurrent, but having the problem crop up so early for Wells is cause for concern when the first of 162 games has yet to be played. As far as the wrist issue, it is not unusual to have stiffness and soreness in the area of a prior fracture, but once again, the fact that this is rearing up so early is of concern. Manager Cito Gaston remains hopeful that these are minor issues, but this is unlikely to be the last we've seen of these injuries for Wells.
Tampa Bay Rays: B.J. Upton
Upton will start the season on the DL, but not to worry. He is recovering nicely from offseason surgery to repair a torn labrum in his left (non-throwing) shoulder. Upton's power decline last year can be definitively linked to the instability in his shoulder, which has now been addressed. The timetable all along seemed to suggest that Upton would open his season in the warm weather at Tropicana Field. That plan was confirmed after Upton took a pitch to the hand in a spring game, which fortunately resulted in only a bruise, but gave the team reason to rest him a few extra days. Expect good things from Upton once his shoulder -- and his bat -- heat up.
AL Central
Sign up today for the most customizable free Fantasy Baseball game out there. You set the rules, scoring, everything. Sign Up Today!
Chicago White Sox: Jose Contreras
Contreras' 2008 season came to an abrupt halt when he tore his Achilles tendon in August, necessitating surgery. Although he was originally projected to be out until perhaps the All-Star break, Contreras has exceeded expectations. Between shedding 30 excess pounds and rehabbing diligently, he has put himself into position to start the season on schedule. His pitch location still needs some work, but his velocity is up and, most importantly, Contreras feels fine physically. At 37, he's not the youngest guy in the rotation, but he's certainly working as if he has something to prove. Keep an eye on him.
Cleveland Indians: Jake Westbrook
It seems like every year there's someone who's expected to return midseason following Tommy John surgery (ulnar collateral ligament reconstruction) the previous year. Westbrook is one of those guys this year with a twist: he also had hip surgery during the same time frame. It actually makes sense since the rehab following Tommy John surgery is so extensive. Adding the hip procedure in order to recover from both simultaneously seems to have been a wise move, but as a result, Westbrook's return may take a bit longer. As of the start of the season, the Indians are hoping he rejoins the team in June and he is already throwing fastballs from a mound. Most pitchers require an additional nine to 12 months to truly regain their form following this type of elbow surgery, however, so Indians fans need to temper expectations accordingly.
Detroit Tigers: Jeremy Bonderman
Bonderman missed the last four months of the 2008 season when he underwent surgery to correct a circulatory issue in his throwing arm. The surgery involved clearance of a blood clot, along with resection of a rib to alleviate compression on the involved blood vessel which passes from the neck through the shoulder to the arm. It seemed as if his recovery was moving along well enough until Bonderman developed soreness in the shoulder. That soreness translated into a delayed progression and, most recently, velocity issues. Bonderman will begin the season on the DL and there is no timetable for his return. It is not uncommon for some of these post-surgical problems to linger following this type of ailment, but it certainly leaves a big question mark as to Bonderman's status for 2009.
Kansas City Royals: John Bale
Bale will be useful to the Royals in middle relief ... once he can join the team. Bale is recovering from thyroid surgery, not something you see every day on the injury list, and will start the season on the DL. Bale has had a long list of injuries in the past few years, including a self-inflicted hand injury last year that sidelined him for an extensive period of time. The positive note here is that Bale's recovery from the thyroid surgery should be fairly straightforward. Unlike soft tissue problems that continue to recur, this should no longer present an issue for him. Once he gets his strength and his spring work in, Bale should be ready to go.
Minnesota Twins: Joe Mauer
This ranks right up there with the most unusual of baseball injuries. Then again, Mauer has a history of complicated and unique injuries. Mauer underwent surgery last fall to address a kidney obstruction, with the hope that it would remove the back pain he had been experiencing late in the season. After some initial relief, the symptoms returned and prevented him from running
at all
this spring. Further testing revealed inflammation at Mauer's right sacroiliac joint (where the spine meets the pelvis). The finding in and of itself is highly unusual, especially in the absence of trauma, even more so following an offseason of rest and recuperation from surgery. The Twins insist that new medication should be enough to address the problem, but inflammation is generally a symptom, not a source, meaning the possibility of recurrence exists. Mauer will start on the DL and the team has not issued a timetable for his return.
Where should they go?

Check out a new tool from ESPN Insider: the Draft Analyzer. With it, you can figure out where a player should go in your fantasy MLB draft, relative to value. Draft Analyzer
AL WestLos Angeles Angels: John Lackey
Lackey made this column last year, not something an athlete strives to repeat. He started the season on the DL but went on to finish out the year strong. His reappearance here for essentially the same condition does not bode so well. Lackey has inflammation in his right (throwing) elbow and is resting the arm following a cortisone injection. An MRI reportedly showed no major structural damage and the Angels expect to have him back within a few weeks. So why the concern? Because with the exception of last season, Lackey has made at least 30 starts per year since his rookie season in 2002, which adds up to a lot of mileage on a thrower's arm. Although he has shown great durability to this point, one has to wonder whether this episode signals that cumulative trauma is beginning to take its toll.
Oakland Athletics: Joey Devine
He has one of the best names in professional sports ... and now he's paying a visit to one of the
biggest
names in professional sports. Devine will be examined by Dr. James Andrews next week for a consultation on his ailing right (throwing) elbow. The fact that Devine requires a trip to the well-known orthopedic surgeon is bad enough; what's worse is that this is a recurrence of a problem that caused him to miss two months last year. Devine was
divine
when he returned to action in 2008, but serious symptoms this early generally do not signal good times ahead. He will join teammate
Justin Duchscherer
on the DL to start the season. The A's have to hope that Devine's stay is just temporary.
Seattle Mariners: Erik Bedard
Bedard never really got it going in 2008 after experiencing a variety of ailments, but ultimately it was his shoulder that ended his season prematurely. He underwent arthroscopic surgery to address a cyst and shape the labrum, but did not require major reconstruction. So far the spring has been relatively uneventful for Bedard, minus a few missed days for a sore gluteus maximus (yep, buttock muscles). He claims all is well heading into the start of the season but a note of caution is in order. Bedard has suffered a number of soft tissue injuries across his career, including an ulnar collateral ligament injury that required Tommy John surgery before he joined the majors. With oblique, hip, back and shoulder problems all surfacing within the past two years, the Mariners may not be out of the woods.
Texas Rangers: Chris Davis
Davis is another player who brought a leftover condition from last season to this year's spring training. Davis has patellar tendinitis, or inflammation of the tendon that anchors the quadriceps muscle (on the front of the thigh) to the shinbone (tibia). The tendon is also attached to the kneecap, or patella, hence the name. The condition is common in basketball players and others involved in jumping sports, less so in baseball. Although the fact that Davis suffered from this late last year is of concern, it does not appear serious. Nonetheless, he is an up-and-comer, so managing his symptoms will be key to extending him throughout the season.