Stephania Bell:

Josh Beckett
July, 1, 2013
7/01/13
6:57
PM ET
Every Monday, in this space, we'll provide updates on a variety of players to help you make your weekly lineup decisions. We'll specifically try to hit the players who are day-to-day, have just gone on the DL or are ready to return, so that you can better decide whether you can count on them or not.
All projected return timelines should be considered fluid.
Hitters
Bryce Harper, OF, Washington Nationals (placed on DL retroactive to May 27, expected to return Monday): Last week there was some disagreement between Harper and manager Davey Johnson about the right time for Harper to return to the lineup. It now appears they are on the same page. According to the Washington Times, Harper is expected to return Monday night after completing a rehab assignment with Double-A Harrisburg. He originally injured his knee in May crashing into the outfield wall at Dodger Stadium but tried stoically to play through it. Less than two weeks later, it became apparent the knee was not improving and Harper went on the DL. Persistent swelling in the form of bursitis nagged at him until June, when he received two separate injections in the area: cortisone and PRP. Once the pain and inflammation settled, Harper was able to resume baseball activities and now, after increasing that activity to the level of playing in games, he is in line to rejoin his team.
The knee is not perfect and the chance remains that it could become aggravated with a crash, a dive or another move often associated with Harper and his style of play. For now, however, he is just anxious to get back in the lineup, posting the following on his Twitter account Monday: "I'm so blessed and thankful to be back playing the game that I love! Felt like forever." Fantasy owners no doubt feel the same way.
Evan Longoria, 3B, Tampa Bay Rays (day-to-day): Longoria aggravated plantar fasciitis in his right foot Friday night and sat for the remainder of the weekend. The question for fantasy owners is how long the rest will continue. Manager Joe Maddon said Longoria had improved substantially by Sunday to the point where a DL stint might not be necessary, according to the Tampa Bay Times. In fact, Maddon suggested Longoria might be available to pinch hit Monday if he continued to feel better.
The problem with plantar fasciitis (pain in the fibrous tissue which reinforces the arch of the foot) is that the pain is typically provoked by load-bearing activity, including running. If Longoria does test the foot and the pain escalates, the team may have to re-evaluate the possibility of more extended rest.
Carl Crawford, OF, Los Angeles Dodgers (placed on DL June 2, could return this week): After not hearing much about Crawford's progress in rehab during the month of June, there's suddenly a rather dramatic update. Crawford began a rehab assignment over the weekend and is scheduled to add playing time in the field early this week, according to the Los Angeles Times. If all goes well, he could return to the lineup this weekend when the Dodgers face the San Francisco Giants.
The risks remain the same as they are for any player coming off the DL with a significant hamstring strain, something with which the Dodgers are all too familiar. The hope is that Crawford will situationally test the hamstring as much as possible while on his rehab assignment, but that will never match the intensity of a major league contest. It wouldn't be the worst thing for the health of their outfielders if the Dodgers choose to rotate among them all (Crawford, Matt Kemp, Andre Ethier and Yasiel Puig). With Kemp coming off a recent hamstring injury (which appears to be fully recovered) and still trying to regain his form following shoulder surgery, Ethier's recently sore knee and Puig playing every game as if it might be his last, the addition of Crawford -- who has yet to stay healthy for more than eight weeks over the past two years -- could provide the sort of insurance the Dodgers' outfield needs. For fantasy owners, however, it will be worth monitoring how the workload is divided up once Crawford is back in the mix.
Mike Trout, OF, Los Angeles Angels (day-to-day): Right now there seems to be little concern on the part of the Angels about the "minor" hamstring issue that kept Trout out of the lineup Sunday. At nearly the halfway point of the season, Trout had yet to miss a game, so perhaps a day of rest was in order, especially if that day keeps him healthy going forward. Trout is expected to play Tuesday after the team's day off on Monday but, as we have seen with other hamstring ailments around the league, sometimes even a seemingly minor issue can resurface if provoked. Everyone is hoping this will not be the case for Trout.
Everth Cabrera, SS, San Diego Padres (placed on DL June 17, could return this week): When Cabrera was first injured, he sounded like someone who knew it would take more than a few days off to recover. The good news is that he likely he will not miss much beyond the minimum DL time with his strained left hamstring. Cabrera has been making progress with his conventional rehab and, according to the Padres' official website, could head out on a rehab assignment early this week with their Class A affiliate in Fort Wayne, Ind. If he plays without incident there, the Padres could see him back in their lineup as soon as Thursday in Boston or for the weekend series in Washington against the Nationals. Given Cabrera's value in base stealing and the fact he was injured while attempting a stolen base, he probably would want to test that skill in a game situation before returning to the majors. Not every scenario can be forced, so his return may not hinge on it, but a successful minor league steal would help instill confidence -- both for Cabrera and fantasy owners -- that he will not be hesitant to do so upon return.
Peter Bourjos, OF, Los Angeles Angels (day-to-day, likely to be placed on DL): Bourjos broke a bone "just below his right wrist" and is now expected to miss two to three weeks minimum, according to the Los Angeles Times. The fracture occurred Saturday when he was hit by a pitch in the fourth inning of a game against the Astros. Fortunately for Bourjos, this is a nondisplaced fracture (bony ends remain in alignment), which doesn't require surgery. Assuming the bone shows good early healing and he is able to grip and swing a bat effectively, his timetable for return is projected at under a month. Bourjos has already spent as much time on the DL this season as he has on the playing field, so the news of another significant injury is particularly discouraging. At least he knows the drill.
Ryan Sweeney, OF, Cubs (placed on DL June 30): Sweeney had been seeing regular playing time since mid-June, filling in for the injured David DeJesus, who is out with a shoulder sprain. Sweeney will now be joining DeJesus on the DL after a crash into the outfield wall Saturday resulted in a left-sided rib fracture. (DeJesus also injured himself when he collided with the outfield wall.) Originally labeled a contusion (deep bruise), the injury turned out to be more severe upon further examination. The broken bone will require four to six weeks to heal and Sweeney's activity will be determined both by that healing process and his discomfort. It now looks as if recently called up Brian Bogusevic will see regular playing time until DeJesus returns (not expected until late July). Note to Bogusevic: Avoid the outfield walls.
Melky Cabrera, OF, Blue Jays (placed on DL June 28): It was a bit surprising to see Cabrera placed on the DL Thursday when there hadn't been much chatter about a problem. Apparently a midweek tweak of his knee during a game against the Rays had Cabrera laboring a bit with his movement, according to manager John Gibbons, prompting the DL designation. The injury was originally reported to have been tendinitis in his left knee, and the diagnosis was supported by a subsequent MRI, according to Sportsnet. The diagnosis remains unspecific given it is not clear which tendon is aggravated, but it sounds as if the Jays expect he could return when eligible.
Jedd Gyorko, 2B, San Diego Padres (placed on DL June 10, could return this week): Gyorko was expected back last week assuming his two scheduled rehab games went as planned. They did not. He felt his right groin tighten up while running hard during a rehab game Wednesday and exited early as a precaution. As of Saturday, Gyorko reported feeling improvement, according to the Padres' official website, but he remains without a definitive timetable for return. If anything, the experience of the setback, however minor it was deemed to be, reinforced the need to test Gyorko's response to baserunning. Before he returns, it would seem likely the team would send him on a rehab assignment to test the area not only in-game, but to see how he responds the following day. A specific plan has not been outlined as of yet, but fantasy owners should not expect him before late in the week.
Troy Tulowitzki, SS, Rockies (placed on DL June 13): Tulowitzki has just recently passed the 15-day mark of his DL placement but he will be staying put for a while longer. Still, his progress thus far has been encouraging. Tulowitzki has resumed some light baseball activities, including fielding, playing catch and, as the Denver Post reported, hitting off a tee as of Saturday. He's still on the projected four-to-six week time frame and he's not entirely pain-free, but his ramped-up work is a good sign. Assuming the healing of the rib itself cooperates, Tulowitzki could get clearance to further advance his activity in the coming days.
Corey Hart, 1B, Milwaukee Brewers (opened season on DL, now done for the season): Just when it seemed the news for Hart couldn't get any worse, somehow it did. Hart, who has struggled to return from offseason surgery on his right knee, will now undergo surgery on his left knee, ensuring his absence for the remainder of the 2013 season. It was only last week that Hart revealed his frustration to the Milwaukee Journal-Sentinel at a constantly changing return date and his continued lack of strength. Return following any procedure involving cartilage resurfacing can vary widely depending on the individual's healing response and whether any setbacks are encountered along the way. Hart had several setbacks with his right knee, but his biggest comes in the form of an entirely different blow. On the other hand, the forced scaling back of the rehab for his right knee while he undergoes surgery on the left may end up having a beneficial effect. He will have to ramp up his activity gradually to accommodate the left knee and the adjusted program may be just what his right knee needs to fully recover. Another surgery is not the news any athlete wants to hear, but it was beginning to look worrisome as to whether Hart would be able to make it back this year anyway. At least this way he has the opportunity for a fresh start in 2014.
Pitchers
Johnny Cueto, SP, Cincinnati Reds (placed on DL June 29): This is now the third time that Cueto has been bothered enough by a lat strain to be forced out of the rotation. Cueto went on the DL in mid-April, then returned a month later and looked sharp. But shortly thereafter he aggravated the area behind his shoulder and was sidelined for another 15 days. Now, after less than two weeks of being back in the mix, Cueto has again suffered a setback. The repeat nature of this has to raise concerns for his ability to truly get past the injury in-season. After a diagnostic ultrasound confirmed the injury is to the same spot within the same (latissimus dorsi) muscle, the team's plan is to completely shut down his throwing for several weeks and slow down his rehab process, according to the Cincinnati Enquirer. It's hard to argue with the plan when the problem has been as recurrent in nature as it has for Cueto. The Reds have to be hoping that the third time's the charm in terms of keeping Cueto off the DL, but as Reds athletic trainer Paul Lessard told the Enquirer, "It's probably going to be an issue the rest of the season."
David Price, SP, Tampa Bay Rays (placed on DL May 16, expected to return Tuesday): From start to finish, this injury episode has been a bit unusual. It started with the vague diagnosis of "triceps tightness" for Price which manager Joe Maddon initially projected would cost him merely two to three starts. A month later, Price is just approaching a return from the DL. His rehab has progressed fairly cautiously, but Price has not been beset by setbacks. Still, the team was careful not to place any expectations on his return date and offered very little in the way of specifics about Price's injury. Muscular tightness is generally not the cause of a 45-day absence. The concern is that this incidence reflects a greater underlying issue with Price's throwing shoulder. But his fairly linear recovery and strong performance in rehab outings provides some reassurance that he is indeed returning healthy. Only if Price lasts the remainder of the season without any recurrence of symptoms, however, will we be able to breathe a sigh of relief about his health. Until then this is an exercise in cautious optimism.
Anibal Sanchez, SP, Detroit Tigers (placed on DL June 16, could return this week): The plan was for Sanchez to make a rehab start Monday to assess his readiness to return. If all went well, it was conceivable he could be activated by the weekend. Unfortunately, Sanchez took a line drive to his left leg during this rehab outing and had to exit the game. According to James R. Chipman of Scout.com, Sanchez appeared to be in a fair amount of pain. There is no word yet as to the seriousness of this injury. The issue here with regards to Sanchez's shoulder is not necessarily the severity of this episode per se, but rather the lengthy history of shoulder problems that Sanchez has dealt with across his career. His near return is encouraging but it remains to be seen whether this was a minor bump in the road or a signal that his shoulder is fatiguing.
A.J. Burnett, SP, Pittsburgh Pirates (placed on DL June 9): Burnett has been working his way back from a Grade 1 calf strain and has resumed throwing downhill. After a successful couple of bullpen sessions, Burnett is expected to throw a simulated game Tuesday according to the Pittsburgh Tribune-Review. Burnett's challenges following this injury have as much (if not more) to do with running to cover first base and fielding as anything with his push leg. Even if his throwing sessions are uneventful, until he tests those activities, it will be difficult to gauge his readiness to return. A rehab assignment could be in his near future which will provide the situational play necessary to test the calf. If all goes well, Burnett could be eyeing a return within the next couple weeks, although the Pirates have not specified a timetable.
Clay Buchholz, SP, Boston Red Sox (placed on DL retroactive to June 9): An MRI on Buchholz's shoulder reportedly revealed inflammation in the bursa sac of his right shoulder, or simply, bursitis. While the diagnosis is relatively benign, it doesn't fully explain the neck pain Buchholz has been experiencing recently. Buchholz's issues began in the shoulder in late May, but recently his complaints have been closer to the neck and he was reported to be dealing with a trapezius strain (large muscle between the neck and the shoulder). Whether that area was symptomatic as a result of origination of a problem elsewhere is the ultimate question the Red Sox need to answer. Perhaps Buchholz's response to the next round of treatment will do just that. The bottom line in terms of activity is that the plan for Buchholz is to gradually resume his throwing program. Again. This latest effort started with a session of catch before last Saturday's game and will likely progress, as previously, based on what his level of comfort allows. In other words, it's a matter of wait and see. Again.
Josh Beckett, SP, Los Angeles Dodgers (placed on DL May 14, now expected to miss remainder of season): Beckett has barely been present for the Dodgers this season and the appearances he did make were forgettable. His season has been marred by injury -- predominantly connected to numbness in his throwing hand -- and he is now heading to surgery for thoracic outlet syndrome (compression of nerve and/or blood vessels between the neck and shoulder, generally by a rib which is then resected in surgery). This is similar to the surgery St. Louis Cardinals ace Chris Carpenter underwent, and we have witnessed his ups and downs in trying to return to pitching. It is no easy rehab process and Beckett has expressed concern at various points about what his future holds. For now the only certainty is that he is not expected back on the mound for the Dodgers this year.
Brandon Beachy, SP, Atlanta Braves (opened season on DL): Just as Beachy appeared to be on the verge of making his season debut following Tommy John surgery, he suffered a setback in mid-June which threw him off his timeline. Fortunately, an MRI revealed only inflammation but no significant structural damage in the area of his recently reconstructed ligament. After a week of rest, Beachy gradually resumed throwing and has again worked his way back to throwing off a mound. His recent bullpen sessions have gone smoothly and the next step appears to be re-engaging in a rehab assignment. Given that his setback happened after what was to be his final rehab outing, it's likely the team will want him to make several rehab starts before bringing him to the big league setting. So far, so good given how things looked just two weeks ago, but fantasy owners should not expect him to join the Braves for a while yet. Even then it may take him awhile to accumulate substantial innings.
Joakim Soria, RP, Texas Rangers (opened season on DL): It is really nice to see Soria doing so well in his road back from Tommy John surgery, especially since this is his second time undergoing the procedure. He has yet to appear in back-to-back games, likely the final step before re-emerging in the majors. Bear in mind that Soria has been out for over a year and he may be gradually integrated into relief work once he joins the team. Still, it's nice to have a feel-good story on the injury front, especially after a player has been down such a long recovery road twice.
June, 21, 2011
6/21/11
1:50
PM ET
With the
St. Louis Cardinals
' loss of
Albert Pujols
drawing top billing in the injury news Monday, some other injury-related news may have floated under the radar. That is, of course, unless the players connected to those injuries are on your fantasy roster.
[+] Enlarge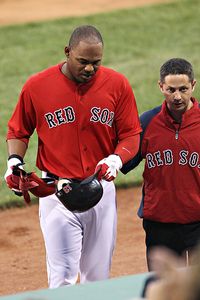 Jim Rogash/Getty ImagesCarl Crawford is one of eight Red Sox currently on the disabled list.
Carl Crawford, OF, Boston Red Sox:
Crawford made an early exit from Friday's game with a strained left hamstring, as he pulled up while running to third on an infield single in the first inning. Despite the news that Crawford's injury was a Grade 1 (minor) strain, the team took no chances and placed him on the 15-day DL the next day. Given that he has to run the bases and run in the outfield, the risk of aggravating the injury if he rushes back is high. Crawford is on the disabled list for only the second time in his career; the first absence was in 2008 for a hand injury. The team is hopeful that Crawford will only require the minimum stay.
Shaun Marcum, P, Milwaukee Brewers:
Marcum left last Friday's game early with what was later termed a left hip flexor strain. As for why he left after just one inning, Marcum said, "I didn't want to take a chance of hurting it worse or actually doing something where I'm missing more time." An MRI taken over the weekend reportedly revealed no significant injury and Marcum threw again Monday. According to the Brewers' website, Marcum threw what pitching coach Rick Kranitz referred to as a "great" bullpen and if he continues to feel good Tuesday, Marcum should make his next scheduled start on Wednesday.
Marcum is the second right-handed pitcher in recent weeks to have a hip flexor strain in his lead leg. St. Louis Cardinals pitcher
Kyle McClellan
recently came off the 15-day DL following a similar injury. According to the Cardinals' website, McClellan believes his particular style of throwing, being "very aggressive on that hip," contributed to the strain he placed on the joint. He spent his recovery time working on making adjustments in that delivery to try and offload the hip. His first outing following his return wasn't fantastic but there were no reports of his hip giving him trouble.
David Freese, 3B, St. Louis Cardinals:
Freese suffered a broken bone in his left hand when he was hit by a pitch in early May but has been steadily making good progress in his recovery. He underwent surgery after the injury to stabilize the fracture and has been quietly, successfully carrying out his rehab efforts. Tuesday marks a big step forward, however, as Freese is expected to begin a rehab assignment with Triple-A Memphis. According to the St. Louis Post-Dispatch, Freese indicated he could rejoin the Cardinals by late June if all goes well. Freese was originally projected to be absent potentially as long as three months, so a sooner return would be welcomed by him and his teammates. Just last year, however, Freese had the misfortune of suffering a second injury while already out on the disabled list, so he knows better than anyone to take it one day at a time. Still, the Cardinals could use some good news right about now, and Freese's near return just might be it.
[+] Enlarge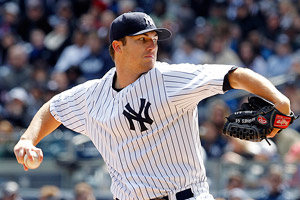 William Perlman/TheStar-Ledger/US PresswirePhil Hughes has a 13.94 ERA in three starts this season.
Phil Hughes, P, New York Yankees:
After a difficult spring when his velocity seemed to have vanished, Hughes appears to have found it again, or so it seems. Hughes underwent a battery of tests to determine whether there was any medical condition responsible for the
drop in his velocity
, but they yielded no significant findings. And so he simply restarted his season.
The do-over seems to be going much better. Hughes has looked good in bullpen sessions but this week marked a new test. Hughes had his first rehab outing Sunday, delivering 4⅓ innings for Class A Staten Island. The most encouraging news from that day was Hughes' ability to maintain the velocity on his pitches, staying in the low to mid-90s throughout. According to the New York Daily News, manager Joe Girardi was encouraged. "His velocity was good, the velocity on his cutter was good," Girardi said. "It just seems that his arm strength is back." Hughes is due for another couple of rehab starts, at least, but appears as if he could be making his way back to the rotation relatively soon, perhaps in early July. It's difficult to know what to expect long term, especially since Hughes' condition was so puzzling even to those around him. Right now, everyone is just enjoying the fact his ship seems to be righted.
Quick hits
• Other Red Sox in the injury news: Staff ace
Josh Beckett
was scratched from his Tuesday start as he deals with what manager Terry Francona referred to as "intestinal turmoil." It's surprising Francona doesn't have a similar condition dealing with all the ailments his team has faced recently. Just this past week, pitcher
Clay Buchholz
(back) joined Crawford on the DL, as did
Jed Lowrie
, who is now headed west for a consultation with Dr. Lewis Yocum. Lowrie has been trying to play through a sore left shoulder (injured in a collision with Crawford in late May) but last week described a sensation of the shoulder slipping in the joint.
•
Atlanta Braves
pitcher
Tommy Hanson
is reportedly feeling better. Hanson was placed on the DL with inflammation in his throwing (right) shoulder. An MRI showed no significant injury, but the Braves opted to rest him proactively. The Atlanta Journal-Constitution reports the team hopes to have him back when eligible on June 28. Meanwhile teammate
Brandon Beachy
will start Wednesday in place of the injured Hanson. Beachy has been out for more than a month with an oblique strain but said he felt no discomfort after going five innings in a rehab start last week. Once recovered, the re-injury rate for obliques is generally low. If Beachy can deliver a couple of strong outings without incident, this will appear to be behind him.
•
Ubaldo Jimenez
had a cramp in his right calf Saturday, which ultimately forced him out of the game in the sixth inning. Afterward, Jimenez told the Denver Post that he was "a little bit sore" but did not sound overly concerned.
• The
New York Mets
'
David Wright
(stress fracture, back) and
Ike Davis
(bone bruise, ankle) are both scheduled to be evaluated later this week. Newsday reports Wright played catch Sunday and fielded grounders on his knees. He is sounding optimistic that his healing has progressed enough to earn him clearance to resume baseball activities. Meanwhile Davis is expected to undergo a follow-up evaluation on Wednesday. The hope is that his ankle will have recovered enough for him to tolerate a running progression. Before Davis was placed back in the walking boot, his attempts at running were limited by severe pain.
July, 21, 2010
7/21/10
4:35
PM ET
Hey, look who's coming back! Isn't it nice to have an injury update lead with guys
returning
to your fantasy roster instead of the ones you'll need to replace?
That isn't to say it's all sunshine and roses this week.
Manny Ramirez
owners have to be a bit frustrated as he heads to the disabled list for the third time this season because of a right lower extremity injury (this time it's his calf). And
Justin Morneau
owners have every reason to be concerned; he's on the DL indefinitely while he deals with the aftereffects of a concussion (and not his first concussion).
That's enough of that. Didn't I say we were leading off with positive news? Here are updates on four key fantasy options all set to return: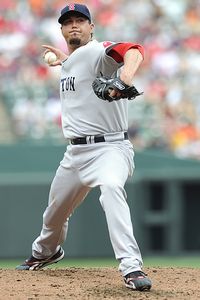 Mark Goldman/Icon SMIJosh Beckett had struggled before going on the DL, sporting a 7.29 ERA.
Josh Beckett, SP, Boston Red Sox:
Beckett has not been available to fantasy owners since May because of a back strain, but that is about to change, as he will return Friday to face the
Seattle Mariners
on the road.
Fantasy owners may be wondering what to expect from Beckett after an extended absence. While no one knows for sure, there are some promising signs from an injury perspective. The primary positive sign is that Beckett has not complained of pain or discomfort in his back since mid-June. The timetable represents his steady progression from catch to long toss to bullpen sessions and finally rehab outings. The fact that for more than a month he seems to be past the point of symptoms and more focused on building endurance and fine tuning his pitches is encouraging.
While back problems are always at risk for recurrence, the longer an athlete goes without an episode, the more confidence one can have in his return. Although Beckett told the Boston Globe that he doesn't feel "sharp every pitch" as he still works on location, the downtime has allowed him to focus on mechanics in a way that may ultimately prove beneficial.
The Red Sox likely will limit the number of throws in his early outings as he continues to build endurance through competitive play, but fantasy owners have reason to be optimistic that a rejuvenated Beckett could provide a second-half spark.
Shin-Soo Choo, OF, Cleveland Indians:
When Choo sprained his right thumb in early July, the best news that he and fantasy owners got was that
he would not need surgery
(unlike the
Philadelphia Phillies
'
Chase Utley
, who is just out of his post-surgical cast.) Translation: Choo's healing time would be quicker. But by how much?
It was estimated that he could miss several weeks, depending on how quickly the ligament tissue repaired itself. Apparently, it has done quite well, because it appears Choo will be able to rejoin his team Friday after a brief rehab assignment, according to MLB.com. Choo had already been swinging a bat and doing outfield drills, both good indicators that the thumb is not presenting much of an issue for him. The injury was to Choo's glove hand, so throwing the ball was never a concern. As is often the case with thumb injuries, though, his ability to control the bat could be. His quick progression to a brief rehab assignment suggests that he is doing quite well and this is just a pre-major league action tuneup.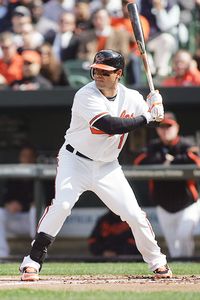 Brian Schneider/US PresswireBrian Roberts has been limited to just four games this season because of back problems.
Brian Roberts, 2B, Baltimore Orioles:
Wow! Two weeks in a row with positive news for Roberts in this column!
Last week we celebrated Roberts going
3-for-3 in a rookie league game
after being out since April with back pain. Roberts continues on his positive path and has now moved to Double-A ball. It appears, if all continues well, that he could rejoin his team next week, making his own recent target of August 1 a reality.
Fantasy owners are right to remain cautious when it comes to Roberts. He has already proven that there is a likelihood of recurrence when it comes to low back problems, although his ability to increase his activity of late is certainly encouraging. Given that fact, it is also likely that the Orioles will limit his appearances and ease him back into play gradually.
Troy Tulowitzki, SS, Colorado Rockies:
When Tulowitzki suffered a left wrist fracture in mid-June, we
outlined all of the factors
that could affect how long he would be out of action. In early July, the Rockies' website reported that Tulowitzki received a good report from the doctor and that his wrist was healing "as well as expected." When Tulowitzki revealed that he had already picked up a bat and begun swinging it by early July, it was a clue that he was indeed on a good pace to return on the early side of projections.
As Tulowitzki heads to a rehab assignment Wednesday, the possibility exists that he could return to the majors next week, potentially edging out a six-week absence if all goes well. The key will be how well Tulowitzki does at the plate. The injury is to his non-throwing hand, so fielding should not present a challenge. At the plate, however, not only does he need to demonstrate a return of power with his grip, Tulowitzki has to show that the impact of the ball against the bat does not cause discomfort -- vibration is one of the sensations that bone is most sensitive to. There's also the matter of getting over any lingering apprehension since the wrist that absorbed the blow from the pitch is the one closest to the mound when Tulowitzki, a right-hander, stands at the plate.
Fantasy owners may have caught a break in Tulowitzki's case, no pun intended, but they should recognize that even if he's able to return, it may take a little extra time for him to regain his form.
And finally ...
The
Milwaukee Brewers
get
Yovani Gallardo
back in their rotation Thursday for a road start against the Pittsburgh Pirates. Gallardo, who suffered a left oblique strain before the All-Star break, was lucky to have only a minor strain. On average, an oblique injury will sideline a pitcher for six weeks. That said, the Brewers have already indicated that they plan to give Gallardo extra rest whenever there is an opportunity in an effort to protect his health going forward. Fantasy owners will want to keep an eye on the Brewers' schedule for that reason.
July, 15, 2010
7/15/10
2:18
PM ET
There are some big questions going into the second half of the baseball season and a number of them have to do with players coming off injury.
Whether they have yet to play this season or had their first half cut short by a significant injury, the following players are guys that fantasy owners might have their collective eyes on for the second half. How confident can you be that they can provide a spark for your team?
You're going to have to take some risk with any of the players on this list, but that risk might just be worth the potential reward.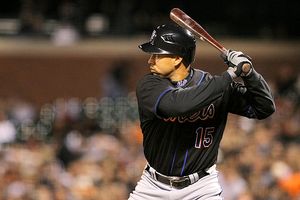 Dave Stephenson/Icon SMICarlos Beltran's hitting should be fine, but don't expect as many stolen bases right away.
Carlos Beltran, OF, New York Mets:
At long last, the return of Beltran has arrived. Beltran, who has not played in a game since last season, is scheduled to make his 2010 debut Thursday when the Mets face the
San Francisco Giants
. Beltran is expected to bat cleanup and play in the outfield.
As to what fantasy owners can expect, there haven't been any major revelations that would alter my expectations outlined
here
nearly a month ago. Beltran should definitely provide some power at the plate, but his knee is not perfect, which may impact his utilization on a daily basis. Fantasy owners will want to monitor how he responds to his return to big league play over the first couple weeks, both in terms of productivity and playing time.
Brian Roberts, 2B, Baltimore Orioles:
He has been the subject of many a blog since aggravating a herniated disc in the first week of the season. Roberts, who had been dealing with back pain even before the season started, has endured various trials and tribulations along his rehab course. At one point the outlook was so gloomy that his availability for the entire season appeared in question.
But Roberts seems to have turned a corner. He recently played in a rookie league game and went 3-for-3. While it is too soon to be celebrating his return, the fact that he is back in a competitive environment where he is both swinging a bat (pretty well!) and playing defense is certainly encouraging. By now, everyone -- especially Roberts -- is familiar with the potential for symptom recurrence when it comes to low back pain. Consequently, the key to evaluating Roberts' potential for the second half will be to see how he fares after multiple games at the minor league level. Game situations provide the unique challenge of quick, directional movements necessary to make defensive plays, along with steals and slides on offense (remember that Roberts' condition was aggravated on a collision during a slide).
If he is able to demonstrate over the next several weeks that he can indeed do everything physically necessary to perform at his position without aggravating his symptoms, Roberts just might be able to rejoin his team. Fantasy owners should not expect that to happen before August, but it's worth monitoring his performance in upcoming rehab games for clues.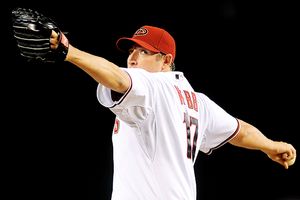 Mark J. Rebilas/US PresswireBrandon Webb's return seemingly gets pushed back every month.
Brandon Webb, SP, Arizona Diamondbacks:
Concerns about Webb have been well documented in
this blog since before the season even started
. Webb, who last pitched competitively on Opening Day in 2009, has been through more rounds of rehab than you can count on one hand, with a surgery in between.
After so many disappointments for Webb and fantasy owners, is there any reason for hope this year? Webb would certainly say so. While there's no doubt that his progress is slow and that any enthusiasm about his comeback should be tempered until it actually occurs, Webb does believe he will return to help his team this year, potentially for six to eight starts. He recently told the Arizona Republic that he is "encouraged by everything [he's] done."
What Webb has done includes bullpen sessions, definitely an improvement over last year when he could not throw from a mound without discomfort. The next challenge will be facing hitters, which should come soon now that the All-Star break has passed. Ultimately, he will require several rehab starts given his time away from the game, but if all goes smoothly from here, that could lead to a mid-to-late August return, just enough time to yield ... six to eight starts. It's still a target fraught with the potential for setbacks, but this is the furthest Webb has come in two years. It would be nice to see him cross the finish line.
Mike Gonzalez, RP, Baltimore Orioles:
Gonzalez is perhaps the biggest mystery when it comes to creating second-half expectations. After missing the bulk of the first half with issues in his throwing (left) shoulder, his return is imminent but his impact remains uncertain.
Now, after multiple rehab appearances to give him time to regain his arm strength and velocity, it appears he will rejoin the Orioles soon. He may not resume a closer role immediately as the team likely will take a wait-and-see approach to ease him back into big league competition.
It's no secret that throwers have wear and tear issues in their arms, but Gonzalez has had his share of problems recently. It was Tommy John surgery in 2007, now it's rotator cuff and labral damage, not enough to warrant surgery (at least for now), but further confirmation that the health of his arm may not be what it once was. Gonzalez's rehab was not entirely smooth this year as he struggled at times to regain his velocity. His ability to throw strikes has improved recently, which is a good sign, but it remains to be seen how effective he will be in the majors.
Josh Beckett, SP, Boston Red Sox: Beckett has done enough in his rehab starts to convince the team that he's ready to return. Out since May with back spasms, Beckett seems to have been over the pain for a while, focusing more on regaining his form.

The Boston Globe reports that Beckett will make another rehab start Saturday, which could be his last before rejoining the rotation. Either way, fantasy owners can start planning to pencil him back into lineups by late July.



Edinson Volquez, SP, Cincinnati Reds:

Just last week we outlined here what the challenges would be for Volquez returning from Tommy John surgery. It looks as if he will be taking those challenges on very shortly as Volquez is expected back Saturday to face the Los Angeles Dodgers. He could provide a spark for your fantasy team, but expect some inconsistency along the way.


May, 26, 2010
5/26/10
2:54
PM ET
Welcome back! Here's to being back from an extended stay away from the team, settling into the regular routine and finishing out the season on an upswing. No, the salutation is not self-directed, although I did manage to tear myself away from the beaches of Cabo San Lucas in Mexico to get back to the business of discussing injuries. This welcome is directed to
Los Angeles Dodgers
shortstop
Rafael Furcal
, who rejoined the lineup Tuesday in Chicago after missing time with a hamstring strain.
After originally looking as if he'd be back when eligible May 14, there was enough concern about some lingering symptoms to postpone the return date until now. It wasn't exactly Furcal's most notable performance (0-for-4 and a couple of errors), but he got through the game just fine. As reported by Tony Jackson of ESPNLosAngeles.com, Furcal said after the game, "I am very disappointed with the way I played. The best thing is that I'm healthy and I didn't feel anything." Very true. Rust can be overcome quicker than reinjury. The biggest test, however, will come during the next couple of weeks as we see just how Furcal and his hamstring tolerate the grind of daily play.
Also returning from injury were
Boston Red Sox
outfielder
Mike Cameron
, returning from an abdominal strain, and
Minnesota Twins
shortstop
J.J. Hardy
, coming off a bone bruise in his left wrist. Cameron is going to be eased back into play, according to The Boston Globe. He will not be used daily, at least not initially, plus he will spend some time playing left field. The 37-year-old Cameron, whose superb fitness may be a reason he's even been able to return from this injury, may yet require surgery down the line. Hardy's return Tuesday was abbreviated because the Yankees-Twins game was suspended in the fifth inning by rain. That said, Hardy's first at-bat was a double to deep right, so it looks as if his wrist is not a limiting factor.
Earlier it appeared that we would be welcoming back another star in this week's blog,
Philadelphia Phillies
shortstop
Jimmy Rollins
, but he was back on the DL before we ever got the chance. On that unfortunate note, we turn to some of the key injuries in the world of baseball this week ...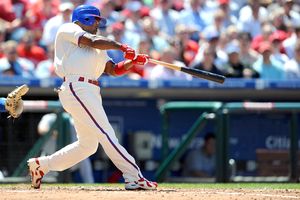 Miles Kennedy/Getty ImagesJimmy Rollins hit a homer in his brief stint off the disabled list earlier this month.
Jimmy Rollins, SS, Philadelphia Phillies (15-day DL, May 22):
Rollins' situation exemplifies the challenge for a medical staff when dealing with an athlete returning to play following a significant muscle strain. No matter how many sprints, drills or running workouts an athlete goes through to test the injured part, there is no guarantee that he is out of the woods when he returns to play. It is impossible to simulate every game situation and perhaps even more challenging to simulate the environment -- such as the intensity, the adrenaline of playing in a major league game -- and those things can factor into how the body responds. The Phillies brought Rollins along at a conservative pace, even holding him back at times as a measure of precaution. Sometimes even the best-laid plans don't unfold as anticipated.
In Rollins' case, his right calf gave him a signal that it was not going to fully cooperate with his agenda. Rollins returned to the lineup on May 17 after missing 30 games with the original injury. Just four days later, the calf bothered him while he ran to first on a single. He was forced to leave the game early and returned to the DL the next day. No fooling around here.
As Phillies general manager Ruben Amaro told The Philadelphia Inquirer, "It might not take [the entire 15-day DL stint], but we can't afford to put ourselves in a position where it gets reinjured and turns into something serious." Hmmm. It looks as though the first part (reinjury) already happened, but the hope is that this does not represent a serious setback. The fortunate aspect is that this strain is reportedly not as severe as the initial injury. The team is referring to it as a Grade I, or mild, strain (the original injury was a Grade II, or moderate, strain) and the team hopes he will not require much, if any, additional time off.
Fantasy owners are understandably frustrated (just think how Rollins feels!), but this is not time to panic.
Andre Ethier, Los Angeles Dodgers (15-day DL, retroactive to May 15):
What a difference a day -- or a splint -- makes! Ethier, who landed on the DL after suffering a fracture in his right pinkie finger while taking batting practice,
could
have missed up to six weeks with the injury. As it turns out, thanks to the aid of a particular splint, Ethier may be able to return when eligible on Sunday.
The emphasis is on the word "may," however, as Ethier will have to show that he can perform without limitation and that the fracture is indeed healing before he can definitively play. But so far, things are looking good. If he performs well in a simulated game Saturday, he could be activated Sunday.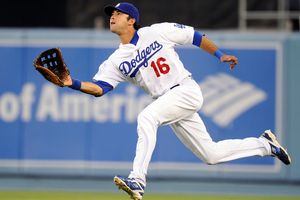 Harry How/Getty ImagesAndre Ethier could be back from the disabled list as soon as he's eligible.
The fracture that Ethier suffered was bit odd, or at least the mechanism of injury was unique. Ethier sustained an avulsion fracture -- when a small chip of bone is avulsed or pulled away where the tendon attaches to the bone -- at the tip of his fifth finger. Typically this type of injury, also called mallet finger, results from hyperflexion (exaggerated bending) of the digit, most often when the finger gets jammed by a ball or by contact with another athlete. In Ethier's case, it occurred while batting, when a slight slip of his pinkie finger caused it to get jammed between the bat and his hand.
As the medical staff discussed what route to take for treatment, the Dodgers' director of medical services, Stan Conte (himself a physical therapist and athletic trainer), made a call to colleague Gary Vitti, longtime athletic trainer for the Los Angeles Lakers. Anyone who has followed the Lakers lately knows they have had their share of finger issues, as is common in basketball. Conte said that Vitti recommended use of the "Pro-Ferred" splint, a splint that uniquely maintains the joint of the tip of the finger in extension (keeps it straight) to allow it to heal while allowing the joint just below some ability to flex or bend. This ability to flex the proximal or near part of the finger is what allows Ethier to be able to handle a bat.
Conte said that the use of the splint, along with some modifications of padding at the knob of the bat to make for easier grip, have enabled Ethier to already begin taking batting practice. While Conte stresses that the Dodgers are not yet sure whether Ethier will be ready to return when eligible, he does acknowledge that they are very pleased with the progress he has been able to make. Ethier would continue to wear the splint even if he does return because the tissue will still be healing.
From a medical standpoint, the more normal motion that can be encouraged while still protecting the injured area, the better the outcome typically is. We often see hitters who struggle when returning from wrist and hand injuries, particularly as they work to regain their motion and strength even if the injury has technically healed. In this scenario, it's quite possible that many of those challenges could be avoided as a result of Ethier's being able to continue to swing the bat relatively uninterrupted.
A little interleague cooperation could prove to go a long way to make fantasy owners really, really happy here. Stay tuned.
Grady Sizemore, OF, Cleveland Indians (15-day DL, May 19):
An awkward landing while diving back to first base sent Sizemore to the DL, aggravating a knee injury first sustained near the end of spring training. Sizemore's next step will not be known until he gathers several opinions on his injured knee. The team has termed Sizemore's injury a bone bruise, but based on the locales of the specialists he's reported to be visiting -- Vail, Colo., and New York -- it raises the specter of cartilage damage. Vail is home to Dr. Richard Steadman, a pioneer of microfracture surgery (he performed January surgery on the
New York Mets
'
Carlos Beltran
), and there are surgeons in New York with similar expertise in cartilage defects.
The question that every fantasy owner wants answered is whether Sizemore will require surgery. Although the bone bruise likely will have him sidelined for multiple weeks, surgery could keep him out even longer, perhaps even threatening his return this season. Until the team releases more information, a timetable remains speculative, but at the very least, fantasy owners should make alternate plans for the next month.
Josh Beckett, SP, Boston Red Sox (15-day DL, May 19):
Beckett and back problems are nothing new. In fact, he has dealt with lower back and upper back issues at different points in recent years. It seems that this year will be no different.
Beckett began having back spasms in early May after taking batting practice, and he missed a scheduled start. Days later, while pitching in rainy conditions, Beckett left his start early with tightness in his back. A DL move was natural and precautionary in trying to prevent this from being a lingering and lengthy situation. Although Beckett is eligible to return on June 3, there is certainly no guarantee that he will. So far he has thrown a few side sessions, and next up comes the bullpen. The Red Sox will want to see how he tolerates the progression to the mound before deciding on a return date.
Jorge Posada, C, New York Yankees (15-day DL, May 20):
Posada has been placed on the DL with a hairline fracture in his right foot, the result of absorbing a foul tip off that foot in mid-May. Posada was hoping for just a bone bruise, but imaging tests showed the crack.
Initial projections from the team after the fracture was revealed had Posada out for three to four weeks, but he has taken a bit of a defiant position against that notion. According to the Newark Star-Ledger, Posada believes he will return earlier. "They can say whatever they're going to say. I'll be here before that," Posada said. It's worth noting that he followed up by saying he had never had a problem with his feet before, pointing out that "You've got to be able to put your weight on and all that stuff. You've got to be able to transfer your weight from one side or the other." Right. And he was immobilized in a walking boot when he made the remarks.
Given his position as a catcher where he is in a crouch, placing significant load through his feet while intermittently, explosively moving to full stance, the demands on the foot are high. Not only is he not likely to be back before three weeks, he'd be lucky to be back by then.
A hairline fracture can show evidence of healing more quickly than a complete fracture, but beyond the bone repairing itself, the foot needs to be able to tolerate loading, pivoting and twisting, without causing any symptoms before an athlete is able to return to baseball activities. Then, of course, he has to get back up to the level of playing in games. Until Posada is cleared for impact activities, it's probably too soon to even think of a return date. Fantasy owners should be planning on being without his services for the better part of a month.
Brad Penny, SP, St. Louis Cardinals: (15-day DL, May 22):
Penny escaped with a relatively mild injury but was still relegated to a DL stint just to be safe. Penny, who was diagnosed with a strained lat (short for latissimus dorsi, one of the broad muscles of the back), left his Friday start early because of discomfort. Despite delivering a grand slam, Penny was not feeling good and came out of the game as a result.
According to the St. Louis Post-Dispatch, the decision to move Penny to the DL was easy for the Cardinals when considering the big picture. General manager John Mozeliak said, "It just makes sense to DL him, rather than put him out there for the next start and he makes a pitch and goes backward. It's a precaution." The team does not expect him to miss time beyond the minimum DL requirement.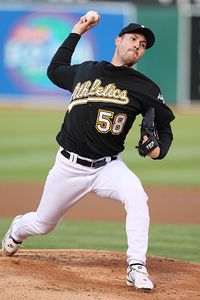 Tony Medina/SMIJustin Duchscherer currently has a 2-1 record with a 2.89 ERA in five starts this season.
Justin Duchscherer, SP, Oakland Athletics (15-day DL, May 16):
After working so hard to get back this season, Duchscherer has to be disappointed in the cards he's been dealt so far this year. He knew that keeping his lead hip healthy was the key to keeping his lower back pain-free and avoiding overload on his throwing arm, which was surgically repaired in 2008. In fact, he told me that very thing in spring training after making his first start of the year coming off pain-alleviating sacroiliac joint (where the low back joins the pelvis) injections. That's why he dedicated extra time to stretching his hips and keeping them loose.
But his anatomy is just not cooperating. Duchscherer, who already endured surgery on his right hip, is now being plagued by similar symptoms on the left side. His prior experience with the right hip is no doubt what led him to tell the San Francisco Chronicle that he anticipates needing surgery on the left hip. That statement came just after Duchscherer returned to the DL in mid-May because of continued hip discomfort one mere day after coming off it.
For the time being, Duchscherer is trying the conservative route to see whether he can delay surgery until the season ends. The Chronicle reports that he has undergone a Synvisc injection, a joint lubricant that may alleviate some of his current symptoms.
Fantasy owners who were holding out hope should probably look elsewhere, however. Synvisc was not ultimately able to stave off surgery when Duchscherer's right hip was bothering him; it's hard to be overly optimistic that this will turn out differently.
Other names to watch
Huston Street, RP, Colorado Rockies (15-day DL retroactive to March 26):
Street began experiencing shoulder stiffness in mid-March. After steady progress, Street was throwing in a rehab assignment mid-May and was feeling good. So good, in fact, that he told the Rockies' official website, "I'm close -- dangerously close. I'm close enough to start getting my hopes up, and that's something I'm trying to keep together." Then, as if foreshadowing what was to come, Street added, "I got real excited last time [in spring training], and we had the setback. That set us back six more weeks."
Uh-oh. It happened again. Street suffered a setback just when it appeared he was on the verge of returning. It's important to distinguish, however, that this setback was not to his shoulder; instead, Street suffered a groin injury. Fortunately, it appears that the injury was not as serious as first thought, and Street's return may not be extensively delayed. In fact, Street threw a bullpen session Tuesday, which suggests he could be back in a rehab assignment in the not-too-distant future. Fantasy owners should keep an eye on early June if all continues well.
Brett Anderson, SP, Oakland Athletics (15-day DL, April 27):
Anderson has been out since late April with a flexor tendon strain in his throwing (left) forearm. ESPN's Buster Olney originally reported that Anderson was expected to miss a month, and it appears that time frame could be right on the money.
Anderson has been progressing well since his injury and threw three innings in a rehab start in Sacramento on Monday. Although it seems like a relatively short rehab stint, the A's must be pleased with what they have seen so far, because Anderson is expected to rejoin the team Wednesday according to Contra Costa Times reporter Joe Stiglich. The plan is for Anderson to throw off the mound and, if there are no setbacks, pitch Saturday. Despite the short rehab assignment, Anderson has been throwing his repertoire of pitches without incident during flat ground sessions since mid-May, according to the San Francisco Chronicle. Although this is certainly a strong sign, the demands of throwing off the mound are always greater. It will be interesting to see how deep he goes into his first game out after the layoff.
And yes, there are always more injuries than there is room to discuss here. We might even hit on some of them in tomorrow's Fantasy Focus podcast. Next week, we will take a look at some of those "forgotten" players nearing the end of their terms on the 60-day DL. Will they be ready? Check back and see what we're hearing.
August, 30, 2008
8/30/08
12:09
PM ET
Friday was a big day for
Josh Beckett
-- and not on the mound.
The right-handed ace has been experiencing numbness and tingling in his right ring and pinky fingers for some time now, signs that the ulnar nerve is irritated. The ulnar nerve, which wraps around the inside of the elbow near the funny bone, can be stressed with pitching, especially if the ligament there is compromised. That would be the ulnar collateral ligament -- and yes, that's the Tommy John surgery ligament. But inflammation in the elbow, which can simply be a result of overuse and in that case would be far less serious, can also put pressure on the nerve and cause these types of symptoms.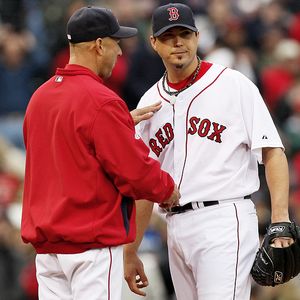 AP Photo/Winslow TownsonThe news on Beckett's elbow could have been worse.
Beckett was concerned by the fact that the numbness was lingering despite a couple of scratched starts and limited throwing activity, so he sought the opinion of Dr. James Andrews, whom he has seen in the past. According to ESPN news reports, Beckett's reasons for consulting with Andrews were simple: "I don't trust anybody more than I trust him when it comes to stuff like that," Beckett said. "Just to go down there and hear it from him. It's something I needed to do, just to clear my mind."
After a complete once-over by Andrews, Red Sox manager Terry Francona indicated that all major tests came back clean, showing no structural damage in Beckett's pitching elbow. You could almost hear the collective sigh of relief being breathed by the Red Sox, their fans and Beckett's fantasy owners when considering the big picture for Beckett. But what is his status in the short term?
Well, the Red Sox placed Beckett on the disabled list Friday, but because it was retroactive to Aug. 18, he is eligible to return to the team on Wednesday. They hope to start him Friday against the Rangers, which gives him another week of recuperation. Rest is often the key to alleviating these symptoms, and Beckett has said the elbow has been gradually improving. However, the nerve is on its own timetable, and nerve tissue is notoriously slow to heal. Don't be surprised, fantasy owners, if his return needs to be delayed again as the Red Sox care for his big-picture status.
April, 8, 2008
4/08/08
6:58
PM ET
By
Stephania Bell, ESPN.com
| ESPN.com
Last week we talked about National League players who opened the 2008 season on the disabled list. Today we take a look at key American League players who were noticeably absent from their teams' rosters on Opening Day and evaluate the likelihood of them making an appearance in the near future.
American League
[+] Enlarge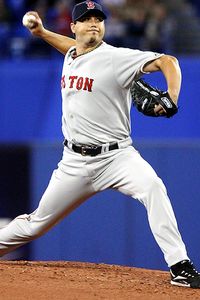 Dave Sandford/Getty ImagesBeckett is back and hoping that he can stay healthy.
Josh Beckett, Boston Red Sox:
Beckett, who had some soreness in his back throughout the prior week, began experiencing back spasms Saturday, March 8, after he lost his footing on the mound during warm-ups. An MRI of Beckett's back was negative and a disk injury was ruled out. The spasms themselves suggested a protective guarding or splinting by the muscles but the challenge in that situation is figuring out why they are in spasm and addressing the source. There are so many pain-generating structures within the spine that it is often difficult to localize a problem. Joints, ligaments, disks and even the muscles themselves can suffer direct insult that can trigger pain. This pain often results in protective muscle spasms which are the body's way of preventing unnecessary movement to avoid further injury to the area. In the end, rest and avoiding further aggravation is often the key to a speedy recovery. The Red Sox's decision to keep Beckett stateside while the team traveled to Japan was a wise one, as anyone who has experienced back pain can attest to the fact that a lengthy plane flight is more likely to hurt rather than help. Beckett was able to progress without incident through his rehabilitation program and rejoined the rotation Sunday. His outing was not his best, but from an injury perspective, he did not experience any pain. Now that Beckett is back in the mix, expect him to settle into his role in short order.
Andy Pettitte, New York Yankees:
See Josh Beckett above. Pettitte's situation was not very different from that of his Red Sox counterpart. Some have speculated that Pettitte's offseason distractions put him at more of a risk for injury. Perhaps, but that is hard to quantify and remains speculation at best. Pettitte did have some elbow discomfort early in the spring, which is not uncommon for pitchers as they work on increasing their endurance in the preseason, but that subsided within a few weeks. Then, Pettitte's back locked up on him while he was driving home from practice in March. After missing a single scheduled start and allowing his back to rest, Pettitte eased back into his throwing program, throwing bullpens and minor league games before returning to the rotation Saturday. Although Pettitte did not get the win, he didn't appear to have any setbacks, and as is the case with Beckett, there is no reason to expect at this point that there will be any long-term problems as a result.
Scott Kazmir, SP, Tampa Bay Rays:
Pain in his throwing elbow in early spring training led to a shutdown for Kazmir. While minor strains are not uncommon for pitchers in springtime as they rebuild their endurance, it is only when they return to action following a period of imposed rest that we get a feel for whether the episode was a minor occurrence or a sign of bigger things to come. Kazmir has been throwing and feeling no pain since mid-March, including a recent bullpen session incorporating changeups and sliders, according to the Tampa Tribune. Those things would seem to point to this incident as a minor spring training occurrence and fantasy owners can breathe a bit easier. Kazmir started the season on the disabled list to give him ample recovery time, as well as time to increase his overall strength and endurance, but it now appears that he could return to the lineup at the end of April.
Curtis Granderson, OF, Detroit Tigers:
Granderson began the season on the disabled list with a fractured third metacarpal in his right hand after being hit by a pitch. Granderson rested the hand for two weeks and then had X-rays to determine the healing progress of the bone. Team doctors felt it had healed enough for him to begin light baseball activities, so Tuesday Granderson began hitting a ball from a tee and some light throwing, according to the Detroit News. Bear in mind that it takes up to six weeks for a fracture to fully heal so this is by no means finished. In fact, Granderson admitted to still having some pain in the hand, a reminder that he is not completely out of the woods. The good news is that he has the mobility to actually grip the bat and that he is getting his body used to the skills he will need to get back onto the field. The unknown is exactly how long it will take him to be comfortable enough and confident enough to actually return to the lineup. At this point it would be a surprise if Granderson is back before another 10 days since, by his own acknowledgment to the Detroit Free Press, he will need to face live pitching before returning.
Joel Zumaya, SP, Detroit Tigers:
During the offseason, Zumaya was assisting his family in evacuating during the Southern California wildfires. While he was moving things out of the home, a box reportedly fell on Zumaya's right (throwing) shoulder, and the next thing we heard was that he had undergone acromioclavicular (AC) joint reconstruction to repair the damage. This procedure, although certainly not impossible to return from, is no walk in the park. Zumaya has to adjust to the altered mechanics, even if subtle, that result from such a procedure. His expected return date was originally targeted for sometime in July, presuming no delays or setbacks, but lately the Tigers have been less willing to set a concrete timeline. As of the start of the season, Zumaya was throwing from 120 feet and feeling good. He is said to be progressing well but since this is not a common injury for pitchers, it is difficult to draw comparisons. Yes, he should be able to eventually return and pitch effectively. Will he be able to deliver the 100 mph fastball? Perhaps, but it wouldn't surprise if he loses some steam off his delivery, at least initially. The first hurdle is him getting healthy enough to rejoin the rotation without a setback, or without some new injury cropping up. Then the Tigers can worry about triple-digit speed.
Fernando Rodney, RP, Detroit Tigers:
Rodney, who experienced shoulder pain that forced him to miss time in 2007, began having similar symptoms very early in spring training of this year. After ups and downs in his attempts to return via a throwing program, the Tigers have indicated this week that he will resume playing catch. According to a report on mlive.com, the Tigers would like to have Rodney get to the mound at least one more time before considering something much more dramatic, such as surgery. An MRI this spring revealed no specific structural damage, which is not unusual, and the shoulder pain will continue to be treated symptomatically, until the point at which it becomes evident that Rodney simply cannot return. That point, unfortunately, does not look too far off. If Rodney fails to make it back after this round of conservative treatment, don't be surprised if he heads to the surgeon's table, which would essentially spell the end of the season for him.
[+] Enlarge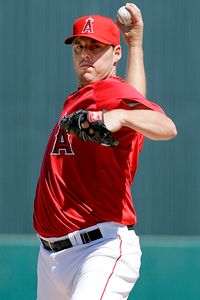 AP Photo/Jeff ChiuLackey has yet to take the mound in Anaheim in this season.
John Lackey, SP, Anaheim Angels:
Lackey was slowed early in spring training by a sore elbow and was ultimately diagnosed with a strained triceps (the large muscle on the back of the arm that attaches at the elbow). As of mid-March the Angels projected him to miss three to four weeks before he could resume baseball-related activities, but that timetable was shortened by a week given Lackey's progress in rehab. The Los Angeles Times is reporting that Lackey could begin throwing off a mound within the next week. Lackey still needs to get game ready, meaning potentially several minor league starts to increase his endurance. Keep in mind that he had only one spring training start before hitting the disabled list. His timetable still appears to be targeted toward a return in May, perhaps around the middle of the month. On a positive note, Lackey has avoided major injury for five seasons prior to this and the hopes are that this setback is more a side effect of spring training, and not an omen for the future.
Kelvim Escobar, SP, Anaheim Angels:
Shoulder inflammation reared its ugly head again this winter for Escobar, who suffered through a similar bout near the end of the 2007 season. Escobar, who returned to the Angels' spring complex in January to undergo rehab and strengthening for his shoulder, was shut down from throwing for two months in the hopes that he could return during spring training. But after only three throwing sessions in mid-March, Escobar's pain returned and he was shut down once again. The Angels have disclosed that Escobar has a torn right labrum (ring of cartilage in the shoulder that helps increase the congruity of the joint), never a good diagnosis for a pitcher in particular, and they have decided to put him back on the conservative treatment track once again. Escobar told the Los Angeles Times that he was concerned about his pitching future as a result of this injury, complicated by the fact that he was born without a supraspinatus (one of the four rotator cuff muscles), something he apparently learned during his first physical after he was drafted. In any event, if Escobar does not respond to this next round of conservative treatment, he is expected to pay a visit to Mets team physician Dr. David Altchek for consultation regarding surgical options. This is not a great scenario for Escobar, no matter which way you look at it, because painful labral problems rarely respond to conservative management, and when addressed via surgery, there is a significant recovery period, not to mention one with no guarantees about final outcome. For fantasy owners, this is a situation to observe from afar.
Scott Rolen, 3B, Toronto Blue Jays:
Rolen, so hopeful for a fresh injury-free start with his new team, succumbed to the disabled list bug after taking a bad shot to his right third finger from a hard-hit line drive. The ball hit his finger with such force that it resulted in a fracture at the very tip, and even worse, damage to the fingernail and soft tissue around the break. Rolen had to have a pin surgically implanted and, according to his own statements on the Blue Jays' official Web site, his surgeon gave him a four to six week estimate on returning to play. Although a broken bone is not something to take lightly, the more critical piece for Rolen in terms of healing is the flesh of the finger itself. He will likely be able to hit before he can throw, simply because managing the grip on the ball is so difficult when the soft tissue is injured. Fantasy owners know that Rolen is valued in reality largely because of his defensive skills, so the throwing limitations he faces are something to keep in mind when estimating his return time. As of this point in time, the Jays are hoping to have his services in early May. Assuming the tissue heals well, once Rolen regains his mobility and grip strength, he should not have ongoing issues with the finger.
New injury worries
It doesn't take long, does it? Another week of baseball and already there are enough sprains, scrapes and spasms to fill another column. Here are a few of the key injuries we are looking at this week with more details to come.
Derek Jeter, New York Yankees:
Jeter has a strained left quadriceps muscle (large muscle on the front of the thigh) and is expected to miss at least three games, although he will not go on the disabled list, according to a report from The Associated Press. Jeter apparently strained the muscle while running before Monday's game, but he says the problem is not serious and an MRI appears to have confirmed that. Nonetheless, he is going to have some imposed rest to allow the muscle to quiet down, and as manager
Joe Girardi
points out, the upcoming weather is cold and the team does not want to risk further injury. At this point, this does not appear to be a major strain, and barring Jeter returning too early and aggravating the condition, this should not bother him on an ongoing basis once the acute episode has resolved.
Rich Harden, Oakland Athletics:
Was it too good to be true? It seems that way for the moment, but it's not time to panic ... yet. Harden, who has started the season with a bang after injury issues plagued him for the past two seasons, is faced with another injury. The question at this point is whether this is a minor blip on the radar, or whether it echoes past problems that have resulted in lengthy absences. The San Francisco Chronicle is reporting that Harden has been scratched from Tuesday night's game due to back, specifically "lat," soreness. The "lat" refers to the latissimus dorsi muscle, the large muscle that, when well developed, makes the nice "V" shape on the back. Pitchers use their lats, which attach to the arm bone, to help provide stability and control rotation and extension of the arm. Optimistically the team has slated Harden for a Sunday start, suggesting that the soreness is minor and nothing that a few extra days of rest can't cure. Additionally, the A's are being more cautious than they would be otherwise because, after his spectacular return, the A's do not want to push Harden into a major injury by ignoring lesser symptoms. It is worth noting that Harden had oblique and lat strains that resulted in a two-month absence back in 2005. Harden has no doubt focused on strengthening his core muscles as part of his shoulder rehabilitation however, which would help him recover from this type of injury more quickly. If he is able to get back by Sunday, this injury goes in the "not a big deal" category and Harden can pick up where he left off. If however, it looks to turn into something more chronic, those shades of the term "injury prone" may return.
Michael Barrett, San Diego Padres:
Another player who heard a "pop" this week associated with injury is Barrett. Last week it was
Pedro Martinez
and his hamstring. This week it's Barrett and his forearm. The team is reporting that Barrett has a fair amount of pain in the region of his ulnar nerve, which lies on the inner side of the elbow. By now, everyone knows what else is near there. Yes, the ulnar collateral (Tommy John) ligament. According to a report on the Padres' official Web site, Barrett could not throw the ball back to pitcher
Greg Maddux
without a bounce. A pop (believed to have occurred on an earlier throw), weakness and some nerve-like symptoms all are ominous signs for Barrett as a potential ligament injury. He is scheduled for an MRI Tuesday after which his course of treatment will be determined. If Barrett is on your fantasy team, don't wait for the results. Go out and get someone else, even if you end up needing him only short term. We'll keep you posted.
There are many other new injuries to report on so check back throughout the week as we update those, as well as the status of your fantasy draftees who may have started on the disabled list and are looking to make a return. Is anyone a safe pickup? Perhaps, and even better, perhaps there's a great bargain to be found. Stay tuned.