Stephania Bell:

Josh Johnson
April, 24, 2014
Apr 24
3:12
PM ET
Josh Johnson
's elbow problems carried over from his
Toronto Blue Jays
days in late 2013 to his 2014 spring with the
San Diego Padres
. An offseason scope was followed by a flexor strain this spring, ultimately becoming an ulnar collateral ligament injury. On Thursday, Johnson underwent Tommy John surgery, his second, with Dr. James Andrews.
The numbers continue to rise in what may be turning into a record year for UCL reconstructions, usually referred to as Tommy John surgery. It's too early to say the numbers for this season will outdo those of 2012 (which holds the record for the most Tommy John surgeries, at 36) or even last year's number of 19, but with the number for 2014 standing at 14 as of the third week in April (with 15 on the horizon when Yankees pitcher
Ivan Nova
undergoes
the procedure
), anything is possible.
What does seem to have already outpaced any other year is the number of
second
Tommy John surgeries, referred to as revision UCL surgery in the medical arena. Johnson is the latest player to opt for a second such elbow surgery, increasing the number of revisions in MLB players to seven in the past 12 months. For perspective, consider that before 2012 there had been fewer than 20 UCL revisions performed in the previous 15
years
.
Why the dramatic rise? The short answer is that we simply don't know. There are multiple theories -- success of a first procedure encourages players to opt for a second rather than retire; players are tearing their ligaments at a younger age, making a second injury while still in their prime more likely; the reconstruction was never meant to hold up to a lengthy career of pitching, etc. -- but a scientifically based answer is not likely to come for some time, as the total sample size remains relatively small. Even Tommy John himself is
alarmed by the numbers
, and he emphasizes a point the medical world would like to draw more attention to: Kids are pitching year-round, resulting in overuse injuries at an increasingly younger age.
While there are many more questions than answers with regard to the management of this elbow-injury epidemic in professional baseball, there is one area where a collective effort can make an impact: youth baseball. It is incumbent upon everyone -- parents, coaches, scouts, medical providers -- to make an effort to alter the trajectory of these numbers at the youth level, if for nothing more than the health of young arms.
Just imagine for a moment if the trend could be reversed. Besides healthier kids, the potential ramifications could extend into the professional baseball world. Who knows? There might be a whole layer of talented players out there who could actually endure a professional career without being repeatedly derailed by injury, presuming they're given the chance to start that career healthy.
April, 16, 2014
Apr 16
10:44
AM ET
As the injury news pours in this season, we'll take a quick-hit look at the fantasy-relevant players who are battling health issues. We'll be splitting them up into players who we're keeping a watchful eye on -- players who have sustained injuries recently but have not been placed on the disabled list -- as well as those who have been placed on the DL.
To the DL
Francisco Cervelli, C, New York Yankees (right hamstring): When a player instinctively grabs the back of his thigh as he pulls up while running, then falls to the ground, there is little doubt as to which muscle is injured. When the injured player does not even attempt to move, but instead sits on the ground waiting for assistance, there is little doubt the injury is severe. Cervelli did both of those things as he crossed first base Sunday, leading anyone watching to anticipate a move to the DL with a hamstring injury, probably for a lengthy period of time. On Tuesday the Yankees placed Cervelli on the 60-day DL with a Grade 2 (moderate) hamstring strain, essentially confirming early suspicions. The recovery time for a Grade 2 strain varies widely depending on the degree and location of the tissue damage. Two to three months to return to full function is not unusual. Cervelli will not be back until June at the earliest.
Juan Lagares, OF, New York Mets (right hamstring): Lagares pulled his hamstring Monday, also while running to first base. He too will require a DL stint but his is of the 15-day variety. That's not to say he won't require some additional time beyond the two weeks but he has the opportunity to return if the leg cooperates.
Keep a watchful eye on:
Curtis Granderson, OF, New York Mets (forearm/rib cage/knee): Granderson nearly took out three separate body parts in one play Monday, but X-rays of each proved negative. Still, Granderson was moving gingerly after the game and sat out Tuesday. He is considered day-to-day and could possibly return as soon as Wednesday. He also is considered lucky.
Josh Johnson, SP, San Diego Padres (right forearm): Things just are not getting better for Johnson. He opened the season on the DL with a flexor strain in his throwing elbow and has failed to progress to throwing. On Tuesday, the Padres announced that Johnson will travel to visit Dr. James Andrews (Johnson had Tommy John surgery in 2007 and a subsequent elbow scope this past offseason). According to the San Diego Union-Tribune, when Padres general manager Josh Byrnes was asked if Johnson would pitch this season his reply was an unsettling, "Not sure." And so we wait. Given Johnson's storied health history, this latest news is anything but encouraging.
Nearing a return:
Jose Reyes, SS, Toronto Blue Jays: Reyes is currently on a rehab assignment after starting the season on the DL with a hamstring strain. Well, he didn't actually open the season on the DL, but he did have tightness in his hamstring during spring training, then failed to get to first base during his first regular-season at-bat before it acted up. Apparently, things are going well enough now that Reyes could be activated this weekend for the team's series in Cleveland. Jays manager John Gibbons told reporters if the next couple of days go well for Reyes, he should be "ready to go" Friday. Naturally, Reyes is not out of the woods, given his extensive history of hamstring injuries, but the Jays will be happy to have him back.
Casey Janssen, RP, Toronto Blue Jays: Janssen opened the season on the DL with a low back strain but worked his way back to his first rehab outing Tuesday. After one inning, Janssen suffered no apparent setbacks but the next day is always a telltale indicator. Janssen may need a few rehab appearances but could rejoin the Jays within the week.
June, 3, 2013
6/03/13
4:05
PM ET
Every Monday, in this space, we'll provide updates on a variety of players to help you make your weekly lineup decisions. We'll specifically try to hit the players who are day-to-day, have just gone on the DL or are ready to return, so that you can better decide whether you can count on them or not.
All projected return timelines should be considered fluid.
Hitters
Harper
Bryce Harper, OF, Washington Nationals (placed on DL retroactive to May 27):
Last week, I said not to expect Harper's left knee (originally injured crashing into the outfield wall in Dodger Stadium on May 13) to land him on the DL if he could help it. It couldn't be helped. In fact, Harper acknowledged to reporters that he aggravated his knee with a
headfirst slide May 25
and it turns out the persistent swelling and soreness was too much to overcome. On Sunday, Harper described his knee as "still swollen and crappy" yet said he hopes to start running and hitting at some point this week. The bottom line is he won't be given the green light to run if he is still experiencing swelling to the point where he continues to walk with a limp, as he reportedly was Thursday night.
There's no magic antidote for the swelling associated with bursitis; rest is perhaps the key ingredient for getting it under control. The bigger concern would be preventing this from turning into a chronic issue over the remainder of the season. Harper's move to the DL reflects the Nationals' desire to curb the problem now and he's not likely to resurface until his progress moves him out of range of the easy threat of a setback. After all, teammate and fellow outfielder
Jayson Werth
followed a similar pattern of being placed on the DL following a string of consecutive missed games. At the time, Werth expected to return when eligible but was held back when his hamstring continued to nag at him with certain explosive activities. Now it looks as if Werth
will rejoin the team Tuesday
, so at least the Nationals anticipate getting a player back as they lose Harper, but it's worth noting his absence will have exceeded a month. If Harper's progress remains slow, expect his timetable to be extended because the Nationals know he isn't wired to play at anything less than 110 percent effort, regardless of how his body actually feels.
Kemp
Matt Kemp, OF, Los Angeles Dodgers (placed on DL May 30):
The Dodgers' decision to place Kemp on the DL seems to be more of a proactive effort to keep his injury from worsening than a reactive response to severity. Kemp felt his right hamstring tighten up while chasing down a
Mike Trout
double on Wednesday and took himself out of the game, perhaps a lesson learned from last year's episode with his left hamstring. Although the injury did not appear serious, the move to the DL forces Kemp to sit out at least 15 days and rest his legs. Last year, Kemp tried to return quickly following his hamstring strain, only to suffer a setback within two days, resulting in another six-week absence. And let's face it, he has not had the best start to his season. Kemp has been struggling at the plate after coming off surgery to repair his labrum, not because the shoulder is bothering him, but he has not rediscovered his swing. While his performance has been below expectations, other power hitters have said it can take months before they feel like their stroke is effortless after undergoing shoulder surgery. The twinge in his hamstring and the forced time off may be just the thing to help Kemp restart his season. No timetable has been issued, but it appears Kemp's leg will not require much beyond the minimal two weeks. Beyond how he looks and feels in running situations, it will be worth paying attention to how Kemp fares at the plate once those rehab games get underway.
Crawford
Carl Crawford, OF, Los Angeles Dodgers (day-to-day):
Another outfielder, another hamstring issue. These injuries seem to be running rampant among outfielders throughout the league. Crawford, who has been quiet on the injury front so far this year after missing virtually all of last season following wrist surgery and later Tommy John surgery, left Saturday's game with a left hamstring "cramp," according to the Dodgers' Twitter account. Crawford was held out of the game Sunday. A cramping or tugging is often a precursor to something more sinister; the question is whether a few days of rest is enough to clear the issue or whether more downtime is needed. Crawford did have some issues with the same hamstring in the early part of May and sat out one game as a result. In 2011, Crawford went on the DL for a left hamstring injury and missed a month. Other than that one episode, Crawford has not dealt with significant hamstring problems. Naturally, the Dodgers would like to keep it that way. With Kemp out and Crawford potentially out for several days -- or longer -- the Dodgers have promoted top prospect
Yasiel Puig
to provide outfield help.
Ramirez
Hanley Ramirez, SS, Los Angeles Dodgers (placed on DL May 4, expected to return this week):
Hamstring injuries aren't just for outfielders, as the Dodgers are all too aware. Ramirez, who strained his left hamstring just days after returning from a month-long absence following thumb surgery, suffered a serious enough injury to sideline him another month. As frustrating as this injury has been for Ramirez and everyone else, he finally appears on the brink of return. He has been on a rehab assignment this weekend (with Sunday off) and is expected to play in a game again Monday with a possible activation as early as Tuesday. The key for the Dodgers' comfort level with his return is adequate situational play to stress the hamstring and observe its response. Ideally that would include turning corners running from first to third, which also happens to be how Ramirez suffered the injury in the first place, but that particular test has not presented itself. What the Dodgers cannot afford is for Ramirez to return and re-injure himself. Obviously there are no guarantees but the team at least needs to feel comfortable they have seen enough in his rehab outings to suggest his leg is ready for prime time. It appears this will be the week they get him back, barring a setback, but the specific day he will return is not yet set in stone.
Jackson
Austin Jackson, OF, Detroit Tigers (placed on DL retroactive to May 12, possible return this week):
Jackson's strain was not viewed as serious even when the team placed him on the DL, but as hamstrings are wont to do, his recovery time has proceeded slower than expected. Jackson has resumed baseball activities over the past 10 days and ran the bases Saturday, although it is unclear whether he did so at full speed. The expectation is that if all goes well, he will embark on a rehab assignment shortly. Manager Jim Leyland told reporters last week that Jackson would head to Toledo for a short rehab assignment prior to being activated. This gives him the opportunity to test the hamstring in unpredictable, reactionary situations, an important final step before returning to the lineup. If the rehab assignment is uneventful, Jackson could be back with his teammates this week however the Tigers have been clear they do not want to rush him. Should his rehab start get delayed or should they decide they want him to get more games under his belt before returning, he might not make an appearance before next week.
Hill
Aaron Hill, 2B, Arizona Diamondbacks (placed on DL April 15, no definite timetable):
When Hill was first diagnosed with a fracture in his left hand, the projected timetable was his absence was four to six weeks, the standard for bone healing. The problem is that the bone hasn't healed. As reported by the Arizona Republic last week, Hill has a nonunion fracture, and the choices at this point are to try to resume baseball activities gradually and see how he is able to tolerate them, or to undergo surgery. Hill is trying the former option and so far has been able to hit from a tee. The Republic notes the next step will be facing live pitching. Hill would need to work his way through a rehab assignment before considering a return, suggesting he is still at least a couple of weeks out. And that's if the hand doesn't become too painful along the way. There's no clear answer here as to when Hill might return but at least there's some encouragement that he has picked up a bat again.
Lawrie
Brett Lawrie, OF, Toronto Blue Jays (placed on DL May 28):
When Lawrie was injured this spring, forcing him to open the season on the DL, a source in the Jays' organization expressed concern to me about Lawrie's ability to stay healthy, given how he plays (a la Bryce Harper). Everyone admires the enthusiasm but knows it comes with a bit of risk. Still, there's nothing that could have prevented Lawrie's left ankle from catching the bag and twisting as it did on a recent attempted steal. In fact, it looked violent enough that it actually brought to mind a similar injury suffered by his teammate
Jose Reyes
, who has now been out over a month and is still recovering. Indications are that Lawrie's sprain was not as serious, but it still will take time to get back to full Brett Lawrie mode. He is currently undergoing rehab in Florida and will miss the full two weeks, possibly more. Fantasy owners should expect he will need some extra time to push the ankle with agility maneuvers, sliding and turning corners. Don't be surprised if it requires an additional week or two.
Pitchers
Strasburg
Stephen Strasburg, SP, Washington Nationals (day-to-day):
Strasburg clearly looked uncomfortable Friday night and it didn't take long for the decision-makers to decide to pull him. Originally thought to be an oblique strain, Strasburg is now reported to be dealing with a Grade 1(minor) strained lat (latissimus dorsi) muscle, the large muscle on the back that attaches to the arm and is involved in throwing. Based on how Strasburg was flinching Friday night, rolling his shoulders around in an apparent effort to loosen up, it seemed as if the ailment was not behaving like a typical oblique (the highest oblique muscles attach around the middle of the rib cage and most often players will reach for their side or lean towards one side when that's the issue) and the announcement that it is indeed his lat makes sense. As of now the Nationals say they will be taking it day by day and that Strasburg could test himself throwing a side session Wednesday. This, of course, will happen only if he is pain-free.
It's worth pointing out that Strasburg also appeared to be uncomfortable during an outing in late April. That episode was later reported to be forearm tightness and he did not miss his next start. The Nationals have to be watching him closely for all the body language that would suggest he is less than full capacity, given that Strasburg seems to hold back when it comes to discussing injury. Their worst fear would be not simply an aggravation of a lat strain that could sideline him longer, but a more significant injury to this throwing arm as a result of compensating, especially when he is only recently removed from Tommy John surgery. More information should be available Wednesday after Strasburg's scheduled throwing session.
Johnson
Josh Johnson, SP, Toronto Blue Jays (placed on DL April 26, expected to return Tuesday):
There's some good news finally for the Jays, or at least it appears to be. According to the Jays' official website, Johnson, out since late April with a triceps injury, is expected to rejoin his team Tuesday to face the
San Francisco Giants
. Johnson has made three rehab starts with generally mixed results but most importantly has not had any discomfort in his arm and feels comfortable throwing all his pitches. The Jays could certainly benefit from his presence but as manager John Gibbons said, "We need Josh to be good when he comes back. He's got to stabilize things." The rehab and offseason maintenance programs Johnson has participated in over the last two years seemed to be paying off for him when he looked strong in his spring outings. If this episode can be viewed as just a minor speed bump on the season -- and there's no reason to think Johnson can't stay healthy for the remainder of the year -- then it really could be good news for everyone, including fantasy owners.
Price
David Price, SP, Tampa Bay Rays (placed on DL May 16, no timetable for return):
At least we can see some progress in Price's throwing progression, but he still isn't throwing from the mound. Price has increased the distance at which he's playing catch to 105 feet, according to the Tampa Bay Times. He has now been playing catch for about a week with no reported setbacks and at progressive distances. Still, the vigor of throwing increases substantially when a pitcher throws downhill, something Price could start to do within the week. While the Rays continue to refrain from establishing a timetable, it would stand to reason that Price would need rehab outings prior to a return. First things first. Let's see how his arm responds when he ratchets up the effort.
Betancourt
Rafael Betancourt, RP, Colorado Rockies (placed on DL June 1):
When the Denver Post reported in May that Betancourt had inflammation around scar tissue in his right groin area, it seemed unlikely that a few days rest would be sufficient. After all, he had been experiencing what he described as tightness and weakness in the area since April. Even the Rockies indicate he's been dealing with this issue for several years, according to the Post. Betancourt never blamed the injury for his performance but his recent struggles would suggest it has to at least be considered a factor. Now he will have no option but to take some time to see if it settles down. When he returns - and it's possible he could miss only the minimum time - perhaps it will be clearer just how much a factor the groin has been.
Street
Huston Street, RP, San Diego Padres (placed on DL retroactive to May 30):
Uh-oh. It's deja vu with Street again. Not only is he returning to the DL, a place he has spent time each of the last three seasons, but he is dealing with an injury to the same part of his body that landed him there last August. Street has a strained left calf and last year it cost him 41 days. Padres manager Bud Black and Street told reporters the injury is less severe this time. According to the Padres' official website, Street had a simple assessment: "Same calf, different spot and a different severity level," he said. Perhaps the quick decision to move to the DL will result in less down time. Last year, Street did try to pitch through discomfort but that ultimately turned to pain and a lengthy absence. Street is hopeful he will only need to rest the leg a week or so before resuming activity. Calf injuries are not unlike hamstring strains in that an athlete often begins to feel better until he tests it at full speed. Fortunately for Street, he shouldn't be faced with sprinting that often and perhaps will be able to return after the minimum time.
April, 29, 2013
4/29/13
5:10
PM ET
Every Monday in this space, we'll provide updates on a variety of players to help you make your weekly lineup decisions. We'll specifically try to hit the players who are day-to-day, have just gone on the DL or are ready to return so that you can better decide whether you can count on them or not.
All projected return timelines should be considered fluid.
Hitters
Troy Tulowitzki, SS, Colorado Rockies (DTD):
The good news is that Tulowitzki's latest ailment does not appear to be serious; the better news is that his surgically repaired groin is doing just fine. The hot start to Tulowitzki's season has likely helped put to rest any lingering concerns about the injury that ended his 2012 campaign prematurely. Unfortunately, Sunday's game brought a different scare. Tulowitzki strained his left shoulder on an awkward slide in the third inning, forcing him out of the game. According to the Denver Post, the injury is being described as a strained rotator cuff. It appears he will only be sidelined for a couple of days to allow any inflammation and soreness to subside, and there are no plans to place him on the DL at this time.
Ryan Zimmerman, 3B, Washington Nationals (placed on DL 4/20, could return Friday):
Zimmerman was placed on the DL with a strained left hamstring. While the injury was not considered serious, there are never any guarantees when it comes to these ailments. Zimmerman described it perfectly to the Washington Times: "Usually you can tell the difference between something that's bad and something that's not that bad, but with hamstrings you never know." What Zimmerman and the Nationals do know is that he has progressed well during his down time, performing running and hitting activities over the weekend. According to the Times, Zimmerman will play in rehab games Tuesday and Wednesday. If those outings are uneventful, he will rejoin the Nationals on Friday, when he is eligible to return. As is always the case with hamstrings, the only true measure of recovery is return to play without incident, but Zimmerman may be able to put that to the test soon.
[+] Enlarge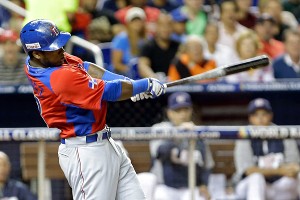 AP Photo/Wilfredo LeeHanley Ramirez has been out since injuring his thumb in the World Baseball Classic championship game March 19.
Hanley Ramirez, SS, Los Angeles Dodgers (placed on DL 3/20, could return Tuesday):
Ramirez injured his thumb playing in the final game of the World Baseball Classic and underwent surgery to repair a torn ulnar collateral ligament (yes, in his thumb). Credit the work the Dodgers had him do while in a modified cast -- including throwing -- with his quick recovery since the cast has come off. Ramirez regained his range of motion quickly, began hitting within days and progressed to throwing shortly afterward. He has already appeared in rehab games over the past weekend and has hit well. Granted, he's not facing major league pitchers yet, but the fact that he is ready to play both offense and defense will certainly have him beating the original target date of mid-May (eight weeks post-surgery). By how much will he beat it? The Dodgers aren't saying for sure, but April 30 is Ramirez bobblehead day at the park. Just sayin.'
Mark Ellis, 2B, Los Angeles Dodgers (DTD):
Ellis pulled up while running to first base Friday and it was determined later that he had strained his right quadriceps muscle. According to the Dodgers' official site, Ellis worried initially that it might be something more serious, but as he was able to jog on it, he recognized that it was not severe. He has already been able to swing a bat and throw the ball without any discomfort and is hopeful he can avoid a trip to the DL. Of course, the big issue with a quad strain is straight-ahead running, something Ellis has not yet tested at full speed. It appears he will be given some additional recovery time of a few days but if he remains relatively symptom-free and can increase his activity, he could potentially return by the end of the week.
Kevin Youkilis, 3B, New York Yankees (DTD):
Last week, we said concern over Youkilis experiencing tightness in his lower back would be justified given his history. At the time, however, manager Joe Girardi downplayed it, saying he expected Youkilis back within a couple days. Well, those two days turned into a week and after a return on Saturday when he went 0-for-3, Youkilis was again experiencing stiffness the following day. He is scheduled for an MRI Monday. Concern is officially warranted. ESPN New York's Andrew Marchand notes how this could affect a timeline for Youkilis
should he need a trip to the DL
. Girardi acknowledged Sunday that all backs "can be tricky" and this situation with Youkilis reminds us that it is often the case with chronic low back pain, where "management" becomes the goal, as opposed to "cure." Right now the Yankees are in wait-and-see mode with their third baseman, but it appears the team will err on the side of caution. With
Alex Rodriguez
out until at least the All-Star break, it would be a significant blow to lose Youkilis for multiple weeks at a time.
Shane Victorino, OF, Boston Red Sox (DTD):
The tricky back is in play with Victorino as well. What looked to originally be a one- to two-day affair has now extended past a week thanks to a flare-up, and may require a longer recovery. Victorino left the game early on April 20 with back spasms and after returning to action on April 22, was forced to leave the April 24 game early when the symptoms recurred. According to the Boston Globe, Victorino's improvement has only been "slight" in recent days, and with the team heading to the harsh turf of Toronto this week, his absence could be extended. It is not clear whether this will translate to a DL stint, but that does not seem to be ruled out. At the very least, it looks as if Victorino will rest a few more days before being tested in a game outing.
Neil Walker, 2B, Pittsburgh Pirates (DTD):
Those nasty spikes. Walker sustained a deep cut near the knuckle of his right index finger Friday while attempting to break up a double play, and he was forced out of the game. He received six stitches in what Walker described as "the deepest cut I've ever had for stitches," according to MLB.com. He was incredibly fortunate to escape without any damage to extensor tendons in the hand, which lie very close to the injury site. The team did not place Walker on the DL, in the hopes that he could return late this week. While he may not have the stitches out, if he can bend the finger enough to swing the bat effectively and throw accurately, he will return to the lineup. Walker is expected to test those skills Monday, and if all goes well, expect him to be back in the mix later this week.
Michael Saunders, OF, Seattle Mariners (placed on DL 4/11, could return Monday):
Saunders has been recovering from a right AC sprain suffered when his shoulder encountered the outfield wall a few weeks ago. After returning to batting practice little more than a week post-injury, Saunders was able to gradually increase his throwing in subsequent days. He began a rehab assignment over the weekend, and the hope is that he will be activated Monday. As long as Saunders has shown he can make the necessary throws and bat effectively, there is no reason for lingering concerns regarding this injury. But it would probably be for the best if that right shoulder and the outfield wall can keep their distance for a bit.
Erick Aybar, SS, Los Angeles Angels (placed on DL 4/13, could return by midweek):
Aybar was sent to the DL with a bruised left heel which was causing him trouble swinging the bat from the right side of the plate. He has since returned to running and hitting, all without incident thus far. Aybar has seen action in extended spring training games, but the Angels have opted to give him some more at-bats before returning him to the team. He will play in a Triple-A game Monday, but it's not yet clear whether this will be his final hurdle. The heel issue appears to be largely behind him; at least the extended rehab time allows him to test it in multiple situations. Aybar's return to the lineup is expected shortly, perhaps within the next couple days.
Pitchers
Justin Verlander, SP, Detroit Tigers (DTD):
The Detroit News reports Verlander said he developed "a little bit of a blister" on his right thumb near his fingernail, which was enough to bring him out of last Thursday's game after seven innings. Verlander shrugged off the notion that it would compromise his next start. Despite the thumb, Verlander had a decent outing, and there is no real indication for concern, particularly given that this is something he has contended with in the past. Blisters or other forms of skin breakdown can certainly threaten a pitcher's status, depending on the severity and location. This does not appear to be one of those times.
[+] Enlarge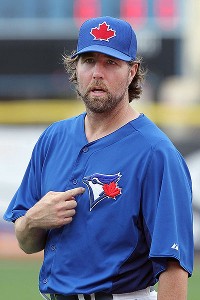 Kim Klement/USA TODAY SportsR.A. Dickey (4.50 ERA, 1.31 WHIP) currently rates just 112th among all pitchers on the 2013 ESPN Player Rater.
R.A. Dickey, SP, Toronto Blue Jays (DTD):
Last week we heard about neck and back stiffness giving Dickey trouble, a decidedly vague qualification. It hasn't improved -- nor have Dickey's recent challenges on the mound -- and he is headed for an MRI to try to gain some additional information. Dickey has been pitching through consistent discomfort, according to Shi Davidi of Sportsnet. There is no doubt that pain, tightness or stiffness in the neck will influence the function of the shoulder and potentially the entire upper arm. One question is whether it is an inhibition of arm strength due to pain or whether there is true weakness as a result of nerve compromise associated with the neck. More information should be forthcoming, but given the lack of improvement both subjectively in how he feels and objectively in how he's performed recently, don't be surprised if Dickey is headed for a more definitive absence.
Brett Anderson, SP, Oakland Athletics (DTD):
Anderson sprained his right ankle on April 19, forcing him to leave a start after just one inning of work. It initially appeared as if it would be a non-issue since Anderson made his subsequent start. It was a rough outing, however, and he only lasted four innings. On Sunday, the team announced Anderson's Monday start would be skipped because of the ankle which, according to the San Francisco Chronicle, was aggravated during Wednesday's appearance. Although Anderson has indicated the ankle feels much better and he hopes to only miss the one start (his next outing would come Saturday this week), even subtle issues on a pitcher's landing leg can be enough to throw off his mechanics. With Anderson so recently removed from Tommy John surgery, there is no reason to press through an issue which should otherwise resolve quickly and risk greater consequences.
Josh Johnson, SP, Toronto Blue Jays (DTD):
Sometimes players just know. After being scratched from his last start Friday due to triceps tightness and given his injury history, many were concerned as to what an MRI might show. Not Johnson. Shi Davidi of Sportsnet reported Johnson expected the MRI to come back clear. Turns out he was right. According to John Lott of the National Post, Johnson's MRI showed no ligament damage, only inflammation, and he is expected to resume his throwing program soon. While that program will likely be increased based on tolerance, it is too early to definitively say whether he will miss his next start, although it seems likely. Most importantly, on the scale of major injuries this does not appear to be a significant worry for Johnson.
March, 11, 2013
3/11/13
11:29
AM ET
Toronto Blue Jays
slugger
Jose Bautista
underwent wrist surgery in September after being shut down last season to repair a torn sheath around his Extensor carpi ulnaris (ECU) tendon. In the 2013 fantasy draft kit
injury watch
, I discussed the injury and how it typically affects an athlete, in particular, a baseball player who is a power hitter.
[+] Enlarge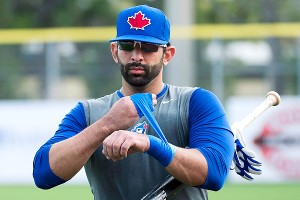 AP Photo/The Canadian Press/Nathan DenetteJose Bautista is making strides in recovering from wrist surgery last year.
One of the more fascinating aspects of talking with athletes about their injuries is hearing how they describe everything from their symptoms to their rehab. It never ceases to amaze how their unique descriptions of what they experience can convey an image beyond any technical terms. Bautista was impressive with regards to the detail in which he explained his entire medical journey, from the anatomy of his injury through surgery and rehab.
For starters, he did not feel pain
during
his swing that fateful day in July. He said his swing got way behind him and as he tried to slow it down he felt a "pop." But it was when he tried to bring his bat forward again that he felt a sharp pain, which he now thinks was the tendon moving out of position (and which can happen with a sheath tear) and he grabbed his wrist instinctively. Even after his DL stint, Bautista knew he would need to get his wrist surgically repaired in the postseason but he was hoping to finish out the year. The problem was that he kept feeling his tendon move or, as he described it, "lift away" from the forearm bone, a sensation he said was not painful but yet conveyed something was seriously wrong. Ultimately he did not want to risk major injury to the tendon itself and was shut down in August.
The protective sheath is thin, or as Bautista put it, "like carpaccio" whereas the tendon is much thicker, "like a rope." The tendon is the contractile portion of the tissue; it moves the wrist in the desired direction and, for a hitter, helps control the swing. The sheath encases the tendon to protect it from friction against adjacent surfaces but does not control function of the wrist. Consequently, the ultimate concern is protecting the tendon itself. Bautista explained how his surgeon, Dr. Thomas Graham of the Cleveland Clinic, a renowned hand specialist who performs these procedures routinely, reinforced the sheath to help ensure the tendon would remain protected, even if the sheath were to be damaged again. He will be left with a visible bump on the pinky side of his wrist to go along with the small incision scar.
As for how he's doing now, Bautista is happy with his wrist, even if he is still working on his hitting efficiency. "I don't have my full, full motion yet," he said, although when he held up his wrists in extension, I was hard-pressed to see the difference. He expects to gain the remaining motion eventually but says he has enough now to swing his bat freely. He has no discomfort whatsoever -- none of that "lifting away" sensation -- and says he is seeing the ball well, swinging well and hitting is not a problem. "I'm working on timing, pitch recognition, the normal spring training things," Bautista said.
When I mentioned that the wrist injury recently suffered by
New York Yankees
first baseman
Mark Teixeira
appears to be similar in nature (the injury was also to his bottom hand on a hard swing, it also involves the ECU tendon and he is being immobilized initially to treat it), Bautista sighed knowingly. He talked about the known frequency of the injury in hockey and golf as a result of the wrist having to counteract the kickback force which travels through a hockey stick and a golf club upon impact. As for baseball, he said, "The injury may be more frequent than we even know."
Bautista sought out others who had been through the surgical procedure -- including teammate
Mark DeRosa
and
Tampa Bay Rays
outfielder
Sam Fuld
-- and learned as much as he could about the process. If anything was clear, it's that Bautista has certainly become well versed on the topic. Now if he returns to form this season, which it appears he certainly has the potential to do, he might just become the go-to guy around the league for how to return from an ECU sheath injury.
[+] Enlarge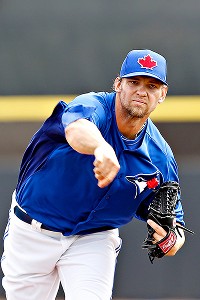 Derick E. Hingle/USA TODAY SportsJosh Johnson, often beset by injuries during his career, is healthy heading into his first year in Toronto.
•
Josh Johnson
is off to a solid start this spring and punctuated it with 3 2/3 perfect innings in his outing Friday. I caught Johnson on his way out to practice Saturday and he said his shoulder continues to feel good. "I've been doing exactly the same exercises I did heading into last year," Johnson said. Last year, Johnson told me it was the first time in nearly two years he felt normal post-pitching body soreness as opposed to shoulder discomfort. In that regard, he says nothing has changed. A club source said Johnson has been impressive in all phases since joining the Jays, from bullpens to live pitching and even in terms of leadership among the younger pitchers in camp. Given that perspective and his dominant Friday start, one might say things are even looking up.
• Despite a recent episode of triceps soreness that has him taking it easy this week,
Sergio Santos
is all smiles when talking about the health of his throwing shoulder. After undergoing labral debridement surgery last July, Santos has been working diligently to ensure his readiness for the start of the 2013 season. In fact, his preparation started
before
surgery.
Santos was actually hoping to avoid surgery altogether. After injuring his shoulder in April (he developed soreness during a closing effort), Santos came in to the training room to rehab six days a week in an effort to strengthen the shoulder and hopefully bypass an operation.
"We all know that the outcome is sort of uncertain after shoulder surgery," Santos said, "so I was trying to do what I could to avoid it. But in the end, I think all the rehab beforehand helped my recovery after surgery."
From a medical standpoint, the rationale for pursuing a strengthening program as an initial course of treatment in most cases is that it will either help resolve the problem completely or delay the need for surgery. In the worst-case scenario, surgery may be inevitable but the athlete still benefits from having trained some of the muscles that will be important in the recovery process. Santos pointed out that he had regained full motion within a few days after surgery and felt as if he continued to progress smoothly over the next six months. He insists the shoulder has felt "great" so far and while Santos says he is sorting out "a couple little kinks as far as command and location," the spring has otherwise been a normal one.
[+] Enlarge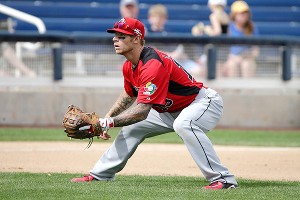 AP Photo/Morry GashBrett Lawrie was supposed to play for Canada in the WBC but suffered a rib injury, although he should be fine for the start of the regular season.
• Third baseman
Brett Lawrie
suffered a strained left intercostal muscle (small muscles between the ribs) on Wednesday, forcing him out of the WBC. Lawrie dealt with several injuries last season, including a right-sided oblique strain that kept him out for 30 games. Naturally, there was some initial anxiety around this early spring setback, but Lawrie insisted it was not as severe as last year's ailment. The Jays do not expect it to be more than a two- to three-week absence and are thankful that it appears to be only a mild strain.
• I caught up with shortstop
Jose Reyes
earlier in the week in Tampa where he was sporting the uniform of his native country, the Dominican Republic, as part of their WBC team. He says the hamstring issues that have been problematic in the past are not bothering him at all this spring. Reyes credits increased hill workouts at home in the Dominican for helping him stay healthier last year (he played 160 games with the
Miami Marlins
) and he says he stuck with the same routine this year. When I asked him if he was concerned about transitioning to the turf in Toronto, he said he can't worry about that. "You can get hurt anywhere." It sounds like he's speaking from experience. Reyes added that he's excited to help his new team win games and the excitement in the clubhouse about his arrival would suggest the feeling is mutual.
• Finally, the Jays are thrilled to start a fresh new season after being riddled with injuries last year. In addition to the names above, pitcher
Brandon Morrow
is healthy after missing nearly two months last year due to an oblique injury. Pitcher
Kyle Drabek
is over at the team's minor league facility and is nearly ready to throw off a mound after undergoing Tommy John surgery -- again -- last June.
Drew Hutchison
, also post-Tommy John, is on a similar schedule. And
Casey Janssen
, officially the team's closer, is coming off November surgery to clean up his AC joint. He had a bit of a setback in late February due to discomfort in his shoulder but has since resumed bullpens and is making progress. He still hopes to be ready by Opening Day but he has not yet faced live hitters. Consider that target date fluid.
March, 6, 2012
3/06/12
3:23
PM ET
JUPITER, Fla. -- There was quite a buzz surrounding the
Miami Marlins
on Monday leading up to their first Grapefruit League game of 2012. Excitement is in the air because so much has changed for the team since last season ended. There are the new big-name additions (speedy shortstop
Jose Reyes
, veteran hurler
Mark Buehrle
, closer
Heath Bell
), a new manager (Ozzie Guillen), the new ballpark (the Marlins will play there Tuesday night for the first time); heck, even the team name and logo are new.
But the most chatter at Roger Dean Stadium centered around the 6-foot-7 anchor of the Marlins' pitching staff, a player whose season ended prematurely in 2011 after just nine starts. On Monday,
Josh Johnson
had his first competitive outing since May, and while it's important not to read too much into two innings of a spring game, there were some encouraging signs.
[+] Enlarge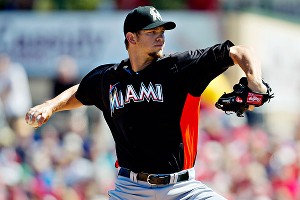 Joe Rimkus Jr./Miami Herald/MCTJosh Johnson was consistently hitting 93 mph in his first spring start of 2012.
Johnson threw 41 pitches Monday, 25 of them for strikes. His first inning went three up, three down, with two strikeouts. The velocity on Johnson's fastball hovered around 93 mph, and while that's likely not the top speed he can deliver, he did consistently hit that number on the radar gun. Johnson ran into trouble in the second inning, allowing a single, a double and a walk before Guillen removed him. The Marlins manager stuck to the plan to remove him at about 40 pitches. Still, Johnson doesn't appear to have lost much deliverywise, and most important, he walked off the mound healthy.
Johnson's words following the game provided further insight into how this spring is different from last, when he was also returning from a season that ended prematurely due to injury. He noted that his arm felt "really good." He threw all his pitches -- primarily fastballs, along with a mix of curveballs, sliders and changeups -- and didn't seem particularly fatigued. He also pointed out that he felt "a hundred times stronger than last year," in the process giving a shout-out to his physical therapist in Las Vegas, Tim Soder, who worked with him extensively in the offseason to prepare his body for pitching. Soder incorporated a variety of exercises Johnson hadn't done before, with a heavy emphasis on manual resistive work. "He was with me every step of the way," Johnson said.
In my
preseason injury roundup
, I referenced Johnson's change in his offseason regimen as one of the positive factors in his outlook for 2012. The type of exercises Johnson described are very specific in targeting the strength, endurance and neuromuscular coordination a pitcher's body demands, things he was not doing previously. While Johnson acknowledged he is still working his way back, he certainly has the perspective of someone who has faced big injury hurdles and overcome them, which he did following his 2007 Tommy John surgery.
However, this time it's a nonspecific shoulder injury, and Johnson's complete return to form is no sure thing. He will have to make it past the All-Star break healthy before anyone can really begin to exhale. Nonetheless, there is clear optimism within the organization about Johnson's readiness to return. Most important, Johnson sounds like a more confident, better-prepared pitcher heading into this season, as compared with last year. And he is indeed the projected starter for Opening Day at Marlins Park, where he will again face the same
St. Louis Cardinals
team he pitched against Monday.
Other notes from Monday ...
• Third baseman
Hanley Ramirez
looks to be in phenomenal shape heading into the season. In fact, he surprised some of the team's coaching staff by how fit he appeared to be when he showed up at camp. Ramirez, who is still getting a feel for his new position (third base), seemed upbeat and relaxed when discussing his health. After missing extensive time last year because of a disk injury in his lower back and later a shoulder injury that ultimately required surgery, Ramirez says he has been working hard to recover. He said his shoulder has the range necessary to swing the bat freely, and while he doesn't feel any discomfort in his back or leg, and says he hasn't for months, he continues to do his exercises "for the little muscles" that support his spine.
• Reyes was not in the lineup Monday but was expected to play in a split-squad game against the
Detroit Tigers
on Tuesday. Reyes appeared loose and upbeat during batting practice and drills.
• Outfielder
Logan Morrison
, who is coming off arthroscopic knee surgery, was also inactive Monday. He also was expected to play Tuesday, but with the other half of the squad (against the University of Miami). This exhibition game will be the first time the Marlins play in their new stadium.
• For the Cardinals,
Allen Craig
is still recovering from knee surgery, as I noted in my
preseason injury roundup
, and has not yet been cleared to resume baseball activities.
• Pitcher
Adam Wainwright
,
on the mend following Tommy John surgery
, is expected to see his first game action Friday in Fort Myers when the Cardinals visit the
Boston Red Sox
. This will be Wainwright's first start since September 2010.
July, 20, 2011
7/20/11
4:18
PM ET
It's that time of the week where your mailbag questions drive the blog. This week there seems to be one player on everyone's minds (hint: an NL East pitching ace who has not been seen in two months). But first, several players returned to the lineup Tuesday night and it's worth noting how they fared:
Jose Reyes, SS, New York Mets:
He gets the prize for biggest impact upon return. Reyes had been out with a Grade 1 left hamstring strain, which originally was expected to keep him out beyond the 15-day minimum. As it turned out, he came back on his first eligible day and delivered as much on the defensive side of the ball as he did at the plate in the Mets' victory over the
St. Louis Cardinals
. Perhaps most importantly he showcased explosiveness at short and brought a spark to his team. The key will be no setback over the next few weeks.
Shane Victorino, OF, Philadelphia Phillies:
While Victorino did not provide any fireworks in Tuesday's victory over the
Chicago Cubs
, he did have four at-bats and emerged apparently no worse for the wear. It appears he will be able to play on with his still-healing thumb.
Ryan Braun, OF, Milwaukee Brewers:
On Tuesday I outlined the concerns that surround an athlete trying to play through injury, particularly when he is specifically
trying to protect the involved body part
. Braun, who has been in and out of the lineup with a calf strain, was back in Tuesday and went 1-for-3 with a two-run home run, but he was in the game for only five innings. Apparently this was planned as a means of easing him back into action. The Milwaukee Journal-Sentinel reported Tuesday that manager Ron Roenicke indicated before the game that Braun would not go the distance. "We're going to try to get him back where there are no setbacks," said Roenicke. It should be interesting to see if this strategy works.
From the mailbag
The most recent three questions in the mailbag are all about
Josh Johnson
. Clearly he is the hot topic.
Ryan (Brookings, S.D.):
The last I heard regarding Josh Johnson was there was no structural damage to his shoulder, but he was going to rest for 10 days. That was on June 29. Are there any updates regarding my No. 1 pitching pick?
Evan (New York):
I was wondering if you think that Josh Johnson will pitch again this year and/or if you feel that this injury could linger into next season?
Aariano (Flushing, N.Y.):
What is the deal with Josh Johnson? He was only supposed to be out a week or two when the injury originally occurred. It has been two months now and still no actual word on what the actual problem is or if he is even alive.
So let me start by stating for Aariano that I do believe Johnson is, indeed, alive, although his shoulder may not be fully cooperating with his plan. According to a report on the
Florida Marlins
' website shortly after Johnson consulted with Dr. James Andrews, while he was instructed to rest his right shoulder for at least 10-14 days following a cortisone injection, the timetable to return was not hard and fast. "[Andrews] said however long it takes to get to where you don't feel it at all," Johnson said. "Where you can do everything, all the stretches. He said take however many days you need. I felt a lot better [during recent throwing sessions], but it wasn't always 100 percent." Johnson indicated that he was hopeful to return in August.
It has now been three weeks since Johnson saw Andrews, nearly four weeks since his last throwing session and two months since he first went on the DL with inflammation in his throwing shoulder. On Monday, the South Florida Sun-Sentinel reported that Johnson was still not throwing, but rather just continuing with a strengthening program. Consider that a return to throwing program requires a progression, however variable timewise, from playing catch to bullpens to facing live hitters to rehab games. And consider that Johnson's previous attempts through a similar progression have resulted in roadblocks. At some point the expectation (read: hope) is that the combination of rest and rehabilitation will allow Johnson to work his way back to competition; the problem is that no one can say for sure how long this will take and whether he will definitively pitch again this season.
Sorry gang, but welcome to the abyss that is the thrower's shoulder. There are typically more unknowns than knowns and the range for recovery is all over the map. The longer it takes, the more concerned we become but it does not necessarily change the regimen in a significant way. Time, as they say, is everything.
Cap (Fontana, Calif.):
How much longer is
Johan Santana
going to be out of action? What is taking him so much time to heal and get back to playing baseball games?
Santana underwent a major reconstructive surgery of his shoulder (anterior capsule repair) last September, which involves a very lengthy rehab. The surgery is done to create stability, but it then takes a long time to restore adequate motion to function as a pitcher, not to mention the necessary strength in the shoulder to protect it going forward. There is not a long list of pitchers who have returned from this procedure, although
Chien-Ming Wang
is just now appearing in rehab games (with the possibility of joining the
Washington Nationals
late this month) after undergoing a similar procedure in July 2009. Wang's recovery was projected to take at least a year, but as is often the case with complex procedures, particularly in a thrower's shoulder, the pace was ultimately dictated by his shoulder's response to activity.
Santana's recovery will not necessarily take as long -- and there are signs that he could be throwing to live hitters soon -- but that does not mean his return timetable is definitive. ESPN New York reports that even if Santana is technically able to pitch this season, Mets general manager Sandy Alderson says that "we're not looking for Johan to ride in here and be a major factor in this season." More recently Alderson told the New York Post, "We're more concerned about him pitching this season so we get past that question going into spring training next year." In other words, if Santana can demonstrate the ability to throw at a high level this fall, the confidence the team and the pitcher would have heading into next season would be high. That appears to be the bigger goal -- and a wiser one long-term -- as opposed to counting on Santana to deliver in a late or postseason situation for 2011.
June, 29, 2011
6/29/11
3:02
PM ET
Your mailbag and Twitter questions drive the blog today. Thanks to all for your thoughts, ideas, musings and perspectives. I read and enjoy them all, even though we only have space for some. And if you don't see your question answered here, it might be that I'm saving it for later, or even for the 06010 Fantasy Focus podcast, so stay tuned.
Jason Jeffrey (Fort Lauderdale, Fla.):
Is there any update on Josh Johnson?
[+] Enlarge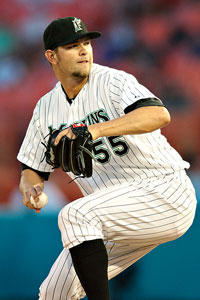 Steve Mitchell/US PresswireJosh Johnson is definitely no stranger to Dr. James Andrews.
Wednesday could be a big day for Johnson as he is visiting Dr. James Andrews. Johnson, who has been on the DL since the third week of May with inflammation in his throwing shoulder, finally progressed to throwing from a mound in mid-June but apparently was not completely rid of his symptoms. According to the Palm Beach Post, Marlins president of baseball operations Larry Beinfest issued this statement regarding Johnson: "JJ says shoulder does not feel 100 percent and is going to see Andrews tomorrow before proceeding further with throwing program."
The fact that Johnson has made it as far as throwing from a mound suggests there likely won't be any catastrophic news. Dr. Andrews is certainly familiar with Johnson, having performed his elbow (Tommy John) surgery in 2007, and this may be primarily a case of seeking reassurance that he is on the right track. But if Johnson is in fact still experiencing stiffness in his shoulder, his throwing program may be slowed or even halted for a time, depending on how serious the concerns are about what is causing his current discomfort.
Johnson was originally placed on the 15-day DL but was slow to progress and was eventually transferred to the 60-day DL. The Marlins were hoping he could pitch for them again shortly after his eligible return date in mid-July, but that now appears to be in question. Given that no timetable has held up for Johnson thus far, it continues to be a wait-and-see scenario.
@digitalbear11:
What's going on with Carl Crawford?
Crawford is definitely demonstrating improvement from his left-hamstring strain. He began swinging a bat Monday. On Tuesday, he performed some light running according to the team's website, running several 90-foot intervals at half-speed. The encouraging news with Crawford is that his recovery has progressed well and he has not had any setbacks. Naturally, the team wants to be as confident as possible that when he returns to game action he will be at minimal risk of re-injury.
As ESPN Boston's Gordon Edes reported, manager Terry Francona has all but ruled out Crawford for this weekend's series against the
Houston Astros
(although Crawford is eligible to return Sunday and Houston is his hometown). As of now it seems more likely Crawford will return Monday, July 4, when the
Boston Red Sox
begin a homestand.
@bobthemule:
Can Shaun Marcum really avoid going on the DL or are he and the Brewers just postponing the inevitable?
@peacechex
Should I trust him [Marcum]?
We may have the answer to that very soon. Marcum is scheduled to pitch a full workload against the
New York Yankees
on Wednesday, so we will see how he holds up. His original injury (left hip flexor strain) was in mid-June, but Marcum made his next start, although he was limited to just three innings. He later said he felt his hip not while pitching, but during an at-bat in that game. The Brewers said they had planned to limit his innings in that game all along, staying clear of calling it any kind of a setback. For his part, Marcum told reporters Friday that his hip was a "non-issue" and expected a regular outing Wednesday. He does benefit from the scheduling that afforded him a couple of extra days rest but until he goes the distance, we won't know how his hip responds. The red-hot Yankees, who traditionally have done well against Marcum, might present a challenge, but if he is able to get through the game without incident, it will help alleviate concerns about a DL stint. And then we will have a better idea as to whether we can trust him.
@teeceli:
Any word on Brett Anderson?
@PutonSwole:
Will he be effective this season?
[+] Enlarge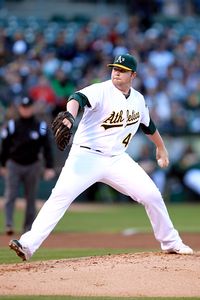 Ezra Shaw/Getty ImagesBrett Anderson is avoiding surgery for now, but his return is still up in the air.
There's not much to report at this early stage. To recap, Anderson had discomfort in his elbow in early June which sent him back to the A's team physician for evaluation. He subsequently had a consultation with Dr. Andrews in Alabama, and many feared the season was over for Anderson, especially given he was on the DL twice in 2010 for issues with the elbow. The decision, however, was not for Anderson to undergo surgery, but rather to try an extended course of rehab and attempt to return to play. Anderson then received a PRP (platelet-rich-plasma) injection into the elbow, which required a follow-up immobilization period for his elbow and forearm. Anderson visited his teammates in the clubhouse on June 19 sporting his splint and tried to focus on the positive. According to the team's website, Anderson said, "The shot wasn't much fun, but it's better than having surgery."
Anderson knows however that there are no guarantees. This is his second such injection (he had one last year), and often times these extended rehab trials are performed when there is not clear and distinct evidence that surgery is required. The hope is that the athlete will be able to return and pitch effectively and perhaps go on indefinitely without additional problems. The alternate possibility, however, is that the rehab effort will not succeed, something which may not become evident until a pitcher returns to full-scale throwing. In other words, every step along the way is a notch on the measuring stick. After each success in a rehab and return to a throwing program, the pitcher is progressed to the next level of activity. Unfortunately, success at one level is not necessarily predictive of continued success, meaning we won't know whether Anderson can return and be effective until he actually arrives at that point. His history certainly gives us reason to be concerned. Then again, there are pitchers currently pitching who have defied similar odds.
For those who might be inclined to think that Anderson should just go ahead and have surgery proactively, the response is this: The best surgeons will remind us that the decision to operate is arrived at when the indications are clear that surgery is the best option, a decision mutually agreed upon by the surgeon and the athlete. The rehab process following Tommy John surgery is lengthy and difficult and is not undertaken lightly. If there are any doubts as to whether surgery is absolutely necessary, then all other treatment options must be tried first. And that seems to be exactly what Anderson is doing.
@kristinereese:
A Phillies fan wants to know about Roy Oswalt ...
The Philadelphia Inquirer reports that Oswalt is scheduled to consult with Dr. Drew Dossett in Dallas on Friday, after which we hope to learn more about his scheduled rehab. The Inquirer noted that a recent MRI showed mild disc bulging in his lower back. It's worth mentioning that many people have mild disc bulges, often without any symptoms at all, so this was not an alarming finding on its own. Phillies team physician Michael Ciccotti also indicated that Oswalt has thickening of a joint capsule in the spine, which may be contributing to his symptoms. In essence, though, the reported findings aren't devastating and don't add much to what we've known for some time, which is, simply, that Oswalt has a chronic back condition.
The issues aren't so much what's present in the pictures but how the symptoms Oswalt is experiencing are impacting his ability to perform. After Oswalt's Friday appointment, the medical personnel will discuss the rehab plan and move forward from there. Although there seems to be some debate as to how long he will be sidelined, the fact is that nobody really knows. The chronic nature of back pain and the degree to which it has limited Oswalt over the past few years are not encouraging factors. Oswalt's dejection after he was forced to leave his last start early is typical of all patients who are frustrated by the severity and frequency of recurring back (and leg) pain. After a period of rest and another round of rehabilitation, he may again be optimistic about being able to return and contribute. Unfortunately for all involved, there is no way to definitively predict just how long that could take ... and whether it will ultimately work.
June, 23, 2011
6/23/11
12:36
PM ET
June, 22, 2011
6/22/11
3:42
PM ET
It's mailbag time again! We're mixing it up a little more this week to include some of the questions that have come in via Twitter that deserve more than a limited number of characters in response. Thanks to everyone who has been contributing to the dialogue. Great thoughts as usual.
Dan Kukla (Carlsbad, N.M.):
You mentioned in your injury blog that setbacks with back injuries, like the one Hanley Ramirez is dealing with, are not uncommon. Is this the type of injury that could linger all season or is he likely to be free of it sometime after the All-Star break? Really what I'm getting at is should we invest or avoid when it comes to Ramirez and his current injury?
Ramirez has been in the news this week, but not because of his back. With the attention focused on his benching by interim manager Jack McKeon and his interaction with his teammates, it's hard to know whether Ramirez is still contending with any discomfort in his lower back. His first outings after coming off the disabled list did little to indicate that his troubles at the plate were behind him. Now he has been moved in the lineup, and at least on Tuesday, his performance improved. Ramirez has not indicated how his back is feeling, but he also didn't say anything about it in the month preceding the episode that led to his disabled list stint. The risk for recurrence will not go away this season, but it does lessen the longer Ramirez is able to play without incident. Given his struggles, the turmoil and his injury, it would be wise to spend cautiously if you are thinking about making a move for Ramirez.
[+] Enlarge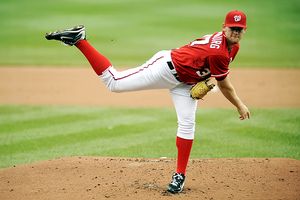 Mitchell Layton/Getty ImagesStephen Strasburg could return by season's end, but given his circumstances, fantasy owners shouldn't count on it.
@ping33:
20 team H@H, currently in 1st, starting to think playoffs: Strasburg, worth stashing on 1 of 2 DL slots?
Here's
Stephen Strasburg
's current activity: In early June, he was throwing from a mound several times a week, averaging 30-40 fastballs per bullpen session, according to the Nationals' website. Changeups were recently added into the mix. Although this is encouraging, he needs to expand his pitching repertoire gradually to include his full complement of breaking balls (thrown later because of the increased stress on the arm); then there is the long road back to facing live hitters and ultimately rehab assignments. There is also the matter of building up to maximum effort when throwing. Each advancement in the pitcher's progression is predicated on success established at the previous stage.
Despite the optimism with his progress, it is important to remember that although the rehab progression after this surgery has general guidelines, it remains a fluid process, adapting at every stage based on how the athlete responds. For instance, when Strasburg was early in his rehab, there were rumblings that he could pitch in late 2011. Then in mid-April, The Washington Post's Adam Kilgore pointed out that at that precise moment, Strasburg was a week behind where
Jordan Zimmermann
had been in his post-Tommy John program. More importantly, as Kilgore noted, that comparison is actually irrelevant because every pitcher will return at the pace dictated by his individual healing process. As Nationals head athletic trainer Lee Kuntz aptly said, "No one is in a rush."
No one except fantasy owners, that is. The Nationals organization, however, understands the larger value of Strasburg and won't risk his long-term value for a few potentially meaningless games late in the season. Even if the games are meaningful, if Strasburg is not ready, he will not pitch. It's possible that if he's ready, he could return to get some major league-competitive innings, but that is not likely to be determined until that time draws much closer. For a fantasy owner who may well need the DL for other players more likely to provide significant contributions late in the season, those spots are probably better reserved for them. If you happen to have a wide-open DL (although it seems rather impossible, given all the injuries this year), it might not hurt to place Strasburg there, but be prepared to let go.
@gameofinches:
When do you expect Harden to start pitching for the Oakland A's?
Rich Harden
's return to the
Oakland Athletics
' rotation is rapidly approaching. Although no definitive date has been given for his return, Harden made his first rehab start for the Triple-A Sacramento River Cats on Monday and had a great outing. He threw three innings and struck out six batters, a performance so encouraging that it would not be surprising to see him moved along quickly. Of course, the concern is whether his strained latissimus dorsi muscle will be ready to handle the stamina of being used regularly. Given Harden's health history, the concern is understandable. It's undoubtedly a risk-versus-reward scenario, and the A's, who are dealing with a multitude of injuries in their pitching ranks, may be ready to take the gamble very soon.
Quick hits
• Pitcher
Jake Peavy
(right groin) has been activated from the DL and is returning to the
Chicago White Sox
's rotation. He is expected to start Wednesday against the
Chicago Cubs
.
•
New York Yankees
shortstop and face of the franchise
Derek Jeter
has been doing some activity at the team's complex in Florida. In addition to his rehab activities, Jeter participated in some long toss. Although the news prompted manager Joe Girardi to say, "He's going in the right direction," the team's website noted that Girardi expects Jeter to participate in at least one rehab game before returning to the team. It's worth repeating that the biggest test after a calf strain is running, especially pushing off when beginning a sprint. No doubt the team will want to see those movements in game-related action before it puts Jeter back in the lineup. ... Meanwhile, pitcher
Bartolo Colon
, nursing a left hamstring strain, has begun long-toss throwing. This is a positive step, but he is not a lock to return automatically at the end of 15 days.
• After being pushed back several times, pitcher
Josh Johnson
finally threw his first bullpen session on Friday, and according to the Miami Herald, he felt good afterward. The team continues to be optimistic that Johnson will return when eligible from his 60-day DL designation (July 16, after the All-Star break). It's still early, however, and Johnson has to face live hitters and some minor league outings before he'll be cleared.
June, 10, 2011
6/10/11
4:09
PM ET
It wasn't enough for the
New York Yankees
and the
Boston Red Sox
to face each other in a three-game series this week. Each team vied for the top injury headline Thursday, but in the contest no one wants to win, the Yankees appeared to beat out their rival when the day was through.
While Red Sox second baseman
Dustin Pedroia
returned to Boston to have his right knee examined, Yankees pitcher
Joba Chamberlain
was learning the results of the contrast MRI taken of his right (throwing) elbow. According to ESPN Boston's Gordon Edes, Pedroia underwent an in-office exam with team physician Thomas Gill, who used a needle with a fiber-optic camera to look inside Pedroia's knee. The verdict? A bruised patella (kneecap), which Pedroia believes he injured in mid-May after taking a hard fall directly on the knee. He has been playing since then, but the knee had reportedly been bothering him more of late. While it's not clear whether Pedroia will take some time to rest the knee (he is back in the lineup for Friday's game), it appears, at least for the time being, that no surgery is required.
[+] Enlarge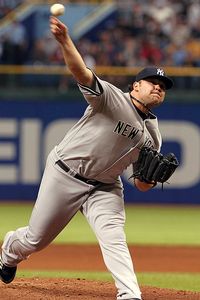 Kim Klement/US PresswireJoba Chamberlain is just the latest in a line of Yankees relievers to go down with injury this season.
The outlook was not quite as optimistic for Chamberlain. According to ESPN New York's Andrew Marchand, Chamberlain's MRI showed a torn ligament in his elbow, a significantly worse prospect than the original flexor tendon strain diagnosis that landed him on the DL the day before. Both manager Joe Girardi and general manager Brian Cashman indicated that Tommy John surgery appeared forthcoming (suggesting that Chamberlain's MRI showed a completely torn ulnar collateral ligament), yet Chamberlain acknowledged having no pain, just tightness in the elbow. In fact on Wednesday, the day after experiencing tightness following a throwing session which led to the evaluation, Chamberlain said: "If you asked me to pitch today, I would tell you I could pitch today."
While not all pitchers experience an acute injury of the ligament in the form of a sudden pop or jarring pain, most see something more dramatic than tightness, perhaps in the form of a drop in velocity or lack of command. Chamberlain's last appearance on the mound was Tuesday and there was no indication of a problem. Even the following day, he had what Girardi described as a "normal long-toss for him." Chamberlain's post-throwing tightness, however, led to further examination, followed by a fairly startling result. From the sounds of it, Chamberlain has a significant injury and the road to recovery is expected to be lengthy. The current plan is for some form of secondary consultation with Dr. James Andrews, after which a more definitive outline of next steps for Chamberlain should emerge. (Update: Yankees manager Joe Girardi announced Friday that Chamberlain
will undergo Tommy John surgery
Thursday, with Dr. Andrews performing the procedure.
Now, on to quick hits heading into the weekend:
• For those waiting to hear the verdict on
Oakland Athletics
pitcher
Brett Anderson
, you will have to wait a little longer. Anderson is expected to see Dr. Andrews early next week for a second opinion on his left elbow. Anderson has been evaluated by team orthopedist Dr. Jon Dickinson, but as the Oakland Tribune points out, the results of that visit have not been made public. Given Anderson's history of difficulty with his elbow (two DL stints last year and recent problems with velocity and command), there is cause for concern.
•
Florida Marlins
pitcher
Josh Johnson
is still limited to throwing on flat ground. According to the Miami Herald, Johnson says the shoulder is improved, yet he still has residual mild discomfort. It's worth noting that Johnson has not thrown from a mound since his last start on May 16, when a comebacker to his forearm forced him out of the game. He also exhibited a loss of velocity that outing, and after going on the DL, acknowledged feeling some discomfort in the shoulder for the better part of the season but said he had previously been able to work through it. His return has now been pushed back twice and there is no new target date for him to rejoin the team.
•
Minnesota Twins
catcher
Joe Mauer
continues to make progress as he goes deeper into rehab games. He is eligible to come off the 60-day disabled list on Monday, but it sounds as if manager Ron Gardenhire wants Mauer to get some more innings under his belt. According to the St. Paul Pioneer Press, Gardenhire would like to see Mauer get some time at Triple-A Rochester, which is expected to happen this weekend. On Sunday, the team will assess his status. Given the fact this episode has been attributed to Mauer trying to do too much too soon in spring training (following offseason knee surgery), the Twins will no doubt be cautious in moving him back to the majors. After all, they want him to play on a regular basis and not find themselves in the midst of a recurrent pattern. Still, it does appear that Mauer's return to the big leagues is now in sight.
• Meanwhile Twins reliever
Joe Nathan
is feeling better. After a successful bullpen session Thursday in which Nathan said his arm felt "great," he is expected to throw again this weekend after which, the Pioneer Press reports, a rehab assignment could follow.
May, 25, 2011
5/25/11
5:58
PM ET
The pitching ranks seem to be thinning around the league as more and more hurlers are forced onto the disabled list. For some, the rest of the season -- and part of the next one -- is lost. For others, there is every expectation they will return. But when? And with what level of confidence that the injury is behind them? As usual, it is very disappointing to not have a crystal ball handy to avoid laboring over the what-if and what-could-be scenarios. But in the absence of that crystal ball, labor we must.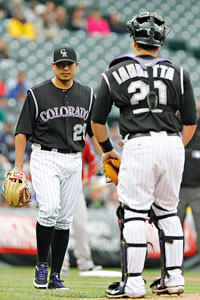 AP Photo/Barry GutierrezJorge De La Rosa finishes the season 5-2 with a 3.51 ERA and 52 strikeouts in 59 innings.
Jorge De La Rosa, P, Colorado Rockies:
He suffered a complete tear of his ulnar collateral ligament Tuesday, and now the southpaw's season is over, the Denver Post reports. As devastating as the news is for De La Rosa, at least there's a relative certainty of knowing what lies ahead for the next year. De La Rosa is expected to undergo the all-too-common Tommy John reconstruction procedure, followed by a lengthy, laborious rehab. The upside is that the success rate is incredibly high following this surgery and the path is well-documented by those who have traveled down it before. The downside is, well, obvious. De La Rosa loses the rest of this season (and part of next) and has to spend most of that time away from his teammates while he recovers. The team loses one of its aces and the only starting lefty on the squad.
De La Rosa started the season by developing a blood blister during his first outing. Although it initially appeared as if it might threaten his subsequent start, he healed quickly and heated up, becoming one of the Rockies' most effective starters. That came to a sudden end in the third inning of the opening game of Tuesday's doubleheader when De La Rosa was forced to leave early because of pain in his left elbow. Prior to this injury, you have to go back to 2007 to see when he last dealt with an issue in his throwing elbow. At that time, De La Rosa suffered what was termed an elbow strain and missed more than a month, then struggled in his return. In fact, his struggles persisted for some time as he bounced from the
Kansas City Royals
to the Rockies, which in hindsight leads to the natural question as to whether the elbow was a factor. He eventually turned the corner, however, improving his effectiveness until a torn tendon pulley in the middle finger of his throwing hand caused him to miss 10 weeks in 2010. He returned for the latter half of the 2010 season and was off to perhaps his best start ever in 2011, until this latest setback.
We should not expect De La Rosa to return before June of next year, and that, of course, is a soft timetable depending on how things evolve from here. At 30, he is neither the youngest nor the oldest to suffer this injury and he can take comfort in knowing that others have come back to deliver career years afterward.
Josh Johnson, P, Florida Marlins:
After Johnson appeared to suffer no severe injury following a hit to his right forearm in a game early last week, it seemed as if he was out of the woods. Clearly that was not the case. Johnson was placed on the DL retroactive to May 17 with what the team is calling inflammation in his throwing (right) shoulder, the same term used to describe what ended his 2010 season somewhat prematurely. According to the Miami Herald, Johnson says he has felt some measure of discomfort in the shoulder "pretty much the whole year" but could always work it out before pitching. This is not particularly encouraging, especially given his recent history. Johnson has rested the arm since being placed on the DL and has indicated that it feels much improved with rest. While there is no hint at this point that Johnson's absence will exceed the 15-day timetable, the concerns about whether this is just a minor speed bump or an indicator of things to come remain.
Matt Garza, P, Chicago Cubs:
After relaying to the team that he was dealing with some tightness and soreness in his throwing elbow, Garza found himself missing a start and ultimately making a trip to the DL, something he was trying to avoid. No doubt the Cubs are hoping this heads off a more serious issue for their recently acquired starter. The results of Garza's MRI, to the relief of the organization, did not show any major structural damage, according to the Chicago Sun-Times.
Interestingly, the imaging did show a bone bruise, and the question is how it got there. Bone bruises can be the result of direct trauma or, within a joint, the result of excessive motion of one bone on the other, often from instability, which causes bruising. For instance, when an individual tears the ACL in the knee, it is not unusual to get an accompanying bone bruise from the contact of the bony ends as they exceed normal motion. Naturally it leads to the question of whether excessive motion within Garza's elbow might have resulted in this injury (which would raise bigger concerns about the long-term health of his elbow perhaps). A vigorous hyperextension potentially could bruise the joint as well. As the Sun-Times reports, the Cubs' medical staff hypothesizes the stress of power pitching might have led to a pitch which created the bruise. Continuing to pitch might then have aggravated it. Without knowing the precise location of Garza's bone bruise, it is difficult to appreciate the exact implications of the injury, but in any case, rest is the single best mode of allowing it to heal. The big test will be once Garza returns to throwing to see how his elbow responds. That test might come soon, as Garza is eligible to return June 3 and the team sounds optimistic he will meet that target.
[+] Enlarge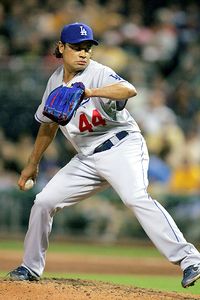 Charles LeClaire/US PresswireVicente Padilla had been looking decent as the Dodgers' closer when he got hurt.
Vicente Padilla, P, Los Angeles Dodgers:
The Dodgers have not had much luck cementing the closer position thanks in part to both injury and ineffectiveness. Padilla, who seemed to have the lock on the position earlier this month, began to struggle with a sore forearm last week, the same forearm on which he had surgery in February. That surgery was done to release an entrapment of the posterior interosseous nerve, a branch of the radial nerve that travels through the back side of the forearm. Tightness in the supinator muscles, which rotate the forearm (to turn it palm up), and the wrist extensors can compress and irritate the nerve. Even after tight tissue in the area is released, there is always the potential for tightness to return or even some scar tissue to develop, despite efforts to keep the area loose through stretching and soft tissue work. After all, there is no way to avoid using these muscles as part of the act of pitching, so it presents an ongoing management challenge.
Stan Conte, director of medical services for the Dodgers, says Padilla has responded well to a cortisone injection and potentially could begin a rehab assignment soon, which would have him returning at or close to his 15-day window. The good news here is that this does not appear to be serious and some brief downtime might go a long way toward preventing a disabling recurrence of Padilla's injury. Naturally, the Dodgers would have preferred that all their closers weren't having issues simultaneously, but Padilla seems to be in the best shape for a near return.
Jonathan Broxton
(elbow inflammation) has played some catch but has no definitive timetable for his return, and Hong Chih-Kuo (anxiety disorder) is out indefinitely.
Quick hits
•
Philadelphia Phillies
outfielder
Shane Victorino
is making some progress from his hamstring strain, doing agility drills and taking batting practice. The Philadelphia Inquirer reports he could begin a rehab assignment this weekend. He is eligible to return June 3, and the Phillies have hinted at having him back on time.
The good news is Victorino reportedly has not dealt with hamstring injuries in the past. The not-so good news is the Philadelphia Inquirer reported that the day Victorino got hurt, he had been experiencing pain in his low back and hip prior to feeling it in the hamstring. If indeed Victorino has low-back issues, which are contributing to the hamstring symptoms, the injury might not be totally behind him, even after he returns.
• Don't expect
Cleveland Indians
designated hitter
Travis Hafner
back anytime soon. He has an oblique strain that is likely to keep him out the better part of a month. Hitters need their core strength for power. He will not be rushed back. But hey, on the bright side, the Indians expect to get
Grady Sizemore
back this weekend, according to MLB.com. After he ran the bases without incident Wednesday, the team has confidence that his knee is progressing in the right direction. Sizemore had been dealing with a bone bruise in his right knee following a hard slide. He underwent microfracture surgery in his left knee in the offseason.
•
Toronto Blue Jays
first baseman
Adam Lind
has seen some progression of his baseball activity (swinging the bat, fielding drills) down at the team's Florida facility. Although his move to the DL last week took some by surprise, he has appeared to make steady progress since he's been there. The team appears hopeful he could return to extended spring training action this week, according to the Jays' website. Perhaps most notably, it sounds as if the team plans to share his workload, at least initially, with
Juan Rivera
when he returns so as not to overwork him.
May, 17, 2011
5/17/11
3:49
PM ET
Much to the dismay of fantasy owners everywhere, Monday may have been one of the busiest baseball injury days on record. Here's the spillover into Tuesday.
Adam Lind, 1B, Toronto Blue Jays:
So much for hoping Lind could avoid the DL because of back issues. The team opted to place him there but it's
retroactive to May 8
, meaning he could return next week. He was making improvements as of the weekend so the hope is he will be ready to return when eligible.
[+] Enlarge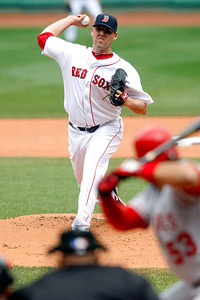 David Butler II/US PresswireJohn Lackey is 2-5 with an 8.01 ERA so far this season.
John Lackey, P, Boston Red Sox:
Lackey was placed on the DL Monday with a right elbow strain. He has been inconsistent on the mound this season, with things getting worse lately. After giving up nine runs in his last outing, an exasperated Lackey summed up his feelings by telling the Boston Herald, "It's got to turn some time. Everything in my life sucks right now, to be honest with you." Manager Terry Francona confirmed Lackey's physical ailment was responsible for the DL move, telling reporters, "He's been having some tugging in his elbow." Just how long the elbow has been bothering him this season is unclear, but he has a history of minor trouble with it. His 2009 season started late because of elbow pain, and in 2008, he missed time with a strained triceps in his throwing arm. Maybe the years are throwing are taking a toll on the 32-year-old pitcher. While there is no report of anything serious with Lackey, the caution flags are certainly flying.
Josh Johnson, P, Florida Marlins:
Johnson looks to have escaped serious injury after absorbing the brunt of a
Carlos Beltran
line drive on his right (throwing) forearm Monday. Johnson stayed in to finish the inning but did not return to the game as the forearm got tight. The team referred to the injury as a bruised right forearm. X-rays taken Monday night were negative. According to the team's website, manager Edwin Rodriguez is optimistic Johnson will be able to make his next start against the
Tampa Bay Rays
on Saturday.
Derrek Lee, 1B, Baltimore Orioles:
Lee exited Monday's game after just two innings with what the Baltimore Sun reported to be a left oblique strain. The team has called Lee's status day-to-day and he was expected to be evaluated further Tuesday. The severity of the injury will dictate whether Lee is likely to be absent for days or weeks. Lee has a history of low back problems (disc-related) and cannot afford to play with any compromised core strength.
Good news! The
Philadelphia Phillies
have to be relieved to be getting a player back from the DL instead of adding another to the list, as pitcher
Roy Oswalt
has been activated for his Tuesday start. He had been on the DL with inflammation in his lower back, but fortunately turned the corner fairly quickly. Still, he is likely to be limited in the number of pitches he throws as he works his way back to form. His last start was April 26 against the
Arizona Diamondbacks
. Since then he left the team to be with his family in the aftermath of the severe storms in the south, then returned only to be forced onto the DL because of his back.