Stephania Bell:

Julius Jones
December, 29, 2009
12/29/09
4:15
PM ET
My oh my, what a week of football! There were some crazy performances this holiday week. Unfortunately many of the players who had them may not have been in your active lineup ... or perhaps were not even on your fantasy roster.
Devin Aromashodu
? An injury to
Chicago Bears
receiver
Johnny Knox
opened the door to his star performance on Monday night.
Greg Olsen
? He hadn't scored more than one fantasy point in the last three weeks but delivered 10 -- most likely to your bench -- on Monday night. And what about
Steven Jackson
, who may have been in your Sunday lineup after he promised to "gut it out" the remainder of the season, but ended up inactive? (In defense of Jackson, his symptoms took a late turn for the worse, always a justifiable reason for a player's status to change, although that still may not appease fantasy owners.)
On the flip side,
Jonathan Stewart
had a phenomenal day and the
Carolina Panthers
tipped us off early that he likely would have the bigger role, even if
DeAngelo Williams
played (which he didn't). If you've been relying on
Cadillac Williams
as a flex play, he put up a healthy double-digit day while shouldering the load in the presence of an ailing
Derrick Ward
. And
Tom Brady
owners knew to start him Sunday even though he's been listed on the injury report with multiple ailments for several weeks. He delivered several touchdown passes to recently beleaguered teammate
Randy Moss
while delivering plenty of fantasy points to faithful owners.
If you're still alive after all the fantasy drama and are aiming for victory in Week 17, then you need to know who will be on the field for you come Sunday. While we can't anticipate all the various coaching strategies surrounding the do-you-or-don't-you rest the starters question, we can certainly pay attention to who's on the injury watch in this final week of the regular NFL season. Here's what we're looking at so far ...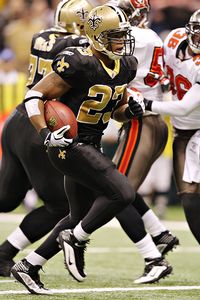 Derick E. Hingle/US PresswireWith the Saints having clinched the No. 1 seed in the NFC, it's possible that Pierre Thomas won't play in Week 17.
Pierre Thomas, RB, New Orleans Saints:
Thomas left Sunday's game before halftime with bruised ribs and was unable to return. Fortunately, X-rays proved to be negative for a fracture, but Thomas is no doubt experiencing lingering soreness and difficulty moving. The New Orleans Times-Picayune suggests that Thomas likely will be limited in practice this week and questionable heading into Sunday's game. Knowing a running back faces certain contact on the field, it would not be at all surprising if Thomas is on the sideline in Week 17. Fantasy owners might want to check out
Lynell Hamilton
if in need of an emergency running back.
DeAngelo Williams, RB, Carolina Panthers:
Williams sat out Week 16 because of a left ankle sprain, and Jonathan Stewart did his usual job of stepping it up in his absence. The question becomes whether Williams will be available in Week 17. According to the Charlotte Observer, coach John Fox has said "he has reason to believe there's a chance" that Williams plays Sunday against the New Orleans Saints. Fox tends to hold the door open for Williams until late in the week to give him an opportunity to get healthy. It remains to be seen just how much Williams will be able to do on that ankle, but if he has not returned to practice by Thursday, it would put his status further in doubt. Stewart should be expected to get his usual Wednesday off but then increase his work. Fantasy owners should keep an eye on Panthers practice reports late in the week to see how things are shaping up.
Steven Jackson, RB, St. Louis Rams:
Jackson was a surprise inactive in Week 16 but we later found out there was good reason for him to rest. Jackson told the St. Louis Post-Dispatch that he began experiencing some new symptoms, including pain radiating down his leg, along with difficulty loosening up his back before the game. Jackson confirmed the widely reported herniated disk injury and added that he hopes to play in Week 17. Pain radiating into the leg signifies that there is nerve involvement to accompany the disk injury, a more serious situation than pain localized to the back area. The hope is that the leg pain will resolve through the week and that Jackson will be able to return, but as fantasy owners saw last week, that could come down to game time. Expect Jackson to try to play, but have an alternate plan handy.
Julius Jones, RB, Seattle Seahawks:
Jones aggravated a rib injury and sustained an ankle injury in Sunday's game, according to The Seattle Times, making it seem all the more likely that
Justin Forsett
will indeed see the majority of the work in Week 17. Jones and Forsett were just about even in Week 16 in terms of touches, but Forsett managed slightly more productivity with those carries. Forsett may well be trying to impress with 2010 in mind, which could be a nice bonus for fantasy owners.
Other quick hits:
•
Miami Dolphins
running back
Ricky Williams
left in the third quarter of Sunday's contest with a right shoulder injury. There have been no specifics as to the nature of the injury but Williams told reporters after the game that he would be "fine." Keep an eye on his practice activity this week.
•
Pittsburgh Steelers
wide receiver
Hines Ward
aggravated his hamstring injury late in the game. According to the Pittsburgh Tribune-Review, coach Mike Tomlin summed up Ward's condition by saying "He's just beat up." Hard to argue with that. Whether Ward will be able to return for Sunday's game is not yet known.
•
Indianapolis Colts
receiver
Pierre Garcon
has been ruled out for Week 17. It's not necessarily a surprise, but it's nice of the Colts to provide fantasy owners with some official advance notice.
•
Atlanta Falcons
running back
Michael Turner
has the potential to return to practice Wednesday, reports the Atlanta Journal-Constitution. Fantasy owners should not be lured into thinking that he will be a good fantasy option this week, even if he manages to suit up for Sunday.
See you at the final Sunday pregame chat (10:00-10:30 a.m.) and check for the latest injury updates affecting Week 17 in the Saturday morning blog!
December, 3, 2009
12/03/09
3:48
PM ET
Last week we had the pleasure of three games on Thanksgiving, so having only one Thursday game in Week 13 feels like a bit of withdrawal. The upside? A few more days for some ailing players to get themselves a little healthier.
New York Giants
quarterback
Eli Manning
played last Thursday and we later discovered that he is dealing with yet another issue in his right foot, a stress reaction in one of his midfoot bones to be exact. Since the best treatment is indeed rest, 10 days off could be viewed only as a good thing. Running back
Ahmad Bradshaw
got a few extra days to rest his newly sprained left ankle, not to mention the fracture in his right foot, which at least gives him a better shot of playing this Sunday.
Detroit Lions
quarterback
Matthew Stafford
was visibly uncomfortable while trying to play through his separated (nonthrowing) shoulder last Thursday, so some additional downtime benefited him. It also helped his primary target, wide receiver
Calvin Johnson
, who told The Detroit News that it was "big for me just being able to get home and get my feet up," allowing his sore knee to rest. Over in Dallas, quarterback
Tony Romo
had a few more days to quiet his sore back and tight end Jason Witten's foot was given some additional recovery time as well.
So how concerned should fantasy owners be about the health of their roster heading into Week 13? Here's what we know so far ...
Quarterbacks
Matt Ryan, Atlanta Falcons:
On Tuesday, I outlined the information we have so far on the
status of Ryan's big toe injury
. The fact that he did not have surgery and is receiving treatment suggests that the team is hopeful that he could return. The Falcons indicate that they will provide a status update next week. In the meantime, Ryan is definitely out for Week 13, so adjust your roster accordingly.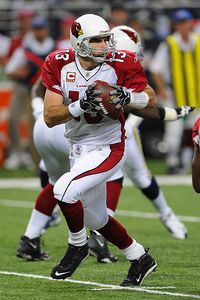 G. Newman Lowrance/Getty ImagesKurt Warner could be playing it really safe again with his most recent head injury.
Kurt Warner, Arizona Cardinals:
Warner was inactive Sunday after lingering visual disturbances caused him enough uneasiness to report the symptoms and elect not to play. First, Warner should be applauded for making a difficult but correct decision. The more players are forthcoming about these types of symptoms following head injury, the more acceptance there will eventually be about respecting the significance of these injuries and the potential consequences of returning too soon.
Warner also paid a visit to an ophthalmologist, a physician who specializes in eye care, for further evaluation. According to the Cardinals' official Web site, everything was "fine" with Warner's eyes. He reported feeling better and returned to practice but split first-team reps with teammate
Matt Leinart
. Consider Warner's status day-to-day and recognize that the decision to play might be a game-time one, and with the game not being played until Sunday night, it'll be tough to use him in your lineup.
Eli Manning, New York Giants:
On Tuesday I outlined the
new challenge for Manning and his injured right foot
. As expected, Manning continues to be a full participant in practice and is preparing to face the
Dallas Cowboys
Sunday.
Ben Roethlisberger, Pittsburgh Steelers:
Roethlisberger is expected to be under center for the Steelers this week when they face the
Oakland Raiders
. He returned to a full practice Wednesday and unless he experiences a setback, such as another bout of exercise-induced headache, he will be the starter.
Jake Delhomme, Carolina Panthers:
In what seemed a foregone conclusion at the start of the week, ESPN reports that
Matt Moore
is
expected to start for the Panthers on Sunday
in place of Delhomme. Delhomme suffered a broken finger on his throwing hand in last week's contest, which made the decision to replace him easier for coach John Fox. The Rock Hill Herald reports that Delhomme was on the sidelines at practice with his index and middle fingers taped together, a common form of splinting to immobilize the injured finger. It suggests that the break is small and nondisplaced, and that surgery was not required. Nonetheless, the bone has to heal and then he will need to regain adequate range of motion and strength in the finger to throw the ball effectively. Since effectively throwing the ball was a bit challenging for Delhomme before the break, it's not clear just how long this will sideline him.
Running Backs:
Brian Westbrook, Philadelphia Eagles:
Westbrook has already been ruled out for Week 13. He continues to be evaluated following his second concussion of the season and to that end, traveled to Pittsburgh this week to visit again with experts in the field. According to the Philadelphia Inquirer, coach Andy Reid said that the specialists in Pittsburgh would like to "check him again in a week or two." Reid also said that Westbrook experienced "a slight headache" after a workout last Friday. It sounds as if he will not return before Week 15, and in the meantime, his response to exercise will continue to be monitored closely.
LeSean McCoy
will continue to be the primary back for the time being.
Clinton Portis, Washington Redskins:
Portis has already been ruled out for Week 13 and is scheduled to return to Pittsburgh next Monday for follow-up evaluation related to the concussion he suffered in Week 9.
Portis appeared on John Thompson's radio show on ESPN 980 in Washington, D.C., and provided some insightful commentary as to how he's evaluating his post-concussion situation. Portis said, "I would love to be on the field trying to get out there and finish out the season. At the same time, I have to do what's safe and what's best. If I'm cleared and can get back out there for the last few games, I'm definitely going to try and get back out there. If I can't, I'll go into the offseason healthy and starting off fresh next year." It's refreshing to hear players candidly discuss their consideration of the big picture when it comes to such injuries.
It's worth remembering that Portis struggled with other injuries earlier in the season, specifically bone spurs in both ankles and a strained calf muscle. The rest he has had so far has no doubt allowed his muscles and joints some measure of recovery, but if his season was to end early, his almost-30-year-old body would not likely complain. While it is too soon to say whether Portis will or won't return this season, fantasy owners should prepare for the possibility that he may not. With
Ladell Betts
on injured reserve,
Rock Cartwright
continues to get the start in Washington.
Michael Turner, Atlanta Falcons:
Turner did not practice Wednesday or Thursday as he continues to rehabilitate his injured right ankle, which suffered a setback in Week 12. While the Falcons have not yet ruled him out, it seems as if the prudent choice would be to rest him in Week 13. He may be a game-time decision again this week, but unless we see more from him in practice by the end of the week, fantasy owners should be very wary. Meanwhile,
Jerious Norwood
is off the injury report this week.
Cedric Benson and Bernard Scott, Cincinnati Bengals:
Just a reminder, folks. Coach Marvin Lewis has already announced that Benson, who missed the past two games with a hip injury, will start in Week 13. Based on Lewis' comments heading into Week 12, fantasy owners should feel confident about Benson's health. Scott, who suffered a turf toe injury Sunday and has not practiced, appears unlikely to play. That would make Benson the primary back to face the Detroit Lions with
Larry Johnson
as the likely No. 2.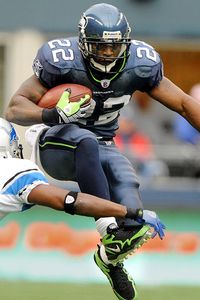 Kirby Lee/Image of Sport/US PresswireJulius Jones may regain his starting job, even though Justin Forsett has played well in his absence.
Julius Jones, Seattle Seahawks:
Jones returned to full practice Wednesday, making it appear more likely that he will be able to play this weekend. Jones suffered a bruised lung and rib in Week 10 and sat out the past two games due to lingering chest pain. Coach Jim Mora has maintained that Jones remains the starter when healthy but has also acknowledged the excellent performance of
Justin Forsett
in Jones' absence. Jones is not yet a sure thing by any means. He will need to show no ill effects through a week of practice and will have to convince the Seahawks that he not only has sufficient cardiovascular endurance to play in a game, but also that he can withstand contact. We should have a better clue by Saturday.
Ahmad Bradshaw and Danny Ware, New York Giants:
Ware is already ruled out for Week 13 following a concussion sustained in last week's game. Ware was providing some backup for
Brandon Jacobs
as Bradshaw sat out with a sprained left ankle (to go with his fractured right foot). Although Bradshaw did not practice Wednesday, he did do some running on Thursday. Apparently, it was enough to at least provide some encouragement that Bradshaw could be available Sunday, according to The Star-Ledger. Bradshaw has proved that he can play through discomfort as he has been functioning much of the season with a chronic right ankle injury and a fractured fifth metatarsal (forefoot bone) on his right foot. Having a still-healing sprain on his other ankle may make it tougher however for him to be effective, especially since his style of running involves sharp cuts and directional movements. It seems likely that Jacobs would handle the majority of the work with a sprinkling of Bradshaw if he can go.
Reggie Bush, New Orleans Saints:
Bush did not play Monday night, his second straight missed game with an ailing knee. He did tell The Times-Picayune on Wednesday that he thought he could have played but that it was a decision made between the medical staff and the coaches. According to Bush, their feeling was "let's rest him for one more game and allow him to be 100 percent for next week." So will he be 100 percent in Week 13? That remains to be seen, but the extended rest certainly bodes well for his availability. Bush was listed as a limited participant in a projected Wednesday injury report, so we will need to see what he actually does in the latter part of the week.
Wide Receivers
DeSean Jackson, Philadelphia Eagles:
Jackson suffered a concussion in Week 12 and has indicated that he thinks it unlikely that he will be able to play this Sunday. According to ESPN's Sal Paolantonio, Jackson simply said, "I don't think I can go. I blacked out." Regardless of whether there was a loss of consciousness or not, Jackson's symptoms and performance on neurological tests will dictate whether playing this week is even an option. Trust Jackson's intuition and expect
Jeremy Maclin
to see some extra targets.
Be sure to check back on Saturday for post-Friday NFL injury report updates on all your fantasy players heading into the weekend.
See you at the injury chats (Tuesday and Friday, 11:00 a.m.-noon, and Sunday pregame 10:00-10:30 a.m.). And check out Fantasy Football Now on Sundays at ESPN.com from 11:30 a.m. ET to kickoff for last-minute inactives, rankings and more!
November, 24, 2009
11/24/09
4:49
PM ET
Happy Thanksgiving week, fantasy football owners! What could be better? In addition to the usual Sunday merriment, we get to have a Thursday full of food, family and ... football! There are three games to be played Thursday, and naturally there are injury concerns clouding the picture. Whom can you trust and whom should you avoid in Week 12? Here's what we know so far ...
Thanksgiving Day players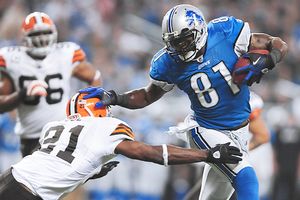 Andrew Weber/US PresswireA short week before Thursday's game won't help Calvin Johnson's chances of playing on Thanksgiving.
Calvin Johnson, WR, Detroit Lions:
Johnson missed a couple games earlier this season because of a non-specific knee injury. Last week, he was on the injury report with a hand injury. The knee issue seemed to be mostly behind him, and the hand appeared to be a nonfactor heading into Week 11. But Johnson sustained some bumps and bruises in the game against the
Cleveland Browns
, especially in the final moments, and was subsequently held out of Tuesday practice because of problems with the knee and hand. The Lions have a short week, so resting him does not come as much of a surprise, but given that Wednesday is expected to be a light practice day, Johnson will not test himself much before the Thanksgiving Day game. Expect a game-time decision for Johnson on Thursday.
Matthew Stafford, QB, Detroit Lions:
After a valiant touchdown pass in the final seconds to lead his team to victory, his painful left arm hanging at his side, Stafford may be forced to sit this one out. Stafford suffered a separated left shoulder (sprained acromioclavicular joint, where the clavicle [collarbone] meets the acromion [tip of the shoulder blade]) and is experiencing significant soreness. While he is fortunate that the injury was to his non-throwing arm (an injury to his throwing arm could have threatened the remainder of his season), the pain will need to subside to a degree before Stafford can safely resume his position. In the presence of a separated shoulder, any jarring (running) or direct contact (landing on the turf again) will exacerbate the condition. If the sprain is anything less than a complete ligament tear, trauma this soon after the injury could worsen the injury. While the Lions have not officially ruled Stafford out, fantasy owners should expect that
Daunte Culpepper
will be the starting quarterback against the
Green Bay Packers
on Thanksgiving.
Brandon Jacobs and Ahmad Bradshaw, RB, New York Giants:
Good news for Jacobs, not so good news for Bradshaw. Jacobs took a hit in the third quarter of Sunday's game just above the knee and remained out the rest of the game. He told reporters that he probably could have returned, but that the medical staff was being cautious. It's worth noting that he did not appear on the team's Monday "projected" injury report. Bradshaw did appear on the Monday report, though, as "Did Not Participate in Practice" -- meaning if the Giants actually had practiced, they expected him to sit out. Anyone who has been paying attention to Bradshaw for the past couple of months knows that this has been standard procedure to protect his injured right foot from overuse during the week. But wait! Bradshaw has a new ankle injury, this time on his left side, according to the New York Daily News. In fact, the Daily News reports that he is now wearing a protective boot on that ankle, suggesting it is indeed more serious than a minor sprain. Bradshaw is not practicing Tuesday, and his status for Thursday appears very questionable, especially given that his right foot was already compromised by a fracture.
Ryan Grant, RB, Green Bay Packers:
Grant was listed as a limited participant in the Monday projected practice reports with a neck injury. The Green Bay Press-Gazette reports that Grant suffered a stinger, but that the Packers did not seem to think it serious. Grant is expected to play Thursday.
Tony Romo, QB, Dallas Cowboys:
It appears that Romo will be fine to play Thursday after being listed as a limited participant in the Monday projected practice reports. Romo took a knee in the back in Sunday's game, but coach Wade Phillips indicated that his starting quarterback was already feeling much better by Monday. He is expected to play Thanksgiving Day.
Kyle Orton, QB, Denver Broncos:
Well, the
Chris Simms
era didn't last too long. Orton, who did not start Sunday's game because of a sprained left ankle, came in to replace the struggling Simms in the second quarter and managed to tough it out for the remainder of the game. He managed to move around decently despite the occasional limp and has already indicated that he is ready to play Thursday.
Sunday players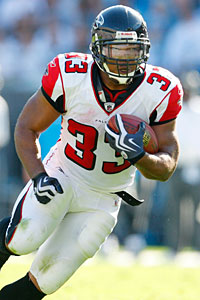 Bob Donnan/US PresswireMichael Turner is expected to miss at least one more week with his high ankle sprain.
Michael Turner, RB, Atlanta Falcons:
Turner is doing his best not to reveal too much about his Week 12 status to the opposition, but the uncertainty he expresses about his own timetable is revealing enough. Turner, who missed Week 11 with a high right ankle sprain, told The Atlanta Journal-Constitution on Monday, "I'm just taking it easy right now and hoping for the best." He added, "Some guys take six weeks to bounce back, but I don't think I'll take that long. I'm just trying to get back to my normal self again." His comments are accurate in that high ankle sprains can derail players for multiple weeks, but everyone heals at different rates; depending on the degree of injury, a return could come sooner. That said, we would need to see Turner doing at least some running and side drills to think there is hope of a return in the near future, something that has yet to occur. Keep a close eye on Turner's activity, but it appears that
Jason Snelling
will get his second consecutive start.
Cedric Benson, RB, Cincinnati Bengals:
Last week, Benson insisted that if he didn't play in Week 11 because of his strained hip muscle, he would certainly be ready to go by Week 12. That may not be entirely true. While Benson's injury never appeared terribly serious, having him available in the final weeks of the season and into the playoffs is quite serious for the Bengals. They will certainly not rush him back onto the field if there is any evidence of lingering effects, which, even if minor, could turn into something major if aggravated. In other words, the Bengals are facing the Cleveland Browns and may opt to continue with rookie
Bernard Scott
for another week. The completion of Friday's practice should yield more clues.
Julius Jones, RB, Seattle Seahawks:
The good news for Jones is that he is expected to rejoin the team for limited practice this week. The bad news for fantasy owners is wondering whether it will be Jones or
Justin Forsett
on the field Sunday. According to The Seattle Times, Jones is expected to return to the starting lineup when the team faces the
St. Louis Rams
this weekend. It's a little early to be confident that that will actually happen. It will be telling to see how Jones responds to activity, particularly whether he has any difficulty or discomfort with breathing. Once again, clues are likely to emerge later in the practice week.
Ben Roethlisberger, QB, Pittsburgh Steelers:
Roethlisberger left Sunday's game in overtime after suffering a blow to the head and was reported to be experiencing concussion-like symptoms. On Tuesday, coach Mike Tomlin indicated that Roethlisberger was feeling good and ESPN.com's James Walker reports that Big Ben is expected to make his Sunday start against the
Baltimore Ravens
. Walker quoted Tomlin as saying about Roethlisberger, "The battery of tests that he took showed that he showed no symptoms. So we will continue to monitor his condition and where he is on a day-to-day basis and let that guide our decision-making. But as I sit here today, he is symptom-free and feeling fine." Barring any recurrence of symptoms as Roethlisberger returns to practice, it looks optimistic for a Week 12 return.
Other quick hits: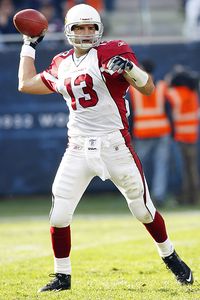 Rob Grabowski/US PresswireKurt Warner is a major question mark after missing the second half of Sunday's win following a head injury.
Arizona Cardinals
quarterback
Kurt Warner
also left Sunday's game early following a blow to the head. Head coach Ken Whisenhunt was encouraged by how Warner felt on the flight home, but according to the Cardinals' official Web site, Warner indicated that he still did not feel 100 percent. As with all concussions, this will continue to be evaluated on a daily basis. Fantasy owners, stay tuned.
St. Louis Rams quarterback
Marc Bulger
suffered a tibial plateau fracture (fracture along the top of the tibia or shinbone) in addition to a groin/hamstring strain and a possible concussion. Needless to say, Bulger is in a world of hurt. The fracture is estimated to keep him out anywhere from three to six weeks, but it is worth noting that he can't bear weight on it initially to allow it to heal, then Bulger has to work his way back to game shape. With only six weeks left in the season, it might not be a surprise to see Bulger go the way of injured reserve.
Speaking of injured reserve, that's where
Washington Redskins
running back
Ladell Betts
finds himself after suffering an ACL and MCL injury. Betts had done a nice job filling in for
Clinton Portis
, who is still sidelined with concussion-related symptoms.
Rock Cartwright
will be the starting running back for the time being as Portis has already been ruled out for Week 12.
There will be no injury blog Thursday due to the Thanksgiving holiday, but check back Saturday and I will have all the latest injury news heading into the Sunday games.
Happy Thanksgiving, everyone!
November, 17, 2009
11/17/09
4:45
PM ET
The joy of having only two teams on bye this past week quickly faded when more players on the field translated to more players ultimately getting carted off the field. The
New York Giants
and the
Houston Texans
have to be thankful that they did not add to their injury reports as they watched the games from home. Concussions continue to take a toll on fantasy stars, as do ankle and foot injuries. Sprinkled in the mix are rib injuries, muscle strains and knee sprains. In what constituted perhaps my busiest week yet this fantasy football season, many a fantasy must-start quickly became a fantasy must-replace.
What happened to your key players this week and will they recover in time to perform this week? We take a look at what we know so far as we move toward Week 11.
Brian Westbrook, RB, Philadelphia Eagles:
Westbrook suffered his second concussion in three weeks and his football future is uncertain. According to the Philadelphia Inquirer, coach Andy Reid said that Westbrook was "foggy" when he came off the field Sunday after running into
San Diego Chargers
safety
Eric Weddle
. Reid has already indicated that Westbrook will not play Sunday night but the question as to when -- or if -- Westbrook plays again this season remains unanswered.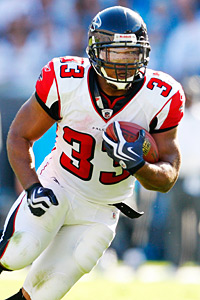 Bob Donnan/US PresswireMichael Turner had run for 111 yards on Sunday before injuring his ankle.
Michael Turner, RB, Atlanta Falcons:
Turner suffered a right high ankle sprain Sunday and was seen wearing a walking boot after the game. While the team has not provided any official information as to Turner's status for this week, high ankle sprains typically require weeks, not days, for healing before an athlete can return to play. The challenges are perhaps greatest at the running back position, given all the stress placed on the ankle. Returning too soon can jeopardize the long-term health of an athlete.
The Falcons are hopeful that
Jerious Norwood
, who has missed the past four games with a hip flexor strain, can return in Week 11. Norwood began running last week, but has yet to return to practice.
Jason Snelling
stepped in when Turner was forced out, but he too was just coming back from injury (hamstring strain) and may not have quite worked up to full speed. Fantasy owners should anticipate the absence of Turner for at least this week and perhaps longer. Practice updates should provide clues as to whether Norwood or Snelling would be more likely to step up in his place.
Ronnie Brown, RB, Miami Dolphins:
Ronnie "Wildcat" Brown was yet another running back forced out of Sunday's game because of a right ankle injury. At least that's how it appeared at the time. More recent news suggests that Brown's foot is the focal point of the injury concern, and the Florida Sun-Sentinel reports that the injury may be more serious than initially thought. Brown is still on crutches, not putting weight on his foot, also hinting at a potentially serious injury. He has already been ruled out for Thursday night's game, with
Ricky Williams
starting in Brown's place, and that may extend beyond Week 11.
Lex Hilliard
is expected to serve as Williams' backup.
Cedric Benson, RB, Cincinnati Bengals:
In Benson's case, it wasn't an ankle that knocked him out of Sunday's game; it was his hip, as the team indicated that their star running back left the game with a hip flexor strain. The Cincinnati Enquirer, however, reports that the injury is officially being called a hip abductor strain. The Bengals' official Web site also references an injury to the abductor muscle. Both the flexor and the abductor are muscles that support the hip; both, when injured, can affect a player's explosiveness and mobility. The hip flexor, which as the name implies, flexes the hip and helps drive the leg when running. It is a very deep muscle (so deep in fact that it anchors to the front of the lower vertebrae in the spine) and can be slow to recover (see Jerious Norwood above who has missed four games thus far with the injury). The abductor muscle abducts the hip, or moves the hip laterally. Its more important function, though, may be as a stabilizer of the hip and pelvis, helping with balance and stability during all movement. Weakness of the abductor can result in a noticeable limp as the pelvis loses stability.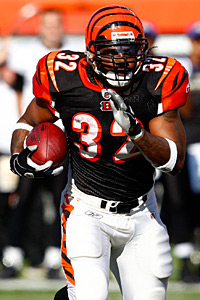 Frank Victores/US PresswireCedric Benson sat out the second half of the Steelers game with a hip injury, but if he plays Sunday, he'll have a nice matchup against the Raiders.
All muscle strains are measured by degree, and in Benson's case the indications from the team (and Benson himself) are that the injury, whichever muscle or muscles are involved, is not serious. In fact, it sounds as if this hip issue is truly an exacerbation of a pre-existing condition, one that has limited Benson in practice as recently as two weeks ago. While coach Marvin Lewis emphasized that the injury did not appear serious, he also indicated that the team would hold him out of Sunday's game against the
Oakland Raiders
if necessary, according to the Bengals' official Web site. Said Lewis, "He really doesn't feel much worse for the wear. He has an opportunity this week. We'll be real cautious with him as we approach the game. If he's not healthy, he would not go. We'll see how he is as he goes through the week. Hopefully, he can make a comeback on this."
Nonetheless, Benson is very likely to be limited in practice this week, and as the Enquirer points out, he could be a game-time decision for the Bengals. That's always a fantasy favorite. It is also worth noting that Tuesday's signing of former
Kansas City Chiefs
star
Larry Johnson
is not expected to impact the running back depth chart, at least not yet.
Julius Jones, RB, Seattle Seahawks:
Jones left the Seahawks' Sunday contest in the first quarter with what was called a chest injury initially. While
Justin Forsett
ran up a storm in his absence, Jones ended up in an Arizona hospital overnight with what the team is officially calling a bruised lung. Coach Jim Mora told reporters that Jones also was dealing with, "potentially, possibly a cracked rib." Mora added that it was "unlikely that [Jones] would be cleared to play on Sunday."
We've already seen an NFL player with a bruised lung this season. Houston Texans wide receiver
Andre Johnson
suffered his lung injury in Week 7 but was able to play the following week. Not all internal organ injuries are created equal, however. The concern of a bony injury nearby could complicate the picture for Jones and lead to extended rest. This will be a wait-and-see situation, but Jones' fantasy owners should not wait to pick up an alternate back for Week 11.
Kyle Orton, QB, Denver Broncos:
Despite Orton's early exit from Sunday's game with a left ankle injury, coach Josh McDaniels remains vague yet upbeat about the possibility that Orton returns for Week 11. While not revealing anything with regard to the specifics of Orton's injury, McDaniels told The Denver Post, "He's definitely not out for the game. We're certainly hopeful we can get him ready to go." Orton's status early in the week is clearly questionable, and much will depend on what he is able to do in practice by the end of the week. The team will be looking at his mobility and whether he can step up as he plants the leg to make longer throws. In case you were flashing back to last year, it was Orton's right ankle that was injured. Although he missed only one game then, he was clearly uncomfortable and far less mobile in his first couple of games post-injury. This very well could come down to game time.
Other quick hits: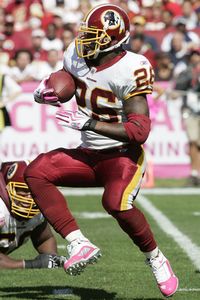 Jeff Fishbein/Icon SMIDon't be surprised to see Clinton Portis miss another game to recover from his concussion.
•
Washington Redskins
running back
Clinton Portis
sat out Week 10 due to lingering concussion symptoms. He may well be out another week. Although the team has not issued a formal status update, coach Jim Zorn told The Washington Post that Portis was still experiencing "blurriness" early in the week with quick head movements.
Ladell Betts
, who did not show any signs of being limited by a foot sprain Sunday, would get another start.
•
Green Bay Packers
wide receiver
Greg Jennings
has accumulated an assortment of nicks this season. His latest injury is being called a knee contusion (deep bruise), and he is likely to miss some practice time this week. There appears to be no serious threat to his availability for Week 11.
•
Indianapolis Colts
running back
Joseph Addai
hurt a finger in the first quarter of Sunday's game, but was able to return in the third quarter, although he had two fingers taped together. His status is not likely to be updated until later in the week, as is typical for the Colts.
Chad Simpson
left the game temporarily with a head injury but was able to return.
Donald Brown
, who missed the past two games with a shoulder injury, came out of Sunday's game for a while with a sore back. The Colts already have perhaps the lengthiest injury list in the league. They have to hope that all of these situations are minor, which, at this point, seems to be the case.
•
Carolina Panthers
wide receiver
Steve Smith
suffered bruised ribs after taking a hit in the back when he made his second end zone grab Sunday. While it is still early in the week, there is no hint from the team yet that his Week 11 status is in jeopardy.
•
Pittsburgh Steelers
safety
Troy Polamalu
injured his left knee Sunday, the same knee in which he suffered a sprained MCL earlier this season. He did not re-injure the MCL, though. Coach Mike Tomlin told reporters Tuesday that Polamalu suffered a PCL sprain and that he would be evaluated throughout the week to determine his status for Sunday.
More to come in Thursday's blog.
See you at the injury chats (Tuesday and Friday 11:00 a.m.-noon, and Sunday pregame 10-10:30 a.m.), and we'll have the latest injury updates affecting Week 11 in the Saturday morning blog!