Stephania Bell:

Keith Smith
November, 5, 2009
11/05/09
3:37
PM ET
Usually we don't get much information from the teams that are on bye weeks as they quietly rest their injured players and give everyone some much-needed downtime. That said, there are a few interesting tidbits from a couple of teams who are not playing in Week 9.
While there is other news swirling among the
Oakland Raiders
, fantasy owners might want to note that running back
Darren McFadden
has returned to practice for the first time since undergoing arthroscopic knee surgery in October to address a torn meniscus. The Oakland Tribune reports that McFadden practiced without experiencing any setbacks. Of course, the all-important test is how the knee responds in subsequent days. If McFadden continues to practice, this is a good sign that he will be available in Week 10. The Tribune indicates that the Raiders expect McFadden to play next Sunday, but that the status of wide receiver
Chaz Schilens
, who is still slowly recovering from foot surgery, remains questionable.
On the opposite coast,
Buffalo Bills
quarterback
Trent Edwards
has returned to light practice following a concussion. The Buffalo News quotes a team source as saying that Edwards will return to his starting role in Week 10, assuming no setbacks as he continues to increase his practice activity.
The
New York Jets
are literally taking the week off as coach Rex Ryan gave everyone six days of vacation. Most players indicated that they had never had this kind of time off midseason. It will be interesting to see whether it proves to be the beginning of a fresh start for the slumping Jets. It could certainly help all the recovering muscle strains on that team.
Thankfully this is the last of the six-team bye weeks so fantasy owners have to contend with only one more frantic search to find substitutions. The Bills, Raiders, Jets,
Cleveland Browns
,
St. Louis Rams
and
Minnesota Vikings
all have this week off.
Here are some status updates to help you shape your roster as we look ahead to Week 9.
Quarterbacks
Aaron Rodgers, Green Bay Packers:
Rodgers is nursing two sore feet and did not practice Wednesday as expected. According to the Green Bay Press-Gazette, Rodgers has a sprained big toe on his left foot (sustained during last week's game) as well as a right foot sprain which he has been dealing with for two weeks. Rodgers broke the fifth metatarsal (long forefoot bone that connects to the fifth or pinkie toe) in 2006, so this new left toe injury is in a completely different location. The big toe is critical for push-off, so Rodgers' mobility may be compromised a bit more than usual, making his pocket protection that much more important.
Veteran tackle
Mark Tauscher
, who suffered a season-ending knee injury last December and has not played since, may make his season debut at right tackle this Sunday. It appears that Rodgers will also have his veteran left tackle
Chad Clifton
back in the lineup this week. Clifton, who has had recurring problems with an ankle sprain, was active last week but did not see playing time. That could very well change this week when the Packers face the
Tampa Bay Buccaneers
.
Look for Rodgers to do very little physical activity until Friday, as a measure for ensuring his availability for Sunday.
Jake Delhomme, Carolina Panthers:
Delhomme was a full participant in practice Wednesday despite suffering a chest contusion in Week 8. As of now, it appears he is ready to take the field Sunday against the
New Orleans Saints
.
Running Backs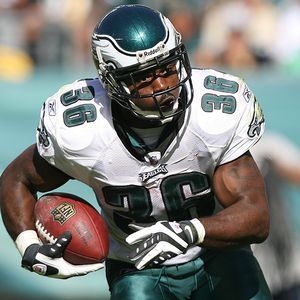 Hunter Martin/Getty ImagesBrian Westbrook missed last week with a concussion but appears that he'll give it a go this week against the Cowboys.
Brian Westbrook, Philadelphia Eagles:
On Tuesday, I
outlined what would have to happen
in order for Westbrook to be eligible to play in Week 9. So far, so good. Westbrook practiced fully on Wednesday and Thursday and coach Andy Reid says "he's good to go," according to the Eagles' official Web site. The expectation is that he will practice every day this week and barring any setback, will be prepared to play Sunday. Expect the typical Westbrook and
LeSean McCoy
rotation as the team looks to balance his workload, which has been a constant throughout the season. Westbrook continues to run well when called upon; he is just called upon less frequently as the Eagles utilize all their options.
Ahmad Bradshaw, New York Giants:
As expected, Bradshaw did not practice Wednesday to rest his foot and ankle. Bradshaw likely will do limited work before the game and then play Sunday when the Giants host the
San Diego Chargers
. Bradshaw did not have his best statistics Sunday and it is no secret that he is playing in pain. Nonetheless he has performed well overall despite playing with the injury and there is no reason to think that he won't continue to do so.
Donald Brown, Indianapolis Colts:
Brown did not play in Week 8 because of his shoulder injury but was back in practice Wednesday trying to make his case for this Sunday. In fact, fantasy owners may think he's in the clear since Brown did not even appear on the Colts' official practice injury report for Wednesday. Not so fast. The Colts are holding off on making a decision as to whether or not Brown will be available until late in the week. No doubt they will want to see that he can practice on consecutive days without limitation. This could result in a game-time decision, but for what it's worth, the Colts face the
Houston Texans
in an early matchup.
Kevin Smith, Detroit Lions:
Smith injured his left shoulder in Sunday's game, taking him out of the game early. Apparently it was not so serious that Smith could not have returned, but since
Maurice Morris
was running well, the Lions went with him. This is not the same shoulder Smith injured earlier in the season (which did not result in any missed time). Smith did not practice Wednesday but was back in practice Thursday. Jim Schwartz went to the trouble of explaining that the workload split in Sunday's game between Smith and Morris was a result of that shoulder injury, but that Smith is the Lions' "workhorse running back, getting most of the carries." So it appears that if Smith is able to go, he certainly will. The Lions have tended to earmark their injured players as game-time decisions, so expect Smith to fall into that category as well. If he practices again Friday, it would certainly support the notion that he will start.
Wide Receivers
Calvin Johnson, Detroit Lions:
After a few weeks of doing little or nothing in practice, Johnson has returned to increased practice activity this week. Johnson reportedly moved well in practice, but the Lions remain noncommittal about his availability in Week 9. The fact that Johnson is appearing in back-to-back practices on Wednesday and Thursday is already more encouraging than anything he has done since the injury. The Lions clearly need him on the field not only to provide the obvious target for quarterback
Matthew Stafford
, but also to force opposing defenses to respond to him. That said, they do not want him to be at risk for something more significant in terms of injury. The Detroit Free Press is reporting that coach Jim Schwartz says Johnson's availability will likely be a game-time decision (not surprising as this has been the case before) but this is an early game so fantasy owners can take some consolation there.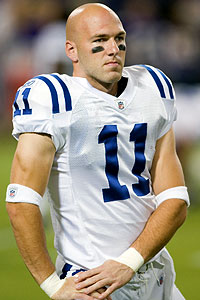 David Stluka/Getty ImagesAnthony Gonzalez has spent way too much time on the sidelines for most fantasy owners to have faith in him.
Reggie Wayne and Anthony Gonzalez, Indianapolis Colts:
Wayne had a good game in Week 8 despite a recently strained groin and was back in practice Wednesday (and off the injury report). Wayne has a good history against the Houston Texans and it certainly looks as if he will be starting against them this week.
Meanwhile, Anthony Gonzalez is not any closer to returning to the field. Gonzalez sprained his knee (PCL) early in the season and was originally projected back after the team's bye but has not yet been able to even participate in practice. Gonzalez did not take part in team drills Wednesday and is seeking outside consultation for his injured knee.
According to Tom James of the Terre Haute Tribune-Star, Colts head coach Jim Caldwell is not sure as to exactly where Gonzalez stands in his recovery. Says Caldwell, "I know he's trying to get to the point where he feels like he can function at his normal level. He is not there yet. How long that takes him just depends. I know he's taken a look at it and getting some more opinions and things of that nature and moving forward."
At this point, fantasy owners who were still holding out hope for Gonzalez need to relinquish the space on their bench and find an alternate player who can contribute now. While Gonzalez may yet return this season, there are still too many question marks as to if and when that will be, not to mention how he will perform.
Anquan Boldin, Arizona Cardinals:
His status is becoming "iffier" by the day. Boldin, who has acknowledged that he does not expect his ankle to be 100 percent healthy, did not practice Wednesday and there seems to be some momentum building toward resting Boldin for a week to afford the ankle some opportunity to heal. While it's unlikely that one week will allow the ankle to recover completely, it certainly could go a long way toward improving his chances of making it through a full game.
Boldin has played the past two weeks despite the injury but has struggled after the first half. According to the Cardinals' official Web site, coach Ken Whisenhunt is evaluating the situation and insists, "We always try to make the decision that's in the best interest of the team." Fantasy owners think it would be in their best interest to find out before game time, especially since the past two weeks have resulted in frustration. At least the Cardinals play early this week, but it's fair to say that unless Boldin makes a miraculous recovery, it certainly seems as if the team is leaning toward sidelining him for Week 9.
Mario Manningham, New York Giants:
Manningham sat out Week 8 after injuring his shoulder in practice late last week. The good news is that he's been back in practice this week and looks as if he will be available Sunday.
Donald Driver, Green Bay Packers:
Driver suffered a stinger in Sunday's game but early indications were that it was not serious and that he would play in Week 9. It is a bit concerning that Driver did not practice Wednesday or, apparently, Thursday. The Green Bay Press-Gazette reports that Driver was on the field but not in pads during the portion of practice open to the media. It certainly could be the case that the team is being cautious with Driver and avoiding any contact during the week. So far there is no indication that his status for Sunday is in doubt, but Friday's practice should yield more clues.
Be sure to check back on Saturday for post-Friday NFL injury report updates on all your fantasy players heading into the weekend.
See you at the injury chats (Tuesday 11:00 a.m.-noon, Friday 11 a.m.-noon and Sunday pre-game (10-10:30 a.m.). And check out Fantasy Football Now on Sundays at ESPN.com from 11:30 a.m. ET to kickoff for last minute inactives, rankings and more!
October, 6, 2009
10/06/09
3:20
PM ET
Week 4 gave us our first bye week, allowing some injured players to get additional rest. Looking to return this week are
Philadelphia Eagles
quarterback
Donovan McNabb
(rib) and running back
Brian Westbrook
(ankle).
Arizona Cardinals
quarterback
Kurt Warner
has been nursing a sore shoulder since suffering a stinger early in the season. He was practicing with the team during the bye week, but the additional rest (read: lack of hits from the opponent) also should have helped his shoulder.
Atlanta Falcons
running back
Jerious Norwood
, recovering from his second concussion in the past few months (the first concussion actually happened during the preseason), was medically cleared and returned to practice last Wednesday. As for the
Carolina Panthers
, well, the whole team had a chance to put the start of the season behind it and look ahead. Running back
Jonathan Stewart
was able to rest his troublesome Achilles and there is hope that the Panthers' running game improves overall as the season goes forward.
Naturally, there are new names to add to the list from the teams who did suit up in Week 4. Here's what we have so far ...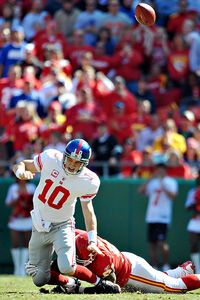 John Rieger/US PresswireEli Manning got sacked here, but wasn't actually touched when he suffered his heel injury on Sunday.
Eli Manning, QB, New York Giants:
It was a scary moment when Manning went to his knees shortly after releasing a pass in the direction of wide receiver
Steve Smith
. Upon closer look at the video replay, Manning was coming off a play fake to the left, then spun back around and set himself to throw, placing his right leg behind him in a lunge position. In that pre-weight transfer position, Manning's right leg was extended with the heel off the ground and the ball of the foot firmly planted, a position which places a strong stretch on the arch. Manning clearly felt a jolt of pain at that instant as he instinctively pulled his right foot up off the ground and hopped forward. He managed to release the ball, albeit a bit awkwardly (and Manning admits the ball was slightly underthrown to Smith as a result), then almost immediately went to his knees. Manning came up limping and exited the game shortly afterward.
The Giants are indicating that Manning has a plantar fascia injury and as is often the case, he has soreness and swelling in the heel and arch area of his right foot. His official status is day-to-day. In an interview with ESPN 1050 in New York, Manning said that Giants team physician Dr. Russell Warren has told him, "There is no time frame; it's just how fast you can heal and see how you feel these next couple of days." According to The Newark Star-Ledger, Manning had been suffering from plantar fasciitis (inflammation of the plantar fascia) but then suffered a subsequent injury to the same region on Sunday.
The plantar fascia is a thick fibrous tissue on the undersurface of the foot that provides stability through the foot during propulsion, or when the body transfers weight forward. It runs from the heel to the base of the toes and is placed under tension when the toes are extended (as happens during walking when the heel lifts off the ground). This tension in the plantar fascia essentially directs force through the arch that then stabilizes the midfoot. This stability is critical in order for the foot to function effectively as a rigid lever for pushing off. When the plantar fascia is injured or inflamed, tension on it can result in significant heel pain, often described by athletes as stepping on broken glass. In more severe cases, the pain can spread into the arch and progressively toward the base of the toes. The pain is usually the worst in the morning when the individual takes the first few steps of the day, or during long standing. Naturally as the symptoms worsen, they tend to be brought on more easily and linger longer.
There is no magic cure for plantar fasciitis; typically resting, icing and stretching make up a significant portion of the rehab program. Occasionally taping or shoe inserts will be used to decrease the stress through the arch. In Manning's case, this is not likely to be a condition that disappears anytime soon and may, in fact, linger to some degree until the season is over and he can truly rest for an extended period. In the meantime, as is the case with so many injuries, it becomes a matter of managing symptoms in an effort to allow him to function effectively. It would not be surprising to see his practice time get cut back in an effort to allow him to play on Sundays. After this latest setback, it is unclear whether Manning will be able to go this week, but he has certainly demonstrated a willingness to play through pain before. The question will be whether the pain is so severe that it impairs his ability to plant and throw effectively. Fantasy owners should know that this may well come down to a game-time decision.
Matthew Stafford, QB, Detroit Lions:
Multiple reports indicate that Stafford suffered a patellar subluxation during Sunday's game but the team is not confirming this diagnosis. During a patellar subluxation, the patella (kneecap) slips briefly out of the groove in the femur (thighbone) where it normally rests, but pops quickly back into place. The primary factor in determining how quickly an athlete can return from such an episode is how much tissue damage is associated with the injury.
When the kneecap slips, there is often associated tearing of the soft tissue in the area, which results in some potential bleeding, swelling and pain. The less damage to the soft tissue, the more quickly the athlete can recover and return to play. As the kneecap gets knocked out of the groove, there is also the potential for cartilage damage on the undersurface of the patella as it bumps against the edge of the groove on the femur. Those cases are more complicated and if problems persist, may require surgery to address the cartilage damage. When an athlete has a history of multiple subluxation episodes, it may be reflective of general instability around the kneecap, which can result from a variety of factors. Repeat episodes are problematic in that they may signal the potential for increased frequency of subluxations, but they may also be associated with less damage per episode to the surrounding tissue.
As of now, the Detroit Free Press is reporting that the Lions are indicating that Stafford is day-to-day and he has not been ruled out for Sunday's game. His ability to function, particularly his mobility out of the pocket, will be assessed as the week goes on to help determine his status.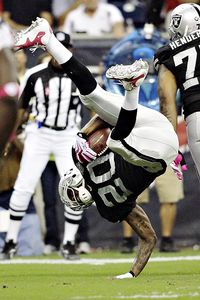 Brett Davis/US PresswireFor the second straight season, Darren McFadden is going to miss a few games with an injury.
Darren McFadden, RB, Oakland Raiders:
McFadden suffered a torn meniscus in his right knee and is expected to undergo surgery Tuesday. The Raiders said he'll return in two to four weeks. It's worth noting that rarely does an athlete return following this surgery in two weeks. The timetable to reduce post-surgical pain and swelling as well as regain adequate strength to play typically falls closer to four weeks, presuming no setbacks along the way. Running backs put exceptional stress on their knees with their frequent deceleration and directional moves so fantasy owners should plan on four weeks, maybe even a little longer, for McFadden to return to form.
Roy E. Williams, WR, Dallas Cowboys:
Williams took a big hit to the ribs on Sunday and apparently it left him with some cartilage damage. The Cowboys indicate that Williams bruised three ribs and injured cartilage in the area. Cartilage injuries in the rib area can be as painful as broken ribs and sometimes take longer to heal. The Fort Worth Star-Telegram is reporting that Williams' status is currently listed as questionable. I would not be surprised if Williams is unable to go this week.
Other quick hits:
• Also in Detroit, wide receiver
Calvin Johnson
(quadriceps strain) and running back
Kevin Smith
(shoulder) are day-to-day.
•
Denver Broncos
running back
Correll Buckhalter
injured his ankle and was on crutches after Sunday's game. His status for this week is not yet known, reports The Denver Post.
•
Seattle Seahawks
quarterback
Matt Hasselbeck
hopes to return to practice Wednesday after missing the past two weeks with a broken rib.
• Dallas Cowboys running back
Marion Barber
was back in action this week, but played sparingly in the second half after his strained quad tightened up on him. He is trying to balance playing and healing. Seven more days without a setback should have him in better shape leading up to Week 5.
See you at the injury chats (Tuesday 11:00 a.m.-noon, Friday 11 a.m.-noon and Sunday pregame 10-10:30 a.m.) and we'll have the latest injury updates affecting Week 5 in the Saturday morning blog!
September, 29, 2009
9/29/09
1:52
PM ET
Welcome to the post-Week 3 breakdown. It was nice to see a couple of players return from injury and show us that they are definitively on the mend (
Pierre Thomas
,
Kevin Walter
). Of course there are always new names to add to the injured list. Here's what we have so far ...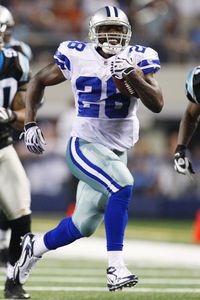 Ronald Martinez/Getty ImagesFelix Jones ran for 94 yards on just eight carries before getting hurt.
Felix Jones, RB, Dallas Cowboys:
Once it became official that
Marion Barber
would sit out Monday night's game with a strained quadriceps, fantasy owners had high expectations for the Felix Jones and
Tashard Choice
tandem. And they delivered ... but not necessarily as expected. Jones was off to a great start but was then forced to exit the game early with what the team is calling a knee strain. This vague terminology provides no specific clues as to the severity of Jones' injury, but ESPN's Ed Werder reported it may be something more serious. According to Werder, team owner Jerry Jones said that the running back was "unable to loosen his left knee," adding that he will undergo further evaluation Tuesday. Keep in mind that Jones suffered a partial tear of his left hamstring last season, followed by a left toe injury that required season-ending surgery. Now this. Although Barber has clearly made some progress, whether he is able to run full speed and play in Week 4 remains in question. While we await further test results on Jones and practice results on Barber, Choice, who had a fantastic second half functioning as the only healthy running back, is looking like a good fantasy option for Week 4.
Frank Gore, RB, San Francisco 49ers:
Despite the fact Gore suffered a minor ankle sprain in Week 2, reports indicated that he looked to be in good shape heading into Week 3. However, just one carry into the game, Gore's day was over. The 49ers' official Web site is reporting that an MRI on Gore's right ankle revealed the presence of a "strain" (implicating muscle or tendon, most likely tendon given the location near the joint) along with a "hindfoot sprain" and he is expected to be out for "approximately three weeks." A hindfoot (or rearfoot) sprain is less common and can present a bigger challenge in terms of recovery, especially since it usually requires more force to suffer the injury in the first place. Fantasy owners would be wise to make immediate preparations (like picking up
Glen Coffee
if he's available) for Gore's absence. The 49ers have a bye in Week 6, so his initial targeted return stands at Oct. 25, but stay tuned as that can certainly change.
Other quick hits:
•
Detroit Lions
running back
Kevin Smith
suffered a shoulder injury that has not been detailed by the team, although Smith told the Detroit News that he doesn't "have any bone damage or anything like that." Actually, it's the soft tissue injuries that are the most worrisome in the shoulder, so Smith's revelation isn't especially helpful. But Smith did add that he hopes to practice Wednesday. It may be ambitious, but if he's able to get back to some activity that quickly, it's a positive sign.
•
Marc Bulger
may not be available to call the signals for the
St. Louis Rams
this week after bruising the rotator cuff on his throwing (right) shoulder. While he has yet to be ruled out for this week's game, there has to be enough reduction of any pain and swelling for him to get his arm overhead and throw effectively. It will most likely require a week of rest to get there, so expect
Kyle Boller
to get the start for Week 4, barring some quick healing.
• ESPN's Adam Schefter is reporting that the right quadriceps injury suffered by
Indianapolis Colts
defensive end
Dwight Freeney
on Sunday night is expected to keep him out for two to three weeks. Just like a running back who needs his quad to be explosive in order to perform effectively at his position (see Marion Barber), a speed rushing defensive end depends on that same explosive power. He will not be able to return until he can run full speed, so it is simply a matter of how long it takes the tissue to heal.
• In the season-ending injury department,
Miami Dolphins
quarterback
Chad Pennington
and St. Louis Rams wide receiver
Laurent Robinson
were added to the list. Pennington suffered a torn capsule in his shoulder, according to ESPN's Chris Mortenson, while Robinson suffered a broken fibula (lower leg bone) in conjunction with a high ankle sprain. The St. Louis Post-Dispatch is reporting that Robinson will undergo surgery. Pennington's immediate plans are less certain, other than that he is expected to pay a visit to Dr. James Andrews, who has performed two operations on Pennington's rotator cuff. A third serious injury to the throwing arm of a quarterback is very discouraging, particularly when the stability and strength are threatened.
We will update these injuries and others as the week progresses.
See you at the injury chats (Tuesday 11:00 a.m.-noon, Friday 11 a.m.-noon and Sunday pregame 10:00-10:30 a.m.) and we'll have the latest injury updates in the Thursday and Saturday blogs.