Stephania Bell:

Kendry Morales
May, 13, 2011
5/13/11
11:59
AM ET
May, 12, 2011
5/12/11
2:49
PM ET
Stephania Bell analyzes the ankle injury that ended
Kendrys Morales
' 2011 season before it even started.
May, 10, 2011
5/10/11
5:53
PM ET
[+] Enlarge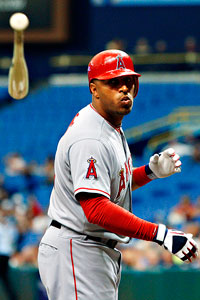 Kim Klement/US PresswireVernon Wells will be out at least the next two weeks because of a strained groin.
• A sound defeat by the
Chicago White Sox
wasn't the only loss the
Los Angeles Angels
suffered Monday. The team also saw outfielder
Vernon Wells
exit the game in the fourth inning after straining his right groin. Wells has been placed on the disabled list, and as he is 32 years old, there's a decent chance the recovery time will extend beyond two weeks. Wells wasn't exactly lighting it up at the plate this spring, but his veteran presence was valued by his teammates and coaches. Although he managed to avoid the DL the past two seasons, Wells dealt with several significant injuries the two seasons prior (shoulder, hamstring and wrist). Considering the workload he has delivered across the bulk of his career, it stands to reason his body might show some signs of yielding to wear and tear, and this injury might be the first evidence. According to the Angels' website, Wells will be evaluated by team doctors Tuesday, after which the team hopes to learn more about his prognosis.
• Meanwhile, Wells' former team, Toronto, is deciding whether to place
Adam Lind
on the disabled list. Lind has been dealing with back spasms for several days and left Saturday's game early when his back stiffened. According to the Toronto Sun,
Toronto Blue Jays
manager John Farrell described Lind's condition as "day-to-day right now. He is symptom-free when it comes to neurological, but the spasms are strong." Lind was scheduled for an MRI on Monday, but even in the absence of significant findings, if Lind continues to be limited by pain and spasms, the team could opt to move him to the DL. Farrell hinted that direction, saying, "If there's no improvement, we'd have to consider the next step."
Keeping an eye on ...
We always hear about injuries as they happen, but once players are relegated to the DL, they can disappear off the radar, particularly if they are out for an extended period of time. It just so happens that many fantasy owners have several players whom they are "waiting on" in hopes of a triumphant return. Whether to hang on and continue to wait out their absence or drop them to open up a roster spot can be a constant source of angst.
Chase Utley, 2B, Philadelphia Phillies:
Perhaps no single player's return has been more sought after by fans and fantasy owners than Utley's. Out since spring training with
chronic degenerative issues in his right knee
involving his patellar tendon (which anchors the quadriceps muscle to the tibia or shinbone) and his patella (kneecap), Utley has persevered through a graded -- and very cautious -- rehab progression in the hope that he can return successfully for the bulk of the season. This approach seems to be paying dividends in terms of the progress Utley has been able to make so far. The biggest question at this point no longer seems to be whether he will make a return (as he appears poised to do just that if there are no setbacks in his rehab outings) but whether he can stay on the field once he does. As I wrote in March when Utley's condition was outlined by the Phillies' team physician:
Unfortunately, cartilage damage is not reversible. It comes down to whether the condition can be effectively managed (i.e., whether he can play through it).
ESPN baseball writer Jayson Stark crafted an excellent piece in March that captured the
essence of Utley as an athlete who gives 110 percent percent every time he takes the field
. As admirable as that quality is from a work ethic perspective, it might challenge Utley when it comes to managing his condition going forward. There is reason to be encouraged. Utley hasn't said much about his knee, but when he has spoken, he has sounded resigned to the fact that this is a slow process that requires careful evaluation after each bump up in activity. When some were suggesting that Utley's light jogging and defensive drills in mid-April signaled an imminent return, Utley was quick to caution about looking too far ahead. Utley told reporters, "The next step is just to continue doing what I'm doing and to hope that it responds well, and so far it has."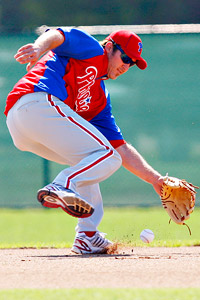 Kim Klement/US PresswireChase Utley still has to take things easy in the field although hitting hasn't been a major issue so far.
His knee has continued to respond well to a very stepwise progression. Utley has participated in two extended spring training games, going 5-for-7 with two home runs in his first outing Saturday. It's worth noting that Utley was taking batting practice in spring training, even when the knee was at its worst, as swinging the bat was never an issue that caused pain. But in that first extended spring training outing, Utley was limited to alternating defensive innings played in an effort to control the activities that typically have been more stressful for his knee. The best news to come out of that outing was not his production at the plate, but the fact that he felt fine the next day. In Utley's second extended spring training outing, he played back-to-back defensive innings for the first time and, as the Philadelphia Inquirer noted, he made a leaping defensive play -- and landed -- without incident. While his 1-for-7 hitting didn't make the newswires that day, his increased defensive activity might have been even more significant.
Tuesday brings the next big test, as Utley will begin a rehab assignment with Class A Clearwater. Not only does this signal a less-controlled environment, but it will be his first time playing on consecutive days. According to Todd Zolecki of MLB.com, Utley is expected to serve as DH, so he will not be playing the field back-to-back days, another hurdle he will need to cross before returning to the majors. But his return is indeed inching closer since a rehab assignment officially starts a 20-day countdown clock. Barring a setback, the expectation is that Utley will be activated within that timeframe.
Utley's story is encouraging and his success thus far is without a doubt a testament to his unwavering work ethic, not to mention the valuable care and supervision of the rehab staff around him and the organization's support of a slow-progressing program. The question no one can answer, however, is what will happen once Utley rejoins the Phillies. How will his knee hold up over days, weeks, even months? Will he play every day? And should he? As of today, three veteran members of the Phillies' starting lineup,
Shane Victorino
,
Jimmy Rollins
and
Placido Polanco
-- all age 30 or older -- have yet to have a day off, not counting the forced day off April 16 due to weather. Utley, age 32, is not known for being one to slow down or remove himself at the first sign of discomfort. In the interest of enduring the bulk of the season, he might have to learn to do just that.
Kendrys Morales, 1B, Los Angeles Angels:
Morales' activity has stalled in recent weeks as the ankle, which has kept him on the DL since the start of the season, continues to be problematic. Morales underwent surgery last summer after breaking his ankle during a celebration at home plate. His failure to tolerate running has persisted since spring training, and he now is going to visit Dr. Thomas Clanton, a foot-and-ankle specialist, at the Steadman-Hawkins Clinic in Vail, Colo., for consultation. According to the Los Angeles Times, Tim Mead, the team's vice president of communications said, "This is something the Angels recommended to get an optimal course of treatment." Whether the consult results in reassurance and reinforcement, or redirection of his program, Morales ultimately needs to get moving ... literally. As the Times noted, Morales was shut down after receiving an injection into the joint last week, and until he can run full speed, he simply can't play. The team now hints at June as the soonest return date for Morales. Until he has resumed some type of running program, it's hard to be confident in any timetable whatsoever.
Rafael Furcal, SS, Los Angeles Dodgers:
Furcal broke his thumb on a headfirst slide in early April and was so dejected after the injury that he hinted at possible retirement. But the hardworking Furcal turned that frown upside down and got to work. He's made enough progress that manager Don Mattingly says Furcal could be headed for a rehab assignment later this week. Initial projections had Furcal out from four to six weeks, and he currently stands at the one-month mark. He has been doing some drills and taking batting practice but still experiences some discomfort when swinging right-handed. According to the Dodgers' website, Mattingly will not send Furcal on a rehab assignment until that discomfort resolves. "I don't want him going out until he's not feeling that anymore," Mattingly said. "I don't want him to push it and do something that sets him back." Fantasy owners should keep an eye on Furcal, as he could rejoin the team within another week.
In closing:
•
Oakland Athletics
reliever
Andrew Bailey
, out since the start of the season with a forearm strain, is scheduled to throw a simulated game Tuesday. He is likely another week away at least from returning to the team but is inching closer.
• Philadelphia Phillies closer
Brad Lidge
has targeted a pre-All-Star break return but still has some work to do to get there. Lidge has a partial rotator cuff tear and has been on the DL since the season began, although he has been throwing on flat ground without incident. The good news is that he has progressed to the point where he could throw off the mound soon. The Philadelphia Daily News reports that test could come within the next 10 days.
• The news is less encouraging for
Seattle Mariners
closer
David Aardsma
. Aardsma has been on the mend following surgery to repair a labral tear in his hip and now has been shut down for a few days with forearm stiffness. Aardsma underwent an MRI on Friday as a precautionary measure, according to the Mariners' website. While the team indicates this is not a major concern, it still represents a delay in his return. As is often the case with pitchers who miss extensive time, even if the injury is not in the throwing arm, there might be setbacks in returning to competitive form associated with the extended absence from throwing.
April, 14, 2011
4/14/11
2:55
PM ET
April, 12, 2011
4/12/11
4:26
PM ET
• If you took the under on
Josh Hamilton
making it through the first 12 days of the season without injury, unfortunately for the
Texas Rangers
, you can count yourself a winner. According to the Rangers' website, Hamilton exited Tuesday's game after just one at-bat with what the team is calling a strained shoulder. In the course of running the bases, Hamilton slid headfirst twice, first on his RBI triple, then again as he attempted to score. Hamilton was called out at home and did not return in the second inning. Whether this is just a one- or two-day affair or something more significant remains to be seen. Stay tuned.
[+] Enlarge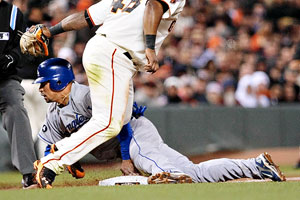 Kelley L Cox/Icon SMIRafael Furcal, who was already dealing with wrist issues, broke his thumb on this slide on Monday.
• Speaking of the danger of headfirst slides (something we discussed last year in the wake of all the thumb injuries, such as
Chase Utley
and
Jason Heyward
),
Los Angeles Dodgers
shortstop
Rafael Furcal
was brutally reminded of it when he broke his thumb Monday night sliding into third. Furcal is likely to be out at least six weeks, never mind regaining his form at the plate. It almost seems unfair. After the significant back and hamstring injuries Furcal has overcome in his career, to suffer yet another major injury this early in the new season seems cruel. The Los Angeles Times reports that Furcal was considering retirement after this latest blow. More than likely, that was the frustration speaking. After Furcal visits with a hand specialist, we will no doubt get a clearer picture of his plans. No matter what Furcal ultimately decides, the Dodgers will miss him immediately and fantasy owners will need to replace him for at least a month, perhaps two.
• We're seeing injuries from top to bottom, and while upper extremity injuries will kill power at the plate, bad wheels will definitely kill speed. Just ask
Toronto Blue Jays
outfielder
Rajai Davis
, who is a new member of the April DL fraternity. Davis rolled his right ankle in the Blue Jays' home opener, the typical mechanism for an ankle sprain. On Sunday, Davis aggravated the still ginger ankle, and thus it became clear he would need more down time. Now he officially has at least two weeks for rest and rehab, and hopefully the injury will not linger beyond that time.
• Ankle issues certainly have been problematic for a couple of players this spring.
Magglio Ordonez
, who underwent season-ending surgery for a broken right ankle in July, has dealt with intermittent soreness (not uncommon after surgery) this spring. On Monday, however, Ordonez left the game early with what was called tightness in his Achilles tendon. The Detroit Free Press reported Tuesday, however, that an MRI revealed "fluid buildup in the bursa behind his right ankle." As Tigers athletic trainer Kevin Rand told the Free Press, "It's just the stresses that he's going through as he's putting greater stress playing here in the regular season." Rand called Ordonez's situation day-to-day, and the team is not setting a specific timeline for his return. While the uncertainty might be frustrating for fantasy owners, it is neither unusual nor is it unrealistic. Following surgery, ankles are often prone to increased swelling, particularly with initial increases in activity. As the body acclimates, those responses tend to subside. At 37 years old, Ordonez might need a little extra time.
• Meanwhile,
Los Angeles Angels
first baseman
Kendrys Morales
has not progressed as swiftly as hoped from left ankle surgery last summer. Morales has struggled with running, and when he tried to press this spring, he developed new pain in the ball of his foot. After successful running efforts on the treadmill, Morales is again scheduled to test the ankle by running on the field, according to the Los Angeles Times. Ground running leads to base running, and once Morales can handle that, the Angels can start thinking about his return. The progression might yet take a couple of weeks and would necessitate some rehab games to test Morales in all dimensions. He is not likely to be ready for competition until sometime in May.
• Oh boy. The news is not good for
Oakland Athletics
pitcher
Rich Harden
. The San Francisco Chronicle reports Harden has been shut down from throwing, pre-empting what was expected to be a soon-to-come rehab assignment. Although Harden is no stranger to injury, in 2008 and 2009 he showed himself to be fairly durable. In 2010, injuries again became an issue while Harden was with the Texas Rangers, and now 2011 has not started well for him. In fact, it hasn't started at all. Don't hold your breath; this could be a lengthy wait. Meanwhile,
Andrew Bailey
-- the guy the Athletics ideally would have in the closing role -- threw 20 pitches off a mound Monday, according to the A's website. Bailey, who has been out since the start of the season with a forearm strain, is slated to throw another bullpen this week on his way to a rehab assignment. If all goes well, he could return at the end of the month.
•
Mat Latos
got his first start of the year Monday night. The most important postgame note came from Latos, who told the San Diego Union-Tribune, "Everything felt fine. My arm felt fine." Hooray. Now let's hope it holds up across a long season.
•
Zack Greinke
is scheduled to throw live batting practice Tuesday. If that goes well, he'll throw another. According to MLB.com, then would come a rehab assignment. It's still looking like the first week of May is the most likely return date, perhaps a touch sooner if Greinke shows he's ready.
•
Ubaldo Jimenez
's cracked cuticle has healed. He is expected to make an appearance in an extended spring training game Wednesday. Jimenez is eligible to return to the
Colorado Rockies
on April 17.
• The fractured fibula
Minnesota Twins
second baseman
Tsuyoshi Nishioka
suffered Thursday in a takeout slide will not require surgery. There is still a lengthy recovery period; there will be several weeks of bone healing followed by reconditioning to return to the sport. While he won't need a cast, his weight bearing will be limited early. The rate at which he can progress will depend on his comfort level and the healing of the fracture. Expect Nishioka to miss at least a month and probably closer to six weeks before he can return to game play.
•
Adam Dunn
almost made the timetable he projected for himself after his appendectomy. Dunn, who had surgery Wednesday, is back in the lineup Tuesday, making it exactly one week since he last played. As a designated hitter, Dunn does not have to resume the rigorous duties of tracking down balls in the outfield and can catch some rest when the
Chicago White Sox
are in the field, but he still has to swing the bat, sprint and potentially slide without incident.
St. Louis Cardinals
outfielder
Matt Holliday
was back to full duty in nine days, so Dunn's return within a week isn't a complete shock. Nonetheless, it's a testament to relative health and good shape, along with the advances of modern medicine, that these two have been able to return so quickly. Fantasy owners everywhere are grateful.
June, 1, 2010
6/01/10
2:28
PM ET
With the season approaching 60 days old, it seemed like a good time to take a look at a few key players relegated to the 60-day DL, either before or since Opening Day. Many fantasy owners are re-evaluating their rosters, wondering whether it's time to fish or cut bait. Naturally there's still uncertainty involved, but there has also been some activity to report, although it tends to be in such small increments that it goes unnoticed.
In many cases, it will depend on just how deep a roster you have, or how badly that roster has been bitten by the injury bug. If your team has been lucky enough to avoid serious injury, you may want to hang on to one of these guys in the hopes that he can give you a spark late in the season. If you need help NOW, then it's time to consider purging your DL sheet to make room for an up-and-comer.
Either way, here are the rumblings floating around regarding four noteworthy fantasy players along with my two cents as to how optimistic teams should be about their returns.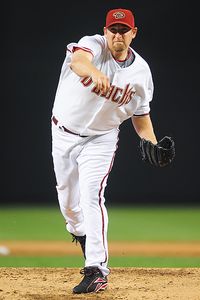 Mark J. Rebilas/US PresswireAfter pitching just four innings last season, Brandon Webb is no lock to appear for the Diamondbacks this year.
Brandon Webb, SP, Arizona Diamondbacks (60-day DL, April 4):
Ever since Webb suffered a setback post-operatively, there has been little reason for optimism. He has not been able to progress successfully to throwing off a mound, the key hurdle for Webb, since his original injury in April 2009.
In the latest effort to get Webb on a trajectory that would return him to the playing field, he recently spent time in Birmingham, Ala., with physical therapist Kevin Wilk, according to the Diamondbacks' website. Wilk, who works closely with Dr. James Andrews, is known for working with high-level athletes, and throwers in particular. Webb also has a history with Wilk, having spent some time with him last year. Plus, the Diamondbacks' head athletic trainer, Ken Crenshaw, is highly regarded among many medical personnel who treat baseball players. This type of collaboration between practitioners is not unusual -- and is, in fact, praiseworthy -- especially when a team is faced with a challenging case.
During the biomechanical evaluative process in Birmingham, Webb reportedly received confirmation of what he had suspected regarding his arm angle; he has been throwing with a much higher arm angle than he had pre-surgery. Sometimes after an injury or surgery, the involved limb loses some of its proprioceptive ability or understanding of where it is in space. No matter how complete the range of motion or how strong the body part, regaining this sense of body awareness is critical to peak performance. The question ultimately is how significant of a factor this is in Webb's overall progression, but given the impact on how the body delivers the ball, Webb has to make the adjustment. So Webb will return to Arizona no doubt with a few tweaks to his rehab program and some attention to his mechanics in the hope that he will be able to regain his form.
It's still impossible to predict just what sort of timetable this sets up for Webb at this point in the season but fantasy owners can assume that the word "soon" is not in the picture.
Erik Bedard, SP, Seattle Mariners (60-day DL, retroactive to March 26):
In news that's not necessarily news to longtime Bedard followers, Bedard suffered a setback during his rehab from shoulder surgery. To be fair, Bedard had been making terrific progress and was, in fact, ahead of schedule following his labral repair up until mid-May when he began feeling discomfort in his shoulder. That said, in the
inaugural blog of the season
, Bedard's long-standing history of soft tissue injuries was noted, making getting excited in April about a possible June return seem a little premature.
Bedard did travel with the team to Anaheim this weekend and threw a side session Friday. It went well enough that he was throwing again Monday (long toss, according to the Tacoma News-Tribune). If all continues uneventfully, Bedard will next progress to throwing bullpens. Prior to his setback, Bedard had thrown several bullpens and a simulated game. It was after his April simulated game that he began feeling discomfort and was transferred to the 60-day DL. Given the marks he still has to meet and the endurance he needs to build in his pitching arm, it's tough to imagine a pre-All-Star break return for Bedard.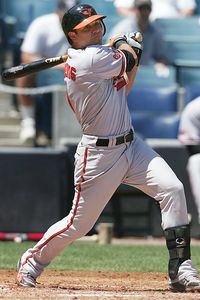 Cliff Welch/Icon SMI A variety of ailments has limited Brian Roberts to just 14 at-bats this season.
Brian Roberts, 2B, Baltimore Orioles (60-day DL, April 10):
Roberts must have walked under a ladder, stepped on cracks or double-crossed a black cat. Something has to explain the horrible string of bad luck he has dealt with since, truth be told, before the season started.
Roberts' back was problematic during spring training, but then it appeared he was out of the woods ... for a few days. Then on an awkward slide he suffered an abdominal strain and
aggravated the back injury
. Since then we have detailed his slow progress and setbacks (stomach pain that led to an endoscopy, and most recently a bout of pneumonia) on multiple occasions.
This week I am thrilled to report some positive news for Roberts! After just being cleared last week to resume baseball activities post-pneumonia, Roberts, working out at the team's complex in Florida, was able to take live batting practice and field ground balls from second according to the Orioles' website. Manager Dave Trembley went so far as to say "It's a good sign." Wow. That's going out on a limb.
Given the time Roberts has had, it's not surprising that no one -- from Roberts to Trembley -- wants to read too much into a good workout. Roberts is eligible to come off the DL on June 9, but as the Orioles' site indicates, the team anticipates that he will need some more time. After all, he has been away from the game for two months already, has been hospitalized, received spinal epidural injections and without a doubt has lost significant conditioning. If there's anything that's going to help protect his back from another major episode, it's strong core muscles and physical endurance. In fact, it would not be surprising if his return does not come until closer to the All-Star break. Every day will be a test so there are no guarantees at this stage. But at least we're talking about what Roberts is
doing
, instead of what he's not.
Carlos Beltran, OF, New York Mets: (60-day DL, retroactive to March 26):
Beltran has been ever so slowly working his way back from
January knee surgery
to address cartilage damage in his knee.
We have maintained all along that the big tests for Beltran would come when he began running, and so far he has passed the preliminaries. He recently acknowledged that he has been able to run without pain, something he had not been able to do for months. But he is moving slowly, perhaps more slowly than even Beltran anticipated, although it is not without good reason. David Lennon of Newsday recently reported that Beltran acknowledged that he was given the choice of undergoing microfracture surgery in January -- which would certainly have pre-empted any chance at playing in 2010 -- or undergoing a less complex procedure to smooth the cartilage surface and give him an opportunity to return. He chose the latter but it underscores the point we've been making since before the season started; his knee is not pristine and thus must be treated carefully.
So far, Beltran has done light running but as of late last week, as the Newark Star-Ledger reported, he had not yet been cleared for baseball activities. General manager Omar Minaya reiterated what he had said a month ago: Beltran will need approximately four to six weeks
after
he is cleared for such activities before he will be able to return to the team.
Fantasy owners should automatically assume that this will take him beyond the All-Star break, but we will look for hints that he is actually increasing his activity and making progress toward a return.
In brief:
Grady Sizemore, OF, Cleveland Indians:
He will undergo arthroscopic surgery on his knee. After
consulting with several specialists
, the plan is for Sizemore to undergo a scope, at which point it will be determined how extensive a procedure is ultimately required. The minimum time he is expected to miss is six weeks, but as we have seen before (like Carlos Beltran above), these situations can be tough to predict. If Sizemore does end up having microfracture surgery, his season will be over.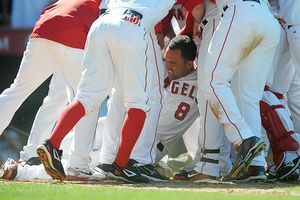 Kirby Lee/Image of Sport/US PresswireIt's possible that Kendry Morales won't play another game this season after his freak injury Saturday.
Kendry Morales, 1B, Los Angeles Angels:
Morales, who went from ecstasy to agony in the blink of an eye when he broke his ankle during celebration for a walk-off grand slam Saturday, still has not been able to undergo surgery. According to the Associated Press, Morales' injured ankle remains too swollen for doctors to operate. The Los Angeles Times reported that the Angels' medical staff has suggested the possibility of a return for Morales this season, but the rehab clock has yet to begin ticking because of the delay.
Once the fracture has healed, Morales will need to regain his range of motion and strength, which is often more difficult than the healing of the bone itself when it comes to the ankle. Progressive weight bearing and increasingly demanding drills precede a return to baseball activities and then rehab games will follow. Depending on the precise location of the break, whether it is a clean fracture or whether there are multiple fragments, and the associated surgical procedure, the timetable can be quite variable, but this is more than a 15-day DL stint, with the descriptor more likely to be "months" than "weeks." Stay tuned.
Jorge Posada, C, New York Yankees:
He may yet prove all of us medical folks wrong. (We actually don't mind when that happens in the positive direction because it means someone is doing better than expected!) Posada appears to indeed be ahead of schedule in a return from a
hairline fracture he suffered in his right foot
as a result of a foul tip. The Newark Star-Ledger reports that he ran on the field Monday, and manager Joe Girardi says there's not much more he needs to do, other than prove that he still feels fine the day afterward. Posada may avoid a rehab assignment so he could return to the team within days, not weeks. While running is certainly impressive, there are different stresses on the foot associated with playing the position of catcher so the team may want to see him catch a few innings behind the plate before clearing him. Nonetheless, Posada owners want to keep an eye on him as he is eligible to come off the DL late this week.
Andre Ethier, OF, Los Angeles Dodgers:
And why not end on a high note? Ethier was back in the lineup Monday, coming off the DL as soon as eligible despite a still-healing finger fracture. As noted in
last week's blog
, it's a credit to some creative thinking on the part of the Dodgers' medical staff (and their collaboration with the Lakers' medical staff) that the timetable for Ethier's absence was shortened by as much as a month. Don't be too concerned by his lack of productivity the first night back. The fact he has barely missed a beat swinging the bat since his injury occurred will undoubtedly help him return to form sooner rather than later. He will wear the splint for the foreseeable future as the finger continues to heal.