Stephania Bell:

Kevin Curtis
December, 17, 2009
12/17/09
5:20
PM ET
The
Cincinnati Bengals
practiced with heavy hearts today after learning of the death of teammate
Chris Henry
, who had been placed on injured reserve in November after suffering a left forearm fracture. Our thoughts are with Henry's family and the Bengals at this difficult time.
As challenging as it can be to forge ahead through difficult circumstances such as this, it is what humans do. The Bengals will do just that when they take the field Sunday. In terms of game preparation, the Bengals are otherwise fortunate in that they do not have an extensive injury report, and their key players are healthy. Some other teams around the league are dealing with lengthy injury reports, however, and face the potential absence of several key players as they approach the playoffs.
So who will be on the field for your fantasy playoff roster heading into Week 15? Here's what we're hearing so far this week ...
Quarterbacks
Matt Ryan, Atlanta Falcons:
Ryan suffered a turf-toe injury in Week 12 that has sidelined him the past two weeks. Ryan did not practice Wednesday, which was not a surprise. But his return to practice Thursday
was
a surprise. Although the extent of his practice work is unclear, the fact that Ryan was present at least raises the possibility that he'll play Sunday. Stay tuned.
Vince Young, Tennessee Titans:
I outlined Young's
latest injury setback Tuesday
. By Wednesday, Young was strongly suggesting to reporters that he would be back on the field with the team in Week 15, telling the Nashville Tennessean that his hamstring was feeling "way better," and adding, "I definitely want to play. I am taking it easy just to be on the safe side." Taking it easy refers to the fact that Young didn't practice Wednesday. Since rest is the best medicine for hamstring injuries, this is not a big surprise. Expect Young to try to increase his activity late in the week in preparation for this week's game. He likely won't be 100 percent healthy, meaning his ability to make big plays on the run could be affected, but it sounds as if the Titans expect him to perform.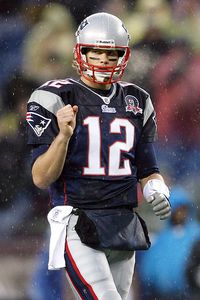 Elsa/Getty Images Tom Brady is battling three injuries, but they shouldn't keep him from playing this week.
Tom Brady, New England Patriots:
Brady caught our attention last week when he missed practice for the first time all season. Brady was (and still is) nursing three injuries: He has ongoing issues with his throwing shoulder (which was aggravated in the preseason); he recently injured the ring finger on his throwing hand (which, though noticeably bruised, did not appear to affect his accuracy in Week 14); and, most significantly perhaps, he suffered a rib injury, which might be affecting his performance to some degree.
Rib injuries for quarterbacks are not easy to play through. Just ask
Philadelphia Eagles
quarterback
Donovan McNabb
or
Seattle Seahawks
quarterback
Matt Hasselbeck
, both of whom have missed time this year because of broken ribs. The location of the rib injury, though, might have much to do with why Brady is able to persevere. A lower left-sided rib injury such as the one McNabb suffered is particularly problematic for a thrower because of the attachment there of the large abdominal oblique muscles. Contraction of those muscles, which are responsible for trunk rotation, can pull at the injured rib, aggravating it with each effort. Although all rib injuries are painful, a same-sided rib injury for Brady (on the right side for a right-handed thrower) could allow him to function a bit better.
Of course, this takes nothing away from his toughness. Brady's successful rehabilitation and return from a challenging knee injury has already proved his mettle. For the record, let's be clear that his knee is not one of his injury concerns at this point. He has already demonstrated that the knee issue is well behind him. In fact, Brady's leg strength is one of the variables likely helping him endure his current upper-body injuries. Brady will continue to play with these injuries and, after resting Wednesday, was back in practice Thursday to prepare for Week 15. Fantasy owners should expect Brady on the field Sunday to face the Bills.
Mark Sanchez, New York Jets:
Sanchez missed Week 14 after suffering a posterior cruciate ligament injury the week before. Sanchez returned to limited practice on Wednesday, and he worked with the first team on Thursday, according to the Newark Star-Ledger. Although Sanchez has not officially been named the Week 15 starter, all signs are currently pointing in that direction. Coach Rex Ryan said that Sanchez "looked good" and "moved well" and that the team will see how his knee responds to the workout. The Jets likely will announce their starter decision Friday. It is worth noting that Sanchez likely will have braces on both knees, which could slow him a bit. But as long as he can escape defenders, it looks as if he will play.
Matthew Stafford, Detroit Lions:
Stafford is not expected to play in Week 15 as he continues to nurse a separated left (non-throwing) shoulder. Coach Jim Schwartz indicated that Stafford is "still a ways away," according to the Detroit News. Although Stafford says surgery is not currently an option, it normally takes several weeks before scar tissue can settle in and provide stability to the AC joint after this type of injury. Given that Stafford has already had one setback, it sounds as if the Lions are being more cautious now. And why not? Stafford is a long-term player for a franchise that is not headed into the postseason this year. Expect
Daunte Culpepper
to start again. Wide receiver
Calvin Johnson
's value might take a hit here, not only because of the switch at quarterback but also because Johnson is again facing injury issues of his own.
Running backs
Michael Turner, Falcons:
Turner did not practice Wednesday, which seems to be par for the course of late. Turner's right ankle has kept him out of action since Week 12, when he suffered a setback, although he has not been fantasy productive since Week 10. In the past week, Turner has maintained that he has been making progress, and to that end, he did return to practice Thursday. Although it's unknown at this time just how much Turner actually participated, this is clearly a good sign in terms of his recovery. Fantasy owners should not get too excited just yet; there is still no definitive indication that Turner will be ready to play in Week 15. Naturally, what Turner does in practice toward the end of the week will dictate our level of confidence in him if he does return.
Brian Westbrook, Eagles:
The good news is that Westbrook has been able to progress his activity as he recovers from his second concussion, including returning to practice with the scout team last week. The not-so-good news is that Westbrook still has not met the targets that would allow him to receive medical clearance to return to play. Coach Andy Reid told the Philadelphia Daily News that Westbrook is, "better, but not all the way completely cleared. We're still doing [testing] as his exercise increases. They'll keep testing him until they're comfortable with where he's at." Reid reminded everyone that despite eagerness on the part of Westbrook and the team to have him back, the Eagles will continue to do what's in the best interest of the athlete, which is as it should be. It sounds as if Westbrook will not be available in Week 15.
Jonathan Stewart, Carolina Panthers:
After Stewart suffered an injury to his toe in Week 14, his routine nonparticipation in Wednesday practice raised a bit more concern. That concern was alleviated, though, with the news that Stewart was a full participant in Thursday's practice. It will be important to see how Stewart responds to Thursday's activity before determining his Sunday availability, but the situation is looking good so far.
Steven Jackson, St. Louis Rams:
Jackson has been pressing through a back injury for the past few weeks, and it has now been revealed to be a herniated disk, according to the St. Louis Post-Dispatch. The diagnosis does not change anything, though; much of what determines whether Jackson can play is simply how his back feels.
In the case of a herniated disk, as long as the symptoms remain localized to Jackson's low back, there is not necessarily a huge level of concern. Many people are quite functional despite the presence of disk problems, although when the disk is inflamed, the pain itself can be debilitating. The concern grows, however, if the disk is causing associated neurological problems, such as numbness or weakness in the leg. This was the case last season for the aforementioned Matt Hasselbeck, who was having weakness in his leg as the result of a herniated disk in his back. Hasselbeck's season came to an early end, but he recovered nicely in the offseason and, after undergoing a rigorous rehabilitation and conditioning program, has been able to return strong this year.
This week likely will be a repeat of the past few weeks, with Jackson's availability to be determined at game time.
Wide receivers
Larry Fitzgerald, Arizona Cardinals:
Fitzgerald's owners can breathe a bit easier now that tests have revealed that Fitzgerald did not suffer a season-threatening injury Monday night. He did sustain a bone bruise, though, along with a mildly sprained medial collateral ligament. Bone bruises, which often occur in conjunction with major ligament injuries, can be painful, and Fitzgerald clearly is experiencing some discomfort. Nonetheless, he was back in practice Wednesday on a limited basis, and the Cardinals were sure to keep him from overdoing it. As coach Ken Whisenhunt told the Arizona Republic, "We're going to be as conservative as we can early in the week with hopes that he will be able to do more on Friday and obviously play on Sunday." For his part, Fitzgerald insists he will play Sunday, but the Cardinals will monitor his progress throughout the week before making their final decision.
Calvin Johnson, Detroit Lions:
Johnson didn't practice Thursday, causing the red flags surrounding his knee injury to reappear. Although there have not been many details provided, there must be some concern about Johnson's Sunday availability, given this midweek downgrade. Fantasy owners should have a backup plan in place.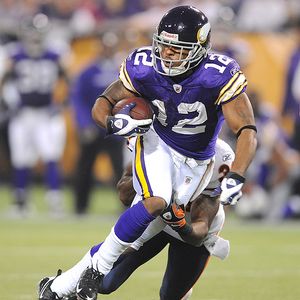 Tom Dahlin/Getty ImagesPercy Harvin has been evaluated closely this week.
Percy Harvin, Minnesota Vikings:
The Vikings are understandably getting a bit nervous about the status of their star rookie receiver, who missed Week 14 because of ongoing issues with migraine headaches. The Minneapolis Star-Tribune reported that Harvin is continuing to be medically evaluated related to the migraines to ensure that the headaches do not represent another more serious underlying issue. As the Star-Tribune outlines, one of the concerns is that although Harvin has been dealing with headaches since childhood, the frequency of their occurrence seems to be increasing. Although migraines are often unpredictable in nature, many patients learn to identify (and therefore avoid, to the extent possible) the triggers that can set them off. When the triggers are hard to identify, the problem becomes even more challenging. The hope is that the expert consultation will help here.
Although Harvin participated in elements of Wednesday's walkthrough, he became ill and did not take part in practice. Any plan for his return to physical activity is unclear, and this appears to be a day-to-day issue. Harvin's fantasy owners should make alternate plans for this weekend because his status appears to be in jeopardy.
Hines Ward, Pittsburgh Steelers:
Ward is still recovering from a hamstring strain and did not take part in team practice Wednesday. Ward usually has Wednesdays off anyway, so this is not a major development. Ward played last Thursday despite clearly not being able to run at full speed. Nonetheless, Ward told the Pittsburgh Tribune-Review he is "getting better every day," and the team expects him back on the field Sunday. He might not be completely recovered, but he should look better than he did last week.
Jeremy Maclin, Eagles:
Just as
DeSean Jackson
was returning to the field for the Eagles after an injury, Maclin exited the field with an injury of his own. Actually, Maclin suffered a setback of a left foot injury he was already nursing when he partially tore the plantar fascia.
Originally coach Andy Reid suggested that Maclin would miss one or two weeks, but on Wednesday, Reid refrained from ruling Maclin out for this week's contest against the
San Francisco 49ers
. The Philly News reports that Maclin, despite missing practice Wednesday, was not seen in his protective boot in the locker room. Although that's an encouraging sign, it's a far cry from running, planting and pivoting. It's hard to envision Maclin's suiting up this week. Teammate
Kevin Curtis
might well be back on the field to add depth to the receiver corps; a return from Curtis would mark his first appearance since Week 2. Curtis has been on the mend from knee surgery, and although he has been practicing on a limited basis, he likely isn't ready to take on a full load. Thus, Maclin and Curtis should not be in fantasy lineups in Week 15.
Mike Sims-Walker, Jacksonville Jaguars:
Sims-Walker is listed as probable and is expected to play Thursday night against the Colts, but don't expect him to be at full health just yet. Remember, Sims-Walker was downgraded midway through last week because of a left calf injury that eventually kept him out of Thursday and Friday practice. Despite being listed as doubtful, he managed to persuade the team in pregame warm-ups that he was capable of playing, but he did not post great numbers. Sims-Walker has been playing despite a knee ailment that was then complicated by the calf strain and has not been especially productive of late. Although the news that Sims-Walker is expected to play this week is encouraging, it would not be surprising if he is not yet 100 percent. Fantasy owners should temper expectations as a result.
Tight ends
Brent Celek, Eagles:
Despite a drop here and there in the past two weeks because of an ongoing thumb injury, Celek has consistently put up fantasy points each week. But now Celek is also dealing with a back issue that kept him out of Wednesday practice. Apparently, the back began bothering him before Sunday. According to the Philly News, coach Andy Reid said, "They worked on him and were able to get him ready for the game." True, Celek was ready, and again he put points on the board, but he was seen walking gingerly after the game and is still dealing with stiffness. Nonetheless, Reid says that Celek "should be ready to go this weekend," so barring a downturn, fantasy owners can plan on his availability.
Be sure to check back Saturday for post-Friday NFL injury report updates on all your fantasy players heading into the weekend.
Also, see you at the injury chats (Tuesday 11 a.m.-noon ET, Friday 11 a.m.-noon and Sunday pregame (10-10:30 a.m.). And check out Fantasy Football Now on Sundays at ESPN.com from 11:30 a.m. ET to kickoff for last-minute inactives, rankings and more!
December, 24, 2008
12/24/08
6:30
PM ET
By
Stephania Bell, ESPN.com
| ESPN.com
If you're playing this week, you have two big challenges: You have to decide who might be healthy enough to play in this final week of the NFL regular season, then you have to gauge whether the coach will actually utilize that player enough to warrant a spot on your fantasy roster. This represents perhaps the biggest strategic second-guessing you are faced with all season. Hopefully we can help by giving you a few hints in the injury department.
Joseph Addai, RB; Dominic Rhodes, RB; Marvin Harrison, WR, Colts:
Addai has sat out the past two games to rest his sore shoulder. He has benefited from the rest and Tom James of the Terre Haute Star-Tribune reports that coach Tony Dungy says of Addai, "I think he'll be ready this week." The Colts will monitor how he does in practice, but it looks as if Addai will see playing time, but how much? With your fantasy championship at stake, is he worth a start? Probably not. Even if Addai gets on the field to get some reps, it is unlikely that he plays for an extended period of time. Don't get too excited if you think you've got it made with Dominic Rhodes as your handcuff. Rhodes has already been ruled out of this week's game with sore ribs. Dungy has already indicated that the Colts have some younger players they would like to see get some more game experience. For instance, rookie
Chad Simpson
, who managed to get in the game briefly a couple of weeks ago, may end up with more extended playing time this week. There's a good chance he's still available in your league.
Colts receiver Marvin Harrison has missed some time recently with a hamstring injury. Despite the fact that the strain was in the distal part of the hamstring, nearer the knee, which usually hints at a longer recovery time, Harrison is reportedly feeling much better and could be ready to play this weekend. That being said, with the Colts being cautious, don't expect Harrison to see much playing time, even if he is active.
[+] Enlarge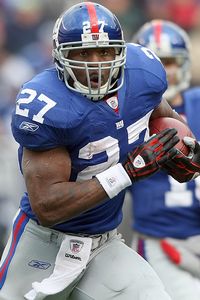 Nick Laham/Getty ImagesJacobs looked great last Sunday, but the Giants may rest him to make sure he's 100 percent healthy for the playoffs.
Brandon Jacobs, RB; Derrick Ward, RB, Giants:
Brandon Jacobs looked good last weekend, and proved that his strength helps him compensate for any residual knee instability. Jacobs was limited in practice Wednesday, however, and it would not be a surprise if he is limited to a very short amount of playing time, if any, this weekend. Ward, who has a sore ankle, has been running very well when called upon, and is not far from reaching 1,000 yards on the season himself. He was a full participant in practice and should play plenty on Sunday.
Marion Barber, RB, Cowboys:
If you watched either of the past two Cowboys games, you don't need me to tell you that Barber is still having trouble with his recently dislocated toe. Those problems continue into this week as Barber missed practice Tuesday and was limited on Wednesday. His persistent problems prompted coach Wade Phillips to tell the Dallas Morning News: "Maybe we shouldn't have played him at all. Maybe he would be well by now." Well, maybe. But it's clear that the Cowboys likely won't make the same mistake three times. It looks as if Barber will rest this week and
Tashard Choice
will once again see the bulk of the work.
Some other players to keep an eye on as the week progresses
&#8226 Although the 49ers' practice report was not yet in as of the writing of this column, it is still sounding as if running back
Frank Gore
will be able to see the field this Sunday. Although he is no lock to play the entire game, it would seem that Gore will be allowed to go as long as the ankle permits. We should have a better idea of what to expect once the week of practice is complete.
&#8226 Expect Cardinals wide receiver
Anquan Boldin
(sore shoulder) to be back on the field this weekend as Arizona tries to get in sync before the playoffs. Boldin was held out of practice Wednesday but should see some practice time late in the week.
&#8226 In Green Bay, both
Donald Driver
and
Greg Jennings
left Monday night's game with injuries. According to the Green Bay Press-Gazette, Driver sustained a knee contusion (bruise) and Jennings suffered a concussion. Driver was able to return to the game following his injury, always a good sign, but was held out of practice Wednesday. We will check back this weekend but he should be able to go by Sunday. Jennings was limited in practice Wednesday, and the fact that he is back out in practice already is a great sign. He should be able to play Sunday.
&#8226 Both
Calvin Johnson
(knee bruise) and
Kevin Smith
(ankle) were in practice on a limited basis Wednesday. Expect both to be available Sunday as the best hopes for a team trying to avoid a winless season.
&#8226 In Philadelphia,
Kevin Curtis
was kept out of last week's contest with a calf strain. The good news is that Curtis was a full participant in practice Wednesday and it sounds as if the Eagles expect to have him available this weekend, assuming there are no post-practice setbacks.
Hank Baskett
is still limited by his medial collateral ligament (MCL) sprain and it is too early to predict whether he will be available. Even if he is, you should look elsewhere for another fantasy option. And by now you should know not to worry too much when
Brian Westbrook
doesn't practice early in the week. Westbrook has overcome knee and ankle injuries early in the year to provide a much-needed spark for the Eagles' offense. That should continue this weekend as the Eagles need a win and will count on his contributions.
&#8226 In Dallas, it's not just the running backs who are hurting. Quarterback
Tony Romo
missed Wednesday's practice because of illness but is expected to return to practice late in the week and play this weekend. Tight end
Jason Witten
, who clearly aggravated his ankle injury in the Cowboys' game Saturday, was held out of Wednesday's practice as well. Make no mistake though, Witten will be in the lineup in this all-important game for the Cowboys. Even if his ankle is bothering him, Witten proved in Week 16 that he could still get open and make plays. Fantasy owners can count on him in Week 17 also.
&#8226
Marshawn Lynch
was not in practice Wednesday after aggravating his shoulder last weekend. According to the Bills' official Web site, coach Dick Jauron expressed optimism that Lynch would indeed play this weekend, but fantasy owners need to be aware that
Fred Jackson
may see a larger-than-usual workload.
Guys whom you should NOT expect to see this weekend
Chad Johnson, WR, Bengals:
The hamstring strain that kept him out during Week 16 will likely cause him to miss the final game of the season as well.
Matt Hasselbeck, QB, Seahawks:
His back has been an issue for him all season long and there is zero reason for him to return this week in a meaningless contest for the Seahawks.
Kellen Winslow, TE, Browns:
Winslow is still recovering from a high ankle sprain, and there is clearly no reason for the team to risk putting him back on the field this weekend.
Here's wishing everyone a very happy, restful and peaceful holiday. We'll update the latest player injury status on Saturday and be sure to stop by the injury chat on Sunday at 10 a.m. ET!
September, 13, 2008
9/13/08
1:29
PM ET
Here's a fun fact: The
Miami Dolphins
have a
clean
injury report. That's right. Nobody, no one, not a single player is on their injury report this week. I'm not sure I've ever seen this before, but how happy must a team be when they can submit their injury report to the league office Friday afternoon and it's a blank sheet? Is there anyone out there in fantasy league-land who has every player on their roster healthy? I didn't think so. That's why we bring you the injury updates heading into Week 2. Set your injury-adjusted lineups and hope for a healthy week.
[+] Enlarge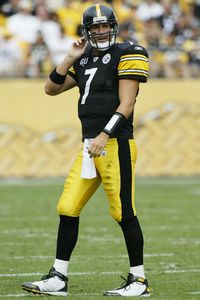 George Gojkovich/Getty ImagesRoethlisberger should be out on the field leading the Steelers, but if a blowout occurs, he could get pulled.
Ben Roethlisberger, QB, Steelers:
Although he didn't practice Wednesday due to the sore throwing shoulder, he did some work Thursday and managed a full practice Friday. Roethlisberger is listed as probable, meaning he is expected to play, but if the shoulder starts to give him trouble as the game goes on, or if he shows signs of fatigue in the arm, expect his playing time to be limited. Roethlisberger has a history of playing through various ailments, and this should be no different, but the team will make every effort to preserve him for the long haul.
Marion Barber, RB, Dallas Cowboys:
Barber was already looking like someone who expected to play Monday night despite a rib injury in that he fully practiced Wednesday and Thursday. Friday did nothing to dispel that as he practiced fully yet again. He is officially listed as probable, and with the extra day of rest, it appears he will see a regular workload. Perhaps even more significant is the idea that he has been doing so well already, he may not need to wear the protective gear that could make ballhandling a little more challenging. For someone who relies on speed and ball control, carrying no extra weight and minimizing interference is a bonus. Barber looks to be in good shape for Monday night.
LaDainian Tomlinson, RB, and Antonio Gates, TE, San Diego Chargers:
Who knew that big-toe problems could be contagious? The Chargers have another star plagued by a big-toe injury, as Tomlinson jammed it in last week's contest. The good news is that X-rays were negative, but the toe was painful enough that Tomlinson did not practice Wednesday or Thursday. Tomlinson was able to practice fully Friday, but he is only listed as questionable on the Chargers' injury report. According to ESPN reports, Tomlinson believes that based on what he was able to do in Friday's practice and how he felt afterward that he is closer to probable to play Sunday.
The role of the big toe in every aspect of running, pivoting, cutting and jumping cannot be overemphasized, as it has to bear the weight of the entire body with any pushing off. If the ligaments around the toe are injured, repeated stress not only causes pain but can make it difficult to heal. It appears that Tomlinson will play Sunday, but if the toe becomes a limiting factor, he may see decreased time on the field.
Meanwhile, teammate Antonio Gates put up a decent performance in Week 1 in his first outing since undergoing surgery on his big toe. He appeared to suffer no major setbacks, although he did come out of Week 1 with a sore hip to add to the toe discomfort, and as a result was limited in practice early in the week. Gates, however, was a full go in practice Friday and is listed as probable, which bodes well for his Sunday status. He acknowledges that his toe is not 100 percent, but told the San Diego Union-Tribune earlier in the week that the more he does, the better it becomes. Clearly his confidence in the foot is coming back.
Dallas Clark, TE, Indianapolis Colts:
Clark is listed as questionable and, although he was able to do some practice activity Friday, is far from certain to be on the field Sunday. Clark injured his knee last Sunday, and despite the negative MRI had enough discomfort to keep him from doing anything in practice until Friday. It does not sound like we should expect much, if anything, from him this week.
There is good news elsewhere on the Colts' offensive front, however. Center
Jeff Saturday
, who just a couple of weeks ago was considering surgery on his torn medial collateral ligament (MCL), chose to undergo conservative treatment and is well ahead of schedule. Saturday was able to participate fully in practice all week and has a shot to play this weekend. Even if he doesn't take the field this week, the progress he is making has to make the Colts, and
Peyton Manning
in particular, very happy. If not this week, expect to see Saturday back next week in tandem with his quarterback.
[+] Enlarge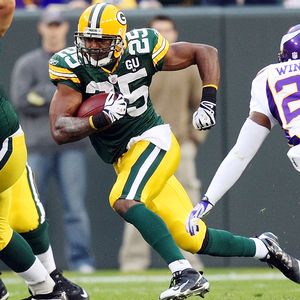 Jeff Hanisch/US PresswireGrant is clearly not 100 percent, but he'll make a go of it this weekend.
Ryan Grant and Brandon Jackson, RB, Green Bay Packers:
Grant had a nice first week, even while operating at less than top speed. But Grant was reportedly very sore at halftime of Monday night's contest, a sign that the hamstring was clearly not fully healed. The Packers have helped Grant manage this injury well, as they are no doubt acutely aware of the risk of this turning into a season-long problem. Consequently Grant was kept to limited practice reps early in the week to allow his leg some more rest.
Grant did practice fully Friday and expects to play, but he is listed as questionable, and the Packers will want to see how he feels Saturday morning before they make a final decision on his status. Coach Mike McCarthy told the Milwaukee Journal-Sentinel: "He looked good. Really the question for Ryan will be tomorrow, same thing we went through last week. How does the hamstring feel in the morning? They worked it. They pushed him as far as he probably could go today, and we'll see how he is tomorrow." If Grant feels good Saturday, his chances of playing go way up.
Teammate Brandon Jackson is listed as probable and is expected to play after suffering a concussion Monday night that kept him out of practice Wednesday and limited Thursday. In fact, Jackson will likely be used more to balance Grant's playing time, given that Grant is still not 100 percent.
Reggie Brown, WR, Philadelphia Eagles:
Brown did not play last week after aggravating his injured hamstring mid-week. This week did not exactly provide encouragement that he is ready to return. Brown is listed as questionable, but did not practice Wednesday and practiced only on a limited basis Thursday and Friday. Brown told the Philadelphia Daily News that he was "very limited" after Thursday's practice. I trust the words of the athlete, and this does not sound like he is confident in his recovery just yet. Of course there is the extra day, given that the Eagles play Monday night, but Brown will likely be a game-time decision, something fantasy owners should shy away from. Besides, given the fact that Brown spent most of the preseason and the first week of the season injured (first the Achilles', now the hamstring), it would be worth watching his first-game performance to see how he fares before expecting big things.
Willis McGahee, RB, Baltimore Ravens:
McGahee was active last week, but you wouldn't know it. He spent the entire game on the sidelines, pacing a bit, hoping to get into the game. But the Ravens' coaching staff decided it would be best to wait. McGahee is now listed as probable in Week 2 and is expected to take the field Monday night (the game was moved to Monday because of Hurricane Ike in Texas).
As far as how the knee feels, the Ravens' official Web site quoted McGahee as saying "It gets better every day, so I can't complain." In addition to having the extra week to rest his knee, McGahee had additional time to work with a new offensive system and get into game shape. Expect McGahee to see action Monday, although he may not appear as the "feature" back. The Baltimore Sun reports that a full workload may not be in the game plan for McGahee, as he will likely split carries with
Ray Rice
and
Le'Ron McClain
. McGahee will need to prove his commitment to working hard as a team player, while demonstrating that he can physically handle the workload before he is allowed to assume a major role. Fantasy owners should keep that in mind.
And a couple of IDP tidbits ...
OK, Carly. This section is introduced this week per your request.
Derrick Brooks, LB, Tampa Bay Buccaneers:
Brooks is still dealing with a lingering hamstring injury. He has not been able to practice all week and is listed as questionable. Unfortunately, his 193-consecutive-game streak is at risk of being broken this week, but ultimately the team needs to make the best decision for his long-term health. Expect Brooks to be a game-time decision.
Albert Haynesworth, DT, Tennessee Titans:
Haynesworth suffered a concussion during last week's contest, and as a result was held out of practice all week. Haynesworth says he expects to play, but the team will not likely make a final decision until Sunday morning before the game. He is officially listed as questionable. Concussions are not something teams take lightly, and Haynesworth will have a series of tests he will need to pass before he is cleared to play.
Antonio Cromartie, CB, San Diego Chargers:
Cromartie has a sore hip that kept him out of practice Wednesday and Thursday. He was able to practice on a limited basis Friday and is listed as questionable, so he has a chance of being on the field. He is also likely to be a game-time decision. The Chargers have to hope they will have him available to match up against Denver's double threats,
Brandon Marshall
(returning this week after a suspension) and impressive rookie
Eddie Royal
.
Out:
This is a list of key fantasy players, not including those who have been moved to injured-reserve status, who are officially listed as "Out" for Week 2.
It's not too late! Leagues are forming and drafting until Sep. 20, with scoring retroactive to Week 1.
Sign Up Today!
Aaron Stecker, RB, New Orleans Saints:
You knew Colston was out with a surgically repaired thumb. Stecker now joins him with a hamstring injury.
Reggie Bush
looked good last week, and
Pierre Thomas
showed he was a factor. Expect
Deuce McAllister
to get back into the game this week as well, although how much he will be utilized remains a question.
Drew Bennett, WR, St. Louis Rams:
He has a foot fracture. He will appear in this section for at least a month.
Brodie Croyle, QB, Kansas City Chiefs:
Croyle has a separated shoulder and will likely miss two weeks, minimum.
Bobby Engram, WR and Maurice Morris, RB, Seattle Seahawks:
Seattle's poor offense and their string of bad luck continue. Expect these two to be here for a few more weeks.
Vince Young, QB, Tennessee Titans:
The knee, the hamstring, and everything else. His timetable is very hard to predict right now.
Kevin Curtis, WR, Philadelphia Eagles:
Still recovering from sports-hernia surgery but coming along nicely. The Eagles hope to have him back in the first half of October.
Be sure to check out our site Sunday for pregame chats and Fantasy Football Now at 12 p.m. EST. Good luck in Week 2!