Stephania Bell:

Kyle Orton
December, 23, 2010
12/23/10
6:34
PM ET
This week's Thursday night matchup has the
Pittsburgh Steelers
hosting the
Carolina Panthers
in the most anticipated matchup of the season (hint: sarcasm intended). There's not even a lot to get excited about from a fantasy perspective. Thankfully, most of the relevant fantasy players are not on the injury report this week, with the exception of one or two notables.
For the Panthers, running back
Mike Goodson
may have helped you a few weeks back but he has not been a fantasy factor recently. Nonetheless, for those who might have raised their eyebrows when they saw his name on the injury report, Goodson did not practice Tuesday because of illness, not injury. He returned to full practice Wednesday and listed at probable, is expected to play. Still,
Jonathan Stewart
remains the primary running back for the Panthers as he has been since
DeAngelo Williams
was placed on injured reserve.
On the Steelers' roster, defensive leader
Troy Polamalu
has already been ruled out for Thursday night. This does not come as a huge surprise as there were hints when Polamalu missed Week 15 that he could miss additional time. The All-Pro safety is listed on the report with an ankle injury, but the Pittsburgh Tribune-Review reports Polamalu is dealing with a strained right Achilles, an injury he originally sustained in mid-November. Polamalu continued to play with the injury, but it worsened after the Week 14 game against the
Cincinnati Bengals
when quarterback
Carson Palmer
fell on the back of his leg. The Tribune-Review cited sources saying Polamalu could miss the remainder of the regular season. Officially, he has been ruled out for only this week but fantasy owners should keep an eye on his practice activity early next week for further clues.
Meanwhile Steelers tight end
Heath Miller
, who has missed the past two weeks following a concussion, is off the injury report and is expected to play, barring any late setback.
Here's who else you might be concerned about heading into Week 16:
[+] Enlarge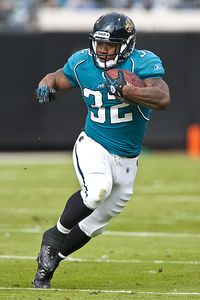 Michael DeHoog/Sports Imagery/Getty ImagesMaurice Jones-Drew's streak of six straight games with at least 100 yards rushing was snapped last week.
• Alarms are sounding in Jacksonville after
Maurice Jones-Drew
sat out Wednesday and Thursday's practices because of his sore knee. The Florida Times-Union asked coach Jaguars head coach Jack del Rio if there was any chance Jones-Drew might not play Sunday and his answer was not definitive. "I hope not," del Rio said. "We're just, the way I look at it, we're always optimistic. ... We get the information to go through the week, get the feedback from the player, from the trainer, from the doctors and all that, then make a determination." Even Jones-Drew acknowledged he did not "look too good" in last Sunday's contest. It's worth remembering that there was some question about a knee issue for Jones-Drew as far back as the preseason. Jones-Drew missed some preseason practice and game time and has quieted concerns, especially recently, with his strong output. With a significant drop in performance in Week 15, however, coupled with the news that his knee is bothering him, there is reason for fantasy owners to keep an eye on Jones-Drew's Friday activity and reason to pick up
Rashad Jennings
, just in case. Meanwhile, teammate
Mike Sims-Walker
also missed practice Wednesday and Thursday to rest his ailing ankle. According to the Jaguars' official Twitter account, the status of both players will be announced Friday.
•
Minnesota Vikings
running back
Adrian Peterson
was a surprise scratch Monday night and has not shown much improvement since. Peterson had something to say about his status Tuesday
on Twitter
writing, "I'm rehabbing. Fully expect to go on Sunday." It's worth noting that Peterson was optimistic in advance of Monday night's game as well, and fantasy owners saw how that turned out. Peterson did not practice Wednesday, and according to Tom Pelissero of 1500 ESPN Twin Cities, Vikings coach Leslie Frazier described his situation this way: "Very, very sore, lots of pain and makes it difficult to turn, twist and do the things Adrian Peterson does." Not the most encouraging words to start the week. Insurance is the best strategy here and if
Toby Gerhart
is available, he won't be for long. Although Peterson returned to limited practice, Pelissero noted that he seemed to be favoring his injured thigh. Both Frazier and Peterson indicate he is much improved over last week but also acknowledge he has a ways to go. This may come down to another game-time decision.
•
Houston Texans
running back
Arian Foster
gave fantasy owners a scare when he left last week's contest early with what he described as a muscle spasm in his "glute." Foster was a full participant in Wednesday's practice, though, and appears on track to start Sunday. Head coach Gary Kubiak, while reassuring in his assessment of Foster's status, sounded the alarm bells when he referred to wide receiver
Andre Johnson
as a game-time decision. According to the Texans' official website, Kubiak followed up by saying, "We'll do our normal deal this week and see where he is at." Johnson has had little to no practice most weeks since injuring his ankle, which typically has allowed him to play Sunday. So far he has missed Wednesday and Thursday. We'll see if Johnson tests the ankle at all Friday.
•
Green Bay Packers
quarterback
Aaron Rodgers
will be back running the offense this week, assuming all goes well between now and Sunday. Rodgers missed Week 15 after suffering his second concussion of the season but was back in full practice Wednesday. The Milwaukee Journal-Sentinel said Rodgers "threw the ball with authority" in the portion of practice open to the media. Rodgers will be wearing a different helmet going forward, but it should be noted that no helmet is concussion-proof. In fact, some helmets have demonstrated better resistance to impact (and controlled studies on helmets have only studied linear or straight-line impact, not rotational, which is often how players are concussed) but the brain is injured when it moves within the skull, something no helmet can control. Still, Rodgers has passed all necessary tests to resume physical activity and barring any return of symptoms, is expected to start against the
New York Giants
this weekend.
[+] Enlarge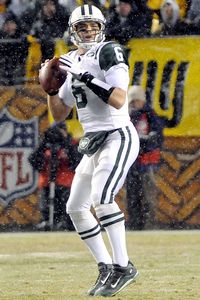 AP Photo/Tom E. PuskarMark Sanchez cracked double-digit fantasy points for the first time in four weeks on Sunday.
• The
New York Jets
announced Wednesday that quarterback
Mark Sanchez
suffered a "slight cartilage tear" in his throwing shoulder, something that was revealed on MRI. The New York Daily News reported that Sanchez injured his arm landing awkwardly in the first quarter of last Sunday's game, yet he was able to finish. Soreness in his shoulder led to this week's MRI, but no one seemed particularly concerned about Sanchez's potential availability for Sunday's game. Until Thursday that is, when coach Rex Ryan suggested Sanchez would be a game-time decision. USA Today reported that Sanchez was limited again in Thursday's practice. His throws lacked velocity and he could not have played if the game were today. The issue is not so much whether the injury will worsen, but rather effectiveness. If Sanchez cannot start it will be
Mark Brunell
at the helm.
• Jets wide receiver
Santonio Holmes
is also less than 100 percent healthy with a turf toe issue that kept him out of practice Wednesday. Holmes returned to limited practice Thursday, suggesting the injury is not of the most serious variety, but it still remains to be seen whether he can be fully effective pushing off and running routes.
•
Cleveland Browns
running back
Peyton Hillis
was not in practice Wednesday, getting a day of rest, according to the Browns. The Cleveland Plain-Dealer reported Hillis was seen limping in the locker room Wednesday, suggesting the body part noted on the report (knee) might be more injured than tired. Hillis seemed to dismiss the concern, telling the Plain-Dealer, "I feel great. ... It is a long season. It's tough on your body, but I think my body's holding up well." He returned to some form of practice Thursday, easing many a fantasy owner's concern. While he's not necessarily out of the woods, this is definitely an encouraging sign. Hillis will need his strength to face the
Baltimore Ravens
, who no doubt would like to erase the memory of his stellar performance against them earlier this season.
•
Denver Broncos
quarterback
Kyle Orton
knows he will be on the sideline this weekend as
Tim Tebow
continues to start. But what about running back
Knowshon Moreno
, who left last week's game early with a rib injury and was not on the practice field Wednesday. Bruised ribs are painful and even breathing hard when running can be excruciating. Moreno did return to limited practice Thursday. If he is able to do the same or more Friday, it would hint at him being available for Sunday.
•
Dallas Cowboys
running back
Marion Barber
was a full practice participant Wednesday, lending more support to the idea that he could be back on the playing field Sunday. Barber has been out since injuring his calf on Thanksgiving Day. Teammate
Felix Jones
has a shin contusion, which also kept him out of practice Wednesday. There seems to be less concern about Jones' availability; the challenge for fantasy owners will be trying to predict how the touches are distributed if all three backs (Barber, Jones and
Tashard Choice
) are active. Meanwhile, teammate wide receiver
Roy E. Williams
was in limited practice Wednesday, a week after suffering a groin injury which kept him out of the Week 15 game. Fantasy owners should wait to see how Williams fares as the week progresses.
• Baltimore Ravens tight end
Todd Heap
has been sidelined with a hamstring injury the past two weeks but returned to limited practice Wednesday. He is by no means a lock to play, but this is a good first step.
• New York Giants wide receiver
Mario Manningham
was questionable last week because of a hip flexor strain but delivered a solid performance (despite his team's stunning loss). Manningham appeared on this week's injury report because of his heel. He went from limited work Wednesday to full practice Thursday, however, hinting that he will be fine come Sunday.
[+] Enlarge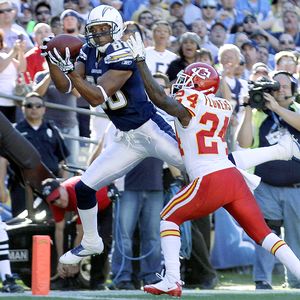 AP Photo/Gregory BullMalcom Floyd was a bit of a surprise scratch last week, but the extra days off may get him back in the lineup this week.
• The
San Diego Chargers
are trying to dry out from all the recent rainfall and trying to determine who will be available to play the Cincinnati Bengals. Running back
Ryan Mathews
missed Wednesday's practice due to illness but was back on Thursday. Tight end
Antonio Gates
has not practiced and is not expected to appear again in the regular season. Fantasy owners who have not yet made the move to replace him on the roster can do so with confidence now. And the biggest question heading into this week is the status of wide receiver
Malcom Floyd
, who has been beset by another hamstring injury that kept him out of last week's game. The North County Times reports that Floyd sustained an injury to the opposite hamstring in practice Dec. 14. Floyd summed it up by saying, "It isn't as bad as the other one, but it is a disappointment that I'm dealing with another injury just after getting healthy again." Floyd has yet to practice this week and his status is certainly murky heading into Sunday's contest.
• After sitting out last week's contest and undergoing a platelet-rich-plasma (PRP) injection,
New Orleans Saints
running back
Chris Ivory
thinks he is about 90-95 percent recovered, according to the New Orleans Times-Picayune. Ivory told the Times-Picayune he could still not run at top speed Thursday but hopes to be able to play Monday night. Given the fickle nature of recovering hamstring injuries and the late game, this may be a fantasy situation to avoid.
• And finally, the
Indianapolis Colts
continue to watch players end their seasons prematurely. Wide receiver
Austin Collie
has been placed on injured reserve following his Week 15 concussion. Despite losing a receiver, they may be gaining a running back.
Joseph Addai
was a full participant in Wednesday practice and according to Associated Press reports, if the game were Thursday he could play. Let's make sure he's not getting ahead of himself and that he feels as good or better at the end of a full week of practice. It sounds as if Addai could return, but how much work he would see versus recent starter
Donald Brown
is unknown.
Have a Merry Christmas and we'll have the latest injury updates affecting Week 16 in the Saturday morning blog!
December, 16, 2010
12/16/10
1:45
PM ET
This week's Thursday night matchup has the
San Diego Chargers
hosting the
San Francisco 49ers
.
Mike Tolbert
and
Ryan Mathews
) are finally healthy, but the status of their wide receivers is still in question.
Malcom Floyd
is listed as questionable heading into the game, although it sounds as if he could be available. Floyd did not practice Wednesday after a limited workout Tuesday, but Kevin Acee of the San Diego Union-Tribune suggests that this may be due, in part, to the Chargers' short week. Nonetheless, it suggests that Floyd is not completely past the hamstring injury, and with that in mind it is hard to know what to expect from him as far as productivity, even if he plays.
Vincent Jackson
, who injured his calf in his 2010 debut, is now off the injury report and is clearly expected to start.
Legedu Naanee
, who dealt with setbacks of his own the past two weeks following a hamstring injury, is probable after full practice Tuesday and Wednesday. The most notable fantasy star of the group, tight end
Antonio Gates
, is not expected to play this week. The team lists him as doubtful and he has not been able to practice because of pain in his foot. Keep in mind, if Gates rests this week, by the time of the Chargers' Week 16 contest he will have been out close to three weeks. The reprieve might be able to help him return and contribute at that point. But expect
Randy McMichael
to start at tight end for the Chargers this week.
For the visiting 49ers, there are not many question marks from a fantasy perspective. Running back
Brian Westbrook
is listed as probable for non-injury-related reasons and is fully expected to play. On the defensive side of the ball, linebackers
Patrick Willis
and
Takeo Spikes
have been practicing with casts on their right hands this week. Although both are listed as questionable, they are expected to play.
Here's who else you might be concerned about heading into Week 15:
Kansas City Chiefs
quarterback
Matt Cassel
returned to practice Wednesday on a limited basis. While no one is committing to Cassel being the starter Sunday, the fact he's back on the practice field has to at least be considered encouraging. This no doubt will be a situation in which he is progressed daily, as able. If all goes well, there is a good chance he could return to face the
St. Louis Rams
.
•
Green Bay Packers
signal-caller
Aaron Rodgers
is looking less likely to play Sunday against the
New England Patriots
. The Milwaukee Journal-Sentinel reports Rodgers has not even been allowed to return to the Packers' practice facility. Clearly, the medical staff wants his brain to rest, meaning no film study, no game plan preparation and no activity whatsoever that could interfere with healing. In the absence of any preparation, coupled with the likelihood that Rodgers will miss the entire week of practice (coach Mike McCarthy said Rodgers will not practice Wednesday or Thursday and his chances of working Friday are "slim to none"), it is hard to imagine he will be ready to absorb all of the mental and physical load required to start Sunday's game. Fantasy owners should prepare to start another quarterback this week.
• Fantasy owners should know at this point that they cannot count on
Minnesota Vikings
quarterback
Brett Favre
to play. While his status remains up in the air, there are so many question marks heading into Monday night -- including whether the game will indeed be played outdoors at the University of Minnesota's stadium -- that's it's best to avoid the situation.
Tarvaris Jackson
has a turf toe injury and has now been placed on injured reserve, making
Joe Webb
the likely starter, although he has a hamstring issue of his own. The Vikings signed
Patrick Ramsey
as insurance. Stand clear of these quarterbacks.
• As far as the other Vikings with injury concerns, running back
Adrian Peterson
, who did not help his fantasy owners last week, is dealing with a knee contusion that is not expected to limit him this week. Maybe if you're still in the playoffs, he can help make it up to you Monday night. Wide receiver
Percy Harvin
has missed the past two games because of migraines, but coach Leslie Frazier says he expects Harvin to return to practice this week. With the Vikings not playing until Monday night, there will be no official practice report until Thursday night, but at least early signs are positive for these two.
• The
Cleveland Browns
are making
Colt McCoy
the starting quarterback for the remainder of the season. It sounds as if the ankle issue is far enough behind him to no longer be a concern to the team.
•
Denver Broncos
quarterback
Kyle Orton
was held to limited practice Wednesday because of "soreness" in his throwing arm and his ribs. The Denver Post reports coach Eric Studesville referred to Orton's condition as "bumps and bruises" and does not seem overly concerned about his quarterback's availability this weekend. Teammate
Brandon Lloyd
showed up on Wednesday's injury report as a non-participant in practice because of his calf. Whether this was some helpful midweek rest or an injury to be concerned about should become apparent as the week progresses.
Seattle Seahawks
seem to be getting some good news on the wide receiver front.
Mike Williams
and
Ben Obomanu
returned to full practice Wednesday. Williams has been struggling with foot and ankle injuries and was not able to play in Week 14. Full practice early in the week is a strong indicator of his availability, barring a setback. Obomanu, who also missed Week 14 with a laceration on his right hand that interfered with his catching ability, has returned to practice, but the Seattle Times reports that he is still adjusting to playing with something on his hands. Says Obomanu: "I personally like no tape on my fingers, no tape on my wrists or anything, but I'm going to have to do a lot of tape, experiment devices and things to make sure; I have to protect my hand No. 1, but still give me comfort to be able to catch the ball, too." The good news is he's working on getting comfortable early in the week, meaning he too should be available Sunday.
• The
New York Giants
' wide receiver news was not so positive to start the week.
Steve Smith
, who returned in Week 14 from a pectoral strain, left the game after one catch when he injured his knee. The Giants released a statement Wednesday indicating that Smith suffered articular cartilage damage and would be placed on season-ending injured reserve. His teammate,
Hakeem Nicks
, fared much better in his return from injury, catching seven passes for 96 yards, and emerged no worse for the wear, not even appearing on Wednesday's injury report. He will likely be
Eli Manning
's big target with Smith out and
Mario Manningham
questionable this week. Manningham left Monday's game early with what was called a hip flexor strain and did not practice Wednesday. We will see what Manningham is able to do later in the week, but he tells ESPN New York that he plans to play in the team's big matchup against the
Philadelphia Eagles
.
• Some fantasy owners may have been concerned seeing Giants running back
Ahmad Bradshaw
with his wrist and forearm on ice Monday night. Bradshaw is not on the team's injury report this week, consistent with his assurances that the wrist is "fine."
• Philadelphia Eagles wide receiver and premature touchdown celebrator
DeSean Jackson
did not practice Wednesday because of a sprained foot. The team is calling him day-to-day according to the Philadelphia Inquirer, but it's hard to imagine him sitting this big game out. Stay tuned.
• The
Baltimore Ravens
won their Monday night game without the services of tight end
Todd Heap
, who was sidelined with a hamstring injury. Heap was listed as a non-participant Wednesday, although the team only held a walkthrough. Fantasy owners should prepare for the eventuality that Heap may not be available again this week, but his practice status going forward should give better clues.
Pierre Thomas
is not even listed on the
New Orleans Saints
' injury report. That's good news for Thomas, who saw his first game action in over two months on Sunday. Teammate
Chris Ivory
left last week's game early with a hamstring injury, which perhaps accounted for Thomas getting a few extra touches in his first game back. Ivory was listed as limited Wednesday, and his status near the end of the week likely will influence what we expect from Thomas on Sunday.
•
Oakland Raiders
tight end
Zach Miller
is back in full practice and his performance last Sunday was the best fantasy owners have seen in a while. If Miller can continue to practice daily without a setback, he might be worth a consideration for your fantasy team, with a matchup against the Denver Broncos on Sunday.
•
Dallas Cowboys
running back
Marion Barber
returned to limited practice Wednesday. Barber has been out since injuring his calf in the Thanksgiving Day game. As the San Antonio Express News reports, however, this may only add to the rotation at running back for the Cowboys. While Barber is far from a lock to play Sunday, when he does return he potentially adversely affects the fantasy running back scenario. Owners of
Tashard Choice
will want to keep an eye on Barber's status throughout the week. Meanwhile, ESPN Dallas reports wide receiver
Roy E. Williams
suffered a groin injury in Wednesday's practice. No word as to the seriousness of Williams' ailment, but it will be worth watching what he is able to do the remainder of the week.
• The
Indianapolis Colts
continue to watch players on the injury carousel. Running back
Joseph Addai
looks to be status quo with limited practice Wednesday. Wide receiver
Austin Collie
was a full participant Wednesday, though, and if he maintains that throughout the week it could signal his return Sunday. The big question then will be how
Peyton Manning
divides up the passes. After
Pierre Garcon
's big fantasy performance last Thursday, it's a little harder to anticipate who will be the lead scorer. Tight end
Jacob Tamme
remains on the injury report but was a full participant in practice. Expect him to play again this week.
See you at the injury chat on Friday at 3 p.m., and we'll have the latest injury updates affecting Week 15 in the Saturday morning blog!
November, 24, 2009
11/24/09
4:49
PM ET
Happy Thanksgiving week, fantasy football owners! What could be better? In addition to the usual Sunday merriment, we get to have a Thursday full of food, family and ... football! There are three games to be played Thursday, and naturally there are injury concerns clouding the picture. Whom can you trust and whom should you avoid in Week 12? Here's what we know so far ...
Thanksgiving Day players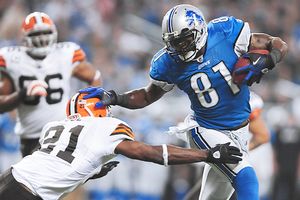 Andrew Weber/US PresswireA short week before Thursday's game won't help Calvin Johnson's chances of playing on Thanksgiving.
Calvin Johnson, WR, Detroit Lions:
Johnson missed a couple games earlier this season because of a non-specific knee injury. Last week, he was on the injury report with a hand injury. The knee issue seemed to be mostly behind him, and the hand appeared to be a nonfactor heading into Week 11. But Johnson sustained some bumps and bruises in the game against the
Cleveland Browns
, especially in the final moments, and was subsequently held out of Tuesday practice because of problems with the knee and hand. The Lions have a short week, so resting him does not come as much of a surprise, but given that Wednesday is expected to be a light practice day, Johnson will not test himself much before the Thanksgiving Day game. Expect a game-time decision for Johnson on Thursday.
Matthew Stafford, QB, Detroit Lions:
After a valiant touchdown pass in the final seconds to lead his team to victory, his painful left arm hanging at his side, Stafford may be forced to sit this one out. Stafford suffered a separated left shoulder (sprained acromioclavicular joint, where the clavicle [collarbone] meets the acromion [tip of the shoulder blade]) and is experiencing significant soreness. While he is fortunate that the injury was to his non-throwing arm (an injury to his throwing arm could have threatened the remainder of his season), the pain will need to subside to a degree before Stafford can safely resume his position. In the presence of a separated shoulder, any jarring (running) or direct contact (landing on the turf again) will exacerbate the condition. If the sprain is anything less than a complete ligament tear, trauma this soon after the injury could worsen the injury. While the Lions have not officially ruled Stafford out, fantasy owners should expect that
Daunte Culpepper
will be the starting quarterback against the
Green Bay Packers
on Thanksgiving.
Brandon Jacobs and Ahmad Bradshaw, RB, New York Giants:
Good news for Jacobs, not so good news for Bradshaw. Jacobs took a hit in the third quarter of Sunday's game just above the knee and remained out the rest of the game. He told reporters that he probably could have returned, but that the medical staff was being cautious. It's worth noting that he did not appear on the team's Monday "projected" injury report. Bradshaw did appear on the Monday report, though, as "Did Not Participate in Practice" -- meaning if the Giants actually had practiced, they expected him to sit out. Anyone who has been paying attention to Bradshaw for the past couple of months knows that this has been standard procedure to protect his injured right foot from overuse during the week. But wait! Bradshaw has a new ankle injury, this time on his left side, according to the New York Daily News. In fact, the Daily News reports that he is now wearing a protective boot on that ankle, suggesting it is indeed more serious than a minor sprain. Bradshaw is not practicing Tuesday, and his status for Thursday appears very questionable, especially given that his right foot was already compromised by a fracture.
Ryan Grant, RB, Green Bay Packers:
Grant was listed as a limited participant in the Monday projected practice reports with a neck injury. The Green Bay Press-Gazette reports that Grant suffered a stinger, but that the Packers did not seem to think it serious. Grant is expected to play Thursday.
Tony Romo, QB, Dallas Cowboys:
It appears that Romo will be fine to play Thursday after being listed as a limited participant in the Monday projected practice reports. Romo took a knee in the back in Sunday's game, but coach Wade Phillips indicated that his starting quarterback was already feeling much better by Monday. He is expected to play Thanksgiving Day.
Kyle Orton, QB, Denver Broncos:
Well, the
Chris Simms
era didn't last too long. Orton, who did not start Sunday's game because of a sprained left ankle, came in to replace the struggling Simms in the second quarter and managed to tough it out for the remainder of the game. He managed to move around decently despite the occasional limp and has already indicated that he is ready to play Thursday.
Sunday players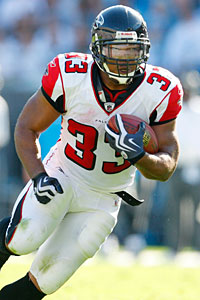 Bob Donnan/US PresswireMichael Turner is expected to miss at least one more week with his high ankle sprain.
Michael Turner, RB, Atlanta Falcons:
Turner is doing his best not to reveal too much about his Week 12 status to the opposition, but the uncertainty he expresses about his own timetable is revealing enough. Turner, who missed Week 11 with a high right ankle sprain, told The Atlanta Journal-Constitution on Monday, "I'm just taking it easy right now and hoping for the best." He added, "Some guys take six weeks to bounce back, but I don't think I'll take that long. I'm just trying to get back to my normal self again." His comments are accurate in that high ankle sprains can derail players for multiple weeks, but everyone heals at different rates; depending on the degree of injury, a return could come sooner. That said, we would need to see Turner doing at least some running and side drills to think there is hope of a return in the near future, something that has yet to occur. Keep a close eye on Turner's activity, but it appears that
Jason Snelling
will get his second consecutive start.
Cedric Benson, RB, Cincinnati Bengals:
Last week, Benson insisted that if he didn't play in Week 11 because of his strained hip muscle, he would certainly be ready to go by Week 12. That may not be entirely true. While Benson's injury never appeared terribly serious, having him available in the final weeks of the season and into the playoffs is quite serious for the Bengals. They will certainly not rush him back onto the field if there is any evidence of lingering effects, which, even if minor, could turn into something major if aggravated. In other words, the Bengals are facing the Cleveland Browns and may opt to continue with rookie
Bernard Scott
for another week. The completion of Friday's practice should yield more clues.
Julius Jones, RB, Seattle Seahawks:
The good news for Jones is that he is expected to rejoin the team for limited practice this week. The bad news for fantasy owners is wondering whether it will be Jones or
Justin Forsett
on the field Sunday. According to The Seattle Times, Jones is expected to return to the starting lineup when the team faces the
St. Louis Rams
this weekend. It's a little early to be confident that that will actually happen. It will be telling to see how Jones responds to activity, particularly whether he has any difficulty or discomfort with breathing. Once again, clues are likely to emerge later in the practice week.
Ben Roethlisberger, QB, Pittsburgh Steelers:
Roethlisberger left Sunday's game in overtime after suffering a blow to the head and was reported to be experiencing concussion-like symptoms. On Tuesday, coach Mike Tomlin indicated that Roethlisberger was feeling good and ESPN.com's James Walker reports that Big Ben is expected to make his Sunday start against the
Baltimore Ravens
. Walker quoted Tomlin as saying about Roethlisberger, "The battery of tests that he took showed that he showed no symptoms. So we will continue to monitor his condition and where he is on a day-to-day basis and let that guide our decision-making. But as I sit here today, he is symptom-free and feeling fine." Barring any recurrence of symptoms as Roethlisberger returns to practice, it looks optimistic for a Week 12 return.
Other quick hits: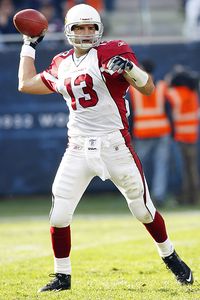 Rob Grabowski/US PresswireKurt Warner is a major question mark after missing the second half of Sunday's win following a head injury.
Arizona Cardinals
quarterback
Kurt Warner
also left Sunday's game early following a blow to the head. Head coach Ken Whisenhunt was encouraged by how Warner felt on the flight home, but according to the Cardinals' official Web site, Warner indicated that he still did not feel 100 percent. As with all concussions, this will continue to be evaluated on a daily basis. Fantasy owners, stay tuned.
St. Louis Rams quarterback
Marc Bulger
suffered a tibial plateau fracture (fracture along the top of the tibia or shinbone) in addition to a groin/hamstring strain and a possible concussion. Needless to say, Bulger is in a world of hurt. The fracture is estimated to keep him out anywhere from three to six weeks, but it is worth noting that he can't bear weight on it initially to allow it to heal, then Bulger has to work his way back to game shape. With only six weeks left in the season, it might not be a surprise to see Bulger go the way of injured reserve.
Speaking of injured reserve, that's where
Washington Redskins
running back
Ladell Betts
finds himself after suffering an ACL and MCL injury. Betts had done a nice job filling in for
Clinton Portis
, who is still sidelined with concussion-related symptoms.
Rock Cartwright
will be the starting running back for the time being as Portis has already been ruled out for Week 12.
There will be no injury blog Thursday due to the Thanksgiving holiday, but check back Saturday and I will have all the latest injury news heading into the Sunday games.
Happy Thanksgiving, everyone!
November, 17, 2009
11/17/09
4:45
PM ET
The joy of having only two teams on bye this past week quickly faded when more players on the field translated to more players ultimately getting carted off the field. The
New York Giants
and the
Houston Texans
have to be thankful that they did not add to their injury reports as they watched the games from home. Concussions continue to take a toll on fantasy stars, as do ankle and foot injuries. Sprinkled in the mix are rib injuries, muscle strains and knee sprains. In what constituted perhaps my busiest week yet this fantasy football season, many a fantasy must-start quickly became a fantasy must-replace.
What happened to your key players this week and will they recover in time to perform this week? We take a look at what we know so far as we move toward Week 11.
Brian Westbrook, RB, Philadelphia Eagles:
Westbrook suffered his second concussion in three weeks and his football future is uncertain. According to the Philadelphia Inquirer, coach Andy Reid said that Westbrook was "foggy" when he came off the field Sunday after running into
San Diego Chargers
safety
Eric Weddle
. Reid has already indicated that Westbrook will not play Sunday night but the question as to when -- or if -- Westbrook plays again this season remains unanswered.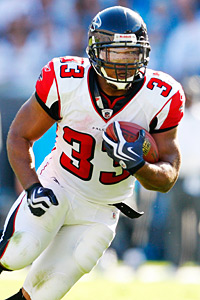 Bob Donnan/US PresswireMichael Turner had run for 111 yards on Sunday before injuring his ankle.
Michael Turner, RB, Atlanta Falcons:
Turner suffered a right high ankle sprain Sunday and was seen wearing a walking boot after the game. While the team has not provided any official information as to Turner's status for this week, high ankle sprains typically require weeks, not days, for healing before an athlete can return to play. The challenges are perhaps greatest at the running back position, given all the stress placed on the ankle. Returning too soon can jeopardize the long-term health of an athlete.
The Falcons are hopeful that
Jerious Norwood
, who has missed the past four games with a hip flexor strain, can return in Week 11. Norwood began running last week, but has yet to return to practice.
Jason Snelling
stepped in when Turner was forced out, but he too was just coming back from injury (hamstring strain) and may not have quite worked up to full speed. Fantasy owners should anticipate the absence of Turner for at least this week and perhaps longer. Practice updates should provide clues as to whether Norwood or Snelling would be more likely to step up in his place.
Ronnie Brown, RB, Miami Dolphins:
Ronnie "Wildcat" Brown was yet another running back forced out of Sunday's game because of a right ankle injury. At least that's how it appeared at the time. More recent news suggests that Brown's foot is the focal point of the injury concern, and the Florida Sun-Sentinel reports that the injury may be more serious than initially thought. Brown is still on crutches, not putting weight on his foot, also hinting at a potentially serious injury. He has already been ruled out for Thursday night's game, with
Ricky Williams
starting in Brown's place, and that may extend beyond Week 11.
Lex Hilliard
is expected to serve as Williams' backup.
Cedric Benson, RB, Cincinnati Bengals:
In Benson's case, it wasn't an ankle that knocked him out of Sunday's game; it was his hip, as the team indicated that their star running back left the game with a hip flexor strain. The Cincinnati Enquirer, however, reports that the injury is officially being called a hip abductor strain. The Bengals' official Web site also references an injury to the abductor muscle. Both the flexor and the abductor are muscles that support the hip; both, when injured, can affect a player's explosiveness and mobility. The hip flexor, which as the name implies, flexes the hip and helps drive the leg when running. It is a very deep muscle (so deep in fact that it anchors to the front of the lower vertebrae in the spine) and can be slow to recover (see Jerious Norwood above who has missed four games thus far with the injury). The abductor muscle abducts the hip, or moves the hip laterally. Its more important function, though, may be as a stabilizer of the hip and pelvis, helping with balance and stability during all movement. Weakness of the abductor can result in a noticeable limp as the pelvis loses stability.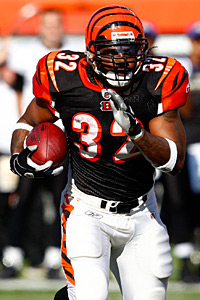 Frank Victores/US PresswireCedric Benson sat out the second half of the Steelers game with a hip injury, but if he plays Sunday, he'll have a nice matchup against the Raiders.
All muscle strains are measured by degree, and in Benson's case the indications from the team (and Benson himself) are that the injury, whichever muscle or muscles are involved, is not serious. In fact, it sounds as if this hip issue is truly an exacerbation of a pre-existing condition, one that has limited Benson in practice as recently as two weeks ago. While coach Marvin Lewis emphasized that the injury did not appear serious, he also indicated that the team would hold him out of Sunday's game against the
Oakland Raiders
if necessary, according to the Bengals' official Web site. Said Lewis, "He really doesn't feel much worse for the wear. He has an opportunity this week. We'll be real cautious with him as we approach the game. If he's not healthy, he would not go. We'll see how he is as he goes through the week. Hopefully, he can make a comeback on this."
Nonetheless, Benson is very likely to be limited in practice this week, and as the Enquirer points out, he could be a game-time decision for the Bengals. That's always a fantasy favorite. It is also worth noting that Tuesday's signing of former
Kansas City Chiefs
star
Larry Johnson
is not expected to impact the running back depth chart, at least not yet.
Julius Jones, RB, Seattle Seahawks:
Jones left the Seahawks' Sunday contest in the first quarter with what was called a chest injury initially. While
Justin Forsett
ran up a storm in his absence, Jones ended up in an Arizona hospital overnight with what the team is officially calling a bruised lung. Coach Jim Mora told reporters that Jones also was dealing with, "potentially, possibly a cracked rib." Mora added that it was "unlikely that [Jones] would be cleared to play on Sunday."
We've already seen an NFL player with a bruised lung this season. Houston Texans wide receiver
Andre Johnson
suffered his lung injury in Week 7 but was able to play the following week. Not all internal organ injuries are created equal, however. The concern of a bony injury nearby could complicate the picture for Jones and lead to extended rest. This will be a wait-and-see situation, but Jones' fantasy owners should not wait to pick up an alternate back for Week 11.
Kyle Orton, QB, Denver Broncos:
Despite Orton's early exit from Sunday's game with a left ankle injury, coach Josh McDaniels remains vague yet upbeat about the possibility that Orton returns for Week 11. While not revealing anything with regard to the specifics of Orton's injury, McDaniels told The Denver Post, "He's definitely not out for the game. We're certainly hopeful we can get him ready to go." Orton's status early in the week is clearly questionable, and much will depend on what he is able to do in practice by the end of the week. The team will be looking at his mobility and whether he can step up as he plants the leg to make longer throws. In case you were flashing back to last year, it was Orton's right ankle that was injured. Although he missed only one game then, he was clearly uncomfortable and far less mobile in his first couple of games post-injury. This very well could come down to game time.
Other quick hits: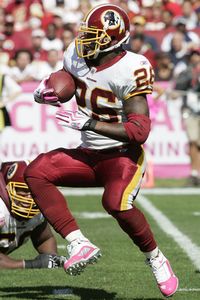 Jeff Fishbein/Icon SMIDon't be surprised to see Clinton Portis miss another game to recover from his concussion.
•
Washington Redskins
running back
Clinton Portis
sat out Week 10 due to lingering concussion symptoms. He may well be out another week. Although the team has not issued a formal status update, coach Jim Zorn told The Washington Post that Portis was still experiencing "blurriness" early in the week with quick head movements.
Ladell Betts
, who did not show any signs of being limited by a foot sprain Sunday, would get another start.
•
Green Bay Packers
wide receiver
Greg Jennings
has accumulated an assortment of nicks this season. His latest injury is being called a knee contusion (deep bruise), and he is likely to miss some practice time this week. There appears to be no serious threat to his availability for Week 11.
•
Indianapolis Colts
running back
Joseph Addai
hurt a finger in the first quarter of Sunday's game, but was able to return in the third quarter, although he had two fingers taped together. His status is not likely to be updated until later in the week, as is typical for the Colts.
Chad Simpson
left the game temporarily with a head injury but was able to return.
Donald Brown
, who missed the past two games with a shoulder injury, came out of Sunday's game for a while with a sore back. The Colts already have perhaps the lengthiest injury list in the league. They have to hope that all of these situations are minor, which, at this point, seems to be the case.
•
Carolina Panthers
wide receiver
Steve Smith
suffered bruised ribs after taking a hit in the back when he made his second end zone grab Sunday. While it is still early in the week, there is no hint from the team yet that his Week 11 status is in jeopardy.
•
Pittsburgh Steelers
safety
Troy Polamalu
injured his left knee Sunday, the same knee in which he suffered a sprained MCL earlier this season. He did not re-injure the MCL, though. Coach Mike Tomlin told reporters Tuesday that Polamalu suffered a PCL sprain and that he would be evaluated throughout the week to determine his status for Sunday.
More to come in Thursday's blog.
See you at the injury chats (Tuesday and Friday 11:00 a.m.-noon, and Sunday pregame 10-10:30 a.m.), and we'll have the latest injury updates affecting Week 11 in the Saturday morning blog!
September, 10, 2009
9/10/09
3:36
PM ET
Hooray! The 2009 season kicks off tonight and the anticipation, the buildup, the projections ... they all come to a head amidst the excitement of the Week 1 matchups. And, of course, the real football is not bad either.
Naturally, fantasy owners know that injuries factor into each week's contests, and while they cannot be predicted or prevented, there are certainly strategies for working around them. The best offense is a good defense, as they say, so arming yourself with injury-related news can only help you make better decisions about which players to sit and start as each week rolls along.
It's true that more and more teams are going the secrecy route when it comes to revealing injury specifics. We already got a taste of that in the preseason when
Denver Broncos
quarterback
Kyle Orton
held up a bloody finger for all the viewing audience to see, and then the Broncos later referred to it as an "upper extremity injury." Really? Seriously? This is the type of firewall that more and more teams are prepared to stand behind when it comes to injuries, reporting only what is required weekly by the NFL for injury reports and leaving open plenty of room for speculation.
To that end, I have compiled a few "injury guidelines" to help fantasy owners navigate the maze of injury-related information that emerges each week. While injury information might emerge in bits and pieces, swathed in insinuation and innuendo, there are some rules fantasy owners can follow to help them stay on course when assessing injury impact on their fantasy teams.
1. No two injuries are identical:
Injuries often are graded according to severity, and even then, there are often subtle differences that dictate different healing times. Also, players heal at different rates, so just because one guy recovers in two weeks from an ankle sprain doesn't mean another will recover at the same rate, even when the injury involves the same structures.
2. Player position must be considered when evaluating the impact of an injury:
Each position places different demands on the body, and therefore some injuries affect certain positions more. A classic example is the MCL sprain, which can be more debilitating for a running back, who must cut frequently, than for a quarterback. It often translates to different amounts of time missed.
3. A player's injury history is worth considering, especially if it is a repeat injury:
A player who has been healthy for years and has his first injury will often return faster than a player who has sustained multiple injuries in the past. This is especially the case when it comes to repetitive muscle strains in the same region. In other words, a guy who just suffered his fourth right-sided hamstring strain should not be expected to heal as quickly or as fully as the guy who just had his first injury in that region. There are, of course, exceptions to this (which should always be stated, really, as the first rule of medicine).
4. The severity of an injury cannot always be determined by how it looks on the field:
Appearances can be deceiving. Just because a guy gets up and walks off the field doesn't mean he's not seriously injured. Sometimes the full nature of the injury is not appreciated until a day or two later. The reverse can also be true. An injury can appear devastating because it is initially very painful, but then turn out to be not so bad.
5. Beware of the following overused phrases:
&#8226
He's "100 percent healthy."
No NFL player is 100 percent healthy once the season starts. Usually the phrase means that an athlete has been fully cleared and has returned to play, but it doesn't mean there are no underlying long-term changes (such as cartilage damage) that could crop up again.
&#8226
It was a "mild concussion."
A concussion is a brain injury. Brain injuries are always serious. Period.
&#8226
That guy is "injury prone."
There is bad luck and then there is bad tissue. While there is never likely to be consensus on what constitutes "injury prone," it seems as if a guy who misses time with more than one injury in his career gets the label. Football is a contact sport. Injuries happen and most often because of a series of random events. The average playing career lasts just a few years for that reason. The term is unfairly overused and in fantasy, valuable players might be avoided because they have that label.
Now that we've covered some of the ground rules for interpreting injury information this season, let's look at some of the players I'm tracking as we head into Week 1:
Tom Brady, QB, New England Patriots:
This is the final reassurance for Brady owners everywhere. He's back. He's healthy. And he's ready to go on Monday night. In case anyone hasn't followed along, here's what has happened with Brady in the past year or so. Week 1, 2008: Brady goes down early in the opener with what would eventually be diagnosed as a season-ending knee injury (a torn ACL and MCL, to be precise). Not long after undergoing reconstructive surgery on his knee, Brady suffered a setback because of an infection. It was at that point that the alarms sounding the premature demise of the face of football began to sound.
But once the infection cleared, Brady did what he always does. He went to work. He did the rehab, he did the conditioning drills, and he worked his way back in time to participate in June minicamps. He played in three preseason games and showed the world that his knee was healthy enough that he could run, throw and take hits. Of course he did give his team a mini-scare when he took a big hit to his throwing shoulder in Week 3, but it all turned out OK. We'll just have to wait and see how he's listed on the Patriots' injury report, but have no fear, fantasy owners, he will be ready to prove himself come Monday night.
Matt Cassel, QB, Kansas City Chiefs:
We transition from Brady to his former understudy, Cassel, who went from not starting a game since high school to leading the Patriots through a pretty impressive season. Cassel parlayed his transformative season into a permanent starting gig a little farther west. But will Cassel, in fact, be starting for his new team this Sunday?
Cassel suffered a sprained left MCL when tackled during the Week 3 preseason game. Despite the fact that Cassel returned to practice this week, it has been on a limited basis, suggesting that he is not fully recovered from the injury. Nor should he be. Sunday will mark just one day over two weeks since the injury, enough time for some scar tissue to form, but not enough time for the ligament to fully heal and adapt to the stress of playing on it. Cassel, if he plays, will be in a brace, which does afford some protection in terms of lateral stability should he take a hit. However, it cannot remove the feeling of instability and discomfort that Cassel likely is still experiencing.
Although his position does not require the agility and quickness of a running back, Cassel does need to be able to move effectively inside and out of the pocket to escape the rush, and he needs to plant firmly on his left leg to deliver the ball downfield. Both of these acts are likely to be compromised so early in the recovery process. Oh, and by the way, he's facing the Ravens, so he will definitely need to be able to get out of danger. Ideally, Cassel will sit this one out and allow his knee some additional healing. But if he does end up playing, and coach Todd Haley has said that Cassel would need to put in a full practice by Friday in order to start, he will not be at his best.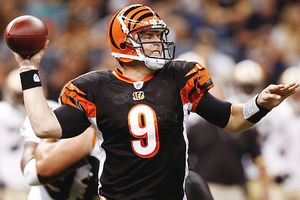 Chris Graythen/Getty ImagesCarson Palmer is back at practice, but we still don't know how his ankle will react in a game situation.
Carson Palmer, QB, Cincinnati Bengals:
In the Week 3 contest against the Giants in 2008, Palmer suffered an ulnar collateral (Tommy John) ligament injury, the reconstruction of which has become almost commonplace amongst elite throwers in baseball. It is a far less frequent injury in football, partially due to the fact that the throwing mechanics in football are less stressful on the elbow than in baseball. A direct insult to the arm, however, which is what happened to Palmer during a hit while releasing the ball, could result in an injury to the ligament and nearby tissues that could then be further impacted by throwing.
After considering his options, Palmer opted for the nonsurgical rehab route to heal his elbow, and in training camp, it certainly appeared to have been effective. Palmer was throwing the ball well, gradually building up the endurance of his arm, and everything was coming along beautifully ... until Palmer suffered a high ankle sprain on his left leg (plant leg) in Week 1 of the preseason games. He has just recently returned to practice. A major concern for Palmer was that if he were to return too soon and his ankle did not allow him to plant effectively, he could then end up putting excessive stress on his throwing elbow.
The good news is that Palmer has been able to return to full practice this week and has declared himself fully healthy and ready to go. It is worth noting, however, that Palmer has not been tested for a full game since Week 2 of last year. It is also worth noting that in his shortened season, Palmer took a number of hits, leading to a bloody nose and, ultimately, the elbow injury that would sideline him for the remainder of the season. No matter how good Palmer's ankle feels going into this game, the tissue is still repairing itself. If he is not well-protected Sunday, a setback to the ankle, or something else, is not out of the question.
Kyle Orton, QB, Denver Broncos:
Orton's bloody finger injury, sustained during a Week 3 preseason game, told the tale of an open dislocation. The injury is called a dislocation because the joint at the tip of the finger was displaced, open because the skin was broken. Once the joint was reduced (put back in place), some of Orton's pain was alleviated immediately. The issue potentially threatening his start in Week 1 has more to do with the "open" aspect of the injury.
The cut required stitches, and healing soft tissue at the tip of the index finger can interfere with a quarterback's ability to throw the ball. In fact, many doctors will opt to leave the stitches in initially to help ensure that the skin does not reopen when the athlete begins throwing again. Orton was able to return to practice this week and was nicely outfitted with some thin gauze over the wound, as well as a glove. Orton clearly appears motivated to play. The key will be whether he can make all his throws (long balls will be the toughest), and if not, whether the Broncos will be amenable to altering the game plan to accommodate a short-pass and ground game. As coach Josh McDaniels said earlier in the week, "If he's able to be the most effective guy we've got, then certainly he'll play."
This might come down to a game-time decision, but chances are that Friday practice will give some clues. If Orton is unable to go, then backup
Chris Simms
, who himself just returned from a high ankle sprain, would get the nod.
Maurice Jones-Drew, RB, Jacksonville Jaguars:
Jones-Drew suffered a shin contusion in the final preseason game, and there was some concern that the injury would affect his status for Week 1. Fear not, fantasy owners, as Jones-Drew returned to full practice Wednesday, and although he no doubt still has soreness in the leg, it does not appear that it will threaten his status or his production Sunday. Imaging tests, which could have shown additional soft tissue damage or a bone bruise, were negative. The Jaguars will face the Colts, who are expected to be without staunch run defender
Bob Sanders
, so fantasy owners should be looking forward to seeing what Jones-Drew can do.
Pierre Thomas, RB, New Orleans Saints:
Thomas was another victim of a preseason MCL sprain, which he suffered during a Week 2 exhibition game, and as a running back he's more challenged in his position than the aforementioned Cassel. The medial collateral ligament reinforces the inner aspect of the knee joint and is subject to stress with lateral movements, particularly cutting toward the inside. Even a ligament that is healing can take a step backward in that process if aggravated early on. Just ask
Pittsburgh Steelers
running back
Willie Parker
, who suffered the same fate last year.
Thomas has not been able to return to practice as expected, another sign that he might be forced to sit out the season opener. According to the New Orleans Times-Picayune, Thomas was still limping Monday, and although he hasn't been ruled out for Week 1, the fact that he has not been able to do much beyond individual work is of concern. Naturally, the Saints (and his fantasy owners) would love to have him Sunday. At this point, though, that doesn't appear likely, and even if he does play, he is bound to see significantly less action. Fantasy owners should be making other plans at this point.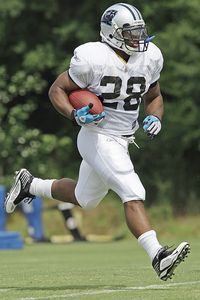 AP Photo/Chuck BurtonJonathan Stewart has returned to the practice field, but when will he return to form?
Jonathan Stewart, RB, Carolina Panthers:
A nagging Achilles injury has kept Jonathan Stewart out of practice and out of games for virtually the entire preseason. If there's any good news here, it's that Stewart was able to return to full practice Wednesday. This news is encouraging heading into Week 1, but that's only half of the battle. We'll still need to see if he experiences any soreness following his return that limits him later this week.
The frustration with this kind of condition is that it is not the type of thing that disappears magically. It is typically associated with overuse, which means the more Stewart uses the tendon, and he will every time he pushes off with that foot, the more risk he has of aggravating it. The healthier the tissue is going into the season, however, the less chance of it flaring up. Knowing the talent of the medical staff in Carolina, this has no doubt factored into why Stewart has been so limited in preseason action and why he has been relegated to non-weight-bearing activities such as the bike and the pool. For fantasy owners, this might signal that Stewart will be used more sparingly at first to help ensure that he does not overdo it early on. So while he might look great when he's on the field, his time on the field might be limited, just to protect him.
Thursday and Friday practices will give us a better hint as to what the final status of these players will be heading into Week 1.
Out:
Normally this space is intended for a list of key fantasy players, not including those who have been moved to Injured Reserve status, who are officially listed as "Out" for the upcoming game. As of now, there are no key fantasy options listed as Out, as of the most recent NFL injury report.
Note: Catch Stephania's injury chats Tuesdays and Fridays from 11 a.m. to noon ET, as well as Sundays from 10 a.m. to 10:30 a.m. ET. Also, she'll have another injury update Saturday.
November, 17, 2008
11/17/08
1:56
PM ET
Earnest Graham, RB, Buccaneers:
Graham already was questionable to play Sunday because of a knee injury he had sustained before the Bucs' bye week. Well, Graham did start in Sunday's game, but unfortunately he didn't last long. And the news is grim. As Pat Yasinskas reports in the
NFC South blog
, coach Jon Gruden has confirmed that Graham likely has played his last down this season. This is an unfortunate turn of events for Graham, but thankfully the Bucs have Cadillac Williams waiting in the wings.
Warrick Dunn
is likely to be the starter next week, and
B.J. Askew
is showing he can get goal-line work as well. Williams should be rolled into the offense sometime in the next couple of weeks, but expect his involvement to build gradually.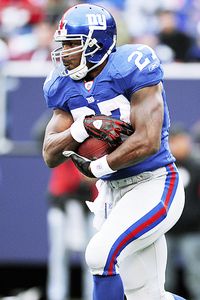 Rich Kane/US PresswireBrandon Jacobs ran for 73 yards on 11 touches before leaving Sunday's game.
Brandon Jacobs, RB, Giants:
He's been the primary cog in the running back wheel in New York, and even the critics have been forced to admit that despite his size and upright running style, Jacobs delivers the goods in games. He has stayed healthy through 11 weeks of tough running, but on Sunday, Jacobs exited the game a bit early with a sore knee, according to NFL.com. Jacobs brushed it off by saying he just landed on the knee and could have gone back into the game if needed. As The New York Times pointed out, Jacobs jogged "joyously" into the locker room after the home win over the Ravens and prepared to head out to a Knicks game. He is expected to undergo an MRI on Monday to investigate whether there really is anything structural to be concerned about, but at first glance, this does not appear serious.
Other noteworthy injuries:
Redskins star running back
Clinton Portis
surprised everyone (yes, me included) by showing up and running pretty well in Sunday night's game against the Cowboys. Perhaps his injury was a little less severe than initially reported, or perhaps he is a speedy healer. Either way, Portis took the field two weeks after initially suffering what was called a Grade II MCL sprain. That's an injury that normally takes four to six weeks to heal completely, depending on the degree of tissue damage. Coach Jim Zorn told The Washington Times that Portis truly was a game-time decision and that his performance in warm-ups persuaded Zorn to play him. "He actually warmed up and got some good acceleration, so I put him on the field." Although he did not rack up Portis-like numbers and clearly was at less than full strength, he was by far the most effective of the Redskins' running back corps and seems to have emerged no worse for the wear, at least not yet. Most of his contributions occurred during the first half of the game, perhaps signaling some effect of the injury. Meanwhile, teammate
Ladell Betts
, who was returning from a knee injury that had caused him to miss several weeks, appeared to aggravate the injury and left the game early. According to The Washington Post, Betts acknowledged that his knee was "not even close" to being 100 percent before he aggravated it. It would not be surprising if Portis is limited in practice this week to try to allow his knee to recover further, as he clearly will be depended upon to carry the running game going forward.
Matt Hasselbeck
returned as the signal-caller for the Seahawks, and it showed that he had missed some time from the game. Rust aside, there was some question as to whether Hasselbeck had sustained a new injury during this game. Frank Hughes of the Tacoma News Tribune reported that Hasselbeck appeared confused during his postgame news conference and had difficulty answering some questions, something very out of the ordinary for him. Apparently Hasselbeck commented that some of the Cardinals were to be fined by the league this week. Was that perhaps in reference to a hit that he took? Guess we'll have to wait and see whether fines are forthcoming, but if Hasselbeck is in your fantasy lineup, you'll want to check the practice reports as the week progresses.
Sure,
Kyle Orton
returned as quarterback for the Bears, but he didn't look so good. His mobility clearly was limited by his ankle, and although Orton is not one to make excuses, he doesn't have to. The good news is that he does not appear to have emerged any worse off for having played, and another week could go a long way toward improving the health of his ankle. That will not be good news for the Rams.
Be sure to check back here throughout the week as we update these and other injuries, notably
Steven Jackson
and
Reggie Bush
. Don't forget to stop by
the injury chat
(11 a.m. ET Tuesdays and Fridays) to discuss the status of your injured players. Hope to see you there!
November, 15, 2008
11/15/08
2:39
PM ET
Uh-oh, it's fantasy crunch time. Playoff scenarios are starting to shape up, and victories in the next couple weeks are critical if you're on the bubble. Every player in your lineup has a crucial contribution to make to help you jockey for position in those divisional playoffs. You certainly don't want to accidentally leave in somebody who is going to be a gameday scratch, but there are a lot of question marks on the Friday NFL injury report.
So who will play this weekend? Here's what we know as we head into the Week 11 contests.
Kyle Orton, QB, Bears:
What a difference a week makes. Orton has all of a sudden risen to a "probable" designation and by all accounts appears ready to take the field as the starter for the Bears on Sunday. Orton's injured right ankle has been faring better, and although it is still wrapped for support and he is not yet 100 percent recovered, he is doing just about everything in practice to convince his teammates and coaches that he is ready to play.
Initially, Orton's injury was reported as a high ankle sprain, and it certainly appeared at first that he would miss more time. But all sprains are not created equal, and Orton is certainly proving that with his speedy recovery. Coach Lovie Smith told the Chicago Sun-Times that Orton has "gotten better each day [and] there's no reason to think that won't continue [through] Sunday." His biggest challenges will be rolling right on the still-tender right ankle, and the unavoidable tangles that he is destined to be a part of during a game. If he can handle those obstacles, there's no reason to think that he cannot be essentially healthy going forward.
[+] Enlarge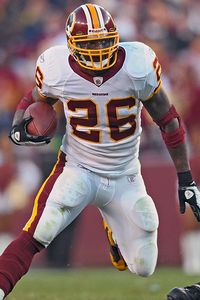 Drew Hallowell/Getty ImagesFantasy owners need to look for someone other than Portis to help them this week.
Clinton Portis, RB, Redskins:
Portis is listed as questionable, and his status remains a game-time decision for Sunday night. It's really not looking good for Portis, especially when you consider the nature and severity of the injury (grade 2 MCL sprain), his limitations this week (he could not fully bend or extend his knee at the start of the week), and his inability to practice through Friday. That being said, Portis was earnestly doing everything he could from a treatment perspective, and coach Jim Zorn wanted to see how he would fare in the Saturday walkthrough.
From a fantasy perspective, despite how outstanding Portis has been this year, look elsewhere for your running back this week. Even if he does play, which would come as a surprise, Zorn has already indicated that he would only use Portis in a limited capacity.
Ladell Betts
(probable) is hopeful to return after missing several weeks himself with a knee sprain, and beyond Betts,
Shaun Alexander
and
Rock Cartwright
are available for the Redskins to sprinkle into their running back mix. Assume that Portis will take a while longer to get his knee fully healthy before he can perform up to the high standard he has set this year.
Other noteworthy items
•
Tony Romo
(probable) is expected to start for the Cowboys. Romo is returning after a four-week absence due to a broken pinkie in his throwing hand. His only discomfort remains with taking snaps under center, but according to coach Wade Phillips, Romo has been throwing well in practice. The Cowboys have to be excited about their deep-ball option returning to the game plan this week. And Romo has to be excited that he will be able to throw to his buddy
Jason Witten
, who is expected to return to the field this week despite a still-healing broken rib. Witten may not feel quite 100 percent, but he has been able to practice on a limited basis, and with some extra rib padding for insurance, along with his rep as the toughest guy on the field, he provides a boost for his team.
• Wide receiver
Matt Jones
has a potential suspension looming over him, but that won't be what keeps him off the field this week. If Jones can't suit up for the Jaguars on Sunday, it will be because of a thigh injury that has kept him out of practice most of this week. If Jones is on your team, it's probably best to secure a backup given that the Jags have a late game, and even if Jones plays, he is not expected to be at full strength.
• "Fast"
Willie Parker
is off the injury report and will be on the field for the Steelers on Sunday. Sure, he may be in a harness to protect his shoulder, but that should not interfere with his function as a running back. He is bound to experience some soreness if he takes hits to the shoulder, from a defender or the ground, but more important for Parker is that his knee appears healthy and he's running well. Quarterback
Ben Roethlisberger
is also off the injury report, so expect him at least to start for the Steelers. If he experiences another late game decline however, don't expect Tomlin to hesitate to pull the switch and insert
Byron Leftwich
.
• Ravens receiver
Derrick Mason
injured his shoulder during last Sunday's game. On Monday we talked about how soreness and swelling is often worse in the first few days post-injury and how Mason's practice activity would go a long way to indicate what his chances of playing this week really are. Well, Mason did not practice Wednesday or Thursday and did only a limited amount Friday. He is wearing a harness to protect his left shoulder but coach John Harbaugh was noncommittal regarding Mason's availability, telling the Carroll County Times, "We'll see how he is on Sunday." Hmmm. A less than fully healthy Mason who is a game-time decision versus a tough opponent? You may want to consider another fantasy option.
• Raiders' quarterback
JaMarcus Russell
was able to move around much better in practice this week. Russell has been contending with a bone bruise in his knee along with tendinitis. Although listed as questionable, he is expected to play. Meanwhile, running back
Darren McFadden
had quite an improvement in his status this week. His tag remains "questionable," but if you take into account that McFadden was able to practice all week -- albeit on a limited basis -- and that he is feeling more comfortable and confident in his new shoes, his chances of playing Sunday look much better. According to the Contra Costa Times, McFadden has been running and cutting without pain and has tossed his protective boot. McFadden even went so far as to say that he had "a different pep" in practice. It's unclear how much playing time he'll see, but expect him to be out there.
• The Seahawks will enjoy the return of their signal-caller,
Matt Hasselbeck
, who has been disabled by weakness in his leg as a result of sciatic nerve compression linked to a bulging disc. Pain was never the issue for Hasselbeck, weakness was, but gradually the nerve function, and thus his muscle strength, has improved. Hasselbeck was able to practice all week, is listed as probable, and is expected to start. Joining him on the field will be
Deion Branch
, who after making an impressive return from ACL reconstruction was almost immediately sidelined again, this time with a bruised heel on his opposite leg. Branch has finally been able to get back on the practice field. He, too, is listed as probable but is expected to play. Expect both to be a little rusty, but nonetheless welcome additions to an otherwise anemic offense.
• In Tampa, there is much excitement about the return of
Carnell Williams
to the roster after missing nearly a year with a torn patellar tendon, but don't expect him to see much, if any, playing time just yet. The Bucs will be cautious with Williams after such a severe injury; his first contact drills took place just this week. But
Earnest Graham
is still ailing with a sprained knee suffered before the bye week, and
Warrick Dunn
, although able to practice all week, is just returning from a pinched nerve in his upper back. Graham is listed as questionable and may play, but in a limited capacity. Dun is listed as questionable but based on his ability to practice, looks to be the more sure bet to go. The idea that Williams can contribute soon has to make coach Jon Gruden happy. For fantasy purposes though, don't count on Williams or Graham this week, but do expect Dunn to get the start and get the bulk of the work.
• Ten players listed as questionable this week? The Colts made liberal use of the designation in Friday's injury report but have strongly hinted that two of the key fantasy players on that list,
Anthony Gonzalez
and
Reggie Wayne
, are likely to suit up Sunday. Gonzalez had a hamstring strain that kept him limited in practice this week, but it is reportedly minor. Wayne had an ankle ailment that was bothering him, and after recently tweaking his knee, the Colts were no doubt trying to preserve his overall health by limiting his practice reps early on. Both Gonzalez and Wayne went through full practice Friday, so it does appear that they will be available for Sunday's matchup against the Texans.
Out:
This is a list of key fantasy players, not including those who have been moved to injured reserve status, who are officially listed as additions to the "Out" listing for Week 11.
Steven Jackson, RB, Rams:
Jackson's thigh is not healing as fast as anyone would like, including Jackson himself, who stayed behind while his teammates traveled to San Francisco so that he can confer with a specialist. Jackson ran fairly well in practice Wednesday but was then unable to do anything the remainder of the week because of persistent stiffness and soreness in his thigh.
Antonio Pittman
gets the start again for the Rams.
Matt Schaub, QB, Texans:
Schaub will miss another week, at least, with his sprained knee (MCL), and Rosenfels will again start in his place.
Felix Jones, RB, Cowboys:
The Cowboys were hoping to get Jones back from a hamstring injury after the bye week along with teammates Romo and Witten. The nature of Jones' particular injury, though (distal hamstring, near the knee), makes it a tough one to heal, and a little extra recovery time is not unexpected.
Heath Miller, TE, Steelers:
Miller is still sidelined with a high ankle sprain.
Matt Spaeth
continues to start in his place.
Reggie Bush, RB, Saints:
Despite doing some limited work in practice Wednesday, Bush did not practice later in the week, and coach Sean Payton decided to hold him back. No reason to hurry back from meniscal surgery, especially given that this is the same knee in which Bush suffered a sprained posterior cruciate ligament just last year. His return will likely take place when the Saints host Monday Night Football in Week 12.
Arnaz Battle, WR, and Josh Morgan, WR, 49ers:
Battle remains out with a foot sprain and is joined this week by Morgan, who has a groin injury.
Jason Hill
, who showed that he could connect with
Shaun Hill
, is an interesting receiver option.
Javon Walker, WR, Raiders:
Yet another injury ends Walker's season early. This time it's his ankle, and he's already undergone surgery to implant some hardware in his injured leg. What will his future hold? That has yet to be determined, but this latest setback doesn't help.
Good luck in Week 11! Be sure to check out our site Sunday for pregame chats and Fantasy Football Now at noon ET.
November, 12, 2008
11/12/08
2:31
PM ET
Tatum Bell
has packed his bags and headed off to Denver to help fill a gap in the Broncos' injury-depleted backfield. Will this partnership be better the second time around?
Larry Johnson
will be active for the Chiefs this week, and just in time, as the ankle problem ailing
Jamaal Charles
has him questionable for Sunday.
Warrick Dunn
is feeling better, and the Buccaneers have to be happy about that, since
Earnest Graham
's knee sprain may keep him sidelined this week.
Games of musical chairs are being played at running back everywhere around the league. Who else will be stepping into or out of your fantasy rotation this week? Based on early practice reports, here's what we're hearing on the injury front so far:
Clinton Portis, RB, Redskins:
Portis has a grade 2 medial collateral ligament (MCL) sprain that could sideline him this week, according to the Washington Post. We all know that Portis has been taking his share of hits with his big workload so far this year and has proved extremely resilient, but a grade 2 MCL sprain is a compromising injury for a running back.
The Post reports that Portis said on John Thompson's radio show that he was having more pain in his knee late last week, which led to further evaluation and the ultimate diagnosis. Portis also stated that as of Tuesday he was just starting to bend his knee and could not fully straighten it, either. This is not unusual for an MCL injury, as some of the ligament fibers are stretched when the knee is bent and others are stretched when the knee is extended. As the ligament is trying to heal, it is important not to overstretch those fibers, so initially the knee is restricted from the extremes of the range of motion.
If Portis was still lacking range of motion Tuesday, it's almost impossible to imagine that he could regain full motion and have enough strength and stability to perform in a game. Remember
Willie Parker
just returned (against the Redskins, in fact) after missing about a month with a similar injury.
LaDainian Tomlinson
tried to play in the 2007 AFC Championship game but lasted only a few plays because of a grade 2 MCL injury. Running backs' rapid directional changes stress the MCL significantly, and pain or a sense of instability will render them far less effective. This injury typically requires a few weeks of recovery, but a grade 2 (moderate) sprain represents a big range in terms of the extent of damage to the tissue -- the time frame for recovery is not automatic. If Portis is able to participate in practice late in the week, it bodes well for an earlier recovery, but even then, it would be a big surprise to see him in the lineup Sunday.
[+] Enlarge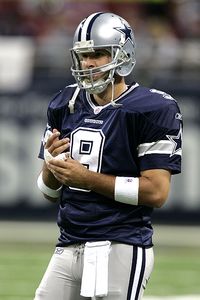 AP Photo/Jeff RobersonRomo makes his return to the Dallas lineup this week.
Tony Romo, QB, and Felix Jones, RB, Cowboys:
The Cowboys are excited that Romo is back under center this week -- right on time, based on projections made after Romo first broke the little finger on his throwing hand. According to the Cowboys' official Web site, Romo returned to practice Monday and is throwing with "more zip on the ball," coach Wade Phillips said. Everything is pointing toward Romo's practicing all week and starting Sunday. He'll likely be a bit rusty after missing a month, but his finger should be on its way to being well healed. It was a wise decision for the Cowboys to allow Romo to rest and let his finger heal properly, ensuring less risk of complications for his throwing hand down the road. It will be a tough contest against the Redskins, but you can count on Romo's throwing the ball plenty.
The Cowboys' running game, however, may still be without the services of Felix Jones. Jones missed practice Monday, as he is still recovering from his hamstring injury. Missing the first day of practice after a bye week is not a good sign, but the first news of Jones' injury (that it was located closer to the knee) suggested that it could take longer to heal fully. For his part, Jones told the Cowboys' official Web site that he is very close to ready and hopes to return to practice Wednesday and play Sunday. He was able to run full speed last week but has worked solely on the side so far. If Jones demonstrates that he can go full speed in practice toward the latter part of the week, then he has a chance to play. That play, however, is likely to be limited, as the team is likely to ease him back so as not to risk re-injury. Fantasy owners should have a backup in place, though -- you know how finicky these muscle strains can be, especially as an athlete pushes himself toward full gear.
Tight end
Jason Witten
returned to practice Monday and is feeling better. Expect him back in the lineup Sunday, probably with some extra cushion around his still-healing rib, as he's a favorite Romo target.
Some other players to keep an eye on as the week progresses:
• The Broncos have added Tatum Bell to their roster. Bell and fullback
Peyton Hillis
are basically the only backs left standing.
Selvin Young
aggravated his groin injury in the Thursday night game and is unlikely to be available for a while. Meanwhile, tight end
Tony Scheffler
showed that he could play, but he was clearly still hurting. Hopefully the longer stretch between games this week will help him.
[+] Enlarge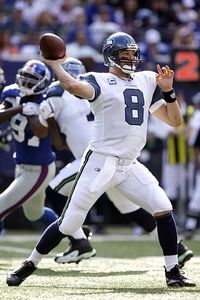 Rich Kane/US PresswireHasselbeck's return should help the Seattle offense immensely.
• Seahawks quarterback
Matt Hasselbeck
and receiver
Deion Branch
could both be back in the lineup this week. The Seattle Times reports that coach Mike Holmgren is "cautiously optimistic" that they will be ready. Hasselbeck has regained strength in his leg, which allowed him to return to practice. Given the extent of his time off and the fact that he may not be at full strength (or in game shape), temper any expectations about what Hasselbeck can deliver. Meanwhile, Branch has recently been dealing with a painful bruised heel, which, along with a still-recovering ACL-reconstructed knee on the other side, has kept him out of the lineup for most of the season. As ESPN's John Clayton points out, though, the Seahawks have just released receiver
Keary Colbert
, a sign that Holmgren's optimism about Branch's return is well-founded. By Friday we should have a better indication as to what both players can do, but it's looking promising.
• Over in Pittsburgh, coach Mike Tomlin has taken a slightly different approach this week when it comes to quarterback
Ben Roethlisberger
. According to the Pittsburgh Post-Gazette, Tomlin wants to see Roethlisberger practice more early in the week before he commits to him as the Sunday starter. Roethlisberger, who suffered an acromioclavicular joint sprain in the season opener, has been nagged by the shoulder throughout the season, a condition that has not been helped by being knocked down and sacked. The trend has been for Roethlisberger to rest his arm to varying degrees during the week, practice some Friday then play Sunday. The trend has also been that Roethlisberger's performance declines as the game goes on, especially in the fourth quarter. There are likely multiple reasons for this, including some poor decision-making on Roethlisberger's part, which he openly acknowledges. But it is also probable that his shoulder plays a role in his ineffectiveness late in the game. As he takes a beating over the 60-minute contest, any pain or swelling that he incurs in the shoulder will make it more difficult for the muscles around the shoulder to function properly. This will in turn affect his throwing, limiting both his distance and his accuracy. Perhaps Tomlin's notion of seeing Roethlisberger in practice more is not a bad one from an injury perspective, in that if he is fatiguing in practice, it may be a good indicator that he will struggle to complete a game. And then there are all the other obvious benefits of practicing with the team throughout the week. And what about "Fast" Willie Parker? He may be wearing a harness for his injured shoulder, but he is expected to practice Wednesday and play Sunday.
• Bears quarterback
Kyle Orton
is determined to return to the field Sunday, but will he be able to do it? We don't know yet because the Bears will have their first practice Wednesday. Although his determination is admirable, it will really come down to functionality. Can he move effectively enough on that ankle to justify a start? This may come down to another game-time decision, but we should have a better clue by Friday. Stay tuned.
• Good early news for
Steven Jackson
fantasy owners. The St. Louis Post-Dispatch is reporting that Jackson was on the practice field Wednesday morning sharing first-team reps in 11-on-11 drills with teammate
Antonio Pittman
, who started last week in place of the injured Jackson. The fact that Jackson was running through team drills is a good sign that his quad is recovering, but it is still early. Coach Jim Haslett has made it clear that Jackson will need to go through a full practice at full speed before he is allowed to play, but this is the best start to a practice week that Jackson has had since the injury. Friday will be critical.
• Everyone is excited in Tampa Bay. Running back
Carnell Williams
, coming off a devastating injury (torn patellar tendon) more than a year ago, has worked extremely hard to get himself back to the playing field. Well, all that hard work has paid off. The Buccaneers have decided to activate Williams off the physically unable to perform list, and the move has come just in time. Teammate Earnest Graham is dealing with a knee sprain that will likely sideline him this week, as he has not been able to return to practice. Warrick Dunn, who missed the Bucs' last contest with a pinched nerve, has returned to practice and is hopeful that he'll play this weekend. Don't expect much from Cadillac at first; he will be brought back very gradually as his recovery is still in progress. By the time fantasy playoffs roll around, though, he could become a worthy flex player. You may want to grab him before anyone else notices.
As usual, practice throughout the week will give us a better hint as to what the final status of these players will be heading into Week 11. See you Friday at the injury chat, and we'll have the latest injury updates affecting Week 11 in the Saturday blog!
November, 10, 2008
11/10/08
2:37
PM ET
The good news? Not too many injury additions following the weekend contests. The bad news? The status of a number of key fantasy players (Steven Jackson, Kyle Orton, Reggie Bush) remains shrouded in mystery until we get through at least the midweek practices. So we start with what we know as of our first look following Week 10.

Willie Parker, RB, Steelers:
We knew in advance of Sunday's game that Parker would sit out after suffering a shoulder injury in Monday night's game against the Redskins. All reports indicated that he was expected to return in Week 11. Then shortly before kickoff, NFL.com reported that Parker had suffered a torn labrum in his shoulder, which could further threaten his status. ESPN's Bob Holtzman later reported that Parker denied the NFL.com report and said that no one had informed him that he had a labral tear. He added that he expects to play in Week 11. Now it's Monday and the Pittsburgh Post-Gazette is confirming the original report that Parker indeed has a torn labrum, but also says that coach Mike Tomlin is hopeful that Parker will be available in Week 11.

Assuming Parker does have a labral tear, how will this affect him? It's not comfortable, and it may well be a condition that warrants offseason surgery, but it's not likely anything that will keep him off the field for an extended time, either. We have seen other non-throwing athletes play through this type of injury; Chad Johnson of the Bengals is playing with a similar condition now. If Parker were a quarterback, a torn labrum would present a much bigger challenge, as it would interfere with his ability to bring his arm overhead. Since he primarily keeps his arm at his side, mechanically the labral tear should not impact him greatly, but it can be painful if he takes a hit or lands on his shoulder. Uncomfortable? Perhaps. Season-threatening? Not likely. Enough of a reason for fantasy owners to hang on to Mewelde Moore? Absolutely.

Adalius Thomas, LB, Patriots:
Dealing with yet another injury-related blow to their lineup, this time on the defensive side of the ball, the Patriots will apparently be going without their leading pass-rusher for the remainder of the season. ESPN's Michael Smith is reporting that Thomas suffered a broken forearm Sunday and has likely played his last game in 2008. Coming on the heels of losing Rodney Harrison, this is another big defensive loss for the Patriots. If you're looking to pick up an IDP, Pierre Woods is likely next in line to replace Thomas.

Other noteworthy injuries:

The Kansas City Chiefs have lost quarterbacks and running backs, yet still managed to nearly pull off a victory over the Chargers on Sunday. This week, Jamaal Charles was the starter at running back, but had a setback with his ankle and was out of the game more than he was in it. Charles originally sprained his ankle against the Jets in late October and early reports in the Kansas City Star suggested that it was a high-ankle sprain. The very next week, however, Charles was active, and in fact replaced Kolby Smith when Smith left with a season-ending knee injury. With Larry Johnson serving a suspension, Charles was thrust into the role of feature back, but clearly his ankle was not quite up to the task. It will be interesting to see what the Chiefs' plan is going forward, and practices this week should help clarify the situation.

In Baltimore, wide receiver Derrick Mason was injured on the second drive but returned for the second half in what coach John Harbaugh termed a "courageous" effort. NFL.com is reporting that Mason suffered a shoulder dislocation. Whether Mason subluxed his shoulder (partial dislocation) or truly dislocated it is unclear, as the term dislocation is often used to indicate both. Either way, Mason's return is impressive, and the fact he returned to play in the second half suggests he should be able to play this week. That being said, the soreness and swelling is often worse in the initial few days post-injury, so we will see what Mason is able to do in practice this week.

A few additional items to pay attention to this week: Bears' receiver Brandon Lloyd was a surprise inactive Sunday after practicing all week and being listed as probable. Will he be ready for this week? If he does come back, will Kyle Orton be throwing to him? Orton has hinted that he wants to play in Week 11, but he will need to show in practice that he can move on his injured ankle well enough to warrant a start. ... In Oakland, the Raiders were without starting quarterback JaMarcus Russell and running back Darren McFadden. Russell had a flare-up of tendinitis that worsened late in the week. Will he need more rest or was one Sunday off enough? McFadden has been struggling with turf toe in both feet for several weeks. There are murmurs that he may be rested indefinitely to ensure that he returns to full health. ... Saints receiver Marques Colston showed he has recovered from thumb surgery and is back to game speed, as he had an outstanding performance despite the Saints' loss. Teammate Jeremy Shockey, however, had a disappointing day, despite good projections after looking very healthy in practice all week. Shockey's absence in the fourth quarter was "officially" injury-related, and his right ankle was indeed swollen after the game, according to the New Orleans Times-Picayune. Nonetheless, Billy Miller still appears to be the more favored, and more productive, tight end in the Saints' offense.

Be sure to check back here throughout the week as we update these and other injuries. No more bye weeks and always a Thursday game, so lineup adjustments have to be made a bit earlier. Also, stop by the injury chat (11 a.m. ET on Tuesday and Friday) to discuss the status of your injured players. Hope to see you there!


November, 3, 2008
11/03/08
2:45
PM ET
Will
Santana Moss
and
Clinton Portis
play in the big Steelers-Redskins Monday night matchup?
Portis is listed as probable and is virtually certain to play. The quarterback might be a little banged up from his hefty workload the first half of the season, but he has been rested a bit in practice and should carry the rock. Moss, on the other hand, was quite limited all last week because of a hamstring strain; as of Saturday, he was doing only straight-line running. He remains the Redskins' best deep threat, and there's no doubt the Redskins would like to find a way to get him on the field, but coach Jim Zorn has said clearly that Moss will go only if he can play without limitations. For a player who has a history of hamstring injuries in particular, this injury is a little more delicate. Moss will be a game-time decision based on how his leg feels in warm-ups.
On the other side of the ball, look for the return of Fast
Willie Parker
to the Steelers' lineup. Parker's return from a sprained medial collateral ligament was delayed after a setback, and he has to be eager to return to action. But expect the Steelers to keep
Mewelde Moore
in the running back mix as a means of easing Parker back into the speed of the game.
That's what's coming, but what about what already happened? A few key injuries on the first Sunday in November might impact your fantasy teams. Here's what we know as of our first look following Week 9's main slate of games:
Kyle Orton, QB, Bears:
Orton has had success with the Bears, and our own AJ Mass even wrote him up as one of
ESPN's midseason Fantasy Hall of Fame nominees
. But Orton fans and fantasy owners will have to wait patiently while he sits on the rehab shelf after suffering an ankle injury Sunday.
The Lions'
Dewayne White
fell on Orton after the quarterback ran out of bounds. Orton was on his back with his legs in the air, and White's hit twisted Orton's foot sharply to the right while his leg essentially remained facing forward. This rotation of the foot relative to the position of the leg is a classic mechanism for a high ankle sprain, an injury to the ligaments that connect the two lower leg bones where the "roof" of the ankle is formed. ESPN's Michael Smith reported that Orton suffered a high ankle sprain and is expected to miss at least a month.
One of the concerns with this type of injury is that the torsional (rotational) stress placed upon the ankle can result in a fracture to the fibula (the skinny bone on the outer aspect of the leg). Orton is scheduled to undergo an MRI on Monday, presumably to rule out any associated injury and clarify the detail of the injury to the ankle itself.
The injury is unfortunate because Orton appeared to be emerging as a solid presence with the Bears. The hope has to be that this injury can be treated conservatively (without surgery) and that Orton indeed will be able to return in approximately a month.
Matt Schaub, QB, Texans:
Schaub suffered what the team is calling a knee sprain early in the first half of Sunday's game. The Texans' official Web site reports that Schaub's knee swelled during halftime. Although he attempted to warm up for the second half, the swelling created stiffness that made it difficult for him to drop back effectively. According to Texans coach Gary Kubiak, team doctors indicated that it would be difficult for Schaub to protect himself. Given the potential risks and Schaub's demonstrated lack of mobility, Kubiak opted to go with
Sage Rosenfels
in the second half.
The Texans haven't offered any more specifics about Schaub's injury, so there is no indication yet as to whether he is expected to miss any additional time. Be prepared to find a backup just in case.
Michael Pittman, RB, Broncos:
The already-complicated Denver running back situation just became a little less clear. The Rocky Mountain News is reporting that Pittman aggravated a neck stinger Sunday, an injury he apparently suffered during the Broncos' Monday night game against New England earlier this season. The pain that Pittman experienced Sunday was what forced him out of the game early. He expressed his dismay afterward, telling the News, "I don't know if I'm going to play next week or when I'm going to play. I'm very frustrated right now. I've just got to find out what's really wrong with me."
Stingers, appropriately named for the type of stinging pain an athlete experiences, result when the neck gets rapidly compressed toward one side or stretched in the opposite direction. A quick stretch or a quick pinch can stress nerve tissue, which typically is very sensitive to rapid insult. The pain afterward can be a sharp, electric pain that radiates from the neck into the shoulder area and, depending on which nerves are affected, can travel into the arm and fingers as well. Once that tissue has suffered an insult, it can become sensitized. Then, it's easier for a player to aggravate those symptoms with a second, even less severe injury. This can prove very frustrating and can extend the length of time it takes for the tissue to recover.
With Pittman compromised and
Selvin Young
still recovering from a groin injury, the Broncos introduced rookie running back
Ryan Torain
, who was an emerging star in the preseason, to his first professional game. Torain was injured in the preseason and has since been recovering from elbow surgery. Coach Mike Shanahan had hinted that he did not want to play Torain too much his first time out. Torain ended up with just three carries for one yard, not exactly wunderkind stats.
The Broncos play on Thursday this week, and the biggest running back question mark at this point might well be Pittman. Expect Torain to see more action, and perhaps Young will return to the rotation. Keep an eye on practice reports early in the week to see how the Broncos' lineup is shaping up.
Other noteworthy injuries:
The Chiefs have lost running back
Kolby Smith
for the remainder of the season to a knee sprain, according to the Kansas City Star.
Jamaal Charles
racked up more than 100 yards, and with Smith out for good and
Larry Johnson
out for a while, Charles should play more regularly.
The Bucs had a spectacular comeback win Sunday, but they paid a price in the injury department. Already without the services of running back
Warrick Dunn
, who rested at home because of a pinched nerve, the Bucs then lost running back
Earnest Graham
and tight end
Alex Smith
late in the game. According to the St. Petersburg Times, Smith sprained his ankle while sliding to make the two-point-conversion catch that sent the game into overtime. Graham has a knee injury, but no more specifics have been released. The team's bye week could not be more timely.
The Rams had virtually no running game Sunday, and it had to be at least partly attributable to a slew of injuries to their running back corps. Despite
Steven Jackson
's bold pronouncement on his Web site that he was ready to go, he appeared far less than ready on the field. Coach Jim Haslett acknowledged as much, telling the Belleville News-Democrat, "He worked out and said that he felt fine. He ran around and said he was ready to go. Obviously, by his nature, he wasn't ready." To add to their problems,
Antonio Pittman
, who started for the Rams, injured his hamstring on his very first carry, saying he felt it "pop." That's never a good sign.
Travis Minor
already was sidelined with a concussion, and needless to say, the running game never really got off the ground. Jackson told the News-Democrat that he will use this lackluster performance as motivation, but more important will be his ability to nurse himself back to full health. Another week of relative rest hopefully should get him back on track.
Be sure to check back here throughout the week as we update these and other injuries. Also, stop by the injury chat (11 a.m. ET Tuesday and Friday) to discuss the status of your injured players. Hope to see you there!