Stephania Bell:

Manny Ramirez
August, 12, 2010
8/12/10
6:22
PM ET
It's a sad day for the
Atlanta Braves
and their fans. Veteran third baseman
Chipper Jones
has suffered a torn ACL and is done for the season. It has to make you wonder whether he will even return to baseball when he was already sounding like someone on the brink of retirement.
Of course, it's always disheartening to see a player go down with a season-ending injury. But it's especially sad when that player is a team leader, nearing the end of his career. Jones has always been known as a tough athlete who will play through pain and he once told me that as long as he felt he wasn't hurting his team by being on the field, he would continue to play through injuries.
Not this time. A torn ACL is something you can't just mentally push through. Instead, Jones will need that mental fortitude to get him through the lengthy rehab he will face following surgery. And fantasy owners, sigh, will need to find a replacement at third base.
Who else needs replacing these days? We discuss ...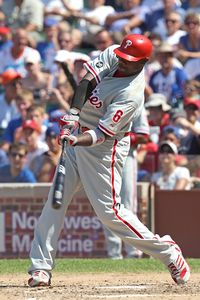 Jonathan Daniel/Getty ImagesFantasy owners could use Ryan Howard's bat in the lineup sooner rather than later.
Ryan Howard, 1B, Philadelphia Phillies:
Many of you regular readers know I have been questioning the risk-versus-reward value of the head-first slide given all the thumb and finger injuries that have occurred this year as a result. Howard's injury proves that even tagging a bag with your foot comes with its own dangers.
The power-hitting first baseman suffered a left ankle sprain Aug. 1 when he made an awkward stride into second base. Howard was trying to get back to second base, lunged with his left leg and his foot appeared to catch the edge of the bag. The ankle then buckled laterally (outwardly) as his momentum carried his body weight forward. The fact that his foot was relatively fixed against the bag probably made this injury worse. Initially, the Phillies seemed optimistic that it would just require a few days of rest, but shortly thereafter Howard was placed on the disabled list and his time away will in all likelihood exceed 15 days.
Even a moderate sprain can sideline a player for several weeks and this is an injury that routinely gets underrated in terms of recovery time. First, the swelling and pain have to subside to the extent that the athlete can bear weight through the ankle and regain normal range of motion. As of Monday, Howard was off crutches (a good sign), but the Philadelphia Inquirer reported that he was still walking with a noticeable limp. If you can't walk, you certainly can't run, so Howard remains a ways away from full activity.
The defensive demands of Howard's position are less stressful on an ankle than, for example, those of a shortstop, but he, nonetheless, needs to be able to move freely. He also needs to be able to run the bases without hesitation. Above all, the Phillies certainly don't want to send him back to competition only to lose him again to reinjury during what could be a critical phase.
Howard got his first taste of baseball activities on Thursday, as he took grounders and did some work in the indoor batting cages, according to the Philadelphia Inquirer. However, fantasy owners should expect Howard to be away for at least another week (and more likely two) beyond his eligible return date of Aug. 17.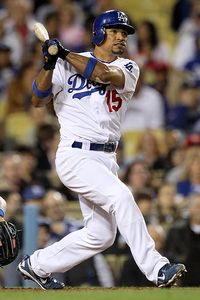 Stephen Dunn/Getty ImagesRafael Furcal is still second on the Player Rater among shortstops despite two separate DL trips this season.
Rafael Furcal, SS, Los Angeles Dodgers:
Just when it looked like we might not be writing about Furcal, as he was expected to rejoin the lineup Tuesday, pregame back stiffness instead sent him to the DL. The first important takeaway for fantasy owners is that this does not appear to be a serious episode and the Dodgers are hopeful that with the backdating of the DL date, Furcal could return within a week.
The second takeaway for fantasy owners, however, is to keep in mind that back problems tend to be recurrent and there's no telling when symptoms can crop up. Remember when Furcal had significant issues with his back in 2008, including pain radiating into his leg, which led to microdiscectomy surgery and a subsequent three-month absence? While this current problem does not appear to be
directly
related to his prior back problem (no leg pain, more generalized stiffness in his back than debilitating pain and, according to Dodgers director of medical services Stan Conte, no visible structural issues on MRI), it's not uncommon for anyone who has had prior back problems, including those who have undergone successful surgery, to experience another round of back pain.
It's worth noting that the demands of Furcal's position likely factor into the equation as well. He is an everyday player who, as leadoff hitter, is regularly on base (read: more running, more stealing) and therefore subjects his body to more strain than someone who doesn't carry the same load. While Furcal is known for being very diligent with maintaining his fitness program, it's not to say that the wear and tear he places on his body can be permanently kept at bay. Let's not forget he also dealt with a left hamstring injury earlier this year that sidelined him for the better part of a month (and hamstring issues often go hand-in-hand with back problems).
In essence, Furcal seems to be dealing with a minor episode of what could be, for him, a potentially recurring situation. In the short term, fantasy owners should be encouraged that this is not a major setback and Furcal is likely to return soon. In the long term, however, fantasy owners should bear in mind that such occurrences may be more likely to happen given Furcal's history. Not a reason to panic, but a reason to prepare.
Manny Ramirez, OF, Los Angeles Dodgers:
When is Manny not being Manny? When he's not in your fantasy lineup, of course. And this year he seems to have been away more than he's been present, due to the variety of muscular injuries he's sustained across the season. Ramirez seems to have aged before our eyes this year and there are certainly plenty of reasons to speculate as to why that's the case, including the fact that he is, after all, 38 years old.
That said, he can deliver some power when he's in the lineup, so fantasy owners want to know when they can get that power back. If the Dodgers have their way, that time could come within the next couple of weeks.
Ramirez is currently working out in Arizona, gradually increasing the amount of load on his injured calf through various activities and conditioning. But he has not yet run at full speed. In order for him to begin a rehab assignment, Ramirez has to demonstrate that running is no longer an issue, which means full sprints with power, without pain. Hopefully, that test will come within the next week or so. If he passes it, Ramirez will then be able to progress to rehab games. As unpredictable as Ramirez is, his injury is even more so but at least there are some targets on the horizon.
Russell Martin, C, Los Angeles Dodgers:
I feel like, more than in any other year, this year has made me say, "Wow,
there's
an injury you never see." First it was
Joel Zumaya
's elbow fracture that happened during a pitch. Then it was
Jake Peavy
's detached latissimus tendon. Now it's Russell Martin's subluxed hip and subsequent fracture.
For those of you still hoping Martin can return this season, let me help you put that to rest: He will not. But some questions remain as to exactly what lies ahead for him in terms of whether surgery will be required and how long it will take him to recover.
First, it's worth noting that the injury itself was truly remarkable in how it occurred. Martin was running home from third and at the plate he stumbles across
San Diego Padres
catcher
Nick Hundley
's outstretched leg. This causes him to flex forward as he continues to run and results in a few awkward strides. There is one particular step in which Martin lands on a completely straight outstretched leg. He is bent so far forward at the waist that his hip is the highest thing in the air. At the same time he twists to the right to look back at the plate, which further locks his hip. All the force of impact at Martin's heel travels right up the leg to reach its final destination of the hip joint. Bam! His hip fractures at that instant.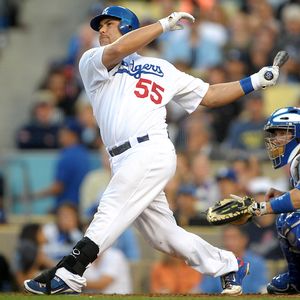 Kirby Lee/Image of Sport/US PresswireRussell Martin finishes his season hitting just .248 with five homers and six steals.
The posterior aspect, or back end, of Martin's hip joint sustained such force at that particular moment that the socket portion of the hip (acetabulum) cracked, causing a slight tear in the labrum (a cartilage ring that lines the joint) at the same time. While Martin was fortunate that his hip did not dislocate (come completely out of joint), Conte theorizes that the hip slipped in the joint just enough to cause the damage. As Conte told me, "The structures in the hip did their job, keeping it in the joint. But they paid the price."
The good news is that the fracture was non-displaced, meaning the bony structure remains in good alignment with minimal separation. Weighing all of the pros and cons of surgery to pin the fracture versus letting it heal naturally on its own, which was done in consultation with three of the top hip specialists in the country (Dr. Marc Philippon in Colorado, Dr. Bryan Kelly in New York and Dr. Thomas Byrd in Tennessee), the Dodgers have elected to allow the fracture to heal on its own. Given the non-displaced nature of the fracture, as well as its size and location, suggest that it can heal well. For the next few weeks, Martin will be on crutches, and he is only permitted to put a small amount of weight through his leg while the bone tries to repair itself. He will be re-evaluated in a month. If for any reason the bone is not doing its job, surgery then becomes an option.
As unusual as this injury is, and as disappointing as it must be to end the season this way, Martin has much for which he can be thankful. Had his hip actually dislocated, there could have been far more damage to the joint itself as well as to the structures around it. One of the biggest concerns with a major hip injury is damage to the blood supply in the joint. If that occurs, the next step is generally hip replacement (Bo Jackson underwent hip replacement after dislocating his hip). All indications at this point are that Martin did not suffer this type of damage to the valuable hip arteries. Assuming the fracture heals well (and there is good reason to expect that it will), Martin will have avoided surgery and can then get down to the business of rehabbing.
There is every reason to hope that Martin will be ready to start the season in 2011. But this injury is so unusual that when trying to find a comparison, as Conte puts it, "We're in no-man's land." Further complicating matters is the fact that Martin is a catcher and the crouch position he must sustain places significant load on the posterior part of the hip joint, the specific area that was injured. On a positive note, there is plenty of time between now and spring training for healing to take place and for Martin to regain his flexibility and strength. Assuming there are no setbacks, he could be charting a course for the next guy unlucky enough to suffer a similar injury.
And dare we say it ...
• Phillies outfielder
Shane Victorino
has been activated from the DL and is expected to return to the starting lineup on Friday. Victorino suffered an abdominal strain in his left side in late July, which thankfully did not end up as severe as it could have been. Within a week, he was swinging the bat and doing some long toss. By the second week he was playing in rehab games, testing the injury with multiple at-bats, slides and hard running. If the abdominal injury were still bothering Victorino, it would have certainly made itself known under that type of stress. Fantasy owners can feel confident putting him back in their lineups this weekend.
• Victorino's teammate,
Chase Utley
, got some good news this week. Utley was cleared to start taking swings with the bat after a visit with his surgeon, a good sign that things are healing as expected. However, Utley's goal to beat his projected timeline may not be reasonable. Associated Press reports indicate that while the team is encouraged by the positive news on Utley, assistant general manager Scott Proefrock says the team is sticking to its original timetable for his return. Utley, who had surgery to repair a torn ligament in his right thumb, has many hurdles to cross before he can return to full competition, which we
outlined back in June
. Fantasy owners should continue to eye the first week of September as an approximate return date.
May, 5, 2010
5/05/10
12:52
PM ET
Another week, another slew of injuries. This week, though, in addition to adding names to the injury roster, we learned that several players are going to be spending some additional time on the disabled list. Never music to a fantasy owner's ears but it's always better to be prepared.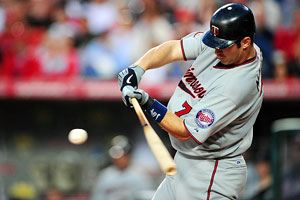 Gary A. Vasquez/US PresswireJoe Mauer may miss a few more games, but he probably isn't "week-to-week" as Twins manager Ron Gardenhire mentioned earlier.
Joe Mauer, C, Minnesota Twins (day-to-day):
Mauer has been dealing with a deep bruise in his left heel since Friday night when a sharp lunge to first base left him in pain. It sounded dire by Sunday when manager Ron Gardenhire described Mauer's condition as "week-to-week" instead of day-to-day. Gardenhire also made it clear the Twins would not be rushing Mauer back, telling the Minneapolis Star-Tribune, this injury is "something you don't screw around with."
It now sounds like it's not as bad as it could have been. According to the Twins' website, an MRI confirmed a soft tissue injury (as in, there is no fracture) and the healing will be assessed on a daily basis. Mauer is reportedly feeling better and is running in a pool to maintain conditioning while eliminating impact that could aggravate the situation. It appears that the Twins have avoided a move to the DL for Mauer ... at least so far.
Rafael Furcal, SS, Los Angeles Dodgers (15-day DL, retroactive to April 28):
Furcal has been pestered by a hamstring injury for the last week. On Tuesday, the Dodgers determined that more time was needed and the decision was made to place Furcal on the DL. The issue now is how concerned fantasy owners should be. Does the DL just buy Furcal another week of healing time or is this injury enough to keep him out significantly longer?
Before panic sets in, it appears that the answer is the former. Furcal has been progressing well with his hamstring injury but is not quite ready to resume full speed activity. As a shortstop, he needs to make explosive defensive movements. As a leadoff hitter, he is likely to be exposed to more sprinting situations. Consequently, Furcal is at far greater risk of a setback if he returns at less than full strength. Since it's May and not September, there is no reason for the Dodgers to take that chance. The move to the DL appears to have been largely precautionary. Expect Furcal to return when eligible, barring, of course, a setback.
Manny Ramirez, OF, Los Angeles Dodgers (15-day DL, April 23):
Speaking of Dodgers placed on the DL for precautionary reasons, Ramirez began a rehab assignment Tuesday and the news is so far, so good. Ramirez, who suffered a Grade I calf strain, has been running without incident for several days. He is eligible to return May 9 and appears on track to meet that target.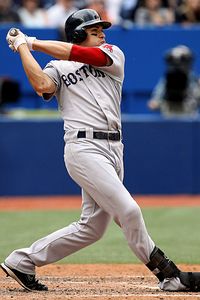 Tom Szczerbowski/US PresswireJacoby Ellsbury would like to be comfortable swinging the bat before he returns from four broken ribs.
Jacoby Ellsbury, OF, Boston Red Sox (15-day DL, retroactive to April 12):
Ellsbury continues to recover from the pain that comes with having four broken ribs.
From last week's injury blog:
Although it can take four to six weeks for a rib fracture to heal, from the standpoint of activity this is a symptom-based condition meaning whatever he can tolerate, he can do. The fact that four bones were broken, however, tells us that it will take longer to tolerate just about everything.
That statement still holds true. The Boston Globe reported that when pressed for a timetable earlier in the week, Ellsbury declined to provide one, reminding everyone that he does indeed have broken bones "and they need to heal." It may feel like forever to fantasy owners, but it's only been three weeks, very reasonable when you consider his injury.
Ellsbury did take a positive step Tuesday when, according to the Red Sox's website, he took batting practice before the team's game against the
Los Angeles Angels
. Let's see how Ellsbury feels the day after this new activity before we get too excited. And keep in mind, he likely will require a rehab assignment to get his body back in the groove of playing both offense and defense. He may very well be more than just a few days away from returning. The road back may continue to feel slow, but at least we are seeing some tangible progress.
Jimmy Rollins, SS, Philadelphia Phillies (15-day DL, April 13):
A week ago, we pointed out that Rollins had not done any explosive movement that would really test his calf; now we know why. According to the Phillies' website, Rollins still feels discomfort in his right calf when he has to move to his left while fielding ground balls. This makes perfect sense from an injury standpoint. As he makes that initial lateral movement to make a play on a ground ball traveling to his left, he is forced to push his full body weight through that calf muscle. While it might not be bothersome in straight-ahead running, making a quick directional movement from a stationary position requires significantly more power. The discomfort Rollins feels is his calf's way of telling him that it's not healed.
Consequently, the Phillies have expanded the time frame for his return from four weeks to six. This is hardly shocking; we have said from the outset that these injuries are unpredictable and easily aggravated. The Phillies don't want him to come back only to be forced out again. The idea is to have him back for the remainder of the season. Fantasy owners should set their sights on the latter part of May.
Kerry Wood, RP, Cleveland Indians (15-day DL, retroactive to March 26):
Last week we said that Wood was scheduled to begin a rehab assignment soon. He did. We also said that when pitchers face live hitters, the adrenaline goes up and the body can react. It's also a time for pitchers to work on their velocity and location. Wood had a chance to get some work in and found out what he still needed to work on before rejoining his team.
Wood may have given up six runs in less than an inning in a rehab outing, but on the positive side, he reported feeling good afterward. Wood told the Akron Beacon Journal, "that's the most important thing for me." Certainly given his injury history that couldn't be more true. Wood may require another couple rehab appearances before he retakes the closer role with the Indians but his return date appears close.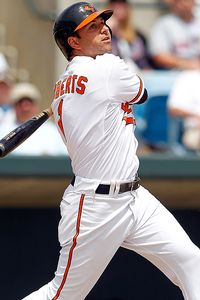 J. Meric/Getty ImagesBrian Roberts' seemingly uncertain return frustrates many owners.
Brian Roberts, 2B, Baltimore Orioles (15-day DL, April 10):
The quote heard 'round the fantasy world: "It could be three weeks, it could be three months" was Roberts' assessment of his situation, according to the Orioles' website. For fantasy owners wondering whether they should still hold out any hope, it's worth noting that Roberts was quick to add that he did not really think it would be three months.
Nonetheless, we have outlined here in past weeks that Roberts' back condition has the potential not only to linger, but to continue to be problematic across the season. Disc problems are notoriously difficult and this is behaving no differently. Roberts is still very limited in his activity as the team brings him along slowly. Because there are many hurdles to overcome, it is hard to establish a clear timeline. That brings frustration for players and fantasy owners. At this point, it's anyone's guess, including Roberts', as to when he'll be able to return.
Curtis Granderson, OF, New York Yankees (15-day DL, May 2):
When Granderson pulled up sharply while rounding the bases Saturday and hobbled toward third base. it was obvious he had pulled something, it just wasn't clear exactly what it was. We have learned that he suffered a Grade II groin strain, and according to ESPN's Buster Olney, Granderson is expected to miss a month.
This is not dissimilar to the Grade II muscle strain that the Phillies' Rollins is dealing with, other than the exact location of the injury. Grade II, also called a moderate strain, represents the widest range of injury somewhere between a minor strain with no visible tissue damage (Grade I) and a complete muscle tear (Grade III). As we have seen with Rollins, it takes time for the tissue to heal, and the most challenging aspect of recovery is regaining explosiveness and speed, a critical component of Granderson's game. Fantasy owners should hope for four weeks, be prepared for six and know that his timetable could still fall outside of those parameters depending how his rehab goes.
Jorge Posada, C, New York Yankees (day-to-day):
Posada's calf strain is being called mild following an MRI this week. According to the New York Daily News, Posada is not expected back before Friday. Let's face it, at age 38, these types of injuries are more apt to occur. The most fortunate thing for the Yankees is that the strain was not more serious, like Rollins' was. It looks like this will not land Posada on the DL, but if it doesn't progress as expected, he won't be an automatic start for the weekend series, even if it is the Red Sox. Fantasy owners need to be sure to check pregame lineups.
Etc.
Cliff Lee, SP, Seattle Mariners:
If there were any lingering doubts as to how Lee would fare coming off the DL following his abdominal strain, he seems to have put those to rest. Lee pitched seven scoreless innings in his first start of the season while dishing up eight strikeouts.
Mike Cameron, OF, Boston Red Sox:
Cameron seems to be progressing nicely with an abdominal strain that initially appeared as if it might require surgery. In fact, he could be headed for a rehab assignment within a week.
Erik Bedard, SP, Seattle Mariners:
Bedard continues to move forward in his throwing progression, slightly ahead of schedule as he recovers from shoulder surgery. After a bullpen session Friday, Bedard was projected to move up to a simulated game this week. According to manager Don Wakamatsu, Bedard has adjusted his mechanics to place less stress on his throwing shoulder. The key will be whether he can maintain these mechanics as he begins to face hitters. The best case has him returning the end of May, but don't be surprised if it stretches a bit longer.
Mariano Rivera, RP, New York Yankees:
Rivera shrugged off the stiffness in his left side as no big deal, much as one would expect. Pain on the opposite side of the trunk from the throwing arm always raises the specter of an oblique issue, but Rivera's confidence is convincing. So is the fact he threw a bullpen session before Tuesday's game. This does not appear to be something that will limit him beyond a few days.
Huston Street, RP, Colorado Rockies:
As a pitcher returns in his throwing progression, one big hurdle comes when he moves from throwing on flat ground to throwing off a mound. Street overcame that hurdle Tuesday when he threw a bullpen session and experienced no discomfort in his shoulder afterward, according to the Examiner. The plan is for Street to throw in an extended spring training game next followed by a rehab assignment. If all goes well, he should be back with the team within a few weeks.
Jeff Weaver, SP, Los Angeles Dodgers:
Weaver has been doing well in his simulated games and is expected to be activated Friday. Apparently the back issue he was dealing with was minor as these things go and he has recovered quickly, as expected.
From my mailbag
Cameron (Atlanta):
Are any injuries really freak injuries? I mean, I realize that if a player slips on water in his kitchen and falls on his wrist and breaks it, then that is a freak injury. But, you often hear that somebody pulled their hamstring in a "freak injury." I would have to argue that it is never really a freak injury. I think these types of injuries happen for various reasons, especially in a non-contact sport such as baseball. For example, someone is carrying around extra weight and didn't put in the work in the offseason, they didn't warm up and stretch properly, they have tight quads or hamstrings that cause one or the other to overcompensate that eventually leads to a pull or strain. Or one part of the body has been severely overworked and leads to another part of the body being vulnerable. If any of those situations happen, then technically the injury could have been prevented if the athlete worked harder and took better care of their body. What say you?
Stephania Bell:
What a great question! This is one of those philosophical questions where I'm not sure we really ever have a definitive answer. As you point out, the true "accident" such as slipping on the wet floor, or stepping in a lawn divot that is hidden from view, even a car accident in which there is no fault on the part of the injured party ... these could all be described as freak injuries.
At the same time, there are certainly "unusual" (as in uncommon) injuries that occur in sports that may be more likely to happen, as you point out, because of inadequate warm-up, less than ideal fitness or some other contributing factor. In medicine, we always feel that individuals with better fitness tend to recover better and faster from injury. In some cases, the more skilled individual may even be able to avoid an injury that would have felled the average person. To that end, we spend a lot of time encouraging proper fitness and, when possible, tailoring that fitness to the individual's activity. Someone who lifts repeatedly at work needs to be "fit" for that job, just as a baseball pitcher needs to tailor his exercise program to support his occupation.
Great food for thought, though. And if it encourages anyone to spend a little extra time on core strengthening or flexibility to help prevent injury, then we've accomplished something!
If you have any injury questions you want answered in the blog, drop a note in
my mailbag
, or stop by my Tuesday chats.
April, 29, 2010
4/29/10
2:42
PM ET
Wow! It's hard to believe that May is almost here. Seems like we were just ringing in the New Year and trying to figure out whether to refer to it as "Two Thousand Ten" in the pattern of years past or "Twenty-Ten" like the hip kids we want to be. I don't know about everyone else, but I'm struggling to get used to the sound of either one.
Here's what else is hard to get used to: We're only in the fourth week of the season and the disabled list is deep enough to field a new baseball division. Fantasy owners are well aware of this fact as they try to scour the waiver wire to complete their rosters. I'm struggling to find someone whose team has not been affected by injury.
In this merry-go-round of lineup adjustments, it's important to consider who might be on the verge of returning and who might need a little extra time in the rehab department. There's no time to waste, so we bring you the quick hits version of the injury blog.
Here are 10 players whose injury status may impact your lineup in the next week, or at least your waiver wire activity.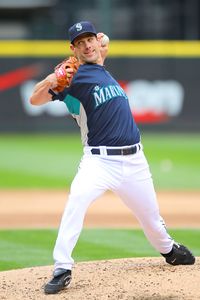 Otto Greule Jr/Getty ImagesCliff Lee's regular-season debut with the Mariners will be slightly earlier than expected, and he appears to be in good health leading up to it.
Cliff Lee, SP, Seattle Mariners (15-day DL, April 4):
The best part about Lee's rehab is that it has been relatively uneventful. Once he was able to move past the pain of his abdominal strain, Lee has progressed steadily. From his bullpen sessions to his simulated games to his recent rehab start, Lee has looked solid. He is scheduled to make his 2010 (that's Twenty-Ten) season debut Friday, beating the projected first-week-of-May return by a day. And he doesn't even have to worry about that five-game suspension he received during spring training; that's been dropped. Given his consistent recovery, fantasy owners should feel comfortable plugging him in right away.
Jacoby Ellsbury, OF, Boston Red Sox (15-day DL, retroactive to April 12):
Initially it appeared that Ellsbury had escaped major injury when he collided with teammate
Adrian Beltre
's knee in mid-April. Apparently, that was not at all the case. Despite negative X-ray results immediately after the injury, a later CT scan (which was undertaken when Ellsbury failed to show any significant progress) revealed four hairline fractures. While the CT results really don't do much to alter Ellsbury's treatment, they sure do validate his pain!
Although it can take four to six weeks for a rib fracture to heal, from the standpoint of activity, this is a symptom-based condition, meaning whatever he can tolerate, he can do. The fact that four bones were broken, however, tells us that it will take longer to tolerate just about everything. Ellsbury hit off a tee Tuesday, but that's a far cry from the speed and torque required for a true swing. As manager Terry Francona stated on the Red Sox's website, "We're just trying to increase the intensity every day." Don't be surprised if it takes Ellsbury another couple weeks to get his groove back.
Kerry Wood, RP, Cleveland Indians (15-day DL, retroactive to March 26):
Get ready to move over,
Chris Perez
, Wood is knocking on the door. Wood, who missed the start of the season because of a strained latissimus dorsi muscle suffered during spring training, is nearing a return. Wood had a bullpen session Tuesday, is scheduled for another Friday, and according to the Indians' website will then have a simulated game followed by a brief rehab assignment. That would bring Wood back to the team within two weeks, assuming all goes well, which is right around what we projected three weeks ago. The Indians have indicated that Wood will assume the closer role upon rejoining the team.
It's worth remembering that when pitchers face live hitters, the environment changes. A little adrenaline translates to a little more effort on the delivery and the body sometimes reacts. Maybe the command is a bit off, maybe there's a little more post-throwing soreness than usual, any of which could potentially influence the timetable. That said, the Indians appear to have kept Wood on track (remember when their medical staff said this would keep him out for a minimum of six weeks?). Expect to see his season debut around mid-May.
Brian Roberts, 2B, Baltimore Orioles (15-day DL, April 10):
If you were wondering whether you should continue to hang on to your second base fill-in knowing that Roberts has already exceeded the 15-day minimum requirement of the DL assignment, the answer is a definitive yes. However, the news for Roberts just got a little worse. As if his herniated disc-related symptoms weren't enough, the Orioles reported on their website that Roberts was scheduled to undergo an endoscopy Thursday after recently experiencing stomach pain along with flu-like symptoms.
Although he was cleared for light exercise recently, he was not anywhere near ready to perform baseball activities. This latest setback certainly won't expedite things. Let's hope for Roberts' sake that there is nothing more serious going on. In the meantime, fantasy owners need to plan on an indefinite substitution in their middle infield.
Jimmy Rollins, SS, Philadelphia Phillies (15-day DL, April 13):
By now everyone knows that Rollins suffered a calf strain before the Phillies' home opener this month. The question is, how long will that calf strain keep him sidelined? The strain appeared serious enough from the outset to suggest that he would need more than the 15 day minimum to recover. Our initial projection here of approximately four weeks still appears to be reasonable.
Although Rollins is doing some light running and taking batting practice, he certainly has not done any explosive movement that would really test the calf. He will continue to be progressed gradually, and according to the Philadelphia Daily News, the Phillies will refrain from announcing a specific timetable. This is a wise move as these injuries are very unpredictable and easily aggravated. Once he is able to run full speed, we should have a better clue as to when he might be nearing a return.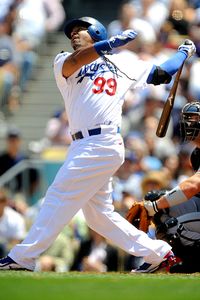 Kirby Lee/US PresswireManny Ramirez's stint on the disabled list apparently will be a short one.
Manny Ramirez, OF, Los Angeles Dodgers (15-day DL, April 23):
Hey, while we're talking calf strains, we might as well include Manny. Not to worry. His injury is not as serious as the one Rollins suffered. Ramirez has a Grade I calf strain, meaning the injury is minor enough that there is no significant tissue damage visible on MRI. Inflammation in the area still indicates a problem and it is certainly a condition that can easily worsen. In other words, pushing through it could result in more extensive injury to the muscle, which would translate into more missed time. There's no need to chance that outcome this early in the season, so Ramirez is proactively resting. The good news is that fantasy owners can expect Ramirez to return when eligible.
Brad Lidge, RP, Philadelphia Phillies (15-day DL, March 26):
Return alert! It looks as if Lidge will be back in the Phillies' bullpen this weekend after another successful rehab outing Tuesday. Lidge believes he is ready to return on all fronts. He has no pain, his command is solid and his elbow and knee issues appear to be behind him. According to the Philadelphia Inquirer, Lidge is expected to rejoin the team Friday when it hosts the
New York Mets
.
Jorge De La Rosa, SP, Colorado Rockies (15-day DL, April 28):
The Denver Post reported that De La Rosa was placed on the DL with a torn flexor band but will not need surgery. De La Rosa injured the middle finger of his throwing (left) hand during his last outing and initially it was thought to be just a bone bruise. An MRI revealed the extent of the damage. It sounds as if De La Rosa tore a pulley in his finger, one of the ligamentous bands that help to anchor the flexor tendon (a tendon, which as the name implies, helps to flex the finger, obviously a critical function for grip and control). The pulleys are essential to proper function of the hand. It appears that De La Rosa's hand will be rested in an effort to let the tissue heal; if he were to try to press through, this he could end up being a season-ending injury that would require surgery. Stepping away now is a better option, but expect it to take on the order of many weeks, as in more than a month, for him to return.
Nelson Cruz, OF, Texas Rangers (15-day DL, April 27):
As soon as his hamstring "cramp" turned into something that forced an early exit from Monday's game, it seemed as if Cruz was headed for the DL. Indeed, that was the decision. There was no need to turn this into a significant season-long injury, as the hamstring issue was just not going away. The hope will be that with forced rest, Cruz will be able to return when eligible.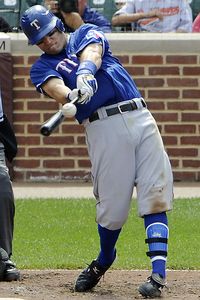 Mark Goldman/Icon SMI Ian Kinsler is set to return Friday, but how long before he makes another trip to the DL?
Ian Kinsler, 2B, Texas Rangers (15-day DL, retroactive to March 26):
When your projection as to how healthy you'll be upon return is less than ideal, as Kinsler's was, fantasy owners have to be a little nervous. Kinsler told the Fort Worth Star-Telegram, "When I return to play, I don't think I'll be 100 percent. But I want to get on the field." To be fair, that comment was made a week ago, but the questions about just how well his ankle will support him remain.
Kinsler suffered a right high ankle sprain in early March and these injuries are always more difficult to recover from than anticipated. Kinsler did steal a base in his last rehab outing, which is encouraging, and he is expected to be activated Friday. Fantasy owners should temper expectations as it may take him a while to return to form. It will also be worth keeping an eye on how his ankle responds to the stress of daily play.
From my mailbag
Arthur (Long Beach, N.Y.):
I am in a 10-team mixed league with one DL and four bench spots. I am comfortably in first place (thank you, Mr. Halladay), but sense imminent danger based on a shallow bench. I am carrying both
Carlos Beltran
and
Brandon Webb
on my roster. Based on projected value and severity of injury, which player would you recommend keeping? I recognize this is partially based on my roster mix, but if you were drafting today, which player would you choose? Thanks for the fantastic columns.
Stephania Bell:
Arthur, thanks so much for writing. Let's get right to the point: You are in that location they call somewhere between a rock and a hard place. While I'm still holding out hope that Beltran is able to return this season, there has been some speculation that he won't. Beltran traveled to Colorado last week to visit his surgeon and was not cleared to run. According to the New York Daily News, he was fitted with a custom brace for his ailing right knee while in Colorado, which in and of itself is not a bad thing and may help his progression. I thought all along that a May return would be premature in light of both the nature of Beltran's injury and the date of his surgery. We have to remember that even post-surgery, he does not have a "perfect" knee and his best chance of being successful is returning in a slow, deliberate manner. No one is saying with any certainty when he will return because this is a day-to-day evaluation, but June appears to be the soonest possible target.
Webb, on the other hand, is still playing catch with no clear-cut targeted return date. It's worth noting that there is no clear explanation as to why he's had so many setbacks, which is most problematic for me. Before we can even begin to consider a return time, we have to see Webb successfully throw off a mound. His prognosis is more questionable in my mind, simply for the fact his problem is ill-defined.
I'd stick with Beltran and then cross my fingers.
If you have any other injury questions you want answered in the blog, drop a note in
my mailbag
, or stop by my Tuesday chats.
July, 22, 2009
7/22/09
2:59
PM ET
The All-Star break provided a welcome reprieve, a little rest and recuperation for everyone (including yours truly). Even those in their fantasy league basement can still hold out hope for a playoff appearance.
Naturally, there are fewer injuries to report this week after a little time off, right? Wrong! Apparently the disabled list is trying to make up for lost time, adding (or threatening to add) players left and right since play resumed after the All-Star break. League GMs, not to mention fantasy owners, are suffering headaches galore as they try to boost their positions during the second half of the season.
Which injuries should have us really concerned, and which ones can allow us to breathe a little sigh of relief that they weren't more serious? We start on the West Coast.
Manny Ramirez, OF, Dodgers:
Just as he began to get his groove on after a 50-game suspension, Ramirez gave everyone a scare on Tuesday when he was hit on his left hand by a
Homer Bailey
94 mph fastball. Fortunately, X-rays taken shortly after the injury revealed no fracture to his fifth metacarpal, the bone on the outside of the hand that connects the wrist to the fifth finger, where Ramirez absorbed the brunt of the impact. Given that a fracture could have resulted in another extended absence, the Dodgers have to be breathing a sigh of relief.
Ramirez had some soft tissue swelling, which is to be expected, and as a result, he will sit out Wednesday's game. The Dodgers caught another lucky break in that they'll have a day off Thursday, so Ramirez will have an extra day of rest for the hand without sitting out of the lineup. Assuming the swelling subsides reasonably quickly, look for him to make a return Friday when Los Angeles hosts Florida.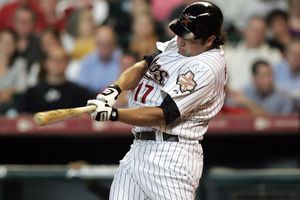 Brett Davis/US PresswireThe Astros may wish to be careful with Lance Berkman's calf injury, which he suffered last week.
Lance Berkman, 1B, Astros:
According to the Houston Chronicle, an MRI confirmed that Berkman has a Grade 2 strain of his left calf. Berkman already has missed several starts since he first injured the leg this past Thursday and plans to miss a few more. At this point, Berkman and the team are suggesting that he will be out of the starting lineup for only a few games, but that sounds optimistic.
Grade 2 (moderate) muscle strains represent a wide range of tissue damage, and it's possible that Berkman's particular injury is on the lighter side of that range. Nonetheless, it is very easy for these injuries to worsen, particularly if a player tries to push off the leg while the tissue is still compromised. The Mets'
Jose Reyes
tried to come back too quickly from a similar injury and had a setback before later injuring his hamstring. Berkman might not be associated with the explosive speed of a Reyes, but he relies on the calf muscle for both offensive and defensive performance nonetheless.
The Astros may elect to use him in a pinch-hitting role before bringing him back to the field, but even then, he will need to be able to round the bases without fear of reinjury. General manager Ed Wade seems to be well aware of this, telling the Chronicle, "... if the choice is take a couple more days and let him get back to 100 percent, then that would be the appropriate thing to do." Fantasy owners should plan to have a replacement for another week to be on the safe side, but keep an eye on Astros' daily lineups as well.
Tim Wakefield, P, Red Sox:
Back problems are no small issue for a pitcher; just ask
Randy Johnson
. Wakefield, who at age 42 is in Johnson's peer group, was placed on the DL with what the team is calling a lower back strain. The diagnosis suggests that this is a minor incident, and Wakefield seems to agree, telling WEEI.com that he expects to miss only two to three starts.
Wakefield apparently developed back spasms while throwing a side session Saturday, and the pain lingered enough to warrant a trip to the DL. Back spasms, although incredibly painful, are not especially serious in and of themselves. However, the underlying cause of the spasms can be the key to just how disabling the injury will be. Overexertion of muscles resulting in an acute strain (which can be related to something as simple as fatigue or inadequate warm-up, for instance) is a minor issue. A degenerative problem such as a disc injury or a problem with one of the small spinal (facet) joints, something one might see in an athlete in his 40s, can begin to manifest itself initially by a muscular spasm in the area.
Wakefield's time to recover and completeness of his recovery (i.e., no setbacks) will offer more insight as to whether this is something to be concerned about long term. In the meantime, it is worth nothing that spine injuries, even minor ones, can be unpredictable and easily exacerbated. In other words, securing some insurance would not be a bad idea.
Nelson Cruz, OF, Rangers:
Cruz was scratched from Sunday's lineup because of soreness in the ring finger on his right hand resulting from Saturday night's dive into first base. The injury later proved to be a small fracture. Although the ailment itself is not considered particularly serious, the consequences to Cruz's swing of the bat could be. Cruz has not played since Sunday, although he did take some swings before Tuesday's game and could return to action Wednesday.
A word of caution is warranted here. According to the Rangers' official Web site, Cruz said as recently as Monday that he could not grip a bat well because of swelling in the finger. Cruz's teammate
Michael Young
faced a similar injury last year, also the result of a headfirst dive into first, and struggled at the plate for the remainder of the season. Young acknowledged that the pain that radiates through the fracture site when the ball and bat make contact can cause an athlete to change his mechanics as a means of compensating. Cruz's toughness definitely will be tested. Fantasy owners may want to see how Cruz fares when he returns before committing to him in their lineup.
On the mend
• Cubs pitcher
Ryan Dempster
is making some progress in his activity as his broken right toe heals. Dempster threw 60 pitches in a bullpen session before Monday's game and reported no ill effects or undue soreness afterward. He followed that up with a solid simulated game outing Wednesday, when he again threw 60 pitches without incident. Dempster, who has been out since July 7, is scheduled to have a repeat X-ray of the toe Thursday, according to the Chicago Tribune. If the bone is healing well, he could return to the rotation as soon as Sunday. The key here is that pitching coach Larry Rothschild says Dempster is not favoring the toe and is able to bring his body weight over his push leg with no trouble at all. Assuming the X-ray shows satisfactory progress, there is no reason to think Dempster can't jump (OK, maybe not jump, since that's how he landed on this list in the first place) right back into the mix.
• Yankees pitcher
Chien-Ming Wang
is going the wrong way on this list. On the Mend implies that guys are getting better, not worse, but Wang suffered a setback in his strained (right) throwing shoulder, hence the decline in his status. There is no timetable for his return, and quite frankly, he may just want to scrap this season and start fresh next year. After struggling at the outset, a problem later determined to be associated with hip weakness left over from last season's foot injury, Wang appeared to be righting the ship somewhat, only to develop shoulder bursitis and a muscular strain. It's quite possible that in the earlier part of the season, Wang struggled to compensate for his lower extremity weakness, thus leading to the beginnings of the shoulder issue. No matter what the origin, this situation does not appear likely to resolve itself any time soon.
• Across town in New York, is it possible that some good news is on the horizon for the Mets? It sure looks that way, as pitcher
John Maine
emerged feeling good from a three-inning simulated game in Florida, according to the New York Daily News. Maine, who has been on the DL since mid-June with what was called a "pinched nerve" in his shoulder, has been slowly working his way back to the mound ... again. Maine already had fought his way back after offseason shoulder surgery last year, only to be faced with problems two months into 2009. A few cortisone shots and many rehab exercises later, Maine appears to be on track for a return sometime in August, assuming he can make his rehab starts without incident.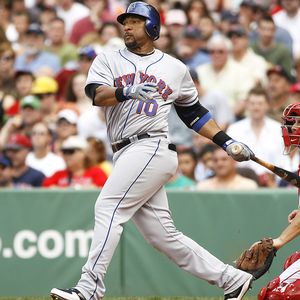 Stew Milne/US PresswireGary Sheffield, who has bailed out the injury-riddled Mets this season, is just the latest guy to get hurt.
• The Mets could use some good news, considering that they may be faced with the possibility of yet another DL addition. This time, it's
Gary Sheffield
, who is nursing a right hamstring issue, originally referred to as a "cramp." The persistent presence of the issue certainly suggests something more than a cramp, and the team has indicated that Sheffield may be placed on the DL if he does not show significant improvement by Friday.
At 40 years old, these things tend to be a little slower to recover, so don't be surprised if the team takes the cautious approach. This comes on the heels of pitcher
Fernando Nieve
's addition to the Mets' ever-growing DL with a right quadriceps injury sustained during an awkward landing on first base. Nieve's MRI showed a muscle tear, which translates to an absence of more than a month. Meanwhile, shortstop Jose Reyes did run the bases in a simulated game in Florida, but as Newsday reports, manager Jerry Manuel acknowledged that it was not even at half speed. Just a reminder as to how problematic these muscle strains can be.
• Twins pitcher
Kevin Slowey
, on the DL since early July with a strained wrist, had a good bullpen session Monday after suffering a setback just before the All-Star break. The latest outing was encouraging and suggests that he could be nearing a rehab assignment this weekend. If there are no further setbacks, it appears that Slowey could be on track to return in August.
• It might be worth keeping an eye on Blue Jays pitcher
Shaun Marcum
as he makes his way back from Tommy John surgery on his right (throwing) elbow. Marcum has been pitching in rehab games, and although he is still working on returning to form, he has been able to deliver some strikeouts. Perhaps most importantly, he reports that the arm feels good and has had no major setbacks. The Jays hope to have him back in the rotation in August, and he is widely available in ESPN.com fantasy leagues. Although it often takes a pitcher until his second year postsurgery to return his full command, it does not preclude him from having good outings before then.
And finally ...
For those willing to take a chance on someone, why not try the Dodgers'
Jason Schmidt
? Although one decent outing does not a successful return make, consider that many thought Schmidt might never pitch again. After two consecutive shoulder surgeries to address a torn labrum, and then to resect the acromioclavicular joint, Schmidt's two-year path back to the majors has been marred by disappointment and setbacks. He and the Dodgers had to be encouraged by the fact that he was able to last five innings in his comeback performance Monday. Schmidt's velocity is not what it was -- and it may never be again -- but the key will be whether he can reinvent himself as more of a finesse pitcher to add years to his career. The jury is still out, but he's widely available in ESPN.com leagues and may be worth picking up, as he certainly has a firepower offense behind him that may help secure him some wins -- assuming, of course, that he stays healthy.
April, 5, 2009
4/05/09
5:05
PM ET
By
Stephania Bell, ESPN.com
| ESPN.com
NL EastFlorida Marlins: Hanley Ramirez
Last year Ramirez made this list because there were concerns about his left (non-throwing) shoulder after offseason surgery to repair a torn labrum. Ramirez held up in 2008, although his productivity languished a bit compared to 2007. This year there are new concerns about his shoulder ... the other one. The Miami Herald reported that Ramirez came to camp much bigger this year after an offseason weight-training and swimming program. He then developed some right-side rotator cuff tendinitis which caused him to sit out a few games. Not to worry. By the close of spring training Ramirez was back playing shortstop and hitting homers, even stealing a base or two for good measure. He is 25, so his best years are still ahead of him.
Washington Nationals: Nick Johnson
After missing more than a full year with a slow-to-heal leg injury, Johnson made an emotional comeback in 2008, only to exit in June with a wrist injury. Johnson underwent surgery to address a ligament injury in his right (non-throwing) wrist and spent the remainder of the offseason rehabbing and retooling his swing under the watchful eye of Nationals hitting coach Rick Eckstein. Johnson has shown that his swing is healthy this spring; if his body can hold up its end of the bargain in 2009, the Nationals could be in for a treat.
[+] Enlarge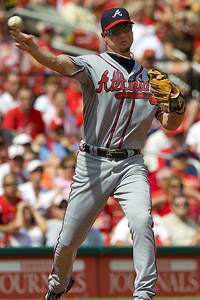 Scott Rovak/US PresswireJones' owners won't get 160 games, but the games they do get will be quite productive.
Atlanta Braves: Chipper Jones
Like that Energizer Bunny, Jones takes a lickin' and, well, minus a few days off here and there, just keeps on tickin' with remarkable consistency. Sure, he'll get banged up, but as a team leader, he's going to play through as much pain as he can. Last year's nagging quadriceps and hamstring strains finally forced him onto the DL in July, but he still finished the season batting .364. This spring an oblique strain squeezed him out of the World Baseball Classic, but fear not: Despite being 37 years old, he'll be back in the lineup come Opening Day. Yes, he remains an injury risk, but the Braves' willingness to extend his contract indicates their belief that the reward outweighs that risk.
New York Mets: Johan Santana
Some worried that Santana's offseason arthroscopic knee procedure might affect him, but it was a bout of elbow pain that set off alarm bells earlier this spring. A few weeks later, those alarms have all but subsided thanks to Santana's performance in recent outings, along with his declaration that he is symptom-free. The Mets certainly have to hope so. He is set to pitch on Opening Day in Cincinnati and will no doubt be a big draw to the new Citi Field, not to mention a key to the Mets' postseason aspirations. Whenever a pitcher has elbow pain there's reason to be cautious, but in Santana's case it's not time to be overly concerned -- yet.
Philadelphia Phillies: Chase Utley
Much was made of Utley's offseason hip surgery and how far into the 2009 season it would be before he could return. Well, surprise, surprise. Utley has been a model patient, working diligently to exceed his rehab targets while being mindful not to overdo it and create a potential setback. Utley has clearly demonstrated his readiness to return by not only offensively hitting for power this spring, but also defensively by sliding, throwing hard across his body and even diving for balls without hesitation. Manager Charlie Manuel has already proclaimed Utley a member of the Opening Day lineup, and he will continue to be a regular fixture thereafter.
NL Central
Sign up today for the most customizable free Fantasy Baseball game out there. You set the rules, scoring, everything. Sign Up Today!
Chicago Cubs: Rich Harden
He is awesome when he plays. But his health history leaves everyone on the edge of their seats wondering when the injury bug is going to strike again. Harden had his highest number of starts in four years in 2008, and his shoulder, which had limited him previously, appeared much improved. It's also worth noting that his outings were carefully managed, and he will continue to be monitored for pitch counts in 2009. So far this spring, the only thing to affect him was an unpleasant round of food poisoning. The Cubs have to be keeping their fingers crossed that this is the worst thing Harden has to deal with this year.
Milwaukee Brewers: Trevor Hoffman
Yes, Hoffman might be older than a couple of his teammates combined. Sure, he's starting the season on the DL with a strained oblique. But don't count this guy out. The all-time saves leader appears to have a relatively minor version of this injury and has already returned to playing catch. As a closer he needs fewer innings to prepare for the season, so he could join the club within the first two weeks. Baseball years do add wear and tear to the arm, however, and oblique injuries can recur. Hoffman will be consistent when present; the Brewers just hope he can be consistently present.
St. Louis Cardinals: Chris Carpenter
Carpenter's past two seasons can be summed up as follows: bone spur removal, Tommy John surgery, nerve problems in shoulder, nerve transposition surgery at the elbow. After more than two years, Carpenter can finally say that he feels good. And it shows. His performance this spring has been both impressive and inspiring. The Cardinals are optimistic, albeit cautiously so, but it does appear that Carpenter is headed for a stellar season.
Houston Astros: Lance Berkman
The Astros' first baseman began experiencing soreness in his left (throwing) shoulder in February. As recently as last week he was having trouble lifting his hand above his shoulder. The team is calling it biceps tendinitis, and Berkman is brushing it off as no big deal. They had better hope it is just a little spring training aggravation and not a sign of something that continues to flare up during the season. After all, those chronic, nagging injuries generally start out as small annoyances. Only time will tell, but there is reason to keep a close watch on Berkman's status; it may become more of an issue if he cannot get back to the field at the season's start.
Cincinnati Reds: Bronson Arroyo
When you hear the diagnosis of "carpal tunnel syndrome" it usually conjures up the image of an overworked software programmer whose hands are going numb from endless hours at the keyboard. But this injury is affecting the Reds in a different way. The electric-shock-like pain in Arroyo's thumb and index finger is keeping him from writing; playing guitar; and, most important for the Reds, pitching well. The plan, along with anti-inflammatories and intermittent rest, is for Arroyo to pitch through this, something he has done in the past. But the level of symptoms he is experiencing, on top of the fact that this is a chronic condition, makes it impossible to guarantee that Arroyo will be able to do so. Don't be surprised if he is forced to endure a stint on the DL early on.
Where should they go?

Check out a new tool from ESPN Insider: the Draft Analyzer. With it, you can figure out where a player should go in your fantasy MLB draft, relative to value. Draft Analyzer
Pittsburgh Pirates: Jack Wilson
Wilson was at an all-time low in 2008. He played in his fewest games, largely as a result of injury. After a torn calf muscle and broken right (throwing) index finger derailed most of his season, Wilson wasn't sure he would still be in Pittsburgh this year. But in Pittsburgh he remains, and although he's not going to be a rock star, the hope is that he'll be healthy enough to continue to provide primarily a solid defensive presence. Despite missing a few days with a bruised knee in spring training, he's hoping he'll have his best attendance record in years in 2009.
NL WestArizona Diamondbacks: Eric Byrnes
Byrnes, formerly known for his speed, had a terrible 2008 when both wheels came off, as in both hamstring muscles were injured. Byrnes opted for a conservative treatment approach (meaning no surgery) and has recently been showing that his legs are healthy this spring. Although Byrnes is not currently slated to be an everyday player for the Diamondbacks, the ability to slot him in anywhere in the outfield makes him valuable off the bench. He still has plenty left in the tank, and is already looking speedier than before he was injured last year. Don't overlook him.
Los Angeles Dodgers: Manny Ramirez
With all the concern apparent in Dodgerland when it initially seemed as if Manny might not be signed in 2009, there had to be similar concern when Manny was sidelined by a hamstring strain almost as soon as he joined the team. No doubt beads of collective sweat began to form in the Dodgers' front office. That concern has been for the most part alleviated as Manny has returned to both hitting and fielding duties. But, you may ask, don't hamstring problems tend to recur? Yes -- more beads of sweat -- but in this case, there are several things working in the Dodgers' favor. First, the injury was a minor strain. Second, because of the timing of the World Baseball Classic, Manny could actually be brought along more slowly, limiting his running early in his recovery, enhancing the healing process. Third, the Dodgers have an all-star medical staff. Relax. Manny can just be Manny.
Colorado Rockies: Troy Tulowitzki
Tulowitzki had a rough 2008 season. First, he was sidelined for weeks with a torn left quadriceps (not his fault). Shortly after his return from that injury, a laceration requiring 16 stitches to his right (throwing) hand kept him out for two additional weeks (his fault -- he slammed his bat, and it broke and bit him back). After an offseason to heal his leg fully and to settle down his frustration with last year's numbers, Tulowitzki should be in good shape for a strong 2009 season.
San Francisco Giants: Noah Lowry
Health issues have challenged Lowry in the last few years, most recently wiping out his entire 2008 season. This has to be disheartening for a young pitcher who showed so much promise when he first joined the bigs. Remembering that first season is perhaps why he continues to plod along through each rehab stint. Lowry, shut down last year with compartment syndrome in his left (throwing) forearm followed by elbow surgery, has already been bothered by shoulder pain this spring. A visit to Dr. James Andrews resulted in an injection into what was otherwise termed a structurally sound shoulder. Lowry is still optimistic that he can provide an option for the Giants later this season, but cumulative arm injuries do not historically bode well for pitchers.
San Diego Padres: Chris Young
Young has Ivy League smarts and toughness. No one could doubt the mental fortitude of this Princeton graduate after he came back to the mound just 10 weeks after taking a pitch to the face. The impact resulted in not only a broken nose, but also a skull fracture. Despite post-surgical sinus and ear infections, a strain in his throwing forearm forced him onto the DL again in August. Given his injuries last year, Young's spring tendinitis and poor outings have some concerned. For his part, Young says that both are typical of his spring performance and that he will warm up as the season approaches. Last year's injuries should have no carryover effect. Young has every reason to be optimistic in 2009.