Stephania Bell:

Mariano Rivera
July, 10, 2012
7/10/12
6:28
PM ET
In honor of the festivities taking place in Kansas City today around the 2012 MLB All-Star Game, it seemed appropriate to compile a roster of All-Injured All-Stars. The qualifiers for this roster were selected from:
• Players who were chosen for this year's All-Star game but could not participate due to injury
OR
• Past All-Stars who might have had the potential to earn another trip in 2012 were it not for the injuries that beset them this year.
The sad fact is that this was a relatively easy list to compile. Outside of one or two spots that required a stretch to meet the inclusion criteria, it was not difficult to find candidates for each position in both the American and National Leagues. Does that make this year any better or worse than previous years? I'm not sure, but it does remind us how much injuries can impact the game. Not everyone who could possibly qualify is listed. Naturally, as with the actual All-Star roster, there will be debate. But like the managers in the All-Star get to select their lineups, these are my picks, undoubtedly influenced by the number of times their names make an appearance in questions fielded during chats, podcasts, blog entries and Twitter posts.
May I present to you the 2012 All-Injured All-Stars?
National League
Howard
1B: Ryan Howard, Philadelphia Phillies:
Howard finally made his 2012 debut just before the All-Star break after he ruptured his Achilles tendon in his last at-bat of last year's playoffs. Complications following an infection slowed his recovery. The Phillies are hoping for offensive contributions from Howard -- and he has delivered a couple of hits -- but since his return, the team has yet to earn a victory. Howard is still not a daily player as he is easing back into the lineup, and even he acknowledges his leg is not likely to return to 100 percent until next year.
Utley
2B: Chase Utley, Philadelphia Phillies:
Like his fellow infielder on this roster, Utley started the season on the DL and only recently returned to action. Working through chronic patellofemoral pain (pain under the kneecap), Utley underwent an intensive, focused rehabilitation program to be able to get back to baseball. It was slow and deliberate, but how long he will be able to hold up once he is playing on a regular basis is unknown. The Phillies like what they see so far; a couple of home runs, a few RBIs and, most importantly, no setbacks. If only that can last.
Tulowitzki
SS: Troy Tulowitzki, Colorado Rockies:
Tulowitzki was bothered intermittently by groin pain this season, but a setback during a rehab assignment led to eventual surgery to debride scar tissue from around a nerve. Tulowitzki was projected to be out approximately 6-8 weeks following the procedure, which translates to an August return. Until he resumes baseball activities, it will be difficult to assess how close he is to seeing any game action.
Zimmerman
3B: Ryan Zimmerman, Washington Nationals:
Zimmerman has certainly been playing like an All-Star ever since receiving his latest cortisone injection in his right shoulder. The big question on everyone's mind is whether it will last. Zimmerman initially had trouble with the shoulder in April, which ultimately landed him on the DL. Even after the time off, Zimmerman continued to have discomfort and it showed at the plate. In June, there was discussion about a cortisone shot or even another DL stint. The shot seems to have done the trick, though, and hopefully when post-All-Star play resumes, Zimmerman's shoulder will still be feeling good.
Lucroy
C: Jonathan Lucroy, Milwaukee Brewers:
Admittedly, this is a bit of a reach, but Lucroy was batting .345 when he went out with a broken hand in May and there was abundant chatter about his potential selection to the 2012 All-Star roster. Exhibit A from the Milwaukee Journal-Sentinel in May: "He has five homers and 29 RBIs in addition to his gaudy batting average, putting him in the conversation for an All-Star Game appearance." Who knows what might have been? Instead, Lucroy is working his way back toward a return. He has been throwing and running, and was recently cleared to start swinging a bat, putting him on pace to return in late July.
Kemp
Stanton
Werth
OF: Jayson Werth, Washington Nationals; Giancarlo Stanton, Miami Marlins; Matt Kemp, Los Angeles Dodgers:
Werth qualifies for the most dramatic injury after he broke his left wrist when his glove caught in the grass as he was attempting to make a sliding catch. To complicate matters, this was the same wrist on which Werth had undergone a prior surgical procedure in 2006. The initial timetable for Werth was projected at three months, but the good news is that he is expected to start swinging a bat sometime after the All-Star break. Let's see how his wrist tolerates those swings before thinking about upping his return date.
Stanton was a late scratch from both the All-Star Game and the Home Run Derby when he was removed from Saturday's game with soreness in his right knee. After undergoing surgery Sunday morning to remove loose bodies, it will be a few weeks before he is ready to return.
Kemp has missed more time this year than he has at any point thus far in his career because of a finicky hamstring strain. Known for his ability to play virtually every day over the past few years, Kemp was reluctantly forced onto the DL in the hope of preventing a more serious injury. He then had to return to the DL when the hamstring acted up in only his second game back. Kemp's timetable has been slower this time around and he was deliberately kept on a lengthier rehab assignment to force more situational running. Everything seems to be pointing to his return to the lineup this Friday when the Dodgers are back in action.
Carpenter
Halladay
SP: Roy Halladay, Philadelphia Phillies; Chris Carpenter, Cardinals:
The Phillies tie the Nationals with the most members on this NL roster, but the Phillies win in terms of the importance of the players lost to their team (no hard feelings, injured Nationals). To go along with starting infielders Utley and Howard, the Phillies lost one of their most durable and consistent starters in Halladay, who was forced onto the DL with a strained lat. Despite his denials, it seemed as though the injury was affecting him, even if in a subtle manner, since the spring and ultimately the discomfort caught up to him. Halladay has been sidelined since late May but has been steadily progressing in his throwing program. He is expected to make a rehab start Thursday, and the Philadelphia Inquirer reports that if all goes well, he could then rejoin the Phillies for a Tuesday start against the Dodgers.
Carpenter has been either very good or very injured. This year, unfortunately, it was the latter and he was plagued by weakness in his throwing shoulder since the spring. Tests confirmed thoracic outlet syndrome (which he has actually been dealing with for several years but has progressed to the point where he can no longer pitch) and Carpenter is scheduled for surgery later this month. The rehab is long and there are no guarantees, but Carpenter hopes to be able to pitch again next season.
Wilson
RP: Brian Wilson, San Francisco Giants:
What a difference a year makes. Last year, Wilson was participating in the All-Star Game. This year he is recovering from Tommy John surgery No. 2. Wilson struggled late last season and even had his elbow examined after it was causing him discomfort. The hope was that the offseason rest had helped sufficiently, but it didn't take long to find out that was not the case. Just two weeks into the season, Wilson was done and headed for Dr. James Andrews' office. Whether he will be available to pitch at the start of next season remains uncertain.
American League
Youkilis
1B: Kevin Youkilis, Chicago White Sox:
Whether it was his back injury that landed him on the DL this spring or his general malaise while in the murky
Boston Red Sox
situation, Youkilis was not performing up to par. The three-time All Star -- who also spent the offseason recovering from surgery to address a core muscle injury -- was not going to be making this year's Midseason Classic. It's worth noting, though, that his performance thus far with his new club has certainly been reminiscent of the Youkilis of old.
Pedroia
2B: Dustin Pedroia, Boston Red Sox:
A partial tear of a thumb muscle is likely to blame, at least in part, for Pedroia's struggles at the plate in June. Pedroia was not voted into the 2012 All-Star Game, which may be just as well, because he suffered yet another thumb injury just last week. A diving play resulted in an injury to the volar plate of Pedroia's thumb, the fibrocartilaginous tissue deep in the joint that helps block hyperextension. He is expected to miss several weeks.
SS: None:
There were no real candidates for this position based on the inclusion criteria. Something tells me this should make AL shortstops a bit nervous about the second half of the season.
Longoria
3B: Evan Longoria, Tampa Bay Rays:
Longoria partially tore his left hamstring at the end of April, and his return at this point is anything but certain. In June, he appeared on course, but a rehab outing was cut short when Longoria again felt discomfort in the hamstring. Since that time, there have been wavering suggestions as to when Longoria might resume baseball activities, something which has yet to occur. According to the Tampa Bay Times, manager Joe Maddon said he has no idea when Longoria can return. He then offered perhaps the most precise summation of the challenge of dealing with a partially torn hamstring: "It's a tough injury to overcome and a tough injury to battle back from."
Martinez
C: Victor Martinez, Detroit Tigers:
The former All-Star underwent surgery in January to repair both the lateral and medial menisci along with a microfracture procedure. His progress has been understandably slow in order to protect the delicate spots on the knee where the microfracture was performed. Based on a recent MRI and clinical evaluation to assess his progress, the Tigers have indicated the soonest (note: soonest) Martinez would return is middle to late September.
Sizemore
Ellsbury
Crawford
OF: Carl Crawford and Jacoby Ellsbury, Boston Red Sox; Grady Sizemore, Cleveland Indians:
Just imagine what this outfield could look like when healthy. It's actually difficult to do, as these three players have dealt with extended absences over the past few seasons.
To be fair, Crawford's absence in 2011 was a virtual one; he was healthy but merely a shadow of himself. Then in the offseason, he injured his left wrist and had to undergo surgery to debride a fibrocartilage tear in the joint. A slow recovery was followed by a setback, and just when he seemed on the verge of beginning a rehab assignment, he had elbow pain. It turned out to be a partial tear of his ulnar collateral ligament. No surgery was immediately required (there is some discussion about Crawford having surgery eventually) and he recently embarked on a rehab assignment. That assignment was interrupted by a mild groin strain, and again Crawford's return date has been pushed back. The Red Sox are hoping they will have him in the second half of July.
Ellsbury was hurt early in the season on a collision, which resulted in a shoulder subluxation. He too has started a rehab assignment, and while there is no firm commitment to a date, it sounds as if he could rejoin his team by the weekend.
As for the three time All-Star Sizemore, his healthy days seem to be far fewer than his unhealthy ones in recent years. This year, he is recovering from back surgery, and there is always some question about the true health of his knees. He has actually started a running program and a rehab assignment could be in the not too distant future. No one is counting on a specific date but the Indians would love to see him back on the field at some point in the second half.
Haren
Sabathia
SP: C.C. Sabathia, New York Yankees; Dan Haren, Los Angeles Angels:
Sabathia did not want to go on the DL for his mild left groin strain, but the Yankees did not want him to be hurt in September. And so he went. After all, better to rest a minor groin issue now than have compensations turn into a shoulder or elbow injury later. The good news is that he is doing well and is expected to return shortly after the All-Star break.
Haren has never even been on the DL until now. Considering he's pitched in the majors for 10 years, there should be a special All-Star category for that alone. Haren did admit that the stiff back that sent him to the DL has been bothering him since the spring, and he felt his performance was hindering the team. The Angels are hoping for a brief stay.
Rivera
RP: Mariano Rivera, New York Yankees:
Rivera, a medical marvel when it comes to pitching and baseball, suffered the unlikeliest of injuries when he tore his ACL while shagging fly balls during pregame batting practice. The 42-year-old closer quickly made it known that this would not be his exit from baseball. While no one has ruled him out from a late-season return, even Yankees general manager Brian Cashman has said he does not expect him back in 2012. No matter what the return date, the fact that he is making such good progress is encouraging.
March, 14, 2012
3/14/12
6:05
PM ET
TAMPA -- Spring training is a chance for teams to practice everything, including playing at night. That's what happened Tuesday when the
New York Yankees
played host to the
Boston Red Sox
, albeit at George M. Steinbrenner Field instead of Yankee Stadium. With the number of veterans in the Yankees' starting lineup, there are bound to be some durability concerns. A few have taken steps to make sure that any chatter about them this season surrounds what they do on the field, not the time they miss.
[+] Enlarge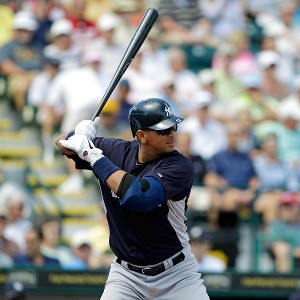 AP Photo/Matt SlocumAlex Rodriguez looks good during spring training after undergoing a unique procedure in Germany this offseason.
Of the Yankees who underwent offseason procedures, perhaps none traveled further than third baseman
Alex Rodriguez
. Rodriguez went to Germany in December to undergo Orthokine treatment -- a biologic therapy which involves drawing some of the patient's blood, centrifuging it and injecting the concentrate in the injured area -- on his right knee and left shoulder. Rodriguez followed in the footsteps of Los Angeles Lakers guard Kobe Bryant who had undergone a similar procedure with the same physician. In fact, according to the New York Post, it was Bryant's recommendation that led Rodriguez to seek the treatment. Yankees team physician Dr. Chris Ahmad and the organization, with approval from Major League Baseball, allowed Rodriguez to receive the treatment. The premise of the therapy is the use of the body's own anti-inflammatory proteins as a means of alleviating pain and delaying degenerative joint changes. It is no secret that arthritic joints are the cause of many an athlete's decline; mitigating such age and activity-related changes could potentially prolong an athlete's productivity and thus, his career.
Getting Rodriguez to say much about the procedure or how he feels it has specifically impacted him proved challenging. He deferred to the doctor who performed the procedure, Peter Wehling, whom he referred to as "a very smart doctor." Rodriguez's summary of how his body feels during this spring training year came down to three words: "I feel good." How is it different this year than in the past? "All I can say", said Rodriguez, "is I feel good." Not exactly insightful commentary, but the true measure of success will ultimately be how he holds up this season. Last year Rodriguez missed roughly six weeks following surgery to address a meniscus tear in his right knee, and he also dealt with a sore left shoulder and a thumb ailment. At the age of 36, with parts of 18 seasons of major league ball under his belt, it would stand to reason that Rodriguez's body is being confronted with the physical toll of such longevity. Clearly Rodriguez is taking steps to try to ward off those effects; only time will tell whether those steps are, in fact, working.
Across the infield, first baseman
Mark Teixeira
is noticeably fit this spring. He says he normally loses about five pounds each offseason, but this year he has dropped about 15. He credits his diet with helping the weight "just sort of melt off" and notes that while he doesn't eat poorly during the season, he can eat much better in the offseason. "I try to eat all organic foods, nothing processed, including a lot of cold-press juices," said Teixeira. He says he considers himself blessed with only landing on the DL twice in his career and believes that eating healthy along with his conditioning is a factor. Teixeira insists that other than paying more strict attention to his diet, he hasn't changed anything about his training to prepare for the season. As he enters his ninth season in the league, it will be interesting to see how his body holds up. There's no question that he looks as healthy as ever heading into 2012.
Then there's the medical marvel of closers,
Mariano Rivera
, who threw 13 pitches while delivering a scoreless inning in relief and looked to be pretty much in midseason form. At 42 years old, Rivera has managed to avoid significant injury in his lengthy career, something most pitchers cannot claim to have accomplished. He has had an operative procedure on his shoulder (a relatively minor surgery on the AC joint in 2008) and has not been on the DL since 2003. He did undergo surgery this offseason, but it was to remove polyps from his vocal cords. When asked if there was any noticeable difference for him pitching during a spring game versus a regular season outing, given that he looked as comfortable as if it were July, Rivera acknowledged the subtleties of continuing to work the strike zone. While he enjoys spring training, still, Rivera said, "You have to come here to work."
The Yankees stable of "mature" players is sizeable, including the likes of shortstop
Derek Jeter
and pitcher
Hiroki Kuroda
. Their expected level of contribution indicates the team is counting on the veterans' collective ability to stay healthy. They certainly
look
to be in great form this spring, but when all is said and done, only time will tell.
July, 15, 2011
7/15/11
3:13
PM ET
• We didn't have to wait even one full day after the All-Star Break to have another injury scare with a star player. The
Toronto Blue Jays
'
Jose Bautista
left Thursday's game after twisting his ankle by catching a cleat in the dirt on a slide into third base. Video replays show that his foot and ankle quickly invert (roll so the sole of the foot points inward) when his spikes caught the dirt, a common mechanism for a lateral ankle or foot sprain. X-rays were negative, but there is a possible MRI looming. The best case scenario is that this is a minor issue that causes a big scare but doesn't result in much missed time. Of course, there is the
New York Mets
'
Ike Davis
situation to remind us that occasionally injuries that appear minor translate into something far more serious.
[+] Enlarge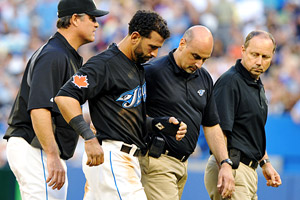 Icon SMIJose Bautista's first game after the All-Star break wasn't what he expected.
• Speaking of Davis, who has been sidelined since early May with a bone bruise in his left ankle, ESPN New York reports he has visited with a specialist in North Carolina and has also received a cortisone injection. The decision as to whether the Mets first baseman will need season-ending surgery will be made after another three weeks of prescribed rest. The issue has been -- and continues to be -- that when Davis attempts to run, he experiences pain in the ankle either during or afterward. Thus, the potential of surgery to address cartilage damage remains. The persistence of pain more than two months post-injury is certainly not encouraging, but no decision about his status has yet been made.
• Teammates
Jose Reyes
and
David Wright
continue to recover from their respective injuries. Reyes, who missed a third All-Star Game as the result of injury, is nursing a left hamstring strain. Although the injury was described as minor, there is a strong likelihood that he will not come off the DL immediately when eligible. According to ESPN New York, the Mets want to be cautious with their speedy star, who had an amazing start to his 2011 season but is also no stranger to hamstring injuries. Reyes' history, combined with the fact that his game is dependent on his speed and explosiveness (and therefore his hamstrings), prompted general manager Sandy Alderson to say, "This is a two- to three-week injury, probably closer to three than two, given his style of the play and the importance of his legs and his explosiveness. We'll probably be careful with him." In other words, he'll spend a little longer away from the game now in the interest of protecting him for the latter part of the season.
• Meanwhile, Wright is expected to begin a rehab assignment Friday. He has tested his back with running, hitting, sliding and all types of baseball activities. Now comes the time to put it all together in a game situation. If all goes well, Wright could be back within another week or so and should be much stronger following this rehab and heading into the second half.
[+] Enlarge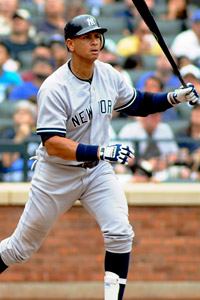 Bennett Cohen/Icon SMIAlex Rodriguez opted for knee surgery right away instead of trying to play through the injury.
•
New York Yankees
third baseman
Alex Rodriguez
also missed the All-Star Game as he underwent surgery in Miami on Monday to address a small meniscus tear in his right knee. There had been some discussion as to whether Rodriguez would try to continue to play through the injury or have the surgical procedure. Ultimately, the decision to fix it won out. It was probably a wise move, as it eliminates the uncertainty not only about how Rodriguez would perform in the presence of the injury but also around the possibility that it could progress.
With the injury being to his right knee, the one Rodriguez pivots on every time he swings the bat (which contributes to his power), any limitation could certainly impact his effectiveness at the plate. Plus, there's the business of running (which aggravated the knee previously) and playing defense. The time frame of four to six weeks to return is certainly reasonable and although Rodriguez
could
return sooner, the goal is to ensure that he does not have lingering knee issues, for this season and beyond. The procedure may have been straightforward, but there is still a joint recovery involved. The Yankees have demonstrated their willingness to be patient with their stars in order to get them back healthy and the same approach seems to be in order here. Much will depend on how quickly he regains his range of motion and strength in his quadriceps followed by assessing how his knee responds (i.e. swelling, soreness) as his activity is increased.
• Another Yankee who missed the All-Star Game is closer
Mariano Rivera
, who has been dealing with triceps soreness in his throwing arm. Although he returned after a few days of rest to pitch an inning on July 9, Rivera elected not to throw in the All-Star Game because, as he told reporters, he wanted to do "what is right," and ensure he is fully healthy. Rivera acknowledged that this might be something he needs to manage across the season yet he does not appear overly concerned. This is an athlete who appears to have a keen self-awareness of his body and his abilities, yet he's also aware that he is indeed 41 years old. Managing this may be precisely what he needs to do, but there appears to be no reason to panic, at least not yet.
• The
Boston Red Sox
also had a couple of notable All-Star absentees. Pitcher
Jon Lester
was placed on the DL with a strain of his latissimus dorsi muscle, an injury which Lester downplayed from the start. After resting for several days, the Boston Globe reports Lester threw from 60 feet Thursday. Although there is still quite a distance to go in his throwing progression, manager Terry Francona's comment that the session went "really well" suggests this will not be a long-term injury. Nonetheless, fantasy owners should anticipate that his return date could extend beyond next Friday, when he is eligible to come off the DL.
[+] Enlarge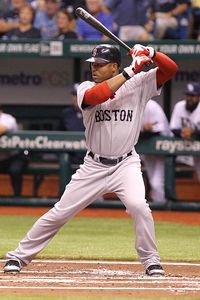 Kim Klement/US PresswireCarl Crawford is expected to play a couple of rehab games for Triple-A Pawtucket this weekend before returning to the Red Sox.
• Teammate
Carl Crawford
is expected to make his return from a hamstring strain on Monday. Crawford had been progressing well before the All-Star Break but the Red Sox exercised caution in bringing him back. It's hard to argue with a few extra days rest when it comes to hamstrings, and maybe Crawford, who's anxious to get back in the lineup, will be a more productive Crawford in the second half.
• The
Philadelphia Phillies
placed
Placido Polanco
on the DL on Friday, citing inflammation in his lower back. Although this move did open a spot for the returning
Ryan Madson
, it's unclear whether Polanco's back is more problematic than originally thought. Polanco has been trying to press through the back condition for over a month. Although he has not played in a game since July 4, he acknowledged playing through pain since June. He has had trouble swinging the bat because of pain, and the Philadelphia Inquirer reported in early July that Polanco had been experiencing numbness radiating into both sides. Despite resting his back, Polanco was unable to participate in the All-Star game and will now be out until at least July 20, when he is eligible to return. Fantasy owners should not be surprised if this extends longer however given the troubles he has been having and the unpredictable behavior of low back pain.
• In the meantime Madson, who has been on the DL with inflammation in his pitching hand after getting hit by a comebacker, is expected to reclaim his closer job from
Antonio Bastardo
right away. Madson had been experiencing issues with gripping the ball despite continuing to pitch and ultimately, when numbness in one of his fingers was lingering, a brief course of rest was recommended. Soon enough it will be evident whether those issues are behind him.
• And finally, keep an eye on
Colorado Rockies
outfielder
Carlos Gonzalez
, who continues to have pain in his bruised wrist. After recently receiving a cortisone injection, it's possible he could be rested for several days. The Denver Post reports Gonzalez has fluid in the wrist, which is contributing to his lingering soreness. The Rockies are calling him day-to-day but resting through the weekend would not be a surprise.
July, 7, 2011
7/07/11
2:52
PM ET
July, 5, 2011
7/05/11
3:28
PM ET
Looks like some of the big names who have occupied so much space on our pages lately are making their way back onto the field.
New York Yankees
shortstop
Derek Jeter
rejoined the lineup for Independence Day. His performance at the plate didn't bring him any closer to 3,000 hits but he did come out of the game feeling good, perhaps the most important result for him on the night.
[+] Enlarge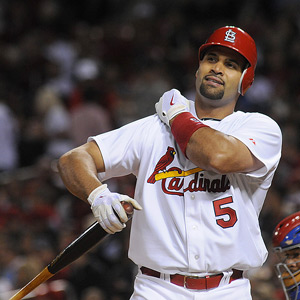 Tim Vizer/Icon SMIInstead of missing more than a month of action, Albert Pujols is back the first day he was eligible to come off the disabled list.
Meanwhile, the
St. Louis Cardinals
'
Albert Pujols
was activated from the disabled list on Tuesday (the first day he was eligible to come off), although he's not in the starting lineup. He will be available to come off the bench. Given that his original timetable was projected to be four to six weeks, and Tuesday marks just past two weeks, it's safe to say he's ahead of schedule.
The hairline crack in his left distal radius appears to be healing well and Pujols has maintained that his wrist felt fine as soon as the day after the injury. While the bone will still be in the process of healing for some time, a decision to return him to play would not be made if the team was not convinced that his re-injury risk was low. The fact Pujols has been taking swings without discomfort is a positive sign. According to the St. Louis Post-Dispatch, Pujols has hit off a machine. While it may not be identical to facing a live pitcher, it does present a good test. Whether he will immediately produce remains to be seen but a shortened downtime only helps him in that regard, one reason a rehab assignment is not part of the equation. Naturally it would be best for his wrist if Pujols could avoid falling directly on it with his full weight, which seems unlikely to occur, especially for a first baseman. Barring some unusual event, his chances of remaining healthy should be very good.
Quick hits
•
New York Mets
speedy sensation
Jose Reyes
hurt one of his wheels this weekend, leaving in the third inning of Saturday's game after experiencing discomfort in his left thigh. The good news is that the injury was reported to be only a Grade 1 strain, but anyone who has followed Reyes in the past knows that the hamstring has been his nemesis. In May 2009, Reyes suffered a significant hamstring injury that ultimately sidelined him for the remainder of the season. While this injury appears far less severe, Reyes is very clear that he
will not return too soon
this time around. While there has been no move to place him on the DL, if he does not show improvement within a few days, it could still happen.
• Another New York baseball superstar is also being talked about in the injury news. Yankees closer
Mariano Rivera
had pain in his right triceps area, just above the elbow, which was the reason given for him being unavailable Monday. Although Rivera acknowledged he had never before experienced this particular pain, ESPN New York reports Rivera also said, "I'm not concerned about it, I can tell you that. I'm not concerned at all." Admired for his consistency and his durability, Rivera does not often make this column. But he is 41 years old with more than a thousand innings under his belt. In other words, we're keeping a close eye on this.
• The
Colorado Rockies
had two key players suffer injuries over the holiday weekend. Outfielder
Carlos Gonzalez
hit the outfield wall Sunday at high speed and suffered a contusion to his right wrist and forearm. The team is calling him day-to-day for now, but just how long it takes for him to come back will depend on when he can swing a bat effectively. The Denver Post reports Gonzalez will not return until Thursday at the earliest.
• For at least Tuesday's game, Gonzalez will be joined on the sideline by shortstop
Troy Tulowitzki
, who strained his right quadriceps Monday night while running down the first-base line. He has a history of significant quadriceps injury, suffering one just a few years ago, and while it appears this instance is not severe, he told the Post, "There was no sense in staying in to further injure myself." Expect the Rockies to play it cautiously if Tulowitzki has any lingering soreness, as they could keep him out for a few days.
May, 5, 2010
5/05/10
12:52
PM ET
Another week, another slew of injuries. This week, though, in addition to adding names to the injury roster, we learned that several players are going to be spending some additional time on the disabled list. Never music to a fantasy owner's ears but it's always better to be prepared.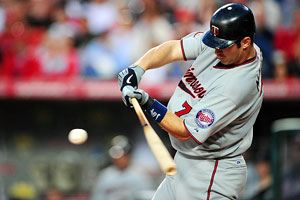 Gary A. Vasquez/US PresswireJoe Mauer may miss a few more games, but he probably isn't "week-to-week" as Twins manager Ron Gardenhire mentioned earlier.
Joe Mauer, C, Minnesota Twins (day-to-day):
Mauer has been dealing with a deep bruise in his left heel since Friday night when a sharp lunge to first base left him in pain. It sounded dire by Sunday when manager Ron Gardenhire described Mauer's condition as "week-to-week" instead of day-to-day. Gardenhire also made it clear the Twins would not be rushing Mauer back, telling the Minneapolis Star-Tribune, this injury is "something you don't screw around with."
It now sounds like it's not as bad as it could have been. According to the Twins' website, an MRI confirmed a soft tissue injury (as in, there is no fracture) and the healing will be assessed on a daily basis. Mauer is reportedly feeling better and is running in a pool to maintain conditioning while eliminating impact that could aggravate the situation. It appears that the Twins have avoided a move to the DL for Mauer ... at least so far.
Rafael Furcal, SS, Los Angeles Dodgers (15-day DL, retroactive to April 28):
Furcal has been pestered by a hamstring injury for the last week. On Tuesday, the Dodgers determined that more time was needed and the decision was made to place Furcal on the DL. The issue now is how concerned fantasy owners should be. Does the DL just buy Furcal another week of healing time or is this injury enough to keep him out significantly longer?
Before panic sets in, it appears that the answer is the former. Furcal has been progressing well with his hamstring injury but is not quite ready to resume full speed activity. As a shortstop, he needs to make explosive defensive movements. As a leadoff hitter, he is likely to be exposed to more sprinting situations. Consequently, Furcal is at far greater risk of a setback if he returns at less than full strength. Since it's May and not September, there is no reason for the Dodgers to take that chance. The move to the DL appears to have been largely precautionary. Expect Furcal to return when eligible, barring, of course, a setback.
Manny Ramirez, OF, Los Angeles Dodgers (15-day DL, April 23):
Speaking of Dodgers placed on the DL for precautionary reasons, Ramirez began a rehab assignment Tuesday and the news is so far, so good. Ramirez, who suffered a Grade I calf strain, has been running without incident for several days. He is eligible to return May 9 and appears on track to meet that target.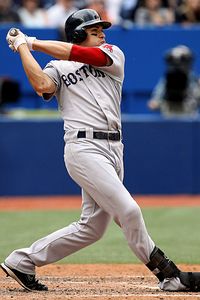 Tom Szczerbowski/US PresswireJacoby Ellsbury would like to be comfortable swinging the bat before he returns from four broken ribs.
Jacoby Ellsbury, OF, Boston Red Sox (15-day DL, retroactive to April 12):
Ellsbury continues to recover from the pain that comes with having four broken ribs.
From last week's injury blog:
Although it can take four to six weeks for a rib fracture to heal, from the standpoint of activity this is a symptom-based condition meaning whatever he can tolerate, he can do. The fact that four bones were broken, however, tells us that it will take longer to tolerate just about everything.
That statement still holds true. The Boston Globe reported that when pressed for a timetable earlier in the week, Ellsbury declined to provide one, reminding everyone that he does indeed have broken bones "and they need to heal." It may feel like forever to fantasy owners, but it's only been three weeks, very reasonable when you consider his injury.
Ellsbury did take a positive step Tuesday when, according to the Red Sox's website, he took batting practice before the team's game against the
Los Angeles Angels
. Let's see how Ellsbury feels the day after this new activity before we get too excited. And keep in mind, he likely will require a rehab assignment to get his body back in the groove of playing both offense and defense. He may very well be more than just a few days away from returning. The road back may continue to feel slow, but at least we are seeing some tangible progress.
Jimmy Rollins, SS, Philadelphia Phillies (15-day DL, April 13):
A week ago, we pointed out that Rollins had not done any explosive movement that would really test his calf; now we know why. According to the Phillies' website, Rollins still feels discomfort in his right calf when he has to move to his left while fielding ground balls. This makes perfect sense from an injury standpoint. As he makes that initial lateral movement to make a play on a ground ball traveling to his left, he is forced to push his full body weight through that calf muscle. While it might not be bothersome in straight-ahead running, making a quick directional movement from a stationary position requires significantly more power. The discomfort Rollins feels is his calf's way of telling him that it's not healed.
Consequently, the Phillies have expanded the time frame for his return from four weeks to six. This is hardly shocking; we have said from the outset that these injuries are unpredictable and easily aggravated. The Phillies don't want him to come back only to be forced out again. The idea is to have him back for the remainder of the season. Fantasy owners should set their sights on the latter part of May.
Kerry Wood, RP, Cleveland Indians (15-day DL, retroactive to March 26):
Last week we said that Wood was scheduled to begin a rehab assignment soon. He did. We also said that when pitchers face live hitters, the adrenaline goes up and the body can react. It's also a time for pitchers to work on their velocity and location. Wood had a chance to get some work in and found out what he still needed to work on before rejoining his team.
Wood may have given up six runs in less than an inning in a rehab outing, but on the positive side, he reported feeling good afterward. Wood told the Akron Beacon Journal, "that's the most important thing for me." Certainly given his injury history that couldn't be more true. Wood may require another couple rehab appearances before he retakes the closer role with the Indians but his return date appears close.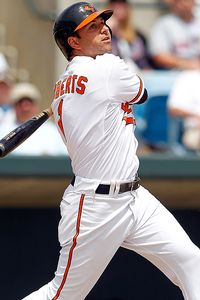 J. Meric/Getty ImagesBrian Roberts' seemingly uncertain return frustrates many owners.
Brian Roberts, 2B, Baltimore Orioles (15-day DL, April 10):
The quote heard 'round the fantasy world: "It could be three weeks, it could be three months" was Roberts' assessment of his situation, according to the Orioles' website. For fantasy owners wondering whether they should still hold out any hope, it's worth noting that Roberts was quick to add that he did not really think it would be three months.
Nonetheless, we have outlined here in past weeks that Roberts' back condition has the potential not only to linger, but to continue to be problematic across the season. Disc problems are notoriously difficult and this is behaving no differently. Roberts is still very limited in his activity as the team brings him along slowly. Because there are many hurdles to overcome, it is hard to establish a clear timeline. That brings frustration for players and fantasy owners. At this point, it's anyone's guess, including Roberts', as to when he'll be able to return.
Curtis Granderson, OF, New York Yankees (15-day DL, May 2):
When Granderson pulled up sharply while rounding the bases Saturday and hobbled toward third base. it was obvious he had pulled something, it just wasn't clear exactly what it was. We have learned that he suffered a Grade II groin strain, and according to ESPN's Buster Olney, Granderson is expected to miss a month.
This is not dissimilar to the Grade II muscle strain that the Phillies' Rollins is dealing with, other than the exact location of the injury. Grade II, also called a moderate strain, represents the widest range of injury somewhere between a minor strain with no visible tissue damage (Grade I) and a complete muscle tear (Grade III). As we have seen with Rollins, it takes time for the tissue to heal, and the most challenging aspect of recovery is regaining explosiveness and speed, a critical component of Granderson's game. Fantasy owners should hope for four weeks, be prepared for six and know that his timetable could still fall outside of those parameters depending how his rehab goes.
Jorge Posada, C, New York Yankees (day-to-day):
Posada's calf strain is being called mild following an MRI this week. According to the New York Daily News, Posada is not expected back before Friday. Let's face it, at age 38, these types of injuries are more apt to occur. The most fortunate thing for the Yankees is that the strain was not more serious, like Rollins' was. It looks like this will not land Posada on the DL, but if it doesn't progress as expected, he won't be an automatic start for the weekend series, even if it is the Red Sox. Fantasy owners need to be sure to check pregame lineups.
Etc.
Cliff Lee, SP, Seattle Mariners:
If there were any lingering doubts as to how Lee would fare coming off the DL following his abdominal strain, he seems to have put those to rest. Lee pitched seven scoreless innings in his first start of the season while dishing up eight strikeouts.
Mike Cameron, OF, Boston Red Sox:
Cameron seems to be progressing nicely with an abdominal strain that initially appeared as if it might require surgery. In fact, he could be headed for a rehab assignment within a week.
Erik Bedard, SP, Seattle Mariners:
Bedard continues to move forward in his throwing progression, slightly ahead of schedule as he recovers from shoulder surgery. After a bullpen session Friday, Bedard was projected to move up to a simulated game this week. According to manager Don Wakamatsu, Bedard has adjusted his mechanics to place less stress on his throwing shoulder. The key will be whether he can maintain these mechanics as he begins to face hitters. The best case has him returning the end of May, but don't be surprised if it stretches a bit longer.
Mariano Rivera, RP, New York Yankees:
Rivera shrugged off the stiffness in his left side as no big deal, much as one would expect. Pain on the opposite side of the trunk from the throwing arm always raises the specter of an oblique issue, but Rivera's confidence is convincing. So is the fact he threw a bullpen session before Tuesday's game. This does not appear to be something that will limit him beyond a few days.
Huston Street, RP, Colorado Rockies:
As a pitcher returns in his throwing progression, one big hurdle comes when he moves from throwing on flat ground to throwing off a mound. Street overcame that hurdle Tuesday when he threw a bullpen session and experienced no discomfort in his shoulder afterward, according to the Examiner. The plan is for Street to throw in an extended spring training game next followed by a rehab assignment. If all goes well, he should be back with the team within a few weeks.
Jeff Weaver, SP, Los Angeles Dodgers:
Weaver has been doing well in his simulated games and is expected to be activated Friday. Apparently the back issue he was dealing with was minor as these things go and he has recovered quickly, as expected.
From my mailbag
Cameron (Atlanta):
Are any injuries really freak injuries? I mean, I realize that if a player slips on water in his kitchen and falls on his wrist and breaks it, then that is a freak injury. But, you often hear that somebody pulled their hamstring in a "freak injury." I would have to argue that it is never really a freak injury. I think these types of injuries happen for various reasons, especially in a non-contact sport such as baseball. For example, someone is carrying around extra weight and didn't put in the work in the offseason, they didn't warm up and stretch properly, they have tight quads or hamstrings that cause one or the other to overcompensate that eventually leads to a pull or strain. Or one part of the body has been severely overworked and leads to another part of the body being vulnerable. If any of those situations happen, then technically the injury could have been prevented if the athlete worked harder and took better care of their body. What say you?
Stephania Bell:
What a great question! This is one of those philosophical questions where I'm not sure we really ever have a definitive answer. As you point out, the true "accident" such as slipping on the wet floor, or stepping in a lawn divot that is hidden from view, even a car accident in which there is no fault on the part of the injured party ... these could all be described as freak injuries.
At the same time, there are certainly "unusual" (as in uncommon) injuries that occur in sports that may be more likely to happen, as you point out, because of inadequate warm-up, less than ideal fitness or some other contributing factor. In medicine, we always feel that individuals with better fitness tend to recover better and faster from injury. In some cases, the more skilled individual may even be able to avoid an injury that would have felled the average person. To that end, we spend a lot of time encouraging proper fitness and, when possible, tailoring that fitness to the individual's activity. Someone who lifts repeatedly at work needs to be "fit" for that job, just as a baseball pitcher needs to tailor his exercise program to support his occupation.
Great food for thought, though. And if it encourages anyone to spend a little extra time on core strengthening or flexibility to help prevent injury, then we've accomplished something!
If you have any injury questions you want answered in the blog, drop a note in
my mailbag
, or stop by my Tuesday chats.