Stephania Bell:

Marshawn Lynch
October, 17, 2013
10/17/13
11:02
AM ET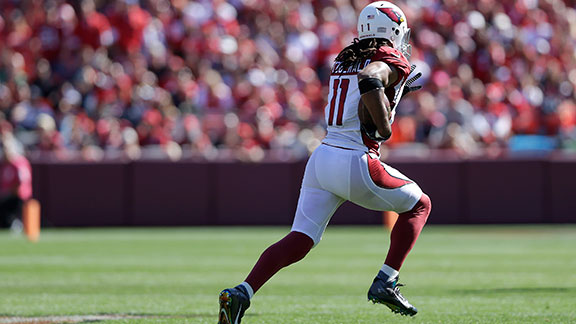 AP Photo/Marcio Jose SanchezLarry Fitzgerald will play Thursday night, but how productive will he be?
For the second time this season, it's an NFC West showdown on "Thursday Night Football," with the
Seattle Seahawks
paying a Week 7 visit to the
Arizona Cardinals
. There are a number of players on each team's injury report for this contest, including three who have significance to us in the fantasy football world.
Seattle Seahawks
Marshawn Lynch, RB, hip (probable):
Lynch popped up on last week's injury report with a hip issue. The worrisome part was that Lynch missed Friday's practice, then came into the Week 6 game listed as questionable. Coach Pete Carroll appeared to dismiss it, saying, "We did treat Marshawn for a little hip thing this week, but he's fine."
The last time a Seahawks player had "a little hip thing," it was newly acquired wide receiver
Percy Harvin
in June OTAs, and we know how that ended up. Carroll's report of Lynch being "fine" was on point, however, given that Lynch not only played last week but racked up as many receiving yards as rushing yards and netted two touchdowns, much to the delight of fantasy owners.
With this week's game coming only four days later, it's no surprise he saw some rest early in the week, including an off day Tuesday. He comes into this game as probable, however, not questionable like last week, leaving no doubt he will be taking the field in this divisional matchup.
Zach Miller, TE, hamstring, (probable):
The Seahawks have been without their starting tight end the past two games as he has been nursing a hamstring injury. This week, Miller makes his return to the playing field after putting in back-to-back full practices Tuesday and Wednesday.
Although there are never any guarantees that an athlete is completely past a hamstring injury before he returns to competition, the fact that Miller was close to being cleared for last week's game -- Carroll had called him a game-time decision in advance of Week 6 -- is encouraging. The bigger question might be whether Miller will see meaningful targets the way he did in Week 3, when he scored two touchdowns. At least fantasy owners can have confidence in the expectation that he will indeed be active for this game.
Arizona Cardinals
Larry Fitzgerald, WR, hamstring, (probable):
Fitzgerald is going to play, just as he has since originally injuring his left hamstring in Week 2. The question fantasy owners have is what to expect from him on the field, a question made a little more challenging considering the matchup with Seattle's outstanding secondary.
Fitzgerald seemed to have made improvements in his recovery until last week, when he suffered a second injury. Up until game time, there was much rumbling not only about whether Fitzgerald, listed as questionable, would be able to play, but also whether he would serve as much more than a decoy. The assumption was that he would not be able to stride fully, which would make it difficult to gain separation. Fitzgerald ended up starting that game, and, when it was over, he had proved he was more than a decoy. On one play in particular, a 75-yard touchdown reception, Fitzgerald looked to be running just fine.
But that's not the entire story. Fitzgerald is dealing with a right hamstring injury to go along with his previously injured left side. After Sunday's game, he was in enough discomfort that he was having trouble bending down in the locker room, according to The Arizona Republic. Still, Fitzgerald was listed as a limited practice participant Monday and Tuesday, followed by an upgrade to full participation Wednesday.
It's worth noting that these practices are significantly scaled back on a short week, with walk-throughs and light drills largely constituting the bulk of the activity. Light work is perhaps the best thing for Fitzgerald, as rest might be his best friend while he tries to manage these bilateral hamstring issues. It's hard to know what to expect as far as productivity from Fitzgerald on Thursday night, given that he is not truly 100 percent healthy and faces a tough matchup. But everyone knows what to expect from him as far as effort, and he has made it clear he plans to play.
September, 20, 2012
9/20/12
10:05
PM ET
Here is what we're looking at so far for Week 3:
Quarterbacks
Blaine Gabbert, Jacksonville Jaguars (glute):
Gabbert was a full participant in practice Wednesday and Thursday. He appears on track to play Sunday.
John Skelton, Arizona Cardinals (ankle):
Skelton missed Week 2 because of his ankle sprain, and
Kevin Kolb
started in his place. Will Kolb start again in Week 3? Early signs point to that being the case. While Skelton was "walking around," according to the Cardinals' official website, he did not practice Wednesday. Skelton did manage a limited practice Thursday, but it seems hardly enough to suggest he'll take over the reins again this weekend.
Running backs
[+] Enlarge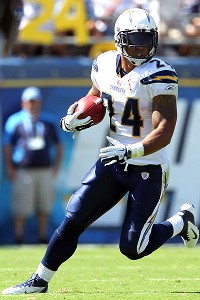 Jeff Gross/Getty ImagesAll signs point to Ryan Mathews returning to the Chargers' backfield this week.
Ryan Mathews, San Diego Chargers (shoulder):
Well, well, well. It looks like we are about to see the highly anticipated season debut of a certain Chargers running back. The timing does not come as a complete surprise, as it's consistent with the typical healing timeframe for this type of injury (fractured clavicle).
This is from my entry on Mathews in the 2012 Fantasy Football Draft Kit: "... Before a player is cleared to resume contact, there must be sufficient evidence of bony repair to alleviate concerns of reinjury. Every fall onto the shoulder, direct hit to the shoulder (especially if the player is hit from both sides simultaneously), even a stiff-arm move, will translate force through the collarbone area. For an athlete such as Mathews, who will incur contact through his clavicle (directly or indirectly) on virtually every play in which he carries the ball, the confidence that the bone will remain intact must be high before allowing him to compete. Normal bone healing takes approximately six weeks, which, given Mathews' injury date, would suggest he could be ready by Week 3."
Mathews was cleared for contact late last week but had very limited practice reps and was held out of competition for another week. That was smart. Now Mathews has had a chance to turn it up a notch in practice, and his collarbone has had another week of bone remodeling. According to the San Diego Union-Tribune, Mathews said, "I feel great; I feel healthy and strong." That's what fantasy owners like to hear.
Steven Jackson, St. Louis Rams, (groin):
On Tuesday,
we noted that Jackson missed time
in Sunday's game because of a groin injury and nothing else. While coach Jeff Fisher and Jackson made it seem as though the injury was not serious -- and an MRI seemed to confirm as much -- it remains to be seen whether Jackson will be ready to go this weekend. He did not practice Wednesday or Thursday, but according to the Rams' official website, he "remains hopeful" he'll be ready by Sunday. This may well come down to a game-time decision.
Matt Forte, Chicago Bears (ankle):
As we noted Tuesday, we said
it would be a surprise to see Forte this week
, and his non-participation in practice Wednesday or Thursday supports that idea. While it does seem that the injury was not as serious as initially expected, it's still looking like, barring a Friday surprise,
Michael Bush
will start for the Bears in Week 3.
Marshawn Lynch, Seattle Seahawks (back):
Lynch has been on the injury report since prior to Week 1 because of his back. So far he has managed to play in the first two games of the season. Since the Seahawks play Monday night, there is only one day of practice (Thursday) to report so far, and Lynch again appeared as a limited participant. No reason for major concern as of now.
Jamaal Charles, Kansas City Chiefs (knee):
Charles fell on his surgically reconstructed knee in Week 2 and sustained a knee bruise, according to the Kansas City Star. He was able to return to full practice Wednesday and followed it up again Thursday, boding well for him playing Sunday.
Rashard Mendenhall (knee) and Jonathan Dwyer (toe), Pittsburgh Steelers:
Mendenhall has again been listed as a full participant in practice both Wednesday and Thursday this week. Here's what I said last week after he practiced both days: "Pittsburgh does have an early bye week (Week 4), and it's possible we do not see Mendenhall before then." I still feel the same way. Each week, Mendenhall has been exposed to increasingly more work and increasingly more contact. Like others coming off ACL surgery, there is a process for evaluating how the player -- and his knee -- responds to each upgrade in activity. There is nothing official from the team to indicate he will wait another week, so it remains possible that he could be activated. If that does happen, he would not likely get a heavy workload in his first outing.
Meanwhile, Dwyer is dealing with a case of turf toe, which may have hindered his productivity somewhat in Week 2. He rested Wednesday but was back in full practice Thursday, hinting at him being active for Week 3.
Rashad Jennings, Jaguars, (knee):
Again this week, Jennings has not practiced due to a knee injury. It will be the
Maurice Jones-Drew
show on the ground in Indianapolis when the Jaguars visit the Colts regardless.
Daniel Thomas, Miami Dolphins (concussion):
Thomas missed last week's game due to a concussion but returned to full practice Wednesday. Barring a setback, he should be available this weekend, although he will serve as a backup to
Reggie Bush
.
Wide receivers
[+] Enlarge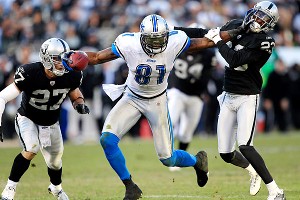 AP Photo/Marcio Jose SanchezNo worries, Megatron owners. Calvin Johnson is expected to play Sunday.
Calvin Johnson, Detroit Lions (ankle):
Last week it was his foot, this week it's his ankle. Johnson will probably appear on the injury report fairly regularly; hopefully, he will continue the pattern of resting early in the week and playing later. He did not practice Wednesday but was back in limited practice Thursday. If he continues the trend, expect him to play Sunday.
Greg Jennings, Green Bay Packers (groin):
Jennings sat out last week's game because of a groin injury. It wasn't much of a surprise considering he had suffered the injury just four days prior, The expectation was that the extra time off would have him in good shape for Week 3. In fact, coach Mike McCarthy told the Milwaukee Journal-Sentinel late last week he would be surprised if Jennings did not play in Monday night's contest.
Then came Tuesday's practice. Jennings was on the field in full pads, and all seemed to be progressing well. It turns out Jennings didn't do much Tuesday other than run, and on Thursday he was unable to practice at all. According to the Milwaukee Journal-Sentinel, McCarthy said Jennings was limited to rehab Thursday and was not progressing "as well as hoped." While there are still a few more days before game time, if Jennings is still this limited 11 days post-injury, how much improvement can realistically be expected by Monday? His status could come down to a game-time decision, but if he isn't able to practice at all Friday, fantasy owners should be concerned.
Jeremy Maclin (hip) and DeSean Jackson (hamstring), Philadelphia Eagles:
These two were both on the Thursday injury report last week, and both ended up playing Sunday. The difference is that this week Maclin was forced out of the game because of his hip. Jackson finished the game -- and played well -- despite a hamstring strain late in the week. While Maclin was unable to practice Wednesday, he did return on a limited basis Thursday. Jackson practiced on a limited basis Wednesday and returned to full practice Thursday.
At this point, Jackson appears to be in better shape heading toward Sunday, presuming there are no setbacks beforehand. As far as Maclin's status is concerned, he does appear to be making progress and as long as he shows he can perform sufficiently before kickoff, there is still a reasonable chance he plays. Friday's practice should yield better clues for both receivers.
Pierre Garcon, Washington Redskins (foot):
Even though he did not play Sunday, the rest might not have been enough for Garcon's foot. He participated in limited practice Wednesday and Thursday, but according to the Fredericksburg Free Lance-Star, coach Mike Shanahan says Garcon's injury is "nagging him a little bit more than I was hoping it would." That's certainly not the most optimistic sounding assessment. If Garcon continues to experience this level of discomfort, it's hard to imagine him suiting up in Week 3.
Marques Colston, New Orleans Saints (foot)
: Colston was listed on the injury report last week because of his foot, but still managed to play Sunday. According to the New Orleans Times-Picayune, Saints interim coach Aaron Kromer says the foot injury is affecting Colston's speed. Perhaps the limited reps in practice this week will help him get back up to speed. He is expected to play Sunday.
Julio Jones (thigh) and Roddy White (knee), Atlanta Falcons:
Jones and White both on the injury report? Not to worry. The Atlanta Journal-Constitution reports that coach
Mike Smith
offered this explanation: "The reason a lot of those guys are limited in their participation is [because] we are on a short week." They did play Monday night, and it was, after all, a very long game. Both were restricted to limited work in practice Wednesday and Thursday, but from the sounds of things, both are expected to play Sunday.
Brandon Lloyd, New England Patriots (thigh):
Lloyd was limited both Wednesday and Thursday with what is being listed as a thigh injury. There has been nothing to suggest the injury is serious, though, including the fact that Lloyd did not completely miss a practice. The Patriots do not play until Sunday night, so hopefully there will be a better indication after Friday's session.
Tight ends
Antonio Gates, Chargers (ribs):
Despite missing Sunday's game due to sore ribs, Gates did get right into practice this week, an encouraging sign for this week's status. Although he was limited Wednesday, his response to practice was positive enough to bump him up to a full workload Thursday. Thankfully, it does not appear he will be a game-time decision this week.
Heath Miller, Pittsburgh Steelers (abdomen):
Miller has not practiced yet this week because of a rib cartilage injury. Any injury in the rib area can be exceptionally painful;
Antonio Gates
missed last week's game with a similar ailment. This could come down to a game-time decision.
Dustin Keller, New York Jets (hamstring):
Keller missed last week's game because of his hamstring injury but appears to be making progress. He wasn't in practice Wednesday but did return to limited work Thursday. Now the test will be to see how the leg responds and whether he can repeat the effort Friday.
September, 6, 2012
9/06/12
5:02
PM ET
Well, the first game of the 2012 NFL regular season is behind us. Given the altered schedule this week, today we'll look at some key players whose status could be in flux in advance of Sunday's games. There are
many
more players to discuss, and Saturday will mark the return of the sizable pregame injury blog. Saturday's entry will include injury breakdown by position and official designations on the teams' final injury reports.
In the meantime, here are a few players to keep an eye on:
• Vikings running back
Adrian Peterson
(knee) has made his readiness and his eagerness to return well-known, and on Thursday, Vikings offensive coordinator
Bill Musgrave
told reporters he has "not too much doubt" that Peterson will play. According to Dan Wiederer of the Minneapolis Star-Tribune, the Vikings will determine Peterson's playing status either Friday night or Saturday morning.
Musgrave also indicated to ESPN 1500 Twin Cities that there are a limited number of plays in mind for Peterson. We have maintained all along that the Vikings would likely ease him back into a regular workload, and it appears they plan to do just that. Peterson could be limited to just a few series.
[+] Enlarge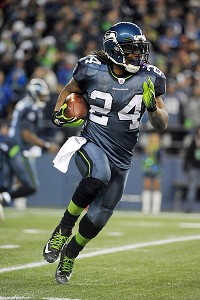 Kirby Lee/Image of Sport-US PresswireMarshawn Lynch is ranked 12th among RBs for Week 1.
• Seahawks running back
Marshawn Lynch
is no lock to play this weekend after being sidelined for the past two weeks because of back spasms. With regard to Lynch's status, Seattle coach Pete Carroll told reporters Thursday he "really won't know until the end of the week unless something changes." This is not Lynch's first episode of back spasms, either. He has dealt with something similar on an occasional basis over the past four years; the challenge is not knowing when a flare-up will occur or how long it will last. The Seahawks are making preparations in the event that Lynch cannot play Sunday against Arizona (translation:
Robert Turbin
would start), but this may come down to a game-time decision.
• Browns first-round pick
Trent Richardson
is likely to take the field Sunday, although it's unclear how much playing time he will see. Richardson, recovering from his second knee surgery this year, told the Cleveland Plain-Dealer that "... in my mind, I'm ready. I can't wait to see what the results are going to be on Sunday." The Browns have been cautious with their rookie running back in his return to practice and are likely to limit his touches Sunday as well.
•
New Orleans Saints
wide receiver
Marques Colston
was out of practice Wednesday because of a sore foot. He returned to limited practice Thursday and appears to be on track to play Sunday.
• Panthers running back
Jonathan Stewart
has yet to practice since injuring his ankle during the preseason, but don't write him out of the Week 1 game plan just yet. Earlier this week, coach Ron Rivera said he was "encouraged" by Stewart's progress, and indicated the veteran back would travel with the team to Tampa. It's worth noting that despite dealing with foot and ankle issues in the past, Stewart has played in all 16 games three out of the four seasons he has been in the NFL.
• Bills wide receiver
Stevie Johnson
is still having intermittent soreness in the groin area following offseason surgery. It is not uncommon for athletes to experience this, particularly as they ramp up activity. On several occasions during training camp, the team opted to rest Johnson when the soreness cropped up, and the Bills did so again Wednesday, restricting him to "limited" practice. Johnson recently described himself as "90-something percent" recovered according to the Bills' official website, adding, "I only say 90 because no one is really 100 percent unless you haven't been playing at all, but I'm good." Last year Johnson played -- and was productive -- while injured, so it doesn't appear as of now that this is a big threat to his status.
See you at my
injury chat Friday at 11 a.m. ET
, and I'll have the latest Week 1 injury updates in my Saturday morning blog.
October, 25, 2011
10/25/11
5:34
PM ET
Anyone who plays fantasy football knows the trauma inflicted across rosters in the mess that was Week 7. There are, oh, a gazillion injury situations in play, so without further ado:
Washington Redskins
running back
Tim Hightower
was just getting past his shoulder injury, but it was his leg that failed him this time. Hightower suffered a torn ACL in a classic non-contact, deceleration manner, so we won't see him until next season.
It's hard to know whether we'll see
Earnest Graham
again after the
Tampa Bay Buccaneers
' veteran back, filling in for the injured
LeGarrette Blount
, suffered a torn Achilles tendon. With surgery and a lengthy recovery ahead of him, Graham may be challenged to return. In the meantime the Bucs, who have said nothing about Blount's specific injury or his progress (other than terming it a sprained knee), may be turning to some outside help to shore up their backfield. However, the Bucs do have a bye this week, but it is too soon to know whether Blount, who has yet to practice, will be ready by Week 9.
Tight end
Chris Cooley
never really got it going this season as a result of his ongoing knee ailment. He then fractured his index finger, requiring surgery and a lengthy recovery. He will now have plenty of time to recover from both as the Redskins have placed him on injured reserve.
Fred Davis
has proven to be quite capable in his place so far this year.
Quick Hits
They're all going to be quick hits this week gang given the number of injury items. As details emerge throughout the week, we will expound on them.
Detroit Lions
quarterback
Matthew Stafford
staying healthy through the first half of the season (officially through this Sunday; the Lions then have a bye in Week 9), don't rush to cash in just yet. Although Stafford was seen limping off the field late in Sunday's game against the
Atlanta Falcons
game after a defender fell on his right ankle, head coach Jim Schwartz is simply calling him "day-to-day," leaving open the possibility he is available this week. Schwartz did not go into details regarding the results of Stafford's imaging tests. My interpretation: nothing catastrophic, but some variant of a soft tissue injury. The key, as always, will be whether he can effectively plant and throw and move to protect himself.
• There were a pair of hand injuries suffered Sunday that require surgery. Redskins wide receiver
Santana Moss
underwent surgery Monday to insert pins in his broken left hand. He is projected to miss five to seven weeks. That timetable could be updated in about a month as the bone healing is evaluated.
Denver Broncos
running back
Willis McGahee
fractured his fourth metacarpal (the long bone in the hand that runs from the base of the fourth finger to the wrist) and is scheduled for surgery to repair it on Tuesday. While McGahee acknowledged he would miss Week 8, he expressed confidence he could return by Week 9. That sounds optimistic. Consider Redskins running back
Ryan Torain
, who underwent surgery for his metacarpal fracture in August but took three and a half weeks to return to practice, and four weeks before he played in a game. While all injuries are unique, it would not be surprising if McGahee's absence extends beyond the two weeks he projects. Even when he returns, he may require protective wear on the hand. OK,
Knowshon Moreno
, it's time to step up.
•
Green Bay Packers
wide receiver
Greg Jennings
also suffered a hand injury Sunday, but the results were not so dire. Jennings suffered a bruised right hand, one that caused him to temporarily experience numbness, according to the Milwaukee Journal-Sentinel. He had enough function in the hand to return to the game and later X-rays revealed no fracture. The Packers have a bye in Week 8, and it sounds like they expect Jennings for their Week 9 matchup with the
San Diego Chargers
.
•
Oakland Raiders
running back
Darren McFadden
had only two carries Sunday before exiting with what coach Hue Jackson told reporters Monday is a midfoot sprain. McFadden was on crutches Monday to offload the foot, but the team seems to not be overly concerned. They have the luxury of a bye week to allow McFadden to rest the foot and plan to re-evaluate him Monday. The midfoot is key for transferring load from the back of the foot to the front during weightbearing and any injury there makes it difficult to walk, much less run, normally. A minor sprain can respond well to unloading (this is where the crutches come into play) along with therapeutic modalities to help ease any pain and inflammation. Keep in mind that McFadden did return to the sidelines, but given his history of toe and ankle injuries, the Raiders were more conservative in guarding him against further injury. Wise move. Hopefully he is able to return in Week 9.
Arizona Cardinals
oft-injured running back
Beanie Wells
suffered a knee injury in Sunday's game that has left him with significant swelling but no particular diagnosis, at least not one the team is revealing. According to Kent Somers of the Arizona Republic, Wells denied a bone bruise and head coach Ken Whisenhunt did not elaborate on the nature of the injury, only saying there was no major structural damage. There are plenty of means by which a joint can become irritated and the response to that irritation is swelling. This is the same knee Wells had surgery on last year for a torn meniscus. The bottom line is that there is no plan for surgery (since there is no "structure" to address) at this time but there is also no running on a swollen knee. The goal is to address the swelling first, then try to bring the athlete back toward full activity and hope the swelling does not return. How long will it take? No one knows for sure. So stay tuned and keep an eye on when Wells is able to return to practice. Start by preparing for a backup in Week 8.
• New Orleans had all their running backs healthy when they came into Week 7 (not counting
Chris Ivory
, on the Physically Unable to Perform list since the start of the season). But
Mark Ingram
left Sunday's game with a limp, suffering what the team has called a bruised heel. No further word from the Saints on what they expect, and there is no indication as to whether the bruise is on the back of his heel, near the Achilles attachment, or on the undersurface of the heel, making it hard to prognosticate. If Ingram is limited,
Pierre Thomas
could be setting up for a nice matchup against the
St. Louis Rams
. Meanwhile, Ivory could be nearing a return to practice but that has not yet been made official.
• Atlanta Falcons quarterback
Matt Ryan
had a nasty looking ankle roll in Sunday's game. The awkward spill appeared to stress both his ankle and his knee, but after exiting for a brief period, Ryan was able to return and finish out the game. Ryan is no doubt pleased to have a bye week to allow the soreness to subside but is expected to start in Week 9. Teammate
Julio Jones
has missed two games with a strained hamstring, but if all goes well he could be back in Week 9.
•
Minnesota Vikings
wide receiver
Percy Harvin
has been battling sore ribs since the preseason. Again he had issues with the ribs, which forced him to exit the game in the third quarter. Harvin is going to be further evaluated, but consider the Vikings had already agreed to scale back his playing time when his condition worsened. It's entirely possible he misses some time.
• Even the durable
Hines Ward
of the
Pittsburgh Steelers
is on the injury report this week after sustaining an ankle sprain Sunday. Ward often gets a day off from practice during the week (veteran, history of knee issues in the past) so it may be difficult to get a feel for his playing status until Friday.
• The San Diego running backs have to be thankful for one extra day before returning to competition.
Ryan Mathews
injured his thumb during the game against the
New York Jets
but was able to return to play.
Mike Tolbert
was seen grabbing his hamstring late in the game and was indeed listed on the postgame injury report, according to the San Diego Union-Tribune, but neither player's injuries seemed to be a major cause for concern.
Raise your hand if you were one of the fantasy owners whose Sunday was ruined when
Marshawn Lynch
, declared active, was suddenly not playing because of back spasms that flared up during his pregame warmup. To make matters worse, it appears Lynch has been dealing with the issue for a while. According to the
Seattle Seahawks
' official website, coach Pete Carroll said Lynch's back is "not a new issue" but has been managed effectively to this point. As for Lynch's status this week Carroll said, "We'll have to be careful with him through the week and make sure that we do the right things. He is determined to play for sure in his mind, but we're really not going to know until we get to the end of the week." Or maybe not until Sunday after your rosters lock. Have a backup at the ready so you can pull the trigger if there's any shadow of a doubt heading into gametime.
And then there were a number of players who never took the field in Week 7 but whose status is of interest for Week 8:
Sam Bradford
is still in a walking boot and is no lock to play in Week 8. The team plans to reassess his status Wednesday.
•
Cleveland Browns
running back
Peyton Hillis
was not able to play Sunday because of his strained hamstring, but he did get some running in Monday, according to the Akron Beacon Journal. There have been enough hamstring injuries around the league that everyone should know this is only one of many steps before returning to play. If Hillis is able to get back to full practice this week, then he should play Sunday.
• The
Houston Texans
could have wide receiver
Andre Johnson
back in the lineup Sunday if all goes well. Coach Gary Kubiak added clarity to the situation calling the return of Johnson "definitely a possibility" when speaking to reporters Monday. Johnson, who underwent a procedure on his torn hamstring tendon in early October, has been running but has not yet returned to practice. If he is able to do so early this week, it would bode well for his chances.
• The
San Francisco 49ers
could have wide receiver
Braylon Edwards
in the mix this Sunday. Edwards has been out recovering from meniscus surgery on his right knee. Head coach
Jim Harbaugh
said he expected Edwards to return to practice Tuesday.
• The
New York Giants
could get running back
Brandon Jacobs
alongside
Ahmad Bradshaw
this week. Jacobs, sporting a brace for protection, was able to practice Monday, indicating the swelling in his knee had subsided to the point he could participate. Now the challenge will be to see if the swelling remains down before he can be cleared to play.
We will continue to update these injuries and others as the week progresses.
September, 2, 2010
9/02/10
3:04
PM ET
As usual, the preseason generates its fair share of injuries on top of all the lingering issues heading into camp. I'll be taking a look at some of the more notable injury news regarding running backs and wide receivers as we head into the final week of preseason action.
Running Backs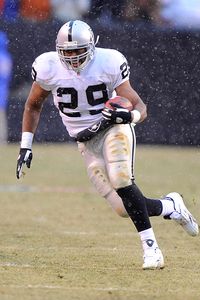 Kirby Lee/Image of Sport/US PresswireMichael Bush could be back for the season opener despite the hand injury, but it's still up in the air.
Michael Bush, Oakland Raiders:
Just when it looked as if Bush might edge out
Darren McFadden
for the top spot, he suffered a left thumb fracture in the Raiders' third preseason game. While early indications were that Bush was expected to undergo a surgical procedure Monday, coach Tom Cable would neither confirm nor deny on Monday whether that had taken place. According to the San Jose Mercury News, "We are going to adhere to the in-season injury policy," Cable said, "and we're not going to talk about injuries, or where anyone's at, or what's going on with them."
Bush decided to tweet about it Tuesday, however. So we now know he underwent surgery to stabilize a Bennett's fracture. A Bennett's fracture is a break at the base of the first metacarpal, the bone that connects the wrist to the thumb. The break is located where the metacarpal meets the carpal or wrist bones (the carpometacarpal joint). This joint is significant because it has a great deal of mobility, which is needed for pinch and grip.
When treated promptly, this type of injury can have a very good outcome. Surgery to pin the fracture helps ensure proper alignment and allows for earlier range-of-motion exercise. Bone typically takes six weeks to heal, although it can be less in a small bone of the finger or hand. Once Bush's thumb demonstrates good bony healing, he likely will be allowed to return to play, but with some form of protection for the thumb. How cumbersome the protective device is might dictate how well he is able to carry and catch the ball. Although there is no official timetable for Bush's return, there are many variables that could influence it, including the extent of the fracture, how quickly his bone heals and how well the thumb can be protected while still allowing him to function. At this point, he should not be viewed as a lock to start the season.
Fred Jackson, Buffalo Bills:
Jackson broke the fourth metacarpal in his left hand in Week 1 of the preseason, which, although certainly a setback, isn't all gloom and doom. The fourth metacarpal, the long bone in the hand that connects the base of the fourth (ring) finger to the wrist, is not in a place that requires regaining significant range of motion or muscular strength. Once the bone has shown adequate healing, the injury should be behind him, minus the lingering effects or risk of recurrence of, say, a hamstring injury or knee sprain.
The typical timetable for bone healing is roughly six weeks, sometimes less in a smaller bone of the hand. Jackson's initial timetable was projected at four to six weeks, depending on how the healing progressed, which allows the possibility for a Week 1 return, although he likely would require some sort of protection, such as a heavy splint, for competition. Jackson has returned to practice and, according to the Bills' official website, coach Chan Gailey indicated he could be available Week 1 but likely would be limited. With
Marshawn Lynch
back in practice and
C.J. Spiller
performing well, expect Jackson's involvement to build for the first few weeks. The good news is that once the bone fully heals, Jackson's injury should be in the rearview mirror.
Maurice Jones-Drew, Jacksonville Jaguars:
It's tough to evaluate what you can't see, especially in the absence of any meaningful information, such as a diagnosis. When Jones-Drew hadn't practiced for several consecutive days because of an issue with his knee, it raised red flags. After a report of a "scope" on his knee, Jones-Drew's agent issued a statement calling the story "absolutely false." What we do know is that the team is holding him out of practice in the final week of the preseason so he can rest his knee and continue with rehab. According to The Florida Times-Union, coach Jack del Rio said surgery is "not necessary."
So, what to make of this situation? The Times-Union reported that Jones-Drew indicated on his radio show that he is "as healthy as I'll be." Those words suggest that his knee might not be perfect, but that he and the team think it is serviceable. How Jones-Drew's knee will hold up under the demands of a season of football, especially for a stalwart running back, remains to be seen. Without knowing the specifics of the injury, the likelihood of his condition worsening is virtually impossible to project.
Although it's understandable that the team wants to protect its most valuable ground asset from further injury, the mere fact that he is being so carefully guarded for the remainder of the preseason is cause for pause. At worst, this ailment turns into something bigger that causes Jones-Drew to miss significant time. At best, Jones-Drew is entering the season under a shroud of mystery and the possibility that an underlying condition exists that could become exacerbated at any time. For fantasy owners, it becomes a matter of deciding whether you can live with the uncertainty.
Marshawn Lynch, Buffalo Bills:
Lynch sprained his right ankle on Friday, Aug. 13 (the same day teammate Fred Jackson broke a bone in his hand, superstitious Bills fans take note), but the Bills are optimistic that he will return by Week 1. In fact, Lynch was cleared Tuesday to return to practice and participate in the preseason finale. Thursday should provide an opportunity to see whether Lynch's injury is behind him.
Steve Slaton, Houston Texans:
Slaton was already in a position of having to prove himself, needing to erase the memories of multiple fumbles last season. Those fumbles were caused, at least in part, by Slaton's inability to feel or grip the ball adequately, the result of a pinched nerve in his neck. Slaton's season ended prematurely because of the condition, and he underwent offseason neck surgery when the symptoms lingered even after extensive rest. Slaton entered training camp reporting significant improvement in how he felt and cleared for all elements of football.
With the loss of
Ben Tate
for the season to an ankle injury, the competition seemed to be between Slaton and
Arian Foster
. Slaton was given more kick return assignments in camp, however, and Foster appeared to have the edge for the starting job. In the Week 3 preseason contest, Slaton suffered a turf toe injury, and he is now virtually certain to take a back seat to Foster. Although the extent of the toe injury does not sound especially serious (the Texans' website suggests he could be ready for the season opener), Slaton did not need to add an injury. Coach Gary Kubiak is known to rotate his running backs based on performance, but it would appear that Slaton's value has taken a hit.
Wide Receivers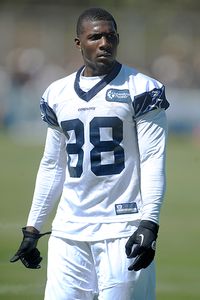 Kirby Lee/Image of Sport/US PresswireBecause of his injuries, Dez Bryant never did appear in a preseason game.
Dez Bryant, Dallas Cowboys:
Much was made of the size of Bryant's hands and his ability to make spectacular catches during rookie minicamp in May. On the final day, however, he turned his ankle. During June OTAs, Bryant came early and stayed late to work on fielding punts. But halfway through the scheduled sessions, Bryant developed hamstring tightness and missed several days of practice. In July, Bryant was the first Cowboy to step on the field for training camp, trying to set a tone for his readiness to play. Within days, Bryant had suffered a high right ankle sprain, the most serious injury for him thus far, which not only caused him to miss the remainder of training camp practices but also put the start of his season in jeopardy.
Notice a pattern? On the positive side, since joining the Cowboys, Bryant has impressed everyone with his punctuality (something he was not known for in college, which raised concerns at draft time), his eagerness and, above all, his raw talent at the wide receiver position. On the down side, one cannot help but notice that every session of workouts has been interrupted by injury. In fact, Bryant did not work out at the NFL combine because of a hamstring injury he was nursing at the time.
Although Bryant has made significant progress in his recovery from the recent high ankle sprain, and the Cowboys' medical staff has been properly cautious in not allowing him to return too quickly, the injury concerns going forward cannot be overlooked. The hope is that Bryant will be ready for the season opener (he has returned to practice, but, according to The Dallas Morning News, his conditioning needs work) but he will not have played in a single preseason contest. There are already indications that it is unlikely Bryant will muster a full season without some type of injury setback. Fantasy owners have to evaluate the upside of Bryant's talent alongside the potential risk of an absence caused by injury.
Percy Harvin, Minnesota Vikings:
Fantasy owners might have all but forgotten about Harvin's ongoing battle with migraines were it not for a particularly scary incident in training camp. Harvin, who had been absent for two weeks early in camp after the death of his grandmother and a migraine flare, collapsed on the practice field in mid-August and was taken by ambulance to a local hospital. The episode reminded everyone -- including teammates who observed it -- just how serious the condition is for Harvin.
Harvin was able to gradually return to activity and even made an appearance in the team's third preseason game, catching two passes in the Vikings' win. Afterward, Harvin indicated that additional medical tests led doctors to believe they have figured out a primary cause for his migraines. According to the Minneapolis Star-Tribune, Harvin said "We're feeling really confident. I know we said that a couple times, but I think this time we found what the main cause was." Harvin added, "I'm not saying I'll never get a headache again, but hopefully we can slow it down a little bit. ... It's not life-threatening, but it's something we need to work on and I will."
It's certainly encouraging that Harvin has been able to resume practicing, conditioning and even competitive play. It's perhaps more encouraging that he is so upbeat about the outlook for managing his migraines. Nonetheless, it remains a chronic condition that needs to be managed; it is not cured, at least not yet. That leaves fantasy owners with an element of uncertainty, but if Harvin continues to produce as he did last year, it might well be worth the trade-off.
For more injury capsules and updates, check out our full list in the
draft kit
.
December, 27, 2008
12/27/08
1:32
PM ET
By
Stephania Bell, ESPN.com
| ESPN.com
If you're still in the hunt, there's no doubt that this is THE week for you. Make or break. Do or die. Sink or swim. Fortunately for those of you still playing, most NFL teams have more at stake than the
Indianapolis Colts
, so at least some starters are worth starting. But not everyone will see a full four quarters of action. Teams are still exercising caution when it comes to injured players, and so should you. Here's how things are shaping up for the week to end all fantasy weeks, Week 17.
Marion Barber, RB, Cowboys:
If Barber is one of your fantasy players, you know the drill by now. Yes, this is a must-win game for the Cowboys. But no, Barber did not do anything exceptional in practice this week to give any more confidence that he is approaching full strength. Barber was still a limited participant throughout the week and is listed as questionable. The Dallas Morning News reports that Barber actually split some reps with
Tashard Choice
when practicing with the first team. This is a sign of progress. Don't let that fool you, though. Coach Wade Phillips has been hinting throughout the week that Barber is clearly not at full speed and has been wondering aloud whether resting him earlier would have had him healthier sooner. The effect of Barber's still-ailing foot is undeniable; he simply has not been able to push off and cut in his normal fashion. He will be a game-time decision again this week, and will likely be in uniform, just as he has been the past couple of weeks. Choice, however, will continue to carry the bulk of the running game, whereas Barber, if he plays, likely will provide only a limited contribution.
Brandon Jacobs, RB, Giants:
Sure, coach Tom Coughlin wants his starters to stay in the rhythm of the game. He certainly does not favor rhythm over long-term availability, though, and in the interest of ensuring that Jacobs does not take a step backward with his knee, he will protect him. Jacobs is listed as questionable, but he did not participate in Friday's practice and looks as if he will see extremely limited time, if any, on Sunday.
Derrick Ward
will probably see the majority of the action in the run game for the Giants this weekend.
Kevin Boss, TE, Giants:
Boss has shaped up to be a decent fantasy tight end option, but don't count on him this week. He is nursing not one but two injuries -- an ankle sprain and a concussion -- and he is listed as doubtful after missing practice all week. Expect the Giants to allow him to sit this one out, as you should on your fantasy team.
Frank Gore, RB, 49ers:
Gore has missed the past two weeks of your fantasy playoffs with his sprained ankle. This week he is listed as probable, which, as everyone knows by now, means "virtually certain to play." So you're excited if you're a Gore fantasy owner, right? Well, not so fast. Despite the encouraging status upgrade, Gore has been able to practice only on a limited basis, and according to Matt Maiocco of the Santa Rosa Press Democrat, Gore's status remains a game-time decision. Maiocco reports that 49ers coach Mike Singletary says he does not want Gore to play if he is not fully healthy, because he does not want Gore to risk reinjury. In fact, Singletary suggests that the fact Gore is near the 1,000-yard mark for the season will not be a factor. Singletary has already proved himself to be a great motivator, and while I do believe he doesn't want a gimpy Gore on the field Sunday, he also knows how much playing in this season finale means to Gore. Singletary no doubt wants to see more evidence before Sunday that Gore is ready to be on the field. I think he will see that in the pregame warm-ups, and there are already some encouraging signs. Maiocco reported that Gore looked good (not great) running Friday but was able to do some cuts in practice (cuts are one of the more challenging skills for an unstable ankle). I expect Gore will earn his opportunity to play Sunday, but there has to be some concern about how much playing time he will see. Singletary has set the stage for some time-sharing with
DeShaun Foster
, and assuming Gore does play, it will probably be a limited role.
Anquan Boldin, WR, Cardinals:
For all the positive projections coach Ken Whisenhunt made earlier in the week about Boldin's Week 17 status, the latter part of the week has taken a different turn. Boldin is again listed as questionable with a sore shoulder, and of most concern, has not participated in practice all week. The Arizona Republic reports that Whisenhunt has said he would like Boldin to see some playing time and that he could play despite not practicing. After last week, the Cardinals need to see some positive play out of their starters heading into the playoffs. But they also need their starters to be available when the playoffs begin. The Cardinals have not issued a specific diagnosis related to Boldin's shoulder, but they have to be concerned enough about his health that he is not taking any reps in practice. Risking Boldin does not make a lot of sense, so even if he does suit up (and he is a game-time decision), he will likely be restricted to limited playing time.
Marshawn Lynch, RB, Bills:
Lynch is listed as questionable again this week with his sore shoulder and practiced only on a very limited basis. Sure, the Bills are out of playoff contention, but wouldn't it be fun for them to spoil the Patriots' chances? All things considered, it seems as if Lynch, another dreaded game-time decision, will suit up in the team's final effort of the year. Teammate
Fred Jackson
is likely to get significant opportunities, though, especially after his performance last week. In fact, Jackson may get the heavier workload of the two.
Pierre Thomas, RB, Saints:
Thomas has been an amazing find for fantasy owners this year. But the year may end a bit prematurely, as Thomas' status for this week is very much in question. Thomas, officially questionable and a game-time decision, was not able to practice all week. With the Saints out of playoff contention and Thomas nursing two injuries (back and wrist), why would the Saints place at risk the player they may view as their new feature back? According to the New Orleans Times-Picayune, the Saints will give Thomas a chance Sunday morning to see whether he is able to go, but at this point, the odds are not in his favor. Expect
Deuce McAllister
and
Mike Bell
to get the touches if Thomas is out.
Bernard Berrian, WR, Vikings:
Berrian sprained his ankle in last week's contest against the Falcons, and it has limited his practice all week. He is listed as questionable to face the Giants in a game the Vikings need to win. So what should fantasy owners expect? Well, going back to last week, Berrian was able to continue to play despite the injury, which suggests it is not terribly serious. If past performance is any indicator, remember that while Berrian was recovering from a knee sprain earlier this year, he managed to put up some of his best numbers on the year. It is not surprising that the Vikings gave him some rest during the week, and it will not be surprising if he shows up ready to go Sunday.
Derrick Mason, WR, Ravens:
Few performances have been gutsier than the ones Mason has put up in recent weeks. Playing with an unstable left shoulder that gets jostled every time he makes contact with another player or hits the ground, Mason has managed to make more big-time one-handed grabs than other big-name receivers with two healthy arms. The Baltimore Sun reported this week that in addition to the instability in the joint itself, Mason has been dealing with intense muscle spasms around the shoulder. This is not an uncommon side effect; the body does anything it can to try to protect an injured joint, usually in the form of muscle spasm or protective guarding. The spasm, or guarding, serves to compensate for the increased laxity or instability of the joint itself by securing the position of the arm. The problem is that not only are spasms painful, but they also don't allow for normal motion, so use of the injured limb (in this case Mason's arm) is awkward and restricted. This problem is not going to resolve itself before the Ravens' season is over. But it does not appear that it will be a problem that keeps Mason off the field, either. Mason, listed as questionable, has indicated that he expects to play against the Jaguars, and based on what he has done so far this season, he seems to be a man of his word. There is another variable to consider, though. If the Patriots lose to Buffalo in their 1 p.m. game, the Ravens, who play at 4:15, will have secured a playoff spot. Although Mason could still suit up for the game, the Ravens might be inclined to limit his playing time in order to protect him from further injury. Just a thought for fantasy owners out there who may want the insurance of a late-game alternative.
OUT: The following players have already been ruled out for Week 17.Dominic Rhodes, RB, Colts:
It's a matter of making sure he's healthy when it counts. This game doesn't count, so he'll watch from the sidelines. Expect
Joseph Addai
to play, but not for long.
Chad Simpson
and
Najeh Davenport
will likely divvy up the remaining running back duties.
Jeremy Shockey, TE, Saints:
Yet another ankle problem sidelines Shockey. His season is over, and
Billy Miller
will see more playing time as a result.
Good luck in Week 17! Be sure to check out our site Sunday for the pregame chats and Fantasy Football Now at noon ET.
December, 24, 2008
12/24/08
6:30
PM ET
By
Stephania Bell, ESPN.com
| ESPN.com
If you're playing this week, you have two big challenges: You have to decide who might be healthy enough to play in this final week of the NFL regular season, then you have to gauge whether the coach will actually utilize that player enough to warrant a spot on your fantasy roster. This represents perhaps the biggest strategic second-guessing you are faced with all season. Hopefully we can help by giving you a few hints in the injury department.
Joseph Addai, RB; Dominic Rhodes, RB; Marvin Harrison, WR, Colts:
Addai has sat out the past two games to rest his sore shoulder. He has benefited from the rest and Tom James of the Terre Haute Star-Tribune reports that coach Tony Dungy says of Addai, "I think he'll be ready this week." The Colts will monitor how he does in practice, but it looks as if Addai will see playing time, but how much? With your fantasy championship at stake, is he worth a start? Probably not. Even if Addai gets on the field to get some reps, it is unlikely that he plays for an extended period of time. Don't get too excited if you think you've got it made with Dominic Rhodes as your handcuff. Rhodes has already been ruled out of this week's game with sore ribs. Dungy has already indicated that the Colts have some younger players they would like to see get some more game experience. For instance, rookie
Chad Simpson
, who managed to get in the game briefly a couple of weeks ago, may end up with more extended playing time this week. There's a good chance he's still available in your league.
Colts receiver Marvin Harrison has missed some time recently with a hamstring injury. Despite the fact that the strain was in the distal part of the hamstring, nearer the knee, which usually hints at a longer recovery time, Harrison is reportedly feeling much better and could be ready to play this weekend. That being said, with the Colts being cautious, don't expect Harrison to see much playing time, even if he is active.
[+] Enlarge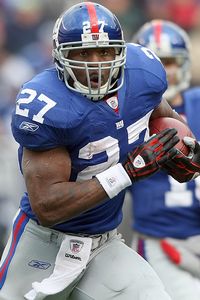 Nick Laham/Getty ImagesJacobs looked great last Sunday, but the Giants may rest him to make sure he's 100 percent healthy for the playoffs.
Brandon Jacobs, RB; Derrick Ward, RB, Giants:
Brandon Jacobs looked good last weekend, and proved that his strength helps him compensate for any residual knee instability. Jacobs was limited in practice Wednesday, however, and it would not be a surprise if he is limited to a very short amount of playing time, if any, this weekend. Ward, who has a sore ankle, has been running very well when called upon, and is not far from reaching 1,000 yards on the season himself. He was a full participant in practice and should play plenty on Sunday.
Marion Barber, RB, Cowboys:
If you watched either of the past two Cowboys games, you don't need me to tell you that Barber is still having trouble with his recently dislocated toe. Those problems continue into this week as Barber missed practice Tuesday and was limited on Wednesday. His persistent problems prompted coach Wade Phillips to tell the Dallas Morning News: "Maybe we shouldn't have played him at all. Maybe he would be well by now." Well, maybe. But it's clear that the Cowboys likely won't make the same mistake three times. It looks as if Barber will rest this week and
Tashard Choice
will once again see the bulk of the work.
Some other players to keep an eye on as the week progresses
&#8226 Although the 49ers' practice report was not yet in as of the writing of this column, it is still sounding as if running back
Frank Gore
will be able to see the field this Sunday. Although he is no lock to play the entire game, it would seem that Gore will be allowed to go as long as the ankle permits. We should have a better idea of what to expect once the week of practice is complete.
&#8226 Expect Cardinals wide receiver
Anquan Boldin
(sore shoulder) to be back on the field this weekend as Arizona tries to get in sync before the playoffs. Boldin was held out of practice Wednesday but should see some practice time late in the week.
&#8226 In Green Bay, both
Donald Driver
and
Greg Jennings
left Monday night's game with injuries. According to the Green Bay Press-Gazette, Driver sustained a knee contusion (bruise) and Jennings suffered a concussion. Driver was able to return to the game following his injury, always a good sign, but was held out of practice Wednesday. We will check back this weekend but he should be able to go by Sunday. Jennings was limited in practice Wednesday, and the fact that he is back out in practice already is a great sign. He should be able to play Sunday.
&#8226 Both
Calvin Johnson
(knee bruise) and
Kevin Smith
(ankle) were in practice on a limited basis Wednesday. Expect both to be available Sunday as the best hopes for a team trying to avoid a winless season.
&#8226 In Philadelphia,
Kevin Curtis
was kept out of last week's contest with a calf strain. The good news is that Curtis was a full participant in practice Wednesday and it sounds as if the Eagles expect to have him available this weekend, assuming there are no post-practice setbacks.
Hank Baskett
is still limited by his medial collateral ligament (MCL) sprain and it is too early to predict whether he will be available. Even if he is, you should look elsewhere for another fantasy option. And by now you should know not to worry too much when
Brian Westbrook
doesn't practice early in the week. Westbrook has overcome knee and ankle injuries early in the year to provide a much-needed spark for the Eagles' offense. That should continue this weekend as the Eagles need a win and will count on his contributions.
&#8226 In Dallas, it's not just the running backs who are hurting. Quarterback
Tony Romo
missed Wednesday's practice because of illness but is expected to return to practice late in the week and play this weekend. Tight end
Jason Witten
, who clearly aggravated his ankle injury in the Cowboys' game Saturday, was held out of Wednesday's practice as well. Make no mistake though, Witten will be in the lineup in this all-important game for the Cowboys. Even if his ankle is bothering him, Witten proved in Week 16 that he could still get open and make plays. Fantasy owners can count on him in Week 17 also.
&#8226
Marshawn Lynch
was not in practice Wednesday after aggravating his shoulder last weekend. According to the Bills' official Web site, coach Dick Jauron expressed optimism that Lynch would indeed play this weekend, but fantasy owners need to be aware that
Fred Jackson
may see a larger-than-usual workload.
Guys whom you should NOT expect to see this weekend
Chad Johnson, WR, Bengals:
The hamstring strain that kept him out during Week 16 will likely cause him to miss the final game of the season as well.
Matt Hasselbeck, QB, Seahawks:
His back has been an issue for him all season long and there is zero reason for him to return this week in a meaningless contest for the Seahawks.
Kellen Winslow, TE, Browns:
Winslow is still recovering from a high ankle sprain, and there is clearly no reason for the team to risk putting him back on the field this weekend.
Here's wishing everyone a very happy, restful and peaceful holiday. We'll update the latest player injury status on Saturday and be sure to stop by the injury chat on Sunday at 10 a.m. ET!
December, 22, 2008
12/22/08
2:55
PM ET
By
Stephania Bell, ESPN.com
| ESPN.com
Week 16 is nearly in the books. You are looking like a proud winner of a fantasy championship or a slightly bitter second-place finisher (like me), or perhaps you have just advanced to your championship round if your league finishes in Week 17. For those of you with big games in Week 17, even minor injuries may be major factors in whether a team decides to play one of its stars, especially if the team has already clinched a playoff spot.
Calvin Johnson, WR, Lions:
In an otherwise dismal season in Detroit, one of the bright spots has been this young receiver who manages to get into the end zone on a near weekly basis. On Sunday, Johnson missed the entire fourth quarter after suffering what the Detroit Free Press is reporting as a bruised (right) knee. Johnson has apparently already indicated he will play against Green Bay, hinting that the problem does not appear serious.
The Lions have to hope he will be back in the lineup as they try to avoid making history by going an entire season without a win. Johnson has proven he's a quality end zone target and consequently gives the team its best chance to score. Johnson is a physical player who can leap to make a catch, so if his knee is sore or swollen it could affect his playmaking ability. As always, watch the weekly practice reports to see how this plays out over the week.
Other noteworthy injuries
&#8226 49ers running back
Frank Gore
sat out for the second straight week with an ankle sprain and the 49ers' running game was less than spectacular without him. Gore did acknowledge this past week his ankle felt much better, but the fact he did not practice with the team all week made it less likely he would play against St. Louis. Gore should be able to test the ankle a bit more in practice now. With only 22 yards to go to reach 1,000 on the season, not to mention the 49ers' desire to finish out the season on a high note, Gore should have an opportunity to see the field this weekend (assuming the ankle cooperates, of course).
&#8226 Giants' running back
Brandon Jacobs
was back in action Sunday night and I liked the way he looked running and driving the ball. Any concerns about residual instability in his knee were alleviated when he proved how much pure strength can compensate for such a deficit. Jacobs remains a risk for aggravating the knee; that will not change as the season finishes out. The risk, however, is minimized by his size and strength, and it appears there is no reason to worry about his health at the moment.
&#8226 Cowboys' running back
Marion Barber
was also on the field this week but still looks compromised by his injuries. He just can't run as effectively as he normally does, and whether that's an issue with his toe, his calf, or some combination of the two is uncertain. In the end, here's an observation: Barber has not been able to fully practice since sustaining the initial injury on Thanksgiving. If he is not able to participate in an increased manner, then I would not have any confidence in his ability to contribute much Sunday, either. If, however, Barber is able to progressively increase his activity throughout the week, then that would at least give a clue his condition is improving. At this point, it appears the Cowboys are leaning on
Tashard Choice
until Barber has fully recovered.
&#8226 Bills' running back
Marshawn Lynch
was limited in practice with a sore shoulder but managed to play against the Broncos on Sunday, at least for a while. Lynch reportedly aggravated his shoulder in Sunday's contest and teammate
Fred Jackson
handled the bulk of the run duties late in the game. There is a decent chance Jackson has more opportunities this weekend.
&#8226 Bengals' receiver
Chad Johnson
was a surprise late inactive Sunday with a hamstring strain. Johnson was added to the injury report just Friday and was listed as probable, but apparently the hamstring injury was not something he could play through. In case Johnson is on your roster, you may want to start perusing your alternatives as the Cincinnati Enquirer is calling it "unlikely" he will play in the season finale.
&#8226 The Colts face Tennessee in Week 17 and the big question is whether their key starters will play, especially given the fact they have secured a playoff spot. Tony Dungy has already made it clear he will be cautious with certain guys (
Joseph Addai
and
Marvin Harrison
, for instance), but does that mean they sit the game out entirely? Do they play a half to keep some rhythm with the first team offense (or in Addai's case, since he has missed the past two games, to regain some rhythm)? At this point in the week, those are unknowns, but if you have either Addai or Harrison in your lineup, it would be a good idea to secure insurance. Addai has been nursing a sore shoulder, which should be improved after the rest period, but still may cause the Colts to consider limiting his playing time, even if he goes. Harrison strained a hamstring in the Detroit game and his pain is down close to the knee, usually a sign the tendon is involved. Knowing these injuries, even if minor, can be a bit slower to recover from, Harrison becomes no lock to play against Tennessee. Obviously we will watch what they do in practice throughout the week, and as the weekend approaches we should have a better clue as to which Colts are likely to get the bulk of the work.
Be sure to check back here throughout the week as we update these and other injuries. Stop by the injury chats (11 a.m. Tuesday and 10 a.m. Sunday) to discuss the status of your injured players. Hope to see you there and Happy Holidays!
December, 20, 2008
12/20/08
2:26
PM ET
By
Stephania Bell, ESPN.com
| ESPN.com
Championship week at last! Or close to it for most fantasy teams. Who is playing and will those players be effective? That's all most fantasy owners care about; no one is particularly interested in whether a guy will be better in four weeks or three months at this time of year. So today's blog is designed just for you fantasy playoffs people. Let's cut to the chase.
Marion Barber, RB, Cowboys:
Saturday night game warning! Set your lineups early. And you might not want Barber in your lineup. Officially listed as questionable, Barber will test his injured toe in warm-ups to see whether he will be active. Despite the fact that he has not practiced all week, it's quite possible the Cowboys will keep him as an active option. After all, he did catch a few passes in Week 15. His running game was largely ineffective, though, and he clearly is still limited by his injuries. As if that wasn't bad enough, the Cowboys have to face the Ravens' tough run defense. Expect
Tashard Choice
to handle the bulk of the running game; he's proved to be quite capable so far. Incidentally,
Tony Romo
(probable) will play despite a sore back, but if the Ravens get to him early and often, this could be a problem.
Brandon Jacobs, RB, Giants:
Jacobs rested his sore left knee Friday, and despite the questionable tag, is expected to play against Carolina on Sunday. In fact, coach Tom Coughlin said after Friday's practice that Jacobs will play barring a setback. Keep in mind that although his symptoms appear to have settled, at least enough that he could practice on a limited basis all week, this is not an injury that "heals." As Jacobs himself indicated, this most recent setback is an aggravation of a previously sprained knee (posterior cruciate ligament), and that means he has some residual instability in that left knee. It's conceivable that he could perform very well. It's also conceivable that he could get rolled up from behind, fall directly on the front of a flexed left knee or slip and slide on a wet field (wintry mix weather conditions expected), any of which could aggravate the knee and cause him to leave early. Jacobs undoubtedly will share some work with
Derrick Ward
(probable), who is recovering from an ankle injury, but assume that Jacobs will get the majority of the carries as long as his knee cooperates.
Adrian Peterson, RB, Vikings:
Put him in your lineup. Peterson, listed as probable, most certainly will be on the field for the Vikings, who are in playoff contention. Not to mention that Peterson is vying for the league rushing title. He had a sore ankle following Sunday's contest and was limited in practice throughout the week. But he shrugged it off, calling the issues with his ankle just the "normal wear and tear of the season," according to the Minneapolis Star-Tribune. It does not sound as if this is an injury that will affect his ability to run or cut, perhaps just a mild sprain, and fantasy owners should expect a typical "All-Day" performance.
Frank Gore, RB, 49ers:
Gore is listed as questionable and is another game-time decision with his sprained ankle that kept him out in Week 15. Despite Gore's remarks in the San Francisco Chronicle earlier in the week that his ankle felt much better, he still has not participated in practice, doing only side work individually. While we're happy to see that he's coming along, you have to be skeptical that he is really ready to go. And the fact that the game will be on the artificial turf in St. Louis might present even more of a challenge for Gore's already limited ankle. Matt Maiocco of the Santa Rosa Press Democrat adds that even if Gore suits up, "it seems unlikely that he would have a big role in the game." The 49ers were happy with what they saw from
DeShaun Foster
in Week 15 and likely will lean on him again Sunday.
Anquan Boldin, WR, Cardinals:
Sorry, fantasy owners. Start scrambling for a replacement, if you haven't already, because Boldin is likely to sit this one out. He has had some struggles recently, perhaps due to some of the new offensive plays he has been learning, perhaps due to a sore shoulder. Either way, coach Ken Whisenhunt said on the Cardinals' Web site this week that he would be willing to rest Boldin on Sunday in the interest of having him at full strength for the playoffs. In general, the game does not stack up well for the Cardinals: travel to the East Coast, cold and snowy weather, and an already secure playoff spot. Although he's listed as questionable and a game-time decision, Boldin did not practice all week and seems quite unlikely to play. Expect
Steve Breaston
to get the majority of the work.
Clinton Portis, RB, Redskins:
Portis developed some back spasms Friday that kept him out of practice. According to The Washington Post, Portis was having difficulty bending and was moving slowly. Hmmm. Those symptoms sound awfully consistent with a flare-up of a disc in the back. Not the kind of thing that goes away quickly. Portis was expected to seek treatment, and his status (questionable) remains uncertain for Sunday's matchup against the Eagles. Despite his ability to play through just about everything else, I don't like the way this sounds. If you have a viable alternative, use him, because Portis' availability and ability to play through this are far from sure things.
Marshawn Lynch, RB, Bills:
We know
Trent Edwards
will be back calling the plays for the Bills' offense Sunday, but will Lynch be running? Lynch is listed as questionable because of a sore shoulder, but the Bills have not made much of this injury. In fact, Lynch was able to increase his practice workload throughout the week, and it looks as if he will be available against Denver. What is uncertain is how much the Bills will utilize him, given their non-playoff status. Perhaps they will be motivated to wrap up their season on a high note, beginning with a hard rushing game against a weak run defense.
Jeff Garcia, QB, Buccaneers:
In Week 15, it sounded on Friday as if Garcia might play, but some fantasy owners found themselves scrambling to find a replacement Sunday when it was announced
Brian Griese
was starting instead. This week, the news out of Tampa Bay sounds a little more convincing that Garcia will indeed start, and he has had the benefit of an added week of rest for his ailing calf. He is listed as questionable, but he has put in limited practice every day this week and expects to be under center when the game gets underway. The St. Petersburg Times reported that coach Jon Gruden seemed to echo that sentiment when he said after Friday's practice, "I believe he'll be the starter." Garcia is a scrambler and often jumps in the air to throw, and a sore calf might affect his typical moves a bit. He obviously has shown enough in practice to at least secure the start, and being the tough player he is, this injury should not hold him back.
Matt Forte, RB, Bears:
This game isn't until Monday night, so Forte's absence from most of the week's practices might have some owners in a panic. Breathe deeply -- it appears Forte will play. He is listed as questionable after injuring his right big toe in Week 15's Thursday night game, but coach Lovie Smith said Forte would return to practice Friday, and he did. Smith also said Forte would play Monday, and so far, he has been good on his remarks. It appears the Bears were proactively giving Forte extended rest, knowing how problematic toe injuries can be. Assume that Forte will play in this Monday night game, which is meaningful for the Bears, and unless he suffers a setback in the game, expect him to get his usual workload.
Good luck in Week 16! Be sure to check out our site Sunday for pregame chats and Fantasy Football Now at noon ET.
December, 7, 2007
12/07/07
6:59
PM ET
Thursday night football has not been kind to the starting quarterback. In Week 13, Packers quarterback
Brett Favre
was forced out of the game with a bruised forearm that affected his ulnar nerve. Thursday,
Rex Grossman
of the
Chicago Bears
and
Jason Campbell
of the
Washington Redskins
both went down with injury, both as a result of taking a hit to their plant leg as they delivered the ball. For more on these injuries as well as a look ahead to who will be affected by injuries, please, read on.
Out
Matt Schaub, QB, Texans:
Still recovering from a dislocated left shoulder, Schaub does not have a timetable for his return.
D.J. Hackett, WR, Seahawks:
Hackett is out again due to re-injury of his ankle, but the team expects he could return within a week or two. We'll update his status later.
Roy Williams, WR, Lions:
Williams injured his knee and will not return for your fantasy team this season.
Larry Johnson, RB, Chiefs:
Still out, yet the team still expresses hope. There is no information to suggest one way or the other whether Johnson will return this season, but as a fantasy owner, you just can't count on it.
Anthony Thomas, RB, Bills:
A torn popliteus muscle (small muscle behind the knee) will keep Thomas out the remainder of the season. Marshawn Lynch and Fred Jackson will take it from here.
Ahman Green, RB, Texans:
The Texans announced today that they are placing Green on injured reserve because of lingering problems with his knee. They tried to hold out hope, but to no avail. Green's football future may be in question.
Here's what we know so far about other players with injury concerns heading into Sunday.
Running Backs
Marshawn Lynch, Bills:
Lynch practiced all week on a limited basis, progressively improving as he returns from a high ankle sprain. The Bills will undoubtedly ease him back into the game, meaning he is likely to lose some action to
Fred Jackson
, but is expected to play. There is always a bit of a risk when an athlete returns from a high ankle sprain, but this is a good matchup for Lynch against the Dolphins.
LenDale White, Titans:
Despite some residual swelling and stiffness in his middle finger, White (probable) is expected to play Sunday. He should be able to go the distance, but may struggle some with ballhandling.
Brandon Jacobs, Giants:
Jacobs is expected to play, according to a report in Newsday, and there is no
Derrick Ward
to share carries with anymore. There is
Reuben Droughns
, however, and he will likely absorb some of Jacobs' work. Jacobs is returning from a hamstring strain, always a bit risky for the first game back, but he has been working out well and sounds ready to go.
Reggie Bush, Saints:
ESPN's Chris Mortensen reported Friday that Bush has a torn posterior cruciate ligament (PCL), which was confirmed by the Saints, although they have not indicated the degree of injury. Bush is getting a second opinion from Dr. James Andrews, but it appears doubtful that he will play Monday. Coach Sean Payton told the New Orleans Times-Picayune that he is still hopeful that Bush can play Monday given that he practiced some this week, but this really does not appear likely. All you have to do is look at how long it took
Travis Henry
and
Andre Johnson
to return from a PCL injury to appreciate the time frame Bush is dealing with, if it is a nonsurgical injury. The injury apparently occurred Nov. 4, and this may go a long way toward explaining why Bush really hasn't seemed like himself over the past month. There is some question as to whether Bush may now miss the remainder of the season. Stay tuned for updates regarding his status. In the meantime, find a replacement for your fantasy roster.
Quarterbacks
Jason Campbell, Redskins:
Campbell took a hit on his plant leg which forced it inward as he fell to the ground. This is often a mechanism for a medial collateral ligament (MCL) injury, but it appeared that Campbell took the hit just slightly lower on his leg, forcing it to rotate inward as his leg collapsed, more of a mechanism for a patellar (kneecap) dislocation. If you saw the game, perhaps you saw Campbell grab the outside of his leg with his hand. Had he torn his MCL, you would expect him to grab the inner knee, where it would be most painful. Campbell grabbed his outer knee because he was trying to put a hand around his kneecap, which he had just dislocated. The response of the medical staff also suggested a patellar dislocation. Campbell was immediately placed in a knee immobilizer, the best position to allow the kneecap to resume its proper alignment, and the least stressful for it. The bottom line for Campbell is that his season has essentially ended, as the tissue that was stretched on the outside of the knee during the dislocation has to heal. After immobilizing the knee for a few weeks, which allows the tissue to heal while preventing a repeat episode, Campbell will have to gradually regain his range of motion and strength. Coach Joe Gibbs said in his postgame news conference that it was fortunate that no ligaments were involved, which is true because the injury he did suffer is nonsurgical. Consequently his overall healing time should be reduced. The Redskins could conceivably have Campbell available the final week of the season or if they venture into the playoffs, but from a fantasy perspective, he is done.
Rex Grossman, Bears:
Poor Rex. He didn't make it through even a full quarter before the injury bug bit him. Grossman also suffered a blow to the outside of his leg that forced his knee inward, the mechanism described above that typically affects the MCL. And so it is. The Chicago Sun-Times is reporting that Grossman sprained his MCL and given the recovery time for this type of injury, it is fair to assume that we will not see Grossman again this season.
Brett Favre, Packers:
He's had a week now to let the forearm rest and has resumed practice. As of the end of the week, Favre was handling the majority of the reps with the first team and throwing quite a bit without limitation according to the Packers' official Web site. You can expect to see him Sunday and expect the streak to stay alive.
Brodie Croyle, Chiefs:
Croyle missed Week 13 with a deep back bruise, but the time off seems to have helped. Croyle was able to practice fully all week, is listed as probable and is expected to start Sunday. This news is as good for
Dwayne Bowe
fantasy owners as it is for Croyle fans.
Jeff Garcia, Buccaneers:
Garcia's status will be a game-time decision as coach Jon Gruden wants to see how Garcia's back feels once the team gets to Houston, according to a report in the Tampa Tribune. Garcia, who sat out Week 13 with a back injury, was able to gradually increase his activity tolerance over the past two weeks, but is not yet 100 percent. Garcia has looked good in practice, although he was given Friday off to rest, and the expectation is that he will play Sunday. He may be a little stiff, but if his offensive line is able to protect him so that he can avoid significant contact, he should be able to play well.
Donovan McNabb, Eagles:
McNabb (probable) is primed to make his return Sunday from a jammed thumb and sprained ankle that caused him to sit out two games. McNabb has been practicing and although his mobility may yet be limited somewhat by the ankle, he should be able to be effective. McNabb wanted to play this past Sunday but was held out by coach Andy Reid, who wanted him to be closer to 100 percent before returning to a game situation. Given Reid's criteria, I expect McNabb will be able to perform heading into Sunday's contest.
Marc Bulger, Rams:
Bulger is listed as questionable on the Friday injury report after suffering a setback during the week. Bulger, recovering from a concussion, had been cleared to practice Tuesday. But as the St. Louis Post-Dispatch reports, Bulger did not feel well after practice Thursday, causing the Rams to downgrade him. This is why athletes are gradually returned to activity after concussions; there is always the possibility that symptoms can return with increased intensity of exercise, which indicates the brain has not fully recovered. Coach Scott Linehan wisely says he will not return Bulger if he is not fully healthy, and he will use the next 12 to 24 hours to make that decision. Plan on another quarterback.
Wide Receivers/Tight Ends
Marvin Harrison, Colts:
Could it be? Could Harrison actually make a return Sunday? Harrison practiced some on Wednesday and was seen walking without a limp afterward, a good sign. He was held out of practice Thursday as a precaution. According to the Indianapolis Star, coach Tony Dungy has indicated that the Colts are being more cautious than if they were in a must-win situation to get into the playoffs. Harrison is clearly not 100 percent and the Colts do not want to risk losing him for the time when it really counts. There is a chance, albeit a slight one, that Harrison plays Sunday, but even if he steps on the field it will be on a limited basis. There is no fantasy value here.
Anquan Boldin and Larry Fitzgerald, Cardinals:
Boldin dislocated a toe Sunday and has been unable to practice all week. According to the Arizona Republic, the medical staff has been trying to find a supportive insert for his shoe that would allow him to run without pain, but so far that has not happened. There is still a chance that he could be outfitted with something before Sunday, but Boldin has said that he does not like to play without having practiced at least once during the week. Add to that the fact that his hip is still bothering him and it is unlikely he sees the field this week. Teammate Fitzgerald has been contending with a groin injury, but has been increasing his activity, and was running routes late in the week. Also listed as questionable, Fitzgerald is more likely to see playing time, but may not yet be fully recovered. The concern with the groin injury is lateral cutting and speed, so Fitzgerald may not be up to the monster performances that he has put up of late, but there is a reasonable chance that he is active and efficient on Sunday.
Brandon Stokley and Javon Walker, Broncos:
Stokley, who was reported to have injured his knee this past Sunday, had not practiced during the week and appeared unlikely to play. Friday, however, Stokley was able to put together a full practice and, although listed as questionable, he is expected to start, according to the Denver Post. Teammate Walker has been hampered by his knee and has not had a strong outing since returning, which is a bit surprising as he had looked good in practice. The expectation is that Walker will play, but he is not yet fully healthy and remains a risky start.
Santonio Holmes, Steelers:
Holmes is off the injury report, a good sign that his high ankle sprain has healed enough to allow him to play. Expect to see Holmes in action Sunday, but he is returning after a relatively short time frame. We have seen the high ankle sprain injury regress after a player returns (D.J. Hackett,
Michael Pittman
) and until Holmes has fully tested it, temper expectations for his return.
Laveranues Coles, Jets:
Coles remains a game-time decision as he recovers from his high ankle sprain. Coles is tough and can be expected to play through pain, as he has done many times before. With Cotchery out, the Jets need Coles even more, so expect him to be on the field. He is not likely to be 100 percent, but unless he suffers a serious setback during the game, don't expect that to limit his performance.
Don't see your player here? Be sure to check back Saturday when we check late Week 14 updates and add a few defensive players.
December, 5, 2007
12/05/07
9:44
AM ET
Well, it finally happened. My injury-laden fantasy team in our GMC Pro Grade League finally succumbed in a loss that pushed me out of playoff contention. But not without a fight! Despite the multiple injuries over the season, which forced me to nearly completely renew my roster, I lost by a hair (six points) to Matthew Berry, the Talented Mr. Roto, he of the high-scoring
Tom Brady
,
Wes Welker
,
T.J. Houshmandzadeh
and
Justin Fargas
crew. In fact, had
Brett Favre
, whom I just recently acquired via trade because of the recent injuries to
Donovan McNabb
, not left Thursday's game with an injury, I am confident that I would have won. I guess my point is two-fold: 1) Berry can mock my undying loyalty to my 49ers, but he cannot gloat in his barely eked-out victory, and 2) I believe that I have demonstrated, by virtue of my injury-laden team, that I understand and sympathize with fantasy owners everywhere whose teams have been decimated by those unpredictable injuries that can make all the difference between agony and ecstasy.
So for those of you fortunate enough to have made the playoffs, and for those of you just trying to spoil the playoff dreams of others, here are some of the injuries fantasy owners should be aware of early this week. Keep in mind that the Thursday matchup will feature Chicago at Washington.
Running Backs
Adrian Peterson, Vikings:
Well, it seems the questions about Peterson's readiness to return have been answered. He looked remarkably solid in his first outing since tearing his lateral collateral ligament, brace and all. The Vikings somewhat limited Peterson's activity as planned -- he had 15 carries and did not appear in the fourth quarter -- but he is so dangerous whenever he touches the ball that his numbers made it seem as if he played the entire game. According to the Minneapolis Star-Tribune, Peterson felt as good as he has all year after Sunday's outing, so we can expect to see him and
Chester Taylor
utilized in tandem the rest of the season.
Marshawn Lynch, Bills:
Coach Dick Jauron still is being cautious about Lynch's status for Sunday, saying Lynch has made a lot of progress but he doesn't want to "overstep it right now." Jauron's comments on the Bills' Web site are the most positive since Lynch's injury about four weeks ago, but they are necessarily guarded, given the nature of the injury (high ankle sprain). Lynch will be evaluated on a day-to-day basis as he practices throughout the week, and we should have a better idea of his status late in the week.
Brandon Jacobs and Derrick Ward, Giants:
The Giants have made it official. Ward has been placed on injured reserve after suffering a broken fibula in Sunday's contest. So will Jacobs make it back this week? It appears that way if you listen to coach Tom Coughlin. Coughlin told the New York Daily News that all along, the plan has been for Jacobs to return this week, and he is not being rushed back because of Ward's injury. That sounds reasonable. Now, let's hope Jacobs can not only make it back, but also stay to finish out the year healthy.
Selvin Young and Travis Henry, Broncos:
Young appeared to be the healthier back headed into Sunday's game and, in fact, was the starter. But he managed to sustain yet another injury, this one to his arm, according to the Denver Post, and his status is uncertain for this week. Meanwhile, Henry received word from the NFL that he won his suspension appeal, so now his game availability depends only on his health. Henry was able to get back in the lineup last week, so if Young cannot go, Henry likely will start. There always are more running backs to be found in Denver, though, so starting does not necessarily translate into more fantasy points. It is worth watching the practice reports throughout the week to see how the running back lineup is shaping up.
Larry Johnson, Chiefs:
Johnson already has been ruled out for Week 14, but the Chiefs continue to be guarded in their statements regarding Johnson's status for the season. In comments made on the Chiefs' Web site, coach Herm Edwards reinforced the idea that no decision has been made, saying only that Johnson is "getting better" and the team will continue to evaluate him. He did say that if the star back were to return too soon and re-injure his foot, it could result in Johnson requiring surgery, which always is the potential scenario for a mid-foot injury. It is not totally clear what is going on with Johnson and the Chiefs. Johnson being ruled out so early in the week suggests he is a long way from being able to return. Yet the Chiefs continue, at least outwardly, to indicate there is hope he will return this season. Perhaps there is some motivational incentive; the potential of getting back on the field might help Johnson maintain the intensity of his rehabilitation. And he might yet return, but it remains just a possibility, not one worth taking up a spot on your fantasy roster.
LenDale White, Titans:
According to the Tennessean, White (dislocated middle finger) is expected to play Sunday against the Chargers. On Monday, we mentioned fumble concerns as a possibility, especially if the finger remains sore and swollen. Given
Chris Brown
's effectiveness Sunday after White exited the game, there could be concern Brown will steal some action from White this week, especially if White shows any signs of struggling with the finger.
Quarterbacks
Jeff Garcia, Tampa Bay:
According to the St. Petersburg Times, Garcia said his back is feeling better by the day and he expects to return to practice Wednesday. Despite some residual soreness, Garcia plans to play Sunday against the Texans while his mobility and flexibility continue to improve. It still is wise to check back at the end of the week, but at this point, it sounds as if he is preparing to make his return.
Donovan McNabb, Eagles:
Philly.com has reported that McNabb is expected to return this week from the thumb and ankle injuries that have caused him to miss two straight games. Coach Andy Reid said McNabb can grip the football well now but might wear a brace on his hand to protect the thumb. The bigger concern is his mobility with the ankle, but Reid said McNabb moved around better in practice last week. Nonetheless, he held McNabb out of Sunday's contest because he did not feel he was ready to go from a health standpoint, and the extra rest no doubt has helped the quarterback. Barring a setback in practice this week, expect McNabb to get the green light Sunday.
Marc Bulger, Rams:
According to a report by ESPN's Len Pasquarelli, Bulger underwent another battery of tests Tuesday as a follow-up to his concussion a week ago and was cleared to return to practice Wednesday. The Rams are optimistic that Bulger will be available Sunday, but it should be noted that he will be monitored throughout the week to ensure his symptoms do not return as his practice activity increases. Bulger's replacement,
Gus Frerotte
, suffered a shoulder injury Sunday that might keep him out for at least one game. According to the St. Louis Post-Dispatch, Frerotte has a sprained shoulder and a partial tear of the labrum, the ring of cartilage that helps reinforce the shoulder joint. Frerotte injured the shoulder in the third quarter of Sunday's contest but was able to return to finish the game; however, the shoulder was much more sore the next day, prompting the additional tests. If neither Bulger or Frerotte is able to go, it could be
Brock Berlin
. Fantasy owners, keep your fingers crossed that practice agrees with Bulger.
Brodie Croyle, Chiefs:
Croyle sat out last week's contest with a sore bruised back but could make his return Sunday if, as coach Herm Edwards said on the Chiefs' Web site, he's "mobile enough to get out of the way." Edwards also said that although the Chiefs would like to see Croyle back in the lineup, the team will not risk putting him in there if he is not fully recovered. Croyle is expected to return to practice Wednesday, and his progress, particularly his mobility, will be evaluated throughout the week.
Alex D. Smith, 49ers:
Smith has sat out the 49ers' past two games because of lingering pain in his shoulder (a Grade III, or complete, separation) and his forearm (tendinitis, which developed after he injured the shoulder, possibly while trying to rehabilitate the arm). Smith might yet face shoulder surgery, but before that decision is made, Smith will try to throw this week, according to ESPN's Len Pasquarelli. Smith will see how the arm feels while throwing and then will consult with the medical staff to evaluate his status. Either way, he is not a factor for the remainder of the fantasy season (not that he was much of a factor beforehand). His progress will be relevant for next year, so we will monitor him with that in mind.
Wide Receivers/Tight Ends
Roy Williams, Lions:
Williams sprained his posterior cruciate ligament Sunday and, according to a report in the Detroit News, is expected to miss the last four games of the season. ESPN's John Clayton is reporting that the Lions do not plan to put Williams on season-ending injured reserve in the hope that he can heal quickly, but it is a slim hope. This is an injury similar to the one that kept Broncos running back Travis Henry out four weeks and Texans receiver
Andre Johnson
out eight weeks. Coach Rod Marinelli said the ligament is not torn, usually a reference to the ligament not being
completely
torn, since any sprain reflects some degree of injury to the tissue, even if microscopic. The timeframe will depend on how long it takes any swelling and pain to subside, and the amount of tissue healing that needs to take place. Williams then would need to regain his strength and mobility, as well as the confidence that his knee is stable enough to support him running, cutting and jumping. That is a lot to ask in less than four weeks. Nonetheless, if the injury is minor, there is a chance he could return, but it is a small one. If Williams is on your fantasy roster, you need to find a replacement that you can count on for the duration of the season.
Santonio Holmes, Steelers:
Holmes, who missed the past three games with a high ankle sprain, could return in Week 14, according to a report in the Pittsburgh Post-Gazette. Coach Mike Tomlin said "it depends on how [he] perform[s] in practice." Even mild high-ankle sprains often require about four weeks before a player can return, so Holmes is just now coming up on that mark. Practice will resume Wednesday, meaning we won't have a real indicator as to whether Holmes is likely to play until late in the week. Stay tuned.
Don't see your player here? Be sure to check back later in the week when we check further Week 14 updates. We also will quickly touch on any Thursday game injuries at that time.
November, 23, 2007
11/23/07
5:20
PM ET
OUT:
The following players have been listed as officially out for Week 12 Sunday games.
Steve McNair, QB, Ravens:
McNair's left shoulder still is listed as the official reason for him sitting out.
Demetrius Williams, WR, Ravens:
An ankle injury will keep Williams out of the lineup this week.
Larry Johnson, RB, Chiefs:
We
detailed
what we know about his injury on Wednesday. You can expect to see him on this list for a while longer.
Ahman Green, RB, Texans:
As expected, Green did not practice this week and is not expected to play, according to the Houston Chronicle.
Ron Dayne
likely will get the start again for the Texans.
Marshawn Lynch, RB, Bills:
Lynch has not practiced all week and has been ruled out for this Sunday's game. To make matters worse, the Bills' Web site reports that Lynch has a high ankle sprain. Originally reported as an ankle sprain, Lynch's injury immediately becomes more serious because of the location. High ankle sprains, as we have reported many times, generally are more difficult to recover from and can be easily aggravated if a player returns too soon (see
Michael Pittman
). We will check back in on Lynch next week. Until he begins to test the ankle in practice, it will be difficult to project his timetable.
Anthony Thomas
will get the start in Lynch's place.
Brandon Jacobs, RB, Giants:
Jacobs is out with a hamstring injury (more information below).
Travis Henry, RB, Broncos:
Henry continues to struggle with his left knee (PCL sprain) and did not practice all week. Keep an eye on him as he could return in Week 13, contingent on his knee healing enough and him winning his appeal.
Here's what we know so far about other players with injury concerns heading into Sunday.
Running Backs
Selvin Young, Broncos:
Young, who injured his knee in Monday night's game (no specifics given by the team), did not practice until Friday, when he did limited work. According to the Broncos' Web site, Young will test his leg before the game (late start Sunday) to see if he will be able to play.
Andre Hall
will get the start if Young cannot go Sunday.
Adrian Peterson, Vikings:
Peterson (torn LCL) has taken part in very limited practice this week, according to the Minneapolis Star-Tribune, wearing a knee brace all the while. Although he has not been officially ruled out, do not expect him to play this weekend, despite the upgrade to questionable. It sounds as if the Vikings are suggesting he could return very soon, but again, I believe he really needs to show he can do everything in practice before the Vikings risk putting him back on the field (see Wednesday blog).
Brandon Jacobs and Derrick Ward, Giants:
Jacobs missed practice all week with a sore hamstring and is out for Sunday. According to a report in Newsday, Jacobs and coach Tom Coughlin gave the impression earlier in the week that Jacobs would miss Sunday's game. The major concern, as it always is with a hamstring injury, is that it could get worse and end up costing Jacobs more missed time overall. With other capable backs in the wings, the Giants are smart to play it cautious. But then there's Ward, who also is currently hampered by lingering injuries. Ward has been dealing with an ankle sprain, which reportedly is much improved, and a groin strain, which he sounds less confident about. Ward's comment -- "You never know. It might regress, it might progress" -- does not exactly evoke optimism. Ward has been a limited participant in practice, and his status may well come down to a game-time decision.
Reuben Droughns
looks to get the start Sunday, and the Giants' Web site quotes Coughlin as saying that
Ahmad Bradshaw
is the No. 2.
Reggie Bush, Saints:
Bush was limited in practice all week with a shin bruise, but coach Sean Payton is hopeful that Bush can play Sunday, according to a report in the New Orleans Times-Picayune. He will be a game-time decision.
Shaun Alexander, Seahawks:
Insert last week's report here. Alexander has not practiced, and if he does not practice, he does not play, according to coach Mike Holmgren. The Tacoma News Tribune reported that Alexander also is trying to get rid of the cast. Apparently that is not going to happen, but the medical staff is trying to find a way to make the cast smaller. Once again, expect
Maurice Morris
to start in Alexander's place.
Michael Pittman and Earnest Graham, Buccaneers:
Pittman, who worked so hard to get back to the playing field, re-injured his still-healing high ankle sprain, perhaps seriously, and is out indefinitely. There has been some speculation that Pittman could be put on injured reserve, but that does not appear to have been decided yet. According to a report in the St. Petersburg Times, Pittman's swelling is severe, but the athletic training staff expects him to make a return in a few weeks. Meanwhile, Graham still is nursing a sore ankle and has been limited in practice this week, but he is expected to play.
Jesse Chatman, Dolphins:
The Dolphins most certainly don't need this. Chatman has an ankle problem that limited him in practice the whole week. The Orlando Sun-Sentinel reported Chatman still is limping, which does not help his chances to play Monday night. Granted, there are a few days before the game, but if Chatman is limping now, he will not be at his best come Monday. Could this signal the return of
Ricky Williams
? It more likely signals some increased action for
Patrick Cobbs
at this point, but stay tuned to this scenario, because if Chatman's ankle problem lingers, there might be a new starting running back in Miami right around the time of fantasy playoffs.
Quarterbacks
Donovan McNabb, Eagles:
McNabb has two problems that kept him out of practice all week: a sprained ankle and a jammed thumb. Coach Andy Reid told the Associated Press that McNabb "has gotten a little better each day." Neither of these injuries appears particularly serious, but they could be just bad enough to either keep McNabb from starting Sunday night, which appears more likely, or keep him from performing effectively if he does play. Either way, with the game being on Sunday night, and the opponent being the Patriots, this probably is one for fantasy owners to avoid.
Receivers/Tight Ends
Santonio Holmes, Steelers:
Holmes is recovering from a high ankle sprain and remains doubtful for Monday's game.
T.J. Houshmandzadeh, Bengals:
Houshmandzadeh participated in full practice Friday after resting earlier in the week with a bruised back. He is listed as probable and is expected to play. Houshmandzadeh still is feeling soreness in his back and told the Bengals' Web site that if he can't tolerate the pain, he won't play. Given that comment, be sure to check his status before game time, but with the probable designation, it does appear he will be active.
Javon Walker, Broncos:
Walker had good practice sessions this week and is looking like he will return Sunday. Walker has made nice, steady progress, and although he is reported to have had some swelling after Thursday's practice, he expects to play, according to the Broncos' Web site. His status is questionable, so be sure to check Sunday's inactive reports before the game.
Reggie Williams, Jaguars:
Williams is a late addition to the injury reports with a back problem. He is listed as questionable after being limited in practice Friday. If you have him on your roster, be sure to check before game time.
Todd Heap, Ravens:
Hopefully you have found a fantasy replacement for Todd Heap by now. He is listed as doubtful again this week because of the lingering problems with his hamstring. Despite his efforts to return, the hamstring has not cooperated, and there is no telling when his leg will be healthy enough to allow him to come back.
Don't see your player here? Be sure to check back this weekend when we have the latest practice reports before the games, as well as a few IDP additions.
November, 14, 2007
11/14/07
9:34
AM ET
Why waste time with an intro? We all know what (and who) everyone is talking about heading into Week 11.
Running Backs
Adrian Peterson, Vikings:
Coach Brad Childress announced on Monday afternoon that Peterson suffered a Grade II+ lateral collateral ligament sprain. And everyone was a bit unsure what to make of it. After all, this is not an ordinary, everyday injury. And Peterson has shown that he is not an ordinary, everyday player. All Day? Certainly. Ordinary? Never. Just ask my friend Merril Hoge, who has been singing his praises since the preseason on the "ESPNEWS Fantasy Insider" show. So what are concerned fantasy owners to make of a not-so-ordinary injury happening to an extraordinary player? Let's break it down.
The LCL is one of the four main stabilizing ligaments of the knee, situated on the outer aspect of the joint, and it runs from the far end of the thigh bone (femur) to the near end of the outer bone of the lower leg (fibula). It is opposite the medial collateral ligament, which occupies the same spot on the inner aspect of the knee joint, running from femur to tibia (larger lower leg bone). The main function of the LCL is to protect the knee from excess bowing outward (also called varus stress), or more simply, it helps control lateral stability. It is injured if a bowing or varus force is applied that exceeds what the ligament can handle, typically as a result of direct contact. Peterson told Minneapolis' Star Tribune that he felt a helmet or a shoulder hit his knee and then felt the pain.
It is far less common to sustain an injury to this ligament than to its counterpart, the MCL. The MCL, injured when the knee is forced inward excessively (valgus stress), has already been a source of pain for several key players this year (
Brandon Jacobs
,
Travis Henry
and
J.P. Losman
). There are a few possible reasons for this. First, it is simply more natural to either sustain a blow to the outer knee or cut toward the inside off a plant leg during sports, the two main mechanisms for MCL injury. It is far less common to sustain a blow to the inner knee, the primary mechanism for pure LCL injury. Second, the MCL sits very flat against the joint, so a minor unnatural stress puts it at risk for injury. The LCL has a little more room to tolerate movement because it does not lie flat against the knee. (Fun with biology: it is not really possible to distinguish the MCL by feel, but if you want to feel your own LCL, cross one ankle over the opposite knee, as if making a figure 4, and you can feel a tight ropy band on the outer knee. It is easier to feel because it is not flat against the joint.)
When the LCL is injured in isolation, as reports say is the case with Peterson, the result is instability in the lateral knee, or a decreased tolerance for bowing (varus) stresses. An even bigger concern would be if additional structures that make up the back outside corner of the knee were damaged simultaneously (not the case with Peterson, supposedly); this could mean significantly increased disability and more potential knee joint problems down the line. In the preseason we talked about grades of ligament injuries with Grade I (mild) representing minor injury or overstretching, Grade II (moderate), the most common, representing incomplete tearing, and Grade III (severe) indicating a complete tear or rupture. A Grade II+ LCL injury translates to extensive, but incomplete, ligament damage. Since a portion of the ligament remains intact, surgery is not necessarily indicated. Rehabilitation involves first letting the bruising and swelling settle while immobilizing the knee to let the ligament scar and prevent further injury. The focus then centers on strengthening the muscles (primarily quadriceps and lateral hip muscles) that can provide stability to the lateral aspect of the knee to help compensate for any laxity (looseness) resulting from the ligament damage.
So, now that you know what the injury is, let's get to the questions you really want answered.
How long will Peterson be out?

This is a tough one to gauge -- which is why Childress did not give a time frame -- because of the infrequent occurrence of this type of injury. You may have heard Childress' comment at his Monday news conference that if this were a lineman, he could be braced and come back and play the next game. But a lineman and an Adrian Peterson are two different species. One of the main challenges Peterson will face that a lineman would not is the need to make sharp directional movements with speed. Stability is critical in order for that to occur. In fact, I asked three orthopedic surgeons, all of whom have worked with professional athletes, what their expectations are for this type of injury with this type of player. Each of them had concern about Peterson returning too soon after such an injury, and each felt that the timetable was hard to judge (note that this was merely medical opinion; none of them examined Peterson). Lateral knee injuries are, in essence, more complex than medial injuries. Given that there has to be enough time to allow ligament healing (which typically takes up to six weeks), followed by strengthening, it is fair to expect Peterson's return to take several weeks. The biggest concern if Peterson returns too soon is that another incident, or even stress on a still unstable knee, could result in more severe damage, which could then translate to chronic problems. On the other hand, he is young and strong and could heal fairly quickly. His progression of activity will be determined on an ongoing basis, depending upon how his knee looks and feels day to day, again making it hard to project a time frame with any certainty. I know, I know. You want to have some idea of how to plan around this situation. For now, assume Peterson is out two weeks at an absolute minimum, with the stronger likelihood being at least four weeks. Don't be surprised if it takes even longer, in which case the Vikings may decide to shut Peterson down for the season.


How will he be affected when he comes back?

Peterson will be left with some decreased lateral stability in his knee; the ligament is forever altered based on the extent of his injury. However, his ability to compensate for it with muscular support (and he may wear a protective brace as an additional measure) could allow him to return looking like the same running back. Part of this answer depends on how well-healed his injury is when he returns.


Is he at more risk for injury?

Probably so, especially on the outer part of that right knee. It doesn't mean that he definitely will reinjure it, simply that it won't be as hard to do a second time. This is true for all incomplete ligament injuries however, so it is not terribly unusual. Again, the bigger concern would be that future stresses to this knee may put other stabilizing structures more at risk.


The bottom line is that if you have Adrian Peterson on your fantasy team, you should secure a backup now that you can plan to utilize indefinitely. There is no way of knowing for sure at this point how long Peterson will be out, or if he'll return at all. This may not be what fantasy owners or Vikings fans want to hear. But we have enjoyed his amazing talent for the first half of this season, and we would like to continue to enjoy it for years to come. Let's root for Peterson to come back healthy, even if it means we all have to wait just a little longer.
Larry Johnson, Chiefs:
You can take your best cues from the statement issued by the Chiefs on their official Web site Monday. Johnson was listed as out for Week 11, meaning there was no question that he could not play six days later. This early announcement reflects the relative seriousness of the injury. The statement adds that Johnson's swelling continues to decrease and that he will meet with a foot specialist on Nov. 19. In other words, the swelling may be going down, but he needs another week before the specialist can assess his condition. This suggests that the swelling in Johnson's foot continues to prevent the team from having a definitive picture of the injury. We know these midfoot injuries are delicate, and the risk of doing too much too soon can mean the demise of an athlete. There have been murmurings of Johnson potentially having a broken bone in the foot, but that has not been confirmed by the team. As we said last week, swelling can cloud the images that would identify a fracture, so the swelling must subside before accurate pictures can be taken. Rehab right now for Johnson is no doubt focused on minimizing pain and swelling, so that further assessment of his foot can occur. If, in fact, Johnson does have a broken bone, he could miss up to six weeks (or for all intents and purposes, the remainder of the season). If there is no fracture, his return will hinge primarily on how long it takes for the pain and swelling to subside, followed by the time it takes to regain his strength and speed when running, cutting and pushing off. Assume Johnson misses three to four weeks at a minimum, unless there is a fracture, then up the minimum to six weeks from the time of injury.
Reggie Bush, Saints:
The only update since Bush injured his head Sunday is that coach Sean Payton told the New Orleans Times-Picayune that he expects Bush to play this week. Bush's stepfather had indicated after Sunday's game that Bush suffered a concussion. The Saints had Tuesday off and return to practice Wednesday, so we will not know Bush's practice status until a bit later.
Marshawn Lynch, Bills:
No word yet on the status of Lynch's left ankle. Initial postgame reports on the Bills' official site indicated that X-rays were negative and although Lynch was scheduled for an MRI, those results have not been made public at the time of this posting. It sounds as if Lynch is dealing with a sprain. We will monitor his practice activity throughout the week.
LenDale White, Titans:
According to coach Jeff Fisher's comments on the Titans' official Web site, he expects White to practice this week. Not exactly revealing with regard to the nature of White's knee problem, but it does not make the condition sound particularly serious. White is another one to monitor in practice.
Kevin Jones, Lions:
Uh-oh. Jones is having pain in his left foot again, yes, the one that had the surgery following his Lisfranc injury last season, the same one that kept him out the first third of this season. Jones had only four carries in Sunday's game and had pain in his foot that kept him out of the second half, according to ESPN's John Clayton. It is not uncommon for Jones to have some postgame soreness, but the fact that he was so limited Sunday is cause for concern. According to The Detroit News, coach Rod Marinelli will limit Jones in practice in an effort to ensure his availability for this week.
DeShaun Foster, Panthers:
According to The Charlotte Observer, coach John Fox listed Foster as one of the injured players from Sunday's game. It appears that Foster aggravated the condition in his big toe that was giving him trouble a few weeks ago. Fox indicated that Foster's status was unclear for this week.
Quarterbacks
Brian Griese, Bears:
Griese has what coach Lovie Smith referred to as a left shoulder sprain in his Monday news conference. It does not appear serious.
Vinny Testaverde and David Carr, Panthers:
The Rock Hill Herald reports that coach John Fox thinks Carr will be medically cleared to return from his concussion this week. He also stated that Testaverde made it through the Week 10 game "healthy." So who will it be in Week 11? No commitment yet from Fox, so we will watch practice reports to see how things shape up during the week.
Steve McNair, Ravens:
This just in. McNair has yet another injury. According to ESPN's John Clayton, McNair has a subluxing left shoulder (meaning it slips slightly out of the joint but doesn't dislocate). No word on when or how this occurred, but the timing is most interesting.
Kyle Boller
will start this week in his place, officially because McNair is injured, unofficially, well, you have seen the Ravens recently, right?
Wide Receivers/Tight Ends
Isaac Bruce, Rams:
Bruce apparently aggravated his hamstring during Sunday's contest against the Saints. The St. Louis Post-Dispatch reports that Bruce may miss a week or two as a result. More catches for
Drew Bennett
.
James Thrash, Redskins:
Although James Thrash was seen on crutches after the game, the Washington Post is reporting that the Redskins say that he sustained a Grade I (mild) high ankle sprain. He is not expected to play this week, but is expected to return in Week 12.
Don't see your player here? Be sure to check back after practice reports when we check in on expected Week 11 returning players
Andre Johnson
,
Laveranues Coles
,
Deion Branch
,
David Garrard
and many others.