Stephania Bell:

Martin Prado
July, 1, 2011
7/01/11
3:41
PM ET
March, 3, 2011
3/03/11
8:23
PM ET
I'm in Florida! My first day of 2011 spring training coverage took me to Lake Buena Vista for a game between the visiting
Detroit Tigers
and the
Atlanta Braves
.
Um, it's warm here. No sub-freezing temperatures. After enduring what seems like several winters' worth of snow this year in the Northeast, this change alone was almost a shock to my system. It's no wonder the athletes are so happy and everyone is oozing optimism about what their respective seasons will bring. Spring makes everyone feel young and revitalized. Trust me, there are health benefits to this.
Beyond the warm weather, there is just a great energy here at the ESPN Wide World of Sports Complex, spring training home of the Braves. Not only is this an incredible state-of-the-art venue, it is also the first day of
ESPN The Weekend
, so there are a multitude of activities taking place all over the site. I was fortunate enough to get a tour of the complex and see all the playing fields, training facilities and technology areas. At the game itself, I saw plenty of the usual early-season jitters ... and I'm not just talking about the players. I caught up with ESPN baseball analyst Bobby Valentine briefly in the press box three minutes before launch, and he said he was "excited" to get their first broadcast of the season under way.
Once the introductions were made and the national anthem was played, it was time to get down to the business at hand: Getting a look at some of the players returning from injury.
For the Braves, let's start with who was
not
playing today. Outfielder
Jason Heyward
, whose big bat caught everyone's attention last spring, was a scratch today due to soreness in his left groin. The soreness cropped up during Wednesday's exhibition game. There's no reason to take chances before the regular season. This appears to be a proactive maneuver, and not a serious concern.
Most notable among Braves players coming back from injury was third baseman
Chipper Jones
, who has just returned to the field after suffering a left ACL tear (and subsequently undergoing reconstruction) in August. Reports on his progress had been good so far, but it's another thing entirely for him to be in a game situation. Returning to full play, especially in the field, would force Jones -- and his knee -- to react situationally.
His outing was reassuring in that he did all that was asked of him and did not appear limited. He swung the bat -- he got a hit and scored a run in the fourth inning -- and he caught an infield fly ball, moving easily in both situations. But it's worth noting that he wasn't particularly challenged offensively or defensively. There were no sprints, no slides, no diving plays. In actuality, it's not a bad thing to have a game like this to increase comfort in the surgical knee. Regaining confidence is always the final hurdle after this type of injury, and that only comes with increased playing time. Jones looked like the experienced player that he is, and that alone must help his confidence in his knee.
Another Braves player whose season was ended by injury was in today's lineup.
Martin Prado
suffered both a hip pointer while diving for a ball and a torn oblique while swinging the bat in one disastrous September game. Luckily the season was near close for the Braves, and Prado was able to get the rest he needed. He entered the spring healthy and certainly looked fine swinging the bat.
[+] Enlarge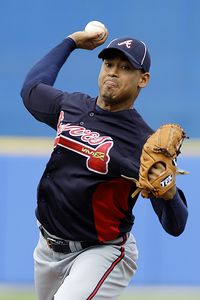 AP Photo/Jeff RobersonJair Jurrjens was limited to just 116 1/3 innings in 2010.
Pitching today for the Braves was
Jair Jurrjens
, who is coming off October surgery to address a lateral meniscus tear. The injury was to Jurrjens' right (stance) knee, which doesn't undergo as much strain during the pitching motion as the lead leg, and his delivery looked solid. Perhaps the issue to watch for Jurrjens is how the hamstring on his left (lead) leg holds up. Last year he strained his left hamstring in April, and an aggravation of the injury while on the DL kept him out until June. Watching him pitch today, he certainly puts a lot of torsion through that side on his follow through. At least he appears to be getting out of the gate healthy, and there's no blatant cause for concern at this point.
On the other side of the ball, Tigers outfielder
Magglio Ordonez
was in the lineup today as a designated hitter. Ordonez suffered a broken right ankle, which ended his season in late July. With Ordonez at age 37, this is no injury to sneeze at. The biggest concern from an injury perspective will be how it affects his running. Today's game did not showcase much in the way of running, especially since he was not playing in the field. Most fantasy owners are interested in what he can bring offensively, and the ankle should not be a limiting factor there. In fact, very good things could be on the horizon for him if all continues well. (Hint: he's one of my sleeper picks.)
May, 6, 2008
5/06/08
11:04
AM ET
By
Stephania Bell, ESPN.com
| ESPN.com
Jimmy Rollins, SS, Phillies:
Rollins appears to be making progress with his sprained ankle. Rollins went 4-for-4 in an extended spring training game Monday and in an Associated Press report, he indicated that the ankle feels about 90 percent. It is worth noting that Rollins' self-rating is based on his level of confidence that he can do anything he wants without worrying about his ankle. To that end, Rollins, whose real and fantasy values are both linked to his speed around the bases, reported that he felt good the first time he turned the corners. The second time rounding the bases, he said he felt a little "twinge" but could still "kick it in coming around to score." Rollins will play again Tuesday and hopes to rejoin the team Thursday or Friday. Although the Phillies are anxious to have him return, they are adamant that they do not want him to return until he is 100 percent, because they do not want to risk a setback. Given the attention Rollins is paying to exactly how the ankle feels turning corners and cutting laterally, and given the Phillies' insistence that they only want him at full throttle, it appears he will be ready to go full bore when he does rejoin the team. In any event, it looks as if there is a good chance he returns within a week, so fantasy owners check your lineups.
Mike Lowell, 3B, Red Sox:
Welcome back! Lowell, who has missed the majority of the season thus far with a sprained left thumb, had a nice outing Monday night, hitting his first home run and knocking in two runs. He looks to be fully recovered.
John Lackey, SP, Angels:
The Angels' ace is continuing to progress in his rehab starts as he works his way back from a triceps strain suffered during spring training. The Los Angeles Times reports that Lackey will make a Friday start in an extended spring training game and is then expected to rejoin the Angels' rotation for a May 14 or 15 start.
And now for some not-so-good news ...
[+] Enlarge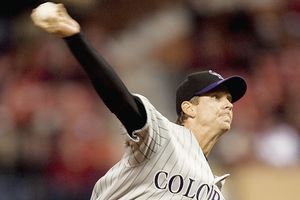 Dilip Vishwanat/Getty ImagesKip Wells has had his share of problems with his throwing arm in recent years.
Kip Wells, RP, Rockies:
Wells is scheduled for surgery Tuesday to address blood clots in his right (throwing) hand. This is not your usual pitcher's ailment, but it is not the first time Wells has faced problems of this nature. According to the Denver Post, in 2006 Wells, then with the
Pittsburgh Pirates
, underwent surgery to address a blocked artery in his right arm. He also had a carpal tunnel release (a surgery performed to relieve pressure on the wrist's median nerve, which provides input to the thumb and second and third fingers) in 2004. It now appears that the prior clot was not an isolated incident, and understanding the reason for these clots is one of the goals for Wells' surgeon, who performed the 2006 surgery as well. Rockies head athletic trainer Keith Dugger told The Associated Press that the clots are most likely "coming from the shoulder" and establishing whether there is indeed a connection between these incidents is one of the things Wells' surgeon will attempt to evaluate. Blood clots can be caused by a variety of means, so determining the origin is not as easy as it might sound. Although it is not exactly commonplace, the condition can sometimes develop in throwers as a result of compression on circulatory tissues either under a rib or between well-developed muscles in the upper extremity. Symptoms can range from pain to numbness and tingling to coldness in the arm or hand. There are several throwers who have had procedures to address blood clots in their throwing arms, including fellow Rockies pitcher
Aaron Cook
and Detroit's
Kenny Rogers
. At this point, there is no timetable for his return because the Rockies are focused on Wells regaining his overall health first and foremost. Stay tuned.
Brandon Moss, OF, Red Sox:
Moss was having some persistent abdominal discomfort Saturday, and the team wisely chose to send him to get it checked out at a hospital. Good thing, since he ended up on the receiving end of an emergency appendectomy. The good news with this type of procedure is that once the appendix is removed, assuming the procedure is uncomplicated, healing is relatively quick and it is not the type of injury in which one has to worry about recurrence. Moss was released from the hospital the day after surgery and although he can expect some soreness from the incision sites and the soft tissue healing for a few days, it is possible that he can be doing some light activity within a week. According to a Boston Globe report, Moss will remain home for about 10 days and will then head to Fort Myers to proceed with his rehabilitation. Many people return to work within about two weeks following such a procedure, but most of those folks do not have to leap, dive, sprint and swing a bat as part of their regular work duties. Given that Moss needs to be able to do all of those things as an outfielder, his return to work will likely take an additional week or two.
Martin Prado, 2B, Braves:
Prado slid right into a thumb ligament injury Sunday, one that will likely keep him out for six to eight weeks. Prado was injured on a head-first slide when his thumb smashed directly into the base, according to the Atlanta Journal-Constitution. Thumb ligament injuries require extensive time to allow the ligaments to heal sufficiently so that the athlete can adequately grip the ball and the bat, without residual pain or instability. Prado had been ably filling the utility infielder role, but ultimately that job is likely to go to
Omar Infante
when he is eligible to come off the disabled list. Infante has been out with a broken bone in his left hand that required surgery, but is set to begin a rehab assignment soon and could return within a month or so.
John Bale, SP, Royals:
Here's a tip. Punching a door with your pitching hand does not accelerate your return from the disabled list. Bale, who had been out since April 15 because of dead-arm symptoms in his throwing arm, is acutely aware of this fact since he broke a bone in his hand Friday night. The Kansas City Star reports that Bale was apparently frustrated by the time it was taking his shoulder to recover and took that frustration out on his hotel door (the team was in Cleveland for a weekend series). Oddly enough, Bale had an encouraging throwing session on Friday and looked to be nearing a return to the team. The Star suggests that part of Bale's frustration may have stemmed from the fact that he was possibly looking at relief duty when he returned, given the recent performance of rookie
Luke Hochevar
. A remorseful Bale told the Star on Monday that it will now be another four to six weeks before he can resume throwing. Although the fracture has only been described as being on the side of Bale's left hand, it is most often the metacarpal bones, the long bones between the wrist and the fingers that form the knuckle at their base, that are fractured with punches as the knuckle absorbs the majority of the impact. Regaining mobility in that joint will be Bale's primary goal once the fracture heals and he is likely looking at two months before he could reasonably rejoin the team. On the bright side, at least Bale's shoulder will get some additional rest during his downtime.
Your questions
John (Atlanta):
Is there any hope for
Peter Moylan
's elbow, or is he down for the count with TJ surgery?
Bell:
Sadly, but not unexpectedly, it appears that Moylan is headed for the surgery. Initially, he was somewhat optimistic because he had some good throwing sessions, but when he tried to throw from a mound Saturday, he had to stop after only seven pitches because of discomfort in his elbow. He has a significant spur in his elbow that is affecting his ulnar collateral ligament (the ligament reinforcing the inner aspect of the joint) and surgery appears to be on the horizon (Moylan was recently transferred to the 60-day DL). The Braves' bullpen has certainly been dealt its share of challenges, and Moylan can be expected to be out for 12 to 16 months after surgery to complete his extensive rehabilitation.