Stephania Bell:

Matt Cassel
November, 15, 2011
11/15/11
3:06
PM ET
What key fantasy player on the
Houston Texans
hasn't missed time due to injury this year? A few days ago the best answer might have been
Matt Schaub
, but not any longer. To make matters worse, Schaub's injury appears as if it will be season-ending. Schaub suffered a Lisfranc injury to his midfoot and is being evaluated by specialists this week to determine the course of treatment, which may include surgery.
Other noteworthy players have suffered Lisfranc injuries -- some severe enough to require surgery -- and have returned to play, although in some cases not to their prior level of play. Running backs
Ronnie Brown
(injured while a member of the
Miami Dolphins
in 2009) and
Kevin Jones
(injured while with the
Detroit Lions
in 2006) went through lengthy rehabilitation efforts, as did
Indianapolis Colts
defensive end
Dwight Freeney
, who was injured in 2007. Although the term "Lisfranc" is more easily recognizable now that several prominent athletes have suffered the injury, what it describes remains a mystery to most. Many have asked on Twitter "What exactly is a Lisfranc?" to which the only response is that the answer deserves more than 140 characters. To help explain the complexity of the injury, along with the origin of its unique name, I returned to an entry I wrote in 2007 when Freeney was recovering from his surgery:
So what is this thing they call a Lisfranc injury? There is a region in the middle of the foot where the long bones of the forefoot (metatarsals) articulate with the small tarsal bones in the middle of the foot. This joint is thus called the tarsometatarsal joint. It is also referred to as the Lisfranc joint.
Why? Frenchman Jacques Lisfranc, a field surgeon in Napoleon's army, described an amputation technique through this region to address forefoot gangrene following frostbite. There is also the story that soldiers wounded in battle would fall from their horses, but a foot would often remain caught in the stirrup, right at that tarsometatarsal joint. Such an injury often resulted in amputation of part of the foot, from the injured joint forward. In fact, amputation to that region still bears the same name (although NFL players, thankfully, don't need part of their foot amputated when they suffer Lisfranc injuries).Since NFL players aren't riding horses, how does this injury happen to them? There are several mechanisms for this type of injury, but in sports, especially football, the primary scenario is that the player is running forward, with his weight on the ball of his foot, and he gets hit or stepped on from behind against his heel. The resultant force through the portion of the foot in between the ball and the heel (midfoot) causes it to buckle, and the midfoot is injured.Are all Lisfranc injuries the same? No. In fact, the name Lisfranc refers to the region of the foot, not necessarily the severity of the injury. By virtue of its important location (the midfoot essentially forms the arch), any injury to this region needs to be taken seriously. That said, not all Lisfranc injuries are created equal. When the midfoot buckles, the ligaments that connect the various bones can become damaged. Ligament injury without any bony impact would be the mildest version of a Lisfranc injury. The problem is that damage to the ligaments can affect the relative position of the bones in the area, and they can shift or dislocate, which is often accompanied by a fracture. Now it's getting more serious. In the worst-case scenario, an artery passing over that area can also be damaged, affecting blood supply to the foot. A shift of the bony alignment typically requires surgery to realign the joint and provide stability. Failure to do so can result in chronic instability and pain, eventually leading to major arthritis in the area. Even with surgery, it appears that people who have suffered a significant Lisfranc injury are more at risk for arthritis down the road, simply because of the trauma to the joint. The bottom line is that players who suffer these injuries must have their treatment managed carefully, not only with surgery, but in the postsurgical rehabilitation process as well.
Apparently it was a bad week to be a quarterback named Matt when it came to injuries.
Kansas City Chiefs
signal-caller
Matt Cassel
suffered an injury to his right (throwing) hand near the end of Sunday's game that coach Todd Haley said was "significant and could end his season." According to the Kansas City Star, Haley said Cassel's injury will require surgery, although specific details as to the structures involved were not provided. Looks like it will be
Tyler Palko
facing the
New England Patriots
next Monday night. Nothing like jumping in under the bright lights.
Philadelphia Eagles
quarterback
Michael Vick
to suffer another injury, this time two broken ribs. According to the Philadelphia Daily News, coach Andy Reid says Vick broke his two lower ribs but the severity of his injury was not immediately obvious. As to whether Vick will be available this Sunday, Reid was uncertain. "We'll see. I'll see in the next little bit. He's a tough nut." Maybe. But his ability to throw effectively may be compromised by the injury (which perhaps we saw on Sunday). His status should become clearer later in the week.
And then there were several more season-ending injuries, including two to offensive players who may be on your fantasy roster.
Denver Broncos
running back
Knowshon Moreno
tore his right ACL, effectively ending a season that had already been limited by hamstring injuries. Teammate
Willis McGahee
came out of the same game with a left hamstring strain, but the Denver Post reports he has been cleared to return to practice Tuesday. If McGahee has a solid practice, he could start Thursday night. Meanwhile,
Washington Redskins
rookie wide receiver
Leonard Hankerson
's season came to an abrupt end when he injured his hip in the fourth quarter, leaving the stadium afterward on crutches. According to the Washington Post, Hankerson suffered a torn labrum. Fortunately for him, youth is on his side and he should make a full recovery.
Quick Hits
• The
New York Jets
will return to action Thursday night to face the Denver Broncos, just four days after their difficult showing against the New England Patriots. We know the Broncos will be without Knowshon Moreno, but will the Jets also be down a running back? It certainly appears that will be the case, as
LaDainian Tomlinson
suffered a sprained MCL in Sunday's contest. While the MRI reportedly showed no major damage, four days' rest is a very brief recovery period. Tomlinson was not practicing with the team Tuesday, generally the biggest practice day before a Thursday night game. Fantasy owners who were hoping for a flex play from Tomlinson are advised to look elsewhere.
• Uh-oh. Scott Brown of the Pittsburgh Tribune is reporting that
Pittsburgh Steelers
quarterback
Ben Roethlisberger
has a broken right thumb. However, the Steelers are on a bye this week, and according to Brown, Roethlisberger says he will play in Week 12. But it's best to keep an eye on practice reports heading into that week.
• Now that Matt Schaub is out, quarterback
Matt Leinart
will take over under center when the Houston Texans return to action in Week 12. All indications are that wide receiver
Andre Johnson
will be there to help him out. Coach Gary Kubiak said he expects Johnson to participate in practice in advance of the next game, although he acknowledged nothing is set in stone.
Jeremy Maclin
. Maclin suffered not one but two injuries Sunday, a sprained AC joint (commonly referred to as a separated shoulder) and a hamstring injury. Maclin suffered the shoulder injury in the first half but returned to the game, then exited for good in the fourth quarter after straining his hamstring. Jeff McLane of the Philadelphia Inquirer reported following Sunday's game that Maclin was moving "very slowly and with a limp." On Monday, coach Andy Reid said the shoulder injury was the more serious of the two. Either injury on its own could be enough to limit Maclin. We will see whether he is able to return to practice this week.
•
San Francisco 49ers
running back
Frank Gore
returned from a left ankle sprain to play in Sunday's game but delivered no fantasy points. It wasn't even his ankle that was the issue. Gore took a hard fall on his knee but emerged with only a bruise, according to Matt Maiocco of CSNBayArea.com. However, running backs coach
Tom Rathman
did not want Gore to return to the field and risk further injury. Gore has indicated he does not expect to miss any playing time, and Maiocco says Gore was walking without a limp Monday, another encouraging sign. The San Francisco Chronicle is echoing the sentiment, reporting coach
Jim Harbaugh
expects Gore to play. Harbaugh also expressed confidence in "the stable of backs" the 49ers have available, which could hint at a timeshare. The Niners will have a Thursday night game following this Sunday's contest, so spreading the workload around could be a strategy.
• The Detroit Lions do not expect to have running back
Jahvid Best
this week. Perhaps the most telling quote from coach Jim Schwartz when asked about Best was, "We're status quo with that." According to the Detroit Free Press, Schwartz added, "When we get clearance from the doctors, we'll get him back. But he needs to be symptom-free before we get clearance from the doctors." The inference there is that Best is not yet symptom-free, and as is typical with these injuries, there remains no timeline.
Calvin Johnson
was evaluated for a concussion following a big hit in Sunday's contest but passed his tests, according to Dave Birkett of the Free Press. Johnson says he will play Sunday against the
Carolina Panthers
. Quarterback
Matthew Stafford
is also expected to play, despite a fractured index finger on his throwing hand. Stafford entered the game with the injury, which went under the radar with the Lions on bye in Week 9, but it became a topic of conversation after Stafford's less than, well, Stafford-like performance. The Free Press reports that Stafford blames the gusty winds for affecting his play more than the finger. Hmmm. It's difficult to imagine between the tape on his finger and a glove over the tape that there was zero effect from the injury, but Stafford has never made excuses based on his health as long as he could physically take the field. We'll see. This week the Lions play at home, in a dome. No wind there.
•
Atlanta Falcons
wide receiver
Julio Jones
left Sunday's game early because of a hamstring injury. The Atlanta Journal-Constitution reports this injury is to Jones' right hamstring, the opposite leg of Jones' prior injury that caused him to miss Weeks 6 and 7. His status for Week 11 is uncertain.
• Fellow rookie receiver
A.J. Green
also had an injury scare Sunday when he landed awkwardly during a touchdown grab in the end zone, hyperextending his right knee. Although his knee was stiff, Green told the Cincinnati Enquirer he did not hear a "pop," usually a good sign, and a follow-up MRI that came back negative was even more encouraging. The
Cincinnati Bengals
expect him to play Sunday.
• It's too soon to have any meaningful update on
New York Giants
running back
Ahmad Bradshaw
, who sat out Week 10 to rest his healing foot. Bradshaw had improved to walking without pain last week. The key will be when he can progress to running. As coach Tom Coughlin told ESPN New York, "There is no sense speculating. He is going to have to go out and practice." Let's see if he does just that.
•
Cleveland Browns
running back
Peyton Hillis
(hamstring) has already been ruled out for Week 11. No word on
Montario Hardesty
's status (calf) just yet, but we will need to see if he can return to practice.
We will continue to update these injuries and others as the week progresses.
December, 16, 2010
12/16/10
1:45
PM ET
This week's Thursday night matchup has the
San Diego Chargers
hosting the
San Francisco 49ers
.
Mike Tolbert
and
Ryan Mathews
) are finally healthy, but the status of their wide receivers is still in question.
Malcom Floyd
is listed as questionable heading into the game, although it sounds as if he could be available. Floyd did not practice Wednesday after a limited workout Tuesday, but Kevin Acee of the San Diego Union-Tribune suggests that this may be due, in part, to the Chargers' short week. Nonetheless, it suggests that Floyd is not completely past the hamstring injury, and with that in mind it is hard to know what to expect from him as far as productivity, even if he plays.
Vincent Jackson
, who injured his calf in his 2010 debut, is now off the injury report and is clearly expected to start.
Legedu Naanee
, who dealt with setbacks of his own the past two weeks following a hamstring injury, is probable after full practice Tuesday and Wednesday. The most notable fantasy star of the group, tight end
Antonio Gates
, is not expected to play this week. The team lists him as doubtful and he has not been able to practice because of pain in his foot. Keep in mind, if Gates rests this week, by the time of the Chargers' Week 16 contest he will have been out close to three weeks. The reprieve might be able to help him return and contribute at that point. But expect
Randy McMichael
to start at tight end for the Chargers this week.
For the visiting 49ers, there are not many question marks from a fantasy perspective. Running back
Brian Westbrook
is listed as probable for non-injury-related reasons and is fully expected to play. On the defensive side of the ball, linebackers
Patrick Willis
and
Takeo Spikes
have been practicing with casts on their right hands this week. Although both are listed as questionable, they are expected to play.
Here's who else you might be concerned about heading into Week 15:
Kansas City Chiefs
quarterback
Matt Cassel
returned to practice Wednesday on a limited basis. While no one is committing to Cassel being the starter Sunday, the fact he's back on the practice field has to at least be considered encouraging. This no doubt will be a situation in which he is progressed daily, as able. If all goes well, there is a good chance he could return to face the
St. Louis Rams
.
•
Green Bay Packers
signal-caller
Aaron Rodgers
is looking less likely to play Sunday against the
New England Patriots
. The Milwaukee Journal-Sentinel reports Rodgers has not even been allowed to return to the Packers' practice facility. Clearly, the medical staff wants his brain to rest, meaning no film study, no game plan preparation and no activity whatsoever that could interfere with healing. In the absence of any preparation, coupled with the likelihood that Rodgers will miss the entire week of practice (coach Mike McCarthy said Rodgers will not practice Wednesday or Thursday and his chances of working Friday are "slim to none"), it is hard to imagine he will be ready to absorb all of the mental and physical load required to start Sunday's game. Fantasy owners should prepare to start another quarterback this week.
• Fantasy owners should know at this point that they cannot count on
Minnesota Vikings
quarterback
Brett Favre
to play. While his status remains up in the air, there are so many question marks heading into Monday night -- including whether the game will indeed be played outdoors at the University of Minnesota's stadium -- that's it's best to avoid the situation.
Tarvaris Jackson
has a turf toe injury and has now been placed on injured reserve, making
Joe Webb
the likely starter, although he has a hamstring issue of his own. The Vikings signed
Patrick Ramsey
as insurance. Stand clear of these quarterbacks.
• As far as the other Vikings with injury concerns, running back
Adrian Peterson
, who did not help his fantasy owners last week, is dealing with a knee contusion that is not expected to limit him this week. Maybe if you're still in the playoffs, he can help make it up to you Monday night. Wide receiver
Percy Harvin
has missed the past two games because of migraines, but coach Leslie Frazier says he expects Harvin to return to practice this week. With the Vikings not playing until Monday night, there will be no official practice report until Thursday night, but at least early signs are positive for these two.
• The
Cleveland Browns
are making
Colt McCoy
the starting quarterback for the remainder of the season. It sounds as if the ankle issue is far enough behind him to no longer be a concern to the team.
•
Denver Broncos
quarterback
Kyle Orton
was held to limited practice Wednesday because of "soreness" in his throwing arm and his ribs. The Denver Post reports coach Eric Studesville referred to Orton's condition as "bumps and bruises" and does not seem overly concerned about his quarterback's availability this weekend. Teammate
Brandon Lloyd
showed up on Wednesday's injury report as a non-participant in practice because of his calf. Whether this was some helpful midweek rest or an injury to be concerned about should become apparent as the week progresses.
Seattle Seahawks
seem to be getting some good news on the wide receiver front.
Mike Williams
and
Ben Obomanu
returned to full practice Wednesday. Williams has been struggling with foot and ankle injuries and was not able to play in Week 14. Full practice early in the week is a strong indicator of his availability, barring a setback. Obomanu, who also missed Week 14 with a laceration on his right hand that interfered with his catching ability, has returned to practice, but the Seattle Times reports that he is still adjusting to playing with something on his hands. Says Obomanu: "I personally like no tape on my fingers, no tape on my wrists or anything, but I'm going to have to do a lot of tape, experiment devices and things to make sure; I have to protect my hand No. 1, but still give me comfort to be able to catch the ball, too." The good news is he's working on getting comfortable early in the week, meaning he too should be available Sunday.
• The
New York Giants
' wide receiver news was not so positive to start the week.
Steve Smith
, who returned in Week 14 from a pectoral strain, left the game after one catch when he injured his knee. The Giants released a statement Wednesday indicating that Smith suffered articular cartilage damage and would be placed on season-ending injured reserve. His teammate,
Hakeem Nicks
, fared much better in his return from injury, catching seven passes for 96 yards, and emerged no worse for the wear, not even appearing on Wednesday's injury report. He will likely be
Eli Manning
's big target with Smith out and
Mario Manningham
questionable this week. Manningham left Monday's game early with what was called a hip flexor strain and did not practice Wednesday. We will see what Manningham is able to do later in the week, but he tells ESPN New York that he plans to play in the team's big matchup against the
Philadelphia Eagles
.
• Some fantasy owners may have been concerned seeing Giants running back
Ahmad Bradshaw
with his wrist and forearm on ice Monday night. Bradshaw is not on the team's injury report this week, consistent with his assurances that the wrist is "fine."
• Philadelphia Eagles wide receiver and premature touchdown celebrator
DeSean Jackson
did not practice Wednesday because of a sprained foot. The team is calling him day-to-day according to the Philadelphia Inquirer, but it's hard to imagine him sitting this big game out. Stay tuned.
• The
Baltimore Ravens
won their Monday night game without the services of tight end
Todd Heap
, who was sidelined with a hamstring injury. Heap was listed as a non-participant Wednesday, although the team only held a walkthrough. Fantasy owners should prepare for the eventuality that Heap may not be available again this week, but his practice status going forward should give better clues.
Pierre Thomas
is not even listed on the
New Orleans Saints
' injury report. That's good news for Thomas, who saw his first game action in over two months on Sunday. Teammate
Chris Ivory
left last week's game early with a hamstring injury, which perhaps accounted for Thomas getting a few extra touches in his first game back. Ivory was listed as limited Wednesday, and his status near the end of the week likely will influence what we expect from Thomas on Sunday.
•
Oakland Raiders
tight end
Zach Miller
is back in full practice and his performance last Sunday was the best fantasy owners have seen in a while. If Miller can continue to practice daily without a setback, he might be worth a consideration for your fantasy team, with a matchup against the Denver Broncos on Sunday.
•
Dallas Cowboys
running back
Marion Barber
returned to limited practice Wednesday. Barber has been out since injuring his calf in the Thanksgiving Day game. As the San Antonio Express News reports, however, this may only add to the rotation at running back for the Cowboys. While Barber is far from a lock to play Sunday, when he does return he potentially adversely affects the fantasy running back scenario. Owners of
Tashard Choice
will want to keep an eye on Barber's status throughout the week. Meanwhile, ESPN Dallas reports wide receiver
Roy E. Williams
suffered a groin injury in Wednesday's practice. No word as to the seriousness of Williams' ailment, but it will be worth watching what he is able to do the remainder of the week.
• The
Indianapolis Colts
continue to watch players on the injury carousel. Running back
Joseph Addai
looks to be status quo with limited practice Wednesday. Wide receiver
Austin Collie
was a full participant Wednesday, though, and if he maintains that throughout the week it could signal his return Sunday. The big question then will be how
Peyton Manning
divides up the passes. After
Pierre Garcon
's big fantasy performance last Thursday, it's a little harder to anticipate who will be the lead scorer. Tight end
Jacob Tamme
remains on the injury report but was a full participant in practice. Expect him to play again this week.
See you at the injury chat on Friday at 3 p.m., and we'll have the latest injury updates affecting Week 15 in the Saturday morning blog!
December, 14, 2010
12/14/10
2:08
PM ET
If you survived the first round of fantasy playoffs, it probably was due to help from where you least expected it. It certainly wasn't thanks to
Aaron Rodgers
or
Adrian Peterson
. It wasn't thanks to either
Mike Williams
or
Antonio Gates
. They all may have helped you get to the playoffs but they weren't able to deliver for you in Week 14. No, your help may have come from the unexpected return of the 2009 version of
Pierre Garcon
; the big-time contribution of
Deion Branch
in weather no one is supposed to score in; or even the ridiculous point total of kicker
Jay Feely
, who outscored most skill-position players and got a game ball, to boot.
It all serves to remind us that despite our best efforts to strategize and maneuver our rosters, there are some things we just cannot foresee. Still, we can at least consider the injury woes facing our rosters and with that in mind, we look ahead to Week 15.
[+] Enlarge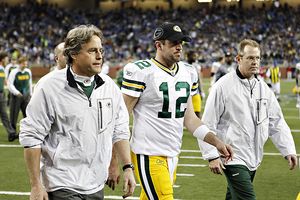 Leon Halip/Getty ImagesAaron Rodgers' second concussion could keep him out of this week's game. Many fantasy owners probably lost key games last week when he was hurt.
• A big part of the reason Aaron Rodgers could not deliver fantasy points for your team is that he was knocked out of Sunday's game with a concussion. As has become the standard, Rodgers will go through the battery of post-concussion tests and clearances before he is eligible to return to play. This is Rodgers' second concussion this season. His first, in Week 5, did not cause him to miss any playing time. While coach Mike McCarthy told the Milwaukee Journal-Sentinel, "We're not going to take any chances [with Rodgers]," we have to presume the standards to return to play are the same as they have been throughout the year. Bottom line: How Rodgers feels and progresses through his tests this week will determine his playing status for Sunday. Fantasy owners should have insurance in the event that Rodgers cannot go.
•
Kansas City Chiefs
quarterback
Matt Cassel
did not make the trip to San Diego this week after undergoing an appendectomy Wednesday. However, Cassel tells the Kansas City Star he is preparing to play this week. Said Cassel, "I'll do what I normally do. It will be a normal week of preparation." At least mentally. We won't get an idea of Cassel's physical readiness until the Chiefs resume practice later in the week, but the notion of a return Sunday is certainly within reason. He will be evaluated medically on a daily basis and progress accordingly.
• The
Minnesota Vikings
did not have
Percy Harvin
available for Week 14 after migraines kept him out of practice all week. The Vikings hope to have Harvin back in practice this week, which would increase the likelihood of his availability for the Monday night game against the
Chicago Bears
. Head coach Leslie Frazier told ESPN 1500 that the team expects Harvin back Thursday when practice resumes, "barring any unforeseen situation." Maybe by then we'll also know where that game will be played. Running back Adrian Peterson bumped knees with quarterback
Tarvaris Jackson
in the first quarter and exited Monday's game briefly but returned shortly afterward. Unfortunately for fantasy owners, he wasn't productive. We'll see if that changes against the Bears.
• As for Harvin's teammate
Brett Favre
, we knew his consecutive start streak would come to an end sooner or later and alas, Monday night, it was put to rest. He suffered a sprained sternoclavicular joint in Week 13 and even with a one day reprieve granted by Mother Nature in the form of a Minnesota blizzard, it wasn't enough to postpone the inevitable. But the SC sprain wasn't to blame in its entirety. It turns out that Favre suffered a pinched nerve in his neck during the game where the Vikings faced the
Washington Redskins
a week earlier and had been experiencing some tingling in his hand ever since. The hit that injured his SC joint in Week 13 also aggravated the tingling in his arm and hand, which ultimately may have been more responsible for Favre's inability to suit up than the pain at the front of his chest. As Favre told the Minneapolis Star-Tribune, "It's not so much the pain. There is a little pain, but that's subsided some. It's the tingling. I think it would be foolish to even consider playing if you don't have total feeling in five fingers." Favre said he was scheduled to undergo further tests Tuesday after which everyone should have a better idea of what his status will be going forward.
•
New Orleans Saints
running back
Pierre Thomas
returned to action for the first time in more than two months. Thomas caught a few passes and ran the ball 12 times, partly due the early departure of
Chris Ivory
with a right hamstring injury. There is no word of yet on the seriousness of Ivory's injury, but if he is sidelined, Thomas' value goes up.
[+] Enlarge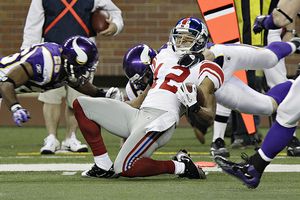 AP Photo/Carlos OsorioThe Giants' Steve Smith, already dealing with a pectoral injury, hurt his hamstring Monday and was limited to just one catch for 12 yards.
• The
New York Giants
saw the return of two injured wide receivers in Week 14. Both
Hakeem Nicks
and
Steve Smith
were back in the mix, but unfortunately Smith was forced out of the game with a different injury. Smith, who was playing with a shoulder harness to protect his still-healing pectoral muscle, suffered a hamstring injury in the third quarter. Nicks, coming back from a surgical procedure on his lower leg, looked strong, as expected, which should give fantasy owners confidence going forward. Wide receiver
Mario Manningham
entered the game healthy but left in the second quarter with what was termed a hip flexor injury. Later in the week we should get better clues about the status of the Giants' receivers.
• The
Seattle Seahawks
were without receivers
Mike Williams
and
Ben Obomanu
this week. Williams was nursing a foot and ankle injury on the same leg and Obomanu had a deep laceration on his right hand that made it impossible for him to catch the ball. Coach Pete Carroll sounded quite confident Monday when he said he expects both receivers to be in practice Wednesday. According to the Daily Herald in Everett, Wash., Carroll said, "Both those guys will practice this week, yeah," adding that he expects both to be available for Sunday's home game against the
Atlanta Falcons
. We'll see if that holds true. The Seahawks have had a tough road with their wide receiver health, also losing
Deon Butler
on Sunday to a broken leg that required surgery to implant a rod for stabilization.
•
San Diego Chargers
tight end Antonio Gates surprised many by not being able to play in Week 14 after gutting out the two previous weeks. His absence was a reflection of just how much pain he is still having, especially considering that earlier in the week Gates had announced he would play. On Sunday, Gates sounded uncertain about the rest of his season, but Monday he reiterated his commitment to trying to get back out to contribute, telling the San Diego Union-Tribune, "I do everything I can every day to get healthy." Getting healthy -- or at least healthier -- may mean sitting out Thursday's game against the
San Francisco 49ers
. If Gates rests until Week 16, he will have essentially given his foot a three-week hiatus, which could prove beneficial for pain relief. Fantasy owners should prepare for an alternate this week; at best, Gates' status will likely be a game-time decision.
•
Buffalo Bills
wide receiver
Lee Evans
injured his ankle in Sunday's contest and looks as if he could be done for the year. According to the team's official website, head coach Chan Gailey said of Evans, "I know it's going to be two [games], and it might even be a struggle for him to get back for the last one." Not exactly encouraging.
• Both
Indianapolis Colts
running back
Joseph Addai
and wide receiver
Austin Collie
were present at the team's light workout Monday. Both have been practicing on a limited basis for the past two weeks, however, and still have not been cleared to return to play, so fantasy owners should not be overly excited by this news.
We will continue to update these injuries and others as the week progresses. Check back for the latest injury updates affecting Week 15 on Thursday and Saturday!
December, 9, 2010
12/09/10
5:16
PM ET
This week's Thursday night matchup has the
Tennessee Titans
hosting the
Indianapolis Colts
.
For the Titans, wide receiver
Kenny Britt
is off the injury report and is expected to see his first game action since tearing his hamstring six weeks ago. While his recent practice activity and this "noninjury" status are good news, he is still not out of the woods. Hamstring strains, as we've seen many times this season, are very susceptible to aggravation. For that reason, especially given the severity of Britt's injury, it would not be surprising for Britt to see a light workload in his first game back. Fantasy owners who have better options may want to hold him for this week, but if he comes through unscathed, he could be very valuable the rest of the way.
For the Colts, the injury list remains as lengthy as ever. Already ruled out are
Austin Collie
,
Joseph Addai
and
Mike Hart
. None of those three being out is particularly surprising, but it does make those with a questionable status more critical.
Donald Brown
was on the injury report because of his ankle, but the injury appears to be minor. He practiced fully Tuesday and Wednesday and is expected to start. Tight end
Jacob Tamme
is listed as questionable with a knee ailment (note that early in the week it was called a hamstring). Tamme returned to limited practice Wednesday after sitting out early in the week. My sources seem to think he will play and that he may have been given additional rest because of the short week. Nonetheless, be sure to check game-time inactive reports. Wide receiver
Reggie Wayne
, also listed as questionable, practiced fully Tuesday and Wednesday and is expected to play, as he always does.
Here's who else you might be concerned about heading toward the Week 14 playoff rounds:
Quarterbacks
[+] Enlarge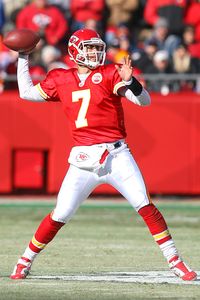 Tim Umphrey/Getty ImagesIt's very possible Matt Cassel could play just days after an appendectomy, but it would be very risky for fantasy owners.
Matt Cassel, Kansas City Chiefs:
Cassel might be the most discussed injury concern in the past 24 hours as it was discovered that Cassel underwent a laparoscopic appendectomy on Wednesday morning. Essentially, he had his appendix removed using a more modern, less invasive approach that includes a scope or camera, as opposed to the old-fashioned "open" procedure which is a bigger cut and longer recovery.
The big question for fantasy owners, since the Chiefs have indicated Cassel's status is questionable and that there is really a 50 percent chance he plays, is will he indeed suit up against division rival the
San Diego Chargers
?
The answer: Maybe, but fantasy owners need to have insurance and probably should look elsewhere for a playoff-round quarterback.
To better outline the variables involved in determining whether Cassel could play this weekend, I spoke with Dr. Efren Rosas, Chief of Surgery at Kaiser Permanente in San Jose, Calif. Rosas has performed thousands of laparoscopic procedures and is an advocate of the less invasive approach, in part, because of the more rapid recovery for the patient. He was quick to say that not all laparoscopic procedures are identical, nor are all presentations of appendicitis, and several factors could influence whether Cassel could be available Sunday. It should be noted that Rosas has no specific knowledge regarding Cassel's care.
First comes the question of whether Cassel had a three-incision or single-incision surgery (in other words, how many surgical cuts are there on the abdomen). Three incisions are more standard, although one incision is gaining popularity in some places (such as Los Angeles), because there is only one surgical scar. With three cuts, each incision can be smaller, whereas with one cut, all of the surgical instruments have to pass through the same entry so the cut is larger. Following surgery, smaller incisions (typically one-quarter to one-half inch in size) mean less likelihood of developing a hernia (where abdominal contents push outward -- not pretty). That translates to less activity restriction after surgery with three incisions versus one.
Rosas, who treats patients of all ages, including competitive athletes, said, "I release all my patients, no matter what type of job or sport they have, to return at two weeks and if they're doing really well, they're clear within one." When asked if four days would be possible for an NFL quarterback, Rosas said that while it may not be likely, "If he's not too sore and can function effectively, I wouldn't completely rule it out." Rosas pointed out that from a medical standpoint, the tissue should heal within a few days, and that the biggest limitation, presuming no setbacks (such as infection) along the way, would be pain from where the surgical cuts were made. That pain may be amplified by the fact that a throwing athlete uses his oblique abdominal muscles, especially for distance and velocity, meaning long downfield throws might be tougher to make.
Another variable would be the condition of the appendix at the time of surgery. A severely inflamed or ruptured appendix would result in significant abdominal inflammation, complicating the recovery. A minor case of appendicitis in a healthy younger male may mean less inflammation in the surrounding tissue and quicker healing time. Only the surgeon who was involved in Cassel's case has an appreciation for all of the factors in play and ultimately will make the decision as to Cassel's status when appropriate.
Pittsburgh Steelers
quarterback
Ben Roethlisberger
underwent a laparoscopic appendectomy in 2006 and did not play in the first game of the season, a Thursday night game just days after surgery. Roethlisberger did start 10 days later in Week 2. It is worth noting, however, that Roethlisberger also was coming off a summer filled with injuries, having suffered facial fractures, a jaw fracture and a concussion in a motorcycle accident about three months earlier.
It would not be surprising if Cassel were to travel to San Diego with the team and ultimately be held back from starting. And although it appears unlikely, it's not completely inconceivable that he could play. Nonetheless, this is a fantasy situation to avoid for many reasons. This is a late game, so Cassel would likely be listed as questionable at best and even if he starts, may prove not quite up to finishing. It's best to wait a week and see how he's faring. The Chiefs may ultimately opt to do the same.
Ben Roethlisberger, Pittsburgh Steelers:
Roethlisberger has a recently surgically repaired nose to go with his ailing right foot this week. Actually, the rest for his nose may have given his foot a little extra time off. Roethlisberger has been fitted with a protective shield that he will wear Sunday. Most importantly, there has been really no doubt about the fact he is expected to play.
Brett Favre, Minnesota Vikings:
As of this writing, Favre has not yet tested his throwing. Thursday was to be the test date. Favre rested the arm early in the week to allow his sprained sternoclavicular (SC) joint some healing time. Tick tock ...
Running Backs
Ryan Torain, Washington Redskins:
Torain was listed as a limited participant in Wednesday's practice although, according to The Washington Post, coach Mike Shanahan indicated that Torain did full work. Torain told the Post that he "feels great" and is eager to get back into the lineup. It looks as though he is on pace to rejoin his team on the field this week. Torain has essentially been out since Halloween after injuring his hamstring that day. He tried to return a couple of weeks later but aggravated the injury in warm-ups. Naturally, there will be some concern as to how Torain's hamstring will fare in his first game in over a month, and more concern over how the workload will be divided. Torain is likely to resume a lead role, but whether fantasy owners can count on that in his first outing is questionable.
Wide Receivers
[+] Enlarge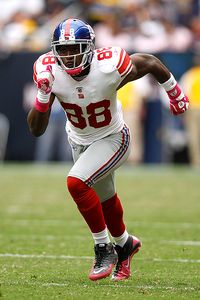 Chris Graythen/Getty ImagesHakeem Nicks has missed the past two games with a leg injury, so if he returned this week, it would be a week ahead of schedule.
Hakeem Nicks and Steve Smith, New York Giants:
This tandem affects many fantasy rosters and everyone is eager to see what its status is for this week. Nicks was able to do about 60 percent of team drills Wednesday, according to Ralph Vacchiano of the New York Daily News. Nicks seemed confident that he would be playing; the medical staff gave him the official clearance Thursday, according to Mike Garafolo of the Newark Star-Ledger. Nicks practiced on a limited basis again Thursday, and if Friday goes well, looks as if he'll play. Teammate Smith has been practicing on a limited basis as well but also appears as if he'll return to game action this week. Smith has been nursing a partially torn pectoral muscle.
Vincent Jackson, Malcom Floyd and Legedu Naanee, San Diego Chargers:
The Chargers face a critical game without some critical personnel. Then again, that won't be a new scenario for them as they've played musical chairs at the wide receiver position all season. Jackson is still recovering from his calf strain and while it still seems likely that he will not play this weekend, the San Diego Union-Tribune reported Jackson did practice on Thursday. Naanee, who had come back from a hamstring strain two weeks ago but suffered a setback, is unlikely to play. That leaves Floyd, who so far is doing well. Or at least well enough to not be on the injury radar right now. It appears that Floyd will play this week and likely have more opportunities.
Mike Williams and Ben Obomanu, Seattle Seahawks:
Williams has an ankle sprain superimposed on his foot injury and it's not looking good for him as of now. Although the Tacoma News-Tribune reports Williams is out of his walking boot, he has not practiced and likely won't all week. While the Seahawks hold out some hope that Williams could feel well enough to play Sunday, even they don't sound overwhelmingly convinced. Obomanu suffered a deep laceration on his right hand that could make it difficult to catch balls. As a receiver, that does comprise a significant portion of the job description, meaning this injury may prevent him from being able to play. Obomanu will also have until Sunday to see how his hand is healing, but they could both be late-afternoon game-time decisions.
Tight Ends
Antonio Gates, San Diego Chargers:
Gates' condition hasn't changed much, but his status midweek has. Gates told the San Diego Union-Tribune "Antonio Gates will play," acknowledging the third-person reference. Maybe it's easier to deal with the pain by taking oneself out of one's body. He admits the pain is still excruciating but knows this is a must-win situation. Barring some unforeseen dramatic setback, Gates will gut it out again.
Todd Heap, Baltimore Ravens:
Heap's own words belied his concern about his injured hamstring. Heap told the Baltimore Sun that he has rushed back in the past from a hamstring injury, "and that pretty much cost me the rest of the season." The Ravens play on Monday night and Heap has not practiced this week, both of which signal to fantasy owners that they should seek a replacement.
Other
• Minnesota Vikings wide receiver
Percy Harvin
did not practice Wednesday or Thursday as he continues to battle his latest migraine episode. Fantasy owners need to at least start being a bit concerned, as Harvin sat out Week 13 and has not returned to practice.
• Vikings running backs
Adrian Peterson
and
Toby Gerhart
were limited early in the week but, at this point, seem in no danger of sitting out. Proactive rest seems to be the rationale here.
• In addition to their wide receiver concerns, the New York Giants saw running back
Ahmad Bradshaw
on the injury report this week because of his wrist. Bradshaw did not practice Wednesday but returned to full practice Thursday and is expected to play Sunday.
[+] Enlarge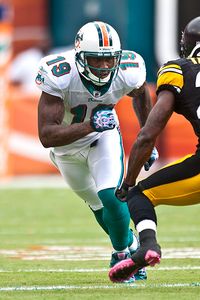 Ronald C. Modra/Sports Imagery/Getty ImagesBrandon Marshall has missed the past two games with a hamstring injury and he's scored just one touchdown all season.
•
Miami Dolphins
wide receivers
Brandon Marshall
and
Brian Hartline
are both on the injury report this week. Marshall has resumed limited practice after sitting out another game in Week 13 and appears on track to play this Sunday. Hartline had surgery on his finger and was not in practice Wednesday. There has been some concern as to whether he would return at all this season. The Dolphins have not formally ruled him out but it appears he will miss Week 14, maybe longer. This might mean a lot of
Davone Bess
.
•
New Orleans Saints
running back
Pierre Thomas
continues to practice fully this week and is expected to return to the playing field Sunday.
Chris Ivory
is probably in no danger of losing significant touches, but Thomas owners who have patiently held on to him may want to keep an eye on how he performs. He could have value in the home stretch.
•
Detroit Lions
running back
Jahvid Best
(toes), and wide receivers
Calvin Johnson
(groin) and
Nate Burleson
(hamstring) all appear on the injury report this week but all are expected to play Sunday.
•
Jacksonville Jaguars
wide receiver
Mike Sims-Walker
returned to limited practice Wednesday after missing Week 13 with his high ankle sprain. This is somewhat encouraging, but given that Sims-Walker reported his injury as a high ankle sprain, we need to see him successfully complete the week before getting too excited.
• The
Tampa Bay Buccaneers
version of
Mike Williams
is nursing a sore knee which could present a problem for Sunday. According to the St. Petersburg Times, coach Raheem Morris says Williams has been working through this "for a couple of weeks." The Buccaneers are hopeful that some rest during the week will allow him to play Sunday but he could be a game-time call.
•
Oakland Raiders
tight end
Zach Miller
continues to be limited by his foot, which seriously impacted his pass-catching productivity. It's hard to hope for much based on the past few weeks and fantasy owners should be securing another option at least for early playoff rounds. The bad news for tight ends moves over to the Pittsburgh Steelers, where
Heath Miller
was on the receiving end of a scary hit last Sunday night that left him with a concussion. Miller did not practice Wednesday and is not expected to play this week. Fortunately in Atlanta,
Tony Gonzalez
's sprained ankle does not appear to be affecting his chances of playing Sunday. He told the Atlanta Journal-Constitution he would be fine, adding, "Especially at my age, I have to enjoy this." Gonzalez sees the playoffs coming and he's not going to miss out.
See you at Friday's injury chat (3-4:00 p.m.) and we'll have the latest injury updates affecting Week 14 in the Saturday morning blog!
September, 17, 2009
9/17/09
2:25
PM ET
The injuries are mounting quickly, so let's get right to 'em:
Quarterbacks
Donovan McNabb, Philadelphia Eagles:
On Tuesday, I
outlined McNabb's rib injury
and the challenges he would face in attempting to play. The information we since have learned further supports the prediction that he will be on the sideline this week. ESPN NFC East blogger Matt Mosley reported the details of McNabb's injury that
coach Andy Reid outlined in his news conference
. Reid described McNabb's fracture as one in which the bone was broken "all the way through."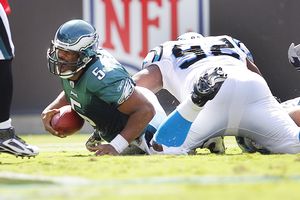 Bob Donnan/US PresswireThe Eagles haven't ruled out Donovan McNabb for Week 2, but he's looking doubtful.
This is an important distinction when it comes to fractures, because if it were just a crack or a stress fracture (in which there would be evidence of injury to the bone but not a complete separation), the healing time might be quicker. But when the bone is broken all the way through, it is essential to minimize movement in the area so the two ends can bridge together and heal. Since a rib cannot be effectively casted, the athlete must limit movement, including muscle contraction, to help protect the rib. As the doctors treating McNabb told Reid, the rib "has to get sticky." This stickiness is an indicator of the tissue healing. Once there is evidence that the two ends are intact enough that they are not moving, the doctors and the Eagles can consider allowing McNabb to increase his activity. Once McNabb is cleared for activity, it becomes an issue of pain tolerance and how effective McNabb can be as a quarterback in the presence of that pain.
Suffice to say that the process undoubtedly will take longer than the few days remaining until game time. Other evidence -- McNabb's not practicing Wednesday, backup
Kevin Kolb
's taking all the first-team snaps, the Eagles' signing of
Jeff Garcia
-- supports the notion that McNabb will sit out this week. From that point forward, it becomes a day-to-day assessment. The Eagles were wise to get insurance. Fantasy owners need to do the same thing.
Matt Cassel, Kansas City Chiefs:
Cassel sat out Week 1 because of his sprained medial collateral ligament, which clearly was still hampering his mobility late in the week and preventing him from full practice. But the Chiefs appeared to be encouraged by Cassel's improved running ability Wednesday and have increased optimism for his availability for Week 2. Coach Todd Haley told reporters that Cassel still did not participate in the entire practice and would not commit to Cassel's being the starter Sunday, but he did acknowledge that Cassel was doing everything he could to get ready.
It appears Cassel might indeed play, especially if he can participate fully in practice by the end of the week. It's reasonable to expect that he will remain braced, just as it's reasonable to expect that the ligament is still healing and that he will not yet be 100 percent. Nonetheless, if he shows he can be effective under center in practice this week, the Chiefs might opt to bring him back.
Tony Romo, Dallas Cowboys:
Romo had some tests done on his right ankle, including an MRI, this week. According to The Dallas Morning News, the tests came back negative, so it appears all systems are go for Romo on Sunday. He was able to fully participate in practice Wednesday, another positive indicator.
Running backs
LaDainian Tomlinson, San Diego Chargers:
Tomlinson rolled his ankle in Week 1 but managed to play on and off throughout the remainder of the game. After the game, however, it seems Tomlinson's ankle felt a little worse. He did not practice Wednesday and was seen sporting a protective boot on the ankle to minimize motion at the joint. (Editor's Note: LaDainian Tomlinson has now been ruled out for Sunday's game versus the Ravens).
If there's some good news here, it's that Tomlinson says this injury does not begin to compare to the toe and groin injuries he suffered last season, and Tomlinson told the San Diego Union-Tribune on Wednesday that he doesn't expect the injury to sideline him for long, in other words, this does not seem to present long-term concerns. Fantasy owners should make alternate plans for this weekend but shouldn't give up on LT just yet.
Pierre Thomas, New Orleans Saints:
Thomas says he will play this week, and he did participate fully in practice Wednesday for the first time in weeks. Nonetheless, as the New Orleans Times-Picayune reported, his leg was wrapped during practice and he was icing it afterward. Now, both of those things are to be expected as a player returns to practice from this injury, but it does remind us that he is not yet 100 percent recovered. We will track his progress throughout the week, but bear in mind that even if he does play, his touches likely will be limited.
Jonathan Stewart, Carolina Panthers:
Stewart seemed to make it through Sunday's contest just fine despite missing the preseason because of a sore Achilles. The key will be managing this issue over the course of the season since it is not likely to disappear until the season is long over. To that end, Stewart did not practice Wednesday, which appears to be a precautionary maneuver to protect his foot and ankle. Watch Stewart's activity as the week progresses, but expect him to play Sunday.
Wide receivers
Anthony Gonzalez, Indianapolis Colts:
The Indianapolis Star is reporting Gonzalez suffered a posterior cruciate ligament sprain and is expected to miss at least four games; the early goal is for him to return just after the Colts' bye week (which is Oct. 18). There were signs from the outset that this injury was on the serious side. Gonzalez went down untouched, which is not uncommon with the more serious anterior cruciate ligament and PCL sprains. Team president Bill Polian indicated that Gonzalez sprained knee ligaments (as in more than one), and while Polian expressed relief that the injury was not season-ending, this certainly suggested a more complex scenario. If Gonzalez did indeed suffer additional damage, even to another less-significant knee ligament, it further compromises the joint stability and makes it that much tougher to rehab.
We have seen other receivers suffer PCL sprains during the season, and it has hampered their effectiveness, even after their returns (which take, on average, four to six weeks).
Houston Texans
' receiver
Andre Johnson
suffered this injury in 2007 and missed seven games. In 2008,
Minnesota Vikings
' receiver
Sidney Rice
sprained his PCL and seemed a step slower upon his return.
So why the difficulty? Well, the PCL complements the ACL and contributes to overall joint stability. It is much more complicated to repair and consequently is not always surgically treated, especially if the injury is anything less than a Grade 3 or complete tear. The consensus is that most athletes can be functional once the ligament has scarred in to heal. If problems persist, the athlete might undergo offseason surgery to clean up the area, but in the meantime, he or she tries to play through it. A damaged ligament, however, means the body must compensate for that instability, and it can take extended time, even an offseason, for that to occur. In other words, Gonzalez might be able to return, but whether he can function at the level he was at to start the season is, as of now, unknown.
What does that mean for fantasy owners? Well, Gonzalez will be out for more than a month, so an immediate replacement is in order. But that replacement might be permanent, because not only could Gonzalez's recovery timetable change, but it also remains to be seen how effective he will be when he returns.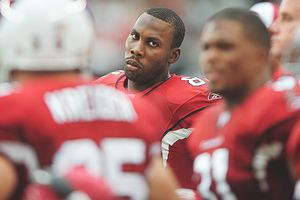 Mark J. Rebilas/US PresswireAnquan Boldin had just 19 yards receiving Sunday.
Anquan Boldin, Arizona Cardinals:
It might still be a guessing game when it comes to Boldin's Sunday status. Boldin was active in Week 1, but he did essentially nothing, as predicted. Boldin, who had not participated fully in practice since late August, clearly was not himself, and he notched only two receptions. That said, there might have been some pressure for Boldin to play because
Steve Breaston
, somewhat surprisingly, could not (apparently, his knee swelled up Sunday morning). Boldin practiced Wednesday, but Breaston was limited to the walk-through, according to the East Valley Tribune, so it does appear Boldin will get the nod. We will keep an eye on practices throughout the week to get a better indicator before Sunday.
Kevin Walter, Houston Texans:
Walter, who sat out Week 1 with a hamstring strain, appears good to go in Week 2. He practiced fully Wednesday and indicated he was ready to play. According to the Texans' Web site, coach Gary Kubiak seems to agree with Walter, even adding that the receiver will start. One fewer guess to make leading up to Week 2 games.
Be sure to check my Saturday blog for post-Friday NFL injury report updates on all your fantasy players heading into the weekend.
Note: Catch Stephania's injury chats Tuesdays and Fridays from 11 a.m. to noon ET, as well as Sundays from 10 to 10:30 a.m. ET. And check out Fantasy Football Now on Sundays at ESPN.com from 11:30 a.m. ET to kickoff for last-minute inactive announcements, rankings and more!
September, 10, 2009
9/10/09
3:36
PM ET
Hooray! The 2009 season kicks off tonight and the anticipation, the buildup, the projections ... they all come to a head amidst the excitement of the Week 1 matchups. And, of course, the real football is not bad either.
Naturally, fantasy owners know that injuries factor into each week's contests, and while they cannot be predicted or prevented, there are certainly strategies for working around them. The best offense is a good defense, as they say, so arming yourself with injury-related news can only help you make better decisions about which players to sit and start as each week rolls along.
It's true that more and more teams are going the secrecy route when it comes to revealing injury specifics. We already got a taste of that in the preseason when
Denver Broncos
quarterback
Kyle Orton
held up a bloody finger for all the viewing audience to see, and then the Broncos later referred to it as an "upper extremity injury." Really? Seriously? This is the type of firewall that more and more teams are prepared to stand behind when it comes to injuries, reporting only what is required weekly by the NFL for injury reports and leaving open plenty of room for speculation.
To that end, I have compiled a few "injury guidelines" to help fantasy owners navigate the maze of injury-related information that emerges each week. While injury information might emerge in bits and pieces, swathed in insinuation and innuendo, there are some rules fantasy owners can follow to help them stay on course when assessing injury impact on their fantasy teams.
1. No two injuries are identical:
Injuries often are graded according to severity, and even then, there are often subtle differences that dictate different healing times. Also, players heal at different rates, so just because one guy recovers in two weeks from an ankle sprain doesn't mean another will recover at the same rate, even when the injury involves the same structures.
2. Player position must be considered when evaluating the impact of an injury:
Each position places different demands on the body, and therefore some injuries affect certain positions more. A classic example is the MCL sprain, which can be more debilitating for a running back, who must cut frequently, than for a quarterback. It often translates to different amounts of time missed.
3. A player's injury history is worth considering, especially if it is a repeat injury:
A player who has been healthy for years and has his first injury will often return faster than a player who has sustained multiple injuries in the past. This is especially the case when it comes to repetitive muscle strains in the same region. In other words, a guy who just suffered his fourth right-sided hamstring strain should not be expected to heal as quickly or as fully as the guy who just had his first injury in that region. There are, of course, exceptions to this (which should always be stated, really, as the first rule of medicine).
4. The severity of an injury cannot always be determined by how it looks on the field:
Appearances can be deceiving. Just because a guy gets up and walks off the field doesn't mean he's not seriously injured. Sometimes the full nature of the injury is not appreciated until a day or two later. The reverse can also be true. An injury can appear devastating because it is initially very painful, but then turn out to be not so bad.
5. Beware of the following overused phrases:
&#8226
He's "100 percent healthy."
No NFL player is 100 percent healthy once the season starts. Usually the phrase means that an athlete has been fully cleared and has returned to play, but it doesn't mean there are no underlying long-term changes (such as cartilage damage) that could crop up again.
&#8226
It was a "mild concussion."
A concussion is a brain injury. Brain injuries are always serious. Period.
&#8226
That guy is "injury prone."
There is bad luck and then there is bad tissue. While there is never likely to be consensus on what constitutes "injury prone," it seems as if a guy who misses time with more than one injury in his career gets the label. Football is a contact sport. Injuries happen and most often because of a series of random events. The average playing career lasts just a few years for that reason. The term is unfairly overused and in fantasy, valuable players might be avoided because they have that label.
Now that we've covered some of the ground rules for interpreting injury information this season, let's look at some of the players I'm tracking as we head into Week 1:
Tom Brady, QB, New England Patriots:
This is the final reassurance for Brady owners everywhere. He's back. He's healthy. And he's ready to go on Monday night. In case anyone hasn't followed along, here's what has happened with Brady in the past year or so. Week 1, 2008: Brady goes down early in the opener with what would eventually be diagnosed as a season-ending knee injury (a torn ACL and MCL, to be precise). Not long after undergoing reconstructive surgery on his knee, Brady suffered a setback because of an infection. It was at that point that the alarms sounding the premature demise of the face of football began to sound.
But once the infection cleared, Brady did what he always does. He went to work. He did the rehab, he did the conditioning drills, and he worked his way back in time to participate in June minicamps. He played in three preseason games and showed the world that his knee was healthy enough that he could run, throw and take hits. Of course he did give his team a mini-scare when he took a big hit to his throwing shoulder in Week 3, but it all turned out OK. We'll just have to wait and see how he's listed on the Patriots' injury report, but have no fear, fantasy owners, he will be ready to prove himself come Monday night.
Matt Cassel, QB, Kansas City Chiefs:
We transition from Brady to his former understudy, Cassel, who went from not starting a game since high school to leading the Patriots through a pretty impressive season. Cassel parlayed his transformative season into a permanent starting gig a little farther west. But will Cassel, in fact, be starting for his new team this Sunday?
Cassel suffered a sprained left MCL when tackled during the Week 3 preseason game. Despite the fact that Cassel returned to practice this week, it has been on a limited basis, suggesting that he is not fully recovered from the injury. Nor should he be. Sunday will mark just one day over two weeks since the injury, enough time for some scar tissue to form, but not enough time for the ligament to fully heal and adapt to the stress of playing on it. Cassel, if he plays, will be in a brace, which does afford some protection in terms of lateral stability should he take a hit. However, it cannot remove the feeling of instability and discomfort that Cassel likely is still experiencing.
Although his position does not require the agility and quickness of a running back, Cassel does need to be able to move effectively inside and out of the pocket to escape the rush, and he needs to plant firmly on his left leg to deliver the ball downfield. Both of these acts are likely to be compromised so early in the recovery process. Oh, and by the way, he's facing the Ravens, so he will definitely need to be able to get out of danger. Ideally, Cassel will sit this one out and allow his knee some additional healing. But if he does end up playing, and coach Todd Haley has said that Cassel would need to put in a full practice by Friday in order to start, he will not be at his best.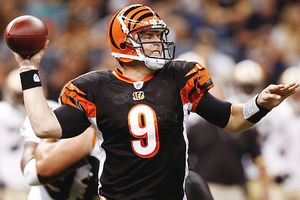 Chris Graythen/Getty ImagesCarson Palmer is back at practice, but we still don't know how his ankle will react in a game situation.
Carson Palmer, QB, Cincinnati Bengals:
In the Week 3 contest against the Giants in 2008, Palmer suffered an ulnar collateral (Tommy John) ligament injury, the reconstruction of which has become almost commonplace amongst elite throwers in baseball. It is a far less frequent injury in football, partially due to the fact that the throwing mechanics in football are less stressful on the elbow than in baseball. A direct insult to the arm, however, which is what happened to Palmer during a hit while releasing the ball, could result in an injury to the ligament and nearby tissues that could then be further impacted by throwing.
After considering his options, Palmer opted for the nonsurgical rehab route to heal his elbow, and in training camp, it certainly appeared to have been effective. Palmer was throwing the ball well, gradually building up the endurance of his arm, and everything was coming along beautifully ... until Palmer suffered a high ankle sprain on his left leg (plant leg) in Week 1 of the preseason games. He has just recently returned to practice. A major concern for Palmer was that if he were to return too soon and his ankle did not allow him to plant effectively, he could then end up putting excessive stress on his throwing elbow.
The good news is that Palmer has been able to return to full practice this week and has declared himself fully healthy and ready to go. It is worth noting, however, that Palmer has not been tested for a full game since Week 2 of last year. It is also worth noting that in his shortened season, Palmer took a number of hits, leading to a bloody nose and, ultimately, the elbow injury that would sideline him for the remainder of the season. No matter how good Palmer's ankle feels going into this game, the tissue is still repairing itself. If he is not well-protected Sunday, a setback to the ankle, or something else, is not out of the question.
Kyle Orton, QB, Denver Broncos:
Orton's bloody finger injury, sustained during a Week 3 preseason game, told the tale of an open dislocation. The injury is called a dislocation because the joint at the tip of the finger was displaced, open because the skin was broken. Once the joint was reduced (put back in place), some of Orton's pain was alleviated immediately. The issue potentially threatening his start in Week 1 has more to do with the "open" aspect of the injury.
The cut required stitches, and healing soft tissue at the tip of the index finger can interfere with a quarterback's ability to throw the ball. In fact, many doctors will opt to leave the stitches in initially to help ensure that the skin does not reopen when the athlete begins throwing again. Orton was able to return to practice this week and was nicely outfitted with some thin gauze over the wound, as well as a glove. Orton clearly appears motivated to play. The key will be whether he can make all his throws (long balls will be the toughest), and if not, whether the Broncos will be amenable to altering the game plan to accommodate a short-pass and ground game. As coach Josh McDaniels said earlier in the week, "If he's able to be the most effective guy we've got, then certainly he'll play."
This might come down to a game-time decision, but chances are that Friday practice will give some clues. If Orton is unable to go, then backup
Chris Simms
, who himself just returned from a high ankle sprain, would get the nod.
Maurice Jones-Drew, RB, Jacksonville Jaguars:
Jones-Drew suffered a shin contusion in the final preseason game, and there was some concern that the injury would affect his status for Week 1. Fear not, fantasy owners, as Jones-Drew returned to full practice Wednesday, and although he no doubt still has soreness in the leg, it does not appear that it will threaten his status or his production Sunday. Imaging tests, which could have shown additional soft tissue damage or a bone bruise, were negative. The Jaguars will face the Colts, who are expected to be without staunch run defender
Bob Sanders
, so fantasy owners should be looking forward to seeing what Jones-Drew can do.
Pierre Thomas, RB, New Orleans Saints:
Thomas was another victim of a preseason MCL sprain, which he suffered during a Week 2 exhibition game, and as a running back he's more challenged in his position than the aforementioned Cassel. The medial collateral ligament reinforces the inner aspect of the knee joint and is subject to stress with lateral movements, particularly cutting toward the inside. Even a ligament that is healing can take a step backward in that process if aggravated early on. Just ask
Pittsburgh Steelers
running back
Willie Parker
, who suffered the same fate last year.
Thomas has not been able to return to practice as expected, another sign that he might be forced to sit out the season opener. According to the New Orleans Times-Picayune, Thomas was still limping Monday, and although he hasn't been ruled out for Week 1, the fact that he has not been able to do much beyond individual work is of concern. Naturally, the Saints (and his fantasy owners) would love to have him Sunday. At this point, though, that doesn't appear likely, and even if he does play, he is bound to see significantly less action. Fantasy owners should be making other plans at this point.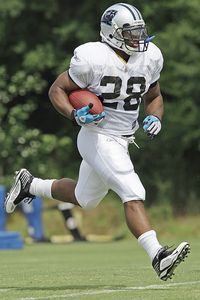 AP Photo/Chuck BurtonJonathan Stewart has returned to the practice field, but when will he return to form?
Jonathan Stewart, RB, Carolina Panthers:
A nagging Achilles injury has kept Jonathan Stewart out of practice and out of games for virtually the entire preseason. If there's any good news here, it's that Stewart was able to return to full practice Wednesday. This news is encouraging heading into Week 1, but that's only half of the battle. We'll still need to see if he experiences any soreness following his return that limits him later this week.
The frustration with this kind of condition is that it is not the type of thing that disappears magically. It is typically associated with overuse, which means the more Stewart uses the tendon, and he will every time he pushes off with that foot, the more risk he has of aggravating it. The healthier the tissue is going into the season, however, the less chance of it flaring up. Knowing the talent of the medical staff in Carolina, this has no doubt factored into why Stewart has been so limited in preseason action and why he has been relegated to non-weight-bearing activities such as the bike and the pool. For fantasy owners, this might signal that Stewart will be used more sparingly at first to help ensure that he does not overdo it early on. So while he might look great when he's on the field, his time on the field might be limited, just to protect him.
Thursday and Friday practices will give us a better hint as to what the final status of these players will be heading into Week 1.
Out:
Normally this space is intended for a list of key fantasy players, not including those who have been moved to Injured Reserve status, who are officially listed as "Out" for the upcoming game. As of now, there are no key fantasy options listed as Out, as of the most recent NFL injury report.
Note: Catch Stephania's injury chats Tuesdays and Fridays from 11 a.m. to noon ET, as well as Sundays from 10 a.m. to 10:30 a.m. ET. Also, she'll have another injury update Saturday.