Stephania Bell:

Matt Garza
March, 29, 2013
3/29/13
11:38
AM ET
With the regular season just about to start, here's a list of notable injury situations and their timetable for a return. Fantasy owners can and should adjust their lineups or draft strategies accordingly.
Notes:
1. All projections reflect expectations as of March 29 and should be considered fluid after that date.2. Opening Day ready = Expected to be "active" on Opening Day, not necessarily in lineup on Opening Day. For pitchers, first game depends on where slotted in rotation.
Hitters
[+] Enlarge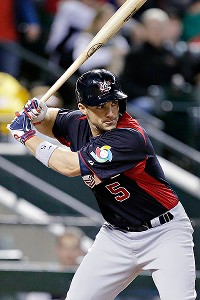 AP Photo/Charlie RiedelDavid Wright was playing well at the WBC before getting hurt, but he appears to be on track for Opening Day.
David Wright, 3B, New York Mets (Opening Day ready):
Wright strained an intercostal (rib cage) muscle during the World Baseball Classic, but rest and rehab seem to have done the trick. Potential for setback in the first few weeks exists, but this guy rarely misses time.
Brett Lawrie, 3B, Toronto Blue Jays (due back April):
Intercostal strain will sideline him into the first week or two of the season, but a cautious return should help prevent a setback. Bigger concern is tendency to play with reckless abandon. Fun to watch, but may increase risk.
Pablo Sandoval, 3B, San Francisco Giants (Opening Day ready):
An irritated ulnar nerve forced Panda to rest for several days in March, but he claims he's ready to return. I admire his enthusiasm but can't say definitively that this is behind him.
Chase Headley, 3B, San Diego Padres (due back late April):
Left thumb fracture will delay Headley's regular-season debut by about a month. The good news is that it shouldn't hinder him after he returns.
Curtis Granderson, OF, New York Yankees (due back mid-May):
No surgery needed for Granderson's small fracture. No reason to worry about his ability to produce once he returns to the lineup.
Hanley Ramirez, SS/3B, Los Angeles Dodgers (due back mid- to late-May):
Ramirez will miss a couple months of playing time following surgery to repair his torn thumb ligament. The concern is that his performance at the plate could suffer a bit longer.
David Freese, 3B, St. Louis Cardinals (due back April):
His back injury doesn't appear serious, but the Cardinals want Freese to see more at-bats before his regular-season debut. Recurrence is possible, but the minor nature of this episode keeps the worry factor low.
[+] Enlarge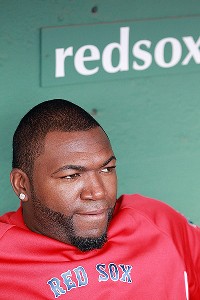 Jim Rogash/Getty ImagesIt's still uncertain when David Ortiz will be ready for this season.
David Ortiz, DH, Boston Red Sox (no timetable):
Ortiz continues to have trouble with his Achilles, despite trying to address it in the offseason. Although he's now swinging the bat, it's hard to imagine him being fully healthy for any long stretches.
Derek Jeter, SS, New York Yankees (due back April):
Jeter's post-surgery soreness is not unusual. In fact, it will likely take a few months for his ankle to feel normal again. He may return in April but he may not
really
return until June.
Mark Teixeira, 1B, New York Yankees (due back May/June):
A partially torn tendon sheath is what
Jose Bautista
had ... and then he had surgery. Teixeira's wrist may heal with rest, but if it doesn't, the power on the left side of the plate won't be there and he may not last long, either.
Corey Hart, 1B/OF, Milwaukee Brewers (due back May):
The key to Hart's post-surgical knee staying healthy is not returning too soon. The team has been good about controlling his activity thus far, so don't expect them to rush him now. Late May is the most likely scenario.
Brian McCann, C, Atlanta Braves (due back April/May):
He's recently returned to hitting, but restrictions on McCann's post-labral repaired throwing shoulder remain in place. Once he returns, it may take a bit to ramp up, but look for a strong second half.
Alex Rodriguez, 3B, New York Yankees (due back around All-Star Break):
If he's rehabbing as diligently as he says, Rodriguez should be poised for an uneventful return. The hip may be healthy, but he's still an aging player with mounting injury concerns.
Starting Pitchers
For a more thorough progress report of pitchers returning from injury or surgery,
see this blog entry
.
[+] Enlarge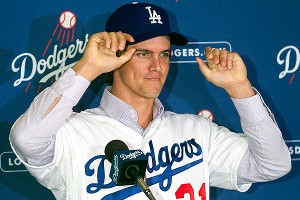 AP Photo/Damian DovarganesZack Greinke has caused much concern this spring with his elbow issues and overall poor numbers.
Zack Greinke, Los Angeles Dodgers (Opening Day ready):
Right elbow inflammation in the spring should scare a team that spent $147 million and fantasy owners alike. Greinke says the elbow feels OK, but his performance is shaky. It's not exactly confidence-inspiring.
Jaime Garcia, St. Louis Cardinals (Opening Day ready):
He opted for rehab instead of surgery for a small (left) rotator cuff tear and has been fine through a handful of spring outings. Starting season strong, but will he last?
Roy Halladay, Philadelphia Phillies (Opening Day ready):
Halladay insists there's no injury, but his performance this spring is a concern. Last year he said there was no injury, either. Then he went on the DL and missed nearly two months. This could be the start of the talented veteran's decline.
C.J. Wilson, Los Angeles Angels (Opening Day ready):
Underwent arthroscopic surgery in October to address a bone spur and has had no issues with the elbow this spring. Consider this: He's had only two DL stints in his big league career. Aging but durable. Low level of concern.
Phil Hughes, New York Yankees (due back early April):
A bulging disc in his back derailed Hughes' spring. He has bounced back quickly, but let's face it, injuries are always going to be a concern with Hughes.
Matt Garza, Chicago Cubs (due back May):
Ended last season with stress fracture in right elbow, started this spring with strained lat. Sum total of injuries raises concern.
Shaun Marcum, New York Mets (Opening Day uncertain):
Elbow issues last year, now shoulder and neck this spring. Don't like where this is headed. Even if he avoids the DL now, it may only be a matter of time.
Brandon Beachy, Atlanta Braves (due back June/July):
On track post-Tommy John surgery. No major concerns, just temper expectations to the typical ups and downs of the first year back.
Relief Pitchers
Jason Motte, St. Louis Cardinals (no timetable, expected to start season on DL):
Diagnosed with a "small" tear in his flexor tendon, Motte is reportedly feeling better. He will have to prove he can throw without pain before returning, then hope the injury doesn't worsen across the season.
Ryan Madson, Los Angeles Angels (due back April):
After Tommy John surgery last April, Madson is closing in on a return. But the normal inconsistencies that a pitcher first displays after this operation -- and a guy named
Ernesto Frieri
-- suggest Madson isn't a lock to close.
Casey Janssen, Toronto Blue Jays (Opening Day ready):
After November surgery on his AC joint, a slow spring initially threatened Janssen's Opening Day status. He's recently turned a corner but there's still a bit of concern about how an uptick in work (think:
frequency
) will affect him.
June, 6, 2011
6/06/11
5:57
PM ET
As is usually the case following a series of weekend games, there are some comings and goings in the world of baseball. Some players are coming back from injury while others are exiting, or appear on the brink of exiting, due to injury. If only the return list was greater than the departure list, fantasy owners would be looking forward to adjusting their Monday rosters. While sadly this does not appear to be the case, there are still some nuggets of good news to be found in the injury reports. You just may have to scroll down a ways to find them.
Going
[+] Enlarge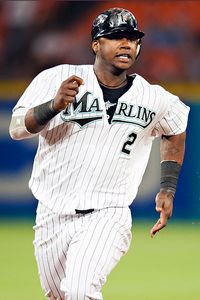 Steve Mitchell/US PresswireHanley Ramirez has not played since May 30 but could be activated as soon as next week.
Hanley Ramirez, SS, Florida Marlins:
It's official. The Marlins have placed Ramirez on the DL, retroactive to May 30. Ramirez led the Friday blog amidst hints the Marlins would make the decision to place him on the DL at some point that day. Friday came and went without any movement for Ramirez, but it wasn't because he was making a sudden return to the lineup. In fact, Ramirez continued to sit out because of a
lower back injury
, which had been causing him problems for well over a week. It seems the delayed announcement was linked to the Marlins' decision as to which pitcher would be called up to fill his roster spot. According to the Marlins' official website, with
Josh Johnson
still out with shoulder inflammation (and no set timetable for his return), it was unclear who would take his Tuesday spot in the rotation. That question now appears to have been answered. According to Joe Capozzi of The Palm Beach Post, the Marlins called up lefty Brad Hand from Double-A Jacksonville. As far as Ramirez goes, it was clear he was hoping to avoid going to the DL for the first time in his career, but the pain was such that he couldn't pinch hit or run. Better for him to step away completely and try to resolve this episode than to press through it. After all, he had not been producing well at the plate. Turns out his back had been bothering him for a month but he kept it quiet until the pain got bad enough he simply couldn't function.
Jake Peavy, SP, Chicago White Sox:
The good news is Peavy's surgical repair to his lat tendon has held up brilliantly and his throwing arm is fine. The bad news is a right groin injury sustained during only his fifth start of the season likely will land him on the disabled list. According to the Chicago Sun-Times, Peavy said of his injury, "I'll probably miss more time now. ... the way I feel when I walk, [the disabled list] is a pretty safe bet." At this point Peavy is acutely aware of how an injury in his lower half can affect his upper half. When I talked with him during spring training, he acknowledged that the ankle injury he sustained while with the
San Diego Padres
had not fully resolved when he went to the White Sox. He said he suspects compensations he made for the leg contributed to abnormal mechanics and ultimately the failure of his latissimus dorsi tendon.
After that experience and the lengthy rehabilitation process he has just undergone, it is highly unlikely he would run the risk of returning to play while compromised. A groin strain is no small issue for a pitcher, no matter which leg is involved. In this case, it's Peavy's right leg, or his stance leg, and he needs strength in the musculature for balance during the wind-up. He needs power and flexibility as he moves further into his delivery and transfers his body weight forward to his left (landing) leg. He also needs to be able to move off the mound quickly for defensive plays. In the fourth inning of Sunday's game it was during a defensive move to cover first that Peavy first felt a "grabbing" pain, according to the Sun-Times. Peavy expected to undergo further evaluation Monday, but it appears fantasy owners should plan on a two-week absence, minimum.
Rafael Furcal, SS and Jon Garland, P, Los Angeles Dodgers:
Furcal has to be asking himself what he did exactly to deserve yet another injury to yet another body part. On the DL for the second time this season, Furcal is now dealing with a left-sided oblique strain suffered during Friday's game. Oblique injuries typically require a few weeks of recovery, depending on severity, and given Furcal's history of low back problems, it is critical that he not return too soon. In other words, it's hard to imagine him returning before the end of the month, perhaps even the All-Star break. Sigh. The Dodgers also lost Garland to his second DL stint of the season (he started the season on the DL with, yes, you guessed it, an oblique injury). This time it's his throwing shoulder that's the culprit, and no one ever likes to see that in a veteran pitcher. Garland has been remarkably durable, but now that he is 31 years old, this could be a sign of things to come.
Brandon Belt, 1B, San Francisco Giants:
Belt was placed on the DL when it was discovered he had a hairline fracture in his left wrist after being hit by a pitch last week. Consider this another blow to the Giants, who had brought Belt back into the lineup following the season-ending injury to
Buster Posey
. Although Belt's fracture likely will take another month to heal, he could resume baseball activities before then if he's progressing well.
Coming
Matt Garza, P, Chicago Cubs:
Garza has been activated and will start Monday against the
Cincinnati Reds
. He has been sidelined with an elbow contusion but has felt no pain when throwing recently, including a solid bullpen outing late last week. Pitching in a game situation is always a little more strenuous, though, so it remains to be seen how he will fare.
Derrek Lee, 1B, Baltimore Orioles:
The Orioles got Lee back this weekend after he spent time on the DL with an oblique injury. Lee sustained the injury in mid-May and has returned fairly swiftly. It's worth pointing out that although Lee started the season on time, he missed a good portion of spring training because of his thumb, forearm and foot. The missed time may explain, in part, his unspectacular start to the season. If he is fully healthy now, it will be interesting to see what he has in the tank.
Adam Lind, 1B, Toronto Blue Jays:
In case you missed it, Lind snuck back into the starting first-base role for the Blue Jays on Sunday, and all he did was go 4-for-4 with two home runs. It appears his back is much better. Lind had been out for nearly a month with intermittent back spasms. Early on, the team hoped Lind could avoid the DL altogether, but after several setbacks the extended time off became the wise choice. In retrospect it certainly seems as if Lind benefited from that decision, and while back pain is always at risk for recurrence, the hope is that the longer reprieve will help him avoid just that.
Somewhere in between
[+] Enlarge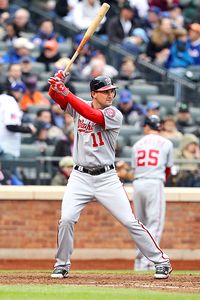 Al Bello/Getty ImagesRyan Zimmerman has not played in the majors since April 9 but is making progress in the minors.
Washington Nationals
third baseman
Ryan Zimmerman
is working his way up the ladder following abdominal surgery in early May. On Sunday, Zimmerman appeared in a rehab game with Class A Hagerstown. After delivering a double, a triple and an RBI, Zimmerman is being moved to Class A Potomac. According to the Washington Post, Zimmerman referred to himself as winded and "sore" after the outing, noting he "was out of breath for a while after that triple." These are all normal responses to returning to game action following the type of surgery Zimmerman underwent, and he will continue to build his endurance and his strength by increasing the level of play. While there is no definitive date for his return, Zimmerman is certainly within the standard timeframe of recovery of six to eight weeks.
Philadelphia Phillies
shortstop
Jimmy Rollins
was seen limping in the clubhouse Sunday after fouling a ball off his right kneecap Saturday. On Sunday, Rollins told the Philadelphia Inquirer, "It'll be a couple of days, but I don't think a DL thing, not at this moment," explaining that the response of the swelling would determine what he was able to do. On Monday, Rollins was not in the lineup and is considered day-to-day.
The
New York Mets
won't be getting third baseman
David Wright
back in the lineup this month. After a re-evaluation, Wright says he will have to wait at least another three weeks before resuming baseball activities. Teammate
Ike Davis
, who incidentally was injured in a collision with Wright in early May, also remains out with a bone bruise in his left ankle. When Davis tried to progress to running, it became so painful that he was forced back into a walking boot. As Davis told ESPN New York, if he does any running right now it's on an underwater treadmill. The good news is that he is hitting and working on other conditioning activities. But the impact of running is something the joint cannot tolerate yet.
Tampa Bay Rays
third baseman
Evan Longoria
gave everyone a scare when he left Saturday's game early with "tightness" in his left side. Yes, it's the same side in which he suffered the oblique injury earlier this year. But Longoria was able to pinch hit Sunday and is expected back in the lineup Monday. Maybe he just wanted to see if anyone would notice. Judging from the collective anxiety of fantasy owners everywhere, the answer is yes, we noticed.
Resume normal breathing everyone, at least until tomorrow.
June, 3, 2011
6/03/11
3:20
PM ET
This is meant to be a "good news" Friday, so we'll get the ominous news out of the way first. Not surprisingly,
Florida Marlins
shortstop
Hanley Ramirez
is out of Friday's lineup, according to Joe Capozzi of The Palm Beach Post. Ramirez has been dealing with severe back pain and intermittent sciatica over the past week, and it appears ever more likely that he will make his way onto the DL, a decision which is expected to come shortly. The biggest hint? The Marlins recalled shortstop Osvaldo Martinez from Triple-A New Orleans on Friday.
Now, onto better things heading into the weekend ...
• It's a good day in Philadelphia when there's a player returning to the lineup, not departing. Phillies outfielder
Shane Victorino
will rejoin the lineup for Friday's matchup against the
Pittsburgh Pirates
. He had been out since suffering a hamstring injury mid-May. While the injury was never deemed serious, the team wanted to minimize the likelihood of a setback and placed him on the DL. After a handful of uneventful outings in minor league games, Victorino appears ready to roll. Naturally, everyone will feel better after he's had a couple of uneventful weeks in the majors, but at some point there is nothing left to do but let the athlete test himself in all-out play.
[+] Enlarge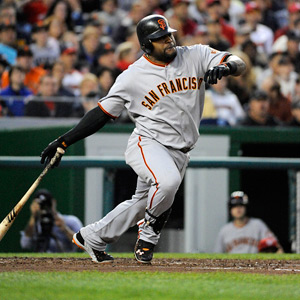 Diamond/Getty ImagesPablo Sandoval had been hitting .313 when he landed on the disabled list.
•
Pablo Sandoval
and his big bat could be nearing a return. The
San Francisco Giants
have sent their third baseman to a rehab assignment, starting in San Jose, according to the San Francisco Chronicle. After a short stint there, Sandoval will move to Triple-A Fresno. If all goes well, Sandoval will rejoin the Giants at some point next week.
There is already reason to be encouraged. Sandoval, recovering from surgery to remove the fractured portion of the hamate from his right wrist, has demonstrated he can take swings from both sides of the plate. Batting left-handed during Wednesday batting practice, Sandoval hit two home runs, according to the San Jose Mercury News. The significance lies in the fact that when batting left-handed the knob of the bat puts pressure against Sandoval's surgical area (actually a likely reason for the original fracture, due to repeated contact pressure during his swing), which is often uncomfortable for players when they first resume hitting after a procedure such as this. Other players returning from this injury have reported soreness in the hand or difficulty with grip early on, which limits their power. So far the signs from Sandoval suggest that will not be a big concern for him.
• Although
Chicago Cubs
pitcher
Matt Garza
did not come off the DL immediately when eligible, his return does not appear to be far off. Garza threw a 30-pitch bullpen session Wednesday, according to Carrie Muskat of MLB.com. Although he had been throwing fine from flat ground, the bullpen was a bigger test for his bruised elbow. He apparently suffered no ill effects, and it looks as if he could rejoin the team next week.
• Another starter who could rejoin his team next week is
Minnesota Twins
lefty
Francisco Liriano
, who has been on the DL with shoulder inflammation, somewhat more concerning given that he also dealt with an episode of shoulder pain during spring training. Despite a couple of bright spots, Liriano has struggled this season, and it certainly appears the shoulder has been a factor. The Twins have to be hoping that a brief period of rest was the answer. The Minneapolis Star-Tribune reports Liriano felt pain-free playing catch Thursday. If all goes well with a planned Saturday bullpen, manager Ron Gardenhire expects Liriano to make his Tuesday start. While the Twins are looking for some positives, until Liriano is able to have consistent outings, it will be hard to have confidence that this is entirely behind him.
June, 1, 2011
6/01/11
4:00
PM ET
First things first. The ankle injury suffered by
Pittsburgh Pirates
catcher
Ryan Doumit
is definitely going to keep him out for at least a month. On Tuesday, we noted that Doumit was the latest to suffer an injury as the result of a collision at home plate and it was originally diagnosed as an ankle sprain. On Wednesday, the Pittsburgh Post-Gazette is reporting that Doumit suffered a non-displaced ankle fracture, hence the immediate extension of his timetable. Expect at least four weeks for enough bone healing to allow a return to baseball activities, plus additional time to return to catching duties.
Kyle McClellan, P, St. Louis Cardinals:
An already thin pitching corps looks as if it is about to take another hit. The St. Louis Post-Dispatch is reporting that McClellan is likely headed for the DL after being removed from Monday's start with a left hip flexor strain. According to the Post-Dispatch, McClellan indicated that a couple of awkward landings in the first inning resulted in the injury. He's got swelling in the area, and manager Tony LaRussa has said McClellan is going to miss, at the very least, his next scheduled start on Saturday. The hip flexor on a pitcher's lead leg is critical in helping control stability of the trunk over the pelvis during delivery. Swelling in the area will prevent the muscle from firing optimally, so it is not just a matter of pushing through pain, it is equally a matter of being able to perform. The Cardinals have not yet made the roster move but look for it to be in the works.
Quick hits
• The Cardinals may also be losing slugger
Matt Holliday
to the disabled list for the first time this season, although this is second significant ailment. The St. Louis Post-Dispatch reports Holliday will undergo an MRI on Wednesday to further evaluate his strained left quadriceps that continues to limit him. It might seem strange that a muscle strain could sideline someone longer than an appendectomy, but in reality the muscle recovery is far less predictable.
•
Chicago Cubs
pitcher
Matt Garza
is not expected to return from the DL on Friday, the first day he's eligible. Although he is reporting improvement in his elbow (bone contusion), he has yet to throw from a mound. According to ESPN Chicago, that should change Wednesday when Garza is expected to throw a bullpen. If that goes well, he will throw another later this week. Throwing off a mound increases the vigor of the pitch, which will further test how Garza's elbow is feeling.
May, 26, 2011
5/26/11
6:17
PM ET
May, 25, 2011
5/25/11
5:58
PM ET
The pitching ranks seem to be thinning around the league as more and more hurlers are forced onto the disabled list. For some, the rest of the season -- and part of the next one -- is lost. For others, there is every expectation they will return. But when? And with what level of confidence that the injury is behind them? As usual, it is very disappointing to not have a crystal ball handy to avoid laboring over the what-if and what-could-be scenarios. But in the absence of that crystal ball, labor we must.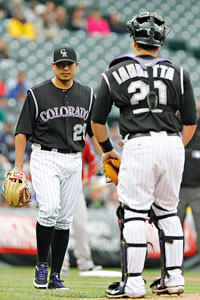 AP Photo/Barry GutierrezJorge De La Rosa finishes the season 5-2 with a 3.51 ERA and 52 strikeouts in 59 innings.
Jorge De La Rosa, P, Colorado Rockies:
He suffered a complete tear of his ulnar collateral ligament Tuesday, and now the southpaw's season is over, the Denver Post reports. As devastating as the news is for De La Rosa, at least there's a relative certainty of knowing what lies ahead for the next year. De La Rosa is expected to undergo the all-too-common Tommy John reconstruction procedure, followed by a lengthy, laborious rehab. The upside is that the success rate is incredibly high following this surgery and the path is well-documented by those who have traveled down it before. The downside is, well, obvious. De La Rosa loses the rest of this season (and part of next) and has to spend most of that time away from his teammates while he recovers. The team loses one of its aces and the only starting lefty on the squad.
De La Rosa started the season by developing a blood blister during his first outing. Although it initially appeared as if it might threaten his subsequent start, he healed quickly and heated up, becoming one of the Rockies' most effective starters. That came to a sudden end in the third inning of the opening game of Tuesday's doubleheader when De La Rosa was forced to leave early because of pain in his left elbow. Prior to this injury, you have to go back to 2007 to see when he last dealt with an issue in his throwing elbow. At that time, De La Rosa suffered what was termed an elbow strain and missed more than a month, then struggled in his return. In fact, his struggles persisted for some time as he bounced from the
Kansas City Royals
to the Rockies, which in hindsight leads to the natural question as to whether the elbow was a factor. He eventually turned the corner, however, improving his effectiveness until a torn tendon pulley in the middle finger of his throwing hand caused him to miss 10 weeks in 2010. He returned for the latter half of the 2010 season and was off to perhaps his best start ever in 2011, until this latest setback.
We should not expect De La Rosa to return before June of next year, and that, of course, is a soft timetable depending on how things evolve from here. At 30, he is neither the youngest nor the oldest to suffer this injury and he can take comfort in knowing that others have come back to deliver career years afterward.
Josh Johnson, P, Florida Marlins:
After Johnson appeared to suffer no severe injury following a hit to his right forearm in a game early last week, it seemed as if he was out of the woods. Clearly that was not the case. Johnson was placed on the DL retroactive to May 17 with what the team is calling inflammation in his throwing (right) shoulder, the same term used to describe what ended his 2010 season somewhat prematurely. According to the Miami Herald, Johnson says he has felt some measure of discomfort in the shoulder "pretty much the whole year" but could always work it out before pitching. This is not particularly encouraging, especially given his recent history. Johnson has rested the arm since being placed on the DL and has indicated that it feels much improved with rest. While there is no hint at this point that Johnson's absence will exceed the 15-day timetable, the concerns about whether this is just a minor speed bump or an indicator of things to come remain.
Matt Garza, P, Chicago Cubs:
After relaying to the team that he was dealing with some tightness and soreness in his throwing elbow, Garza found himself missing a start and ultimately making a trip to the DL, something he was trying to avoid. No doubt the Cubs are hoping this heads off a more serious issue for their recently acquired starter. The results of Garza's MRI, to the relief of the organization, did not show any major structural damage, according to the Chicago Sun-Times.
Interestingly, the imaging did show a bone bruise, and the question is how it got there. Bone bruises can be the result of direct trauma or, within a joint, the result of excessive motion of one bone on the other, often from instability, which causes bruising. For instance, when an individual tears the ACL in the knee, it is not unusual to get an accompanying bone bruise from the contact of the bony ends as they exceed normal motion. Naturally it leads to the question of whether excessive motion within Garza's elbow might have resulted in this injury (which would raise bigger concerns about the long-term health of his elbow perhaps). A vigorous hyperextension potentially could bruise the joint as well. As the Sun-Times reports, the Cubs' medical staff hypothesizes the stress of power pitching might have led to a pitch which created the bruise. Continuing to pitch might then have aggravated it. Without knowing the precise location of Garza's bone bruise, it is difficult to appreciate the exact implications of the injury, but in any case, rest is the single best mode of allowing it to heal. The big test will be once Garza returns to throwing to see how his elbow responds. That test might come soon, as Garza is eligible to return June 3 and the team sounds optimistic he will meet that target.
[+] Enlarge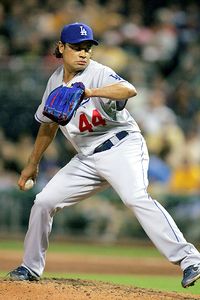 Charles LeClaire/US PresswireVicente Padilla had been looking decent as the Dodgers' closer when he got hurt.
Vicente Padilla, P, Los Angeles Dodgers:
The Dodgers have not had much luck cementing the closer position thanks in part to both injury and ineffectiveness. Padilla, who seemed to have the lock on the position earlier this month, began to struggle with a sore forearm last week, the same forearm on which he had surgery in February. That surgery was done to release an entrapment of the posterior interosseous nerve, a branch of the radial nerve that travels through the back side of the forearm. Tightness in the supinator muscles, which rotate the forearm (to turn it palm up), and the wrist extensors can compress and irritate the nerve. Even after tight tissue in the area is released, there is always the potential for tightness to return or even some scar tissue to develop, despite efforts to keep the area loose through stretching and soft tissue work. After all, there is no way to avoid using these muscles as part of the act of pitching, so it presents an ongoing management challenge.
Stan Conte, director of medical services for the Dodgers, says Padilla has responded well to a cortisone injection and potentially could begin a rehab assignment soon, which would have him returning at or close to his 15-day window. The good news here is that this does not appear to be serious and some brief downtime might go a long way toward preventing a disabling recurrence of Padilla's injury. Naturally, the Dodgers would have preferred that all their closers weren't having issues simultaneously, but Padilla seems to be in the best shape for a near return.
Jonathan Broxton
(elbow inflammation) has played some catch but has no definitive timetable for his return, and Hong Chih-Kuo (anxiety disorder) is out indefinitely.
Quick hits
•
Philadelphia Phillies
outfielder
Shane Victorino
is making some progress from his hamstring strain, doing agility drills and taking batting practice. The Philadelphia Inquirer reports he could begin a rehab assignment this weekend. He is eligible to return June 3, and the Phillies have hinted at having him back on time.
The good news is Victorino reportedly has not dealt with hamstring injuries in the past. The not-so good news is the Philadelphia Inquirer reported that the day Victorino got hurt, he had been experiencing pain in his low back and hip prior to feeling it in the hamstring. If indeed Victorino has low-back issues, which are contributing to the hamstring symptoms, the injury might not be totally behind him, even after he returns.
• Don't expect
Cleveland Indians
designated hitter
Travis Hafner
back anytime soon. He has an oblique strain that is likely to keep him out the better part of a month. Hitters need their core strength for power. He will not be rushed back. But hey, on the bright side, the Indians expect to get
Grady Sizemore
back this weekend, according to MLB.com. After he ran the bases without incident Wednesday, the team has confidence that his knee is progressing in the right direction. Sizemore had been dealing with a bone bruise in his right knee following a hard slide. He underwent microfracture surgery in his left knee in the offseason.
•
Toronto Blue Jays
first baseman
Adam Lind
has seen some progression of his baseball activity (swinging the bat, fielding drills) down at the team's Florida facility. Although his move to the DL last week took some by surprise, he has appeared to make steady progress since he's been there. The team appears hopeful he could return to extended spring training action this week, according to the Jays' website. Perhaps most notably, it sounds as if the team plans to share his workload, at least initially, with
Juan Rivera
when he returns so as not to overwork him.
April, 15, 2008
4/15/08
1:58
PM ET
By
Stephania Bell, ESPN.com
| ESPN.com
Is it just me or did anyone else notice that
David Ortiz
suddenly got a hit once his jersey was extricated from the bowels of the new Yankee Stadium? I have been keeping a close eye on him, not only because I have him on two of my fantasy teams, but also because some have been wondering whether his offseason knee surgery is to blame for his slow start. All along, I have maintained that based on Ortiz's comments and his performance in the spring, his knee is not to blame. Now that Ortiz has a hit, just hours after his buried jersey was removed, and one day after he
sat out
the final game of the series between the Yankees and the Red Sox, it appears that Ortiz has taken steps to right his ship. Coincidence? Hmmm. I'm not so sure.
On that note, we move on to the actual injuries of the week.
[+] Enlarge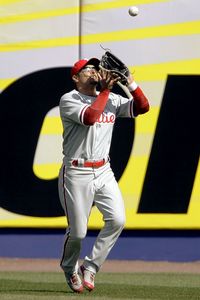 Rich Kane/US PresswireShane Victorino is one guy you definitely want to have good and healthy wheels.
Shane Victorino, CF, Philadelphia Phillies:
Victorino was removed from Saturday's game with a strained right calf muscle, injured during the fifth inning when he ran home from third to score on a wild pitch. Victorino was immediately placed on the disabled list, raising the level of concern over his injury. The Phillies did not waste any time because Victorino actually missed about one month after the All-Star break with a similar strain last year. The team reported Monday, according to the Philadelphia Inquirer, that an MRI revealed the strain to be in a different area of Victorino's calf than last year, giving them some hope that he could make an earlier return. Despite the fact that the injury is in a different location, it is troublesome that he has had another strain in the same muscle, especially so early in the season. The calf muscle is necessary for explosive push-off, especially during acceleration, something an outfielder has to do constantly to get a jump on a fly ball. It is also necessary for baserunning, particularly in steal (sprint) situations, as evidenced by the way Victorino most recently injured his calf. On the positive side, addressing this latest setback seriously by resting Victorino may be just the thing that keeps it from being a lingering problem this season. Look for him to return to action as soon as the disabled list stint is up, but keep in mind that this could crop up again in the future.
Tom Glavine, SP, Atlanta Braves:
At 42 years young, with no prior experience on the disabled list, Glavine is a marvel. On Sunday, however, Glavine had the shortest outing of his 22-year career when he felt his hamstring on his landing leg "grab," according to the Atlanta Journal-Constitution. Glavine later said that he knew right away it didn't feel right. All pitchers rely on the hamstring in their landing leg to help stabilize their trunk during deceleration and follow-through, so Glavine will need to be pain-free before he returns to the mound. For his part, Glavine expects to play catch today and maybe throw a bullpen session Wednesday. If all goes well, he may make his next start (scheduled Friday), or delay it by only a day. Glavine made it clear to the Atlanta Journal-Constitution however that he will not push to start simply to maintain his streak of avoiding the disabled list. He may be stubborn, but you don't succeed in this league as long as he has without being smart. He will do what is best for the long-term interest of both him and the team. Of note, the Braves'
Mike Hampton
, currently on the disabled list with a pectoral strain that kept him from making his first major start since 2005, may throw a bullpen session this week. The Braves would love to get him back into the rotation soon.
[+] Enlarge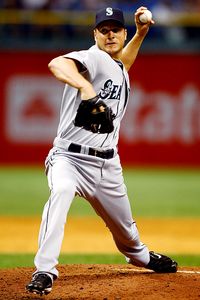 J. Meric/Getty ImagesMore hip problems have sidelined Bedard.
Erik Bedard, SP, Seattle Mariners:
Bedard continues to be bothered by what the Mariners are calling "inflammation" in his left hip, according to the Seattle Times. Bedard was scratched from a scheduled start two Sundays ago, then managed to pitch two days later, but had a somewhat shaky outing and threw 107 pitches. Bedard was again scratched this past Sunday as a result of his hip acting up. As a left-handed pitcher, not only must Bedard put full weight through his left hip during the windup, he must also rotate his body on his hip as he moves through his delivery. Any soreness or irritation in the joint will prevent him from throwing with his normal mechanics and would likely render him far less effective. The concern here has to be defining what the source of this hip inflammation truly is. There have been conflicting reports out of Seattle. According to the Seattle Post-Intelligencer, the team says that Bedard initially aggravated the hip during some pregame workouts, but according to the
Seattle Mariners
' official Web site, Bedard said that he woke up with pain in his hip Saturday. Clearly it stuck around until Sunday, preventing his start. Additionally, Bedard reported having some similar pain in 2001, but indicated that the pain then was far worse than it is this time around.
Bedard is not scheduled to head to the disabled list, at least not yet, but he did not play catch Monday as originally planned. There is a chance that he will do so Tuesday, but any return to light throwing will determine the subsequent timetable. We will keep an eye on this situation.
In brief
Jose Reyes, SS, New York Mets:
Reyes sat out several games at the end of the week with a strained left hamstring. These hamstring strains seem to be making their way around the league, but they are of particular concern when they affect the players who make their living based on speed. Reyes has said he expects to play Tuesday so this does not appear to be a serious strain. Let's hope there are no setbacks.
Dontrelle Willis, SP, Detroit Tigers:
Willis hyperextended his right (landing) knee Friday when he slipped on a wet mound. Frankly, he was lucky to walk off the mound. The way Willis' weight came down hard over a hyperextended knee could have resulted in a major ligament injury, but luckily, that was not the case. Hyperextension stresses the posterior structures of the knee in that it places an unnatural stretch on them and there can be some pain and inflammation as a result, even in the absence of major structural damage. Willis was placed on the 15-day disabled list to allow the knee some rest, but the rest may be beneficial for Willis in more ways than one. Clearly he has been struggling with his delivery, as he was Friday night before the injury, and the downtime may help him to reset and come back stronger.
Jorge Posada, C, New York Yankees:
Posada is still recovering from a strained shoulder, something Posada referred to himself as "dead arm," and although he has been available as a designated hitter, he is still not able to make the throws necessary to resume his position. If you watched the game Sunday night, Posada had to move behind the plate when backup catcher
Jose Molina
strained his hamstring. He was instructed not to try to throw out runners for fear of aggravating his recovering arm, and the Red Sox caught on. There is still no official date for his return so plan on another week of him in the DH role.
Adrian Beltre, 3B; Mike Morse, RF; J.J. Putz, RP, Seattle Mariners:
Beltre developed a sore hamstring after baserunning Saturday. He was able to return Monday, indicating that this is not a serious injury, but nonetheless, it is worth being aware of as this is the type of thing that can easily recur. Morse injured his left shoulder while diving for a ball in the outfield (actually, when landing from the dive) and is now on the disabled list. It is being called a shoulder dislocation but Morse's quote in the Tacoma News-Tribune ("It popped out and popped back in.") makes it sound more like a subluxation, where the shoulder slips slightly out of joint, but does not remain out. The important distinction is that a subluxation episode often results in less trauma to the soft tissues around the joint, making a return after a 15-day disabled list stint more reasonable. Putz is still on the disabled list with costochondritis, but he did throw for six minutes before Sunday's game. It looks as if he is on track to return in late April.
Matt Garza, SP, Tampa Bay Rays:
Garza, currently out with radial nerve inflammation which affects the muscles in his forearm and in turn affects his grip, has been able to play catch for a couple of days now. The next step could be a side session, followed by a rehab start. The St. Petersburg Times reports that the Rays are now optimistic that Garza could return on the early end of his projected timetable, meaning in approximately two weeks. With ace
Scott Kazmir
looking at a late-April or early-May return from elbow inflammation that cropped up during spring training, the Rays have to be feeling sunny about the outlook for their starting rotation.
Placido Polanco, 2B; Carlos Guillen, 1B, Detroit Tigers:
Polanco sat out Sunday's game because of back stiffness. This was the second time this season that he has missed a game because of his back. It sounds as if it is a minor issue -- minor that is, unless he misses much more time. Polanco owners should keep an eye on this. Guillen strained his right hamstring in the ninth inning of Friday's game and did not play Saturday as a result, saying that the hamstring felt "tight and sore." Guillen was able to return Monday night, however, and drove in some runs. So far this looks to be a minor incident, but keep doing your stretching, Carlos.
Nomar Garciaparra and Andy LaRoche, 3B, Los Angeles Dodgers:
Garciaparra, who was hit by a pitch during spring training that resulted in a small fracture, has been out of commission since mid-March as a result. Garciaparra has been playing some Triple-A ball, and according to manager Joe Torre on the Dodgers' official Web site, he could return as early as the end of this week. The most important thing for the Dodgers is that he return healthy since they do not exactly have backups in place if he reinjures himself. LaRoche, injured in the same game as Garciaparra with a torn ulnar collateral ligament in his thumb, underwent surgery and has been gradually rehabbing the hand ever since. LaRoche actually made some throws across the infield this week and the Dodgers' official Web site reports that LaRoche felt "better than expected." It is normal for him to still be experiencing some soreness in the thumb, but LaRoche is hopeful that he will be able to begin some minor league play this weekend. His original timetable had him missing approximately eight weeks, which would mean a return date near the end of the first week in May. So far, his progress is consistent with that timeline, assuming he does not have any setbacks as he increases the use of his thumb.
That's it for today's update. There are plenty of players we're keeping our eye on for a targeted return in the not too distant future. For more on those players, and of course, for any new developments, check back throughout the week as we will update them right here. And be sure to stop by my chat on Friday mornings at 11 a.m. ET as we talk about all things injury. Never a shortage of topics there! Good luck with your fantasy week, and may all your players stay healthy.
April, 12, 2008
4/12/08
1:19
PM ET
By
Stephania Bell, ESPN.com
| ESPN.com
Wow! The hits just keep on coming. And I'm not talking about offensive power, at least not on any of my fantasy teams. I'm talking about the hits teams are taking, real and fantasy, as a result of injury early in the season. Is there any team that has not succumbed to the injury bug yet this year? Not as far as I can tell. Some seem to be particularly unlucky, but maybe teams like the Angels and the Rays are just getting all of their injuries out of the way early. No doubt that's what they are hoping is the case. I'm just the messenger. Let's take a closer look.
[+] Enlarge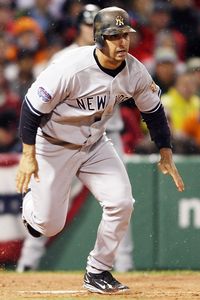 Elsa/Getty ImagesPosada at least can hit right now.
Jorge Posada, C, New York Yankees:
"Dead arm" sounds like a scary condition. But don't let it scare you. I actually wrote about this in our fantasy draft kit and described it as a condition that most often affects pitchers, which is still true. Certainly a catcher is throwing the ball fairly frequently during the course of a game and is subject to suffering from this ailment as well. Posada, who himself said on the Yankees' official Web site that he felt as if his arm was "dead," indicated that he has suffered from this condition in the past, including earlier this year in spring training. The issue is one of fatigue, and the complaint most often, as was the case with Posada, is an inability to throw because the arm feels weak, not painful. Recovery is fairly quick, and usually simply requires a few days of rest. An MRI was reassuring in that it reportedly showed no structural damage, and Posada already has returned to the lineup as a designated hitter. The Yankees likely will give Posada some more time before he resumes throwing, primarily to ensure that this does not turn into something more serious.
Mike Lowell, 3B, Boston Red Sox:
Lowell is now a member of the disabled list thanks to a sprained left thumb sustained Wednesday while fielding a ball. The injury is to his non-throwing hand, but nonetheless, he needs to be able to get his hand into his glove, and needs to grip a bat effectively, both of which would be limited by pain and swelling. Lowell admitted that the thumb felt worse the day after the injury than he initially thought it would, and the team placed him in a thumb splint to help rest the joint and the soft tissue around it. The time frame for Lowell ranges from two to four weeks, and the variability in an athlete's response to swelling and functionality after a hand injury makes it difficult to be more precise. Keep in mind that it is not just the ability to return to play, but the ability to be productive that usually takes a bit longer with these cases.
Matt Garza, SP, Tampa Bay Rays:
The Rays are hoping ace
Scott Kazmir
is on the mend in short order because they just placed another teammate on the disabled list. Garza left Tuesday night's game with what the team is referring to as "radial nerve irritation." Garza reportedly told the team that he was experiencing numbness in his right hand and had trouble gripping the ball. The radial nerve travels through the back of the upper arm and across the top of the forearm toward the hand. Overstretching of the nerve, or tightness of the muscles through which it passes, can cause irritation, and in Garza's case, there may have been some of both. Garza has had discomfort of this type before but, as he told the St. Petersburg Times, he always has been able to pitch through it. Many pitchers are tight in their forearm musculature, especially because it is well-developed. Interestingly, during Tuesday night's outing, Garza fielded a ground ball hit back his way, and in the process fell forward such that his right wrist got folded up underneath him. It just so happens that this is exactly the position that could place an excessive stretch on the radial nerve. Although we can't say for certain, Garza did exit the game shortly thereafter, complaining of discomfort and demonstrating a lack of ball control. A combination of tight musculature, and a quick abnormal stretch, could very easily provoke symptoms similar to what Garza described. The team has indicated that Garza will not be allowed to throw for several days in order to let the inflammation settle, and then he will be re-evaluated in two weeks. Since Garza has had similar symptoms in the past, the Rays no doubt want to be sure that this does not become severe and chronic. Translation: Extra rest if he requires it. Assuming no setbacks in his rehabilitation, Garza likely will return in late April or early May.
Justin Duchscherer, SP, Oakland Athletics:
First Harden (out on the disabled list with what is now being called a subscapularis strain), then Duchscherer. The Athletics must be wondering what they need to do to catch a health break for their starting rotation. Duchscherer felt a pull in his right biceps during Friday night's game, a particularly unfortunate circumstance because he had been pitching well. An MRI confirmed the presence of inflammation at the biceps, which surprised Duchscherer because he had described the pain as "mild," according to the Athletics' official Web site. The A's, however have learned to take no chances where their starters are concerned, and decided to rest Duchscherer a bit longer by placing him on the disabled list. The biceps is especially important in the pitcher's anatomy because it attaches to the labrum. A pitcher's torn labrum most often requires surgery, and that would spell an end to a season. Resting him and quieting the biceps now may go a long way toward preserving his throwing arm, so the move is completely reasonable. The good news? Duchscherer has already thrown from 80 feet without experiencing pain and will be eligible to return April 20, assuming he continues to progress well.
[+] Enlarge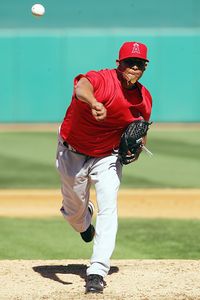 Jeff Gross/Getty ImagesK-Rod has been KO'd by some weak ankles.
Francisco Rodriguez, RP, Los Angeles Angels:
As if the Angels needed another injury in the pitching department. The latest Halo to suffer a setback is K-Rod, he of the not one, but two, bad ankles. Rodriguez had trouble with his left ankle last year after contending with a crumbly pitcher's mound. Apparently, according to a report in the Los Angeles Times, the ankle continued to bother him during the winter, although the Angels insist he had no trouble with it during spring training. Saturday, however, Rodriguez twisted the right ankle coming down the dugout steps, and it continued to bother him Monday. An MRI revealed no major soft tissue injury (ligament or tendon) which provided a bit of a silver lining, but nonetheless, with his ankles as sore as they were, the Angels wanted Rodriguez to rest for a few days.
The concern here is that the ankles, which each provide a full weight bearing base of support for Rodriguez at different points in his pitching motion, must be strong for him to pitch effectively. As manager Mike Scioscia told the Los Angeles Times, "We don't want to put him at any undue risk." The concern becomes that Rodriguez could injure himself further, and in a worst case scenario could injure his throwing arm if either ankle gives out on him while pitching. The hope at this point is that after a few days rest, Rodriguez will be able to throw a bullpen, or perhaps even make a game appearance this weekend. It is of concern, however, that the left ankle has some lingering symptoms from last season, and fantasy owners should consider that this may be the type of thing to crop up again during the season.
Rafael Soriano, RP, Atlanta Braves:
Soriano experienced some elbow soreness after pitching last weekend, and the Braves wasted no time moving him to the disabled list. One of the reasons the decision was made to impose a period of forced rest on Soriano is that he had similar symptoms during spring training. Soriano's symptoms are actually above the elbow, near where the triceps muscle (large muscle on the back of the arm) attaches. The team is calling Soriano's condition elbow tendinitis according to the Atlanta Journal-Constitution, and it sounds as if this muscle group could be the culprit. Soriano has had his share of elbow woes, having undergone Tommy John (ulnar collateral ligament reconstruction) surgery and missing most of 2004 and all of 2005 as a result. The good news here is that Soriano's discomfort does not appear to be located near the area of reconstruction, and tendinitis issues are much likelier to resolve than ligament sprains or joint problems at the elbow. It sounds as though the Braves are taking a cautious approach with their closer, which will no doubt benefit him and the team in the long run. Soriano will be out until at least April 22, but the hope is that this will not be a season-long problem.
In brief
Dontrelle Willis, SP, Detroit Tigers:
Willis, who had a walk-filled first outing to start the season, was hoping to right the ship Friday. That was not to be. Despite the best efforts of the Chicago grounds crew, rain in the area may have contributed to a slippery mound. Willis started by walking leadoff batter
Carlos Quentin
, then slipped on the mound while facing the second batter,
Orlando Cabrera
. Willis' front leg stretched out in front of him as he transferred his weight during ball release, forcing his right knee into hyperextension. Willis reached for the back of his leg in obvious discomfort. Although Willis remained in the game through Cabrera's at-bat (another walk), he clearly appeared to be struggling as he faced the next batter,
Jim Thome
. Willis was removed from the game, and we will now wait to see what the future holds for him.
Derek Jeter, SS, New York Yankees:
Jeter has not played this week since straining his quadriceps muscle. There is still a chance that he could make an appearance this weekend, but according to the Hartford Courant, manager
Joe Girardi
says that is "doubtful," meaning Jeter could sit out until next week. Despite the enticement of the Yankees-Red Sox rivalry, it is important that Jeter's minor strain does not become major, and the team will exercise patience.
Jimmy Rollins, SS, Philadelphia Phillies:
All good things must come to an end. And so it goes with Rollins' streak of 230 consecutive games played. Rollins sprained his ankle on Tuesday night when making a directional change to get back to second base. Rollins has been out of the starting lineup for three straight games, but it does not appear that this injury will send him to the disabled list. According to Rollins in a quote on the Phillies' official Web site, the ankle bothers him when going "left to right," and that is a big part of his defensive game. Don't be surprised if he makes an appearance this weekend, but check the lineups daily, as the team could decide to hold him out until Tuesday if cutting remains a problem.
Francisco Liriano and Kevin Slowey, SP, Minnesota Twins:
Finally, there is some good news to report: The return of Liriano has arrived! The Minnesota Star Tribune is reporting that Liriano will start Sunday for the Twins in place of the injured Kevin Slowey, who is being placed on the disabled list with soreness in his biceps. Liriano, who will make his major league return after undergoing Tommy John surgery in 2006, has struggled somewhat in the minors. It is normal for pitchers to take some time to regain their velocity and command after this procedure, so his struggles are not a concern from a health perspective. And just wait until he gets more time under his belt. By July, Liriano's numbers should be on the upswing. Meanwhile, Slowey, who left his first start with pain in his biceps, is improving, although he is still experiencing some lingering soreness. This downtime will give Slowey an opportunity to recover fully, and it helps make room for Liriano.
I know. I know. It appears never-ending. Where there are sports, there are bound to be injuries. And so it will go throughout the season. Keep checking back, and we'll keep updating you. Right here at ESPN.com. On Fantasy Insider (ESPNews, 11 a.m. EST). On Fantasy Focus (ESPN Radio, 9 p.m. EST). And wherever else those injury nuggets crop up. Have a good weekend, and may your fantasy teams go injury-free!