Stephania Bell:

Michael Bush
December, 18, 2012
12/18/12
5:41
PM ET
Week 15 is in the books! Whether you're heading into your championship game or your semifinals, a win this week is no doubt critical. Naturally, injuries factor into the equation as to who will make your starting roster and, naturally, there are fewer options to choose from as yet another player says goodbye to the 2012 season.
San Diego Chargers
running back
Ryan Mathews
missed the first two weeks of the season due to a broken clavicle and now he will miss the last two weeks of the season due to a broken clavicle. In the preseason he fractured his right collarbone; now it is his left. At least he knows what rehab he has in store for him. This puts an end to the season in which Mathews scored just one touchdown. Backup
Ronnie Brown
was forced to sit out Week 15 with a hamstring injury. This week coach Norv Turner says Brown has "a chance" to play, reports Michael Gehlken of the San Diego Union-Tribune.
As we head into Week 16:
[+] Enlarge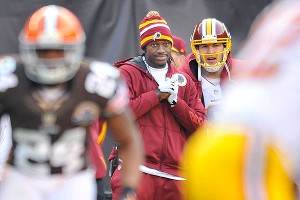 David Richard/USA TODAY SportsRobert Griffin III hopes to do more than just watch on the sidelines on Sunday.
•
Washington Redskins
quarterback
Robert Griffin
III cheered on teammate
Kirk Cousins
on Sunday as the backup led the team to victory. Griffin was held out due to the sprained LCL in his right knee amidst doctors' concern that he would be risking further injury. A return this week remains a possibility and, as The Washington Post reports, coach Mike Shanahan noted, "If the doctors give their OK, he's going to play." Griffin moved increasingly well as last week progressed, an encouraging sign given how painful the injury appeared at the time. If he can continue to make strides this week and if the swelling has resolved and doctors believe the knee is stable, look for Griffin to be pressing for a return. After all, he was doing that last week and made it clear it was not his decision to sit. Resting was a wise move by the team, which has to balance the weight of the lengthy career of a star player against any single-game benefit. Hopefully, the decision for Week 16 will come well before game time.
•
Dallas Cowboys
wide receiver
Dez Bryant
played last Sunday despite a fractured left index finger (which will ultimately require surgery to repair) and it certainly affected him at times. Bryant wore a customized splint created for him by the Cowboys' medical staff; however, his finger, too bulky to fit inside the glove, was exposed (the finger of his glove was cut out to accommodate the splint). Although Bryant performed better than might have been expected, there were some dropped passes or missed plays likely attributable to the finger. Bryant has already said he plans to play against the
New Orleans Saints
this weekend. He will continue to have the finger protected and he likely will face the same challenges from week to week. As long as it does not worsen, he should be able to perform as he did. His performance may even improve a bit as he adapts to the feeling of having the finger splinted. Of course, the unknown remains how any given hit or fall during the course of a game could affect his hand. Don't expect him to do much to jeopardize the relative health of his finger during the week. As Bryant told ESPN Dallas, "We're just going to be careful with it throughout the week and get ready for the game."
[+] Enlarge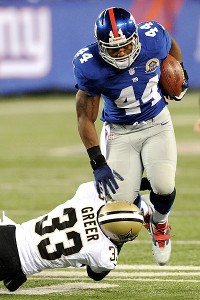 AP Photo/Bill KostrounAhmad Bradshaw was a surprise scratch in Week 15 but could be ready to go just in time for the fantasy championships.
•
New York Giants
running back
Ahmad Bradshaw
was held out of Week 15 because of a sprained knee. Despite his toughness and known willingness to play through pain, Bradshaw's knee concerned the team enough for the Giants to keep him at home as they traveled to Atlanta. The Giants are certainly ready to move on from that game, and Bradshaw is hopeful, expectant even, that he will play. Bradshaw paid a visit to the ESPN campus Tuesday and told me he has full range of motion in his knee again, a critical determinant of him being permitted to upgrade his activity. The knee is still sore (he had a bag of ice handy so that he could carry out his treatment, even while visiting) but Bradshaw says it feels significantly better than it did at the time of injury. Oh, yes, he's still battling pain in his foot, but as he indicated, the knee issue has essentially made him forget about anything with the foot. And as he pointed out, "I've played with broken feet. I know that's not going to stop me." I am under the impression Bradshaw will be returning this week, barring a setback.
• Another player who could return this week is
Philadelphia Eagles
running back
LeSean McCoy
. McCoy has missed four weeks since suffering a concussion and has been working his way back through the team's five-phase concussion recovery protocol. The Philadelphia Inquirer reports McCoy has been cleared by a neurologist to return, and head coach Andy Reid says there is "a chance" he plays. From a rehab perspective, there is no benefit to shutting him down if, in fact, he has made a complete recovery. Expect McCoy to participate in practice and, as the week progresses, there should be some insight from the team as to whether the Eagles plan on utilizing him in Sunday's game.
•
Jacksonville Jaguars
head coach Mike Mularkey continues to leave the door open for running back
Maurice Jones-Drew
(foot) to return. John Oehser of the Jaguars' official website reports that Mularkey indicated Jones-Drew's pain had improved. The plan was to work him out Tuesday to see how the foot would respond. Mularkey changed Jones-Drew's status from "very questionable" (which it has been for several weeks) to questionable. Still, it is clear the team is being cautious in returning him from a serious foot sprain. Right now, it seems unlikely Jones-Drew will make the necessary progress to play in a game, but as Mularkey noted, the Jaguars are not yet ruling him out. You probably don't want to invest your championship hopes in him.
•
St. Louis Rams
receiver
Danny Amendola
played his first game in three weeks last Sunday. He had a decent outing, considering Amendola isn't fully recovered from the plantar fascia injury he sustained in Week 11. He managed 58 yards and a touchdown along with a two-point conversion for good measure. Amendola told the St. Louis Post-Dispatch, "The foot felt pretty good for the most part." The best takeaway is that Amendola made it through the entire game and had no setbacks. The foot will not be 100 percent healthy until he has more time to rest it in the offseason, but if he can perform well enough to deliver fantasy points -- and it appears he can -- then he might just be worth inserting into your lineup.
• The
Chicago Bears
have placed running back
Michael Bush
on injured reserve. He suffered a rib injury in Week 13, managed just one carry the following week before pain forced him out, and then was sidelined completely for Week 15.
• The Tennessean reports
Tennessee Titans
wide receiver
Kendall Wright
says he suffered at least one cracked rib in Monday night's game. Wright exited the game in the fourth quarter after the injury. His status for this week is uncertain, but given the short time frame, it would not be a surprise if he is held out.
December, 23, 2011
12/23/11
8:24
PM ET
With the majority of NFL matchups taking place on Saturday, there is one fewer day for teams, coaches and, most importantly, fantasy owners to prepare! Never fear, championship contenders. We won't let something as small as a schedule change get in the way of bringing you all the latest information. With the NFL injury reports hot off the presses, here are the players whose status may have you concerned heading into this week's games.
Good luck in Week 16, everyone! May your players stay healthy and win for you.
Quarterbacks
Ben Roethlisberger, QB, Pittsburgh Steelers, ankle (Q):
The Steelers have been preparing
Charlie Batch
all week to face the
St. Louis Rams
, with Roethlisberger active only in an emergency scenario. This is not a huge surprise, as Roethlisberger is coming off a short week following the Monday night game in which he was clearly limited. With the playoffs forthcoming, the extended rest can only help. It's too soon to say whether the Steelers plan to have him active or not in the final week of the regular season.
Michael Vick, Philadelphia Eagles, ribs, (P):
Vick will probably be on this list through the end of the regular season as his rib injury continues to heal. There's no question, however, that Vick will be the quarterback for the Eagles against the
Dallas Cowboys
.
Josh Freeman, Tampa Bay Buccaneers, right shoulder, (P):
Freeman is now at the point where he can play despite the shoulder soreness. He practiced fully this week and will start against the
Carolina Panthers
.
Kevin Kolb, Arizona Cardinals, head, (Q):
Kolb suffered a concussion in Week 14 and has still only returned to limited practice. It's expected that
John Skelton
will start again.
Sam Bradford, St. Louis Rams, ankle, (D):
Bradford has been struggling with his ankle, saying it feels as if it's "going backwards." Not good. Neither is a doubtful tag. With backup
A.J. Feeley
already ruled out, it appears recently signed
Kellen Clemens
will get the start.
Running Backs
Chris Johnson, Tennessee Titans, ankle, (Q):
Johnson sprained his ankle Sunday and has been gradually increasing his activity throughout the week in an effort to return. While Johnson escaped major structural injury, the ankle has still been sore and could affect his overall performance, particularly with lateral movement and cutting. Johnson returned to limited practice Thursday and Friday and is expected to play, but likely will not be at top form.
Ahmad Bradshaw, New York Giants, foot, (P):
Bradshaw is following the same pattern of limited work during the week and playing on Sunday. Expect him to play again this week.
Felix Jones, Dallas Cowboys, hamstring, (Q):
Jones hasn't done much ... and that's the worry. Although he has been doing some running on the side, he has not fully tested the hamstring. While the Cowboys hold out hope he'll be available, it's
Sammy Morris
who has taken all the first-team reps in practice. As another signal the Cowboys want insurance, they promoted running back
Chauncey Washington
from the practice squad, according to ESPNDallas.com. To complicate matters, this is a late game and the decision will not likely be announced until inactives are due. Even if Jones plays, there has to be some concern about what exactly one can expect in live game conditions.
Michael Bush, Oakland Raiders, shoulder, (Q):
Bush has been on the injury report but it seems only logical he would be. After all, there are many other Raiders there to keep him company but, most importantly, he has been the workhorse of the backfield, enduring a physical toll. After he has been limited in practice each day, the questionable tag does raise some eyebrows. The signals out of Oakland all week have been that the Raiders expect to have Bush play, but it will be important to check pregame inactives.
Willis McGahee, Denver Broncos, hamstring, (P):
McGahee has been bothered intermittently by the hamstring since hyperextending his knee but the probable tag tells us the Broncos plan to have him on the field. McGahee practiced in full every day, which should also help put fantasy owners' collective minds at ease.
Kevin Smith, Detroit Lions, ankle, (P):
Smith's status is an upgrade over last week, indicating the team is feeling far more confident about his ankle. Smith's activity this week was a positive sign, as he was able to practice in full each day. While there's no way to be certain he can get through the game unscathed, this is certainly a better situation than last week.
Roy Helu, Washington Redskins, toe/knee, (Q):
Helu downplayed his injuries, but according to The Washington Post, he felt much better after practice Thursday than he did earlier in the week. Despite the questionable tag, it appears Helu will play.
Maurice Jones-Drew, Jacksonville Jaguars, ankle, (P):
His ankle got tangled up during the Week 15 game, but Jones-Drew, one of the most durable and productive running backs this season, was never really in danger of missing the game. He was given fewer reps in practice but participated on a limited basis every day. Jones-Drew is expected to start against Tennessee.
Beanie Wells, Arizona Cardinals, knee, (Q):
After he was listed as probable the past couple of weeks, it's a little concerning that Wells has been downgraded this week to questionable. He did practice daily, but on a limited basis; however, that has been the pattern for some time as the team has been attempting to manage his knee condition. The Arizona Republic reports that Wells is expected to play Saturday, despite the questionable tag.
James Starks, knee/ankle and Brandon Saine, concussion, Green Bay Packers, (P):
Starks sat out last week's game to give his ankle some additional rest. It only made sense after Starks struggled for several weeks in a row. This week has gone much better for Starks, who was able to participate fully in practice each day. Saine missed Week 15 with a concussion but returned to limited practice Wednesday, then full practice Thursday and Friday. Both backs are expected to be available along with
Ryan Grant
. Unfortunately for fantasy owners, there is likely to be a shared workload in place.
Shonn Greene, New York Jets, rib/shoulder, (P):
Greene has been on the injury report for a few weeks now and his latest injury (torn tendon in finger) isn't even listed. The probable tag indicates the Jets expect him to play.
Marion Barber, Chicago Bears, calf, (D):
Barber is listed as doubtful, meaning there is little doubt that
Kahlil Bell
will be carrying the load for the Bears on Saturday.
Mark Ingram, New Orleans Saints, toe, no designation yet:
Ingram is still not practicing, and with the game on Monday night, fantasy owners should avoid him in their lineups.
Wide Receivers
A.J. Green, Cincinnati Bengals, shoulder, (P):
Knowing that Green comes into this game fresh off a Grade 3 shoulder separation, the probable tag is very encouraging. Green has maintained all along that he would be able to play this weekend, and now it appears all but certain that he will. He was catching passes as early as Tuesday, practiced on a limited basis Wednesday and Thursday, and returned to a full practice Friday. If Green lands hard on the recently injured shoulder, it certainly won't feel terrific and he may be challenged to reach directly overhead, but he managed to finish the game last week after suffering the injury. It's hard to imagine it being much worse Saturday.
Steve Johnson, Buffalo Bills, groin, (P):
Last Sunday Johnson appeared to aggravate the groin injury that has plagued him throughout the season and was removed from the game as a result. Johnson said he could have re-entered the game and expressed little doubt that he would be back in Week 16. He practiced on a limited basis daily and appears on track to play as usual. It's worth noting that Johnson has performed well this season despite the presence of injury.
Laurent Robinson, Dallas Cowboys, shoulder (Q):
Robinson was listed this way last week but we all know he played. Expect him to do the same again after practicing daily.
Jeremy Maclin, Philadelphia Eagles, hamstring/shoulder (P):
Maclin looked better last week than he did the week before and the probable tag tells us the Eagles are confident he'll be out there again. Maclin practiced fully each day and looks to be overcoming the injury.
Mario Manningham, New York Giants, knee, (D):
Manningham has managed to play through his knee issue for the last two weeks but it appears he will miss this one. Swelling in the knee has returned, and he did not practice at all this week. Fantasy owners should make other plans.
Nate Washington, Tennessee Titans, ankle, (P):
Washington has already shown he can play through the ankle injury, even coming in at far more questionable status. After practicing in full daily, Washington appears good to go against Jacksonville.
Brandon Marshall, Miami Dolphins, knee, (P):
Marshall apparently had been dealing with some knee soreness but nothing so serious that he might have to miss this matchup against the
New England Patriots
. Marshall didn't practice Wednesday but returned to light work Thursday and full practice Friday. Expect him to play.
Vincent Jackson, San Diego Chargers, groin, (Q):
Jackson did not practice at all this week because of the groin issue, making his Saturday status far less certain. Jackson has played through injuries before, but this time may be different. It seemed like a foregone conclusion earlier in the week that Jackson would go, but Kevin Acee of the San Diego Union-Tribune reported that Jackson's groin has not responded as hoped to treatment during the week. Late game alert.
Wes Welker, knee and Deion Branch, groin, New England Patriots, (Q):
Once again the Patriots have roughly half their roster at questionable after limited practice all week. Welker has been at this status for several weeks and has played without incident. Branch, however, missed last week and there is legitimate question as to whether he is ready to return. Branch says he's improving, but the team will make the final decision, just before game time.
Santonio Holmes, New York Jets, hip, (P):
Holmes was an addition to the Thursday injury report after being limited in practice, but coach Rex Ryan said the Jets expected him to be ready by Saturday. The probable tag supports that, and fantasy owners can put him in their lineups.
Denarius Moore, Oakland Raiders, foot, (P):
Moore was able to make it back last week but didn't do too much. Another week of practice (full practices daily) should have him on track for more action.
OUT
This space is intended for a list of key fantasy players, not including those who have been moved to injured reserve status, who are officially listed as "out" for the upcoming game.
Anquan Boldin, WR, Baltimore Ravens, knee:
Boldin underwent knee surgery this week and will miss the remainder of the regular season.
Greg Jennings, WR, Green Bay Packers, knee:
Jennings suffered a sprained MCL in Week 14 and is likely out for the remainder of the regular season.
Matt Forte, RB, Chicago Bears, knee:
Forte suffered a Grade 2 MCL sprain, and the Bears still hope he will be able to return before the regular season is complete, but it is far from certain.
Jay Cutler, QB, Chicago Bears, thumb:
The Bears' starting quarterback remains out alongside their starting running back. Cutler is recovering from surgery to repair his broken right thumb.
Darren McFadden, RB, Oakland Raiders, foot:
McFadden is still removed from practice but the team still holds out hope he can return at some point. It won't be this week.
Jacoby Ford, WR, Oakland Raiders, foot:
Ford has still not been able to practice this week as he recovers from a foot injury.
Jake Ballard, TE, New York Giants, knee:
Ballard injured his PCL and, as expected, will miss this week.
Anthony Fasano, TE, Miami Dolphins, head:
Fasano was diagnosed with a concussion Thursday, at which point it appeared obvious he would sit out this week. The team made it official Friday.
Be sure to check out Fantasy Football Now on Saturday this week, on ESPN2 at 11:30 a.m. ET and Fantasy Surround on ESPN.com starting at 10 a.m. ET on Saturday for last-minute inactives, rankings, injury impact and more!
October, 4, 2011
10/04/11
5:09
PM ET
Week 4 continued to provide thrills, drama and, naturally, injuries. Where, oh where, to begin?
[+] Enlarge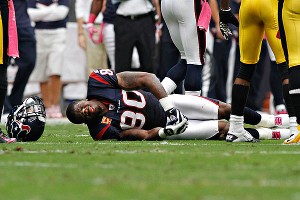 Brett Davis/US PresswireAndre Johnson is likely out this week, and probably for a few more games.
How about starting with one of the few wide receivers who rated a first-round draft pick in most fantasy leagues?
Houston Texans
wide receiver
Andre Johnson
was running Sunday, and then all of a sudden, he wasn't. He went from vertical to face-down in a split-second, untouched.
While many thought he had suffered a knee ligament injury, in actuality, it didn't really have the look of a
Wes Welker
-like ACL/MCL injury, in which the athlete plants and changes direction, and the knee wobbles and fails. This had the look of failure, as in the sudden failure of a major muscle/tendon unit that just stops a runner midstride. The Texans are reporting that Johnson suffered a hamstring strain and that he is seeking additional opinions. Nothing more specific has been offered up yet.
Johnson could be seen grabbing the lower part of his hamstring, just above the knee, at the time of his injury, which would suggest that the injury was near the tendinous attachment. Those injuries are often slow to heal because of poorer blood supply to the tendon. As of now, it certainly appears the team will be without Johnson for an extended time; fantasy owners should plan on a replacement (although you can't really "replace" Johnson) who can fill in for multiple weeks.
And now on to the rest of the injury happenings in Week 4.
• The
Pittsburgh Steelers
will have an expanded injury report this week. Quarterback
Ben Roethlisberger
continues to take a lot of hits and this week it took a toll. Roethlisberger suffered a sprained left foot (Monday tests revealed no fracture). Although it will undoubtedly limit his mobility, he is expected to play Sunday, according to head coach Mike Tomlin. ... Running back
Rashard Mendenhall
's status is up in the air after he strained a hamstring in Sunday's game. ESPN's Bob Holtzman reports Mendenhall is not likely to do much in practice this week, meaning this could translate to a gametime decision.
Isaac Redman
is looking like a guy who should be picked up. ... The Steelers also lost linebacker
James Harrison
for an extended period with a facial fracture. He is expected to undergo surgery this week.
•
Miami Dolphins
quarterback
Chad Henne
left the Week 4 contest early with an injury to his left (non-throwing) shoulder. Henne downplayed the injury initially and despite sporting a sling after the game, he said that he expected to play through it. According to Jeff Darlington of NFL.com, the Dolphins are concerned about a separated shoulder, which could threaten Henne's season. Darlington adds that the team is seeking a second opinion, but if Henne were to be done, this could be the beginning of the
Matt Moore
era.
[+] Enlarge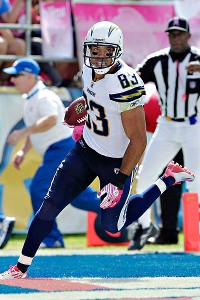 AP Photo/Gregory BullVincent Jackson scored a TD last week but then was sidelined again in the second with a leg injury.
•
San Diego Chargers
wide receiver
Vincent Jackson
was able to play through an abdominal strain and deliver some of the best visual highlights of the week with his acrobatic catches. It certainly looked as if it wasn't holding him back. But then Jackson exited the game in the second quarter, raising the suspicion he had indeed aggravated the injury. Jackson returned in the second half but on a very limited basis. Later the San Diego Union-Tribune reported the Chargers indicated Jackson had suffered a "leg strain" as the result of compensating for the abdominal issue. Vague and somewhat bizarre. It's not clear what exactly is going on with Jackson just yet, but it does appear the Chargers plan to follow the same plan for him -- very little practice with the hopes of suiting up Sunday -- heading into Week 5.
•
Seattle Seahawks
wide receiver
Mike Williams
suffered a concussion in Week 4 and, as is the case with all NFL players, will have to pass a battery of tests and receive medical clearance before he can return.
•
New England Patriots
running back
Danny Woodhead
left the game early with a left ankle injury, although there's no indication yet as to whether he'll miss any playing time.
•
Washington Redskins
running back
Tim Hightower
played second fiddle to
Ryan Torain
this week, and after the game, head coach Mike Shanahan hinted at a shoulder injury for Hightower, according to the Washington Post. Hmmm. It's hard to know what to expect from the running back committee in Washington, but naturally we will be looking to see who ends up on the injury reports.
•
Oakland Raiders
running back
Darren McFadden
continues to impress. Teammate
Michael Bush
, talented in his own right but often injured, suffered an ankle injury late in Sunday's game. His status for this week is uncertain.
• Best wishes to
Indianapolis Colts
defensive lineman
Eric Foster
, who dislocated his right ankle Monday night. Anyone who saw the injury won't soon forget it. He has already undergone surgery and will remain in the hospital for several days before beginning his lengthy rehab process.
We will continue to update these injuries and others as the week progresses.
September, 21, 2010
9/21/10
4:58
PM ET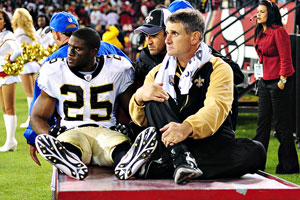 Kyle Terada/US PresswireReggie Bush was able to make it to the sideline Monday but had to be carted to the locker room.
Welcome to the Tuesday following the second week of football. I am still recovering from the thriller I witnessed at Candlestick Park between the
New Orleans Saints
and the
San Francisco 49ers
on Monday night. Although the game itself offered up plenty of discussion topics, the big injury news of the night was to running back
Reggie Bush
. When Bush tried to get up on his own -- and failed -- after getting hit hard in the fourth quarter, it immediately appeared serious. When Bush was helped from the field by two members of the Saints' medical staff and appeared unwilling or unable to put weight on his right leg, it confirmed the likelihood of a more significant injury.
ESPN's Adam Schefter is reporting that
Bush suffered a fractured fibula
and is expected to miss four to six weeks. The fibula is the long skinny bone on the outer part of the lower leg. The lower end of the bone makes up the outer portion of the ankle joint, which is why the ankle is generally immobilized for a period of time especially if the break is in the lower portion, as reports suggest. Bone heals well and has a fairly predictable timetable of four to six weeks.
The bigger issue for a running back with this injury is the immobilization of the ankle for a period of time. The joint has to be protected to allow the bony ends to heal; however, during that period of time, the ankle loses range of motion and can become quite stiff. Regaining that range of motion and strength about the ankle, particularly in the way that a player of Bush's slashing and cutting style demands, is especially challenging. Fantasy owners should prepare for an absence of at least six weeks. (For more on what to do with Bush on your roster, check out
Eric Karabell's blog
.)
As for Sunday's action, how many of you actually had
Atlanta Falcons
running back
Jason Snelling
in your fantasy lineup in anticipation of injuries to
both
Michael Turner
and
Jerious Norwood
? I thought so. And while he was on your bench (or on the free-agent market if you, like me, released him earlier in the week to make room for some other guys who might actually, ahem, see playing time), all he did was score three touchdowns and rack up 186 yards. Turner's groin injury is reportedly mild, and the Atlanta Journal-Constitution reported that he could have returned to the game. Indications thus far are that Turner will play Sunday. Nonetheless, I suspect all Turner owners are scouring the waiver wire for Snelling at this moment. At least they should be.
And then there's
Detroit Lions
rookie running back
Jahvid Best
. In his best imitation of
Houston Texans
newly minted star running back
Arian Foster
, Best had 78 yards rushing, 154 yards receiving and three touchdowns for some insane fantasy points. He had been on the injury report all week with a toe ailment (although if you happened to catch my
Saturday pregame blog entry
, I noted that he put in full practice all week and suggested the toe injury was not serious) but came through in amazing fashion.
Which got me to thinking, I wonder how some of the guys we were watching most closely in advance of this week's games performed. In some instances, Sunday's performances can actually provide insight into how fantasy owners might view some of their injury question marks early in the week, before the first official NFL injury reports are even posted.
Here are a few of my observations: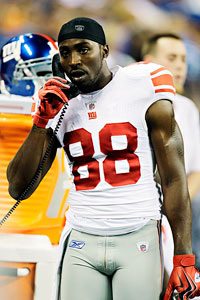 AP Photo/Michael ConroyDespite being a game-time decision heading into Week 2, Hakeem Nicks played and actually caught a TD pass in the loss to the Colts.
•
New York Giants
wide receiver
Hakeem Nicks
entered Sunday night's game as questionable after an ankle injury in Week 1. Hicks was well enough to start Sunday, and although he did not have a performance to match Week 1 (it's pretty hard to repeat three touchdowns), he managed to play the entire contest, even netting 38 yards and a score for fantasy owners, despite the actual game being out of reach. For his part, Nicks told the Newark Star-Ledger that he did not emerge any worse for the wear. He says he'll practice all week and expects to play.
•
Minnesota Vikings
wide receiver
Percy Harvin
raised red flags last week when he went from limited practice Wednesday to no practice Thursday because of a hip injury. Harvin's Friday return and his insistence that he would play, along with the Vikings' nonsecretive plan to incorporate him more into the offense, made him a reasonable starting option Sunday once we learned he was active. Or so it seemed. Harvin was not on the field for the entire game -- only 11 plays in the second half -- as the hip became more problematic. In fact the hip was enough of a factor to send Harvin for an MRI on Monday. ESPN 1500 Twin Cities is reporting that the MRI showed a hip strain, alleviating concerns of any major structural damage. However, as was evident this past weekend, hip problems, even minor ones, are nothing to sneeze at. There are numerous muscles that act in concert to control the hip, and that coordination is necessary for the explosiveness and power of a player like Harvin. Until he shows he can be a full participant in practice, fantasy owners should be a little concerned.
• Savvy fantasy owners sat both
Arizona Cardinals
running back
Beanie Wells
and
Oakland Raiders
running back
Michael Bush
this past week. Wells had a 1 p.m. start, so his status was known well in advance of kickoff. Bush played in a late game, but the signs were there (decreased practice late in the week, his omission from contact drills) that he would sit Sunday. There are no guarantees that Wells will play this week, either, so fantasy owners need to maintain another option on their rosters. Meanwhile, it sounds as if Bush could see his first game action Sunday. The picture will become clearer as the week progresses.
And the injury list grows ...
Jerious Norwood, RB, Atlanta Falcons:
The reason Snelling's value skyrocketed this past week was that in addition to losing Turner during Sunday's game, the Falcons also lost Jerious Norwood to a knee injury. Norwood was still on crutches Monday, and from the sound of things, this appears to be a more serious injury. Numerous reports said that Norwood tore his ACL and would be out for the season.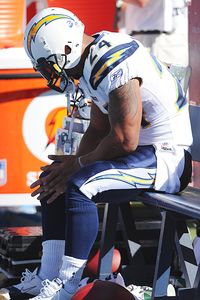 Christopher Hanewinckel/US PresswireRyan Mathews may have returned to Sunday's game against the Jaguars, but the Chargers had a big lead early.
Ryan Mathews, RB, San Diego Chargers:
It appears that Mathews' fantasy owners can breathe a sigh of relief. The San Diego Union-Tribune is reporting that Mathews' sprained ankle was sore after Sunday's game, but he is expected to play this week. Mathews was replaced by
Mike Tolbert
on Sunday, and his performance probably awakened some to his value. Even with Mathews healthy, expect Tolbert to see some action going forward.
Andre Johnson, WR, Houston Texans:
Johnson sprained his right ankle Sunday and exited the game for a bit in the second half before returning and making a spectacular catch in the fourth quarter for a touchdown. It's always a good sign when a player is able to return after injury, and an MRI taken Monday showed no significant damage. Texans coach Gary Kubiak called Johnson's injury a mild ankle sprain and said he will be "day-to-day as we head into the weekend." It appears that fantasy owners will have him available this weekend, barring a setback.
Jason Witten, TE, Dallas Cowboys:
Witten suffered a concussion after a hard hit Sunday and, to the credit of the Cowboys' medical staff, was not permitted to return to the game despite his vehement pleas to do so. This is going to be the pattern we'll see with concussion injuries, as teams will err on the side of caution. It's also important to note that because none of us is there on the sideline, we cannot possibly know what the medical staff saw in its assessment that led to the decision. In other words, we can assume the trainers were making a sound decision based on their medical assessment at the time, nothing more, nothing less.
Witten reported no headaches or other concussion-related symptoms on Monday. According to the Dallas Morning News, head coach Wade Phillips expects Witten to be cleared to practice and return to play this week. It's important to keep in mind that Witten will need to continue to remain symptom-free after he returns to practice, but so far these are encouraging signs for his return.
Other quick hits:
•
Pittsburgh Steelers
quarterback
Dennis Dixon
is scheduled to undergo lateral meniscus surgery Wednesday and is sidelined indefinitely. The speed of his return will have much to do with what exactly happens during surgery. Meniscus repairs of this type can be season-ending. If it is a more simple procedure, where a flap of torn meniscus is removed, it's conceivable that he could return within approximately four weeks. Of course, by that point,
Ben Roethlisberger
will have returned. Although
Charlie Batch
is currently the only fully healthy option,
Byron Leftwich
has been making progress from his MCL sprain. According to the Pittsburgh Tribune-Review, Leftwich and Batch will compete for the starting job during practice this week.
• Detroit Lions wide receiver
Nate Burleson
suffered a high ankle sprain and is expected to miss two to three weeks. This seems like a low-end projection, so fantasy owners might want to seek another option.
•
Indianapolis Colts
wide receiver
Anthony Gonzalez
is expected to miss more than a month with a high ankle sprain. Another sad start to a football season for him. Another reason for fantasy owners who had him stashed away to drop him.
We will continue to update these injuries and others as the week progresses.
See you at the injury chats (Tuesday and Friday 3-4 p.m.), and we'll have the latest injury updates affecting Week 3 in the Thursday and Saturday blogs!
September, 9, 2010
9/09/10
2:13
PM ET
The joy in the city of New Orleans is palpable as the NFL season gets under way tonight. As I walked the streets Wednesday, an always friendly city seemed even friendlier, almost giddy, with "Who Dats" all around as everyone gears up for opening night. The start of the NFL season has a holiday feel here as schools and businesses close early today so that everyone can enjoy the festivities. Isn't that what the start of the football season is all about?
It's true that the
New Orleans Saints
' fans are still celebrating their Super Bowl victory. But everyone has reason to be excited about the start of the NFL season, because at this point, everyone's a winner. And that includes you, the fantasy owners. No matter who you've drafted or what your leaguemates think of your roster, everyone is on even par until the first week of matchups is complete.
The key to making sure you celebrate at the end of your fantasy season as much as you do at the start is managing your team well week in and week out. Injuries have always been one of the big levelers in any fantasy football league and it will be no different this year. As any fantasy owner knows, injuries are already making their mark on the 2010 season. Here are a few to consider as we head into Thursday's season opener.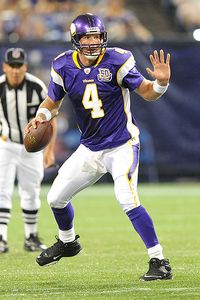 Tom Dahlin/Getty ImagesBrett Favre's consecutive games streak is still intact, but an ankle injury could give him trouble for a good part of the season.
Brett Favre, QB, Minnesota Vikings (P):
Favre's left ankle is likely to be a topic of discussion throughout the season. Unlike last year, when Favre underwent a minor procedure on his throwing shoulder, which allowed him to resume play without incident, this year's ankle procedure is not a quick fix. The surgery to remove loose bodies no doubt alleviated some of the pain and improved Favre's ankle mobility, but this was his third surgery on the ankle and there are arthritic changes that cannot be undone. That was evident when Favre indicated he had recently received an injection of a lubricant into the joint. These injections provide a soothing effect for the cartilage and can help with pain and mobility, but the underlying condition remains.
The key to keeping Favre on the field will be protection up front, minimizing the contact he absorbs and granting him enough time to make plays without being forced to scramble regularly. Favre's offensive options have taken a hit with the loss of
Sidney Rice
for multiple weeks and the extended absence of
Percy Harvin
during the preseason. Favre himself has seen only limited preseason action given his late arrival and in an effort to protect his health. It will be interesting to see in the first week how all of these factors come together and how playing an entire game impacts Favre.
Percy Harvin, WR, Minnesota Vikings:
Harvin's preseason migraine challenges got everyone's attention, including that of his teammates, but here's what should get fantasy owners' attention: Harvin is not on the injury report in advance of the Thursday night opener. Barring a late surprise, Harvin will be on the field and he is expected to see plenty of action not only as a receiver but also as a kickoff return specialist. Harvin may be a favored target for Favre in the passing game with Sidney Rice out following hip surgery. There will be lingering uncertainty for fantasy owners as to whether Harvin will be limited because of migraines down the road, but at least for Week 1 it appears to be all systems go.
Marques Colston, WR, New Orleans Saints (P):
Colston reportedly suffered a bruised kidney during the Saint's final preseason game, but the condition apparently wasn't that serious, as he was cleared to return to practice. Colston was a full participant in workouts throughout this week and has indicated that he is feeling fine heading into Thursday's game. Colston, who also underwent minor offseason knee surgery, should not have any limitations. Breathe a sigh of relief, fantasy owners.
Robert Meachem, WR, New Orleans Saints:
No, Meachem is not on the injury report, but he is someone fantasy owners may have been keeping their eye on given that he missed part of the preseason. Meachem underwent surgery on the second toe on his right foot in May to address a problem that actually began late last year. According to NewOrleans.com, despite resting his toe following the Super Bowl run, it continued to nag at Meachem during the team's offseason program, leading to the decision to undergo surgery. As a result he was on the active/physically unable to perform (PUP) list to start training camp but was activated in mid-August.
Meachem has practiced since and even played in a couple of preseason contests. However, at times he has appeared to be bothered by the toe and not quite back to his deep threat ways. Knowing that Meachem had his shoe customized to include a shank support under the insole (which helps protect a toe by limiting mobility), I thought perhaps the shank might alter how his foot feels when pushing off, which athletes sometimes complain about while adjusting to it. When I spoke with Meachem after Wednesday's practice, he indicated that the presence of the shank does not bother him, and that it feels "natural." In fact, he says he is working on getting all of the natural elements of his position to come together, which I took to mean that he is just working his way back toward receiver shape. It will be worth watching how Meachem fares in the season opener to gauge just how far he's come.
Other quick hits
• Wide receiver
Larry Fitzgerald
was back in full practice Wednesday for the
Arizona Cardinals
. He missed several weeks of the preseason after sustaining an MCL sprain but this news points to his readiness for the season opener. A bigger concern might be the fact that teammate
Beanie Wells
was not in practice Wednesday after suffering a knee injury in the final preseason game. Wells has downplayed this injury since it happened, but absence from practice days before the season opener is a concern. At this point, the expectation is that he will still play, but what he does in practice later in the week could be telling.
• One major bit of news is that
Carolina Panthers
running back
Jonathan Stewart
was not on the team's midweek injury report. That might be the most positive sign since Stewart returned to team practices following offseason Achilles surgery.
• Also off the injury report this week is
Dallas Cowboys
rookie wide receiver
Dez Bryant
. Bryant, who was sidelined through the bulk of training camp with a high ankle sprain, is eager to showcase his skills and it looks like he will have that opportunity this weekend. ... Meanwhile, quarterback
Donovan McNabb
is the expected starter on Sunday night when the
Washington Redskins
face the Dallas Cowboys. As if there were really any doubt. McNabb has been nursing a sprained ankle during the preseason but practiced fully Wednesday. While McNabb maintains that the ankle might not yet be 100 percent, this is not going to be the type of thing to get in the way of football.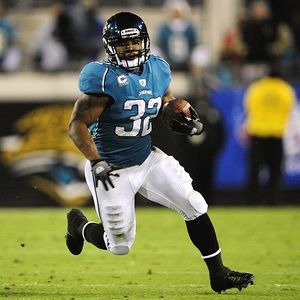 Sam Greenwood/Getty ImagesMaurice Jones-Drew is not on the injury list right now, but questions about his knee still remain.
• Perhaps the most significant fantasy player with an injury concern is
Maurice Jones-Drew
. The concern revolves primarily around the lack of information related to his supposed ailing knee. Jones-Drew was held out of practices for more than a week for "rest" while he and the
Jacksonville Jaguars
quashed reports of an alleged surgical procedure. Jones-Drew has insisted all along that he's fine and ready to play, but fantasy owners have been understandably mystified. One positive sign for fantasy owners is Jones-Drew's absence from the Jaguars' midweek injury report. It appears there is no doubt he will be in Sunday's starting lineup but whether this is something that will crop up again down the road remains to be seen.
• The
Denver Broncos
are looking forward to the return of running back
Knowshon Moreno
, who has missed most of the preseason with a hamstring injury. Moreno was a full participant in Wednesday's practice and his status for Sunday does not appear to be in doubt. The bigger question for him will be how his hamstring holds up to the test of game play.
Oakland Raiders
running back
Michael Bush
continues to impress following surgery to repair a Bennett's fracture in his thumb. Bush has participated in limited practice this week with his thumb splinted, but head coach Tom Cable says Bush is doing more and more. Cable even went so far as to tell the Oakland Tribune that there is "a real chance" that Bush could play in Week 1. Fantasy owners should not get overly excited just yet. Even if Bush plays -- and it would be surprising if he did -- his work is likely to be very limited. Nonetheless, his progress is encouraging and he will almost certainly beat out initial projections of a lengthier absence.
Be sure to check back Saturday for the late updates on key players heading into Sunday's contests. In the meantime, enjoy the season opener and celebrate the start of fantasy football leagues everywhere!
September, 2, 2010
9/02/10
3:04
PM ET
As usual, the preseason generates its fair share of injuries on top of all the lingering issues heading into camp. I'll be taking a look at some of the more notable injury news regarding running backs and wide receivers as we head into the final week of preseason action.
Running Backs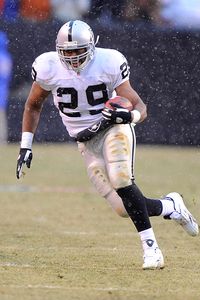 Kirby Lee/Image of Sport/US PresswireMichael Bush could be back for the season opener despite the hand injury, but it's still up in the air.
Michael Bush, Oakland Raiders:
Just when it looked as if Bush might edge out
Darren McFadden
for the top spot, he suffered a left thumb fracture in the Raiders' third preseason game. While early indications were that Bush was expected to undergo a surgical procedure Monday, coach Tom Cable would neither confirm nor deny on Monday whether that had taken place. According to the San Jose Mercury News, "We are going to adhere to the in-season injury policy," Cable said, "and we're not going to talk about injuries, or where anyone's at, or what's going on with them."
Bush decided to tweet about it Tuesday, however. So we now know he underwent surgery to stabilize a Bennett's fracture. A Bennett's fracture is a break at the base of the first metacarpal, the bone that connects the wrist to the thumb. The break is located where the metacarpal meets the carpal or wrist bones (the carpometacarpal joint). This joint is significant because it has a great deal of mobility, which is needed for pinch and grip.
When treated promptly, this type of injury can have a very good outcome. Surgery to pin the fracture helps ensure proper alignment and allows for earlier range-of-motion exercise. Bone typically takes six weeks to heal, although it can be less in a small bone of the finger or hand. Once Bush's thumb demonstrates good bony healing, he likely will be allowed to return to play, but with some form of protection for the thumb. How cumbersome the protective device is might dictate how well he is able to carry and catch the ball. Although there is no official timetable for Bush's return, there are many variables that could influence it, including the extent of the fracture, how quickly his bone heals and how well the thumb can be protected while still allowing him to function. At this point, he should not be viewed as a lock to start the season.
Fred Jackson, Buffalo Bills:
Jackson broke the fourth metacarpal in his left hand in Week 1 of the preseason, which, although certainly a setback, isn't all gloom and doom. The fourth metacarpal, the long bone in the hand that connects the base of the fourth (ring) finger to the wrist, is not in a place that requires regaining significant range of motion or muscular strength. Once the bone has shown adequate healing, the injury should be behind him, minus the lingering effects or risk of recurrence of, say, a hamstring injury or knee sprain.
The typical timetable for bone healing is roughly six weeks, sometimes less in a smaller bone of the hand. Jackson's initial timetable was projected at four to six weeks, depending on how the healing progressed, which allows the possibility for a Week 1 return, although he likely would require some sort of protection, such as a heavy splint, for competition. Jackson has returned to practice and, according to the Bills' official website, coach Chan Gailey indicated he could be available Week 1 but likely would be limited. With
Marshawn Lynch
back in practice and
C.J. Spiller
performing well, expect Jackson's involvement to build for the first few weeks. The good news is that once the bone fully heals, Jackson's injury should be in the rearview mirror.
Maurice Jones-Drew, Jacksonville Jaguars:
It's tough to evaluate what you can't see, especially in the absence of any meaningful information, such as a diagnosis. When Jones-Drew hadn't practiced for several consecutive days because of an issue with his knee, it raised red flags. After a report of a "scope" on his knee, Jones-Drew's agent issued a statement calling the story "absolutely false." What we do know is that the team is holding him out of practice in the final week of the preseason so he can rest his knee and continue with rehab. According to The Florida Times-Union, coach Jack del Rio said surgery is "not necessary."
So, what to make of this situation? The Times-Union reported that Jones-Drew indicated on his radio show that he is "as healthy as I'll be." Those words suggest that his knee might not be perfect, but that he and the team think it is serviceable. How Jones-Drew's knee will hold up under the demands of a season of football, especially for a stalwart running back, remains to be seen. Without knowing the specifics of the injury, the likelihood of his condition worsening is virtually impossible to project.
Although it's understandable that the team wants to protect its most valuable ground asset from further injury, the mere fact that he is being so carefully guarded for the remainder of the preseason is cause for pause. At worst, this ailment turns into something bigger that causes Jones-Drew to miss significant time. At best, Jones-Drew is entering the season under a shroud of mystery and the possibility that an underlying condition exists that could become exacerbated at any time. For fantasy owners, it becomes a matter of deciding whether you can live with the uncertainty.
Marshawn Lynch, Buffalo Bills:
Lynch sprained his right ankle on Friday, Aug. 13 (the same day teammate Fred Jackson broke a bone in his hand, superstitious Bills fans take note), but the Bills are optimistic that he will return by Week 1. In fact, Lynch was cleared Tuesday to return to practice and participate in the preseason finale. Thursday should provide an opportunity to see whether Lynch's injury is behind him.
Steve Slaton, Houston Texans:
Slaton was already in a position of having to prove himself, needing to erase the memories of multiple fumbles last season. Those fumbles were caused, at least in part, by Slaton's inability to feel or grip the ball adequately, the result of a pinched nerve in his neck. Slaton's season ended prematurely because of the condition, and he underwent offseason neck surgery when the symptoms lingered even after extensive rest. Slaton entered training camp reporting significant improvement in how he felt and cleared for all elements of football.
With the loss of
Ben Tate
for the season to an ankle injury, the competition seemed to be between Slaton and
Arian Foster
. Slaton was given more kick return assignments in camp, however, and Foster appeared to have the edge for the starting job. In the Week 3 preseason contest, Slaton suffered a turf toe injury, and he is now virtually certain to take a back seat to Foster. Although the extent of the toe injury does not sound especially serious (the Texans' website suggests he could be ready for the season opener), Slaton did not need to add an injury. Coach Gary Kubiak is known to rotate his running backs based on performance, but it would appear that Slaton's value has taken a hit.
Wide Receivers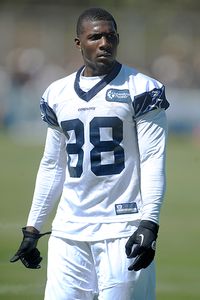 Kirby Lee/Image of Sport/US PresswireBecause of his injuries, Dez Bryant never did appear in a preseason game.
Dez Bryant, Dallas Cowboys:
Much was made of the size of Bryant's hands and his ability to make spectacular catches during rookie minicamp in May. On the final day, however, he turned his ankle. During June OTAs, Bryant came early and stayed late to work on fielding punts. But halfway through the scheduled sessions, Bryant developed hamstring tightness and missed several days of practice. In July, Bryant was the first Cowboy to step on the field for training camp, trying to set a tone for his readiness to play. Within days, Bryant had suffered a high right ankle sprain, the most serious injury for him thus far, which not only caused him to miss the remainder of training camp practices but also put the start of his season in jeopardy.
Notice a pattern? On the positive side, since joining the Cowboys, Bryant has impressed everyone with his punctuality (something he was not known for in college, which raised concerns at draft time), his eagerness and, above all, his raw talent at the wide receiver position. On the down side, one cannot help but notice that every session of workouts has been interrupted by injury. In fact, Bryant did not work out at the NFL combine because of a hamstring injury he was nursing at the time.
Although Bryant has made significant progress in his recovery from the recent high ankle sprain, and the Cowboys' medical staff has been properly cautious in not allowing him to return too quickly, the injury concerns going forward cannot be overlooked. The hope is that Bryant will be ready for the season opener (he has returned to practice, but, according to The Dallas Morning News, his conditioning needs work) but he will not have played in a single preseason contest. There are already indications that it is unlikely Bryant will muster a full season without some type of injury setback. Fantasy owners have to evaluate the upside of Bryant's talent alongside the potential risk of an absence caused by injury.
Percy Harvin, Minnesota Vikings:
Fantasy owners might have all but forgotten about Harvin's ongoing battle with migraines were it not for a particularly scary incident in training camp. Harvin, who had been absent for two weeks early in camp after the death of his grandmother and a migraine flare, collapsed on the practice field in mid-August and was taken by ambulance to a local hospital. The episode reminded everyone -- including teammates who observed it -- just how serious the condition is for Harvin.
Harvin was able to gradually return to activity and even made an appearance in the team's third preseason game, catching two passes in the Vikings' win. Afterward, Harvin indicated that additional medical tests led doctors to believe they have figured out a primary cause for his migraines. According to the Minneapolis Star-Tribune, Harvin said "We're feeling really confident. I know we said that a couple times, but I think this time we found what the main cause was." Harvin added, "I'm not saying I'll never get a headache again, but hopefully we can slow it down a little bit. ... It's not life-threatening, but it's something we need to work on and I will."
It's certainly encouraging that Harvin has been able to resume practicing, conditioning and even competitive play. It's perhaps more encouraging that he is so upbeat about the outlook for managing his migraines. Nonetheless, it remains a chronic condition that needs to be managed; it is not cured, at least not yet. That leaves fantasy owners with an element of uncertainty, but if Harvin continues to produce as he did last year, it might well be worth the trade-off.
For more injury capsules and updates, check out our full list in the
draft kit
.