Stephania Bell:

Michael Cuddyer
July, 15, 2014
7/15/14
12:18
PM ET
The All-Star break gives us a chance to see how teams have fared thus far and project what will happen the rest of the season. One of the big influences, if not the biggest, year in and year out, is injuries, and 2014 is no different. Much of the first three months of the season was spent talking about the number of Tommy John surgeries (including revision or second surgeries to the ulnar collateral ligament of the elbow) befalling major league pitchers this year. When pitchers' elbows weren't the hot injury topic, baserunners' thumbs were. Perhaps the second most common surgery of the first half of the season also involved an ulnar collateral ligament, specifically the one found in the thumb, often injured by baserunners getting it caught on the bag while sliding. Looking ahead to after the All-Star break, teams who have been without some of their key players are hopeful of getting them back, at least for a portion of the season. But are those hopes realistic? To try to answer that question, we take a closer look at 10 of the more interesting injury scenarios for the second half.
Hitters
Edwin Encarnacion, 1B, Toronto Blue Jays (right quad strain):
Encarnacion went on the disabled list the week before the All-Star break with a strain of the large muscle on the front of his thigh, suffered while trying to beat out a double-play ball. The reach for the bag with his left leg forced the right one into a hard stretch. That was enough for Encarnacion to reportedly feel a "pop," a sign that some soft tissue fibers, perhaps at the junction of the muscle and tendon, had been pulled beyond their physical limits. The projected recovery time frame of two to four weeks issued by the team reflects the uncertainty when dealing with muscle strains of this nature; the severity is more than a minor seven- to 10-day issue, but it isn't enough to threaten an athlete's entire season. Individual recovery rates vary widely and early resolution of pain and inflammation are often strong indicators of how the healing will progress. The most important (but perhaps the most difficult) judgment is not returning to play too soon, when overextending a near-healthy muscle can risk pushing a player's recovery beyond the original outer projection. Even if he progresses well, it seems Encarnacion is likely to miss more on the order of three to four weeks, as opposed to the minimum 15 days.
Joey Votto, 1B, Cincinnati Reds (left distal quad strain):
Just before the All-Star break, Votto went on the DL for a second time with a quad strain, but it was painfully clear he had never returned to his pre-injury form. In the month between his DL visits, Votto was just not the Votto people are accustomed to seeing, batting just .250 with no home runs. Reds management had indicated Votto might be contending with a leg that is less than 100 percent healthy for the remainder of the season, but no one likely expected it to be this problematic. Clearly in discomfort at times while at the plate and without the support of his back leg to help drive his swing, Votto has simply not been effective.
Reds manager Bryan Price didn't sound entirely optimistic when he offered his assessment of Votto's status going forward. "Our plan of attack will be to do everything we can to get him back to play over the course of the year," Price said. "We don't have a timetable on how long that will be, but the goal is to get him back and able to help us before the year is out." In other words, the Reds are still looking to get a functional Votto back, not necessarily a completely healthy one. Votto went through a difficult recovery following meniscus surgery on the same knee two years ago. While it is unclear whether there are joint changes that are specifically contributing to his challenges with this year's quad strain, the cumulative injuries in the area don't help the overall picture. The takeaway at this stage is that even if the Reds are able to work Votto back to the playing field this season, their own assessment of the situation hints at him not returning to full strength before the year is out.
Evan Gattis, C, Atlanta Braves (thoracic disk):
Disk problems of all types are problematic, but those in the middle of the spine are particularly worrisome. They are often slow to resolve, and the attachment of the ribs to the thoracic vertebrae and the vital organs in the vicinity makes surgery a risky proposition. The Braves hope that the epidural injection Gattis received at the start of July is all that's necessary to get him over the hump. So far, the plan appears to be showing signs of working.
According to the Atlanta Journal-Constitution, Gattis has begun some baseball activities, including taking light batting practice. Given the torque through the trunk during a swing, the fact he was able to do so successfully is a good sign that the acute pain has settled down. The next test will be to ramp toward rehab games, presuming no setbacks from the batting practice. While there remains no formal timetable, it's clear Gattis won't be ready to come off the DL when first eligible immediately after the All-Star break. It remains to be seen whether he continues on this trajectory when he puts in consecutive days of swinging the bat hard and making defensive throws from behind the plate, another skill which forces rotation through the spine. Knowing how slow these problems can be to improve, his progress thus far is encouraging but the concern of a subsequent flare-up will linger.
Brandon Phillips, 2B, Cincinnati Reds (left thumb; UCL surgery):
Even guys who rarely visit the DL seem to be finding their way onto it this year. Take Phillips, for instance. He has managed to avoid it for the past five seasons but now finds himself there as he recovers from thumb surgery. Thumbs have been perhaps the most significant "digit" injury this baseball season in terms of keeping top-level talent off the field. Consider that
Los Angeles Angels
outfielder
Josh Hamilton
,
Washington Nationals
teammates
Bryce Harper
and
Ryan Zimmerman
all missed more than a month in the first half of the season due to thumb injuries. Now Phillips and Cardinals catcher
Yadier Molina
will have the second half of their seasons compromised due to their respective thumb injuries. The good news for Phillips is that the recovery path post-surgery is fairly well established, and the timeline is generally reliable with a low rate of re-injury. Even though the Reds expect to be without his services for about six weeks, they can feel confident about his status going forward.
Yadier Molina, C, St. Louis Cardinals (right thumb; UCL surgery):
Like his thumb injury counterpart, Brandon Phillips, Molina does not spend much time on the DL. In fact, prior to last year's minimum-length DL stay for his right knee, Molina had not been a visitor since 2007 when he missed a month due to a fractured wrist. Now Molina will miss up to three times that length of time following surgery to repair his injured thumb. As noted above, several major league players have missed extensive time due to similar thumb injuries and subsequent surgery. The timetable offered by the Cardinals for Molina's recovery is a bit lengthier than the others we have seen for such injuries this year. Whether his injury is more complex or the team is allowing for the increased demands placed on his throwing hand as a catcher (or a little of both), it does not appear he will return before September. Even then, although his grip may not be compromised significantly, the power of his swing may take a little longer to return after so much time away.
Michael Cuddyer, OF, Colorado Rockies (fractured left shoulder):
Cuddyer's injury was somewhat unusual to begin with; a fracture of the glenoid or "socket" of his left shoulder
sustained during a diving defensive play
in June. At the time of the injury, it appeared his soonest possible return to action would be in late July or early August. Now the hope is that Cuddyer's arm has healed enough to allow him to return before the season ends. According to the Rockies' official website, Cuddyer is slated for a
follow-up MRI in the third week of July
to evaluate whether the fracture has healed to the point where he can progress his rehab activity out of the sling. If yes, then a return within the following month might be possible. If not, well, then given the amount of time it would take to strengthen his shoulder for a return to baseball after yet more time in a sling, the outlook for this season would be uncertain at best. The location of the fracture makes it impossible to immobilize the site completely, so the next best thing is to minimize the movement by placing the athlete in a sling. The trade-off comes in the form of strength loss of the surrounding musculature while the bone attempts to repair itself, an outcome not guaranteed to take place within six weeks, given the location. Cuddyer's status at this point is wait and see, literally, as the visual image on his upcoming MRI will indicate whether or not he is likely to take the field again this year.
Pitchers
Michael Wacha, SP, St. Louis Cardinals (stress reaction in right scapula):
Wacha's injury is so unusual in baseball, there is only one other clearly documented case in recent years.
Brandon McCarthy
, now with the
New York Yankees
, has experienced recurring stress fractures in the scapula (shoulder blade) of his throwing arm, dating back at least seven years. The good news? McCarthy has recovered and returned to throw each time the injury has cropped up, and Wacha should be expected to do the same. In fact in Wacha's case, the injury was reported to be a stress
reaction
, a precursor to a stress fracture but a bone injury nonetheless. Ideally, beyond managing the pain and allowing the fracture to heal, one could uncover the root problem and target that to prevent recurrence. The rarity of the injury, however, makes that tough to do. Most bony stress injuries are to weight-bearing bones (like leg, foot) or bony elements subject to excessive torsion (such as projections on certain vertebrae), but if the right amount of tensile force is imparted by muscular or musculo-tendinous attachments to bone, the bone can weaken and show signs of stress. Wacha should recover fully, although it could take in excess of a month. The big question then will be whether this was a one-time incident or whether it signals a potentially recurring problem for the young pitcher.
Gerrit Cole, SP, Pittsburgh Pirates (right lat strain):
When one of your starting pitchers goes on the DL in early June due to shoulder fatigue, then develops a minor problem a month later with the latissimus muscle on the same side, backing him off his throwing schedule, at least briefly, is the sensible move. The Pirates did exactly that, making the decision to move Cole to the DL for the second time in a month, keeping an eye on his delivery and his dosage while he recovers from this second incident.
Just a week after being placed on the DL, Cole was throwing a side session, indicating the relatively low severity of this latest soft tissue injury. Still, everything the team is doing seems to indicate caution on their part. After all, the larger lat muscle contributes to the stability of the entire upper kinetic chain (think: shoulder blade, shoulder, elbow, wrist and hand) via the extremity's anchor to the body and can force increased reliance on the small, coordinating muscles of the shoulder (think: rotator cuff) when it fatigues. An injury to the lat can therefore influence the shoulder during throwing, both directly and indirectly. This DL stint may be as much about the Pirates working with their young pitcher to increase his arm endurance in a protected way so as to ward off a truly major problem as anything else. It still translates to more lost time for him but hopefully that remains shorter than the alternative.
Cliff Lee, SP, Philadelphia Phillies (left flexor tendon strain):
One of Lee's characteristics over time has been his durability; before this year, he had never made a trip to the DL for an injury to his throwing arm. It takes only one episode, though, to derail a season and for Lee thus far, 2014 has been nonexistent. The key words though are "thus far," as it appears Lee is poised to return to the Phillies' starting rotation in late July, presuming no setbacks in the interim. The team has been taking their time with the veteran, not rushing him to return as he steadily moved through a rehabilitation program, despite not being completely free of soreness or stiffness in his throwing elbow. Apparently his function was convincing enough (and his lingering symptoms minor enough) that Lee was permitted to resume throwing and has made it to the point of rehab starts without a setback, although his outings have been less than stellar.
The Phillies may be more interested in showcasing Lee's return to health to other potential suitors than anything else, given their current status in the standings. From a global health perspective, it would be nice to see Lee post a strong second half of the 2014 season with no arm setbacks, something he has a decent chance of doing based on how his last month of work has gone. Flexor tendon injuries (injuries to the attachment of the muscle group on the inner aspect of the forearm which controls grip and rotation) can precede ligament injuries but an uneventful July to September -- maybe even October -- would offer some peace of mind that Lee's decline is not imminent, despite the mileage he has accrued in his career.
Masahiro Tanaka, SP, New York Yankees (right UCL partial tear):
All eyes will certainly be on Tanaka in the next couple of weeks to see whether he is able to begin -- and ultimately progress through -- a throwing program that would allow him to return to the mound this season. Despite being placed on the DL in July with a partial tear of the ulnar collateral ligament (UCL) in his right elbow, Tanaka hopes to be able to pick up where he left off ... in mid-June. The injury to his throwing elbow may have been responsible, at least in part, for his drop in performance immediately preceding his DL exit, particularly the 10-percentage-point decline in his strikeout rate (from 29 percent through mid-June to 19 percent in his last four starts, according to ESPN's Stats & Info).
Tanaka had been a bright spot in the Yankees' rotation, leading the team in wins and inspiring confidence when he took the mound. He quickly proved the value of his offseason acquisition by the team, especially given their injuries to other starters: CC Sabathia, whose degenerative knee is likely to keep him out the remainder of the year; Ivan Nova, who is in the thick of rehabbing his own (April) Tommy John surgery; and Michael Pineda, who continues in his recovery from a teres major strain and will not return before August, at best. With the news of Tanaka's injury, however, the question becomes how much his perceived value takes a hit. The jury remains out for now as everyone waits to see whether his prescribed trial of rest and rehab following a platelet-rich-plasma injection will succeed.
There are indeed cases where partial tears of the UCL, the ligament that stabilizes the medial elbow, do not require surgery, at least not immediately, but they are not well-documented and appear to be relatively rare at the major league level. A study published in 2013 in the American Journal of Sports Medicine examined the return-to-play status of 34 athletes with partial tears of the UCL who had undergone PRP injections and found an 88 percent success rate. It should be noted, however, that only two of the athletes in that study were professional baseball pitchers. Still, given the fact that return to prior level of performance following Tommy John surgery is not guaranteed and, at the very least, requires an extensive recovery process that typically exceeds one year, the decision to attempt conservative treatment first makes sense for Tanaka and the Yankees. The bottom line is this: By late August we should have a good idea as to whether Tanaka will be poised for a 2014 return or whether we'll have to wait until 2016 to see him back in major league competition.
June, 10, 2014
6/10/14
2:22
PM ET
When the
Colorado Rockies
'
Michael Cuddyer
jammed his left shoulder last week diving for a ball, it sounded as if the soreness might cause him to miss a few days. That soreness turned out to be due to a fracture of the glenoid, the "socket" side of the ball and socket shoulder joint. As Cuddyer told the Denver Post, "It's a fracture like any other fracture, so they are telling me that it's at least six to eight weeks to heal. That's where we are."

The glenoid is the hemispherical-shaped end of the scapula, or shoulder blade, which accommodates the ball-shaped end of the humerus or arm bone. A fracture of the glenoid is usually the result of a traumatic injury. In sports, that trauma is often due to diving and landing on the shoulder, as was the case with Cuddyer, who was attempting a diving play at third base when he suffered the injury.
The severity of the injury depends on the location of the fracture within the joint and whether or not the fracture is displaced. Cuddyer's fracture was reported as non-displaced, meaning the bone remained in alignment, despite the presence of a crack. A significantly displaced fracture would have required surgical intervention to restore normal alignment and help ensure healing. The location of Cuddyer's fracture within the glenoid has not been made public, but there are typically two primary areas where a break happens. One is on the outer margin, or rim, and the other is deep in the socket, or fossa. No matter where the location of the fracture, the best news in Cuddyer's case is that it does not appear he will need surgery, eliminating other potential complications. The most challenging aspect for Cuddyer will be regaining range of motion and strength in the arm, sufficient enough to be effective at the plate. Late July or early August will likely be his soonest return date.
In the meantime, the Rockies await news on the outcome of exploratory surgery for outfielder
Carlos Gonzalez
and his ailing left index finger. Tuesday's surgery with Dr. Thomas Graham, noted hand specialist of the Cleveland Clinic, should hopefully help clarify the nature of what has been bothering Gonzalez and offer a timetable for his return.
Addendum:
Exploratory surgery turned out to be explanatory surgery for Gonzalez. Dr. Graham
discovered a small tumor
, a giant cell tumor, on the outfielder's index finger that explains the chronic irritation and swelling he was experiencing. These tumors are commonly found in the tendon sheaths of the hands and feet A biopsy will confirm whether the tumor is benign (such tumors typically are). Presuming there are no surprises, Gonzalez is expected to require several weeks to recover, first to allow the soft tissue surrounding the tumor site to heal, then to regain his grip strength and ability to swing the bat.
A finger injury also has Rockies third baseman
Nolan Arenado
out for multiple weeks. Arenado fractured the tip of his left middle finger (oh, those nasty headfirst slides) in late May. While surgery was not required, there is still the matter of the bone healing completely, followed by rehab to the point of being game ready. The Rockies will monitor the bone healing progression and increase his activity accordingly so a timeline remains fluid but he should not be expected back before early July.
May, 13, 2013
5/13/13
4:42
PM ET
Every Monday in this space, we'll provide updates on a variety of players to help you make your weekly lineup decisions. We'll specifically try to hit the players who are day-to-day, have just gone on the DL or are ready to return, so that you can better decide whether you can count on them or not.
All projected return timelines should be considered fluid.
Hitters
Jason Heyward, OF, Atlanta Braves (placed on DL April 21, could return this week):
Heyward went on the disabled list following an emergency appendectomy, so at least there's comfort in knowing this is not going to be a recurrent problem. Now it's just a matter of when he will return … and when he'll be effective.
Heyward has been on a rehab assignment for several days at Triple-A Gwinnett, and other than some soreness that warranted a day off, his stint has been uneventful from a health perspective. It also has been uneventful at the plate, that is until Sunday, when he finally started hitting. The Braves don't have an exact date for his return, but he's expected to rejoin the team at some point this week.
[+] Enlarge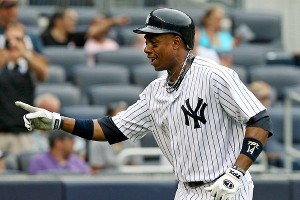 AP Photo/Seth WenigCurtis Granderson could return to the Yankees as early as Tuesday.
Curtis Granderson, OF, New York Yankees (opened season on DL, could return this week):
It's only fair that the Yankees actually get a player
back
from the DL after adding more and more players to it this season. Granderson's recovery and rehab have been totally uneventful, just the way the medical staff likes it. He has been crossing "to do" items off the list during his rehab assignment: He has faced both left- and right-handed pitching, played defense and played both day and night games. Perhaps most importantly, Granderson has not shown any lingering apprehension from getting hit by a pitch this spring. As he told the Yankees' official website regarding his rehab at-bats, "There was no recall of the injury. There's going to be pitches inside, I'm going to get hit again, but you got to stay in."
The Yankees would like it if he stays healthy and stays in. There's every indication he will come back and be productive immediately, and that return could happen any day now, potentially as early as Tuesday, when the Yankees open a series at home.
Coco Crisp, OF, Oakland Athletics (placed on DL April 30, could return this week):
Crisp strained his left hamstring trying to run out a ground ball in the A's seemingly never-ending Monday night game nearly two weeks ago. Fortunately, the strain appeared mild and Crisp could potentially attempt to run the bases soon, according to the San Francisco Chronicle. Obviously his tolerance of running will help determine his readiness to return -- manager Bob Melvin told reporters Crisp might not need a formal rehab assignment -- but as is always the case with hamstrings, until he runs in games without a setback, it will be impossible to tell just how healthy he is.
Chris Young, OF, A's (placed on DL April 30, could return Wednesday):
The A's hope to get another outfielder with a soft tissue injury back soon. Just as Coco Crisp recovers from his hamstring, Young is working to get past a left quad strain that has sidelined him the past couple of weeks. After passing the necessary rehab clearances, Young is expected to get some at-bats in extended spring training games during the early part of the week, according to the A's official website. If all goes well, he could return when eligible on Wednesday.
Neil Walker, 2B, Pittsburgh Pirates (placed on DL retroactive to April 27, expected to return Monday):
Two weeks ago in this space, I wrote about how the Pirates hoped to return Walker within days if he could swing the bat effectively. Clearly he could not, and the decision was made to place him on the DL. After beginning a rehab assignment last Thursday, it seems Walker has shown he has moved past the injury, and his return appears imminent.
Michael Cuddyer, OF, Colorado Rockies (placed on DL retroactive to May 9):
Cuddyer had already missed three games with what he referred to as inflammation in his neck, related to a disc problem. Now it's clear he will be missing a few more. This is not Cuddyer's first episode of neck pain, but it appears to be the first time it has forced him on the DL. The hope is that the symptoms are limited to his neck and that it won't progress into his shoulder or arm. Rest is the best option for him in the short term, but given the variability of these types of ailments, a definitive timetable is difficult to determine. The soonest he can return is May 24, if his neck cooperates.
Jayson Werth, OF, Washington Nationals (placed on DL retroactive to May 3):
This doesn't come as a huge surprise after Werth's hamstring continued to bother him despite missing the past eight games. If there is any good news, it's that it can be backdated to the last time Werth saw the field, making him eligible to return May 18. Whether he will be able to actually run at full speed by the end of this week remains to be seen. The Nationals have also indicated they believe dehydration was a factor in Werth's repeated muscle cramping.
The hope is that all will be under control and back to normal by the end of the week, although fantasy owners might want to wait until next week to insert him into their lineup.
Adrian Gonzalez, 1B, Los Angeles Dodgers (day-to-day):
Gonzalez has been dealing with a minor muscular strain in his neck, recently aggravated when he and an umpire crossed paths as he was attempting to field a ground ball. An MRI revealed little of significance and Gonzalez returned to play late last week. However, he promptly aggravated it again, then sat out Sunday's game.
This is what falls under the header of "annoying" injuries, frustrating to the athlete because of the come-and-go pattern and difficult to predict in terms of behavior and severity. It does not look as if Gonzalez is in danger of going on the DL, but fantasy owners will want to check daily lineups until he is playing consistently.
Austin Jackson, OF, Detroit Tigers (placed on DL retroactive to May 12):
Another outfielder, another hamstring injury. It seems to be quite the injury trend this week. Also a trend: Teams opting to send players to the disabled list for seemingly minor strains early in the season, not wanting to risk a more severe injury. That makes sense. Teams as a whole seem to be offering their players a couple of days to test the effects of rest, but if there are any lingering warning signs, they waste little time scaling the athlete back (in the form of a DL stint). The hope then is that the player will miss the minimal amount of time, and Jackson's case is no different.
[+] Enlarge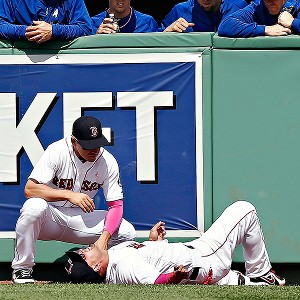 AP Photo/Winslow TownsonShane Victorino (lying down) collided with the outfield wall Sunday at Fenway Park.
Shane Victorino, OF, Boston Red Sox (day-to-day):
After missing a week due to spasms in his back, Victorino returned to action May 3. He seemed to be faring well ... until he ran into the outfield wall Sunday, ultimately requiring a trip to the hospital to be examined. As bad as it looked -- and perhaps felt -- Victorino appears to have escaped major injury. According to ESPN Boston, X-rays on his ribs came back negative, and manager John Farrell says Victorino should be ready to play Tuesday after the team's off day Monday. The hope is that this collision will not wake up the painful spasms in his low back again, and so far there has been no word of that. If Victorino does return Tuesday, that will be a good sign that he should be available going forward.
Desmond Jennings, OF, Tampa Bay Rays (day-to-day):
Jennings has missed a few games with a minor groin strain, but the Rays seem fairly confident they will have him back Tuesday. Jennings has downplayed the injury since it first cropped up last week, suggesting he could play if necessary. Given that it's May and not September, manager Joe Maddon opted to rest Jennings for several days. The proof that it is not anything to worry about will come when Jennings returns to action for consecutive days without incident.
Pitchers
Zack Greinke, SP, Los Angeles Dodgers (placed on DL April 12, could return Wednesday):
When Greinke was injured in the brawl with
Carlos Quentin
, no one knew what to expect since a clavicle fracture in the non-throwing arm of a pitcher is not exactly your everyday injury. As soon as the Dodgers announced he was undergoing surgery to stabilize the fracture, his prognosis for return actually improved, as it appeared he would not face as much down time from throwing.
Turns out that was an accurate assessment. Despite the Dodgers' (understandably) conservative eight-week projection, Greinke appears poised to possibly return this week, which would mark 4 1/2 weeks post-surgery. He has passed the point of having discomfort and pitched in high Class A ball last Friday. His velocity is up where he left off at the time of injury, and he appears from a functional standpoint to be ready to pitch in the majors. The final remaining hurdle is whether the bone has healed to the point where the team is comfortable with him absorbing contact. (The high Class A outing afforded him the opportunity to pitch with a DH in the lineup; when he returns to the Dodgers, he will need to hit, run and potentially absorb contact should there be a collision). Expect those clearing tests to be performed over the next 24 hours and a decision to be forthcoming shortly after. If the team opts to hold Greinke out of a return to the majors Wednesday, he would likely get another rehab start this week and rejoin the team next week.
Brett Anderson, SP, A's (placed on DL April 30, could return Friday):
After originally spraining his ankle in mid-April, it looked as if Anderson could avoid a DL stint with some rest. But he got called into service in the A's marathon game a couple of weeks ago and it set him back, forcing the DL stint. With a pitcher so recently removed from Tommy John surgery, it's probably for the best that he allow the ankle to recover sufficiently to not threaten his throwing mechanics and, consequently, the health of his arm. According to the San Francisco Chronicle, Anderson is likely to rejoin the rotation Friday.
Ryan Madson, RP, Los Angeles Angels (opened the season on DL, could return this week):
Madson's return following last April's Tommy John surgery has been delayed due to the soreness he experienced this spring. The delays aren't highly unusual, but it does bode for a gradual progression even as he returns to his major league team. Madson has been pitching in extended spring training and will begin a rehab assignment this week. He might not spend much time there, as the team could bring him up to the majors to build further endurance in that setting. As the Los Angeles Times has reported, he will not be the closer immediately upon return, and how the Angels opt to use him will likely depend on what they see from him as he resumes big league action.
[+] Enlarge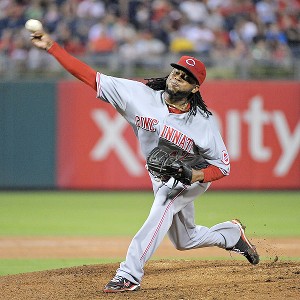 Eric Hartline/US PresswireHe's been out of sight, out of mind, but it shouldn't be forgotten that Johnny Cueto finished 13th among all pitchers on the ESPN Player Rater in 2012.
Johnny Cueto, SP, Cincinnati Reds (placed on DL April 15, could return within one to two weeks):
Cueto's original ailment was reported as a triceps injury, then was modified to a lat strain (more typical for a pitcher). But as he was recovering from that injury, he developed soreness in his oblique, a pitcher's nemesis, forcing a slowdown in his return schedule. Now Cueto seems to have cleared most of the major obstacles in his recovery and has initiated a rehab assignment. His next rehab outing is slated for Tuesday, and the Cincinnati Enquirer is reporting he could return to the Reds' rotation May 19.
It's entirely possible the team opts for another rehab start, depending on what they see during his outing this week and how Cueto feels after consecutive starts. Either way, it appears that, barring a setback, his return is not far off.
Andrew Bailey, RP, Boston Red Sox (placed on DL retroactive to April 29, could return within a week):
Bailey is eligible to return from the DL on Wednesday, but the club could still opt to send him out on a rehab assignment, pushing back that return. Bailey went on the disabled list with a biceps strain, a bit more worrisome than the one that sidelined teammate
John Lackey
because of the location of Bailey's symptoms (higher, closer to the shoulder). As noted in this space last week, Bailey has been plagued by a series of injuries, but he started the season strong for the Red Sox. With
Joel Hanrahan
now out for the remainder of the season, it would seem Bailey has the opportunity to recapture his closer role from
Junichi Tazawa
, if he can stay healthy. Considering his history, particularly in light of this current ailment, that's a big if. Even if Bailey returns without a rehab assignment, the bigger question will be how long he can go without a potential flare-up.
Chris Perez, RP, Cleveland Indians (day-to-day):
As he began to warm up Sunday before entering the game in relief, Perez experienced what the team is calling "stiffness" in his throwing shoulder. Manager Terry Francona opted not to press his luck and rested Perez instead. At this point, it doesn't appear to warrant major concern, but it does warrant you keeping an eye on the situation. Unless he's scratched again this week, consider this just a bump in the road.
Jake Westbrook, SP, St. Louis Cardinals (placed on DL May 12):
Westbrook becomes the latest pitcher to hit the disabled list with inflammation in his elbow. According to ESPN's Jim Bowden, Westbrook received a cortisone injection in his elbow. Expect several days of rest with a gradual increase in activity to see if he can resume throwing. Until he reaches that point, it will be difficult to project the length of his absence.
Wei-Yin Chen, SP, Baltimore Orioles (day-to-day):
After getting his team off to a good start Sunday, Chen was forced to leave the game early because of a strained oblique. He was scheduled to undergo an MRI Monday, and it would not be surprising if this results in a trip to the DL. The typical absence for a pitcher runs on the order of a month, so if it is serious enough to warrant the trip, plan on not having him available for approximately four weeks.
June, 30, 2008
6/30/08
11:07
AM ET
It's official. I don't need surgery. After having my knee swell up like a balloon, and losing about 80 percent of my range of motion, it looked as if I was headed under the knife to repair a torn meniscus. But lo and behold, as is often the case in medicine, things were not quite as they seemed. An MRI revealed a partial tear of the popliteus tendon (a small but critical muscle on the back side of the knee that helps control rotation of the tibia and provides posterior lateral stability), a painful and unusual but nonsurgical condition. My lateral and my medial meniscus as well as my ACL are intact. Whew! Looks like my downtime is limited to avoiding running for a few weeks and being cautious with my knee. I have to be a good patient and wrap my leg, ice it and take my anti-inflammatories while I gradually work on regaining my strength and stability.
The good news? I will be able to make the All-Star festivities this year. Most importantly, I am reminded of the value of the outstanding health care professionals who spend countless years training just to "help people." I am reminded that the injuries that we regular folks suffer are often exactly the same as those that the athletes endure, which is perhaps why we identify so readily with them. And yes, I am reminded of how relieved all patients are when the news is less grim than originally thought. Now you want to know the status of the guys you really care about? Please, read on.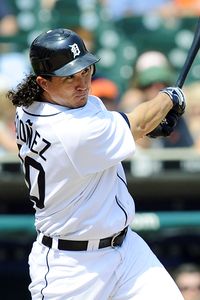 Icon SMIMagglio Ordonez was leading the Tigers with 50 RBIs at the time of his injury.
Magglio Ordonez, OF, Detroit Tigers:
Ordonez strained an abdominal oblique muscle on his right side in the third inning of Saturday night's contest against the Rockies. Originally the team reported Ordonez's ailment as spasms on his right side, but the severity of the injury quickly became apparent when Ordonez was placed on the disabled list Sunday. The Detroit Free Press reported that Ordonez had difficulty moving when he woke up Sunday. When asked how he felt, Ordonez said it all with three simple words: "Not so good." The plan is for Ordonez to stay behind and rehabilitate while the team embarks on a seven-day road trip. The hope is that the 15-day DL will be enough to allow Ordonez to recover fully.
The oblique strain has been working its way through the Tigers' clubhouse like a virus, with
Gary Sheffield
and
Brandon Inge
out recently with similar injuries. Sheffield, who was recently reactivated, has been playing some of his best baseball this season since his return. On the flip side, Inge, who injured himself in early June, has been in and out of the lineup since, but never really healed. This week the Tigers decided to make the move to place him on the disabled list. Perhaps Inge's struggles in getting past pain while swinging the bat helped speed up the decision to rest Ordonez, whose power at the plate is far more valuable. The Tigers cannot afford to have him at less than full strength for weeks only to ultimately place him on the DL. His rehab activities by the second week should give a better clue as to how he is progressing.
Dan Uggla, 2B, Florida Marlins:
Uggla sat out Sunday's game after spraining his left ankle Saturday. In the fourth inning Uggla was headed for second, trying to stretch a single into a double, but pulled up to go back to first and injured his ankle in the process. As Uggla limped along the baseline, he was tagged out and left the game. X-rays taken after the game were negative. Uggla later relayed that the dirt was wet, and when he stopped to turn back to first his plant foot just kept going forward and he couldn't catch himself in time. The Marlins' official Web site reported that Uggla was wearing a soft cast and sporting crutches after the game. For his part, Uggla says he didn't hear a pop and called this a mild sprain. He says he has injured this ankle before (at age 20) and described that episode as much worse.
The good news is that Uggla was able to put some weight on the ankle Sunday and managed to limp into the clubhouse on his own. He is officially listed as day-to-day but manager Fredi Gonzalez says the team will likely "stay away from him for a couple of days." The hope then is that he will be able to play during the upcoming road trip starting Thursday against the Rockies.
Hideki Matsui, DH, New York Yankees:
Inflammation in the left knee continues to give Matsui trouble. He has now had the knee drained twice and has been placed on the 15-day DL effective Friday. If the problem doesn't subside, Matsui could be looking at a scope. According to The Associated Press, the Yankees insist that surgery is a last resort, but the fact is that it remains a possibility. The persistent inflammation is a sign that something is indeed irritating the joint. Abnormalities within the joint (such as cartilage damage or meniscus injury) can create irritation that results in the joint increasing fluid production. The fluid then blocks normal range of joint motion and can inhibit muscular contraction, both of which will render an athlete ineffective. And that doesn't even account for any pain that occurs as a result.
It would not be a surprise to see Matsui go under the knife, given his age (34) and history of intermittent problems with both knees. After all, Matsui had arthroscopic surgery on his right knee in the offseason and that seems to be holding up well. If the rest he gets in the next week or so does not result in significant improvement, do not be surprised if Matsui extends his time off so that he can undergo surgery.
Michael Cuddyer, OF, Twins:
What's good for the goose is good for the gander, or so they say. Cuddyer, who suffered with an injury to his right (throwing) index finger earlier this year, now has an injury to his left index finger that is again forcing him onto the disabled list. In April, Cuddyer dislocated his right index finger and missed 20 days. This latest injury has been more gradual in nature. According to the Minneapolis Star-Tribune, Cuddyer has had pain in the left index finger for a couple of weeks, progressing to the point where he can hardly swing a bat. By Saturday, the pain was causing Cuddyer to lose his grip on the bat and he was even having pain at rest. The team is calling it a tendon strain and although they have not specified which tendon is involved, one would suspect a flexor tendon, on the palm side of the hand, because it is utilized when gripping, both while swinging the bat and fielding with the glove. The finger was clearly no better on Sunday since the team made the move to place Cuddyer on the DL. Depending on the degree of inflammation, Cuddyer may even need a little extra time beyond the two weeks. With the All-Star break approaching, consider him out until after that point, perhaps the following week.
Shaun Marcum, P, Toronto Blue Jays:
When we last talked about Marcum he was on his way to visit with Dr. James Andrews and the worst was feared. Alas, it was not all doom and gloom for Marcum. Andrews confirmed the team's initial diagnosis of an elbow strain and cleared Marcum to initiate a throwing program Saturday, according to the Blue Jays' official Web site. Keep in mind, however, that the emphasis in a return to throwing program is gradual progression, and the Jays are wisely planning to be cautious with Marcum. Although eligible to return Friday, the Jays figure his absence will extend to after the All-Star break. With smart management, and a little luck, Marcum will fare well in the second half of the season.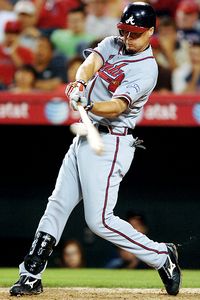 Icon SMIDespite the nagging quad injury, Chipper Jones is still hitting close to .400.
Chipper Jones, 3B, Atlanta Braves:
It seems Chipper Jones is a regular in the injury blog, but until now, despite the fact that he has had an injury for much of the season, Jones has not
yet
made a trip to the DL. Note the emphasis on "yet." The times may be a-changin' as Jones' quadriceps injury, despite his valiant efforts, may need the benefit of extended rest to really turn the corner. According to the Braves' official Web site, Jones can't run at greater than 50 percent effort because of pain. Although his bat has been hot, even as a pinch hitter he is at risk of further injury if he sprints. The last thing the Braves want is to lose him for the remainder of the season with a significant quadriceps tear. So far, Jones has managed to maintain a balance, contributing offensively and defensively on a regular basis while resting his leg a day or two at a time as needed. But the injury has progressively worsened each time Jones has aggravated it this year. For that reason, I believe Jones will ultimately end up on the disabled list and his quad will get some well-deserved rest, all of which should allow him to continue his amazing run in the second half of the season.
And in the good news department ...
Ryan Church, OF, New York Mets:
Church was activated from the disabled list Sunday and went 2-for-4, picking up right where he left off. Church had not played since June 6 due to lingering effects of his second concussion this year. He was originally injured in a spring training collision with
Marlon Anderson
. Church suffered his second concussion in late May in Atlanta when he collided with Braves shortstop
Yunel Escobar
's knee while trying to break up a double play. Although he managed to pinch hit just two days later, Church did not start for 10 more days. His poor performance was explained by lingering symptoms that persisted after the second concussion. According to an ESPN report, Church was still experiencing dizziness, light sensitivity and discomfort on team flights and the decision was made to place Church on the DL. It appears to have been the right decision because Church looks like a new man. Now if only he can avoid another collision this season, he should be in good shape.
Eric Gagne, P, Milwaukee Brewers:
Gagne was activated from the disabled list after missing time with rotator cuff tendinitis, but that doesn't mean he'll automatically be the closer.
Salomon Torres
has performed well in Gagne's absence and should continue in the role, leaving the set-up assignment for Gagne. The Brewers have to be happy, though, that they have options here. At least they have a chance to see if Gagne can regain his effectiveness before giving him the ball with the game on the line.