Stephania Bell:

Michael Pittman
November, 5, 2008
11/05/08
4:09
PM ET
What is challenging your fantasy team at the critical midseason juncture? Chances are it's either the loss of one (or all) of your starting quarterbacks (pick a team, any team) or perhaps it's the loss of your starting running back
and
his handcuff, and maybe even
his
handcuff (see: St. Louis and Denver). Here's how some of the injury news is shaping up in Week 10.
Denver Broncos RBs:
There are just too many injured backs to name. On Monday, we discussed
Michael Pittman
and his aggravated stinger. Pittman had worked his way up to a starting role, but the latest setback has now forced him onto injured reserve. Joining him on IR is
Andre Hall
, who suffered a left hand injury.
Selvin Young
, who began the season as the Broncos' starting tailback, has been dealing with a groin injury since Oct. 5. Young was limited in practice all last week but the team is hopeful that they can ramp up his activity this week.
Rookie
Ryan Torain
, fresh off elbow surgery, has a great deal of promise, but is still getting his feet wet in the NFL. Nonetheless, if Young remains less than fully healthy, Torain may well start this week's game by default.
Here's the big problem: The Broncos play Thursday night! So it's not as if they have an entire week to sort this situation out. At this point, it appears that Torain will see an increased role, and there is hope that Young may be able to balance him out. Be sure to check inactives before the game, though, as this is a very fluid situation.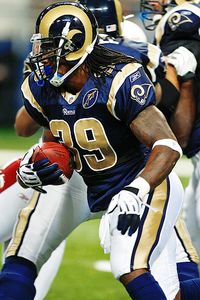 Scott Boehm/Getty ImagesSteven Jackson boldly stated on his Web site he'd play last Sunday, but his playing time was still limited.
St. Louis Rams RBs:
Just like in Denver, the string of injuries in St. Louis threatens the entire backfield.
It starts with the front runner,
Steven Jackson
, who played Sunday but showed he was clearly less than 100 percent healthy. In fact, according to the St. Louis Post-Dispatch, Jackson took himself out before the first play of the game because he was concerned that he could not make the cutback that the called play required. Coach Jim Haslett, after being put in a position of having to make last-minute adjustments as a result, has made it clear that that will not be the case again this week: Jackson will either practice at least one full day this week or he will sit on the sidelines Sunday. This will be a more firm test of whether Jackson's quadriceps is truly ready to handle the burst and explosiveness necessary for him to play with confidence.
Meanwhile, fellow running back
Antonio Pittman
(Pittman is not a good surname to have as a running back if you want to avoid the injury list this week) injured his hamstring on his first carry of the game Sunday. He has already been ruled out of this week's contest against the Jets.
And then there's
Travis Minor
. Minor suffered a concussion last Sunday that forced him out early and he is still recovering. According to the Post-Dispatch, Minor did not pass a neuro-psych test Tuesday (a battery of tests administered post-concussion; the results of those tests are compared to those obtained during the preseason when the athlete is healthy to assess whether the effects of concussion are still present) and he will be re-tested Friday. There is no guarantee that Minor will be ready to go Sunday.
So with all these question marks, who might be lining up at the running back position for the Rams? Well, it could be
Kenneth Darby
, signed in mid-October after
Brian Leonard
went on injured reserve with a shoulder injury. Or it could be
Samkon Gado
! Remember him? The Rams apparently did, signing him this week to the active roster. As the Post-Dispatch notes, Gado is a bright fellow (he was pre-med in college, so he does have a fallback plan if this football thing doesn't work out) and the team expects him to absorb the offensive playbook quickly enough to see action Sunday, if needed. No kidding! He is listed as the team's No. 2 back as of right now, and it will be interesting to see how practice late this week impacts the rotation.
Some other players to keep an eye on as the week progresses ...
In addition to all the running back struggles, the Broncos have been without tight end
Tony Scheffler
, who had started the season strong but has missed the past three games with a groin injury. Despite the rest, Scheffler is still on the mend. The Rocky Mountain News reports that Scheffler still had not tried sharp cuts as of Tuesday. His availability for the Thursday night game remains a question mark, and may well be a game-time decision.
Seattle Seahawks
quarterback
Matt Hasselbeck
likely will not return this week according to The (Tacoma, Wash.) News-Tribune. Nonetheless, it does appear that he is regaining some strength in his leg, a sign that his sciatic nerve is not as compromised. Before Hasselbeck is cleared to return to practice, he has to demonstrate adequate strength in his leg, so this could signal that that day is approaching. Returning to practice is far removed from returning to play, however, so continue to view this as a longer-term situation.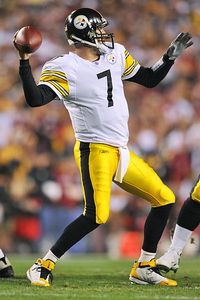 Larry French/Getty ImagesBen Roethlisberger has been dealing with a shoulder injury for much of the season, but it got worse on Monday night.
The
Pittsburgh Steelers
likely will be without the services of tight end
Heath Miller
when they face the Colts on Sunday. Miller suffered a sprained ankle in Monday's contest. Perhaps the bigger question, however, is whether
Ben Roethlisberger
will be under center. Coach Mike Tomlin acknowledged that Roethlisberger aggravated his right shoulder injury, but has not revealed the results of his latest MRI scan. (Roethlisberger suffered an acromioclavicular [AC] joint sprain early in the season and has dealt with shoulder pain ever since).
According to the Pittsburgh Post-Gazette, Tomlin has not decided whether Roethlisberger or
Byron Leftwich
, who stepped in ably Monday night, will start Sunday. This is not the kind of injury that heals in a week; if it was, Roethlisberger would have been 100 percent after the bye. This is a condition that the team will manage, but the more hits Roethlisberger takes from week to week, the more likely it is the condition gets exacerbated, and the less effective he is likely to become. We should have a better idea by Friday's practice as to how Tomlin is leaning.
Darren McFadden will be day-to-day this week. Two turf toes. That's all you need to know. Expect
Justin Fargas
to continue to shoulder the majority of the load this week.
As usual, practice throughout the week will give us a better hint as to what the final status of these players will be heading into Week 10. Remember there are bye weeks for Cincinnati, Dallas, Tampa Bay and Washington, so we will not get much information in terms of player injury updates from these teams until next week. See you Friday at the injury chat, and we'll have the latest injury updates affecting Week 10 in the Saturday blog!
November, 3, 2008
11/03/08
2:45
PM ET
Will
Santana Moss
and
Clinton Portis
play in the big Steelers-Redskins Monday night matchup?
Portis is listed as probable and is virtually certain to play. The quarterback might be a little banged up from his hefty workload the first half of the season, but he has been rested a bit in practice and should carry the rock. Moss, on the other hand, was quite limited all last week because of a hamstring strain; as of Saturday, he was doing only straight-line running. He remains the Redskins' best deep threat, and there's no doubt the Redskins would like to find a way to get him on the field, but coach Jim Zorn has said clearly that Moss will go only if he can play without limitations. For a player who has a history of hamstring injuries in particular, this injury is a little more delicate. Moss will be a game-time decision based on how his leg feels in warm-ups.
On the other side of the ball, look for the return of Fast
Willie Parker
to the Steelers' lineup. Parker's return from a sprained medial collateral ligament was delayed after a setback, and he has to be eager to return to action. But expect the Steelers to keep
Mewelde Moore
in the running back mix as a means of easing Parker back into the speed of the game.
That's what's coming, but what about what already happened? A few key injuries on the first Sunday in November might impact your fantasy teams. Here's what we know as of our first look following Week 9's main slate of games:
Kyle Orton, QB, Bears:
Orton has had success with the Bears, and our own AJ Mass even wrote him up as one of
ESPN's midseason Fantasy Hall of Fame nominees
. But Orton fans and fantasy owners will have to wait patiently while he sits on the rehab shelf after suffering an ankle injury Sunday.
The Lions'
Dewayne White
fell on Orton after the quarterback ran out of bounds. Orton was on his back with his legs in the air, and White's hit twisted Orton's foot sharply to the right while his leg essentially remained facing forward. This rotation of the foot relative to the position of the leg is a classic mechanism for a high ankle sprain, an injury to the ligaments that connect the two lower leg bones where the "roof" of the ankle is formed. ESPN's Michael Smith reported that Orton suffered a high ankle sprain and is expected to miss at least a month.
One of the concerns with this type of injury is that the torsional (rotational) stress placed upon the ankle can result in a fracture to the fibula (the skinny bone on the outer aspect of the leg). Orton is scheduled to undergo an MRI on Monday, presumably to rule out any associated injury and clarify the detail of the injury to the ankle itself.
The injury is unfortunate because Orton appeared to be emerging as a solid presence with the Bears. The hope has to be that this injury can be treated conservatively (without surgery) and that Orton indeed will be able to return in approximately a month.
Matt Schaub, QB, Texans:
Schaub suffered what the team is calling a knee sprain early in the first half of Sunday's game. The Texans' official Web site reports that Schaub's knee swelled during halftime. Although he attempted to warm up for the second half, the swelling created stiffness that made it difficult for him to drop back effectively. According to Texans coach Gary Kubiak, team doctors indicated that it would be difficult for Schaub to protect himself. Given the potential risks and Schaub's demonstrated lack of mobility, Kubiak opted to go with
Sage Rosenfels
in the second half.
The Texans haven't offered any more specifics about Schaub's injury, so there is no indication yet as to whether he is expected to miss any additional time. Be prepared to find a backup just in case.
Michael Pittman, RB, Broncos:
The already-complicated Denver running back situation just became a little less clear. The Rocky Mountain News is reporting that Pittman aggravated a neck stinger Sunday, an injury he apparently suffered during the Broncos' Monday night game against New England earlier this season. The pain that Pittman experienced Sunday was what forced him out of the game early. He expressed his dismay afterward, telling the News, "I don't know if I'm going to play next week or when I'm going to play. I'm very frustrated right now. I've just got to find out what's really wrong with me."
Stingers, appropriately named for the type of stinging pain an athlete experiences, result when the neck gets rapidly compressed toward one side or stretched in the opposite direction. A quick stretch or a quick pinch can stress nerve tissue, which typically is very sensitive to rapid insult. The pain afterward can be a sharp, electric pain that radiates from the neck into the shoulder area and, depending on which nerves are affected, can travel into the arm and fingers as well. Once that tissue has suffered an insult, it can become sensitized. Then, it's easier for a player to aggravate those symptoms with a second, even less severe injury. This can prove very frustrating and can extend the length of time it takes for the tissue to recover.
With Pittman compromised and
Selvin Young
still recovering from a groin injury, the Broncos introduced rookie running back
Ryan Torain
, who was an emerging star in the preseason, to his first professional game. Torain was injured in the preseason and has since been recovering from elbow surgery. Coach Mike Shanahan had hinted that he did not want to play Torain too much his first time out. Torain ended up with just three carries for one yard, not exactly wunderkind stats.
The Broncos play on Thursday this week, and the biggest running back question mark at this point might well be Pittman. Expect Torain to see more action, and perhaps Young will return to the rotation. Keep an eye on practice reports early in the week to see how the Broncos' lineup is shaping up.
Other noteworthy injuries:
The Chiefs have lost running back
Kolby Smith
for the remainder of the season to a knee sprain, according to the Kansas City Star.
Jamaal Charles
racked up more than 100 yards, and with Smith out for good and
Larry Johnson
out for a while, Charles should play more regularly.
The Bucs had a spectacular comeback win Sunday, but they paid a price in the injury department. Already without the services of running back
Warrick Dunn
, who rested at home because of a pinched nerve, the Bucs then lost running back
Earnest Graham
and tight end
Alex Smith
late in the game. According to the St. Petersburg Times, Smith sprained his ankle while sliding to make the two-point-conversion catch that sent the game into overtime. Graham has a knee injury, but no more specifics have been released. The team's bye week could not be more timely.
The Rams had virtually no running game Sunday, and it had to be at least partly attributable to a slew of injuries to their running back corps. Despite
Steven Jackson
's bold pronouncement on his Web site that he was ready to go, he appeared far less than ready on the field. Coach Jim Haslett acknowledged as much, telling the Belleville News-Democrat, "He worked out and said that he felt fine. He ran around and said he was ready to go. Obviously, by his nature, he wasn't ready." To add to their problems,
Antonio Pittman
, who started for the Rams, injured his hamstring on his very first carry, saying he felt it "pop." That's never a good sign.
Travis Minor
already was sidelined with a concussion, and needless to say, the running game never really got off the ground. Jackson told the News-Democrat that he will use this lackluster performance as motivation, but more important will be his ability to nurse himself back to full health. Another week of relative rest hopefully should get him back on track.
Be sure to check back here throughout the week as we update these and other injuries. Also, stop by the injury chat (11 a.m. ET Tuesday and Friday) to discuss the status of your injured players. Hope to see you there!
November, 23, 2007
11/23/07
5:20
PM ET
OUT:
The following players have been listed as officially out for Week 12 Sunday games.
Steve McNair, QB, Ravens:
McNair's left shoulder still is listed as the official reason for him sitting out.
Demetrius Williams, WR, Ravens:
An ankle injury will keep Williams out of the lineup this week.
Larry Johnson, RB, Chiefs:
We
detailed
what we know about his injury on Wednesday. You can expect to see him on this list for a while longer.
Ahman Green, RB, Texans:
As expected, Green did not practice this week and is not expected to play, according to the Houston Chronicle.
Ron Dayne
likely will get the start again for the Texans.
Marshawn Lynch, RB, Bills:
Lynch has not practiced all week and has been ruled out for this Sunday's game. To make matters worse, the Bills' Web site reports that Lynch has a high ankle sprain. Originally reported as an ankle sprain, Lynch's injury immediately becomes more serious because of the location. High ankle sprains, as we have reported many times, generally are more difficult to recover from and can be easily aggravated if a player returns too soon (see
Michael Pittman
). We will check back in on Lynch next week. Until he begins to test the ankle in practice, it will be difficult to project his timetable.
Anthony Thomas
will get the start in Lynch's place.
Brandon Jacobs, RB, Giants:
Jacobs is out with a hamstring injury (more information below).
Travis Henry, RB, Broncos:
Henry continues to struggle with his left knee (PCL sprain) and did not practice all week. Keep an eye on him as he could return in Week 13, contingent on his knee healing enough and him winning his appeal.
Here's what we know so far about other players with injury concerns heading into Sunday.
Running Backs
Selvin Young, Broncos:
Young, who injured his knee in Monday night's game (no specifics given by the team), did not practice until Friday, when he did limited work. According to the Broncos' Web site, Young will test his leg before the game (late start Sunday) to see if he will be able to play.
Andre Hall
will get the start if Young cannot go Sunday.
Adrian Peterson, Vikings:
Peterson (torn LCL) has taken part in very limited practice this week, according to the Minneapolis Star-Tribune, wearing a knee brace all the while. Although he has not been officially ruled out, do not expect him to play this weekend, despite the upgrade to questionable. It sounds as if the Vikings are suggesting he could return very soon, but again, I believe he really needs to show he can do everything in practice before the Vikings risk putting him back on the field (see Wednesday blog).
Brandon Jacobs and Derrick Ward, Giants:
Jacobs missed practice all week with a sore hamstring and is out for Sunday. According to a report in Newsday, Jacobs and coach Tom Coughlin gave the impression earlier in the week that Jacobs would miss Sunday's game. The major concern, as it always is with a hamstring injury, is that it could get worse and end up costing Jacobs more missed time overall. With other capable backs in the wings, the Giants are smart to play it cautious. But then there's Ward, who also is currently hampered by lingering injuries. Ward has been dealing with an ankle sprain, which reportedly is much improved, and a groin strain, which he sounds less confident about. Ward's comment -- "You never know. It might regress, it might progress" -- does not exactly evoke optimism. Ward has been a limited participant in practice, and his status may well come down to a game-time decision.
Reuben Droughns
looks to get the start Sunday, and the Giants' Web site quotes Coughlin as saying that
Ahmad Bradshaw
is the No. 2.
Reggie Bush, Saints:
Bush was limited in practice all week with a shin bruise, but coach Sean Payton is hopeful that Bush can play Sunday, according to a report in the New Orleans Times-Picayune. He will be a game-time decision.
Shaun Alexander, Seahawks:
Insert last week's report here. Alexander has not practiced, and if he does not practice, he does not play, according to coach Mike Holmgren. The Tacoma News Tribune reported that Alexander also is trying to get rid of the cast. Apparently that is not going to happen, but the medical staff is trying to find a way to make the cast smaller. Once again, expect
Maurice Morris
to start in Alexander's place.
Michael Pittman and Earnest Graham, Buccaneers:
Pittman, who worked so hard to get back to the playing field, re-injured his still-healing high ankle sprain, perhaps seriously, and is out indefinitely. There has been some speculation that Pittman could be put on injured reserve, but that does not appear to have been decided yet. According to a report in the St. Petersburg Times, Pittman's swelling is severe, but the athletic training staff expects him to make a return in a few weeks. Meanwhile, Graham still is nursing a sore ankle and has been limited in practice this week, but he is expected to play.
Jesse Chatman, Dolphins:
The Dolphins most certainly don't need this. Chatman has an ankle problem that limited him in practice the whole week. The Orlando Sun-Sentinel reported Chatman still is limping, which does not help his chances to play Monday night. Granted, there are a few days before the game, but if Chatman is limping now, he will not be at his best come Monday. Could this signal the return of
Ricky Williams
? It more likely signals some increased action for
Patrick Cobbs
at this point, but stay tuned to this scenario, because if Chatman's ankle problem lingers, there might be a new starting running back in Miami right around the time of fantasy playoffs.
Quarterbacks
Donovan McNabb, Eagles:
McNabb has two problems that kept him out of practice all week: a sprained ankle and a jammed thumb. Coach Andy Reid told the Associated Press that McNabb "has gotten a little better each day." Neither of these injuries appears particularly serious, but they could be just bad enough to either keep McNabb from starting Sunday night, which appears more likely, or keep him from performing effectively if he does play. Either way, with the game being on Sunday night, and the opponent being the Patriots, this probably is one for fantasy owners to avoid.
Receivers/Tight Ends
Santonio Holmes, Steelers:
Holmes is recovering from a high ankle sprain and remains doubtful for Monday's game.
T.J. Houshmandzadeh, Bengals:
Houshmandzadeh participated in full practice Friday after resting earlier in the week with a bruised back. He is listed as probable and is expected to play. Houshmandzadeh still is feeling soreness in his back and told the Bengals' Web site that if he can't tolerate the pain, he won't play. Given that comment, be sure to check his status before game time, but with the probable designation, it does appear he will be active.
Javon Walker, Broncos:
Walker had good practice sessions this week and is looking like he will return Sunday. Walker has made nice, steady progress, and although he is reported to have had some swelling after Thursday's practice, he expects to play, according to the Broncos' Web site. His status is questionable, so be sure to check Sunday's inactive reports before the game.
Reggie Williams, Jaguars:
Williams is a late addition to the injury reports with a back problem. He is listed as questionable after being limited in practice Friday. If you have him on your roster, be sure to check before game time.
Todd Heap, Ravens:
Hopefully you have found a fantasy replacement for Todd Heap by now. He is listed as doubtful again this week because of the lingering problems with his hamstring. Despite his efforts to return, the hamstring has not cooperated, and there is no telling when his leg will be healthy enough to allow him to come back.
Don't see your player here? Be sure to check back this weekend when we have the latest practice reports before the games, as well as a few IDP additions.
October, 10, 2007
10/10/07
12:54
PM ET
On Monday, I took a quick look at what injury news transpired over the weekend. Today I'll update that injury information and check in on a few other players who are trying to work their way back into the lineup.
Jake Delhomme, QB, Panthers:
Delhomme will be undergoing that infamous procedure typically associated with baseball pitchers, Tommy John surgery, so named for the major league hurler who was the first to undergo the procedure. John ultimately returned to pitch successfully in the majors. Since that time, many others have successfully undergone ulnar collateral ligament reconstruction, as it is known medically, reflecting the actual surgical repair that is done. The ligament that reinforces the inner aspect of the elbow joint, the ulnar collateral ligament (UCL, and sometimes referred to as the MCL of the elbow), is often stressed with repeated throwing, and when it fails, the joint becomes painful and unstable. Surgeons typically use a tendon from the forearm to replace the damaged ligament and help restore stability to the joint.
Interestingly, when Delhomme first injured his elbow, he looked just like a pitcher who had suddenly experienced the sharp pain in the elbow associated with ligament failure. However, his injury was being referred to as a "strained elbow," and in the true sense of the word, "strain" is generally associated with a muscle injury (whereas "sprain" would have suggested a ligament injury). These two words are often interchanged, especially if there is no clear evidence as to what structure is causing the pain. Even in the case of a UCL injury, the ligament does not always appear disrupted on MRI imaging. In fact, the ligament can be only partially damaged but still be symptomatic enough to warrant surgery if it does not respond to conservative treatment. It appears that this was likely the case with Delhomme, as he was given the opportunity to rest the elbow and see if it would allow him to continue. After two weeks of rest, he still could not throw without pain, and the decision was made to have surgery.
The rehab process is long, and it usually takes about a year for an athlete to return to action. However, much like with athletes returning from ACL surgery for the knee, many throwers will say that it takes them two years to really feel like they're back to form. Working perhaps in Delhomme's favor is that the mechanics of the throwing motion for a quarterback are less stressful to the elbow than those associated with throwing a baseball. At this point, it is reasonable to expect Delhomme to be throwing by the time the 2008 training camp rolls around and should be able to return next season.
Trent Green, QB, Dolphins:
According to the Palm Beach Post, coach Cam Cameron announced that Trent Green has suffered a Grade 3 concussion, the most severe form, and that he will be unavailable for this week's game against Cleveland. His status beyond Sunday remains unknown, and Green is expected to undergo further tests throughout the week. So what does Grade 3 mean? There are several versions of concussion classification. One of the most long-standing scales, the Cantu classification (named after neurologist Dr. Robert Cantu, who has been quite prominent in the ongoing discussion about concussion management in the NFL), describes a Grade 3 concussion as "severe," determined by a loss of consciousness of greater than five minutes or post-traumatic amnesia (memory loss) of greater than 24 hours. Another scale, known as the Colorado Guidelines, also describes a Grade 3 concussion as severe, but a loss of consciousness of any duration puts a player into this category.
Of late, the use of these scales to determine concussion severity has been called into question because it is impossible to truly assess severity until the player has recovered. Why? Because all brain injuries are unique. It cannot be known at the time of injury how long it will take for a player to fully recover.
| | |
| --- | --- |
| | Want your question answered by an ESPN fantasy expert? Check out The Answer Guys ... a new service exclusive to ESPN Insiders, with a 24-hour response guarantee! |
Full recovery means no symptoms (such as light-headedness, dizziness, nausea or visual disturbances) and no evidence of cognitive deficits (measures of various aspects of brain performance). Furthermore, there has been significant evidence presented recently that suggests loss of consciousness is not necessarily a mark of severity of brain injury. Athletes who have suffered a concussion (now typically referred to as mild traumatic brain injury), as determined by the presence of symptoms such as those mentioned above, without sustaining a loss of consciousness, might have longer-lasting and more intense residual symptoms than athletes who have suffered a concussion with loss of consciousness. Therefore, it is only in retrospect that the true severity of a concussion can be known, and loss of consciousness does not appear to be the primary determining factor. The NFL is still grappling with how to translate this information into safe and consistent medical management for its players and training staff.
That said, the relevance for Trent Green is going to be how long it will take for him to return to "baseline" after this event. That is what the Dolphins' medical staff will be evaluating throughout this week and perhaps longer. The historical context of Green suffering a major concussive event just last year, now compounded by this recent injury, will no doubt factor into the decision of when, if ever, he returns to play.
Matt Leinart, QB, Cardinals:
The Cardinals have placed Leinart on the injured reserve list because of the fractured left clavicle (broken collarbone) he sustained Sunday. This makes sense on several levels. First, it takes approximately six weeks for an injury like this to heal. That's if all goes well. The clavicle is a bone that often has difficulty healing, and when a bone fails to heal itself after a fracture, it is called a non-union. If this occurs, surgery might be required to help repair the bone. Remember
Charles Rogers
of the
Detroit Lions
? He broke his collarbone not once, but twice. Ultimately, he required surgery to repair it.
Adrian Peterson
, the electric rookie running back for the Vikings, broke his collarbone in college and missed most of his senior season. Remember everyone's concern about him at draft time? Was the collarbone truly healed? Would he require surgery? Ultimately, he did not need surgery, but the fact that the collarbone was such a concern indicates how serious this type of injury can be.
Given that failure to heal from a broken collarbone is not unprecedented, Leinart's absence could have extended beyond six weeks anyway, potentially to the end of the regular season. Even if the fracture healed well, the injury was on Leinart's throwing side, and the clavicle plays a role in shoulder mechanics. After the time period required for normal bone healing, Leinart would have had to gradually work his way back to throwing, which could have translated to several additional weeks. Add to that the fact that Leinart was in a platoon with
Kurt Warner
and was not guaranteed to return to a starting position once he did recover. It made sense then for the Cardinals to put Leinart on IR and open up his roster spot. The Cardinals have already signed quarterback
Tim Rattay
as insurance for Warner, who has had his own share of injuries in the recent past and is no lock to make it through the remainder of the season himself.
Damon Huard, QB, Chiefs:
The Chiefs got some good news related to their injured veteran quarterback. According to ESPN.com, coach Herm Edwards has announced that Huard's MRI showed no specific damage to his shoulder. Huard sustained a shoulder contusion (bruise) last Sunday, but according to Edwards, the quarterback has worked out two days this week. Huard has not yet thrown the ball, but he's expected to practice Wednesday and might attempt throwing at that time. With a contusion, Huard's activity will be dictated by how he feels. The Chiefs will have to make a decision as to whether to start backup
Brodie Croyle
or Huard, and we will monitor practice as the week goes on to see how Huard is faring.
Michael Pittman, RB, Buccaneers:
The latest reports out of Tampa Bay indicate that Pittman sustained a serious high ankle sprain and is expected to miss 6-8 weeks. According to Roy Cummings of the Tampa Tribune, Buccaneers general manager Bruce Allen stated that tests on Pittman's ankle revealed no fractures. The Buccaneers are hopeful that Pittman can return this season and therefore have decided not to place him on injured reserve. Early reports suggested that Pittman suffered a fractured fibula (thin bone on the outer leg that forms the lateral part of the ankle joint), which is not uncommon in conjunction with a high ankle sprain. The absence of the fracture does not minimize the severity of the sprain; this is still a significant injury. It does mean, however, that Pittman might not need to have the leg immobilized for as long a period of time because he is not waiting on a broken bone to heal.
For now, Pittman likely will remain in a protective boot to minimize the weight he puts through the ankle joint itself. The ligaments will be allowed to scar down to heal, and then Pittman will gradually reintroduce weight-bearing activity. A big concern with high ankle sprains is chronic ankle instability and eventual arthritis that can develop in the joint as a result, if the injury does not heal properly. Consequently, the Buccaneers will take it slow with Pittman and bring him back in a measured manner.
Deion Branch, WR, Seahawks:
Coach Mike Holmgren announced at his Monday news conference that the Seahawks expect Branch to miss two games with a midfoot sprain. The Seahawks have a bye following their next two games, so this timeframe would give Branch almost a full month to recover from his injury. Midfoot sprains can be difficult to recover quickly from, but at first glance, this seems to be a reasonable projection for Branch. Holmgren has always been forthcoming about the status of his injured players, so this appears to be a very realistic expectation, barring any setbacks along the way.
Antwaan Randle El, WR, Redskins:
According to the Washington Post, Randle El, who suffered a hamstring injury in last Sunday's game, stated that he has a mild strain and that he "will be playing Sunday." Meanwhile, his teammate
Santana Moss
, who sat out last week's contest with a groin injury, was expected to return to light practice. Moss, who has battled nagging muscle strains in the past, appears to be taking precautions to avoid aggravating his condition. More to come on these two receivers after mid-week practices.
Updates:
According to Texans coach Gary Kubiak, as quoted on the Texans' official site, there is "an excellent chance" wide receiver
Jacoby Jones
and running back
Ahman Green
will return in Week 6. The news is not quite as promising for
Andre Johnson
. Although Kubiak indicates that Johnson, the team's No. 1 receiver, is improving, he is not as optimistic about Johnson's imminent return.
Steve Korte of the Belleville News-Democrat is reporting that running back
Steven Jackson
(Rams) has already been ruled out for Week 6. This does not come as a huge surprise, as we have been projecting that his partial groin tear would likely sideline him for multiple weeks.
Bears wide receiver
Bernard Berrian
left last week's game with a toe injury in the third quarter. According to the Chicago Sun-Times, Berrian had an MRI on his right foot, which showed no major damage. I will watch to see how he fares in practice.
I will be monitoring practice and status reports throughout the week, so be sure to check back for more updates!