Stephania Bell:

Michael Saunders
April, 29, 2013
4/29/13
5:10
PM ET
Every Monday in this space, we'll provide updates on a variety of players to help you make your weekly lineup decisions. We'll specifically try to hit the players who are day-to-day, have just gone on the DL or are ready to return so that you can better decide whether you can count on them or not.
All projected return timelines should be considered fluid.
Hitters
Troy Tulowitzki, SS, Colorado Rockies (DTD):
The good news is that Tulowitzki's latest ailment does not appear to be serious; the better news is that his surgically repaired groin is doing just fine. The hot start to Tulowitzki's season has likely helped put to rest any lingering concerns about the injury that ended his 2012 campaign prematurely. Unfortunately, Sunday's game brought a different scare. Tulowitzki strained his left shoulder on an awkward slide in the third inning, forcing him out of the game. According to the Denver Post, the injury is being described as a strained rotator cuff. It appears he will only be sidelined for a couple of days to allow any inflammation and soreness to subside, and there are no plans to place him on the DL at this time.
Ryan Zimmerman, 3B, Washington Nationals (placed on DL 4/20, could return Friday):
Zimmerman was placed on the DL with a strained left hamstring. While the injury was not considered serious, there are never any guarantees when it comes to these ailments. Zimmerman described it perfectly to the Washington Times: "Usually you can tell the difference between something that's bad and something that's not that bad, but with hamstrings you never know." What Zimmerman and the Nationals do know is that he has progressed well during his down time, performing running and hitting activities over the weekend. According to the Times, Zimmerman will play in rehab games Tuesday and Wednesday. If those outings are uneventful, he will rejoin the Nationals on Friday, when he is eligible to return. As is always the case with hamstrings, the only true measure of recovery is return to play without incident, but Zimmerman may be able to put that to the test soon.
[+] Enlarge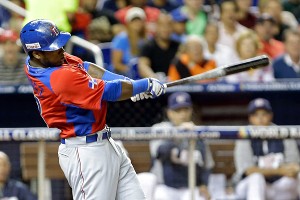 AP Photo/Wilfredo LeeHanley Ramirez has been out since injuring his thumb in the World Baseball Classic championship game March 19.
Hanley Ramirez, SS, Los Angeles Dodgers (placed on DL 3/20, could return Tuesday):
Ramirez injured his thumb playing in the final game of the World Baseball Classic and underwent surgery to repair a torn ulnar collateral ligament (yes, in his thumb). Credit the work the Dodgers had him do while in a modified cast -- including throwing -- with his quick recovery since the cast has come off. Ramirez regained his range of motion quickly, began hitting within days and progressed to throwing shortly afterward. He has already appeared in rehab games over the past weekend and has hit well. Granted, he's not facing major league pitchers yet, but the fact that he is ready to play both offense and defense will certainly have him beating the original target date of mid-May (eight weeks post-surgery). By how much will he beat it? The Dodgers aren't saying for sure, but April 30 is Ramirez bobblehead day at the park. Just sayin.'
Mark Ellis, 2B, Los Angeles Dodgers (DTD):
Ellis pulled up while running to first base Friday and it was determined later that he had strained his right quadriceps muscle. According to the Dodgers' official site, Ellis worried initially that it might be something more serious, but as he was able to jog on it, he recognized that it was not severe. He has already been able to swing a bat and throw the ball without any discomfort and is hopeful he can avoid a trip to the DL. Of course, the big issue with a quad strain is straight-ahead running, something Ellis has not yet tested at full speed. It appears he will be given some additional recovery time of a few days but if he remains relatively symptom-free and can increase his activity, he could potentially return by the end of the week.
Kevin Youkilis, 3B, New York Yankees (DTD):
Last week, we said concern over Youkilis experiencing tightness in his lower back would be justified given his history. At the time, however, manager Joe Girardi downplayed it, saying he expected Youkilis back within a couple days. Well, those two days turned into a week and after a return on Saturday when he went 0-for-3, Youkilis was again experiencing stiffness the following day. He is scheduled for an MRI Monday. Concern is officially warranted. ESPN New York's Andrew Marchand notes how this could affect a timeline for Youkilis
should he need a trip to the DL
. Girardi acknowledged Sunday that all backs "can be tricky" and this situation with Youkilis reminds us that it is often the case with chronic low back pain, where "management" becomes the goal, as opposed to "cure." Right now the Yankees are in wait-and-see mode with their third baseman, but it appears the team will err on the side of caution. With
Alex Rodriguez
out until at least the All-Star break, it would be a significant blow to lose Youkilis for multiple weeks at a time.
Shane Victorino, OF, Boston Red Sox (DTD):
The tricky back is in play with Victorino as well. What looked to originally be a one- to two-day affair has now extended past a week thanks to a flare-up, and may require a longer recovery. Victorino left the game early on April 20 with back spasms and after returning to action on April 22, was forced to leave the April 24 game early when the symptoms recurred. According to the Boston Globe, Victorino's improvement has only been "slight" in recent days, and with the team heading to the harsh turf of Toronto this week, his absence could be extended. It is not clear whether this will translate to a DL stint, but that does not seem to be ruled out. At the very least, it looks as if Victorino will rest a few more days before being tested in a game outing.
Neil Walker, 2B, Pittsburgh Pirates (DTD):
Those nasty spikes. Walker sustained a deep cut near the knuckle of his right index finger Friday while attempting to break up a double play, and he was forced out of the game. He received six stitches in what Walker described as "the deepest cut I've ever had for stitches," according to MLB.com. He was incredibly fortunate to escape without any damage to extensor tendons in the hand, which lie very close to the injury site. The team did not place Walker on the DL, in the hopes that he could return late this week. While he may not have the stitches out, if he can bend the finger enough to swing the bat effectively and throw accurately, he will return to the lineup. Walker is expected to test those skills Monday, and if all goes well, expect him to be back in the mix later this week.
Michael Saunders, OF, Seattle Mariners (placed on DL 4/11, could return Monday):
Saunders has been recovering from a right AC sprain suffered when his shoulder encountered the outfield wall a few weeks ago. After returning to batting practice little more than a week post-injury, Saunders was able to gradually increase his throwing in subsequent days. He began a rehab assignment over the weekend, and the hope is that he will be activated Monday. As long as Saunders has shown he can make the necessary throws and bat effectively, there is no reason for lingering concerns regarding this injury. But it would probably be for the best if that right shoulder and the outfield wall can keep their distance for a bit.
Erick Aybar, SS, Los Angeles Angels (placed on DL 4/13, could return by midweek):
Aybar was sent to the DL with a bruised left heel which was causing him trouble swinging the bat from the right side of the plate. He has since returned to running and hitting, all without incident thus far. Aybar has seen action in extended spring training games, but the Angels have opted to give him some more at-bats before returning him to the team. He will play in a Triple-A game Monday, but it's not yet clear whether this will be his final hurdle. The heel issue appears to be largely behind him; at least the extended rehab time allows him to test it in multiple situations. Aybar's return to the lineup is expected shortly, perhaps within the next couple days.
Pitchers
Justin Verlander, SP, Detroit Tigers (DTD):
The Detroit News reports Verlander said he developed "a little bit of a blister" on his right thumb near his fingernail, which was enough to bring him out of last Thursday's game after seven innings. Verlander shrugged off the notion that it would compromise his next start. Despite the thumb, Verlander had a decent outing, and there is no real indication for concern, particularly given that this is something he has contended with in the past. Blisters or other forms of skin breakdown can certainly threaten a pitcher's status, depending on the severity and location. This does not appear to be one of those times.
[+] Enlarge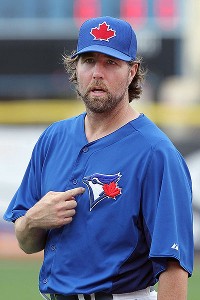 Kim Klement/USA TODAY SportsR.A. Dickey (4.50 ERA, 1.31 WHIP) currently rates just 112th among all pitchers on the 2013 ESPN Player Rater.
R.A. Dickey, SP, Toronto Blue Jays (DTD):
Last week we heard about neck and back stiffness giving Dickey trouble, a decidedly vague qualification. It hasn't improved -- nor have Dickey's recent challenges on the mound -- and he is headed for an MRI to try to gain some additional information. Dickey has been pitching through consistent discomfort, according to Shi Davidi of Sportsnet. There is no doubt that pain, tightness or stiffness in the neck will influence the function of the shoulder and potentially the entire upper arm. One question is whether it is an inhibition of arm strength due to pain or whether there is true weakness as a result of nerve compromise associated with the neck. More information should be forthcoming, but given the lack of improvement both subjectively in how he feels and objectively in how he's performed recently, don't be surprised if Dickey is headed for a more definitive absence.
Brett Anderson, SP, Oakland Athletics (DTD):
Anderson sprained his right ankle on April 19, forcing him to leave a start after just one inning of work. It initially appeared as if it would be a non-issue since Anderson made his subsequent start. It was a rough outing, however, and he only lasted four innings. On Sunday, the team announced Anderson's Monday start would be skipped because of the ankle which, according to the San Francisco Chronicle, was aggravated during Wednesday's appearance. Although Anderson has indicated the ankle feels much better and he hopes to only miss the one start (his next outing would come Saturday this week), even subtle issues on a pitcher's landing leg can be enough to throw off his mechanics. With Anderson so recently removed from Tommy John surgery, there is no reason to press through an issue which should otherwise resolve quickly and risk greater consequences.
Josh Johnson, SP, Toronto Blue Jays (DTD):
Sometimes players just know. After being scratched from his last start Friday due to triceps tightness and given his injury history, many were concerned as to what an MRI might show. Not Johnson. Shi Davidi of Sportsnet reported Johnson expected the MRI to come back clear. Turns out he was right. According to John Lott of the National Post, Johnson's MRI showed no ligament damage, only inflammation, and he is expected to resume his throwing program soon. While that program will likely be increased based on tolerance, it is too early to definitively say whether he will miss his next start, although it seems likely. Most importantly, on the scale of major injuries this does not appear to be a significant worry for Johnson.
April, 22, 2013
4/22/13
3:40
PM ET
Every Monday, in this space, we'll provide updates on a variety of players to help you make your weekly lineup decisions. We'll specifically try to hit the players who are day-to-day, have just gone on the DL or are ready to return, so that you can better decide whether you can count on them or not.
All projected return timelines should be considered fluid.
Hitters
[+] Enlarge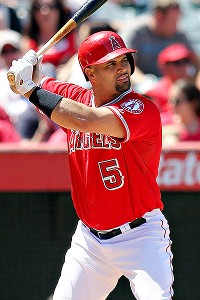 Victor Decolongon/Getty ImagesFantasy owners will have to keep a close eye on Albert Pujols' foot in the upcoming days.
Albert Pujols, 1B, Los Angeles Angels (DTD):
"I'm dying." Those were the words of Pujols himself Sunday when describing trying to play through plantar fasciitis in his left foot. Not particularly encouraging. Every athlete who contends with plantar fasciitis will describe extraordinary pain (like "stepping on a nail" or "walking on broken glass") and knows it is virtually impossible to get relief, unless he stops activity altogether. As for now, the plan is for Pujols to try to manage the condition, meaning he will receive treatment directed at pain relief, stretching, supportive footwear and anything else that might help all while continuing to play, albeit limited to DH duty. Unfortunately, every time the foot hits the ground stretching the inflamed fibrous tissue of the arch, Pujols is reminded of the pain. At some point it simply may be too much for him to bear and his foot could force him to take some extended down time.
Ryan Zimmerman, 3B, Washington Nationals (placed on DL April 20):
Zimmerman had been experiencing cramping in his left hamstring for several days before being forced out of last Wednesday's game early. He did not play Friday or Saturday, instead undergoing an MRI, which led to placement on the DL. While it sounds as if the strain is not serious, it was hampering him not only with his running but also while hitting. Manager Davey Johnson noted Zimmerman was not comfortable landing on his left leg when hitting. One has to wonder if some of his recent throwing inconsistencies can also be attributed, at least in part, to discomfort in his left leg. According to Amanda Comak of the Washington Times, the Nationals are hopeful that Zimmerman will only miss the minimum time, but hamstrings can be finicky. The key for the Nationals is preventing this from turning into a bigger injury, undoubtedly part of the rationale for a DL placement.
Dan Uggla, 2B, Atlanta Braves (DTD):
Sometimes being a veteran means understanding when to take yourself out of a game proactively. It appears Uggla did just that on Saturday when he felt something in his left calf while trying to run out a ground ball. According to the Atlanta Journal-Constitution, Uggla let manager Fredi Gonzalez know he was having discomfort in the calf and was concerned it could get worse if he stayed in the game. Uggla then sat out Sunday's game also but was hopeful he could return Monday. Calf strains tend to be increasingly prevalent as athletes move into their thirties (
Lance Berkman
,
Derek Jeter
, Albert Pujols) and early rest may be the best medicine in trying to minimize downtime.
Asdrubal Cabrera, SS, Cleveland Indians (DTD):
Slipping on the dugout steps is not how an athlete wants to incur an injury. Unfortunately that's precisely how Cabrera ended up with a contusion of his left wrist, and it's lucky it wasn't worse. X-rays taken of his wrist were negative, but as the Cleveland Plain-Dealer reported, it started to bother Cabrera during Saturday's game, so he came out early. Falls on an outstretched hand can often result in a fracture of the forearm or wrist bones but it appears Cabrera escaped both. He sat out Sunday's game and could sit longer if the wrist is still painful so fantasy owners should monitor his status daily.
Kevin Youkilis, 3B, New York Yankees (DTD):
When Youkilis left Saturday's game early because of tightness in his lower back, those familiar with his history may have been a little nervous. That concern would be justified because Youkilis has a fairly extensive history of low back problems including an episode, which required a trip to the DL in 2011. This flare-up appears to be of the minor variety with manager Joe Girardi telling reporters he thinks Youkilis will be available Monday night.
Shane Victorino, OF, Boston Red Sox (DTD):
Victorino also left Saturday's game early due to tightness in his lower back. He sat out Sunday's doubleheader but is expected to return to the lineup Monday. Early Sunday, manager John Farrell had considered using Victorino in the second game, suggesting he was making rapid improvements. Ultimately he was given all of Sunday off but it appears he will be back to face the
Oakland Athletics
.
Freddie Freeman, 1B, Atlanta Braves (placed on DL April 7, activated April 22):
It looks as if the decision to rest Freeman early -- despite his displeasure -- has paid off. ESPN's Jim Bowden reported Monday that manager Frank Wren indicated Freeman has been activated and is ready to play against the
Colorado Rockies
on Monday night. Freeman had been sidelined with a right oblique strain, but it was always considered minor; the Braves were trying to ensure that it remained that way. After a couple of uneventful rehab games, Freeman has been deemed ready to return.
Michael Saunders, OF, Seattle Mariners (placed on DL April 11, could return late in week):
A crash into the outfield wall resulted in a sprained right shoulder for Saunders. Although the team did not issue a timetable initially, it looked as if it could sideline him for an extended time. There are some encouraging signs that Saunders is progressing nicely however, most notably that he took batting practice last Friday. According to Geoff Baker of the Seattle Times, Saunders hopes to return when eligible (April 26) but will need to test throwing with his injured shoulder first. One of the most difficult things to do after an injury such as this is raise the arm completely overhead. Throwing with power will perhaps present more of a challenge than hitting so fantasy owners should monitor his activity closely throughout the week.
Pitchers
Jhoulys Chacin, SP, Colorado Rockies (placed on DL retroactive to April 20):
Chacin was off to a solid start but has been sidelined with a lower back strain that forced him out of Friday's game early. According to the Rockies' official website, Chacin is scheduled to undergo an MRI on Monday. As for now there is no timetable for his return in place. The Rockies have recalled right-hander
Rob Scahill
from Triple-A Colorado Springs to take his place.
[+] Enlarge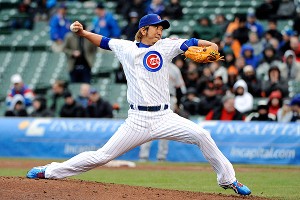 David Banks/USA TODAY SportsKyuji Fujikawa could be back this week to boost the Cubs' bullpen.
Kyuji Fujikawa, RP, Chicago Cubs (placed on DL April 13, could return when eligible, April 28):
Fujikawa suffered a right forearm strain, sending him to the DL, but according to Jesse Rogers of ESPN Chicago, Fujikawa has already begun testing the forearm throwing. If all continues well, Rogers reports Fujikawa will get a couple of rehab outings under his belt this week and could return this weekend.
Brett Myers, SP, Cleveland Indians (placed on DL April 21):
Myers has been fighting some tendinitis in his throwing elbow, but the picture has recently become more complex. The Indians announced via Twitter that Myers was placed on the DL Sunday with tendinitis and a mild UCL sprain. The report also indicated Myers would be shut down for two weeks and would not throw until symptom free. While the suggestion that the UCL sprain is minor is encouraging, it ultimately comes down to function. The fact that Myers experienced a drop in velocity is worrisome, but he also indicated he was not having any pain while pitching. At the very least, fantasy owners should expect him to miss four to six weeks (shutdown time followed by throwing progression), although the timeline ultimately will be dictated by how his elbow responds.
Ted Lilly, SP, Los Angeles Dodgers (opened season on DL, expected return April 24):
Lilly underwent a labral repair of his left (throwing) shoulder last September and was slowed in the spring by the flu. He felt he was ready to pitch in the majors when
Zack Greinke
went down with a clavicle fracture, but the Dodgers preferred to keep him on a rehab assignment, moving
Chris Capuano
to the starting rotation instead. As it turns out, Capuano was moved to the DL with a calf strain last week and Lilly was able to get some extra innings under his belt. According to Dylan Hernandez of the Los Angeles Times, Lilly has confirmed he will start Wednesday against the
New York Mets
. Given the Dodgers' starter woes, a healthy -- and effective -- Lilly is badly needed.
Chad Billingsley, SP, Los Angeles Dodgers (placed on DL retroactive to April 16, could be out for the season):
Did we mention the Dodgers are having some woes with their starting rotation? It looked initially as if Billingsley had survived the scare with his throwing elbow that cropped up last season. He underwent PRP injections in the fall, rested his right elbow, then resumed a progressive throwing program. The Dodgers waited during the offseason, expecting perhaps a bump in the road to recovery as often happens with partial UCL tears, but nothing went wrong with the elbow ... until now.
Billingsley managed well all through the spring but had a delayed start to the 2013 season due to a bruised index finger sustained while he was attempting a bunt. He eventually joined the rotation April 10 but it wouldn't last long. After two starts, Billingsley experienced some renewed elbow pain and now finds himself back on the DL. The bigger concern is that this may signal the beginning of the end of his season. If in fact the UCL tear has progressed to the point where Billingsley cannot function well enough to throw, he will be headed for Tommy John surgery. Given the recovery time from reconstructive elbow surgery, Billingsley stands a chance of losing time into next season if he does not address it quickly. No one wants to send an athlete to surgery when it isn't warranted and there will undoubtedly be careful evaluation of all sides of the equation, but the writing seems to be on the wall. Don't count on seeing Billingsley back in the lineup anytime soon, if at all.
Shaun Marcum, SP, New York Mets (placed on DL April 1, could return late this week):
Marcum has been sidelined since the start of the month with what the team called "nerve inflammation" in his neck. After receiving injections early to help with pain and inflammation, Marcum has been on a slow and steady rehab course. There have been no reports of any setbacks thus far, an encouraging sign. According to ESPN New York's Kieran Darcy, Marcum will throw 70-75 pitches in a rehab outing Monday and, if all goes well, could return to face the
Philadelphia Phillies
on Saturday. This is all positive news for Marcum and the Mets, but it is worth noting that these types of ailments lend themselves to recurrence.
Brett Anderson, SP, Oakland Athletics (DTD):
Anderson has been contending with a sprained right ankle, which resulted in a shortened appearance Friday and a complete day of rest Saturday. Susan Slusser of the San Francisco Chronicle reports that Anderson threw a bullpen Sunday, which went well, and he appears "likely" to make his Wednesday start. The biggest concern with an ankle sprain on the landing leg of a pitcher is that it not throw off his mechanics and risk injury to his throwing arm. The A's must like what they see if they're considering a prompt return.
April, 15, 2013
4/15/13
3:25
PM ET
Every Monday in this space, we'll provide updates on a variety of players to help you make your lineup decisions. We'll specifically try to hit the players who are day-to-day, have just gone on the DL or are ready to return, so that you can better decide whether you can count on them or not.
All projected return timelines should be considered fluid.
Hitters
David Ortiz, DH, Red Sox
(opened season on DL, due back April): It's no secret that Ortiz has been battling inflammation in his heels this spring and chronic Achilles soreness since last year. Slowly and steadily, however, he has been increasing his activity and appears to be not far from rejoining his team. Ortiz began a rehab assignment Thursday with the Pawtucket Red Sox and managed to incorporate some baserunning -- including a slide -- over the weekend. He told ESPN Boston that he had "no hesitation" when running the bases -- a good sign, since that is what had triggered his Achilles issues last season. Red Sox manager John Farrell has indicated he will leave it to Ortiz to say when he's ready to return but estimated it would take approximately 25 to 30 at-bats. Ortiz did not play Sunday because of an illness, but presuming it is short-lived, he could get enough work to rejoin the team late this week. No guarantee this is behind him for the rest of the season but it sounds like Ortiz is reaching a point where he is able to play comfortably.
[+] Enlarge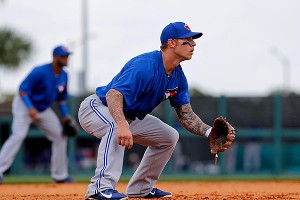 Derick E. Hingle/USA TODAY SportsBrett Lawrie will be playing second base for Dunedin as part of his rehab.
Brett Lawrie, 3B, Blue Jays
(injured March 6, opened season on DL, due back April): Lawrie has been steadily working his way back from a left-sided intercostal strain over the past few weeks. He began a rehab assignment with the Dunedin Blue Jays over the weekend suggesting he is nearing a return, perhaps late this week. With the loss of shortstop
Jose Reyes
for several months to a severe ankle sprain, the Blue Jays are experimenting with Lawrie at second base during his rehab assignment. It is not clear yet whether that experiment will carry over to his major league return. The priority for Lawrie, beyond regaining the rhythm of playing in games, is proving that he can play on back-to-back days without discomfort and can swing the bat without hesitation. Lawrie and his all-out style of play may always present some injury risk but the Jays at least want him to be fully recovered from the spring ailment before activating him.
Chase Headley, 3B, Padres
(injured March 17, opened season on DL, due back April): Headley looks as if he could return this week, although which day that would be is unclear. Headley fractured the tip of his left thumb in March and was originally projected to be out until late April. When X-rays taken last week indicated the fracture was healing well, however, Headley was given the green light to do as much as he was comfortable doing, according to the San Diego Union-Tribune. That activity has progressed from drills -- including taking batting practice from both sides of the plate -- to a rehab assignment which began Friday. So far Headley seems to be comfortable with everything he's tested. Once he demonstrates he can perform offensively and defensively consistently without limitation, Headley could be back in the mix and that could happen any day.
Erick Aybar, SS, Angels
(placed on DL April 13): Aybar bruised his left heel Tuesday when it hit the bag at first base hard as he ran out an infield single and it forced him to leave the game. Now it will force him to miss more extensive time. Although imaging tests appeared to have ruled out a significant injury, the pain associated with heel contusions makes it virtually impossible to put full weight through the foot for some time. According to Alden Gonzalez of MLB.com, Aybar, despite feeling improvement overall, was still having trouble hitting from the right side during batting practice Friday. The rest he will be able to give the heel during a DL stint should allow him to get past this. If all goes well, his absence should not exceed the two weeks.
Yoenis Cespedes, OF, A's
(placed on DL April 13): Cespedes injured his left hand during a slide into second base Friday and was placed on the DL the next day. Imaging tests showed no fracture and the team is calling this a muscle strain, but given that this the injury is to his bottom batting hand, the A's perhaps wanted to take no chances on having him try to press and end up compensating elsewhere. At this point it appears he could return after the minimum 15-day stay.
Coco Crisp, OF, A's
(DTD): Cespedes wasn't the only A's outfielder to injure himself Friday; Crisp exited the same game early after suffering a left groin strain. According to Susan Slusser of the San Francisco Chronicle, Crisp was removed from the game as a precautionary measure after the injury to Cespedes. At this point, Crisp's injury is considered minor and the team considers him day-to-day. Although he didn't play Sunday, he did take batting practice and did some running. It sounds as if he could return as soon as Monday, although the A's have not tipped their hand just yet.
Gordon Beckham, 2B, White Sox
(placed on DL April 10, due back late May/early June): Beckham fractured the hamate bone in his left wrist and will undergo surgery at the Cleveland Clinic on Tuesday. This is the same surgery Giants third baseman
Pablo Sandoval
has undergone on both hands and is not uncommon among hitters. While lingering soreness from scar tissue can make swinging the bat uncomfortable initially, most hitters recover their power within the first few weeks back.
Michael Saunders, OF, Mariners
(placed on DL April 11): Saunders suffered what the team is calling a sprain of his right shoulder when he crashed into the outfield wall last Wednesday. He managed to hang onto the fly ball that sent him to the wall, delivering an out for his team, but the wall took him out for an indefinite period of time. The team has not issued a timetable but fantasy owners should plan on at least a few weeks.
Mike Morse, OF, Mariners
(DTD): On Friday I explained why
Morse's broken finger isn't as serious an injury as it could have been
. In fact, the team expressed hope he could return within three to seven days. Although a Sunday return seemed a little optimistic (and did not end up happening), the Seattle Times reports that manager Eric Wedge hopes to have him available Tuesday (following a team off day on Monday). The key is having him comfortable enough to swing the bat normally, but given the location of the injury, it shouldn't take long.
Franklin Gutierrez, OF, Mariners
(DTD): Seriously, it appears to be hazardous to your health to be a Mariners outfielder. Add Gutierrez to the list of walking wounded with tightness in his groin, which caused him to sit out the weekend games. The Seattle Times reports manager Eric Wedge hopes to have Gutierrez back on Tuesday along with Morse. The concern in the case of Gutierrez is not exacerbating a minor ailment and turning it into a DL-worthy injury. Don't be surprised if Gutierrez sits a bit longer, especially if he is still experiencing discomfort Tuesday.
Jason Kubel, OF, Diamondbacks
(placed on DL April 13): Lingering soreness in his left quadriceps led Kubel to be placed on the DL on Saturday. He hasn't appeared to truly be at full health since the spring, and after undergoing an MRI Saturday for his latest ailment, the decision was made to move him to the DL. It is not clear just yet whether the team expects him to miss more than the minimum time.
Michael Bourn, OF, Indians
(DTD): Expect Bourn to miss several days after requiring five stitches in his right index finger. Bourn was stepped on by White Sox pitcher
Matt Thornton
while sliding headfirst Sunday. The main thing for Bourn is that the cut heals well so that this does not turn into something bigger which would force more time off.
Brian Roberts, 2B, Orioles
(placed on DL April 4): After battling to return following lengthy injury absences the last two seasons, Roberts again finds himself sidelined after getting hurt. Roberts reportedly tore a hamstring tendon when he felt something "pop" in the back of his knee while stealing a base. While the prospects for returning from this injury are good, it most certainly will extend beyond the minimum DL time. He has yet to begin any baseball activities. It would be a surprise if he were to return before early May.
Wilson Ramos, C, Nationals
(placed on DL April 14): The good news is that this injury is not to the same leg which recently underwent ACL reconstruction. The bad news is that the hamstring strain Ramos suffered was enough to send him to the DL. After such a difficult year in 2012, the hope was that Ramos could have a nicer start to the 2013 season. Unfortunately, getting into the groove of the season will be delayed by this setback, which will likely cost him more than the minimum two weeks.
Jason Kipnis, 2B, Indians
(DTD): Kipnis has been battling a sore left elbow for several days, and he was out of the lineup both Saturday and Sunday. This spring, Kipnis reportedly dealt with soreness in his right elbow, which he attributed to the increased throwing that accompanies that time of year. So far, there's been no explanation as to what may be the source of this episode making it hard to evaluate just how worrisome his latest elbow issue is. As of now the Indians are calling Kipnis day-to-day and sound hopeful that he will return after Monday's off day but the vagueness surrounding the injury raises a bit of a concern.
Pitchers
[+] Enlarge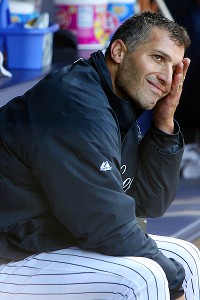 AP Photo/Seth WenigAndy Pettitte will turn 41 on June 15th of this season.
Andy Pettitte, SP, Yankees
(missed last start, expected to start Friday): Back spasms. They happen when you're 40 years old. There's no reason to panic about Pettitte, as he has already indicated that he's feeling better than he did last week. The Yankees still thought it wise to give him a little extra time. According to ESPN New York, Pettitte will throw a bullpen session Tuesday, then start against the Blue Jays on Friday.
Johnny Cueto, SP, Reds
(Placed on DL April 15): Cueto left his Saturday start in the fifth inning with what was initially described as a triceps injury. On Sunday, Ken Rosenthal of Fox Sports reported Cueto is going to be placed on the DL with a lat strain. "Lat" of course refers to the latissimus dorsi muscle, the same muscle Phillies ace
Roy Halladay
strained last year which sent him to the DL for over a month, and the same ailment which has prevented Cubs pitcher
Matt Garza
from pitching yet this year. As with any muscle strain there are varying degrees of injury and the team has not offered much more in the way of specifics. But the lat is integral to a pitcher's throwing motion, and it is likely Cueto will not be permitted to throw for a period of time while allowing the tissue to recover. The time it takes for the soreness to resolve (which will impact the length of time until Cueto is permitted to resume throwing) will determine how long the total recovery will be. It would not be surprising, even if the strain is minor, for Cueto's absence to exceed two weeks.
Matt Harrison, SP, Rangers
(placed on DL April 6): Harrison essentially left his Opening Day start with lower back soreness and has been out ever since. According to the Rangers' official website, Harrison experienced weakness in his left leg, a serious enough sign (suggesting nerve involvement) to send him to the DL. He has undergone epidural injections in his back to help with pain and inflammation but is still in recovery mode. He has yet to throw. Although Harrison is scheduled to be evaluated again this week, it does not appear he will be ready to come off the DL at the end of 15 days. Until he resumes throwing, there is really no timetable to project.
Wandy Rodriguez, SP, Pirates
(DTD): Rodriguez left in the third inning of his April 8 start with a strained left hamstring. He told reporters Saturday that the only thing he can't do is "push off of it" when he tries to pitch, and he is hopeful he will miss only one start. The fact he has not been moved to the DL thus far is a good sign as are his own reports of his progress. As a left-handed thrower, Rodriguez needs power from that left leg, and he is in the best position to know by feel whether it is fully cooperating or not. If all goes well, he could make a start later this week.