Stephania Bell:

Miguel Montero
March, 18, 2011
3/18/11
11:35
AM ET
The mood was festive on St. Patrick's Day in Glendale, Ariz., as the
Los Angeles Dodgers
hosted the
Arizona Diamondbacks
. The Dodgers sported green jerseys and caps in honor of the occasion and there were leprechauns on hand for the opening ceremonies.
The best sight for fans of both teams, however, had to be the uneventful (read: healthy) participation of several key players.
[+] Enlarge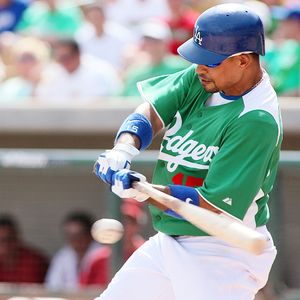 Jake Roth/US PresswireRafael Furcal was limited to just 97 games in 2010 because of injuries.
For the Dodgers, shortstop
Rafael Furcal
batted in his usual leadoff spot. Furcal has battled hamstring issues in the past that have caused him to miss significant time. Questions about his durability (he is now 33) and whether he will be able to maintain his speed have crept up. But Furcal is also known for being an exceptionally hard worker who takes his health seriously. The Dodgers have to be hoping that he will be able to replicate a season healthwise similar to 2009, when he played in 150 games.
Right fielder
Andre Ethier
scored a run in the bottom of the fourth when fellow outfielder
Matt Kemp
hit one out of the park that brought him home. Ethier, who had a tricky right pinkie injury last season that affected his performance at the plate, is eager to have a healthier 2011. As the Los Angeles Times reported earlier this year, Ethier also dealt with knee and ankle issues in 2010, which affected his play especially late in the season. If Ethier is able to finish out this year the way he started the last one, the Dodgers could be in for a treat.
The Dodgers do have a couple of players who are nursing injuries. Pitcher
Jon Garland
is out with an oblique abdominal injury and likely will start the season on the disabled list, according to the team's website. Perhaps more noteworthy than Garland's injury is the fact he has been on the DL only once, in 2001 after he was hit by a line drive. With right-handed starters who sustain this injury averaging just over 30 days on the disabled list, the Dodgers have to be hoping that Garland is indeed "average." If all goes well, he could return in April, but the primary goal is to ensure that there are no recurrences once he does return.
Pitcher
Vicente Padilla
underwent surgery on his right (throwing) forearm in February to alleviate pain caused by undue pressure on the nerve there. Nerve entrapments of this type are commonly seen in individuals with highly developed musculature in the forearm yet are not frequently reported in pitchers. The Dodgers' website reports Padilla is expected to be sidelined until May. His return to competition will undoubtedly depend on how his throwing progression proceeds over the next several weeks.
The Diamondbacks could use a little luck of the Irish after dropping nine straight games in Cactus League play. Their good fortune may lie in the health of a couple of key players who dealt with injuries in 2010. Outfielder
Justin Upton
has showed no signs of holding back at the plate this spring. Upton injured his left shoulder late last year in what he called a "freak" injury (swinging at a bad pitch), according to the Diamondbacks' website, and his season ended prematurely as a result. Upton did not require offseason surgery, instead undergoing a course of rehab to strengthen his shoulder. So far it appears to be working for him.
Diamondbacks catcher
Miguel Montero
is off to a fresh start this spring as well. Last year, Montero tore the meniscus in his right knee, a particularly challenging injury for a catcher, given the amount of time spent in the crouch position. His offensive performance upon his return seemed to take a step back and, according to the Phoenix examiner.com, Montero never felt fully healthy. With the long-term health of his knees a consideration, Montero skipped winter ball, instead staying in Phoenix to train over the offseason. If he stays healthy, there's no reason to think he can't deliver on the expectations set for him a year ago.
May, 10, 2010
5/10/10
1:43
PM ET
The bad news: There are more injured players this week than there were a week ago. The good news: Not every one of them has required a trip to the disabled list.
Take
Joe Mauer
, for instance. What sounded potentially very serious at first turned out to be not so bad after all. That said, there are several more injured players who still might end up on the DL. It's important to take it all in context, though. It's May. Teams have learned over time that it's better to play it safe in May and have an athlete put the injury behind him. No one wants to lose a star in the middle of a late-season pennant race, especially if it's because of a recurring injury.
On that note, here are the players I'm looking at this week:
Troy Tulowitzki, SS, Colorado Rockies (status unknown):
Tulowitzki made an early exit from Sunday's game after making an awkward movement in the fifth inning while attempting to turn a double play. It was later reported that he had suffered a quadriceps (the large muscle on the front of the thigh) strain and that the injury was not considered serious.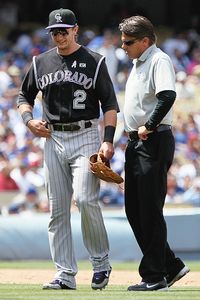 Jeff Gross/Getty ImagesTroy Tulowitzki left Sunday's gane because of a quad injury.
In 2008, Tulowitzki did suffer a serious quadriceps (or quad) injury that kept him out for months. But it was his left thigh that was hurt two years ago when he actually tore the tendon attachment away from the bone. According to the Rockies' official website, this injury is to his right quad. Tulowitzki described it as "the same spot, but a different leg." His status is currently being described as day-to-day, but he did undergo an MRI on his leg.
The hope here is that Tulowitzki will be able to avoid a trip to the DL, but muscle strains have repeatedly shown us that it's not always clear-cut at the outset. In fact, if the injury is near the tendinous attachment, it might be slower to heal. Given the fact that he has a history of a serious injury in the same area on the opposite leg, it would not be surprising if he is brought back slowly. Fantasy owners should make alternate plans for this week.
Joe Mauer, C, Minnesota Twins (back in lineup):
Mauer's deep heel bruise has progressed faster than manager Ron Gardenhire expected when he initially called it a "week-to-week" injury. From last week to now, Mauer has shown drastic improvements. He was able to pinch-hit Saturday (although he struck out and didn't have to run), then served as a DH on Sunday and showed no ill effects from the injury. According to the Twins' official website, Gardenhire said of Mauer, "He was fine, swinging, running the bases. ... He said his foot felt really good." It now appears Mauer will resume catching Tuesday.
Nelson Cruz, OF, Texas Rangers (15-day DL, April 27):
It took Cruz a while to be placed on the DL as he tried to play through what he described initially as a hamstring "cramp." A few ups and downs later, it was clear that he needed more time to rest the injury, or he risked making it much worse. The extra few days seem to have been a big help. Cruz has been running full-speed for several days and is now poised to begin a brief rehab assignment.
According to the Rangers' official website, Cruz will travel to Oklahoma City on Tuesday and play two games with the Triple-A club. He is then expected to rejoin the Rangers and be activated Thursday or Friday. There's never any certainty when it comes to hamstring strains, but Cruz has had no flare-ups for several days and appears on track to pick up where he left off.
Chris Young, SP, San Diego Padres (15-day DL, April 7):
Young is frustrated, and so are his fantasy owners. Young (shoulder) is not close to returning from his DL stint; in fact, he now has more questions than answers.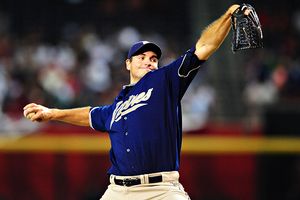 Mark J. Rebilas/US PresswireChris Young is still in a holding pattern.
The most puzzling aspect is the timeframe of this particular setback. Young had an unusually smooth recovery and rehab. He traveled the road from August shoulder surgery (for a labral debridement) to return to pitching in spring training without so much as a speed bump. But in April, he began experiencing discomfort. Since proactively going on the DL to make sure he did not exacerbate anything in the shoulder, Young has struggled in his most recent throwing sessions and has not been able to get through a rehab assignment game.
In an effort to get to the root of his persistent soreness, Young had a repeat MRI with contrast, according to the Padres' website, and those pictures were forwarded to Dr. James Andrews for a second opinion. (Contrast scans are often utilized in the shoulder to better visualize the joint.) Young also underwent a standard MRI later in the week, the results of which did not offer anything of note. This is simultaneously both good and bad news for Young. It's good in that there is no major structural issue that would compromise his season, but bad in that Young does not get the definitive answers he is looking for. It is unclear at this time whether Andrews' opinion on the contrast scan has come back.
Presuming there are no new findings, this represents an all-too-common scenario in a pitcher's shoulder. The athlete experiences discomfort and a failure to perform without a clear-cut reason. All a pitcher can do in that case is continue with the rehab process and forge ahead, one small step at a time, as his symptoms allow.
Young is too diligent with his rehab and too determined of an athlete for us to write off his season just yet. Sure, he has had some injury challenges, but one of those was a comebacker that broke his nose and caused small fractures in his skull, hardly something that could have been prevented. In the meantime, it might be time for his fantasy owners to replace him on their roster since it will be another few weeks before he is even re-evaluated and could be much longer still before he returns.
Etc.
Ryan Madson, RP, Philadelphia Phillies (60-day DL, April 30):
Here's another example for all you young ballplayers reading out there on why not to hit or kick things in frustration. Those "things" have a way of winning a confrontation. Madson recently broke his left toe when he kicked a metal chair after an outing. And he didn't just give himself a hairline crack. No, he managed to break his toe so badly that it required surgery to insert multiple pins to fix it. The healing process will take so long that the Phillies just transferred Madson to the 60-day DL. The hope is that the team has him back after the All-Star break, but keep in mind that it will be a challenge to keep his throwing arm strong while his toe recovers.
Miguel Montero, C, Arizona Diamondbacks (15-day DL, April 11):
All was quiet on the western front when it came to news of Montero's rehab -- until Friday. The Arizona Republic reported that Montero is starting to feel better now, three weeks after having meniscus surgery on his right knee. Although Montero says he'd like to return before the six-week timetable the team set initially, it doesn't sound likely. "The trainers don't want to take chances," Montero told the Republic. "And neither do I. I want to be 100 percent healthy so I don't go out there and hurt myself again." Given that he also indicated he has a ways to go with his rehab, six weeks is looking optimistic.
Mike Cameron, OF, Boston Red Sox (15-day DL, April 20):
Cameron (abdominal strain) continues to make solid progress. Apparently he looked good enough in batting practice and drills before Sunday night's game that he is heading out on a rehab assignment. The Boston Globe reports that he will DH on Monday for Triple-A Pawtucket and will progress to playing the field Tuesday. He will then be re-evaluated Wednesday.
Something to remember, though, is that there was some discussion initially as to whether Cameron might need surgery. So far he has been able to move forward with the rehab process, but he has yet to truly test the injury by running at full speed. These types of injuries can be deceiving because an athlete can have no signs or symptoms whatsoever ... until he tries to explode at full speed. While there is reason to be encouraged by how quickly he has come along, count me among the cautious until he crosses this final hurdle.
Jacoby Ellsbury, OF, Red Sox (15-day DL, retroactive to April 12):
After several days of taking batting practice, it appears Ellsbury is starting to improve. However, according to The Boston Globe, Ellsbury is not quite ready to join teammate Cameron on a rehab assignment. Since this is a pain issue, along with the fact that Ellsbury's four cracked ribs have had a month of healing, this is not necessarily about fear of reinjury. It really just comes down to performance. The Red Sox need assurance that Ellsbury is comfortable making plays when necessary, going full bore and without hesitation. Until he's ready to test the uncontrolled, unpredictable environment of playing in a game, he will continue with the current program.
Carlos Beltran, OF, New York Mets (15-day DL, retroactive to March 26):
Beltran claims he's feeling better since receiving a custom-fitted knee brace on his last visit to Colorado. The big issue at that time was that Beltran was not able to run without pain when tested and was therefore not cleared to return to running activities. Beltran told the New York Daily News that he thinks he will be able to start running soon and that the only limitation is, well, running. He says he is hitting the ball well and feeling stronger, but as he points out, "Running is the thing that will dictate everything." How true that is.
While the brace might help shift some stresses in Beltran's knee, the question is whether it will be enough for him to tolerate the high impact of running. Again, the procedure Beltran underwent in January did not fully restore his knee to pristine condition; the goal was to allow him to be functional. If he can't progress beyond his current status in the near future -- meaning if he can't get to a point soon where he can actually run -- one must wonder what the next step will be.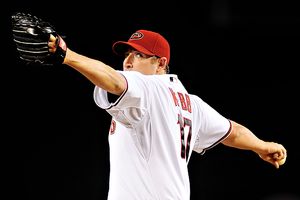 Mark J. Rebilas/US PresswireIt's an important week in Brandon Webb's recovery.
Brandon Webb, SP, Diamondbacks (60-day DL, April 4):
Speaking of moving targets on return dates, Webb's has been pushed back too many times to count. His last regular-season game was in April -- of 2009. A few weeks ago, Webb said he felt like he had made good strides in his rehab, according to the Diamondbacks' website. It's important for players who are going through lengthy, arduous rehab programs to find the glass-half-full moments since they must keep themselves motivated. Webb's activity this week will tell fantasy owners whether they should be motivated to keep Webb on their DL roster. He is expected to throw from the mound this week, something he has not yet been able to do consistently because of his shoulder. We will be watching closely to see if the results are different this time around.
Yunel Escobar, SS, Atlanta Braves (15-day DL, retroactive to April 30):
Escobar is looking to return from a left adductor (groin) strain this weekend when eligible to come off the DL. Escobar has had no setbacks since taking batting practice and running, according to the Braves' official website. Clearly the most challenging concerns with this type of injury at his position are the explosive, unexpected movements. Just like
Rafael Furcal
with his hamstring strain and
Jimmy Rollins
with his calf injury, Escobar as a shortstop needs to demonstrate that he can move quickly without pain or limitation. Assuming he continues well, look for him to return to the lineup Saturday.
Rafael Furcal, SS, Los Angeles Dodgers (15-day DL, retroactive to April 28):
Speaking of Furcal, don't forget he is eligible to come off the DL this week. He was operating at close to full recovery when he was actually placed on the DL. Fantasy translation: The team just wanted a little more insurance time and his roster spot, and Furcal should come back full-speed when able to return Friday.
If you have any injury questions you want answered in the blog, drop a note in
my mailbag
, or stop by my Tuesday chats.
April, 12, 2010
4/12/10
12:09
PM ET
Arizona Diamondbacks
starting catcher
Miguel Montero
will not be starting anything but his rehab in the near future after suffering a right knee injury Saturday.
In the second inning against the
Pittsburgh Pirates
, Montero was attempting to run out a grounder to the pitcher. It appeared that he landed awkwardly while trying to avoid the tag, resulting in the injury to his knee.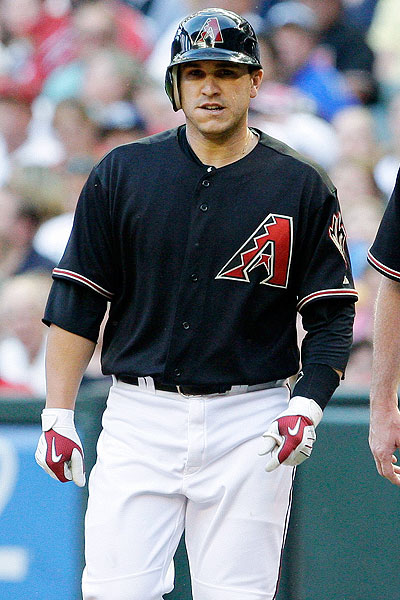 AP Photo/Ross D. FranklinThe rigors of catching could slow down Miguel Montero's return.
According to Associated Press reports, Montero described the feeling as "at that moment I just felt something pop." A look at the video replay of the incident seems to show Montero pulling up ever so slightly, with his right leg landing such that the knee rotates inward. Montero then hobbled off the bag, grabbed hold of his knee and bent over at the waist, clearly uncomfortable. Although he was able to walk off the field under his own power, the injury signaled the end of Montero's evening.
An MRI taken after the game Saturday indicated a meniscus tear, which will require surgery. The team will not yet speculate on a timetable for a return, as Montero is undergoing further evaluative tests Monday.
An arthroscopic procedure to address a meniscus tear would typically require anywhere from 3-6 weeks before returning to play. The timetable depends to some degree on the nature of the surgery. In the case where a small flap of torn meniscus is removed (meniscectomy), the recovery is somewhat quicker. If the injured meniscus is repaired, the knee has to be protected longer (meaning activity has to be controlled for a more extended time) to allow the repair to heal.
Either way, Montero's case is made more complicated by one thing in particular: his position.
As a catcher, he has to spend a significant amount of time in a deep squat, a position that requires not only full range of motion of the knee but also the ability to bear the weight of the body while fully flexed. Catchers also have to explode quickly out of their stance to make defensive plays. That action demands strong contraction of the quadriceps, the muscle on the front of the thigh.
Following any knee surgery, both range of motion and quadriceps strength are impaired. It takes time to eliminate swelling and restore full function around the knee. While a player at another position might be able to get away with returning from this procedure at less than 100 percent, it's just not possible as a catcher due to the unique demands of the position. Beyond his position-specific demands, Montero will also need to be able to turn on the knee to swing the bat as well as run the bases without hesitation before he can return.
Even if Montero's injury turns out to be "just" a meniscus tear, plan on his being sidelined for at least six weeks.
Chris Snyder
will serve as the starting catcher while Montero is out.