Stephania Bell:

Mike Cameron
March, 11, 2011
3/11/11
10:44
AM ET
The physical therapist in me liked what I saw Thursday when I checked in on the
Boston Red Sox
as they faced the
Tampa Bay Rays
in Port Charlotte, Fla. Three key players whose 2010 seasons were cut short by injuries were on the field making plays as if they hadn't missed a beat.
Fantasy baseball owners and Red Sox fans will be happy to know that the team as a whole is on the mend following an injury-plagued 2010 season. Only two key players I wanted to check on did not play Thursday. But second baseman
Dustin Pedroia
(foot surgery) was out of the lineup only because he will be making the lengthy bus trip to Kissimmee on Friday when the Red Sox face the
Houston Astros
. And newly acquired first baseman
Adrian Gonzalez
(shoulder surgery) has taken batting practice and could see game action next week.
Corner infielder
Kevin Youkilis
was at third base Thursday and played like the seasoned veteran he is, hitting his first double of the spring. Forget that he had thumb surgery in August to repair a torn adductor muscle (at the base of the thumb). Youkilis was hitting and throwing as far back as October, making his injury seem like a distant memory.
Meanwhile, outfielder
Jacoby Ellsbury
turned in four innings in center field. He didn't manage a hit, but he looked to be in great shape. Most importantly, he didn't make any physical contact with the ground or another player; considering his 2010 woes, that's a good thing. By all accounts, those who have been watching him this spring, including ESPNBoston.com writer Gordon Edes, have been saying he looks solid and appears to be past the rib injuries that plagued him in 2010.
[+] Enlarge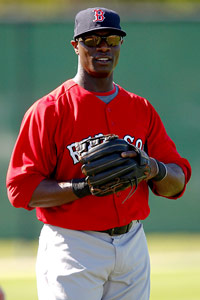 Derick E. Hingle/US PresswireOutfielder Mike Cameron, 38, says he is eager to get back into a baseball groove after offseason surgery to address a sports hernia.
The player who garnered the bulk of my attention, however, was
Mike Cameron
. The 38-year-old outfielder (who, incidentally, is in better shape than many twenty-somethings) served as a DH on Thursday and put his body through some physical tests. Cameron, who underwent surgery in the offseason to address a bilateral sports hernia, showed no hesitation diving headfirst for third base when he had to return quickly following a lineout. He got up carefully, dusted himself off, then scored on the next play. Two innings later, Cameron took a more traditional foot-first slide into second base but was out as the result of a double play. Perhaps most importantly, from my perspective, Cameron's play was instinctive and aggressive, not guarded or tentative.
After the game, Cameron confirmed that he feels great physically. Although he was the DH Thursday, he has spent time in the field and feels that he has put himself through all the necessary paces to know he's fully healthy.
Pointing out that he has been rehabbing "since Aug. 27, four days after surgery," Cameron says he's physically ready; it's just a matter of getting reps in after being out for so long.
"I've been out of baseball since July," Cameron said. "Now it's just a matter of getting back in the groove. I'm feeling good, and my swing feels more powerful now."
And while he has been out of baseball since July, he was playing hurt long before that. Cameron said he was injured first on the right side, then about 10 days later on the left. Sports hernia injuries most notably sap an athlete's power, making it virtually impossible for him to run. I asked him how he had been able to last as long as he did. Cameron acknowledged that he lost his power -- both in the field and at the plate -- but he wanted to try to keep going as long as he could. He would play one day, then take two off, but eventually it was time to shut it down for the season.
"It was tougher mentally than anything," said Cameron when speaking about the lack of energy he felt from his body when trying to perform. "But I had to adjust to what was given to me. I think it's good for me now to understand what the body goes through."
Cameron says he is focused on staying healthy, and he stays loose in the dugout -- he has extra energy to burn when serving as the DH -- by doing simple exercises and stretches.
Now that's something a physical therapist likes to see.
May, 10, 2010
5/10/10
1:43
PM ET
The bad news: There are more injured players this week than there were a week ago. The good news: Not every one of them has required a trip to the disabled list.
Take
Joe Mauer
, for instance. What sounded potentially very serious at first turned out to be not so bad after all. That said, there are several more injured players who still might end up on the DL. It's important to take it all in context, though. It's May. Teams have learned over time that it's better to play it safe in May and have an athlete put the injury behind him. No one wants to lose a star in the middle of a late-season pennant race, especially if it's because of a recurring injury.
On that note, here are the players I'm looking at this week:
Troy Tulowitzki, SS, Colorado Rockies (status unknown):
Tulowitzki made an early exit from Sunday's game after making an awkward movement in the fifth inning while attempting to turn a double play. It was later reported that he had suffered a quadriceps (the large muscle on the front of the thigh) strain and that the injury was not considered serious.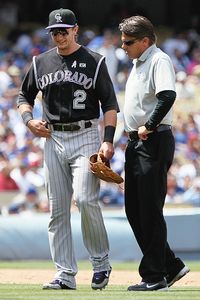 Jeff Gross/Getty ImagesTroy Tulowitzki left Sunday's gane because of a quad injury.
In 2008, Tulowitzki did suffer a serious quadriceps (or quad) injury that kept him out for months. But it was his left thigh that was hurt two years ago when he actually tore the tendon attachment away from the bone. According to the Rockies' official website, this injury is to his right quad. Tulowitzki described it as "the same spot, but a different leg." His status is currently being described as day-to-day, but he did undergo an MRI on his leg.
The hope here is that Tulowitzki will be able to avoid a trip to the DL, but muscle strains have repeatedly shown us that it's not always clear-cut at the outset. In fact, if the injury is near the tendinous attachment, it might be slower to heal. Given the fact that he has a history of a serious injury in the same area on the opposite leg, it would not be surprising if he is brought back slowly. Fantasy owners should make alternate plans for this week.
Joe Mauer, C, Minnesota Twins (back in lineup):
Mauer's deep heel bruise has progressed faster than manager Ron Gardenhire expected when he initially called it a "week-to-week" injury. From last week to now, Mauer has shown drastic improvements. He was able to pinch-hit Saturday (although he struck out and didn't have to run), then served as a DH on Sunday and showed no ill effects from the injury. According to the Twins' official website, Gardenhire said of Mauer, "He was fine, swinging, running the bases. ... He said his foot felt really good." It now appears Mauer will resume catching Tuesday.
Nelson Cruz, OF, Texas Rangers (15-day DL, April 27):
It took Cruz a while to be placed on the DL as he tried to play through what he described initially as a hamstring "cramp." A few ups and downs later, it was clear that he needed more time to rest the injury, or he risked making it much worse. The extra few days seem to have been a big help. Cruz has been running full-speed for several days and is now poised to begin a brief rehab assignment.
According to the Rangers' official website, Cruz will travel to Oklahoma City on Tuesday and play two games with the Triple-A club. He is then expected to rejoin the Rangers and be activated Thursday or Friday. There's never any certainty when it comes to hamstring strains, but Cruz has had no flare-ups for several days and appears on track to pick up where he left off.
Chris Young, SP, San Diego Padres (15-day DL, April 7):
Young is frustrated, and so are his fantasy owners. Young (shoulder) is not close to returning from his DL stint; in fact, he now has more questions than answers.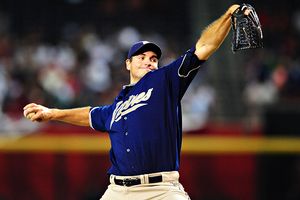 Mark J. Rebilas/US PresswireChris Young is still in a holding pattern.
The most puzzling aspect is the timeframe of this particular setback. Young had an unusually smooth recovery and rehab. He traveled the road from August shoulder surgery (for a labral debridement) to return to pitching in spring training without so much as a speed bump. But in April, he began experiencing discomfort. Since proactively going on the DL to make sure he did not exacerbate anything in the shoulder, Young has struggled in his most recent throwing sessions and has not been able to get through a rehab assignment game.
In an effort to get to the root of his persistent soreness, Young had a repeat MRI with contrast, according to the Padres' website, and those pictures were forwarded to Dr. James Andrews for a second opinion. (Contrast scans are often utilized in the shoulder to better visualize the joint.) Young also underwent a standard MRI later in the week, the results of which did not offer anything of note. This is simultaneously both good and bad news for Young. It's good in that there is no major structural issue that would compromise his season, but bad in that Young does not get the definitive answers he is looking for. It is unclear at this time whether Andrews' opinion on the contrast scan has come back.
Presuming there are no new findings, this represents an all-too-common scenario in a pitcher's shoulder. The athlete experiences discomfort and a failure to perform without a clear-cut reason. All a pitcher can do in that case is continue with the rehab process and forge ahead, one small step at a time, as his symptoms allow.
Young is too diligent with his rehab and too determined of an athlete for us to write off his season just yet. Sure, he has had some injury challenges, but one of those was a comebacker that broke his nose and caused small fractures in his skull, hardly something that could have been prevented. In the meantime, it might be time for his fantasy owners to replace him on their roster since it will be another few weeks before he is even re-evaluated and could be much longer still before he returns.
Etc.
Ryan Madson, RP, Philadelphia Phillies (60-day DL, April 30):
Here's another example for all you young ballplayers reading out there on why not to hit or kick things in frustration. Those "things" have a way of winning a confrontation. Madson recently broke his left toe when he kicked a metal chair after an outing. And he didn't just give himself a hairline crack. No, he managed to break his toe so badly that it required surgery to insert multiple pins to fix it. The healing process will take so long that the Phillies just transferred Madson to the 60-day DL. The hope is that the team has him back after the All-Star break, but keep in mind that it will be a challenge to keep his throwing arm strong while his toe recovers.
Miguel Montero, C, Arizona Diamondbacks (15-day DL, April 11):
All was quiet on the western front when it came to news of Montero's rehab -- until Friday. The Arizona Republic reported that Montero is starting to feel better now, three weeks after having meniscus surgery on his right knee. Although Montero says he'd like to return before the six-week timetable the team set initially, it doesn't sound likely. "The trainers don't want to take chances," Montero told the Republic. "And neither do I. I want to be 100 percent healthy so I don't go out there and hurt myself again." Given that he also indicated he has a ways to go with his rehab, six weeks is looking optimistic.
Mike Cameron, OF, Boston Red Sox (15-day DL, April 20):
Cameron (abdominal strain) continues to make solid progress. Apparently he looked good enough in batting practice and drills before Sunday night's game that he is heading out on a rehab assignment. The Boston Globe reports that he will DH on Monday for Triple-A Pawtucket and will progress to playing the field Tuesday. He will then be re-evaluated Wednesday.
Something to remember, though, is that there was some discussion initially as to whether Cameron might need surgery. So far he has been able to move forward with the rehab process, but he has yet to truly test the injury by running at full speed. These types of injuries can be deceiving because an athlete can have no signs or symptoms whatsoever ... until he tries to explode at full speed. While there is reason to be encouraged by how quickly he has come along, count me among the cautious until he crosses this final hurdle.
Jacoby Ellsbury, OF, Red Sox (15-day DL, retroactive to April 12):
After several days of taking batting practice, it appears Ellsbury is starting to improve. However, according to The Boston Globe, Ellsbury is not quite ready to join teammate Cameron on a rehab assignment. Since this is a pain issue, along with the fact that Ellsbury's four cracked ribs have had a month of healing, this is not necessarily about fear of reinjury. It really just comes down to performance. The Red Sox need assurance that Ellsbury is comfortable making plays when necessary, going full bore and without hesitation. Until he's ready to test the uncontrolled, unpredictable environment of playing in a game, he will continue with the current program.
Carlos Beltran, OF, New York Mets (15-day DL, retroactive to March 26):
Beltran claims he's feeling better since receiving a custom-fitted knee brace on his last visit to Colorado. The big issue at that time was that Beltran was not able to run without pain when tested and was therefore not cleared to return to running activities. Beltran told the New York Daily News that he thinks he will be able to start running soon and that the only limitation is, well, running. He says he is hitting the ball well and feeling stronger, but as he points out, "Running is the thing that will dictate everything." How true that is.
While the brace might help shift some stresses in Beltran's knee, the question is whether it will be enough for him to tolerate the high impact of running. Again, the procedure Beltran underwent in January did not fully restore his knee to pristine condition; the goal was to allow him to be functional. If he can't progress beyond his current status in the near future -- meaning if he can't get to a point soon where he can actually run -- one must wonder what the next step will be.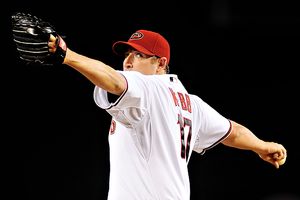 Mark J. Rebilas/US PresswireIt's an important week in Brandon Webb's recovery.
Brandon Webb, SP, Diamondbacks (60-day DL, April 4):
Speaking of moving targets on return dates, Webb's has been pushed back too many times to count. His last regular-season game was in April -- of 2009. A few weeks ago, Webb said he felt like he had made good strides in his rehab, according to the Diamondbacks' website. It's important for players who are going through lengthy, arduous rehab programs to find the glass-half-full moments since they must keep themselves motivated. Webb's activity this week will tell fantasy owners whether they should be motivated to keep Webb on their DL roster. He is expected to throw from the mound this week, something he has not yet been able to do consistently because of his shoulder. We will be watching closely to see if the results are different this time around.
Yunel Escobar, SS, Atlanta Braves (15-day DL, retroactive to April 30):
Escobar is looking to return from a left adductor (groin) strain this weekend when eligible to come off the DL. Escobar has had no setbacks since taking batting practice and running, according to the Braves' official website. Clearly the most challenging concerns with this type of injury at his position are the explosive, unexpected movements. Just like
Rafael Furcal
with his hamstring strain and
Jimmy Rollins
with his calf injury, Escobar as a shortstop needs to demonstrate that he can move quickly without pain or limitation. Assuming he continues well, look for him to return to the lineup Saturday.
Rafael Furcal, SS, Los Angeles Dodgers (15-day DL, retroactive to April 28):
Speaking of Furcal, don't forget he is eligible to come off the DL this week. He was operating at close to full recovery when he was actually placed on the DL. Fantasy translation: The team just wanted a little more insurance time and his roster spot, and Furcal should come back full-speed when able to return Friday.
If you have any injury questions you want answered in the blog, drop a note in
my mailbag
, or stop by my Tuesday chats.
May, 5, 2010
5/05/10
12:52
PM ET
Another week, another slew of injuries. This week, though, in addition to adding names to the injury roster, we learned that several players are going to be spending some additional time on the disabled list. Never music to a fantasy owner's ears but it's always better to be prepared.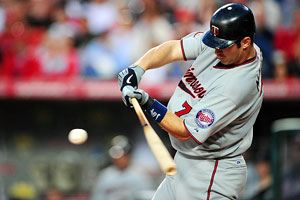 Gary A. Vasquez/US PresswireJoe Mauer may miss a few more games, but he probably isn't "week-to-week" as Twins manager Ron Gardenhire mentioned earlier.
Joe Mauer, C, Minnesota Twins (day-to-day):
Mauer has been dealing with a deep bruise in his left heel since Friday night when a sharp lunge to first base left him in pain. It sounded dire by Sunday when manager Ron Gardenhire described Mauer's condition as "week-to-week" instead of day-to-day. Gardenhire also made it clear the Twins would not be rushing Mauer back, telling the Minneapolis Star-Tribune, this injury is "something you don't screw around with."
It now sounds like it's not as bad as it could have been. According to the Twins' website, an MRI confirmed a soft tissue injury (as in, there is no fracture) and the healing will be assessed on a daily basis. Mauer is reportedly feeling better and is running in a pool to maintain conditioning while eliminating impact that could aggravate the situation. It appears that the Twins have avoided a move to the DL for Mauer ... at least so far.
Rafael Furcal, SS, Los Angeles Dodgers (15-day DL, retroactive to April 28):
Furcal has been pestered by a hamstring injury for the last week. On Tuesday, the Dodgers determined that more time was needed and the decision was made to place Furcal on the DL. The issue now is how concerned fantasy owners should be. Does the DL just buy Furcal another week of healing time or is this injury enough to keep him out significantly longer?
Before panic sets in, it appears that the answer is the former. Furcal has been progressing well with his hamstring injury but is not quite ready to resume full speed activity. As a shortstop, he needs to make explosive defensive movements. As a leadoff hitter, he is likely to be exposed to more sprinting situations. Consequently, Furcal is at far greater risk of a setback if he returns at less than full strength. Since it's May and not September, there is no reason for the Dodgers to take that chance. The move to the DL appears to have been largely precautionary. Expect Furcal to return when eligible, barring, of course, a setback.
Manny Ramirez, OF, Los Angeles Dodgers (15-day DL, April 23):
Speaking of Dodgers placed on the DL for precautionary reasons, Ramirez began a rehab assignment Tuesday and the news is so far, so good. Ramirez, who suffered a Grade I calf strain, has been running without incident for several days. He is eligible to return May 9 and appears on track to meet that target.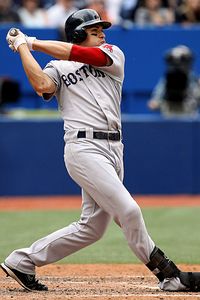 Tom Szczerbowski/US PresswireJacoby Ellsbury would like to be comfortable swinging the bat before he returns from four broken ribs.
Jacoby Ellsbury, OF, Boston Red Sox (15-day DL, retroactive to April 12):
Ellsbury continues to recover from the pain that comes with having four broken ribs.
From last week's injury blog:
Although it can take four to six weeks for a rib fracture to heal, from the standpoint of activity this is a symptom-based condition meaning whatever he can tolerate, he can do. The fact that four bones were broken, however, tells us that it will take longer to tolerate just about everything.
That statement still holds true. The Boston Globe reported that when pressed for a timetable earlier in the week, Ellsbury declined to provide one, reminding everyone that he does indeed have broken bones "and they need to heal." It may feel like forever to fantasy owners, but it's only been three weeks, very reasonable when you consider his injury.
Ellsbury did take a positive step Tuesday when, according to the Red Sox's website, he took batting practice before the team's game against the
Los Angeles Angels
. Let's see how Ellsbury feels the day after this new activity before we get too excited. And keep in mind, he likely will require a rehab assignment to get his body back in the groove of playing both offense and defense. He may very well be more than just a few days away from returning. The road back may continue to feel slow, but at least we are seeing some tangible progress.
Jimmy Rollins, SS, Philadelphia Phillies (15-day DL, April 13):
A week ago, we pointed out that Rollins had not done any explosive movement that would really test his calf; now we know why. According to the Phillies' website, Rollins still feels discomfort in his right calf when he has to move to his left while fielding ground balls. This makes perfect sense from an injury standpoint. As he makes that initial lateral movement to make a play on a ground ball traveling to his left, he is forced to push his full body weight through that calf muscle. While it might not be bothersome in straight-ahead running, making a quick directional movement from a stationary position requires significantly more power. The discomfort Rollins feels is his calf's way of telling him that it's not healed.
Consequently, the Phillies have expanded the time frame for his return from four weeks to six. This is hardly shocking; we have said from the outset that these injuries are unpredictable and easily aggravated. The Phillies don't want him to come back only to be forced out again. The idea is to have him back for the remainder of the season. Fantasy owners should set their sights on the latter part of May.
Kerry Wood, RP, Cleveland Indians (15-day DL, retroactive to March 26):
Last week we said that Wood was scheduled to begin a rehab assignment soon. He did. We also said that when pitchers face live hitters, the adrenaline goes up and the body can react. It's also a time for pitchers to work on their velocity and location. Wood had a chance to get some work in and found out what he still needed to work on before rejoining his team.
Wood may have given up six runs in less than an inning in a rehab outing, but on the positive side, he reported feeling good afterward. Wood told the Akron Beacon Journal, "that's the most important thing for me." Certainly given his injury history that couldn't be more true. Wood may require another couple rehab appearances before he retakes the closer role with the Indians but his return date appears close.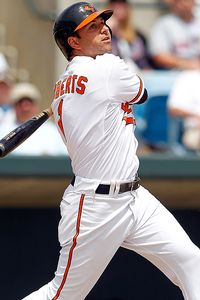 J. Meric/Getty ImagesBrian Roberts' seemingly uncertain return frustrates many owners.
Brian Roberts, 2B, Baltimore Orioles (15-day DL, April 10):
The quote heard 'round the fantasy world: "It could be three weeks, it could be three months" was Roberts' assessment of his situation, according to the Orioles' website. For fantasy owners wondering whether they should still hold out any hope, it's worth noting that Roberts was quick to add that he did not really think it would be three months.
Nonetheless, we have outlined here in past weeks that Roberts' back condition has the potential not only to linger, but to continue to be problematic across the season. Disc problems are notoriously difficult and this is behaving no differently. Roberts is still very limited in his activity as the team brings him along slowly. Because there are many hurdles to overcome, it is hard to establish a clear timeline. That brings frustration for players and fantasy owners. At this point, it's anyone's guess, including Roberts', as to when he'll be able to return.
Curtis Granderson, OF, New York Yankees (15-day DL, May 2):
When Granderson pulled up sharply while rounding the bases Saturday and hobbled toward third base. it was obvious he had pulled something, it just wasn't clear exactly what it was. We have learned that he suffered a Grade II groin strain, and according to ESPN's Buster Olney, Granderson is expected to miss a month.
This is not dissimilar to the Grade II muscle strain that the Phillies' Rollins is dealing with, other than the exact location of the injury. Grade II, also called a moderate strain, represents the widest range of injury somewhere between a minor strain with no visible tissue damage (Grade I) and a complete muscle tear (Grade III). As we have seen with Rollins, it takes time for the tissue to heal, and the most challenging aspect of recovery is regaining explosiveness and speed, a critical component of Granderson's game. Fantasy owners should hope for four weeks, be prepared for six and know that his timetable could still fall outside of those parameters depending how his rehab goes.
Jorge Posada, C, New York Yankees (day-to-day):
Posada's calf strain is being called mild following an MRI this week. According to the New York Daily News, Posada is not expected back before Friday. Let's face it, at age 38, these types of injuries are more apt to occur. The most fortunate thing for the Yankees is that the strain was not more serious, like Rollins' was. It looks like this will not land Posada on the DL, but if it doesn't progress as expected, he won't be an automatic start for the weekend series, even if it is the Red Sox. Fantasy owners need to be sure to check pregame lineups.
Etc.
Cliff Lee, SP, Seattle Mariners:
If there were any lingering doubts as to how Lee would fare coming off the DL following his abdominal strain, he seems to have put those to rest. Lee pitched seven scoreless innings in his first start of the season while dishing up eight strikeouts.
Mike Cameron, OF, Boston Red Sox:
Cameron seems to be progressing nicely with an abdominal strain that initially appeared as if it might require surgery. In fact, he could be headed for a rehab assignment within a week.
Erik Bedard, SP, Seattle Mariners:
Bedard continues to move forward in his throwing progression, slightly ahead of schedule as he recovers from shoulder surgery. After a bullpen session Friday, Bedard was projected to move up to a simulated game this week. According to manager Don Wakamatsu, Bedard has adjusted his mechanics to place less stress on his throwing shoulder. The key will be whether he can maintain these mechanics as he begins to face hitters. The best case has him returning the end of May, but don't be surprised if it stretches a bit longer.
Mariano Rivera, RP, New York Yankees:
Rivera shrugged off the stiffness in his left side as no big deal, much as one would expect. Pain on the opposite side of the trunk from the throwing arm always raises the specter of an oblique issue, but Rivera's confidence is convincing. So is the fact he threw a bullpen session before Tuesday's game. This does not appear to be something that will limit him beyond a few days.
Huston Street, RP, Colorado Rockies:
As a pitcher returns in his throwing progression, one big hurdle comes when he moves from throwing on flat ground to throwing off a mound. Street overcame that hurdle Tuesday when he threw a bullpen session and experienced no discomfort in his shoulder afterward, according to the Examiner. The plan is for Street to throw in an extended spring training game next followed by a rehab assignment. If all goes well, he should be back with the team within a few weeks.
Jeff Weaver, SP, Los Angeles Dodgers:
Weaver has been doing well in his simulated games and is expected to be activated Friday. Apparently the back issue he was dealing with was minor as these things go and he has recovered quickly, as expected.
From my mailbag
Cameron (Atlanta):
Are any injuries really freak injuries? I mean, I realize that if a player slips on water in his kitchen and falls on his wrist and breaks it, then that is a freak injury. But, you often hear that somebody pulled their hamstring in a "freak injury." I would have to argue that it is never really a freak injury. I think these types of injuries happen for various reasons, especially in a non-contact sport such as baseball. For example, someone is carrying around extra weight and didn't put in the work in the offseason, they didn't warm up and stretch properly, they have tight quads or hamstrings that cause one or the other to overcompensate that eventually leads to a pull or strain. Or one part of the body has been severely overworked and leads to another part of the body being vulnerable. If any of those situations happen, then technically the injury could have been prevented if the athlete worked harder and took better care of their body. What say you?
Stephania Bell:
What a great question! This is one of those philosophical questions where I'm not sure we really ever have a definitive answer. As you point out, the true "accident" such as slipping on the wet floor, or stepping in a lawn divot that is hidden from view, even a car accident in which there is no fault on the part of the injured party ... these could all be described as freak injuries.
At the same time, there are certainly "unusual" (as in uncommon) injuries that occur in sports that may be more likely to happen, as you point out, because of inadequate warm-up, less than ideal fitness or some other contributing factor. In medicine, we always feel that individuals with better fitness tend to recover better and faster from injury. In some cases, the more skilled individual may even be able to avoid an injury that would have felled the average person. To that end, we spend a lot of time encouraging proper fitness and, when possible, tailoring that fitness to the individual's activity. Someone who lifts repeatedly at work needs to be "fit" for that job, just as a baseball pitcher needs to tailor his exercise program to support his occupation.
Great food for thought, though. And if it encourages anyone to spend a little extra time on core strengthening or flexibility to help prevent injury, then we've accomplished something!
If you have any injury questions you want answered in the blog, drop a note in
my mailbag
, or stop by my Tuesday chats.