Stephania Bell:

Mike Hart
December, 9, 2010
12/09/10
5:16
PM ET
This week's Thursday night matchup has the
Tennessee Titans
hosting the
Indianapolis Colts
.
For the Titans, wide receiver
Kenny Britt
is off the injury report and is expected to see his first game action since tearing his hamstring six weeks ago. While his recent practice activity and this "noninjury" status are good news, he is still not out of the woods. Hamstring strains, as we've seen many times this season, are very susceptible to aggravation. For that reason, especially given the severity of Britt's injury, it would not be surprising for Britt to see a light workload in his first game back. Fantasy owners who have better options may want to hold him for this week, but if he comes through unscathed, he could be very valuable the rest of the way.
For the Colts, the injury list remains as lengthy as ever. Already ruled out are
Austin Collie
,
Joseph Addai
and
Mike Hart
. None of those three being out is particularly surprising, but it does make those with a questionable status more critical.
Donald Brown
was on the injury report because of his ankle, but the injury appears to be minor. He practiced fully Tuesday and Wednesday and is expected to start. Tight end
Jacob Tamme
is listed as questionable with a knee ailment (note that early in the week it was called a hamstring). Tamme returned to limited practice Wednesday after sitting out early in the week. My sources seem to think he will play and that he may have been given additional rest because of the short week. Nonetheless, be sure to check game-time inactive reports. Wide receiver
Reggie Wayne
, also listed as questionable, practiced fully Tuesday and Wednesday and is expected to play, as he always does.
Here's who else you might be concerned about heading toward the Week 14 playoff rounds:
Quarterbacks
[+] Enlarge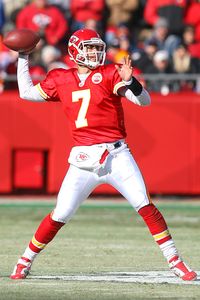 Tim Umphrey/Getty ImagesIt's very possible Matt Cassel could play just days after an appendectomy, but it would be very risky for fantasy owners.
Matt Cassel, Kansas City Chiefs:
Cassel might be the most discussed injury concern in the past 24 hours as it was discovered that Cassel underwent a laparoscopic appendectomy on Wednesday morning. Essentially, he had his appendix removed using a more modern, less invasive approach that includes a scope or camera, as opposed to the old-fashioned "open" procedure which is a bigger cut and longer recovery.
The big question for fantasy owners, since the Chiefs have indicated Cassel's status is questionable and that there is really a 50 percent chance he plays, is will he indeed suit up against division rival the
San Diego Chargers
?
The answer: Maybe, but fantasy owners need to have insurance and probably should look elsewhere for a playoff-round quarterback.
To better outline the variables involved in determining whether Cassel could play this weekend, I spoke with Dr. Efren Rosas, Chief of Surgery at Kaiser Permanente in San Jose, Calif. Rosas has performed thousands of laparoscopic procedures and is an advocate of the less invasive approach, in part, because of the more rapid recovery for the patient. He was quick to say that not all laparoscopic procedures are identical, nor are all presentations of appendicitis, and several factors could influence whether Cassel could be available Sunday. It should be noted that Rosas has no specific knowledge regarding Cassel's care.
First comes the question of whether Cassel had a three-incision or single-incision surgery (in other words, how many surgical cuts are there on the abdomen). Three incisions are more standard, although one incision is gaining popularity in some places (such as Los Angeles), because there is only one surgical scar. With three cuts, each incision can be smaller, whereas with one cut, all of the surgical instruments have to pass through the same entry so the cut is larger. Following surgery, smaller incisions (typically one-quarter to one-half inch in size) mean less likelihood of developing a hernia (where abdominal contents push outward -- not pretty). That translates to less activity restriction after surgery with three incisions versus one.
Rosas, who treats patients of all ages, including competitive athletes, said, "I release all my patients, no matter what type of job or sport they have, to return at two weeks and if they're doing really well, they're clear within one." When asked if four days would be possible for an NFL quarterback, Rosas said that while it may not be likely, "If he's not too sore and can function effectively, I wouldn't completely rule it out." Rosas pointed out that from a medical standpoint, the tissue should heal within a few days, and that the biggest limitation, presuming no setbacks (such as infection) along the way, would be pain from where the surgical cuts were made. That pain may be amplified by the fact that a throwing athlete uses his oblique abdominal muscles, especially for distance and velocity, meaning long downfield throws might be tougher to make.
Another variable would be the condition of the appendix at the time of surgery. A severely inflamed or ruptured appendix would result in significant abdominal inflammation, complicating the recovery. A minor case of appendicitis in a healthy younger male may mean less inflammation in the surrounding tissue and quicker healing time. Only the surgeon who was involved in Cassel's case has an appreciation for all of the factors in play and ultimately will make the decision as to Cassel's status when appropriate.
Pittsburgh Steelers
quarterback
Ben Roethlisberger
underwent a laparoscopic appendectomy in 2006 and did not play in the first game of the season, a Thursday night game just days after surgery. Roethlisberger did start 10 days later in Week 2. It is worth noting, however, that Roethlisberger also was coming off a summer filled with injuries, having suffered facial fractures, a jaw fracture and a concussion in a motorcycle accident about three months earlier.
It would not be surprising if Cassel were to travel to San Diego with the team and ultimately be held back from starting. And although it appears unlikely, it's not completely inconceivable that he could play. Nonetheless, this is a fantasy situation to avoid for many reasons. This is a late game, so Cassel would likely be listed as questionable at best and even if he starts, may prove not quite up to finishing. It's best to wait a week and see how he's faring. The Chiefs may ultimately opt to do the same.
Ben Roethlisberger, Pittsburgh Steelers:
Roethlisberger has a recently surgically repaired nose to go with his ailing right foot this week. Actually, the rest for his nose may have given his foot a little extra time off. Roethlisberger has been fitted with a protective shield that he will wear Sunday. Most importantly, there has been really no doubt about the fact he is expected to play.
Brett Favre, Minnesota Vikings:
As of this writing, Favre has not yet tested his throwing. Thursday was to be the test date. Favre rested the arm early in the week to allow his sprained sternoclavicular (SC) joint some healing time. Tick tock ...
Running Backs
Ryan Torain, Washington Redskins:
Torain was listed as a limited participant in Wednesday's practice although, according to The Washington Post, coach Mike Shanahan indicated that Torain did full work. Torain told the Post that he "feels great" and is eager to get back into the lineup. It looks as though he is on pace to rejoin his team on the field this week. Torain has essentially been out since Halloween after injuring his hamstring that day. He tried to return a couple of weeks later but aggravated the injury in warm-ups. Naturally, there will be some concern as to how Torain's hamstring will fare in his first game in over a month, and more concern over how the workload will be divided. Torain is likely to resume a lead role, but whether fantasy owners can count on that in his first outing is questionable.
Wide Receivers
[+] Enlarge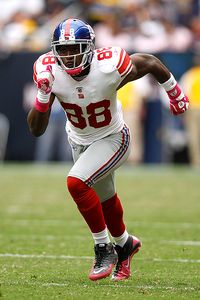 Chris Graythen/Getty ImagesHakeem Nicks has missed the past two games with a leg injury, so if he returned this week, it would be a week ahead of schedule.
Hakeem Nicks and Steve Smith, New York Giants:
This tandem affects many fantasy rosters and everyone is eager to see what its status is for this week. Nicks was able to do about 60 percent of team drills Wednesday, according to Ralph Vacchiano of the New York Daily News. Nicks seemed confident that he would be playing; the medical staff gave him the official clearance Thursday, according to Mike Garafolo of the Newark Star-Ledger. Nicks practiced on a limited basis again Thursday, and if Friday goes well, looks as if he'll play. Teammate Smith has been practicing on a limited basis as well but also appears as if he'll return to game action this week. Smith has been nursing a partially torn pectoral muscle.
Vincent Jackson, Malcom Floyd and Legedu Naanee, San Diego Chargers:
The Chargers face a critical game without some critical personnel. Then again, that won't be a new scenario for them as they've played musical chairs at the wide receiver position all season. Jackson is still recovering from his calf strain and while it still seems likely that he will not play this weekend, the San Diego Union-Tribune reported Jackson did practice on Thursday. Naanee, who had come back from a hamstring strain two weeks ago but suffered a setback, is unlikely to play. That leaves Floyd, who so far is doing well. Or at least well enough to not be on the injury radar right now. It appears that Floyd will play this week and likely have more opportunities.
Mike Williams and Ben Obomanu, Seattle Seahawks:
Williams has an ankle sprain superimposed on his foot injury and it's not looking good for him as of now. Although the Tacoma News-Tribune reports Williams is out of his walking boot, he has not practiced and likely won't all week. While the Seahawks hold out some hope that Williams could feel well enough to play Sunday, even they don't sound overwhelmingly convinced. Obomanu suffered a deep laceration on his right hand that could make it difficult to catch balls. As a receiver, that does comprise a significant portion of the job description, meaning this injury may prevent him from being able to play. Obomanu will also have until Sunday to see how his hand is healing, but they could both be late-afternoon game-time decisions.
Tight Ends
Antonio Gates, San Diego Chargers:
Gates' condition hasn't changed much, but his status midweek has. Gates told the San Diego Union-Tribune "Antonio Gates will play," acknowledging the third-person reference. Maybe it's easier to deal with the pain by taking oneself out of one's body. He admits the pain is still excruciating but knows this is a must-win situation. Barring some unforeseen dramatic setback, Gates will gut it out again.
Todd Heap, Baltimore Ravens:
Heap's own words belied his concern about his injured hamstring. Heap told the Baltimore Sun that he has rushed back in the past from a hamstring injury, "and that pretty much cost me the rest of the season." The Ravens play on Monday night and Heap has not practiced this week, both of which signal to fantasy owners that they should seek a replacement.
Other
• Minnesota Vikings wide receiver
Percy Harvin
did not practice Wednesday or Thursday as he continues to battle his latest migraine episode. Fantasy owners need to at least start being a bit concerned, as Harvin sat out Week 13 and has not returned to practice.
• Vikings running backs
Adrian Peterson
and
Toby Gerhart
were limited early in the week but, at this point, seem in no danger of sitting out. Proactive rest seems to be the rationale here.
• In addition to their wide receiver concerns, the New York Giants saw running back
Ahmad Bradshaw
on the injury report this week because of his wrist. Bradshaw did not practice Wednesday but returned to full practice Thursday and is expected to play Sunday.
[+] Enlarge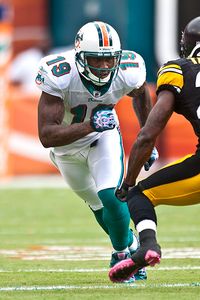 Ronald C. Modra/Sports Imagery/Getty ImagesBrandon Marshall has missed the past two games with a hamstring injury and he's scored just one touchdown all season.
•
Miami Dolphins
wide receivers
Brandon Marshall
and
Brian Hartline
are both on the injury report this week. Marshall has resumed limited practice after sitting out another game in Week 13 and appears on track to play this Sunday. Hartline had surgery on his finger and was not in practice Wednesday. There has been some concern as to whether he would return at all this season. The Dolphins have not formally ruled him out but it appears he will miss Week 14, maybe longer. This might mean a lot of
Davone Bess
.
•
New Orleans Saints
running back
Pierre Thomas
continues to practice fully this week and is expected to return to the playing field Sunday.
Chris Ivory
is probably in no danger of losing significant touches, but Thomas owners who have patiently held on to him may want to keep an eye on how he performs. He could have value in the home stretch.
•
Detroit Lions
running back
Jahvid Best
(toes), and wide receivers
Calvin Johnson
(groin) and
Nate Burleson
(hamstring) all appear on the injury report this week but all are expected to play Sunday.
•
Jacksonville Jaguars
wide receiver
Mike Sims-Walker
returned to limited practice Wednesday after missing Week 13 with his high ankle sprain. This is somewhat encouraging, but given that Sims-Walker reported his injury as a high ankle sprain, we need to see him successfully complete the week before getting too excited.
• The
Tampa Bay Buccaneers
version of
Mike Williams
is nursing a sore knee which could present a problem for Sunday. According to the St. Petersburg Times, coach Raheem Morris says Williams has been working through this "for a couple of weeks." The Buccaneers are hopeful that some rest during the week will allow him to play Sunday but he could be a game-time call.
•
Oakland Raiders
tight end
Zach Miller
continues to be limited by his foot, which seriously impacted his pass-catching productivity. It's hard to hope for much based on the past few weeks and fantasy owners should be securing another option at least for early playoff rounds. The bad news for tight ends moves over to the Pittsburgh Steelers, where
Heath Miller
was on the receiving end of a scary hit last Sunday night that left him with a concussion. Miller did not practice Wednesday and is not expected to play this week. Fortunately in Atlanta,
Tony Gonzalez
's sprained ankle does not appear to be affecting his chances of playing Sunday. He told the Atlanta Journal-Constitution he would be fine, adding, "Especially at my age, I have to enjoy this." Gonzalez sees the playoffs coming and he's not going to miss out.
See you at Friday's injury chat (3-4:00 p.m.) and we'll have the latest injury updates affecting Week 14 in the Saturday morning blog!
December, 7, 2010
12/07/10
3:35
PM ET
p>This just in. The
New England Patriots
are a pretty good team. Just as important for fantasy owners, their key skill position players are pretty healthy too. Enough said. The
New York Jets
' skill position players are actually fairly healthy. Let's hope that their performance Monday night -- or lack thereof -- didn't cost you a playoff spot.
As we approach fantasy playoff time, every player on your fantasy roster matters. It's not just a question of who's active or not, it's whether that active player can be productive, especially if he's coming off an injury or trying to play through one.
With that in mind, here's who fantasy owners might be concerned about heading into Week 14:
[+] Enlarge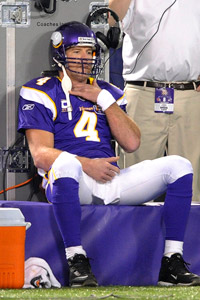 AP Photo/Hannah FoslienA clavicle injury is the latest ailment that threatens Brett Favre's consecutive games streak.
• Why not start with the one player who seems to draw the most attention when he's injured?
Minnesota Vikings
quarterback
Brett Favre
lasted only a few plays Sunday before exiting with what is being called a sprained sternoclavicular (SC) joint. The SC joint is where the clavicle (collarbone) meets the sternum (breastbone). In other words, the joint is located right at the center of the chest, just below the neck. Because the other end of the clavicle forms the point of the shoulder (acromioclavicular or AC joint), an injury to the SC joint will affect the ability to throw. The SC joint is protected by strong ligaments to help prevent displacement of the clavicle and injuries here are relatively uncommon, but can occur, usually as a result of trauma. In sports, the trauma is either a direct hit to the joint (kick or blow to the chest) or a fall on the shoulder which translates force through the clavicle, injuring the joint. There can be a fracture or break of the clavicle (there was no fracture in Favre's case) or a sprain.
A sprain is any ligament injury, and as with all sprains, the degree of ligament damage determines the severity of the sprain. In Favre's case, we do not know the degree of sprain, so this could range from minor ligament damage to subluxation or displacement resulting from more serious ligament damage. According to the Minneapolis Star-Tribune, coach Leslie Frazier said doctors did not tell him the degree of sprain but did say the injury is "not something that can surgically be attended to." The fact that Favre did not require surgery tells us that it was not the most serious version of a subluxed SC joint (typically where the collarbone is displaced behind the sternum, dangerously encroaching on delicate structures). In the absence of a surgical situation, the standard treatment is rest and ice to help control pain and swelling, perhaps some treatment of the soft tissue in the area which may be in spasm (some of the neck muscles, for instance) and then a lot of wait and see. Sometime a few days of rest will allow the bulk of the pain to resolve, depending on the severity of the injury.
Presuming Favre is medically cleared to play, the main concern will be whether he is able to throw the ball effectively. Doctors can provide pain-relieving injections for the game, but given the location of the injury, there is no external brace or harness that would offer much in the way of support. It's always important, however, to place an athlete's injury in the context of that particular player. Favre has started 297 consecutive games. If he doesn't start this week, do we really expect Favre to start again in two or three weeks? Is his career going to end with him sidelined because of pain (as opposed to not being medically cleared to play), thus fading away into the end of the season? It's a hard scenario to envision. While he may have no choice if the injury is insurmountable, at this point it's too early to bet against him. As far as fantasy owners are concerned, there are better choices at quarterback for Week 14. This could come down to a game-time decision and even if Favre starts, it's always possible that he doesn't finish. This situation is too risky on which to hang fantasy playoff hopes.
• Sticking with the Vikings, running back
Adrian Peterson
actually seemed to emerge from the game better than when he started it! Three touchdowns and over 100 yards would make anyone feel better, but most importantly, Peterson's ankle reportedly felt no worse after all the work. He should be good to go again this Sunday.
[+] Enlarge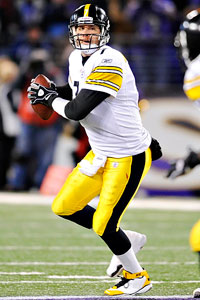 Rafael Suanes/US PresswireBen Roethlisberger's foot seemed to hold up Sunday, but he emerged from the game with a broken nose.
•
Pittsburgh Steelers
quarterback
Ben Roethlisberger
had his face slightly rearranged Sunday night by
Baltimore Ravens
defensive tackle
Haloti Ngata
. As if Roethlisberger's ailing foot wasn't enough, he endured a bloody and broken nose and emerged victorious. Pretty impressive. Roethlisberger underwent surgery Monday to reset his nose and is expected to miss some practice time this week, which probably benefits his right foot as well. The Steelers plan to have him available Sunday.
•
Carolina Panthers
running back
Mike Goodson
sprained his right AC joint late in the game Sunday. According to the Gaston Gazette, Goodson says he originally injured the shoulder several weeks ago and it was aggravated during a kickoff return by an opponent's direct blow with a helmet. Goodson seems to think the injury is not too severe, but this may have cemented
Jonathan Stewart
as the primary back going forward.
•
Washington Redskins
coach Mike Shanahan told reporters Monday that he expects running back
Ryan Torain
to be in practice this week. Torain actually was listed as a limited participant Friday, but the team was not comfortable returning him to the lineup just yet. Looks like this could be the week he returns, but fantasy owners beware of the dreaded timeshare.
• Another returning running back this week is likely to be the
New Orleans Saints
'
Pierre Thomas
, who has not played since injuring his ankle in Week 2. Thomas was far more active in last week's practice than in previous weeks, and the Saints were hinting even then at a Week 14 sighting. The likelihood of his return was confirmed Monday by coach Sean Payton. According to the New Orleans Times-Picayune, Payton says he remains "cautiously optimistic" about Thomas' availability Sunday, adding, " ... I would say based on the way he practiced last week, that there is a lot of optimism he will be involved in this plan." Still, the Saints have shown that they will be cautious with a running back in his first game back (think:
Reggie Bush
on Thanksgiving Day) and
Chris Ivory
did enough last week to earn the majority share of carries. Thomas may be decent insurance for fantasy owners to have though in the event something happens to Ivory.
• There were a couple of tight ends added to the injury list Sunday.
Atlanta Falcons
tight end
Tony Gonzalez
rolled his left ankle Sunday, which he blamed on the slick surface at Tampa's Raymond James Stadium. According to the Atlanta Journal-Constitution, Gonzalez said he wore long cleats because of the surface and they "roll easily." The good news is that he expects to play in Week 14. Meanwhile, Baltimore Ravens tight end
Todd Heap
strained his hamstring Sunday night and so far the outlook is not too encouraging for this week. Fantasy owners should plan on an alternative.
[+] Enlarge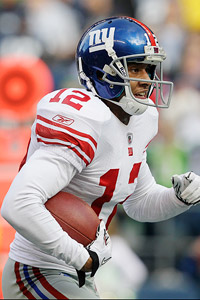 AP Photo/Elaine ThompsonThe Giants' Steve Smith is hoping to return from injury in time for the fantasy playoff push.
• The
New York Giants
are hoping to get their two injured wide receivers back in the near future.
Hakeem Nicks
may be available this week depending on whether he can practice in advance. Nicks, who has a healing leg wound following a
fasciotomy procedure
, is hopeful to return to practice Wednesday. Teammate
Steve Smith
is recovering from a partial tear of his pectoral muscle. He has missed four games and could miss another, depending how this week goes. Smith hopes to try practicing Wednesday with the goal of seeing some playing time Sunday but knows he would still be limited. In fact, according to the Newark Star-Ledger, Smith says he expects to be uncomfortable for the remainder of the season. The muscle is under strain when being stretched (when the arm is extended to make a catch) and when contracting (as it would with bringing the arm across the body or pushing off) and the goal is to ensure that Smith does not suffer a setback. To that end, he will likely wear a protective harness that limits his motion but will still need to guard against overdoing it.
• The
San Diego Chargers
continue to be challenged by various injuries. Fantasy owners are eager to hear whether receiver
Vincent Jackson
will be available, something that won't be known until later in the week. The plan is to test his calf strain with some running in the early part of the week. Meanwhile,
Legedu Naanee
suffered an apparent setback to his hamstring and is looking doubtful for this weekend. Tight end
Antonio Gates
continues to have pain but also continues to fight through it. Running back
Ryan Mathews
was active Sunday but did not get in the game. That's one way to stay healthy.
•
Seattle Seahawks
receiver
Mike Williams
returned from a foot injury Sunday only to leave the game early with a sprained ankle. The Tacoma News-Tribune reports that it is a first degree sprain (the most minor) and the Seahawks are optimistic that he could be available Sunday. More to come later in the week.
• The Indianapolis Star reports that running back
Mike Hart
aggravated his ankle injury Sunday. With
Joseph Addai
appearing still a ways away from returning, expect
Donald Brown
to start again Thursday night.
• Thursday night should herald the return of one of the
Tennessee Titans
from injury. Wide receiver
Kenny Britt
, who has missed time with a serious hamstring strain, is no longer on the injury report. Britt practiced last week but the Titans opted to give him a few more days. The first game back is always a big test for a hamstring injury, but fantasy owners should keep an eye on Britt's performance. If he does well, it could be a good sign for his value throughout the remainder of the fantasy playoffs.
We will continue to update these injuries and others as the week progresses. Check back for the latest injury updates affecting Week 14 on Thursday and Saturday!
November, 2, 2010
11/02/10
5:21
PM ET
As many had predicted,
Brett Favre
started for the
Minnesota Vikings
on Sunday. He didn't finish, but it wasn't his ankle that took him out of the game. Meanwhile, the
Tennessee Titans
announced last week that wide receiver
Kenny Britt
would not miss any more playing time for disciplinary reasons. Unfortunately, he likely will miss significant playing time as a result of injury. And the
Indianapolis Colts
, well, they still found a way to win despite the overwhelming number of injuries to their skill position players that continued Monday night.
With six teams on bye again Sunday, fantasy owners need to get a jump on their waiver-wire competition. Here are some names to keep an eye on after Week 8.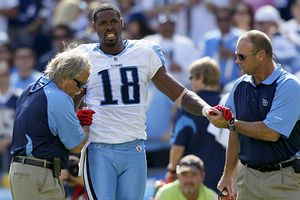 AP Photo/Gregory BullAfter going off for 225 yards and three scores in Week 7, Kenny Britt had no catches in Week 8 before leaving with a hamstring injury.
Kenny Britt, WR, Tennessee Titans:
Britt did not start the Week 7 contest after his alleged involvement in a bar fight but was electrifying for two-and-a-half quarters nonetheless. Fantasy owners were happy to hear that Britt would not miss any more playing time for disciplinary reasons and looked forward to an even more productive Week 8. But it didn't happen. Britt was forced out of the game in the first quarter by a right hamstring injury that looked to be serious when it happened. Jim Wyatt of The Tennessean reported that Britt was seen "grabbing his hamstring" during practice throughout the week. Perhaps it was a sign of something bigger lurking under the surface, but it was not enough to keep Britt from practicing full speed all week leading up to Sunday's game.
Although Titans coach Jeff Fisher has indicated that Britt is expected to miss some time with the injury, he does anticipate his return. According to The Tennessean, Fisher said, If it was a season-ending injury, I would tell you right now it is season-ending. No, it is not." Fisher went on to say that there would be more information after the Titans' Week 9 bye and that until then, the plan would be to treat Britt's injury "very aggressively."
Fantasy owners know from experience that serious hamstring injuries require time, above all else, to heal and should seek a replacement now.
Zach Miller, TE, Oakland Raiders:
Miller has been such a fantasy star at the tight end position that his numbers from Sunday -- or lack thereof -- came as a bit of a shock. Miller was limited last week by a foot injury that obviously compromised him during the game. The day after the game, Miller was seen on crutches, clearly a measure to take pressure off his painful arch.
Vittorio Tafur of the San Francisco Chronicle reports that coach Tom Cable expects Miller to play against the
Kansas City Chiefs
this weekend. So what are fantasy owners to expect? It's hard to imagine that a painful arch will be significantly improved within a week, although the early unloading (not putting weight on the arch in order to alleviate stress on the area) may help. It would not be surprising to see Miller held out of practice early in the week. Late-week practices would go a long way toward inspiring confidence that the pain will not severely restrict Miller again in Week 9. Stay tuned.
Ryan Torain, RB, Washington Redskins:
Despite his early success while filling in for the injured
Clinton Portis
, one of the concerns about Torain has been whether he could stay on the field. Not that his talent was ever in question, just his durability, given his history of serious injury. Fantasy owners can now be legitimately nervous, as Torain was forced to exit Sunday's game early with a left hamstring strain.
According to The Washington Post, Torain felt the hamstring pull on the final running play of the second quarter. After the game when Torain was asked whether the injury was serious, he responded with "hard to say." The Post reported that an MRI revealed no structural damage, and head coach Mike Shanahan is hopeful that Torain will be ready for the team's next game after the bye week. In the event he is not able to go, it likely would be
Keiland Williams
, who stepped in when Torain went out Sunday, to get the Monday night start.
Portis, who suffered a Grade III groin tear in Week 4, "took a couple plays in practice" Tuesday, according to Rich Campbell of the Fredericksburg (Va.) Free Lance-Star. Although his new activity is encouraging, there is still a lot of work to be done before Portis is ready to return. Increased speed and agility work as well as tolerance of full practice will all have to come before he returns to play. The Post notes that Shanahan does not expect Portis in the lineup the week after the bye, although a definitive timetable has not been laid out.
Other injury notes heading into Week 9:
• In addition to losing Britt in Week 8, the Titans saw quarterback
Vince Young
leave the field early with an aggravation of his previous ankle injury. The Tennessean reports that Young is likely to rest most of this week while the team is on bye but could return to practice next week. It's much too soon to write Young out of the mix for Week 10, but fantasy owners will want to keep an eye on whether he's back in practice to start the week.
• Minnesota Vikings wide receiver
Percy Harvin
caught his left foot in the turf and had to be assisted off the field in the first quarter. He ended up returning to the game shortly afterward but was clearly limping in pain following the game. According to the St. Paul Pioneer Press, Harvin said of his ability to last the entire game, "It probably was adrenaline that got me through." Now that the adrenaline has worn off, it will be a matter of seeing just what Harvin can do on that ankle as the week goes on to determine whether he can play.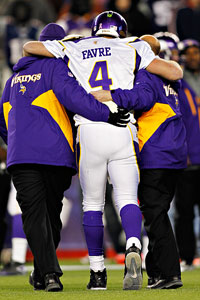 Greg M. Cooper/US PresswireEven though Brett Favre did not finish Sunday's game after a chin laceration, it appears he will keep his consecutive-games streak alive this week.
• Favre was able to move well enough to start Sunday but ended up leaving the game after suffering a chin laceration that required eight stitches to close. Initially it looked as though the injury could have been much worse, but there were reportedly no broken bones. As for his ability to go in Week 9, Favre offered this: I'm ready to play next week," Favre said. "Nobody knows my body like me. I think I'll be all right, ready to play next week." He was right last time. Whom Favre will throw to with
Randy Moss
gone and Harvin ailing might be the bigger question this week.
• The Colts saw yet another running back leave a game due to injury.
Mike Hart
, who got the start Monday night in place of the injured
Joseph Addai
, left the game with an ankle injury. Hart was expected to undergo an MRI on Tuesday. Meanwhile,
Donald Brown
saw his first game action in a month, but his playing time was limited. It will probably come close to game time again before we know who will run the ball for the Colts in Week 9.
•
Houston Texans
wide receiver
Andre Johnson
showed his toughness Monday night as he continued to play despite aggravating his right ankle late in the game. As we've been saying all along, this ankle injury is a perpetual source of pain for Johnson based on the demands of his position and the physical way he plays the game. In the absence of taking multiple weeks off to let it fully heal -- which Johnson is not going to do -- the ankle has the potential to flare up during a game. As long as he can play and fight through it, he will. So expect Johnson to continue to tough it out unless or until it becomes physically impossible for him to run.
•
Seattle Seahawks
quarterback
Matt Hasselbeck
was harassed all day Sunday, and it finally caught up to him. He suffered a concussion in Week 8, but although coach Pete Carroll sounds very optimistic about his return, Hasselbeck will have to meet all postconcussion medical criteria to be cleared to play. It doesn't help matters that tackle
Russell Okung
suffered another high ankle sprain, this time to his left side. The Seahawks have indicated that this injury appears less serious than the right ankle injury that sidelined Okung earlier in the season, and they hope to have him back in practice this week. We shall see.
• In other Raiders news, Vittorio Tafur of the San Francisco Chronicle reports that coach Tom Cable expects wide receiver
Louis Murphy
to miss another game to continue healing from his chest contusion. Although Murphy told the San Jose Mercury News he felt fine Sunday, he understood why the team held him out of contact. Said Murphy, "... with me coughing up blood and having internal bleeding, they didn't want to take any chances with that." Understood. Meanwhile, quarterback
Bruce Gradkowski
says his injured throwing shoulder (AC sprain) is now feeling better. Cable has maintained all along that Gradkowski is the starter when healthy.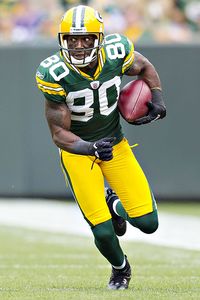 Jeff Hanisch/US PresswireAfter 133 consecutive games with at least one catch, Donald Driver has now been held without a reception in two straight games.
•
Green Bay Packers
wide receiver
Donald Driver
aggravated the quadriceps injury that has been nagging him the past few weeks. Driver limped off the field Sunday, and after two consecutive weeks with no receptions, it is no surprise to hear that he will not play in Week 9, according to Bill Michaels of WTMJ radio in Milwaukee.
• The
San Francisco 49ers
managed to eke out a victory in London but lost tight end
Vernon Davis
in the process, as he aggravated the ankle injury that had deemed him questionable entering the week. No official word on how serious this setback is, but according to the San Francisco Chronicle, Davis doesn't seem to think it's serious. The team is on bye in Week 9, so he could get some extra rest, but the Chronicle reports Davis plans to "run some routes" this week. Let's see what he actually does first, but the early news sounds encouraging for Davis' availability in Week 10.
•
Michael Vick
is expected to start at quarterback for the
Philadelphia Eagles
on Sunday. Vick has returned to practice and, according to The Philadelphia Inquirer, said he experienced "no soreness at all" with throwing. That's good news, but it's a far cry from taking contact. Vick's rib cartilage injury has the potential to cause him discomfort at the very least and severe pain at the worst, depending on the amount and type of contact he absorbs in any given game. So although the plan is for Vick to start, fantasy owners should keep insurance handy in the event there is a setback. Meanwhile, teammate
DeSean Jackson
has returned to limited practice after his concussion. His response to activity will be taken into account daily, and his status could come down to the wire.
•
New Orleans Saints
running back
Reggie Bush
was not able to return to the amount of activity he predicted last week, placing his status for this week in that much more jeopardy. Bush still has many hurdles to cross before returning to game play. Teammate
Pierre Thomas
appears to be even further from returning, as he was placed back on crutches last week and is doing no football activity. Thomas' situation appears murkier than it did a few weeks ago. It is worth keeping a close eye on their activity as the week progresses.
We will continue to update these injuries and others as the week progresses with much more to come on Thursday.