Stephania Bell:

Mike Lowell
July, 1, 2009
7/01/09
12:54
PM ET
They say good things happen in threes. Indeed, there were three very successful returns this week:
Asdrubal Cabrera
,
Scott Kazmir
and
Roy Halladay
all rejoined their teams. They were successful because these athletes proved they were back healthy enough to perform and not suffer day-after setbacks.
Cabrera, returning from a separated shoulder (AC sprain) was able to hit successfully in his first outing ... and again in his second. He also managed his duties at shortstop without incident.
Kazmir showed that he was over his strained quadriceps, and past the mechanical issues that have been troubling him, during his start Saturday night, his first outing in more than a month. He struck out five and showed solid command of his pitches. The Rays (and fantasy owners) have to feel good going forward about how he will contribute in the second half.
Halladay pitched well, and the groin was clearly not a factor as the Jays faced the Rays. Despite giving up a two-run homer to
Carl Crawford
and taking the loss, Halladay was overall solid and still nabbed seven strikeouts. Most importantly, he showed no evidence of being limited by the groin and appears to be beyond the injury.
So much for the good news; now we move on to the injuries of the week. Who's got our attention? Naturally, we start with the Mets ...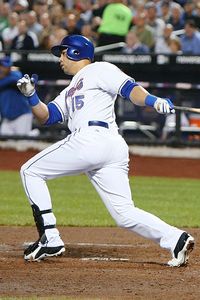 Al Bello/Getty ImagesCarlos Beltran's return is still unknown, but at least there's a decent chance he can return this season.
Carlos Beltran, OF, Mets:
It's never a good sign when you're batting leadoff in this column two weeks in a row. Unfortunately, such is the case for Carlos Beltran, who has been on the DL for more than a week now and does not appear to be coming off anytime soon. Last week in this space,
we outlined the injury Beltran was dealing with
and speculated that his time away would be extended beyond 15 days. Indeed, that appears to be the case.
Beltran made a trek to Vail, Colo., this week to get a second opinion from Dr. Richard Steadman. The choice of Steadman as consultant raised some eyebrows, since his expertise is associated with microfracture surgery, a procedure that he helped pioneer. Although Beltran's agent, Scott Boras, claimed that seeking out Steadman simply represented seeking an independent opinion, you don't take your Ferrari to a Rolls-Royce dealer, even if the latter is accustomed to dealing with high-end automobiles. The Ferrari engine is entrusted to an expert in Ferraris.
Beltran is dealing with a bone bruise, an injury often associated with cartilage damage. Microfracture procedures are performed to address cartilage defects. Evaluating cartilage injuries is a critical component of determining when microfracture surgery is indicated. It does not appear to be a coincidence that an athlete with a worsening bone bruise would seek an opinion from another orthopedist well versed in cartilage injuries, especially within the knee. (It should be noted that Mets team physician Dr. David Altchek is very experienced in managing cartilage injuries as well.)
The good news? Steadman supported Beltran's original diagnosis of a bone bruise and recommended continued rest and rehabilitation. No microfracture surgery for Beltran (at least not now), which would have effectively ended his season.
So why the cause for concern? It's the uncertainty around the resolution of Beltran's condition. How well will Beltran heal, and how long will it take? Just because he's not headed for the operating room doesn't mean we can be certain that he will recover to such a degree that he can play consistently and effectively this year. Although many bone bruises do heal with time and rest, it is not an absolute. The timetable can vary and in a situation like Beltran's, in which the condition has recently worsened, it becomes less predictable.
Consider also that Beltran had arthroscopic surgery on both knees in 2007. Beltran underwent debridement of both patellar tendons, the large tendons that cross the kneecap and anchor the quadriceps muscle to the tibia (shinbone). While the two conditions could be independent, it is also possible that some of the biomechanical features of Beltran's knees that led to patellar tendon problems are at work here.
The plan now is to keep Beltran moving at a gradual pace, with a target of returning at some point after the All-Star break. Fantasy owners need to bear in mind that this is primarily a symptom-based rehab progression, meaning Beltran's activity will largely be determined by how he feels (although subsequent imaging studies can also provide information as to how the bone bruise itself is progressing). The key for the Mets will be whether Beltran's symptoms can decrease enough and whether enough healing can occur to allow him to return successfully this season. If so, the team may still need to re-evaluate Beltran's status at the end of the season to determine what, if any, steps to take next.
Mike Lowell, 3B, Red Sox:
Lowell and his sore hip have been relegated to the DL. It's no secret that Lowell's surgical hip (he underwent a labral repair and bony resurfacing of the hip joint) has been giving him trouble recently. Specifically, Lowell has complained of tightness in the hip.
Lowell did take some comfort in the fact that his doctors did not seem surprised by the presence of such symptoms. It is worth remembering that Lowell underwent a procedure to address changes within his hip joint. This tissue injury is often associated with early arthritic changes (wearing of the cartilage surface) within the joint. This can translate into intermittent pain, stiffness and swelling. Indeed, Lowell was experiencing swelling as he had fluid drained from his hip Monday. He also received an injection of a synthetic lubricant designed to alleviate stiffness.
Since joint changes cannot be reversed, it becomes essential to focus on protecting the joint from degenerating further. Procedures such as this, along with a maintenance program that includes regular rest, can help a player like Lowell continue to perform.
Grady Sizemore, OF, Indians:
Sizemore was able to return to play with the Indians after a stint on the DL with elbow synovitis. We cautioned last week that Sizemore might still be faced with intermittent pain across the season and that consequently the Indians might choose to rest him from time to time.
Those thoughts were essentially confirmed this week by Indians athletic trainer Lonnie Soloff, who told the Cleveland Plain-Dealer that Sizemore will "have symptoms the balance of the season," adding that the Indians hope to "keep him away from symptoms that will affect his performance." In fact, Soloff acknowledges that Sizemore likely will face offseason elbow surgery to fully address the condition. Fantasy owners need to monitor Sizemore's status on a regular basis.
Adrian Beltre, 3B, Mariners:
Beltre underwent surgery this week to remove a bone spur from his left (non-throwing) shoulder and is expected to be out of action for six to eight weeks. It's possible he could be on the low end of that scale, based on the overall health of Beltre's shoulder. One good thing about shoulder surgery in a situation like this is that it gives the surgeon a chance to examine the overall health of all the tissue in the joint. Beltre's surgeon, Dr. Lewis Yocum, reportedly saw some bursitis, but structurally everything was intact.
This isn't Beltre's first encounter with a spur. Beltre underwent similar surgery last year, but pain gradually returned and got to the point that Beltre couldn't swing the bat effectively. A concern with spurs, which tend to form in response to abnormal stress, is that the spur can be a sign of structural compromise, or the spur itself can damage surrounding tissue. This report is about as good as it gets for Beltre, so fantasy owners can take heart. Once Beltre is cleared to resume baseball activities, watch closely for signs that he is nearing return.
On the Mend
Cubs third baseman
Aramis Ramirez
takes yet another step toward rejoining his team. Ramirez, returning from a shoulder dislocation in May, is scheduled to begin a rehab assignment Friday and, if all goes well, could return to the team next week. So far, batting practice has gone well, although he is still reportedly (and understandably) guarded on some swings. Fantasy owners should keep an eye on how he performs in his rehab assignment for clues as to how he will do when he returns. His power may be a bit slow to return as he gets more comfortable with letting the shoulder go when swinging the bat. Consider Ramirez a work in progress.
Last week we noted that Phillies outfielder
Raul Ibanez
was making improvements and was hoping to return on or near his eligible date of July 3. We also noted, however, that the big test would come when he had to run full speed or make quick lateral movements. As it turns out, Ibanez really hasn't been able to push himself that hard. According to the Phillies' official Web site, general manager Ruben Amaro Jr. said of Ibanez, "One day he can be doing great, and another day not as great." The encouraging news reported by the Philadelphia Daily News is that Ibanez could potentially begin a rehab assignment Wednesday night if he wakes up feeling good that day. While the Phillies are still leaving the door open for him to rejoin the team this weekend, it appears unlikely, given his iffy day-to-day status. Nonetheless, if he feels good while on assignment, he might be able to return within the week. Fantasy owners should check daily lineups.
Reds pitcher
Edinson Volquez
has been cleared to begin a throwing program, according to the Cincinnati Enquirer. Volquez, who has been out with elbow inflammation that resulted in irritation of his ulnar nerve, will be moving very slowly, starting with tossing from 60 feet. It's not time to get too excited yet, as the inflammation could recur at any stage. But at least there's some forward progress.
Keep a close eye on
Erik Bedard
. The Seattle Times is reporting that if a Wednesday bullpen session goes well, Bedard could pitch for the team as soon as Saturday, albeit in a short outing. This is an interesting idea. I would have concern about bringing him back so soon without building up his endurance, particularly in a pitcher who's shown to be susceptible to soft tissue injuries (his most recent setback was in the shoulder that was operated on just this past year). If he does start Saturday, it's probably a good idea to wait and see how he handles it before inserting him back in your lineup.
And finally ... the long-awaited return of Pirates catcher
Ryan Doumit
may be approaching. Doumit, who has been out since April following surgery to pin a fractured scaphoid bone (at the base of his thumb near the wrist) is headed for a rehab assignment this week and could rejoin the team mid-month, according to the Pittsburgh Post-Gazette. The slow progression has been due more to a cautious approach (which is wise) on the part of the Pirates, not setbacks by Doumit. As with many thumb and hand injuries, the key will be whether he initially struggles with his grip and power at the plate.
May, 6, 2008
5/06/08
11:04
AM ET
By
Stephania Bell, ESPN.com
| ESPN.com
Jimmy Rollins, SS, Phillies:
Rollins appears to be making progress with his sprained ankle. Rollins went 4-for-4 in an extended spring training game Monday and in an Associated Press report, he indicated that the ankle feels about 90 percent. It is worth noting that Rollins' self-rating is based on his level of confidence that he can do anything he wants without worrying about his ankle. To that end, Rollins, whose real and fantasy values are both linked to his speed around the bases, reported that he felt good the first time he turned the corners. The second time rounding the bases, he said he felt a little "twinge" but could still "kick it in coming around to score." Rollins will play again Tuesday and hopes to rejoin the team Thursday or Friday. Although the Phillies are anxious to have him return, they are adamant that they do not want him to return until he is 100 percent, because they do not want to risk a setback. Given the attention Rollins is paying to exactly how the ankle feels turning corners and cutting laterally, and given the Phillies' insistence that they only want him at full throttle, it appears he will be ready to go full bore when he does rejoin the team. In any event, it looks as if there is a good chance he returns within a week, so fantasy owners check your lineups.
Mike Lowell, 3B, Red Sox:
Welcome back! Lowell, who has missed the majority of the season thus far with a sprained left thumb, had a nice outing Monday night, hitting his first home run and knocking in two runs. He looks to be fully recovered.
John Lackey, SP, Angels:
The Angels' ace is continuing to progress in his rehab starts as he works his way back from a triceps strain suffered during spring training. The Los Angeles Times reports that Lackey will make a Friday start in an extended spring training game and is then expected to rejoin the Angels' rotation for a May 14 or 15 start.
And now for some not-so-good news ...
[+] Enlarge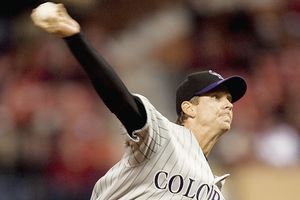 Dilip Vishwanat/Getty ImagesKip Wells has had his share of problems with his throwing arm in recent years.
Kip Wells, RP, Rockies:
Wells is scheduled for surgery Tuesday to address blood clots in his right (throwing) hand. This is not your usual pitcher's ailment, but it is not the first time Wells has faced problems of this nature. According to the Denver Post, in 2006 Wells, then with the
Pittsburgh Pirates
, underwent surgery to address a blocked artery in his right arm. He also had a carpal tunnel release (a surgery performed to relieve pressure on the wrist's median nerve, which provides input to the thumb and second and third fingers) in 2004. It now appears that the prior clot was not an isolated incident, and understanding the reason for these clots is one of the goals for Wells' surgeon, who performed the 2006 surgery as well. Rockies head athletic trainer Keith Dugger told The Associated Press that the clots are most likely "coming from the shoulder" and establishing whether there is indeed a connection between these incidents is one of the things Wells' surgeon will attempt to evaluate. Blood clots can be caused by a variety of means, so determining the origin is not as easy as it might sound. Although it is not exactly commonplace, the condition can sometimes develop in throwers as a result of compression on circulatory tissues either under a rib or between well-developed muscles in the upper extremity. Symptoms can range from pain to numbness and tingling to coldness in the arm or hand. There are several throwers who have had procedures to address blood clots in their throwing arms, including fellow Rockies pitcher
Aaron Cook
and Detroit's
Kenny Rogers
. At this point, there is no timetable for his return because the Rockies are focused on Wells regaining his overall health first and foremost. Stay tuned.
Brandon Moss, OF, Red Sox:
Moss was having some persistent abdominal discomfort Saturday, and the team wisely chose to send him to get it checked out at a hospital. Good thing, since he ended up on the receiving end of an emergency appendectomy. The good news with this type of procedure is that once the appendix is removed, assuming the procedure is uncomplicated, healing is relatively quick and it is not the type of injury in which one has to worry about recurrence. Moss was released from the hospital the day after surgery and although he can expect some soreness from the incision sites and the soft tissue healing for a few days, it is possible that he can be doing some light activity within a week. According to a Boston Globe report, Moss will remain home for about 10 days and will then head to Fort Myers to proceed with his rehabilitation. Many people return to work within about two weeks following such a procedure, but most of those folks do not have to leap, dive, sprint and swing a bat as part of their regular work duties. Given that Moss needs to be able to do all of those things as an outfielder, his return to work will likely take an additional week or two.
Martin Prado, 2B, Braves:
Prado slid right into a thumb ligament injury Sunday, one that will likely keep him out for six to eight weeks. Prado was injured on a head-first slide when his thumb smashed directly into the base, according to the Atlanta Journal-Constitution. Thumb ligament injuries require extensive time to allow the ligaments to heal sufficiently so that the athlete can adequately grip the ball and the bat, without residual pain or instability. Prado had been ably filling the utility infielder role, but ultimately that job is likely to go to
Omar Infante
when he is eligible to come off the disabled list. Infante has been out with a broken bone in his left hand that required surgery, but is set to begin a rehab assignment soon and could return within a month or so.
John Bale, SP, Royals:
Here's a tip. Punching a door with your pitching hand does not accelerate your return from the disabled list. Bale, who had been out since April 15 because of dead-arm symptoms in his throwing arm, is acutely aware of this fact since he broke a bone in his hand Friday night. The Kansas City Star reports that Bale was apparently frustrated by the time it was taking his shoulder to recover and took that frustration out on his hotel door (the team was in Cleveland for a weekend series). Oddly enough, Bale had an encouraging throwing session on Friday and looked to be nearing a return to the team. The Star suggests that part of Bale's frustration may have stemmed from the fact that he was possibly looking at relief duty when he returned, given the recent performance of rookie
Luke Hochevar
. A remorseful Bale told the Star on Monday that it will now be another four to six weeks before he can resume throwing. Although the fracture has only been described as being on the side of Bale's left hand, it is most often the metacarpal bones, the long bones between the wrist and the fingers that form the knuckle at their base, that are fractured with punches as the knuckle absorbs the majority of the impact. Regaining mobility in that joint will be Bale's primary goal once the fracture heals and he is likely looking at two months before he could reasonably rejoin the team. On the bright side, at least Bale's shoulder will get some additional rest during his downtime.
Your questions
John (Atlanta):
Is there any hope for
Peter Moylan
's elbow, or is he down for the count with TJ surgery?
Bell:
Sadly, but not unexpectedly, it appears that Moylan is headed for the surgery. Initially, he was somewhat optimistic because he had some good throwing sessions, but when he tried to throw from a mound Saturday, he had to stop after only seven pitches because of discomfort in his elbow. He has a significant spur in his elbow that is affecting his ulnar collateral ligament (the ligament reinforcing the inner aspect of the joint) and surgery appears to be on the horizon (Moylan was recently transferred to the 60-day DL). The Braves' bullpen has certainly been dealt its share of challenges, and Moylan can be expected to be out for 12 to 16 months after surgery to complete his extensive rehabilitation.
April, 19, 2008
4/19/08
1:56
PM ET
By
Stephania Bell, ESPN.com
| ESPN.com
First-timers and familiar faces head to the disabled list this week as the injuries continue to rack up in baseball, especially in the pitching department. Not that everything is gloom and doom, though; there are a few folks who are recovering from their injury stint who have return dates on the horizon. What's new in the world of injuries? Let's take a look.
[+] Enlarge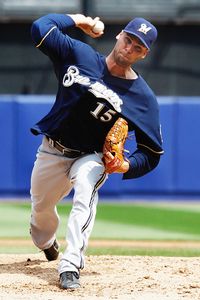 Nick Laham/Getty ImagesSheets and injury go together, unfortunately, like peanut butter and jelly.
Ben Sheets, SP, Milwaukee Brewers:
The all too familiar combination of the name "Sheets" and the word "injury" is back in print. Sheets, who is off to a fabulous start for the Brewers this season with three victories, left Friday night's game in the sixth inning with what is being called "tightness" in his pitching arm. ESPN reports that Sheets felt tightness in his right triceps and even after the game, while all wrapped up in ice, Sheets acknowledged that he was "really sore." He referred to his discomfort as a "kind of crampiness in there." In fact, Sheets began feeling soreness in the triceps Monday, the day after his victory over the Mets. The soreness never really dissipated over the week and the Brewers, comfortably ahead in the sixth inning on Friday, decided to pull Sheets and avoid risking further injury. Sheets' concern over this latest setback may be explained by the fact that his current symptoms are located near where his pain was when he tore his latissimus dorsi muscle in 2005, according to a report in the Milwaukee Journal-Sentinel. That problem lingered into the following season, so naturally Sheets is gun-shy about anything that feels remotely similar. In addition to the latissimus injury, over the past two years Sheets has dealt with a groin strain and a significant finger injury, all of which have amounted to a good stretch of missed time. It is unclear at this point how much time, if any, Sheets will miss with this latest ailment, but the team will continue to evaluate him over the next few days. Fantasy owners who drafted Sheets had to know there was an associated injury risk, and although it is not yet panic time, be sure to secure a backup.
Peter Moylan, RP, Atlanta Braves:
The Braves have to be wondering where the black rain cloud came from that seems to be hovering over their pitching staff. After
Rafael Soriano
went on the disabled list with tendinitis in his throwing arm, the team turned to Moylan for relief. That turned out to be short-lived, because pain in Moylan's elbow after pitching April 11 led to testing which revealed damage to his ulnar collateral ligament (the Tommy John elbow ligament) associated with a bone spur. Moylan paid a visit to Dr. James Andrews, who confirmed the team's findings and suggested Moylan attempt a two-week rehabilitation period to see if he could calm the symptoms and pitch again this season. Although Moylan has said the arm has felt a bit better over the past week, the team is not overly optimistic, and it's likely Moylan is ultimately facing reconstructive surgery on his throwing elbow. For his part, Soriano has thrown from flat ground without any ill effects this past week, and should begin throwing from a mound this week as part of his rehab progression. He is eligible to come off the DL on April 22, and he is confident he will be ready to go, but keep in mind, every step in the progression is more stress on the throwing arm. Until we see the evidence that Soriano can handle the increased workload, it appears
Manny Acosta
will most likely serve as the primary closer.
Carlos Pena, 1B, Tampa Bay Rays:
Pena complained of right hamstring tightness Thursday when the Rays faced the Twins, and was removed after the fourth inning as a result. The good news is that Pena did not feel any pain at the end of the game, according to a report in the Tampa Tribune. There was no audible "pop," or anything else that would suggest a serious injury here. As Pena said, he may just have exceeded his "speed limit" and his leg gave him a warning. The Rays have to be somewhat relieved since Pena has jumped out to such a strong home run start. He was held out of Friday's game, largely as a precautionary measure, but he may return to DH this weekend, according to an Associated Press report. The team is wise to give him a few extra days of avoiding hard running so this does not evolve from a minor episode of tightness to a major muscle injury. In the big scheme of things, fantasy owners should not be too concerned about this, because it appears to be just a minor setback.
In brief
Tom Glavine, SP, Atlanta Braves:
All good things must come to an end. And so it is with Glavine's amazing 22-year run of avoiding the disabled list. The Braves placed Glavine on the DL Friday, retroactive to Monday, with a strained right hamstring. Although Glavine, who injured his leg Sunday, was expected to be able to pitch against the Dodgers Saturday, ESPN reports that the Braves' team physician apparently felt Glavine's body was not quite ready for competition. In the interest of keeping this from becoming a more serious injury, Glavine will rest and continue to rehabilitate the leg until at least May 1, when he is eligible to be activated. The Braves have certainly had their share of pitching woes early in the season, but as Glavine says, maybe "we're getting it all out of our system."
Jose Reyes, SS, New York Mets:
Reyes was back in the lineup Tuesday after missing several games with a strained hamstring but showed no ill effects, going 4-for-5 against the Nationals. Unfortunately he may have something new to contend with as he hit his head against Phillies' second baseman
Chase Utley
's knee during a headfirst slide Friday night. Although Reyes was tended to for several minutes after the slide, he remained in the game and finished it out. While that would suggest that the injury was not serious, it is worth watching to see if the Mets hold Reyes out at all through the remainder of the series.
[+] Enlarge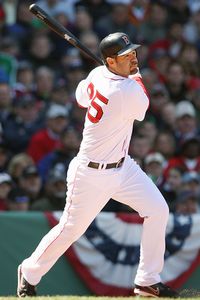 Elsa/Getty ImagesIf he continues his progress, Lowell could be hitchiking in no time.
Mike Lowell, 3B, Boston Red Sox:
The Boston Globe is reporting that the swelling in Lowell's sprained thumb has decreased significantly to the point where he may be able to start swinging a bat soon. There are still a number of rehab steps for Lowell to take, of course. He will begin by hitting from a tee, then progress in batting, then begin fielding exercises, with the ultimate progression to situational exercises, such as diving for balls. Manager Terry Francona told the Globe he did not expect Lowell to be ready to return when he is eligible to come off the DL (Friday), but that is not a big surprise given Lowell's initial timetable was a range from two to four weeks. Nonetheless, the improvement in the swelling is significant because that can be the biggest barrier to progressing activity after this type of injury.
Your questions
Since I have had so many outstanding questions in my Friday chats, and we never have enough time to answer them all, I decided to incorporate some of your questions into my blog each week. Many people are wondering about the long-term ramifications of
Pedro Martinez
's hamstring injury, including this writer:
JimBob (Wash DC):
Hi Stephania, My question relates to Pedro Martinez. ... How serious is his injury, is it a universal injury or is it related to his age, is it going to be a reoccurring injury and/or indicative of other injuries to come, and how do you value him (upon his return) with reference to other pitchers (e.g., is he at the level of Peavy, Billingsly, or
Randy Johnson
)? Thanks!
Stephania:
You are asking a great question, because it reflects all of the different variables you have to consider when evaluating Pedro's situation. Yes, hamstring injuries are universal in the sense that they affect everyone. We have seen pitchers, who rely on the hamstring for trunk and body control during ball delivery and follow through, suffer a strain here. We also have seen hitters suffer hamstring strains, generally during baserunning, because they use the muscle for speed and power. The degree of injury can vary widely, ranging from tightness (which suggests a minor strain or microtearing) to an audible pop, which suggests a more significant injury. The location of the injury can vary as well, from the tendinous region (where the muscle anchors to the bone) which can be near the top, near the pelvis, or near the bottom portion, near the knee to the muscular portion, which is usually felt in the middle of the thigh. Age is relevant in the sense that it can take longer for these injuries to heal in an older athlete, although that is not exclusively the case. The degree of injury and the athlete's level of fitness and flexibility all play a role. In Pedro's situation, perhaps the most concerning thing is the fact that he is dealing with a shoulder that has come off of an extensive rotator cuff repair. He simply cannot throw as hard as he used to, and he relies on his core strength and his legs to help him deliver the ball effectively and offload the arm. If his leg is not at full strength, it potentially compromises his arm. In my estimation, this is why he will not return until the team is convinced his leg is at full strength, and why we heard earlier this week that his return could be delayed until June. I think his value drops as a result of these factors, and even prior to this injury, we did not really expect him to go deep into games, which may mean less "wins" for your fantasy team. I think he is highly motivated to return, which is a positive for him, and he already came back from a shoulder surgery from which few recover. But the physical limitations are what they are, and as a result you need to temper your expectations for his performance, whenever he makes it back.
Thanks for all the great questions and I will keep posting them here on a weekly basis. Best of luck this week and may all your fantasy players stay healthy!!!
April, 12, 2008
4/12/08
1:19
PM ET
By
Stephania Bell, ESPN.com
| ESPN.com
Wow! The hits just keep on coming. And I'm not talking about offensive power, at least not on any of my fantasy teams. I'm talking about the hits teams are taking, real and fantasy, as a result of injury early in the season. Is there any team that has not succumbed to the injury bug yet this year? Not as far as I can tell. Some seem to be particularly unlucky, but maybe teams like the Angels and the Rays are just getting all of their injuries out of the way early. No doubt that's what they are hoping is the case. I'm just the messenger. Let's take a closer look.
[+] Enlarge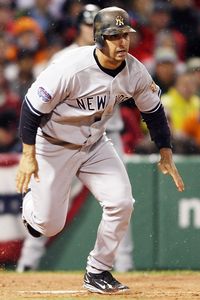 Elsa/Getty ImagesPosada at least can hit right now.
Jorge Posada, C, New York Yankees:
"Dead arm" sounds like a scary condition. But don't let it scare you. I actually wrote about this in our fantasy draft kit and described it as a condition that most often affects pitchers, which is still true. Certainly a catcher is throwing the ball fairly frequently during the course of a game and is subject to suffering from this ailment as well. Posada, who himself said on the Yankees' official Web site that he felt as if his arm was "dead," indicated that he has suffered from this condition in the past, including earlier this year in spring training. The issue is one of fatigue, and the complaint most often, as was the case with Posada, is an inability to throw because the arm feels weak, not painful. Recovery is fairly quick, and usually simply requires a few days of rest. An MRI was reassuring in that it reportedly showed no structural damage, and Posada already has returned to the lineup as a designated hitter. The Yankees likely will give Posada some more time before he resumes throwing, primarily to ensure that this does not turn into something more serious.
Mike Lowell, 3B, Boston Red Sox:
Lowell is now a member of the disabled list thanks to a sprained left thumb sustained Wednesday while fielding a ball. The injury is to his non-throwing hand, but nonetheless, he needs to be able to get his hand into his glove, and needs to grip a bat effectively, both of which would be limited by pain and swelling. Lowell admitted that the thumb felt worse the day after the injury than he initially thought it would, and the team placed him in a thumb splint to help rest the joint and the soft tissue around it. The time frame for Lowell ranges from two to four weeks, and the variability in an athlete's response to swelling and functionality after a hand injury makes it difficult to be more precise. Keep in mind that it is not just the ability to return to play, but the ability to be productive that usually takes a bit longer with these cases.
Matt Garza, SP, Tampa Bay Rays:
The Rays are hoping ace
Scott Kazmir
is on the mend in short order because they just placed another teammate on the disabled list. Garza left Tuesday night's game with what the team is referring to as "radial nerve irritation." Garza reportedly told the team that he was experiencing numbness in his right hand and had trouble gripping the ball. The radial nerve travels through the back of the upper arm and across the top of the forearm toward the hand. Overstretching of the nerve, or tightness of the muscles through which it passes, can cause irritation, and in Garza's case, there may have been some of both. Garza has had discomfort of this type before but, as he told the St. Petersburg Times, he always has been able to pitch through it. Many pitchers are tight in their forearm musculature, especially because it is well-developed. Interestingly, during Tuesday night's outing, Garza fielded a ground ball hit back his way, and in the process fell forward such that his right wrist got folded up underneath him. It just so happens that this is exactly the position that could place an excessive stretch on the radial nerve. Although we can't say for certain, Garza did exit the game shortly thereafter, complaining of discomfort and demonstrating a lack of ball control. A combination of tight musculature, and a quick abnormal stretch, could very easily provoke symptoms similar to what Garza described. The team has indicated that Garza will not be allowed to throw for several days in order to let the inflammation settle, and then he will be re-evaluated in two weeks. Since Garza has had similar symptoms in the past, the Rays no doubt want to be sure that this does not become severe and chronic. Translation: Extra rest if he requires it. Assuming no setbacks in his rehabilitation, Garza likely will return in late April or early May.
Justin Duchscherer, SP, Oakland Athletics:
First Harden (out on the disabled list with what is now being called a subscapularis strain), then Duchscherer. The Athletics must be wondering what they need to do to catch a health break for their starting rotation. Duchscherer felt a pull in his right biceps during Friday night's game, a particularly unfortunate circumstance because he had been pitching well. An MRI confirmed the presence of inflammation at the biceps, which surprised Duchscherer because he had described the pain as "mild," according to the Athletics' official Web site. The A's, however have learned to take no chances where their starters are concerned, and decided to rest Duchscherer a bit longer by placing him on the disabled list. The biceps is especially important in the pitcher's anatomy because it attaches to the labrum. A pitcher's torn labrum most often requires surgery, and that would spell an end to a season. Resting him and quieting the biceps now may go a long way toward preserving his throwing arm, so the move is completely reasonable. The good news? Duchscherer has already thrown from 80 feet without experiencing pain and will be eligible to return April 20, assuming he continues to progress well.
[+] Enlarge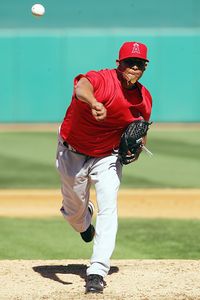 Jeff Gross/Getty ImagesK-Rod has been KO'd by some weak ankles.
Francisco Rodriguez, RP, Los Angeles Angels:
As if the Angels needed another injury in the pitching department. The latest Halo to suffer a setback is K-Rod, he of the not one, but two, bad ankles. Rodriguez had trouble with his left ankle last year after contending with a crumbly pitcher's mound. Apparently, according to a report in the Los Angeles Times, the ankle continued to bother him during the winter, although the Angels insist he had no trouble with it during spring training. Saturday, however, Rodriguez twisted the right ankle coming down the dugout steps, and it continued to bother him Monday. An MRI revealed no major soft tissue injury (ligament or tendon) which provided a bit of a silver lining, but nonetheless, with his ankles as sore as they were, the Angels wanted Rodriguez to rest for a few days.
The concern here is that the ankles, which each provide a full weight bearing base of support for Rodriguez at different points in his pitching motion, must be strong for him to pitch effectively. As manager Mike Scioscia told the Los Angeles Times, "We don't want to put him at any undue risk." The concern becomes that Rodriguez could injure himself further, and in a worst case scenario could injure his throwing arm if either ankle gives out on him while pitching. The hope at this point is that after a few days rest, Rodriguez will be able to throw a bullpen, or perhaps even make a game appearance this weekend. It is of concern, however, that the left ankle has some lingering symptoms from last season, and fantasy owners should consider that this may be the type of thing to crop up again during the season.
Rafael Soriano, RP, Atlanta Braves:
Soriano experienced some elbow soreness after pitching last weekend, and the Braves wasted no time moving him to the disabled list. One of the reasons the decision was made to impose a period of forced rest on Soriano is that he had similar symptoms during spring training. Soriano's symptoms are actually above the elbow, near where the triceps muscle (large muscle on the back of the arm) attaches. The team is calling Soriano's condition elbow tendinitis according to the Atlanta Journal-Constitution, and it sounds as if this muscle group could be the culprit. Soriano has had his share of elbow woes, having undergone Tommy John (ulnar collateral ligament reconstruction) surgery and missing most of 2004 and all of 2005 as a result. The good news here is that Soriano's discomfort does not appear to be located near the area of reconstruction, and tendinitis issues are much likelier to resolve than ligament sprains or joint problems at the elbow. It sounds as though the Braves are taking a cautious approach with their closer, which will no doubt benefit him and the team in the long run. Soriano will be out until at least April 22, but the hope is that this will not be a season-long problem.
In brief
Dontrelle Willis, SP, Detroit Tigers:
Willis, who had a walk-filled first outing to start the season, was hoping to right the ship Friday. That was not to be. Despite the best efforts of the Chicago grounds crew, rain in the area may have contributed to a slippery mound. Willis started by walking leadoff batter
Carlos Quentin
, then slipped on the mound while facing the second batter,
Orlando Cabrera
. Willis' front leg stretched out in front of him as he transferred his weight during ball release, forcing his right knee into hyperextension. Willis reached for the back of his leg in obvious discomfort. Although Willis remained in the game through Cabrera's at-bat (another walk), he clearly appeared to be struggling as he faced the next batter,
Jim Thome
. Willis was removed from the game, and we will now wait to see what the future holds for him.
Derek Jeter, SS, New York Yankees:
Jeter has not played this week since straining his quadriceps muscle. There is still a chance that he could make an appearance this weekend, but according to the Hartford Courant, manager
Joe Girardi
says that is "doubtful," meaning Jeter could sit out until next week. Despite the enticement of the Yankees-Red Sox rivalry, it is important that Jeter's minor strain does not become major, and the team will exercise patience.
Jimmy Rollins, SS, Philadelphia Phillies:
All good things must come to an end. And so it goes with Rollins' streak of 230 consecutive games played. Rollins sprained his ankle on Tuesday night when making a directional change to get back to second base. Rollins has been out of the starting lineup for three straight games, but it does not appear that this injury will send him to the disabled list. According to Rollins in a quote on the Phillies' official Web site, the ankle bothers him when going "left to right," and that is a big part of his defensive game. Don't be surprised if he makes an appearance this weekend, but check the lineups daily, as the team could decide to hold him out until Tuesday if cutting remains a problem.
Francisco Liriano and Kevin Slowey, SP, Minnesota Twins:
Finally, there is some good news to report: The return of Liriano has arrived! The Minnesota Star Tribune is reporting that Liriano will start Sunday for the Twins in place of the injured Kevin Slowey, who is being placed on the disabled list with soreness in his biceps. Liriano, who will make his major league return after undergoing Tommy John surgery in 2006, has struggled somewhat in the minors. It is normal for pitchers to take some time to regain their velocity and command after this procedure, so his struggles are not a concern from a health perspective. And just wait until he gets more time under his belt. By July, Liriano's numbers should be on the upswing. Meanwhile, Slowey, who left his first start with pain in his biceps, is improving, although he is still experiencing some lingering soreness. This downtime will give Slowey an opportunity to recover fully, and it helps make room for Liriano.
I know. I know. It appears never-ending. Where there are sports, there are bound to be injuries. And so it will go throughout the season. Keep checking back, and we'll keep updating you. Right here at ESPN.com. On Fantasy Insider (ESPNews, 11 a.m. EST). On Fantasy Focus (ESPN Radio, 9 p.m. EST). And wherever else those injury nuggets crop up. Have a good weekend, and may your fantasy teams go injury-free!