Stephania Bell:

Minnesota Twins
March, 4, 2014
Mar 4
10:50
AM ET
On March 1, the Minnesota Twins announced that star infield prospect Miguel Sano would undergo Tommy John surgery to reconstruct a torn ulnar collateral ligament (UCL) in his right (throwing) elbow.
[+] Enlarge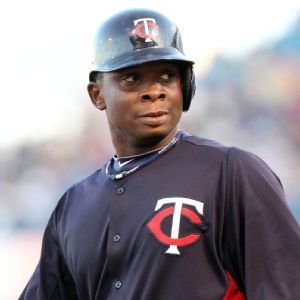 Kim Klement/USA TODAY SportsMiguel Sano hit 35 homers in the minors last season and was Keith Law's No. 8 prospect overall entering spring training.
Sano initially experienced pain in the elbow last October while playing in the Dominican Winter League and an evaluation revealed a partial tear. After consultation with the team's medical staff coupled with a second opinion from Dr. James Andrews, Sano underwent a period of rest and rehabilitation. However, when the symptoms resurfaced during spring training, the decision was made to proceed with surgery. According to the Minneapolis Star Tribune, Sano is expected to undergo surgery within the next two weeks. Dr. David Altchek, team physician for the New York Mets, will perform the procedure at the Hospital for Special Surgery in New York.
Tommy John surgery is nothing new in baseball, but it is far more common in pitchers than position players. In fact, according to a recent survey of major league players who had undergone the procedure, only 17 percent were non-pitchers. Of all the infielders responding to the survey, less than 5 percent had a reconstructed UCL. In other words, the injury is not common in this demographic. Considering Sano is so young in his professional career, it begs the question as to why his ligament failed. While there is no way of knowing what all the contributing variables might be (including Sano's specific medical history), most young position players who sustain such an injury have spent a fair amount of time pitching somewhere along the way.
The good news is that the success rate for the procedure remains high and, for position players, the recovery time is considerably shorter. Pitchers spend months re-introducing their body to the throwing motion and helping the arm adapt to various pitches, particularly breaking balls; position players do not have the same demands on their arm. As for the effects on a hitter, there is no data to suggest that reconstruction of the UCL has any impact on power, which is good news for Sano, the player ESPN.com's Keith Law labeled "the best pure offensive prospect in the minors." The biggest challenge in returning to full game play for a non-pitcher usually comes with making hard defensive throws, such as across the body from third to first.
As for Sano's timetable, the typical recovery period for a position player ranges from eight to 12 months, compared to the 12 to 16 months usually required for a pitcher. If all goes well, Sano could begin hitting approximately 16 weeks post-surgery and he should have no trouble being ready for next spring. In fact, he could be ready sooner if there are no setbacks. With that in mind, the Twins are leaving open the possibility that Sano could serve as a DH in the latter part of the minor league season, allowing him to continue to develop his hitting.
The bottom line is while this injury represents a temporary setback for Sano and for those who were looking forward to seeing him play, it should be viewed as just that, temporary. As they say, good things come to those who wait.
June, 15, 2011
6/15/11
2:04
PM ET
It is evident injuries have taken a toll on a number of teams. However you want to measure the injury impact -- number of players who have visited the DL, total days lost to the DL (read: cost, in terms of salary for injured player and replacement cost) or severity of injury (there have been an unusual number of serious and season-threatening or season-ending injuries) -- it is present. Whether or not it's an actual fact, some teams just feel as if they're taking a bigger hit than others.
The
San Francisco Giants
have lost two key players --
Buster Posey
(done for the season) and
Freddy Sanchez
(it's possible he won't return this year) -- to serious injuries. The youthful
Florida Marlins
have seen several key 20-somethings spend time on the DL, including first-time shortstop
Hanley Ramirez
and ace
Josh Johnson
(who has just been transferred to the 60-day DL and won't return until at least post-All Star break). But perhaps the most dramatic effects are playing out up north, where the
Minnesota Twins
, projected by many before the season started to take the AL Central, seem to be literally taking a beating (currently in last place in their division), largely as a result of injury.
Just look at their disabled roster as of Wednesday:
Jason Kubel
, OF, left foot sprain
Joe Nathan
, P, right elbow soreness (post-Tommy John surgery in 2010)
Glen Perkins
, P, right oblique strain
Kevin Slowey
, P, abdominal strain
Denard Span
, OF, concussion
Jim Thome
, DH, left quad strain
Justin Morneau
, 1B (just added!), sore left wrist
And that doesn't count the 60-day DL:
Tsuyoshi Nishioka
, SS, broken left fibula (there's good news here! He could be activated after being re-evaluated by the team medical staff Wednesday)
Now you know there's only one name left, and we all know who it is. The face of the Twins, the amazing athlete with the giant contract and perhaps the most puzzling injury scenario of all:
Joe Mauer
, C, bilateral leg weakness
What are we to make of Mauer's health?
[+] Enlarge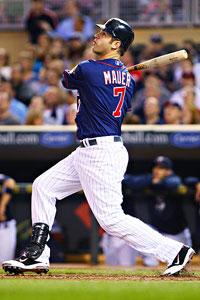 Brace Hemmelgarn/US PresswireIt appears Joe Mauer could be back soon, but his condition and recovery have been tough for many to pin down.
The latest on Mauer, according to Joe Christensen of the Minneapolis Star Tribune, is that Mauer had five at-bats in a simulated game Tuesday. He is scheduled to take batting practice off Joe Nathan Wednesday and will then be re-evaluated. It looks as if Mauer will not rejoin the team Thursday (that idea had been floating around), but his return does not appear to be too far off. Or so we think.
If the Twins seem reluctant to commit to a firm timetable, they probably are. Given that Mauer has only played in a handful of games this season and that his injury issues have been, well, unusual, no one probably dares venture out on that limb again.
Coming into the 2011 season, Mauer was recovering from a "minor" surgical procedure on his left knee, the same knee that caused him to miss extensive time in 2004, ultimately requiring surgery to address cartilage damage. He appeared in the Opening Day game, made three subsequent appearances and, a few days later, was placed on the DL with "bilateral leg weakness." At virtually the same time, Mauer was felled by a severe viral infection that sent him to the hospital. Early comments from the team suggested a relationship between Mauer's illness and the weakness that sent him to the DL. When Mauer expressed his belief that the two issues were unrelated, the murmurings began as to what really was the source of his disability.
After consulting with several specialists, including the physician in Baltimore who treated Mauer for his sacroiliac condition in 2009 (another unusual presentation that arose not long after a kidney issue) and physicians at the Mayo Clinic in Minnesota, Mauer told the Minneapolis Star Tribune he had been "checked for everything" and there was no serious medical condition present. Mauer acknowledged he may have rushed his return from his offseason knee surgery, which he believed led to attempts to compensate with his right (throwing) shoulder, causing it to become sore. Even Mauer found it difficult to describe the cascade of events which led to his extended DL stay. "It's tough to explain," Mauer said. "Your body compensates. You try to play through it, and it started to get bad."
Amidst the whirlwind of conversations brewing about Mauer's condition, how long his recovery might be and whether he could even return long term to his catcher's role, Mauer quietly pursued regaining his health. Gradually he built up enough strength to resume baseball activities, followed by some DH at-bats and eventually progressive innings of catching. Mauer recently indicated he's feeling the best he has this season, but the unanswerable question for anyone is whether this will last. His medical course has been anything but typical, so how can anyone predict what happens next?
Mauer and the Twins will no doubt refrain from making any projections when it comes to his timetable or expectations going forward. Instead they will proceed one day at a time and hope for the best. After all, it appears they could be getting Nishioka and Perkins back soon, and they hope Thome and Nathan are not far behind. They've even managed to string together some wins recently, winning seven of their past nine games. Maybe they think they've paid their dues with the injury bug. As manager Ron Gardenhire told the St. Paul Pioneer Press, "Every team goes through injuries. We've had our share of them and then some."