Stephania Bell:

Montario Hardesty
November, 15, 2011
11/15/11
3:06
PM ET
What key fantasy player on the
Houston Texans
hasn't missed time due to injury this year? A few days ago the best answer might have been
Matt Schaub
, but not any longer. To make matters worse, Schaub's injury appears as if it will be season-ending. Schaub suffered a Lisfranc injury to his midfoot and is being evaluated by specialists this week to determine the course of treatment, which may include surgery.
Other noteworthy players have suffered Lisfranc injuries -- some severe enough to require surgery -- and have returned to play, although in some cases not to their prior level of play. Running backs
Ronnie Brown
(injured while a member of the
Miami Dolphins
in 2009) and
Kevin Jones
(injured while with the
Detroit Lions
in 2006) went through lengthy rehabilitation efforts, as did
Indianapolis Colts
defensive end
Dwight Freeney
, who was injured in 2007. Although the term "Lisfranc" is more easily recognizable now that several prominent athletes have suffered the injury, what it describes remains a mystery to most. Many have asked on Twitter "What exactly is a Lisfranc?" to which the only response is that the answer deserves more than 140 characters. To help explain the complexity of the injury, along with the origin of its unique name, I returned to an entry I wrote in 2007 when Freeney was recovering from his surgery:
So what is this thing they call a Lisfranc injury? There is a region in the middle of the foot where the long bones of the forefoot (metatarsals) articulate with the small tarsal bones in the middle of the foot. This joint is thus called the tarsometatarsal joint. It is also referred to as the Lisfranc joint.
Why? Frenchman Jacques Lisfranc, a field surgeon in Napoleon's army, described an amputation technique through this region to address forefoot gangrene following frostbite. There is also the story that soldiers wounded in battle would fall from their horses, but a foot would often remain caught in the stirrup, right at that tarsometatarsal joint. Such an injury often resulted in amputation of part of the foot, from the injured joint forward. In fact, amputation to that region still bears the same name (although NFL players, thankfully, don't need part of their foot amputated when they suffer Lisfranc injuries).Since NFL players aren't riding horses, how does this injury happen to them? There are several mechanisms for this type of injury, but in sports, especially football, the primary scenario is that the player is running forward, with his weight on the ball of his foot, and he gets hit or stepped on from behind against his heel. The resultant force through the portion of the foot in between the ball and the heel (midfoot) causes it to buckle, and the midfoot is injured.Are all Lisfranc injuries the same? No. In fact, the name Lisfranc refers to the region of the foot, not necessarily the severity of the injury. By virtue of its important location (the midfoot essentially forms the arch), any injury to this region needs to be taken seriously. That said, not all Lisfranc injuries are created equal. When the midfoot buckles, the ligaments that connect the various bones can become damaged. Ligament injury without any bony impact would be the mildest version of a Lisfranc injury. The problem is that damage to the ligaments can affect the relative position of the bones in the area, and they can shift or dislocate, which is often accompanied by a fracture. Now it's getting more serious. In the worst-case scenario, an artery passing over that area can also be damaged, affecting blood supply to the foot. A shift of the bony alignment typically requires surgery to realign the joint and provide stability. Failure to do so can result in chronic instability and pain, eventually leading to major arthritis in the area. Even with surgery, it appears that people who have suffered a significant Lisfranc injury are more at risk for arthritis down the road, simply because of the trauma to the joint. The bottom line is that players who suffer these injuries must have their treatment managed carefully, not only with surgery, but in the postsurgical rehabilitation process as well.
Apparently it was a bad week to be a quarterback named Matt when it came to injuries.
Kansas City Chiefs
signal-caller
Matt Cassel
suffered an injury to his right (throwing) hand near the end of Sunday's game that coach Todd Haley said was "significant and could end his season." According to the Kansas City Star, Haley said Cassel's injury will require surgery, although specific details as to the structures involved were not provided. Looks like it will be
Tyler Palko
facing the
New England Patriots
next Monday night. Nothing like jumping in under the bright lights.
Philadelphia Eagles
quarterback
Michael Vick
to suffer another injury, this time two broken ribs. According to the Philadelphia Daily News, coach Andy Reid says Vick broke his two lower ribs but the severity of his injury was not immediately obvious. As to whether Vick will be available this Sunday, Reid was uncertain. "We'll see. I'll see in the next little bit. He's a tough nut." Maybe. But his ability to throw effectively may be compromised by the injury (which perhaps we saw on Sunday). His status should become clearer later in the week.
And then there were several more season-ending injuries, including two to offensive players who may be on your fantasy roster.
Denver Broncos
running back
Knowshon Moreno
tore his right ACL, effectively ending a season that had already been limited by hamstring injuries. Teammate
Willis McGahee
came out of the same game with a left hamstring strain, but the Denver Post reports he has been cleared to return to practice Tuesday. If McGahee has a solid practice, he could start Thursday night. Meanwhile,
Washington Redskins
rookie wide receiver
Leonard Hankerson
's season came to an abrupt end when he injured his hip in the fourth quarter, leaving the stadium afterward on crutches. According to the Washington Post, Hankerson suffered a torn labrum. Fortunately for him, youth is on his side and he should make a full recovery.
Quick Hits
• The
New York Jets
will return to action Thursday night to face the Denver Broncos, just four days after their difficult showing against the New England Patriots. We know the Broncos will be without Knowshon Moreno, but will the Jets also be down a running back? It certainly appears that will be the case, as
LaDainian Tomlinson
suffered a sprained MCL in Sunday's contest. While the MRI reportedly showed no major damage, four days' rest is a very brief recovery period. Tomlinson was not practicing with the team Tuesday, generally the biggest practice day before a Thursday night game. Fantasy owners who were hoping for a flex play from Tomlinson are advised to look elsewhere.
• Uh-oh. Scott Brown of the Pittsburgh Tribune is reporting that
Pittsburgh Steelers
quarterback
Ben Roethlisberger
has a broken right thumb. However, the Steelers are on a bye this week, and according to Brown, Roethlisberger says he will play in Week 12. But it's best to keep an eye on practice reports heading into that week.
• Now that Matt Schaub is out, quarterback
Matt Leinart
will take over under center when the Houston Texans return to action in Week 12. All indications are that wide receiver
Andre Johnson
will be there to help him out. Coach Gary Kubiak said he expects Johnson to participate in practice in advance of the next game, although he acknowledged nothing is set in stone.
Jeremy Maclin
. Maclin suffered not one but two injuries Sunday, a sprained AC joint (commonly referred to as a separated shoulder) and a hamstring injury. Maclin suffered the shoulder injury in the first half but returned to the game, then exited for good in the fourth quarter after straining his hamstring. Jeff McLane of the Philadelphia Inquirer reported following Sunday's game that Maclin was moving "very slowly and with a limp." On Monday, coach Andy Reid said the shoulder injury was the more serious of the two. Either injury on its own could be enough to limit Maclin. We will see whether he is able to return to practice this week.
•
San Francisco 49ers
running back
Frank Gore
returned from a left ankle sprain to play in Sunday's game but delivered no fantasy points. It wasn't even his ankle that was the issue. Gore took a hard fall on his knee but emerged with only a bruise, according to Matt Maiocco of CSNBayArea.com. However, running backs coach
Tom Rathman
did not want Gore to return to the field and risk further injury. Gore has indicated he does not expect to miss any playing time, and Maiocco says Gore was walking without a limp Monday, another encouraging sign. The San Francisco Chronicle is echoing the sentiment, reporting coach
Jim Harbaugh
expects Gore to play. Harbaugh also expressed confidence in "the stable of backs" the 49ers have available, which could hint at a timeshare. The Niners will have a Thursday night game following this Sunday's contest, so spreading the workload around could be a strategy.
• The Detroit Lions do not expect to have running back
Jahvid Best
this week. Perhaps the most telling quote from coach Jim Schwartz when asked about Best was, "We're status quo with that." According to the Detroit Free Press, Schwartz added, "When we get clearance from the doctors, we'll get him back. But he needs to be symptom-free before we get clearance from the doctors." The inference there is that Best is not yet symptom-free, and as is typical with these injuries, there remains no timeline.
Calvin Johnson
was evaluated for a concussion following a big hit in Sunday's contest but passed his tests, according to Dave Birkett of the Free Press. Johnson says he will play Sunday against the
Carolina Panthers
. Quarterback
Matthew Stafford
is also expected to play, despite a fractured index finger on his throwing hand. Stafford entered the game with the injury, which went under the radar with the Lions on bye in Week 9, but it became a topic of conversation after Stafford's less than, well, Stafford-like performance. The Free Press reports that Stafford blames the gusty winds for affecting his play more than the finger. Hmmm. It's difficult to imagine between the tape on his finger and a glove over the tape that there was zero effect from the injury, but Stafford has never made excuses based on his health as long as he could physically take the field. We'll see. This week the Lions play at home, in a dome. No wind there.
•
Atlanta Falcons
wide receiver
Julio Jones
left Sunday's game early because of a hamstring injury. The Atlanta Journal-Constitution reports this injury is to Jones' right hamstring, the opposite leg of Jones' prior injury that caused him to miss Weeks 6 and 7. His status for Week 11 is uncertain.
• Fellow rookie receiver
A.J. Green
also had an injury scare Sunday when he landed awkwardly during a touchdown grab in the end zone, hyperextending his right knee. Although his knee was stiff, Green told the Cincinnati Enquirer he did not hear a "pop," usually a good sign, and a follow-up MRI that came back negative was even more encouraging. The
Cincinnati Bengals
expect him to play Sunday.
• It's too soon to have any meaningful update on
New York Giants
running back
Ahmad Bradshaw
, who sat out Week 10 to rest his healing foot. Bradshaw had improved to walking without pain last week. The key will be when he can progress to running. As coach Tom Coughlin told ESPN New York, "There is no sense speculating. He is going to have to go out and practice." Let's see if he does just that.
•
Cleveland Browns
running back
Peyton Hillis
(hamstring) has already been ruled out for Week 11. No word on
Montario Hardesty
's status (calf) just yet, but we will need to see if he can return to practice.
We will continue to update these injuries and others as the week progresses.
November, 8, 2011
11/08/11
5:29
PM ET
Setbacks with hamstrings. That was the theme of Week 9, and it just might turn out to be the theme of the season. Consider the number of fantasy players whose seasons have already been significantly affected by hamstring injuries; names such as
Miles Austin
,
Peyton Hillis
,
Andre Johnson
and
Daniel Thomas
come to mind. Oh, wait! We're stealing the thunder of our Tuesday injury report, so here we go.
[+] Enlarge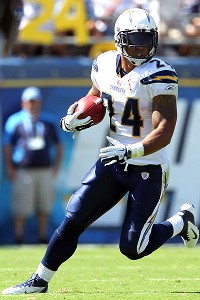 Jeff Gross/Getty ImagesRyan Mathews owners need to make a quick decision on whether to start him this week.
The status of the
San Diego Chargers
is important early in the week since they will be playing Thursday night. Naturally, as has been the trend all season, there are concerns at both running back and wide receiver.
Ryan Mathews
did not play Sunday against the
Green Bay Packers
after suffering a minor groin injury in the Monday night game against the
Kansas City Chiefs
. Mathews did go through some light exercise before the game (remember, he was listed as questionable before Sunday's game, so there was at least a chance he could have played), then went through the team's light walk-through practice Monday. So far, signs are encouraging that he will play. Wide receiver
Vincent Jackson
remained on the injury report because of his hamstring but had a huge game in Week 9, including 140-plus yards and three touchdowns. Jackson proved he could function well despite not being quite at full health. Unfortunately, teammate
Malcom Floyd
is not faring as well. Floyd was unable to play Sunday after apparently aggravating his hip injury in the Chargers' Monday night game and has not yet returned to practice. His status for Thursday is in doubt.
Likewise, the
Oakland Raiders
will be playing Thursday night, making all the more critical the status of running back
Darren McFadden
, who has been ruled out, according to the San Francisco Chronicle. Heading into Sunday's contest, coach Hue Jackson had intimated that McFadden could be kept out of Week 9 with the Week 10 game coming just four days later. In other words, many expected McFadden to be ready to go Thursday. On Monday, we learned McFadden still had not tested his injured right foot running, casting doubt on his ability to be ready by Thursday. McFadden is just two weeks removed from the injury, and as noted in an
earlier blog post
, the midfoot is critical for transferring weight and injuries to the area can be tricky. Given McFadden's history of prior foot injuries, ensuring he is healthy enough to advance his activity is key to avoiding lingering problems. It appears
Michael Bush
will be in line for another start with
Taiwan Jones
as his backup.
Cleveland Browns
running back Peyton Hillis has had his share of challenges this season. Things did not get any easier when Hillis suffered a major setback in Friday practice, aggravating his hamstring injury on a running play. A subsequent MRI suggested the injury had increased in severity, and Hillis was expected to miss an additional two to four weeks, according to the Cleveland Plain-Dealer. Naturally, he sat out Sunday's game and already has been declared out for Week 10. Coach Pat Shurmur told reporters the team "has not discussed" placing Hillis on injured reserve. Meanwhile, teammate
Montario Hardesty
also has been declared out for Week 10 as he recovers from his calf injury. The struggling
Chris Ogbonnaya
remains the likely starter.
[+] Enlarge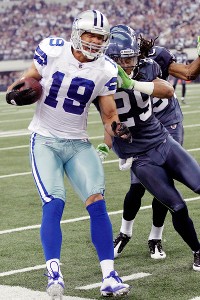 AP Photo/Tony GutierrezMiles Austin injured his right hamstring on this play Sunday.
Sticking with the hamstring theme,
Dallas Cowboys
wide receiver Miles Austin pulled up lame after a big reception Sunday, suffering an injury to his hamstring. With all the setbacks to players returning from significant hamstring injuries, many assumed that was the case for Austin as well; he had dealt with one on his left side earlier in the season. As it turns out, Austin pulled the opposite hamstring (his right), and according to ESPN Dallas, this injury is "higher" than the earlier one. Austin missed Weeks 3 and 4 after suffering a setback to the left hamstring he originally injured during the preseason. He returned to action following the Cowboys' Week 5 bye and managed 74 yards receiving. After two subsequent low-production games, Austin appeared on track for a bigger day Sunday, until the injury occurred. The current projection is for Austin to miss two to four weeks.
Quick Hits
• The wait for
Houston Texans
wide receiver Andre Johnson to return might go on a bit longer. Although Johnson worked out Monday, coach Gary Kubiak was unsure whether Johnson would practice Wednesday. The mantra remains the same: Johnson will not return until he feels 100 percent. Whether that is this week or after the team's Week 11 bye has not yet been determined.
•
San Francisco 49ers
running back
Frank Gore
sprained his left ankle in the second quarter of Sunday's game but continued to play. Although he appeared to be in serious discomfort after the game, subsequent X-rays came back negative, and both Gore and coach
Jim Harbaugh
have said he will be fine. Harbaugh told the Sacramento Bee, "He's feeling like Frank." Ah, just what Gore fantasy owners and 49ers fans want to hear. It sounds as if he is prepared for their big matchup Sunday against the
New York Giants
.
• But will the Giants have all their weapons on the field? Right now wide receiver
Hakeem Nicks
and running back
Ahmad Bradshaw
, both of whom sat out in Week 9 with injuries, have a chance to play Sunday. Nicks (hamstring) and Bradshaw (foot) were to be re-evaluated Tuesday, and whether they can return to practice later in the week should hint at their availability.
[+] Enlarge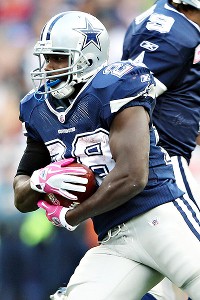 Elsa/Getty ImagesFelix Jones could return to action this week, but will he be able to supplant DeMarco Murray as the Cowboys' primary ball carrier?
• Dallas Cowboys running back
Felix Jones
could return this week after missing three weeks with his left high ankle sprain. The Dallas Morning News reports Jones did some cutting maneuvers while working out Monday, and coach Jason Garrett says the Cowboys are "hopeful" about his progress. Naturally, they want to see what Jones can do as the week progresses, but if all goes well, they could have Jones alongside
DeMarco Murray
.
• The
Indianapolis Colts
really haven't had much in the way of positives this season. Now they might have suffered another big loss in tight end
Dallas Clark
, who sustained what the team referred to as a lower leg injury. He is expected to be out "more than a week," according to coach Jim Caldwell. Note the vague injury information from the Colts, which is standard. Even their hint of more than a week suggests seriousness on the part of the team.
• ESPN.com reports
Detroit Lions
running back
Jahvid Best
is expected to miss Week 10. He is scheduled to meet with doctors and undergo further tests in what continues to be an ongoing recovery from the concussion he suffered in Week 6.
• The
Buffalo Bills
have lost their kicker,
Rian Lindell
, for an extended period with a serious shoulder injury. They have signed
Dave Rayner
, who filled in for
Sebastian Janikowski
for a week earlier this season, to take over for the near future.
We will continue to update these injuries and others as the week progresses.
November, 1, 2011
11/01/11
5:57
PM ET
In the realm of injuries, this was no Week 7, thankfully. That doesn't mean fantasy rosters escaped unscathed. Oh no, not a chance of that happening.
[+] Enlarge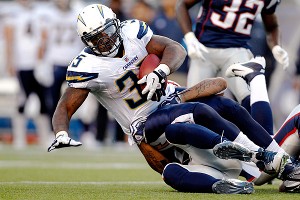 AP Photo/Charles KrupaMike Tolbert missed Monday night's game but he might be the only healthy Chargers running back for next week.
• The
San Diego Chargers
' running backs are in the injury mix again.
Ryan Mathews
injured his groin late in Monday night's game and did not return.
Mike Tolbert
was dressed and running on the field before the game, trying to convince coaches he should play. He didn't. And then there was
Curtis Brinkley
, who stepped in when Mathews stepped out. He delivered a touchdown, some carries, some catches, then suffered a concussion. His status is now murky as well. With all this happening Monday night, who knows how things will shape up by Sunday? Kevin Acee of the San Diego Union-Tribune expects Tolbert to be ready to go. The other two backs have fresh injuries, so it's likely a decision won't come until later.
• The
Cleveland Browns
' running back situation is also a bit messy.
Peyton Hillis
did not play Sunday despite making the trip to San Francisco. Given his midweek setback with his hamstring last week, there is no counting on him for Week 9, no matter how badly the team needs him.
Montario Hardesty
will not play for a while, now that he has suffered a moderate strain (Grade 2) of his right medial gastrocnemius (calf) muscle, according to the Cleveland Plain-Dealer. Hardesty definitely will miss time but the extent is unknown. These injuries often take time to recover from, and certainly as a running back, push-off requires use of the calf muscle, so there's no getting around it. Plan on him being down a month. How many of you had
Chris Ogbonnaya
on your roster? I'm not going to lie. As a Hillis owner, I did. I was rewarded with 10 points. The question then is, will Ogbonnaya repeat? Perhaps not, but he might be worth a look if you're hurting. The Browns are glad they took a chance on him since he was handling the load Sunday when Hardesty went down. Also, Mary Kay Cabot of the Plain-Dealer reported via Twitter on Tuesday that the Browns added running back
Thomas Clayton
to their roster. Clayton was active for the Browns for two games last season.
•
New York Giants
wide receiver
Hakeem Nicks
has a hamstring strain. The Giants are calling him day-to-day, and there appears to be no sense of panic at the moment. According to the Star-Ledger, Nicks is expecting to play this weekend against the
New England Patriots
. Teammate
Ahmad Bradshaw
was in and out of Sunday's game, getting X-rays on his right foot. The fact that he returned to the game after getting his foot retaped is a positive sign, and Bradshaw told the New York Daily News, "I knew it was fine. Just being precautious about it." That sounds like a good thing.
•
Fred Davis
has a Grade 1 ankle sprain, according to coach Mike Shanahan. Given that this is the most minor version of an ankle sprain, it does not look like it will keep Davis off the field Sunday, but naturally we'll wait to see how much he does in practice. At least Davis is not part of a tricky shared backfield. Speaking of which, the
Washington Redskins
have added
Tashard Choice
to their running back roster, but he will miss Week 9 with a hamstring injury.
[+] Enlarge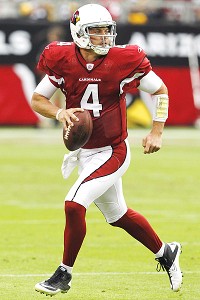 AP Photo/Ross D. FranklinKevin Kolb's first season in Arizona has been up and down, and now he's got a toe injury.
•
Arizona Cardinals
quarterback
Kevin Kolb
has an injured right toe, which might make it difficult for him to play in Week 9. Kolb acknowledged to reporters that the injury to his plant foot made it difficult to throw passes with the same velocity. On Monday, Kolb was in a walking boot, saying he had "no idea" what his status for Sunday would be.
There also are those who were sidelined in Week 8 whose status is of interest for Week 9.
•
St. Louis Rams
quarterback
Sam Bradford
is now out of his walking boot and "walking freely," according to Tony Softli of 101ESPN in St. Louis. Removal of the boot and walking with a normal gait are good measures of progress, as the injured area is stressed with every full weight-bearing step. If there was pain or any instability, Bradford would not be able to walk without a limp. Now let's see whether Bradford can get back to practice and make throws by the end of the week.
• We thought the
Houston Texans
might have wide receiver
Andre Johnson
back in the mix Sunday, but he did not feel ready. There is no way the Texans are going to press him into service if he is still experiencing any abnormal sensation in the hamstring. Last week we noted Johnson reported "tugging" in the leg. If he's feeling that while running at less than full speed, there is no way he can accelerate to top speed. Coach Gary Kubiak said Monday that the Texans hope Johnson will be ready for Week 9 but noted Johnson's symptoms were limiting factors this past week.
•
Atlanta Falcons
wide receiver
Julio Jones
seemed to benefit from the bye week. Jones was back in practice Monday and appears on track to play in Week 9, barring a setback.
• We haven't heard much from the
Tampa Bay Buccaneers
regarding
LeGarrette Blount
, but what we're hearing now is encouraging. Coach Raheem Morris told New Orleans reporters that Blount would return for this week's game. It will be nice to see Blount in practice, and see how he's moving following his knee sprain and whether he's wearing a protective brace, but with
Earnest Graham
done for the season, the Bucs surely could use him.
•
Oakland Raiders
running back
Darren McFadden
went into the bye week with a midfoot sprain, but the team seemed optimistic he'd return in Week 9. Well, it's preparation time for Week 9, and McFadden was not in practice Monday. It doesn't mean he won't be on the field by midweek, but until we see him running, there's reason to maintain some fantasy insurance.
We will continue to update these injuries and others as the week progresses.
September, 3, 2010
9/03/10
7:43
PM ET
Montario Hardesty, RB, Cleveland Browns:
There were signs that something like this could happen.
When Hardesty entered the 2010 draft there were injury questions aplenty. He's endured ankle, foot and shoulder injuries. He also tore his right ACL as a freshman at the University of Tennessee, making that knee more prone to cartilage problems in the future. Now he's torn his left ACL and his debut season in the NFL is over before it ever got underway.
Let's find some good news in all of this. Despite the injury history, Hardesty had an impressive senior season at Tennessee. After all, that's how he managed to get drafted in the second round. In other words, this young man knows how to work his way back from injury. And since he's been through the ACL rehabilitation process before, he can be that much more prepared for what it entails. At just 23 years old, he still has youth on his side.
Fantasy owners who were eyeing him as a sleeper pick will now have to wait until next year. Hardesty may come at a great value then as many will avoid him simply because his injury history is so extensive. In the meantime, there is no doubt that Jerome Harrison's value goes up as he will secure the starting role at running back for 2010.
Byron Leftwich, QB, Pittsburgh Steelers:
Leftwich and the Steelers got two for the price of one: bad luck and bad timing. Bad luck because Leftwich was hit on the outside of his left knee in Thursday's contest resulting in a Grade II MCL sprain. Bad timing in that the start of the NFL season is around the corner and most observers expected Leftwich to be the starting quarterback while
Ben Roethlisberger
serves his suspension.
As it happens, Leftwich's injury does not appear to be as serious as it could have been. A Grade II or moderate ligament sprain is less severe than a Grade III sprain (complete tear). The majority of these injuries will heal without surgery. The amount of incapacity a player experiences has everything to do with the resultant pain, swelling and stiffness in the knee. If the symptoms resolve fairly quickly and the athlete can regain motion, the knee can be supported in a brace, an easier task for a quarterback who does not have the sharp cutting demands of a running back.
According to the Pittsburgh Post-Gazette, Leftwich is expected to miss two to four weeks, a reasonable timeframe presuming no setbacks. Recall Kansas City Chiefs' quarterback
Matt Cassel
who sustained a Grade II MCL sprain August 29 of last year. He missed the season opener but was able to return for Week 2 wearing a supportive brace and actually demonstrated decent mobility. He went on to play in the remaining 14 games of the season.
How the Steelers decide to handle Leftwich's return may not be wholly dependent on his recovery from injury. The Steelers also have
Dennis Dixon
and
Charlie Batch
on their roster and with the announcement Friday of a reduction in Ben Roethlisberger's suspension, he will become available after Week 4. For fantasy owners, there is enough talent amongst quarterbacks to warrant looking elsewhere for Week 1 options.
For more insight into fantasy alternatives to replace your injured prospects, be sure to check out what my colleagues are saying on the
fantasy football front page
.