Stephania Bell:

Neftali Feliz
July, 31, 2012
7/31/12
7:40
PM ET
In the category of not entirely surprising but nonetheless distressing news, the
Texas Rangers
announced Tuesday that
Neftali Feliz
will
undergo Tommy John surgery
, ending any hope for a return this season. Given that the standard timetable for return from this surgery averages about a year, Feliz should not be expected back until the latter half of the 2013 season.
Any time a player is faced with reconstruction of the ulnar collateral ligament and its associated lengthy recovery process, it's a difficult pill to swallow. In the case of Feliz, however, this can't have been entirely surprising given how the year has gone.
His troubles began in the spring when he was forced to leave a spring start after three innings with stiffness in his right shoulder. A week of rest seemed to do the trick, and Feliz was able to start the season on time. In fact, his first outing was a strong showing, as he threw seven scoreless innings with four strikeouts. Still, Feliz was a work in progress, given that the Rangers were transitioning him back into the rotation from the closer role he had adopted two years prior.
A month into the season, Feliz developed soreness in his throwing elbow, and he was placed on the DL in May with right elbow inflammation. He was cleared to resume a throwing program in mid-June and began a rehab assignment in late July. Before he could take the mound for his fourth rehab start, however, Feliz was scratched due to renewed discomfort in his elbow. Feliz met with team doctors Monday, and the grim news was announced Tuesday.
Tommy John surgery has become so commonplace among pitchers that it is impossible to isolate a single source, other than the act of pitching itself. That won't put a stop to the questions surrounding whether the demands of moving to the rotation from a closer role were too much for Feliz to overcome or whether his mechanics were a contributing factor. Or, did the shoulder ailment early in the season set him up for problems further down the chain? Whether any or all of these issues factored into Feliz's failed elbow cannot be proved, but it certainly offers plenty to discuss while awaiting his return next year.
May, 21, 2012
5/21/12
6:26
PM ET
It seemed as if
St. Louis Cardinals
first baseman
Lance Berkman
was about to be added to the growing list of baseball players whose seasons have been cut short by ACL tears. Not so fast ... maybe. Cardinals general manager John Mozeliak announced Monday that the results of Berkman's MRI revealed a torn meniscus, not an ACL tear as originally feared. In an interesting follow-up, Jenifer Langosch, who covers the Cardinals for MLB.com,
tweeted the following
: "While no evidence of ACL tear came on MRI, it hasn't been ruled out. 'I'm not as optimistic' as team, Berkman said." In other words, it sounds as if the picture is not totally clear. He is expected to get a second opinion this week. At the very least, a meniscal injury would require surgery and subsequent rehabilitation that could sideline Berkman for the better part of two months.
[+] Enlarge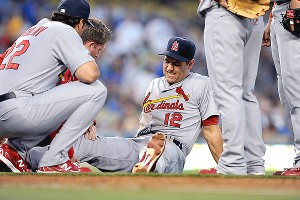 AP Photo/ Josh Thompson/Cal Sport MediaIt remains to be seen how much time Lance Berkman will miss with his current knee injury.
Berkman is no stranger to knee troubles, including ACL tears. This latest injury is to Berkman's right knee, the same knee in which he suffered an ACL tear back in 2004. Berkman has a history of issues with the cartilage in both knees, and the increased wear and tear that comes with being a veteran ballplayer doesn't help matters. Consider that even after last year's contribution to a World Series championship team, Berkman is on a one-year deal with the Cardinals this year, perhaps reflecting the inherent injury risk he represents. After more than three weeks on the DL earlier this season with a calf strain, Berkman had played in only six games since returning before suffering this setback with his knee.
The complexity of the injury could make a big difference in terms of Berkman's future. According to the St. Louis Post-Dispatch, even Berkman seemed to question what the future would hold if the injury turned out to be serious. "If I've re-torn my ACL or something like that, I'd certainly get it fixed but you don't know how psychologically you're going to come back from something like that," Berkman said. "I'm not talking from the standpoint of being scared of hurting it again. I'm talking about doing everything it takes to come back and play again at an elite level." We have seen an aging baseball star return from a second ACL procedure (
Atlanta Braves
third baseman
Chipper Jones
did so in 2011) but it is not an easy task, particularly if there is no guaranteed job at the finish line. Until the evaluation process is complete, the next steps for Berkman are on hold.
Strasburg update
Last week we talked about the
incredible run of bad luck
the
Washington Nationals
have been confronted with recently in terms of injuries. Just when it seemed as if they could not possibly be presented with any more bad news, ace pitcher
Stephen Strasburg
was forced to leave Sunday's game against the
Baltimore Orioles
in the fifth inning ... because of his biceps? At least that's how manager Davey Johnson described the situation.
As for Strasburg, he seemed to downplay the incident when speaking with reporters after the game, relating it to arm fatigue and suggesting it is just a byproduct of returning from his 2010 elbow procedure. "It's all part of coming back from Tommy John [surgery]," Strasburg said. "It's something I have to be smart about."
[+] Enlarge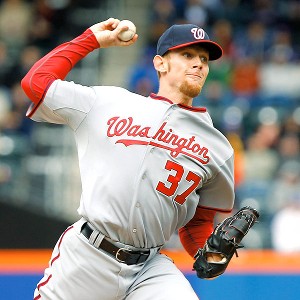 Debby Wong/US PresswireStephen Strasburg might bear watching over the next few starts after leaving Sunday's game early.
So is this something to really be concerned about, or is it much ado about nothing? The reality is it might be a little of both. On one hand, Strasburg is correct. It is not uncommon following Tommy John surgery and the associated recovery that pitchers have little dips and dives in their performance, comfort level or both. We often hear of pitchers who develop symptoms such as forearm tightness or stiffness or who suffer from intermittent command struggles and are forced to back off their throwing a bit until they settle. Strasburg also referenced going out of his routine after his previous start, increasing his work in the weight room and the bullpen, something he called "a little immature," according to the Washington Times. It's possible that veering from a structured routine, even minimally, can lead to problems, especially if that structure contributed to a smooth return from surgery with no real setback along the way. Perhaps this is just a minor speed bump as a result of that altered routine.
On the other hand, it's worth remembering that Strasburg had shoulder inflammation that sent him to the DL just weeks before he tore his ulnar collateral ligament. The data of pitchers returning from Tommy John surgery suggests there might be a relationship between the elbow procedure and subsequent shoulder issues leading to DL placements (read:
Josh Johnson
). Is it possible Strasburg could be headed that direction?
It's certainly feasible that any major league pitcher could be beset by shoulder problems at some point in his career; in fact, it is almost expected that given their profession, most pitchers will sustain some form of elbow or shoulder injury. But in Strasburg's case, there has already been a DL placement related to the shoulder, which makes any shoulder-like symptoms now a bit more worrisome. If, in fact, Strasburg has any existing damage to a structure that does not heal independently, such as the labrum, there is an increased likelihood that it will present a recurring problem at some point in time. Davey Johnson said Strasburg's issue was with his biceps, but the specific location within the biceps becomes relevant. If it is the portion of the biceps tendon that attaches to the labrum, it becomes more significant than if it is general soreness or tightness in the muscle belly itself.
There are a number of questions raised by the incident, most of which are not likely to be answered directly. Before we can become either dismissive or obsessive about Strasburg's latest incident, however, it is worth watching to see how he responds. The Nationals have indicated they do not expect him to miss his next start. Amanda Comak of the Washington Times
reported via Twitter
on Monday that Strasburg was participating in the pitchers' flying disc match (hmmm). In the meantime, expect him to return to his structured routine. If questions remain as to whether the Nationals will adhere to the innings limit originally set for Strasburg at the start of the season, they seem to be diminishing with every yellow flag.
Other injuries
Texas Rangers
pitcher
Neftali Feliz
has been placed on the DL with
right elbow inflammation
. There was some concern about his health this spring when he was experiencing shoulder stiffness. After backing off his work for a few days he resumed throwing and was able to start the season on time. His performance, however, has been up and down this year as he has transitioned from a closer role to the rotation. It's unclear when the elbow began to bother him but he is being forced to rest it now. An MRI revealed only inflammation, according to ESPNDallas.com, but the pitcher will be shut down from throwing for a month to protect the elbow. Feliz will then resume a progressive throwing program. A more precise timetable is impossible to project until Feliz picks up a ball again and then, naturally, it will be dependent on no further recurrence of symptoms.
Dan Hayes of the North County Times is reporting
San Diego Padres
pitcher
Cory Luebke
will undergo Tommy John surgery Wednesday. Luebke had been evaluating his options, including an attempted rehabilitation period, but appeared recently to be leaning toward surgery. It can't be overemphasized that a pitcher needs to be afforded the time and the latitude to carefully evaluate his options before embarking on such an intensive procedure and lengthy recovery process. Once he is fully committed to the idea that surgery is indeed the best option, the road becomes more about going forward than looking back at the what-ifs, a necessary step in a successful return. Luebke should be expected to return at some point in 2013.
Los Angeles Angels
outfielder
Vernon Wells
was expected to be placed on the DL after suffering a thumb injury Sunday while stealing second base. After an MRI Monday, it became clear he would miss more than 15 days. Wells
announced via Twitter
that he would be undergoing surgery Tuesday to repair a torn ligament in his thumb. Expect him to be out a minimum of two months.
Boston Red Sox
outfielder
Cody Ross
has been diagnosed with a fracture of the navicular bone in his left foot. The team has not indicated yet what the plans are for treatment or how long Ross is expected to be sidelined, but plan for at least a couple of months (six weeks for the bone to hopefully heal followed by rehab games).
May, 6, 2011
5/06/11
4:53
PM ET
Three Up, Three Down. That's what I've decided to call today's blog. It just seemed to capture the injury pattern in baseball in a neat, baseball-lingo sort of way. Just when you think it's time to get excited about players nearing a return from injury, the enthusiasm is tempered by others being forced out with new ailments. It's a never-ending battle for teams to maintain a healthy roster and this week is no different from any we've seen so far this season.
We start with the good news, which is as it should be on a Friday. Here are three players whose status appear to be on the upswing:
[+] Enlarge
Joy R. Absalon/US PresswireThe team opted to be cautious with Neftali Feliz, and now the Rangers' closer is back after just the minimum 15 days.
Neftali Feliz, P, Texas Rangers:
When the Rangers put their closer on the DL in April, they did so fairly quickly. After Feliz initially complained of tightness in his shoulder, he struggled in his subsequent outing and that was enough for the Rangers to
make the call
. That decision may prove to be very beneficial in the long-term. Feliz looked so good in his Double-A Frisco rehab appearance on Wednesday that the Rangers decided to activate him before Friday's game (the first day he was eligible to return). Feliz will be back in the closer's role this weekend as the Rangers host the
New York Yankees
.
Jake Peavy, P, Chicago White Sox:
Peavy's return from surgery to repair his ruptured latissimus dorsi tendon has been well documented, as have his minor speed bumps along the way. Peavy initially experienced some rotator cuff tendinitis during spring training, which forced him to back off his progression. After working his way back into rehab starts, Peavy had a recurrence of discomfort in his shoulder in mid-April, which again slowed his progress. His past two rehab starts, however, have signaled his readiness to return to the majors. Not only has he been throwing some good pitches, he has also been able to get his total pitch count up to 100, indicating his endurance has improved. The Chicago Sun-Times reports Peavy could make his season debut for the White Sox on Wednesday against the
Los Angeles Angels
.
Josh Hamilton, OF, Texas Rangers:
There was a collective sad sigh among Rangers fans and fantasy owners on April 12 when Hamilton suffered a humerus fracture sliding into home plate. At the time, his projected absence was estimated at six to eight weeks. Hamilton is making strides, however, which suggest that he could return on the short end of that timetable. As of Wednesday, he was swinging off a tee, just over three weeks post-injury. For him to be cleared for this activity, the Rangers' medical staff must like what they're seeing in terms of the arm healing. As general manager Jon Daniels told the Dallas Morning News, "It's too early to narrow down a date for his return, but we're definitely heading in a good direction and it's reasonable to assume he'll be back within the original time frame." Hamilton's ability to increase his activity with his arm is as important for preserving muscular strength and coordination as anything else, which may help improve how he fares at the plate when he does return.
And then there are the less fortunate. Here are three players whose recent injuries will keep them down for at least the 15-day minimum.
[+] Enlarge
Scott Cunningham/Getty ImagesNyjer Morgan had a bad day in Atlanta on Thursday, getting caught stealing and then breaking his finger on a bunt attempt.
Nyjer Morgan, OF, Milwaukee Brewers:
Morgan gave new meaning to the term "sacrifice bunt" when he absorbed the impact of the baseball on his left middle finger on a bunt during Thursday's game, ending up on the DL as a result. Morgan had just been activated from the DL two days earlier for a thigh contusion. The team estimates he could be away for two to four weeks, but the usual concerns about grip strength following a finger injury will follow.
Eric Chavez, 3B, New York Yankees:
Even Chavez would probably acknowledge that the injury-prone label is justified but that says nothing about his work ethic. Chavez has battled his way back from numerous injuries, most recently a career-threatening neck issue, but earned himself a spot with the New York Yankees after an impressive spring. Unfortunately, he finds himself back on the disabled list after fracturing the fifth metatarsal (long bone of the outer forefoot) in his left foot while running out a triple on Thursday. The amount of time he'll miss is unclear but expect it to exceed 15 days.
Brandon Lyon, P, Houston Astros:
The announcement that Lyon was being evaluated for shoulder weakness suggested the presence of a muscular injury. Sure enough, an MRI revealed a partial rotator cuff tear and biceps tendinitis in Lyon's right shoulder, not encouraging, but also not particularly surprising in a veteran pitcher. In other words, the wear and tear aspect of the injury is not likely new and has possibly been evolving for some time. Clearly it has become more problematic of late, as Lyon had not been effective in recent outings. He will be treated conservatively, meaning no surgery (at least not yet) but rather a period of rest and recovery followed by strengthening and a gradual throwing progression. Lyon should not be expected to return anytime soon.
April, 25, 2011
4/25/11
4:00
PM ET
• Just as
St. Louis Cardinals
slugger
Albert Pujols
was starting to look like the hitter fantasy owners know and love, he pulled up while running in the seventh inning of Sunday night's game against the
Cincinnati Reds
, striking fear into the hearts of thousands. The Cardinals said he left the game with "mild tightness" in his left hamstring and Pujols is doing his part to diffuse speculation of any serious injury. Speaking about how his hamstring felt after the game, Pujols told reporters, "The test was pretty good. I don't think it's too bad." Nonetheless, it would not be surprising if Pujols is kept out for at least the first game of the Houston series (which begins Tuesday; the team has Monday off) to ensure he is not risking further injury.
[+] Enlarge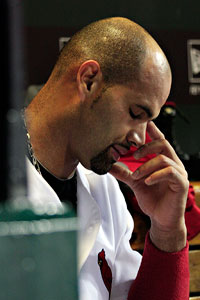 AP Photo/Tom GannamAlbert Pujols left Sunday's game early with a hamstring injury but says it's not serious.
According to MLB.com, Pujols first felt the discomfort in the back of his thigh when he was about halfway down the first base line Sunday night and opted to play it safe. "I just felt a little tight, and I just pulled off," Pujols said. "I think I prefer it tight than a blown-out hamstring, you know?" Yes, Albert, fantasy owners prefer that as well.
• During that weekend series against the Cardinals, the Cincinnati Reds were without their third baseman -- and former Cardinal --
Scott Rolen
as he landed on the disabled list. Rolen is officially listed as out with a sore left shoulder, but he received cortisone injections in both his shoulder and his neck on Thursday, according to Associated Press reports. Rolen has a long history of issues with his left shoulder, including a separated shoulder in 2002 and labral surgery in 2005. Rolen also had a subsequent surgery to address scar tissue in the shoulder in 2007. Given his history, it's no surprise the Reds opted to give their 36-year old corner infielder some additional down time. A report on Cincinnati.com indicated that Rolen agreed with the move. "I think that's the best course," he said. "Let everything calm itself down. Let the medicine get in there and work."
Neck, upper back and shoulder issues are often interrelated and the chronicity of Rolen's shoulder problems can certainly complicate the recovery, especially if he tries to press. While the team hopes he will only miss the minimal DL time (meaning he could return May 6), the plan will become clearer after Rolen has a few days of rest.
On Friday, we hinted that
Toronto Blue Jays
second baseman
Aaron Hill
could be
headed for the DL
with his strained hamstring, particularly given his problematic hamstring injury last year. Turns out, the hunch was a good one. The Blue Jays have indeed placed Hill on the DL retroactive to Wednesday. The hope has to be that this can keep the hamstring from being problematic throughout the season.
• The
Philadelphia Phillies
' closer carousel continues to go round. With
Brad Lidge
starting the season on the DL with a rotator cuff strain,
Jose Contreras
held down the fort. Until this past weekend, that is, when Contreras was sent to the DL with an injury to his throwing arm. Contreras has a right flexor-pronator strain (muscle mass on the inner elbow responsible for rotation of the forearm and grip on the ball) and is returning to Philadelphia for further evaluation, according to the Philadelphia Inquirer. Contreras had not pitched in three days after developing soreness in his forearm. If indeed it is solely a flare-up from overuse, then Contreras should be able to gradually resume throwing after a period of rest and recovery. If, however, there is a more sinister underlying problem then all timetables go out the window. In the meantime, the Phillies plan to use
Ryan Madson
in the closer role.
[+] Enlarge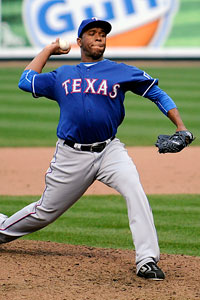 Joy R. Absalon/US PresswireThe Rangers were quick to put Neftali Feliz on the DL to avoid more serious issues down the line.
• The
Texas Rangers
are also forced to make a change at closer, now that
Neftali Feliz
is on the DL with inflammation in his throwing shoulder. The Fort Worth Star-Telegram reports that Feliz experienced tightness in his shoulder Friday while warming up. After he struggled a bit on the mound Wednesday, the team decided not to take any chances and imposed the shutdown with the hope that he will only require the minimum stay. While any issue with a thrower's shoulder raises some red flags, the fact that the Rangers appear to have jumped on this early is encouraging.
• In the good news department, the
Milwaukee Brewers
have to be excited about the imminent return of outfielder
Corey Hart
to the lineup. Hart, who has been on the DL since the start of the season with a left oblique injury could rejoin the team Tuesday after one final rehab outing in Nashville on Monday. The Brewers website notes that the team could opt to delay his return until Wednesday. The timing of the move will depend on how Hart feels the timing of his bat is shaping up. Most importantly, there appear to be no residual effects of the injury; it's just a matter of getting Hart up to big league speed.
• Meanwhile Hart's teammate
Zack Greinke
had another rehab outing Sunday, the success of which depends on what you're measuring. Greinke is pain-free and his velocity was good. He appeared to fatigue and with that, lost some of his command. As Greinke told the Tennessean, "Through almost the whole first two innings I felt real good. But they had a couple long at-bats and I hadn't really had any real long innings yet." The main issue for Greinke in recent weeks is no longer the rib (which has healed) but building up his arm strength after zero spring training outings. Given that the team is interested in having him available for the remainder of the season, a return in the first week of May -- not late April as some had hoped -- appears to be the most likely scenario.
•
Florida Marlins
outfielder
Logan Morrison
has
tweeted that he is out of a cast and into a walking boot
. This is a good sign that he is being allowed to progress with weightbearing through his recently sprained foot, although he still has quite a ways to go before baseball activity.