Stephania Bell:

Neil Walker
July, 8, 2013
7/08/13
6:24
PM ET
Every Monday, in this space, we'll provide updates on a variety of players to help you make your weekly lineup decisions. We'll specifically try to hit the players who are day-to-day, have just gone on the DL or are ready to return, so that you can better decide whether you can count on them or not.
All projected return timelines should be considered fluid.
Hitters
[+] Enlarge

Brad Penner/USA TODAY Sports Ryan Howard lands on the DL while hitting .266 with 11 homers and 43 RBIs.
Ryan Howard, 1B, Philadelphia Phillies (placed on DL July 6): Howard's move to the DL couldn't have come as a complete surprise. He had been in and out of the starting lineup recently with soreness in the knee, but now he will be out for an extended period. Speaking to reporters Monday, Phillies general manager Ruben Amaro Jr. stated Howard has a meniscus tear and will undergo surgery to address the issue. The Phillies are hopeful they can have Howard back in the lineup within six to eight weeks, not an unreasonable expectation if the operation and subsequent rehab process go smoothly. Although Howard had been dealing with soreness since May, he told the Philadelphia Inquirer the pain and stiffness had recently increased to the point where he could not play through it. This procedure should allow Howard to move forward from the injury and return to play this season. But it is yet another injury to the left leg, which has been responsible for most of Howard's DL time during his professional career, including his Achilles rupture in 2011.
Aramis Ramirez, 3B, Milwaukee Brewers (placed on DL July 8): Day-to-day could really describe the entire season for Ramirez, given that his left knee has not been 100 percent healthy since he initially injured it this spring. On Saturday, Ramirez made a diving catch after which he came up limping, exiting the game shortly thereafter. On Monday, he was placed on the disabled list as Ryan Braun was activated.
The bigger question is whether Ramirez can really be expected to be at full health at any point this season. Based on how the knee has responded so far and with the potential for aggravation any time he slides or dives, the answer would appear to be no. In the absence of being healthy though, can he be effective? The Brewers have to hope the answer to that question is yes, but it may be on only an intermittent basis.
Ryan Braun, OF, Milwaukee Brewers (activated from DL July 8): Braun's thumb injury has been discussed multiple times in this space and the uncertainty of how it will behave across the rest of the season remains. However, he made enough progress in terms of gripping and swinging the bat that he was activated Monday in time for the evening matchup against the Cincinnati Reds. He swaps roster spots with teammate Aramis Ramirez. While he's back in action, Braun would still benefit from a few days off during the All-Star break. This might offer fantasy owners a good glimpse of whether the layoff has helped Braun's symptoms to the point where he can be productive at the plate.
Carlos Gonzalez, Colorado Rockies (day-to-day): If it's not one thing, it's another. Literally. Gonzalez left the game early after straining his upper back Thursday; now it's a finger which caused him to exit early on Sunday. Gonzalez reportedly took an awkward swing and injured the middle finger on his right hand. According to Troy Renck of the Denver Post, X-rays were negative and Gonzalez remains day-to-day with a sprain. It will all come down to whether he can effectively grip and control the bat. Literally.
Yadier Molina, C, St. Louis Cardinals (day-to-day): Molina and the Cardinals were relieved to learn that his right knee does not have any structural damage, according to the MRI he underwent this weekend. Molina's knee had been sore for a month but he told reporters he was sent for further tests after it hurt him to run Friday. "Everything came back negative and that's a relief," Molina said Sunday. He hopes to be back Tuesday after the Cardinals' off day Monday. It's hard to imagine a couple days will make this disappear, particularly if it has been bothering him for a month. After all, it's not as if his position isn't stressful on his knees without adding in the demands of running the bases. With former catcher Mike Matheny at the helm, it's a safe bet the Cardinals will be mindful of Molina's workload this week if his knee continues to nag at him.
Matt Kemp, OF, Los Angeles Dodgers (day-to-day): The good news is the Dodgers expect Kemp back in the lineup soon, possibly as early as Monday. The bad news is that he's making an appearance in this blog. Again. And his left shoulder is the culprit. Again. The good news is that this time the injury is not in the glenohumeral joint, the location of his offseason labral surgery and where the arm bone or humerus interfaces with the socket. This pain was located in the AC (acromioclavicular) joint, where the collarbone and the shoulder blade meet at the point of the shoulder. Kemp received an injection to help alleviate the pain, but the key to his return will be whether he has any (as in even a hint of) discomfort in that shoulder when he attempts to swing. After all of his struggles to regain his form and along with it his power following surgery, he is going to be closely monitored to ensure he's not compensating and altering his swing. Again. In any case, it looks as if he escaped a serious issue and should return in short order; now the Dodgers have to hope this is a one-time incident and not another problem that will resurface as the season progresses.
(After this was initially posted, the Dodgers placed Kemp on the disabled list again.)
Neil Walker, 2B, Pittsburgh Pirates (day-to-day): Walker left Saturday's game with soreness in his right side and is expected to undergo an MRI this week (although he did not have one on Monday). There are hints of an oblique ailment, but the imaging test should help confirm the location and the severity of the injury. While Walker did not seem to think his injury was serious initially, it's often not until the athlete tests the area later with activity that the limitations become apparent. He is not in Monday's lineup and will likely be out several days at the very least.
Shane Victorino, OF, Boston Red Sox (day-to-day): Victorino's back has been giving him fits throughout the season, but he left Saturday's game early because of tightness in his left hamstring. It's unclear whether the two are related, but manager John Farrell seemed to think so. Victorino did not play Sunday and it is not immediately clear how much time the Red Sox anticipate he will miss. Given his history not only with his back and his hip this year, but with a prior DL stint in May specifically attributed to his left hamstring, caution is warranted.
Lance Berkman, DH, Texas Rangers (placed on DL July 7): The Rangers placed Berkman on the DL not because of his ever-troublesome knees, but because of a low back or hip ailment. The knees are still likely to blame, though. According to ESPNDallas.com, Berkman tweaked his right knee on an awkward step a week ago, missed a few games, then developed this issue while running to first. Rangers manager Ron Washington seems a bit surprised that the knees are an issue. "When we signed him, we thought everything was going to be fine with the knees," Washington said. Really? This is a 37-year-old player with chronic knee issues which, while he's managed to undergo various procedures and return to play, are not the same joints as when he was in his 20s. These potential flares have to be expected. And then there's always the possibility that the pain travels up the chain toward the hip and back, as appears to have been the case this time. Berkman will return and may even do quite well, but the risk is not going away.
Yasmani Grandal, C, San Diego Padres (placed on 60-day DL July 7): Catchers and plays at the plate are always risky and the Padres are the latest to experience the effects. After he injured both his ACL and MCL in a collision at home plate Saturday, the prospects of Grandal returning this year seem grim. The Padres' immediate placement of Grandal on the 60-day DL further outlines the severity of the injury. After the game, Grandal was on crutches and Padres manager Bud Black indicated the outlook was not good. An MRI is scheduled for Monday after which more information should be forthcoming. If he has a complete ACL tear, which requires reconstructive surgery, then Grandal's season will indeed be over.
Jedd Gyorko, 2B, San Diego Padres (placed on DL June 10): Last week in this space we discussed Gyorko's setback during a rehab game, which delayed his return to the team. Although he indicated the setback was minor, it seemed only logical the team would require another rehab outing before allowing him to play in major league games. That appears to be the plan, although a definitive timetable has not been offered. Manager Bud Black told reporters Gyorko could renew a rehab assignment toward the middle of this week. Given the way things have unfolded, no matter how strong Gyorko feels, it would not come as a surprise if he is held out of a return to the majors until after the All-Star break.
[+] Enlarge

Chris Humphreys/USA TODAY Sports Troy Tulowitzki's injury likely will also keep him out of next week's All-Star Game.
Troy Tulowitzki, SS, Colorado Rockies (placed on DL June 13): Last week we said Tulowitzki could get clearance to advance his activities and he has done precisely that. On Thursday he took batting practice for the first time since fracturing his rib. It obviously did not set him back since he returned for more on Friday. The swings are a good test of how aggressive he can be while still healing from the injury as long as he is giving it full effort, something that's often hard to simulate in practice. As Tulowitzki told the Denver Post, "I have to have my game swing. I can't baby it." Even though his injury was to the rib itself, the muscles which attach to the ribs (such as intercostals and obliques) contract violently with rotation. If the bone were still sensitive, he would no doubt feel the discomfort and be limited in terms of how vigorously he could swing. Only he knows whether he is truly testing it full bore.
According to the Post, Tulowitzki is expected to wear protective padding over the injured rib area on his right side when he returns, something that could help protect him in the event of direct contact. Contact was how Tulowitzki originally sustained the injury when he met the ground hard while making a diving defensive play. Even if bone is showing evidence of good healing, it continues to remodel itself for some time beyond the projected four to six weeks following a break. Another direct insult to the area could result in a setback in the form of reinjury, hence the layer of padding for extra insurance. Padding would not minimize the force of the muscular contraction which happens underneath it, however, meaning Tulowitzki needs to be able to throw (especially hard, cross-body throws) and swing without hesitation or discomfort -- including checking a full-throttle swing -- in order to prove he is ready to return.
He's not quite there and he knows it. Tulowitzki told the Post on Sunday he is not completely symptom-free with his hard swings and knows he needs to be tested in a variety of game situations before returning to the lineup. A rehab assignment is slated to begin Monday and the next step will be completely dependent upon how the assignment goes. It's important to remember he has not yet reached the four-week mark since suffering the injury; a return after the All-Star break would put him at five weeks out, a seemingly safer target. Tulowitzki has made it clear he will not play in the All-Star Game (to which he has been selected as a starter) if he does not play for his team first. It may come down to the weekend before we have the answer.
Pitchers
Dan Haren, SP, Washington Nationals (returning to action July 8): Haren is returning from the shoulder ailment that sent him to the DL in late June. It was only ever described as shoulder stiffness and Haren never seemed too concerned. If anything, he and the Nationals were more focused on his overall struggles and the hope is that the break may have helped him in this department. Haren threw bullpens and navigated a simulated game without incident but never went on -- nor did he or the team feel the need for -- a rehab assignment. He gets the start Monday night at Citizens Bank Park against the Phillies.
Wei-Yin Chen, SP, Baltimore Orioles (placed on DL May 13 , expected to return this week): Oblique injuries are becoming relatively commonplace amongst pitchers and while they can still vary in terms of severity, the standard return of just over a month remains fairly consistent. And, just as important, when pitchers recover fully from an oblique injury prior to returning to the mound, there seems to be a low rate of injury recurrence. That bodes well for Chen and the Orioles as he is set to return this week after being out since mid-May.
Alex Cobb, SP, Tampa Bay Rays (placed on DL June 15): It was terrifying when it happened, a line drive to the head which resulted in a concussion and sent Cobb to the hospital. Fortunately, he has made impressive strides since that time, including a return to a throwing progression. Initially following the injury there was no discussion about baseball but that quickly changed as Cobb progressed. As of early July he was playing catch and increasing his cardiovascular workouts. Last Friday he threw his first bullpen since the injury and he repeated the effort Monday, increasing the number of pitches. According to the Tampa Tribune, Cobb hopes to return to the Rays' rotation late July or early August. No matter where your team allegiances lie, everyone has to feel good about Cobb's recovery.
May, 13, 2013
5/13/13
4:42
PM ET
Every Monday in this space, we'll provide updates on a variety of players to help you make your weekly lineup decisions. We'll specifically try to hit the players who are day-to-day, have just gone on the DL or are ready to return, so that you can better decide whether you can count on them or not.
All projected return timelines should be considered fluid.
Hitters
Jason Heyward, OF, Atlanta Braves (placed on DL April 21, could return this week):
Heyward went on the disabled list following an emergency appendectomy, so at least there's comfort in knowing this is not going to be a recurrent problem. Now it's just a matter of when he will return … and when he'll be effective.
Heyward has been on a rehab assignment for several days at Triple-A Gwinnett, and other than some soreness that warranted a day off, his stint has been uneventful from a health perspective. It also has been uneventful at the plate, that is until Sunday, when he finally started hitting. The Braves don't have an exact date for his return, but he's expected to rejoin the team at some point this week.
[+] Enlarge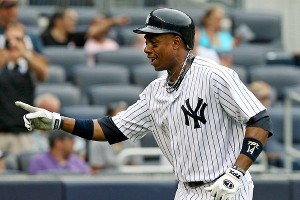 AP Photo/Seth WenigCurtis Granderson could return to the Yankees as early as Tuesday.
Curtis Granderson, OF, New York Yankees (opened season on DL, could return this week):
It's only fair that the Yankees actually get a player
back
from the DL after adding more and more players to it this season. Granderson's recovery and rehab have been totally uneventful, just the way the medical staff likes it. He has been crossing "to do" items off the list during his rehab assignment: He has faced both left- and right-handed pitching, played defense and played both day and night games. Perhaps most importantly, Granderson has not shown any lingering apprehension from getting hit by a pitch this spring. As he told the Yankees' official website regarding his rehab at-bats, "There was no recall of the injury. There's going to be pitches inside, I'm going to get hit again, but you got to stay in."
The Yankees would like it if he stays healthy and stays in. There's every indication he will come back and be productive immediately, and that return could happen any day now, potentially as early as Tuesday, when the Yankees open a series at home.
Coco Crisp, OF, Oakland Athletics (placed on DL April 30, could return this week):
Crisp strained his left hamstring trying to run out a ground ball in the A's seemingly never-ending Monday night game nearly two weeks ago. Fortunately, the strain appeared mild and Crisp could potentially attempt to run the bases soon, according to the San Francisco Chronicle. Obviously his tolerance of running will help determine his readiness to return -- manager Bob Melvin told reporters Crisp might not need a formal rehab assignment -- but as is always the case with hamstrings, until he runs in games without a setback, it will be impossible to tell just how healthy he is.
Chris Young, OF, A's (placed on DL April 30, could return Wednesday):
The A's hope to get another outfielder with a soft tissue injury back soon. Just as Coco Crisp recovers from his hamstring, Young is working to get past a left quad strain that has sidelined him the past couple of weeks. After passing the necessary rehab clearances, Young is expected to get some at-bats in extended spring training games during the early part of the week, according to the A's official website. If all goes well, he could return when eligible on Wednesday.
Neil Walker, 2B, Pittsburgh Pirates (placed on DL retroactive to April 27, expected to return Monday):
Two weeks ago in this space, I wrote about how the Pirates hoped to return Walker within days if he could swing the bat effectively. Clearly he could not, and the decision was made to place him on the DL. After beginning a rehab assignment last Thursday, it seems Walker has shown he has moved past the injury, and his return appears imminent.
Michael Cuddyer, OF, Colorado Rockies (placed on DL retroactive to May 9):
Cuddyer had already missed three games with what he referred to as inflammation in his neck, related to a disc problem. Now it's clear he will be missing a few more. This is not Cuddyer's first episode of neck pain, but it appears to be the first time it has forced him on the DL. The hope is that the symptoms are limited to his neck and that it won't progress into his shoulder or arm. Rest is the best option for him in the short term, but given the variability of these types of ailments, a definitive timetable is difficult to determine. The soonest he can return is May 24, if his neck cooperates.
Jayson Werth, OF, Washington Nationals (placed on DL retroactive to May 3):
This doesn't come as a huge surprise after Werth's hamstring continued to bother him despite missing the past eight games. If there is any good news, it's that it can be backdated to the last time Werth saw the field, making him eligible to return May 18. Whether he will be able to actually run at full speed by the end of this week remains to be seen. The Nationals have also indicated they believe dehydration was a factor in Werth's repeated muscle cramping.
The hope is that all will be under control and back to normal by the end of the week, although fantasy owners might want to wait until next week to insert him into their lineup.
Adrian Gonzalez, 1B, Los Angeles Dodgers (day-to-day):
Gonzalez has been dealing with a minor muscular strain in his neck, recently aggravated when he and an umpire crossed paths as he was attempting to field a ground ball. An MRI revealed little of significance and Gonzalez returned to play late last week. However, he promptly aggravated it again, then sat out Sunday's game.
This is what falls under the header of "annoying" injuries, frustrating to the athlete because of the come-and-go pattern and difficult to predict in terms of behavior and severity. It does not look as if Gonzalez is in danger of going on the DL, but fantasy owners will want to check daily lineups until he is playing consistently.
Austin Jackson, OF, Detroit Tigers (placed on DL retroactive to May 12):
Another outfielder, another hamstring injury. It seems to be quite the injury trend this week. Also a trend: Teams opting to send players to the disabled list for seemingly minor strains early in the season, not wanting to risk a more severe injury. That makes sense. Teams as a whole seem to be offering their players a couple of days to test the effects of rest, but if there are any lingering warning signs, they waste little time scaling the athlete back (in the form of a DL stint). The hope then is that the player will miss the minimal amount of time, and Jackson's case is no different.
[+] Enlarge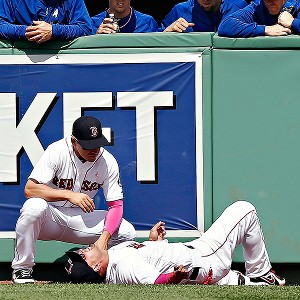 AP Photo/Winslow TownsonShane Victorino (lying down) collided with the outfield wall Sunday at Fenway Park.
Shane Victorino, OF, Boston Red Sox (day-to-day):
After missing a week due to spasms in his back, Victorino returned to action May 3. He seemed to be faring well ... until he ran into the outfield wall Sunday, ultimately requiring a trip to the hospital to be examined. As bad as it looked -- and perhaps felt -- Victorino appears to have escaped major injury. According to ESPN Boston, X-rays on his ribs came back negative, and manager John Farrell says Victorino should be ready to play Tuesday after the team's off day Monday. The hope is that this collision will not wake up the painful spasms in his low back again, and so far there has been no word of that. If Victorino does return Tuesday, that will be a good sign that he should be available going forward.
Desmond Jennings, OF, Tampa Bay Rays (day-to-day):
Jennings has missed a few games with a minor groin strain, but the Rays seem fairly confident they will have him back Tuesday. Jennings has downplayed the injury since it first cropped up last week, suggesting he could play if necessary. Given that it's May and not September, manager Joe Maddon opted to rest Jennings for several days. The proof that it is not anything to worry about will come when Jennings returns to action for consecutive days without incident.
Pitchers
Zack Greinke, SP, Los Angeles Dodgers (placed on DL April 12, could return Wednesday):
When Greinke was injured in the brawl with
Carlos Quentin
, no one knew what to expect since a clavicle fracture in the non-throwing arm of a pitcher is not exactly your everyday injury. As soon as the Dodgers announced he was undergoing surgery to stabilize the fracture, his prognosis for return actually improved, as it appeared he would not face as much down time from throwing.
Turns out that was an accurate assessment. Despite the Dodgers' (understandably) conservative eight-week projection, Greinke appears poised to possibly return this week, which would mark 4 1/2 weeks post-surgery. He has passed the point of having discomfort and pitched in high Class A ball last Friday. His velocity is up where he left off at the time of injury, and he appears from a functional standpoint to be ready to pitch in the majors. The final remaining hurdle is whether the bone has healed to the point where the team is comfortable with him absorbing contact. (The high Class A outing afforded him the opportunity to pitch with a DH in the lineup; when he returns to the Dodgers, he will need to hit, run and potentially absorb contact should there be a collision). Expect those clearing tests to be performed over the next 24 hours and a decision to be forthcoming shortly after. If the team opts to hold Greinke out of a return to the majors Wednesday, he would likely get another rehab start this week and rejoin the team next week.
Brett Anderson, SP, A's (placed on DL April 30, could return Friday):
After originally spraining his ankle in mid-April, it looked as if Anderson could avoid a DL stint with some rest. But he got called into service in the A's marathon game a couple of weeks ago and it set him back, forcing the DL stint. With a pitcher so recently removed from Tommy John surgery, it's probably for the best that he allow the ankle to recover sufficiently to not threaten his throwing mechanics and, consequently, the health of his arm. According to the San Francisco Chronicle, Anderson is likely to rejoin the rotation Friday.
Ryan Madson, RP, Los Angeles Angels (opened the season on DL, could return this week):
Madson's return following last April's Tommy John surgery has been delayed due to the soreness he experienced this spring. The delays aren't highly unusual, but it does bode for a gradual progression even as he returns to his major league team. Madson has been pitching in extended spring training and will begin a rehab assignment this week. He might not spend much time there, as the team could bring him up to the majors to build further endurance in that setting. As the Los Angeles Times has reported, he will not be the closer immediately upon return, and how the Angels opt to use him will likely depend on what they see from him as he resumes big league action.
[+] Enlarge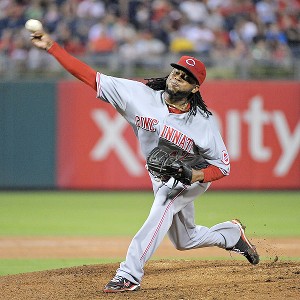 Eric Hartline/US PresswireHe's been out of sight, out of mind, but it shouldn't be forgotten that Johnny Cueto finished 13th among all pitchers on the ESPN Player Rater in 2012.
Johnny Cueto, SP, Cincinnati Reds (placed on DL April 15, could return within one to two weeks):
Cueto's original ailment was reported as a triceps injury, then was modified to a lat strain (more typical for a pitcher). But as he was recovering from that injury, he developed soreness in his oblique, a pitcher's nemesis, forcing a slowdown in his return schedule. Now Cueto seems to have cleared most of the major obstacles in his recovery and has initiated a rehab assignment. His next rehab outing is slated for Tuesday, and the Cincinnati Enquirer is reporting he could return to the Reds' rotation May 19.
It's entirely possible the team opts for another rehab start, depending on what they see during his outing this week and how Cueto feels after consecutive starts. Either way, it appears that, barring a setback, his return is not far off.
Andrew Bailey, RP, Boston Red Sox (placed on DL retroactive to April 29, could return within a week):
Bailey is eligible to return from the DL on Wednesday, but the club could still opt to send him out on a rehab assignment, pushing back that return. Bailey went on the disabled list with a biceps strain, a bit more worrisome than the one that sidelined teammate
John Lackey
because of the location of Bailey's symptoms (higher, closer to the shoulder). As noted in this space last week, Bailey has been plagued by a series of injuries, but he started the season strong for the Red Sox. With
Joel Hanrahan
now out for the remainder of the season, it would seem Bailey has the opportunity to recapture his closer role from
Junichi Tazawa
, if he can stay healthy. Considering his history, particularly in light of this current ailment, that's a big if. Even if Bailey returns without a rehab assignment, the bigger question will be how long he can go without a potential flare-up.
Chris Perez, RP, Cleveland Indians (day-to-day):
As he began to warm up Sunday before entering the game in relief, Perez experienced what the team is calling "stiffness" in his throwing shoulder. Manager Terry Francona opted not to press his luck and rested Perez instead. At this point, it doesn't appear to warrant major concern, but it does warrant you keeping an eye on the situation. Unless he's scratched again this week, consider this just a bump in the road.
Jake Westbrook, SP, St. Louis Cardinals (placed on DL May 12):
Westbrook becomes the latest pitcher to hit the disabled list with inflammation in his elbow. According to ESPN's Jim Bowden, Westbrook received a cortisone injection in his elbow. Expect several days of rest with a gradual increase in activity to see if he can resume throwing. Until he reaches that point, it will be difficult to project the length of his absence.
Wei-Yin Chen, SP, Baltimore Orioles (day-to-day):
After getting his team off to a good start Sunday, Chen was forced to leave the game early because of a strained oblique. He was scheduled to undergo an MRI Monday, and it would not be surprising if this results in a trip to the DL. The typical absence for a pitcher runs on the order of a month, so if it is serious enough to warrant the trip, plan on not having him available for approximately four weeks.
April, 29, 2013
4/29/13
5:10
PM ET
Every Monday in this space, we'll provide updates on a variety of players to help you make your weekly lineup decisions. We'll specifically try to hit the players who are day-to-day, have just gone on the DL or are ready to return so that you can better decide whether you can count on them or not.
All projected return timelines should be considered fluid.
Hitters
Troy Tulowitzki, SS, Colorado Rockies (DTD):
The good news is that Tulowitzki's latest ailment does not appear to be serious; the better news is that his surgically repaired groin is doing just fine. The hot start to Tulowitzki's season has likely helped put to rest any lingering concerns about the injury that ended his 2012 campaign prematurely. Unfortunately, Sunday's game brought a different scare. Tulowitzki strained his left shoulder on an awkward slide in the third inning, forcing him out of the game. According to the Denver Post, the injury is being described as a strained rotator cuff. It appears he will only be sidelined for a couple of days to allow any inflammation and soreness to subside, and there are no plans to place him on the DL at this time.
Ryan Zimmerman, 3B, Washington Nationals (placed on DL 4/20, could return Friday):
Zimmerman was placed on the DL with a strained left hamstring. While the injury was not considered serious, there are never any guarantees when it comes to these ailments. Zimmerman described it perfectly to the Washington Times: "Usually you can tell the difference between something that's bad and something that's not that bad, but with hamstrings you never know." What Zimmerman and the Nationals do know is that he has progressed well during his down time, performing running and hitting activities over the weekend. According to the Times, Zimmerman will play in rehab games Tuesday and Wednesday. If those outings are uneventful, he will rejoin the Nationals on Friday, when he is eligible to return. As is always the case with hamstrings, the only true measure of recovery is return to play without incident, but Zimmerman may be able to put that to the test soon.
[+] Enlarge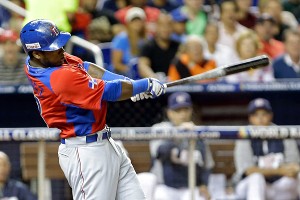 AP Photo/Wilfredo LeeHanley Ramirez has been out since injuring his thumb in the World Baseball Classic championship game March 19.
Hanley Ramirez, SS, Los Angeles Dodgers (placed on DL 3/20, could return Tuesday):
Ramirez injured his thumb playing in the final game of the World Baseball Classic and underwent surgery to repair a torn ulnar collateral ligament (yes, in his thumb). Credit the work the Dodgers had him do while in a modified cast -- including throwing -- with his quick recovery since the cast has come off. Ramirez regained his range of motion quickly, began hitting within days and progressed to throwing shortly afterward. He has already appeared in rehab games over the past weekend and has hit well. Granted, he's not facing major league pitchers yet, but the fact that he is ready to play both offense and defense will certainly have him beating the original target date of mid-May (eight weeks post-surgery). By how much will he beat it? The Dodgers aren't saying for sure, but April 30 is Ramirez bobblehead day at the park. Just sayin.'
Mark Ellis, 2B, Los Angeles Dodgers (DTD):
Ellis pulled up while running to first base Friday and it was determined later that he had strained his right quadriceps muscle. According to the Dodgers' official site, Ellis worried initially that it might be something more serious, but as he was able to jog on it, he recognized that it was not severe. He has already been able to swing a bat and throw the ball without any discomfort and is hopeful he can avoid a trip to the DL. Of course, the big issue with a quad strain is straight-ahead running, something Ellis has not yet tested at full speed. It appears he will be given some additional recovery time of a few days but if he remains relatively symptom-free and can increase his activity, he could potentially return by the end of the week.
Kevin Youkilis, 3B, New York Yankees (DTD):
Last week, we said concern over Youkilis experiencing tightness in his lower back would be justified given his history. At the time, however, manager Joe Girardi downplayed it, saying he expected Youkilis back within a couple days. Well, those two days turned into a week and after a return on Saturday when he went 0-for-3, Youkilis was again experiencing stiffness the following day. He is scheduled for an MRI Monday. Concern is officially warranted. ESPN New York's Andrew Marchand notes how this could affect a timeline for Youkilis
should he need a trip to the DL
. Girardi acknowledged Sunday that all backs "can be tricky" and this situation with Youkilis reminds us that it is often the case with chronic low back pain, where "management" becomes the goal, as opposed to "cure." Right now the Yankees are in wait-and-see mode with their third baseman, but it appears the team will err on the side of caution. With
Alex Rodriguez
out until at least the All-Star break, it would be a significant blow to lose Youkilis for multiple weeks at a time.
Shane Victorino, OF, Boston Red Sox (DTD):
The tricky back is in play with Victorino as well. What looked to originally be a one- to two-day affair has now extended past a week thanks to a flare-up, and may require a longer recovery. Victorino left the game early on April 20 with back spasms and after returning to action on April 22, was forced to leave the April 24 game early when the symptoms recurred. According to the Boston Globe, Victorino's improvement has only been "slight" in recent days, and with the team heading to the harsh turf of Toronto this week, his absence could be extended. It is not clear whether this will translate to a DL stint, but that does not seem to be ruled out. At the very least, it looks as if Victorino will rest a few more days before being tested in a game outing.
Neil Walker, 2B, Pittsburgh Pirates (DTD):
Those nasty spikes. Walker sustained a deep cut near the knuckle of his right index finger Friday while attempting to break up a double play, and he was forced out of the game. He received six stitches in what Walker described as "the deepest cut I've ever had for stitches," according to MLB.com. He was incredibly fortunate to escape without any damage to extensor tendons in the hand, which lie very close to the injury site. The team did not place Walker on the DL, in the hopes that he could return late this week. While he may not have the stitches out, if he can bend the finger enough to swing the bat effectively and throw accurately, he will return to the lineup. Walker is expected to test those skills Monday, and if all goes well, expect him to be back in the mix later this week.
Michael Saunders, OF, Seattle Mariners (placed on DL 4/11, could return Monday):
Saunders has been recovering from a right AC sprain suffered when his shoulder encountered the outfield wall a few weeks ago. After returning to batting practice little more than a week post-injury, Saunders was able to gradually increase his throwing in subsequent days. He began a rehab assignment over the weekend, and the hope is that he will be activated Monday. As long as Saunders has shown he can make the necessary throws and bat effectively, there is no reason for lingering concerns regarding this injury. But it would probably be for the best if that right shoulder and the outfield wall can keep their distance for a bit.
Erick Aybar, SS, Los Angeles Angels (placed on DL 4/13, could return by midweek):
Aybar was sent to the DL with a bruised left heel which was causing him trouble swinging the bat from the right side of the plate. He has since returned to running and hitting, all without incident thus far. Aybar has seen action in extended spring training games, but the Angels have opted to give him some more at-bats before returning him to the team. He will play in a Triple-A game Monday, but it's not yet clear whether this will be his final hurdle. The heel issue appears to be largely behind him; at least the extended rehab time allows him to test it in multiple situations. Aybar's return to the lineup is expected shortly, perhaps within the next couple days.
Pitchers
Justin Verlander, SP, Detroit Tigers (DTD):
The Detroit News reports Verlander said he developed "a little bit of a blister" on his right thumb near his fingernail, which was enough to bring him out of last Thursday's game after seven innings. Verlander shrugged off the notion that it would compromise his next start. Despite the thumb, Verlander had a decent outing, and there is no real indication for concern, particularly given that this is something he has contended with in the past. Blisters or other forms of skin breakdown can certainly threaten a pitcher's status, depending on the severity and location. This does not appear to be one of those times.
[+] Enlarge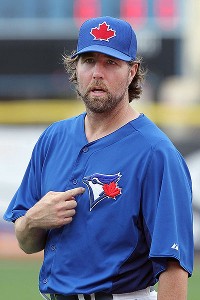 Kim Klement/USA TODAY SportsR.A. Dickey (4.50 ERA, 1.31 WHIP) currently rates just 112th among all pitchers on the 2013 ESPN Player Rater.
R.A. Dickey, SP, Toronto Blue Jays (DTD):
Last week we heard about neck and back stiffness giving Dickey trouble, a decidedly vague qualification. It hasn't improved -- nor have Dickey's recent challenges on the mound -- and he is headed for an MRI to try to gain some additional information. Dickey has been pitching through consistent discomfort, according to Shi Davidi of Sportsnet. There is no doubt that pain, tightness or stiffness in the neck will influence the function of the shoulder and potentially the entire upper arm. One question is whether it is an inhibition of arm strength due to pain or whether there is true weakness as a result of nerve compromise associated with the neck. More information should be forthcoming, but given the lack of improvement both subjectively in how he feels and objectively in how he's performed recently, don't be surprised if Dickey is headed for a more definitive absence.
Brett Anderson, SP, Oakland Athletics (DTD):
Anderson sprained his right ankle on April 19, forcing him to leave a start after just one inning of work. It initially appeared as if it would be a non-issue since Anderson made his subsequent start. It was a rough outing, however, and he only lasted four innings. On Sunday, the team announced Anderson's Monday start would be skipped because of the ankle which, according to the San Francisco Chronicle, was aggravated during Wednesday's appearance. Although Anderson has indicated the ankle feels much better and he hopes to only miss the one start (his next outing would come Saturday this week), even subtle issues on a pitcher's landing leg can be enough to throw off his mechanics. With Anderson so recently removed from Tommy John surgery, there is no reason to press through an issue which should otherwise resolve quickly and risk greater consequences.
Josh Johnson, SP, Toronto Blue Jays (DTD):
Sometimes players just know. After being scratched from his last start Friday due to triceps tightness and given his injury history, many were concerned as to what an MRI might show. Not Johnson. Shi Davidi of Sportsnet reported Johnson expected the MRI to come back clear. Turns out he was right. According to John Lott of the National Post, Johnson's MRI showed no ligament damage, only inflammation, and he is expected to resume his throwing program soon. While that program will likely be increased based on tolerance, it is too early to definitively say whether he will miss his next start, although it seems likely. Most importantly, on the scale of major injuries this does not appear to be a significant worry for Johnson.